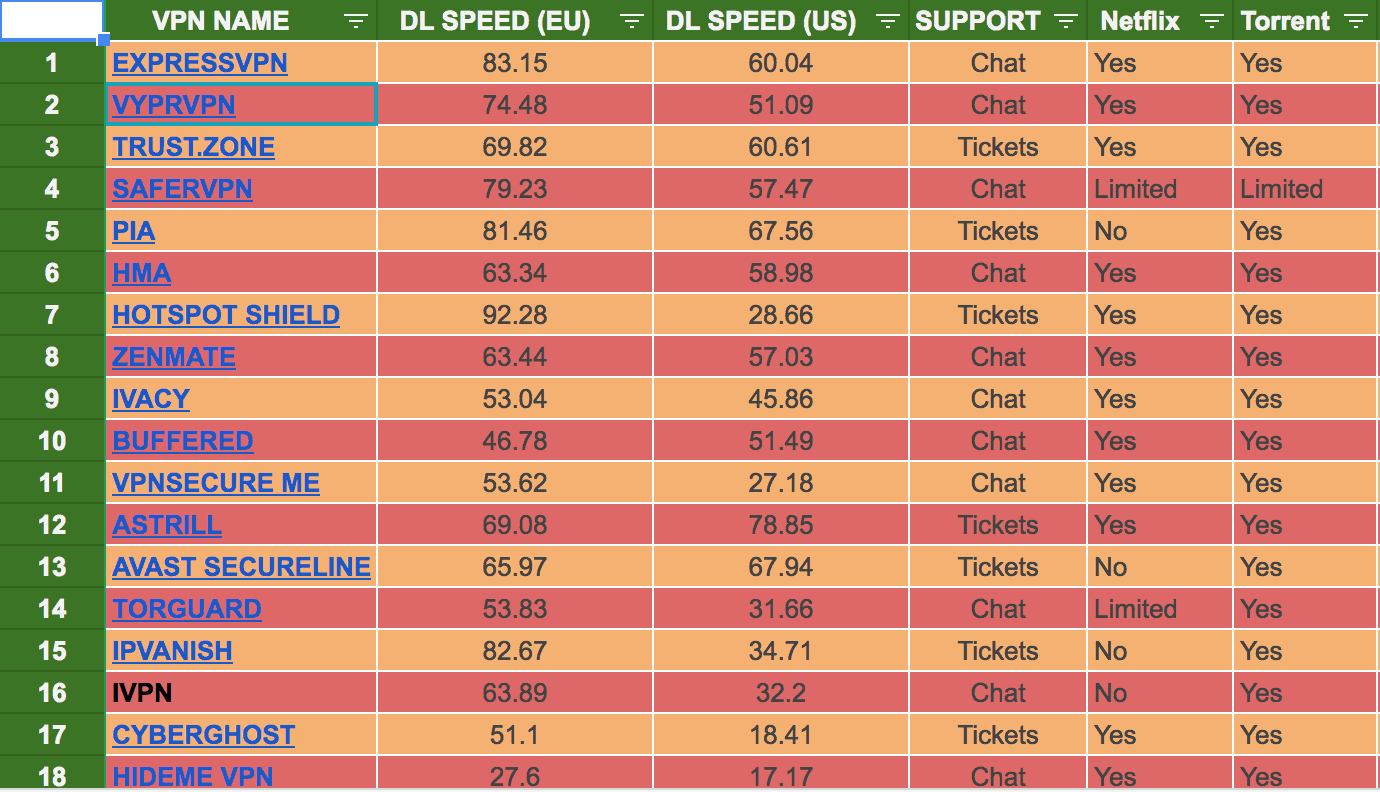 Finding a good VPN service can be a daunting task.
Especially if you're a first-time buyer.
Hence the reason we combined together a list of best VPN services.
This VPN comparison site helps you avoid spending money on sketchy VPN companies who keep logs, slow down your computer and Internet connection.
Here's how we put together this VPN comparison:
A. Installed 30+ VPN software on our personal devices, such as Windows, Mac, Android, and iOS and compared their usability.
B. Performed Download/Upload speed tests on speedtest.net to see which had best-performing servers.
C. Torrenting/Netflix test to see if they work with Netflix and allow P2P.
D. Read their TOS to verify if they keep logs or not.
E. Compared security (encryption and protocols).
Best VPNs for Online Privacy & Security
Without further ado, here are the top 12 VPN services of 2017 after thorough research, speed comparisons and Windows/Mac/iOS/Android app testings.
---
1. ExpressVPN: Best VPN Overall ($6.67/mo)
1st out of 31 VPNs
ExpressVPN is easily the best-performing VPN currently on the market.
The VPN was founded in 2009 and is widely popular, largely in thanks to the high-quality features it offers users.
ExpressVPN Pros
No user log files
Large server park (1500 servers, 96+ countries)
Works for both torrenting and Netflix
Fast servers
Good encryption
Works on all devices
One thing we love about ExpressVPN is that when they claim to collect zero logs on users, they mean it. This is probably because they're located in the British Virgin Islands.
There are also tons of servers available with this VPN: 1500 servers across 96+ countries. That's huge.
It works with Netflix and allows torrenting, has awesome AES 256-bit encryption, and works on Windows, Mac, iOS, and Android devices.
ExpressVPN hides everything — we meaneverything — that you do online. Your IP address, connection, data, and privacy are all completely secure. Accessing geo-blocked sites is simple with this VPN. Plus, their server speeds are fantastic. We achieved download speeds of 83 Mbps out of 100 Mbps when we tested ExpressVPN.
Talk about fast. They also offer live chat support so you can get help 24/7.
ExpressVPN Cons
High price (for month-to-month users)
To be brutally honest, there's not much to complain about their service/software. If any, it's their relatively high price compared with main competitions. Their monthly package costs $12.95 which certainly isn't the cheapest.
However, if you decide to opt in for 12 months, you can get a better deal for $8.32/mo. After you've signed up, you'll instantly get access to ExpressVPN download.
Do we recommend ExpressVPN? Yes.
2. Private Internet Access: Best Cheap VPN ($3.33/mo)
2nd out of 31 VPNs
Private Internet Access (PIA), owned by London Trust Media, was founded in 2009.
PIA Pros
No logs
LOT of servers (3,272+)
Cheap pricing ($3.33/mo)
Works on all devices
Allows torrenting
There's a lot to love about this VPN, such as the fact that they offer over 3,000 servers to users.
Torrenting is allowed, of course, and the company keeps absolutely no logs. The best part? It's only $3.33 per month to use this VPN. The company also offers a 30-day money back guarantee, so you've got absolutely nothing to lose.
We aren't the only ones who find PIA good. So does the vpn reviews on reddit. Users on the "Virtual Private Networks" subreddit rave about PIA often, especially when it comes to customer service.
Download speeds on PIA servers are also great. We were able to achieve a download speed of 81 Mbps (out of 100 Mbps) when testing connection speeds.
PIA Cons
No live chat
No Netflix
Only 25 countries
Talking about the cons, there are only 25 countries to choose servers from, which is much less than other top VPN software.
And Netflix isn't accessible with PIA, either. So if that's important to you, consider another best VPN from our list. All things considered, this affordable, fast, and secure VPN is definitely a top contender to keep in mind.
3. VyprVPN: Best for Geo-Blocked Content ($5.00/mo)
3rd out of 31 VPNs
VyprVPN was founded in 1996 by Golden Frog GmbH, so they've been in the VPN game for quite a long time.
VyprVPN Pros
No Logs
700+ servers, 64 countries
24/7 live chat
Free trial
They offer a free three-day trial of their services, so you won't have to pay unless you know for sure that it's the right VPN for you.
VyprVPN also keeps no logs, meaning your privacy is their top priority. Once you sign up, you'll be able to use over 700 servers in 64 countries and get 24/7 live chat support.
Connection speeds across all servers are stable: our results showed download speeds of up to 74.48 Mbps out of a 100 Mbps connection.
VyprVPN's Chameleon™ technology keeps users in countries such as China, Russia, India, Turkey, Iran, and Syria from being blocked from using certain websites.
Costs of this VPN are low, too: it's only $5.00 per month, making it a budget-friendly option.
VyprVPN Cons
Only 2 simultaneous connections
Netflix doesn't work on mobile
This VPN only allows for two simultaneous connections, so if you're looking to use a VPN across multiple devices, this one might not be the right fit for you.
Netflix works with VyprVPN, but not on the mobile version of the Netflix app. According to their website, Netflix should work via web browser.
4. SaferVPN: Good Usability ($3.59/mo)
4th out of 31 VPNs
SaferVPN was founded in 2013 by Amit Bareket and Sagi Gidali. This VPN is based out of Israel, and offers three different protocols for users to choose from: OpenVPN, IPSec, and PPTP.
SaferVPN Pros
No Logs
Full compatibility (Win, Mac, iOS, Android)
AES 256-bit encryption
Cheap price
User-friendly
SaferVPN keeps no logs on its users, and you can use this VPN across all devices, including Windows, Mac iOS, and Android.
If you go for the two-year package, this VPN will only cost you $3.49 per month. The month-by-month package is a bit more pricey at $9.99 per month.
It's also one of the most user-friendly VPNs out there. It's straightforward to install, navigate through, and use.
Security is top-notch with SaferVPN. – you'll get AES 256-bit encryption, which is military-grade. And a customer support team is just a few clicks away, thanks to Safer VPN's 24/7 live chat feature.
This VPN's connection speeds aren't as fast as ExpressVPN or PIA, but we were still able to achieve a download speed of 79.23 Mbps. That's one of the fastest VPNs we've tested.
SaferVPN Cons
Torrenting not allowed
Not working with Netflix
SafeVPN is not compatible with Netflix use, but that might not be the company's fault. Netflix has been blocking tons of users from trying to access their site with a VPN lately.
Torrent downloads are also limited across SaferVPN servers. On their website, SaferVPN claims that torrenting isn't allowed. If you want to use a VPN for torrenting, don't go with this one.
5. Trust.Zone: Affordable ($3.33/mo)
5th out of 31 VPNs
The company was founded in 2014 in Singapore and is known as Extra Solutions Ltd. Trust.Zone is jam-packed with tons of features, making it a good value for the money.
Trust.Zone Pros
No Logs
Netflix/Torrenting availability
Stable connection
Free trial
Trust.Zone keeps no logs on users, which is exactly what we're looking for in a top VPN. That means that your privacy willtruly be protected if you sign up for this VPN.
Netflix and torrenting are allowed, and connection speeds are as fast as 64.46 Mbps when downloading.
For just $3.33 per month, you'll be able to use this VPN across three devices simultaneously. This price point applies to the 12-month package. The monthly option is affordable, as well, at just $6.99 per month. You'll be able to access a three-day free trial and a 10-day money back guarantee.
Windows, Mac, iOS, and Android are all compatible with Trust.Zone's software.
Trust.Zone Cons
No Live Chat
Only 130 servers
With Trust.Zone, there's no live chat option when it comes to customer support. The company's ticket support isn't bad, though.
Only 130 servers are available with Trust.Zone: a huge contrast to some other VPN providers we've previously listed that have as many as 3,000+ servers.  However, Trust.Zone proves that quality really is more important than quantity.
6. HideMyAss: Simple to Use ($5.99/mo)
6th out of 31 VPNs
HideMyAss is much more than just a funny name. They're actually a really awesome VPN service.
HideMyAss was founded in 2005 and is owned and operated by Privax LTD, a 100+ member team with offices in London, Kiev, and Belgrade.
HideMyAss Pros
They offer over 940 servers to users, spread across 350 different locations in 190 countries worldwide. They use AES 256-bit encryption and offer over 800 servers in more than 45 countries.
Live chat is available 24/7 with HideMyAss, and it's easy to use in addition to being a very cheap VPN. In fact, it'll only set you back $5.99 per month. Plus, you can use it with Windows, Mac, Android, and iOS devices.
When we tested HideMyAss, we were able to achieve download speeds of 63.34 Mbps. Netflix access and torrent downloads are allowed with this VPN, too.
HideMyAss Cons
HideMyAss was connected to an infamous case in 2011 that involved members from two infamous hacking groups: LulzSec and Anonymous.
Members of these groups were arrested after attempting to use HideMyAss to do exactly what the company's name infers while performing illegal activities but later found out that they weren't so hidden.
In fact, after hacking into SonyPictures.com using HideMyAss, the hacker was sent to jail. In response, HMA said:
"Our VPN Service and VPN services, in general, are not designed to be used to commit illegal activity. It is very naive to think that by paying a subscription fee to a VPN service you are free to break the law without any consequences."
In short, HideMyAss will secure your privacy unless you're doing something that is against the law.
---
Continue Browsing VPNs rated #7th to #12th
All (31) VPN Reviews
---
VPN PROVIDER
DL SPEED (EU)
DL SPEED (US)
NETFLIX
TORRENT
COST
SUPPORT
DEVICES
USABILITY & RATING

1

83.15

mbps

60.04

mbps

YES

YES

$6.67 /mo
Live Chat 24/7
Win, Mac, Android, iOS

9.6/10

2

81.46

mbps

60.61

mbps

NO

YES

$3.33 /mo

Tickets
Win, Mac, Android, iOS

8.6/10

3

74.48

mbps

51.09

mbps

YES

YES

$5.00 /mo

Live Chat 24/7
Win, Mac, Android, iOS

8.2/10

4

79.23

mbps

57.47

mbps

LIMITED
LIMITED

$3.49 /mo

Live Chat 24/7
Win, Mac, Android, iOS

8.2/10

5

69.82

mbps

60.61

mbps

YES

YES

$3.33 /mo

Tickets
Win, Mac, Android, iOS

8.2/10

6

63.34

mbps

58.98

mbps

YES

YES

$5.99 /mo

Live Chat 24/7
Win, Mac, Android, iOS
8.1/10

7

92.28

mbps

28.66

mbps

YES

YES

$6.99 /mo

Tickets
Win, Mac, Android, iOS
8.1/10

8

63.44

mbps

57.03

mbps

YES

YES

$4.99 /mo

Live Chat 24/7
Win, Mac, Android, iOS
8.0/10

9

53.04

mbps

45.86

mbps

YES

YES

$4.08 /mo

Live Chat 24/7
Win, Mac, Android, iOS
8.0/10

10

46.78

mbps

51.49

mbps

YES

YES

$8.25 /mo

Live Chat 24/7
Win, Mac, Android, iOS
8.0/10

11

53.62

mbps

27.18

mbps

YES

YES

$6.66 /mo

Live Chat 24/7
Win, Mac, Android, iOS
7.6/10

12

69.08

mbps

78.85

mbps

YES

YES

$5.83 /mo

Tickets
Win, Mac, Android, iOS
7.6/10

13

65.97

mbps

67.94

mbps

NO

YES

$6.66 /mo

Tickets
Win, Mac, Android, iOS
7.6/10

14

53.83

mbps

31.66

mbps

LIMITED

YES

$9.99 /mo

Live Chat 24/7
Win, Mac, Android, iOS
7.4/10

15

82.67

mbps

34.71

mbps

NO

YES

$6.49 /mo

Tickets
Win, Mac, Android, iOS
7.2/10

16

63.89

mbps

32.20

mbps

NO

YES

$8.33 /mo

Live Chat 24/7
Win, Mac, Android, iOS
7.0/10

17

51.10

mbps

18.41

mbps

YES

YES

$4.16 /mo

Tickets
Win, Mac, Android, iOS
6.8/10

18

27.60

mbps

17.17

mbps

YES

YES

$4.99 /mo

Live Chat 24/7
Win, Mac, Android, iOS

6.4/10

19

14.33

mbps

49.37

mbps

YES

YES

$5.75 /mo

Tickets
Win, Mac, Android, iOS

6.4/10

20

61.48

mbps

27.79

mbps

YES

YES

$5.38 /mo

Tickets
Win, Mac, Android, iOS

6.2/10

21

57.99

mbps

24.82

mbps

YES

YES

$2.49 /mo

Tickets
Win, Mac, Android, iOS

6.2/10

22

33.60

mbps

14.53

mbps

YES

YES

$6.67 /mo

Tickets
Win, Mac, Android, iOS

6.2/10

23

52.26

mbps

33.38

mbps

NO

NO

$4.99 /mo

Live Chat 24/7
Win, Mac, Android, iOS

5.8/10

24

47.36

mbps

10.05

mbps

YES

YES

$4.92 /mo

Tickets
Win, Mac, Android, iOS

5.8/10

25

47.13

mbps

25.69

mbps

NO

LIMITED

$2.50 /mo

Live Chat 24/7
Win, Mac, Android, iOS

5.6/10

26

35.49

mbps

29.41

mbps

NO

LIMITED

$2.95 /mo

Live Chat 24/7
Win, Mac, Android, iOS

5.6/10

27

19.83

mbps

4.70

mbps

YES

YES

$4.50 /mo

Live Chat 24/7
Win, Mac, Android, iOS

5.4/10

28

18.59

mbps

19.47

mbps

YES

YES

$2.99 /mo

Live Chat 24/7
Win, Mac, Android, iOS

5.2/10

29

2.43

mbps

11.36

mbps

MANUAL

YES

$5.83 /mo

Tickets
Win, Mac, Android, iOS

4.2/10

30

10.48

mbps

17.58

mbps

NO

YES

$5.98 /mo

Tickets
Win, Mac, Android, iOS

4.2/10

31

12.18

mbps

2.23

mbps

YES

YES

$10.00 /mo

Tickets
Win, Mac, Android, iOS

3.6/10
What is a VPN
VPN stands for Virtual Private Network. VPNs do exactly what their name sounds like: provide you with a private network for browsing and surfing the web that is virtually accessible.
Here's a link to VPN Beginner's guide.
If you're not already utilizing a (VPN) to guard your online privacy, there are several reasons why you should.
When you use a VPN, you're masking your IP address and routing all of your data and personal information through a VPN's servers to encrypt all of your web traffic. Whether you're browsing the web and storing data from work, home, or a public place, a VPN allows you to keep your connection completely secure from hackers.
VPNs hide your internet activity, allow you to avoid censorship by letting you access blocked websites, protect your sensitive information such as passwords and credit card information, allow you to access P2P downloads safely, and more.
If you live in a country that restricts your access to certain sites, you can make these web pages think you're accessing the internet from an alternate location that isn't blocked by using a VPN. The web page will think that you're located where the VPN provider's server is located.
A VPN service doesn't replace your Internet Service Provider, but it doesn't leave your connection vulnerable to an attack like a regular connection from your ISP does.
How to Use a VPN
There are all sorts of reasons why people might want to use a VPN. The most common reasons are to:
However, that doesn't mean that you can use a VPN for illegal activity, per se. If you want protection against mass surveillance and a secure, encrypted connection, use a VPN. If you want to hide your online identity to perform malicious and harmful activities, you're out of luck.
Most VPNs log user data, making your activity traceable if a VPN service turns over logs to law enforcement.
How to Choose a VPN
When looking for a VPN that fits your needs and is worth the money, you'll want to keep several things in mind.
The first thing to look at is a VPN company's logging policy. This is sometimes listed as a privacy policy, or their "Terms of Agreement."All VPNs encrypt your data in one way or another. But each provider has to decide what to do with your personal information.
For the most part, VPN providers have to keep your information private. However, people within the actual company themselves can access logs at any time to see what you're doing online.
When you sign up for a paid subscription with a VPN provider, you usually hand over your billing address and email to create an account. That account is tied to everything you do on a VPN's servers. And some VPN services will even sell your data to advertisers…which is exactly what you're trying to avoid by using a VPN.
Download Speed, Usability and Customer Support
Connection speeds should also be of concern. For a VPN to be useful, it has to be fast. Especially when it comes to streaming.
That's why we run speed tests on the VPNs we review by connecting to servers in different areas and looking at ping, download speed, and upload speed.
Average download speed when using a 100 Mbps connection with 31 different VPNs was 51 Mbps.
Usability and customer support are just as important. A VPN should be straightforward to use, not difficult.
And if you do encounter a problem, you should have access to top-notch customer support. Usually, most VPNs know the importance of live chat. But sometimes they don't.
That's why we disclose if a VPN provider offers live chat, ticketing, or any other help method, and we tell you whether it's any good.
How Much Does a VPN Cost?
Most VPN providers can offer premium features for just a few dollars every month.
Average VPN will cost $5.59/mo. That's an average out of 31 VPNs. The cheapest paid VPN we found was Ivacy ($2.04/mo) and the most expensive was Avira Phantom VPN ($10/mo).
Online security and access to geo-blocked content doesn't have to cost an arm and a leg. As a guide, you can usually get a good VPN for just around $6 to $10/mo. Of course, there are some exceptions. It will also depend on the plan you pick. In most cases, the yearly plan will cost 50% less than a monthly plan.
However, you should steer clear of free VPNs, because you could be doing more harm than good when it comes to your privacy.
Why?
Because free VPN providers have got to pay for their servers somehow.
And they usually do it by tracking and storing your information and web browsing history and selling it to third party advertisers.Who knows what these third parties will do with your data?
Is VPN Fully Legal?
Now that you know what a VPN is, how to use one, and how to pick the right one for you, you might be wondering if they are legal where you live.
The short answer? Yes. It's typically not illegal to use a VPN service.
But it largely depends on the laws of the country you're physically located in when using a VPN. Sometimes, it can be hard to decipher these laws to tell what is technically legal or illegal. There might be a grey area. For example, China has tried to block individual VPN providers over and over.
However, they weren't able to block them all.
Until new legislation was released by the Chinese government that states that a VPN provider has to earn approval from the Chinese government to be permitted. And service providers also have to agree to whatever terms the government wants them to adhere to in order to be allowed.
Other countries have banned VPNs altogether.
That's why we've put together a database where you can find out whether or not VPNs are legal in your country.
Based on our research, we've found that:
VPNs are illegal in: China, Turkey, Iraq, United Arab Emirates, Belarus, Oman, Russia.
VPNs are somewhat illegal in: Iran, North-Korea, Turkmenistan.
How to Set up a VPN
The setup process will depend on the VPN you ultimately choose. However, all it takes to set up a VPN on your devices is a few clicks.
VPN Service for Routers
Installing a VPN on your router will encrypt your entire network.
This process will also depend on the VPN you decide to go with, but you should start out by making sure your router is compatible with your VPN provider. Usually, DD-WRT & Tomato-boosted FlashRouters are compatible. Some VPN providers sell routers with their VPN technology preinstalled, like PureVPN.
A VPN connection doesn't work with an ISP modem. You've got to connect another router with your modem in order to create a secure connection. Be sure to check with your VPN provider for a VPN router installation guide.
VPN Service for Consoles
It can also be helpful to set up a VPN on your gaming console.
For one, a VPN can help to reduce game lagging caused by slow server connection speeds. You can also gain access to new game releases if you use a VPN on your gaming system.
So how do you set up a VPN on your gaming console? One popular method is to connect your console to your router that is already connected to a VPN.
On a PS3 or PS4, navigate to "Settings" and select "Network Settings."
Then, set up an internet connection using WiFi. Select the "Easy" connection method and enter your password, if you have one.
Click on "Do Not Use a Proxy Server" and run a connection test. That's it!