Last updated: July 5, 2017.
About this VPN Review page
We signed up with the 20 most popular VPN providers we could find on the internet (both free and paid).
Once we were signed up, here's what we did:
Installed 20+ VPN software on our personal devices, such as Windows, OSx, Android and iOS.
Spent 240 hours of testing, vetting, and analyzing the results.
Conducted over 200 speed tests for US, UK & EU servers.
Read their TOS & logging policy.
That means we've dug through an large number of privacy policies (hint: logging policy), fact-checked user reviews, and conducted over 200-speed tests using different VPN servers.
P.S. We're not affiliated with any of the VPN Software providers mentioned in this list.
Best & Worst VPNs in 2017
Our VPN speed tests were done using 100 Mbps Internet connection from EU, towards US, EU and Asia servers. Here's a spreadsheet with all the speed data.
---
VPN SOFTWARE
DL SPEED (EU)
UL SPEED (EU)
DL SPEED (US)
UL SPEED (US)
COST
SUPPORT
DEVICES
USABILITY & RATING

#1.

83.15 mbps

35.18 mbps

60.04 mbps

30.41 mbps

$8.32 /mo
Live Chat 24/7
Win, Mac, Android, iOS

★★★★★

best overall

#2.

84.46 mbps

40.30 mbps

77.56 mbps

36.75 mbps

$3.33 /mo

Tickets
Win, Mac, Android, iOS

★★★★★

best usability

#3.

46.78 mbps

46.65 mbps

51.49 mbps

35.38 mbps

$8.25 /mo
Live Chat 24/7
Win, Mac, Android, iOS

★★★★

#4.

IPVanish.com

82.67 mbps

43.19 mbps

34.71 mbps

24.72 mbps

$6.49 /mo
Live Chat 24/7
Win, Mac, Android, iOS

★★★★

#5.

HideMyAss.com

63.34 mbps

50.12 mbps

58.98 mbps

30.38 mbps

$5.99 /mo
Live Chat 24/7
Win, Mac, Android, iOS

★★★★

#6.

TorGuard.com

53.83 mbps

49.31 mbps

31.66 mbps

31.16 mbps

$4.99 /mo
Live Chat 24/7
Win, Mac, Android, iOS

★★★★

#7.

SaferVPN.com

79.23 mbps

27.78 mbps

57.47 mbps

23.09 mbps

$3.49 /mo
Live Chat 24/7
Win, Mac, Android, iOS

★★★★

#8.

Ivacy.com

53.04 mbps

25.39 mbps

45.86 mbps

43.92 mbps

$2.04 /mo
Live Chat 24/7
Win, Mac, Android, iOS

★★★

#9.

HotspotShield.com

92.28 mbps

45.09 mbps

28.66 mbps
13.74 mbps
$6.99 /mo
Tickets
Win, Mac, Android, iOS

★★★

#10.

VyprVPN.com

74.48 mbps
35.88 mbps

51.09 mbps

3.17 mbps

$5.00 /mo
Live Chat 24/7
Win, Mac, Android, iOS

★★★

#11.

NordVPN.com

14.33 mbps

48.18 mbps

49.37 mbps

28.59 mbps

$5.75 /mo
Tickets
Win, Mac, Android, iOS

★★★

#12.

PureVPN.com

35.49 mbps

27.29 mbps

29.41 mbps

29.08 mbps

$2.95 /mo
Live Chat 24/7
Win, Mac, Android, iOS

★★★

#13.

VPNunlimitedapp.com

47.13 mbps

24.70 mbps

25.69 mbps

7.31 mbps

$2.50 /mo
Live Chat 24/7
Win, Mac, Android, iOS

★★★

#14.

TunnelBear.com

6.93 mbps

17.20 mbps

32.63 mbps

15.04 mbps

FREE
Live Chat 24/7
Win, Mac, Android, iOS

★★

#15.

CyberGhost.com

51.10 mbps

21.10 mbps

18.41 mbps

7.12 mbps

$4.16 /mo
Tickets
Win, Mac, Android, iOS

★★

#16.

Hide.me

27.60 mbps

19.92 mbps

17.17 mbps

10.80 mbps

$4.99 /mo
Live Chat 24/7
Win, Mac, Android, iOS

★★

#17.

VPNArea.com

47.36 mbps

23.81 mbps

10.05 mbps

7.18 mbps

$4.92 p/mo
Tickets
Win, Mac Android, iOS

★★

#18.

StrongVPN.com

2.43 mbps

1.41 mbps

11.36 mbps

9.13 mbps

$5.83 /mo
Tickets
Win, Mac, Android, iOS

★

too slow connection

#19.

Betternet.com

3.18 mbps

2.98 mbps

12.41 mbps

10.01 mbps
FREE
Tickets
Win, Android, iOS

★

disturbing ads and too slow

#20.

TotalVPN.com

–

–

–

–
–
–
–
TotalVPN is no longer available.
VPN Ranking Criteria
1. Logging Policy (their "Terms of Agreement")
Let's not beat around the bush here:
The underlying VPN technology is largely the same. From one company to the next.
The differences come in what each company decides to do with your personal information.
VPN's keep your data private. Sure. But not from the actual VPN company you're using.
They can see it all. They've tied your billing addressing and email to those internet sessions. So those ambiguous service terms and privacy policies can come back to haunt you.
Case in point: logging of user behaviour by several VPN providers.
And 'free' ones were the worst. So bad, that they can't even be considered free at all. 'Cause you're paying with your privacy.
2. Connection Speed (Download/Upload in mbps)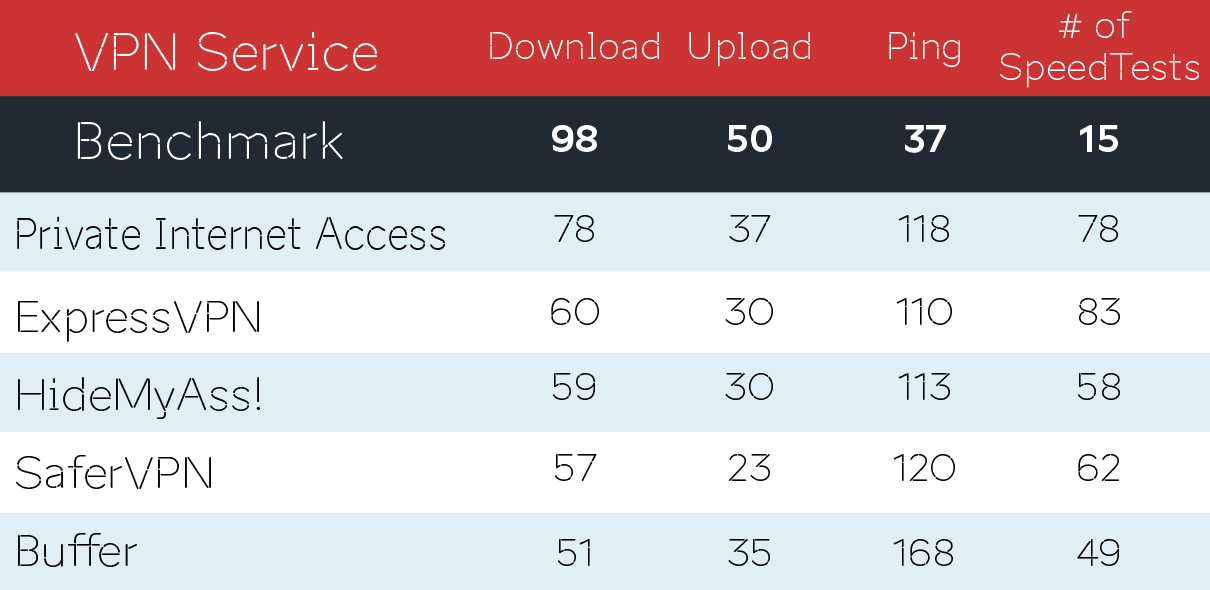 Your focus should shift over to connection speeds after you're satisfied with VPN security features.
We conducted download & upload speed tests of the top 15 VPN services over the course of one month.
The tests were performed from within the UK, connecting to servers in the USA, China, and Europe.
Our raw benchmark connection is rated at up to 100 Mbps. 
Fastest VPNs (all above 50 Mbps)
Private Internet Access
ExpressVPN
HideMyAss
Slowest VPNs (all below 30Mbps)
Betternet
StrongVPN
TunnelBear
3. Usability and Customer Support
VPN's are techy. Geeky. In a good way. But still.
That means network veterans make up a large chunk of the market. Those who routinely deal with ugly '90s UX Design' (<— the definition of an oxymoron) on a daily basis.
But that's not good enough. A good VPN should be used daily. An integral part of your day-to-day life.So you shouldn't have to settle for confusing, cluttered, and clunky connection clients.Easy & seamless is the only acceptable solution.
The best-of-the-best here are ExpressVPN (link to review) and PrivateInternetAccess (link to review).
You can connect to each of their VPN clients within seconds. Automatically (on start up) or manually. Literally open, click, and start browsing
The best VPN's will run in the background. Without you even knowing they're there.
How about Support?
A lightning-fast, helpful support agent is your only hope during these dark hours. Thankfully, most VPN providers have realized the importance of click-button chat and phone support.
However, there are a few misfits which have decided against offering chat support. Instead, relying on (snail-paced) emails which can take as long as 48 hours to get any response.
That's like a week in internet time. And WAY too long if you're paying them hundreds of bucks a year.
So without further ado, here are the top 5 VPN services of 2017 after our careful research, analysis, monitoring, testing, and verifying.
5 Best VPNs You Can't Go Wrong With
1. ExpressVPN – Best VPN Overall
---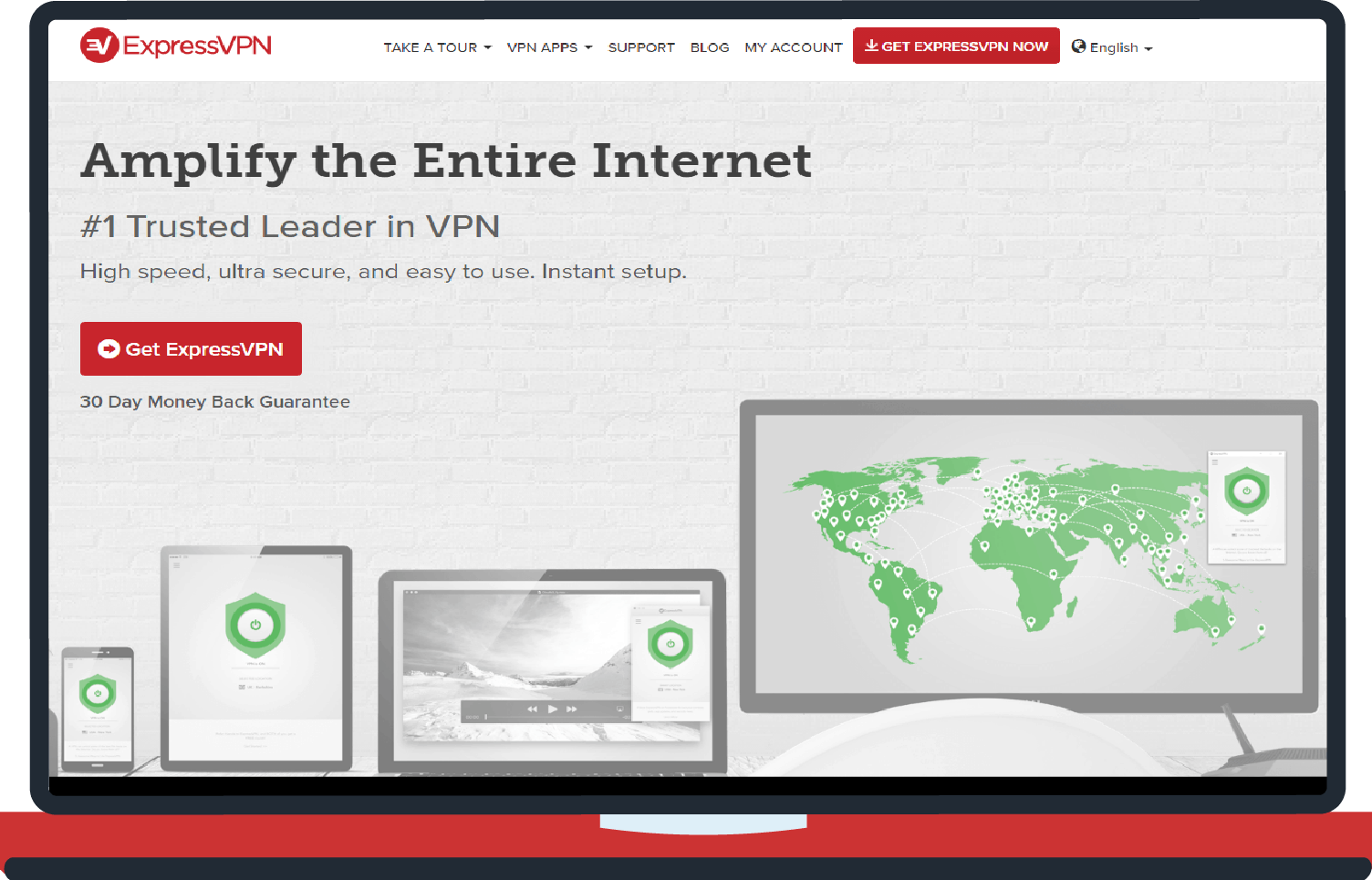 A lot of research went into these reviews. Literally hundreds of hours.
And after around the 200-mark, we realized that ExpressVPN is smoking the competition. Leaving no prisoners behind.
ZERO logging policy. Podium-worthy connection speeds. Over 1,000 server locations. And 24/7/365 live support (yay!).
Their VPN client is also what dreams are made of. It's simple and straightforward. So minimalistic that there's literally a giant button to press to connect. And you can configure it with all operating systems; Windows, Mac, iOs (even Blackberries — do people still use those? — and routers.)
Despite its simplicity, they've even found a way to pack in some advanced features you don't see anywhere else. Including internal server speed tests. (Cue nerdgasm.)
ExpressVPN has also been named as the best VPN service by PCMag, TechRadar, and hundreds of other tech publications worldwide.
2. Private Internet Access
---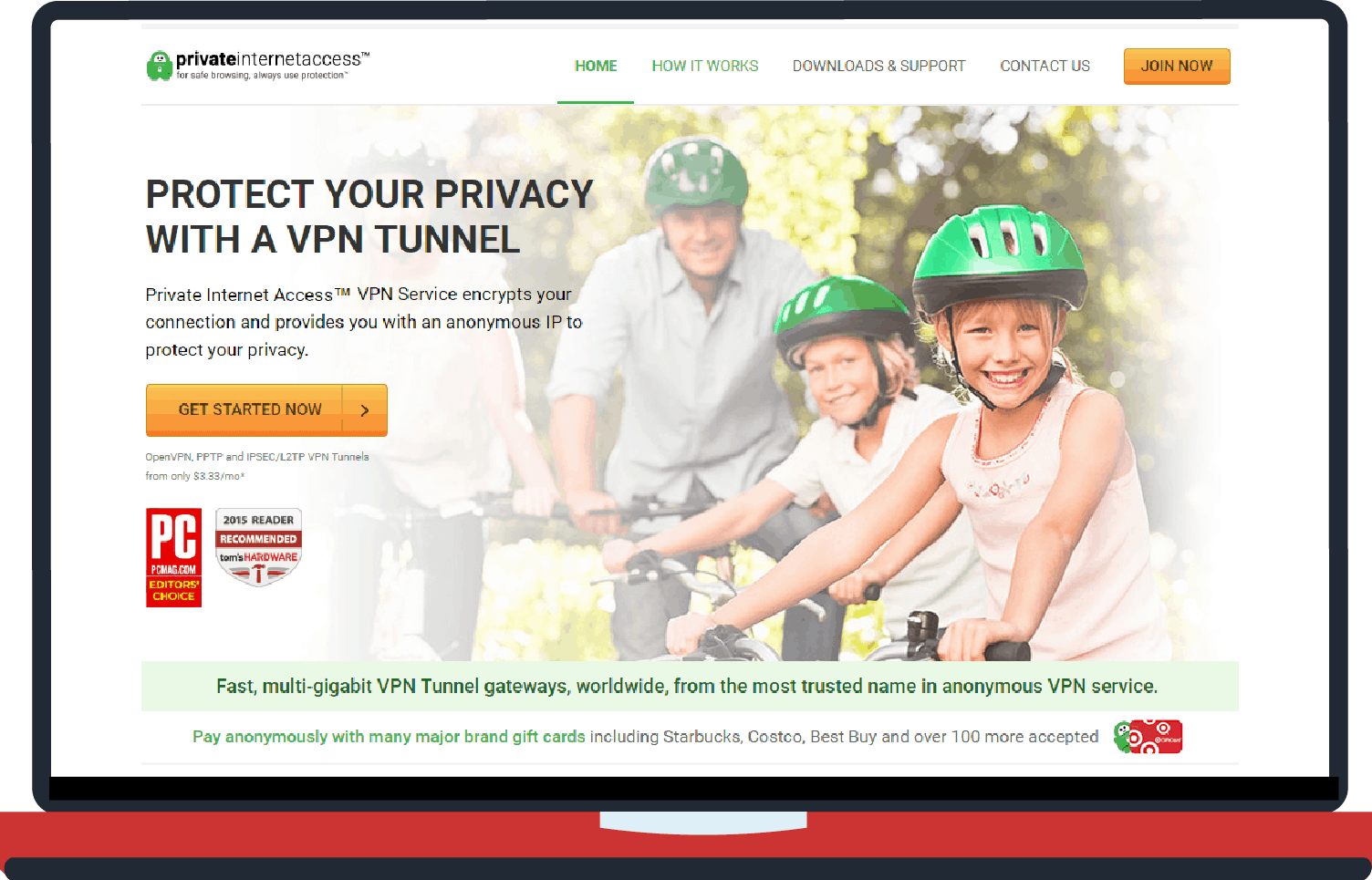 Private Internet Access (or PIA for short) is one of the most well-known VPN providers on the market.
And funny enough, it's actually the brainchild of London Trust Media, a former marketing firm turned Cyber Hero).
Don't be fooled by their unusual backstory or quirky brand name, though.
PIA is among the best VPN servers worldwide. Their top-shelf, blazing fast connection speeds and rock-bottom prices have catapulted PIA into VPN stardom. (An illustrious group, no doubt.)
PIA's also beloved by network nerds because of their easy-to-use VPN client (which is among the best next to ExpressVPN).
Unfortunately, there is one downside. Their amazing prices mean cutbacks on some beginner-friendly features.
3. Buffered
---
Buffered VPN was started by three friends who weren't happy with the VPN service in Hungary.
It has grown at a quick pace, leaving users around the world satisfied with their service.
Buffered software is available on Win, Mac, Android and iOS. They've got servers in 37+ countries.
Their Customer Support Representatives are there to help you 24/7/365. They use OpenVPN protocol and AES 256-bit encryption.
The app might be a bit more tricky to understand for a newbie, but nothing that you couldn't wrap your head around. Their service costs $8.25/mo, which might be a bit more than some of the service providers out there, but you can't put a price tag on total privacy.
We'd especially recommend Buffered if you're a long time user of a VPN service and you're just looking for a new one.
4. IPVanish – Best Cheap VPN
---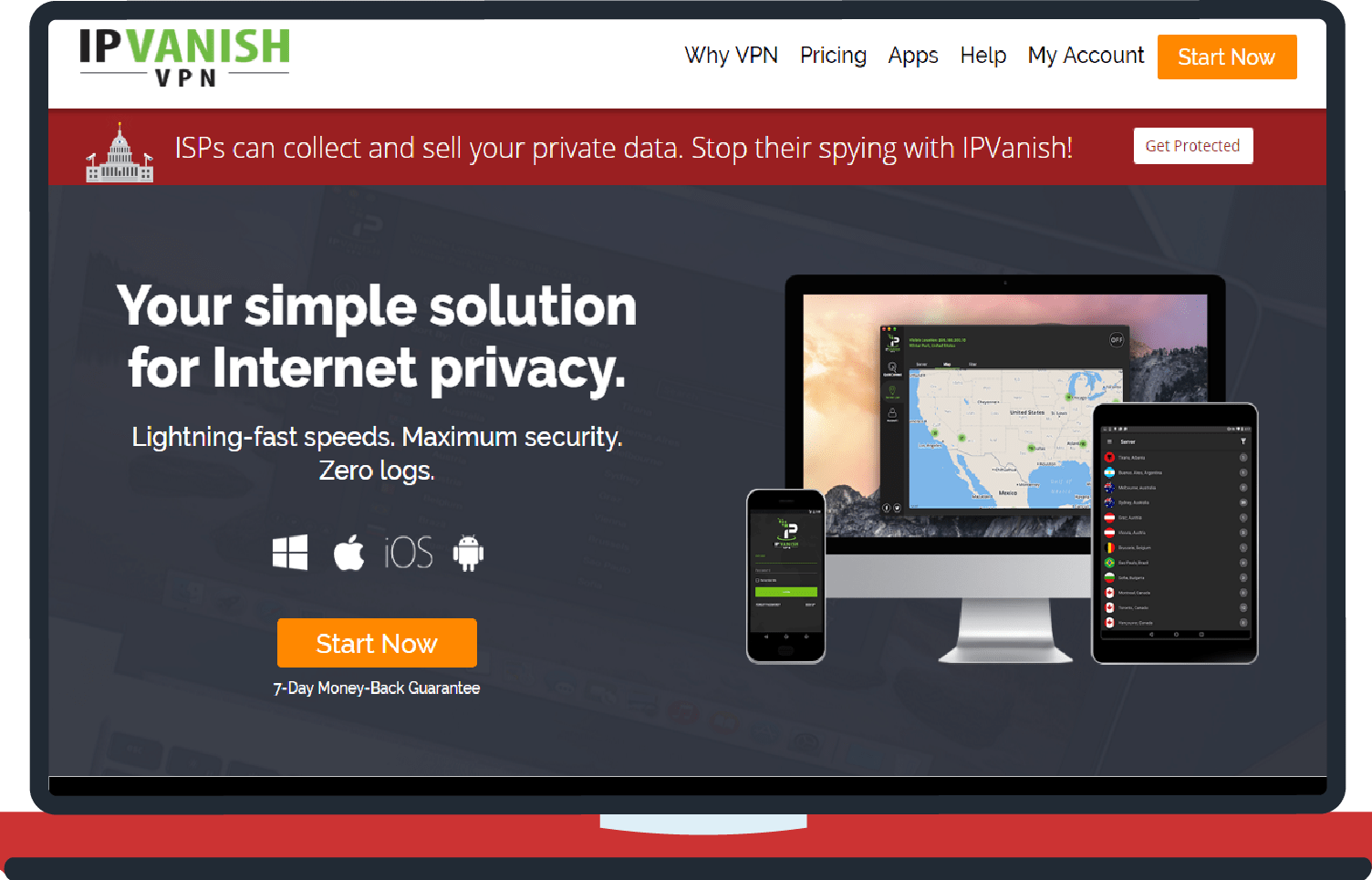 IPVanish might literally help your IP vanish. But that doesn't mean they've vanished from our hearts.
They've got a strict no logging policy, awesome connection speeds, 700+ server locations, and 24/7/365 Live support.
Sounds familiar, right? No, you're not having a Deja Vu. They boast almost identical stats to ExpressVPN. And have cemented themselves among the best VPN services in the world.
There are a few weird quirks, however.
You have to restart your system after the initial install (weird). They kinda have feature-bloat, too, that makes the dashboard a little cluttered.
BUT the do have a 22% cost savings over ExpressVPN. So you might be able to get over those minor issues if budget-friendly is at the top of your list.
5. HideMyAss
---
HideMyAss! is one of the seniors of VPN service providers.
It was founded in 2005 and is owned and operated by Privax LTD, a 100+ member team with offices in London, Kiev and Belgrade.
HMA has over 940 servers in 45+ different countries. HMA is available on Win, Mac, Android and iOS. You can choose from three different protocols: OpenVPN, IPSec, PPTP.
It uses AES 256-bit encryption. The Customer Support team is available for you via Live Chat 24/7/365.
HideMyAss has a solid speed and the usability is on the good side. However, Torrentfreak reported that HMA might be selling your data (so be aware).
Why Should You Use a VPN?
Virtual Private Networks secure your network traffic via a protected 'tunnelled protocol'.
It effectively locks down your internet connection. So no one (whether that's a hacker or even your friendly government agency) can snoop or intercept what you're trying to do.
It shields you away. Protecting you (and even helping you proactively change connections) if the slightest whiff of fishy behaviour is detected.
Among the many benefits of using a VPN are:
Tight Security: VPNs are the #1 way to ensure maximum online security & anonymity. Everything you do will be encrypted and inaccessible whether you're sitting at home or in a crowded mall.
Unlock Geo Restrictions: Netflix is available in many countries. But the content they can show in each is different. Many times, the best stuff is restricted based on your IP address. But if you change it with the help of a VPN, you can literally unlock a world full of content.
Negates Censorship: "Two-thirds of all internet users — 67 percent — live in countries where criticism of the government, military, or ruling family are subject to censorship," according to the Freedom Report by Freedom House.  Thankfully, VPN's help you sidestep censorship altogether. That means commonly blocked websites (like Google, Facebook, Youtube etc) or services (Messenger, WhatsApp, Skype) are unlocked instantly.
Circumvents Throttling: Your internet service provider will be unable to monitor your data and subsequently throttle or slow it down (based on your usage). So if you're watching too many videos, for example, tying up their resources, they'll try to slow your connection to a crawl to limit your activity.
VPN Review Conclusion
Not all VPN providers are the same. Some will sell your data, some will be too slow.
VPN is not only for downloading and hiding your IP. It's also to protect you against hackers.
There were more than 4,100 security breaches totalling 4.2 billion stolen and exposed personal records – emails, passwords, SSNs, addresses etc, according to Risk Based Security reports. In just 2016 alone!
Government censorship is on the rise. And your ISP is selling your browser history.
The only solution to safe, secure internet use is a VPN.
Top 3 VPNs (according to our tests):
Surf Safe,
Andrey, Brad, John & Linda
Want to improve this VPN review? Contact us.