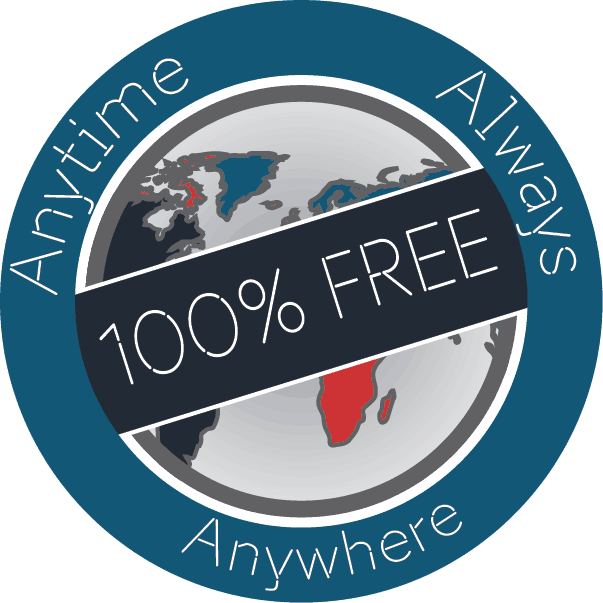 Who likes FREE Software?
I sure do. And I reckon you do too!
In times where ISPs can sell your Internet browsing history to the highest bidder, Internet privacy has  become an imperative.
We all know that.
What better way to protect ourselves, than to do it 100% free of charge? Why should we add yet another monthly payment to our bills, no matter how small it is?
I certainly could use a bit of "free" in my life.
The best paid VPN providers all claim that their services are better than their free competitors, when it comes to protecting your data. I'm going to play devil's advocate and put those claims to the test.
We did all the heavy lifting and went on to compare the best free VPN services with the best paid VPN services to see just how much they differ.
Do paid VPN providers warrant me paying $10 a month? How seriously do free VPNs really take my safety?
Let's see if "Free VPN" really is too good to be true!
Top 5 Totally FREE VPNs (+ Reviews)
According to our tests
---
VPN Service
Cost
Data Cap

Download Speed
Servers
Rating + Usability
1. CyberGhost

FREE

No Cap

18.41 mbps

14 Countries

★★★★★

2. HotSpot Shield

FREE

No Cap

21.37 mbps
 

US Only

 

★★★★

3. TunnelBear

FREE

500MB/mo

15.21 mbps

20 Countries

★★★

4. 

PrivateTunnel

FREE

200MB/mo

16.26 mbps

5 Countries

★★★

5. Hide.me

FREE

2000MB/mo

15.09 mbps

3 Countries

★★
1. CyberGhost VPN: No Data Cap, Fastest Free VPN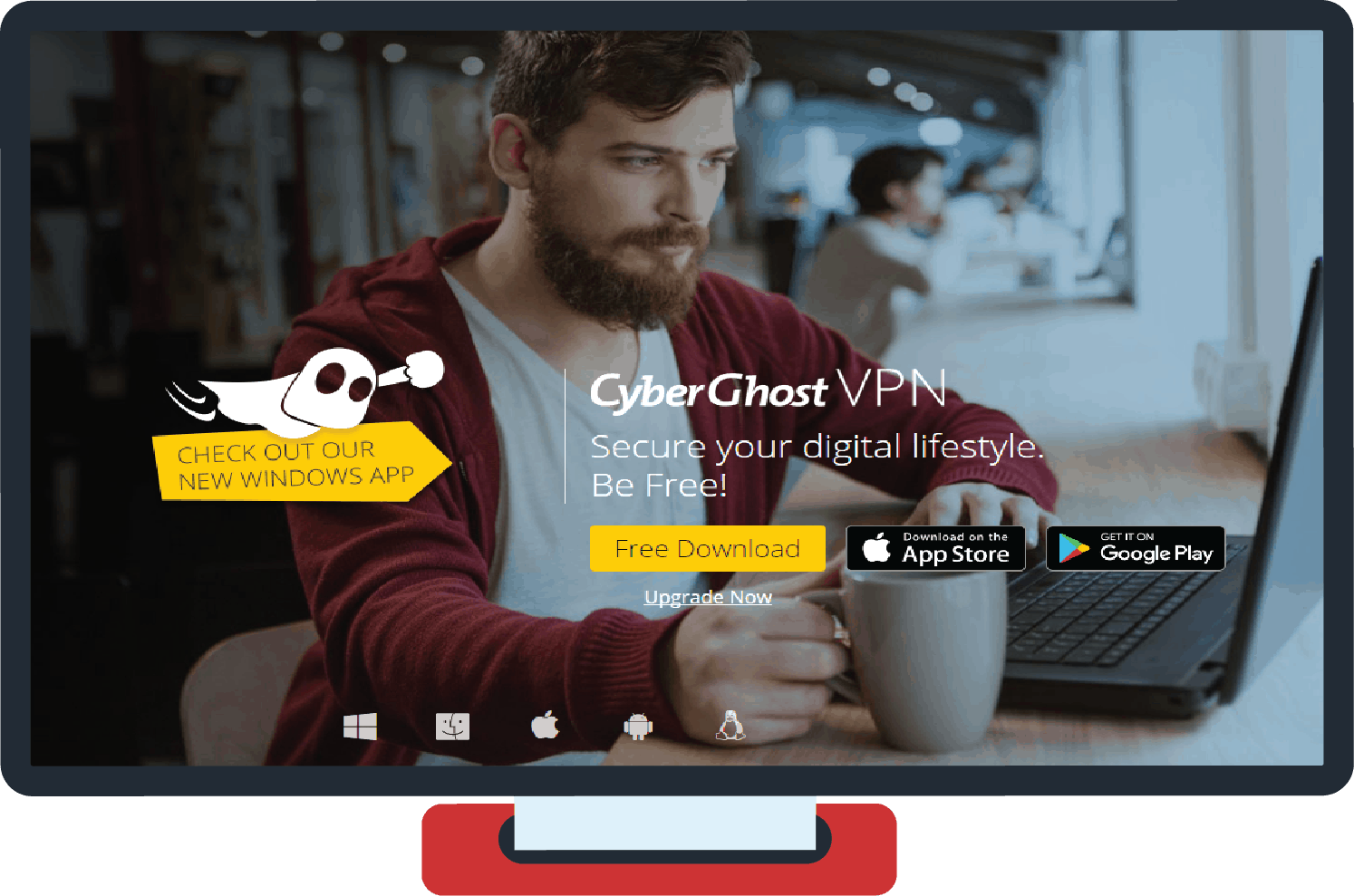 CyberGhost leads our ranking of the best Free VPNs.
They offer:
A zero logging policy (which we believe, more info below)
Ample connection destinations
Top connection speeds
All of which pushes this VPN provider far ahead of its competition.
Another major plus, a rarity when it comes to free VPN providers, is that they do not cap your traffic. You can use their service as much as you want!
CyberGhost offer one free and two paid options. Due to the latter, we're confident that Cyber keeps your data secured and out of the hands of no-gooders. After all, it's in their interest to keep you in their good graces, hoping you'll upgrade to their paid options.
Their drawbacks are few, but annoying. Before connecting, you're forced to sit through a 30-second ad.
"No problem", you think, "I only connect once a day".
Well, no. On their free plan, CyberGhost drops your connection every three hours, forcing you to reconnect & watch another ad. Not exactly user friendly, eh?
Pros: 100% free, zero logging. Quick connection (among free VPNs) and 14 server locations.
Cons: Ads, No BitTorrenting, forced connection drops, one connection maximum.
2. Hotspot Shield: No Data Cap, 1 Server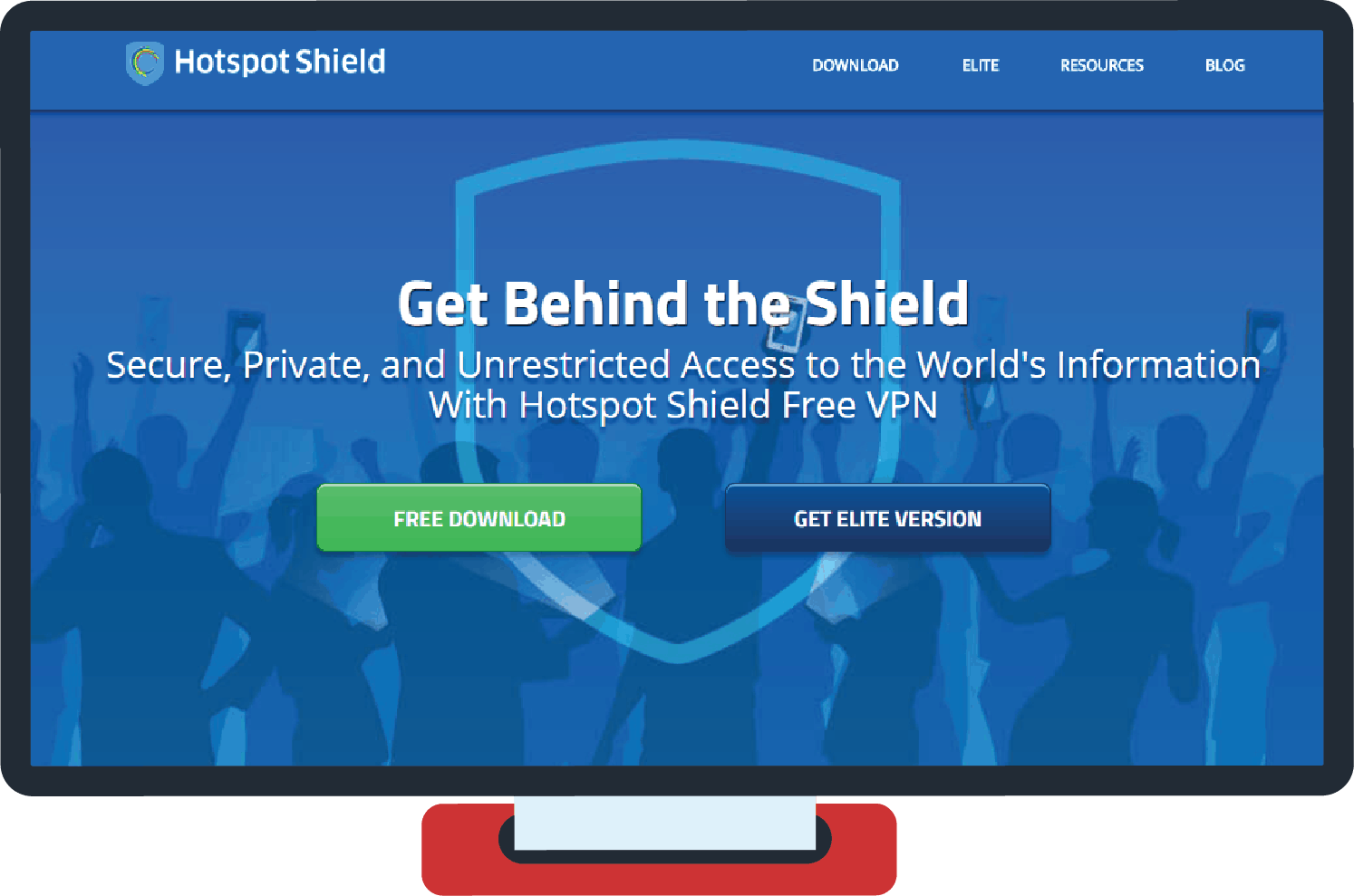 Hotspot Shield is another free + paid VPN provider, which assures us their zero logging policy will be honoured.
With their free version, HotSpot only provide a US server location and their  download speeds aren't nearly as impressive as their paid servers.
But! Hotspot are quick to impress & schmooze us by not putting a cap on our traffic through them!
As for how they restrict their free users, Hotspot Shield will force ads upon you, as expected. Another (major, major) annoyance is that they restrict certain websites with a free version – Netflix, Hulu, BBC iPlayer etc. A big no, no in our books.
Pros: 100% free, zero logging and an okay connection (among free VPNs)
Cons: Ads, no Netflix/Hulu etc, limited to US servers and one connection maximum. US based.
3. TunnelBear: 500mb/mo Data Cap, 20 Servers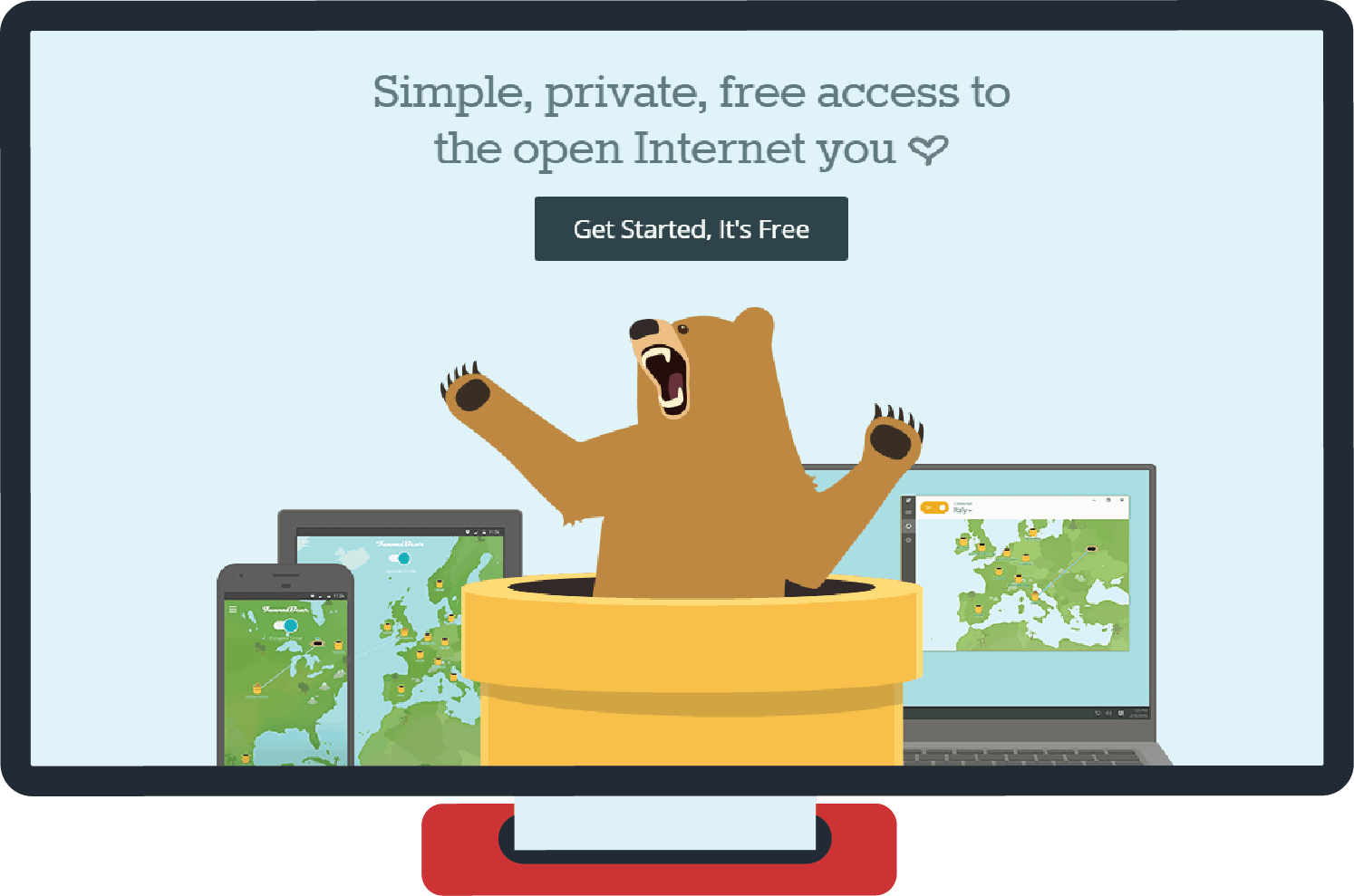 TunnelBear is one step below both Cyber & Hotspot due to their 500MB imposed cap on their free trial.
If you tweet about them, you get another 1000MB of VPN-ing. Now you can stream two whole movies instead of almost one! Just kidding. With their slow connection speeds, you'll be lucky to stream a song on Spotify.
Jokes aside, TunnelBear is an easy to use VPN provider with 20 server locations – plenty from a free VPN.
While we hate traffic capping with a passion, we can't exactly blame them either.
Especially considering TunnelBear won't force you to watch any advertisements, won't drop your connection or limit you to only one connection during your free usage.
Pretty awesome for a free VPN bear! Now if only you'd drop that silly cap.
Pros: 100% free, zero logging, an okay connection (among free VPNs), 20 server locations, 5 connections.
Cons: Data cap, very slow connection speeds.
4. PrivateTunnel: 200mb/mo Data Cap, 5 Servers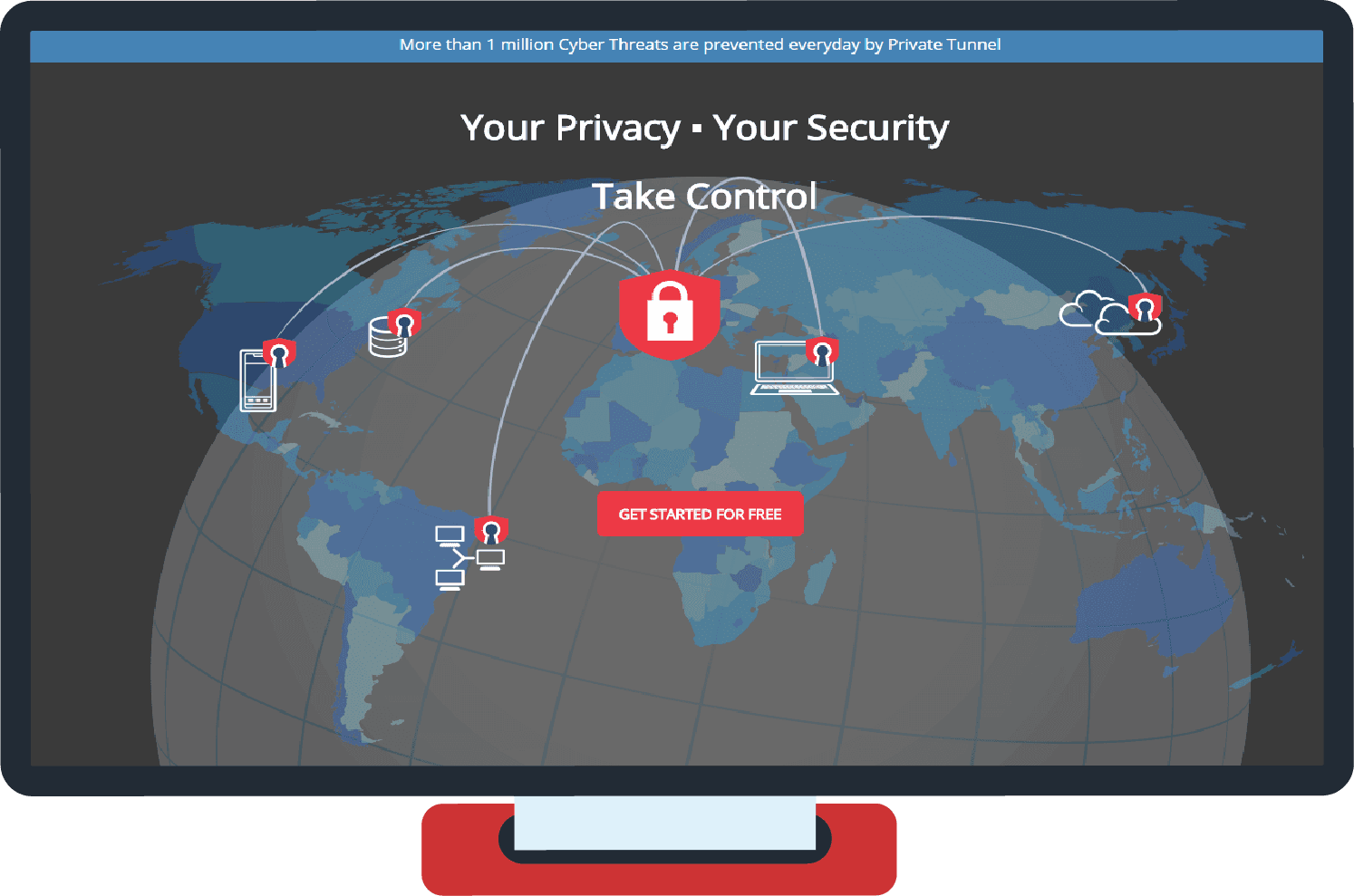 PrivateTunnel's "free VPN" is more of a trial than anything else, though useful in a pinch.
Their super aggressive data cap of 200MB is annoying to say the least – it renders their free VPN almost useless in our opinion.
They will though give you additional traffic for every referred friend. This is an amazing option since they don't impede your VPN usage otherwise. There's no ads, no connection drops, nothing. Your free VPN account is the same as a paid one.
Do you have a popular Instagram account? Perhaps you own a business or a hobbyist website? If you can refer enough people, PrivateTunnel is the only VPN that will enable you to refer friends and earn yourself a free lifetime account.
Or, you know, you can pay $10 for a proper VPN…
Then again, they only offer 5 countries you can connect to. Meagre to say the least. Connection speeds are also nothing to write home about.
Pros: 100% free, zero logging, multiple simultaneous connections, no ads and you pay as you go
Cons: Data cap, only 5 server locations, unimpressive speeds and low customisability
5. Hide.me VPN: 2000mb/mo Data Cap, 3 Servers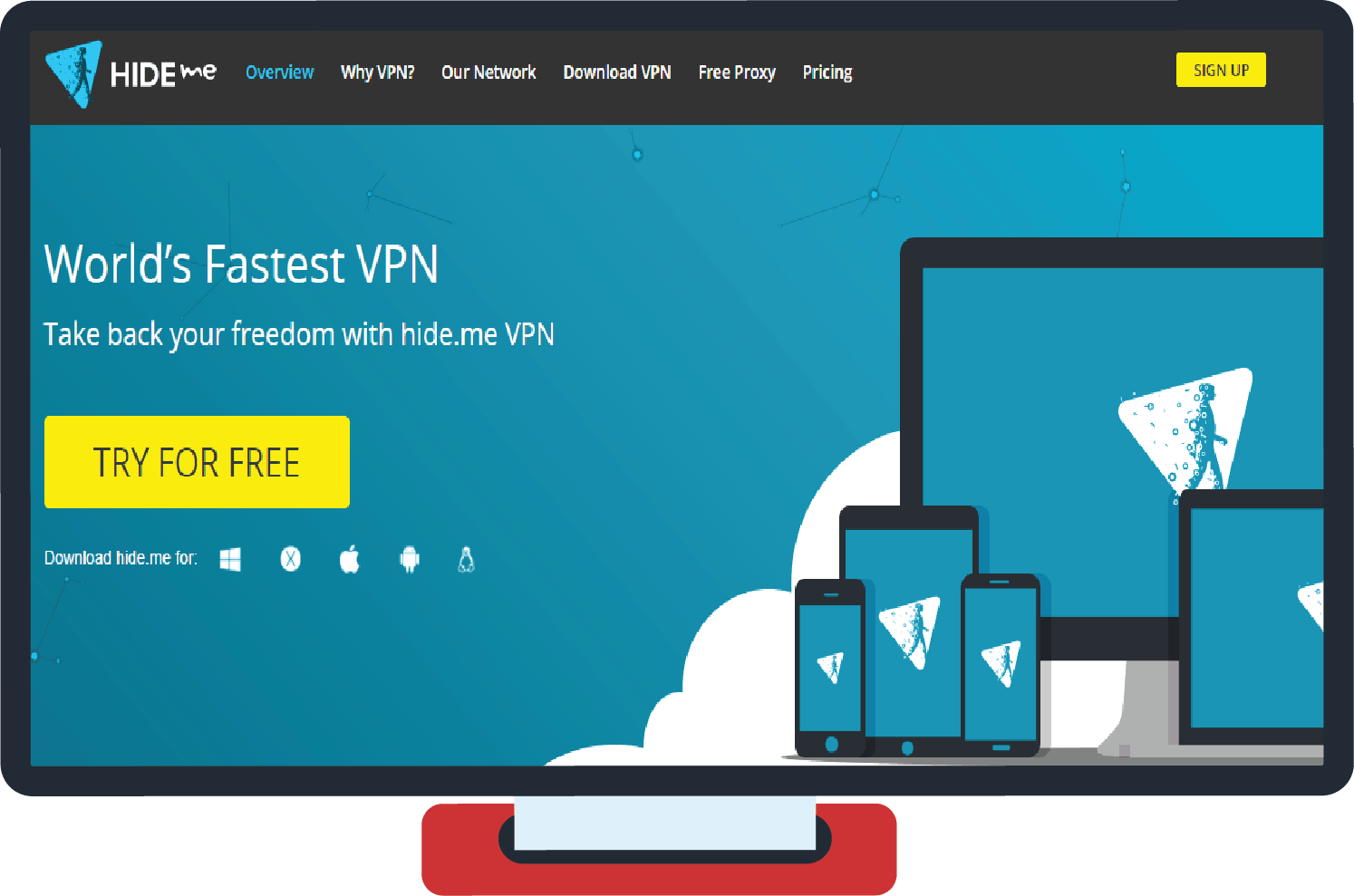 HideMe offers you a "free forever" option if you're not ready to purchase a subscription
Unsurprisingly, every time "free" and "forever" are found in a sentence, "data cap" isn't far away. HideMe, though the most liberal among our free VPN options, will nevertheless cap your traffic to 2000MB/month.
Their connection speed restrictions aren't as cool – you're limited to a speed of 3Mbit/s. If you think that's laughable, we wouldn't blame you.
Remember how we told you "free" doesn't always mean what you think it means? Yeah…
While their zero logging policy is appreciated (and expected), their heavy restrictions on tunnel protocols, 3 server location and 1 max connection doesn't get us excited at all.
Pros: 100% free, zero logging, no ads and a good client
Cons: Data cap, only 3 server locations, bottom speeds and 1 max connection
The Flaws of (Many) "Free" VPNs
Not all Free VPNs are shady but all shady VPNs are free.
Kudos for having the prudence & desire to protect your data. You're already way ahead of the curve and well on your way towards worry free Internet browsing!
Identity theft, drained bank accounts, defamation – just a tidbit of the misery that thousands of people undergo every year because their data has been taken advantage of by hackers & scammers.
Ugh, no thank you…
While you're on the right track with using a VPN to avoid exposing your sensitive information, using a free service to do it is as counterproductive as mopping your driveway during a hurricane.
Once things go south, a free VPN will cost you a hundred times more than you would ever have saved.
I mean really, are you sure you want to provide full access to your Internet life, to some random VPN provider? One that isn't bound by contract to deliver you a safe service?
Do you honestly believe these people really give a hoot about you?
You're certain they're modern-day Robin Hoods, operating expensive servers for your benefit, free of charge?
Are you sure you're not doing the very thing you're trying to protect yourself from?
If you are, please give me 2 minutes and read about the following 3 reasons why you must stay away from free VPN services and how they'll end up costing you a hundred times more than you'd be saving.
If afterwards you're still convinced there is such thing as a free VPN then by all means take the risk.
1. FREE VPNs might log and sell your data
Is "free VPN" too good to be true?
You betcha!
If there's one thing you must know, it's that there's no free in business. Not truly. In fact, that's the very first lesson Harvard economics students are taught in their 101 class: there's no such thing as a free lunch.
You don't think businesses actually provide you a service free of charge out of sheer compassion do you?
Youtube, Facebook, Google Search, Instagram, Reddit. What do all of these have in common? They're free!
And what do they sell? Nothing! Right?
Wrong. They sell YOU.
If you don't have to pay for a product, you are the product.
Google & Facebook are worth a combined $1.1 trillion. By selling you. They gather your data and offer it to the highest bidder to advertise their products and services to you.
We're okay with that, because we trust Google & Facebook to keep our data secure and on their servers. While they use it, they don't provide direct access to it.
But guess what free VPN providers, which advertise to you as well, do with all that sweet sweet data you voluntarily give them? They log & sell it that's what. To hackers, dodgy spam companies, bot networks etc. Anyone who's ready to pay for it.
In other words, free VPNs do precisely what you're trying to avoid.
2. FREE VPNs throttle your speeds by 98%
Oh, you didn't really think free VPN services would provide you access to the full power of their servers?
I mean, really, just because you're not paying for the servers, doesn't mean they aren't. They still have to pay for all the server upkeep & maintenance. The more you use their network, the higher the costs.
They want as much of our data, as cheaply as possible. Of course they're going to throttle you. To oblivion
In fact, in our tests, the average free VPN download speed was 15 Mbps, and that's with our 100Mbps raw connection.
How does free sound now? Not that attractive, is it?
It's done on purpose too. Some do it to simply keep their costs as low as possible. While others use it as an incentive for you to upgrade to their paid options. Either way the result is the same: an Internet experience akin to the 90s.
So get comfortable with 144p quality Youtube videos – that's what awaits you with a free VPN.
3. No Support Available for FREE VPNs
I don't know about you, but the first time I had to install and use a VPN I had a few questions.
*cough* understatement of the century *cough*
Tunnel protocols, TAP Drivers, TCP vs UDP, RSS vs ECC Handshakes etc. Networking isn't exactly something you pick up during your lunch breaks.
Well, forget having any of those answered by your free VPN service. They couldn't care less about you and your puny questions. Good luck figuring it out on your own, that's their motto.
The worries don't stop there though.
Having access to instant chat or phone support that can get you back up and running in minutes is an invaluable asset.
Imagine you're doing your online banking on a free VPN (God forbid!) and the encrypted connection drops.
Imagine you're trading stocks and your Internet goes out, leaving you stranded and losing money. Or maybe you've just prepared a Netflix session with your significant other and right as you cuddle into the couch your free VPN quits working.
Not that any of the above would be possible with the abysmal connection speeds of a free VPN.
Let's just close our eyes and play a game of pretend.
Are you sure you want the above to happen with no-one to turn to? Is it worth saving the $10 a month for the amount of headaches you're going to have to endure?
Free VPN providers will sell your data, provide you with the lowest connection speeds and turn their back on you the second you become a burden.
That, my friend, is the real cost of free.
I know, protecting your data free of charge isn't as quick & easy as you thought it would be.
BUT: there is a loophole…
Something that you may not know existed. Something that will provide you ample time to test & experiment with a paid VPN provider before pulling the trigger and purchasing a subscription.
Free VPN Alternatives
---
Listen, I know that some of you aren't in the position to add another monthly bill to your bottom line.
I've been there and I sympathize. But let me be frank, when it comes to the safety & protection of your personal data, no free alternative is optimal.
That said, let me give you a sneak peek into the options which are open to you. Keep in mind that nothing will ever come close to the power of a real VPN.
If you're ready to sacrifice a lot of functionality, convenience and have some patience: you're in luck! Here are two alternatives to free VPNs that have similar functionality.
1. Proxies

Imagine proxies as being VPN's smaller, less talented brother. They're a perfect alternative for budget conscious Internet users who aren't concerned with having an iron-clad wall between their personal data and the outside world. Both free and paid proxies are available.
Proxies act as a buffer between your traffic and the network you're trying to access. Instead of connecting directly to the network you're trying to access, the proxy will relay, re-route and bounce your data packets through anonymous servers before sending it off to your target network.
That way the origin of said data packets, your IP address, is hidden and inaccessible to the target network. Your traffic will appear to come from the proxy server, effectively negating any attempts at snooping out who you are via your IP addres.
There are of course drawbacks of proxies.
While VPNs will protect and encrypt all of your outgoing data, Proxies function on a per application basis. In other words, while your Internet browser may be connected to a proxy, your Skype, bittorrent or online gaming will be just as vulnerable as usual because their traffic won't be routed via the proxy. You'll have to set up proxies for each and every application which communicates online.
The nature of a proxy, routing your traffic around the world before it arrives at its destination, adds a lot of latency. Additionally, if you're going for a free proxy server, expect it to be under heavy use from people around the world, further increasing connection speeds.
You should expect abysmal connection speeds, similar to a free VPN.
A proxy's main function isn't to protect you from attacks. VPNs are the solution for that.  Proxies won't encrypt your traffic between your system and the proxy server. Anyone with access to your data, your ISP or a hacker, will be able to see everything you're doing.
Proxies do add an additional layer of security to your browsing but it's a pretty thin one.
If you want to learn more about proxies, make sure you check out our comprehensive Proxy vs VPN comparison article!
2. TOR (also free)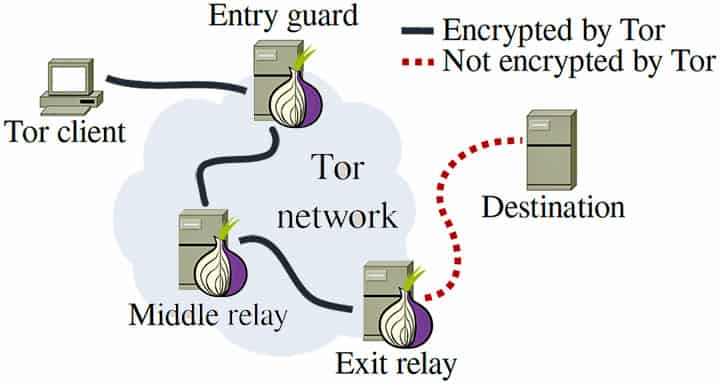 TOR, named after the original project "The Onion Router" is a free software which anonymously connects you to a volunteer-operated network of servers. This enables you to be assigned a new IP address, on the same basis as a VPN client.
It works in a similar way to proxies but with the added benefit of being a decentralized system. TOR is preferred over proxies as your data will be encrypted and securely relayed through the network.
Due to its security benefits, TOR is preferred over proxies and used by journalists and activists to circumvent government censorship & restrictions.
Also known as the "dark/deep" web, TOR enables you to access websites otherwise inaccessible with normal browsers. Such "onion" websites have have rather different domain names as they are mostly randomly generated.
Check out the domain name of the anonymity search engine DuckDuckGo:
http://3g2upl4pq6kufc4m.onion
One interesting, often overlooked tidbit, is that TOR was created with the help of the the U.S. Navy. Something to keep in mind.
Being a widely accessible, free and anonymous network, TOR has become a hub for criminal activity. This is one of the reasons why you may be put on a "list" if you access TOR: a big chunk of the network's users connect to it to carry out illegal transactions. Anything from false identities, to heavy drugs and even weaponry.
Another big drawback of TOR is the extremely slow loading times.
These long loading times are predicated on the inefficient and long-winded routes that your data packets are sent on, relayed from server to server, until they finally hit their destination. This, of course, is all done in the name of safety.
Make no mistake, TOR isn't entirely foolproof. Certain software vulnerabilities and website admin errors can be and are exploited by government agencies.
Conclusion – Is FREE VPN Worth it?
As with most things in life, the old adage you get what you pay for holds true here. Especially so when it comes to the vital aspect of cyber security. You simply can't afford not to take this seriously.
Oh, did I mention that cybercrime is growing at record speeds? Don't take our word for it, here is what Europol have to say.
If you're satisfied with the sloth speeds of TOR or overused proxy servers, more power to you & we admire your patience. For those of us who aren't superhuman, there's nothing better than trying a bona fide professional VPN service such as ExpressVPN.
If you're not ready to pull the trigger, go with a VyprVPN free 3-day trial instead.
Either way, you've got to do something. Don't leave you and your family exposed to the dangers of the internet.
Take action today and prevent the regret of tomorrow.
Which FREE VPNs have you used? Leave your comments, questions & feedback in the comment form below.