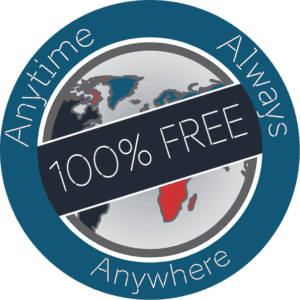 Who likes FREE VPN Software?
I sure do. And I reckon you do too.
In times where ISPs can sell your Internet browsing history to the highest bidder, Internet privacy has become an imperative.
We all know that.
What better way to protect ourselves, than to do it 100% free of charge? Why should we add yet another monthly payment to our bills, no matter how small it is?
I certainly could use a bit of "free" in my life
Free VPN vs. Paid VPN
However, when it comes to protecting your data, the best paid VPN providers are obviously better than free ones. Here are the main issues/cons with free VPNs.
Cons of free VPN
May monitor your activity
May collect data logs
Free VPNs display ads
70% slower than paid VPNs
A reliable, fully anonymous paid VPN is the opposite. According to our latest review on ExpressVPN, we found them most secure while keeping your Internet connection speed as same as before.
Best 7 "Totally" FREE VPNs in 2017
Below you can compare 7 best free VPNs by their features, data cap, servers and compatibility.
1. WindScribe.com: 10GB/mo Data Cap, 11 Locations
What is WindScribe?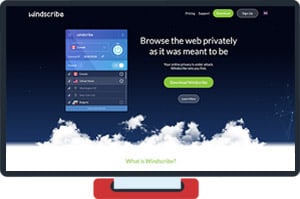 Windscribe is a Canadian VPN provider founded in 2015.
They're new, but highly respected in different VPN communities like reddit (/vpn/).
Windscribe offers you a very generous 10GB (month) bandwidth for you to test them out. If you tweet them out, you'll receive another 5GB.
It's a lot, as many free VPNs don't give out that much bandwidth and the ones with no data cap tend to be VERY slow. Let's see how WindScribe handles my 100 Mbps connection:
Windscribe VPN Connection Speeds

Ping: 61ms
Download: 39.81 Mbps out of 100 Mbps
Upload: 19.77 Mbps out of 100 Mbps
For a free VPN, these speeds are nothing too bad. Some paid VPNs like PureVPN (review) are even slower. And for comparison, the free VPN called Betternet (review) comes with <5 Mbps download speed.
Features: Adblock, built in firewall, 11 locations, no logging.
As a free user, you will receive access to some features such as WindScribe's built in firewall & adblock as well as P2P capabilities – but no OpenVPN Configs and the array of other Pro features.
Server-wise, you can connect to one of their 11 out of 46 locations:
United States
Canada
United Kingdom
Hong Kong
France
Germany
Luxembourg
Netherlands
…
According to WindScribe.com webpage, they do not log and store any of your VPN data and you can sign up to their services without email and pay via Bitcoin anonymously.
If that's not taking privacy to an extreme, what is? Windscribe's app (available on Win, Mac, iOS & Android) is minimal, sleek and intuitive to use.
Do I recommend Windscribe?
Yes. Abundance of locations, torrenting possible and a huge data cap. I do love their progressiveness and innovative nature. They do seem to be one of the few legitimate free VPNs out there.
Pros: 100% free, zero logging, max connection speeds, 11 different server locations, ad block + firewall
Cons: 1 simultaneous connection max.
2. Hide.me: 2GB/mo Data Cap, 3 Countries, Free
What is Hide me VPN?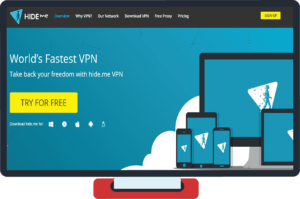 Founded back in 2011 by Malaysian eVenture Limited, Hide.Me is a fairly popular and well-known VPN service.
Next to their $5 and $10 plan, they offer a "free forever" option. Unlike WindScribe, Hide.Me unfortunately restricts your bandwidth to a 2GB monthly maximum.
If you plan to use VPN daily, you'll run out quite quickly.
Hide.Me VPN Connection Speeds

Ping: 61ms
Download: 45.69 Mbps out of 100 Mbps
Upload: 28.60 Mbps out of 100 Mbps
Things look a lot rosier when it comes to Hide.Me's connection speeds. These are more than adequate speeds for a free plan.
Features: 3 locations, smooth app (Win, Mac, iOs, Android), no logging.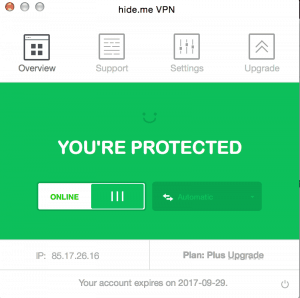 You're offered a choice of only 3 locations
Netherlands
Singapore
Canada.
None of those servers are geo-block optimized, meaning they are unlikely to circumvent Netflix restrictions.
What disappointed me more is their protocol policy on free plans. No OpenVPN. A controversial choice I strongly disagree with. Free or not – there is no compromise for maximum security, if you have the capabilities.
They don't keep any logs (stated clearly in their policy).
Their software client is more than acceptable. The straightforward, minimal client (Windows, Mac, iOS & Android) gives you a glimpse of what you can expect should you chose to convert to a paying customer. And, of course, that was their goal from the get go.
Do I recommend Hide.Me?
Yes. If you don't care about their 2GB/month data cap. It's just meant to give you a taste of what they can do.
Pros: 100% free, zero logging, no ads and a good client.
Cons: 2GB data cap, 1 connection max.
3. ProtonVPN.com: No Data Cap, Windows Only
What is ProtonVPN?
ProtonVPN is one of the newest VPN providers in the industry. Proton AG are a group of CERN & Harvard scientists and privacy advocate, set out to change the world of cyber security..
Following their earlier success with innovating and disrupting the privacy industry (like protonmail), ProtonVPN continue their effort by imposing no bandwidth caps on your traffic.
ProtonVPN Connection Speeds

Ping: 44 ms
Download: 34.40 Mbps out of 100 Mbps
Upload: 23.15 Mbps out of 100 Mbps
Certainly good enough speeds for a free plan – with no data cap. With free plans it's either low data cap and super-fast speeds, or no data cap and extremely slow speeds. Seeing such fast speeds, without a data cap is certainly refreshing.
Important: Don't expect these speeds to last. As Proton becomes more and more well-known and used throughout the globe, speeds for free users will suffer.
Free Plan Conditions, Privacy & VPN Client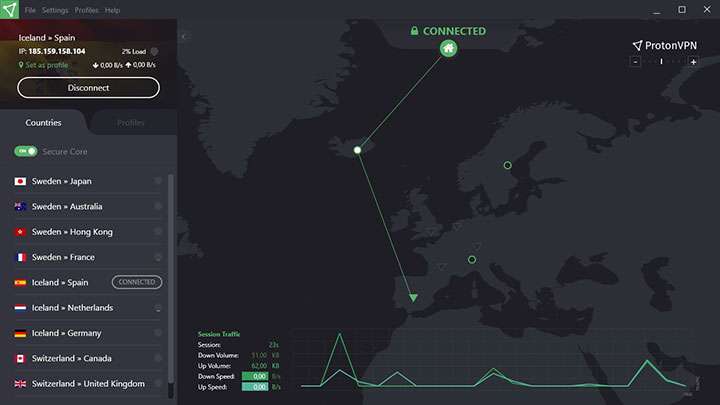 As a free user, you will have access to servers in:
Netherlands,
USA
Switzerland
Japan
All in all about a half a dozen servers.
None of those are enabled for geo-circumventing (Netflix) or P2P optimized (torrenting).
Next to only one max connection, you won't have access to any of their unique features such as high-priority servers, their Secure Core, Tor integration etc. Situated in Switzerland and with so many privacy accolades under their belt, Proton is 100% the single most privacy-conscious VPN provider in the world, with no logging.
Being a very new VPN service, Proton have yet to develop standalone clients for operating systems other than Windows. They don't have standalone app for:
For Mac, iOS & Android you will have to go through a lengthy 3rd party software installation and configuration process and won't be able to make use of many ProtonVPN features.
Do I recommend ProtonVPN?
As a free VPN service? 100%. Get in while they are still new and haven't changed their terms. Even if you're using a Mac, the workaround is worth the unlimited bandwidth and top free VPN speeds.
Pros: No data cap, decent download and upload speed
Cons: No app for Mac, iOS and Android (3rd party software installation is required), No Netflix, No Torrenting
4. HotspotShield.com: 500MB/day Data Cap, 20 Countries
What is Hotspot Shield?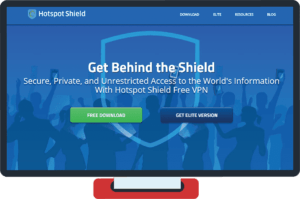 One of the oldest public VPN providers, Hotspot Shield was created by the US company AnchorFree.
Neither the fact they are based in the USA nor that they backed by $52 million financing by Goldman Sachs makes me feel very safe.
Until very recently Hotspot Shield did not impose any bandwidth limits on their free users. You were instead monetized by being displayed ads.
That said, in June 2017, Hotspot implemented the following data caps:
AndroidData Cap is 256MB per day and resets every 24hrs.
DesktopData Cap is set to 750MB per day and reset every 24hrs.
At 500MB, you will lose access to video sites for 24 hours and will be prompted to "share Hotspot Shield with 10 friends to restore access"
Hotspot Shield VPN Connection Speeds
Ping: 66ms
Download: 26.82 Mbps out of 100 Mbps
Upload: 30.95 Mbps out of 100 Mbps
This speed, for a free plan that has been offered for over a decade and used by presumably millions of users is quite good.
Features: 20 countries, Free Plan Conditions, Privacy & VPN Client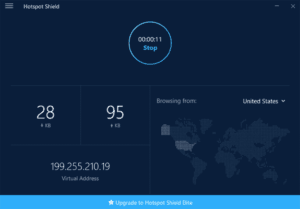 Hotspot Shield were mindful not to share too much about their free plan on their website, instead baiting you into just "giving them a go".
As a free user, you will have access to 20 of their locations (US, UK, JP, IN, AU, CA, CN, TR, UA and more) and limited access to their features such as geo-circumvention and basic malware protection.
Hotspot clearly state in their prominently displayed Privacy FAQ that they do not log or store any user data.
The client is a bit more clunky than I'd like. It looks unpolished and isn't as intuitive as other clients.
The ads which display don't really help the situation. At least it's supported on all major (Win, Mac, iOS, Android) operating systems and even some browsers (Chrome)
Do I recommend Hotspot Shield?
Yes, with a caveat. For very basic users, who are in need for safe and anonymous browsing, not looking to watch videos, Hotspot Shield are a solid choice.
Pros: Good download and upload speed, works on all devices.
Cons: Data cap limitations.
5. Tunnelbear.com: 500MB/mo Data Cap, 3 Countries
What is TunnelBear VPN?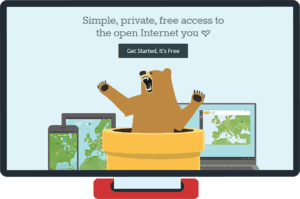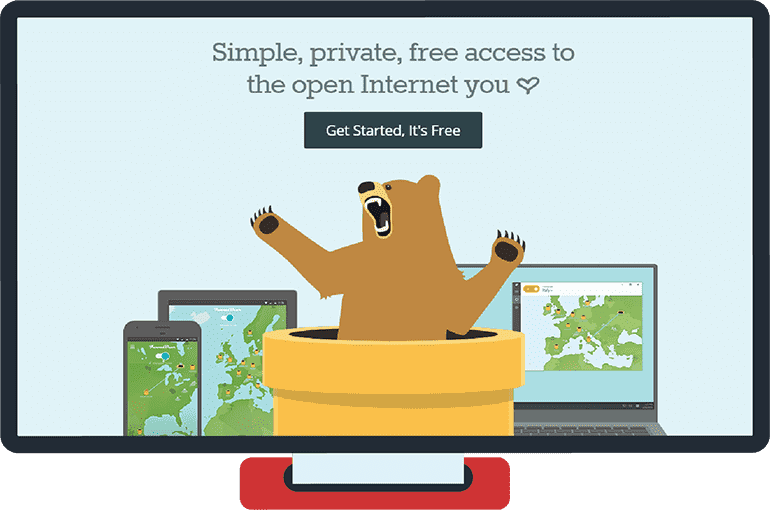 Without a doubt the cutest VPN service, the Canadian TunnelBear Inc have been making the round ever since their 2011 inception.
A strong emphasis on putting forth an extremely beginner friendly VPN service, Tunnelbear offer you a monthly 500MB free data to test out their servers
PS: Hit them up on twitter, tell us we sent you and they'll throw in another 1GB in free data.
The first thing you should think of when you see such a low data cap is "this isn't meant for regular use; they are trying to sell me". You'd be right of course. This is all marketing. Which make the following very, very strange.
Tunnelbear VPN Connection Speeds
Ping: 98ms
Download: 15.09 Mbps out of 100 Mbps
Upload: 7.49 Mbps out of 100 Mbps
Clearly, a very unimpressive result. Say goodbye to productivity and hello to headaches and frustrating buffering.
Free Plan Conditions, Privacy & VPN Client
Tunnelbear are minimal to a fault – their website provides almost no information. No protocol, encryption, max connections, servers & countries or bandwidth info. The almost hidden "20+ countries" is about the extent of what they deem worth sharing.
At least they had the sense to lay out their privacy policies in which they clearly and fully state the extent of their information collecting – absolutely zero IP and data logging.
Their Tunnelbear client, available on Mac, Windows, iOS and Android, is very simple to use and further builds on their ideals of less is more. The free app even provides some basic options like a kill switch.
Do I recommend Tunnelbear?
No.
All in all, while they have done everything right, their speeds and low data cap make this a poorly executed marketing trick and nothing more. If you're looking for a long term free VPN, Tunnelbear is not what you're after.
Pros: 100% free, zero logging, works on all devices.
Cons: Data cap, very slow connection speeds, no torrenting allowed.
6. Avira Phantom VPN: 500MB/mo Data Cap, 20 Countries
What is Avira Phantom VPN?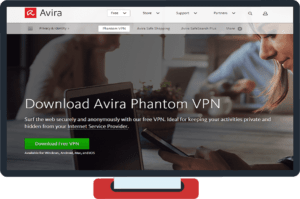 A subsidiary of famous German antivirus company Avira, Phantom is their new VPN.
Should you decide $5.95 a month isn't a price you're willing to pay, Phantom is offering you a 500MB data cap per month for you to use free of charge (similarly to Hotspot Shield)
Avira Phantom VPN Connection Speeds
Ping: 41ms
Download: 6.98 Mbps out of 100 Mbps
Upload: 9.02 Mbps out of 100 Mbps

Not a surprise for such a massive corporation, it seems like Avira didn't put in enough effort to ensure fast speeds.
In fact, they're one of the slowest VPNs we've ever tested.
Free Plan Conditions, Privacy & VPN Client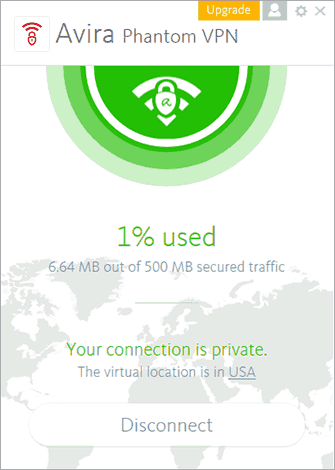 With low data caps and abysmal speeds, Avira instead banked on converting you by showcasing many of their premium features.
DNS leak protection, geo-block circumvention and over 20 server locations will be available to you as a free user.
As should be expected, Avira do not track anything other than the amount of data you consume as a free user. No IP logging or websites tracked.
Offered to all major operating systems (but only the latest versions), Phantom's connection client is both straightforward and easy to use.
Do I recommend Avira Phantom?
No. A bottom shelf data cap and some of the slowest speeds around, what could you possibly do with Phantom? With so many better options around, Avira have a lot of catching up to do.
Pros: 100% free, zero logging, works on all devices.
Cons: Very slow connection speed, small data cap
7. Betternet.com: 2GB/mo Data Cap, US Servers only
What is Betternet?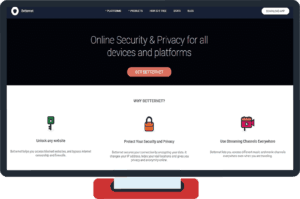 Founded in 2015 by Canadian Betternet Technologies Inc, Betternet used to be a "free only" VPN which has recently switched over to a premium model.
One of Betternet's "Free forever" promises went hand in hand with their lack of data capping. The way they monetized their users (ads) allowed them to offer unencumbered use of their networks.
This hasn't changed. You can use Betternet's VPN for as much and as long as you want – no data caps, hooray.
Betternet VPN Connection Speeds
Ping: 64 ms
Download: 3.64 Mbps out of 100 Mbps
Upload: 12.41 Mbps out of 100 Mbps
But here's the catch – this VPN is practically useless. We did multiple tests are never managed to achieve a better download speed than that.
Free Plan Conditions, Privacy & VPN Client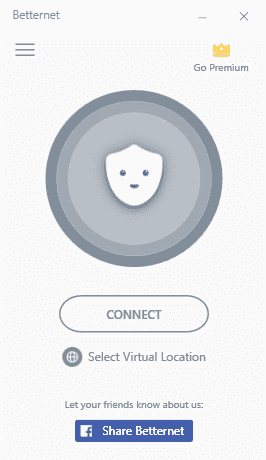 As a free user, you do not seem to have a choice of servers. Should you attempt to change the server location, you will be greeted with a "Upgrade now!" page.
In our tests, Betternet defaulted to connecting us to a US server.
Additionally, Betternet do not seem to have implemented many features for their free users such as kill switches, DNS leak protection etc.
Betternet do not collect, log, store or share any identifiable personal information. This translates into a no logging policy as with most other VPN providers. Perhaps one of the simplest clients for free users, void of even mandatory user login, Betternet's software is a breeze to use.
Betternet clients are available for Mac, Windows, iOS, Android as well as for both Chrome and Firefox
Do I recommend Betternet?
No. With less than 1% efficiency, just forget streaming video or torrenting anything bigger than a song file. It's OK for changing your IP, but for serious use – forget it.
Pros: 100% free, zero logging, works on all devices.
Cons: Slowest connection speed, no torrenting is possible
Free VPNs (Data Cap vs. Download Speed vs. Usability and Rating)
VPN Service
Cost
Data Cap

Download Speed (out of 100 Mbps)
# Servers
Rating + Usability

FREE

10GB/month

39.40 Mbps

Servers in 11 countries

★★★★

Win, Mac, Android, iOS

2. Hide.me VPN

FREE

2GB/month

45.69 Mbps

Servers in 3 countries

★★★★

Win, Mac, Android, iOS

3.  ProtonVPN

FREE

No Data Cap

34.40 mbps

Servers in 3 countries

★★★

Windows only

FREE

2GB/month

26.82 Mbps

Servers in 3 countries

★★★

Win, Mac, Android, iOS

5. Tunnelbear

FREE

500MB/month
15.09 Mbps

Servers in 3 countries

★★

Win, Mac, Android, iOS

FREE

500MB/month
6.98 Mbps

Servers in 20 countries

★★

Win, Mac, Android, iOS

7. Betternet

FREE

No Data Cap

3.63 Mbps
Servers in US only
★

Win, Mac, Android, iOS
Which is the best free VPN for Android and iOS?
According to our usability and speed-tests, the best free VPN for Android and iOS users is WindScribe.
They offer a reasonable data cap of 10GB/month and are available both on Google Play and App Store.
Best alternative for WindScribe is Hide.me VPN, but this VPN ones comes with a smaller data cap – 2GB/month which is too low for serious use.
Can free VPN log and sell your data? Yes..
If there's one thing you must know, it's that there's no free in business.
Not truly. In fact, that's the very first lesson Harvard economics students are taught in their 101 class: there's no such thing as a free lunch.
You don't think businesses actually provide you a service free of charge out of sheer compassion do you? Youtube, Facebook, Google Search, Instagram, Reddit. What do all of these have in common? They're free.
And what do they sell? Nothing. Right? Wrong. They sell YOU. If you don't have to pay for a product, you are the product. In short, free VPN can service can sell your data. Please be sure to read their TOS before downloading/installing/connecting.
Does free VPN slow down my Internet connection?
Unfortunately, free VPN services do not provide you access to the full power of their servers.Hence you might experience some very slow loading times when browsing the web or Netflix.
In fact, in our tests, the average free VPN download speed was 15 Mbps, and that's with our 100Mbps raw connection.
It's done on purpose too. Some do it to simply keep their costs as low as possible. While others use it as an incentive for you to upgrade to their paid options. Get comfortable with slower speeds than usual – it's unfortunate when using a free VPN.
If you need a faster VPN, take a look at this chart.
No support available for FREE VPNs
I don't know about you, but the first time I had to install and use a VPN I had a few questions.
Tunnel protocols, TAP Drivers, TCP vs UDP, RSS vs ECC Handshakes etc. Networking isn't exactly something you pick up during your lunch breaks.
Well, forget having any of those answered by your free VPN service. They couldn't care less about you and your questions. Good luck figuring it out on your own, that's their motto.
What are Free VPN alternatives?
Here are two alternatives to free VPNs that have similar functionality.
1. Free Proxies – no encryption/less secure

Imagine proxies as being VPN's smaller, less talented brother. They're a perfect alternative for budget conscious Internet users who aren't concerned with having an iron-clad wall between their personal data and the outside world. Both free and paid proxies are available.
Proxies act as a buffer between your traffic and the network you're trying to access. Instead of connecting directly to the network you're trying to access, the proxy will relay, re-route and bounce your data packets through anonymous servers before sending it off to your target network.
That way the origin of said data packets, your IP address, is hidden and inaccessible to the target network. Your traffic will appear to come from the proxy server, effectively negating any attempts at snooping out who you are via your IP address.
There are of course drawbacks of proxies, such as
Lack of functionality
Slow speeds
Low security
If you want to learn more about proxies, make sure you check out our comprehensive Proxy vs VPN comparison article.
2. TOR Network – slower than VPN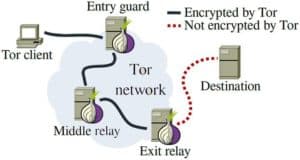 TOR, named after the original project "The Onion Router" is a free software which anonymously connects you to a volunteer-operated network of servers. This enables you to be assigned a new IP address, on the same basis as a VPN client.
It works in a similar way to proxies but with the added benefit of being a decentralized system. TOR is preferred over proxies as your data will be encrypted and securely relayed through the network.
Due to its security benefits, TOR is preferred over proxies and used by journalists and activists to circumvent government censorship and restrictions.
However, TOR tends to be slow.
These long loading times are predicated on the inefficient and long-winded routes that your data packets are sent on, relayed from server to server, until they finally hit their destination. This, of course, is all done in the name of safety.
What free VPN do you recommend?
As with most things in life, the old adage you get what you pay for holds true here. Especially so when it comes to the vital aspect of cyber security. You simply can't afford not to take this seriously.
If you're satisfied with the slow speed, restrictions and limitations of a free VPN then sure, go for it.
To recap, here are 5 best free VPNs:
WindScribe VPN – FREE, 10GB/mo Data Cap
Hide me VPN – FREE, 2GB/mo Data Cap
ProtonVPN – FREE, No Data Cap
HotSpot Shield VPN – FREE, 500mb/day Data Cap
TunnelBear VPN – FREE, 500mb/mo Data Cap
However, if you strongly care about your online privacy, it's much better to go with best premium VPNs, such as PIA or ExpressVPN.
Either way, you've got to do something. Don't leave you and your family exposed to the dangers of the internet.
Which FREE VPNs have you used? Leave your comments, questions and feedback in the comment form below.