So the first thing you might expect when trying to connect is a difficult, complex setup that takes over an hour to figure out. (And perhaps, a few cocktails to go along with it.)
Thankfully, that couldn't be further from the truth.
In fact, you can get up-and-running with a VPN connection in less than five minutes.
No really. It's a simple, pain-free process that's similar to firing up a web browser or even turning your device on. (There's even a big power button that you can't miss.)
Here's how to set-up your first VPN connection, along with 9 helpful step-by-step tips.
Setting Up a VPN Connection
We're going to use ExpressVPN for the rest of this example to show you exactly how to get connected to a VPN for the first time. We're using and recommending ExpressVPN because it's among the most secure, credible, and not to mention, easiest options to use.
After signing up, creating an account, and setting up billing, you should be ready to login for the first time and get going.
Let's start there.
Step 1. Login to Your Account
Logging into your account for the first time will bring you to a relatively generic My Subscriptions page with only a few simple options to choose from.
Here's what it looks like:
The majority of this page is devoted to the boring stuff, like billing info, subscription lengths, renewals, etc. Helpful, but not critical right now.
On the left-hand side, though, there's a big green button that says Set Up ExpressVPN.
Your first difficult task here?
Go ahead and click on that big green button. (Tough, I know!)
It's going to take you to a page that displays all of the different VPN client options they provide for different devices. So let's get ready to pick your first device for install.
Step 2. Download the VPN Client for Your Device
ExpressVPN has software and applications available for pretty much every device imaginable.
You can by connected to three devices at the same time. Reaching the limit or hitting three? Just disconnect one and you're good-to-go.
They also have a router option available, so you can set up ExpressVPN there and then connect as many devices as you want.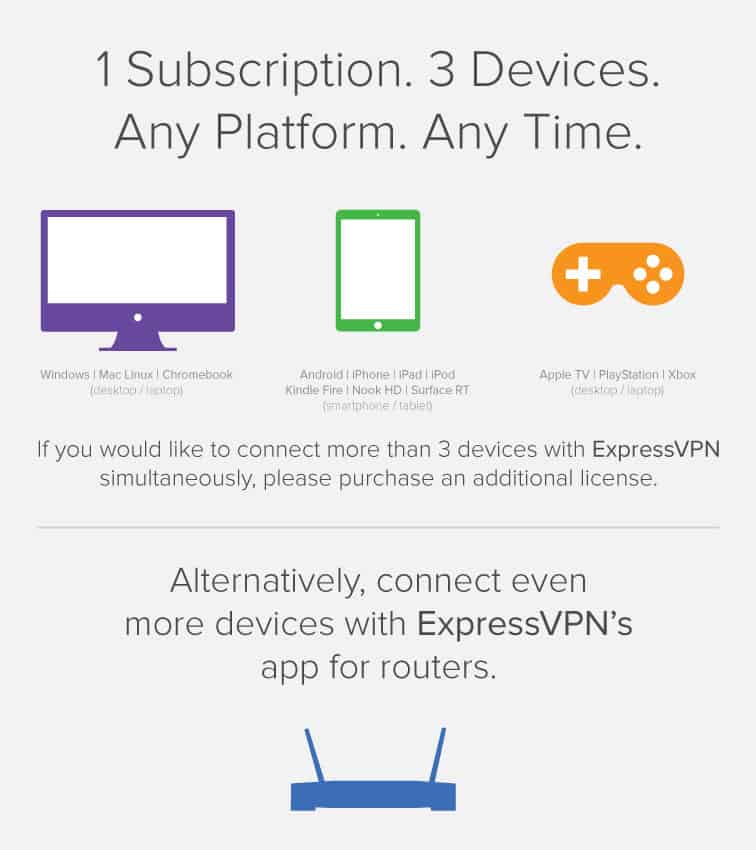 When it comes time to install your VPN client, they'll automatically detect whatever device you're on and provide you with the right software or app.
So when you look over on the right-hand side of the page, you'll see that it's already pre-selected the ExpressVPN for Mac option (outlined in yellow).
One of the other things you'll notice after landing on this page is that there your Activation Code, that string of random characters featuring a shaded with a blue background, shows up twice on this page (once on the upper-left, and another time below the red button on the right-hand side). Remember this, because you're going to need it in a couple minutes after installing the client for the first time.
Leave this screen up because we'll come back to it in a sec.
If everything else looks A-OK with the device and operating system, go ahead and click that red Download button now.
Step 3. Run the Installer Program
This next step should be fairly straightforward.
You've downloaded and installed countless programs to date already in your lifetime. No need to reinvent the wheel here.
So apply the same strategy… which is to just keep clicking the Continue or Next buttons as quickly as possible without reading any of the instructions. 🙂
The VPN client file size isn't very big, so this step shouldn't take very long. Get the client successfully installed and then let's meet back up here when you're ready. (Don't worry, we'll wait.)
Step 4. Copy & Submit the Activation Code
You've now installed the VPN client and you're ready to get this device authenticated.
So go back to that browser window you hopefully have up somewhere and copy the Activation Code they provide (the two numbers should be the same so it doesn't matter which you choose).
Once you've copied it, fire up the ExpressVPN client on your device and you should be able to paste it straight away. Like so:
The Launch ExpressVPN on startup checkbox refers to when you first power-up your computer or this device for the first time. So that's completely up to you. The client will start automatically after entering, so you don't necessarily have to leave it selected if you'd prefer to use it more selectively.
When done successfully, you should see this happy Success! screen:
You'll notice that the client itself is fairly minimal and simple. So you can expect that everything from here-on-out will be smooth sailing.
Click on the big, red Start using the app button to… you know, start using it.
Time to get connected.
Step 5. Connecting Your VPN for the First Time
It only took a few minutes to get to this point, and you're all set to go.
Wanna see how hard it is to connect to a VPN for the first time?
Start by clicking that humongous power button you see…
… the button will change colors a bit as it connects…
… and that's it! Green means good.
You're literally done. Give yourself a pat on the back.
You might also notice how slim and minimal the design of this client is. Not only does that minimal approach make it easier to use, but it also makes sure that the design and interface provides a consistent experience across devices.
For example, here's what a Windows user would see:
Pretty much the same exact window and options.
But what about mobile?
Here's what an Android user would see:
And here's what an iPhone user would see: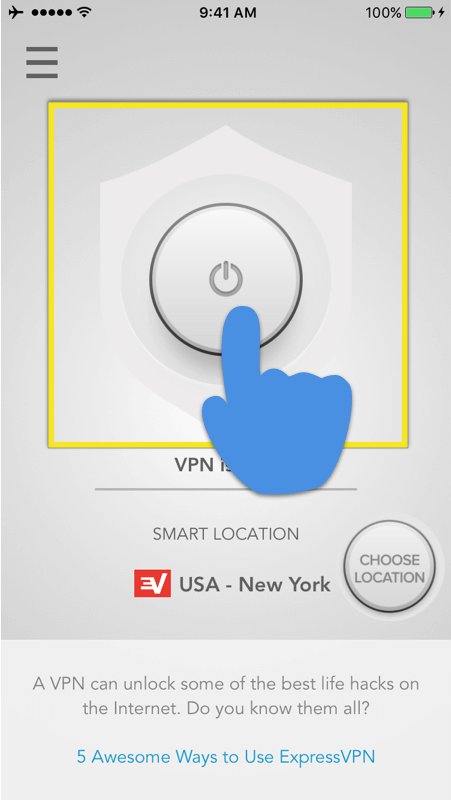 Not only do the two mobile apps resemble each other, but they're also clones of the desktop versions too. So no user errors or misunderstandings should happen while using your VPN across devices.
You've now successfully connected to a VPN and are able to browse away in anonymity. For example, pull up Google now and scroll to the bottom or footer of the page.
Google notoriously uses the geolocation of your device (yes, even your desktop) to tailor the search results you see.
But now that you're connected to the VPN, it will throw them for a loop.
You'll notice that this process was extremely quick and pain-free. That's because ExpressVPN does a great job helping you bypass a lot of the nitty gritty details that you'd normally have to mess with – like exit locations or protocols.
Instead of dealing with that stuff, ExpressVPN will help you default automatically to whatever the best options at the time are based on your network.
You can, however, go in manually to select specific ones too. If you're a masochist. 
Let's see how to do that for those of you out there.
Step 6. Change 'Exit Locations' (Optional)
Your 'exit location' is basically your desired network connection.
If you're just trying to safeguard your browsing on a public Wi-Fi, the closest option to where you are currently located is perfectly fine.
However if you're trying to access websites that are blocked, restricted, or censored by whatever country you're in, you can change the location here to appear like you're browsing in a different location.
Turn your VPN connection off, and under the power button, you'll notice the default location they chose for you.
Right next to that is a nice, clear button that says Choose Location. Click on that to pull up the next screen with a few different options to select:
The first few options are all recommended ones. But ExpressVPN has over 135 server locations in 87 countries. So you can literally select almost anywhere, or cycle through a few to eventually get what you want.
Now that you've see how to choose a different country, let's take a look at how to change protocols.
Step 7. Change Protocols (Optional)
Protocols are a complex subject. You could write a whole guide on those along. (In fact, we did.)
But the short version (if you're not already familiar with how they work), is that protocols are like different languages you can use to create a secure VPN connection. So same end goal, but different ways of getting there.
If you don't know, don't care, ExpressVPN will automatically choose one for you based on your network. Which means you don't even have to think about it as long as you're fine with their choices.
ExpressVPN defaults to the OpenVPN protocol, which is among the most recent and stable protocols available. But they'll also cycle through a few different ones if, for whatever reason, that one's not working properly.
Otherwise, you can also manually select one of the following protocols:
Here's how to manually select a different one.
On the upper right-hand corner of the VPN client, you should notice there is the infamous three-lined menu button. Click on it to expand your different options:
You'll see that the first menu option offers another way to select a different VPN location. Been there, done that. So let's move on.
The Speed Test is helpful once you're already connected and have been using it for some time, but let's skip it for now.
Help is self-explanatory. Next.
We're looking for the 'gear' icon for Preferences, fourth down from the top. (On a Windows desktop, this is called Options.)
You'll see that the Automatic option is both recommended and pre-selected. But you can now click on any of the other options if needed.
If you don't need to use one of the other options, like PPTP, don't. These are available for very specific reasons. Otherwise, you're much better off with an OpenVPN option or just letting them connect you automatically based on what's available.
These are available for very specific reasons. Otherwise, you're much better off with an OpenVPN option or just letting them connect you automatically based on what's available.
Step 8. Use the Menu Bar (Optional)
When you have the application opened up, an icon will be placed in your menu bar. For Mac users, this appears in the upper right-hand side of your desktop.
For Windows users… what are you waiting for? Buy a Mac already. JK. 🙂
Almost all of the VPN client options we've just reviewed are a simple click away in the Menu Bar icon. Select it to display all of your options, and you'll see that it only takes another click or two to get connected, select a different location, or change protocols.

Step #9. Spotlight (Optional)
Another benefit for Mac users is that ExpressVPN will also work with Spotlight.
For those who don't know, Spotlight is like Google or Siri for your desktop. It's like a shortcut to automatically pull up applications or perform basic functions without ever leaving your screen.
For example, simply tap the Command + Spacebar and your Spotlight search bar pops up.
Start typing, "connect to", and you'll see that Spotlight will automatically start pre-filling results and allow you to hit Return / Enter to get connected to your VPN in a few fractions of a second.
Now you don't even have to go looking for where the client window is on your computer. A few keystrokes is all it takes to create a VPN connection.
Conclusion
It's easy to get intimated by VPN services.
The way they work, and the technology underlying them, can get complex and difficult if you're not sure what you're doing.
Fortunately, many of the best VPN providers out there, like ExpressVPN, remove all of this difficulty for you.
Instead of complexity and being overwhelmed by choices, you're met with simplicity and minimalism.
Everything from finding which software to download to then setting up and connecting your VPN client for the first time is incredibly easy.
They've made the entire process stress and pain-free.
And with this step-by-step guide as your reference, you should be up-and-running in less than five minutes after signing up.