Total VPN, from PSEUDiO Ltd, is a 'boutique' (read: small) VPN service with a handful of worldwide locations.
In addition to Total VPN, PSEUDiO also runs two other brands – SaferWeb and INCOGNITO – that each tailor to different aspects of a VPN.
We're going to focus our attention on their primary offering, Total VPN, in this review. First we'll take a look at the highlights, like server locations, app availability, and notable features. Then we'll dive into available protocols, encryption offerings, support and pricing.
Let's go.
Total VPN Review (Summary)
| | |
| --- | --- |
| PROTOCOLS: | OpenVPN, IPSec, PPTP, IkeV2 |
| ENCRYPTION: | AES 256-bit |
| LOG FILES: | NO |
| LOCATIONS: | 30+ countries |
| SUPPORT: | 24/7 Live Chat and Email |
| EASE OF USE: | Simple |
| COST: | FREE or $4.99/mo |
| PLATFORMS: | Win, Mac OS, Android, iOS |
| RECOMMENDED? | YES |
| OFFICIAL WEBSITE: | www.TotalVPN.com |
Total VPN Quick Facts
Total VPN has one of the smallest networks we've reviewed, with only thirty worldwide locations.
The bulk of those are centralized in North America and Europe, with Asia coming in a distant third. Africa and South America are barely represented with one a piece (so keep that in mind).
While they might not boast the largest server network, Total VPN makes up for it with availability across all major platforms, including:
iPhone

iPad

Windows

Mac OS

Android

Xbox, Playstation

Apple TV

Windows Surface

Amazon Fire

Blackberry

Google Nexus


Total VPN offers restriction-free usage, which means there's no caps on your bandwidth or data transfers… except, if you're using the free plan. But we'll talk more about that later.
While Total VPN doesn't offer a Tor connection, they do recommend using one in addition to their service if you're worried about a potential a WebRTC leak of any kind (which could potentially give away your IP address – even while using a VPN).
Although they do not offer tor with their services, they recommend using tor in addition to their service if you experience a WebRTC leak.
Total VPN only offers three device connections on their 'Premium' offering, which also is among the lowest we've seen (compared to five or six simultaneous connections offered by some of their competitors). And based on our initial research, it also doesn't look like they offer a router connection, either (which many other competitors include too). That means it's gonna be tough to get around that low, three-device limit.
And while there's no money back guarantee to speak of, there is a free plan that you can use to test drive. More on that in the Plans & Pricing section below.
That about wraps up the highlights. Now let's take a look at the available protocols and encryption methods Total VPN offers.
Available Protocols (Most are available)
Today's modern encryptions require authentication at each endpoint of a connection.
That's how SSL certificates work, for instance. A unique authentication is created between each device and a website in order to create an impenetrable connection.
So no one else can interfere, intercept, or put themselves in the middle of the two parties.
Network 'eavesdropping' is one of the most common and oldest forms of 'man-in-the-middle' attacks, where a hacker places themselves in between a device and it's connection – without either party becoming aware of it.
That middle man will pass some data back-and-forth so there's no cause for suspicion. But in the meantime, they're able to siphon off sensitive data that can be used later.
The OpenVPN protocol is the industry go-to, because it runs on the same technology as SSL certificates. It creates a secure, encrypted connection between your device and the VPN network so that no-one can interfere. As such, Total VPN (like many other providers in the industry) recommended and default to it as their primary protocol.
That means when you connect to a coffee shop network, or even a hotel or airport, your activities are safe from people who could be 'eavesdropping' and monitoring network activity.
Total VPN also offers other protocols, like PPTP, L2TP/IPSec and IkeV2 protocols. But these should only be used in special cases most of the time and ignored by most VPN users.
Generally speaking, the only people who should be using those other protocols already know what those 'special cases' are.
The biggest risk is known security vulnerabilities. So if you're not careful and don't know what you're doing, your data can still be hijacked despite technically using a VPN.
Here's how the best encryptions work, and why you should most likely stick with OpenVPN protocol when using Total VPN.
256-Bit Encryption (Similar to all other VPN software)
When you login to a WordPress website, for example, it's an unsecure location.
There's no special encryption authentication your device needs in order to login. You simply punch in a username and password and you're good to go.
So in theory, anyone, anywhere, can login to a WordPress site if they get their hands on that password.
That's why WordPress websites are susceptible to brute force attacks. A hacker can run a series of combinations until they'll eventually crack the code.
Encryptions are simple math at the end of the day. So almost any password can be broken with enough time and enough trial-and-error.
Other major websites, like Gmail for example, will combat this by limiting the amount of failed login attempts that can be made. They'll also use the aforementioned SSL certificates to ensure that each connection is locked-down.
The result? They've eliminated the majority of the potential problems.
Total VPN uses 256-bit encryption for their connections. The "256" part actually refers to 2256. That's the number of possible combinations a hacker would have to try in order to break the encryption.
Even with today's fastest computers, that number is almost impossible to crack (at least in our lifetimes).
That's why financial, military, and government institutions all require 256-bit encryption on their most prized digital possessions. 'Cause it means their stuff is safe and sound.
Some
Logging
Total VPN's website says "Zero Monitoring" and "We believe in your right to privacy, we don't keep logs of your browsing history."
Except…
When you dig into the fine print a little bit, you'll discover that they, in truth, do a little logging.
This is actually a pretty common practice in the VPN industry to be honest. Your actions are never, truly, anonymous. And that's why many still urge you to avoid illegal activities.
Total VPN will log when you sign into their service, the IP, and the user name. That's done most of the time so they can maintain and improve the service they're delivering to people (as well as protect its customers from potential abuse).
They do not, however, log or keep track of the activities you do while connected. So they don't see the content or data or websites you're visiting, streaming, and downloading.
Customer Support (Live Chat & Email)
Total VPN offers support every single day of the year through email and live chat.
We also took a look at their social networks, including Facebook and Twitter, to at least see how they handle negative feedback (and how quickly they're on top of it).
On Twitter, we saw one long exchange between the company and a customer which at least showed quick, polite responses where they attempted to be helpful and rectify the situation. At the end of the day, that's all you can ask for when things inevitably happen.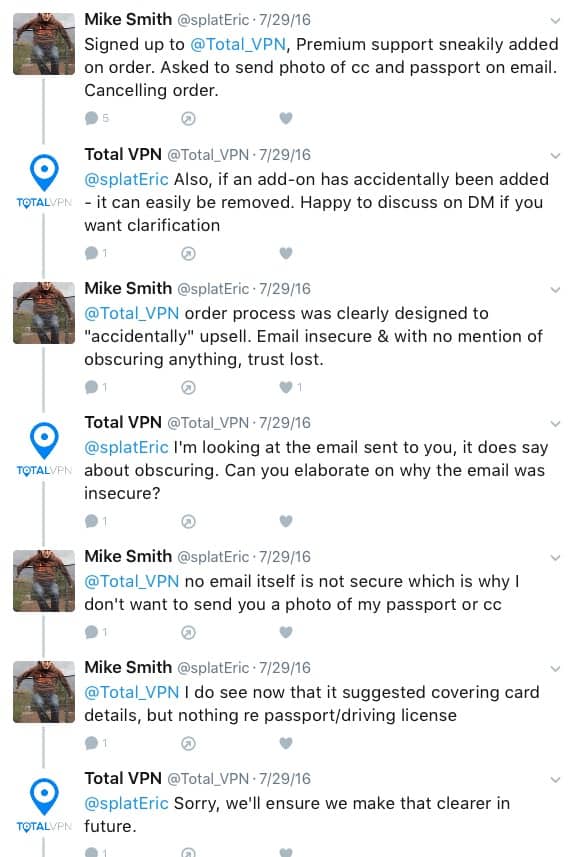 Plans & Pricing (Free and Premium $4.99/mo)
Some VPN providers will have one plan with three different pricing tiers split based on a monthly, six month or one year option.
Others will offer more unique plans, with lower-level ones restricted.
Total VPN does this, with a lowest-tier that has restricted locations, as well as limited bandwidth, data transfers and device connections. But… that's because it's a FREE plan. That's right. $Zero dollars each month. So it's kinda hard to complain.
Beyond that, their 'Premium' offering gives you unlimited access to all of their features with no restrictions or limits. And it's only $4.99 each month.
That's as simple and straightforward as it gets. (However, some people might not be able to score the same absurdly low ~$2/month plan by signing up for two years at a time.)
Free Plan includes:
3 locations

Limited Bandwidth

Limited Data Transfer

All protocols

1 device connection
Total Premium: $4.99/month
30+ locations

Unrestricted Bandwidth

Unrestricted Data transfer

All protocols

3 Device Connections

Premium Proxy
There you have it. All Total VPN has to offer.
If you want to take them up on that free plan, go ahead and sign up. Here's how you can setup their VPN client and get up-and-running in no time.
Total VPN Setup
---
First, go to www.TotalVPN.com
After signing up for a plan, login to your account and see the Dashboard.
Here's you'll find the list of servers provided under the tab Servers and a place to download the VPN client through the Apps tab.
Go ahead and click on Apps. They'll detect which device you're on and automatically suggest the appropriate client to download. Here's an example of what that should look like on a Windows machine.
When ready, click Free Download to begin the installation process that you know and love. Here's an example of the Installation Wizard that will pop up on a Windows device:
Press Install and go through the typical process. Maybe grab a cup of coffee or two. Should only take a minute or so.
Once the client window pops up, go ahead and enter your username and password that you just set up.
Enter your info and click on Login to get the party started.
After you have logged in you will see the dashboard to your new VPN client.
The first thing you'll notice is a VPN Mode to select. Based on your objective, they'll help you select a setup and server location that will maximize each experience (for example, finding the fastest server available if speed is your goal).
Since this example is a free account you can't choose your location server. That's right, you're limited to ONE. So choose carefully! 🙂
However, the upgraded $4.99 per month plan will give you the ability to automatically connect to a server location, or manually select from a list on the left-hand sidebar. Just click on any of the 30+ locations offered by the client on the left hand side to connect!
We've also conducted a quick speed test to give you an idea of how their performance might look while streaming your favorite Netflix shows. Overall? Pretty good!
Ping: 17ms
Download Speed: 38.14 Mbps
Upload Speed: 31.38
Conclusion
If you're looking to test-drive a VPN for free, to get a quick feel for how they work, Total VPN offers one of the only free VPN services we've seen. So it's a good bet.
Their upgraded pricing also isn't too bad.
But there are a few downsides with Total VPN.
First, they have one of the smallest server networks we've seen, with only one server each in South America and Africa. They have a smaller-than-usual three device limit (without the ability to connect to a router to enable more). And they do admit to logging some activities.
While they're a perfectly good VPN provider when it comes to protocol availability and encryption, there are other networks available that provide more flexibility and options to take a look at.