ExpressVPN is one of the largest VPN providers, headquartered in the beautiful (nearly tax free) British Virgin Islands.
Their minimal, user-friendly VPN client allows you to connect almost any device imaginable to over 136 cities in 94 different countries within seconds.
Throw in around-the-clock availability (literally – 24/7/365), and it's tough not to love ExpressVPN.
Here's a rundown of their overall offerings, starting with the boring techy-stuff, before diving into the pricing (it ain't free) and set-up walkthrough.
Let's get started.
ExpressVPN Review (Summary)
---
| | |
| --- | --- |
| PROTOCOLS: | OpenVPN & Many Others |
| ENCRYPTION: | AES 256-bit |
| LOG FILES: | No Logging |
| LOCATIONS: | 94+ countries, 950+ servers |
| SUPPORT: | Live Chat (24/7) |
| USABILITY: | ★★★★★ |
| COST: | $8.32/mo |
| PLATFORMS: | Win, Mac, Android, iOS |
| RECOMMENDED? | YES |
| OFFICIAL WEBSITE: | www.ExpressVPN.com |
Quick Facts About ExpressVPN
ExpressVPN is everywhere.
At least, everywhere you'd want to connect to in the Americas, Europe, Africa, the Middle East, and all over Asia Pacific. (Sorry not Antarctica… yet.)
With over 136 different VPN locations to choose from, you should be able to find at least one that will let you stream House of Cards on Netflix no matter where you're actually, physically located.
ExpressVPN also has apps available for all major devices, including:
Windows

Mac

Android

iOS

Blackberry (do people still use these?!)

Routers
In addition, they also have apps available for Linux networks and your routers. So while technically you can only use a single ExpressVPN subscription on three devices, you can think outside the box a bit…
(Hint: set up their client on your router and connect MANY devices to your router.)
Each of their apps also comes packed with 256-bit military encryption (which we'll delve into more shortly), along with unlimited bandwidth, a 30-day money back guarantee and their always-available support access.
There are also ZERO restrictions or caps.
That means 'unlimited bandwidth' really is unlimited. You also get unlimited speed and server switching, too (across their 1000+ servers).
ExpressVPN tops off all of this with a referral program that will give you 30 days of free service for each friend you send their way. Not too shabby.
ExpressVPN's Available protocols (All Protocols Available)
ExpressVPN offers up almost all protocols to establish an encrypted connection between your devices and almost any server location imaginable.
You can manually switch between them in a few seconds directly from your device client. Or you can let their client automatically choose the best protocol for you based on current speed and security.
However, they naturally default and recommend sticking to their OpenVPN connection (TCP and UDP).
Here's why.
Their OpenVPN will work like your standard, browser-based HTTPS secure connection. (You know, that friendly little green notification that highlights your browser web address bar?)
OpenVPN similarly protects you from different attacks using a downloaded-certificate for encryption (Specifically, ExpressVPN, "uses a RSA certificate corresponding to a key with 4096-bits of length, identified by SHA-512, a hashing algorithm of the SHA-2 family" for you geeks out there.)
One such attack is the "man-in-the-middle". While that sounds like a harmless playground activity, it's a bit more sinister in reality.
The "man-in-the-middle" attack unfolds when someone is unsurprisingly lurking between your device and the DNS server it's trying to connect to when you type in a new website address. They're actually preying on both sides here; tricking them into thinking they're connecting to each other but actually collecting data.
The "man" (or more accurately, software) that's now inserted itself between you and whatever website you're trying to hit, can now read everything. And I mean, everything.
Passwords? Easy. Emails? All of 'em.
For example, mindlessly checking your email at the local coffee shop sounds harmless enough. But it ain't if someone already hijacked that network. Public networks, like coffee shops, airports or hotels can 'impersonate' or mimic legitimate networks and trick you to login. They can then see everything you're doing, get access to your session cookies and get access to account passwords.
Now think for a second about the amount of sites your Gmail is connected to? Banking, etc.
That's why most reputable sites now run HTTPS (or Hypertext Transfer Protocol Secure): requiring a specific certificate of authenticity prior to establishing a secure connection.
OpenVPN clients will kinda work the same. When you download or install it, your certificate will be saved to each device to establish server authentication when it connects.
256-Bit Encryption Levels (Super Secure)
VPN software essentially creates a private tunnel around your traffic, obscuring and blocking it from all sorts of people (including governments, hackers, and more).
The encryption process used will help you blend your internet-based activity with other uses, obfuscating (someone brought their dictionary today!) IP addresses so that even Wi-Fi networks or internet service providers can't see what's going on.
We'll save you a lot of the boring details, 'cept that ExpressVPN "uses AES (Advanced Encryption Standard) with 256-bit keys". This encryption standard is used by government agencies and security professionals to thwart hacks like brute-force attacks. 
Brute-force attacks are kinda what they sound like. Hackers use trial-and-error to throw up many different random combinations of letters or numbers in order to eventually crack passwords and pin codes. They run automatically, so that they can try TONS of combinations in quick succession to eventually figure out the exact right combination that you use.
This is one of the easiest ways hackers use to get your password. For example, here's a YouTube video that shows you how to hack into a Twitter account using brute-force methods. So it's not exactly a difficult process.
The "256" part in ExpressVPN's encryption refers to "2256", which is then broken down into "1.1 X 1077".
WTF does that mean?
It means that it would reportedly require 115, 792, 089, 237, 316, 195, 423, 570, 985, 008, 687, 907, 853, 269, 984, 665, 640, 560, 000, 000, 000, 000, 000, 000, 000, 000 combinations before cracking.
I would tell you how much that is in English, but I literally have no idea. So there's a reason this method is so popular. It's nearly immune to popular brute-force attacks, and it's the largest available in existance.
ExpressVPN doesn't stop there though.
They also combine 'data-channel encryption' that will automatically regenerate a key for each website session on every single visit. That means there's no way to go back and find data on older, previous sessions. Which could come in handy if your devices were lost or stolen (or confiscated – we don't judge).
Zero Logging
ExpressVPN will not keep track (or "log") your browsing history, traffic data, or DNS queries.
While their British Virgin Islands location absolves them from some laws, they're not immune to the reach of powerful governments. No VPN provider is.
The good news though, is without "logged" data, there's not a whole lot to use (or more accurately, 'see').
For example, there's no record of the dates and times of your VPN usage. Your server location choice or amount of data transferred isn't tracked. And there's no IP address or time stamp that will personally identify you, either.
There's also no trail of websites you browse or any other traffic data for that matter. All web sessions are private.
ExpressVPN will also use their own private DNS that doesn't log anything, so that your specific DNS queries are further obscured from others.
Tor Compatibility (Nice FREE Perk to Have)
Tor, or The Onion Router, is a network designed to encrypt your traffic information across many different servers, relaying your data so that it's difficult (or impossible) to pinpoint the original source.
You can combine the TOR network on top of your VPN to provide super-duper (that's the technical term) anonymity on top of your privacy.
ExpressVPN has their own 'hidden' hosting option inside the Tor network, that can provide an additional layer of privacy for people in countries with unfriendly censorship laws and with aggressive oversight for example.
You access the Tor network through their official browser using any Windows, Mac OS (not iOS), Linux or Android device.
Then you fire up their connection at: http://expressobutiolem.onion and conduct business-as-usual. ExpressVPN engineered this connection in order to help loading times (which can sometimes be slow due to how your data gets routed around), while also making sure that your entrance or exit locations aren't picked up, either.
24/7/365 Customer Support
One of ExpressVPN's hallmarks is its 24/7/365 customer service. That means there's help available, at a moment's notice, whenever you login from wherever you're currently located.
Support is currently offered through an old-school contact form, a newer (but still laggy) email, and thankfully (mercifully) live chat.
There's only one clear winner here, and that's live chat. As one unfortunate Twitter-er (Tweet-er?) found out.
We comb through social channels of these major VPN providers to make sure that each review is unbiased. During one recent exchange on Twitter, ExpressVPN (to their credit) quickly tried to route one unfortunate customer away from those slower support methods and over to their live chat ASAP to get instant help.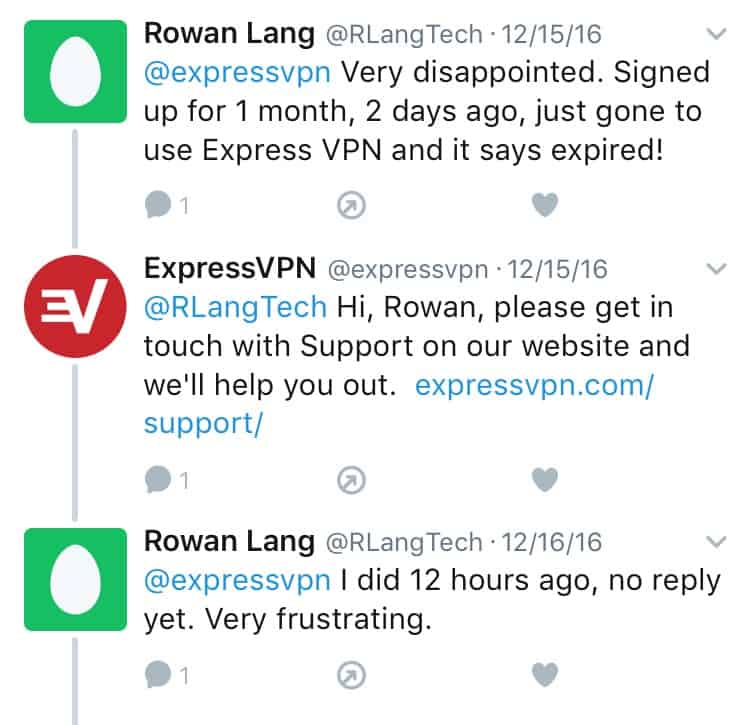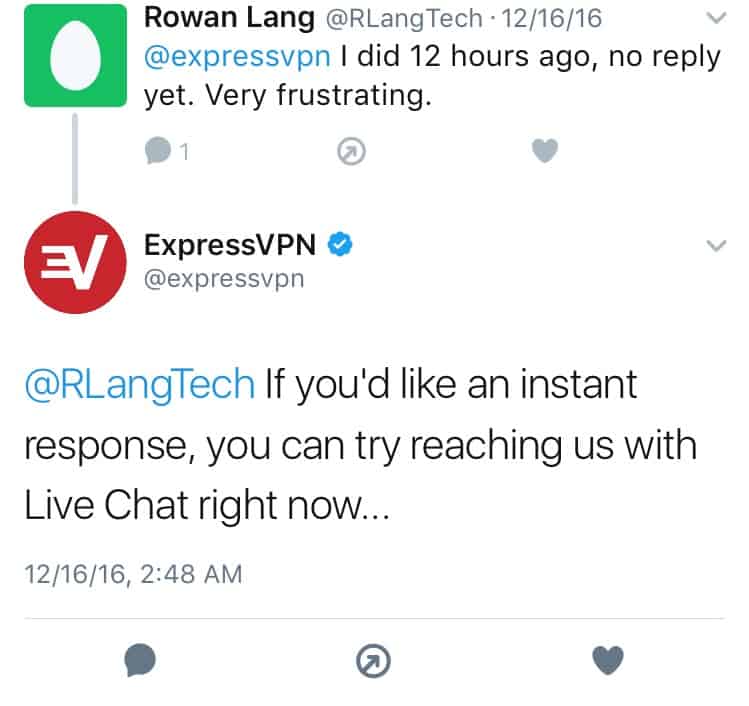 Plans & Pricing (Not Too Cheap)
One of the only major knocks on ExpressVPN we can find is their pricing, that tends to be on the higher-end of the market.
Thankfully, they just have one all-in offer that includes every single benefit and features we've reviewed here thus far (so you don't have to pay more in order to get access to their unlimited-perks, server availability across 87 countries, zero logging, or extra-strong encryption).
You can save a few bucks, however, by pre-paying for six or twelve months (where you can save up to 35%). Here's a quick rundown on their current pricing (as arranged on their Pricing Page):
Month-to-Month Plan
$12.95 per month

30-day money back guarantee
12-Months Plan
$8.32 per month for 12 months, saving 35%

Billed $99.95 every 12 months
6 Months Plan
$9.99 per month for six months

Billed $59.95 every six months
Ok we've gotten this far. Now you know what ExpressVPN has to offer and what it's gonna set you back. They do have a 30 Day Money Back Guarantee (no matter which plan you choose), so let's take a look at how to get started.
ExpressVPN Speed Test (May, 2017)
Although you can do a quick test inside ExpressVPN software, we never trust such internal speed tests, as they might be a little biased (right?).
To make our reviews accurate, we went to speedtest.net and put the following locations in test.

US Server (New York)
Ping: 110ms / Download: 60.04mbps / Upload: 30.41mbps
EU Server (Amsterdam)
Ping: 40ms / Download: 83.15mbps / Upload: 35.18mbps
Asia Server (Hong Kong)
Ping: 292ms / Download: 30.26mb / Upload: 12.46mb
UK Server (London)
Ping: 46ms / Download :84.84mbps / Upload: 42.70mbps
Compared to many others, ExpressVPN is pretty fast. It ranks second in our speed ranking and the only other VPN Provider, which is faster than ExpressVPN is Private Internet Access VPN. What's more – it's stable across different continents.
Re speed test: Always take such speed tests with a grain of salt as they simply rely on too many variables. However, since we've tested 20+ VPN services so far, we have an average that we can compare to other VPNs.
Express VPN Setup Review
---
The first step is to sign-up for an account, enter your billing info, and get the subscription all set up.
Once you've done that, login and head over to your Account to find the Subscription details.
Under My Subscriptions, you'll get a quick overview of the details you just selected, like the Plan Expiration Date, Payment Method, and Subscription Length. Pay attention to the Automatic Reminder settings on the far right, and update now before forgetting if you're still in 'trial mode' and testing out the service.
When ready, click on that bright green Set Up ExpressVPN button to see your download options.
Once you click, ExpressVPN will automatically detect what device you're on and send you to the appropriate page to download the right client.
For example, here's what that would look like on a Windows machine:
The column in the left-hand side will show you the Activation Code, shaded in blue, that you'll need to come back to in a second. Below, you'll see that the correct device should already be highlighted for you.
The right-hand column is where you'll find the big, red Download button. Underneath that in a small, blue text-link you can find older versions if you're not running the latest version of that operating system.
The Activation Code is again repeated on the right hand side towards the bottom of that column. Now there's no way you're going to miss it!
Ok let's get started. Download the client to bring up the installation process for your device.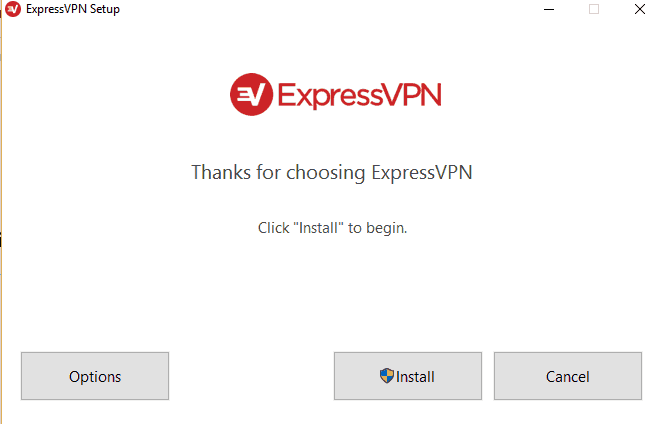 You'll install the ExpressVPN client on your device just like any other program you're used to. For example, selecting the application folder, if you want any desktop shortcuts, etc. Run through the process that you're already well familiar with, and open up the client when ready.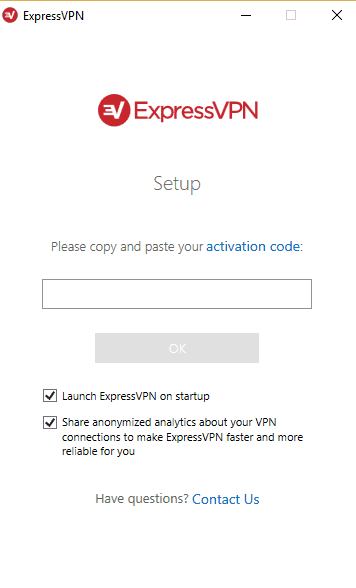 The first thing you'll notice is how simplistic and minimal this VPN client is. That makes for a user-friendly experience in a second.
But first, let's go back to the Account page you were just on to grab that Activation Code. You know – those shaded-blue boxes that were impossible to miss.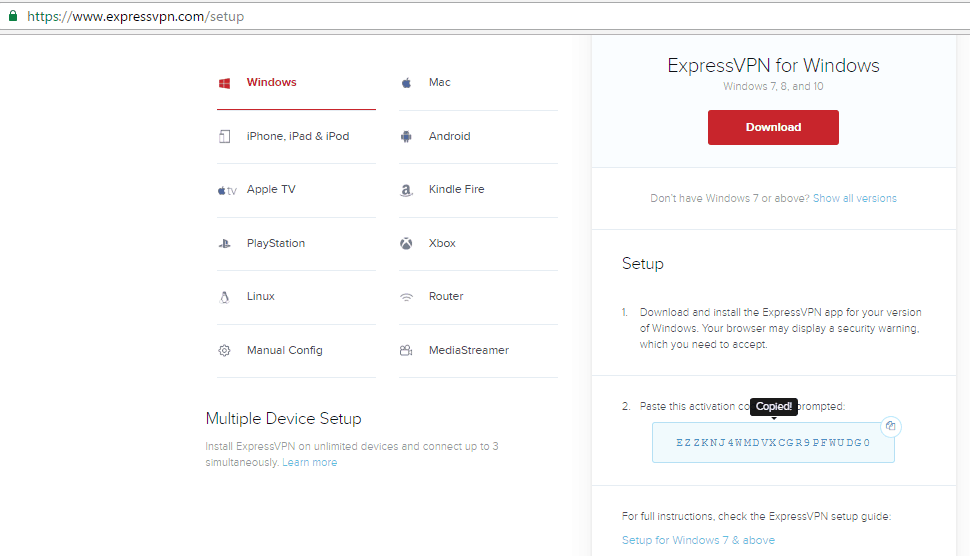 Copy the activation code and paste it directly into the ExpressVPN client to authenticate this device.
When it works correctly, you should see a nice clear power button.
The big power button is how you turn the VPN on and off. Pretty difficult, amIright?
All you have to do is literally just point and click. ExpressVPN will automatically select your protocol (so you don't have to get into the nitty gritty details if you don't want) and your location in order to maximize both speed and security.
However if you wanted to select or change locations, click on the smaller button to pull up a list of all available servers.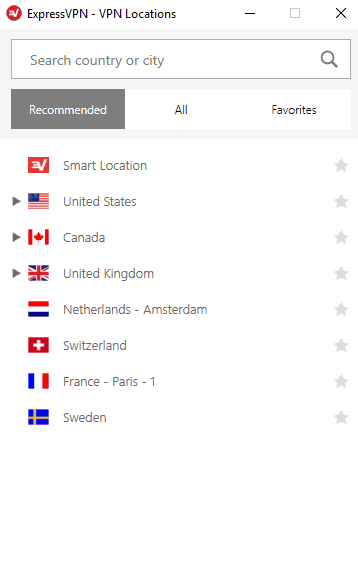 They'll recommend a few of the most popular ones, or you can painstakingly search through all 136+ VPN locations (if you're a glutton for punishment).
A tiny menu bar in the upper left-hand side of the client will allow you to get into the more advanced stuff, like manually changing the protocols away from the default OpenVPN. You can also access speed tests here as well.
Click on the Speed Test option to access the Speed Tests (no duh?!), and you'll see a list of server locations like so: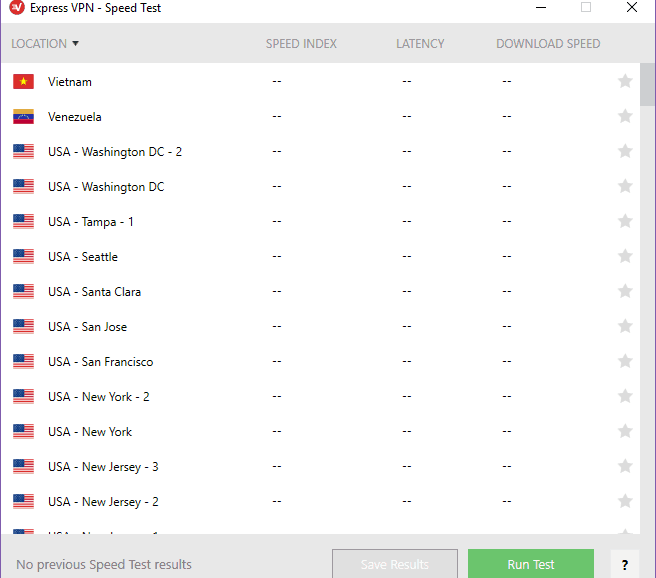 At the bottom of the list, press Run Test to get the party started.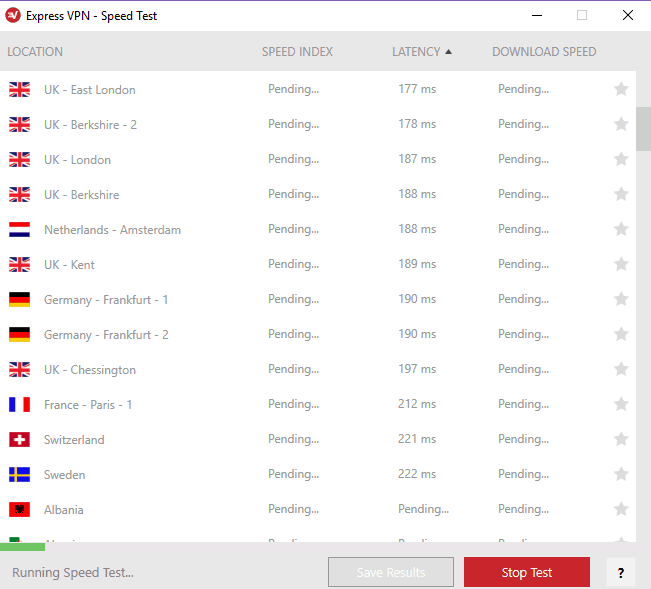 Results will be pending and tabulate for a few minutes before displaying the latency and download speed for each server.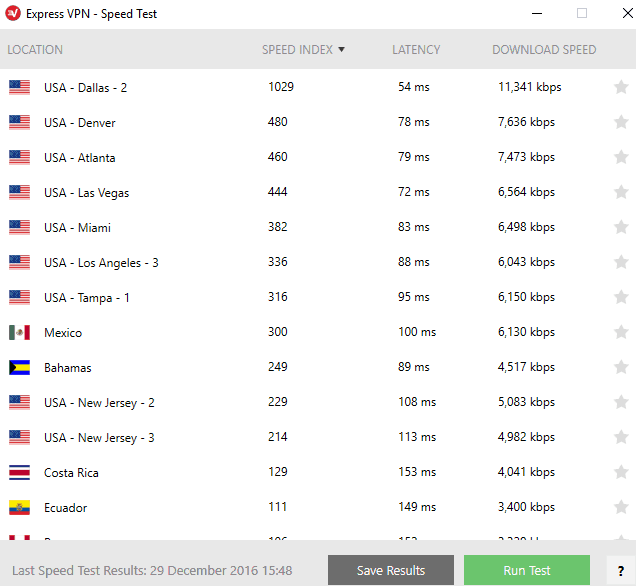 You'll see the best performers up to, and you can scroll down endlessly if you're looking for a specific country's server results.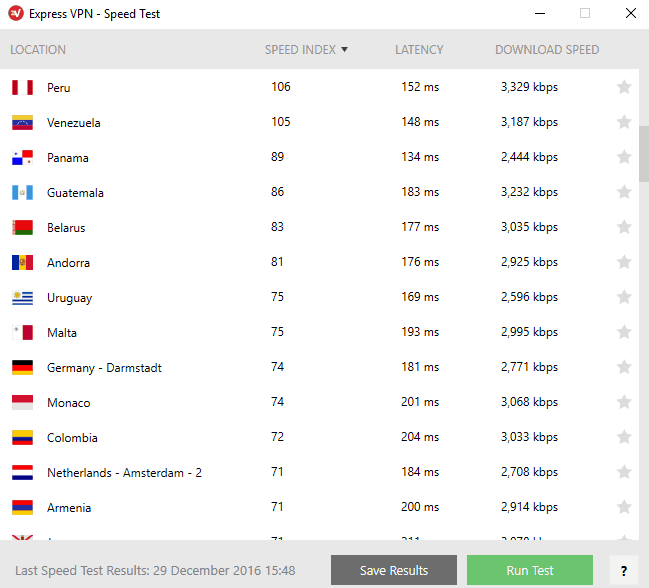 And there you have it! In less than five minutes you're already browsing safely and securely.
Conclusion
ExpressVPN offers best-in-class encryption methods for those worried about security. They offer a private, exclusive Tor connection for those who want to make sure they're browsing anonymously.
They offer locations in every major city and country you can think of off the top of your head. And they offer VPN clients on every single major device too (in addition to gaming ones like Xbox).
There's a lot to like. Especially their easy-to-use VPN client, which means anyone – even your nontechnical parents or spouse – can establish an encrypted connection and browse safely while shopping for Christmas presents in the local Starbucks.
They say, "You get what you pay for". And with ExpressVPN, you get a whole helluva lot more.
Considering the risks, you really can't afford not to use a VPN like ExpressVPN.
ExpressVPN Pros:
Instant activation
Simple to install and easy to run
90+ countries, 950+ servers
Works on all devices
Works with TOR
ExpressVPN Cons:
High price for month-to-month users.
or help us by leaving a review below
9 user reviews for ExpressVPN