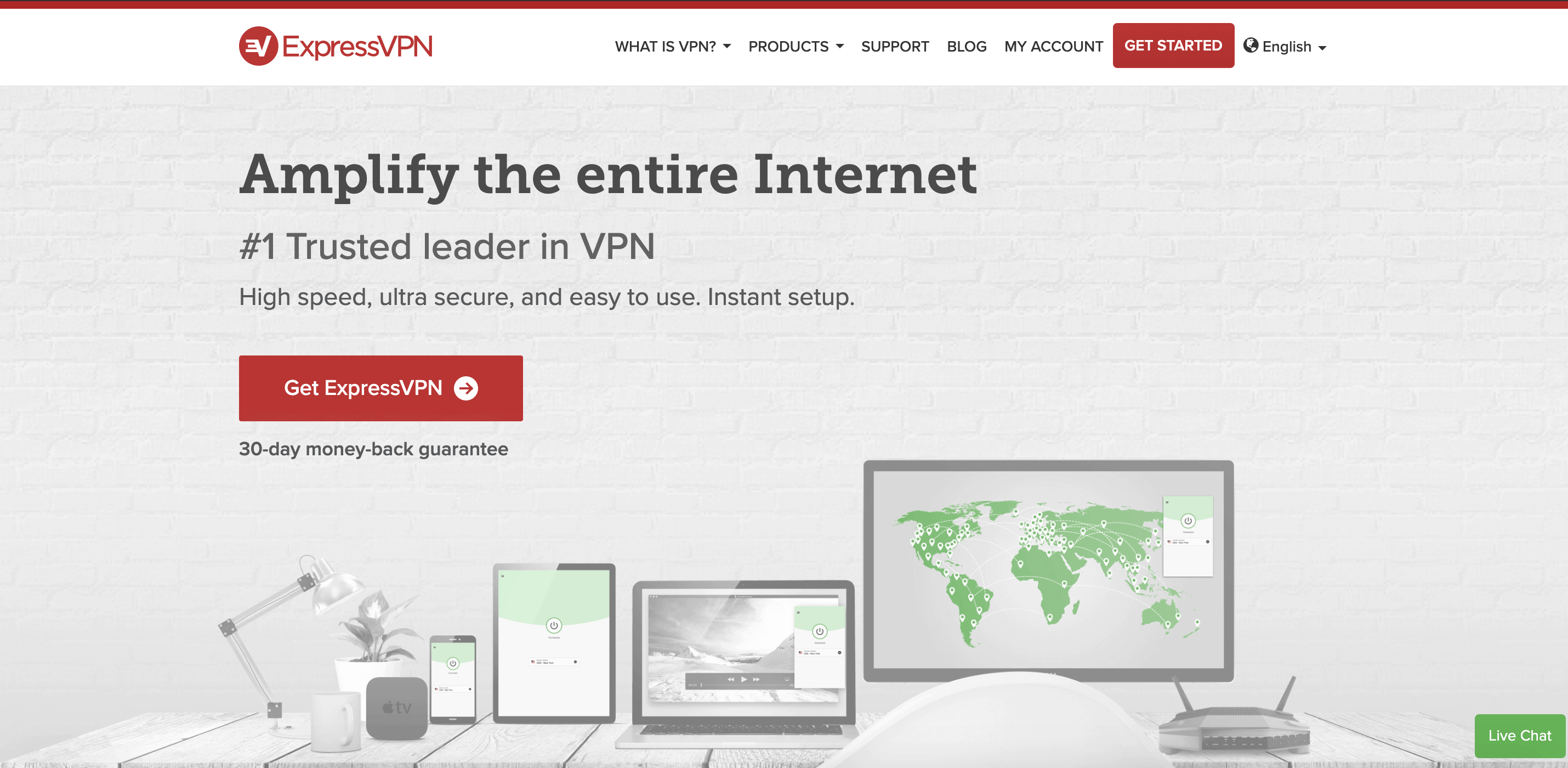 I was curious to put together this ExpressVPN review as I just couldn't believe the hype around it.
Most "comparison" sites claim their service to be fast, secure and fully anonymous.
But I was wondering…
Is it really fast, secure and private as promised? Do they allow torrenting/P2P and streaming Netflix? Do all of their servers come with industry standard OpenVPN tunneling protocol and AES 256-bit encryption?
Does their monthly subscription really cost that much or is there a cheaper way to get it?
These are just some of the questions I answer in this review.
Ready? Let's get started…
ExpressVPN Overview
| | |
| --- | --- |
| OVERALL RANK: | #3 out of 78 VPNs |
| USABILITY: | Very Easy, Supports All Devices |
| LOG FILES: | No Logging Policy |
| LOCATIONS: | 94 countries, 3000+ servers |
| SUPPORT: | 24/7 Live Chat |
| TORRENTING: | P2P & Torrenting Allowed |
| NETFLIX: | Unblocks Netflix USA |
| ENCRYPTION/PROTOCOL: | 256-bit AES/SSTP, PPTP, OpenVPN, IPSec & L2TP |
| COST: | $6.67/mo |
| OFFICIAL WEBSITE: | www.ExpressVPN.com |
ExpressVPN Pros
1. Strict "No Logging" Policy
Here's what's stated on their website: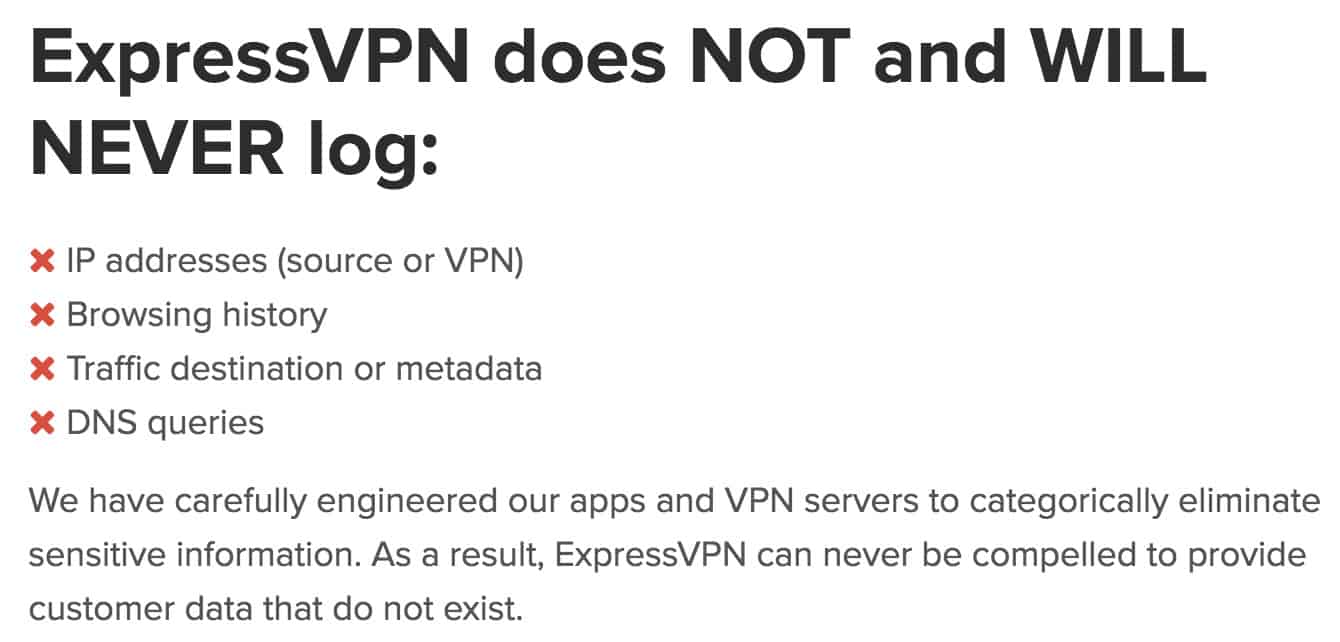 As you can see, they claim to not keep any "important" log files like DNS queries, IP addresses or metadata.
Keep in mind that vast of majority of VPN providers try to explain in their TOS that they don't keep log files, but we've seen some VPN services that have VERY questionable logging policy (hint: PureVPN & F-Secure Freedome).
Not the case with ExpressVPN…
ExpressVPN also operates under a rather stringent "No Logging" policy.
Basically, this means that they do not track or store your personal data whenever you are using their services. From the second that you log onto your ExpressVPN server, your information (or at least most of it) is encrypted and hidden from hackers, government agencies, and yes, even ExpressVPN themselves.
However, ExpressVPN does collect some data as outlined in their privacy policy. According to the companies website, they do collect:
Apps and app versions successfully activated
Dates (not times) when connected to the VPN service
Choice of VPN server location
Total amount (in MB) of data transferred per day
And after reviewing dozens of other VPNs, I have found that this is a pretty standard practice that is actually necessary to ensure an optimal user experience.
2. Speed Test: One of The Fastest VPNs
Probably the most important strength that ExpressVPN has is their fast upload and download speeds.
Without VPN, we had the following results from Europe:

With a 100 Mbps connection, we're able to get a download speed of 83.15 Mbps which makes them one of the fastest VPNs we've reviewed to date.
Of the 70+ of VPN providers that I have tested, only a few offer upload and download speeds comparable to ExpressVPN's (such as PIA & Private Tunnel, but they lack in every other aspect).
See the complete results yourself:

EU Server (Amsterdam)
Ping: 40ms / Download: 83.15 Mbps / Upload: 51.81Mbps
US Server (New York)
Ping: 110ms / Download: 60.04 Mbps / Upload: 30.41 Mbps
Asia Server (Hong Kong)
Ping: 292ms / Download: 30.26 Mbps / Upload: 12.46 Mbps
Always take speed testing with a grain of salt because it relies on too many variables, such as your physical location, your computer specs, your Internet connection etc.
But since I compare VPNs with the same method (same computer & Internet connection), I can truly say that ExpressVPN is very fast.
3. Lots of Servers and Privacy Features
Anonymous IP: Yes
Kill-Switch: Yes
Netflix compatibility: Yes
P2P servers
5 simultaneous connections
3000+ servers
94 countries (last verified on 28th of May, 2019)
Where ExpressVPN really shines is in their wide selection of servers, so you can easily change or hide your IP.
With over 3000 servers operating in 94 countries across 160 different cities (and counting), ExpressVPN is rivaled only by NordVPN, PIA and TorGuard in terms of the sheer volume of servers they offer.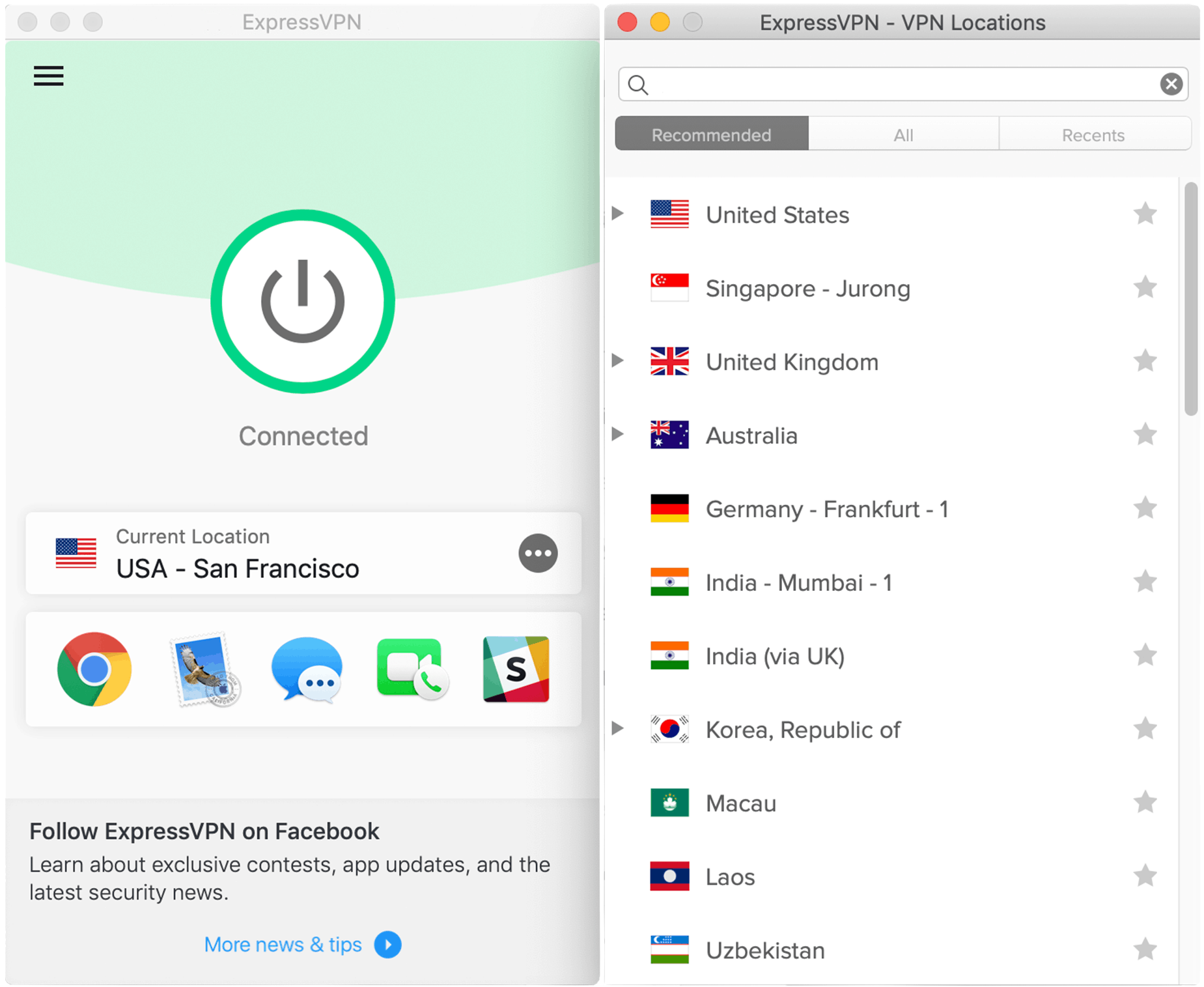 If there is a server you need, chances are, ExpressVPN has got it. You can also check their server locations in real time.
Kill Switch
For anyone using location-specification specific activities (like gambling), ExpressVPN also offers a very handy Kill Switch that will automatically kill whatever software or websites you were using in the event that your network connection is lost.
Meaning that even when you've lost your protection, you are still protected.
Works on Multiple Devices
Their services are supported on:
Windows
Mac
Android
Linux (best UI in the industry)
iPhone and iPad
Different routers
Different web browsers
SmartTV
While I am sure there is some device out there that remains unsupported, you would be hard-pressed to find it.
4. Located in Safe Jurisdiction: British Virgin Islands
Founded in 2009, ExpressVPN International Ltd is located in the sun-kissed and (almost) the tax-free British Virgin Islands.
The BVI is an offshore jurisdiction renowned for privacy protection, with no data retention laws. In short, an excellent jurisdiction for operating a VPN.
Due to the very nature of their services, most VPN companies set up their companies in a way that can impede unwanted investigations.
With the current landscape of data privacy becoming more tumultuous by the day, it is almost a requirement for VPN providers to limit the accessibility of customers' private information.
5. Strong Encryption (AES-256) + OpenVPN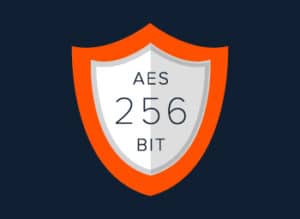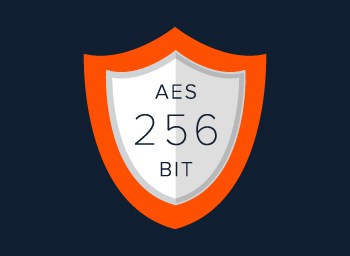 In order to ensure that your data protection is at the highest levels, ExpressVPN uses a strong 256-bit AES encryption… Like a super strong encryption.
Known as Advanced Encryption Standard or AES, the 256-bit cipher that ExpressVPN utilizes all but eliminates the possibility of a brute force attack (and most other attacks for that matter).
I won't bore you with all of the jargon and technical details about the AES 256 key that is used to protect your internet experience, but I will suffice it to say this:
When the CIA or FBI decides that they want to protect the transmission of sensitive data, they use an AES-256 encryption.
If security is one of your primary concerns,  you can rest soundly knowing that ExpressVPN is not at risk of being compromised anytime soon.
VPN tunneling protocols are the method that your device uses to connect to a VPN server. While most users will only need the default (and most secure) "OpenVPN", ExpressVPN also supports SSTP, L2TP/IPsec, and PPTP protocols.
For users with more technical requirements, this is a great feature to have because it allows you to establish a connection that is tailored to meet your specific needs (typically, speed vs. security).
By de-jargonizing everything I wrote above, I can safely say that yes, ExpressVPN is secure and safe VPN.
You can safely use a public Wi-Fi to protect your data
6. ExpressVPN Allows Torrenting and File Sharing
This is a huge plus for many users.
While other companies like TunnelBear have officially stated that they do not allow torrenting, ExpressVPN has made no such statements.
Although I was unable to find an example where ExpressVPN blatantly condoned torrenting, you don't have to read far between the lines to realize that, at the very least, they aren't opposed to it. It seems like they are encouraging it:
Everything about their service, from the military-grade encryption to the unlimited bandwidth and admirable download times scream "Torrent Friendly".
7. Unblock Netflix Feature (including Netflix USA)
As Netflix's security protocols and procedures continue to evolve, it is becoming increasingly rare to find VPN providers with Netflix compatibility.
After setting up my service with ExpressVPN, the first (and clearly most important) thing that I wanted to find out was whether or not their Netflix compatibility worked as advertised. Much to my surprise (and delight), I was presented with a queue of films and TV shows that was wildly different from my regularly scheduled programming.
It should be noted that not all servers are compatible with Netflix and you will probably run into a few proxy errors when trying to stream Netflix from non-U.S. servers.
The following servers worked perfectly fine for bypassing Netflix geo-block:
United States (2 servers)
Canada
United Kingdom (2 servers)
Netherlands
8. 24/7 Live Customer Support 
In an industry that suffers from notoriously bad customer service, ExpressVPN's 24/7 live support is one of its biggest selling points. Unlike many providers who rely on outdated contact forms and laggy email chains, ExpressVPN boasts a 24/7 365 live chat feature that has been consistently rated one of the best in the business.
But, for whatever reason, ExpressVPN decided that it would be beneficial to continue offering the more traditional contact forms and support emails. So it's important to note that if you do run into any issues when you opt for one of these archaic methods, ExpressVPN will be quick to redirect you to their live support team (as they do in the following correspondence).
9. TOR Compatibility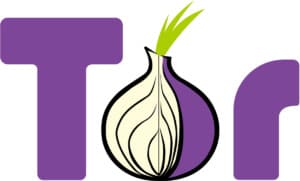 The Orion Router or TOR is a network designed for one thing and one thing only.
Security.
When using TOR, your traffic information is encrypted across multiple servers and your data is relayed so that it is difficult (bordering on impossible) to track your actual location.
If you are extremely concerned about your personal security, ExpressVPN allows you to combine the TOR networks on top of your existing VPN in order to maximize your privacy and all but eliminate vulnerabilities in your data's security.
In countries with Draconian censorship laws, this added layer of security can (literally) be a lifesaver.
To access the TOR network, simply use their official browser on a Windows, Mac OS, Linux, or Android device then launch your connection using the following address: http://expressobutiolem.onion
10. No IP or DNS leaks found
Last, but not least, we also tested ExpressVPN towards multiple DNS, WebRTC and IP leaks.
Luckily, we couldn't find any (4 different sites tested):
IPLeak.net
Perfect-Privacy.com DNS & IP leak test
Browserleaks.com for WebRTC leaks
IPC.ax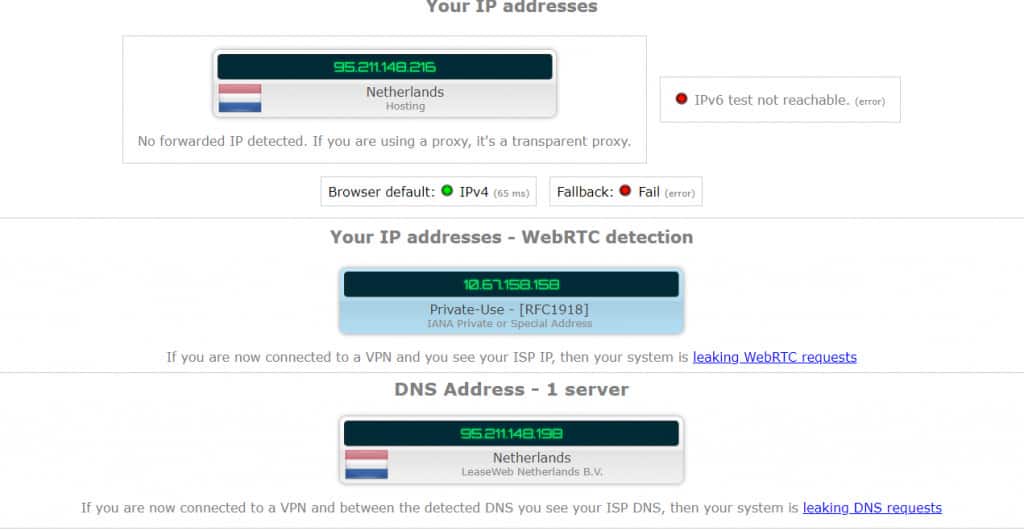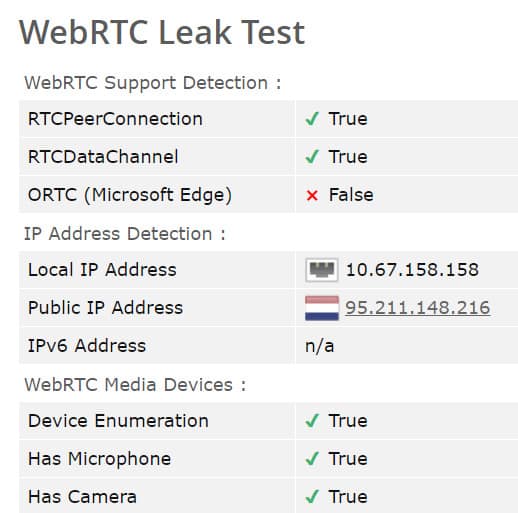 I also uploaded their installer file to VirusTotal.com which indicated no viruses found: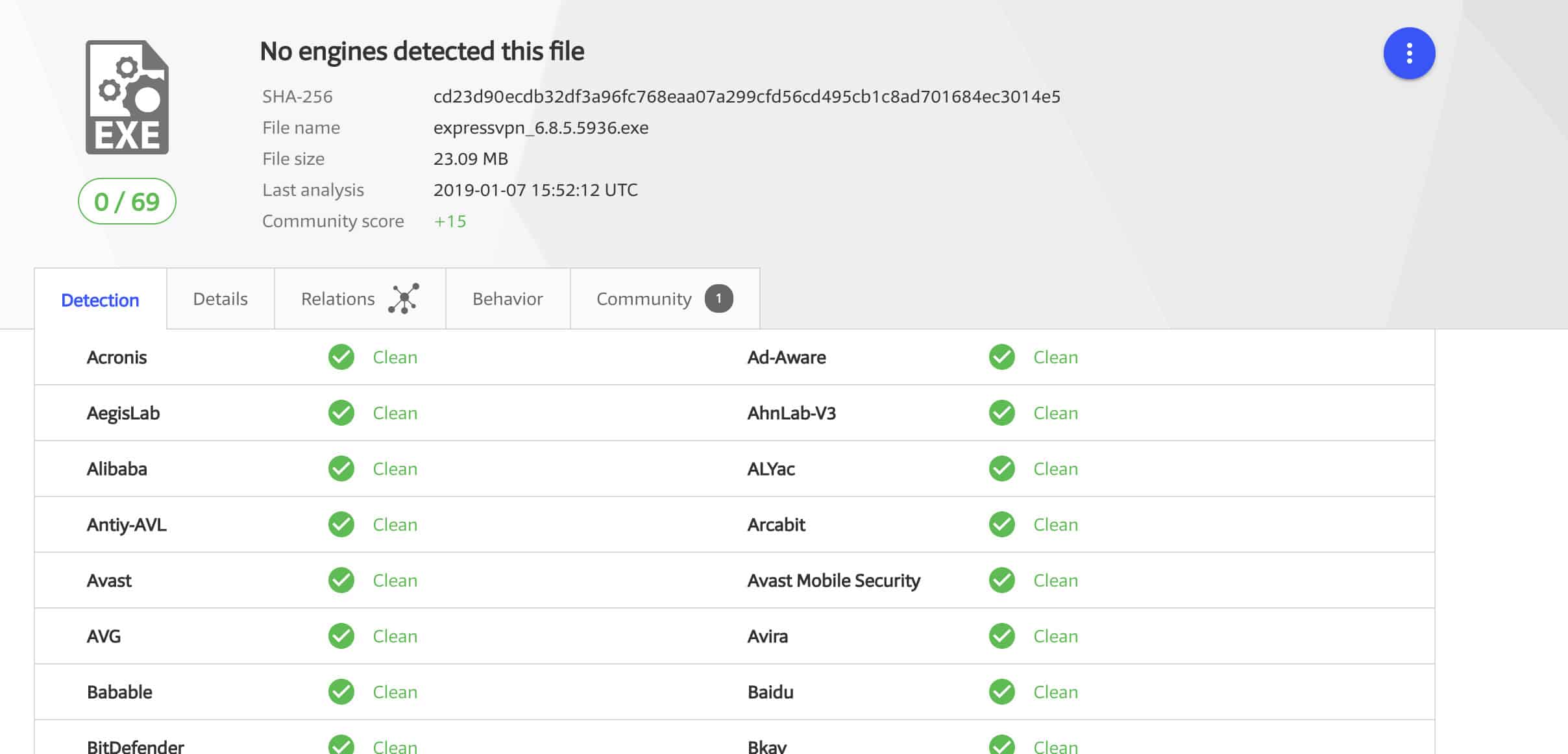 11. Up to 5 Devices Can be Connected Simultaneously 
While ExpressVPN initially restricted users to 3 simultaneous connection (which made us initially put the number of simultaneous connections they allowed as a con in our review), they recently upgraded their system to allow up to 5 simultaneous connections.
Besides allowing up to 5 devices to be connected simultaneously, ExpressVPN's best-in-class router app also allows you to protect every device in the household with no limits on the number of connected devices.
ExpressVPN Cons
1. Transparency Could be Improved
Similarly to NordVPN, ExpressVPN remains a pretty anonymous company. There are no visible phone numbers nor business contacts on the website, yet they serve millions of customers.
However, remaining anonymous in the VPN business is a pretty common thing. Businesses tend to do that because of the different laws and their motive to protect their customer's data.
ExpressVPN Pricing, Plans & Facts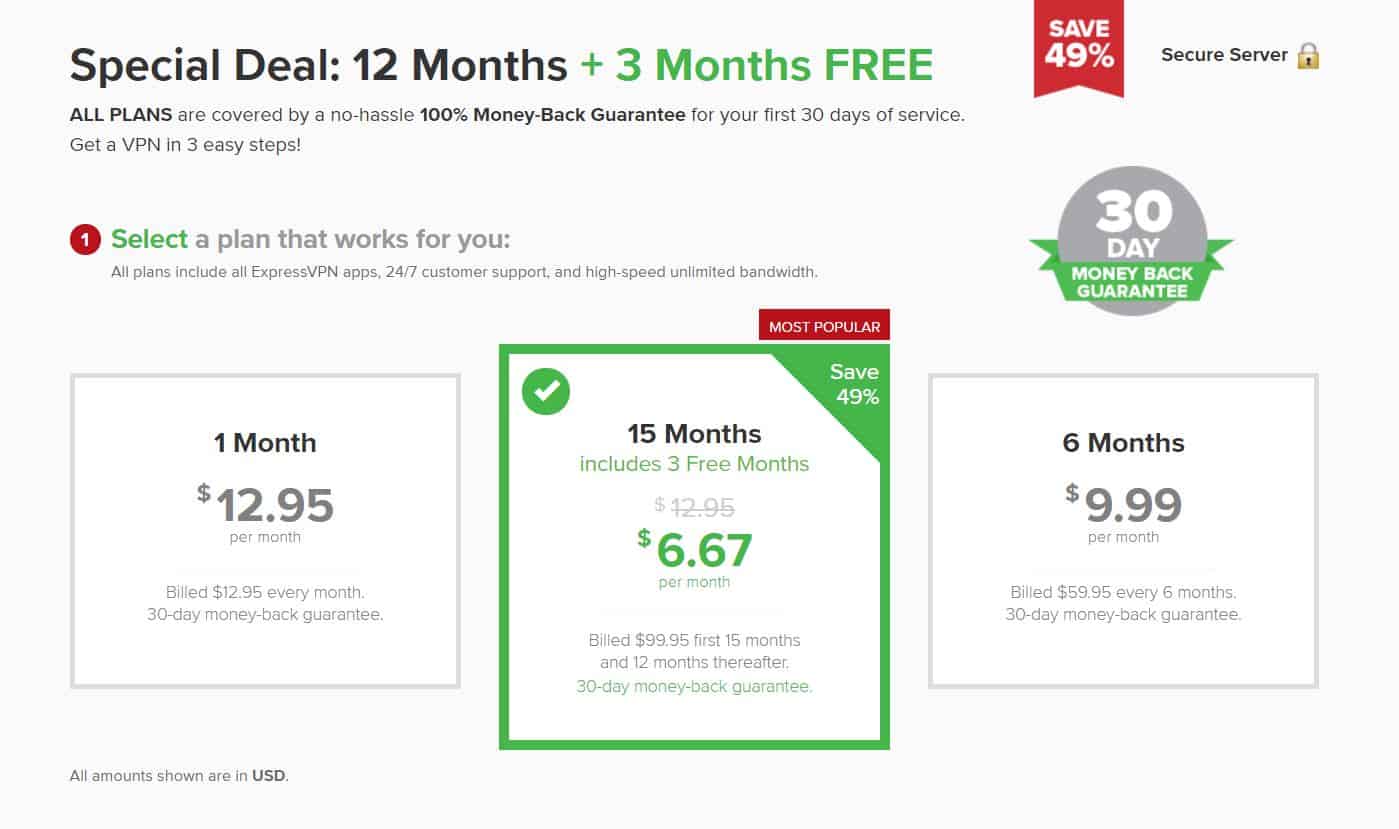 When a company boasts as many features and perks as ExpressVPN, it shouldn't shock you to find out that they charge a premium price for their services.
With their packages going as high as $12.95/month, ExpressVPN is far from a "budget service" (although every plan comes with a 30-day money back guarantee)
Here's how the pricing plans break down.
Month-to-Month Plan: $12.95 per month
6 Months Plan: $9.99/month (billed $59.95 every six months)
12-Months Plan: $8.32/Month (Billed $99.95 every 12 months)
However, if you are willing to keep a watchful eye on their website, you can occasionally find great sales that reduce the total cost to $6.67/month or lower.
This might seem expensive to some of you, especially when you compare the cost of ExpressVPN to some free VPN services.
But it's important to remember that, as the old adage goes, "You get what you pay for". 
And there are no exceptions to this rule when it comes to VPN providers.
If you want to buy ExpressVPN, you can use all major credit cards, PayPal as well as anonymous payment methods, such as Bitcoin.
No logging: Yes.
Ease of the VPN software: Very beginner friendly and simple.
Hidden fees & clauses: None found.
Upsells: No upsells.
Instant access after payment: Yes.
DNS leaks: DNS Leak Protection feature (free).
Jurisdiction: British Virgin Islands.
Tunneling Protocols: OpenVPN, IPSec, PPTP & L2TP.
Kill-switch: Yes.
P2P servers: Yes
Conclusion – Do I Recommend ExpressVPN?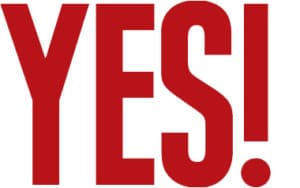 Yes, I do recommend them.
ExpressVPN offer a fantastic service that is filled with the wide array of features sure to delight both novice and expert web-surfers alike. Express keeps you fully anonymous, safe and secure. With the highest level of online privacy, they are a true definition of a premium VPN.
And with such a large pool of servers (3000+) to choose from and an effective team of customer service agents at your disposal, I feel that you get what you pay for – which is a lot!
It's fast, safe and secure. Hands down, my experience with this VPN was solid, hence I recommend this.
P.S. I'm always interested in user-reviews so if you've used ExpressVPN before, don't hesitate to leave your review below. If your experience matched mine, cool. If it didn't, that's fine too!
Add your own review:
52 user reviews for ExpressVPN
Rahul 10/10 August 31, 2019
Excellent VPN Service - Ultra FAST Indeed
This is an honest review of this "ExpressVPN" service. I was looking for a really reliable, fast VPN service so I tried a number of VPN providers including TunnelBear. TunnelBear was quite reliable but the VPN connection speed was very slow. Then I found Expressvpn on Google. Initially, I was skeptical of the speed, reliability etc. they claimed on their websites but thought of giving it a try. And mind you, I was blown away by the speeds and connections I am receiving. I have a pretty solid internet connection (110 Mbps download speed). When I am connecting Expressvpn, I am still getting 50-60 Mbps when I'm remotely connecting to servers in India - to watch Indian videos, etc. The download speeds are amazingly fast when compared to other service providers I encountered. The downside is it costs a bit more but definitely worth the $$ when compared to other service providers. A++ so far.
geoff_the_chef 10/10 August 26,, 2019
Worth taking extra measures beyond a VPN in your browser
I've been using ExpressVPN for a number of years and have found the service to be 100% reliable. Obviously, very easy to install on Windows, but also Ubuntu and other Linux distros. There is also an option to buy routers with ExpressVPN preinstalled. For the more adventurous, instructions on their website show how to use it within pFsense. On the rare occasions I have used the customer service the response has been excellent. However, any VPN isn't the be all and end all as solution to privacy. If you are concerned about what information you are leaking when browsing, visit privacytools.io and also lookup the "the hated one" on YouTube.
Killerrosebud 10/10 August 11, 2019
CONFIRMED ACTUALLY WORKS
I've been paying for this service for about six months now, after seeing JonTron being sponsored by them. a few months go by and I don't notice anything different, until tonight, when someone actually tried DDOSing me while playing a video game, and my connection was only interrupted for a fraction of a second. Granted, I DID get disconnected from the game and thrown back to the lobby, but it STILL protected me from a full-on attack. I can 100% confirm now that this service truly works and I'll be using this for a while to come
reader 4/10 July 27, 2019
Will be trialling other VPN's
I use BT Internet (3 years), my internet usually goes down about once per month for a moment or two? I don't think the WiFi has ever (?) gone down. BT internet really isn't bad.
ExpressVPN is my first trial of a VPN - never used one before, so can't really comment in detail about it because I don't have a comparison. I bought a months subscription, the software seemed to work, I was back surfing within 2 minutes. I noticed I didn't have IPv6 connectivity, ExpressVPN got back to me within an hour or so and told me this was standard - no problems.
my internet connection does seem to regularly drop with Express, maybe 4 times per day. hitting the disconnect logo and reconnecting seems to bring it back up. pure download speeds seem reasonable (the BT connection is about 1.6MB/12Mb), and 100MB files come in at about 1.6MB/s+. Using Task Manager Networking, my sustained file download rate does seem to jump about a bit more with Express, rather than a constant level 1.6MB/s graph, it does have some downward glitches.
my general surfing speed (web pages with images etc) seem to suffer a bit, pages do often pause loading for a second or 3. Express seems to be a reasonable first try, will trial out others
chris 1/10 July 25, 2019
ExpressVPN use to be amazing
I've been using Expressvpn for years and they use to be amazing. But within the last few months connection issues has been horrible. I average at least 1 connection problem an hour. I just started up my laptop and couldn't connect to the internet until I exited Expressvpn - disconnecting wasn't working. I don't have time to wait for expressvpn to work.
I've also noticed a lot more advertising on the internet for Expressvpn. I'm wondering if increased popularity might be contributing to the connection issues.
Zeidler 8/10 July 19, 2019
Netflix Only Works on 2 Server Locations in the US
I got ExpressVPN yesterday. I need to use a specific server location in the US but I cannot connect to Netflix from that server location. Pretty wack... Maybe there is good reason for it that I don't understand.
On another note, I've found the chat support to be extremely good. If the connection stays stable, I will be very pleased with them despite losing access to Netflix but it's only been about 20 hours since set-up. Time will tell. 7.5/10 for now.
Dennis 4/10 July 15, 2019
I heard great things, but...
ExpressVPN seemed like the go-to VPN service by many YouTubers, so I thought "might as well try it out, since people get so many sponsorships from it".
While I can't complain about the speeds and the latency (you're using a VPN, after all), I frequently experienced connection issues and occasionally speed dropping down to a crawl. After cancelling my subscription, I received intrusive push notifications and emails, reminding me of my expiring subscription, with no way to turn them off (at least none that I know of).
Perhaps I'm judging this too soon, but with the two months I've been at ExpressVPN, I didn't have a great experience. Even Hotspot Shield, the company I'm more suspicious about, provided more reliable connections. I'll try out Dashlane's VPN service next, since theirs reroutes to Hotspot Shield.
Artifex 1/10 July 8, 2019
No longer reliable
I've used ExpressVPN for 2 years but the last 3 months it has become unreliable. Right now I am unable to connect to any location - it just eternally "reconnects." This happened a few times in the past two week. Customer service does not exist, so it's time to move on. ExpressVPN is useless now.
Kirk in Canada 10/10 July 6, 2019
Fast and Secure
I've been using Express VPN now for about 6 months and am very pleased with the results. My biggest concern is speed and I can say the download speeds are very fast. There are more than enough servers to choose from and when I needed to contact customer service it was simple and easy to connect with a rep. It's a bit pricey, but you get what you pay for and I definitely recommend ExpressVPN.
Ruth 1/10 July 5, 2019
PayPal beware
I have had the same problem with PayPal billing as mentioned below - after three days of service my account was terminated and they demanded I purchase a new subscription because PayPal apparently "was unable to process your payment with us,'' despite there being no evidence of such either from PayPal or my bank. As far as I'm concerned they either have serious problems with PayPal in the billing department or this seems to them a good way to get more money off you. I'm glad I only purchased a month to trial them - if you do plan on using bitcoin or another way to pay, I would strongly recommend not going all in with a plan to start with, no matter how much money you believe you save. Once this is resolved and I make sure I won't be billed again by them I will be switching to another service.
Robertr 1/10 June 25, 2019
EX User
Works great from America, but in China, one of the bragging points they use, it is crap. It always breaks and they expect the user to do extensive testing for them. Then, weeks later, the service may or may not be restored.
I have ALL of the documentation to prove it, including the so called LOG files, emails, etc.
Over the last two years, I have had to download so many upgrades, do more testing, sent more log files, attempted to connect to so many different servers, all with an end result that I am unable to connect.
They will not honor a request for a refund, but offered a one month extension. For what? Another month of no ability to connect?
There is NO hype. Just misdirection. If you are in China, this is NOT a product you want. I have TWO other VPNs that connect in less than 15 seconds. They are fast. They have encryption, etc etc.
ExpressVPN is the old school. And they haven't kept up. They are a dead product.
Bland writing 1/10 June 16, 2019
ExpressVPN asks for my phone number
After accepting and verifying my credit card, ExpressVPN requested my phone number. They said it was for verification and communication purposes. I gave them push back, by replying that the company already had my email for communication purposes and I questioned their claims to protecting privacy and security. They reneged on their request, but the damage was done, so I cancelled my subscription. I don't know of any VPN company requiring subscriber's phone numbers.
David 1/10 May 21, 2019
Big Time Run Around
Yesterday, I signed up with ExpressVPN and paid via PayPal. The service worked well, but the next day (today) they terminated my account saying that they needed to verify my billing information. They wanted me to provide my telephone so we could talk.
PayPal provides billing verification; that's their job. I chatted with ExpressVPN and mentioned that, received nothing but the run around. The billing team needed to talk with me to "secure my account from spam and hackers." I asked how does talking with them on the phone to prevent spam and hackers, but of course they had no answer. Just a bunch of jack around BS.
I don't like it. They accept anonymous BitCoin and yet get all itchy for more customer information when PayPal has already processed and approved the transaction? Something's off here folks. Maybe ExpressVPN has no bad intention, but my treatment via chat showed that they - along with much of the tech world - treat their customers with a level of disrespect that I'm not going to support. Next stop: NordVPN.
Peter N 6/10 April 11, 2019
Better than NordVPN but still have speed issues
I've had the same speed problems with NordVPN and ExpressVPN in that the servers will randomly slow and I have to manually reconfigure and only L2TP seems to be stable which has lower security. So I'd use when you have to connect to open wifi.
Tiddler 5/10 March 30, 2019
Ok most of the time
I've had ExpressVPN for a while now. In the beginning it was good, lately it has become very hard to connect to servers anywhere in the world, keeps locking out my internet connection. I have to keep going into the software to repair the installation. It seems the software driver for the ExpressVPN to work gets corrupted. Will carry on using it until it expires.
Jaina 1/10 March 27, 2019
ExpressVPN Bricked My New Router
I tried to flash my router with ExpressVPN code. I chose them because I was supposed to be able to cover multiple devices by just connecting my router to their VPN service. Don't be fooled. I followed THEIR instruction (via chat) to flash their firmware onto my brand new router that was working perfectly fine. I even chatted, "Are you sure this is okay?" - He said Yes. Now my router is completely bricked. It cannot connect to the internet - just their site. It cannot be reset to factory default settings. Even Linksys cannot get the router to see their site. I tried to work with their Tech Support. They took 8 HOURS of my SUNDAY to do this and I got nowhere. On Monday, they sent me emails to have me do the SAME reset efforts as on Sunday. They could not give a crap. I finally cancelled my subscription because I was within the 30 days trial period. I haven't received my money back yet. But no matter what, I'm out a $250 router. ExpressVPN SUCKS!
Chad 8/10 March 24, 2019
DNS Leaks With Ubuntu
I had dns leaks with Nordvpn on Ubuntu, so I switched to ExpressVPN. After installing I also had dns leaks with Express, so I had to manually change the dns servers. Even though they still leak, at least now they're not traced back directly to my ISP.
Ted Tomlin 5/10 March 17, 2019
Very flaky
I have a lot of trouble with my expression. I constantly won't connect blocking me getting on line. I have deleted and reinstalled at least five times, and it still plays up. For the cost I'm beginning to think it isn't worth it.
Confused 9/10 February 26, 2019
But why would you do that???
Love the service of ExpressVPN, however the only issue I do not understand and hope they will address and resolve in the future is the payment method options of renewal subscriptions. When subscribing to the service, you may use a slew of payment methods including Bitcoin and other digital currencies along with other traditional payment methods. However, when it is time to renew you subscription, you are only allowed to use a credit card or debit card and it cannot be a prepaid credit card without a name. They do not accept any of the digital currencies for subscription renewals. I do not understand this policy.
J 1/10 February 24, 2019
Customer support sucks
Just because they have 24/7 Live Customer Support, that doesn't mean the agent is effective! Seems like they are clueless people from India. You have to jump through hoops just to update your email address. I've never been asked so many questions in my life for verification. Ultimately their lack of support is what turned me off and I will not be renewing.
Anna 10/10 February 11, 2019
The best VPN
The only VPN can work with android TV netflix. I tried NordVPN, CyberGhost, Goose and Surfshark. None of them can work with Netflix TV app except ExpressVPN. The speed is perfect, so as everything else, but if I would not need the netflix tv options, I would go for NordVPN, the second best VPN, because it's good, work with Netflix fine (but not TV version) and the price is much cheaper compared to ExpressVPN.
Dave 10/10 January 24, 2019
Checking in from the PRC
Recently, the Chinese government has been cracking down on VPNs which it sees as a threat to its' absolute intellectual sovereignty. Lots of domestic services were shut down and lots of foreign VPNs were blocked in short order. ExpressVPN actually stopped connecting for a few days during the sting.
Right now, the number of servers that I can reliably connect to is down to 4 or 5 but that's really all I need. Speed is decent enough, especially considering that I'm in a metropolitan area. I can watch Youtube and Netflix with decent quality. Torrenting is fine; I get 60-80% of my normal speed if I'm going through the closest accessible node (Hong Kong). Overall I've been very happy with the experience. I highly recommend it for anybody traveling to or living in China.
D.N.A 9/10 December 18, 2018
Great! only two downside.. but still worth the price!
Before heading to ExpressVPN, I was trying out NordVPN. I gave up after two days and had it refunded due to super low speed. (TBH, NordVPN and ExpressVPN online customer support is equally good) ExpressVPN really has the great speed I needed.. and yeah speed and safety is what I needed and without any, I wouldn't even bother to write any reviews. Initially, I just bought a month to see the speed performance. OUTSTANDING! So I went to purchase a year. After a few days, I notice my end date was not 15mths but only 12 mths.
Hence, went to online chat to extend and it just took 10 secs to assist on my request and 10 mins to complete it.
The only downside is, it's quite expensive compare to all others VPN and only can use up to 3 devices simultaneously. As of price is, I have no regret about using ExpressVPN.
Joel Weisbrod 3/10 December 14, 2018
Works Okay but Heaven Help if You Need Help
OK as a VPN when it is working. When you have a problem, they have NO TELEPHONE SUPPORT AT ALL. Their chat support is terrible. Their agent knew nothing and constantly had to go ask someone else for help. They couldn't help either. Spent the entire afternoon (3+ hours) and they still could not fix it. Some other VPN has to be better!!!!!
Dave 6/10 December 13, 2018
ExpressVPN in the UK
I've been with ExpressVPN a few years and they were great initially but in the last year things have gone downhill from my perspective.
The up/down speeds are still good but I'm often pestered to complete Captcha tests, that's on Google's services (.com, .co.uk and scholar.google) and occasionally on alternate search sites such as Bing - of course duckduckgo works perfectly but sometimes the results aren't quite so relevant. I think this is more of a problem for UK servers because it happens less often, but still does happen, if I connect from say Holland. However, I don't want to slow the connection by using servers in nearby countries, especially as that can be a pain with languages changing around and less relevant search results (I personally only want anonymity down to the level of country).
My biggest gripe though is that I can't view/listen to any BBC programs using expressVPN's servers. I'm already in the UK, but I don't want to have to disconnect to access BBC programs, especially as I have it connected at the router.
I'd even be prepared to pay more for a less used set of ip addresses but the company maintain that their range is wide enough and refreshed often enough not need this service. I beg to disagree
Horndoggle 10/10 December 8, 2018
My Best Experience With a VPN
After installing and using ExpressVPN, I repeatedly experienced denial or dropping via a kill switch. Technicians were quick to help when I asked. And kept responding with suggestions. Now it's working flawlessly, seamlessly with my browser. I want to thank the staff of ExpressVPN for persevering with the quirks of my machine/software until the problem was solved! Great Experience! Thank you!
Booruwa 9/10 November 25, 2018
ExpressVPN in UAE
Being in UAE and connecting on Etisalat not every vpn works, that too on different devices and platforms. ExpressVPN manages to bypass all these restrictions. I have used customer service a couple of times and they are very helpful. Streaming no problem. Since there are plenty of servers speed also is hardly an issue. The only time it has a problem is that the ExpressVPN app will not connect on IOS devices... it connects but browsing won't work. For this issue they have a manual setup to install vpn profile to the iPhone. Once this is done it's again simple to connect, however locations are limited but speed is reliable. Very satisfied after using for 1yr and most likely I'll renew with them again.
Lorna 3/10 November 4, 2018
Not good for gaming or downloads
I got this VPN over NordVPN because this one apparently boasted the higher speeds, but I can tell you that's a lie. Not only does it slow my downloads to a crawl, but many of my websites are slow to load, Discord lags and my video games take forever to start up. Basically, everything I bought the VPN for--to protect my gaming and personal info when downloading--is slowed to the point of being borderline useless. This isn't even torrents being slowed either. I'm talking legitimate downloads.
Paul 9/10 October 21, 2018
Very good. Your best bet.
While they're not perfect (who/what is?), this one actually works. The desktop app does not work correctly. Not for servers/connection (PHEW!), but if you don't use TCP/UDP, then you cannot use the connection lock (blocks connection when/if net goes out), else your local network (i.e. computers, printers) won't work. Works 99% of time and very few if any dropped connections. Reconnects fast. VERY good speeds, often 90-95% of my connection. Skip CyberGhost (historically slow and unreliable connection) and Nord (YouTube walletstuffers, IMO). Try Express and the other ones first.
Ricky Verde 10/10 September 27, 2018
Reliable Great VPN experience over 6 years.
Been using ExpressVPN for nearly 6 years. Professional company. It is not cheap but is a very reliable service and has hundreds of server locations. As a Mint Linux/Ubuntu Linux user it is simple to download and install from the deb file -and simple to use from the terminal (e.g., "expressvpn connect canada" and can be controlled from the available web browser extensions-(Firefox /Chrome). This is a smart company and they take care of their customers well.
Acacia 8/10 September 21, 2018
Express Vpn
Well, after a bit of research and wanting to secure my IP info, I went with ExpressVPN. Thanks for your info and breakdown. I'm not what you would consider super tech savy, so it was extremely helpful. My only issue was logging into my netflix account, NETFLIX would not allow me to stream. I pay for my netflix subscription and it stated I need to turn off my VPN. Well, not sure how as I installed it on my router...unless I unistall the VPN. Any suggestions of reasonings on why I cant stream a site I pay for?
Berry 10/10 July 25, 2018
A+ VPN and stellar customer service
After contacting their customer service, I just had to rate them in random websites. Their customer service is very, very good. Quite understanding, precise, and clear. I tried the vpn for one month, just to see how it fares with the ISP in our country, and it was very good and fast when I was able to connect (our ISP can be unstable because of the weather). The app was so easy to set up, too. I was mainly using this for Netflix.
Sadly, I had to part ways because I feel like I couldn't fully use it with the state of our ISP and household, and the monthly price is painful. Contacting their live chat support was quite easy, and after explaining my situation my refund was approved. Shout out to Gabriel!
tl;dr: Very fast, connected well, easy to use app, stellar customer service, moneyback guarantee works
Anonymous 8/10 July 11, 2018
Still using Bitpay
Although they accept bitcoins, as of July 2018, they still use Bitpay (instead of the superior open source BTCpay). As everyone knows, Bitpay went rouge by dropping BIP21 payment protocol support and requires an https connection and an email address to complete payments, which works against privacy.
Anonymous 8/10 June 10, 2018
No issues
I am very impressed with the service. Had PIA for a year and although the service was ok, it was nothing close to Express. Tried Nord for a month after using Express for a month earlier as many were claiming Nord was much better than Express, but I found I was much more comfortable with the Express VPN. No privacy issues up to this point and it is by far the fastest I have found where the VPN is concerned. It's a total package.
Micky 9/10 April 24, 2018
Best I've found, nice features.
This is the best VPN that I've used. Good speeds, quick to connect, and excellent & very quick customer service when I've had questions. I often use the VPN to access TV and media from other countries, and when the media suppliers learn of the VPN connection the IP gets blacklisted. ExpressVPN tries to keep up by changing IPs but it's sometimes a cat-and-mouse game to find one that works to stream media. I like the preference settings that lets me include or exclude certain apps from going through the VPN. And – though I never use it – they allow torrenting should I ever need it. One issue is that when connected to the service, Google often directs me to their Arabic UAE site even though my real & VPN regions are nowhere near there…
SiriusMac 9/10 April 2, 2018
Fast Servers #1 Reason
I've used several VPN's including NordVPN which was terribly slow in comparison to ExpressVPN. So far right out of the gate this thing has worked perfectly. The fast servers is my #1 reason for using it. What good is a VPN if it slows your internet connection to a crawl? It is pricey, but I did get in on the 15 month deal. NordVPN is cheaper and if you are willing to deal with the speed of that service, which I was not it's probably okay. I like the kill switch and even though I wish there was more than 3 simultaneous connections I've learned to deal with that. I can see if you have a family that this would be an issue though. By the way they have GREAT customer service. I initially signed up for the month to month plan because I was not really sure. I contacted them and got a response and a solution within 2 hours. I highly recommend ExpressVPN.
Lawrence 5/10 April 1, 2018
Doesn't work on Windows XP
I spent hours trying to make their software work on a Win XP x32 PC that i need to keep legacy software running and wanted sme protection with a VPN. I spent hours trying to get their software to work but no success. The best their online chat support could do was to advise rebooting and another attempt at reinstall. No technical suggestions. Deciding to give up they then said a refund of my payment made hours earlier would take 7 to 10 days.
Ted S. 9/10 March 28, 2018
Privacy, yes but...
Good overall review, however; I do think you missed the mark for those interested in true online anonymity, that is how do I pay for the service in a way that cannot be tracked back to the payee. Many sites will allow payment with bitcoin or gift cards that can be bought with cash. I think it would have been helpful to some people to include that information.
Anonymous 9/10 February 22, 2018
no problems yet
My experience with ExpressVPN has been really great so far as I have encountered no problems yet.
The VPN does all the things I want it to do for instance, it doesn't keep logs, there are a lot of locations to choose from and the speed is great. There's only one thing I don't really like with this VPN is that it has been blacklisted on many sites and it has a pretty high spam risk score on many websites.
Alan Easdale 8/10 December 9, 2017
A bit pricy, but worth the money.
Although one of the more expensive options, Express VPN has served me well on regular trips into China, much more reliable uptimes than other popular options which often get blocked by the country wide firewall. It also maintains a good number of servers worldwide help minimise ping and with upload and download speeds.
Worth noting that the best servers are usually hidden or not the recommended ones. Also keep an eye on your subscription, the service automatically renews, so if you don't need it for a month or two untick auto renew in settings. My experience with the customer service has also been great via. their web chat.
Sven Signer 9/10 November 21, 2017
Great but high price.
Currently using ExpressVPN as my daily driver to keep my connection secure and to keep my IP safe from DDoS attacks.
I have had no downtime in the 3 months I've used it and only some lag spikes near the evening (lasted about 2 minutes).
The quality you get is absolutely excellent and the speed is perfect for gaming and uploading aswell, the only downside is that it is a bit more expensive than other VPN's but you get great quality in exchange.
The support is excellent aswell and they answer my questions usually within 24 hours.
D 3/10 November 14, 2017
Struggling
As much as ExpressVPN is excellent for speed and when connected security where I am using it I have had nothing but trouble.
Although we have had several chats Express seems to be at a loss on how to overcome the ISP's. I am one of a number of users here that struggle. Maybe in general Express is great. But I feel they are unable to deal with those places that are more difficult.
Jennifer Aldrich 10/10 November 6, 2017
ExpressVPN in the World of Streaming Television
I started using ExpressVPN about a year ago when I decided to cut the cord from cable and switch to streaming television exclusively. I decided to go with Kodi, which is open source streaming software. I quickly found out that many of the shows I wanted to watch were IP blocked, and I didn't reside in the country they serviced.
So, off I went looking for a VPN provider so I wouldn't be geo-blocked due to my IP address. After reviewing many of the more popular services, I decided to go with ExpressVPN based on the price and the 24/7 service, as well as the vast selection of countries to choose from.
They had a very simple app to download from the Google Play store, which I needed because I am not the most tech savvy person. After downloading the app, all I had to do was click a green button on it and instantly my IP was changed! It was incredibly easy to change my IP location to virtually any country in the world with just the click of the very simply stated "choose location" button right next to the button to turn the service on. When I went looking to see what other locations they had, the interface was broken down by continents, each with many, many countries in its list and many different IP addresses to choose from within each country
After some time of using it, I noticed the connections were always solid with no drops and amazing speeds. I often found ExpressVPN provided an even more solid connection than my own home connection most of the time!
When I needed technical help setting up an IP address on a smart tv, customer service was there within a minute and walked me through each step, and waited to make sure I had everything up and running. The customer service is stellar, and made me very impressed with the company as a whole
I was so impressed with the service that I changed my monthly plan, which was 12.95 per month, to pay for a year outright and was taken down to 8.32 per month for the service! For the options it provides, the speeds and quality, and the outstanding customer service, it's the best 100 dollars a year I've spent
Michael M. 9/10 October 19, 2017
Reliable for over a year
I have used ExpressVPN for over a year and I have no plans on changing. I have them on my MAC and Android, and its very easy to use. I hardly notice a difference in speed when browsing and use use it for everything.
I have emailed them twice with problems and they have got back to me within 24 hours to fix those problems, in 1 email. A bonus is they have a website on the DeepWeb and also take bitcoin as payment, for people who want to stay completely anonymous! I would say they are a little more on the expensive side compared to their competitors, but I will be sticking to them. They have over 90 countries for you to connect to, which is a little crazy as I only use the same 3.
I would recommend them for their speed, uptime, choice and customer service. 9/10.
Ronne Timmerman 9/10 October 15, 2017
Expensive but very good
ExpressVPN is a good solution for VPN, it is easy to set up, you just download some programs on your devices and you start serving the internet right away. The only issue that I have is when I am at home and I want to connect to my Chromecast, the app on my Android telephone might have been connected to a server, what prevents my mobile to connect to the chrome cast.
The solution to connect to the VPN with your router is good, only the set up is a bit technical. But there is a excellent tutorial on the website. The only issue I have with ExpressVPN is the price: 99 dollars for 1 year. But what you pay is what you get.
Kostis 9/10 October 12, 2017
What can I say about expressvpn..
I have been using ExpressVPN for about 6 months. It has been an amazing journey so far, they have really fast connections and super user-friendly UI. They have a wide variety of countries to choose from, but I mostly use USA so I can stream on Netflix.
They are online all the time, which means you will never be in a position that you need it, and you will not have it.
Boni 9/10 October 9, 2017
Legit software
I started using ExpressVPN just few months ago and I have no complaints about it.
Yes, it's slightly higher prices then the other VPNs, but I managed to opt in for 15 months (at a slightly cheaper cost).
I'm using it on both iOS and Windows – pretty smooth and flawless.
Recommending.
Joe 10/10 June 30, 2017
Fantastic!!!
I landed on ExpressVPN, because I was looking for a good VPN provider for myself to stay anonymous online. I was looking around and once a window popped with David's face on it. I asked several questions from him and he showed me around their website and how to install ExpressVPN. Once installed I started tried it out and was amazed how fast it is. I have a couple of friends who use VPNs, but their download speed always shrinks when they connect themselves to another server.
I have nothing but good words for this company. They are fast and reliable. When I have some questions I just visit ExpressVPN and they answer all my questions fast.
A definite must, if you want to protect your privacy.
Eyu 6/10 June 12, 2017
Good but overpriced
It's usually good, but most times it doesn't justify their price. The internet speed in China is nothing to write home about on top of that the government intentionally slows down foreign websites, if it doesn't restrict access to them. So a VPN is a must for me. I bought a year's subscription of ExpressVPN about 9 months ago for $100/year.
I read it was the best VPN service for China on this website and many others. I get 3MB/S download speed if the network is great, as I said earlier the internet here is nothing special. I'm planning on trying NordVPN when my subscription ends. Some of my friends use it. It seems as fast and reliable as ExpressVPN and it's a little cheaper.
André 9/10 May 25, 2017
Good software
ExpressVPN is a solid product – especially when you need a smooth experience. I used free VPNs in the past (such as Betternet & Tunnelbear), but they're slow. Thus I decided to invest some money into VPN software.
I debated long between PIA & ExpressVPN, but eventually went for the latter.
Bryan Johnson 3/10 May 8, 2017
Problem after problem
I've used several of the VPN's listed since I came to China a year and a half ago, but sadly the most memorable experience I had was using Express VPN, a paying subscription that I first used, with all sorts of problems.
After a month, it became harder and harder to get the VPN working and connecting, then one night I did, and instantly my laptop went blue screen. Twice! I spent the next week getting back basic functions of my computer. I can't blame Express VPN for the crashes, but it was awfully suspicious.
Troy 10/10 April 22, 2017
Perfect for personal use
Started using ExpressVPN in december 2014 and I've never looked back.
Their servers are fast and I really think they care for my anonymity. The customer support has always been friendly and quick when I've had questions regarding their product. They might cost a bit more than the cheapest providers, but I think they're worth every penny.
-Happy customer