What is ExpressVPN?
Is it fast and secure enough?
Can I use it for torrenting or Netflix?
These are just some of the questions that I try to answer in this review.
To make this review accurate, I bought and installed this VPN on my Macbook.
Let's get started.
What is ExpressVPN
Founded in 2009, ExpressVPN International Ltd. is located in the sun-kissed and (almost) the tax-free British Virgin Islands.
Since they've been recommended by dozens of websites I was curious enough to test out their service by myself.  Over the past few years, ExpressVPN has quickly earned a reputation for being one of the top VPN providers on the market.
Their slogan is no different:
The #1 Trusted Leader in VPN,
However, upon further investigation, many would be customers are left scratching their head's wondering who ExpressVPN really is and what they are all about.
While their mission statement is charming enough,

The fact that they located in a tax haven and have almost no information regarding their founders or employees can raise a few red flags for the cautious consumer.
However, ExpressVPN's secrecy should not be a cause for alarm.
Due to the very nature of their services, most VPN companies go to great lengths to hide their identities and impede unwanted investigations.
With the current landscape of data security becoming more tumultuous by the day, it is almost a requirement for VPN providers to limit the accessibility of their more private information.
After all, if anyone with a warrant can burst through their front doors and demand to have access to all of their logs (which we will talk about shortly), they wouldn't be much of a security company, would they?
So do these actions raise some questions about ExpressVPN's actual identity? Yes.
Is it any reason to worry that their services are illegitimate? No.
Is ExpressVPN 100% Safe?
As stated before, they're located in British Virgin Islands which makes them far away from 5, 9 and 14 eyes (I don't recommend using a VPN that is located in one of those 14 locations).
That's an obvious plus point from my side.
But what about their logging policy, encryption, and protocols?
Do they keep log files? No.
Keep in mind that vast of majority of VPN provider try to explain in their TOS that they don't keep log files, but we've seen some VPN services that have VERY questionable logging policy (hint: PureVPN & PrivateVPN).
Luckily, ExpressVPN isn't that suspicious at all…

Everything is stated clearly and is quite visible.
How strong is their encryption? Very.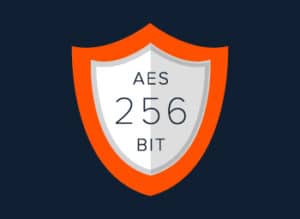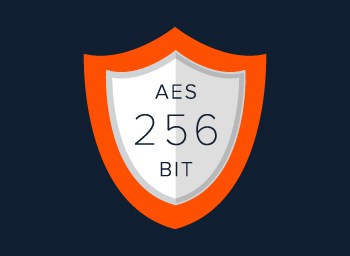 In order to ensure that their client's data is protected at the highest levels, ExpressVPN uses a strong encryption… Like a super strong encryption.
Known as Advanced Encryption Standard or AES, the 256-bit cipher that ExpressVPN utilizes all but eliminates the possibility of a brute force attack( and most other attacks for that matter).
I won't bore you with all of the jargon and technical details about the AES 256 key that is used to protect your internet experience, but I will suffice it to say this:
When the CIA or FBI decides that they want to protect the transmission of sensitive data, they use an AES-256 encryption.
If security is one of your primary concerns,  you can rest soundly knowing that ExpressVPN is not at risk of being compromised anytime soon.
What VPN protocols are being used? (All)
ExpressVPN supports on all major tunneling protocols.
VPN protocols are the method that your device uses to connect to a VPN server. While most users will only need the default "OpenVPN", ExpressVPN also supports SSTP, L2Tp/IPsec, and PPTP protocols.
For users with more technical requirements, this is a great feature to have because it allows you to establish a connection that is tailored to meet your specific needs (typically, speed vs. security).
By dejargonizing everything I wrote above, I can safely say that yes, ExpresVPN is secure and safe VPN.
ExpressVPN Pricing Options
When a company boasts as many features and perks as ExpressVPN, it shouldn't shock you to find out that they charge a premium price for their services.
With their packages going as high as $12.95/month, ExpressVPN is far from a "budget service" (although every plan comes with a 30-day money back guarantee)
Here's how the pricing plans break down.
Month-to-Month Plan: $12.95 per month
6 Months Plan: $9.99/month (billed $59.95 every six months)
12-Months Plan: $8.32/Month (Billed $99.95 every 12 months)
However, if you are willing to keep a watchful eye on their website, you can occasionally find great sales that reduce the total cost to $6.67/month or lower.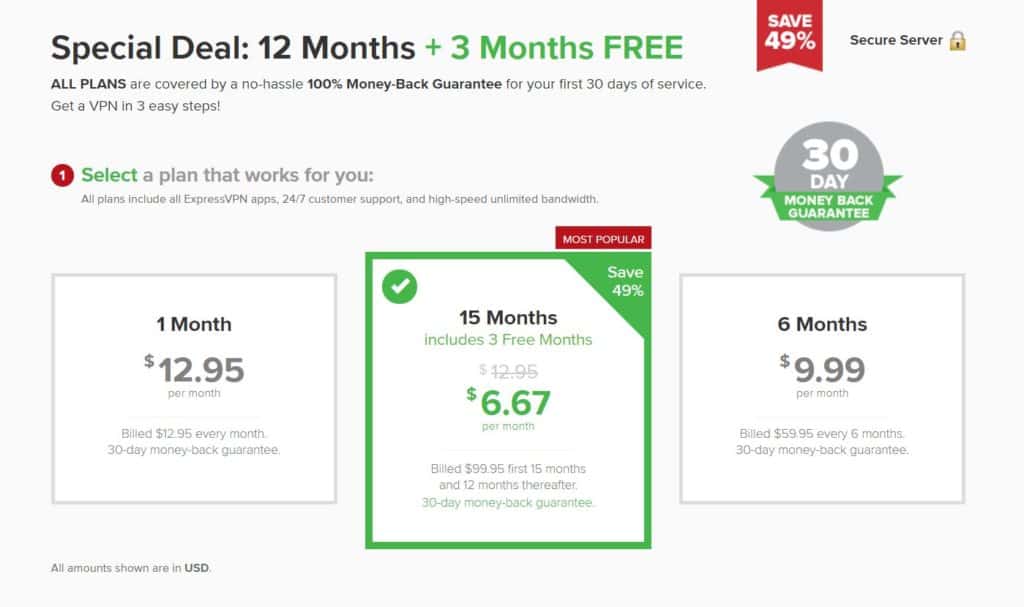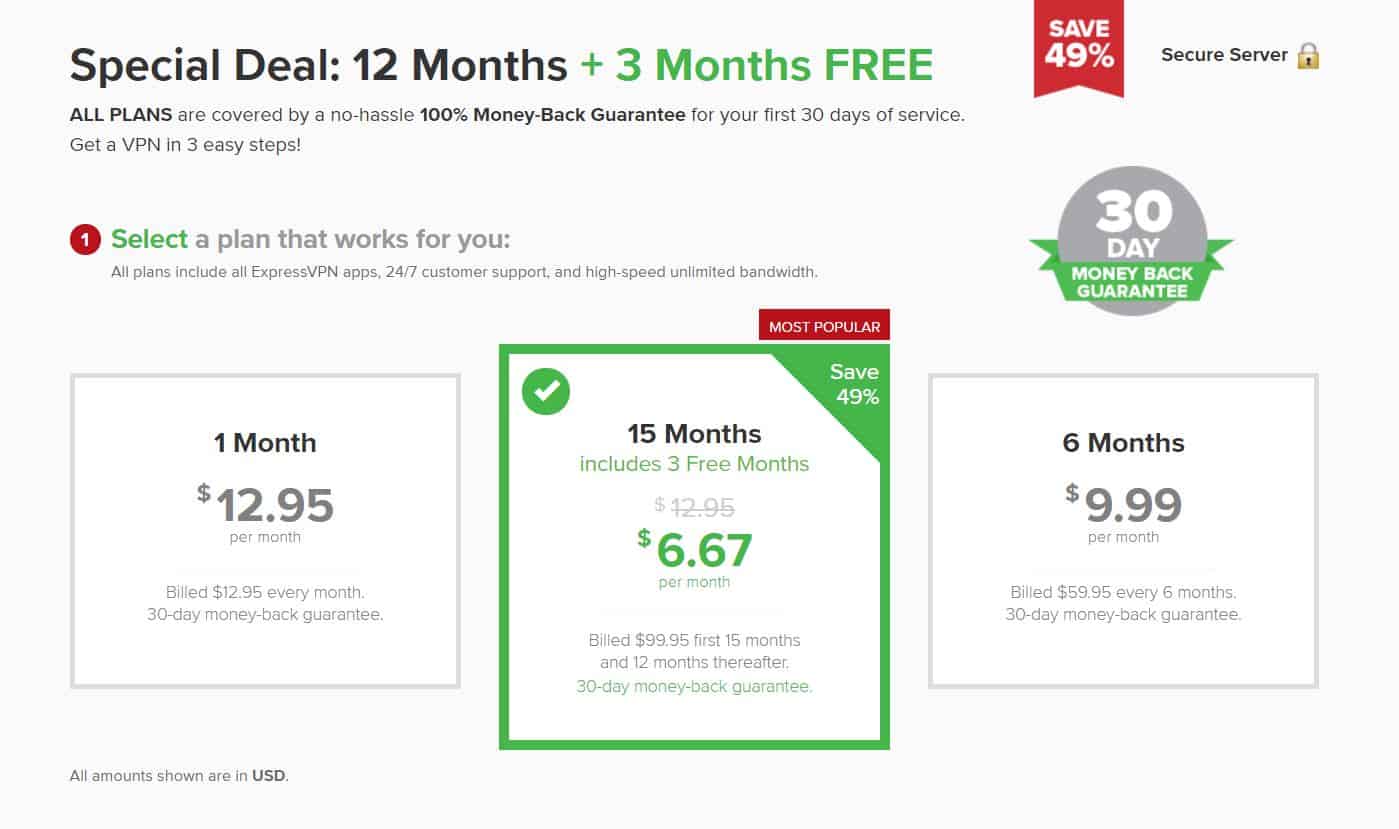 This might seem expensive to some of you, especially when you compare the cost of ExpressVPN to some free VPN services.
But it's important to remember that, as the old adage goes, "You get what you pay for". 
And there are no exceptions to this rule when it comes to VPN providers.
Pros of Using ExpressVPN
+
1. ExpressVPN Speed Test: One of The Fastest VPNs
Probably the most important strength that ExpressVPN has is their fast upload and download speeds.
With a 100 Mbps connection, we're able to get a download speed of 83.15 Mbps which makes them one of the fastest VPNs we've reviewed till date.
Of the dozens of VPN providers that I have tested, only a few offer upload and download speeds comparable to ExpressVPN's (VyprVPN and PIA).
See the complete results yourself:
US Server (New York)
Ping: 110ms / Download: 60.04 Mbps / Upload: 30.41 Mbps
EU Server (Amsterdam)
Ping: 40ms / Download: 83.15 Mbps / Upload: 25.18 Mbps
Asia Server (Hong Kong)
Ping: 292ms / Download: 30.26 Mbps / Upload: 12.46 Mbps
Always take speed testing with a grain of salt because it relies on too many variables, such as your physical location, your computer specs, your Internet connection etc, but since I compare VPNs with the same method, I can be sure that they're one of the fastest.
2. Works on Multiple Devices
Their services are supported on:
Windows
Mac
Android
Linux (best UI in the industry)
iPhone and iPad
Different routers
Different web browsers
While I am sure there is some device out there that remains unsupported, you would be hard-pressed to find it.
3. ExpressVPN Allows Torrenting
This is a huge plus for many users.
While other companies like TunnelBear have officially stated that they do not allow torrenting, ExpressVPN has made no such statements.
Although I was unable to find an example where ExpressVPN blatantly condoned torrenting, you don't have to read far between the lines to realize that, at the very least, they aren't opposed to it.
Everything about their service, from the military-grade encryption to the unlimited bandwidth and admirable download times scream "Torrent Friendly".
4. Compatible with Netflix 
As Netflix's security protocols and procedures continue to evolve, it is becoming increasingly rare to find VPN providers with Netflix compatibility.
After setting up my service with ExpressVPN, the first (and clearly most important) thing that I wanted to find out was whether or not their Netflix compatibility worked as advertised. Much to my surprise (and delight), I was presented with a queue of films and TV shows that was wildly different from my regularly scheduled programming.
It should be noted that not all servers are compatible with Netflix and you will probably run into a few proxy errors when trying to stream Netflix from non-U.S. servers.
5. They Have a Strict "No Logging" Policy 
ExpressVPN also operates under a rather stringent "No Logging" policy.
Basically, this means that they do not track or store your personal data whenever you are using their services. From the second that you log onto your ExpressVPN server, your information (or at least most of it) is encrypted and hidden from hackers, government agencies, and yes, even ExpressVPN themselves.
However, ExpressVPN does collect some data as outlined in their privacy policy.
According to the companies website, they do collect:
Apps and app versions successfully activated
Dates (not times) when connected to the VPN service
Choice of VPN server location
Total amount (in MB) of data transferred per day
However, they go on to say that:
This information cannot be used to identify you for any specific activity or behavior, because it overlaps with statistics from other ExpressVPN customers and contains no personally identifiable information, such as your IP address.
And after reviewing dozens of other VPNs, I have found that this is a pretty standard practice that is actually necessary to ensure an optimal user experience.
6. Largest Server Selections on the Market 
Where ExpressVPN really shines is in their wide selection of servers.
With over 1,500 servers operating in 94 countries across 145 different cities (and counting), ExpressVPN is rivaled only by PIA and TorGuard in terms of the sheer volume of servers they offer.
If there is a server you need, chances are, ExpressVPN has got it.
7. ExpressVPN Offers 24/7 Live Customer Support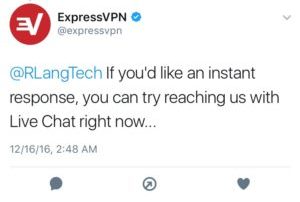 In an industry that suffers from notoriously bad customer service, ExpressVPN's 24/7 live support is one of its biggest selling points. Unlike many providers who rely on outdated contact forms and laggy email chains, ExpressVPN boasts a 24/7 365 live chat feature that has been consistently rated one of the best in the business.
But, for whatever reason, ExpressVPN decided that it would be beneficial to continue offering the more traditional contact forms and support emails. So it's important to note that if you do run into any issues when you opt for one of these archaic methods, ExpressVPN will be quick to redirect you to their live support team (as they do in the following correspondence).
8. TOR Compatibility 
The Orion Router or TOR is a network designed for one thing and one thing only.
Security.
When using TOR, your traffic information is encrypted across multiple servers and your data is relayed so that it is difficult (bordering on impossible) to track your actual location.
If you are extremely concerned about your personal security, ExpressVPN allows you to combine the TOR networks on top of your existing VPN in order to maximize your privacy and all but eliminate vulnerabilities in your data's security.
In countries with Draconian censorship laws, this added layer of security can (literally) be a lifesaver.
To access the TOR network, simply use their official browser on a Windows, Mac OS, Linux, or Android device then launch your connection using the following address: http://expressobutiolem.onion
9. Kill Switch 
For anyone using location-specification specific activities (like gambling), ExpressVPN also offers a very handy Kill Switch that will automatically kill whatever software or websites you were using in the event that your network connection is lost.
Meaning that even when you've lost your protection, you are still protected.
Cons of Using ExpressVPN
1. Only 3 Devices Can be Connected Simultaneously 
If there is one other complaint I had about ExpressVPN it is that they only allow you to simultaneously use their services on three devices.
While it's unlikely that this is an issue for users who are only interested in personal security, the limit can become frustrating whenever you are trying to ensure the security of your entire family's data and devices.
This is especially bothersome when you compare ExpressVPN's device limit to those of other companies who consistently offer 5-7 simultaneous connections.
While it's far from a deal breaker, it is an issue that I would like to see resolved sooner rather than later.
2. Not Very Transparent Company
Similarly to NordVPN, ExpressVPN remains pretty anonymous company. There are no visible phone numbers nor business contacts on the website, yet they serve millions of customers.
However, remaining anonymous in the VPN business is a pretty common thing. Businesses tend to do that because of the different laws and their motive to protect their customer's data.
Do I Recommend ExpressVPN?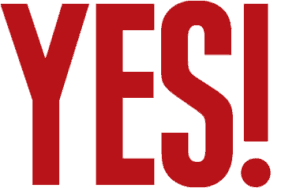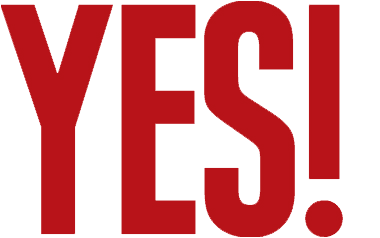 Yes, I do.
They offer a fantastic service that is filled to the brim with a wide array of features sure to delight both novice and expert web-surfers alike.
And with such a large pool of servers to choose from and an effective team of customer service agents at your disposal, I feel that you get what you pay for and much, much more!
It's fast, safe and secure. Hand down, I recommend this VPN.
P.S. I'm always interested in user-reviews so if you've used ExpressVPN before, don't hesitate to leave your review below. If your experience matched mine, cool. If it didn't, that's fine too!
Add your own ExpressVPN review:
23 user reviews for ExpressVPN
Ted 9/10 January 3, 2019
no problems yet
My experience with ExpressVPN has been really great so far as I have encountered no problems yet.
The VPN does all the things I want it to do for instance, it doesn't keep logs, there are a lot of locations to choose from and the speed is great. There's only one thing I don't really like with this VPN is that it has been blacklisted on many sites and it has a pretty high spam risk score on many websites.
Andres 9/10 January 5, 2018
Saved my holiday (netflix)
I'm currently in Cuba and wanted to watch US films on Netflix. I tried tunnelbear first, but it didn't work. I tried out ExpressVPN and it works 🙂
I guess I'll keep using it as there's literally no other way to get bypassed this geo-restrictions.
Bernard Yan 9/10 December 29, 2017
Highly satisfied with ExpressVPN
I had to buy ExpressVPN when I took a trip to China, specifically Shanghai, where everything I needed was blocked by the Great Firewall. The service worked entirely as I had hoped to. Sites that should have been blocked were easily accessible, and it was even easy for me to redownload the service when I had to wipe my computer, as they had an entire process for how to re-access the otherwise blocked site. Performance did not slow down dramatically, and I was able to do what I wanted to do on the Internet with full freedoms. I highly recommend ExpressVPN to others.
Alan Easdale 8/10 December 9, 2017
A bit pricy, but worth the money.
Although one of the more expensive options, Express VPN has served me well on regular trips into China, much more reliable uptimes than other popular options which often get blocked by the country wide firewall. It also maintains a good number of servers worldwide help minimise ping and with upload and download speeds.
Worth noting that the best servers are usually hidden or not the recommended ones. Also keep an eye on your subscription, the service automatically renews, so if you don't need it for a month or two untick auto renew in settings. My experience with the customer service has also been great via. their web chat.
Will 10/10 December 8, 2017
Solid service with great support
Express VPN has some great locations across the globe with 'stealth' technology . This means that sites such as Netflix can be watch from different locations ( I'm not giving them away though ? ). The support is also top of the line. Every time I have messaged there have been super nice and helpful people on the other end, not too mention they are actually human!! Never had a problem with down timer and the app is easy and simple to use.
My only wish is that there could be a bit more flexibility with the options on encryption types and other settings. Honestly not really a con though.
All in all, 100% would recommend.
Sven Signer 9/10 November 21, 2017
Great but high price.
Currently using ExpressVPN as my daily driver to keep my connection secure and to keep my IP safe from DDoS attacks.
I have had no downtime in the 3 months I've used it and only some lag spikes near the evening (lasted about 2 minutes).
The quality you get is absolutely excellent and the speed is perfect for gaming and uploading aswell, the only downside is that it is a bit more expensive than other VPN's but you get great quality in exchange.
The support is excellent aswell and they answer my questions usually within 24 hours.
Kris Leppik 9/10 November 15, 2017
Evolved now that it has a Kill Switch
ExpressVPN was always a top tier VPN provider in my books. With that said, I ditched it for another provider at one point because it had no VPN killswitch. Now I have returned to ExpressVPN because it offers a killswitch – this is something that is very crucial in a VPN service for me (and for most VPN users).
VPN's go down all the time and connections are lost – and without a VPN killswitch – your IP is exposed. ExpressVPN has terrific customer service and great speeds, and now that they implemented a killswitch, I am a happy returning customer (even though they charge a slight premium in comparison to other providers).
Adrián Salinero 8/10 November 12, 2017
It's worth the money
Although this is not the cheapest option available, I have tried many of the alternatives, and so far ExpressVPN is the most reliable service to work for me. Unlike other VPN applications, the ExpressVPN network uses 256-bit encryption and their servers are fast and never keep logs.
The support is amazing, they are very friendly and quick to answer, and the Live Chat option is fantastic. I think this service is worth its price because it is very professional.
Jennifer Aldrich 10/10 November 6, 2017
ExpressVPN in the World of Streaming Television
I started using ExpressVPN about a year ago when I decided to cut the cord from cable and switch to streaming television exclusively. I decided to go with Kodi, which is open source streaming software. I quickly found out that many of the shows I wanted to watch were IP blocked, and I didnt reside in the country they serviced.
So, off I went looking for a VPN provider so I wouldnt be geo blocked due to my IP address. After reviewing many of the more popular services, I decided to go with ExpressVPN based on the price and the 24/7 service, as well as the vast selection of countries to choose from.
They had a very simple app to download from the Google Play store, which I needed because I am not the most tech savy person. After downloading the app, all I had to do was click a green button on it and instantly my IP was changed! It was incredibly easy to change my IP location to virtually any country in the world with just the click of the very simply stated "choose location" button right next to the button to turn the service on. When I went looking to see what other locations they had, the interface was broken down by continents, each with many, many countries in its list and many different IP addresses to choose from within each country
After some time of using it, I noticed the connections were always solid with no drops and amazing speeds. I often found ExpressVPN provided an even more solid connection than my own home connection most of the time!
When I needed technical help setting up an IP address on a smart tv, customer service was there within a minute and walked me through each step, and waited to make sure I had everything up and running. The customer service is stellar, and made me very impressed with the company as a whole
I was so impressed with the service that I changed my monthly plan, which was 12.95 per month, to pay for a year outright and was taken down to 8.32 per month for the service! For the options it provides, the speeds and quality, and the outstanding customer service, it's the best 100 dollars a year Ive spent
Kyle Chau 10/10 November 3,2017
ExpressVPN is the best
ExpressVPN is one of the best VPN companies out there. I've been using them for a few months and I am very satisfied with my use of the VPN. I have already gotten the full year subscription and I am very happy about it. The internet was fast and it was pretty cheap considering other services. I mainly use VPNs to just browse websites that I've never been on to be safe.
John White 8/10 November 1, 2017
One of the best
ExpressVPN has the largest range of client software available, a dedicated proxy service for streaming media and its own DNS service. But it dropped many connections, its overall performance was in the middle of the pack, it allows only three devices to be connected simultaneously per account and it's one of the most expensive services we evaluated.
Michael M. 9/10 October 19, 2017
Reliable for over a year
I have used ExpressVPN for over a year and I have no plans on changing. I have them on my MAC and Android, and its very easy to use. I hardly notice a difference in speed when browsing and use use it for everything.
I have emailed them twice with problems and they have got back to me within 24 hours to fix those problems, in 1 email. A bonus is they have a website on the DeepWeb and also take bitcoin as payment, for people who want to stay completely anonymous! I would say they are a little more on the expensive side compared to their competitors, but I will be sticking to them. They have over 90 countries for you to connect to, which is a little crazy as I only use the same 3.
I would recommend them for their speed, uptime, choice and customer service. 9/10.
Ronne Timmerman 9/10 October 15, 2017
Expensive but very good
ExpressVPN is a good solution for VPN, it is easy to set up, you just download some programs on your devices and you start serving the internet right away. The only issue that I have is when I am at home and I want to connect to my Chromecast, the app on my Android telephone might have been connected to a server, what prevents my mobile to connect to the chrome cast.
The solution to connect to the VPN with your router is good, only the set up is a bit technical. But there is a excellent tutorial on the website. The only issue I have with ExpressVPN is the price: 99 dollars for 1 year. But what you pay is what you get.
Kostis 9/10 October 12, 2017
What can I say about expressvpn..
I have been using ExpressVPN for about 6 months. It has been an amazing journey so far, they have really fast connections and super user-friendly UI. They have a wide variety of countries to choose from, but I mostly use USA so I can stream on Netflix. They are online all the time, which means you will never be in a position that you need it, and you will not have it.
Boni 9/10 October 9, 2017
Legit software
I started using ExpressVPN just few months ago and I have no complaints about it.
Yes, it's slightly higher prices then the other VPNs, but I managed to opt in for 15 months (at a slightly cheaper cost).
I'm using it on both iOS and Windows – pretty smooth and flawless.
Recommending.
Joe 10/10 June 30, 2017
Fantastic!!!
I landed on ExpressVPN, because I was looking for a good VPN provider for myself to stay anonymous online. I was looking around and once a window popped with David's face on it. I asked several questions from him and he showed me around their website and how to install ExpressVPN. Once installed I started tried it out and was amazed how fast it is. I have a couple of friends who use VPNs, but their download speed always shrinks when they connect themselves to another server.
I have nothing but good words for this company. They are fast and reliable. When I have some questions I just visit ExpressVPN and they answer all my questions fast.
A definite must, if you want to protect your privacy.
Eyu 4/10 June 12, 2017
Good but overpriced
It's usually good, but most times it doesn't justify it's price. The internet speed in China is nothing to write home about on top of that the government intentionally slows down foreign websites, if it doesn't restrict access to them. So a VPN is a must for me. I bought a year's​ subscription of ExpressVPN about 9 months ago for $100/year.
I read it was the best VPN service for China on this website and many others. I get 3MB/S download speed if the network is great, as I said earlier the internet here is nothing special. I'm planning on trying NordVPN when my subscription ends. Some of my friends use it. It seems as fast and reliable as ExpressVPN and it's a little cheaper.
André 9/10 May 25, 2017
Good software
ExpressVPN is a solid product – especially when you need a smooth experience. I used free VPNs in the past (such as Betternet & Tunnelbear), but they're slow. Thus I decided to invest some money into VPN software.
I debated long between PIA & ExpressVPN, but eventually went for the latter.
Bryan Johnson 3/10 May 8, 2017
Problem after problem
I've used several of the VPN's listed since I came to China a year and a half ago, but sadly the most memorable experience I had was using Express VPN, a paying subscription that I first used, with all sorts of problems.
After a month, it became harder and harder to get the VPN working and connecting, then one night I did, and instantly my laptop went blue screen. Twice! I spent the next week getting back basic functions of my computer. I can't blame Express VPN for the crashes, but it was awfully suspicious.
Mak 7/10 May 1, 2017
Good, but no free trial
This VPN should have free trial on pc because of it's accessibility and reliability. It should offer free trials to users that were new to VPN industry so that their impressions on this application will boost and this application will be used for future users and generations.
All in all, two thumbs up for this application!
Troy 10/10 April 22, 2017
Perfect for personal use
Started using ExpressVPN in december 2014 and I've never looked back.
Their servers are fast and I really think they care for my anonymity. The customer support has always been friendly and quick when I've had questions regarding their product. They might cost a bit more than the cheapest providers, but I think they're worth every penny.
-Happy customer
Tony Tran 9/10 March 27, 2017
Good
I'd recommend ExpressVPN, too. The only thing I don't like is their high price, but it's what you pay is what you get, right?
Tad 9/10 March 24, 2017
Solid software
I've used 3-4 different VPN providers, but the ExpressVPN is by far the easiest I've used. Props for that.