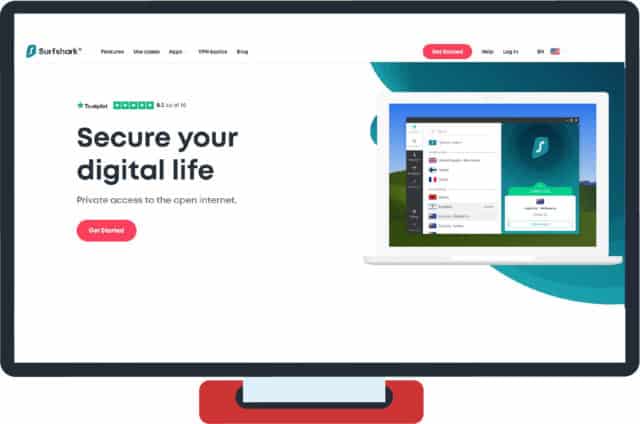 Surfshark is a relatively young VPN that offers security, speed, and privacy that benefits users when surfing the internet.
You have heard that before, right?
On the surface, the service sounds like a pretty good deal: they offer secure tunneling protocols such as IKEv2 and OpenVPN, 800+ servers from 50 countries, and unlimited torrenting bandwidth on unlimited devices connected simultaneously.
But is it fast enough? How good is their customer support? Do they unblock Netflix and allow P2P?
That is why we're here to review and analyze whether or not Surfshark is worth your time and money. In the end, will Surfshark ride the private waves with ease or end up eaten by bigger fish?
Let's find out:
Surfshark Overview
| | |
| --- | --- |
| OVERALL RANK: | #2 out of 78 VPNs |
| USABILITY: | Very Easy To Use |
| LOG FILES: | Strict No Logging Policy |
| LOCATIONS: | 50 countries, 800+ servers |
| SUPPORT: | Live Chat (24/7) |
| TORRENTING: | P2P & Torrenting Allowed |
| NETFLIX: | Unblocks Netflix USA |
| ENCRYPTION/PROTOCOL: | 256-bit AES/OpenVPN, IPSec & IKEv2 |
| COST: | $1.99/mo |
| OFFICIAL WEBSITE: | www.Surfshark.com |
Pros of Using Surfshark VPN
1. No Leaks, No Viruses Found
One of the best findings that I have had with Surfshark is its security.
I put the VPN through VirusTotal Scan and the results were remarkable.
Don't believe it?
Here are the scan results for Windows:

The image shows that Surfshark is squeaky clean.
The Mac version:
The number of virus scans is lower and it's because it couldn't process some file types.
The same goes for the Android version.
I wasn't able to scan the iOS version. Why?
Well, I talked to customer support and they're yet to release a downloadable iOS format for PC. Nevertheless, the overall picture is positive and it shows green all around.
Leak-Free
Surfshark also boasts a tightly sealed hull. It bears no cracks or chinks that allow info to leak and compromise your IP address. No, this VPN made sure that whatever information their user has is kept private.
I ran Surfshark through six different tests to see whether or not it leaked my IP and DNS information.
https://ipleak.net/ (none found)
https://www.perfect-privacy.com/check-ip/ (none found)
https://ipx.ac/run (none found)
https://www.perfect-privacy.com/dns-leaktest/ (none found)
http://dnsleak.com/ (none found)
Here's proof of zero DNS leaks: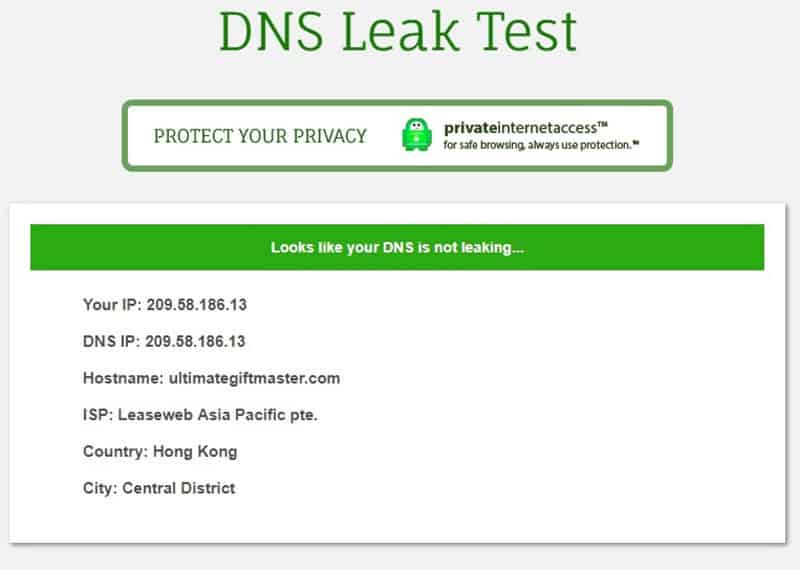 Its security does a great job at hiding your geo location. Couple that with its efforts to hide your IP and it amounts to a secure and private connection.
2. The British Virgin Islands: Away From 14 Prying Eyes
The 14 Eyes are specific regions around the globe that collect data from those under their jurisdiction.
This, of course, includes any VPN provider inside their geographical locations. They have the power and the authority to demand user info and data from a VPN provider. They can do so without the knowledge of the victims, which is a lot worse.
With that said, Surfshark is well away from the 14 eyes. In fact, their HQ – the British Virgin Islands – has no data retention laws. This means that Surfshark's user information is safe from those who wish to sweep it under you. Furthermore, their data protection ensures that no foul play can be done.
I also checked Surfshark's payment processors and only one falls under the jurisdiction of the 14 eyes.
With the amount of security that the VPN provider is taking, one can consider this as a minor hiccup.
Surfshark's Warrant Canary
Almost all VPNs fly a warrant canary. Be it big or small, different VPN providers on the planet have these.
What is a warrant canary?
A warrant canary gives VPNs a way to inform their users that a secret government subpoena has been issued on them. The warrant canary serves as a transparency method for VPNs. It lists down the number of government national security letters and gag orders that they have received so far.
Fortunately, Surfshark's waters are looking as safe as a backyard kiddie pool.
Currently, their warrant canary is at:
0 Gag Orders
0 National Security Letters
0 Warrants from a government organization
3. No Logs Policy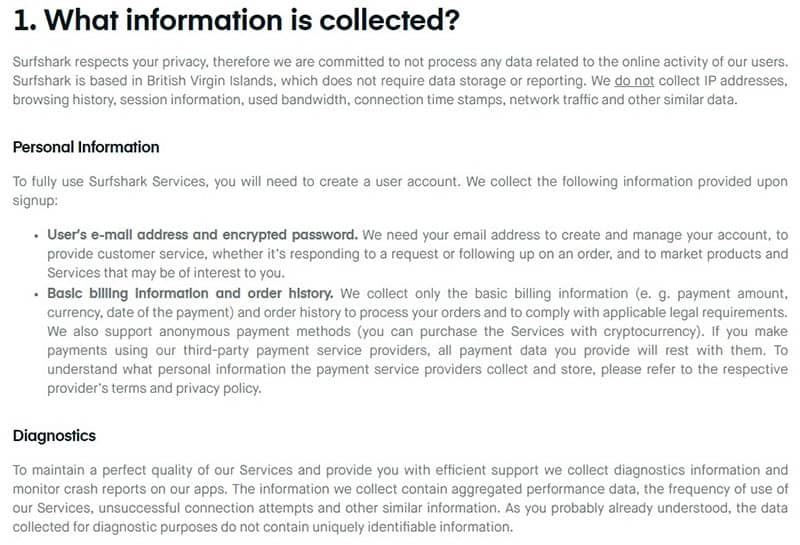 Internet users need to trust their VPN providers with their logs. This is where Surfshark is good at.
Surfshark's privacy policy claims to collect no logs. This is, of course, a bumpy statement because a VPN provider still collects specific info about their users.
One shouldn't be alarmed, however, since Surfshark is in clear waters (no pun intended).
Surfshark only collects three types of data:
An email address for account management.
Billing information.
Diagnostics such as crash reports.
These types of logs should not be a cause for worry.
A Clean Background
Though backed up by a no-logging policy, certain VPN providers will lie about said information.
Take a look at the most recent scandal involving PureVPN.
With that in mind, I dug around to see if Surfshark has had a run-in with similar events.
Thankfully, extensive research came clean and no dirt is currently clouding the waters around Surfshark. So far, it has stayed true to it's no logging policy.
4. Great Speed (But Inconsistent)

Server speed is a key structure for any VPN provider. Why toil through slow server speed when there are other VPN providers that do it better, right?
For Surfshark's case, it's not a problem.
Our base speed (without VPN) is:

Ping: 7ms
Download: 98.71 Mbps
Upload: 53.00 Mbps
So, I randomly picked four of their servers from Surfshark network around the globe:
Amsterdam
Hong Kong
New York
EU Server

Ping: 26ms
Download: 71.06 Mbps (~25% slower)
Upload: 31.16 Mbps (~45% slower)
Both the download and upload speed were great.
US Server

Ping: 126ms
Download: 48.99 Mbps (~50% slower)
Upload: 21.48 Mbps (~55% slower)
The best server found in the US didn't fare too bad either.
Hong Kong Server

Ping: 212ms
Download: 25.74 Mbps (~75% slower)
Upload: 7.34 (~85% slower)
This is still a very good result.
That's 1/4th of my original speed, which is very okay, considering I'm located 5000 miles away from Hong Kong at the time of testing.
Keep in mind that speeds will always decrease while using a VPN, you will hop to another country and the distance between you and the server makes the difference. You need to choose the one that drops the least. Surfshark is a competing force with the top providers when it comes down to speed.
Unfortunately, we weren't able to see fast speeds all the time. It was some-what inconsistent.
5. 6/6 Servers Unblocking Netflix and Torrenting Allowed
A number of VPNs today fail to give their users access to Netflix.
Torrenting falls within the same boundary because VPNs tend to limit the speed and usage of the latter.
Fortunately, Surfshark has the major upside of allowing Netflix and fast torrenting speed.
To test this out, I used six random servers to see whether or not this feature holds water.
United States (2)
United Kingdom
Canada (Toronto)
South Africa
South Korea
For each of the servers I used, Netflix allowed access to every single one.
Here's one example from Los Angeles: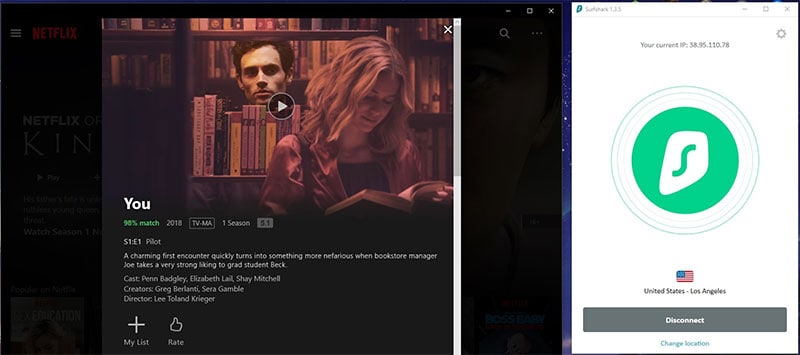 Torrenting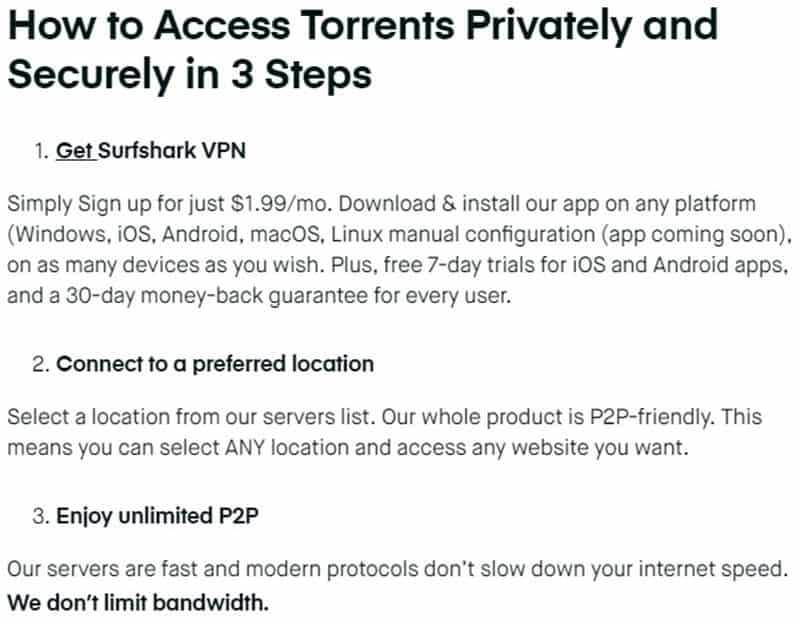 Surfshark has stated on their torrenting policy that their entire product is P2P-friendly.
This is good news for most as it provides unrestricted access to every website. The feature is further improved thanks to unlimited bandwidth.
Basically, Surfshark promotes unlimited and uninterrupted streaming so long as you're using the service. So, if you like to torrent a lot while watching the latest season of Narcos, Surfshark has your back.
6. Uses Industry Standard VPN Protocols and Other Features
VPN Protocols Available
Surfshark currently has two tunneling protocols available:
IKEv2 is currently a popular choice for most VPNs because it offers a lot of features. These features include a flexible connection for network switching thanks to wide range encryption protocols which helps to unblock geo-restrictions and stream Netflix
Their OpenVPN protocol can switch between UDP and TCP. The latter is reliable but slow while the former is fast but lacks in functionality.
Switching between protocols in Surfshark is easily done. You only need to go to settings (located at the top right corner), make your way to the advanced section and you should see the protocols window.
Other Noteworthy Features
Surfshark is filled with other features that are worth knowing about:
Available Devices – Surfshark is available in nearly every device that's used today. You can use it on Windows, Mac, Linux, iOS, and Android. It also has an extension for Chrome and Firefox.
Camouflage Mode – this makes sure even your ISP can't tell you're using a VPN.
Whitelister™ – this allows you to configure certain apps (such as banking apps) to bypass the VPN when it is connected.
Kill-Switch – there is a kill-switch feature but they're only available for Windows, Mac, and iOS. A kill-switch for Android is currently in the works.
Router Compatibility – the VPN is compatible with your router but it has to support OpenVPN.
Unblock All Restricted Websites – that's right, Surfshark advertises that they allow access to all restricted websites either through cable or Wi-Fi.
TOR Compatible – if you want to take your privacy one step further, Surfshark does allow the use of a TOR in conjunction with their own service.
7. Fast & Responsive Customer Support
You can contact Surfshark's customer support via email or chat.
The latter is included in this section. The former is not (check the Cons section as to why.)
Chat
The chat option found on their website is fast, responsive, and knowledgable. They'll answer whatever query you have in less than a minute or two.
It also seems that their customer support department is run by 2 – 3 people so expect to run into the same faces every now and again.
As for their skill, they're really good. Their replies are not copy-paste and they'll happily elaborate on any info they give and any question that you ask. They try to do their best to provide a straightforward answer but they're not afraid to add more just for the sake of it.
Before writing this review, I spent the last few days using their live chat support to ask question after question. The amount of effort they put into this section is quite impressive.
Take a look: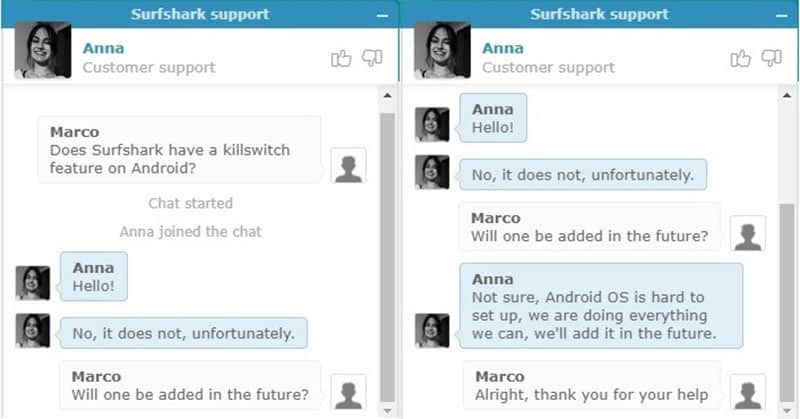 I asked three questions and chat support answered all of them:
The lack of an "about us" page and the general history of the company.
Their VPN protocols and torrenting policies.
The availability for installer files to be downloaded on Windows.
I advise that chat support be your go-to communication of Surfshark if you need it as it's easily one of their shining qualities.
8. One Click Simplicity for App
Anyone who hasn't even heard what a VPN is might feel intimidated by it.
They don't know what it is, what it can do, or how to use them. This is why simplicity is important when dealing with these VPN providers.
Thankfully, Surfshark's level of usability can be boiled down to only one click.
You open the app and sign in (which usually opens up by itself on launch in the PC). Once in, you can click on Quick Connect and that's it.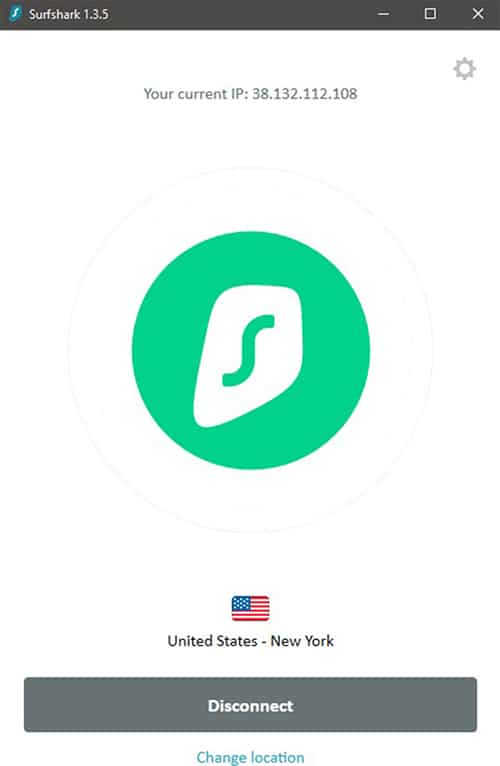 All you have to do is wait a few seconds and you're connected to their server. Quick connect will choose the most optimized server available. This will not change, however, and repeatedly choosing this option will simply reconnect you to the previous one. If you want, you can manually choose which server you want to be connected with.
Do note that most of their servers are labeled by country instead of the city.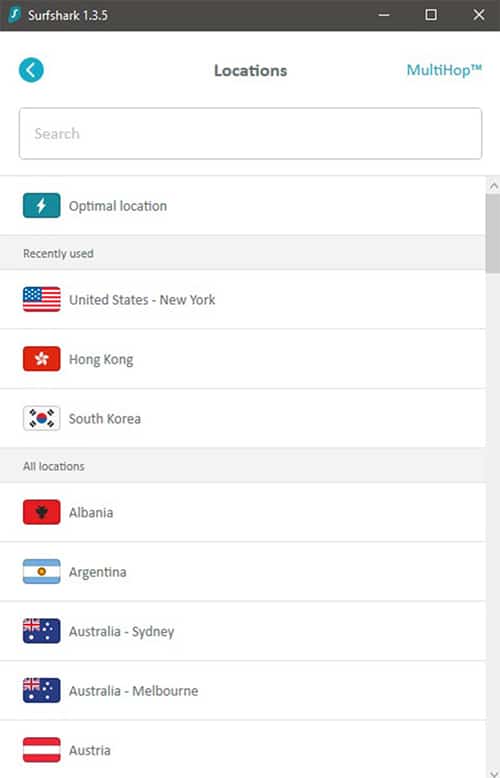 Once picked, you can see a small list of previously chosen servers at the bottom. Also, notice that once the app launches, you are not immediately connected. You will have to activate it yourself. It may be a bit inconvenient but it's simple enough not to be a bother.
Cons of Using Surfshark VPN
1. No Response From Email Support
The customer support via email is bad. It's not just bad, it's non-existent.
I sent a couple of emails on varying topics to test this.
The response? None, because there was no answer. It claims to give you a reply in the span of 24 hours, but no such answer was given.
With email support leaving a very bad impression, I recommend that you stick with chat support.
At the time writing this review, all emails sent are still left unanswered.
2. Little To No Transparency Behind Parent Company
Like most of the big name VPN providers today, Surfshark likes to keep to itself.
Visiting their website, you'll notice that there is a lack of information on the company's background, contact numbers, and more.
The chat support will try to answer this to the best of their abilities, but even they will come up empty-handed. The best answer you'll get is a short sentence talking about their jurisdiction and the year they were established. This is a minor problem, however, as VPN providers tend to do this. Just look at ExpressVPN or NordVPN as an example.
Surfshark Pricing, Payment and Refund Policy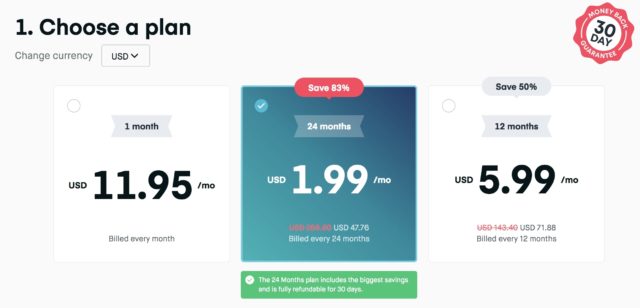 Like many of its competitors, Surfshark offers three payment plans:
30 days: $11.95 a month = $143.40 a year
1 year: $5.99 a month = $71.88 a year
2 years: $1.99 a month = $23.88 a year
Surfshark also accepts payments from nearly every method:
Credit Card
Crypto Currency
Alipay
PayPal
Dragonpay
Tenpay
All payment methods offer the same speed, features, etc. The only difference you'll find is the length of the subscription.
There is no starter or a pro version that leaves out certain features. There is, however, a free trial version that gives you access for 30 days.
Their Refund Policy
Surfshark advertises a 30-day money-back guarantee. This gives you ample time to test out the service and whether or not you're sticking with them.
Since they don't have a refund policy posted on their website, I decided to ask their live chat support about it.
Here is their response:
"You simply ask the support for it. We have a 30-day refund policy."
"It depends on your payment method how long it takes for a refund to arrive."
"If you paid using a CC, it might take up to 10 business days depending on the speed of your bank"
Do I Recommend Surfshark?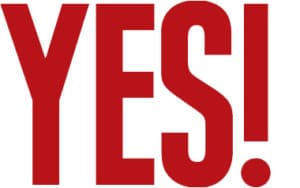 Surfshark has its privacy, security, speed and protection on point. They excel in that area.
Their live chat support was helpful and responsive, their speeds are great, the app is sleek and connects fast and finally, the price that you're paying for a two-year plan is quite cheap.
$23.88 a year? That's a wonderful deal especially if you're looking for a great VPN on a budget.
The only problem I had was the email support, but that's a relatively small factor when they've got such a great live support.
With all that said, here is my verdict:
I recommend Surfshark for everyone who wants privacy for a great price. 
If you're still not sure, you can check out NordVPN (our top rated provider).
P.S. I'm always interested in user-reviews so if you've used Surfshark before, leave a review! Let us know if you're experience matched ours. 
Add your own review: 
7 user reviews for Surfshark VPN
James 10/10 June 24, 2019
Impressive
I've been impressed by the service so far. Works great both on Android and even (!) on Chromebook. Focused on security, yet still providing fine speed and friendly customer support. I wish they had cheaper monthly options.
Jocke 9/10 June 21, 2019
A bit slow on page load
I have just bought the 24 month deal on Surfshark. It is a great deal to pay just $1,99 per month. Excellent features. Plays BBC iPlayer nicely (and for those who think Netflix is still worth watching, so does Netflix USA) Only downside is that compared to my other VPN (PrivateVPN) it loads pages a bit slower. Adds about 2-3 seconds on page loads when using Surfhsark (in sweden on Surfshark swedish server), but maybe they will improve. I ́ve only been using it for a couple of weeks, but it has been stable the whole time. No leaks.
inspector 5/10 June 10, 2019
Inconsistent answers
In the live support screenshot regarding android killswitch:
YOU: Will one be added in the future?
SUPPORT: Not sure, Android OS is hard to set up, we are doing everything we can, WE WILL ADD IT IN THE FUTURE.
She is not sure but then she said in the same sentence they will add in the future. tbh this kind of answers make it look unprofessional. it looks like she just wants to make you comfortable for the moment.
Alpha 8/10 May 28, 2019
SurfShark review
I just got done using and testing SurfShark. SurfShark I found does have WebRTC leak on IPv6 I checked on three different websites on Windows Desktop, both my location and ISP is revealed by Surfshark. In addition SurfShark does have a tab now for Virtual Server list so they do use virtual servers as well as a Physical Server tab. Finally, I am a user of Camfrog and had continual periodic disconnects of both Camfrog main program and disconnects from Camfrog rooms. I did contact live customer support I tried everything they suggested worked with them for hours and we could not fix the connection problems with Camfrog disconnects. Note: I am also using PrivateVPN and with PrivateVPN I do not have WebRTC IPv6 leaks and with PrivateVPN no consistent disconnections from Camfrog. -- Things I really do like about Surfshark it's Whitelister option to allow certain programs or websites through the VPN is very useful. The kill switch on SurfShark for the desktop is also superior to PrivateVPN's kill switch, and SurfShark does now have Kill Switch on Android. I would give SurfShark 2.5 stars for because of it's security hole mentioned above and it's inability to keep me connected on Camfrog, and for it's use of virtual servers. But, it's software options I'd give Surfshark 4 stars. If Surfshark patches it's WebRTC holes and IPv6 problem and connections issue with Camfrog that would be great. Live Customer service at SurfShark did tell me they currently do not support IPv6 but they plan to.
hidden 5/10 May 25, 2019
Trojan in SurfShark install file
Trend Micro repeatedly deleted SurfShark setup file, showing a supposedly known trojan was infecting it. Live chat with SurfShark just said 'whitelist' the file, with further 'explanation' I didn't understand. Not finding any similar issues discussed on internet also make me feel uneasy. Can their app setup files become infected without their knowledge?
My Name 6/10 April 26, 2019
Extremely Slow
For me, speed is something pretty significant, if I'm unable to stream videos without interruption I consider the service not worth it, which is what happened throughout this experience. Constant disconnects/reconnects there is no other word to describe it but unstable. Though it looks good on paper, It has that cheap price for a reason.
Chris Harvey 3/10 March 18, 2019
Doesn't work reliably with nVidia shield.
Living in Australia, I wanted to access us Netflix. Out of the box SureShark would not allow me to access Netflix using my nvidia shield tv box. After contacting SureShark chat support they got me up & running but it took half an hour of fiddling. The next day Netflix was again blocked. No amount of changing settings & changing DNS has worked. Final result, It doesn't work well on nvidia shield.