NordVPN is one of the best VPNs money can buy.
And it's easy to see why:
NordVPN boasts a massive server park of over 5,000 servers.
It works with both Netflix and torrenting services.
It's a completely anonymous experience, with a strict no-logging policy and jurisdiction that falls outside the influence of the 5, 9, and 14 Eyes Surveillance Alliances.
You can get all the details in this full-length NordVPN review.
But… that doesn't mean you have to spend A LOT of money on this product.
In fact, there's a simple way you can save a ton.
Counterintuitively, it's NOT by searching endless variations of "NordVPN coupons" for days.
Simply put:
There is no coupon. There are no seasonal discounts.
But we can do you one better. Keep reading to find out how to still save big.
How to Activate a NordVPN Discount
NordVPN does provide a special discount offer. However, it all depends on how and where you can find it.
If your buddy tells you about it and you do a quick Google search and click on it, you're not going to see any kind of special offer.
But, if you go through a NordVPN partner, like us, you can gain access to exclusive pricing that is offered only to the readers of those sites.
I'll make it really easy for you.
Simply click on this link and it will take you to a landing page that features NordVPN's exclusive affiliate savings offer.
You'll know you're there if you can see the following image: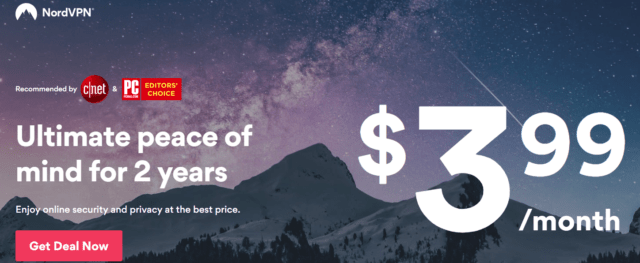 Yes, you read that right. $2.99/month.
Once there, click on the button that says "Get The Limited Deal."
That will take you to a page that will allow you to select which plan you want. Pick the top option, as shown here.

Once you've selected that, simply create your NordVPN account by entering an email address and pick your preferred payment method. Then, you'll be ready to checkout like any ordinary e-commerce transaction.
What's more, you can lock-in this incredibly low rate for three full years. Despite your total price being about the same (or less) than barely a year at their competitors.
That's 1,095 days of anonymous web browsing at your fingertips.
Just how big are the savings of this exclusive promotion?
Glad you asked!
How Much Can You Save With NordVPN Coupon?
The standard base pricing for NordVPN is $11.95 per month. That's a month-to-month plan, that charges you once every thirty days.
Their second plan is a one-year subscription. That comes out to $6.99 per month. It is billed once per year at $83.88. This saves 41% over the month-to-month option. Not bad, right?
Their third tier of regular pricing comes out to half a year of the service at $9.00 per month. That's billed once half a year at $54 and carries a savings of 24% off the standard month-to-month rate.
While that's all well and good, NordVPN's exclusive affiliate offer is only $2.99 per month, and that comes with three full years of service.
This is billed once every three years at just $107.64. That's a whopping ~70% savings over the typical month-to-month rate. To put that in dollars, it's $8.96 off every month for two years, for a total savings of $322.
"Do I Need a NordVPN Coupon?"
Many times, with an offer such as this, companies require some kind of physical coupon or promotional code that has to be entered at the time of check out.
Thankfully, no codes to remember (or forget) in this case.
NordVPN's exclusive affiliate offer has none of that nonsense gumming up the works. We're only calling it a 'NordVPN coupon' for the sake of convenience. It's actually not a coupon at all. In order to start taking advantage of the splendid savings wrapped up in this offer, you just need to click on this link and buy.
The affiliate code automatically redirects you to the landing page, where the special promotional pricing is waiting for you.
Are There Any Other NordVPN Discounts?
This is the only NordVPN discount currently offered.
And it's completely unrestricted.
So your plan will work seamlessly across six simultaneous devices, with applications that work on both your computer and mobile devices for $2.99 per month.
It's rare to find any legitimate VPN for that price. Let alone one of the top two VPNs in the world.
Occasionally, NordVPN does offer some seasonal promotions, but those come suddenly and can't be counted on. Especially if you're itching to up your anonymous browsing game right away.
This is a service that is being offered right now in the present, and VPN promotional prices don't usually get much better than that.
NordVPN Discount Refund Policy & Payment Options
NordVPN's three-year deal can be purchased using a number of different payment options.
For starters, you can use PayPal, or a major credit card, such as Visa, Mastercard, Discover, or American Express.
You can also pay with digital-only cryptocurrencies, including Bitcoin. NordVPN also supports a few other payment methods, like Alipay, Giropay, or Sofort Banking, among others.
NordVPN also comes with a 30-day money back guarantee, and that extends to this offer as well.
You can read their full refund policy below.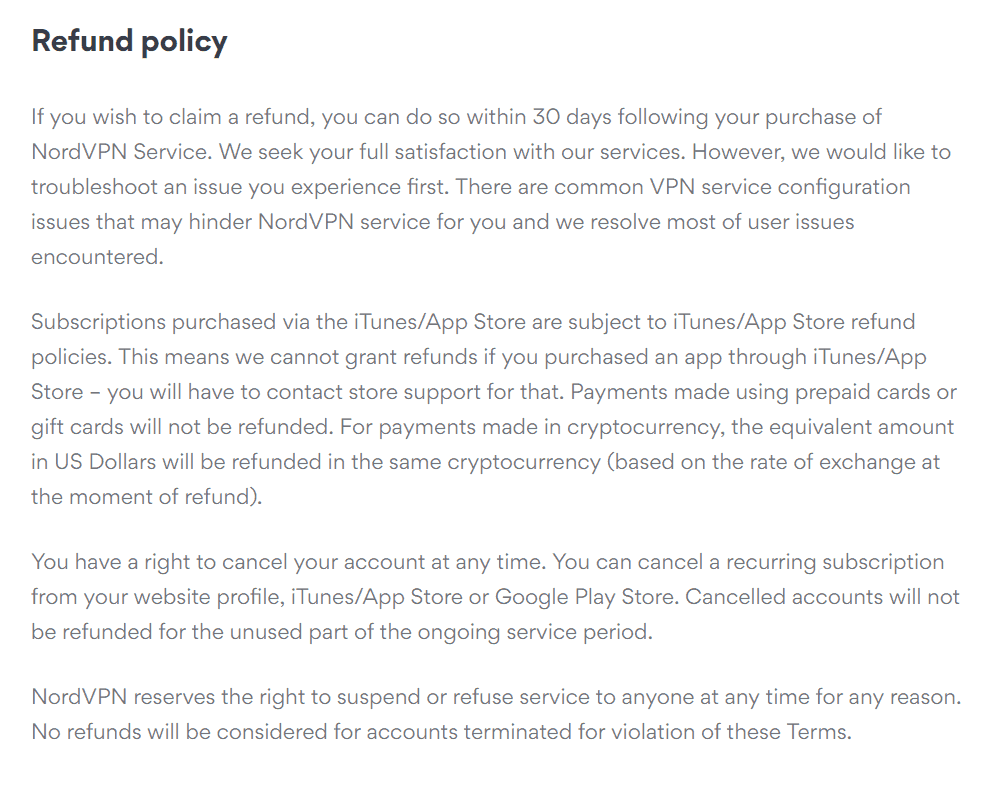 It's a fairly encompassing policy, even including a refund on cryptocurrency transactions. Most other VPNs won't hesitate to stiff anonymous buyers. Very rare.
NordVPN is one of the most impressive VPN systems out there.
And at this price, it can't be beaten. Literally.
Get NordVPN At a Special Discounted Price Here