There are more than 120+ different VPN apps on the market today.
But how do you know which one is the best VPN for Mac?
Not all VPNs work with Macbook. Even some of the paid ones don't.
In fact, according to our research, more than 32% of VPNs don't have stand-alone app for Mac. Meaning they only work with Windows computers and/or Androids.
Luckily, we've only listed the ones that do work with Mac.
Our Review Process For Finding Best Mac VPN
As you might know, we, at TheBestVPN.com only focus on testing and reviewing different VPN software.
In order to find the best VPN for Macbook, we compared the following:
Security and Privacy Features (Are there any IP leaks)
Speed (Will they slow down your Internet connection)
Usability on Mac (+ Client Existence)
Netflix and Torrenting
Cost
Obviously, these are not the only factors you should look at when deciding whether or not to purchase a VPN.
However, they are some of the most important, common, and popular pain points that people have.
So, without further ado, here are the top five VPNs for Mac users.
1. ExpressVPN.com
Safe, Secure, and Smooth VPN for Mac
We found ExpressVPN to be the safest, smoothest, and most secure VPN for Mac.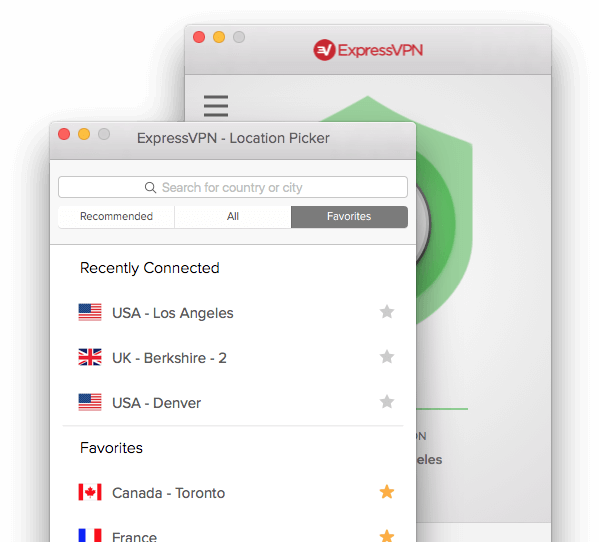 Security and Privacy Features
ExpressVPN's security is top-notch. It uses some of the most powerful and cutting-edge security features, such as the OpenVPN tunneling protocol coupled with 256-bit AES encryption.
When you look at the best VPNs on the market today you notice almost all of them have one thing in common: the security dream team that is OpenVPN and AES-256 as opposed to obsolete protocols like PPTP.
ExpressVPN also has a strict no-logging policy, meaning that they keep no trace of where you've been on the web and what you've done while connected to their service. That's huge for a VPN.
The cherry on top of this security sundae is that they're based in the British Virgin Islands, which has no local data retention laws and exists outside the jurisdiction of the multi-nation surveillance alliances that pose a serious threat to your anonymity.
You can have total peace of mind with ExpressVPN. Mac users can rest easy knowing that this VPN has their safety in mind at all times.
Speed and Performance
ExpressVPN is not the fastest VPN we've reviewed, but it's far from slow…
It was faster than 92% of other VPN providers. We only a saw a 13% drop in terms of load speed. That's barely a blip on the radar, and Mac users shouldn't even be able to detect such a negligible difference.
Some VPNs can slow down your connection by more than 80%. Fortunately, ExpressVPN isn't one of them.
Usability on Mac
The ExpressVPN for Mac app is incredibly smooth and can be run on three simultaneous devices. Server changes can be done with just one click, and it runs safely minimized behind your browsing windows.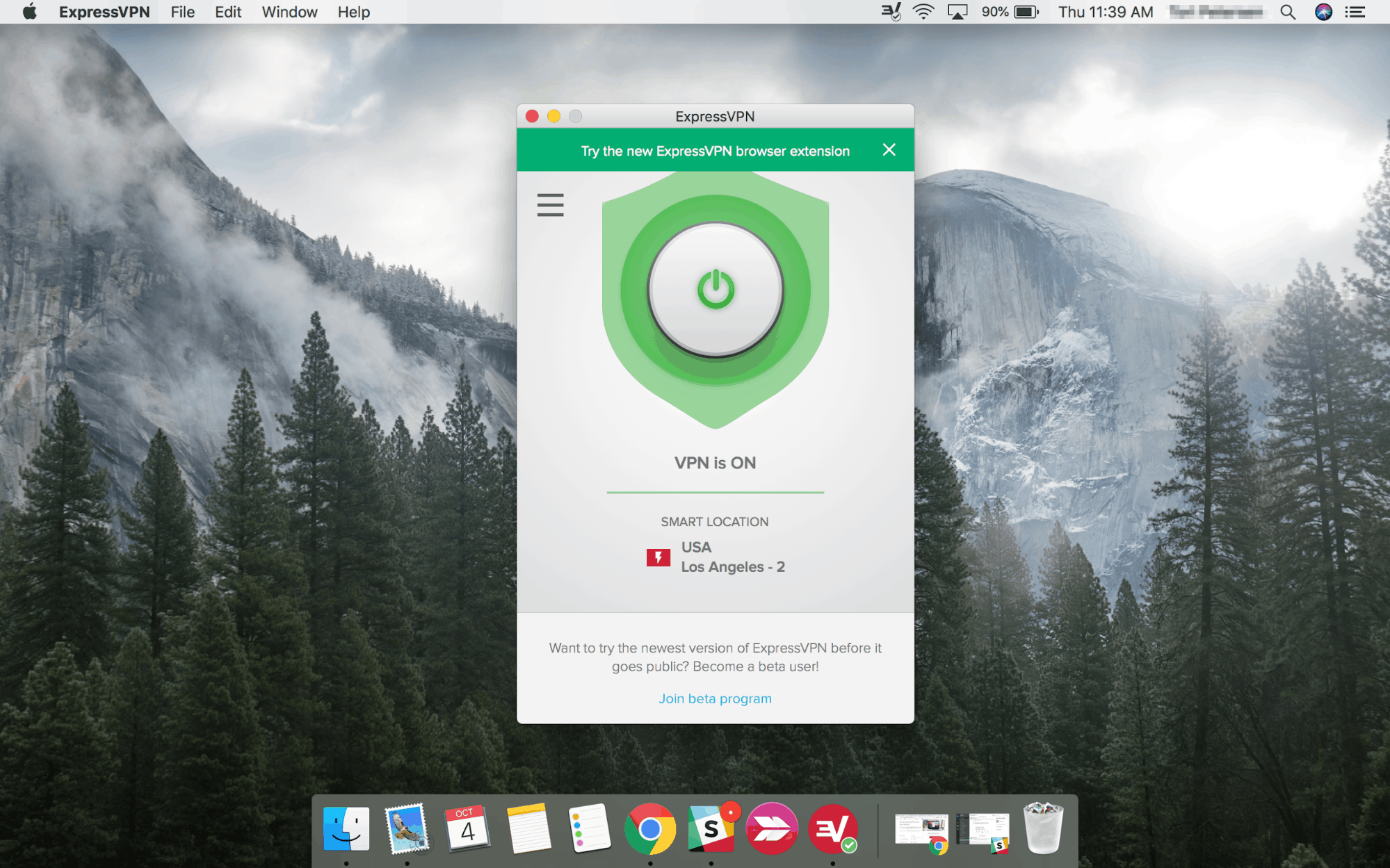 The user interface is simplistic, straightforward, and easy to use. That's just one of the many reasons why Mac users can get their money's worth and more using this quality product.
Netflix and Torrenting
For Netflix fans, we found that all six servers that we tested worked with Netflix. So with ExpressVPN, you can be pretty confident in bypassing the geo-blocking of most of the major streaming services out there.
They also allow torrenting on all of their servers, too. It's even listed in their torrenting policy.
Cost and Plans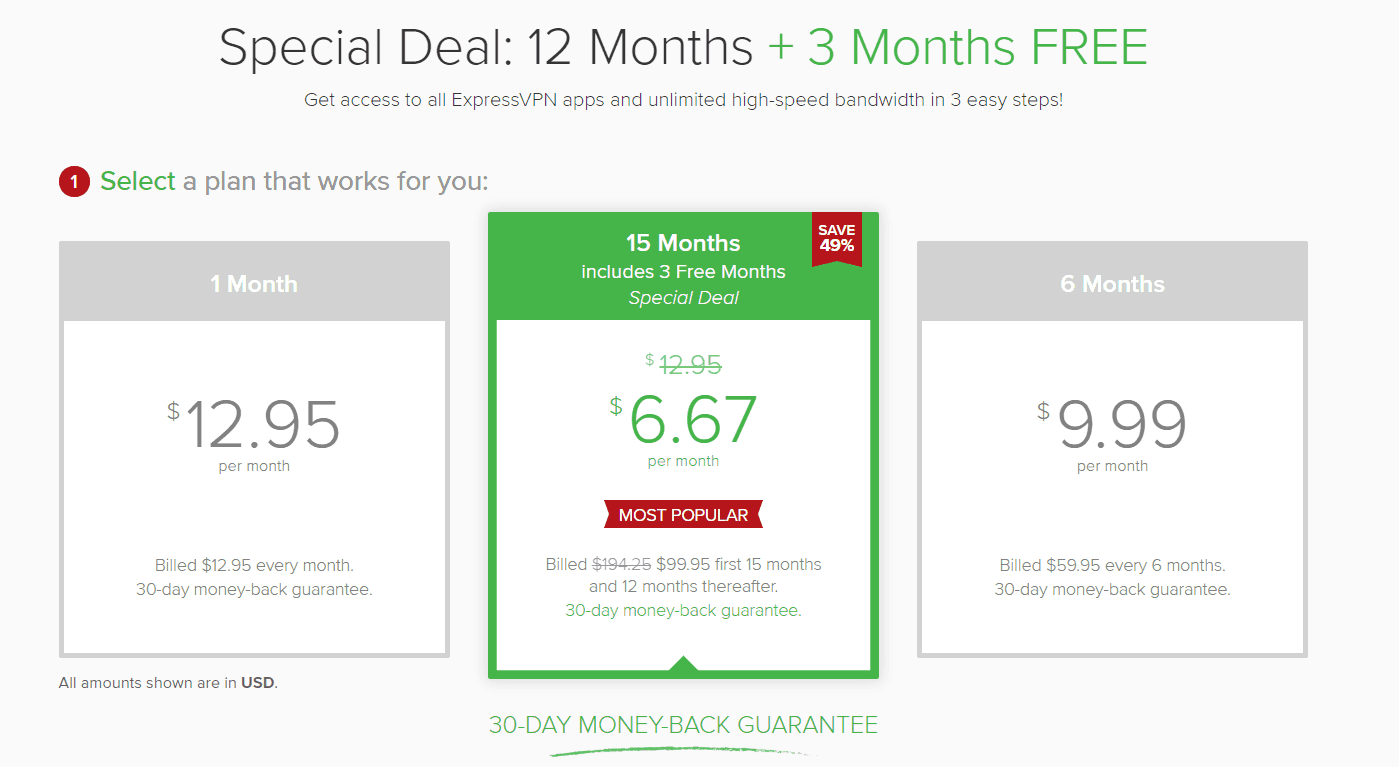 ExpressVPN is far from the cheapest VPN on our list. But you can't deny the incredible all-around service that it offers.
At its cheapest, it's going to run over $6 per month. Ordinarily, this VPN will fun you over $8 per month, but by clicking our link below, you get access to the special pricing listed here.
Read more in our full ExpressVPN Review.
2. NordVPN.com
Best Bang-for-Your-Buck VPN for Mac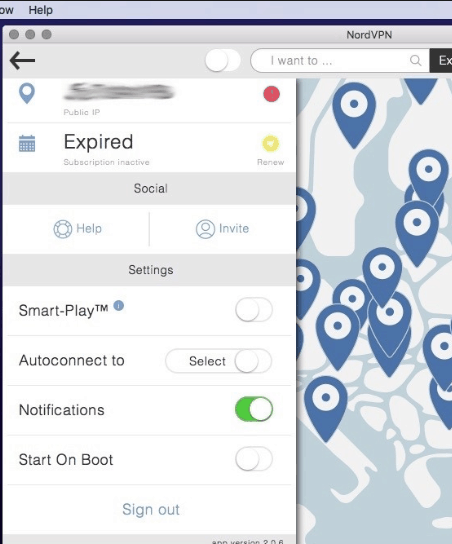 NordVPN comes in second to ExpressVPN on our list by the slimmest of margins.
This is a well-balanced VPN that hits every major area you'd want. This service actually doubles ExpressVPN's connection limit, allowing up to six simultaneous devices per account. It also improves on the one area where we feel ExpressVPN falls short: the price.
Security and Privacy Features
What you've got here is an air-tight VPN with no leaks, plus a winning security combination.
First off, they're not logging any of your information.
It's amazing how some VPNs continue to call themselves private and anonymous while secretly logging your activity in the background. Thankfully, NordVPN isn't among them.

They keep track of some data, like your email address and payment info. But the latter can be overcome by paying them with a cryptocurrency.
They use OpenVPN as one of their tunneling protocols, along with its privacy-ensuring tag team partner, AES-256 encryption. Nord also goes a step further with Double Data Encryption, sending your signal through two VPN servers for additional security.
Speed and Performance
We started off with a speed of around 98 Mbps, and after connecting to NordVPN, we averaged somewhere in the neighborhood of 74 Mbps. Still plenty of speed to accomplish all of your torrenting and video-streaming needs.
Usability on Mac
NordVPN has a great MacOS application. It is simple and easy to use, with no learning curve whatsoever.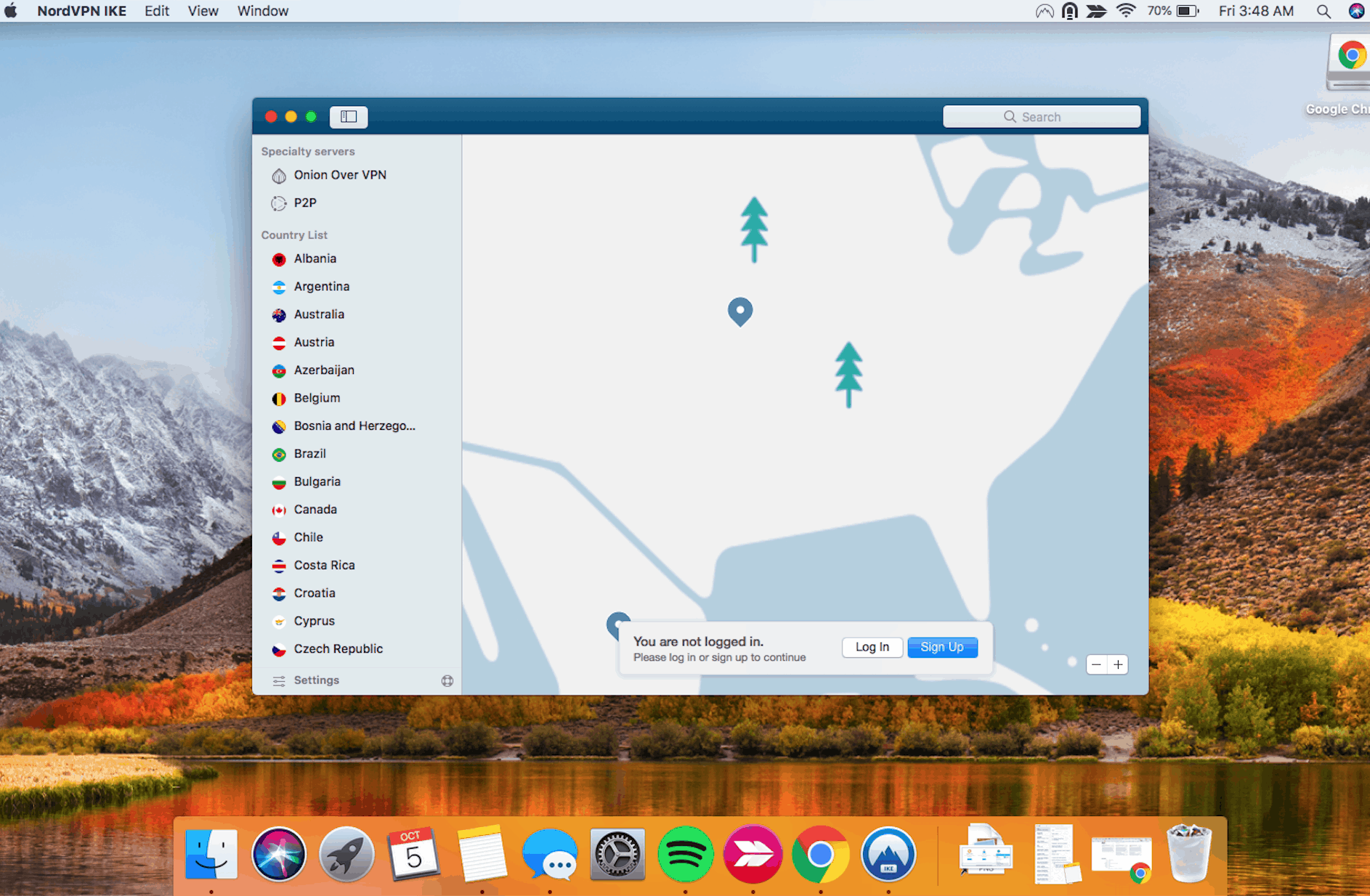 You can use NordVPN's Mac app to connect to more than 5,000 servers in any of the company's 62 countries. The app comes with a built-in kill switch, which automatically disengages your connection if it senses that an IP leak is present.
We're happy to report that no leaks whatsoever were found while testing NordVPN.
Netflix and Torrenting
Mac users can rejoice because out of the five NordVPN servers that we tested Netflix on, four of them worked flawlessly.

Torrenting is not only allowed, but it's also encouraged. NordVPN has several P2P servers which are specifically designed for torrenting safely. They also work with the TOR network. TOR is an anonymous browser which lets users peruse the Dark Web undetected.
Cost and Plans
It's incredibly rare to find a VPN that's this good and this affordable.

They're currently running a special where you can get NordVPN for just $2.99 per month with a two-year commitment. But even when they're not running a promotion, the regular price is just $6.99 per month for a whole year.
When it comes to getting the best bang for your buck out of a VPN for Mac, NordVPN takes the cake.
Read more in our full NordVPN Review
3. CyberGhost.com
Cheap Alternative for Mac Users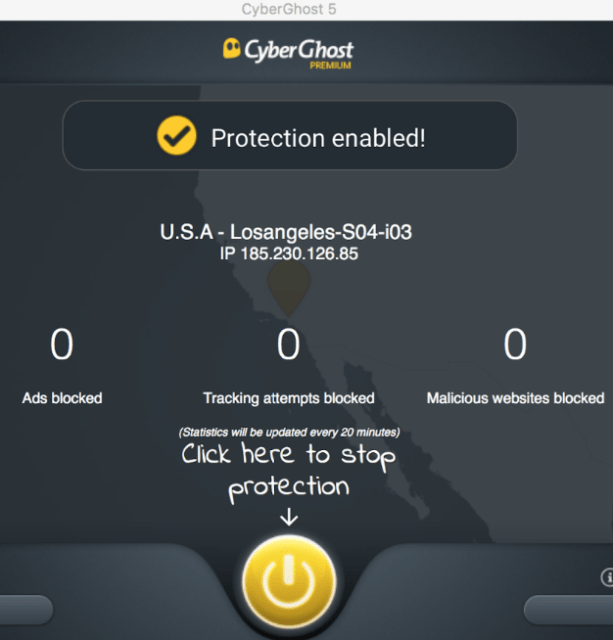 Mac users will find CyberGhost to be a well-rounded, affordable VPN with awesome usability.
Security and Privacy Features
The first thing you need to know about CyberGhost's security is that the company is based out of Romania. This location places it far from the jurisdiction of the three major surveillance alliances that pool the espionage information of 14 different countries.
They also provide the winning combination of OpenVPN and AES-256.
Another amazing benefit of CyberGhost is that it passed our extensive IP leak test, showing that it's a tightly-run system with no security breaches. Couple that with their strict no-logging policy and you're good to go.
Speed and Performance
I won't sugar coat. We weren't in love with CyberGhost's speed performance.
We started out at a benchmark download speed of 98.71 Mbps, and here's what we got while connected to CyberGhost.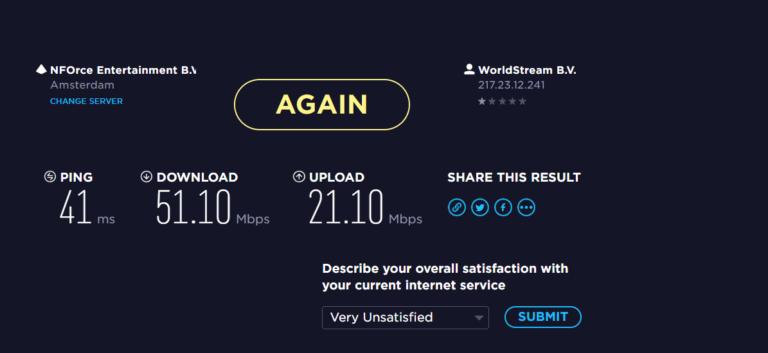 That's a pretty hefty drop off, but the speed was still very manageable. According to Netflix, you only need 25 Mbps to stream Ultra HD content, so the speed we're getting here is more than enough to see you through.
Usability on Mac
CyberGhost's Mac app is easy to use and has one-click access. That means you just press one button and you're off to the anonymous-internet races on up to seven simultaneous devices.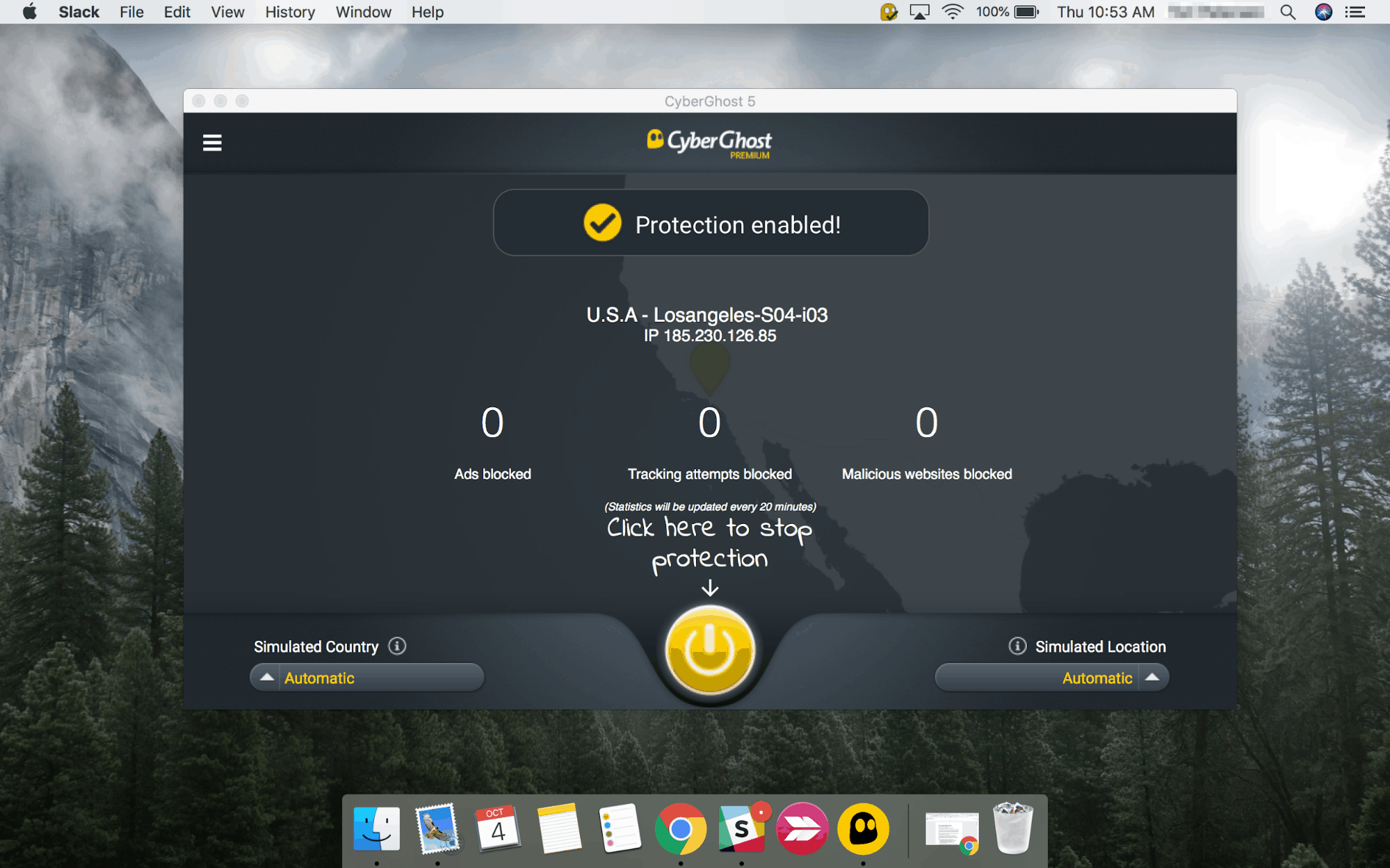 See that big yellow button? That's all you need to worry about. Just make your selection from any of their 3,000+ servers and CyberGhost will connect and start hiding your activity.
We loved the way this app worked. It was simple and user-friendly, with no major issues.
Netflix and Torrenting
CyberGhost fully embraces torrenting services. It's one of their key selling points. They even have a feature where they select untraceable servers for you to give you the best and safest torrenting experience.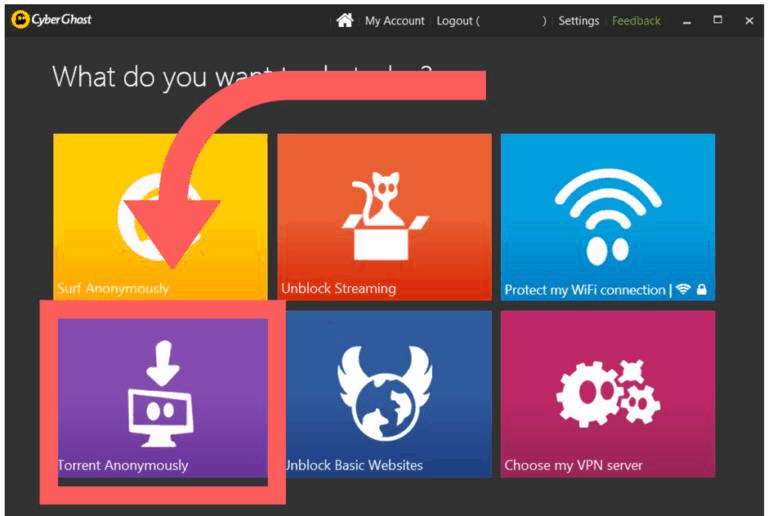 As for Netflix, CyberGhost does have servers that work with it. And they take some added measures to help you along.
They have a Netflix unblocking feature that keeps changing IPs whenever Netflix attempts to interfere. We tried it and loved it.
Cost and Plans
One of CyberGhost's huge selling points is its low price point.

Yup. You read that right. Just $2.75 per month.
CyberGhost is living proof that you don't have to pay through the nose for a quality Mac-friendly VPN.
Read more in our full CyberGhost Review
4. Mullvad.net
Most Anonymous VPN for Mac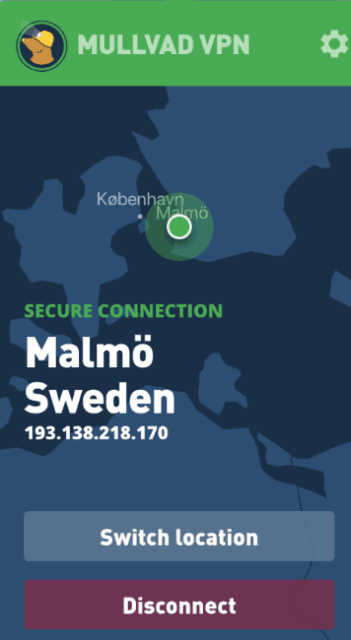 Mullvad is a Swedish VPN that privacy-loving Mac users will want for their very own.
I'm not exaggerating. Mullvad might be the most anonymous VPN we've ever seen. It's so secure that you can actually overlook its Swedish jurisdiction, which puts it right in the crosshairs of the 14 Eyes Surveillance Alliance.
Security and Privacy Features
Yes, it's Swedish location can be super problematic. But this just might be the one exception.
You sign up with an email address and you're giving an account number like something out of a Swiss bank.
That's it. No addresses, phone numbers, even names! And if you're paying with Bitcoin there's absolutely nothing linking you to this account.
It uses our old pal OpenVPN, but it also makes use of an experimental crypto-based protocol known as Wireguard. It has been known to deliver up to 5x faster connection speeds with no delays whatsoever.
Many believe this is the next big thing for the VPN world. We're eagerly anticipating it.
Mullvad also has a smaller server park numbering 302 active servers.

Speed and Performance
Mullvad is a speedy product that can connect to five simultaneous devices.
We started out with a benchmark download speed near 100 Mbps and Mullvad slowed down only a bit – 82.75 Mbps using servers based in the EU.
Their US server didn't hold out as well, though, with speeds falling to 59.45 Mbps.
Mullvad is actually the 10th fastest VPN that we've reviewed, putting it in the upper echelon of quick and efficient systems.
Usability on Mac
Mullvad is a straightforward, easy-to-use app on the MacOS.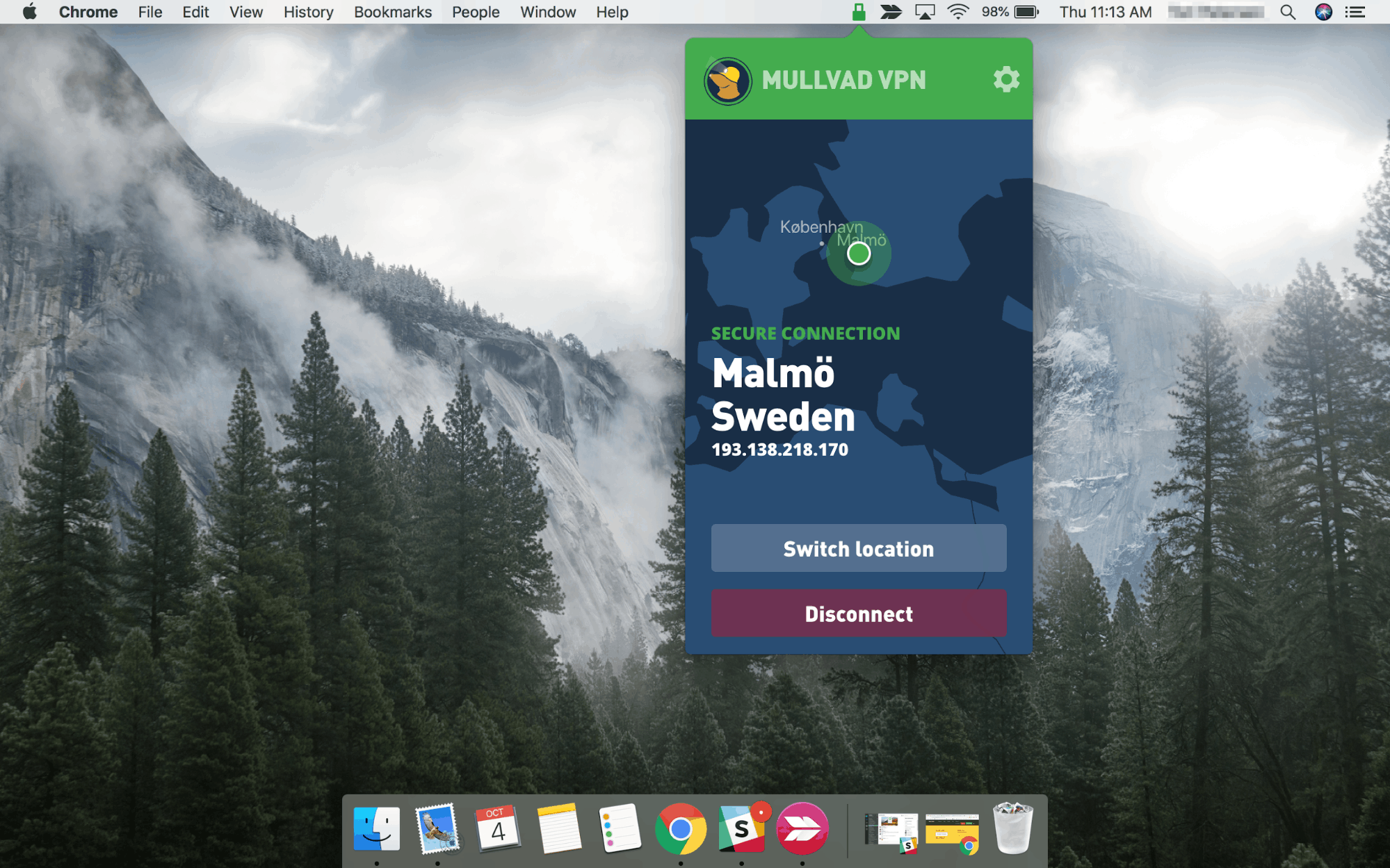 You enter in your Mullvad account number and either hit enter or press the green button. It will connect you right away to the server of your choice. You can also switch locations with the press of a button.
It's a small and easily-hideable app that won't get in the way of your activity.
Netflix and Torrenting
VPNs that support torrenting are hard to come by in 14 Eyes Alliance countries.
But Mullvad supports P2P file sharing efforts and has even included a helpful guide to make sure users are torrenting safely.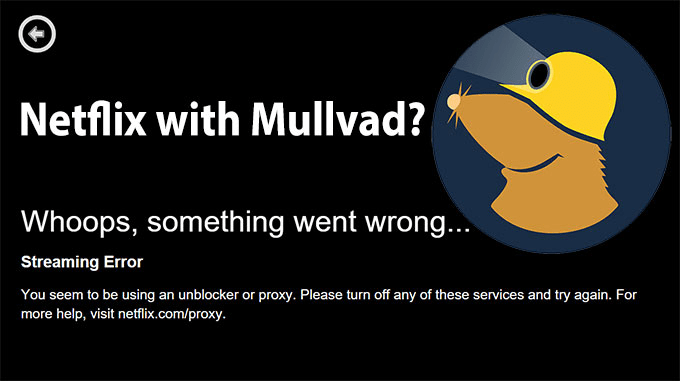 We tested Netflix on six different Mullvad servers. Four of them came up with nada, but two of them worked perfectly.
That puts Mullvad in the elite company of these seven VPNs that work with Netflix.
Cost and Plans
This product has only one price point. It's 5 euros per month, which comes out to $5.79 USD.
While not as inexpensive as something like NordVPN or CyberGhost, getting your hands on one of the most anonymous VPNs in the world for under six bucks per month is pretty awesome.
Read more in our full Mullvad Review
5. WindScribe.com
Limited Free VPN for Mac Users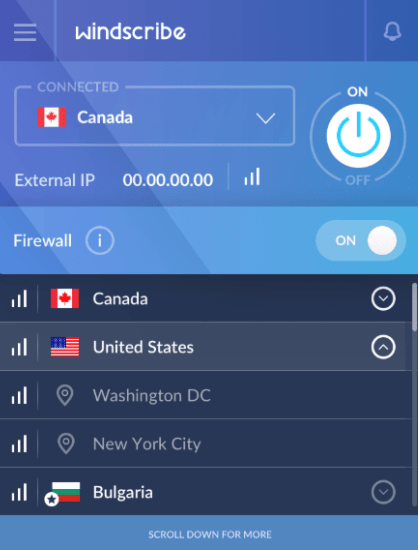 If you're looking for a Mac VPN that has a free option to test drive, look no further than WindScribe.
Windscribe has both a paid plan and a free service. Just keep in mind that free VPNs carry their own risks.
Security and Privacy Features
Windscribe has the duo of OpenVPN and AES-256, proving that these two services must be doing something right since every single entry on our list makes use of them.
When you first start the service up it uses IKEv2 as its default protocol, so you're going to want to switch over to OpenVPN ASAP.
They don't log your activity, but they are keeping track of your bandwidth. That's to keep free users from going over their allotted 14 GB per month. They also hold onto your OpenVPN username, server, connection time, and the amount of data gathered over a three minute period.
It's also located in Canada, which puts it in the dreaded 5 Eyes Surveillance Alliance, also including the US, Australia, the UK, and New Zealand.
But again, it's free! What's more, you can use it with an unlimited number of simultaneous devices.
It's up to you to decide whether that's worth more than these red flags.
On the plus side, we found no leaks at all, so it won't be accidentally bleeding out your IP. It also includes 528 different servers located throughout 55 countries. It's not a huge server park but it's respectable.
Speed and Performance
We lost over half of our speed using Windscribe. We started out at 100 Mbps and we ended up with 42.97.
Is this ideal? No. Is it world ending? Also no.
Usability on Mac
We won't lie to you:
Setup is going to take a few minutes. But once you're up and running, the WindScribe app is very functional.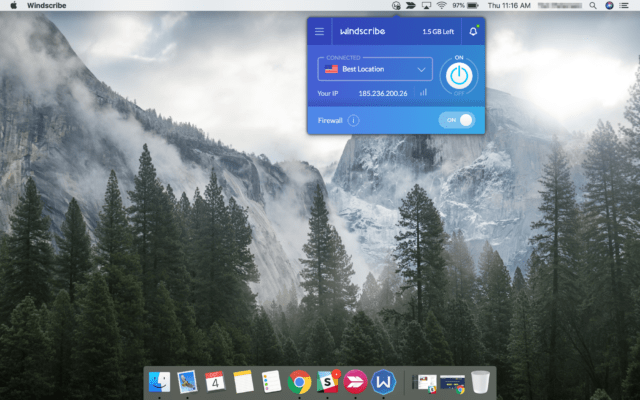 As you can see, there's just one button.
It's a simple on-and-off switch, and the app itself is very small. It can be easily minimized down into your toolbar or hidden behind your browser window so as not to impede your activity.
You won't even know it's there.
Netflix and Torrenting
Windscribe will let you torrent to your heart's content, but it's not available on every server.
If you see an icon with "P2P" crossed out, that's a server that will not let you torrent. This has a lot to do with the various countries these servers are located in and their specific stance on torrenting.
The good news is that they do offer a service called Windflix, which is a series of Netflix unblocking servers. We tried two different servers with Windflix and both of them worked.
Just keep in mind that the free Windflix plan caps you at 14 GB per month. So if you're looking to torrent or stream a fair amount, you might want to fork over some cash and upgrade to the paid plan.
Cost and Plans
Speaking of cash (how's that for a segue?) Windscribe's paid plans are decently priced.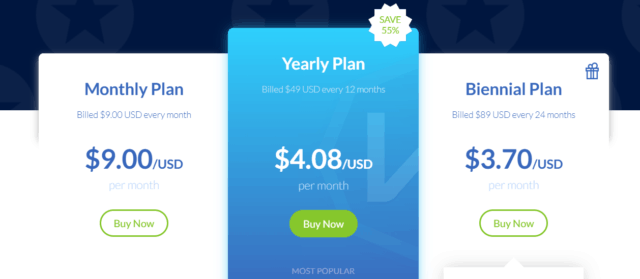 Their lowest tier is $3.70 per month.
Canadian jurisdiction and some limited logging are not things I'm willing to pay for when there are four other VPNs on this list that do much more (sometimes for less money).
Read more in our full Windscribe Review
Quick Tips for Choosing a VPN
When choosing a VPN, you have to ask yourself what you're looking to do. If you just want to browse anonymously while connected to airport WiFi, then you might be able to get away with one of the many questionable free VPNs out there.
But if you're looking to really browse the net anonymously, stream blocked content, and torrent the night away, you need to ensure your VPN has a few specific features in place.
These include:
It's not logging information
It's not leaking your IP address
It has a jurisdiction outside of surveillance alliances
It's fast
It fits your budget
It has OpenVPN and AES-256 encryption
It is user-friendly
It runs on a multitude of devices
It allows torrenting
It can unblock Netflix
Use these 10 tips and you'll be able to find the VPN of your dreams, whether you're connecting with a Mac, a PC, or via a smart device.