There are hundreds of VPNs.
But how do you know which one is the best VPN for YOUR Mac?
Let's dive into all of the reasons why Mac users need to consider VPN use, and then focus on which VPNs will provide them the best service.
Why Use a VPN With a Mac?
News outlets have estimated that cyber crime cost the world more than $600 billion last year alone. That's just one reason VPN use has skyrocketed in 2018. Especially on Macs.
Installing a VPN on your Mac can help to:
Keep your internet connection hidden from prying eyes
Torrent files without fear of repercussions
Protect your online anonymity
Access geo-restricted content, like Netflix
Protect your most sensitive data, like bank accounts and credit cards.
But here's an even better reason.
Mac computers log all of your Apple-to-Apple text messages, as well as your iTunes information including passwords and credit card numbers. Information that makes cyber criminals salivate.
Internet Service Providers, or ISPs, are also (in)famous for poking into the business of their customers. This is such a common problem that the Electronic Frontier Foundation recommends the use of a VPN to blind the eyes of your snooping ISP.
5 Best VPNs for MacBook
We've compiled a list of the top five VPNs for Mac users, based on the following criteria:
Mac Usability (+ Client existence)
Tunneling Protocols
Encryption Level
Netflix Use
Torrenting
Logging Policies
Jurisdiction
Cost
While these are not the only factors one should look at when deciding whether or not to purchase a VPN subscription, they are some of the most important, common, and popular pain points that people have.
So, without further adieu, here are the top five VPNs for Mac users.
1. ExpressVPN – Best VPN Software for Mac
Speed: 83 Mbps out of 100 Mbps
Cost: $6.67/mo
Logging Policy: No Logging
Jurisdiction: British Virgin Islands
Netflix: Works
Torrenting: Allowed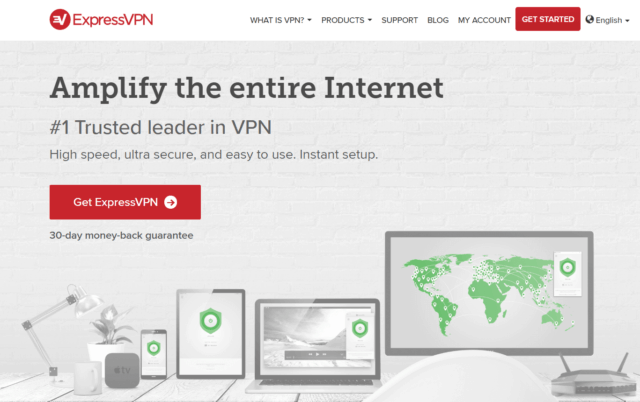 ExpressVPN ranks near the top of most VPN rankings, including ours.
A lot of hype? Not in this case. It's one of those rare instances when the product actually meets the hype. I personally use it and have it connected on a Mac as we speak.
Mac users have their own dedicated MacOS desktop app, so connecting is as easy as a single click.
It's also one of the faster VPN products that we've reviewed. All VPNs will sap away speed. Some steal in excess of 90% of your performance.
Thankfully, ExpressVPN Mac users will see a negligible drop. Performance is so smooth that most won't even notice a difference.
It uses OpenVPN as its main tunneling protocol, which is the very best in the business. This Open Source protocol is maintained by the entire global security community, so it's constantly upgraded to ward off new threats.
Working alongside the OpenVPN protocol is AES-256 encryption, which is virtually uncrackable by modern supercomputers.
The company doesn't log any user data whatsoever. And it's British Virgin Islands jurisdiction places it outside any government surveillance alliances.
To top it off, ExpressVPN works with Netflix and allows torrenting with absolutely no restrictions.
Read more in our full ExpressVPN Review.
2. NordVPN – Cheap and Reliable for Mac
Speed: 74 Mbps out of 100 Mbps
Cost: $2.75/mo
Logging Policy: No Logging
Jurisdiction: Panama
Netflix: Works
Torrenting: Allowed
When people talk about ExpressVPN, NordVPN is usually not far behind it.
The two commonly trade the number-one VPN title. For us, Nord comes in as a close second place for overall and for Mac users.
Here's why.
Connection speeds vary based on distance from the server you're connecting to as well as the benchmark speed that you receive from your ISP.
But Nord is faster than most.
They also have a stellar MacOS app that makes life far easier for visually-inclined Apple users. And like ExpressVPN, it uses OpenVPN and AES-256 protocol, the dynamic duo of anonymous browsing.
Nord also has the most servers we've ever seen. Signing up for one of their low-cost plans gives you instant access to thousands of servers — 3350+ to be exact — around almost every city on the planet.
And they have a strict no-logging policy, meaning that the company is not keeping any of your personal information or data use. Unlike many other VPN companies who claim the same, their Terms of Service and Privacy policy doesn't include any sketchy fine print, either.
NordVPN is based out of Panama, which puts it outside the jurisdiction of surveillance alliances. That's another home run in the VPN world because it means NordVPN data won't be shared with government agencies across the U.S., Canada, the U.K., Australia, and many, many more.
Netflix worked with most of the servers that we tested, and torrenting is allowed. NordVPN actually encourages torrenting services, saying that they are the best platform for it.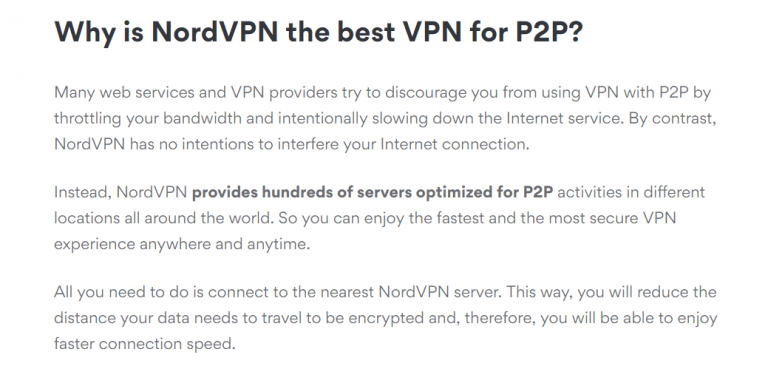 If you want to find out more, check out our NordVPN Review.
3. CyberGhost
Speed: 51 Mbps out of 100 Mbps
Cost: $2.75/mo
Logging Policy: No Logging
Jurisdiction: Romania
Netflix: Works
Torrenting: Allowed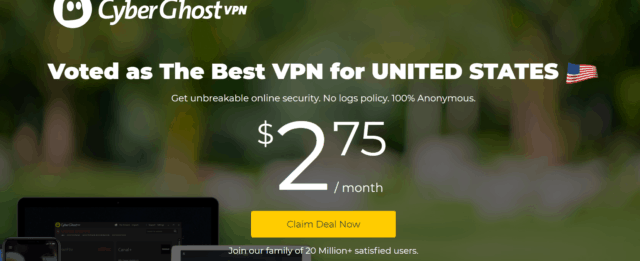 CyberGhost is a Romanian company, which means that it does not answer to the 5, 9, or 14-Eyes Surveillance Alliances.
Unlike the first two, it's not one of the faster VPNs on this list. But it does maintain average speed loss based on our extensive tests. Your performance shouldn't be impacted too much.
And like the other VPNs we've discussed, it has a dedicated app for MacOS, allowing for up to seven simultaneous connections at a single time. This gives users the flexibility needed to safeguard pretty much every device in their life.

To their credit, CyberGhost draws a hard line in the sand where it comes to logging. They don't keep any browsing history, traffic destinations, or data content, with no monitoring, recording, or storing of search preferences. It provides the true anonymity that you need from a VPN.
Once again, we also see the winning combination of 256-bit AES encryption and OpenVPN. This may seem repetitive, but it is the most secure partnership on the planet and a Mac VPN necessity.
You'll see that many VPNs use outdated protocols like L2TP or PPTP. These are fine in some cases. But they're not the most secure. PPTP, for instance, can be hacked in minutes. And it's been happening for nearly a decade!
That's why OpenVPN is, and should be, your default option. Otherwise, run and hide.
Not only did Netflix work for us when using CyberGhost, but they have a dedicated server that adapts to counter Netflix's attempts to block it. Every time Netflix tries to shut it down, the server changes the IP. That means even if you run into issues initially, a few more tries will almost always unlock access.
Torrenting is available with no restrictions, as is the use of the TOR network.
TOR is a private browser that can add an extra layer of anonymity to browsing sessions. Your IP address gets redirected through random relay points, so nobody can tell where (or who) you are.
The only downside is that it doesn't really do much for security. Doubling-up with a VPN can give you that extra layer of security when browsing or downloading.
Except not every VPN is TOR-friendly. Thankfully, CyberGhost bucks this trend.
For more information, check out our CyberGhost review.
4. Trust.Zone
Speed: 69.46 Mbps out of 100 Mbps
Cost: $2.99/mo
Logging Policy: No Logging
Jurisdiction: Seychelles
Netflix: Works
Torrenting: Allowed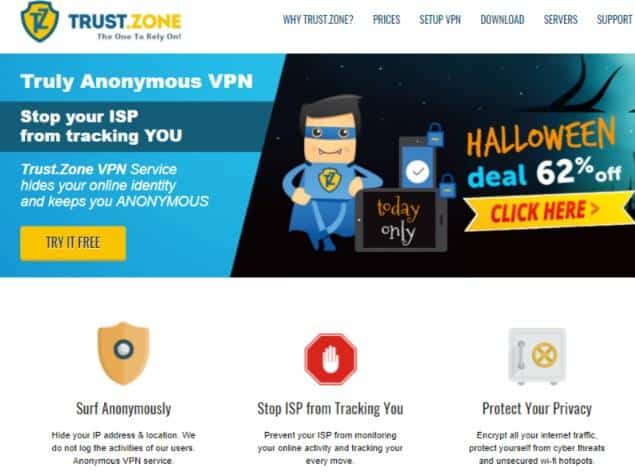 Trust.Zone is another fast, reliable MacOS application that protects your device from outside attacks, while also not tracking any data, either.
First off, it's located in Seychelles, a gorgeous archipelago of islands in the Indian Ocean.
But even better, this location means that the company never has to turn over a shred of information to any government body.
Jurisdiction is massively critical when choosing a VPN, and the Seychelles islands are a perfect place to provide some much-needed anonymity.
Even if Trust.Zone was required to hand over information, there's nothing to give. The company has a very strict no-logging policy, which is backed up by their privacy policy.

They provide all of this, without sacrificing the best-in-class OpenVPN and AES-256 Encryption. If you're wondering just how secure this pairing is, this is the level of security used by government agencies like the NSA and the FBI.
If it's good enough for them, it's good enough for your iMac.
Two out of five Trust.Zone's servers that we tested worked with Netflix. Technically, that's less than half. But compared to the other 74 VPNs we've reviewed, it easily puts them in the top third.
They place absolutely no restrictions on torrenting services. That means they permit all kinds of internet traffic, including torrenting. And to top it all off, there is no network protocol banned by Trust.Zone. Free and clear usage.
To learn more, check out our full-length Trust.Zone review.
5. Mullvad
Speed: 82.75 Mbps out of 100 Mbps
Cost: $5.84/mo
Logging Policy: No Logging
Jurisdiction: Sweden (14 Eyes)
Netflix: Works
Torrenting: Allowed

Mullvad rounds-out our top 5 MacOS VPN list.
I know what you're thinking right off the bat.
"It's located in Sweden. That's 14 Eyes Surveillance Alliance! Isn't that bad?"
Usually, yes.
In this case? No.
That's because Mullvad logs absolutely no information about you or your usage. They don't even take your email address. Instead, it works a lot like a Swiss bank account. (The next best thing to Swiss chocolate.)

They generate an account number for you, and if you pay with an anonymous payment method such as Bitcoin, there is nothing tying you to your account.
Literally. Zip. Zilch. Zero.
That means the Swiss government can yell and scream and demand all of the information they want, but there's nothing to give.
This is unprecedented in the VPN world.
They offer OpenVPN and AES-256, but they also use a new crypto-based tunneling protocol called WireGuard which doesn't currently work with MacOS — yet. (Sorry!)
Two of the six servers we tested unblocked Netflix. So you'll be free to stream away.
Torrenting is also allowed and encouraged. Mullvad has a prominent place on our list of the best VPNs for torrenting.
It is a little on the pricey side. But in this case, you get what you pay for.
For more information on Mullvad, check out our official review.
The Best VPNs for Mac Are Ready for Use
These five VPNs will provide Mac users with increased security for all web browsing needs.
They will bypass geo-blocking restrictions on all major streaming services, including Netflix, hide your activity from your ISP, and allow you to torrent freely and safely.
If you're not using a VPN for your Mac, you're making a potentially costly mistake.
Unfortunately, nobody's safe from cybercriminals and aggressive governments today. VPNs are as essential for Mac owners as antivirus software for PCs (remember those?!).
Best of all, you can't go wrong with any of the ones on this list. So happy secure browsing!