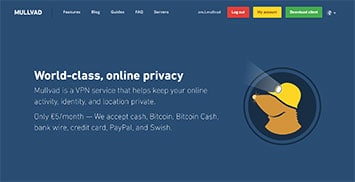 Amagicom AB, the company behind Mullvad, was founded in 2009 in Göteborg, Sweden by Fredrik Strömberg and Daniel Berntsson. The two promise what many others have before:
Hassle-free secure & private browsing, at an affordable price.
Heard that before, haven't we? We have done the research and ran all the tests you need in this Mullvad VPN review.
Mullvad VPN General Info
| | |
| --- | --- |
| OVERALL RANK: | #6 out of 74 VPNs |
| USABILITY | 2/5 |
| LOG FILES: | Strict No Logging |
| LOCATIONS: | 31 countries |
| CONNECTIONS ALLOWED: | 5 Simultaneous |
| SUPPORT: | Email Only |
| TORRENTING: | Allowed |
| NETFLIX: | Works |
| ENCRYPTION: | AES256 |
| JURISDICTION: | Sweden (14 Eyes) |
| COST: | $5.93 |
| OFFICIAL WEBSITE: | www.Mullvad.net |
So what makes them different? How can they fulfill a promise so many others have failed to?
Lucky for you, that's exactly what I'm going to lay out for you in this short article. I did the heavy lifting so you won't have to:
Dozens of VPN speed tests, customer support inquires and digging deep into their privacy policy;
I discovered exactly who Mullvad are and are not…
The 13,000 paying customers they had in 2017 must have some reason to stick around, right? Let me show you why!
Mullvad Privacy (No-Logging & Jurisdiction)
You wouldn't be reading this if you didn't know just how amazing a tool a good VPN can be. Especially in this age of ever-increasing mass surveillance and disastrous data breaches.
cough Equifax cough
The way Mullvad protects you from the above is by giving you back the control over what you want shared with third parties, and what remains private.
How? Pretty straightforward!
You connect your device to Mullvad, gaining access to their network
The second you're connected, Mullvad builds a tunnel around your activity
You chose what is displayed on the outside of the tunnel (What country, what IP etc)
Anybody trying to access your activity (ISP, School, Police) will only see the outside of your tunnel; what you want them to see.
Makes sense? Powerful stuff.
The techy stuff behind how a VPN works is fairly more technical, of course. The point remains the same:
You are back in control!
All fine and dandy, on paper. In reality, everybody is against you!
From harmless marketers to global ISPs right up to and including foreign intelligence services – they're want to get their grubby hands at your identity.
This is why it's so important for your VPN to not only mask your data, but to protect it.
After all, if you're letting somebody run your browsing through their network – they are your data's warden.
Enter the magic words: No-Logging Policy
Mullvad No-Logging Privacy Policy
Every single VPN provider claims to not log any of your data as you make use of their networks.
We've discovered this to be anything but true; VPN providers do log and provide your data to authorities.
Fun, eh?
But you got us! Experts, who spend hours reading through legal jibber jabber so we can paint a true picture.
Check out Mullvad's Logging Policy: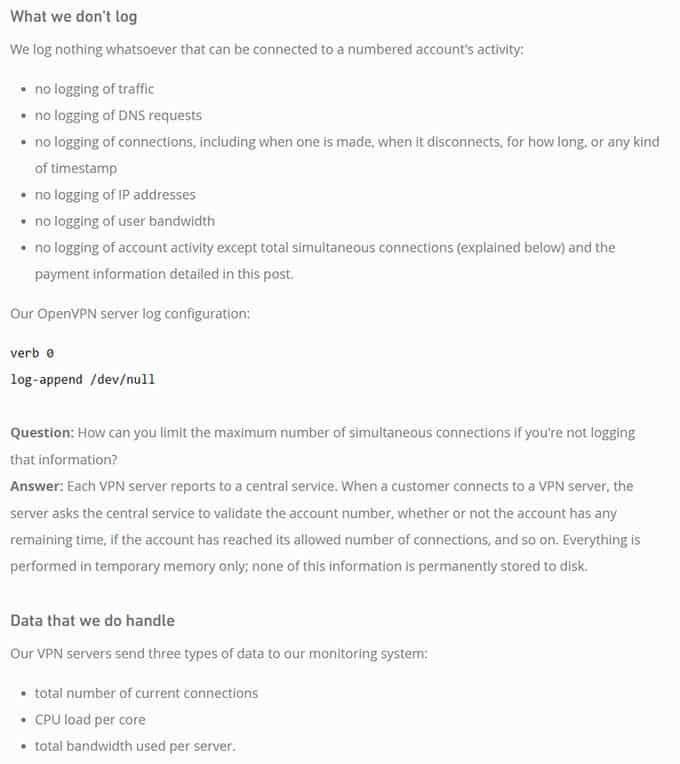 Did you notice something?
Numbered Account
Sounds awfully Swiss-Bank-Secrecy like, eh? I'll explain this amazing feature later on. You do not want to miss it!
In short, you don't sign up with an email and password. You get a numbered account and that's it!
Mullvad's No-Logging Policy is perhaps the single strongest we have ever seen and it makes so much sense.
Their lack of login information gives them the ability to offer you unprecedented anonymity! Just fantastic!
Additionally, Mullvad's website does not track you accross their web, as shown via Privacy Badger!
Mullvad Protocols
It was rather interesting to discover that Mullvad only use OpenVPN and a very new crypto-based protocol that is still in development: WireGuard.
Wireguard is an in-development secure networking tunnel with a very promising whitepaper. It's very likely to become the next big thing in the VPN world. Due to a very minimalist and streamlined codebase, this crypto-based protocol is said to be able to deliver up to 5x faster connections and 0 connection delays.
As of today, Wireguard is already available for Linux and is currently in beta for both Windows and Android.
Very exciting stuff!
Mullvad Jurisdiction (14 Eyes)

After WW2, the UKUSA Agreement changed how intelligence communities worked forever. What started as an intelligence sharing agreement between two countries over 70 years ago has now become an alliance of 14 western countries which share intelligence between each other.
Scary? You betcha.
If you think the NSA only spies on US citizens, think again.
Unfortunately, Mullvad is based in Sweden, which is one of those 14 nations. In fact, Sweden has exceptionally active and considered at the forefront of information sharing.
Would this usually be a dealbreaker? Almost certainly.
Is it with Mullvad? No!
Remember how you don't need to provide any information to register? If you make sure to pay for their services anonymously (Bitcoin), there is nothing that the 14 eyes could possibly use to identify you.
That said, I would highly suggest you to look elsewhere, if you're not into cryptocurrency and would prefer a more convenient payment process.
Is Mullvad Safe ? (Encryption & Techy Stuff)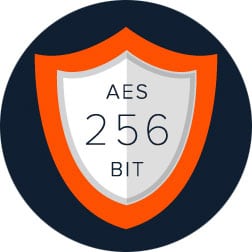 Right, we agree that Mullvad has our best interest at heart.
Step 1 – Check.
It does seem, however, that disastrous data breaches are happening more often than ever before!
Mullvad follows standard practices here and utilizes industry standard AES-256 Encryption via a UDP.
Mullvad also provides simple access to WireGuard, an in-progress open source VPN.
Nothing out of the ordinary here. I would have liked some more info on those subjects on their website.
It's very scarce.
DNS & Malware Proof (Almost)
Domain Name Servers are the systems that connect a domain like "TheBestVPN.com" to it's actual IP address.
By facilitating this connection service (Domain -> IP), those DNS virtually have a perfect map of your browsing history.
When this information is attacked and accessed, we call it a DNS leak.

Mullvad prudently offer DNS Leak protection by default. You can also double check this via their online DNS testing tool.
We also ran Mullvad's setup file through 67 different Anti-Virus programs.
Interestingly Baidu (Chinese Conglomerate) reports a virus, which we are confident to be a false-positive.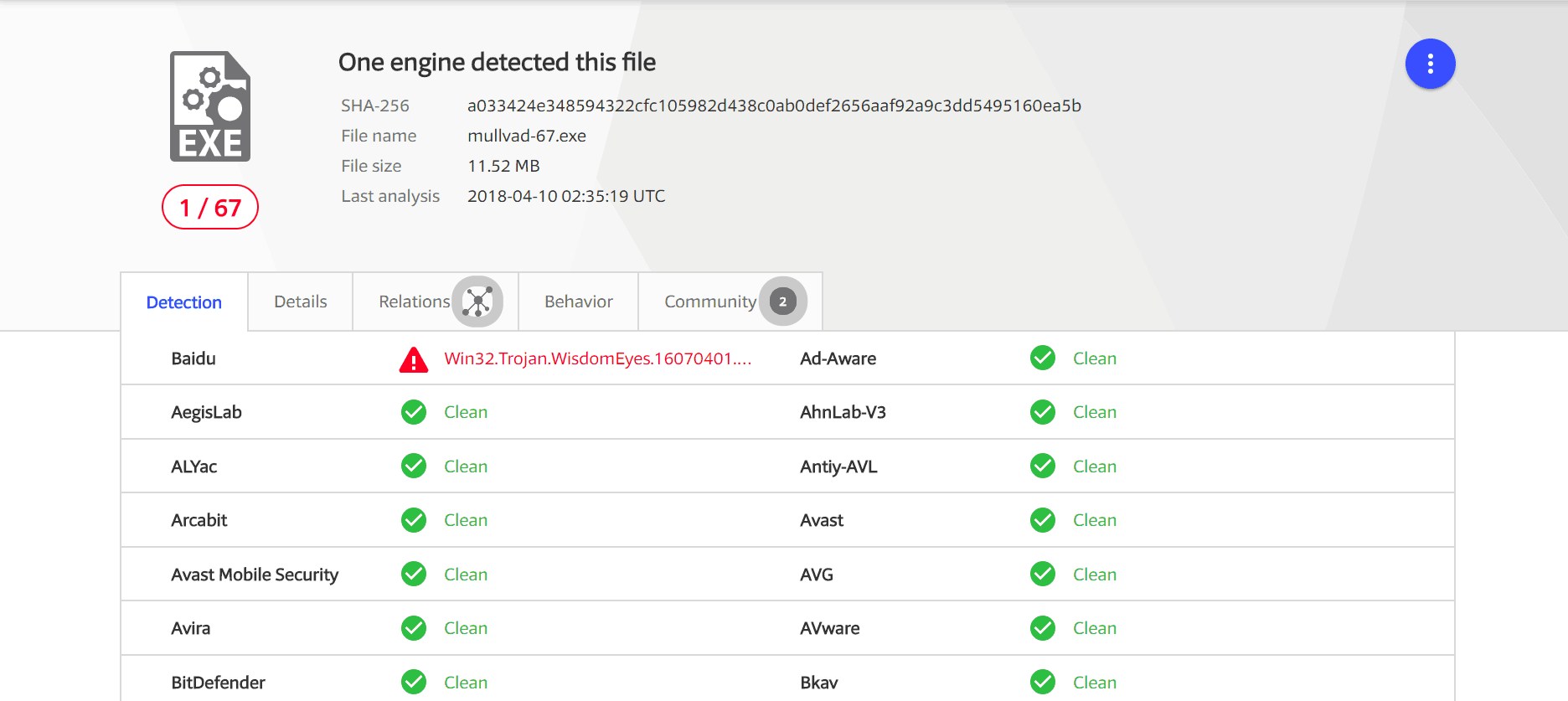 A bit ironic that a Chinese company with strong ties to the regime claims a VPN to have malware.
Either way, the other 60+ well-respected anti virus programs agree with us – Mullvad can be trusted!
How Fast is Mullvad?
Common sense suggests that, if you're taking the long road around, it's going to take longer to go from A to B.
No difference here!
Any time you chose to utilize a VPN, you're going off the beaten path.
Slow-downs are unavoidable! 
That said, some perform much better than others. How fast a server is depends on a billion things, not least among how much it is being used.
Cheap VPNs skimp out and let their servers be overused and bogged down.
Yucky.
One of our most important and extensive tests are to measure connection speeds. We perform many hundreds of them every day with the single goal of finding the fastest ones!
As usual, we used our Europe based 100 Mbps up & down connection as a benchmark.
We connected to both EU and US servers and measured how much our speeds slowed down.
Usually we don't like to see more than a 20% speed reduction. Here are Mullvad's results:
Mullvad Europe Speed Test

Ping: 62 ms
Download: 83
Upload: 34
Mullvad USA Speed Test

Ping: 109 ms
Download: 59.5
Upload: 20.5
Compared with our fastest VPNs, this puts Mullvad in third place out of a total of 74 diferent VPNs!
Really impressive stuff, especially for domestic servers.
Can I torrent with Mullvad?
With torrenting being one of the biggest reasons people use VPNs, you'd think all providers would allow them.
Right?
Not if you're based in countries where you can get sued into the ground.
You won't find too many torrent friendly VPNs operating in any of the 14 eyes jurisdiction.
Especially not Sweden. Ya know, the blokes who charged and jailed the The Pirate Bay Founders.
Mullvad is one of the few that DO support torrenting.
While they do not state so explicitly, their detailed and straightforward Bittorent guide suggests they are A-OK with you doing your thing!
Full Netflix with Mullvad VPN?
Back a few years ago, when cyber attacks and data breaches weren't common and VPNs reserved to us nerds, they were an amazing tool to watch Netflix from everywhere in the world.
These days Netflix is very quick to identify VPN connections and block access to their services.
Remember, a VPN hides your traffic, but not always the fact that you're using a VPN.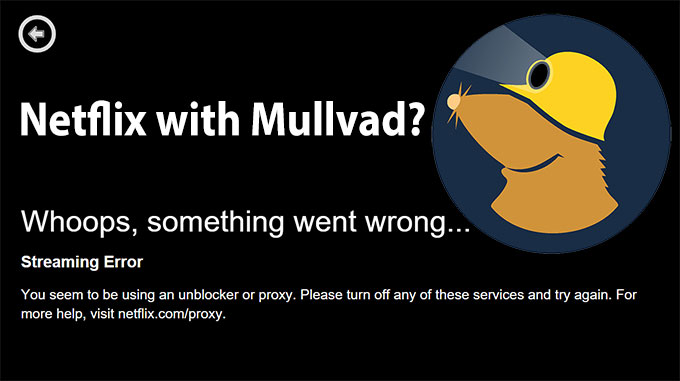 We tested a selection of Mullvad servers to check how many of them provide full access to the US Netflix library (the biggest one).
New York – Works
Illinois – Blocked
Arizona – Blocked
Texas – Blocked
Washington – Blocked
USA Random – Works*
Blocked servers are inevitable, but with Mullvad limited US server locations (12 in total + 1 Randomized) only one direct connection supports Netflix.
Yikes…
Using their USA Random server is more or less a crapshoot. Sometime it will connect you to one that works, other times it won't connect you at all.
They can do better!
What Devices does Mullvad Support?
Devices Mullvad supports one way or another:
Windows
Mac
Linux
iOS
Android
Usually we like to see VPN providers develop their standalone apps and programs for the big 5 operating systems: Windows, Mac, Linux, iOS & Android.
Mullvad has developed apps for only Mac, Windows and Linux. You'll have to go through a lengthy 15 step process via OpenVPN setup your mobile devices.
Not cool.
There is also no information regarding smart TVs, router assistance and other less often used internet devices.
Is Mullvad Easy to use?
Installing the app is quick and painless. The installer weighs in at a slim 12MB and worked flawlessly.
That's when the real fun began.
To spare you my frustration, Mullvad immediately severed my connection and attempted to connect to a server, without me doing anything.
This lost me some amount of work as I was refreshing a page at the same time.
It then failed to connect, even after several attempts. The only reason why I managed to fix it (TAP Driver issue) was due to my experience with VPNs. Their website did not offer much help either.
Newbies would have been absolutely lost here and would have to contact their support to fix a simple issue.
I ended up finding help by googling their help articles which, for some reason, can't be searched directly on their website.
After reinstalling their TAP drivers, everything ran smoothly.
"Smoothly"
The app itself is terribly confusing, relatively speaking. Why everything has to be in two different windows remains a mystery.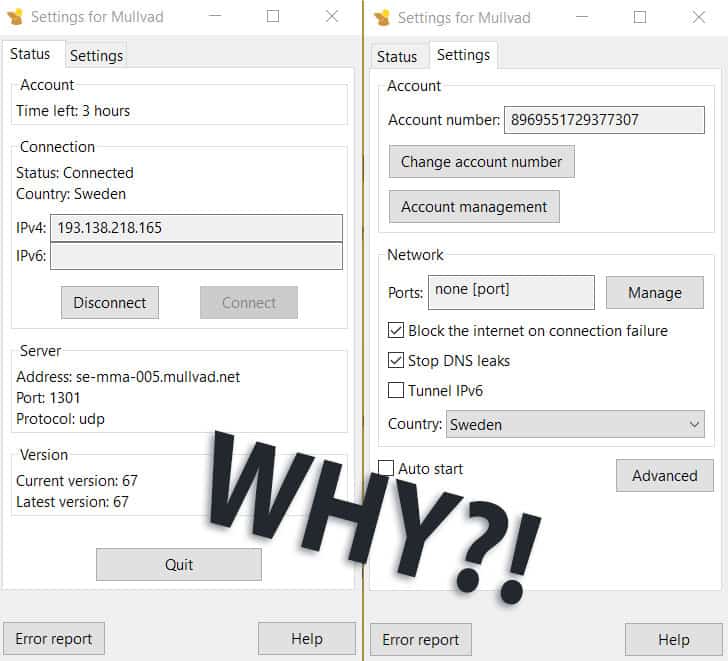 Not a big issue, just completely unnecessary and wasting time. The weirdest part is their "advanced" button which just opens the raw configuration file that you can edit.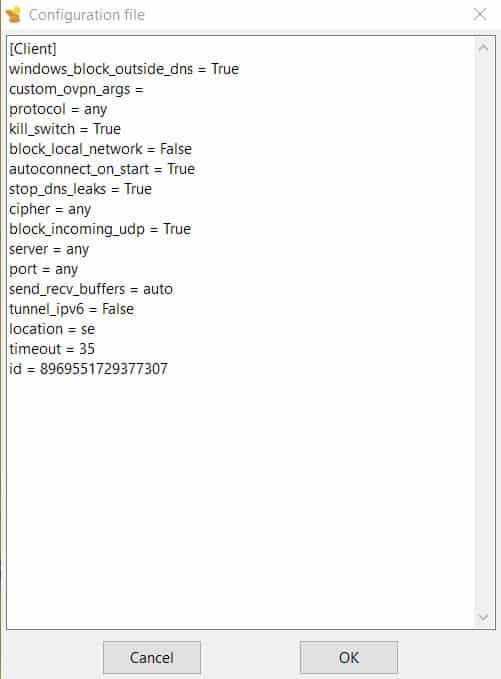 Ugh!
What exactly am I supposed to do with this? I have no idea. When I read advanced, I think of advanced features and options, not access to the same options in geek-speak.
Convoluted, Unnecessary, Buggy.
Really dropping the ball here.
Mullvad Servers & Features
When it comes to servers: the more, the better.
Yet another point of interest their minimalistic website makes you work hard to find and understand.
Where other VPNs display this important statistic headfront, Mullvad have once again decided to display this info the most complex way possible.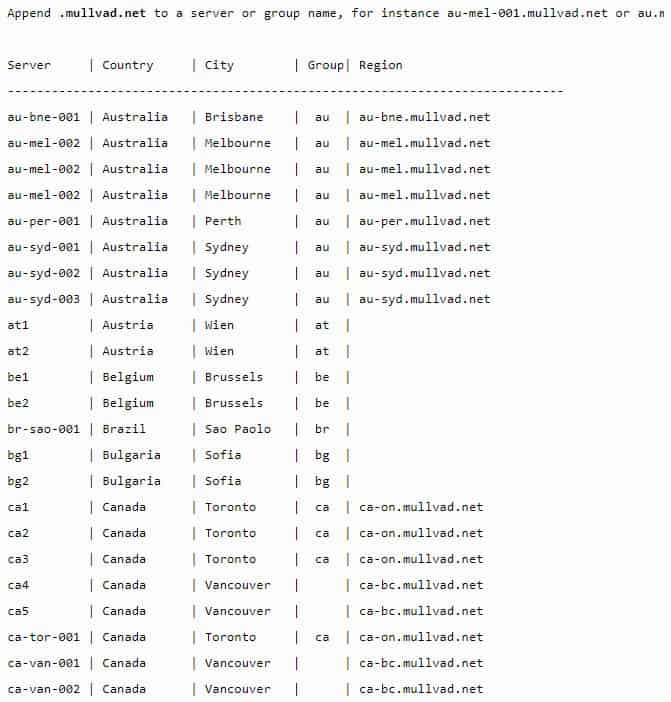 In total, Mullvad offers 198 servers across 31 countries and allows 5 simultaneous connections.
Unfortunately, Mullvad doesn't give you full access which servers you can connect to, not directly.
For example, should you choose "USA – Los Angeles" you will be connected to one of their 11 different LA servers.
Very frustrating when only 2 out of those 11 supports Netflix, for example, which has happened to me before.
Moving onto features, Mullvad offer the standards: Kill switch, Auto-start, DNS protection. But! Let's talk about the elephant in the room…
Numbered friggin accounts!
The only VPN we have ever seen to forego account creation completely and offer their services via an anonymous numbered account.
This is an unprecedented level of privacy and one we really like to see!
The downside, of course, is that whoever has the exact numbered account, also has access and control over it.
No passwords here!
This means you better make sure you don't share your account with others.
Will this remain how Mullvad operates? Remains to be seen. Numbered accounts are not as scalable and easy to handle or troubleshoot as proper user accounts.
But hey; if privacy is your concern – numbered accounts are your friend.
Above all, this feature means that, even if one of the 14 eyes wants your data, Mullvad has nothing to give them in the first place – your account is anonymous to even them.
An exciting approach to anonymity!
Mullvad Customer Support
You don't plan on breaking your arm next Sunday, but you still have health insurance.
Do you agree?
It's not a question of if, but of when you'll need to reach out and require assistance from your VPN provider. Mullvad or not.
With Mullvad, you're going to be limited in how quick you'll receive assistance.
Unfortunately, our favorite Swedes do not provide any sort of live chat or ticketing system. What's more, their knowledgebase offers very poor access to help articles. You'll have to dig and scroll to find one that may or may not answer your question.
You can reach them through their email: support@mullvad.net
Here's a quick CS test I performed, to gauge how they would respond to a couple of basic questions.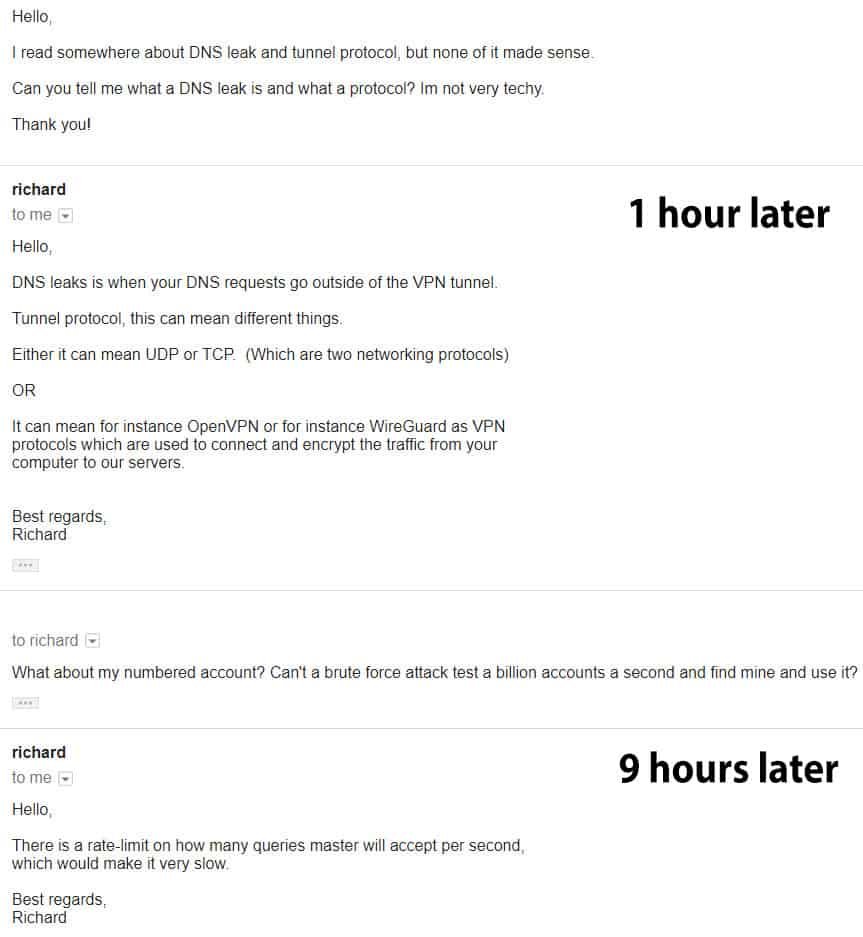 As you can see, I made sure to be vague and really went heavy on the "I don't know anything" angle.
They got back to me in two hours!
Sadly, their response was just as vague and lacking in context. A bit of a disappointment.
For good measure I tested them again, this time through Facebook.
I asked a very probing question, about an abusable loophole in their system (nothing to fear). As a professional courtesy I have redacted the details to avoid people abusing their good nature.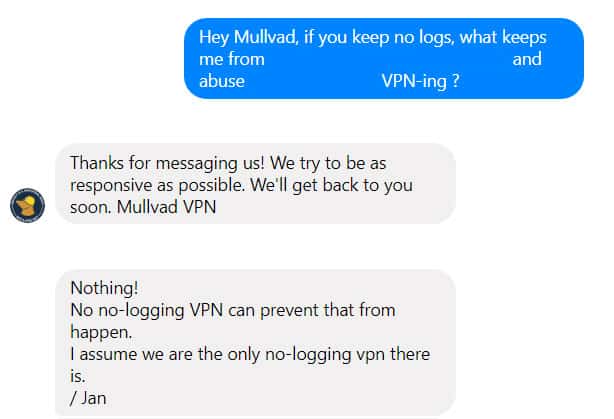 I was amazed to receive a response only an hour later and what a response! They didn't try to spin a story or anything, but flat out admitted what I already knew to be true.
Really impressive! I just wish this level of quality would extend to their official support channels.
One more band-aid to rip.
This one may hurt; they only provide support during and around Swedish work hours.
Mullvad Pricing & Payment
You know their pricing is simple, when they don't even have a dedicated pricing page.
It's so simple.
You make an account, which takes a couple seconds.
After that, 30 days of access costs €5 (about $6).
No monthly plans, no gated features that require "Premium" accounts – nothing.
It's 5 euros a month and that's it.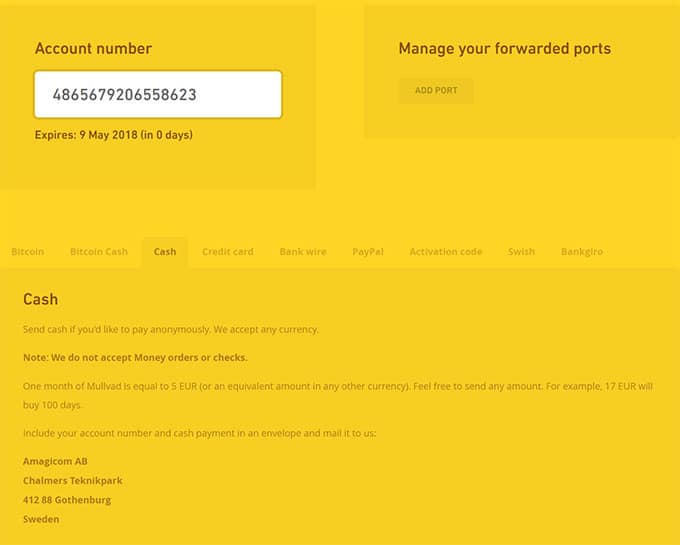 Among the 9 different payment methods, Mullvad accept two cryptocurrencies: Bitcoin and Bitcoin Cash.
This, coupled with their numbered accounts ensures 100% secrecy.
Yes, please!
As for Mullvad's refund policy, it's solid yet can be confusing if you opt for the crypto payment route.
Make sure you carefully read it over and ensure you can provide a signature for the original address which you used to make the payment.
Oh, and don't pay via cash. Apparently the Swedes are not big on that when it comes to refunds…
Do I recommend Mullvad VPN?
No, I do not.
Close, but no cigar. If you really know what you're doing, go ahead. If you're a layman, go for a VPN developed precisely for you.
Ah, it's a bittersweet moment when I perform an extensive review of such a solid VPN provider and choose against it.
It really shows how quickly the industry is growing. Only a few years ago, a VPN like Mullvad would be an absolute disruptor.
But today?
You simply don't need to settle.
Don't settle for wrong jurisdictions, don't settle for mediocre support, don't settle for confusing clients, don't settle for anything less than exactly what you want.
Mullvad is headed into right direction, no doubt, but they have a lot of catching up to do!
We'll make sure to keep an eye on them either way 😉
Add your own Mullvad review:
3 user reviews for Mullvad
Lulu Freud 10/10 November 22, 2017
Fantastic Vpn
I've used a lot of vpns, the "famous" ones (PIA, ExpressVPN, PureVPN, NordVPN etc…) but the best ones I found were Mullvad and AirVPN.
Both deeply involved in Internet freedom causes and not only doing business.
Mullvad is the top of the cream for an European user: Good client that you can easily customize, great speed, strong encryption and VERY safe registration.
For Linux users, there's a possibility to use Wireguard which is fluent sand save.
Ed 4/10 October 29, 2017
Slow speeds ruined it
I was excited to sign up with Mullvad when it came out. It was really fast at first, but now they're below average.
Everything else is great, but they should really improve their servers to handle the amount of new customers they receive each day.
I've cancelled my account with Mullvad for now.
Matthias 9/10 October 4, 2017
Probably the safest VPN
I've had the luck to be a part of Mulvad beta testing and I've been their customer ever since.
They're cheap, they don't keep ANY logs, based in Sweden – which is a pretty independent country. It's for your PRIVACY, not for watching Netflix and bypassing geo restrictions.
Yes – their speed is slightly slow, but stable. I'd say it's a pretty solid VPN product.