Torrenting is a method of peer-to-peer (P2P) file sharing that involves downloading small amounts data from many different web sources at one time. Torrenting itself is not illegal — in fact, it's an important tool for many internet users who rely on open source software. In 2017 alone, an average of 27 million P2P users downloaded and shared files on peer-to-peer networks per day.
The best VPNs for torrenting safely have features like strong no log policies, kill-switches to stop your IP address accidental exposure, and warrant canaries to alert the public if the provider has received a confidential request for user data by Government or law enforcement.
7 Safe VPNs That
Allow Torrenting 100%
We looked at the torrenting policies of almost 70 VPN providers. Below are our top 10 VPNs for torrenting.
For more about the providers we looked out, check out our full analysis below, review the policies of each provider in our comparison chart.
1. ExpressVPN – Best for uTorrent users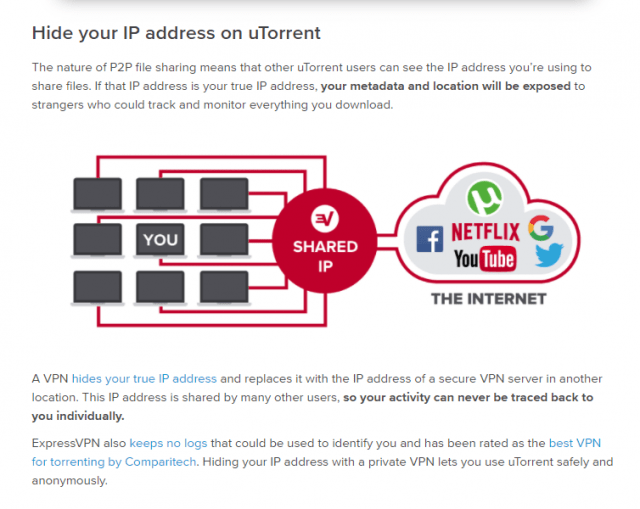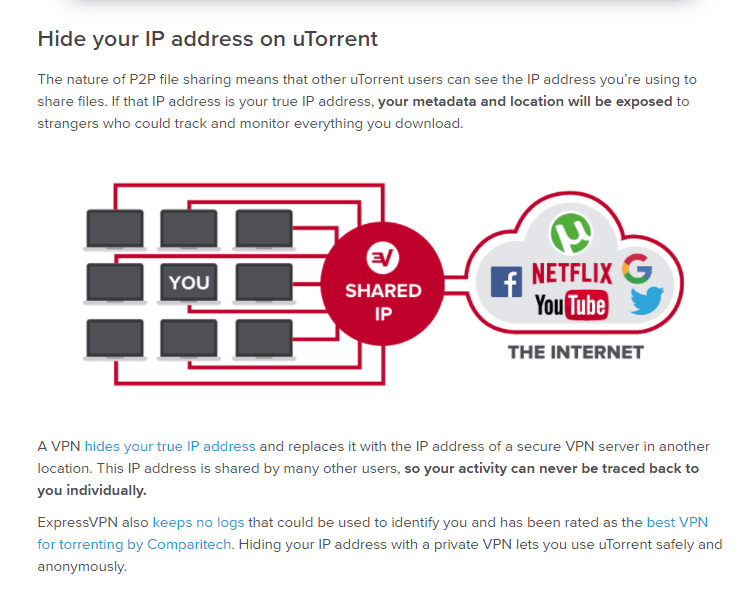 British Virgin Islands–based provider ExpressVPN not only allows torrenting but their support page outlines exactly how to use their VPN to do it.
What's more, a blog post from 2017 that examines the information your internet service provider can collect about you mentions torrenting — and puts particular emphasis on the fact that the IPS can see both legal and illegal torrenting, suggesting the provider knows their service is used for non-legal torrenting, and isn't stopping it.
2. NordVPN – 500+ servers optimized for P2P activities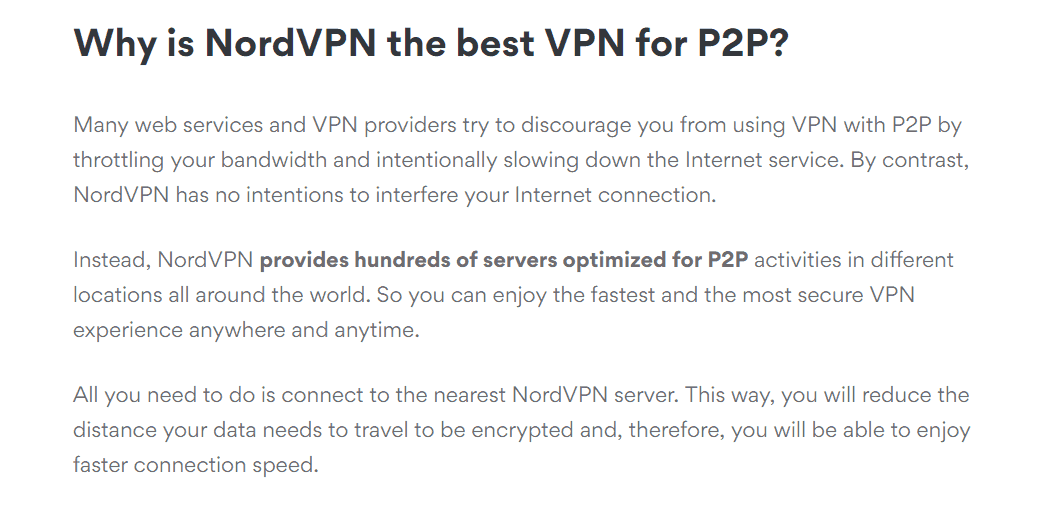 Nord VPN is exceptionally torrent friendly. They not only allow torrenting, but seem to encourage it, boasting their service is optimized for P2P activities. Nord also doesn't log any of your internet traffic and just requires an email and password to access.
The provider has double encryption for extra security and a killswitch to keep your info safe in the event of a VPN connection loss.
3. Mullvad – Best for qBittorrent users

Mullvad allows torrenting, and provides a guide to how to securely use the torrenting program "qbittorrent."
Although they don't provide guides for other torrenting programs, they don't advise against them either. According to their website's FAQ, they "keep no activity logs, do not ask for personal information, and even encourage anonymous payments via cash or … cryptocurrencies."
4. Perfect Privacy – Up to 1000 Mbps bandwidth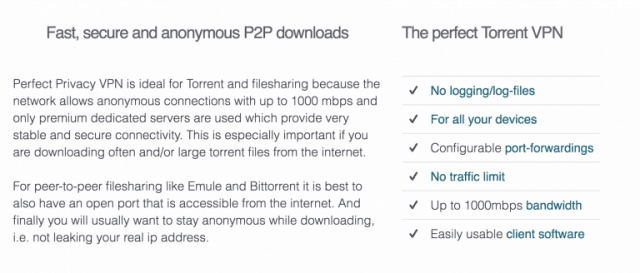 Perfect privacy takes a strong pro-torrenting stance. They say their servers are "ideal for torrent and file sharing." Their servers allow for connections up to 1000 MPBs.
They do not record user activity and they trust open source software.
Or read Perfect Privacy review
5. PrivateVPN – All servers supporting P2P

PrivateVPN allows torrenting on all servers, but recommends the ones in Sweden. PrivateVPN also take a blind approach to their users' data.
Because PrivateVPN is based in Sweden, a country with friendly privacy laws, they refrain from tracking or logging any personal info. They also boast a killswitch feature as well as port-forwarding.
6. Private Internet Access – Support torrenting traffic

PIA, or Private Internet Access, supports peer-to-peer activities (torrenting) and has a solid no log policy.
They don't mention the use of a warrant canary or feature a killswitch, but PIA boasts an impressive 3041 servers in 28 countries, which is on the high side of the spectrum when it comes to server numbers.
Or read Private Internet Access review
7. TorGuard – Best for BitTorrent users

Torguard is friendly to torrenting and is focused on secure torrenting.
They have a section of their website explaining how to use their service to anonymously torrent. TorGuard has a strict no logging policy and has servers meant solely for torrenting at higher speeds.
9 VPNs That
Don't Allow

or Block Torrenting

These providers are strongly focused on the security the VPNs provide and are not as interested in providing torrenting services. They focus on keeping you anonymous as you use the internet for activities other than torrenting.

Hong Kong based DotVPN is not against torrenting, but has not made the feature available with their product yet. On their website, they do claim they will make it available in the future.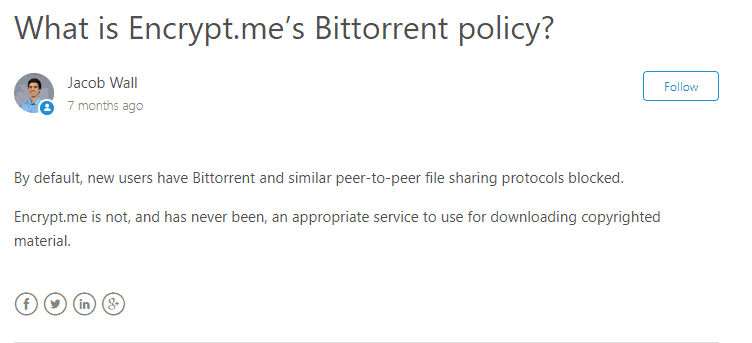 Encrypt.me takes a strong anti-torrent stance. The state that their product "is not and has never been an appropriate service for downloading copyrighted material" and thus has blocked P2P file sharing on all of its servers.
Hola VPN is free for non-commercial use, but no longer allows torrenting on their servers, even though they use peer-to-peer node and not proxy servers to keep you anonymous. Hola is upfront and honest about logging your data, noting that they use "various technologies to collect and store information such as cookies, pixel tags, web beacons and log files."


Hoxx VPN does not allow any torrenting and refers to torrenting sites and software as "illegal networks," stating their "community needs to stay clean to save your rights."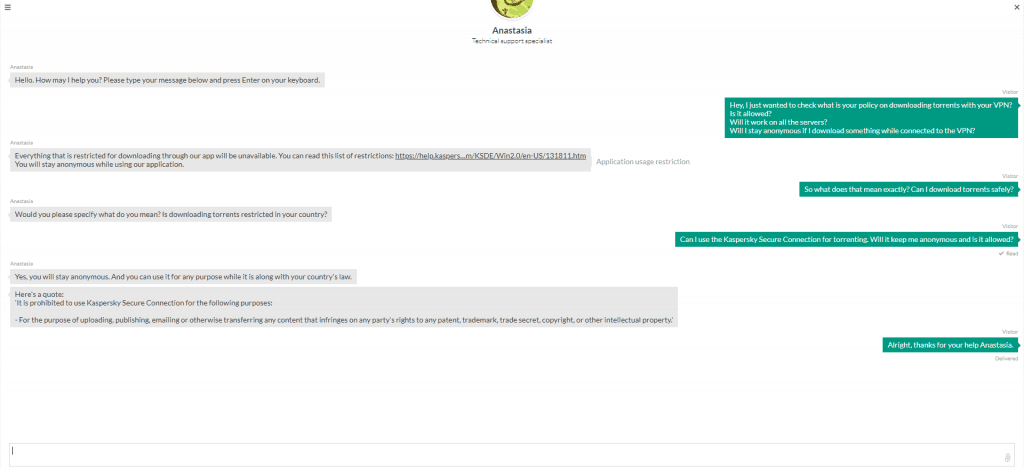 Kaspersky Secure Connection provides different levels of service depending on account type, however, no levels of service allow for torrenting.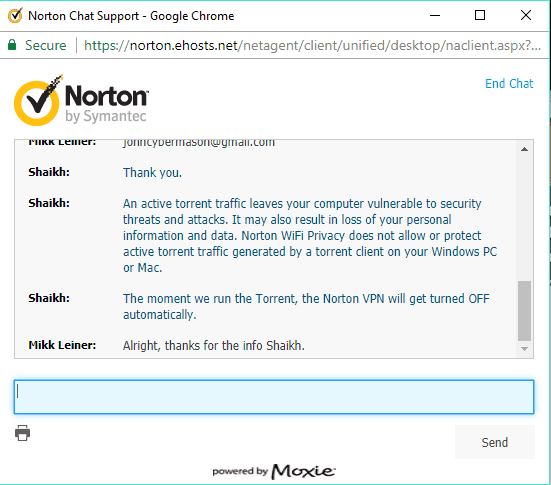 Well-known internet security brand Norton doesn't support torrenting of any kind and will shut off the Norton VPN connection as soon as they detect a torrent, noting they believe active torrenting leaves your computer vulnerable to threats.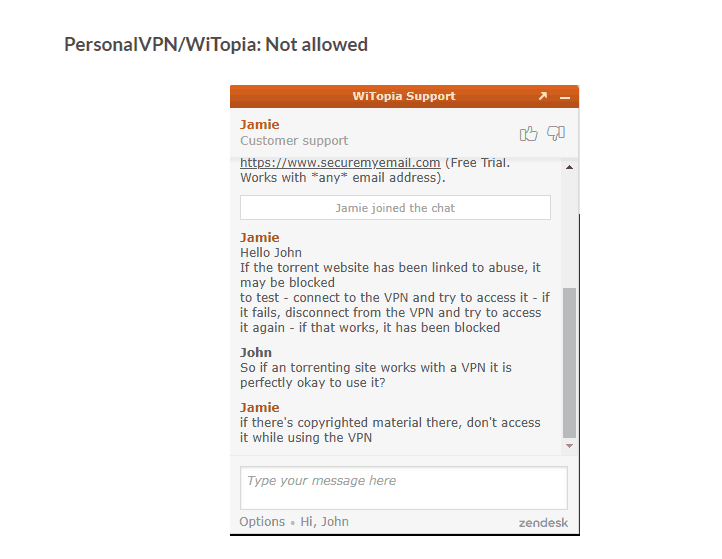 Personal VPN blocks any torrenting site that has been linked to abuse or potentially has copyrighted material on it, severely limiting any ability to torrent.

Touch VPN does not encrypt any torrenting data. If you torrent while using Touch VPN, your data will not remain secure and your real IP address will be revealed. In their official terms of use section, they state that you may not "upload, post, or transmit" any content that violates laws and maintain that you must follow all copyright laws.

German VPN provider Zenmate does not allow their product to be used for torrenting, stating it is against their terms of service to violate intellectual property law.
Comparing VPN Torrenting Policies
Finding the right VPN for your torrenting needs can be difficult, but there are a few key things to remember when deciding on an option. When torrenting, you want a VPN that allows you to torrent with as few restrictions as possible.
Additionally, it's imperative to use a VPN provider that doesn't log any of your personal information, in case user data is requested by government or law enforcement.
You can compare the torrenting and logging policies of all the VPN providers we reviewed in our comparison chart, below.
A VPN doesn't solve every internet security or privacy issue, and you still need to use common sense to protect yourself and your data when uploading, downloading or even just surfing the web. Learn more about how to safely torrent with our beginner's guide to safe torrenting infographic.