VPNs have a lot of great uses; they protect your privacy, let you get around geographical restrictions, make surveillance and tracking more difficult, and let you access sensitive materials when you're away from your home (or work) computer.
But if you were to ask VPN users why they use a private network connection, you're likely to hear the same answer from many of them: torrenting.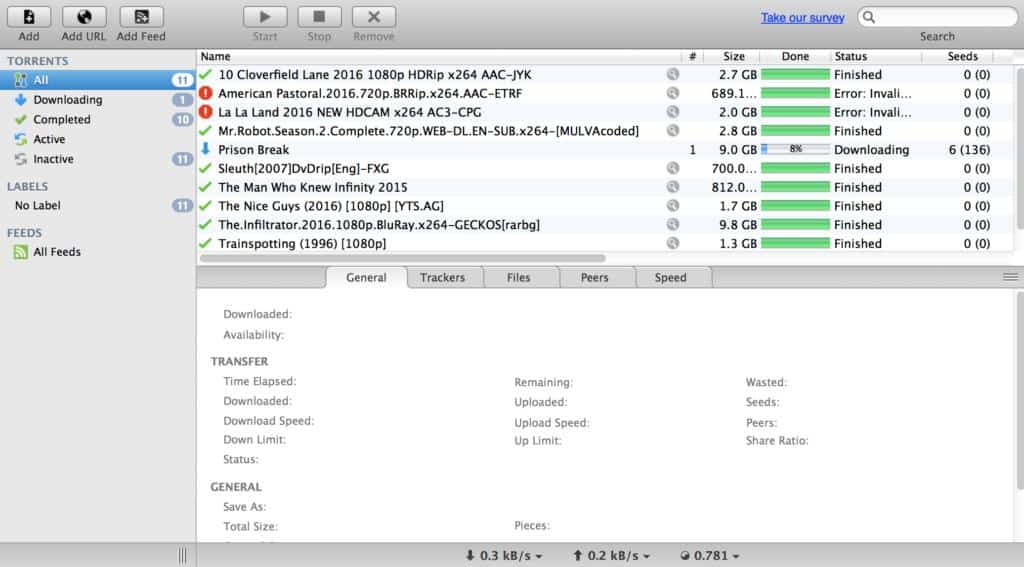 Because of torrenting's status as a legal grey area and the potential consequences that some users may face for it, it's always a good idea to torrent through a VPN. (Not to mention the fact that your IP address might be broadcast by your torrent app.)
7 VPNs For Anonymous Torrenting & P2P
In addition to no-log policies and torrent support, we also keep speed and stability in mind. You might be downloading very large files, and if your VPN is slowing down your connection, it's going to take a really long time to complete the download. And if your connection is interrupted, you might have to start over.
So we picked the most private, fastest, most stable VPNs that support torrenting. Here they are.
1.

ExpressVPN (Fastest torrenting speed)

Consistently ranked #1 in our own tests, ExpressVPN is a great choice for torrenting. Here's why:

+ No logging of sensitive data. There's no collecting of "browsing history, traffic destination, data content, or DNS queries," and no IP logs.

+ Support for torrenting. While ExpressVPN doesn't expressly support torrenting, they provide instructions on their site for using uTorrent with their service. That's definitely a good sign.

+ Fast download speed. On our 100 Mbps connection, ExpressVPN clocked downloads at 83.15 Mbps. That makes it one of the fastest we've ever tested.

+ 148 P2P-compatible servers. They're spread across 94 countries, so you should be able to get a solid connection for torrenting anywhere.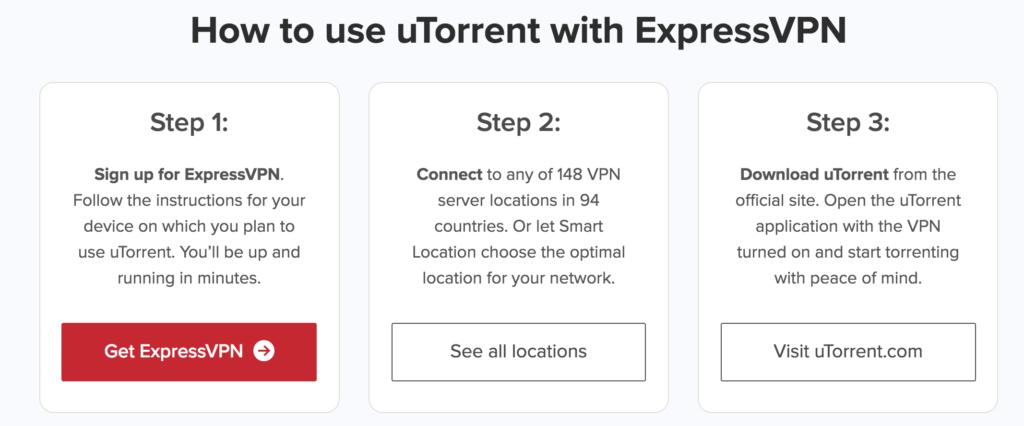 It's not the cheapest VPN out there (an annual subscription will run you about $100, or $8.32 per month), but you get what you pay for.
Solid privacy, support for torrenting, and great speeds make ExpressVPN our #1 recommendation for torrenting.
2.

NordVPN (Very anonymous and secure)

Another VPN near the top of many of our lists, NordVPN has developed a reputation for great security with solid speed. We also love their two-year plan's affordable pricing.

+ No logging of your data. You're free to do what you want while you're connected to NordVPN. They don't keep any logs of what you're doing.

+ Support for torrenting. They're not explicit about it, but you can find a tutorial on their site for connecting to a torrent proxy. That's at least an implicit note of support.

+ Fast speeds. It's not in the very top echelon, but we got 74 Mbps download speed on our 100 Mbps connection, and that's very respectable.

+ Double VPN security. When you need extra security, NordVPN's Double VPN functionality will route your traffic through two VPNs, doubly encrypting it. It's going to be nearly impossible for your ISP or anyone else to figure out what you're doing via the VPN.

+ Great prices. If you sign up for a two-year plan, you'll pay $80, which works out to $3.29 per month. That's almost impossible to beat, especially for the features you get from NordVPN.

+ Over 2,000 P2P servers. NordVPN's server selection tool will set you up on the best torrent-compatible server for your desired location. And if you select one that's not P2P-compatible, you'll be automatically rerouted to one that works.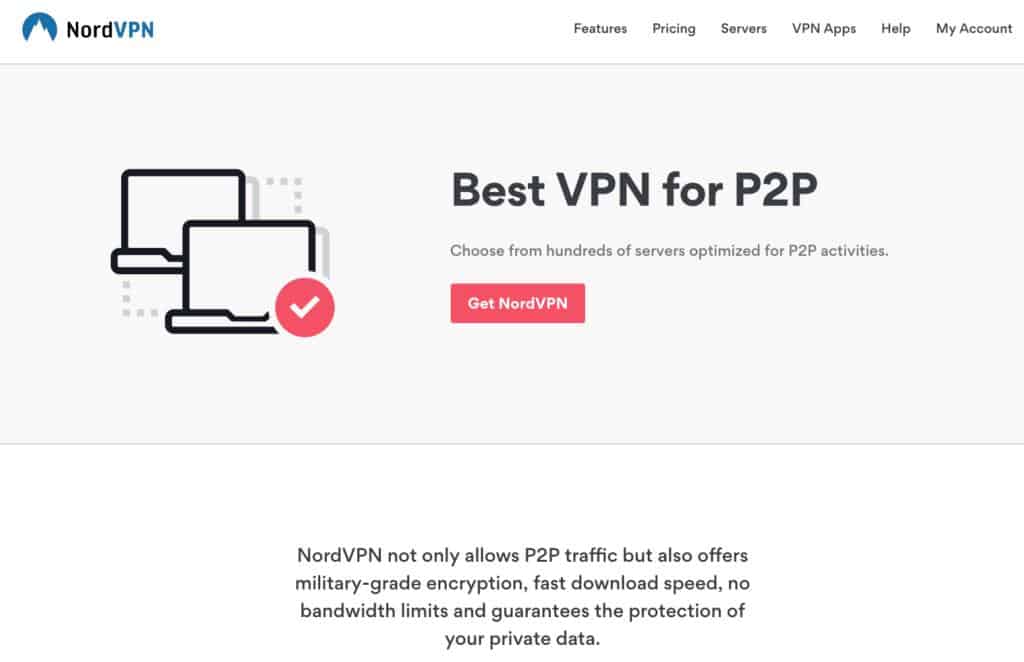 There's a reason that we love NordVPN so much: it ticks all the boxes.
One reason it falls behind ExpressVPN on this list is that its speeds are a little slower, and solid speeds are paramount for successful torrenting.
3.

IPVanish (P2P optimized servers)

Another one of our regular top contenders, IPVanish is a perfect choice for anyone looking for a torrenting VPN.

+ No logs whatsoever. So you don't need to worry about who's watching your torrenting activity.

+ Great speeds. We got over 82 Mbps on our 100 Mbps connection, putting this solidly in the top tier of fast VPNs.

+ Vocal support for torrenting. IPVanish has a page on their site advertising themselves as the fastest VPN for torrenting. That's a very strong commitment to making sure you can torrent effectively.

+ Low annual subscription price. If you sign up for a year, you'll pay about $6.50 per month. That's not stellar, but it's definitely very affordable.

There really isn't any drawback to IPVanish; it's just that you can find fast VPNs that are great for torrenting for a little less money. This VPN's explicit support for torrenting, however, is something that we very much appreciate, and that keeps it near the top of the list.
While IPVanish doesn't say that they block P2P traffic on specific servers, they do note that they've optimized specific servers for P2P traffic, especially those in the Netherlands. They've also added a lot of servers there to keep speeds up. Their obfuscated VPN traffic is also useful for avoiding P2P blocks.
At twice the price, though, it's difficult to recommend IPVanish over Private Internet Access. Paying less than $3 per month is just too nice.
4.

Buffered (Good for torrenting, but overpriced)

One of the reasons we rank Buffered so highly is that they're vocally supportive of p2p file sharing. They state that it's cost-efficient, convenient and that it saves time. We couldn't agree more.

+ Strict no-logging policy. Buffered doesn't keep logs of anything you access, and that's exactly what we like to see.

+ Support for torrenting. As we mentioned, they explicitly state that torrenting with their service is encouraged.

+ Full support for P2P apps across all servers. You can torrent on any server. Period.

– Very Expensive. They start from $8.25 – that's a little overpriced for us.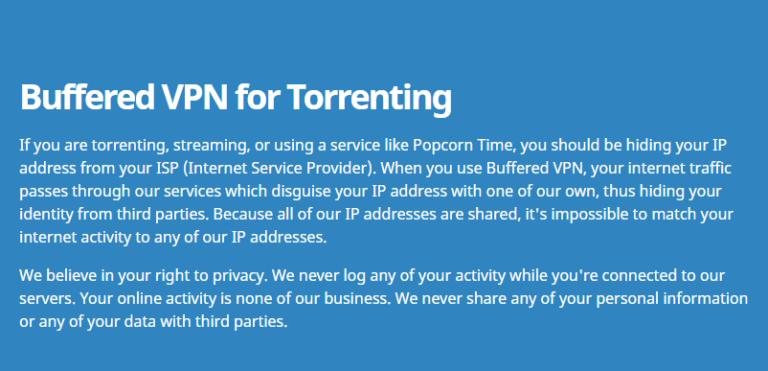 Buffered's speed is one place where we're a bit conflicted. They promise fast speeds, and other reviewers have been able to get solid download rates. VPNSpeedTest.org recently found its average download speed to be 54 Mbps, largely driven by great performance on specific servers. In our own test, though, Buffered didn't perform particularly well. It didn't even crack 30 Mbps on our 100 Mbps connection.
Fortunately, however, Buffered offers a 30-day money-back guarantee that you can take advantage of. Sign up for the service, see how fast it runs on your setup, and ask for your money back if it's super slow.
The price is similar to ExpressVPN's; the annual plan comes in at $8.25 a month, which isn't the cheapest, but isn't outrageously expensive, either.
5.

CyberGhost (Safe for Torrenting, but slow download speed)

In general, we think CyberGhost is a great VPN. And it certainly deserves a spot among the best torrenting VPNs. It has some great features that we love:

+ Strict no-logging policy. CyberGhost won't be keeping any information on what you do while you're connected, and that's good for everyone. We have some reservations, though, as you'll see below.

+ Support for torrenting. The desktop client has numerous profiles, and "Anonymous Torrenting" is one of them. That's not an explicit endorsement, but it's very close.

+ Great two-year pricing. If you sign up for a two-year plan, you'll pay $84, which works out to $3.50 per month.

– Not very fast. They're slower (51 Mbps out of 100 Mbps) than the vast majority of their competitors.

– Not all servers allow torrenting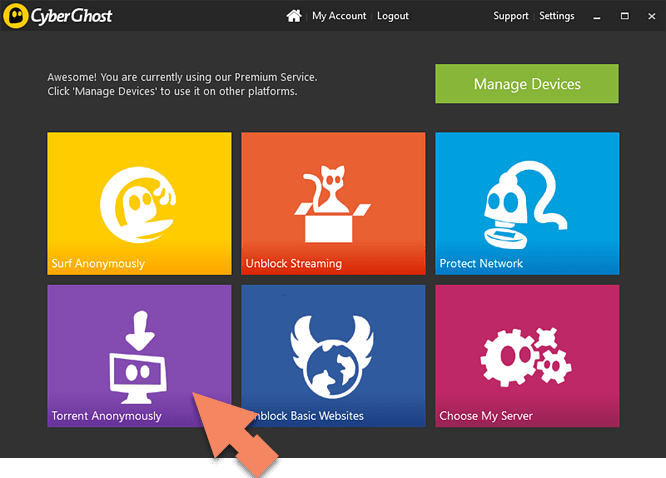 So what do we have against CyberGhost? First, the speed. It's fast, but not in the top echelon of blazing-fast VPNs. Our latest test clocked it at 51 Mbps download speed on our 100 Mbps connection.
The second factor is that CyberGhost disables P2P traffic on some of its servers, including those in the US, Russia, Singapore, Australia, and Hong Kong. They're up-front about it, and they let you know which servers support P2P protocols. But the fact that they're keeping an eye on your file-sharing and disabling it in some places is annoying.
Even with that, however, CyberGhost is a solid VPN that we wouldn't hesitate to recommend for torrenting. Just know that you'll need to access specific servers when you do it.
6.

TorGuard (Allows torrenting, but located in USA)

Despite being based in the USA (which we'll discuss in a moment), TorGuard provides good service and some solid pricing options. And it does have a number of features we like.

+ No logging policy. As we've mentioned, this is especially important with VPNs you're going to use for torrents.

+ Support for torrenting. TorGuard has a page discussing the advantages of using their VPN and proxy services for torrenting, so they're definitely on board with your P2P file-sharing plans.

+ "Stealth" VPN service. TorGuard will attempt to disguise your VPN traffic as regular traffic to get around restriction set by your ISP, wifi provider, or anyone else keeping an eye on your connection.

– Located in USA (5 eyes jurisdiction)

In our own tests, TorGuard achieved decent speeds, reaching a download speed of just over 53 Mbps on our 100 Mbps connection. That's not slow by any means, but it doesn't stand up against many of the other VPNs we've tested.
And as we mentioned, the fact that the company is based in the US could be a cause for concern. There's serious surveillance going on in the US, and the laws on data are tighter than we'd prefer. That being said, TorGuard has proven to be trustworthy.
Although TorGuard doesn't provide a list online, they state that they've optimized some servers for P2P traffic. There doesn't appear to be a block on other servers, but you'll have the best luck using optimized servers for torrenting.
7.

Private Internet Access (Fast, but located in USA)

PIA has long been a popular choice for torrenters. It provides great security, great speeds, and a rock-bottom price.

+ A no-logging policy we love. PIA doesn't keep logs of your traffic, so it won't have anything to hand over to authorities. (Though being based in the US is cause for a bit of concern.)

+ Stable download speeds. In our tests, we saw 81.46 Mbps download speeds on a 100 Mbps connection. That's one of the fastest we've tested.

+ Super cheap subscription plans. When you sign up for the two-year subscription, you get a monthly cost of $2.91. That's crazy low.

+ P2P compatibility on all servers. Every server on the PIA list is compatible with P2P file sharing, so you can choose the servers you want.

– Company registered in USA (5 eyes jurisdiction)

Notice that we don't have "support for torrenting" on this list. It's not that PIA doesn't support torrenting, it's just that they don't say anything about it on their website. Lots of people still use PIA for torrenting, but the company doesn't offer any explicit support for the idea.

Even so, the fantastic cost and speeds make it a top contender. If it wasn't for NordVPN's ultra-secure Double VPN, PIA might have cracked #2 on this list—and if they decide to vocally support torrenting, it still could.

Read Private Internet Access review
How a VPN Protects Your Torrenting
Even if you're torrenting something legally, your ISP might throttle your connection or otherwise cause difficulties for you. Torrent sites have a bad reputation, no matter what you're using them for. So whether you're grabbing pirated stuff (which we, again, don't recommend) or downloading legal files, you could face repercussions.
A VPN prevents that by encrypting your traffic and hiding it from your ISP and anyone else who's trying to keep tabs on your browsing. All they see is that you're accessing a VPN server somewhere else in the country or the world. That server reroutes your traffic, and your ISP has no idea where that traffic is going. So you're protected. It's as simple as that.
Of course, some ISPs or wifi providers (like schools or cafes) might not look kindly upon VPN traffic either. But there isn't a whole lot they can do about that; you could see some throttling, but it should be minor.
Avoid VPNs that don't allow torrenting
Unfortunately, you can't just pick any VPN and start torrenting to your heart's content. Few VPNs are created with the intention of allowing users to perpetrate crimes online, and if they find out that you're torrenting pirated content, they're not going to be too happy, either.
For example, TunnelBear forbids torrent traffic on their servers. SaferVPN doesn't tell you not to torrent, but they only have one server that allows it, and that server is in the Netherlands. PureVPN also has a very limited selection of servers that allow torrenting.
This is one of the reason it's so important to choose a VPN that doesn't keep any logs whatsoever. And if that VPN says they're okay with torrenting, that's even better.
If a VPN keeps logs, there's always the possibility that they could be handed over to law enforcement, and authorities could look for evidence of illegal downloading. No-log VPNs don't have to worry about that, because they have nothing to hand over. And VPNs that support (or at least allow) torrenting won't kick you off if they find out you're using BitTorrent regularly.
So those are the qualities that we looked for in the best VPNs for torrenting.
Choosing the Right VPN for You
Now that you've seen our recommendations, you can make a decision on which VPN you'll use for your own torrenting. We are recommending ExpressVPN (review) and NordVPN (review) for torrenting purposes.
Keep in mind that the speeds we report may differ from the speeds you get on your own connection.
This depends on things like where you live, the server you connect to, your ISP, and various other factors. Which is why we recommend trying a few different VPNs out to see which gives you the best performance.
Many have free trials or money-back guarantees, and if you really want to try one that doesn't have either of those, you can always sign up for a single month.
Once you've discovered which VPNs work best for you, all you need to do is pick the one with the best price.
Write us a review about your favourite VPN for torrenting or leave a comment below.