The iPhone's 2007 launch changed everything.
But when Android, Google's open operating system, launched shortly afterwards, they quickly dominated the marketplace.
For example, they already owned 87% of the global smartphone space by 2013.
But… they also owned another big number: 97%.
As in, that's how much of the "global mobile malware" market they owned, according to Forbes.
Their excellent reporting shows that the remaining 3% of malware came from Nokia's Symbian – which ain't even around anymore. That means Apple, Blackberry, and Microsoft's Windows phone had zero malware issues.
Since then, each platform has had their fair share of problems. But the fact is that Android still presents hackers with the largest platform of worldwide users to infect. And it's 'open' nature, allowing others to fork and create their own variations, presents additional security holes.
Fortunately, we've rounded up the best VPNs for Android devices. Here's the shortlist.
1. ExpressVPN
For the Android, ExpressVPN is the industry leading VPN service that spans across 87 countries, that will let you browse anonymously and allow you to unblock your favorite websites such as Netflix, Twitter, Facebook, and Skype.
This VPN provider has apps for Android phones and tablets that use the OpenVPN protocol, guaranteeing you the best performance and security with 256 bit encryption.
Connecting to one of their 136 servers takes just one click and a couple of seconds with the Smart Location feature that connects you to the location that this VPN provider recommends for the highest performance and security.
If you favor a couple of their locations, you can add it to your favorite locations list built within the app. Switching locations is easy, and you always have unlimited server switches. The app is made with the user in mind, meaning it has a very simplistic design for quick and easy use.
ExpressVPN offers excellent customer care through a live chat feature and with their around the clock policy, you won't have to wait hours and hours to get answers to any of your questions.
You can also find ExpressVPN on Twitter and Facebook with any questions you may have.
Not only can you connect with any of your Android devices, but they offer apps for almost every device that are optimized for speed, performance, and security.
One of the drawbacks of this service is the price being a little more expensive than other VPN services, but there is a risk-free 30-day money back guarantee.
You can't go wrong with ExpressVPN protecting any of your Android devices across any of the 87 countries that servers are located. With simplistic design and excellent customer care, it is difficult not to like what ExpressVPN has to offer.
2. IPVanish
For the Android, IPVanish is a great VPN provider with over 700 servers and counting in various countries (60 and counting) around the world. With 256-bit encryption on the standard OpenVPN that IPVanish provides with its services, you will be protected with the best military strength encryption available.
Not only does this VPN service provide the OpenVPN protocol, it also includes various other protocols for your Android device browsing needs.
With privacy being their top priority as a VPN service, IPVanish has a zero logging policy of your activities while using their Android apps. Another bonus with this service is that while using the apps, IPVanish will suggest the fastest connections for you based on the location and ping of the server.
With your Android device, you are guaranteed all of the features that IPVanish has to offer. Features like unlimited bandwidth and server switching, over 40,000 shared IPs, and the best encryption that is available.
If you do encounter any problems, IPVanish offers customer support 24 hours a day, 7 days a week. The catch is that support is on a first-come, first-serve basis so you may not get a response instantly like you can with other VPN services.
Pricing is pretty fair when comparing this service to other VPN services, and includes all the same features.
IPVanish will work with all of your Android devices, and any other major device and operating system you may have. You can have up to five connections at a time with all of your devices, so you can keep your private information private.
While trying to setup your new VPN provider, IPVanish offers various tutorials to help you download the app or set up the VPN manually on your Android device. The apps are relatively simple to setup and connect to.
3. NordVPN
For your Android device, NordVPN has several features that stand out from other VPN providers. NordVPN is based out of Panama, and is extremely committed to helping you remain anonymous, protected, and free on your Android device. One of their most notable features is their DoubleVPN feature, the 256-bit encryption that is applied twice. You are double protected by being connected to one of their DoubleVPN servers.
NordVPN has made servers with specific purposes in mind. There are over 724 servers located in 57 countries around the world, and in every continent except Antarctica.
In your NordVPN Android app, the server map can be easily accessed because of its user-friendly design. You can even change your server location in just a couple of clicks. Connection only takes a couple of clicks.
There is no bandwidth limit, and a very strict no logging policy. If your VPN connection times out while using NordVPN, the kill switch will kill whatever you were doing on your Android device so that you remain protected even when your VPN is not connected.
If you do have any questions about your service, NordVPN has around the clock representatives via live chat, email, or your favorite social networking sites. They are happy to help and answer any questions about the service. You can even live-chat within the app on your Android. Tutorials and guides are available if you want to manually setup this VPN provider on your Android.
Every device you can think of is supported by NordVPN, so you can connect up to six different devices to this service at one time.
With so many unique features offered by NordVPN, like DoubleVPN and excellent speeds, the price is worth this purchase. In addition, there is a 30-day money-back guarantee if you aren't happy. You can find the NordVPN app on your Android device through Google Play.
4. VyprVPN
VyprVPN is a VPN service with a huge network of servers and many different features to help you bypass network restrictions while remaining protected from governments, businesses, and schools. This VPN provider offers 700+ servers in 70+ locations worldwide. They also offer 200,000+ IPs, so there are several options when connecting for your Android devices
Plans for VyprVPN have different features included in each. In terms of security, the PPTP and L2TP protocols are available with the lowest and cheapest plan. In the two more expensive plans, Pro and Premier, OpenVPN and the Chameleon protocols with 256-bit encryption are available for your use. Chameleon is available for the Android as well.
Help is available around the clock, just contact VyprVPN through Facebook, Twitter, live chat, or email. Android support is available through the VyprVPN website if you need help with setup or connecting.
No third party is involved with VyprVPN, they write their own codes, and own and manage their own servers. Additionally, there is a zero-knowledge DNS policy to keep your information private and help you get around restrictions. This VPN provider encrypts your traffic to make sure you can enjoy unrestricted Twitter, Netflix, YouTube, and Facebook.
With the ping test within the Android app, you can connect to the fastest servers around the world quickly. You can customize your VPN connection just how you want it, making connection even easier for you.  VyprVPN is available on every major device so if you do intend to purchase this VPN service, you can remain anonymous and free with any of your major devices.
Maybe you have to spend a little more money to get all of the features included, but if you are looking to bypass VPN blocking and remain free and private on the internet, then this is a good choice in VPN provider.
5. PIA
PIA stands for Private Internet Access, which let's face it if you're looking for a VPN provider, you are looking for Private Internet Access for your Android.  While PIA is not the largest VPN provider in terms of networks with 24 countries worldwide, with 3268+ servers you'll have no problem finding a connection in North America and Europe.
With PIA, your location will remain hidden and your data will be hidden from anyone trying to steal private information.
Your Android will be secure with military strength 256-bit encryption and PIA offers a wide selection of protocols to choose from. An SOCKS5 protocol is included with whatever you plan you choose.  
You can connect your Android device at the airport and experience the multi-layered security that PIA offers. You will avoid being exposed when you're signing into your banking app.
PIA offers customer support in 24 hour North American support, so if you are using PIA and have a question in North America you're covered. Otherwise, you can always contact them through their Contact Support, but the average response time is 4-6 hours.
PIA does not track communication logs, or keep tabs on what you're up to while using their service. And if you have other devices, PIA is supported on several devices besides the Android. Your PIA account has up to five simultaneous device connections to keep your identity and location safe on all your devices.
Pricing is pretty fair, with their lowest monthly price $3.99 per month, and with a seven-day money-back guarantee you won't have to worry about a full blown commitment. You can pay with virtually anything, major brand gift cards or bitcoin so you don't have to put your personal information down for payment. PIA is a good solid VPN service several great features that will help you remain anonymous and free while using their VPN service.
Why VPN is a "Must-Have" for Every Android User
1. Android had 1 Million Devices Hacked in 2016 (And Counting)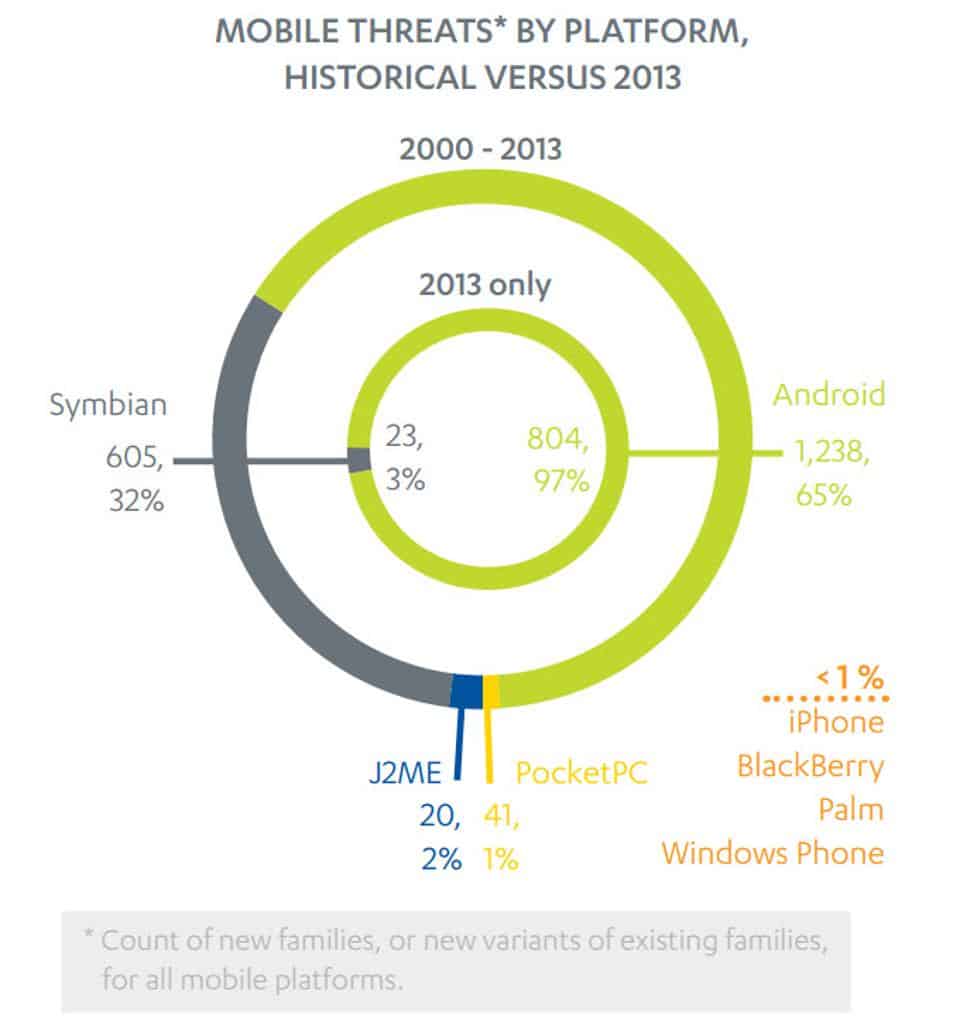 Apple gets a lot of ridicule for being a 'closed' system. They're notoriously stingy – dictatorial even – about what get's on or in their app store.
For example, sexy apps tend to get banned. Also, anything "tasteless" – which is usually up to their subjective decision.
But that iron-fist approach also has its advantages.
Their app-store is airtight. No funny business gets in without being heavily policied. As a result, the bar for quality is insanely high.
Now compare that to the funny-sounding Gooligan. (Which, unfortunately, isn't as silly as Gilligan.)
The Gooligan malware theft claimed over one million accounts last year. Here's how it works, according to Forbes:
"Prising the devices open and stealing the tokens users are given to verify they are authorized to access accounts. Its main aim, though, is not to pilfer all that juicy data in Gmail or Docs, but to force users into downloading apps as part of a huge advertising fraud scheme, making as much as $320,000 a month."
At one point, there were 13,000 infections happening each and every day.
So how is this happening? Especially at that alarming rate?
According to the USA Today, most Gooligan infections were coming "via apps downloaded from non-approved, third-party app sites".
Ali Donzanti, a Check Point spokeswoman, told the USA Today:
"The Gooligan campaign most heavily affects Android users in Asia. That's likely because users there rely more on third-party app stores. In the United States, Android users stick to Google Play for apps."
This Gooligan strain is just one example of many, unfortunately.
Over 16 million mobile devices were hit by malware alone back in 2014. That study also reported, "there were as many Android devices infected with malware as Windows laptops." While iPhone and Blackberry infections were less than a single percentage.
And like the Gooligan strain, a large majority of these attacks are happening because of your apps.
2. Apps are Killing Your Privacy
More people today are browsing the web on mobile devices than desktop computers.
And that trend only continues to rise exponentially.
But interestingly, most of those people –  84% to be precise – are doing so inside an app (as opposed to browsing the web).
Apps commonly deliver better functionality and user experiences than websites that are sometimes, kinda, sorta mobile-optimized.
So what's the problem?
Privacy. Or really, the lack thereof.
There are some encryption options you have when using a browser on your mobile device. You can (and should) use a VPN to make sure all of your connections are safe-and-secure from nefarious attacks and hacks.
But the same can't be said for your app usage.
Many times you're granting the app developer certain permissions before using it. These often include your personal data, activities, location, and more. All of which is monitored, recorded, and stored in someone's database. The Facebook Android app, for instance, requests access to ALL features, including your SMS messages.
That's not even the worst part, though.
Because your phone calls and text messages contain a goldmine of information in the wrong hands.
For example, when you enable two-factor authentication on secure websites (like Gmail or your bank account), it will send you a text message with a temporary confirmation code to login.
This is one of the best ways to safeguard your accounts… except if someone already has access to read these messages!
The New York Times reports:
"Among the most valuable of those unintended intelligence tools are so-called leaky apps that spew everything from the smartphone identification codes of users to where they have been that day."
Guess where they get that information from?
"The [security] agencies have traded recipes for grabbing location and planning data when a target uses Google Maps, and for vacuuming up address books, buddy lists, telephone logs and the geographic data embedded in photographs when someone sends a post to the mobile versions of Facebook, Flickr, LinkedIn, Twitter and other Internet services."
But wait – it gets better!
"Some personal data, developed in profiles by advertising companies, could be particularly sensitive: A secret British intelligence document from 2012 said that spies can scrub smartphone apps to collect details like a user's 'political alignment' and sexual orientation."
THIS is what you're playing with. This is what you're up against.
Everytime you login to Facebook. Or fire up Angry Birds. Or download anything else on the Top Ten.
You're unintentionally – but willingly – handing over all sorts of personal data that's being collected by advertising agencies and tracked by government agencies to create 'rich profiles' for everything about you.
Unless that is, you use a VPN.
Conclusion
Android devices are the most susceptible to large-scale attacks and other malware infections.
Part of the reason is their by-default open platform and huge worldwide user base.
But Android users are also at risk from the very apps they use on a daily basis. They're forced to turn over permissions to all of their phone's data. Which hands over all aspects of your personal life in many cases.
Shielding your mobile usage through a VPN is the only safe and secure way to browse the public internet without worrying about having your data stolen.
And a VPN will also help protect you from inadvertently giving your personal information to the people (and agencies) out there trying to use it against you.