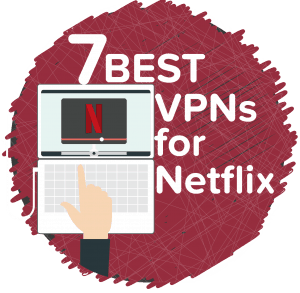 I know, Netflix's region restrictions are, at best, annoying.
They keep you from watching the shows you want to watch because you don't live in the right country—and that hardly seems fair. Which is why unblocking Netflix is one of the most common requests people have of VPNs.
Today we're taking a look at the top VPNs for Netflix.
The 7 Best VPNs for Unblocking Netflix
Last test: February 2018
1. ExpressVPN – Fast, Reliable & Works 100% with Netflix
ExpressVPN is on a lot of "best VPNs for streaming Netflix" lists. They manage to consistently stay ahead of Netflix's attempts to block them, and they offer a huge number of server locations so you can watch Netflix in almost any country you want.
You can watch across many of your devices—including your AppleTV—and expect consistent service, fast speeds, and truly private streaming.
ExpressVPN isn't just the best VPN for streaming Netflix, it's also one of the best VPNs overall; its affordable prices, consistently very high speeds, and no-logging policy make it great for streaming and protecting your privacy. They've developed a reputation for faster customer service, a large number of servers, and strong encryption.
In our speed tests on a 100 Mbps connection, ExpressVPN was able to hit 83 Mbps download speed. That's way more than you need for even ultra HD quality on Netflix.
If you're looking for a VPN that works with Netflix, ExpressVPN is the way to go.
1-year pricing: $6.67/mo
2. NordVPN – Works with Netflix, But a Bit Slower
At #2 in our overall rankings, NordVPN is a great all-around VPN that falls short of ExpressVPN only in speed—and even then, not by much. Although Nord might be slightly less consistent in unblocking Netflix around the world, it's still one of the best performers.
We're also big fans of this provider because it's based in Panama, which isn't one of the Five Eyes countries, and their no-logging policy that protects your privacy. Their 56 countries' worth of servers falls behind ExpressVPN, but should still be plenty for watching any show or movie you want.
And with obfuscated servers, you should be able to get access to Netflix in the US and across Europe without getting blocked, even as Netflix gets better at blocking VPN traffic. Though you may see some drop in speed when doing this.
Our tests showed NordVPN at 74 Mbps, which isn't as high as ExpressVPN, but it's still much higher than you'll need for almost anything—and definitely high enough for streaming Netflix.
1-year pricing: $5.75/mo
3. CyberGhost – Cheap Alternative for Netflix Streamers
If you buy a seven-year (7!) subscription to CyberGhost, you'll only pay $1.99 per month. That's an astonishingly low price for a great VPN. The biggest sacrifice you'll make at this price is speed. On our 100 Mbps connection, we clocked about 50 Mbps download speed while on CyberGhost. That isn't slow by any means . . . it's just slower than more expensive options.
Still, though, it's plenty fast for streaming Netflix. And CyberGhost does still work with Netflix. With servers in the US, Canada, and most of Europe, you'll be able to watch pretty much whatever you want, too.
There aren't as many servers around the rest of the world, but if your primary goal is streaming Netflix through a VPN, you probably don't need to worry about that.
And, like our other highly rated options, CyberGhost has a strict no-logging policy. So you can be confident in your security. Based in Romania, they're also not subject to the surveillance measures that some other VPNs are because of their jurisdictions.
Unfortunately, CyberGhost doesn't have a stellar reputation for the speed of their support. It's a ticket-based system, so you won't get immediate feedback if you're having problems streaming and want some help.
1-year pricing: $5.49/mo
4. Trust.Zone – Slightly Limited, But Claims to Work with Netflix
Unless you're big into VPNs, you probably haven't heard of Trust.Zone; but don't discount the service just because it doesn't have the big presence of the heavy hitters! It actually has a lot of great factors that make it one of the best VPNs for streaming Netflix.
First of all, it works . . . possibly because it's not as big as the other VPNs people use. Netflix is likely to focus on blocking the VPNs sending the most traffic its way, and Trust.Zone probably isn't going to break into that group anytime soon.
Trust.Zone also offers fantastic prices; with a two-year subscription, you'll pay only $2.33 per month, which is almost as low as CyberGhost's seven-year plan, and quite a bit lower than many other options.
One of the reasons you've probably never heard of Trust.Zone is that it's relatively new; it was founded in 2014 in Seychelles, a small island off the east coast of Africa. That means they're not subject to severe surveillance laws, which is always nice. They also have a no-logging policy that we like a lot.
But what about speed? Trust.Zone delivers there, too, knocking out a respectable 63 Mbps download on our 100 Mbps connection.
The biggest drawback to this provider is that they don't have 24/7 chat-based support; you'll have to fill out a ticket. That's not much of a drawback, though, so we fully recommend this option for streaming Netflix without geo-restrictions.
1-year pricing: $3.33/mo
5. Ivacy VPN – A Commitment to Streaming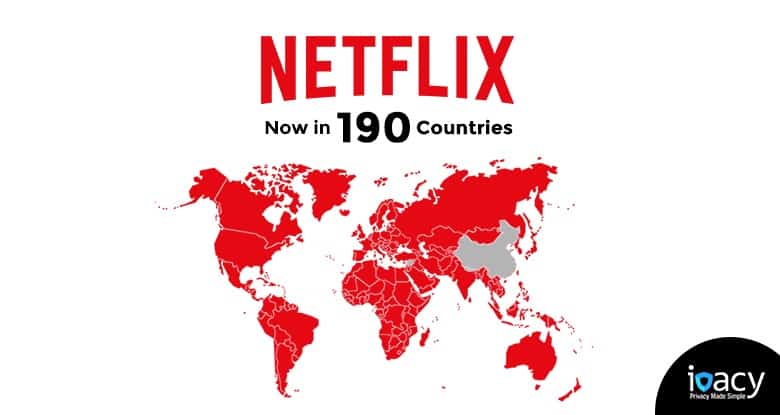 When you go to Ivacy's homepage, it's clear that they know what their users want: to torrent and stream from anywhere in the world. And they're dedicated to providing that. They're notably slower than some of the fastest VPNs out there (achieving 53 Mbps download in our tests), but it's still plenty fast for streaming Netflix.
Their 24/7 live chat, no-logging policy, and home base in Singapore all combine to make them one of our recommended VPNs for streaming Netflix from anywhere in the world. And with servers in over 50 countries, you'll be able to access the shows and movies you want without much trouble.
We also really like that Ivacy is compatible with just about every device out there, including Roku, Kodi, Xbox, PlayStation, and even Raspberry Pi. So no matter what you use for streaming, there's a way to set it up with Ivacy.
1-year pricing: $3.33/mo
6. VyprVPN – Promise to Access Netflix & Make it Fast
Switzerland's VyprVPN is a popular option among VPN aficionados, largely because of its fast speeds: on our 100 Mbps connection, it clocked a 74 Mbps download, making it one of the fastest we've tested.
We love the 24/7 chat support, as well as the surveillance practices in Switzerland, which isn't part of the Five Eyes agreement. 70 servers across the world are distributed mostly in Europe, but there's a decent number in the US as well (which is likely where you'll be streaming anyway). And if you want servers elsewhere, there's a smattering around the world, too.
The only reservation we have about VyprVPN is its logging policy. Golden Frog, the parent company of Vypr, collects a surprising amount of data. They log your IP address, server IP address, start and stop time, and the total number of bytes transferred for every connection you make. And they keep that information for 30 days.
If you're comfortable with that logging policy, VyprVPN is a solid choice for streaming Netflix.
1-year pricing: $5.00/mo
7. IPVanish – Very Fast, Semi-Reliable
We've had mixed results with IPVanish and Netflix. It can go either way. Recent tests show that it does, in fact, work for streaming, but we've had problems in the past. But one of the great things about IPVanish is their seven-day money-back guarantee, so you can test to see if it's working before you commit to a longer plan.
One thing that we do like about IPVanish is that it's one of the fastest VPNs we've tested. It's one of only three VPNs on our list that broke 80 Mbps (if you don't count HotSpot Shield (here's review), but that's an entirely different discussion). It's really fast.
We like the no-logging policy, but the fact that IPVanish is under US jurisdiction isn't exactly reassuring. Their support system is based on tickets, too, which means you might have to wait a while if the VPN isn't working how you wanted it to. Not necessarily a deal-breaker, but not an advantage, either.
Compared to the other VPNs on the list, the $6.49 per month price isn't stellar, but it's certainly not expensive.
1-year pricing: $6.49/mo
BONUS: StrongVPN – Very SLOW, Works With Netflix
Our speed tests for StrongVPN were pretty abysmal. We only got a download speed of 11 Mbps on our 100 Mbps connection. But it's important to remember that different ISPs, locations, and devices will see different speeds on VPNs. And because others have had such good luck with using StrongVPN for streaming Netflix, we thought it deserved a place on our list.
There are a couple other counts against StrongVPN for streaming, too: they're based in the US, so they're subject to intense surveillance and they have a ticket-based customer-support system. We do like their no-logging policy, though; that's definitely a big plus.
And many people have had very good luck connecting to Netflix through StrongVPN. So, based on their experience, you should be able to get consistent connections (though you may have to occasionally play around with some settings).
1-year pricing: $5.83/mo
How Does Netflix Block You From Streaming?
When you connect to Netflix, you send it your IP address, which is a unique identifier for your computer on the internet. There's information connected to that address, like your internet service provider (ISP) and location. And the location of your IP address is what Netflix is interested in.
If your IP address is based in the UK, you can watch anything on British Netflix. If you're based in Spain, you'll get Spanish Netflix. In the US, American Netflix. And so on. But if your IP address looks like it's coming from a VPN, you'll get this all-too-familiar error: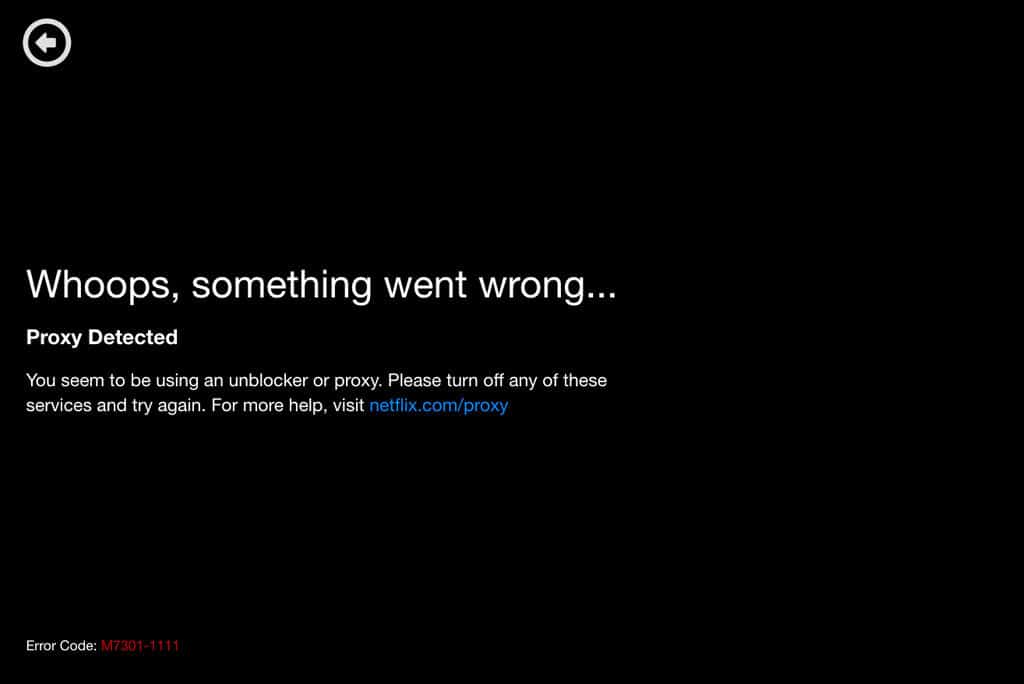 Netflix is available in almost 200 countries, including just about every country you've ever heard of. Some of the notable exceptions are China, North Korea, and Syria. If you have an IP address based in one of those countries, you won't be able to watch.
The movies and TV shows available in those countries can vary a lot, too. And that's where we come to VPNs.
Benefits of Using a VPN to Watch Netflix
A VPN lets you temporarily change the IP address you use to stream Netflix. That means you can appear to be watching from South Africa, Australia, Germany, Russia, Mexico, Japan, or any other country where Netflix is available.
And that gets you access to whatever programs are available in that country. In most cases, users will likely try to get access to US Netflix, as it has the most TV shows and movies available. Back in November of 2017, Finder did some research and found that the US, American Samoa, Puerto Rico, Martinique, and Guadeloupe had the most content available. (In case you're wondering, Morocco had the least.)
But because of differing distribution right with different companies, there might be something you want to stream on Netflix that you can't in the US. So American users may also be interested in streaming Netflix over a VPN (I've used a VPN to access British Netflix from the States before).
While getting access to the things you want to watch is the main benefit, you also get the added security and privacy that you always get when you're using a VPN. No one can snoop on your watching habits, which is reassuring, especially in countries that tend toward heavy government and ISP surveillance.
Some ISPs might throttle your connection speed if you're using Netflix, too—especially now that net neutrality laws are dying off in the US. Using a VPN prevents that, as well.
How Does Netflix Ban VPNs?
Unfortunately, just firing up your VPN isn't always enough to stream Netflix from another country. Netflix is engaged in a long war against VPN providers—though, interestingly, it's content providers, and not Netflix, that are the most invested in this battle.
Regardless of the impetus, Netflix is trying to keep users from using VPNs to stream other countries' content. VPNs find new ways to prevent Netflix from blocking them. Netflix figures out how to identify the traffic and block it. VPNs find a new way. Netflix stops that one, too.
It's a constant back-and-forth that will likely go on for a very long time. Netflix uses a variety of methods to block VPNs, including stopping connections that share IP addresses and blacklisting popular VPN IP address blocks.
Although it's not always clear how they manage to do it, VPN providers do their best to stay one step ahead of Netflix and keep their IP addresses unblocked. Some providers are more consistently successful than others, and that's what makes those VPNs the best for streaming Netflix.
Unfortunately, if Netflix scores a win, it's possible that a VPN might never work again with the streaming service, and if you're using it to stream, you'll need to change providers.
Before you choose a VPN for Netflix, know this:
Before we get started discussing which VPNs are the best for Netflix, we should discuss one important point. There are no good free VPNs for streaming Netflix. If you want to stream, you need a premium VPN (here's a lit of best VPNs we've tested so far). Especially if you plan on doing it regularly.
We've included a number of very affordable VPNs in the list below, and you can always check out our list of the cheapest VPNs around. Using a cheap VPN is fine; but stay away from free options. Not only do they not work as well, but they almost certainly don't protect your privacy as well, either.
Conclusion: Choose on that actually works with Netflix
In the end, our advice for finding the VPN for unblocking Netflix is similar to advice for finding a VPN for anything else: try a few and see which you like best.
See which connect to Netflix consistently. Test them for speeds in your area. You may find that you get very different results from other users.
Most of them have 30 days money back guarantee, so if you can't access Netflix, you can always get a refund. That's the beauty of the VPN services.
And if you have a good recommendation for Netflix VPNs in your area, be sure to share it with us.