I like to review VPNs, especially popular ones, such as NordVPN.
The first thing I always do, is take a quick look on their background.
NordVPN, according to their website, launched in 2008 (Panama) and is owned by Tefincom co S.A.
The fact that their company is located in Panama obviously raises some red flags on how they might run their business, so I decided to dig a little deeper to find more information on it.
However, I couldn't find anything more on that matter.
NordVPN definitely hides this information well enough. I wonder why.  I'll say it – nobody cares what you do and who you are as long as you deliver an excellent service and don't keep logs, right?
Here's a quick overview of NordVPN
PROTOCOLS:
OpenVPN & Others 
ENCRYPTION:
AES 256-bit
LOG FILES:
No Logging
LOCATIONS:
63 countries, 1,100+ servers
SUPPORT:
Live Chat
EASE OF USE:
Excellent 
COST:
$5.75/$7.00/$11.95
PLATFORMS:
Windows, Mac, iOS, Android, Routers, Linux
RECOMMENDED?
No
OFFICIAL WEBSITE:
 

https://www.nordvpn.com
Now back to the NordVPN review…
What Does NordVPN Offer + Compatibility
When I first headed to NordVPN.com to sign up, install and review their software, I was kinda pleased with the overall look of their website.
By all means, it looks legit and seems like they've invested a lot of money in their site to make appealing. They also do some heavy marketing to keep themselves highly visible.
Here's what they write on their website:

Here's more on what they offer to their clients:
Servers
NordVPN currently claims to have 1100+ servers in 63 countries. That's a LOT. Some paid VPNs only have 20-30 countries and 50 servers.
Encryption
Technical: OpenVPN comes with 256-AES-CBC with a 2048bit Diffie-Hellman key. I generally like to see DH over RSA, due to the former enabling Perfect Forward Secrecy. On iOS and MacOS clients, you'll be encrypted via an IKEv2/IPsec protocol; AES-256-GCM and a 3072bit DH key,
Non-Technical: NordVPN have gone all out on security and have employed above industry standard encryption algorithms.
Protocols
Technical: You have a full choice of

OpenVPN, IKEv2/IPsec, L2TP/IPsec, PPTP and SSTP

. Windows clients come with OpenVPN, while iOS & Mac default to IKEv2/IPsec.
Non-Technical: While all industry standard protocols are supported , you will have to manually set up anything that is not OpenVPN on Windows or IKEv2/IPsec on Apple devices
Compatibility
Not only do they have applications for Windows, Mac, iOS, Android they have detailed tutorials for protocol connectivity for them and 40 other mobile OS, RaspberryPi's and routers.
Next to the cons and pros:
NordVPN Pros
There are many features and perks to like about NordVPN. I'll name a few important ones:
1. NordVPN Security and Privacy is Outstanding
NordVPN offers multiple unique features:
The "unique features" section has become an inside joke at our offices. The truth is that as soon as a VPN provider comes up with something unique, you'll see half the industry follow suit, and quickly.
Still, NordVPN does provide you some highly valuable features that most VPN providers haven't.
Double Data Encryption
If you opt to turn this feature on, NordVPNs double encryption will relay your data via not one, but two subsequent VPN servers, before it reaches the web page or application you're attempting to access. By chaining your connection through two VPN servers, your data gets encrypted twice.
In addition to the (often unnecessary) double encryption, the second VPN server will be unaware of your original IP address and connections are always made via both UDP and TCP protocols. This is a "one extra step" security feature. The vast majority of you are unlikely to ever require it, especially if you're use is limited to simple P2P and Netflix unblocking. Not to mention the impracticality of the drastically reduced speeds you're going to incur.
It could have been a useful feature, but the abysmal speedtest figures prove it's complete uselessness.
CyberSec – basically an additional malware blocker
Free VPNs love to shower you with their own ads as you connect to their servers, as a way to monetize you. NordVPN flips the tables around with their CyberSec – an in-house automatic suspicious website, malware and ad blocker.
The main feature of CyberSec remains the website blocking feature which automatically scans websites you're about to visit against popular blacklists and protects you from getting involved in phishing scams and other cyber threats. In case your device is already infected and being used in a botnet, CyberSec will block your participation by detecting and cutting any forced involuntary communications.
And of course, the ad-blocker. It will not only block your regular ads, but will also hide unwanted pop-ups and autoplay videos ads. This is especially useful and recommended if you're using mobile data as ads love to use up unnecessary bandwidth.
Other features include:
Kill Switch NordVPN software automatically kills your connection if your VPN connectivity is interrupted, blocking your device or terminating certain programs from accessing the internet.
DNS Leak Protection If you have set up your VPN connection manually (say you didn't want to connect via OpenVPN) or have recently reset your Windows,

you're prone to DNS leaks

. These DNS requests will then be completely unprotected. NordVPN have implemented measures to protect you and negate such leaks.
Onion Over VPN For extra protection, or those desiring to visit the dark web (TOR network), NordVPN offers you the ability to route your traffic first through their VPN and then send it to the Onion router.
SmartPlay SmartPlay technology ensures you can access more than 400 geo-restricted streaming services; Netflix, Amazon Prime, Pandora, BBC and others. With more and more VPN servers unable to access Netflix, this is a welcome feature.
2. Affordable Pricing (starts $5.75/mo)

Trying to forget the above, let's take a look at how much a subscription to NordVPN will set us back.
NordVPN's pricing is extremely simple and straightforward.
In fact, there are no plans at all. You have the option between
Monthly ($11.95)
Due to no savings, this is a 1:1 equivalent of:
$11.95 per month
$143.4 per year
0% Savings
6 Months ($42)
Immediately, a huge savings, an equivalent to:
$7 per month
$84 per year
41% Savings
12 Months ($69)
An even bigger savings, this equals:
$5.75 per month
$69 per year
52% Savings
All those subscriptions come with one-size-fits-all plan.
Personally, I am all in favor of simplicity and fairness when it comes to pricing. Give me one plan all-inclusive plan and a few payment options and I'm happy.
Whichever subscription you chose, you get everything they offer: all major features, including access to all their servers, six simultaneous connections, full high-speed unlimited bandwidth, access to their DoubleVPN servers which encrypts data twice, their Tor over network servers, and protected Bitcoin use too.
Having said all that, their yearly plan's pricing is very competitive. While I would never recommend you to sign up for a month-to-month plan with them, I have to admit, their yearly plan is value central.
3. Customer Support with Live Chat (Yay!)
Even after reviewing over two dozen different VPN providers, hundreds hours of testing, examining and reviewing, we still have questions or need for technical assistance.
Whether it's to double check the encryption offered for your router, or a simple troubleshoot on a newly built rig, you will be forced to deal with the customer support of your VPN of choice.
If you're a newcomer or not technically inclined? You might have some technical questions.
Any VPN worth their salt will have a prolific database of tutorials, how-to guides and informational articles in addition to live chat & quick email support.
Live Chat & Email
No different to the best of the best, NordVPN has recently began offering 24/7 live chat that will assist you with any question you may have. I used their live chat twice, for an encryption question and an open ended question.
Both times the Customer Support Rep was quick to help, but came with copy & paste answer.
Should you opt to use their email support, for more technical questions or if the live chat agent did not fully resolve your issue, you'll receive another assistant who will help you with your VPN.
Knowledgebase
Just as important as live assistance for minor questions is the vast directory of support articles you will have access to. For a topic as technical as networking, making it accessible to your everyday layman is no small task.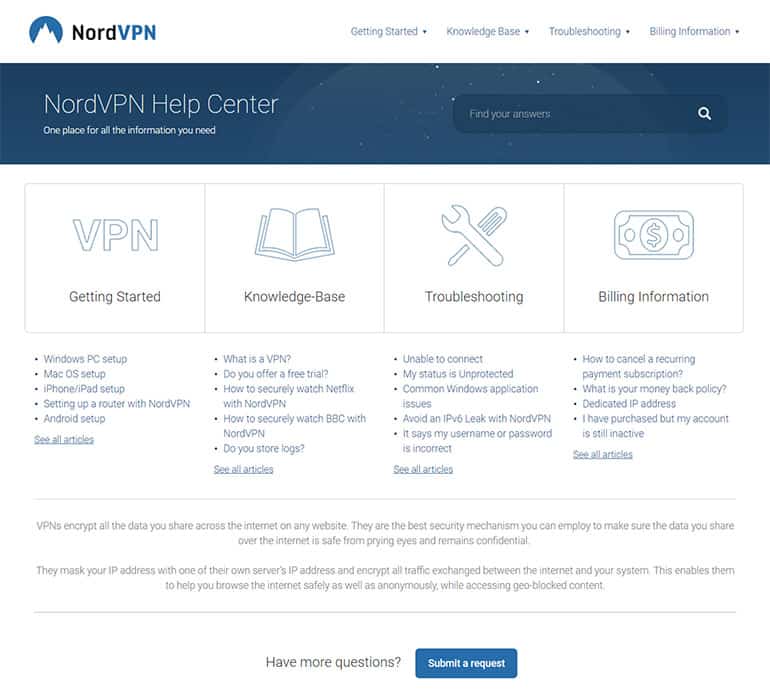 After going through their directory and quickly skimming to any support related page I could find, I estimate NordVPN to have well over 500 guides and tutorials.
Yes, 500 articles. The directory is so big that I estimate the majority of live chats are simple redirection to one or another article – exactly how it should be.
Very impressive, NordVPN, very impressive!
4. Using NordVPN is Very Simple and Easy
The client is a super quick install and requires no technical knowledge. Consisting of only three tabs, the windows client enable you to quickly connect via map offering quick-connect options or go to the servers tab where you can peruse all their 1103 VPN servers in 63 countries. There, you will also find more details about each and every VPN server; distance to you and load.
Lastly, you will have access to their different portfolios of Anti DDoS, Dedicated IP, Double Encryption, TOR and P2P servers.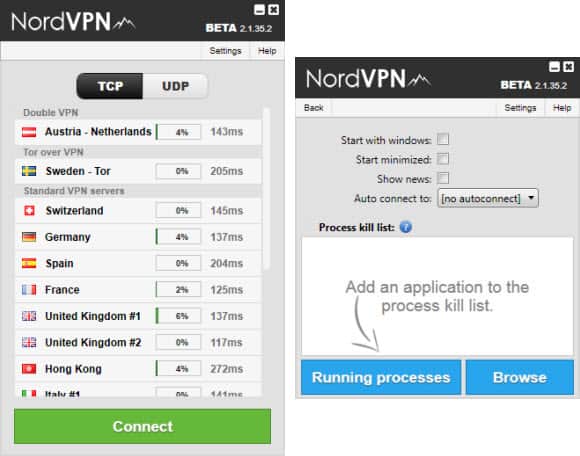 In the settings tab you'll have access to about a dozen settings as well as system logs.
NordVPN's client is exactly what we'd want. No bloat, unnecessary clutter or useless stats. Gives us an easy overview of your servers and a big connect button, please and thank you.
NordVPN Cons
While I was quite pleased with the stuff above, I also found some negatives about this product. Mostly speed..
1. NordVPN Connection Speeds are on the Lower End
Ah, the meat and bones of any reputable VPN review – independent, meticulous and prolific speed testing.
To gauge just how efficient NordVPN is at securing your traffic, I conducted several dozen speedtests from our offices in Europe, connected to the US, UK, EU and Asian servers.

US Server
Ping: 116ms
Download: 49 Mbps
Upload: 29 Mbps
About average, pretty good for a six thousand mile journey.
EU Server
Ping: 37ms
Download: 14 Mbps
Upload: 48 Mbps
Very low speeds for the EU unfortunately. I made sure to repeat tests several times, over the course of 5 months, only to end up with the same results.
Asia Server
Ping: 379ms
Download: 8 Mbps
Upload: 3 Mbps
From 100 Mbps down to 8? An absolute disaster; no sugar-coating here.
Double Data Encryption (Sweden -> Switzerland)
Ping: 97ms
Download: 3 Mbps
Upload: 2 Mbps
It's odd to see US speeds multiple times faster than EU speeds, servers which are only a few hundred miles from our physical location.
I guess, I'm not the only one facing this issue..
And as much as I hate to say this, a lot of VPN throttle your connection speeds. That's just unfortunate.
2. NordVPN User Reviews are Not Very Favouring…
I'd like to think that I put a lot of effort into being fair, objective and as factual as possible. One thing I can't do, is spent millions of hours on each and every VPN.
Fortunately for me and you, my review is not the only one you have to rely on! Let's take a quick look at the thousands of online reviews, culminating those millions of hours of use!
Reddit
The bastion of unforgiving tech-savy users, reddit is a favorite of ours for honest reviews.
Unfortunately for NordVPN, Reddit is a minefield for them. I could not find even one positive, reliable review of them, but boy did I find negative ones!
In this post, redditor VPN_advisor,  lays out his comprehensive experience with NordVPN. He describes NordVPN as "selling snake oil" and having a "terrible service", referring to often connectivity disruptions, leaked IP and overal connection issues on reconnect attempts. He goes on to critique the extremely slow connection and lack of help by their live chat support.
Many of the replies seem to confirm his negative experience, as well as other thread such as this one by user DonJu4n
Google Play

With over 500k installs, the NordVPN app seems to be a very popular on Android, gaining a 4.3 out of 5 star rating – not bad!
Users report a very positive experience on their Android devices, mentioning the ease of use and fast connectivity the app manages to achieve. Negatives include often drops of connectivity as well as unreliable kill switch & DNS leak protection.
Do I recommend NordVPN?
So here you have it, NordVPN review with cons, pros and speed test.
Do I recommend this? Not really. But let's take a quick recap:
Here's what's good about NordVPN:
Easy to use
Works with netflix
Very secure
Cheap ($5.75/mo)
Kill-switch
Here's what I don't like about NordVPN:
Slow downlaod speed
Questionable user reviews on
Simply said, the advantages of NordVPN; awesome security, vast support articles and usability can be found elsewhere too (hint: ExpressVPN)
Without the negatives such as their extremely oversold VPN servers that can barely function (read, very slow connections) they can be a good option.
However, there are better alternative available. Find our top performing VPNs here.
Add your own NordVPN Review
14 user reviews for NordVPN
Bob Masey
review
It's only been around 20 days since I've been using NordVPN, but this is the first VPN I've ever used. The speed of NordVPN seems to be fairly fast, but I've never tried any other VPN before. I would give it a 8/10 stars and probably will not change my VPN unless I see a decline in speed.
Aaron
My review with NordVPN
There's nothing like NordVPN! They keep everything in order and easy to use for anyone who is a beginner or someone that is advanced with technology! I believe everyone should give it a try as it is really useful to me when I want to be secured.
Great service, when I first got NordVPN I was new to VPN so i contacted them and they gave me all the information I needed to get started. It was not overpriced and it even had a sale, bargain! as well as theres a 30 day limit to if you want to refund if it was not good enough for you, but i believe it will be good for you, what ever you use, from a PC to a mobile device.
I love this VPN as its easy to use and i don't have to worry about the tech side of it all. What I hate is, that it seems too simple but that isn't an issue, thats just my opinion
CuddlyXmc
Extremely friendly
NordVPN have extremely friendly customer support – when I've arrived at China I was unable to connect to VPN but they gave me advise how to use obfuscated servers and I could reach everything I need in a second.
Recommend for everyone to pick up NordVPN
JuzHulk
#1 paid VPN service in the market
As many VPNs I've already tried NordVPN is #1 from all aspects – DL speed is nearly lighting, smartplay allows to watch more than 400 streaming services, features like kill-switch or chrome extension makes this service just awesome.
Recommending 🙂
Adorerin
Solid VPN service
Solid, reliable vpn service with good speeds which improves day by day. The newest feature – google Chrome extension. Cool thing but I'm also waiting for FF extension as i is more privacy oriented
Lee
Easy to use
Super easy to use and set preferences. Forget it's even on most of the time. The servers wizard finder is great, Netflix loads about 30% slower but I can deal with that.
Chauncey
Great VPN
NordVPN is very good service for all online activities, I'm using it for torrenting (their P2p servers are really fast), for accessing streaming services like HBO, US Netflix and of course for hiding my activities from government and ISP. So far hadn't got any problems and it is cheap enough comparing with features you are covered. The most important thing they don't keep any logs!
List4meThin
Flawless service
I'm for a few months with them, actually planned to get refunded after vacation, but decided to leave it because it works flawlessly.
Might be speed issues depends on many factors but I'm getting near the same speed as my ISP provides and it doesn't matter I'm using US or Europe servers. Haven't tried Asian or Pacific.
Tony
once flawless, now useless
Between March and May this service was very good. June rolled around and something changed, the servers would just kill the data stream while remaining connected.
Sometimes it would take hours, other times minutes. I have a ticket with Nord over 120 entries long, all I get is continuous change of techs who do not read the thread and request what has already been done.
I got a 3 day trial with HMA 2 weeks ago and did not have a single loss of the data stream (same with IPVanish). Last week refused to refund the unused part of the 2 years I paid for. They have no phone numbers on their website, so you are stuck with a live chat option which is waste of time. Responses to my support tickets are chaotic, sometimes take 5+ days to reply.
I have user 7 different VPN providers over the years, this one has to be the worst so far.
sunil
Good but comes with cost
I have been using NordVPN for streaming and P2P sharing purposes approximately six months now. I am quite happy with their service. Their servers are very fast and that's really important for me.
The price is not very low, but I believe that you get what you pay for.
Ankit Sharma
I've been using NordVPN for a while now to keep my phone connection safe and private. The ping speeds are okay for a VPN service and they offer many options of servers.
This become handy when you need to access sites that have been blocked by some government.
Matt
for travelling
I'm using NordVPN whenever I'm travelling to access Netflix. I think spending few dollars a month for a tool that allows you to get access to certain websites + keep your computer more safe is a nobrainer really.
I've been a NordVPN customer for 24 months now. Solid product, nothing to complain about.
C. Jay
Good app
Their pricing is bit high, but it's worth it. Keeps me secure whenever I'm doing transactions using public wifi.
If you're into security – go with them.
Sariel
Can't go wrong with NordVPN
NordVPN is such a great provider for the money that they sell their service for. I think they're really cost efficient, fast and secure. I have a group of friends, experts in the CyberSec area and they all recommend either PIA or Nord.
It's easy for a first timer and keeps your stuff private. I had a hard time reaching them on live chat, but they told me that they've had a particularly busy time that day. After that, I haven't had any problems with them. I recommend