---
Ranks #2nd out of 35 VPNs

Speed test:

74Mbps out of 100Mbps

Usability:

5/5

Logging policy:

No logs are being kept.

Netflix:

Yes.

Torrenting:

Yes.

Cost: $2.75/mo and up on

NordVPN.com
NordVPN is a very popular VPN provider who boldly claims to be The World's Most Advanced VPN.
But I've seen those claims before. So I bought it and decided to put it towards multiple tests.
Here's my in-depth review, including pros and cons.
NordVPN Pros +
1. Located in Panama
According to their website (NordVPN.com), NordVPN was launched 2008 in Panama and is operated by Tefincom co S.A.
For some, this can raise a red flag.
However, that's common practice.
All top VPNs are located in independent countries that don't share information on logging (Switzerland, Singapore, Caymans, British Virgin Islands and so on).
NordVPN definitely hides this information well enough. And it's good for their users, too.
However, when I actually paid for the test account to write this NordVPN review, my payment went to CloudVPN Inc (located in the US). So aren't they really located in Panama like the claim?
To find out, I contacted NordVPN directly and here's what they wrote to me:
"Hi Brad,

First, NordVPN and all the infrastructure we use is being run by Tefincom S.A. and operates under the jurisdiction of Panama.

CloudVPN is used only as a payment collector in order to improve the acceptance rate, as banks are suspicious towards transactions made to Panama and tend to complicate or terminate such payments. It's a simple and common practice.

Our company has absolutely nothing to do with the service itself in the legal or any other matters."
To be honest – this makes a lot of sense.
2. No Logging
While some VPN providers keep some logs, NordVPN doesn't.
On their website, they've clearly stated the following:
However, they do monitor some lesser important data, such as:
Service performance data (for recommending most suitable servers)
E-mail address
Payment data (but you can also use bitcoins)
That's the regular stuff that most (if not all) VPN providers are logging and it's nothing you should be worried about. Especially when NordVPNs payment processor isn't tied up with their main company.
3. Good Option for Torrenting and Netflix
Since NorVPN has a lot of servers they also work well with Torrenting and bypassing geo-restrictions on certain sites like Netflix.
When I tested NordVPN together with Netflix it seemed to work:
I have to admit, not all servers are working with Netflix, because we all know how Netflix tries to crack down certain IPs that belong to VPNs.
But 1 out of 5 should work. You can always get in touch with their customer support who will help you the choose the right servers for your streaming.
Moreover, torrenting should be safe and fast too.
NordVPN has made special "P2P servers" that are solely meant for keeping your torrenting activities safe and private. You can access the P2P servers via "specialty" servers list on their application (more info).
4. Strong Features & Add-Ons
While being relatively cheap, they do provide some great features including:
IP hiding: Yes
Netflix access: Yes
Kill-switch: They have two different kinds of kill-switches: a user can now choose whether to close a particular app or completely terminate the Internet connection in case of unexpected dropout (system-wide kill-switch).
6 simultaneous connections
Access to their DoubleVPN servers which encrypts data twice
Servers 3350+
Countries 60 (last verified 1st of March)
6 simultaneous connections
Not only do they have applications for Windows, Mac, iOS, Android they have detailed tutorials for protocol connectivity for them and 40 other mobile OS, RaspberryPi's and routers.
Kill Switch: NordVPN software automatically kills your connection if your VPN connectivity is interrupted, blocking your device or terminating certain programs from accessing the internet.
DNS Leak Protection: If you have set up your VPN connection manually (say you didn't want to connect via OpenVPN) or have recently reset your Windows,

you're prone to DNS leaks

. These DNS requests will then be completely unprotected. NordVPN have implemented measures to protect you and negate such leaks.
Onion Over VPN: For extra protection, or those desiring to visit the dark web (TOR network), NordVPN offers you the ability to route your traffic first through their VPN and then send it to the Onion Router.
SmartPlay: SmartPlay technology ensures you can access more than 400 geo-restricted streaming services; Netflix, Amazon Prime, Pandora, BBC, and others. With more and more VPN servers unable to access Netflix, this is a welcome feature.
OpenVPN Protocol (and others)
OpenVPN comes with 256-AES-CBC with a 2048bit Diffie-Hellman key. I generally like to see DH over RSA, due to the former enabling Perfect Forward Secrecy. On iOS and MacOS clients, you'll be encrypted via an IKEv2/IPsec protocol; AES-256-GCM and a 3072bit DH key,
In short, NordVPN has gone all out on security and has employed above industry standard encryption algorithms.
Double Data Protection
If you opt to turn this feature on, NordVPNs double encryption will relay your data via not one, but two subsequent VPN servers, before it reaches the web page or application you're attempting to access. By chaining your connection through two VPN servers, your data gets encrypted twice.
In addition to the (often unnecessary) double encryption, the second VPN server will be unaware of your original IP address and connections are always made via both UDP and TCP protocols. This is a "one extra step" security feature. The vast majority of you are unlikely to ever require it, especially if you're using it only for torrenting and Netflix unblocking.
Not to mention the impracticality of the drastically reduced speeds you're going to incur.
5. NordVPN Speed Has Improved a Lot
Ah, the meat and bones of any reputable VPN review – independent, meticulous and prolific speed testing.
When I first reviewed their speeds weren't anything to brag about. NordVPN wasn't slow per se, but it was definitely slower than it's main competitor: ExpressVPN
However, when I re-did this speed test in early 2018 I was pleased to see their speeds among the top.
To gauge just how efficient NordVPN is at securing your traffic, I conducted several dozen speed tests from our offices in Europe, connected to the US, UK, EU and Asian servers.
For this speed test, I used 100 Mbps Cable Internet connection. And while the best VPNs managed to achieve download speeds of 70 Mbps+ and up, NordVPN came out with 74.15 Mbps.

US Server
Ping: 101ms

Download: 56 Mbps

Upload: 29 Mbps
On average, pretty good for a six thousand mile journey.
EU Server
Ping: 37ms
Download: 74 Mbps
Upload: 48 Mbps
Decent speeds for EU, too.
Asia Server
Ping: 211ms

Download: 12 Mbps

Upload: 5 Mbps
Not bad for a Europe to Asia connection!
6. Knowledgeable Customer Support via Live Chat
NordVPN can be contacted by support@nordvpn.com or through live chat.
Even after reviewing over three dozen different VPN providers, hundreds of hours of testing, examining and reviewing, we still have questions or need for technical assistance.
Whether it's to double check the encryption offered for your router, or a simple troubleshoot on a newly built rig, you will be forced to deal with the customer support of your VPN of choice.
If you're a newcomer or not technically inclined? You might have some technical questions.
Any VPN worth their salt will have a prolific database of tutorials, how-to guides and informational articles in addition to live chat & quick email support.
Live Chat & Email
No different to the best of the best, NordVPN has recently begun offering 24/7 live chat that will assist you with any question you may have. I used their live chat twice, for an encryption question and an open-ended question.
Both times the Customer Support Rep was quick to help, but came with copy & paste answer.
Should you opt to use their email support, for more technical questions or if the live chat agent did not fully resolve your issue, you'll receive another assistant who will help you with your VPN.
Knowledgebase
Just as important as live assistance for minor questions is the vast directory of support articles you will have access to. For a topic as technical as networking, making it accessible to your everyday layman is no small task.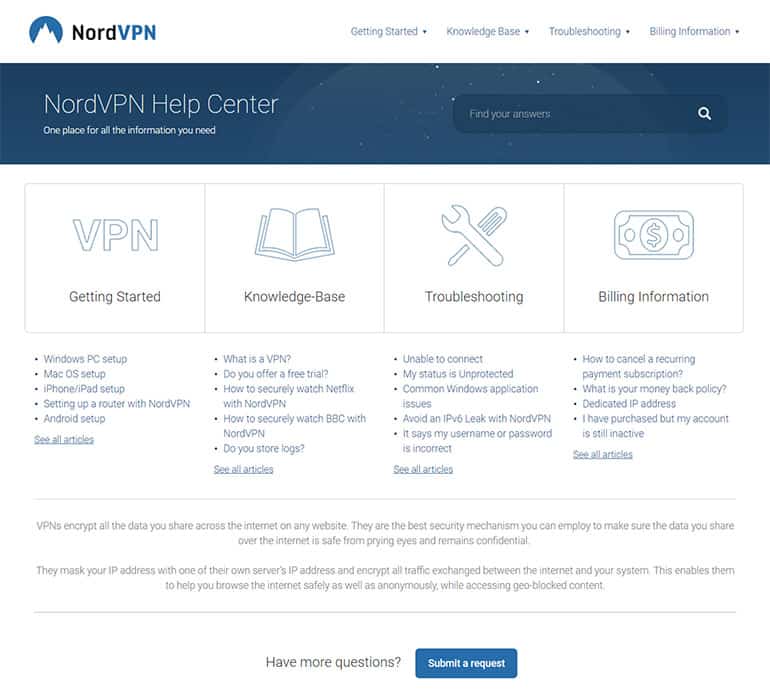 After going through their directory and quickly skimming to any support related page I could find, I estimate NordVPN to have well over 500 guides and tutorials.
NordVPN Cons –
1. Company not transparent enough
As stated above, upon my investigation, NordVPN seems to be linked with CloudVPN Inc – A company located in the U.S. which is in contradiction of what they state on their website.
But that doesn't mean they're not private or actually located in the USA.
They gave me a response, though…
And by thinking twice – it made a lot of sense to me. So I wouldn't section it to cons, though.
2. High cost for Month-to-Month users
If you don't prepay 1 year upfront, you're going to face an ongoing cost of $11.95/mo.
That's a lot. Considering they're selling it for less than $6 for 1-year buyers, it's a little expensive…
NordVPN Pricing, Plans & Facts
Trying to forget the above, let's take a look at how much a subscription to NordVPN will set us back.
How much does it really costs?
Luckily, NordVPN's pricing is extremely simple and straightforward.
In fact, there are no plans at all. You have the option between: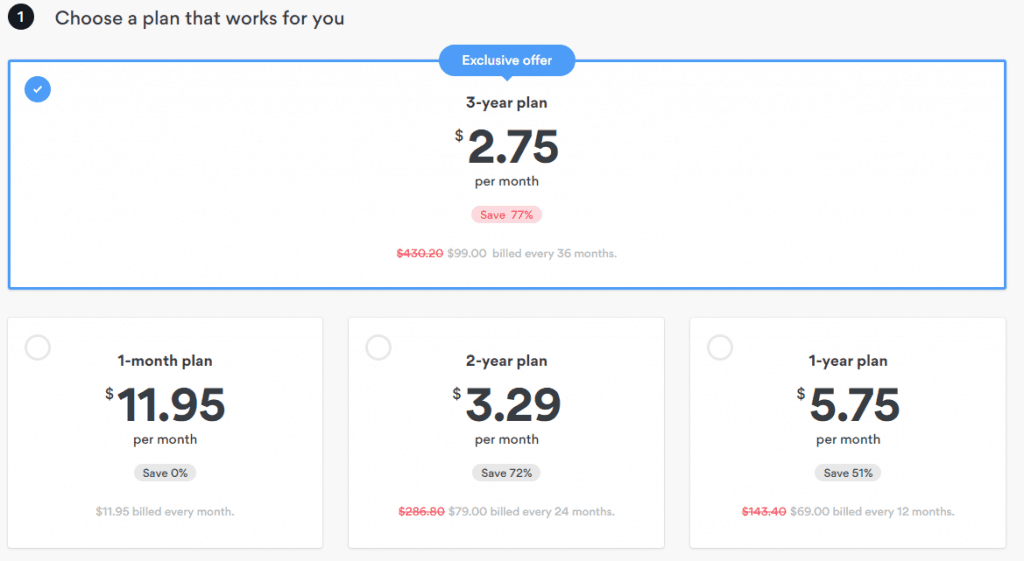 Monthly: $11.95/mo ($143.4 per year)
1-Year: $5.75/mo ($69 per year)
2-Years: $3.29/mo ($39.50 per year)
3-Years: $2.75/mo ($33 per year) – this is something that they only started to offer in early 2018.
All those subscriptions come with a one-size-fits-all plan. Including:
No logging: Yes.
Ease of the VPN software: Singing up and using the app VERY user-friendly.
Hidden fees & clauses: They cannot grant refunds if you purchased an app directly through the iTunes/App Store. Payments made using pre-paid cards or gift cards will not be refunded.
Upsells: No upsells.
Instant access after payment: Yes.
DNS leaks: None.
Jurisdiction: Panama
Protocols: OpenVPN, IPSec, PPTP & L2TP.
Kill-switch: Yes.
Personally, I am all in favor of simplicity and fairness when it comes to pricing. Give me one plan all-inclusive plan and a few payment options and I'm happy.
What's more, you can also pay with bitcoin.
Overall NordVPN is quite cheap and comes with a lot of features.
Do I Recommend NordVPN?
Hands down, I do recommend NordVPN.
It's secure, safe and fast. Plus it doesn't come with a huge learning curve as some other VPNs (hint: VPNArea).
Their server park is the largest I know of, 3350+ servers in 60+ countries.
It isn't as fast as ExpressVPN (read the review here) but does the job well. And I wouldn't be surprised if they land #1st any-time soon if they keep up the good performance at low prices.
Will see what the future brings, but for now – I'm pretty much recommending NordVPN, especially if your budget is limited.
For more best VPNs, click here.
Add your own review
20 user reviews for NordVPN
William 9/10 February 27, 2018
Nice app
I think that price is fair for the service provided – lots of extra features, many servers, great speed. The only thing I didn't like was iOS app on my iPad, felt clunky and took longer to connect than my other devices. I talked with customer support about it, and they assured me it will be fixed soon. That is why I didn't give this service 10/10, would feel unfair.
William the Conquerer 9/10 February 20, 2018
great for additional security
I won't lie – I tried it first because I liked the logo, and I liked the name. Once I did, I knew that it had more to offer than style though: speeds were great, I was able to unlock lots of streaming content, it offers a system wide and app wide kill switches, it has browser extensions, it had cyber-sec feature… All of which makes me think this is really best VPN out there at the moment.
David 8/10 February 15, 2018
Nice for the price
I subscribed to NordVPN during Black Friday/Cyber Monday, they were doing a $99 for 3 years offer.
What convinced me was that I was able to try them for free for 3 days (not available any more) and very, very importantly for me they offer SOCKS 5 proxies : almost all their servers, it seems, can be used via SOCKS 5 (use their server selection tool there https://nordvpn.com/servers/#recommended and use port 1080 for SOCKS5). Meaning I can connect several programs, on my computer, to different VPNs at the same time. Or also I can very easily rotate my proxies in Firefox (using FoxyProxy) without messing up my whole connection at the OS level.
The subscription comes with 6 connection slots, which is nice if you want to use a bunch of different IPs at the same time. Or if you have many devices. Just make sure you don't over-connect, as it will randomly kick you out then.
The speed is decent, although not huge (depending on server load, I can get anywhere between 15 Mbps to 40 Mbps up and down, approximately, which is way below my fiber speed). But it's fine for the price, and as my main use is SOCKS5 per program, it's not really limiting.
My only criticism would be the reliability of the connection. It seems that micro-cuts are fairly common, meaning I can't download big files that take more than +/- a couple of hours to download if the transfer software involved don't support resuming. It's not an issue for any other use case, though (like online gaming, browsing, etc)
My rating would be 8/10 for the small connection drops and the time it takes to connect in OpenVPN mode, but the SOCKS proxies are so important to me and super rare that I boosted the rating a bit.
Dan 4/10 January 23, 2018
Fast, reliable, but no Hulu streaming
The primary purpose for trying out NordVPN was to access video sites not available outside the US, which is one of the selling points of NordVPN. First off, it was very easy to download their PC app as well as ios app and connection were likewise very easy. Once connected, the speeds were comparable to the speed of the originating ISP and the service seemed solid. However, despite repeated tries, tweaking the settings, and clearing the cache, I was unable to connect to Hulu or YouTube TV (subscription streaming service) from Mexico. I did a live chat with a NordVPN customer support rep (who told me they do not condone illegal activities such as accessing websites or streaming services from outside the originating country … really???). And even after changing settings and doing everything they suggested, neither Hulu nor YouTube TV would work.
The pay TV services in the US have understandably come under fire from content providers in the past couple of years, and they have become very good at blocking content to VPNs. If you're looking for a good VPN simply to provided a layer of security, this would be a good company to go with. But if you're looking for it to mask your location for streaming services, it will be a real challenge (and I imagine that is true for other VPNs as well).
Miguel 9/10 December 29, 2017
Very satisfied with NordVPN
I've been using NordVPN for the last few months, and I am satisfied with their product. I am currently on a 2-year plan, and I paid only $80 for this plan as part of a promotional discount. It has a lot of features that I find to be really convenient like the kill-switch and all the different options for servers.
Admittedly, I don't really use some of their services, like the "Double VPN", or "Onion through VPN". It is nice to have these options, however, should the need arise. I'm always able to connect to a server, and I'm never disconnected from it. Connecting to NordVPN servers doesn't slow down my internet connection at all, which is a major plus. Overall, I am very impressed with the price and services that NordVPN offers and would highly recommend it to people looking to purchase a VPN subscription.
Phillip Tehmer 9/10 November 20, 2017
My NordVPN review
I have been using NordVPN for the past couple of months and would like to share my experiences using it today.
NordVPN offers an immense number of servers to choose from with options like tor over VPN or cascading connections included. The speeds are for the most part nothing short of amazing easily beating a lot of competitors. Ipv6 and DNS leak protection worked like a charm.
Privacy with NordVPN is one of the best packages I have ever laid my eyes upon with the company being registered in Panama, a nontreaty country, they will never share any customer data, nor could they because of their strict no-log policy.
The clients of NordVPN were just recently redesigned to offer an entirely new experience in my tests none of the clients crashed once or failed to trigger the kill-switch.
In the end, I can fully recommend NordVPN for anyone looking for an anonymity solution though i would go for a long-running plan to keep the cost down.
Ariel 10/10 November 8, 2017
#1 VPN in the market
If it's your first VPN you could find some things you don't like but if you try several different and then come up to NordVPN then you understand there is nothing to complain.
NordVPN is first in the market. IMHO like the biggest advantages, I could mention tons of servers, Netflix, P2P etc..
Derak 6/10 November 2, 2017
decent vpn provider
Overall it's a decent VPN provider, however, there are some issues.
Sometimes you'll have connection problems, that's one of the main problems I've noticed about the service.
One big benefit to using this service is that they have a large variety of servers a lot of countries, they even have servers designed to do specific jobs such as P2P and streaming.
FluffyQuack 2/10 October 29, 2017
Bad customer treatment
They offer a short, free trial, but this is hidden in their support pages and you'll never find it unless you dig for it or someone else links you to it.
The purchase page repeatedly reminds you of their 30-day money back guarantee, but there are zero mentions how to request one (there are also literally zero mentions of this in the customer account pages). It works by contacting support, and then it's up to them if they actually want to honor it.
HunterWil 10/10 October 25, 2017
Great for China
Great app to access all blocked content in China, it keeps updating protocol to counter the "great wall". Good customer service response too, and the speed is super fast, super reliable.
Bob Masey 8/10 October 19, 2017
Been 20 days with them..
It's only been around 20 days since I've been using NordVPN, but this is the first VPN I've ever used. The speed of NordVPN seems to be fairly fast, but I've never tried any other VPN before. I would give it a 8/10 stars and probably will not change my VPN unless I see a decline in speed.
Aaron 9/10 October 14, 2017
My experience with NordVPN
There's nothing like NordVPN! They keep everything in order and easy to use for anyone who is a beginner or someone that is advanced with technology! I believe everyone should give it a try as it is really useful to me when I want to be secured.
Great service, when I first got NordVPN I was new to VPN so I contacted them and they gave me all the information I needed to get started. It was not overpriced and it even had a sale, bargain! as well as there is a 30 day limit to if you want to refund if it was not good enough for you, but I believe it will be good for you, whatever you use, from a PC to a mobile device.
I love this VPN as its easy to use and I don't have to worry about the tech side of it all. What I hate is, that it seems too simple but that isn't an issue, that's just my opinion.
CuddlyXmc 10/10 October 11, 2017
Extremely friendly
NordVPN have extremely friendly customer support – when I've arrived at China I was unable to connect to VPN but they gave me advise how to use obfuscated servers and I could reach everything I need in a second.
Recommend for everyone to pick up NordVPN..
Lee 9/10 October 3, 2017
Easy to use
Super easy to use and set preferences. Forget it's even on most of the time. The servers wizard finder is great, Netflix loads about 30% slower but I can deal with that.
Chauncey 9/10 September 27, 2017
Great VPN
NordVPN is very good service for all online activities, I'm using it for torrenting (their P2p servers are really fast), for accessing streaming services like HBO, US Netflix and of course for hiding my activities from government and ISP. So far hadn't got any problems and it is cheap enough comparing with features you are covered. The most important thing they don't keep any logs!
List4meThin 10/10 September 27, 2017
Flawless service
I'm for a few months with them, actually planned to get refunded after vacation, but decided to leave it because it works flawlessly.
Might be speed issues depends on many factors but I'm getting near the same speed as my ISP provides and it doesn't matter I'm using US or Europe servers. Haven't tried Asian or Pacific.
sunil 8/10 June 12, 2017
Good but comes with cost
I have been using NordVPN for streaming and P2P sharing purposes approximately six months now. I am quite happy with their service. Their servers are very fast and that's really important for me.
The price is not very low, but I believe that you get what you pay for.
Ankit Sharma 9/10 June 11, 2017
many servers and options
I've been using NordVPN for a while now to keep my phone connection safe and private. The ping speeds are okay for a VPN service and they offer many options for servers.
This becomes handy when you need to access sites that have been blocked by some government.
Matt 10/10 May 11, 2017
for travelling
I'm using NordVPN whenever I'm traveling to access Netflix. I think spending few dollars a month for a tool that allows you to get access to certain websites + keep your computer safer is a no-brainer really.
I've been a NordVPN customer for 24 months now. Solid product, nothing to complain about.
Sariel 9/10 April 27, 2017
Can't go wrong with NordVPN
NordVPN is such a great provider for the money they sell their service for. I think they're really cost-efficient, fast and secure. I have a group of friends, experts in the CyberSec area and they all recommend either PIA or Nord.
It's easy for a first timer and keeps your stuff private. I had a hard time reaching them on live chat, but they told me that they've had a particularly busy time that day. After that, I haven't had any problems with them. I recommend