Harvard Physics PHDs, CERN scientists and the most secure email service in the world. Welcome to Proton. The single most exciting team of VPN geeks in recent times. Proton have me extremely excited. Proven privacy advocates, who continue to disrupt and innovate the fast paced, ever evolving digital security and privacy industries.
But can they deliver on their big promises?
After a comprehensive review of their newly launched VPN service, it's clear they have a long way to go. While their intentions and vision are admirable, it seems Proton didn't allow themselves enough time to launch a polished VPN service. Their good connection speeds and innovative security layers don't excuse the lack of customer support and poor pricing decisions.
As a personal fan of Proton, I am crossing my fingers that they streamline their priorities and focus on finishing development of their service and platforms before going on an all out marketing spree, shouting their supremacy for all to hear. Because, quite frankly, their claim of being "The Best VPN in the World" is simply untrue.
 ProtonVPN Quick Summary
| | |
| --- | --- |
| PROTOCOLS: | OpenVPN |
| ENCRYPTION: | AES 256-bit |
| LOG FILES: | No Logging |
| LOCATIONS: | 14 countries, 112 servers |
| SUPPORT: | Email only  |
| EASE OF USE: | Average |
| COST: | Free/$5/$10/$24 |
| PLATFORMS: | Windows only |
| RECOMMENDED? | NO |
| OFFICIAL WEBSITE: | www.ProtonVPN.com |
Proton Pros
Amazing Team & Vision
Good Speeds
Unlimited Free Use
Proton Cons
Poor pricing
Lacking Customer Support
No clients for Linux, Mac, Android & iOS
Overall unfinished product
Who are ProtonVPN?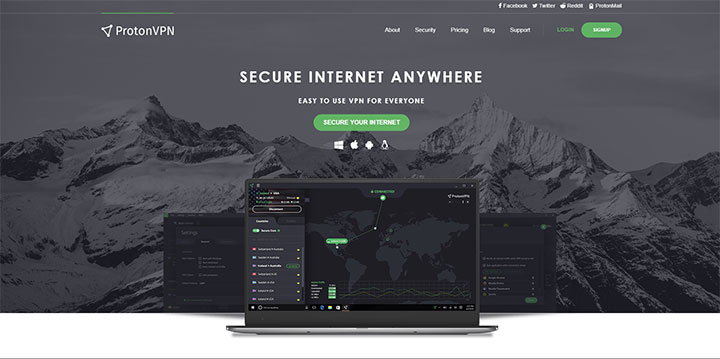 ProtonVPN are perhaps the most impressive team of privacy entrepreneurs I have reviewed. Founded by Harvard PhD alumnus and CERN researcher Dr. Andy Yen, the Proton Group set out to develop innovative privacy software solutions for an ever more connected world. Their pilot project, ProtonMail has since been heralded as the most secure email service today.
In late June 2017, the Swiss-based Proton team of scientists launched what they would claim to be "the best VPN service ever created". The newly available VPN service manages to impress me with three industry-disrupting innovations, which I will examine more comprehensively further down in this ProtonVPN review.
Secure Core Architecture
ProtonVPN is coded with one of the most secure features I have seen in the VPN world. Their proprietary Secure Core blocks surveillance by government agencies (China, Russia, Turkey, USA, UK) or other hackers who have managed to infiltrate the VPN provider, by routing your traffic through multiple servers before it leaves Proton's network. This is a huge leap ahead of conventional VPN providers and ensures your utmost safety, even if ProtonVPN were to be compromised
Unlimited Free
As with their email service, ProtonMail, Proton have decided to offer access to their VPN service to anybody and everybody, free of charge. While many premium VPNs offer "marketing ploys in sheeps clothing", aka "Free plans" with heavy bandwidth restrictions, Proton are offering you an unlimited amount of usage, for an unlimited time. Hard to compete against that, with 3 day trials and 500MB data caps, I have seen so often.
Absolute Transparency
The lack of transparency by VPN providers has always rubbed me the wrong way. Even the biggest and best of them all; no one ever stands behind their brand. Good luck finding out who really sits behind those services, promising utmost security. As an industry first, Proton have decided to unabashedly step forward. Whether it's Andy Yen's Ted talk on email privacy , their Reddit involvement, or a simple and pure About Us page.
I am filled with hope for a brighter VPN future, knowing that the same place where the world wide web was developed, CERN, was the birthplace of Proton AG. Let's see exactly what they have to offer!
Pricing & Plans (Expensive than Others)

ProtonVPN is priced competitively and marginally more expensive than your average VPN service. Then again, Proton are anything but average.
As a ProtonVPN customer, you will have the option between four plans, three of which are paid. Should you go all-in and subscribe to an annual plan, you will enjoy a flat 20% discount on their month-to-month option.
By the way, the Visionary plan is just ProtonVPN + ProtonMail – no additional VPN benefits.
Let's take a super quick look at each plan.
Free
Netherlands, USA & Japan Servers
Slow Speeds
No Features
Yummy, yummy, free! Immediately on sign-up and first client log-in, you'll receive a 7 day trial of their Plus plan. Afterwards, your free plan provides you access to three countries in three continents, but no features and the slowest speeds.
Basic – $5/mo
All Countries
High Speeds
No Features
Have you already noticed the biggest drawback of ProtonVPN? For some reason, they have decided that the their "Basic" subscribers don't deserve full connection speed capabilities or any of their features. Their "High" speeds are still capped, as evidence by their Plus plan.
This is a practice I vehemently disagree with. I understand restricting things such as number of maximum connections and even unique secondary features like Tor connectivity.
Limiting the connection speed of a paying customer? That's a big No.
Plus – $10/mo
All Countries
Maximum Speeds
All Features
Also known as the only plan, other than the free one, anybody will care about.
Enjoy features such as integrated Tor connectivity, their proprietary Secure Core capabilities (more about it below) and what they call "Plus servers"; normal servers, unavailable to other users.
Nobody is paying twice the cost for their Plus plan due to features, of course, it's all about maximum speeds.
Forgetting the bitter taste of paying customers being speed throttled, let's take a look at just how much bang for your buck you get with their Plus plan in terms of connection speeds.
ProtonVPN Pros
1. Connection Speeds (OK for a FREE Software)
Continuing our tradition of completely ignoring unreliable in-client speed readings, I set out to to independently test Proton's speeds.
To ascertain connection speeds of ProtonVPN's Plus plan, we conducted several dozen speed test, connected to North American, European and Asian servers.
US Servers (East & West)
Ping: 190 ms
Download: 24.6 mbit/s
Upload: 36.4 mbit/s
Average to below average speeds for US. Unsurprisingly, west coast speeds were 50% slower than east coast speeds. What's more, some servers seem to be misnamed as we attempted to connect to several California (CA) servers but instead were connected to Colorado (CO) servers. Unacceptable oversight.
EU Servers (Switzerland)
Ping: 66 ms
Download: 54.46 Mbps
Upload: 37.86 Mbp
Average, yet expected results for servers which are in close proximity of our offices.
Asia Servers (Hong Kong)
Ping: 317 ms
Download: 16 Mbps
Upload: 6.4 Mbps
Undoubtedly below average speeds, even for Asia.
UK Servers
Ping: 46ms
Download: 52 Mbps
Upload: 47 Mbps
Practically identical to continental EU speeds, exactly what I like to see for often over-strained UK servers.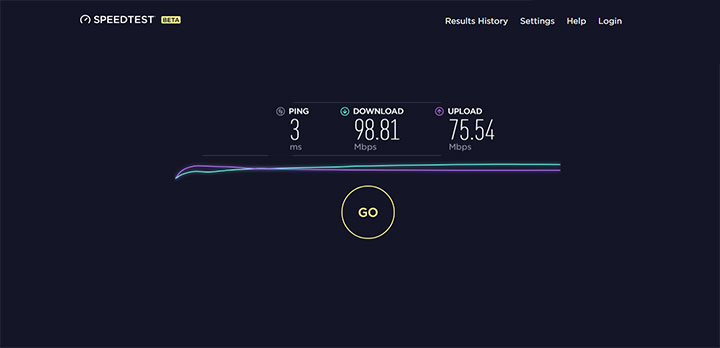 Secure Core Servers
Tests using Proton's Secure core were inconclusive and had either raw connection speed readings or speeds as measured above. As such, I have foregone giving a speed verdict on this safety feature.
All in all, Proton's speed capabilities are more or less average. I have to say, after talking a strong game, I expected more from them.
With current state of affairs, Proton doesn't come close to podium worthy speeds and is no competition to PIA, ExpressVPN and co.
2. Security & Privacy (Good)
Without question, the single highest priority of any VPN provider is the security and privacy of their users. While I can forgive much, this is something I am ruthless with.
Some say ProtonMail, the most secured email client in the world, is a big indicator of Proton's devotion to privacy. Let's see if this holds true!
I have provided non-technical explanations for
Encryption
Technical: AES-256 encryption, with 2048-bit RSA and a HMAC SHA256. I would have liked to see a 4096 bit length key and SHA512, but I can already hear the geeks screaming in my ear that it would make virtually no difference while making everything slower.
Non-Technical: Proton uses industry-standard methods to protect your daily activities through their network.
Protocols
Technical: When it comes to protocols, Proton have decided to stick exclusively with OpenVPN. No PPTP or L2TP/IPsec. Very unfortunate as PPTP's low encryption and fast connections are useful when security is not a concern.
Non-Technical: You will be able to connect via the most recommended method, but have no choice for variety.
Location
While some of our favorite VPNs are USA based, the land of total surveillance, Proton hails from the country the world's strongest privacy laws – Switzerland. As Switzerland is outside of US and EU reach, you can stay assured Proton cannot be coerced to share user data.
Moreover, ProtonVPN' secure core servers are situated in former military bases and below the surface to ensure no physical tampering is possible.
Privacy Policy
Proton's privacy policy is absolute and unequivocal. Under Swiss Law, they are not obligated to save any user data. Your browsing history will never be logged and turned over to third parties.
3. ProtonVPN has unique features
Any VPN worth their salt will attempt to innovate and provide features other VPN providers don't. This is business 101 – set yourself apart from the sea of competitors.
Secure Core

Proton's magnum opus is what they call "The Secure Core". As mentioned in the beginning of this review, the secure core routes your traffic through "hardened datacenters" located in either Sweden, Iceland or Switzerland.
This means that even if your end-server is compromised (you never know with US servers, for example), nothing will lead back to you.
Without the buzzwords, it's yet another layer of security. While most servers that Proton provides to you, are only rented, if you opt to connect to the secure core, you'll be connecting to servers directly owned by Proton.
These owned servers are strategically situated in countries with very strong privacy laws as to further ensure your complete anonymity.
Theoretically this decreases the chances of governments or other hackers snooping around.
The fact remains; if regular servers can be infiltrated, so can Proton's.
ProtonVPN Cons
1. ProtonVPN Customer Support (Bad for FREE Users)
An all-too-overlooked factor, a quick and efficient Customer Support team can make all the difference between hour long hear pulling sessions and a quick 5-minute fix.
Recognizing that the majority of you don't have degrees in networking engineering, I would bet my last dollar that you'll have to contact your VPN providers at least once.
Email Support
Proton, being brand-new, unfortunately does not offer any phone or live chat support. We are very much hoping this is only a temporary decision as they ramp up and handle the huge influx of new users.
We contacted them via email, on a Friday, and requested them to manually downgrade our account from their 7 day plus plan trial to their free plan.
Extremely simple, right?
A very friendly customer support representative answered us three days later, on Monday. After a follow-up email, Proton allegedly downgraded us as requested.
Unfortunately, the we were not downgraded we would have been forced to continue a back and forth.
While friendly, their customer support did not resolve our issue. Again, let's hope they pick up the slack as time progresses.
Knowledge Base
Yet another disappointment, Proton only has 18 super basic support articles. This isn't nearly enough and explains why we had to wait three days for a simple support ticket (which didn't even get solved).
While we can forgive an issue or two and subscribe it to them being new, this isn't one of them. There's no excuse for a lack of support articles. They are both essential and can be written in advance.
The lack of tutorials and support articles means everybody is sending tickets for the simplest things, making the support queue even longer.
Proton's Customer Support is very disappointing and has a lot of work to do.
2. Usability – Not a Windows user? Too bad
If you're on Windows, you're in luck! If you're on anything else, get ready to be disappointed. Again.
ProtonVPN do not have their own VPN apps for any operating system other than Windows. This means that if you're running Mac, Linux or want to use Proton on your mobile – you're going to have to go through lengthy, cumbersome and unnecessary installation of 3rd party software.
Is the above particularly difficult? No, not at all. But why bother?
This seems to be the recurrent issue with Proton; why bother? While they may do many things right, the ones they don't are bothersome and the stress unnecessary with so many polished VPN services on the market.
ProtonVPN Client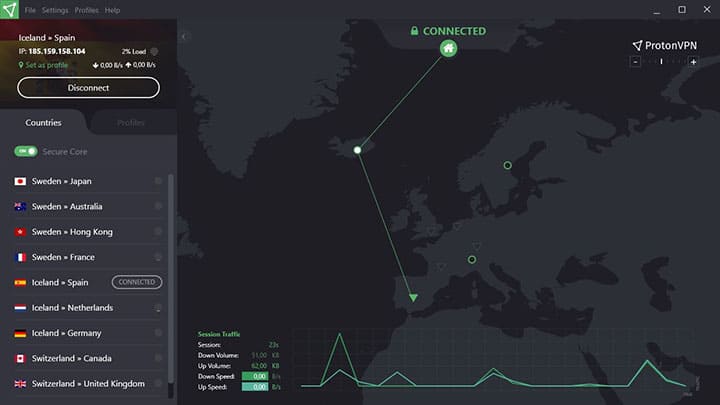 If you're running windows, you are blessed with the ability to use their client.
The software is quick to install and easy to use. Connecting through servers, enabling the secure core, distinguishing between free and tor server – it's all super intuitive and easy.
On the other hand, servers are sometimes named incorrectly (California isn't Colorado) and offer no valuable information. I would much rather see names such as "Okinawa" or "Tokyo" instead of "JP#1" and "JP#2".
The integrated speed test is completely, absolutely useless. The only valuable measurement is the session length and total bandwidth volume.
3. Not enough user reviews
Perhaps one of the best indicators of quality, is not my small sample of tests, but the thousands of reviews of people around the world.
I love hearing from you!
Therefore, I have scoured the interwebs for real user reviews of Proton.
Reddit Reviews on ProtonVPN
Proton has their own subreddit. Of course, fearing bias, I swiftly decided to skip it entirely and focus on more trustworthy sources.
This thread is a treasure trove with 9 different user reviews, ranging from "great" to "not good". Users commented positively on Proton's speeds, the secure core and customer support.
The drawbacks that were mentioned had mainly to do with the lack of standard features, buggy P2P, TOR and killswitch, crashing client and above average price.
Seems like users agree with my findings – inconclusive.
Usually this is where I would include Google Play & App Store ratings and reviews, but Proton doesn't have any mobile apps either.
Most reviews outside of reddit, mainly on social media and forums, paint pretty much the same picture – Good speeds, "meh" everything else.
Seems like Proton has a strong foundation to work from, but work they must!
Do I recommend ProtonVPN?
ProtonVPN makes some bold claims, which they frankly can't back up. Are they the most secure? Perhaps. Are they the best VPN? Not even close.
Let me give it to you straight. I have been using ProtonMail for quite a while. I'm a great fan of their initiative, vision and what they fight for.
I expected great things from their team. Unfortunately, as of late 2017, I must admit – Proton has not delivered on their promises.
I will follow their progress closely and truly hope I will be forced to change my verdict, but for now – ProtonVPN simply isn't worth it.
---
Add your ProtonVPN Review:
3 user reviews for ProtonVPN
rw
using proton
Finding proton a bit difficult to understand, vis-a-vis connection speeds. Still in the "7-day" premium trial period, comparing proton to cyberghost. I get the same, or nearly the same, speed test results with cyberghost free as with the proton trial period. Cyberghost claims paid subscriptions have faster speeds, but I cannot test that without making a non-refundable payment.
It will be interesting to see how proton speeds compare once the trial period ends. On a second note, I do like proton's display of server loading. I don't know if the data is reliable, but i have noticed speed differences between low and high use server sites.
Mark
ProtonVPN is developing great
I am using ProtonMail on Mac which I agree is a painful process. But as they state on their social media channels, the BETA for Android and Mac for https://protonvpn.com/ are undergoing as we speak.
I think it's smart that they launched the product even if unfinished and they can develop the other apps according to their users needs. I love Proton products and I trust them. I'd vouch the new apps will kick a lot of as* in the industry.
Doug
Lacks usability
I'm always eager to try out new (free) VPNs and I decided to go with them. Unfortunately, I'm running on mac and I had to go through a painful set of instructions which led me to nowhere.
Although I think I'm computer savvy, protonVPN is definitely not the best pick for someone using other than Windows.