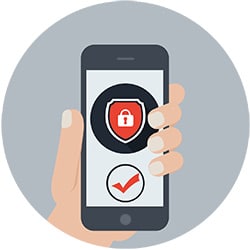 We're just halfway through 2017 and dozens of data breaches have affected millions of people.
"Hold on, Andrey, my iPhone runs on iOS. It's ironclad…right?"
Sure it is. In fact, iOS is one of the most secure mobile operating systems on the market.
Until it isn't.
In fact, Apple iOS is 3 times as likely to be vulnerable to hackers as android.
Don't believe me?
Check out this table sourced from the U.S. National Vulnerability Database, maintained by the National Institute of Standards and Technology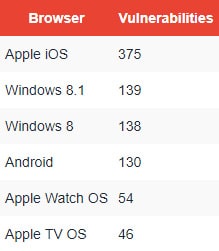 In Q1 2017, thousands of "Top Secret" CIA files were leaked containing documents describing succesfull agency efforts to create and deploy mobile phone surveillance exploits.
Think about that for a second.
Thousands of CIA-level iPhone hacking guides freely available on the internet.
Think your next door hacker isn't all over it?
Think again.
It's time for you to get on the offensive and take the necessary steps to completely secure any and all traffic you send through your beloved iPhone.
Unless you want all your personal messages, shared images and phonecalls hacked into and used against you, you better read every word on this page.
Best VPN for iPhone
---
Chosing the right VPN for your iPhone is a critical step, if you want to ensure maximum protection and an optimal user experience.
With dozens of different VPN providers, all eager to gain your business, making the right pick can be a daunting task.
Well, not for you; you have us!
You will make use of our hundreds of hours of VPN testing results and expert recommendations based on them. We deliver cold hard facts so you can get easily find out which provider will fit your needs!
For your reference, we have linked out to our in-depth and comprehensive reviews of each VPN provider we recommend.
So, ready to jump in and find the best VPN provider for your iPhone? Let's go!
#1 ExpressVPN – Best iPhone VPN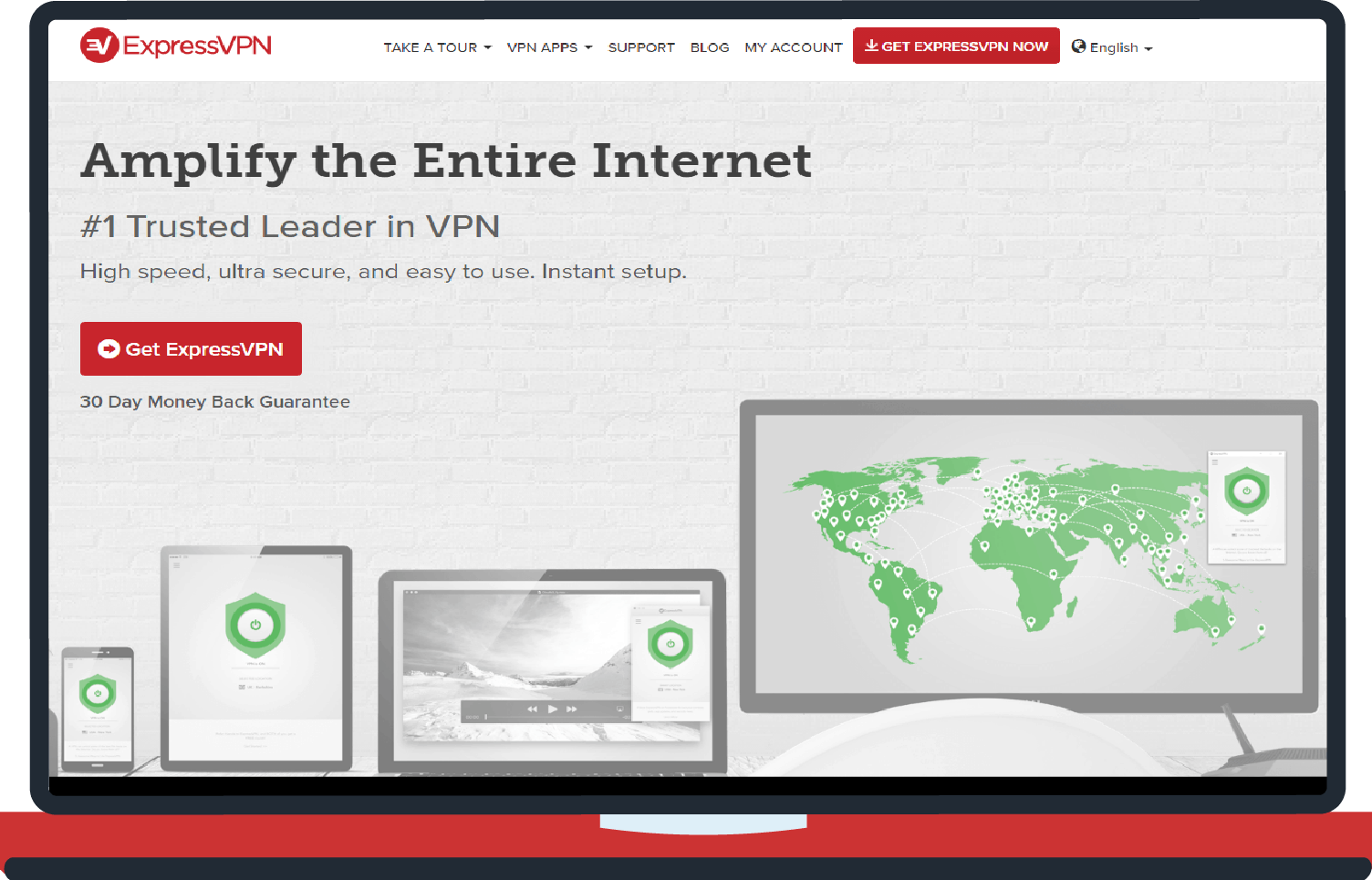 ExpressVPN heads our rankings with absolute domination. It is a rare treat to see a business who excels in each and every factor they are judged by.
If you're looking for the perfectly suited iPhone VPN service, look no further and register with ExpressVPN now to test their service for 30 days yourself.
Security
ExpressVPN have what industry experts like to call a "zero-logging" policy. In short, everything you do while connected through their VPN remains anonymous in perpetuity.
Nothing is ever recorded or logged in a database for later reference. This means that even they won't have a clue about your browsing history and habits.
Connection
We tested ExpressVPN's connection speeds 83 times over the course of a month to ascertain accurate speed readings which we can judge upon.
With a 100Mbps raw connection, ExpressVPN managed to reach download speeds of a staggering 83Mbps connected to Europe and 60Mbps from the US, tested out of our home offices in the UK.
Connection quality was amazing, without any interruption whatsoever. Their 145 server locations left us more than satisfied.
Compatibility
This is why you're here! As you will hopefully experience for yourself soon, ExpressVPN were quick to impress us once again with their iPhone compatibility results.
ExpressVPN are the only provider who have gone through the effort of making sure their incredibly straightforward iPhone app supports versions as old as iOS 7.
User Experience
ExpressVPN have a vast support article section for you to go through. You will be unlikely to ever have to contact them directly.
But hey, if you do; don't fret. ExpressVPN can be contacted through email, phone and even live chat. In fact, live chat is available 24 hours a day, 7 days a week – all year long.
The app is compatible with iOS 7 and later, functions perfectly, is quick to respond and the single most straightforward connection client we've ever seen.
What more could we possibly ask for?
ExpressVPN are our categorical #1 pick for the best iOS VPN. Check out our full review if you'd like to learn more about them or just head on to their site and take advantage of their 30 day no-questions-asked money back guarantee and take 'em out for a spin!
DL SPEED (EU)
UL SPEED (EU)
DL SPEED (US)
UL SPEED (US)
COST
SUPPORT
COMPATIBILITY
USABILITY & RATING
83.15 mbps
35.18 mbps
60.04 mbps
30.41 mbps
$8.32 /mo
Live Chat 24/7
iOS 7, iOS 8, iOS 9, iOS 10
★★★★★

best overall
#2 IPVanish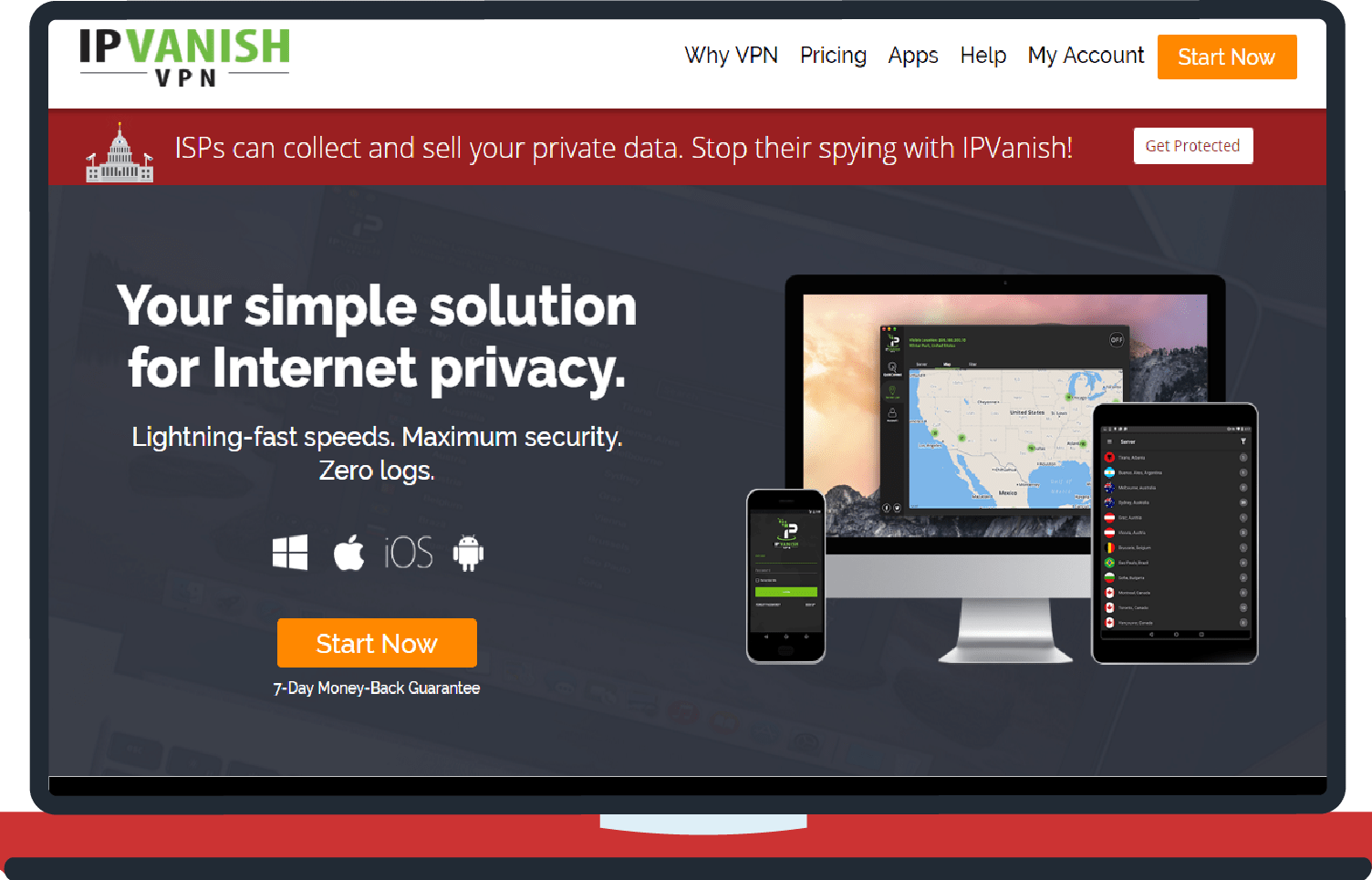 IPVanish is our well-deserved runner up with only very minor differences to ExpressVPN. They are an extremely solid choice for your iPhone VPN needs!
Security
Not surprisingly, our #2 choice won't have disappointed in our top ranking factor and first stop of close examination – assuring you and your data are 100% anonymous and secured.
As such, IPVanish also toots a legal policy which bars them from ever logging your browsing behavior when you are connected to their VPN. Good on ya, IPVanish!
Connection
When it comes to connection speeds, IPVanish, once again, are very similar to ExpressVPN. In fact, their EU download speeds, as tested with our 100Mbps UK raw connection, are exactly the same – 83Mbps!
They do trail of as we tested connection speeds to the US. Here, IPVanish only managed an average of 35Mbps. This is the main reason why IPVanish couldn't quite reach our #1 spot.
Compatibility
When it came to compatibility and whether IPVanish were able to keep up with ExpressVPN – they did.
Well, almost.
IPVanish unfortunately do not support iOS 7 and have rather invested into later versions, iOS 8 and above. We do recognize that the majority of our readers won't be afflicted by this, but still – small points deducted here.
User Experience
If a perfect customer service knowledge base exists, we're pretty sure IPVanish would be as close as it gets.
Not only do they offer a huge selection of articles for you to go through, you can also ask questions publicly (and search for answers) and get assisted that way.
IPVanish will even help you out on social media such as twitter and expedite any support email you may have sent them.
While they may not provide a live chat, I honestly couldn't imagine the abundance of support articles and public user questions not holding answers to every question imaginable.
IPVanish is an extremely solid and prudent choice, and with close to 28% savings over ExpressVPN – they are the best cheap iPhone VPN provider.
| DL SPEED (EU) | UL SPEED (EU) | DL SPEED (US) | UL SPEED (US) | COST | SUPPORT | COMPATIBILITY | USABILITY & RATING |
| --- | --- | --- | --- | --- | --- | --- | --- |
| 82.67 mbps | 43.19 mbps | 34.71 mbps | 24.72 mbps | $6.49 /mo | Email | iOS 8, iOS 9, iOS 10 | ★★★★ |
#3 SaferVPN – Best Budget iPhone VPN
A newcomer to the top 5 rankings, SaferVPN managed to impress us with their impressive connection speeds and more than adequate compatibility ratings. Their awesome 24/7 live chat support is exactly what we like to see!
Security
Continuing the trend, SaferVPN does ensure your anonymity by adopting a no-logging policy. Nobody gets to peak into your online habits.
Connection
Safer are quick to impress with their incredible connection speeds. During our testing, Safer performed very well connected to both US and EU servers.
Connected to a server location in the EU, Safer achieved download readings of 79 Mbps. Connected to the US, Safer came in at a respectable 57 Mbps.  This is better than our buddies at IPVanish!
Compatibility
Same as IPVanish, SaferVPN supports iOS 8 and later. Not a big deal, as most people with iPhones are on iOS 8 and above.
User Experience
To nobody's surprise, SaferVPN shower their customers with attention via a humongous help article section as well as a 24/7 live chat. Any questions you may have, will be answered by SaferVPN. This is exactly what we like to see.
At an unbelievable price of $3.49 /mo, SaferVPN is a steal. It is quite rare to see a fully fledged VPN service provider offering such bottom prices for such an incredible performance. You better register now, before this promotion runs out!
| DL SPEED (EU) | UL SPEED (EU) | DL SPEED (US) | UL SPEED (US) | COST | SUPPORT | COMPATIBILITY | USABILITY & RATING |
| --- | --- | --- | --- | --- | --- | --- | --- |
| 79.23 mbps | 27.78 mbps | 57.47 mbps | 23.09 mbps | $3.49 /mo | Live Chat 24/7 | iOS 8, iOS 9, iOS 10 | ★★★★ |
#4 VyprVPN
Did somebody say business? VyprVPN is a B2B focused VPN provider who also serves individuals like you and me. Their business centric approach and business packages are perfect for those of you searching for a business VPN.
Security
Being mainly focused on B2B cybersecurity, you can rest assured that Vypr's no logging policy is strictly enforced. After all – no business would trust anything subpar, right?
Connection
Serving many businesses with huge bandwidth needs, it's no surprise that VyprVPN is expected to perform above average when it comes to connection speeds.
While they did perform way above the average, compared to the bad boys in this list, VyprVPN is anything but average. Download speed connected to the EU measured in at 74Mbps. To the US, VyprVPn came in at 51Mbps. All in all, just marginally below SaferVPN and realistically just as good as IPVanish.
Compatibility
Due to their B2B affinity, it's understandable that VyprVPN will have mainly focused on operating systems used by businesses. We do not know many businesses that would hand their employees a 5 year old phone, so VyprVPN get a break for only offering an iPhone app compatible for iOS 9 and later.
User Experience
Not only does VyprVPN provide a strict 24/7 live chat assistance helpline, they do so even on holidays due to the nature of their clientele. Christmas or New Year, VyprVPn is there to help you out and provide you all the help you may need.
And hey, if for some reason you don't want to chat, just make use of their huge database of help articles, ready to answer your every question!
VyprVPN has long been one of our top recommendations so it's no surprise they are among the top 5 best iOS VPN services in the world. If you're using a VPN for business needs, look no further than VyprVPN – they are just perfect for you!
| DL SPEED (EU) | UL SPEED (EU) | DL SPEED (US) | UL SPEED (US) | COST | SUPPORT | COMPATIBILITY | USABILITY & RATING |
| --- | --- | --- | --- | --- | --- | --- | --- |
| 74.48 mbps | 35.88 mbps | 51.09 mbps | 3.17 mbps/span> | $5.00 /mo | Live Chat 24/7 | iOS 9, iOS 10 | ★★★ |
#5 NordVPN
At number 5, our friends from the north make an appearance. Will these Viking bro's manage to impress us?
Security
NordVPN have an ironclad zero logging policy which they prominently advertise on their front page. "All we can do is shrug out shoulders" if someone would ask for your data. That's what we like to hear, Vikings!
Connection
As much as we love the nordic-value inspired NordVPN, we wouldn't live up to our reputation if we didn't report all our findings. In this case, one of the main reasons NordVPN only made it to spot 5, is their rather disappointing download speeds when connected to the EU.
While connected to the US, NordVPN managed to reach a respectable 51Mbps, we were surprised they only managed a measly 14Mbps connected to the EU. Definitely not great and odd to see from a company we love so much. Hopefully the boys at NordVPN have fixed their issues by the time you read this article!
Compatibility
With iPhones being the most used mobile phones among nordic countries, we weren't stoked to hear that NordVPN only supports iOS 9 and above. In fact, coupled with the disappointing connection speeds with the EU, this immediately put an otherwise favorite VPN provider of ours into #5.
User Experience
NordVPN has an extensive collection of help and support articles, like many other VPN providers. Additionally, their live chat assistance is available around the clock!
NordVPN is defintely one of our favorite service providers, though the do seem to have some issues at the moment. We are confident the team is hard at work to reclaim their reputation as one of the best iPhone VPN providers in the game!
| DL SPEED (EU) | UL SPEED (EU) | DL SPEED (US) | UL SPEED (US) | COST | SUPPORT | COMPATIBILITY | USABILITY & RATING |
| --- | --- | --- | --- | --- | --- | --- | --- |
| 14.33 mbps | 48.18 mbps | 49.37 mbps | 28.59 mbps | $5.75 /mo | Live Chat 24/7 | iOS 9, iOS 10 | ★★★ |
Here are our main concerns when we chose the best iPhone VPN provider:
Security – Logging Policy, Anonymity

Our #1 concern is, and always will be, your absolute and explicitly stated security. We have no patience nor understanding for VPN providers who log and keep records of your browsing data.
We carefully read through the Terms of Service agreements and immediately discard shady VPN services who do not clearly state they do not keep tabs on your browsing.
Functionality – Connection Speeds & Stability

While your anonymity may well be the unequivocal top priority, a VPN provider who provides sub-par download and upload speeds or can't hold a connection is just not going to make our top 5 rankings.
We perform hundreds of connection speed tests, from points all over the world, in an effort to give you an accurate expectation when it comes to the functionality of a VPN.
Compatibility – Specific Needs

People use VPNs for a myriad of reasons. From safe browsing, to circumventing oppressive information blocking to even torrenting or Netflix watching.
Mobile phones, computers, smart TVs routers…
Take 10 people and you'll have 10 different expectations from their VPN provider. In this article, we will be putting extra emphasis on iOS compatibility, without discounting other uses you may have for your VPN.
User Experience – Software Design, Customer Support

You really shouldn't have to hold a degree in Networking to operate and understand your VPN. Low effort in ensuring a smooth user experience is unacceptable.
Providers who do a poor job at answering your questions and have confusing software don't have a chance on impressing us.
What is an iPhone VPN & How does it work?
---
By now, you must be intrigued as to how a small app, for a few bucks a month can provide so much value, peace of mind and functionality.
While we have written extensively on the voodoo magic behind VPNs and how VPNs work, let me give you a very short, bite-sized, easy to digest version.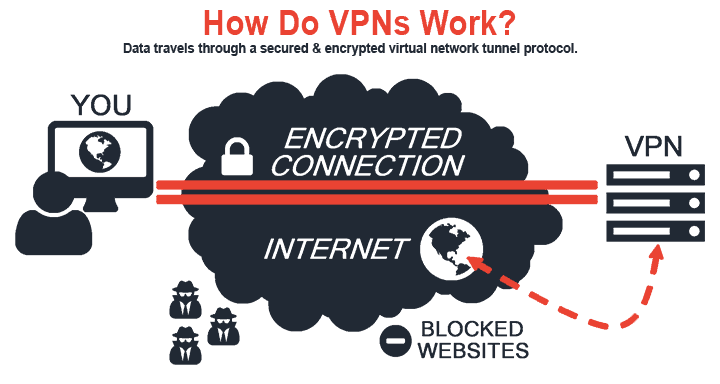 VPN, of course, stands for Virtual Private Network. Decades ago, VPNs were used only by the biggest international conglomerate companies to keep their communications protected and hidden from snoopy competitors.
Years passed and people started to catch up to the benefits of using a VPN. During the internet boom, more and more businesses started using virtual private networks and not to soon after, VPN usage spread throughout the world and into the homes of ordinary people like you and me.
Experts believe VPN will experience another, possibly bigger, boost in popularity as more and more reports of government spying surface.
The ability to block access to your browsing behavior and remain anonymous comes with an incredible amount of benefits.
Security & Peace of mind
Nobody in the world will be able to see what you're up to after you hit that "connect" button on your favorite VPN connection client. You'll be shielded from outside attacks, hacking attempt and theft of any sort of browsing history.
Fast Speeds
More and more ISPs are starting to throttle connection speeds, should they notice you're using too much bandwidth to their liking. Want to tell your ISP to bugger off? Use a VPN and enjoy complete anonymity in your browsing behavior or data usage.
No censorship or control
With two thirds of all internet users living in countries where government censorship is a daily occurrence, VPN are often the only way to avoid having your online day-to-day controlled. Fortunately, VPNs are perfectly suited for that and work flawlessly, with no recourse against them whatsoever.
So, how do VPNs work? In a nutshell (really, this is some complicated stuff), a VPN send your data packets through a tunneling protocol. Imagine a tunnel layered with dozens of security features which both mask your data as well as monitor for outside interference.
The second your VPN connection is "under threat" it will seamlessly reconnect through a completely different and unique way. In other words, you're a good guy running from the bad guys, but you have the ability to teleport to anywhere in the world the second you feel threatened.
All for only a few bucks a month. Technology truly is incredible!
Free vs Paid iPhone VPN
---

Nobody likes to pay for something they can have for free. Heck, if I were new to the world of VPN, and didn't know better, I'd probably be just as eager to go for a "free" VPN provider, as you are now.
Fortunately for you, here at TheBestVPN, we are definitely not new and know exactly what "free" really means. Let us unravel the biggest marketing trick of the VPN industry – the illusion of free.
Who better to burst the bubble of free VPNs than me, the guy who literally wrote the book (err article) on the best free VPN services?!
The short version is this, nothing in life is ever free, especially in business. Think about it for a second, do you honestly believe, people are going to bust their behinds and provide you with a service, out of the goodness of their hearts?
Heck no.
A business' prime directive is to produce money, that's it. If you think a VPN provider will build and maintain a network and provide you access to it, free of charge, without any expectations or returns, you are sadly mistaken.
The only difference between a paid VPN and a free VPN is that the former is transparent with how they earn their keep while the latter does so in a more…sleazy way.
"You don't want your data to be logged and sold to the highest bidder? Well, what do you expect, we are giving you a VPN for free!"
Why, yes Mr. Sleazy, of course this makes sense. After all, my main priority is only to be kept safe and protected. Selling my personal data is completely understandable.
"Oh, you thought you were going to get fast speeds and not get throttled by 98%? How selfish of you, we are providing our network to thousands of people!"
My, my, I am indeed very egocentric when I pay my ISP good money for 100Mbps speeds and YouTube takes 8 minutes to buffer a 3 minute song.
"What do you mean you are having troubles with connecting to our VPN? Don't tell me you expect us to provide you support in anything less than 10 days since you emailed us!"
Oh, I'm so sorr-
Ok, I'll quit. I think you get it by now.
As you can see, I get quite riled up when I see innocent people being taken for a ride.
The truth is that the only free VPN that's worth your time is a free trial or free version of a paid VPN provider, meant for you to be able to test out their service.
Any "free only" VPN provider is out to use you any which way they can. They will bombard you with ads, they will sell your data (yes, the very same you're trying to protect) and will do so without remorse.
The best part? They moment you become a headache, you will be dealt with accordingly – ignored until the end of times.
All of the above is the cost of "free". Turns out, free isn't as free as it sounds, eh?
Are you still on the fence whether the $8 a month is worth it?
Here's some food for thought and my go-to line for when I get asked whether I recommend the usage of a free VPN service:
If a business offers you their product for free, you are their product.
Call me petty, but one of the reasons I got into cybersecurity and am so passionate about VPNs is because I am sick and tired of being monitored, controlled and used for someone else's benefit.
Final Thoughts
---
I approve and support your choice to protect your iPhone data with the single best option you can find.
VPNs are, by and large, a marvelous technological solution to so many problems which are only bound to become bigger and more severe in the future.
Now, is the time to adopt the solution to those problems. With more and more reports of hacking attempts, data breaches and personal records thefts – you simply can't afford to postpone something so critically important as the safety of yourself and your family.
Whether you want to access geo-restricted content, make sure you're protected online or just want to have the peace of mind of anonymity a VPN is the perfect tool for you.
And hey – who says you don't have the freedom of choice? Check my top recommendations and take advantage of their generous money back guarantees.
Stress test them for a whole month and if you don't like what you're seeing – simply bail without having to pay.
Tell me this is not a deal worth your time!
Which iPhone VPNs have you used? Leave your comments, questions & feedback in the comment form below!