The biggest threat to your iPhone isn't necessarily a malware injection.
But hacking and snooping from your own government.
It's not even a matter of 'if', but 'when'. They've already invested heavily into technology that will grant them access to in-flight phone calls and 'backdoors' into your iOS – despite the best efforts from Apple to keep your information private.
We've compiled the best VPN's for iPhones so you can protect yourself ASAP.
All these VPNs below work 100% with iPhone and iOS devices.
1. ExpressVPN – Most Recommended for iPhone & iOS users.

Based out of the British Virgin Islands, ExpressVPN is one of the best VPN providers out there, with the industry best of 256-bit encryption available for your iPhone, iPad, or iPod.
Anywhere you go you can be protected with the strongest encryption available with VPN providers. Although it can be a little on the pricey side, it offers over 136 servers that span in more than 87 different countries.
A built in speed test can help you ensure that your iPhone is connected to the fastest servers around the world so you can stream Netflix and Hulu wherever you go. Not only will you have the fastest speeds when streaming your favorite show, but with this VPN provider you have unlimited bandwidth and server switching as well.
You can connect to any free Wi-Fi on the go and not have to worry about snoops accessing your personal information.
There is nothing special about setup, and connection is made easy with one click to connect to any of the 136 servers that ExpressVPN is offered in. You can even make a list of your favorite server locations for an even easier time connecting to the server of your choice.
If you do have any questions ExpressVPN is available whenever you need with a 24/7 policy through live chat where they have knowledgeable customer support agents that provide excellent customer service at any time of the day. The app is easy-to-use, and is supported on iOS 8,9, and 10.
You can try this VPN provider on your iPhone with the iOS app with a 30 day money-back guarantee. Overall, ExpressVPN is definitely worth the money for your iOS devices and will keep you safe and secure at home or in public.
2. IPVanish
IPVanish is a great VPN service for your iPhone, iPad, and iPod, giving you control of your IP address.
Installation of the IPVanish app is pretty easy and user-friendly. IPVanish has 40,000+ shared IPS to encrypt your data and help browsing on your iPhone remain as anonymous as possible. IPVanish has a pretty extensive network of over 700+ servers all over the world, in more than 60 countries.
You can be sure that your true location and IP address is hidden from hackers and third parties.
You can't beat the standard military strength 256-bit AES encryption that is offered with all of IPVanish's plans and the many protocols that are offered through this service.
IPVanish makes it easy to bypass censorship laws and remain free, allowing you to access your favorite apps such as Twitter, Facebook, Netflix, or Hulu.
On a first-come, first-serve basis, you can chat with a representative from this VPN provider 24/7. When connecting to any of their 700+ connections, all you have to do is click on the location and press connect.
The IPVanish app can be found in the App Store on your iPhone, iPad, or iPod. When browsing on Safari, this VPN provider does not keep any traffic logs.
Your private information will remain out of the hands of hackers when accessing your banking information or checking your Twitter because of their Wi-Fi protection.
Not only will you be protected on your iPhone, but you can find an IPVanish app for almost any major device you may have. There is a risk free 7-day money-back guarantee offered with all pricing plans. But with several great features to protect your iPhone and your identity, you will want to pay to remain anonymous.
3. NordVPN
These days, your phone is the single most important object to you. It holds your credit card information, your social media accounts, and important emails and documents. Protection of all your personal information is key.
With NordVPN, you can be sure that you will be protected at an airport or Starbucks. With 724 servers in over 57 countries, there is so many options for your protection.
One of the most impressive features of NordVPN is not only their 256-bit military strength encryption, but NordVPN has DoubleVPN, meaning that 256-bit encryption is applied TWICE. You will be extra protected with this service and with features like the kill switch, you won't have to worry about remaining anonymous while browsing safari on your iPhone.
Customer support can be reached by live chat, email, Twitter, Facebook or a ticketing system that can be found through your account. Representatives are there 24/7to help you and answer your burning VPN questions.
Another pretty awesome feature is that NordVPN has different servers that are optimized and created for the different activities you're doing on your phone. For instance, if you want to stream your favorite show that you missed last week, connect to their "Ultra Fast TV" server and reap the benefits of high speeds for your viewing pleasure.
Additionally, NordVPN is the ONLY VPN provider that allows you to purchase Bitcoins securely.
When committing to any of the pricing plans, keep in mind there is 30-day money-back guarantee if you aren't a fan of the service. If you have any other devices that you want to remain anonymous on, NordVPN is offered on most devices and a feature of up to 6 devices at a time.
Overall, NordVPN will keep you safe and secure on your iPhone wherever and whenever with a vast network or servers and that double layer of protection.
4. VyprVPN
From the company Golden Frog, VyprVPN is committed to internet freedom and complete privacy while using your iPhone. So much personal information can be found on our iPhones and you don't want your credit card information and passwords ending up in the wrong hands.
They created own DNS servers and have written their own software, so no third party has access to any of the things you do when you are connected to VyprVPN. Therefore, you have end-to-end protection through VyprVPN.
You have no restrictions when it comes to downloading and speed, so you can utilize this until your heart's content.
They own the servers, manage them, and write all of the codes so they ensure that everything is running as smooth as possible when it comes to the fastest speeds and strongest security.
There are ping tests available within the iOS app, allowing you to connect to the fastest service at any given time.
Setup on your iPhone only takes a single profile install, so it is a relatively pain free process.
Customer service available at any time of the day, 24/7, ready to help you with whatever needs you may have while setting up VyprVPN on your iPhone or using it. Connecting is easy too, once you have connected to a Wi-Fi, VyprVPN will automatically kick in to encrypt your traffic.
Although one of their most notable features is not compatible with the iPhone and iOS, apps for VyprVPN can be found on Windows, Macs, and Android devices.
The pricing plans are structured a little differently than other VPN providers, meaning the two top tier plans have more features than the bottom tier plan.
Features such as the amount of device connections at a time and their creation of Chameleon, but this technology cannot be supported on your iPhone because of compatibility issues. Keep in mind, the lowest tier plan only offers the PPTP and L2TP/IPsec protocols, while the Pro and Premier plans offer both OpenVPN and Chameleon.
VyprVPN is a good VPN provider with a lot to offer their users.
5. SaferVPN
SaferVPN is out of Tel Aviv, Isreal and was founded in 2013. Regardless of being a relatively new company, SaferVPN has more than 400 servers in 30 different countries.
For your iPhone, SaferVPN has just released their new iOS app, and it is made to very user-friendly. Connecting is as easy as clicking the big green "Connect", and you are connected to one of SaferVPN's 400 servers.
SaferVPN has a 24 hour free trial for iOS users so you can get a feel for the app and decide whether you like it! All features are offered for each of the three pricing plans, with only the length of time changing.
A 14-day money-back guarantee gives you a little bit of breathing room if you aren't sure of this VPN provider's services. The free trial and money back guarantee makes SaferVPN unique in that they give you two opportunities to make sure you want to commit to their service for a longer amount of time.
In terms of security, SaferVPN offers 256-bit encryption, which as good as it gets. You can connect to any sketchy free Wi-Fi you encounter and be sure that your information is kept private.
On Facebook, when you click "Like", SaferVPN prevents websites from tracking your internet activities and likes. You can enjoy unlimited bandwidth and server switching with SaferVPN.
SaferVPN won't track your internet whereabouts or keep track of what you're downloading onto your iPhone.
If your app seems to be acting up, SaferVPN has designed a way for your apps to detect and fix the problem on its own. That way you won't have to lift a finger and start troubleshooting. If you do have any problems, SaferVPN's support staff is there for you 24/7, and can help you solve any issues. You can contact the Help Center, live chat, or through email.
Why VPN for iPhone and iOS Devices?
---
1. Get Access to Geoblocked Content and Websites
Apple's iOS platform was the first to popularize fingerprint access to 'unlock' mobile devices.
Similarly, your IP address is your digital thumbprint. (Also, a nice segue).
It's a literal address that links certain activities (like sites you visit or stuff you download) with specific devices. They're handed out by your internet service provider, so your work computer at the office has a different one than your laptop at home.
What about your mobile device while browsing at the coffee shop in between? Another one.
The underlying technology gets tremendously more complicated than that. But you just need to keep in mind that IP addresses change based on location, device, and internet service provider.
Here's why this is important.
Your IP address is the primary way companies geoblock content, restricting what you can watch depending on where you're currently sitting.
For example, wanna catch the UK premiere of Sherlock on the BBC's iPlayer when you're sitting in Los Angeles. You can't. 'Cause access to that content is restricted only for people in the UK.
Same thing commonly plays out with sporting events, like trying to watch El Clásico between Real Madrid and Barcelona. If one of your local networks hasn't licensed it, you're S– outta luck.
Trying to catch another international broadcast of the game proves problematic because the content is typically restricted based on your location (and more specifically, the location of your IP address).
Your IP address is also how governments restrict access to sites like Facebook, Twitter, or YouTube.
'Cept this time, in reverse.
The servers of these popular sites are blocked by their IP addresses; locking down and denying access to the information (and precious pug content) held inside.
Governments will also go directly to the Internet Service Providers (ISP) and have them lock down access as well. Guess how they do that?!
China Mobile, the "world's largest mobile phone operator by subscribers with about 835 million", is state-owned. So it doesn't take a whole lot to figure out how they police internet usage.
Which brings us back to the beginning.
You're traveling. Your iPhone is the primary device you brought with you. And yet, your access to sites 'back home' to keep in touch with friends and relatives is completely restricted. Because each and every method you use to connect to the internet within said country is monitored, restricted, and denied – by your IP address.
You're not about to call friends and family back home. (What is this, 1998?) Navigating the extreme time zone change is a nightmare unto itself.
Options are limited. Unless…
There was some ingenious way to change the appearance of your IP address to make it look like you were accessing the internet from your home country (or at least, a neutral third party).
That's just one of the benefits of using a VPN on your iOS devices. It allows you to choose different server locations, so when you connect to the internet through a protocol (hey – that's where "IP" comes from!), it looks like you're connecting via London or New York City or Barcelona.
And NOT the restricted company you're actually sitting in.
So go on. Watch Sherlock before it hits the States. Catch the latest installment in Ronaldo vs. Messi. And send a quick Facebook message to your parents or post a few #humblebrag photos for your friends.
An iOS VPN can make it happen.
2. Hide Your IP, Avoid Hacking and Governments Surveilance
Edward Snowden, infamous U.S. intelligence whistleblower now in exile in Russia, told the BBC that, "Smartphone users can do 'very little' to stop security services getting 'total control' over their devices."
During the interview, Snowden reveals all sorts of frightening information that shows how our governments are investing heavily (you know, with our own tax dollars) in monitoring and hacking smartphones.
Controlling your camera or turning on your phone's mic are just the beginning.
For example, the UK's intelligence agency GCHQ and the U.S.'s NSA can track your location by the GPS signal. They can see "who you call, what you've texted, the things you've browsed, the list of your contacts, the places you've been, the wireless networks that your phone is associated with", according to Snowden. And they can even "photograph you."
Guess what?
This kind of all-access can happen no matter where you are. Like 30,000 feet above the Earth's surface.
A GCHQ program named "Southwinds" was revealed to be able to "gather all the cellular activity, voice communication, data, metadata, and content of calls on board commercial aircraft," according to The Intercept.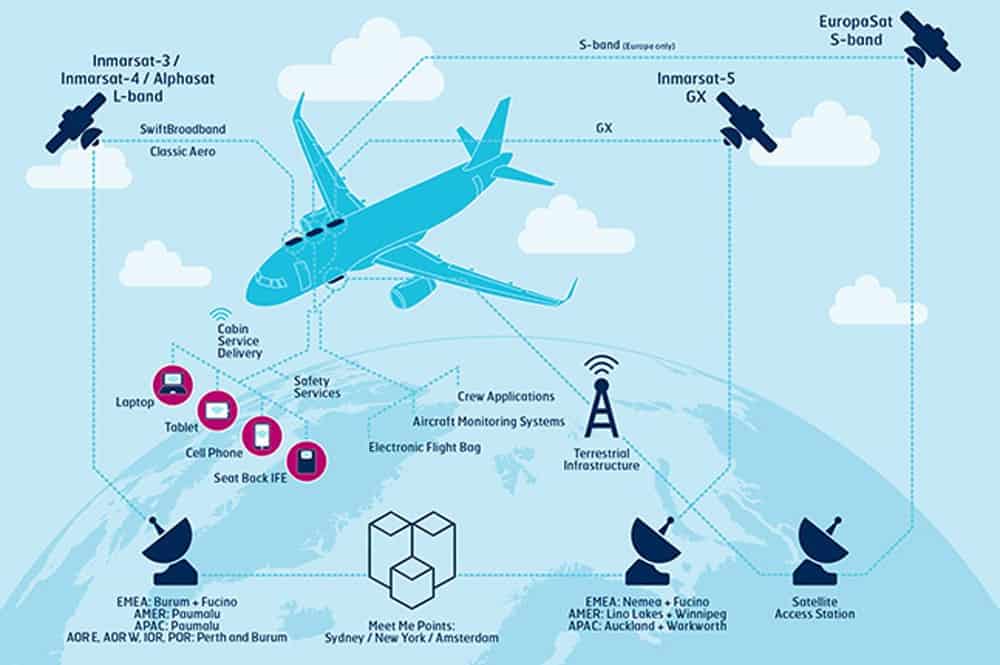 This kind of in-flight snooping happens in real time, and has been used to already spy on various figures like "the President of Pakistan, a cigar smuggler, an arms dealer, a counterterrorism target", according to one leaked NSA newsletter.
The sad, unfortunate fact is that spying on your own citizens is only getting easier for Government agencies.
For example, the new UK "Investigatory Powers Bill" grants them the ability to "record every website" a citizen visits! Every. Single. Website. Recorded.
They'll also know which device you used, how long you were there, and how often you go back.
Unless, of course, you only use a secure connection that blocks third-parties from accessing your data.
With a VPN.
Conclusion
iPhones don't experience the same level of attacks and malware injections as Android devices (although some attacks, like man in the middle ones, are still possible).
Unfortunately, that doesn't mean they're foolproof, either.
Despite Apple's strong stance and extra efforts, the right people still know how to exploit iPhone vulnerabilities.
And government agencies are aggressively trying to gain access to all major smartphones around the world.
They want to be able to monitor and intercept your conversations. They even want to be able to record every website visit you make or gain access to phone calls made in an airplane 30,000 in the sky.
The only way to protect yourself against their invasive actions are to use a completely secure VPN that creates an encrypted tunnel around your actions.
These are the best VPN's for iPhones on the marketplace. And they can finally help you gain your privacy back.
Additional reading: Best VPNs for MacBooks
What VPN services have you used for iPhone and other iOS devices? Leave a comment and suggest something new :).