IPVanish claims to be the "fastest and fastest growing" VPN provider in the world, with an extensive network that spans 40,000+ IP addresses.
You can use them to create private tunnels that encrypt internet activity across desktops, laptops, smartphones and tablets.
This review includes details about their protocols and encryption methods, along with pricing details, and a quick walkthrough of how much setup is involved (hint: it's not a lot).
Here we go.
IPVanish VPN Review (Summary)
---
| | |
| --- | --- |
| PROTOCOLS: | OpenVPN, SOCKS5, PPTP, L2TP |
| ENCRYPTION: | AES 256-bit |
| LOG FILES: | No Logging |
| LOCATIONS: | 60+ countries, 700+ servers |
| SUPPORT: | Live Chat (24/7) |
| EASE OF USE: | Very Simple |
| COST: | $6.49/mo |
| PLATFORMS: | Win, Mac, Android, iOS |
| RECOMMENDED? | YES |
| OFFICIAL WEBSITE: | www.IPVanish.com |
IPVanish Quick Facts
IPVanish vast server network reaches over 700 different servers in 60 unique countries. The bulk of those are located in Europe and North America (236 and 218 respectively), with some leftovers in Asia (77), Oceania (62), and a few in Africa (6 – one in Egypt and five in South Africa), only a handful in Central/South America (4).
IPVanish works with all major devices, from desktops to laptops, smartphones and tablets. And they have dedicated apps for Windows, Mac OS X, Android and iOS. If you're not afraid of getting your hands dirty, you can also manually setup your own IPVanish configuration with Windows phones, Ubuntu, Chromebooks and routers.
You can connect five different devices with a single account (which is among the most when compared with other providers).
IPVanish offers (true) unlimited bandwidth and server switching. And they also feature a 7-day money back guarantee if you want to give the service a test-drive without getting locked into a long-term commitment. (Just in case we're not the only ones afraid of long-term commitments…)
IPVanish Available Protocols (OpenVPN, SOCKS5,PPTP, L2TP)
IPVanish automatically defaults their connection to the OpenVPN protocol.
OpenVPN's are generally recommended whenever you can use them, because they combine the best of both worlds: fast speeds without sacrificing privacy or security.
The downside is that you often have to download a client directly to your device in order to download the unique certificate that's required to establish a secure connection.
You can avoid downloading anything with IPVanish, however. (More on their unique SOCKS set-up in a few minutes in the next section below.)
You can use Point-to-Point Tunneling (PPTP) if you're running on dated operating systems and devices. Just keep in mind though, that PPTP has well-known security problems that are sacrificed for speed. So only use it if you're trying to catch up on the latest House of Cards episodes on Netflix, and not for logging into your banking account and other high-risk activities.
Even Layer 2 Tunneling Protocol (L2TP) is available if you're using a mobile device that's not OpenVPN-friendly. While you sacrifice speed a little bit, the good news is that you're able to overcome some of the security risks that PPTP possess. (It's also a little more difficult to set up on routers if you're taking a manual approach.)
IPVanish's iOS offerings include two different unique connection types: Internet Protocol Security (IPSec) and the newer Internet Key Exchange (IKEv2).
While IPSec can help protect your traffic data, it lacks the authentication feature that OpenVPN's boast.
So the more recent and updated IKEv2 is a better option for secure connections. It tends to only be available on newer mobile devices, but the good news is that switching back-and-forth between Wifi and cell networks won't mess with your connection.
Why the extra security layers for mobile? Because believe it or not, mobile hacking is on the rise.
The reason is actually pretty simple.
Many popular websites, like even Google or bank accounts, are starting to use two-factor authentication. That means in addition to just an account password, they'll often send you text messages with codes to enter to confirm your identity.
So hackers are infecting mobile devices to capture your SMS or text messages and gain access to the codes being sent by two-factor authentication.

Download-Free SOCKS Proxy Available
SOCKS, or Socket Secure, is a special proxy server protocol that allows you to obtain the same benefits of a standard VPN (like masking your IP address and hiding personal information) without having to download third-party software to your device (along with the certificate used to establish secure connections).
IPVanish uses SOCKS5 (an extension of SOCKS) to deliver these benefits, remove the third-party tool that still monitors download activity, and still deliver better performance (that's typically faster than a standard VPN connection).

Sounds too good to be true, right?
As always, there's a few catches.
The reason that a SOCKS proxy can be faster than traditional VPN's is because they don't use the same encryption methods. Which means your end-to-end connection doesn't deliver the same privacy that prevents hacks, spying, government snooping, etc.  
Instead of privacy and security, IPVanish' SOCKS5 proxy is best reserved for getting around IP-related restrictions (like censorship issues or limited access to TV and movies).
In other words, it helps hide who you are or where you're at, but doesn't do much for privacy and security.
256-Bit Encryption (Same as others)
IPVanish features the same 256-bit encryption that's used by security professionals and even government agencies.
Why is that important?
Say your business website runs on WordPress. Many do, as it's the most popular Content Management System (CMS) in the world, powering over 26.4% of websites worldwide.
Chances are, your password is something simple. Like a family member's name. Or an easy-to-guess birthdate.
Even if it's a little more complex, hackers can spy on your browsing history and then use brute-force methods to automatically try tons of different variations until they finally get access.
These are surprisingly common. And they're only increasing in frequency. For example, popular WordPress plugin Wordfence noticed that brute-force WordPress attacks have skyrocketed to almost 30,000 unique attacking IPs… each day!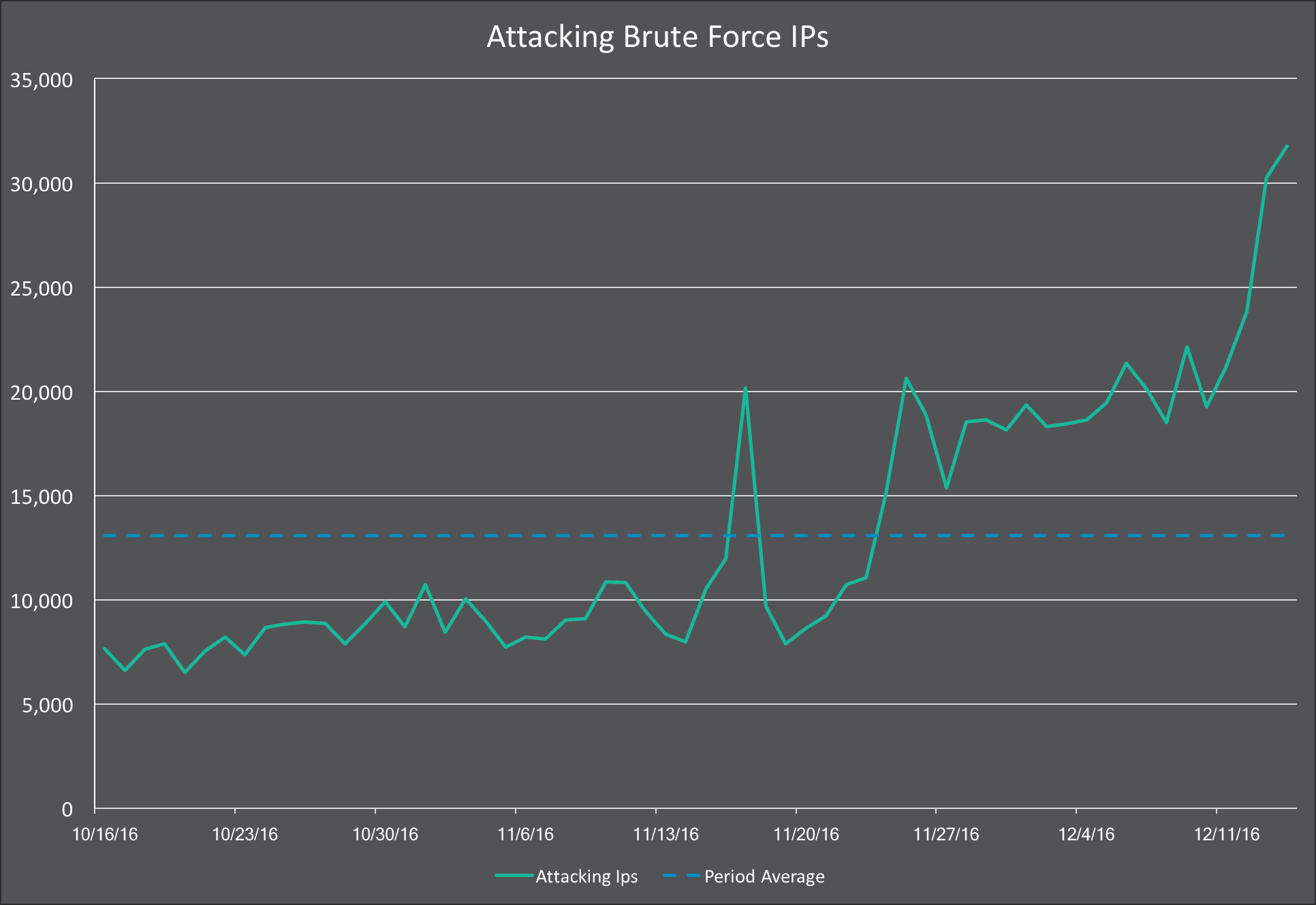 (image source)
The good news though, is that 256-bit encryption is virtually brute-force proof. So your security is rock-solid.
This extra level of encryption also makes sure that your personal information is nowhere to be found, hiding your IP address so that browsing activity can't be tracked or logged.
That means you can also get around censorship by schools and employers and governments. Your secure connection gets tunneled, tossed into the VPN's network, and you can select any server location to change IP's and access whatever you want, whenever you want.
Zero Logging (It's Good!)
No one is truly anonymous online.
There's always tracks and trails that can be pieced together to eventually point back to you. "Logging" is the practice of holding your information, like which sites you visit, for a period of time for some intended reason.
Many times, logging can be good. A VPN provider, for example, would get the benefit of knowing how to optimize performance if they can monitor your connection speed. It might also give them a little more ability to protect the network from itself (or from people inside of it harassing others).
But logging can also be a bad thing, too.
If a VPN provider logs your data for longer than thirty days, or keeps personally identifiable information lying around, they expose you to all of the things you're trying to avoid by using a VPN in the first place.
IPVanish has a "strict zero-logs" policy to help make sure your identity isn't divulged. They also don't keep track of your activity while browsing through their apps, either.
No Tor Included
Tor networks will relay your activities through various paths to essentially hide who's doing what.
The perfect example might include a journalist who's trying to sidestep state sponsored censorship by the government. Not only does interference and intrusion make it difficult to do their job, but it can also jeopardize their personal safety if their identify and actions are known to the public.
So by using the Tor browser, you can limit (or remove) the amount of data that advertisers, internet service providers and even websites themselves collect when you visit.
They're not foolproof by any means, but they help.
IPVanish, however, does not include Tor service. Based on customer feedback, they've seen that it affects overall speed and can pose serious performance issues. So you can use another third-party one in addition to their service if you'd like, however they don't have available for you.
24/7/365 Customer Support
IPVanish provides support each and every day, each and every hour, on a first-come, first-serve basis.
Their Support Center offers a knowledge base to help you troubleshoot issues on your own. You could use the public question options to get user-generated feedback from others who've experienced similar problems in the past. (Or you can just email them privately, if you're willing and able to wait around for a bit.)

We've also dug through their social channels during our research and analysis to see how they handle disgruntled customer feedback.
The verdict?
Pretty good! They're friendly and responsive, often getting back to people on the same day and trying to be helpful and sincere.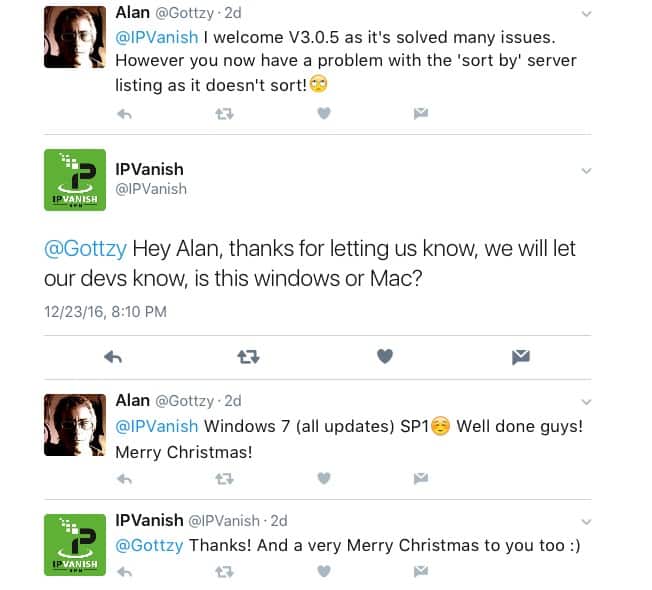 Sometimes they can even be a little playful, too.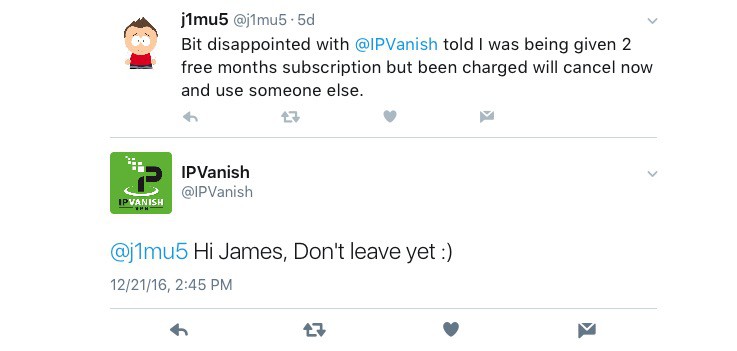 And even when someone is firm on canceling, they politely give them the required information and don't stand in their way or force them to jump through various hoops to cancel.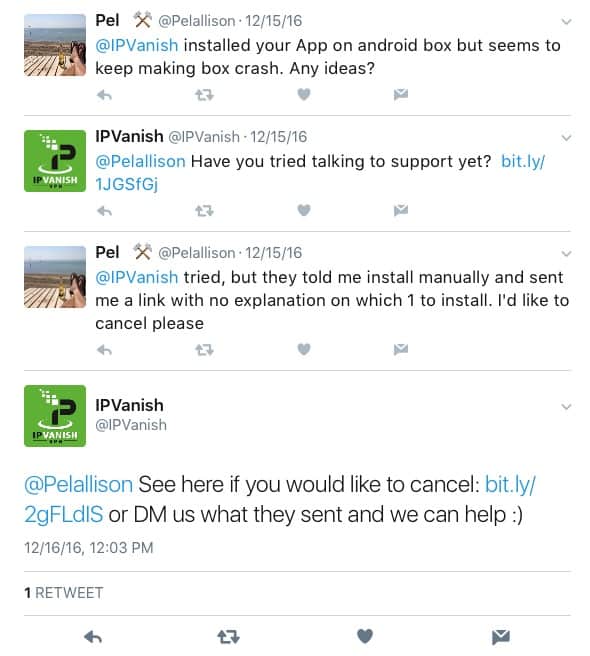 Quick Speed Test (They're OK)
To make our reviews accurate, we went to speedtest.net and put the following locations in test.

P.S. The location we used to track the speed was in the middle of Europe: Estonia.
US Server (New York)
Ping: 133ms
Download: 34.71 Mbps
Upload: 24.72 Mbps
EU Server (Amsterdam)
Ping: 38ms
Download: 82.67 Mbps
Upload: 43.19 Mbps
Asia Server (Hong Kong)
Ping: 341ms
Download: 7.61 Mbps
Upload: 5.88 Mbps
UK Server (London)
Ping: 56ms
Download: 80.25 Mbps
Upload: 42.09 Mbps
Re speed test: Always take such speed tests with a grain of salt as they simply rely on too many variables. However, since we've tested 20+ VPN services so far, we have an average that we can compare to other VPNs.
Results: IPVanish was pretty fast, but just a bit slower than Hotspot Shield.
Plans & Pricing (Affordable)
Similar to a few other VPN providers, like ExpressVPN, IPVanish has a single, all-in plan that gives you unlimited access to all of their features.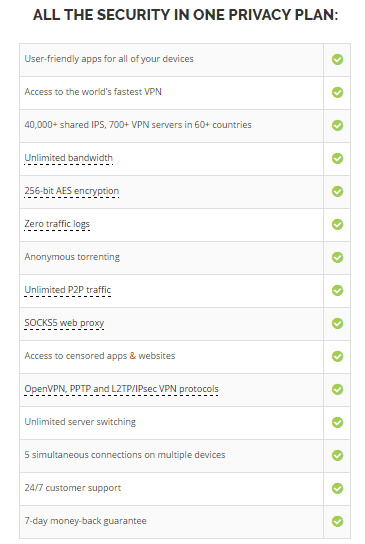 IPVanish also offers pre-paid plans for three months and one year if you'd like to save a little bit of money, too.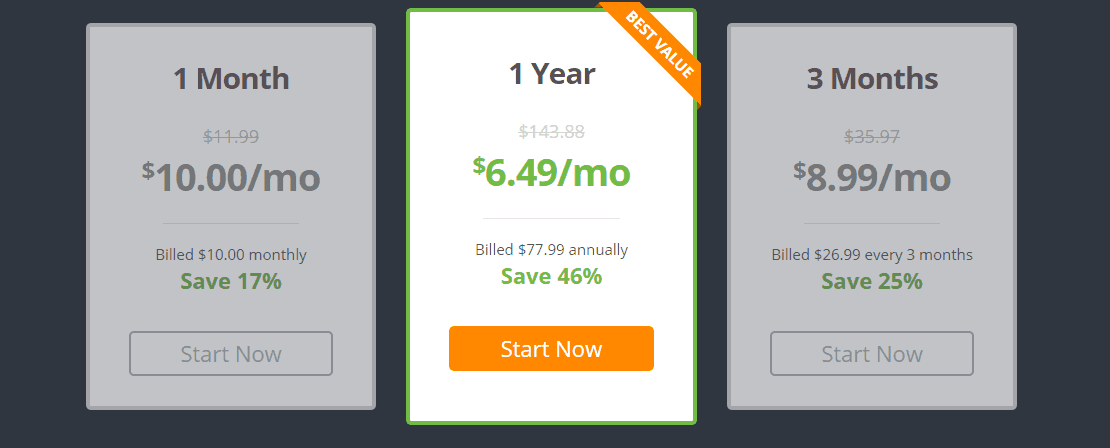 Month-to-Month Plan
$10.00 per month

7-day money back guarantee
One Year Plan
$6.49 per month for 12 months, saving 46%

Billed $77.99 every 12 months
3 Months Plan
$8.99 per month for three months

Billed $26.99 every three months
We've seen how extensive the IPVanish network is. We've looked at their available protocols, and how their unique SOCKS proxy extension works (without having to download a client).
You've gotten a sampling of their pricing, so let's create an account (don't worry, you still have access to that 7-day money back guarantee) and let's see how to get everything setup.
IPVanish Setup Reviewed
---
First, sign up with IPVanish.
Once that's done you'll be able to download their VPN software.
Look for the My Account link in the upper navigation menu.
You should be taken to the Control Panel after logging in, where your account information and profile are displayed.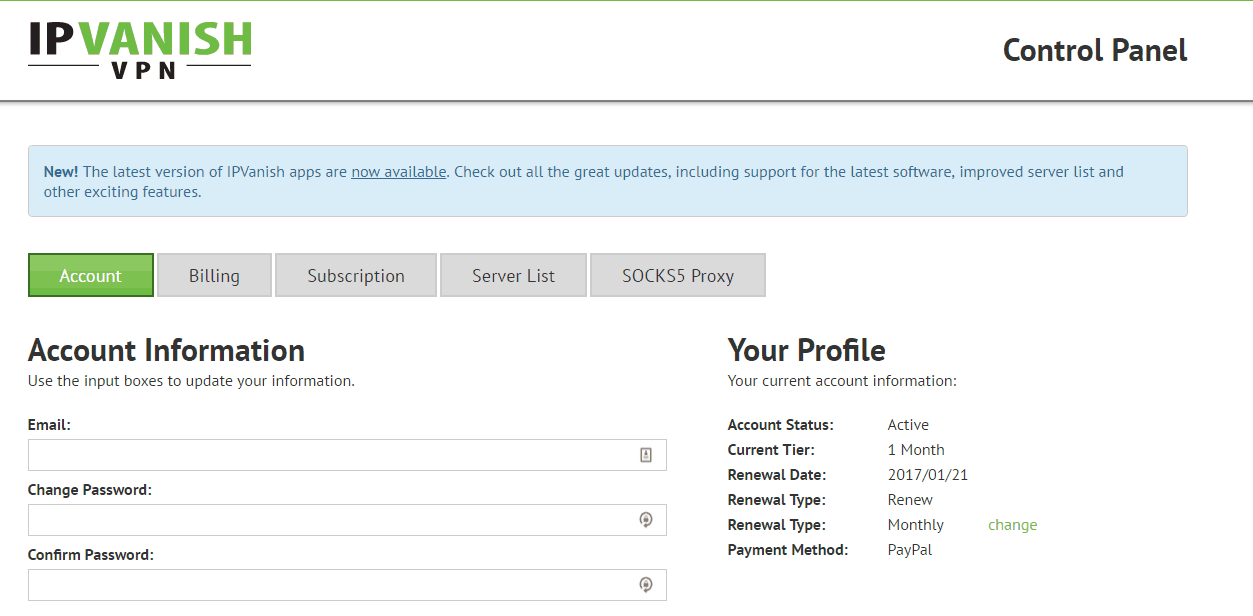 In a second, we're going to click on that helpful blue box that directs you to download the latest apps.
But first, let's explore a few other areas of the Control Panel.
First, navigate over to the Server List to get a quick view of not only available servers, but also their status and capacity.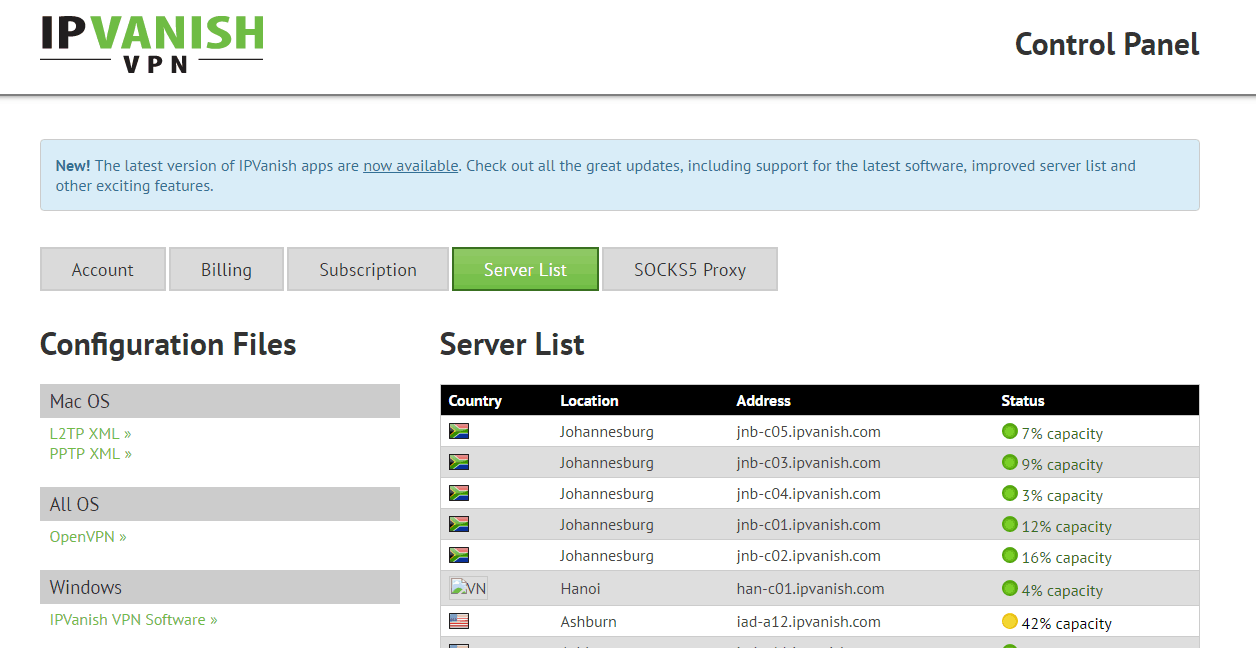 From there, you can also click over to the SOCKS5 Proxy to get hostname, username and password for connecting. If you remember from earlier, you don't need a downloadable VPN client to use SOCKS5, so here's all the information you'll need.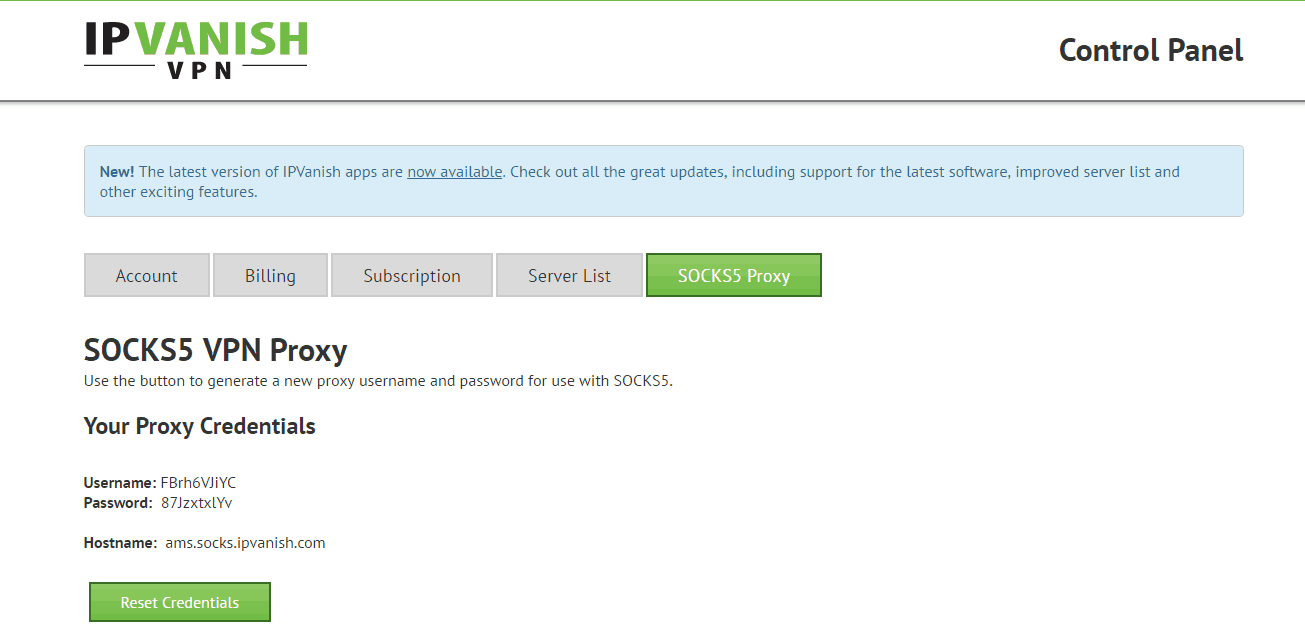 Ok, enough puttering around.
Click the "now available" where it says "New! The latest version of IPVanish apps…" to get this party started.
IPVanish will automatically detect which device you're on and supply the appropriate app.
Click the Download Windows App button, and you know the rest of the drill. Go through the install wizard and complete setup.
When ready, fire up the VPN client app for the first time. It should look something like this:
There's no activation code or similar to enter. All you need to do is plug in your username and password, and hit Login.
After your first login attempt, a helpful tutorial will kick off and do a guided walkthrough of all the major features you'll need.
You can hit Begin Tutorial if you're unfamiliar with how VPN clients work (in general), or you can just continue reading the rest of this short setup section to see how it works (I promise we're almost done).
The first Tutorial step will highlight where to select different 'exit locations' and flip through the different available country servers.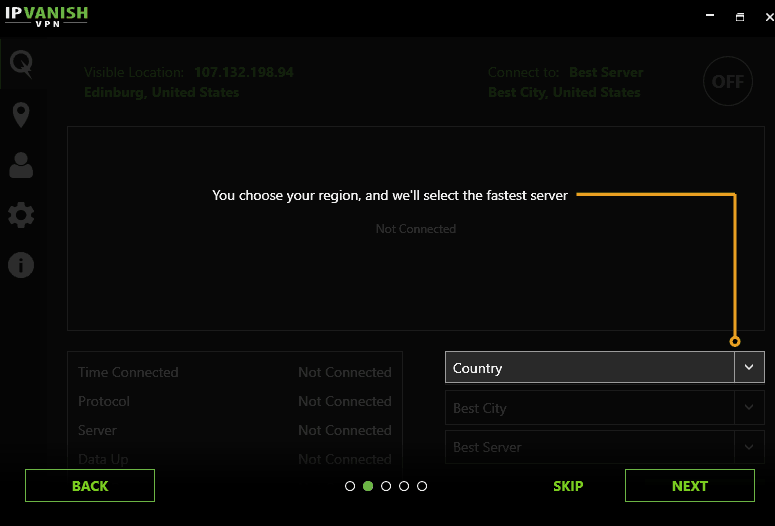 Step Two of the Tutorial brings you to the On / Off switch. You know how these things work. No  need for explanation.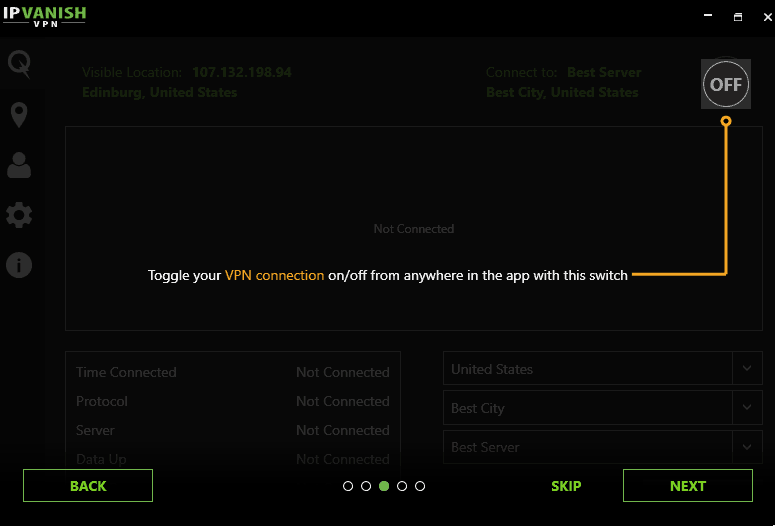 Upon first pass, this VPN client looks a little complex and feature-rich. That's not a bad thing necessarily, but sometimes – especially when you get all default settings figured out – you just want something simple and easy to use.
Fortunately, IPVanish recently came out with a 'Simple' mode that lets you streamline the look, feel, and function.
The simplified option on the left gives you just the basics when ready.
Which, at this point, we are.
Let's see how to create your first connection with IPVanish.
After trying to press connect it asks you to install an adapter in order to connect to OpenVPN. Quickly install the adapter and you should be all set to get started. Look in the lower right-hand corner for the Connect button, click it, and you should see something like this: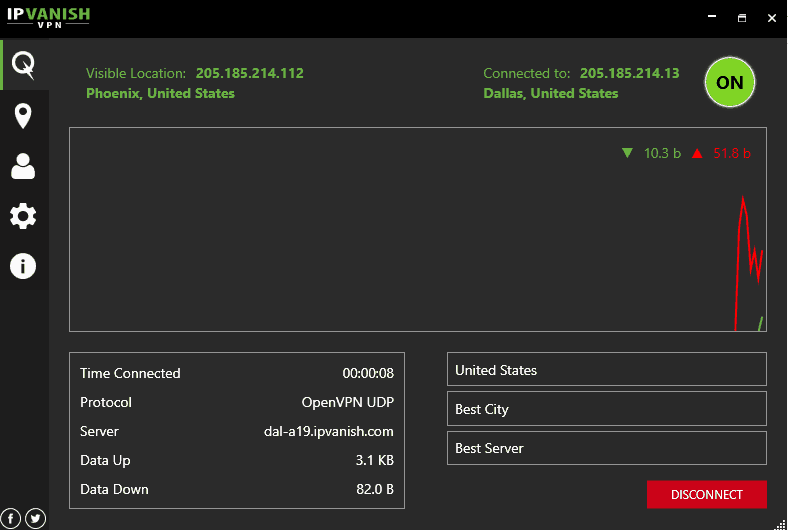 Your 'visable location' is displayed on the portion after connecting to the OpenVPN protocol.
If you want to change your connection or protocol options, simply press the wrench icon on the left in order to reach your settings.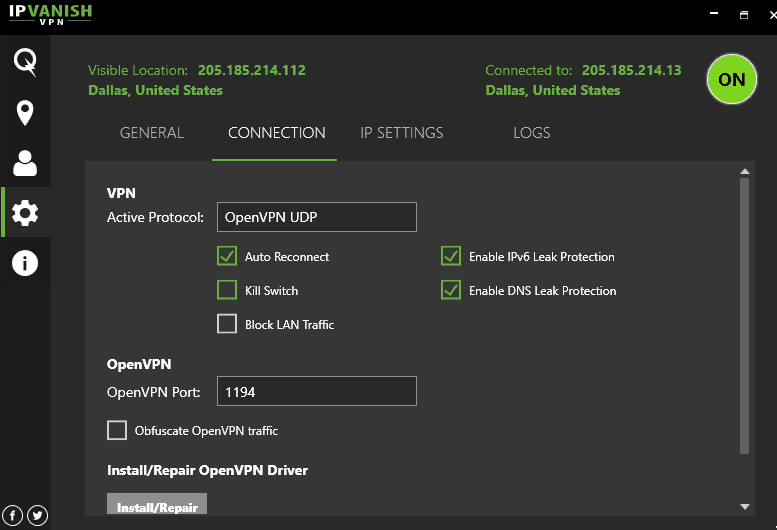 Review Conclusion: IPVanish is OK 🙂
IPVanish provides top-shelf encryption options, along with all major protocol options.
Their unique SOCKS5 proxy is the perfect option for those looking for anonymity with fast download speeds, all without being encumbered by downloading and running software each time.
And their support is friendly, knowledgeable, and receptive.
You get a lot of the same benefits and features as a few other VPN providers, without the high price tag. It's really a no-brainer.
IPvanish Pros:
Instant activation
Simple to install and easy to run
60+ countries, 700+ servers
Works on all devices
IPvanish Cons:
You may need to restart your computer after installation
No Tor included (ExpressVPN has it)
P.S. Have you used IPVanish? If so, please consider leaving a review below.
5 user reviews for IPVanish