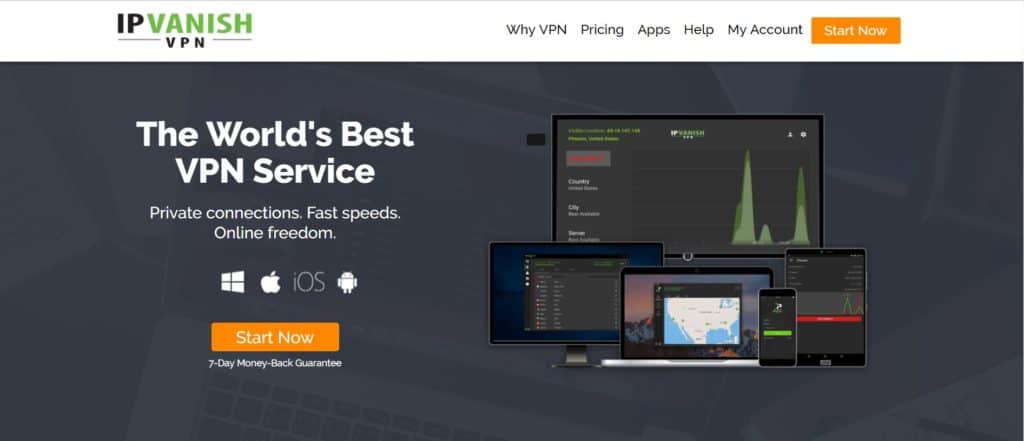 US-based VPN provider IPVanish claims to be "The World's Best VPN Service".
While they have an abundance of endorsements and sponsorships and offer an admittedly feature-rich product, the question remains, "Can they live up to their own hype?"
In this review, I'll be providing you with a detailed answer to that question.
I will be taking an unbiased look at IPVanish, analyzing everything from the company's background, services, features, pricing, and more.
Let's get started.
IPVanish General Overview
| | |
| --- | --- |
| PROTOCOLS: | OpenVPN, SOCKS5, and Others  |
| ENCRYPTION: | AES 256-bit |
| LOG FILES: | No Logging |
| LOCATIONS: | 60+ countries with 850+ servers |
| SUPPORT: | 24/7 Live Chat (First Come First Serve) |
| EASE OF USE: | Acceptable |
| COST: | $6.49/$8.99/$10.00 |
| PLATFORMS: | Windows, Mac, iOS, Android, Routers, Linux |
| RECOMMENDED? | Yes. But there are better options |
| OFFICIAL WEBSITE: | www.ipvanish.com |
Founded in 1999 under the umbrella of Mudhook Marketing (located in US, Florida), IP Vanish has quickly earned a reputation as one of the top VPN providers on the marketplace.
They offer an extensive network that boasts over 850 servers (and counting) across more than 60 different countries (primarily located in Europe and North America).
Their VPN services are compatible with nearly every device and OS imaginable and they have dedicated apps for Windows, Mac OS, Android, and IOS. For the more tech-savvy users, they also allow customers to manually setup an IPVanish configuration on Window's phones, Ubuntu, ChromeBook, and your routers.
IPVanish also supports all major VPN protocols and even allows users access to the download-free SOCKS5 web proxy (which I will touch on later).
IPVanish Pricing & Plans: (Affordable but Not "Cheap")
One of the great things about IPVanish is that they don't dilute their services by offering the traditional "Tiered Packages".
There is no "IPVanish Bronze" or "IPVanish Platinum". Instead, every customer receives exactly the same service with the only difference being the length of time for which they have access to that service.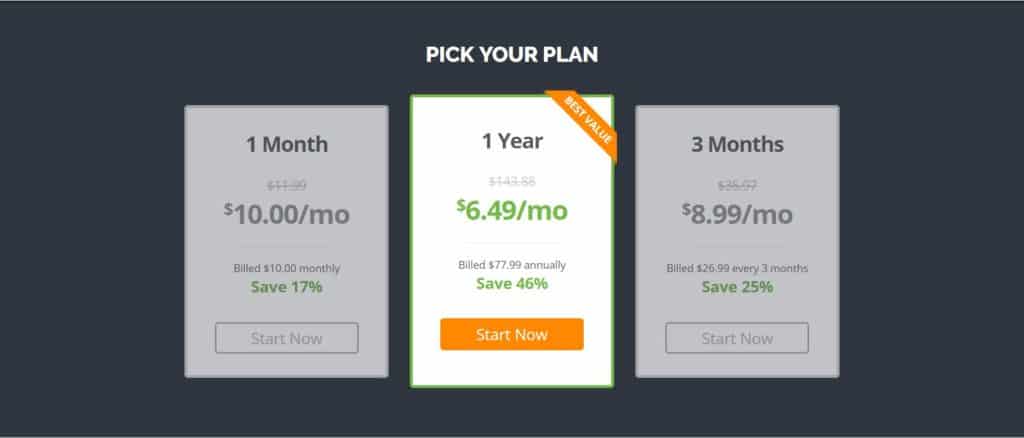 Monthly: $10
Since I've never actually seen them offering their services for $11.99 a month, I will just chalk the advertised "17%/month savings" up to clever marketing and say that this plan is the equivalent of:
$10 per month
$120 per year
0% Savings
3 Months: $26.99
Unlike most VPN providers (and much to our surprise), IPVanish does not offer the traditional 6-month pricing option.
Instead, they offer a 3-month pricing plan billed quarterly at $26.99.
This equates to:
$8.99 per month
$107.96 per year
25% savings
12 Months: $77.99
Like most other VPN providers, if you are looking for the best deal possible, you will want to opt for IPVanish's yearly pricing plan. At only $77.99, the plan equates to:
$6.49 per month
$77.99 per year
46% savings
IPVanish also offers a 7-day money back guarantee on every plan and allow you to pay with just about any method you desire (including bitcoin for those of you looking to increase the security of your transactions).

While these prices are nowhere near as expensive as some of their more premium competitors (I'm looking at you ExpressVPN), they are still a far cry from "Budget Friendly".
This fact is painfully illustrated when you take a look at the pricing plans offered by PIA and Hotspot Sheild and realize that you can find other high-quality VPN providers for less than half the price of IPVanish.
I do appreciate the all-inclusive pricing and love the simplicity of their offer, but frankly, I think that IPVanish is doing their company and their clients a disservice by not offering a steeper discount on their yearly plan.
However, for you to truly determine whether or not IPVanish is worth the investment, you first need to know what you get in return for your investment.
IPVanish Pros (+)
1. Fast Speed (only 18% slower than without a VPN)
I ran a few speed test on the IPVanish servers and here is what I came up with (I'm using 100 Mbps Internet connection within EU).

US Server (New York)
Ping: 133ms
Download: 34.71 Mbps
Upload: 24.72 Mbps
EU Server (Amsterdam)
Ping: 38ms
Download: 82.67 Mbps
Upload: 43.19 Mbps
Asia Server (Hong Kong)
Ping: 341ms
Download: 7.61 Mbps
Upload: 5.88 Mbps
UK Server (London)
Ping: 56ms
Download: 80.25 Mbps
Upload: 42.09 Mbps
IPVanish offers respectable download and upload speeds. When connected from EU to EU they only throttled my speed by 18%.
However,  it's hard to justify the cost of their service when you compare the US speeds that they offer with the speeds of other, less expensive services.
For example, the download speeds of IPVanish (on the U.S. based servers) were slower than PIA, TrustZone, and SaferVPN, all of which cost less than $4/month.
2. Decent Working App
Installing their app was a pretty smooth straightforward process (although, annoyingly, I had to restart my computer afterward).
Upon launching the software, it was instantly apparent that IPVanish offers an intuitive and easy-to-use interface.
They make it easy for you to find everything you need and give you a plethora of settings and options to toy around with.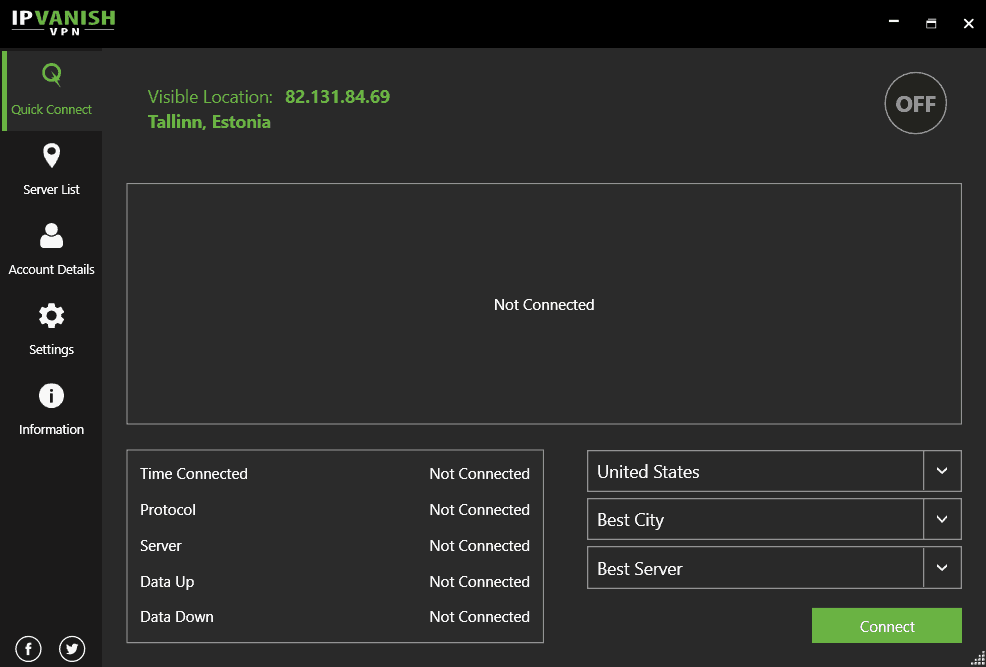 The only complaint I have with their interface is that they offer no instructions on setting up and using the SOCKS5 proxy from the account portal.
While this isn't a huge deal and can easily be resolved with a quick Google search (or by reviewing IPVanish's article on the topic), with the SOCKS5 proxy being such a huge selling point, you would think that they would streamline the setup process as much as possible.
3. Zero Traffic Logs 
If you read through the fine print in the privacy policy of many VPN services, you might be shocked to realize that their advertised "Anonymous Browsing Experience" isn't so anonymous after all.
In fact, if you choose the wrong provider, your personal data and information could be stored on one of the company's internal servers and the privacy policy (which you agreed to) gives them the rights to use that data for a whatever purposes they see fit.
Luckily, IPVanish is not one of those companies. Operating under a strict "No Logging" policy.
In their own words,
We have a strict policy against the collection of both connection and activity logs. We will never store the metadata about your VPN session or information about how you used the service.
So while you are never truly anonymous online, IPVanish is one of the few VPNs that gets you about as close to total anonymity as possible.
4. Strong Encryption (AES-256)
IPVanish relies on the same encryption protocol, AES-256, that is used by many of the world's leading security agencies and government organizations.
With the rapidly increasing number of brute force cyber attacks, this is a huge plus.
In December of 2016, WordFence, a WordPress security plugin, noticed a dramatic increase in the number of brute force attacks being executed against WordPress websites (which power more than 25% of the internet).
In fact, things got so bad that, at one point, there were more than 30,000 unique attacking IPs per day!
While this statistic should serve as a wakeup call to many website owners, it also should not be a cause for alarm.
By surfing the web with an AES-256 encrypted VPN (like IPVanish) your IP address and all personal data will be hidden from hackers to the point that you are your data are virtually "Brute Force Proof"
That also means that you can get around IP specific censorship leveraged by schools, employers, and governments.
5. Download Free SOCKS5 Web Proxy 
Like most VPN providers, IPVanish allows users access to several different protocols including the default OpenVPN as well as PPTP, and L2TP.
While OpenVPN's are generally the recommended protocol since they offer fast speeds that don't sacrifice privacy or security, they do come with a downside.
That downside is that you have to download a client directly to your device in order to access the unique certificate required to establish a secure connection.
Luckily, there is an alternative.
IPVanish gives their customers access to a special proxy server protocol known as SOCKS or Socket Security. This protocol allows you to enjoy the same benefits of a standard VPN without having to download any software to any of your devices.
This means that you can mask your IP address, hide personal information, and enjoy faster performance all without downloading an intrusive third-party tool.
While this provides a huge service to certain customers (especially individuals looking to circumvent censorship laws or other IP-related restrictions), it should be noted that the speed and download-free surfing comes at a cost.
Namely your security.
The reason a SOCKS proxy is able to achieve faster speeds than a traditional VPN is because it doesn't use the same encryption standards.
In other words, it doesn't offer the same privacy and security protocols that prevent hackers, cyber-criminals, and governments from accessing your personal information.
While the proxy does an admiral job of obfuscating your location, it does little-to-no good when it comes to protecting your privacy and security.
Even though this is a "Pro" for IPVanish and certainly a unique protocol to offer, be cautious and educate yourself about the SOCKS proxy before taking advantage of this feature.
6. Torrenting is Allowed
With IPVanish, not only is torrenting allowed… It's blatantly encouraged.
Unlike many VPN providers, IPVanish has no qualms about customers using their service to "Torrent freely and privately."

Their carefree attitude towards torrenting might anger some anti-piracy advocates, however, for the average VPN user, this feature is a major bonus.
7. Five Device Connection Limit
One of my favorite "Features" of IPVanish is that they allow you to simultaneously connect up to five devices.
Most VPN services, including premium companies like ExpressVPN, limit your simultaneous connections to 3 devices. This might not seem like a big deal to some of you, however, for those of you with family members or spouses, buying a second license can be a huge frustration and unwanted expense.
However, with IPVanish's generous 5-device limit, you, your spouse, and even your kids can browse safely and securely… All at the same time.
IPVanish Cons (-)
1. No TOR Compatability
TOR or The Orion Network is a network that encrypts and relays your traffic information across several servers ensuring that it is difficult (read: impossible) to track your real-time location.
For those of you who need serious security measures to fight against government surveillance or censorship laws, TOR allows you to create a second layer of security with an existing VPN to maximize your privacy and ensure that your location and identity remains private.
Unfortunately…
IPVanish does not have a TOR compatibility.
For most users, this will not be a deal breaker. However, for customers living in more draconian countries like China or North Korea, this added layer of security can literally be the difference between life and death.
2. No Netflix Compatibility
Now I get to the real deal breaker…
IPVanish is not compatible with Netflix and this is a big issue for many would-be customers.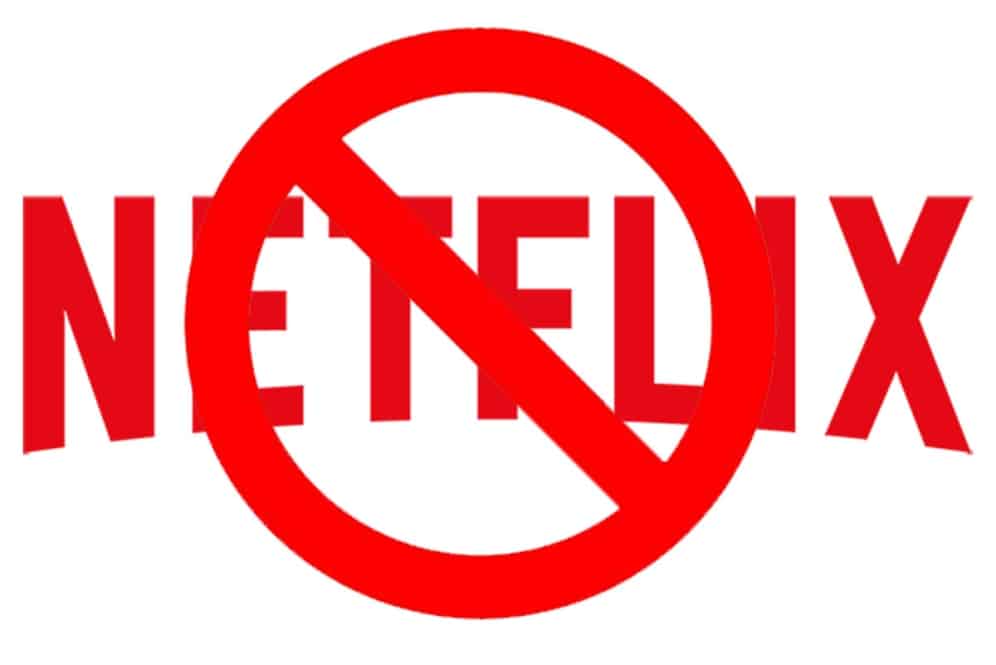 Especially when you consider that other services (like PIA) offer the same performance, support, and reliability with Netflix compatibility for half of the cost.
While I personally had a great experience with IPVanish's service, Netflix compatibility is essential for any VPN provider that wants to be considered the "Best". Hopefully, the team will find a way to resolve this issue in the near future, however, at this point in time, you're SOL.
If you need a VPN that works with Netflix, read this.
3. Third Party Reviews are a Mixed Bag
As I have stated throughout this article, my experience with IPVanish was more than satisfactory.
Outside of the TOR and Netflix compatibility issues, I didn't really have any problems with their service or their customer support.
However, when I went digging for third party reviews… I was shocked to find that IPVanish actually drew a lot of heat in the online community.
On the Better Business Bureau website, IPVanish has received more than 17 customer complaints and they have failed to resolve or respond to at least 4 of those complaints.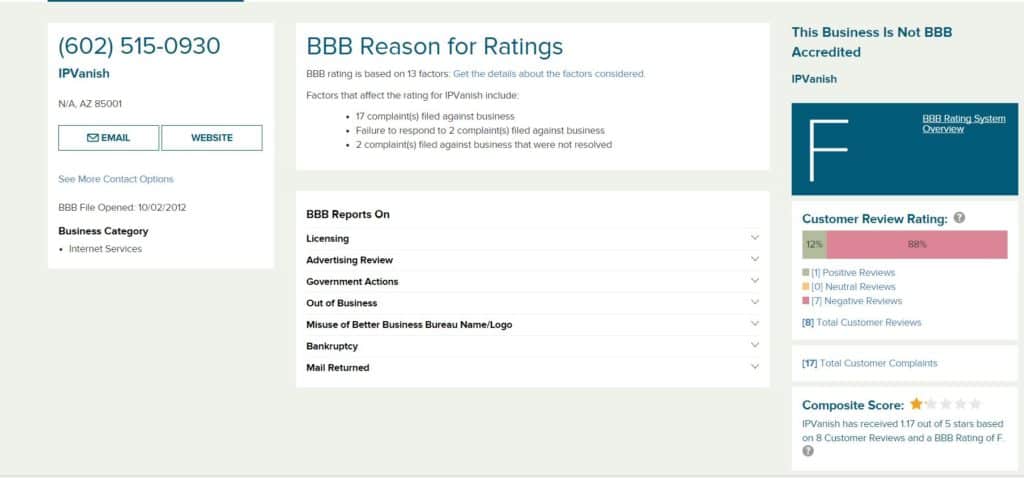 After digging through Reddit, I found that many others users recorded negative experiences with IPVanish, although it was hard to find a consistent theme among the complaints.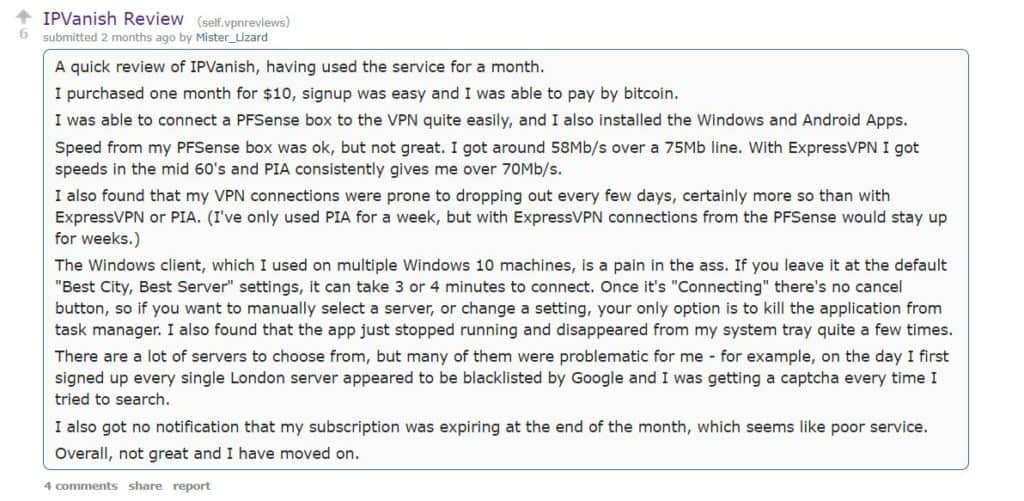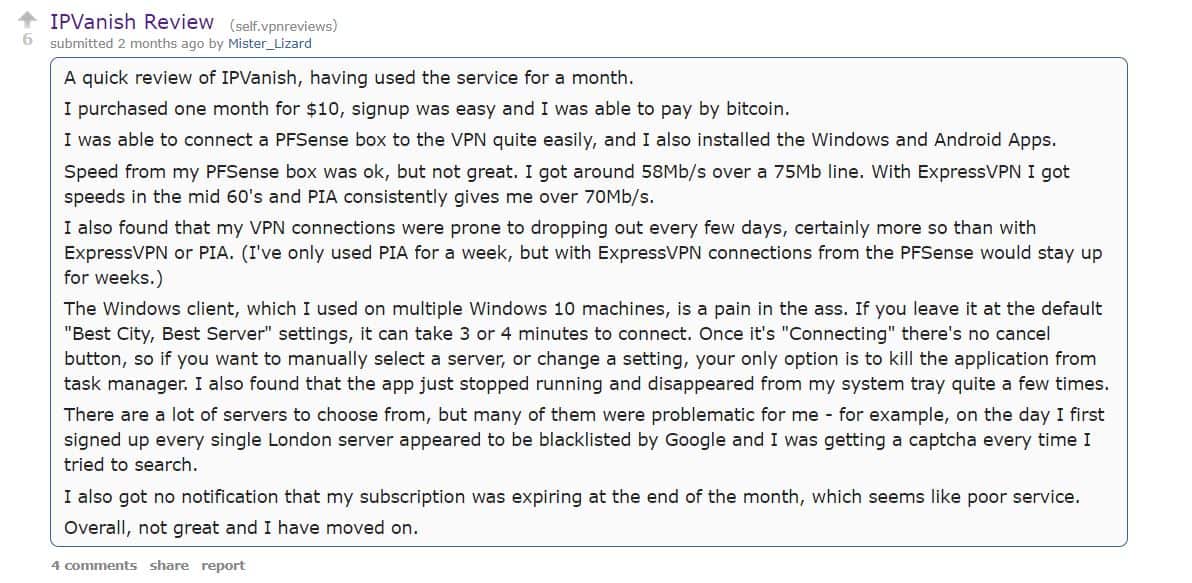 In my own experience, IPVanish is far from perfect, but it is a high-quality VPN with solid customer service.
However, in the spirit of transparency and full disclosure, it's important for potential buyers to realize that not every IPVanish customer has shared my positive experience.
4. Falsely Advertised 24/7/365 Support
One of the greatest annoyances when using a VPN is that the industry's customer service is notoriously unreliable.
Sadly, IPVanish propagates this stereotype… and then some.
While their advertisements and marketing promise that users will have access to 24/7/365 support – it's just not true.
For starters, they don't even have a live chat option (which makes me wonder how in the world they thought that they could advertise 24/7 live support?)
This means that if you ever did need to get instant help, you wouldn't be able to.
And when you do send in a support ticket, you don't receive an immediate (or even remotely fast) response.
To fully understand how their support works I submitted 1 simple question and here's (auto) their response:

1-2 days to reply?
Wow.
So much for 24/7/365 support…
In fact, after submitting my support ticket Friday afternoon, I didn't receive a full reply from the support team until Monday.
That's more than 60 hours of time during which I received no support. Certainly not a plus in a my book.
Although, they do have support center and knowledge base which is quite helpful, it doesn't pardon the fact that they blatantly lie in their advertising and provide you with customer service that is a far cry from what you expect going in.
Do you think that you might be in need of instant support for your VPN service?
Then don't bother with IPVanish… unless your definition of "instant" is 48 hours+.
Do I Recommend IPVanish?
The answer is… It depends on what you are looking for.
IPVanish.com provides a reliable service at a reasonable price and while it doesn't offer anything groundbreaking or truly exceptional, it does offer several features (like the SOCKS5 protocol) that make it appealing to a certain demographic of VPN users.
However, for most VPN buyers, I would hard pressed to recommend IPVanish (if for no other reason) due to the quality of their competition.
For example, PIA and Hotspot Shield (which I have mentioned several times throughout this review) offer faster download speeds, Netflix compatibility, and similar (or cheaper) pricing plans.
IPVanish isn't a bad VPN, but the shoddy customer service, compatibility issues, and the simple fact that you can find better offers for cheaper makes it hard for me to recommend them to most readers.
Have you ever used IPVanish before? If so, what was your experience like? I'm always interested to hear what other enthusiasts have to say about the VPNs that I review! Let me know below.
Add your own IPVanish Review:
14 user reviews for IPVanish
Rachel Webb
Horrible service all around, save your money!!
Really poor customer service, take at least a day to respond. Then when the solution they suggest does not work, they simply ignore emails and try to wait out the 7 days so you are locked in.
Not very professional. Had to find my own solution and have requested a refund.
Really disappointed as I had put in a lot of research before buying.
Daniel Johnston
Love IP Vanish
I bought IP Vanish roughly three years ago and love it. The fact that they refuse to keep logs makes me feel totally safe on the internet. Great selection of servers and incredibly fast speed. The interface is easy to use and it takes no time to connect to the fastest server. Well worth the money.
Although RIP using a VPN and browsing Netflix. Great while it lasted!
Uncle Mike
Go for something else until they get it right
I purchased the 3 month package and I have been using their service for two months now. They have managed to create an attractive little client for VPN, but it's still very much a work in progress. Connections have usually been a bit shaky. I've encountered several CTDs, which disable the kill switch, enabling any other service you might be using, to connect directly over the net. Just my $0.02.
I'm using version v.3.1.0.0. Beta.
Rafa
IPvanish review
I use Kodi and IPTV so went looking for a VPN for that. I am not a big torrent user but do nzb. NZB doesn't overly concern me so was mainly interested for usage with Kodi and IPTV. My main box is an Nvidia Shield. IPvanish is one of the very few that have an Android TV app. Yes, I know you can side load or use other apps with inputed settings etc. but wanted something simple to use. Kodi and IPTV took enough tinkering to get working correctly. Plus it auto connects so I don't have to train my wife or kids on using it. Add apps for regular Android and iOS on top of that I was sold on giving it a try.
I paid ~$58 for two years with the 7 day refund period. Googled around and found the best discounts of the day and signed up. Didn't have any issues with that process.
Downloaded the apps and gave it a shot. I'm in NC and it auto server detect gave me one in Arizona. I was on mobile with 20mbps speed at the time. VPN sent that down to 5mbps. Changed to Atlanta and went to 10mbps. Played around with for a little while but didn't put to much effort as I was at work. Got home and hit 65-70mbps regularly. (Atlanta, closest to me.) Back on mobile areas with high speed I also hit that same range. (But those areas are very small as my local isn't a mobile mecha for the carriers to saturate.) I've had pretty much zero disconnects so it has been reliable but the real test in that area will be over time. I am completely satisfied with the service. The apps were what sold me and the speeds have been great. Honestly at 20mbps I would have happy as none of the streaming takes more than that.
Now if you have advanced needs or are particular about having servers outside the US, torrenting or other things it may or may not be as good. But for my simple needs of keeping my ISP from seeing my traffic and using for browsing while connected to public wifi it is a great option I am completely satisfied with.
Bob Smith
very happy user here
Have been using IPVanish for a couple of years now. Very satisfied as a user. Simple to use and works well. Good value for money and I have had no desire to see what else is out there because "if it ain't broke, don't fix it".
I pay quarterly and it works out less than 10 bucks a month, automatic renewal.
Fred Guerr
No complaints here
I use IPVanish and enjoy it thoroughly. I use it daily, and even leave it on "overnight" on my days off. I love that it has a kill switch mode which doesn't allow internet activity if it becomes disconnected for any reason. It gives you to the option to have it change your ip address periodically (up to 90 minutes) and they don't store any of your information.
Nuno
Mac App with some problems, but generally a good service
IPVanish was my first VPN service of all time, I moved to another country (Germany) and I needed a more secure way of "surfing". I use a Mac at first I was getting trouble with the app, but with some struggle it worked. Im general I have nothing to say about the service, but I only used for 1 month, I find another one, cheaper and works with Netflix security.
John
Support isn't fast as promised
Netflix has changed their connection protocol, now users may only access content in their "Area of Location" Yes there is different content on Netflix in the E.U, then here in the states 🙂
I use IPVanish on a Amazon Fire Stick and on a smart phone, no issues so far, and I haven't noticed a noticeable change in my bandwidth speed on a 100 MB connection get about 85. Support gets a 2 out of 5 stars, changed my payment method and still says billing error after like 3 months, still get service but just got an automated response after like 24 hours that did not resolve anything, no live help. So overall the service is excellent as long as you do not need any help..
Dan
no netflix
IPVanish recently announced that they no longer work using Netflix. Occasionally I still manage to watch Netflix, but most of the times I'm getting this error (Netflix has blocked …).
Otherwise it's a solid app. I bought it 12 months ago and secure and "OK" deal for $6.49.
I have never used their support so I've nothing else to add here. Hope this helps someone :)!
Gordo
Great
The interface of this app is fantastic, works really fine for me. Got no problems so far. I'm not a heavy user though, but still recommend it.
Cindy
Nice!
So I installed this VPN to access some website that are not allowed in my country. Everything works, everything was really easy and I like it.
Kemo
Average
Great performance – fast servers
Easy-to-use – great app
A bit expensive
Support times are limited, not 24-7
Conclusion: Average
Graig
IPVanish is good 🙂
I like that IPVanish is cheap and rather fast (no problems with Netflix nor Torrenting). I also like it connects swiftly to different servers without showing any errors (many free VPNs can't do that).
What I don't like? Honestly, I don't like their software itself as it has dark background. Whenever I'm using it I feel like I'm some sort of hacker. I really think they should invest a little to make it more appealing.
Other than that, it's good 🙂
Sally
IPVanish good so far...
Have been using IPVanish for two months and so far I'm impressed. Well, I haven't used any VPN services in the past, although I think a VPN is a must have tool, since Trump signed the new ISP law. My whole household uses IPVanish on their devices and it hasn't let us down so far. The servers are fast for streaming/torrenting/browsing, what else do you need? Customer support is decent, had a live chat with them while setting up my account to ask if they're available on different platforms, which they are.
Fast, reliable, secure, private. – The fantastic 4 that a VPN provider needs to be!