NordVPN has access to 726 servers on every major developed continent.
While that's not the biggest network we've reviewed. It's pretty big.
But that's not what sets them apart.
Instead, NordVPN offers some pretty unique features that differentiate them from every other VPN provider out there.
Like the ability to use your VPN to buy Bitcoins. And their DoubleVPN servers which apply 256-bit encryption twice.
Here's a rundown of what NordVPN has to offer, starting with the highlights before diving into the technical stuff.
Does it Run On Your Device?
NordVPN supports all major devices, including iPhone, iPad, Routers, and major game consoles. They also run on Windows, iOS, OS X, Android, Linux, and Blackberry, too.
You can even set it up on your router to bypass the 6-connection limit and enable as many device connections as you'd like. Which is great, considering there's no bandwidth limit. So browse and download till your heart's content.
NordVPN Review (Summary)
---
| | |
| --- | --- |
| PROTOCOLS: | OpenVPN, PPTP |
| ENCRYPTION: | Double AES 256-bit |
| LOG FILES: | No Logging |
| LOCATIONS: | 60+ countries, 700+ servers |
| SUPPORT: | Live Chat (24/7) |
| EASE OF USE: | Average |
| COST: | $5.75/mo |
| PLATFORMS: | Win, Mac, Android, iOS |
| RECOMMENDED? | YES |
| OFFICIAL WEBSITE: | www.NordVPN.com |
NordVPN Quick Facts

Nord's worldwide server network spans over 724 different location across 57 countries.
That's each and every single continent except Antarctica. Reason being – and this is a direct quote from their site – "But only because penguins just don't get the Internet."
Interestingly, NordVPN doesn't take the same 'one-size-fits-all' approach that most other VPN providers do. Instead they offer different servers that are customized for specific online activities you're trying to accomplish.
That means video streaming is best handled by their "ultra-fast" NordVPN servers. Whereas if security is your top concern, they've got a DoubleVPN and Tor-ing options. (They also have Anti-DDoS options if you're worrying about denial of service attacks.)

For people interested in location-sensitive services, like gambling, NordVPN also has a kill switch. So if at some point your VPN connection drops, their technology will automatically kill whatever websites or software you were using (that way you're always protected – even when unprotected).
NordVPN also has the distinction of being the only VPN provider (at the time of this writing) who will work with Bitcoin. That means all of your purchasing activity is protected and obscured. They also don't track or merge your real identify with Bitcoin wallet accounts so there's literally no paper trail to connect the dots.
Last but certainly not least, they also offer a 30 day money back guarantee. That means you can sign up for just a single month's service, try them out the entire time, and still get your money back if things don't work out. So not a lot of risk.
That concludes the quick backstory of high points. Now here are the less glamorous, but critically important, nitty gritty details.
NordVPN Available Protocols (OpenVPN, PPTP)
NordVPN recommends starting with (and defaulted to) an OpenVPN connection. Reason being, it combines the best of both worlds: speed and security.
OpenVPN is also an open source technology so it's incredibly flexible, allowing multiple ports to be used (TCP and UDP) – without sacrificing strong encryption (more on that in the next section below).
If you're a newb or simply "don't know, don't care", stick with OpenVPN.
NordVPN also offers the Point-to-Point Tunneling Protocol (PPTP) for advanced users, and should only be used when you don't have to worry about security (because there's been various breaches over the years).
Same goes for the older L2TP/IPsec, which is mostly reserved for people with outdated hardware or are looking to side-step pesky firewalls set up by their Governments or internet service provider.
NordVPN uses a special authentication process for the older L2TP/IPsec that uses a shared secret key (instead of issuing unique ones for each person). Despite these extra steps though, consider this option temporary or "last resort" at best.
A newer variation on this same protocol is IKEv2/IPsec, which uses a special 256-bit encryption to lockdown your tunnelled connections between client and server. It's the go-to choice for iOS and mac OS apps.
Secure Socket Tunnelling Protocol (or SSTP for short), introduced by Microsoft, is a special Windows-only integration available for their OS. That being said, there's no known independent audit on file… so you're kinda on your own here.
DOUBLE 256-Bit Encryption Levels
NordVPN offers multiple server types for different reasons.
If security is your top concern, their DoubleVPN is the perfect choice because it encrypts your data twice. Here's what that means.
Most other VPN providers on the market (if they're worth their salt) will use a 256-bit encryption. These are 'military-grade' and virtually impregnable from the outside. Their keys are made up of so many combinations (115, 792, 089, 237, 316, 195, 423, 570, 985, 008, 687, 907, 853, 269, 984, 665, 640, 560, 000, 000, 000, 000, 000, 000, 000, 000 to be exact) that it's basically immune to the ever-popular (and growing) brute force attacks.
These attacks will cycle through combinations at light speed to eventually gain access. That's why it's so easy for someone to hack your "12345" password after just a few attempts. They start at the number 1 (or the letter A in 'dictionary attacks') and exhaust every possible variation before progress to two digits (or two letters).
These are also the reason why you get 'locked out' of an account after too many failed attempts. The web service is trying to make sure you're not bruce-forcing your way in.
The speed at which hackers run these combinations continues to increase well. One older report said that even in 2012, it was possible to break every single 8 character Windows password under six hours!
But 256-bit is another story entirely. It's the same Advanced Encryption Standard (AES) encryption is used by government agencies, including the U.S., and top security professionals. So you know it's legit.
One layer of 256-bit encryption is more than enough.
NordVPN though doubles that. So two completely unique 256-bit combinations are used on their two-node servers.
Zero Logging and Tor Server Compatibility
NordVPN has a strict zero logging policy so they'll not record or keep track of where you end up while browsing the interwebs.
That means every session and connection is 100% anonymous.
NordVPN also has specific "Tor over VPN" that will automatically encrypt session data too. Tor's work by relaying or sending signals of your activities across MANY different places around the world.
The Tor network originally debuted in '95, thanks to the hard work of our U.S. Naval department. It's name and concept comes from 'Onion Routing', which is the perfect visual metaphor for how sensitive web activity is passed through different layers of encryption.
Your session data is sent to "relays" which bounce or send traffic through intermediary signals. Each and every one of those "relays" has its own special encryption. Which means this data is locked and unlocked many different times, within fractions of a second, so that it becomes almost impossible to piece together a trail that eventually leads people back to you.
You can even use NordVPN's super duper DoubleVPN (as explained above) with Tor-ing networks to combine both approaches and be virtually invisible online.

NordVPN Customer Support
NordVPN offers customer service each and every hour of each and every day through old school ticketing system or email. Thankfully they also have a live chat server available too.
Supposedly they offer support through Facebook and Twitter…
Kinda. Sorta.
To verify this for ourselves, we went through some of their latest support correspondence. And we weren't super impressed to be honest.
Exhibit A: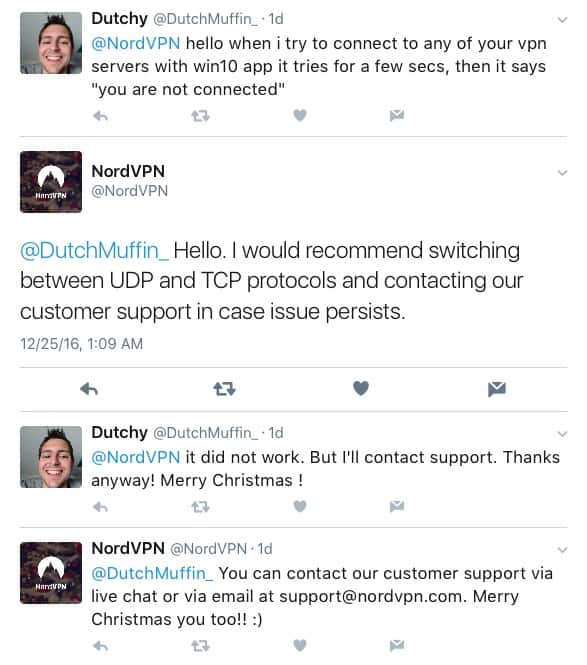 Not bad to start with. But not particularly helpful, either. They just try to re-route them over to their other channels.
Let's see another example: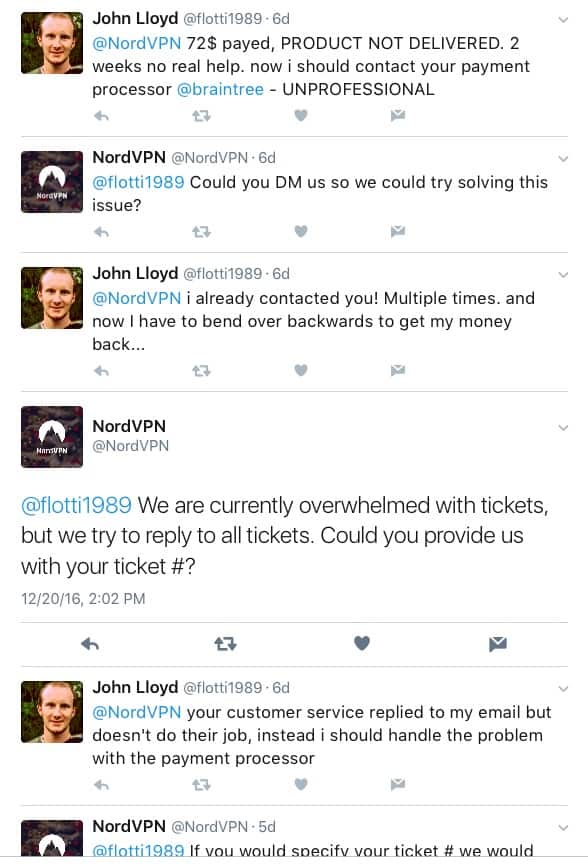 Here's a list of annoying customer service practices that are sure to infuriate already anxious customers:
Send a blanked copy / paste answer that's completely devoid of empathy. Check.

Offer a meaningless blanket excuse that doesn't correct the issue. Check.
NordVPN Plans & Pricing (1 Year Plan is Cheap)
NordVPN offers an all-in plan that's split up into different pricing tiers based on length.
That means each available plan comes packed with ALL major features, including access to all 724 server locations in 57 different countries, access to their DoubleVPN servers which encrypts data twice, their Tor over network servers, and protected Bitcoin use too.
The only difference in plan is the sign-up and billing length.
Simple Plan
One month
$11.95/month
Billed monthly
Standard Plan
Six months
$7.00/month
Billed every six months
Best Offer Plan
One year
$5.75/month
Billed annually
Now you've had a chance to see what sets NordVPN apart.
Want to give them a spin? Sign up and we'll walk you through the entire setup process.
NordVPN Speed Test
We also conducted a brief speed test to give you an idea of their 'out-of-the-box' performance. Here were the results:

P.S. The location we used to track the speed was in the middle of Europe: Estonia.
US Server (New York)
Ping: 116ms
Download: 49.37mb
Upload: 28.59mb
EU Server (Amsterdam)
Ping: 37ms
Download: 14.33mb
Upload: 48.18mb
Asia Server (Hong Kong)
Ping: 379ms
Download: 8.39mb
Upload: 2.72mb
UK Server (London)
Ping: 52ms
Download: 32.54mb
Upload: 21.65mb
Re speed test: Always take such speed tests with a grain of salt as they simply rely on too many variables. However, since we've tested 20+ VPN services so far, we have an average that we can compare to other VPNs.
NordVPN Setup
---
Start by logging into your account on NordVPN's homepage to bring up your Profile page.
This first page is your account information, including payment options and a way to download the client. Let's head over to the Download Area now to select the first VPN client for your device.
Download Area has a list of all the operating systems that NordVPN will work on (in addition to their standard apps for each). They'll automatically pick up on your device and recommend a few to start with. Select the appropriate one, like Windows 10 Application, and let's start the install.
You're on your own for this part. Go through the typical installation process for your operating system. Let's meet back up in a sec.
Alright, now we're ready. After going through the installation process, you can finally login to your new client. Use the very same username and password for your account and click Login now.
This is the screen you are brought to after logging in. In order to switch servers click Servers at the top of the client window.
To connect to a specific server, find the server location you want and click Connect now or choose the client's recommended server on the right-hand side and click Connect now. You can also see that NordVPN will recommend a few different server types above the independent locations if you're looking for a specific objective instead.
Conclusion 
NordVPN offers some truly unique service features that you can't find anywhere else and there's are reason they're rated as one of the best VPNs on market.
You can use their VPN to safely (and anonymously) purchase Bitcoins. They're also one of the only providers to offer a double, 256-bit encryption which makes their connections one of the strongest available.
While their support service might leave a little to desire, overall NordVPN is still a good VPN provider with a large network.
NordVPN Pros:
Instant activation
Strongest encryption
55+ countries, 650+ servers
Works on all devices
NordVPN Cons:
Not very user-friendly for first time users