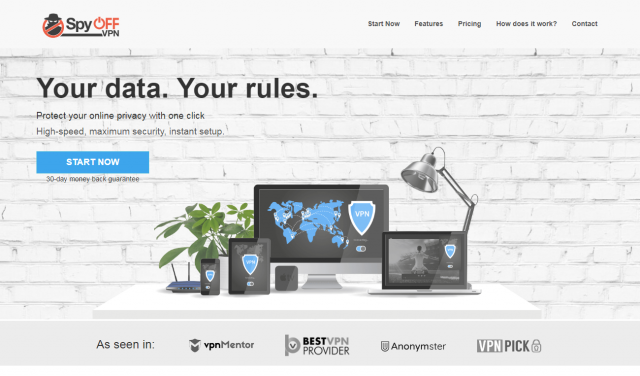 SpyOff is 40-person privacy company owned by Sareta S.r.l.
That makes them the only VPN service located in San Marino, a microstate surrounded by Italy.
So while they share the same peninsula (among other things), they technically don't share the same jurisdiction.
That's an important distinction, because it could ultimately determine who has access to your personal data.
But does location alone make a great VPN?
Or is there a myriad of factors to consider when choosing your privacy tool of choice?
You're about to find out in this SpyOff Review.
OVERALL RANK
#39th out of 74
USABILITY
4/5
ENCRYPTION
AES-256
VPN PROTOCOLS
OpenVPN, L2TP/IPsec, PPTP
SPEED
53rd out of 74
NETFLIX
1/4 Servers Worked
TORRENTING
Yes
LOG FILES/JURISDICTION

Questionable Logging

.

San Marino
SUPPORT

Tickets

COST

$89.00 for 16 months
SpyOFF VPN Pros +
SpyOff's San Marino location means they're just a stones throw away from being forced to share espionage data with dozens of other countries.
Their rock-solid encryption is also leak free. And their easy-to-use app allows for unrestricted torrenting.
Here are all of the things we liked about SpyOff.
1. Privacy-Friendly Jurisdiction
Italy is a member of the extended 14 Eyes intelligence alliance.
That means if they were able to get hands on your data, they'd also share it with most of North America, Europe, and Oceania, too.
San Marino is a tiny sliver carved out of the Italian peninsula. But importantly, it's considered a "microstate" with its own sovereignty.
It shares many of the same positives, like language and culture, but without the negative privacy aspects.
San Marino has no data retention laws, or any legal system that requires a company to disclose customer information. Under the law, requests for information from foreign courts or law enforcement agencies are subject to a "double criminality" provision, which means that the petition will only be upheld by the court if the same crime is threatened with at least one year's imprisonment.
That's a plus.
It means your chances of being prosecuted or have personal data collected low. Especially seeing as SpyOff doesn't collect user IP addresses, browsing history, traffic data, or any other personally identifiable information (PII).
There is a catch, however. Which we'll discuss under the Cons list below.
2. State-of-the-Art Protocols and Encryption
SpyOff uses the latest 256-bit encrypted SSL connection to make sure your data remains safe. No known super computers have been able to breach this bank-grade encryption.
In addition, SpyOff uses three protocols offerings, including OpenVPN, L2TP, and PPTP.
Interestingly, they offer a few different 'security modes' to help simplify which protocol and encryption combo to pick:
The Ultra Secure: Pretty self-explanatory. Uses the most advanced and secure methods. However, you often have to sacrifice other performance factors (like speed).
The Balanced: A mix of strong security without completely giving up on performance, either. Good option if you're relatively confident in the network you're connected to.
The High Speed: Blazing-fast speeds, but without the added security layers. Stick with this one on legit networks only. The downside is that they use relatively unsecure options (like PPTP) which can be hacked in under three minutes if someone knows what they're doing.
The Expert: You can completely customize your protocol or encryption setup. Obviously, you should only stick with this one when you know what you're doing.
The good news is that you're not stuck with one or the other. You can easily flip back and forth these preset configurations to maximize your objective.
Sitting on a new hotel WiFi? Stick with Ultra Secure.
Back at a new remove office for your company? Balanced or High Speed is just fine.
3. No Leaks or Malware Detected
VPN protocols and encryptions are generally secure.
However, they're not always foolproof.
Security-wise, you're fine. But 'leaky' connections can often give away your true IP address when you least expect it.
The end result is that you aren't quite as anonymous as you think you are (or as the VPN connection tells you).
So you can't just take their word for granted.
That's why we've repeated the same painstaking process on all 74 VPNs we've reviewed to date:
Connect to the VPNs servers.
Run a DNS or WebRTC leak test to verify our IP address
Compare the IP they're showing with the VPN's servers (and our own true IP)
Then, repeat multiple times with legit third-party tools
SpyOff came out clean on all of our tests.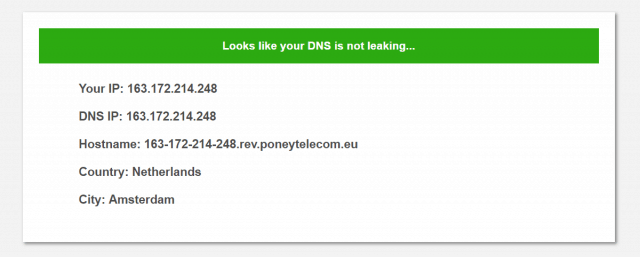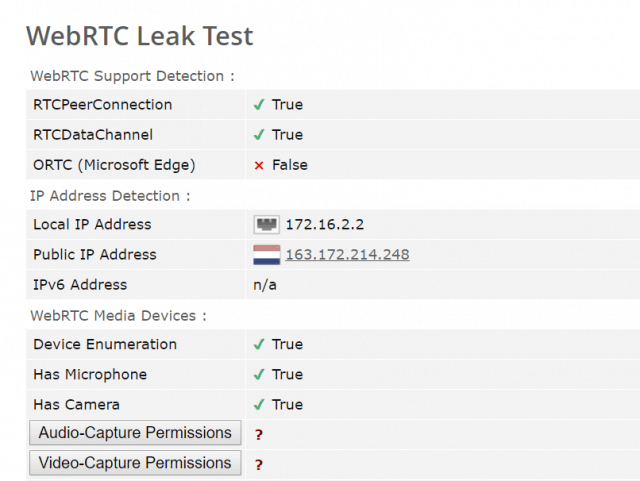 WebRTC is a P2P (peer-to-peer) technology that is built into web browsers. It's mostly good, except when conflicts or attacks trick your browser into revealing your true (non-VPN) IP address.
The final step in our connection testing is to make sure the install files are, in fact, as clean as you think they are. We uploaded the SpyOff files to VirusTotal.com and those, too, came out negative.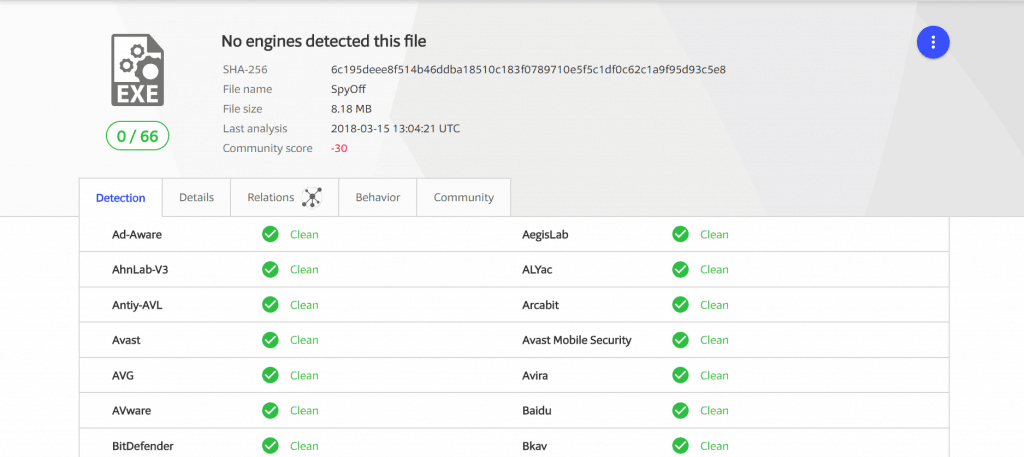 4. Torrenting 100% Allowed
Some VPNs don't allow torrenting at all. They're anxious about the potential blowback from users illegally side-stepping copyright laws.
Some VPNs allow torrenting, but restrict it to a few random servers. So you get excited for a few seconds, until you realize just how many other people are fighting over the same too-few resources.
SpyOff claims they allow unrestricted torrenting. But we put them through a real test just to make sure there were no hiccups in the process.
First, we connected to the VPN. Then, we tried to download the famous "I Have A Dream" audio speech from Martin Luther King, Jr.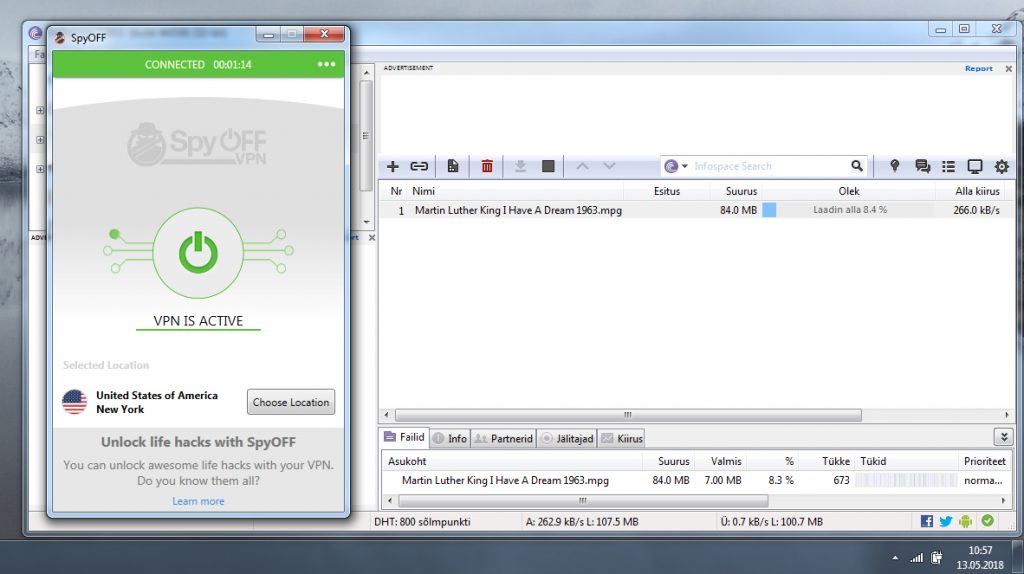 The download started and ended without a hitch.
5. Netflix Worked on 1/4 Servers
Accessing geo-blocked content used to be a walk in the park.
Simply change your server's IP address through a VPN or proxy, and BAM — free House of Cards for anyone, anywhere.
Unfortunately, those days came to a screeching halt back in 2016.
Netflix rolled out sophisticated technology that could pick off VPN users at will. Which meant instead of your favorite intro theme song, you were met with a static black screen.
So the fact that SpyOff's United States server worked with Netflix was a big deal.
Yes, the ones in the United Kingdom, the Netherlands, and Canada all failed. But in today's anti-VPN streaming world, 25% is pretty damn good.
We have seen a few other VPNs get closer to 75-100% successful. So check out our full list of VPNs for Netflix for the cream of the crop.
6. Easy-to-Use App
A VPN client should be easy to use.
There should only be a few options, like On, Off, or Switch Servers.
Otherwise, the rest of the app should just simply run in the background. You shouldn't notice it.
Unfortunately, some apps become buggy, crashing unexpectedly. Or they start lagging to the point that makes them virtually unusable.
But not SpyOff. Their app keeps things simple. And all you have to do is click on the power button to connect to a server.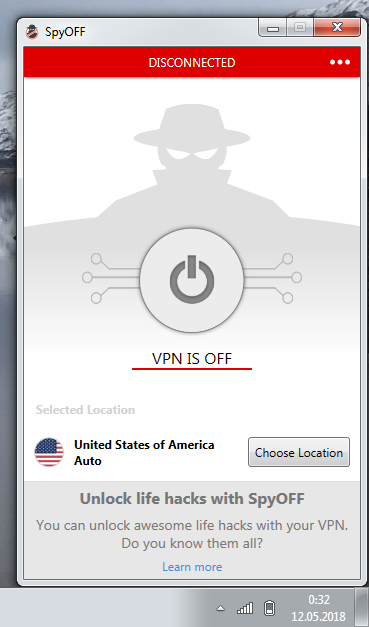 Clicking on the "Choose Location" option allows you to choose between country locations.
The Settings menu will allow you to cycle through those different protocol and encryption configurations.
And it even comes with a kill switch by default. This little feature will automatically disconnect you from the Internet if there's any potential risk your data might seep out.
There is nothing flashy about this app. But in this case, that's a good thing.
7. Decent Ticket-Based Customer Support
SpyOff primarily offers ticket-based support (if you want to speak with a human).
We fired off a question, and it took about half a day for a response.
There were some of the usual translation errors or issues. And they just threw us a link to the support pages on their site.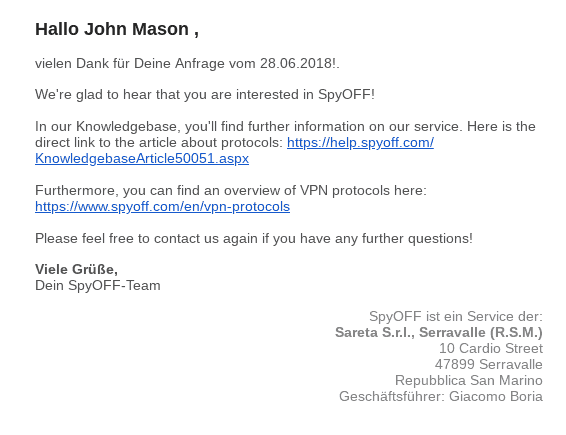 We'll consider this response a Pro because they did answer our question in a relatively-timely fashion.
However, it was also kind of the bare minimum. Here's why.
People reach out to customer support and ask questions for a specific reason. They have something in mind, or a specific issue, that requires some context be added to the conversation.
For example, anyone can read this page they provided: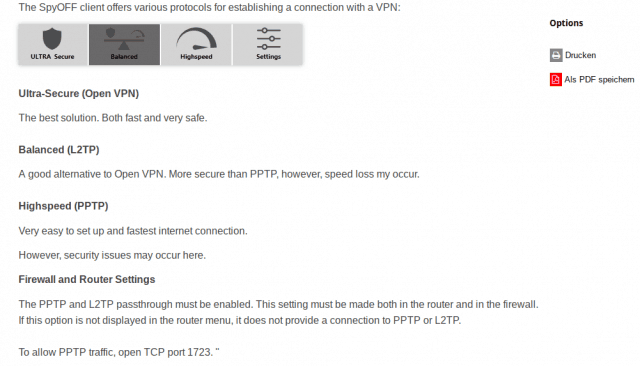 But not many will see the inherent problems it contains.
For example, they're listing the "PPTP" protocol as "highspeed." Even though it's an outdated method that's not even secure. However, if you're running on an old device or network, it might be your only practical option.
So most customers will need a little more guidance into actually making an informed decision. Which you often can't get by reading a Wikipedia-like page.
8. High Total Server Count
Generally speaking, you want a VPN with the highest server count possible.
SpyOff doesn't disappoint there, offering 395 servers with over 14,000 IP addresses out of the gate.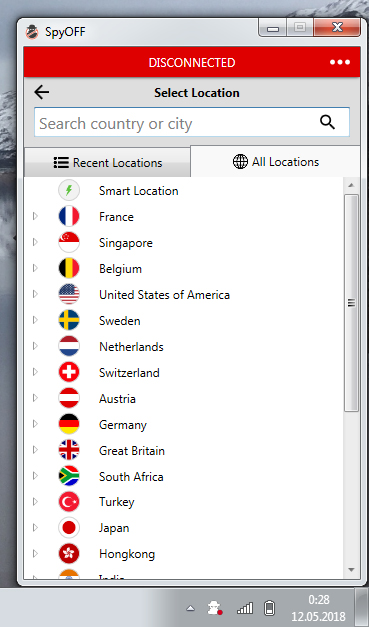 Overall, that puts them on the Pros side of the equation.
However…
You should still peel back the layers a bit to make sure this point is as positive as meets the eye.
For example, 395 X 14,000 sounds impressive. But those are only spread across 25 countries, which isn't very many when you think about it.
Looking at the list reveals that the vast majority of those countries are in North America or Europe.
Good for those people. Not so good for everyone in Asia, Africa, or those in the Central and South Americas.
This isn't the only place that question marks were raised about SpyOff's servers, either.
Let's transition into the Cons section now so you can see what we're talking about.
SpyOFF VPN Cons –
SpyOff's local jurisdiction is safe. Their app is user friendly. And the total server count, on the surface, sounds awesome.
They even have a strict "no logging" policy.
Sound too good to be true?
Unfortunately, it kinda is.
Here's what we mean.
1. Questionable Logging Policy (Doesn't Own Server Data)
SpyOff says they do not log any of your data.
Digging into their Privacy Policy and Terms of Service reveals that this is more or less the case. They keep basic info, like your name, email, and payment information. Make sense for them to hang onto it when you're a client.

But here's the issue we found.
SpyOff doesn't exactly own their own servers outright. Instead, they rely on third-parties to rent access and re-sell it to you.
Many VPN companies play this same misleading server game.
What's the problem with that?
You don't actually know who (or how many others) have access to your data.
So sure. SpyOff might not log your data. But that doesn't necessarily mean those other people, who actually own the servers, aren't logging your data, either.
And there's where the gray area is just a little too gray for our tastes. That's why we can't recommend this as a positive.
2. 54th Out of 74 in Speed
Remember a few minutes ago?
That part where we talked about different protocol and encryption options?
Well. We decided to give SpyOff the benefit of the doubt and use their "High Speed" option for the speed tests.
In theory, this would give them the best shot at blowing us away. The security setup would be customized to maximize performance.
Or so we thought.
In the end, they were still only able to place 54th out of 74 VPNs.
Here's how it went down.
Our initial, non-VPN connection provided a benchmark scores of 98 Mbps download and 53 Mbps upload.
Then, we connected to SpyOff servers in the Netherlands and in the U.S. to see how each performed.
First up, the Netherlands:

Ping: 53 ms
Download: 49 Mbps
Upload: 37 Mbps
This means SpyOff decreased our speed by 50% right off the bat.
Not a great start.
But unfortunately, the U.S. speed decrease was even worse.
Check it out:

Ping: 113 ms
Download: 17 Mbps
Upload: 13.15 Mbps
This slowed us down by 70%. Yikes.
Even their 'speedy' configuration was super slow. That doesn't bode well for any of the other options. Or for those customers located outside their primary North American and European server locations.
There are TONS of other VPNs that outperformed these tests. Even Private Internet Access (PIA).
3. Low Device Compatibility
SpyOff supports Windows, Android, iOS, Linux, Mac OS X. Those are pretty good!
They also support a router. But only if you purchase their own (expensive) VPN FlashRouter.
This is the only way to connect game consoles, like XboxOne, Nintendo Wii, or PS4,  and smart TV options from Sony, Apple, Roku, and more.
If they supported more common routers, we'd probably bump this up to a Pro. But the fact that they're basically holding your router use at ransom with some expensive proprietary option rubs us the wrong way.
SpyOff Costs, Plans, & Payment Methods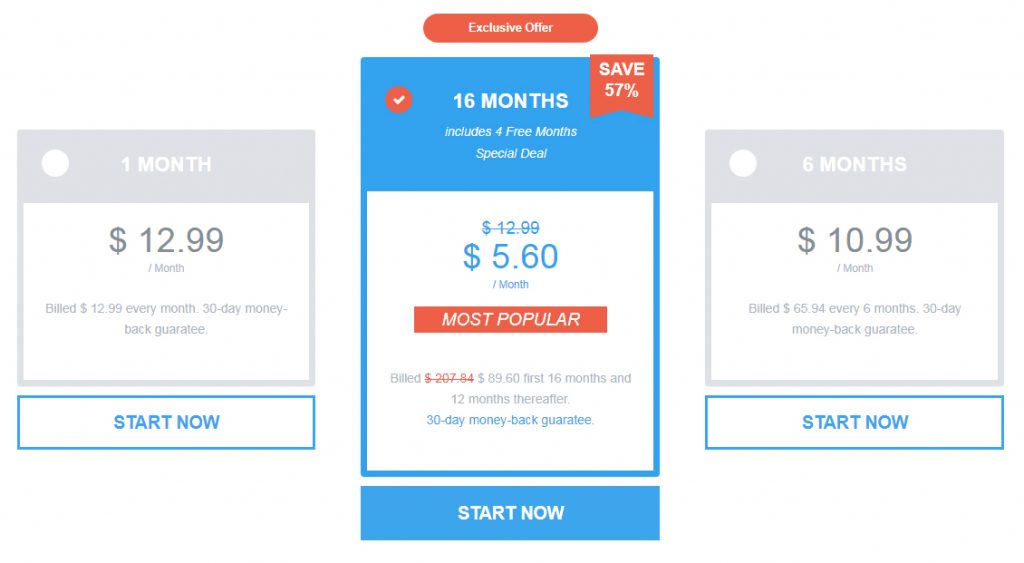 SpyOff has three payment options:
Monthly – billed $12.99 every single month. Offers the most flexibility, but at the highest cost.
Six Months – billed $65.94 every six months. Slightly better at $10.99 per month, but still not that low compared to others we've reviewed.
Sixteen Months – billed $89.60 for first 16 months, bringing the monthly cost down ton only $5.60. This is by far the most affordable option. But it does lock you into a plan for longer than usual (most others only do 12 months at a time)
All plans come with a 30-day money-back guarantee.
You can currently pay them through a variety of options, including SEPA Direct Debit, credit card, PayPal, and BitPay.
Is SpyOff VPN Recommended?
The short answer is no.
SpyOff started off well enough.
Their local jurisdiction is good. And the way they try to simplify protocol with encryption options is interesting.
Unfortunately, it didn't work as well in practice.
The "High Speed" configuration was incredibly slow. And their "no logging" policy loses some luster when you realize that they don't even own their own servers.
The shorter pricing options are on the expensive side. Especially considering what you get. And the slow, cumbersome customer support makes that almost nonexistent, too.
Overall, there are just so many better options we'd recommend for the same cost range.
Add your own SpyOFF VPN review
No user reviews for SpyOFF VPN