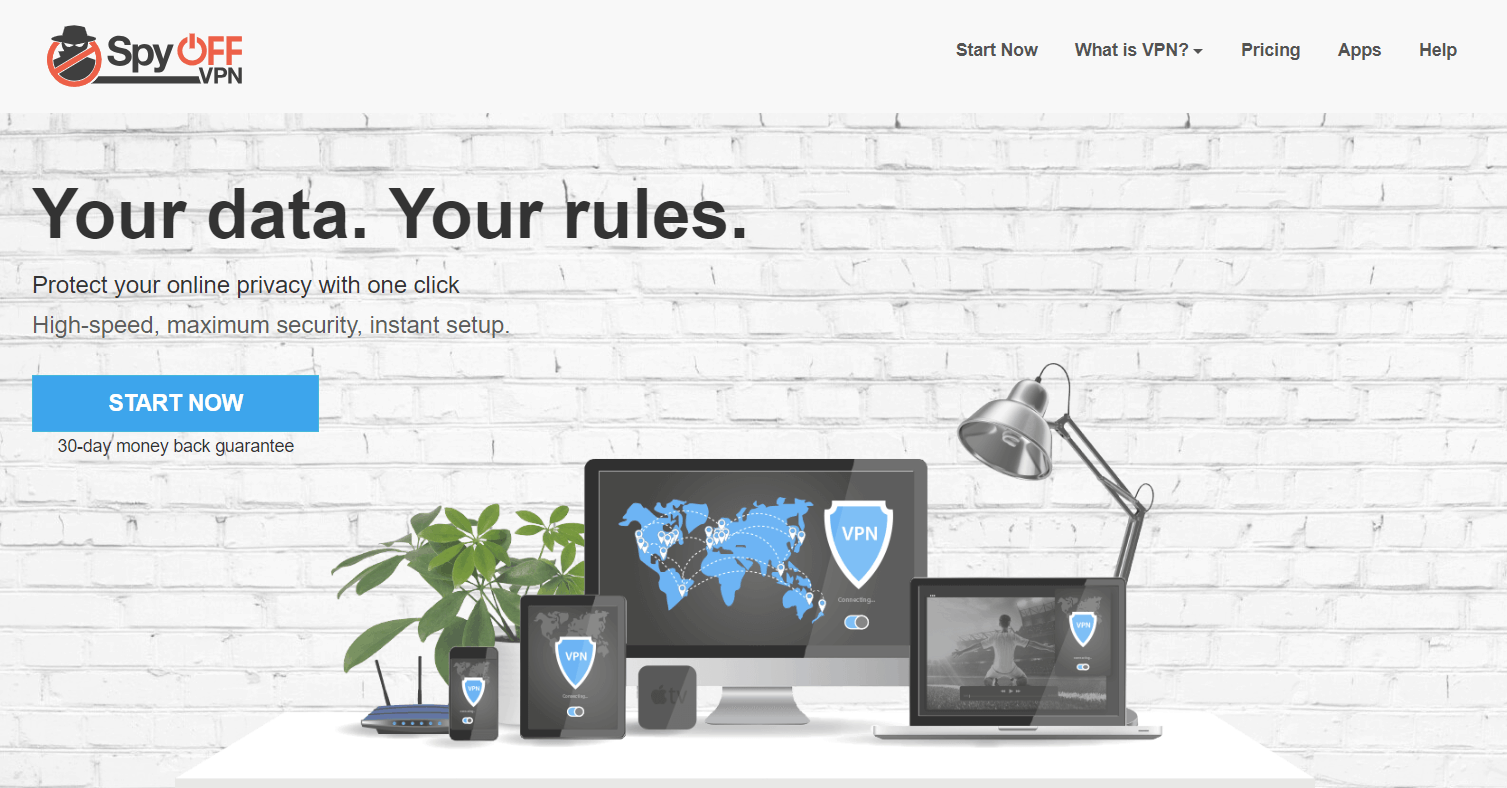 SpyOff VPN looks great on paper.
It hails from the sovereign-independent micro-state of San Marino. A virtual privacy haven for security-minded browsers.
Top-of-the-line AES 256-bit encryption from their OpenVPN is rock solid.
And the recently-updated server number is like a cherry on top.
But… can the rest of their performance live up to the hype?
We've just spent countless hours pouring over everything from leak tests to speed tests to usability tests.
Here's all the good, bad, and ugly from our hands-on review.
General Information
| | |
| --- | --- |
| Overall Rank | #39 out of 74 |
| Usability | 4/5 |
| Encryption | AES-256 |
| VPN Protocols | OpenVPN, L2TP/IPsec, PPTP |
| Speed | #53 out of 74 |
| Netflix | 1 out of 4 servers worked |
| Torrenting | Yes |
| Log Files/Jurisdiction | Questionable Logging, San Marino |
| Support | Tickets |
| Cost | $4.70/mo |
SpyOFF VPN Pros

+
SpyOff comes out of the gate quickly, with secure protocol and encryption options, an easy-to-use app, and a kill switch. It works with both Netflix and torrenting. And they even just bumped up the number of servers on their network. Take a look for yourself.
1. Extremely Secure Protocols and Encryption (with Easy Switching)
SpyOFF offers users everything from OpenVPN (the gold standard), to PPTP and L2TP/IPsec.

OpenVPN's AES 256-bit encryption is relied on by both governments and security professionals because it's virtually impregnable. However, it's not always available on all devices (like iOS) or older software setups. Plus, the extra-beefy 256-bit encryption does tend to slow things down. So it might be overkill if you're on a relatively secure network anyway.
That's why you've got options. SpyOff provides a few 'preset' categories to make protocol and encryption switching a breeze.
The "Ultra Secure" option is exactly what it sounds like: the most encryption for the least secure network connections. The "Balanced" one is also appropriately named. It uses a slight downgrade in encryption standard, paired with a lightweight protocol (L2TP/IPSec) to protect you without sacrificing performance. If you're on a trusted network, like at your house, you might even want to use the "High Speed" plan. Just be aware that it's PPTP protocol is relatively easy to hack — so don't use it if security is any concern.
Otherwise, when in doubt, just default to the strongest OpenVPN connection if device limitations aren't an issue.
2. A Convenient Built-In Kill Switch
A VPN creates a secure 'tunnel' around your entire Internet connection. That's how it should work in theory, anyway.
Unfortunately, that's not always what happens in practice. Poor VPNs can actually 'leak' your data, including your true physical location.
Not a big deal if you're sitting down the street at a coffee shop. As long as your connection is secure, your true IP address might not matter.
But it's a MASSIVE deal for people in authoritative countries where censorship could mean the difference between life and death.
A kill switch (one word or two) is your fail-safe. Your Plan B when 💩 hits the fan.
If a leak is detected, or your Wi-Fi signal drops, the kill switch will immediately sever the Internet connection. That means none of your data can fall in the wrong hands, including the most aggressive — like your government or Internet Service Provider.

3. Recently Increased Server Park (from 395 to 1,000)
Every single VPN website will list their total server count.
But here's the thing.
Many times, it's complete BS. As in, a downright lie.
Here's the truth about VPN servers:
Many VPN companies don't really have access to all of the ones they claim. (Think: Only a few servers in a total park.)
Some VPN companies don't even own their servers, instead renting access from other server parks.
And a few VPN companies will lie directly to your face, saying you're connected to a server in Bali when it's really one in 'Jersey. (Don't forget to GTL, bro.)
However, despite saying all of that, you do generally want a VPN with more servers.
That's because too few servers will almost always be slow.
You'll have a ton of customers fighting for the same few resources. Or, you'll be forced to connect to a server on the other side of the world.
Either way, your performance suffers.
A few months back, SpyOff only had 395 servers. I'd normally give that a hard pass.
Except, they've been busy lately.
They now boast over 1,000 spread across 40 countries. So you're now covered in most developed nations around the world.
That boost was good enough to flip this Con to a Pro.
4. Yes, Torrenting is Allowed
SpyOff reservers a few specific servers to use with torrenting.
Many VPNs are taking this same approach lately.
There are a few reasons for this:
It helps control performance across the board for all users, where massive file transfers can often suck down too many resources.
Some countries have more advantageous copyright laws, to help protect the VPN and its users.
Torrenting gets a bad rap. It's often used for completely legitimate P2P downloading. Game company Blizzard used their own torrent downloader to help decrease download times for customers.
However, for as many legal torrenting examples, there are probably 10X more illegal ones. So whatever you plan on torrenting, rest assured that SpyOff has a few available servers for you that are ready to go.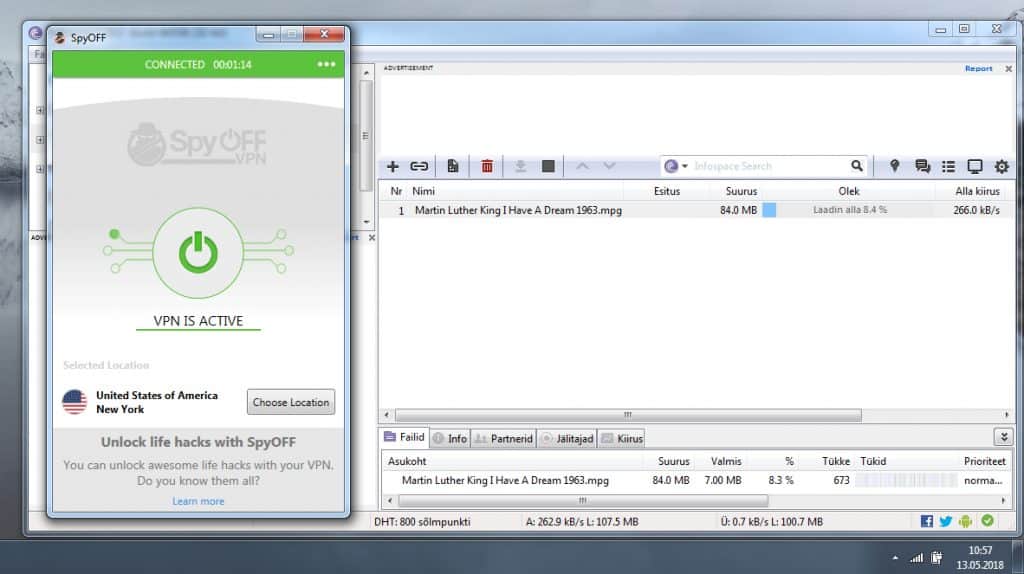 5. 1/4 Servers Worked with Netflix
All VPNs used to work with Netflix. It was the easiest game in the land. Just change your server address, and you'd unlock any geo-restricted content.
Welp, that didn't last long.
In the last few years since 2016, Netflix has gone on a war path against VPN companies. Many that used to work, don't anymore. And many that used to try to get around Netflix's restrictions, have stopped trying altogether.
Bad news for VPN customers.
The silver lining is that there are still a few VPN companies that work well with Netflix.
How'd SpyOff fare?
I'm happy to report that we were able to stream Netflix content successfully from one server (in the U.S.) out of four (the UK, Canada, and Netherlands).
6. Privacy-Friendly San Marino Jurisdiction
VPNs throw a protective blanket around your browsing activity. Ahhh, nice and snug.
Their servers absorb which sites you hit, or files you download, so your own doesn't have to.
But…
What happens to that data on your VPNs servers?
Good question.
The bad news is that the government can, pretty much anytime they like, flash a warrant in the face of a VPN company. And guess what? They'll then share anything they've got with the extended espionage networks 'round the world.
If their home country is apart of this network, you can kiss your privacy goodbye.
SpyOff's San Marino location, however, provides a beacon of hope.
They're a law unto themselves. The 'microstate' is literally it's own little country, so no other big, bossy country (*ahem* U.S.) can push them around.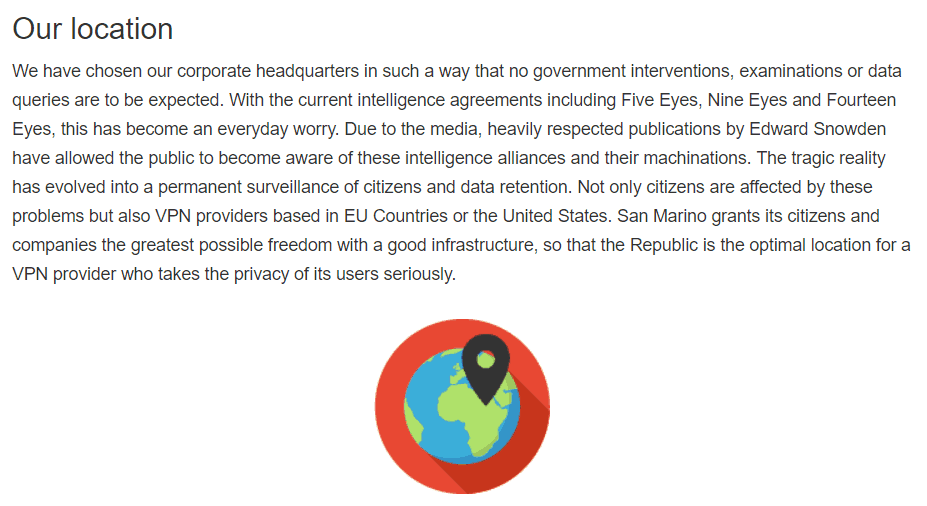 So even though San Marino sits somewhere in Italy, it's its own thing. And they have crazy-strict laws around privacy. There's something called a double criminality law, which means they can even deflect foreign government requests for information unless it's a huge law someone's breaking.
All of this should mean that you're data is safe with SpyOff. For the most part, anyway. We'll circle back to this in the Cons section below.
7. User-Friendly Application
The technology under a VPN is complicated.
But using it shouldn't be.
Ideally, it should only require a few clicks to be off to the races.
And fortunately, that's more or less what you get with SpyOff.
First, install like so: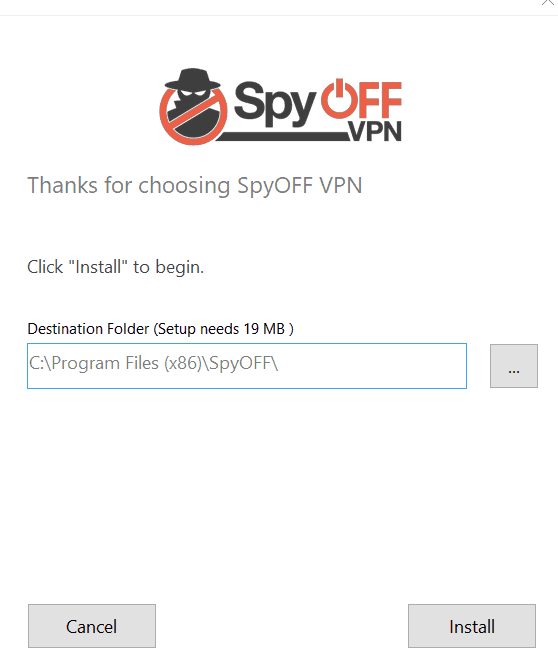 Next, fire up the client.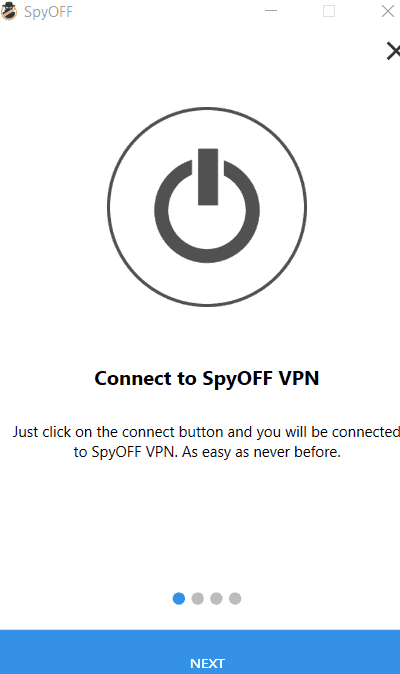 You'll even get a brief, four-screen onboarding so you know how each feature works.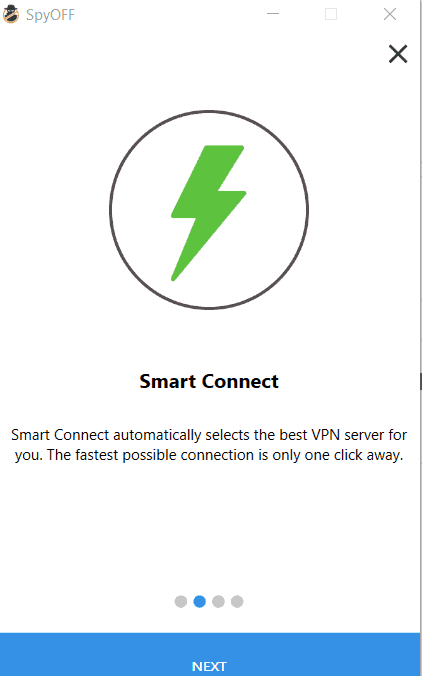 Sign in with the username and password you used during the checkout process.
Mine is… JK.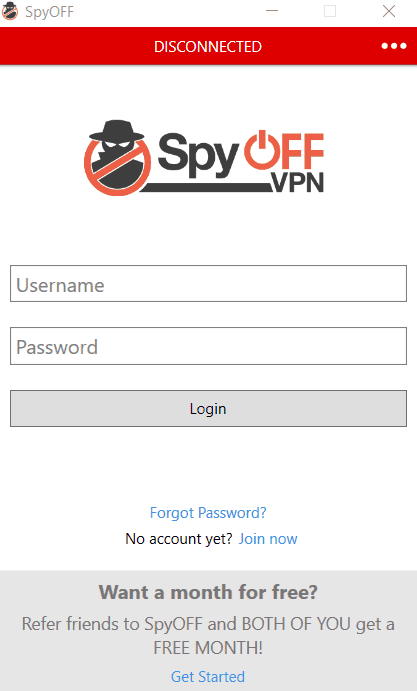 Once you're logged in, you'll immediately see how dead-simple it is. Tap the big button in the middle to get connected. Or choose the little button in the lower right-hand corner to switch server locations.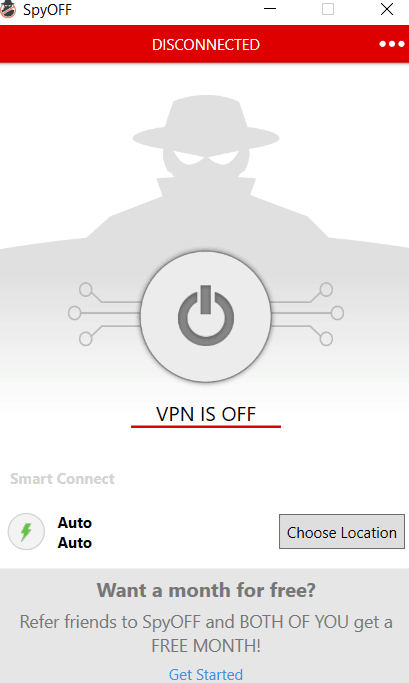 You should be connected within seconds.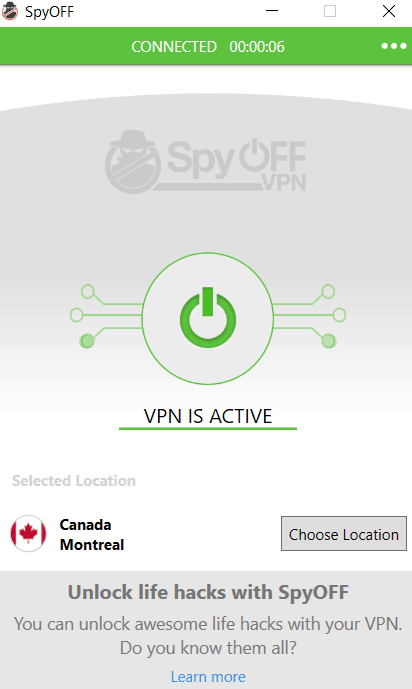 There were no issues, lags, or bugs during my hands-on test. Very smooth overall!
SpyOFF VPN Cons –
I enjoyed what SpyOff had to offer. But when I started digging below the hood a bit, things started unraveling quickly.
DNS leaks were all over the place. Speeds were sloooooooooooow.  Almost as slow as their customer service response time. Zing!
And I didn't love the logging policy, either.
1. Lots of DNS Leaks. And Potential Malware Found, Too.
Remember that kill switch from above? The one that's built to protect your true IP address and location?
Welp, you're gonna need it.
'Cause there were all kinds of DNS leaks going on.
Based on that image below, you'd think the VPN server was in Florida. But it ain't. I was connected to the Canadian one.

The WebRTC leak test came out clean, thankfully.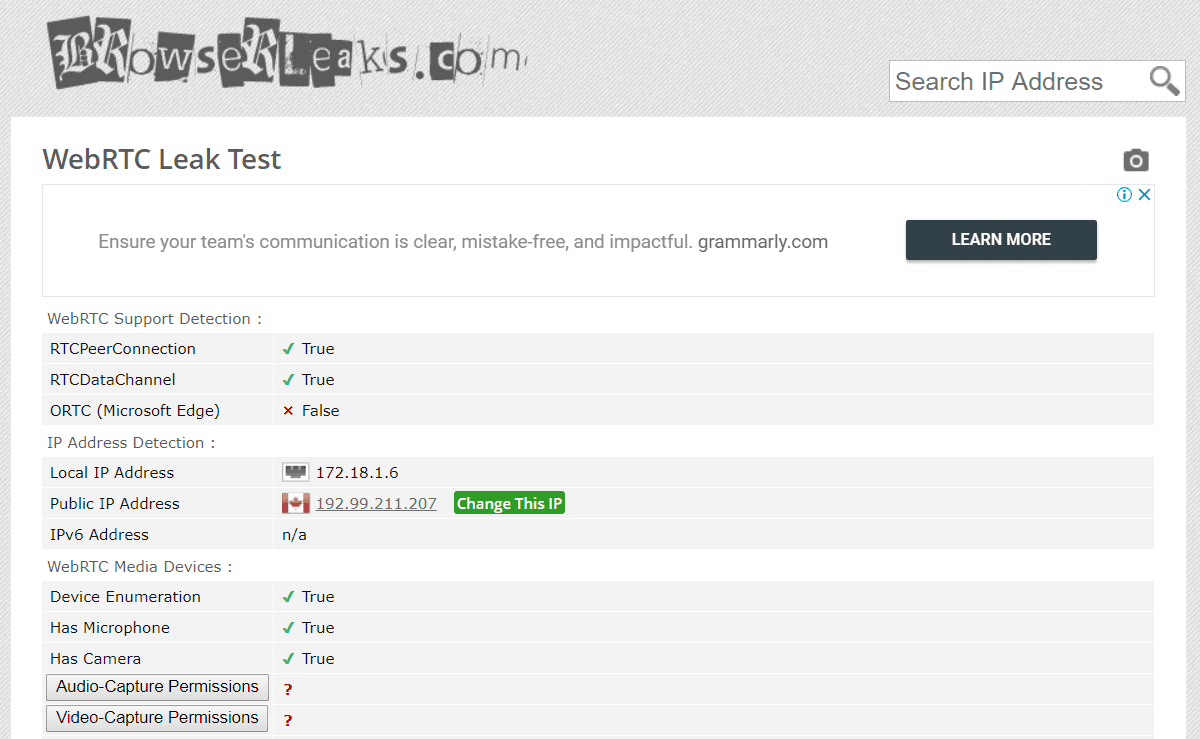 We re-tested DNS leaks and found more of the same problems.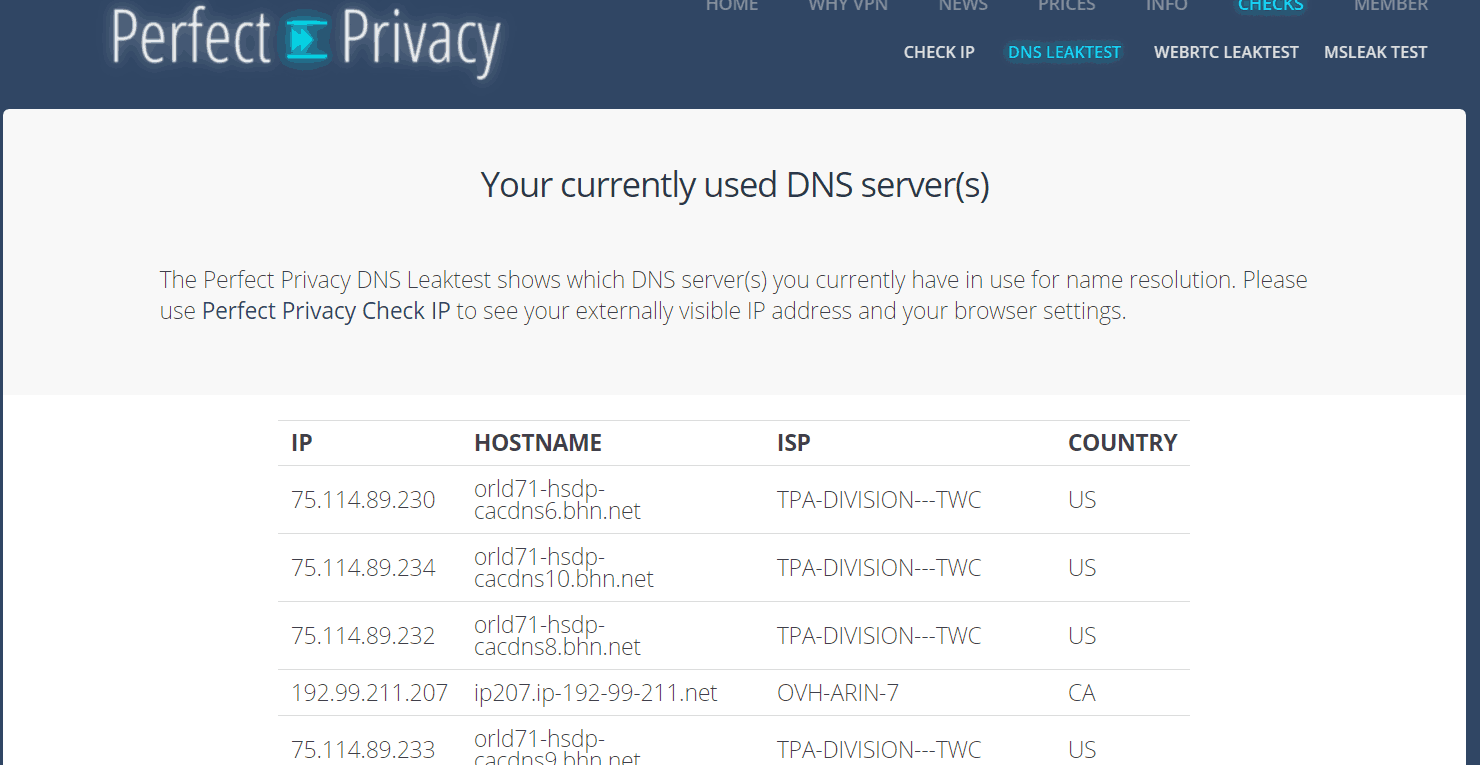 And the biggest bummer of all was the potential Trojan virus found in the installation files. You know, the same installation files you're going to download to your personal and work computers. Yikes.
There was a whole lotta red overall:
IPLeak.net: FAILED
Browserleaks.com: PASSED
Perfect Privacy: FAILED
Chrome Extension Leak: PASSED
Virustotal Scan: FAILED
2. Disappointingly-Slow Server Speeds
All VPN connections will slow down your Internet connection. That's just the way it is. You're sacrificing a little speed for security.
However, the best VPNs we've reviewed don't slow your speed at all. It's not even noticeable.
So get ready for a spoiler alert.
SpyOff was not one of the fastest VPNs. Not even close.
And here's the frustrating part:
We actually used their "High Speed" option listed above. That's right, we willingly downgraded security to see just how fast they could go.
Answer? The opposite of fast, coming in at 53rd out of 74 VPNs.
My original benchmark connection speed came in at 98 Mbps download, and 53 Mbps upload.
Then, I connected to a SpyOff server in the Netherlands. Here are the (grim) results:

Netherlands Server Results:
Ping: 53 ms
Download: 49 Mbps
Upload: 37 Mbps
Not good.
But better than their U.S. server!
Here were the results on that one:

U.S. Server Results
Ping: 113 ms
Download: 17 Mbps
Upload 13.15 Mbps
That's more than a 70% slowdown for those keeping score at home.
And don't forget that these are their "high speed" connections. Umm hmmm.
3. SpyOff Rents Server Access
I love the privacy-haven San Marino. It's next on my list.
SpyOff's logging policy is pretty damn clean, too. A quick read will let you know that they are not logging any of your data.

Win-win, right?
Wrong.
Somewhere buried in that long, boring policy is the admission that SpyOff doesn't actually own any of their own servers. They rent them from other companies.
So even though they're not logging your stuff, doesn't mean whoever the actual owner might be, isn't.
That's a risk you might not be willing to take.
4. Unresponsive Customer Service
The best VPN companies have live chat. Click, connect, chat. That's how it should work.
SpyOff doesn't have this, which isn't a deal breaker by itself.
But you know what is? Freaking slow response times, that's what.
I filled out the little customer support form: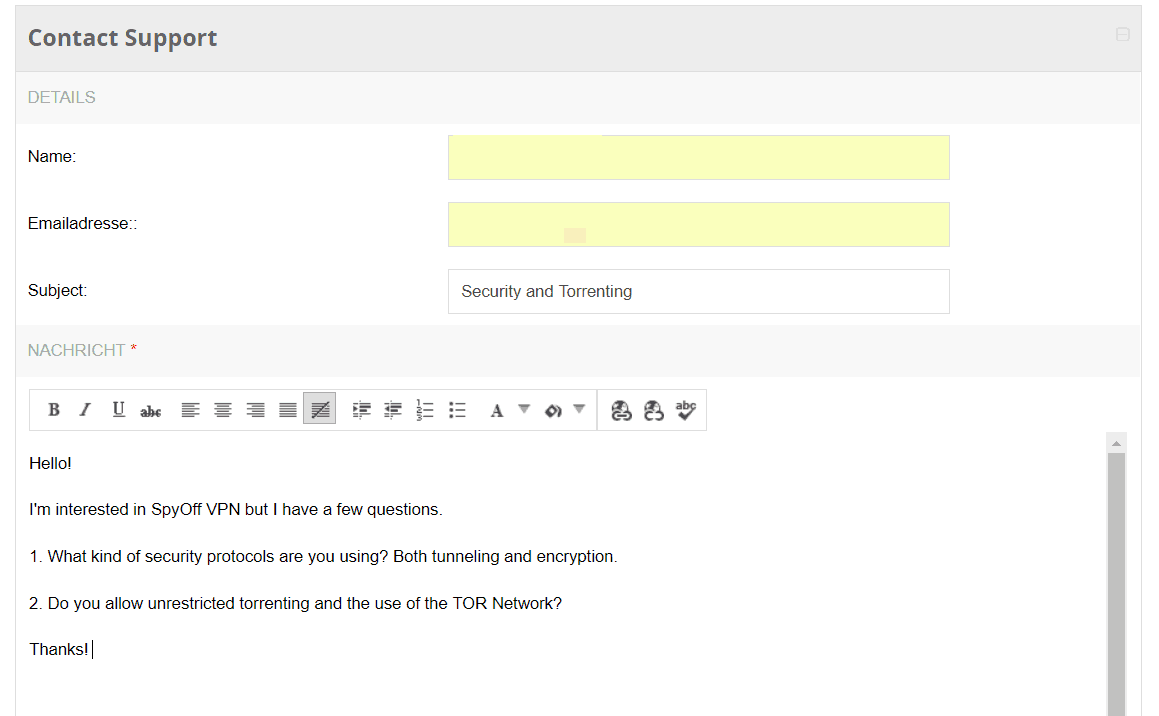 And the response has yet to come. Like, not at all.
Nothing. Zilch.
Don't expect much help.
5. The Device Compatibility is Too Low
To their credit, SpyOff covers the basics well. That includes your desktop devices (Mac + Windows), mobile (Android + iOS), and even Linux.
They also support routers, but you're gonna have to pony up some dough for their proprietary VPN FlashRouter.
Unfortunately, they don't natively support other IoT devices, televisions, gaming consoles, etc.
Not the worst compatibility list we've seen. But not good, either.
SpyOFF Cost, Plans, and Payment Options
There are three simple SpyOff plans to choose from. All have the same features.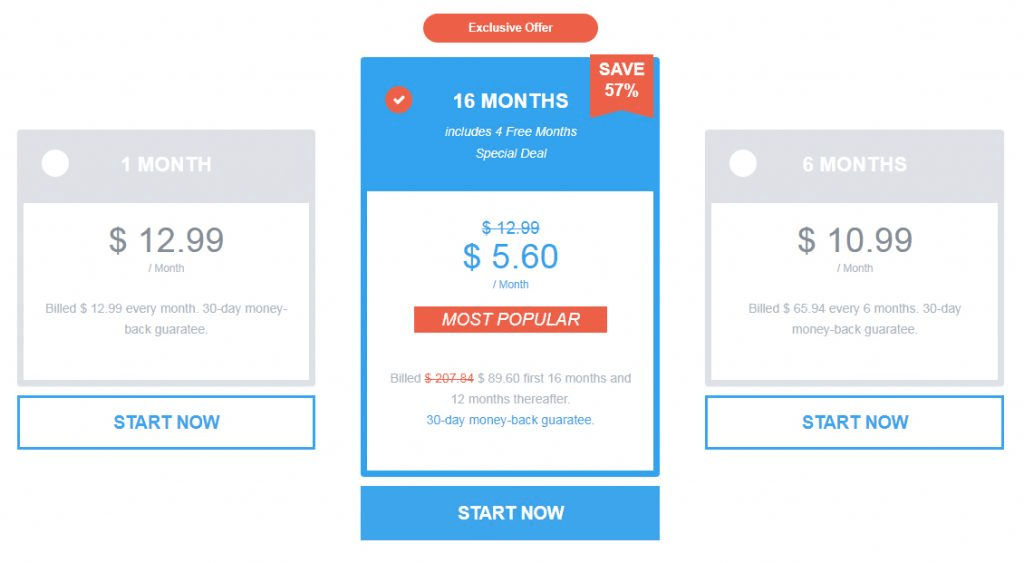 The only price difference comes with how long you want to prepay.
For example, the monthly option will start at $12.99. Not cheap, but it does give you the ability to test drive the service before getting locked into a long-term plan. (You can also take advantage of the three-day free trial for this reason as well.)
Next up, the six-month option is $10.99 (or $65.94 every six months). That's not a good discount, to be honest.
So if you are going to go long-term, you might as well do the full year to bring that cost down to only $5.60 ($89.60 paid annually).
You can use a few different payment methods to pay for these plans, including any major credit card (or debit), PayPal, BitPay, and SEPA Direct Debit. There is also a 30-day money-back guarantee, too.
Do I Recommend SpyOFF VPN?
I do not, unfortunately.
The leaks on leaks on leaks were disappointing. The potential Trojan virus was frightening. And the vanishing customer service inquiry was disheartening.
Sure, the jurisdiction and logging policy sound great. But when they don't own their own servers, it's hard to put much faith in any of their guarantees.
Overall, I'd recommend one of these top ten VPNs that offer much better all-around service, without costing you significantly more than SpyOff.
P.S. I'm always interested in what you have to say about the VPNs, if you have used SpyOff, don't hesitate to leave your review below. 
Add your own review:
No user reviews for SpyOFF VPN