SpyOff is a privacy company lead by a team of 40 people.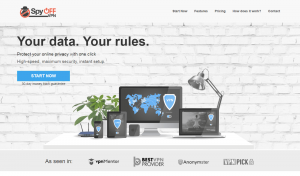 Owned by Sareta S.r.l., currently, the only VPN service to be located in the Italian microstate built on a cliff – San Marino.
Supposedly the least visited region in the world, but does having a base under the radar makes it a great VPN?
We are going to analyze all corners of their service in this SpyOFF VPN review to find it out.
What Does SpyOff VPN Do?
SpyOff was designed to keep your data anonymous and secure. It is able to change your virtual location and avoid censorship.
On their own words, their mission is to protect as many people as possible from surveillance, censorship, ISP throttling and governmental control.
Once the VPN service is enabled, the Internet data is encrypted and so, your activities become invisible to ISPs (Internet Service Providers – the folks to whom you give money for Internet), snoopers, and criminals/hackers. Your activities are not monitored, logged, recorded, stored, or shared with third parties whilst using SpyOff VPN.
SpyOff Pros (+)
1. Logging Policy
SpyOff prides themselves as a VPN company that keeps no logs.
Not all data about your activity is harmful, however, it is always preferred to use services that don't keep any logs.
After doing some research, we are relieved to say that SpyOff falls into the category of safe, no logging VPNs.
That being said.
They do keep information when registering for their service. Including name, e-mail address and other payment details when using a debit or credit card.
This is being stored as long as you are their client.

What troubled us was the fact that SpyOff relies on third parties for servers. They don't own their own servers; which means that your data travels through an undisclosed number of third-parties.
This is nothing serious, but it does make us feel slightly uneased.
2. Jurisdiction
Due to current intelligence agreements like Five Eyes and other, VPN providers located in EU countries and the United States are under surveillance.
SpyOff chose their corporate headquarters in San Marino so that no government interventions, examinations or data queries are to be expected.
San Marino takes privacy seriously which is why the company location is considered as a significant pro.
For a VPN user, it's splendid, since the government won't keep logs on you. San Marino has no data retention laws or any legal system that requires a company to disclose customer information.
Under the law, requests for information from foreign courts or law enforcement agencies are subject to a "double criminality" provision, which means that the petition will only be upheld by the court if the same crime is threatened with at least one year's imprisonment.
The outcome might be not so bad.
If you do receive a valid San Marino subpoena, it is important to note that SpyOff does not collect IP addresses, browsing history, traffic data, or DNS queries that could be used to identify a particular user.
3. Is Spyoff VPN Safe?
We did all possible leak and malware tests to crack the peanut, thankfully, the results are great.
There were no DNS leaks found: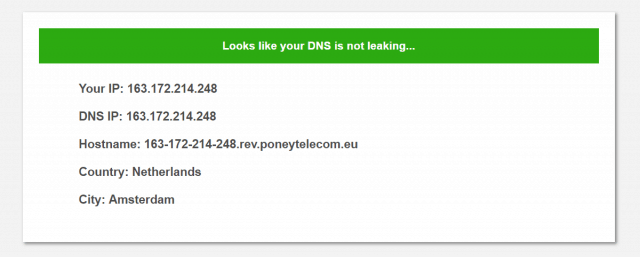 Also, no malware nor viruses were found: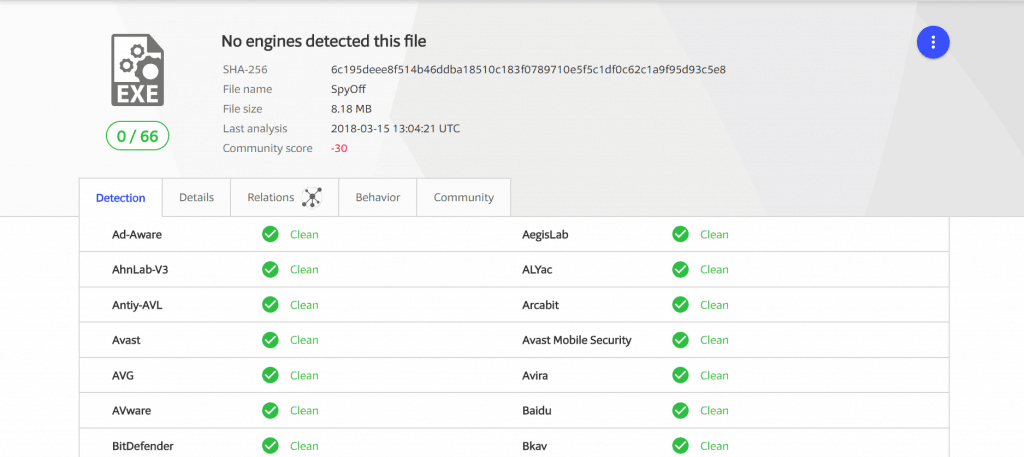 Thirdly, WebRTC leak test. As we were connected to the Netherland server, test results are positive.
WebRTC vulnerability is web browser related.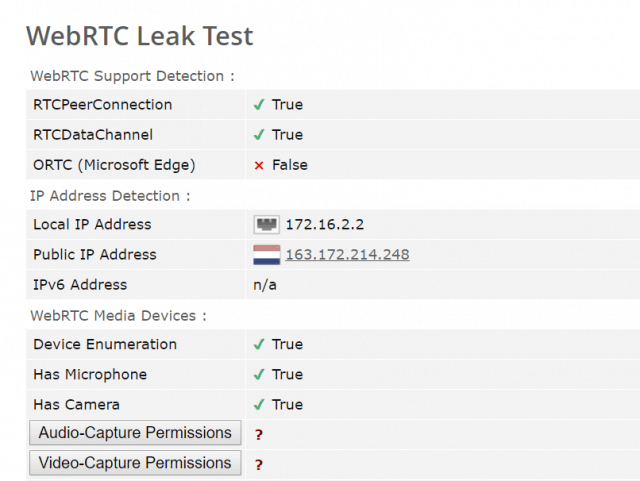 WebRTC is a P2P (peer-to-peer) technology that is built into web browsers. It enables new technologies like sharing of the microphone between you and a website or video-streaming, etc. WebRTC can be used as an attack that will trick your browser to expose your true (non-VPN related) IP address.
The risks are truly low as you would have to visit a really malicious website but still, worth knowing about it.
So, if you opt for SpyOFF, avoid using Microsoft Edge
4. Encryption
SpyOff uses the 256-bit encrypted SSL connection. But what most people don't know is that the degree of security in a SSL connection varies from close to zero to US government top secret data.
"The design and strength of all key lengths of the AES algorithm are sufficient to protect classified information up to the SECRET level. TOP SECRET information will require use of either the 192 or 256 key lengths." – Lynn Hathaway
What's the bottom line?
The level of security is dependent on the cipher, otherwise known as the encryption technique. There are numerous ciphers, some are fast and insecure, and some slow and secure.
At the moment, no procedure is known by which an attack against AES would be possible, which is why the Advanced Encryption Standard is preferred by banks, governments and high-security systems around the world. So, 256-bit AES is the best encryption method.
What protocols are allowed?
SpyOff uses three encryption protocols: PPTP, L2TP, and OpenVPN.
In order to help you pick the right protocol that suits your needs, it provides 4 security modes:
The Ultra Secure
The Balanced
The HighSpeed
The Expert
Recommended modes:
The Ultra Secure mode is their recommendation for those who want maximum safety. The preferred protocol in this mode is OpenVPN protocol that fully supports the AES encryption method with the block length of 128 and 256-bit encryption. It is the safest and most reliable protocol that the company offers. It provides security and also high speed.
The balanced mode recommends the use of L2TP with 128-bit encryption protocol because it delivers a good balance between speed and safety. However, it doesn't achieve the speed of PPTP. It is recommended as an alternative to OpenVPN.
Protocols to rather avoid:
The Highspeed mode runs on PPTP protocol which allows above average speeds but a lower level of safety than the OpenVPN and L2TP protocols. You should use PPTP only if you want to bypass country blocks when streaming. If your router doesn't support Generic Routing Encapsulation technology, you should definitely avoid this mode.
The Expert mode gives you the ability to configure your VPN protocol and choose from the three available ones depending on your needs. It is for more advanced users.
In essence, L2TP provides a balanced performance between speed and security, PPTP delivers high speed (good for streaming) but OpenVPN is the most secure and recommended one.
5. Torrenting allowed
Torrenting is allowed but we made a quick test to make it absolutely certain.
We tried to download the MP4 file while VPN is active – "I Have A Dream", a speech by Martin Luther King.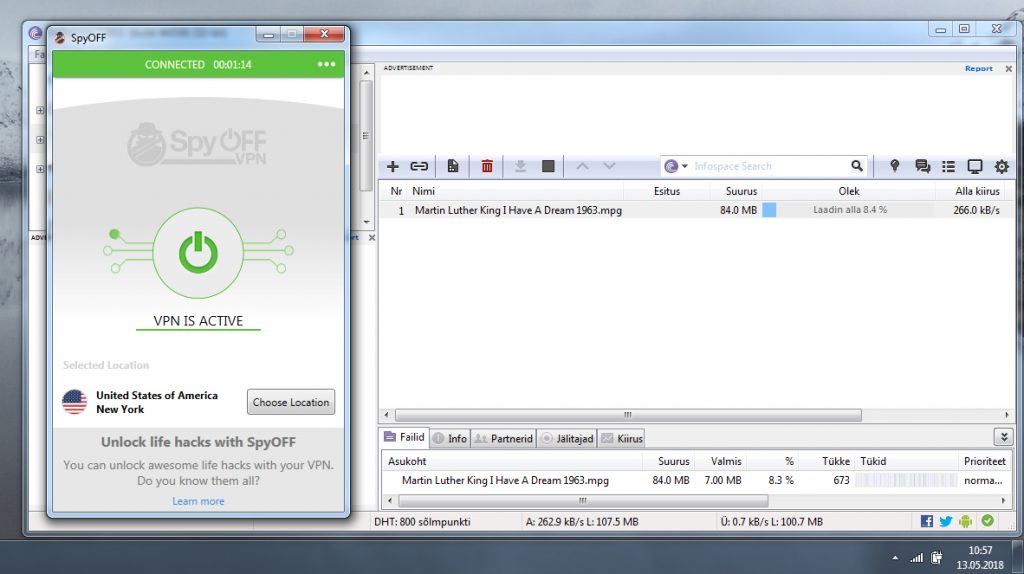 As you can see, the download started indicating that torrenting is working.
6. Netflix Working
We checked how many servers work with Netflix.
3 out of 4 didn't work (the United Kingdom, the Netherlands, Canada).
Fortunately, United States server worked like a charm.
There are services that have more than one Netflix servers working. One of them is ExpressVPN
Check out the full list of VPNs for Netflix.
7. Supported Devices
SpyOff supports Windows, Android, iOS, Linux, Mac OS X.
In addition, you can also buy their VPN FlashRouter.
With FlashRouter you can establish a connection with XboxOne, Nintendo Wii, PS4, Sony SmartTV, AppleTV, Roku XDS, Hulu and many other devices. Anonymous, secure, unrestricted use is guaranteed by their VPN router at all times.
Nevertheless, these routers are costly.
8. Usability
The app runs smoothly. As you can see in the image below, the user interface is quite simple. All you have to do is click on the button and the VPN will start working. By clicking on the "Choose Location", you can choose between different servers quite easily. In the meantime, the VPN will be disconnected.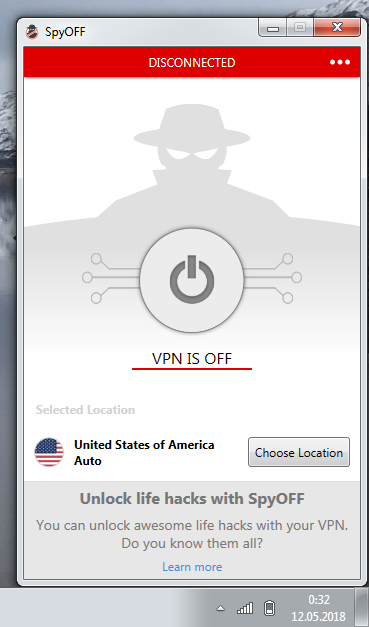 You can also configurate settings. You can choose to connect automatically when starting your OS. Furthermore, in the VPN Protocol, you can decide what to do when the connection ends (i.e. killswitch, nothing, reconnect) and choose between protocols.
Don't get confused about 4 different protocols because OpenVPN has two – Upc and Tpc. They actually should have explained this more clearly.
There is also a Kill-Switch feature that disconnects you from the internet as soon as there is a problem with your VPN connection, as a result, your IP address is safe and will not be leaked.
As an alternative, you could use automatic re-connection. After a disconnection, the software tries to connect to VPN itself for re-establishing the connection as soon as possible.
This, however, is not a leak-proof method.
If you are stuck there is a "Help" tab to lead you to "Glossary", and similar. It would be convenient if you could contact them within the app, but unfortunately, that is not possible.
Overall, it runs smooth and is easy to use.
9. Servers
At the moment, the service operates 395 servers in 25 world countries and provide around 14,000 IP addresses.
However, their servers are mainly located in Europe and US.
You can use SpyOff on more than one device at the same time, although, it is not specified how many devices. We found that up to 3 devices are possible.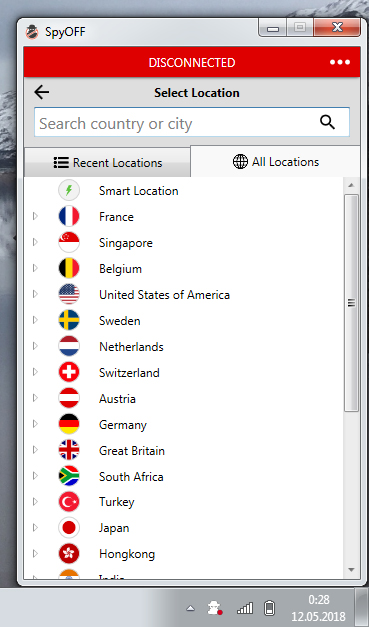 SpyOff Cons (-)
1. Slow speed
Our benchmark was 98 Mbps download speed for the Netherlands and 53 Mbps upload speed for US (without VPN).
Using the VPN, for Netherlands server, the speed was 49 Mbps download and 37 Mbps upload with 53 ms Ping.
Using the US server, ping jumped to 113 ms, download speed fell to 17 Mbps. For the Netherlands, SpyOff decreased our speed by 50% and for the US, it was significantly more, around 70%

the Netherlands speed test

U.S speed test
Speed is very slow. Even compared to some of the worst speeds, it's below standard. For extremely high-speed VPN, you should check out Private Internet Access (PIA).
2. Customer Support
We contacted customer support via ticket on Saturday. The process was terrible as there was no option to include an attachment in the ticket, including the horrible interface in the German language.
We were surprised when we received an answer 1 to 2 hours after my submission, but still, the answer was incomplete and unprofessional. Also, it wasn't sure that they received our images as we copy-pasted them (since no attachments were possible).
So we wanted to send them a reply only to discover that this option was not possible directly through email nor wasn't it implied anywhere on the website.
It truly felt a lot of frustration, customer support really ought to be available, convenient, accurate and polite. They were none of it.
Furthermore,
the only support available is via ticket, there is no chat option which is not really convenient.
Pricing & Plans
SpyOff has three payment options:
Monthly – billed £10.99 every month (30-day money back guarantee)
6 months – billed £53.94 every six months. (£8.99 per month)
Special deal – billed £75.20 for first 16 months and after that, it goes to yearly of £50.8 (£4.7 for the month but billed annually).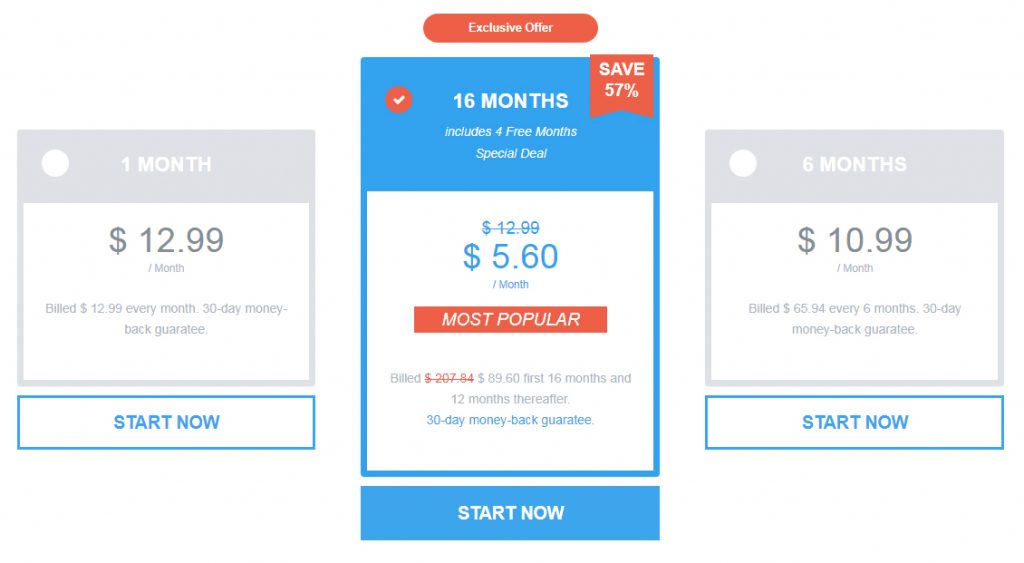 In their Terms of Service, it is stated that the customer has the right to withdraw from the contract within fourteen days, without stating a reason.
Additional costs are not refunded (different method of delivery than their standard).
It is also stated that the customers has the right to terminate the contract within the first 30 days without giving a reason if he/she chose a contract term of one year. In this case, the customer will receive a full refund.
However, if you decide that you don't want to use their services after let's say 3 months and you were on the 6 months plan, you would get 3 months refunded.
Seems fair for both parties.
However,
what is a bit confusing is the fact that in their Terms of Service, they have both 14 days and 30 days termination and money-back guarantee. We did some research and found out that previously, SpyOff provided a free 15-day free trial with a 14-day money-back guarantee so it is evident that they haven't really updated their Terms of Service properly. This is not an encouraging fact but it is also nothing to worry about.
Thankfully, there is no license fee.
Payment Options
There are various payment methods to choose from
– SEPA Direct Debit, credit card, PayPal, BitPay
If deciding to use the service, we would always recommend using most anonymous payments possible, in this case, BitPay.
Is SpyOff VPN Recommended?
Short answer – No.
SpyOff may become better in future, but at the moment, it's not worth the money.
It's way too pricy, slow, doesn't provide all Netflix options, has shady "no logging" policy and a bad customer support.
The overall impression is that it might be great, but not right now.
Add your own SpyOFF VPN review: