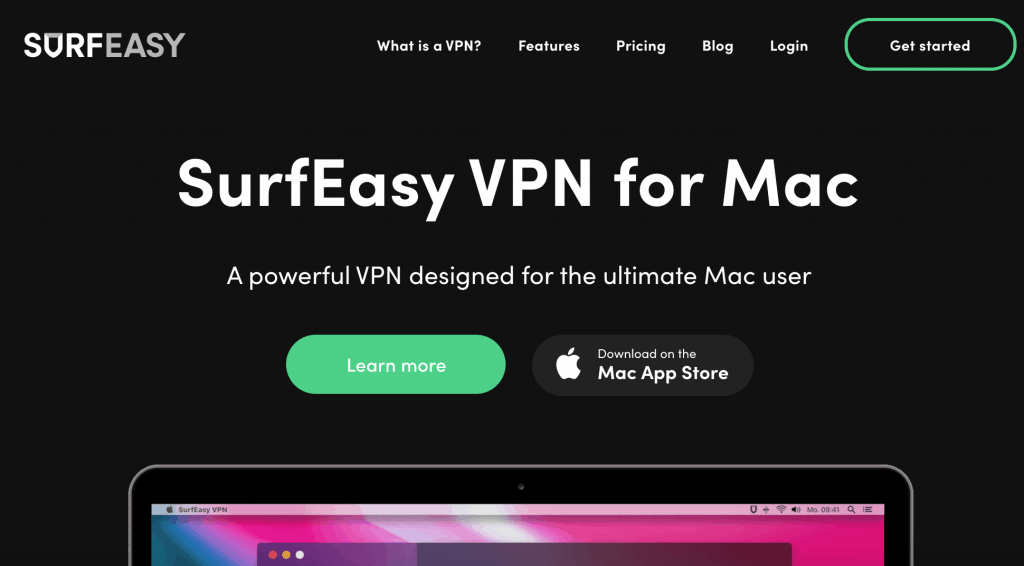 SurfEasy, Inc., out of Toronto, Ontario, is actually owned by security conglomerate, Symantec.
It was acquired late in 2017, as a way to round-out their consumer offerings with the popular Norton and LifeLock brands.
In other words, it's somewhat symbolic.
Sure, it gives them yet-another tool to sell to their existing customer base.
But more importantly, this move reinforces that a market leader believes VPNs are ready for their day in the limelight.
That's what we're going to analyze in this SurfEasy VPN review.
What follows is an unbiased, data-backed review that doesn't hold any punches.
What Does SurfEasy VPN Do For You?
What SurfEasy does, is simple.
It relocates your public IP to another country/city while securing your Internet connection a strong AES 256-bit encryption and OpenVPN protocol.
Together with this combo, you should be able to access geo-blocked content and be super secure on a public Wi-Fi.
But the issue that escapes most people is that your data might not truly be anonymous.
The very VPN company you select will often keep records of what their users are doing, for everything from support and diagnostic help to sadly, even selling that information to advertisers.
SurfEasy General Info
| | |
| --- | --- |
| OVERALL RANK: | #52nd out of 74 VPNs |
| USABILITY | 5/5 |
| LOG FILES: | Minor Logging |
| LOCATIONS: | 1000+ servers in 28 countries |
| SUPPORT: | Email Only |
| TORRENTING: | Allowed |
| NETFLIX: | 2 out 4 servers work |
| PROTOCOLS: | OpenVPN, IPSec & IKEv2 |
| JURISDICTION: | Canada |
| COST: | $4.99/month |
How Strict Is SurfEasy VPN Logging Policy?
Sadly, the "no-logging" part is not that strict
Every VPN website will say "no logging," and then, inevitably, admit that they do some logging in their Privacy Policy.
Check out exhibit A:
SurfEasy refers to themselves as a "no-log VPN."
Their site claims that they don't hang onto the following:
No download history
No browsing data
No usage logs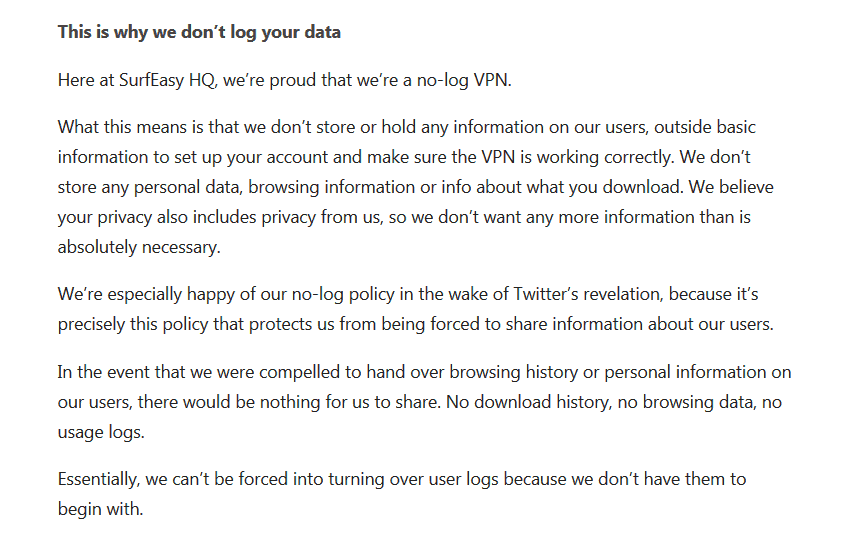 Their Privacy Policy makes good on these claims, further reinforcing that they don't collect your IP or sites you browse.
But they do admit that there are some unique cases that fall outside these boundaries.
For starters, their site will use tracking technology to monitor performance and serve you retargeting ads to get you to buy.
Each Opera Browser user will receive a randomized subscriber ID that disappears when your browser history is wiped.
And they will, at the request of law enforcement agencies, "disclose personal information, including your usage data."
Not too bad overall. But this last part is especially key.
Because your VPN company's local jurisdiction often has a huge influence over who can access this personal data.
Jurisdiction
SurfEasy falls under the "5 Eyes" alliance
In 1941, the United Kingdom and the States formed an intelligence alliance called the UKUSA Agreement. Three years later, this agreement expanded to include Canada, Australia, and New Zealand.
Today, Canada is seen as one of the original members inside this "5 Eyes" alliance.

The agreement stipulated rules for sharing intelligence, in the hopes of staving off another worldwide war.
This local jurisdiction is important for a few reasons.
Most VPN companies obviously don't support illegal activity under their service. So despite what most logging policies say, if they have reason to believe illegal activity is occurring, they'll cooperate with authorities.
SurfEasy's Privacy Policy said as much.
But in this case, if your personal information is shared with Canada, there's a good chance it's also going to end up in the hands of the U.S., U.K., Australia, and New Zealand, too.
Is SurfEasy VPN Safe?
Yes. SurfEasy uses industry standard encryption and OpenVPN protocol
SurfEasy uses AES-256, 'bank-grade' security encryption. This is as good as it gets on today's market.
Most of the best VPN's we've reviewed all rely on this same encryption standard, so you're in good hands.
Also similar to the other big players, SurfEasy's Windows, Mac (desktop), and Android apps all use OpenVPN protocol. While the iOS apps and native Mac apps will use IPSec.
Once again, this is common in both cases. And you should almost always stick with these default setups.
The only reason you'd want to switch to an older protocol option is if your device or connection is outdated. Just keep in mind that these options are often unsecure in today's modern world.
So they're good for anonymity, but not so much for security.
PPTP, for example, can be hacked in about three minutes by amateur developers. Just imagine what a pro could do in that time.
No Malware & Leaks
During our tests, we didn't find any IP, DNS or WebRTC leaks
Beyond straight hacks, the second common way a VPN lets you down is by accidentally 'leaking' your data to ISPs and other prying eyes.
To you, it looks like a VPN connection is established. You think you're safe. But you're anything but.
That's why we run six different tests for each product we use. The goal is to analyze the connection from all angles, looking for any potential loopholes that can come back to bite you later on.
Good news, though.
SurfEasy didn't show leaks in any of the six tests:
https://ipleak.net/ (none found)
https://www.perfect-privacy.com/check-ip/ (none found)
https://ipx.ac/run (none found)
https://browserleaks.com/webrtc (none found)
https://www.perfect-privacy.com/dns-leaktest/ (none found)
http://dnsleak.com/ (none found)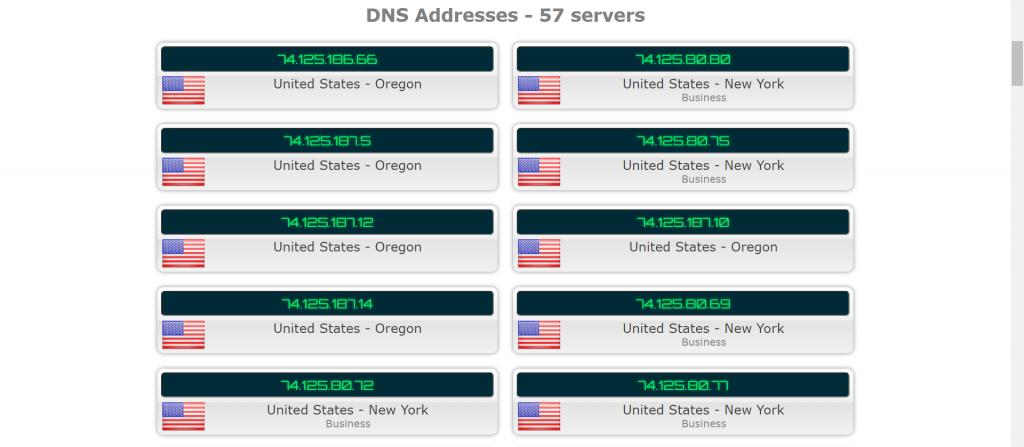 We also ran their install files through VirusTotal to make sure the initial client you were downloading didn't contain any surprises.
Fortunately, these are all clear, too. No signs of potential viruses or malware.
Is SurfEasy VPN Fast?
No, SurfEasy slowed down our connection by 71%
It's inevitable. There's not much you can do about it.
Anytime you connect to a VPNs server, your connection's performance is going to take a hit.
The added layers of security and anonymity will slow things down.
BUT, that doesn't mean it should be a massive hit.
Some of the fastest we've reviewed, like ExpressVPN, are barely noticeable. You might get docked a few Mbps, but it's ultimately worth it.
Here's what our connection speeds looked like prior to using SurfEasy:

Next, we connected to servers in both the EU and U.S. to monitor the performance impact.
The short answer?
It wasn't pretty. Here's the EU server speed test:

EU Server speed test:
Ping: 46ms

Download: 28.50 Mbps (71.13% slower)

Upload: 21.15 Mbps (60.1% slower)
The U.S. server's download speed performed a little better, but the upload was atrocious:
U.S. Server speed test (slow):
138ms

Download: 47 Mbps (51.55% slower)

Upload: 1.59 Mbps (50.43% slower)
To date, we've tested 74 different VPNs. (No joke.)
And this performance places SurfEasy somewhere in the middle of the pack at the 44th position, right behind TunnelBear.
Does it Work with Netflix?
Yes, 2 out of 4 servers worked with Netflix at the time of testing
In the last few years, Netflix has cracked down on VPN use by targeting the IPs of VPN servers.
That's unfortunate for people traveling or living abroad.
Because licensing restrictions plus Netflix's newfound stance mean it's getting tougher and tougher to stream your local content.
SurfEasy is no exception, unfortunately.
We tested four different servers and found that only two of them worked.
SurfEasy Canada working with Netflix
SurfEasy US works with netflix
SurfEasy UK connection timed out while trying to go to netflix.com
SurfEasy NL server blocked

US & Canada servers work with Netflix (last test: April 2018)
Is Torrenting Allowed?
Yes, they even have special P2P servers for UltraVPN users
Torrenting gets a bad rap.
It's often used for illicit purposes, like side-stepping copyright laws to download your favorite movies or music.
However, there are legitimate uses for the Navy-created technology.
Some companies, like Facebook and Twitter even, will use it internally to move massive files back and forth.
They reportedly looked at building their own options, before quickly realizing that the existing BiTtorrent technology was already perfect.
SurfEasy has created specific torrent-friendly servers that are available under their UltraVPN plan.

So it might cost a few extra bucks, but you'll get secure access with "auto-enable protection."
P2P connecting can leave you exposed. Others can see what you're doing or downloading.
But connecting to a VPN, first, should alleviate these concerns.
What Devices Are Supported?
No possible to install on routers (yet)
SurfEasy supports many different devices and OP systems. This includes:
Windows
Mac (desktop)
Mac APP Store
Android
iOS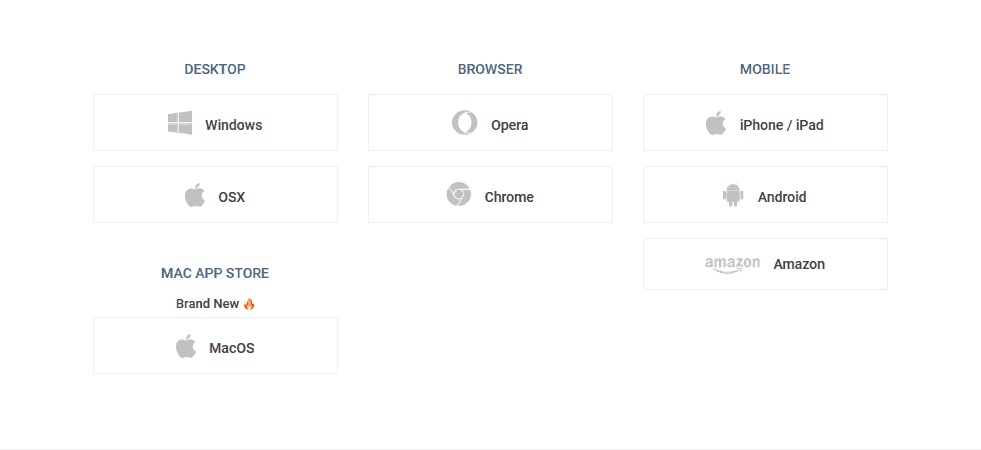 But they also offer browser extensions for both Opera and Chrome. That way, you don't have to download the separate desktop client.
And they have a mobile app for Amazon phones, too. This is on the rare side, so it's a nice perk if you're one of three people with an Amazon phone that needs a native VPN app. (I kid!)
Unfortunately, they don't support routers at this time. You're pretty much stuck with their five simultaneous device limit.
Does SurfEasy Work With Tor?
Yes, you can use TOR over VPN with SurfEasy
Connecting to The Onion Router (TOR) will redirect your traffic signals across many different relay points.
That helps boost your anonymity, making it tougher for people to discover your original location.
The downside is that there are often flaws that can leave you exposed.
TorMoil, for example, was recently discovered in both Mac and Linux Tor browsers.
This week, a critical flaw, dubbed TorMoil, was found in the Mac and Linux versions of the Tor.
The end result of this loophole was that your IP could leak — once again, without your awareness.
You use TOR to hide your location. And yet a simple bug could undermine it within seconds.
Doubling-up with a VPN makes sure this doesn't happen. It also keeps your connection secure from 'bad' nodes or relays setup to steal your data.
SurfEasy supports TOR, so now there's no excuse.
Is SurfEasy VPN Easy to Use?
Yes, SurfEasy's app was smooth and easy
The VPN client loaded quickly without any lags or major errors.
It's also fairly intuitive. Want to switch locations? Click on the big globe and decide where. It's really that easy.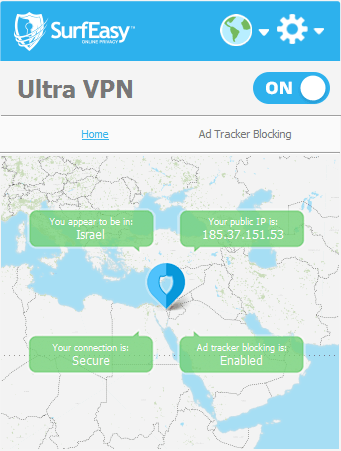 Servers & Main Features
1000+ servers in 28 countries
That's pretty good, placing them safely in the upper third for server options from VPNs we've reviewed.
Not nearly as many as ExpressVPN's 1500 servers in 95 countries. But more than the few dozen that many others contribute.
Each plan comes with their "Enhanced Tracker Blocker" algorithm that will track cookies used by advertisers.

You'll also get unlimited data on their paid plans, with up to five device connections at one time.
All sounds pretty good so far. Except for one thing.
No Kill Switch
SurfEasy doesn't offer a kill switch
Another common 'leak' that undermines VPN users happens when your internet connection unexpectedly drops.
Let's say you're on your phone, and the crappy coffee shop's WiFi gives out. Your cell network will often pick up the slack, so you won't notice any hiccup.
The problem is that this network change will also temporarily disrupt your VPN connection, too.
That would leave all of your data exposed to the world for a few seconds. And it would divulge your real location to anyone watching.
A kill switch would automatically shut down your browser when a connection drops like this.
A little annoying, sure. But much better than giving up all your personal information.
And they've been developing additional features like an Ad Tracker Blocker algorithm to disrupt sites that try to track your behavior.
Customer Support
First, we tried submitting a request on their forum.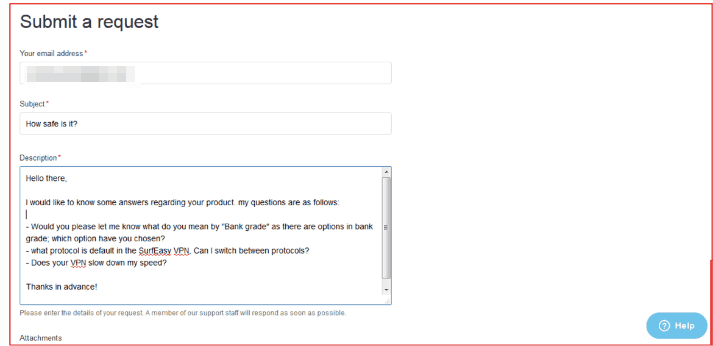 But we didn't receive any submission confirmation after. So we're not sure if they're going through properly.
Next, we tried their email support and had much better luck.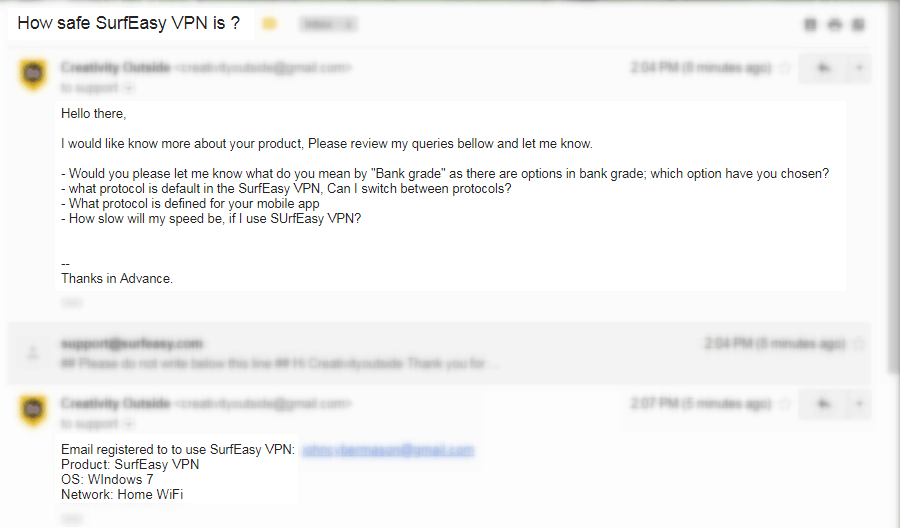 They got back to us same day, and were pretty quick with turnarounds.
So while there's unfortunately, no live chat option, and the support tickets didn't really work that well, you should at least be able to rely on email.
SurfEasy VPN Pricing & Plans
7-day money back
No anonymous payments.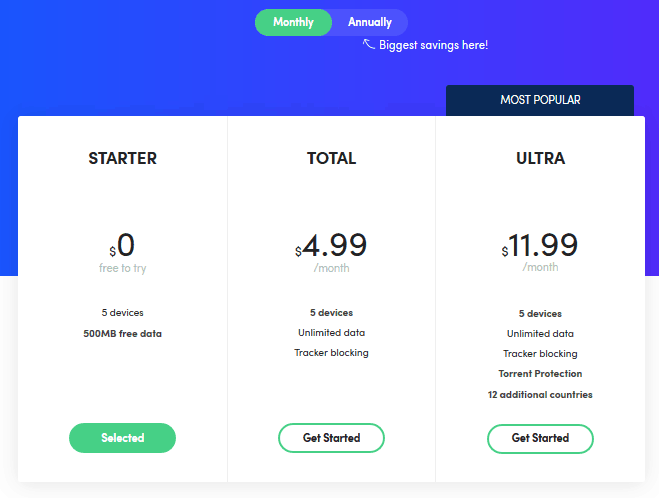 SurfEasy has three basic plans: Starter (free), Total, and Ultra. All three are available with month-to-month pricing, and annual with savings.
I'd avoid using the free version as it's capped to 500mb only (this is usually less than an hour of browsing).
Here's the Monthly option:
Starter plan is free
Total plan is $4.99/mo
Ultra plan is $11.99/mo
And here's a quick look at the annual discounts: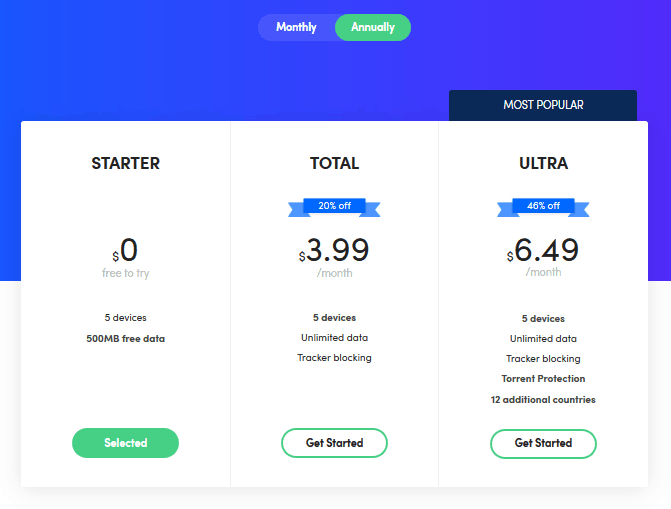 Starter plan is free
Total plan is $3.99/mo ($47.88/year) when you subscribe annual plan
Ultra plan is $6.49/mo ($77.88/year) when you subscribe annual plan
SurfEasy also includes a 7-day money-back guarantee on all plans.


That means you can use the free version to get a feel for it, before upgrading with the peace of mind that you have another seven days to get a full refund if it doesn't work out.
SurfEasy accepts all major credit cards and PayPal. No cryptocurrencies or other methods just yet.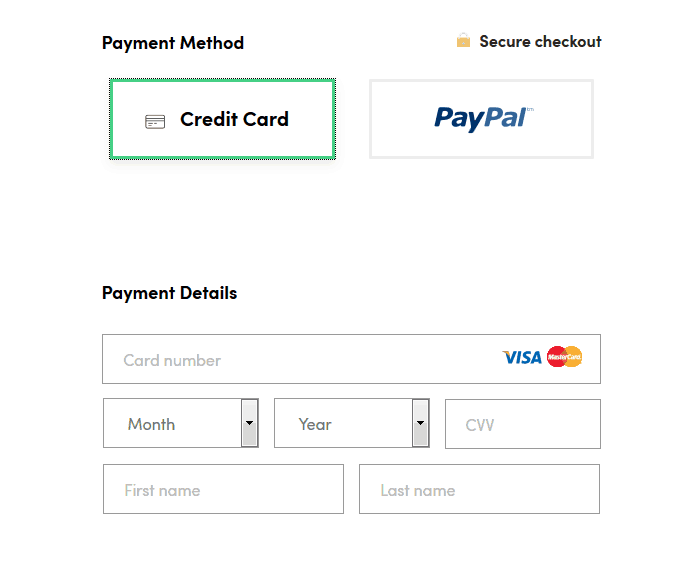 Is SurfEasy Recommended VPN?
The speed tests were just too slow across the board. There wasn't a kill switch, and the fact that they're located inside the 5 Eyes alliance is also troubling.
There were a lot of things to like. But at the end of the day, there are just much better options out there like ExpressVPN or NordVPN.
Add your own SurfEasy review: