TunnelBear is a Toronto, Canada VPN provider that prides itself on simplicity and ease-of-use.
But is it truly as TheNextWeb.com described it?
"The easiest VPN programs I've ever used… well worth upgrading to the paid version."
That's quite a compliment.
Can they possibly live up to the hype? (we'll see)
In this Tunnelbear review, we'll cover the following:
What is TunnelBear? What do they offer?
| | |
| --- | --- |
| Protocols: | OpenVPN, IPSec |
| Encryption: | AES 256-bit |
| Logging Policy: | No Logging |
| Locations: | 20+ Countries, 350 Servers |
| Servers: | Live Chat (24/7) |
| Apps: | Win, Mac, Android, iOS |
| Cost: | $3.33/mo |
| Official Website: | www.TunnelBear.com |
TunnelBear currently provides access to servers in over 20 different countries.
North America is well represented in all three countries (the U.S., Canada, and Mexico) and South America pops up with a location in Brazil.
There's a boatload in Europe (the U.K., Ireland, Germany, Spain, France, Italy, the Netherlands, Sweden, Denmark, Norway, and Switzerland), with servers in India, Hong Kong, and Singapore, too.
TunnelBear provides apps for all major devices and operating systems, including:
Windows

Mac

Android

iOS

and browser extensions (so that you don't need to download a VPN client)
They support up to five device connections across one account.
While there's no money back guarantee, they do offer a completely free plan that provides access for up to 500MB of data. You can even gain an extra 1GB by tweeting about them.
Last but not least, TunnelBear also offers a kill switch (of sorts) with Vigilant Mode that will block any and all unsecured traffic if a connection is dropped.
Is TunnelBear Safe VPN? (Encryption and Protocols)
Some of the largest sites on the internet are now pushing customers to use 'two-factor authentication' when attempting to login.
That means in addition to having the username and password to connect over a browser, you'll also be sent a text message with a time-sensitive message or passcode that also needs to be entered (prior to gaining full account access).
Why the extra work?
In an eye-opening documentary, one man dares two hackers to "do their worst". So that's exactly what they did!
And you wouldn't believe how easy it is to gain insight on your personal life.
For example, hackers will look for your wedding website (like The Knot) for information on your family members names, the schools you attended, and more. They'll even cross reference other privacy-intrusive sites like Facebook to confirm this info.
Then they'll take those answers to fool the 'security questions' used by many websites, like "What is your mother's maiden name?" and "What is your high school mascot?".
So many times these people don't even need to brute-force their way into your accounts. The passwords are practically spoon-fed to them!
Two-factor authentication that requires a passcode to sent to your mobile is one way to circumvent this problem.
TunnelBear uses OpenVPN on PC, Mac, and Android devices (or IPSec on iOS) to establish a secure 'handshake' connection between your devices and their servers. This encryption will help you "unwittingly connect to an attacker who is impersonating a TunnelBear server" so that "you should feel safe and snug knowing you're in a (strongly encrypted) bear hug".
Encryption
TunnelBear VPN software defaults to the best-in-class AES 256-bit encryption method used by government agencies and security professionals around the world. For example, it's the "first (and only) publicly accessible cipher approved by the United States National Security Agency (NSA) for top secret information".
AES is a relatively new encryption method officially unveiled in 2001, but its roots actually date back a few centuries.
A 'cipher' contains instructions for how to read the information that's encrypted, which is then protected by a 'key' required to gain access.
AES' "256-bit" refers to the number of combinations you'd have to string together in order to gain access. It's actually 2256, which means a gigantic number that, in theory, is almost un-crack-able. (Which is a new word we're going to now trademark.)
While today's supercomputers can crack other protocols like PPTP in less than a day. It's impossible for any of them to crunch this insane amount of data.
No Logging Policy
VPN services provide privacy to users. That's why you sign up in the first place.
However, how 'private' are you in reality?
Sometimes, not very. As a few HideMyAss customers found out the hard way when the U.S. government came around with court orders.
One Phoenix resident, for example, was indicted and thrown in jail for hacking several well-known sites. Despite using a VPN at the time! Turns out, they kept enough of a paper trail to be able to connect his individual actions to the larger crimes.
Some VPN providers will log or record the actions of their users for several reasons. Most legitimate paid ones might still keep logs on when people log in or out in order to monitor their server usage and improve performance. Some free, not-so-legit VPN providers will log data in order to sell your personal information to the highest bidder.
Fortunately "TunnelBear does NOT log any activity of users connected to our service. Period," according to their Privacy Policy.
Slow Download/Upload Speed
In order to make my reviews accurate, I ran TunnelBear (paid account) connection through a speed test to get a quick gauge on performance.
Sadly, the results weren't that good.
My 100 Mbps connection (using TunnelBear EU servers) was only 52.26 Mbps. I tried it multiple times to see if it's temporary, but I never managed to get a better speed than this.
Now when you compare that speed and their pricing to some of their biggest rivals (SaferVPN (review) and Private Internet Access), you'll see that there are cheaper options with a better speed.

US Server (New York)
Ping: 120ms
Download: 33.38 Mbps
Upload: 15.04 Mbps
EU Server (Amsterdam)
Ping: 39ms
Download: 52.26 Mbps
Upload: 27.20 Mbps
Asia Server (Hong Kong)
Ping: 345ms
Download: 7.54 Mbps
Upload: 2.63 Mbps
UK Server (London)
Ping: 44ms
Download: 50.10 Mbps
Upload: 48.36 Mbps
In short, their speeds are too slow for streaming or torrenting. At least I think so.
No Phone, No Live Chat Support
TunnelBear offers help desk support through Salesforce Desk.com.
Unfortunately, it looks like they don't offer support through either live chat or phone (so it might take a few hours to get feedback and support).
I also took a look through their social accounts to see if those can substitute for a faster, easier way to get help.
Unfortunately, instead of offering to assist in basic problems they will simply try to re-route you to their support ticketing system.
Here's one example: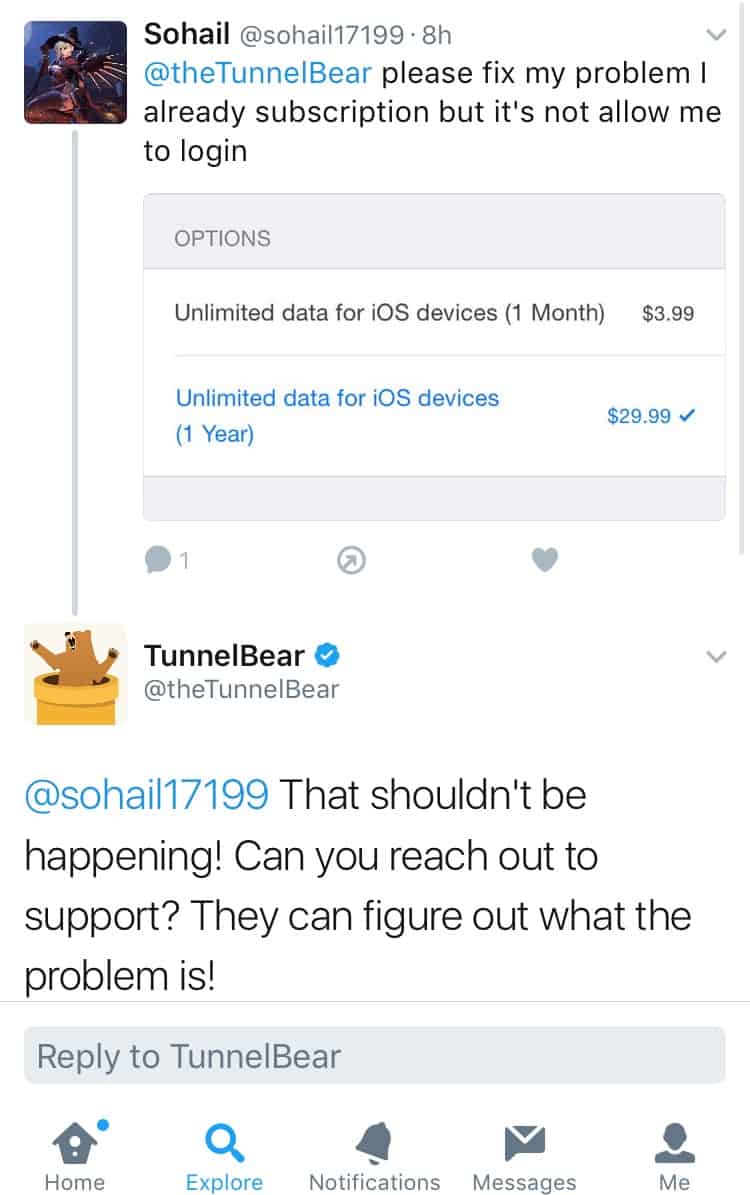 And another so you know we're not lying: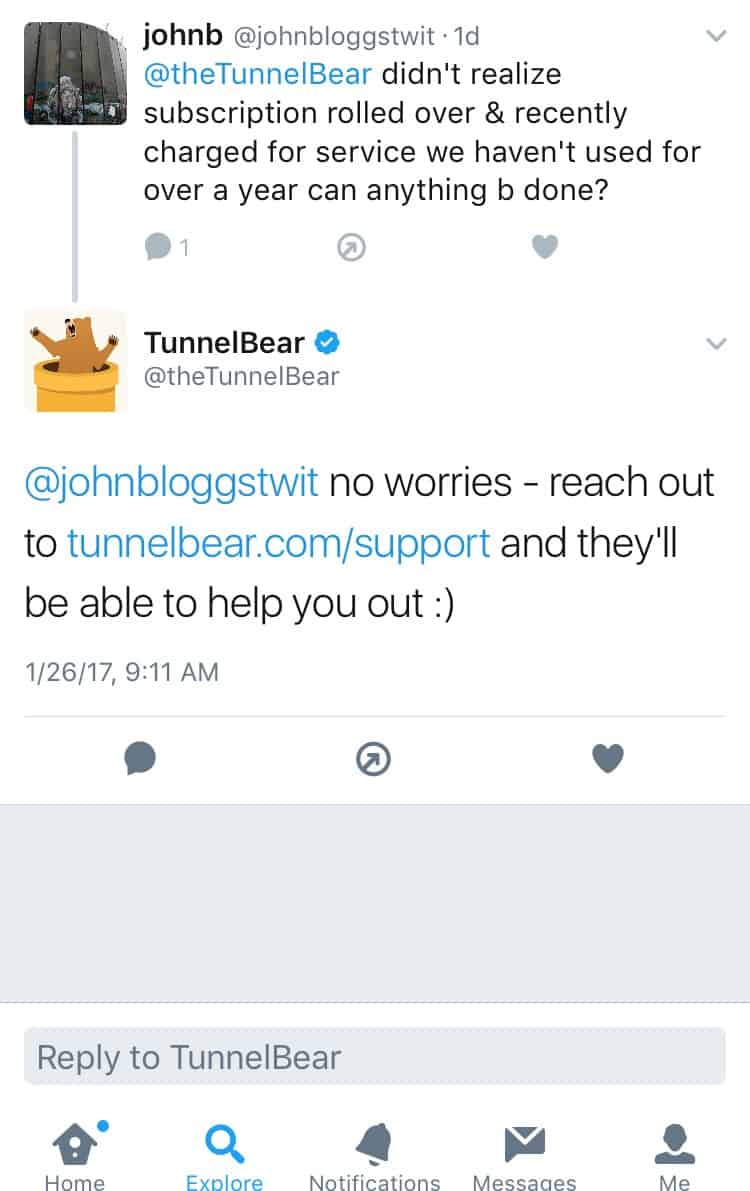 TunnelBear Cost and Pricing Options
TunnelBear offers a free plan that's restricted to 500MB of data each month.
If you need more than that, though, they also offer an unlimited data option that can be paid either monthly or annually. Here's the breakdown.

A) The "Little" Plan
Free
500MB of free data every month
B) The "Giant" Plan
$7.99/month
$95.88 for 12 months
Unlimited data
Pay monthly
C) The "Grizzly" Plan (recommended for first time users)
$3.33/month
$39.99 for 12 months
Unlimited data, pay yearly
For conclusion, I can say that TunnelBear is cheap VPN software (compared with many others, such as Buffered (review) and ExpressVPN (review).
What about Netflix and Torrenting?
Using a TunnelBear for torrenting or watching Netflix is a bad idea. First of all, Netflix has started to block a lot of VPN sites and IP's related to the VPNs. Hence the reason only handful of VPNs still work with Netflix.
I tried 10+ different servers in different locations and I never managed to log into my Netflix account. I guess that's something TunnelBear should improve in the future (a good perk for people who travel).
Another bad thing is that TunnelBear doesn't allow torrenting on their servers. Here's what they've written on their page here:
Can I torrent with TunnelBear? No. While we are looking into ways that we can provide a completely unrestricted browsing experience, unfortunately TunnelBear does not currently support the use of BitTorrent.
So even though you're a paying customer – you're unable to use TunnelBear for torrenting. Really bad experience.
How to Use TunnelBear VPN Client
Getting a VPN (TunnelBear) set up is very simple and easy. Here's what I did to set everything up (I'll also show you screenshots of the actual application).
When I first signed up with them, I was redirected to this page: Instant Download
Right when you log in to your TunnelBear account, it'll will automatically begin to download (free). The client will instantly pick up on what device you're using so you don't even have to think.
The installer file is rather small, for Windows it was less than 20MB which is relatively small for VPNs.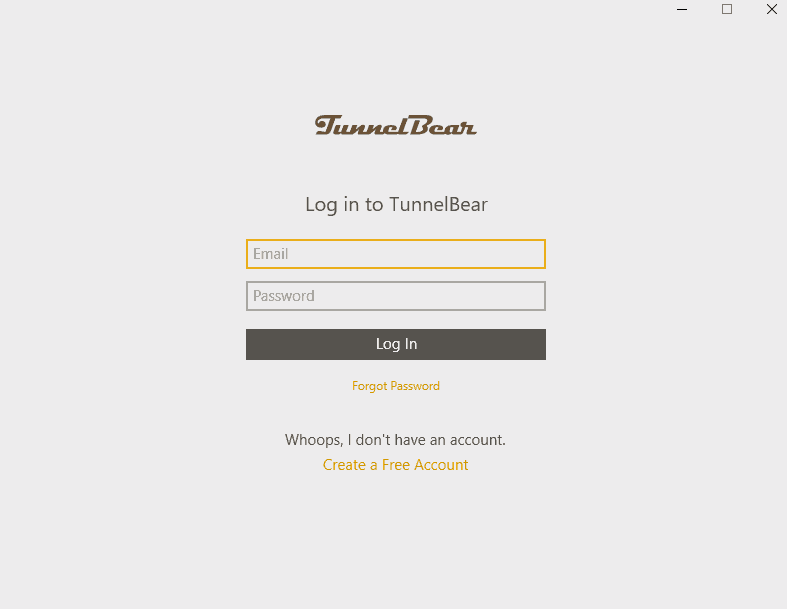 Next, you'll need to verify your email address associated with your account.  (Kinda a hassle but security is their main concern after all.)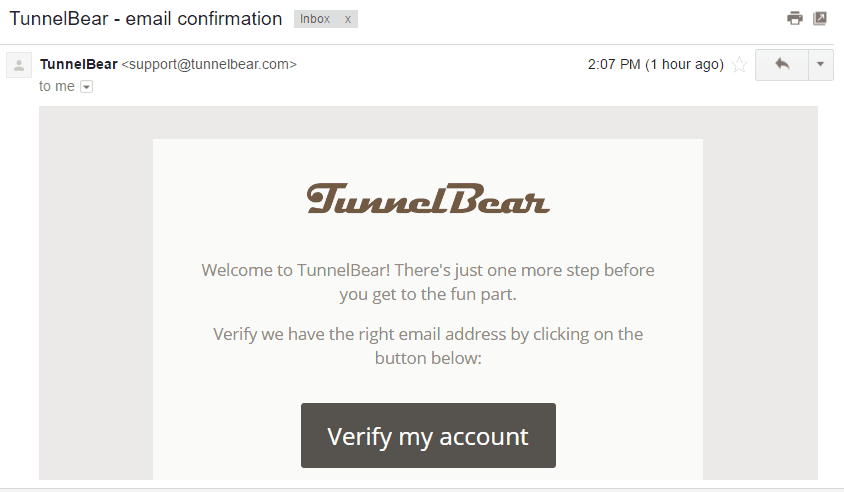 The TunnelBear confirmation email will look something like this. Click Verify my account and you will be taken to this page:
Now my account is confirmed and ready to use!
But first, you'll have to go back to the VPN window.
(This is starting to sound like a crazy scavenger hunt, huh?! I promise you're nearly there and will be on a secure VPN connection in a few more seconds.)
When you get back to this screen, click the Continue button below.
And the VPN client should change screens to display a few available server locations on a map:
Connecting is very simple. Just click the gray switch where it says Off and the client will begin connecting you to the closest server to start with.
If you want to choose which country you connect to, click Auto and a drop-down menu will appear with all the different countries you can choose from. Once you choose a country, click the On/Off button to On and TunnelBear will begin to connect!
This is what TunnelBear VPN looks like when it's connected. Green means you're all good!
TunnelBear review conclusion: Is it good enough?
TunnelBear prides itself on simplicity and ease of use. Those things are true. Their user interface (both on the website and inside the client) is extremely intuitive and hassle-free.
They also throw in a free plan to try out initially, with paid upgrades that aren't among the most expensive we've seen either.
But at the end of the day, the free plan is a little too restricting to be used permanently. The support options are limited, so you probably won't see fast response times.
And speaking of slow, my speed tests weren't anything to write home about.
If you're just looking for an easy-to-use VPN to protect yourself while sitting in a local coffee shop, it's a fine choice. Sadly, they're not one of the top rated VPN. If you compare TunnelBear vs PIA then PIA is probably a better option (both priced at $3.33/mo).
However, if you're trying to bypass certain country restrictions, or plan on doing any heavy downloading and streaming, you might want to look elsewhere.
TunnelBear VPN Pros:
They have a FREE plan
Very user-friendly
Connects swiftly to different servers
TunnelBear VPN Cons:
Their free plan is too slow for serious usage.
They're too slow for serious usage.
Feel free to read other VPN service reviews here.
P.S. If you've used TunnelBear, please consider leaving a review below. Thanks!
Add and Read TunnelBear Reviews
26 user reviews for Tunnelbear
Francisco Moran
One of the greatest VPN providers of all times
A few weeks ago I needed a VPN to watch a tv show at hulu since is not alowed out of the united states. I downloaded many VPN providers and none of them worked as I wanted them to, they were either too slow or they were not able to open the website. In the middle of my frustration I decided to look for a VPN provider online that was recommended by people on the internet and that's how I found TunnelBear. I started with the free version and it was so good that I decided to go premium and it was only $4.99 for a whole year. One of the best purchases I've ever made.
LD Workman
Best Free VPN!
I have been using a vpn for the past 6 years to keep not only my personal devices, but also our work devices safe.
Tunnelbear VPN has offered beyond what my expectations were and exceeded them!
I have not seen a difference in terms of speed while using this VPN unlike some other company's.
Tunnelbear takes the cake when it comes to safe browsing without giving up internet speed!
John
Tunnel Bear Review
I've had pretty good service with Tunnel Bear, in my 6 months of using it, the app has only crashed twice. The connection speed is pretty fast and wasn't a hassle to get connected. The price was pretty good for the service that I got. I personally think Tunnel Bear is a great hassle free VPN even if there might be cheaper alternatives.
Temping
Good Experience
Tunnelbear VPN is incredibly fast and super secure. It is the most popular VPN for Kodi due to the high HD streaming performance and support on all devices. It offers 24/7 live support and servers in almost any country. You can use it simultaneously with a few devices, and it gives a strong fight to tunnelbear VPN, while others lag behind.
Anže
TunnelBear is easy to use
Because of it's easy use I would recommend it even to non techies. The UI looks nice and it really can't get simpler then selecting a location and hitting connect. It's also nice that you have a free version available (limited data usage). Otherwise it's not even expensive. Although it is sometimes very slow and unusable. For windows it works great, but on linux I use more advanced options. In general I would give it a 7/10.
Pheonix Taylor
Poor connect in Australia
Firstly tunnel bear does not include Australian servers in their free trial meaning you have to contact a support personal and ask for a week/end trial, that wasn't to bad of an issue but when I tried it out, I got completely awful ping, my ping went for 40 to over 100 on Australian servers meaning to play online with people I would have to turn it off not to lag, defeating the purpose of a VPN.
Lorenzo Fortaleza
TunnelBear Reliability
I've been running the  TunnelBear VPN app on my iPhone for a while now, and I must say, it worksbeautifully. As long as you have a TunnelBear account ( free for 500MB per month—1 GB more if you tweet about TunnelBear—and it goes up to $5/mo for unlimited data on all your devices) you can use the app to connect to any of TunnelBear's servers around the globe, including the US and Singapore, Japan, and more. Just fiddle around the map to find the tunnel you want to connect to, or tap the country name at the bottom of the screen to bring up a list of options. Also, be sure to Toggle the "Always On" option to make sure your connection is secure all the time even as your phone goes to sleep and wakes up from it, or when you lock/unlock it.
Overall, I'd give TunnelBear a solid 4/5 stars.
Jordan
Not too shabby
I have paid for the grizzly service for about a year and a half, it has worked wonderfully for me. I do not have netflix anymore, which I did notice did not work when I did have it. Also I do not torrent, so I cannot speak to that. If you are looking for a user friendly vpn to use, I would definitely recommend this service.
I never have to worry about it.
Joseph Newman
Great for low-usage users
Tunnelbear has always been mixed for me, I've had issues in the past with login's bugging, but now after updates, in my opinion, it's one of the best free VPNs. The 500MB montly allowance is a good number, and if you happen to have higher than normal usage, you can do some of the things it advertises such as "Tweet for 1GB", which is relatively straight forward, and allows you to get more data to use. Perfect for me, and works well on iOS11, quite a surprise really considering how many apps and other VPNs don't seem to function properly on the new iOS.
I'd recommend it, if you're looking for a good free VPN.
Ondřej S.
I've been using Tunnelbear for a year now. When I can't access some website, because it is blocked in my country, Tunnelbear always has my back. Great free service and even better paid VPN. It's fast, easy to set up and has nice user interface. Tunnelbear is better than all other VPNs I've tried.
E.
Good and free
Pro's:
– Good and easy setup
– unlimited use period
– a good free package
– suitable for gaming on restricted networks (payed version)
Cons:
– only 500mb data included in the free package
– does not work very well when using the free package and being on certain networks that restrict the use of vpn's
– does not circumvent vpn block on certain networks
Tunnelbear VPN is good if you want a fast and secure vpn with an option to use it for free, but with limited data. When using it as a standard user with no technical background this software is good since it comes preinstalled with good default settings, only thing you have to to is select a country and you can start using it. I have not used the payed version, but I know from other users it's good.
Only downside is that on certain school networks (like mine) connecting is very slow or does not work at all. This is primarily a problem in the free package. This is not a vpn that prompts you with too much ads or limits the use time.
Jim
Got a problem you need to have ignored?
I use TunnelBear on two desktop's and one mobile cell phone. While it may be true that 'TB' can be easy to use, it's also true, questions go unanswered. This has occurred each time I sent in a ticket, sorry too many to count. A quick example! Send them a ticket, you next recieve a remote reply stating your ticket will be addressed in 24-48 hrs. You may then, if at all, get another message, they need more info, please resend ticket with more info. So around and around this can go until most people, like myself, just give up. The one and only time I was able to converse with them (no phone calls) the tech had not even bothered to look at any of my messages they had repeatedly asked me to send. This tech then gave me some 'a very good idea'. He informed me most of my answers could be found online!?! At the end of our typing session he stated my ticket would be sent on up to a 'TIER TWO TUNNELBEAR TECH'. Again , yet ANOTHER MESSAGE, which I ignored, ASKING ME FOR MORE INFO, AHHHHH Never again…
Warren van Niekerk
Its crap - don't bother
Very slow connecting. Frequent disconnects and their proxy server is already on a number of blacklists on sites you would want to visit.
Goldilocks
Paid TB=Great
I"ve been using the paid version of TB for about 6 mos. The great UI was the main attraction, but the reliable connections are what keep me with this service.
Aditya
VPN for Novices
I tried using Tunnelbear after seeing the sponsorship of LTT videos as I was after a simple VPN for my parents to use.
Was delighted to see the simple to use interface, and a wide range of server locations, even for the free accounts.
Didn't notice a huge drop in speeds accessing website whilst using the VPN, but it takes a few minutes to change the server connection from one location to another.
Applications for PC, Mac, android, and iPhone are very simple with one click operation to enable and disable VPN services.
After the best part of a year using Tunnelbear, I haven't had any issues and would recommend for anyone that wants a simple to use VPN service.
Mahboob Alam
is There Any Hassle Free VPN to Use? Yes! Here You Go!
Here's my pros:
– To fast connection creation
– Simple and secure
– Just one click connection establishment
– Free data when you sign up
– Premium service is not too costly
– Referral service
– Option to earn free data
* What I've faced in some other VPNs that sometimes their connection gets broken and you again have to reconnect to the VPN. Yes, I've faced it and it is too much irritating that when you are gaming or browsing privately and you again have to connect to the VPN. In TunnelBear, I won't say that I never faced the cut down connection but it's very rare…
akram khan
Tunnel bear is really ok
Since last year I had to download a VPN Software, because I work with websites that are accessible only in the US. Therefore I decided to get a VPN from Google's PlayStore and I found OperaVPN and many other VPNs until I stumbled upon TunnelBear, which allows you to choose the country you want to access from. It has been really amazing for me. I love it.
Sagar
Best VPN ever
It's the best VPN app I have ever used. It's damn simple and easy to use with a user friendly interface.
Anonymous Guy
Free = Not good. Paid = OK
Just wanted to chime and tell you that TunnelBear is a solid product, but only if you opt in for their paid version. Their free version is a bit clunky and not meant for daily usage. If you're traveling – sure, go ahead and use it. Probably does the trick and you'll be able to use it for Netflix.
However, if you need decent speed like me (daily user), you most likely need to use their paid version.
Just my thoughts…
Tim
Too slow
I used this VPN for some months and then the connection was unbelievably slow. It takes a minute to download 1mb file.
I used free version.
Luke Martin
TunnelBear is Good
When I first use Tunnelbear Free (Software & Android App), it has an interesting UI that you will see which country you are located along with the bear, once you chose a country for the VPN connection, the bear digs on you country's ground then will pop out to a pipe much like Super Mario.
Once connected, it is stable and you don't need to worry if you got disconnected, it can reconnect to the same country or reconnect to other VPN Server. Overall, Tunnelbear is easy to use, great UI and generous for the 500MB data(Free Account) especially if you are going to tweet it for the first time, they'll give you an additional 1GB data.
Albert Anino
Needs improvement
TunnelBear was good for me for only 1 day.
It just stops, I don't know – perhaps I've just reached the limit.
Now I've just uninstalled the app because it's not working anymore. I guess that's what you get for "free" version, ha.
Abishek
Mixed feelings about this software
The things I love about tunnelbear vpn is the amount of countries you can choose when using a paid account. It's pretty fast, too.
The negative part of this app is sometimes it just hangs and I have to force stop and restart it to use again.
It'd be a solid product (but it crashes too often).
Michael
TunnelBear looks cool, although it's not the best out there.
I liked the UI of TunnelBear, therefore I used them for a while, until my mate told me to try out another service provider. I tried that one out and understood that it's faster than TunnelBear.
I can't say bad things about TunnelBear, since it didn't disappoint me, but there are better providers out there. Right now I'm using PIA for all of my devices. (An android phone, a Macbook, an iPad and my sons PC).
Fred
Free version is pointless
Their free service is a joke. Unless you go paid, you can't expect any decent download speeds.
Phil
TunnelBear is decent
I've used TunnelBear for the past 6 months. Mainly due to being a heavy Wi-Fi users (we all know the concerns of Wi-Fi, right).
Well, till date I don't have anything to complain about. The $3.33 option is pretty decent, though I sometimes miss the ability to download bigger files (it's just a bit slow).