TunnelBear is a Toronto, Canada VPN provider that prides itself on simplicity and ease-of-use.
But is truly as TheNextWeb.com described it,
"The easiest VPN programs I've ever used… well worth upgrading to the paid version."
That's quite a compliment. A bold claim.
Can they possibly live up to the hype?
In this review, we'll provide a list of their available server locations and apps. Then we'll get into the technical stuff with a complete rundown of which protocols are available and what encryption methods they use. Before finally providing a rundown of their support options, pricing, and a setup walkthrough.
TunnelBear VPN Review (Summary)
| | |
| --- | --- |
| PROTOCOLS: | OpenVPN, IPSec |
| ENCRYPTION: | AES 256-bit |
| LOG FILES: | No |
| LOCATIONS: | 20+ countries |
| SUPPORT: | Live Chat (24/7) |
| EASE OF USE: | Very Simple |
| COST: | $3.33 (FREE PLAN) |
| PLATFORMS: | Win, Mac, Android, iOS |
| RECOMMENDED? | No. |
| OFFICIAL WEBSITE: | www.TunnelBear.com |
Quick facts about TunnelBear VPN
TunnelBear currently provides access to servers in over 20 different countries.
North America is well represented in all three countries (the U.S., Canada, and Mexico) and South America pops up with a location in Brazil.
There's a boatload in Europe (the U.K., Ireland, Germany, Spain, France, Italy, the Netherlands, Sweden, Denmark, Norway, and Switzerland), with servers in India, Hong Kong, and Singapore, too.
TunnelBear provides apps for all major devices and operating systems, including Windows, Mac, Android, iOS and browser extensions (so that you don't need to download a VPN client). They support up to five device connections across one account.
While there's no money back guarantee, they do offer a completely free plan that provides access for up to 500MB of data. You can even gain an extra 1GB by tweeting about them.
Last but not least, TunnelBear also offers a kill switch (of sorts) with Vigilant Mode that will block any and all unsecured traffic if a connection is dropped.
Available Protocols (OpenVPN & IPsec)
Some of the largest sites on the internet are now pushing customers to use 'two-factor authentication' when attempting to login.
That means in addition to having the username and password to connect over a browser, you'll also be sent a text message with a time-sensitive message or passcode that also needs to be entered (prior to gaining full account access).
Why the extra work?
In an eye-opening documentary, one man dares two hackers to "do their worst". So that's exactly what they did!
And you wouldn't believe how easy it is to gain insight on your personal life.
For example, hackers will look for your wedding website (like The Knot) for information on your family members names, the schools you attended, and more. They'll even cross reference other privacy-intrusive sites like Facebook to confirm this info.
Then they'll take those answers to fool the 'security questions' used by many websites, like "What is your mother's maiden name?" and "What is your high school mascot?".
So many times these people don't even need to brute-force their way into your accounts. The passwords are practically spoon-fed to them!
Two-factor authentication that requires a passcode to sent to your mobile is one way to circumvent this problem.
TunnelBear uses OpenVPN on PC, Mac, and Android devices (or IPSec on iOS) to establish a secure 'handshake' connection between your devices and their servers. This encryption will help you "unwittingly connect to an attacker who is impersonating a TunnelBear server" so that "you should feel safe and snug knowing you're in a (strongly encrypted) bear hug".
Here's how.
Encryption (AES 256-bit)
TunnelBear defaults to the best-in-class AES 256-bit encryption method used by government agencies and security professionals around the world. For example, it's the "first (and only) publicly accessible cipher approved by the United States National Security Agency (NSA) for top secret information".
AES is a relatively new encryption method officially unveiled in 2001, but its roots actually date back a few centuries.
A 'cipher' contains instructions for how to read the information that's encrypted, which is then protected by a 'key' required to gain access.
AES' "256-bit" refers to the number of combinations you'd have to string together in order to gain access. It's actually 2256, which means a gigantic number that, in theory, is almost un-crack-able. (Which is a new word we're going to now trademark.)
While today's supercomputers can crack other protocols like PPTP in less than a day. It's impossible for any of them to crunch this insane amount of data.
No Logging (That's GOOD!)
VPN's provide privacy to users. That's why you sign up in the first place.
However, how 'private' are you in reality?
Sometimes, not very. As a few HideMyAss! customers found out the hard way when the U.S. government came around with court orders.
One Phoenix resident, for example, was indicted and thrown in jail for hacking several well-known sites. Despite using a VPN at the time!  Turns out, they kept enough of a paper trail to be able to connect his individual actions to the larger crimes.
Some VPN providers will log or record the actions of their users for several reasons. Most legitimate paid ones might still keep logs on when people log in or out in order to monitor their server usage and improve performance. Some free, not-so-legit VPN providers will log data in order to sell your personal information to the highest bidder.
Fortunately "TunnelBear does NOT log any activity of users connected to our service. Period," according to their Privacy Policy.
Customer Support (ticket system, no phone, no live chat)
TunnelBear offers help desk support through Salesforce Desk.com.
Unfortunately, it looks like they don't offer support through either live chat or phone (so it might take a few hours to get feedback and support).
We also took a look through their social accounts to see if those can substitute for a faster, easier way to get help.
Unfortunately, instead of offering to assist in basic problems they will simply try to re-route you to their support ticketing system.
Here's one example: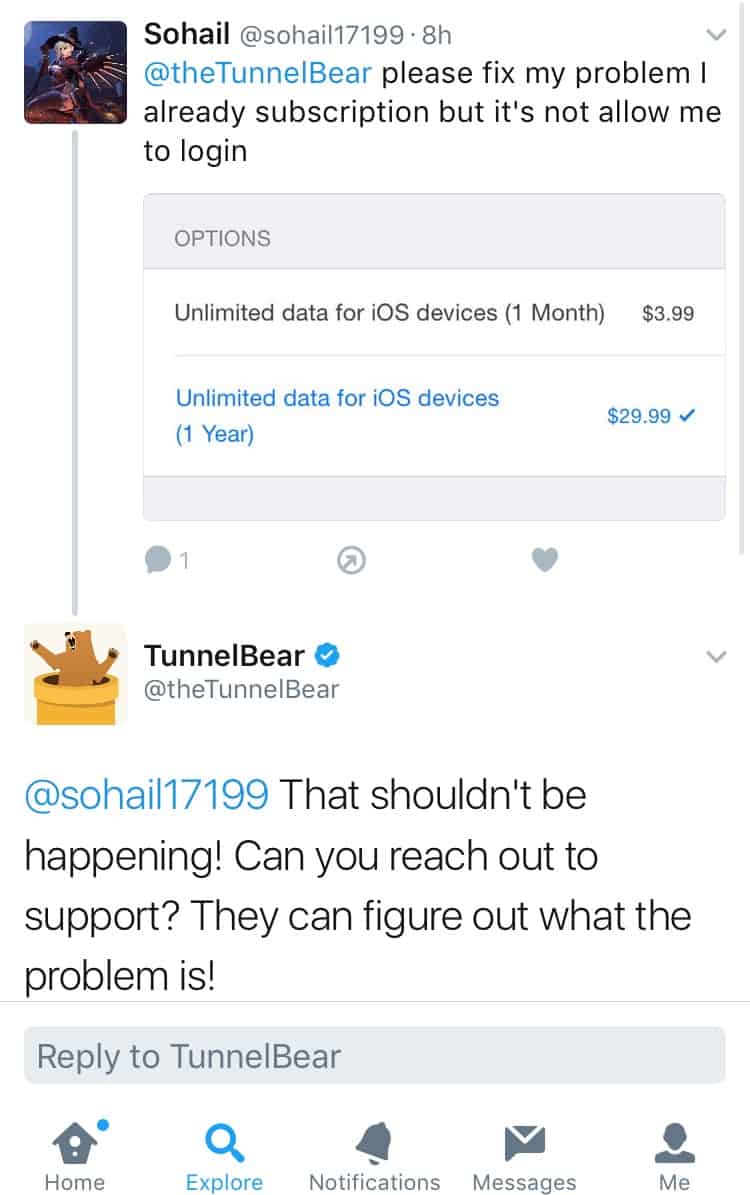 And another so you know we're not lying: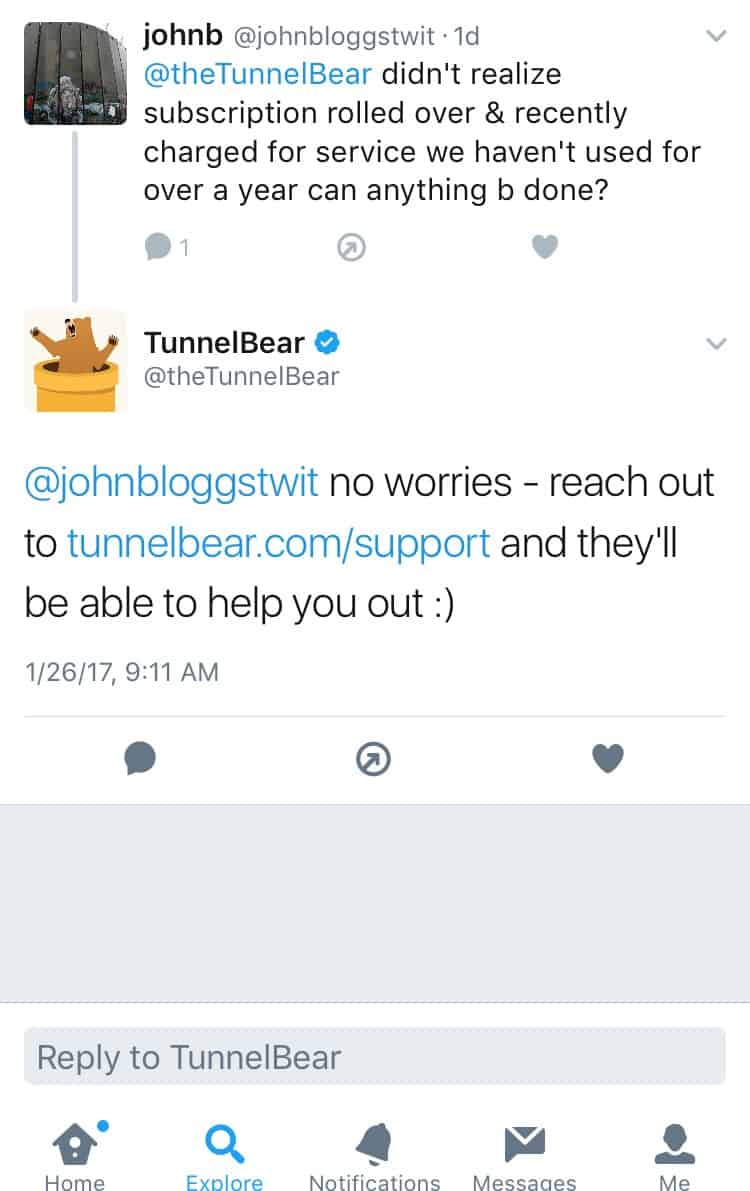 Plans & Pricing (Rather Cheap)
TunnelBear offers a free plan that's restricted to 500MB of data each month.
If you need more than that, though, they also offer an unlimited data option that can be paid either monthly or annually. Here's the breakdown.

A) The "Little" Plan
Free

500MB of free data every month
B) The "Giant" Plan
$7.99/month

$95.88 for 12 months

Unlimited data

Pay monthly
C) The "Grizzly" Plan (recommended for first time users)
$3.33/month

$39.99 for 12 months

Unlimited data, pay yearly
If you're to take the plunge and give their free option a shot, here's how you can get up-and-running in only a few minutes.
TunnelBear Paid Plan Upload/Download Speed
We also ran our TunnelBear connection through a speed test to get a quick gauge on performance.
Our own results weren't that fast, to be honest. And they couldn't match the performance we've seen from ExpressVPN or Buffered.
TunnelBear Speed Rank: (17 out of 19)

US Server (New York)
Ping: 120ms
Download: 32.63 Mbps
Upload: 15.04 Mbps
EU Server (Amsterdam)
Ping: 39ms
Download: 6.93 Mbps
Upload: 17.20 Mbps
Asia Server (Hong Kong)
Ping: 345ms
Download: 7.54 Mbps
Upload: 2.63 Mbps
UK Server (London)
Ping: 44ms
Download: 50.10 Mbps
Upload: 48.36 Mbps
Re speed test: Always take such speed tests with a grain of salt as they simply rely on too many variables. However, since we've tested 20+ VPN services so far, we have an average that we can compare to other VPNs.
TunnelBear Setup (Reviewed)
---
First, go to www.TunnelBear.com and create an account. Once you're logged in, you'll gain access to your VPN client options.
Right when you log in, TunnelBear will automatically begin to download. The client will instantly pick up on what device you're using so you don't even have to think.
Click on the file to begin the installation process. In the case of this Windows PC, click TunnelBear-install..exe at the bottom of your browser.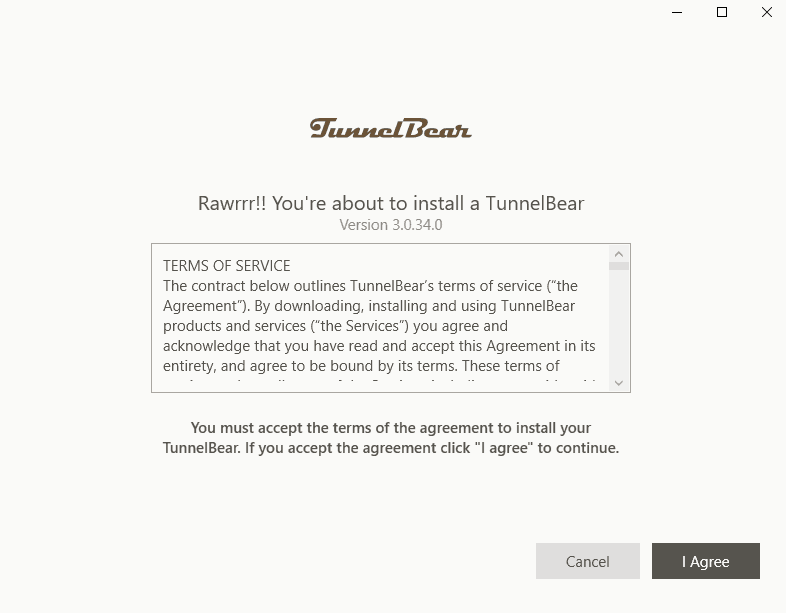 If you're one of the 0.05% who actually likes to read through the Terms of Service, do so now.
Otherwise, go ahead and select I Agree to these terms and conditions so you can install your new VPN client. The file's relatively small so it should only take a few seconds.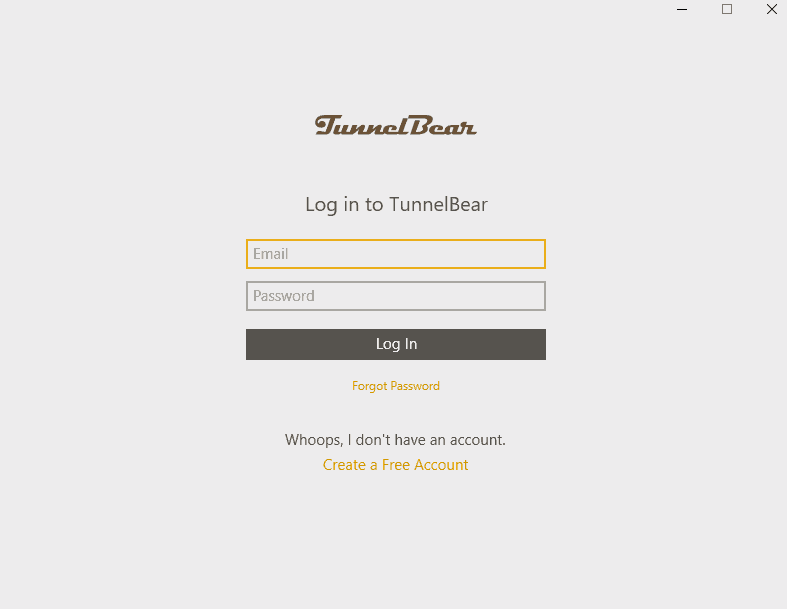 When finished, start by logging back into TunnelBear using the same email/password combination you just setup with your account.
Next, you'll be given a short tutorial on how to use TunnelBear's service. Click Next and go through all the tutorial pages.
The tutorial will walk you through different aspects of their service and help the benefits of using a VPN service.
Of course, you can always choose to Skip in the bottom left-hand corner if you want to start using your new service right away!
Next, you'll need to verify your email address associated with your account.  (Kinda a hassle but security is their main concern after all.)
So go to your email and you should have a confirmation email waiting for you in your inbox!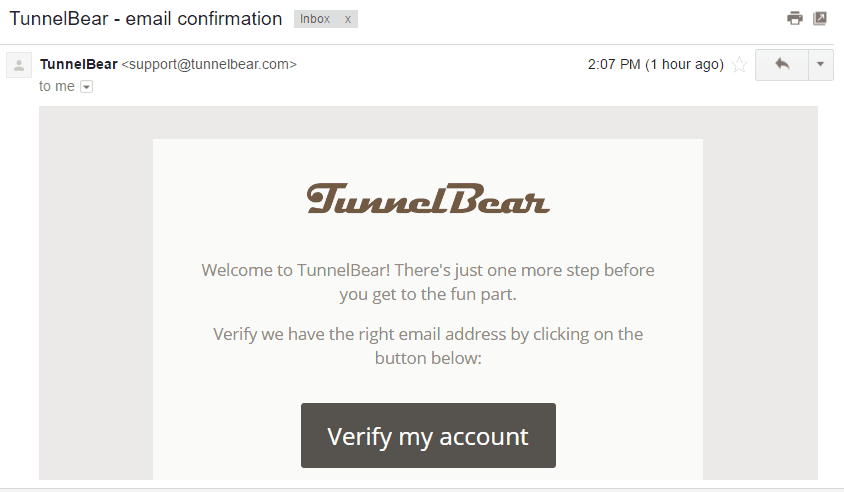 The TunnelBear confirmation email will look something like this. Click Verify my account and you will be taken to this page:
Now your account is confirmed and ready to use!
But first, you'll have to go back to the VPN window.
(This is starting to sound like a crazy scavenger hunt, huh?! I promise you're nearly there and will be on a secure VPN connection in a few more seconds.)
When you get back to this screen, click the Continue button below.
And the VPN client should change screens to display a few available server locations on a map:
Connecting is very simple. Just click the gray switch where it says Off and the client will begin connecting you to the closest server to start with.
If you want to choose which country you connect to, click Auto and a drop-down menu will appear with all the different countries you can choose from. Once you choose a country, click the On/Off button to On and TunnelBear will begin to connect!
This is what TunnelBear looks like when it's connected. Green means you're all good!
We also ran our TunnelBear connection through a speed test to get a quick gauge on performance.
TunnelBear Review Conclusion (simple and straightforward, but nothing anything special)
TunnelBear prides itself on simplicity and ease of use. Those things are true. Their user interface (both on the website and inside the client) is extremely intuitive and hassle-free.
They also throw in a free plan to try out initially, with paid upgrades that aren't among the most expensive we've seen either.
But at the end of the day, the free plan is a little too restricting to be used permanently. The support options are limited, so you probably won't see fast response times.
And speaking of slow, our speed tests weren't anything to write home about.
If you're just looking for an easy-to-use VPN to protect yourself while sitting in a local coffee shop, it's a fine choice.
However, if you're trying to bypass certain country restrictions, or plan on doing any heavy downloading and streaming, you might want to look elsewhere.
TunnelBear Pros:
They have a FREE plan
Very user-friendly
Connects swiftly to different servers
TunnelBear Cons:
Their free plan is too slow for serious usage.
They're too slow for serious usage.
P.S. If you've used TunnelBear, please consider leaving a review below. Thanks!
12 user reviews for Tunnelbear