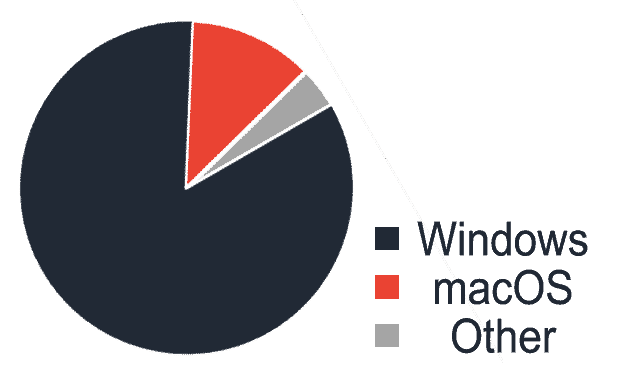 Windows is undoubtedly the single most popular OS system of our times.
And it has been ever since its launch some 30 years ago.
In fact, accounting for all different versions of Windows, it boasts penetration rates of a staggering 84 percent! No wonder ol' Bill has been among the top 3 richest people on earth for years.
MacOS, 12 percent, and other lesser used operating systems are miles behind the popularity of Windows.
This bodes well for anyone running a Windows OS, is in dire need of a iron-clad and super fast VPN service to secure & protect their personal data.
And who isn't? With countless of scary ransomware reports & thousands of personal data breaches, 2017 has been a wake-up year for cybersecurity.
It's high-noon you started taking your online security seriously!
While Windows 10 was among the least vulnerable operating systems of 2016, it won't be able to protect you from all network hacking & snooping attempts. This is where your very own VPN comes in!
In this article I will attempt to answer the question "What is the best VPN for Windows". While VPNs don't change OS to OS, there are some nuances people often overlook.
Mainly compatibility and how it can affect older Windows versions. The last thing you want to do is purchase what seems to be an awesome VPN client, only to realize it just won't work on your system.
Important VPN Factors for Windows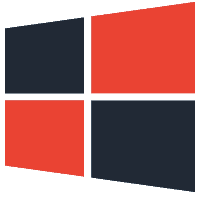 Here at TheBestVPN.com we test dozens of VPN providers hundreds of times a month. Each study has a different set of criteria we test against, to ensure maximum relevancy and so you, the end user, can make the best decision according to your specific wants and needs.
The main factors we test for, never change:
Safety
Connection Speed
Compatibility
Usability
These are the pillars which either make or break a given VPN provider. Excel at all those and you are sure to be crowned as the #1 service!
Having said that, the very first step of each and every study is to find & introduce new applicable criteria. With VPNs being useful for so many purposes, it is our goal to offer a wide range of data points for you to judge them on.
For example:
When we tested VPNs for torrenting, we put an even greater emphasis on security as well as connection stability, to ensure that nobody can find out what you're torrenting as well as ensure a good user experience.
When we tested the best VPNs for Netflix, on the other hand, we made sure to extensively test streaming speeds and US server availability.
In this study, as we crown the best VPN for Windows, in addition to our main ranking factors, we're introducing one more – a vital one – windows compatibility!
BUT! Not only are we concerned if a given VPN actually works with Windows, we wanted to gruelingly test to what extend it functions.
Usually, what we would do, is start our search from our trust pool of the 15 most popular VPN providers and test them all against our new criteria.
This will fortunately not be necessary as windows compatibility is generally what we like to call a vacuum-criteria. It lies outside the scope of influence when it comes to the general quality of the VPN provider. It's a criteria which wouldn't directly impact the performance of your VPN.
This lack of influence enables us to go back to our master study, the overall best VPN provider, and test our top picks for windows compatibility.
This way we could easily see which of our top picks are most suited for Windows users. And that is exactly what we did!
Here is a quick look at how we define windows compatibility.
Windows Compatibility
| Operating System | Market Share |
| --- | --- |
| Windows 7 | 39% |
| Windows 10 | 30% |
| Windows 8.1 | 8% |
| Windows XP | 4% |
| Windows 8 | 2% |
| Windows Vista | 1% |
| Windows 2003 | <1% |
As you may know, each and every evolution of an operating system result in fundamental changes in how it functions. This often results in programs built for a previous iteration becoming unusable on the new one, rendering them obsolete.
In simpler terms, programs that work on Windows XP may not work with Windows 10.
Our ideal Windows VPN provider would have functioning connection clients for each and every Windows currently in use.
This is exactly what we looked for.
You would think that it's a fairly straightforward expectation, but during our research we found that many of our favorite VPNs had different ideas as to which Windows OS are worth building apps for.
On the right, you'll see a breakdown of Windows Operating Systems currently in use. Our biggest concern was anything before Windows 7. Those are usually the operating systems which developers love to overlook.
Check out our top picks and their compatibility below!
Top 5 Windows VPNs 
---
| VPN Service | Windows XP | Windows Vista | Windows 7 | Windows 8 | Windows 10 |
| --- | --- | --- | --- | --- | --- |
| 1. ExpressVPN | | | | | |
| 2. IPVanish | | | | | |
| 3. VyprVPN | | | | | |
| 4. PrivateInternetAccess | | | | | |
| 5. Buffered | | | | | |
Top 5 Windows VPNs Reviewed
#1. ExpressVPN – Best Windows VPN
---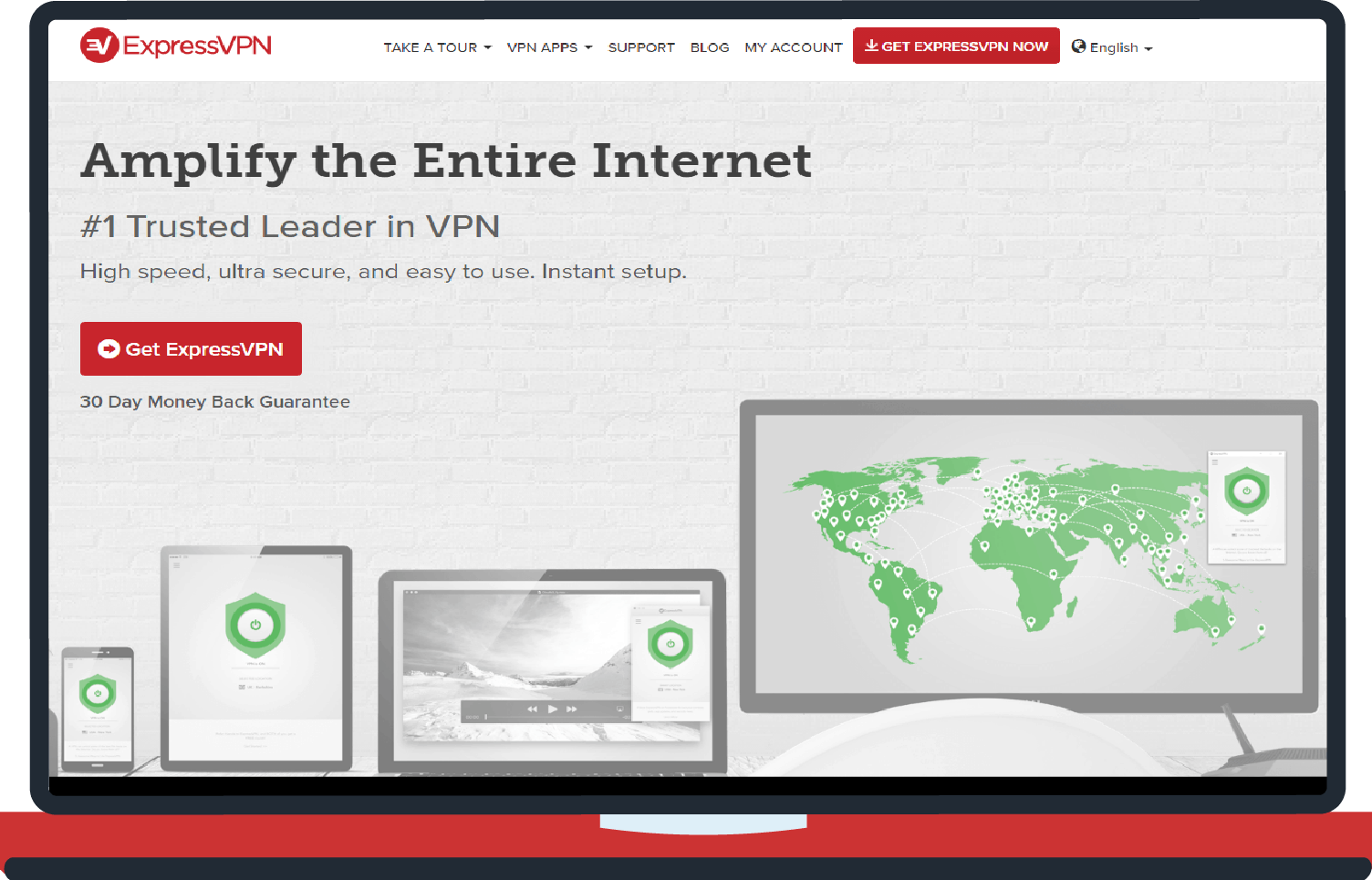 ExpressVPN is yet again crowned as our #1 VPN provider.
They are the only top VPN provider to have gone through the trouble of developing clients for versions of Windows as old as XP. Full compatibility baby, here we go!
What more is there to say? Bravo, ExpressVPN!
ZERO logging policy. Podium-worthy connection speeds. Over 1,000 server locations. And 24/7/365 live support (yay!).
Their VPN client is also what dreams are made of. It's simple and straightforward. So minimalistic that there's literally a giant button to press to connect.
Despite its simplicity, they've even found a way to pack in some advanced features you don't see anywhere else. Including internal server speed tests. (Cue nerdgasm.)
ExpressVPN is for sure the single best Windows VPN out there. Amazing speeds, super stable, easy to use, fast to connect, sporting amazing support, zero logging policy and a money back guarantee. Need I go on?
ExpressVPN has also been named as the best VPN service by PCMag, TechRadar, and hundreds of other tech publications worldwide.
Did you know? ExpressVPN is also our best Torrenting VPN, our overall #1 VPN service!
DL SPEED (EU)
UL SPEED (EU)
DL SPEED (US)
UL SPEED (US)
COST
SUPPORT
DEVICES
USABILITY & RATING

83.15 mbps

35.18 mbps

60.04 mbps

30.41 mbps

$8.32 /mo
Live Chat 24/7
Windows 10, Windows 8, Windows 7, Windows Vista, Windows XP

★★★★★

best overall
#2. IPVanish
---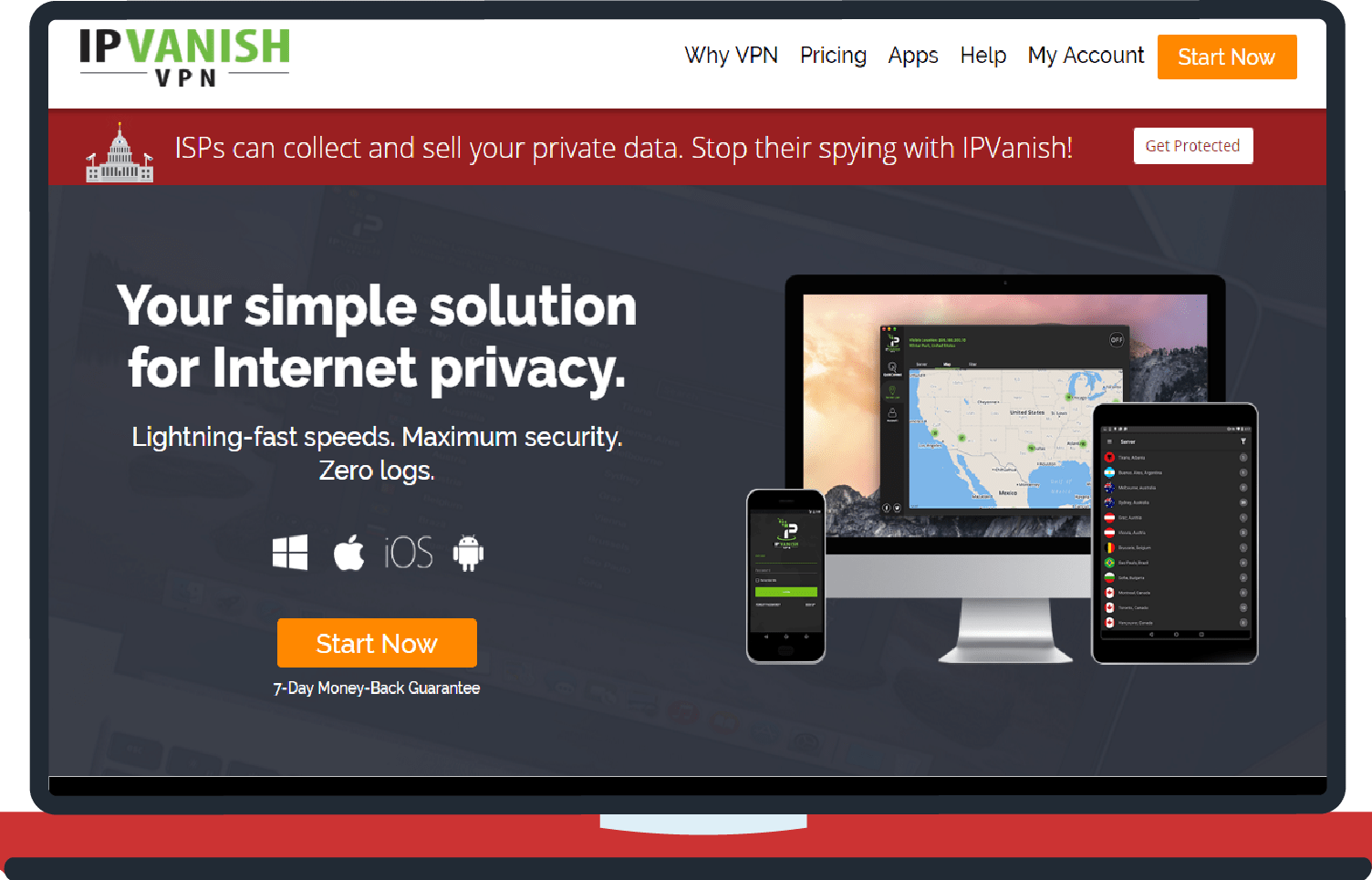 Vanish bad guys, vanish!
*Poof*
There they go!
Just a small step behind ExpressVPN, IPVanish offer apps for all Windows OS with the exception of XP. If you're part of the 4% that still use XP, ExpressVPN is the way to go!
IPVanish have a strict no logging policy, awesome connection speeds, 700+ server locations, and 24/7/365 Live support.
Sounds familiar, right? No, you're not having a Deja Vu. They boast almost identical stats to ExpressVPN. And have cemented themselves among the best VPN services in the world.
There are a few weird quirks, however.
You have to restart your system after the initial install (weird). They kinda have feature-bloat, too, that makes the dashboard a little cluttered.
BUT they do have a 22% cost savings over ExpressVPN. So you might be able to get over those minor issues if budget-friendly is at the top of your list.
| DL SPEED (EU) | UL SPEED (EU) | DL SPEED (US) | UL SPEED (US) | COST | SUPPORT | DEVICES | USABILITY & RATING |
| --- | --- | --- | --- | --- | --- | --- | --- |
| 82.67 mbps | 43.19 mbps | 34.71 mbps | 24.72 mbps | $6.49 /mo | Live Chat 24/7 | Windows 10, Windows 8, Windows 7, Windows Vista | ★★★★ |
#3. VyprVPN
---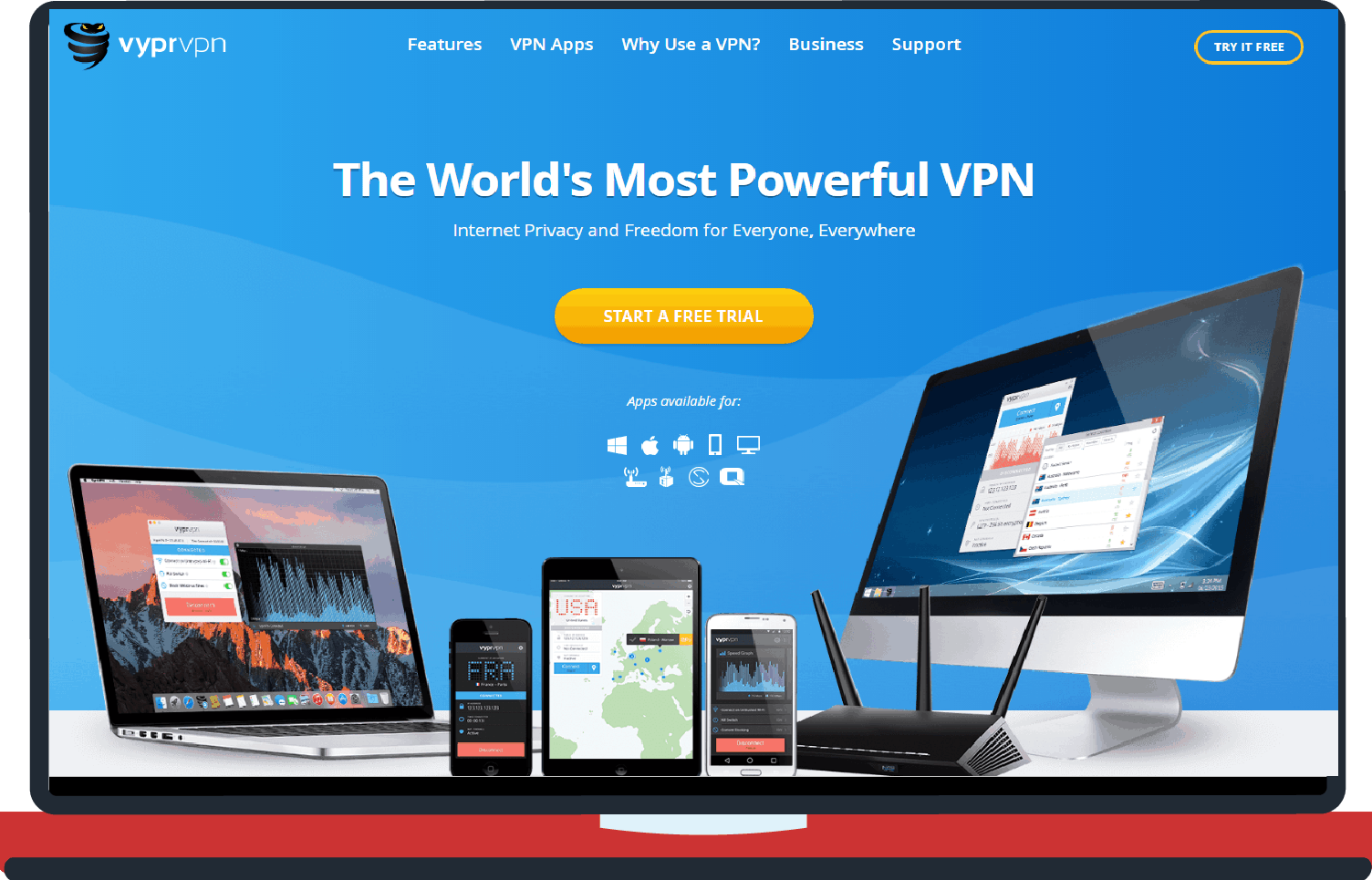 Claiming to be one of the fastest VPN providers and one of the few that hosts their own servers and DNS, VyprVPN comes in at rank #3.
Same as IPVanish, VyprVPN offer apps for Windows Vista and above – no XP for you!
The online service providers out of Austin, Texas offer you more than 700 servers in 70 locations around the globe. Their no logging policy, round the clock live chat are fine and dandy, but their consistently high speeds is how they blow you away!
Their only drawback is the somewhat cumbersome initial setup and slight learning curve your first time around – all worth it in the end!
They are also super strict with their torrenting rules.
Come on now, every VPN provider knows full well that their service will be used to download the occasional copyrighted song or TV show episode. Big whoop.
It wouldn't be the end of the world if VyprVPN decided to be customer friendly in that regard.
| DL SPEED (EU) | UL SPEED (EU) | DL SPEED (US) | UL SPEED (US) | COST | SUPPORT | DEVICES | USABILITY & RATING |
| --- | --- | --- | --- | --- | --- | --- | --- |
| 74.48 mbps | 35.88 mbps | 51.09 mbps | 3.17 mbps | $5.00 /mo | Live Chat 24/7 | Windows 10, Windows 8, Windows 7, Windows Vista | ★★★ |
#4. Private Internet Access
---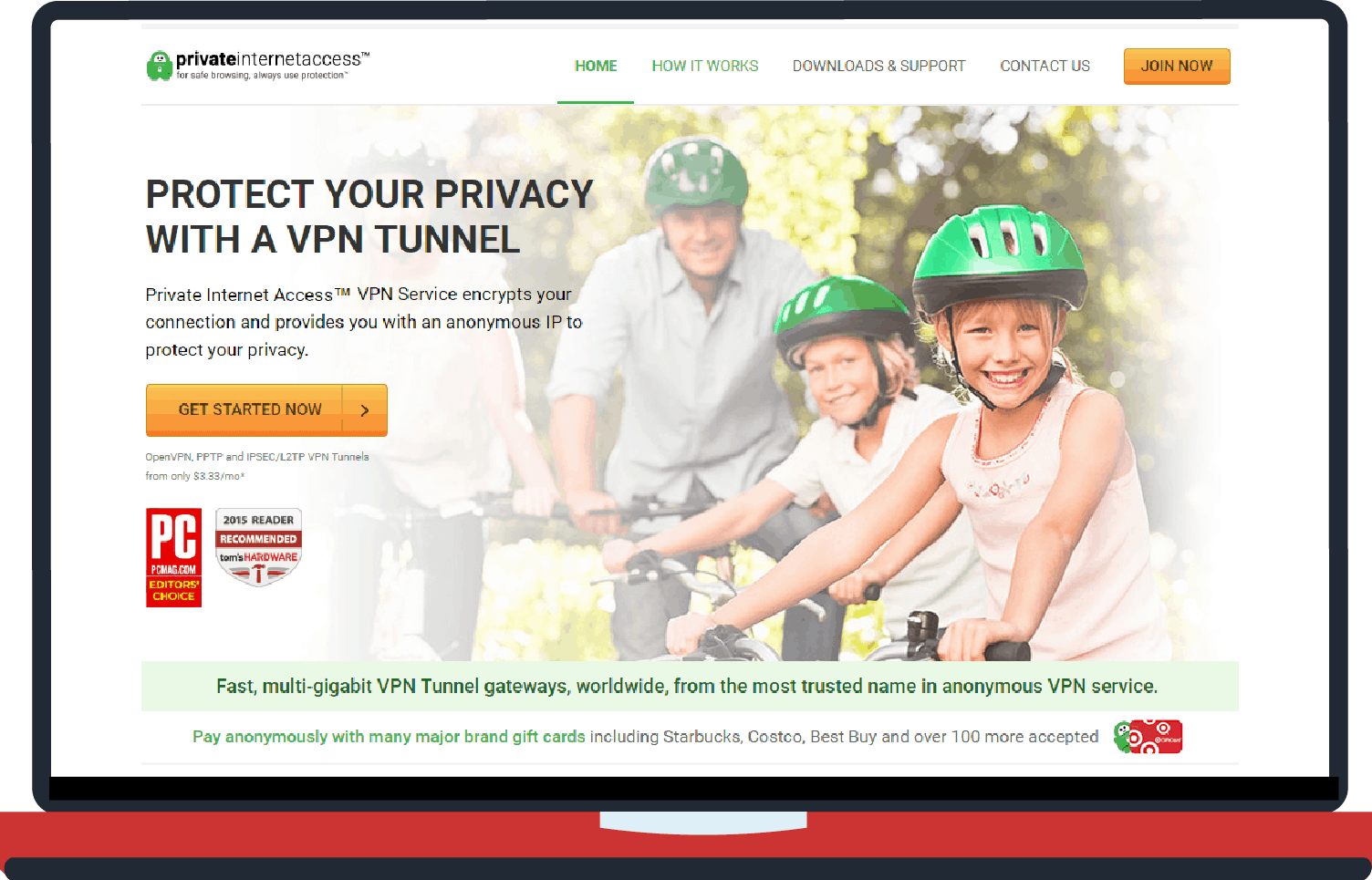 Private Internet Access (or PIA for short) is one of the most well-known VPN providers on the market.
PIA only offers their services to windows users 7 and above. No biggie – Vista isn't exactly beloved, is it?
The quirky named VPN service has long been a favorite of security specials around the world. Rock-bottom prices, thousands of servers, incredible connection speeds in addition to a 0 logging policy can have that kind of effect!
PIA's also beloved by network nerds because of their easy-to-use VPN client (which is among the best next to ExpressVPN).
Unfortunately,  PIA doesn't come without some issues. Their amazing prices mean cutbacks on some beginner-friendly features.
Their service is also often plagued by stability issues and their email only (no chat/phone support) certainly doesn't help much.
| DL SPEED (EU) | UL SPEED (EU) | DL SPEED (US) | UL SPEED (US) | COST | SUPPORT | DEVICES | USABILITY & RATING |
| --- | --- | --- | --- | --- | --- | --- | --- |
| 84.46 mbps | 40.30 mbps | 77.56 mbps | 36.75 mbps | $3.33 /mo | Tickets | Windows 10, Windows 8, Windows 7 | ★★★★★ |
#5. Buffered VPN
---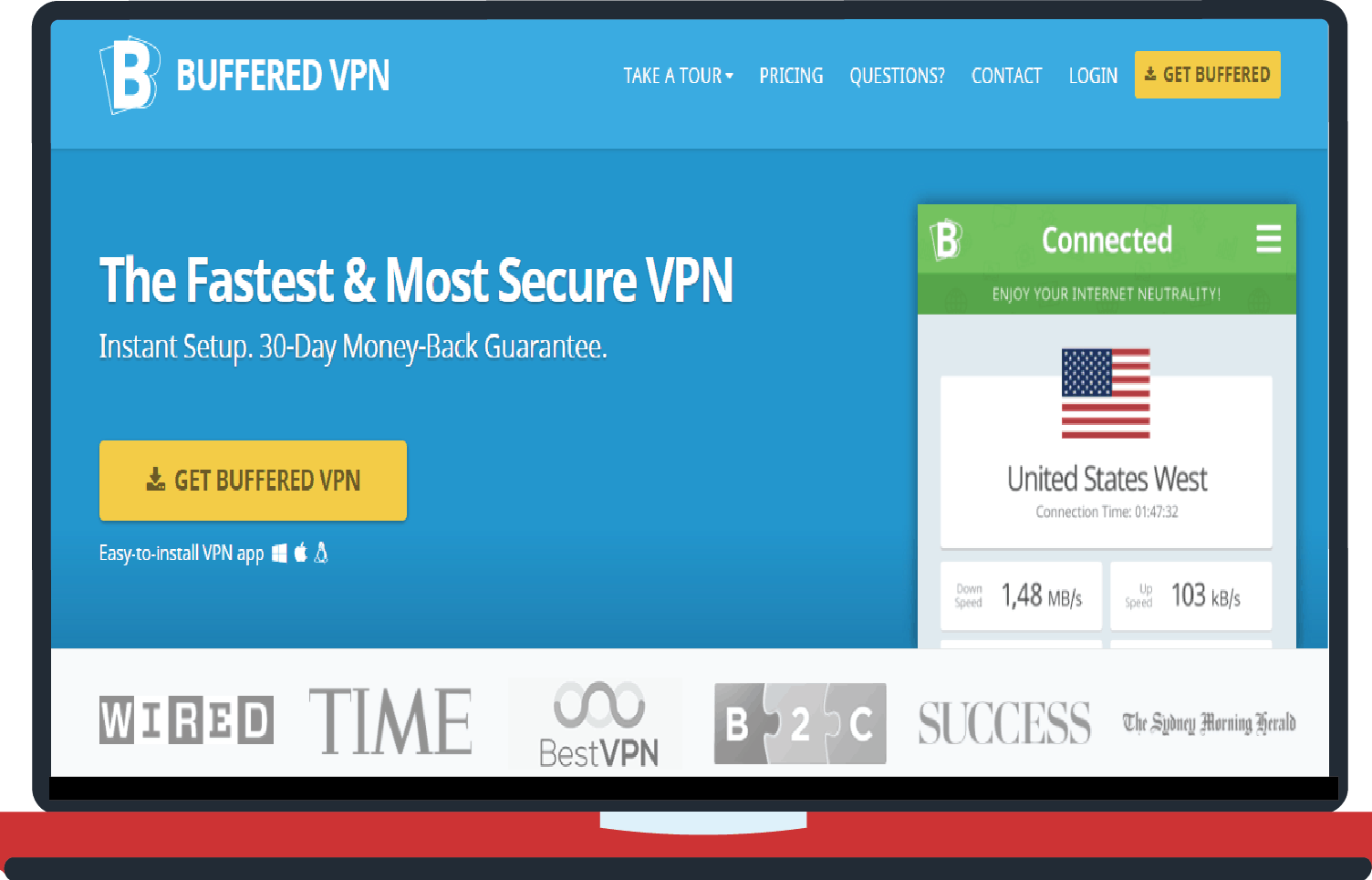 Buffered VPN was started by three friends who weren't happy with the VPN service in Hungary.
Buffered, exact same apps as PIA – Windows 7 and above. Vista, shmista…
It has grown at a quick pace, leaving users around the world satisfied with their service.
They have many things going for them. An iron-clad security kit, NO logging policy and awesome support and a no questions asked 30-day money back guarantee. They've got servers in 37+ countries.
Their Customer Support Representatives are there to help you 24/7/365. They use OpenVPN protocol and AES 256-bit encryption.
While speeds aren't as amazing as ExpressVPN or PIA, they come in at a respectable 50 Mbit/s average. Still well ahead of the curve!
Stability however, is where Buffered really shines through. A super stable connection which didn't drop even once.
The app might be a bit more tricky to understand for a newbie, but nothing that you couldn't wrap your head around. Their service costs $8.25/mo, which might be a bit more than some of the service providers out there, but you can't put a price tag on total privacy.
We'd especially recommend Buffered if you're a long time user of a VPN service and you're just looking for a new one.
| DL SPEED (EU) | UL SPEED (EU) | DL SPEED (US) | UL SPEED (US) | COST | SUPPORT | DEVICES | USABILITY & RATING |
| --- | --- | --- | --- | --- | --- | --- | --- |
| 46.78 mbps | 46.65 mbps | 51.49 mbps | 35.38 mbps | $8.25 /mo | Live Chat 24/7 | Windows 10, Windows 8, Windows 7 | ★★★★ |
How to set up a VPN for Windows 10
---
While we recommend you go with the simpler option of installing your VPN's connection client, Windows 10 comes with the added benefit of the ability to set up a manual VPN profile, that you can then manually connect to.
Check out this step-by-step guide on how to manually connect to ExpressVPN with Windows 10! Keep in mind that the VPN set-up is largely the same, no matter which VPN service you have chosen to subscribe to. If you get stuck, make sure to contact your VPN's support chat and ask for their Windows 10 manual connection documentation!
Step 1: Login Credentials
To set up a manual VPN connection, you will need a server address and your user name and password. We're not talking about the login credentials you have registered your account with!
Once you login to your account, click on the big green "Set up ExpressVPN" button.
Next, make sure you chose  Manual Config on the left side of the screen and then select PPTP & L2TP-IPSec tab on the right. This will show you your username and password. A list of server addresses can be found directly beneath your username and password. Click + to expand and see the addresses.
Keep this screen open! You will need to copy and paste these details later to set up your VPN connection. To copy, click on the copy information icon on the top right corner of the box.
Step 2: Add a new VPN Connection
To add a new VPN connection, click the Internet access icon in your system tray. You should be greeted with a list of available connections. Navigate to Network settings.
A new window will pop up. In the Network & Internet settings panel, select VPN > Add a VPN connection.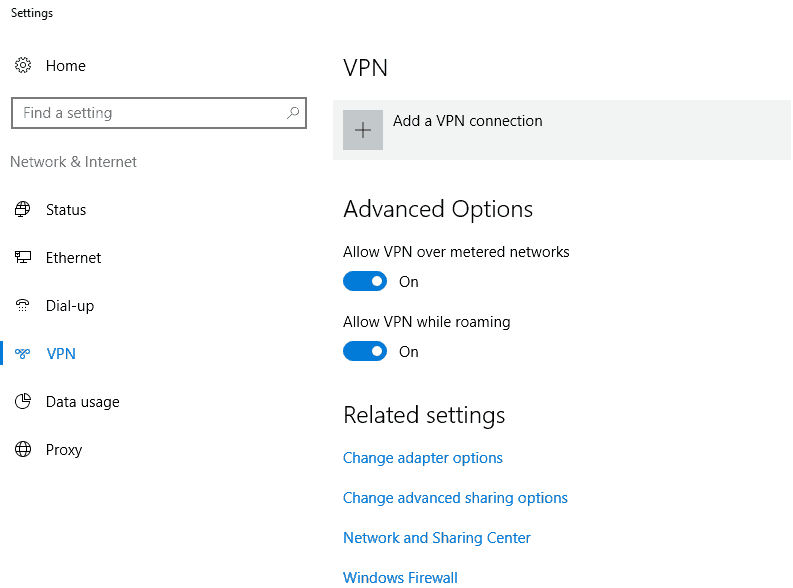 Step 3: Configure VPN Connection
The bread and butter, here we go!
To set up a VPN connection, you will need your server address, username, and password from Step 1.
In the "Add a VPN Connection" menu, use the following settings: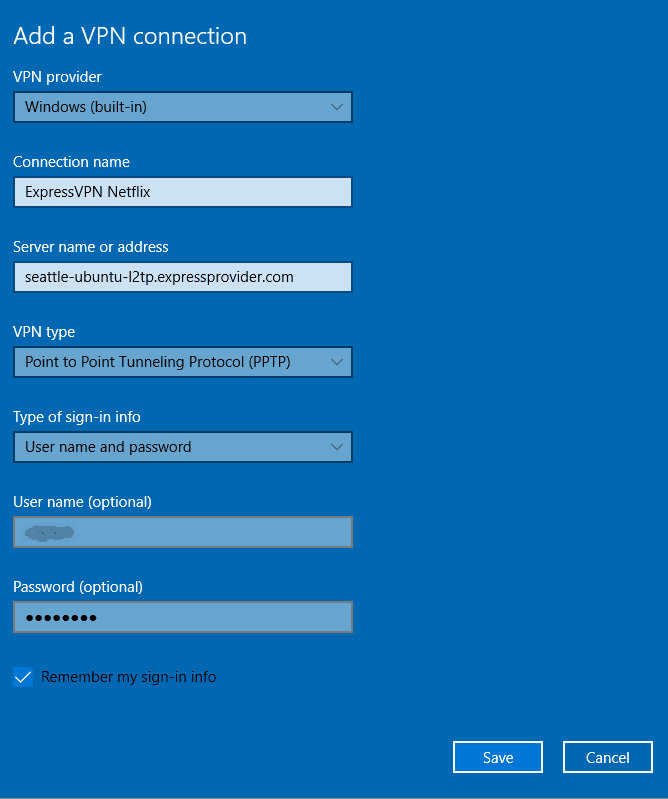 VPN provider: Windows (built-in)
Connection name: This is entirely up to you, it doesn't matter.
Server name or address: The address of the server you want to connect to. Find a list of servers right beneath your username & password on your ExpressVPN Manual Configuration page.
VPN type: Point to Point Tunneling Protocol (PPTP)
Type of sign-in info: User name and password
User name: Your username from your ExpressVPN Manual Configuration page.
Password: Your password from your ExpressVPN Manual Configuration page.
Check the box for Remember my sign-in info.
Click Save.
Step 4: Connect to your new VPN
There we go! All you have to do now is go back to your Internet access icon and connect with your newly created VPN connection!
Keep in mind that you can add as many connections as you want. I personally have one for Netflix US, one for general privacy and one for torrenting. Best of all world, with each connection optimized for its specific purpose!
Easy, right?
Conclusion – ExpressVPN for Windows
Remember Bliss?
Most of us grew up with Windows and it has a special place in our heart. It's all we've known!
It has servers us well for years and will hopefully do so for years to come, but we must recognize that we are responsible for our own safety. No built in antivirus or firewall could ever protect us from the dangers of the interwebs.
It's up to us to ensure our browsing history remains private and isn't sold to the highest bidder by our ISP!
Not using a VPN in 2017 is akin to leaving your brand new car unlocked in the streets of Rome.
Anybody into social experiments?
Fortunately for us, the best VPN providers on offer have made it as easy as pie to convince ourselves how awesome they are!
ExpressVPN boasts a 30 day no question asked money back guarantee, while VyprVPN offers a FREE 3 day trial!
Really, what more could we possibly ask for?
For the price of a pizza you can have the piece of mind that your & your family's data is protected.
Bless technology!
Surf Safe,
Andrey