Hotspot Shield is a product of AnchorFree, a Silicon Valley-based security and privacy firm.
Despite being a U.S.-based VPN provider, Hotspot Shield gained worldwide notoriety by aiding protesters in the Arab Spring, Egypt, Tunisia, and Libya government regimes.
They're one of the largest providers on the planet, with over 400 million downloads of their free and paid services.
Here's a complete rundown of their service, including protocol and encryption details, customer support options, unique pricing tiers, and setup.
Hotspot Shield Review (Summary)
---
| | |
| --- | --- |
| PROTOCOLS: | OpenVPN |
| ENCRYPTION: | AES 256-bit |
| LOG FILES: | Some Logging |
| LOCATIONS: | 20+ Countries |
| SUPPORT: | Tickets |
| EASE OF USE: | Very Simple |
| COST: | $6.99/mo |
| PLATFORMS: | Win, Mac, Android, iOS |
| RECOMMENDED? | YES |
| OFFICIAL WEBSITE: | www.HotspotShield.com |
Hotspot Shield Quick Facts
Hotspot Shield servers expand to twenty different countries all over North America, Europe, Turkey, Australia, Japan, Hong Kong, and mainland China.
They have apps available for all major devices and platforms, including:
Windows

Mac

iPhone

Android

Chrome

Windows Phone
Their convenient Chrome extension means you can browse safely without downloading a single thing.
Hotspot Shield is perhaps best known for their free plan (more on that later), but their paid plan also features a 7-day free trial (with credit card) to test drive their service before getting locked into a long-term plan.
Their paid plan also comes with unlimited bandwidth, so you shouldn't experience any performance throttling while using their service.
OpenVPN Protocol (Only)
VPN providers will often provide an array of different protocols to choose from to take care of all customers who might be using outdated software or devices.
However, Hotspot Shield only offers one protocol: OpenVPN.
The problem is that many older ones, like Microsoft's PPTP, simply aren't secure. Any hacker worth their salt has been able to crack PPTP for over a decade. And there are tools readily available to break this encryption in only a few hours.
Why is this important?
Because even places you'd think were secure, like airports, hotels, and even large universities, aren't.
These are prime targets that people use to snoop on other network users and grab any available information to use against them.
OpenVPN, however, is founded on the same technology that powers secure website connections through SSL certificates. These are virtually impregnable from outside third parties (hackers) who attempt to 'insert' themselves between you and the intended destination (known as 'man in the middle attacks'). You won't even know they're there in most cases, recording your data being transmitted and even changing the records being sent back-and-forth.
SSL certificates effectively slam the door to these techniques with website connections, though.
In the not too distant future, all websites will be required to use secure HTTPS connections between servers and users to deny any outside intervention from third-parties. Google Chrome, for example, is going to publicly shame any and all websites that don't offer a secure connection; showing a warning notification to those visitors when they attempt to visit a site that lacks secure connections.
OpenVPN is like the same thing, but applied to your entire internet connection. It creates a 'tunnel' that's sealed shut around all of the traffic and data being transmitted that doesn't allow anyone else to pick up on what's happening inside the secure encryption.
That includes hackers. But it also includes oversight and intervention from your internet service provider.
Or worse, your very own government.
256-Bit Encryption
Over the last few years, the governments of Tunisia, Yemen, Egypt, and Syria were all overthrown.
Closely-held dictatorships ruled for decades with brutal, iron-fists. Atrocities and censorship were common in order to keep the status quo unmoved and unmotivated.
However, all that began to change around 2010.
The people of each country had finally had enough.
Protesters used social networks like Twitter and Facebook to self-organize and broadcast the 'real' story behind each conflict to the world, gaining support from other citizens and government agencies around the world.
Here's the thing, though.
Many of these social networks were banned. They were censored and many people weren't supposed to be able to access them in the first place.
So… how did they?
By using a VPN.
Specifically, Hotspot Shield.
For example, conflicts in Egypt led to an explosion of users, from 100,000 to over 1,000,000 seemingly overnight according to The Next Web. Hotspot Shield has played an important role throughout the 'Arab Spring', aiding protestors and providing access to free speech during conflicts in Tunisia, too.
Today, Hotspot Shield claims to be the most popular VPN service around the world with over 400 million downloads.
Their VPN service provides 256-bit encryption with their OpenVPN protocol, which makes it virtually impossible for government agencies to snoop on browsing activities or break their connection.
Hotspot Shield has grown, through a combination of a steady, free version and literal word-of-mouth, throughout the Middle East and other countries with strict censorship laws.
Like China.
The co-founder of Hotspot Shield's parent company, David Gorodyansky, told The Next Web that people in China are using it to bypass government restrictions to access popular site we take advantage of, like Facebook, Twitter, and Google (in addition to accessing US or EU-restricted content).
Logging Exist
VPN providers will typically monitor some aspect of your service usage.
For example, Hotspot Shield will use cookies that commonly associate your browser with an IP address or an ID for your device.
However, they don't reportedly log specific websites visited content viewed.
Once again, David Gorodyansky, told The Next Web that they "aggregate user data" so that they can only use the information to view patterns and events which help them improve the service.
He went on to elaborate, "For instance, if Egyptian traffic were to have a sudden spike, it's likely that there was an uprising, and if there was a bump in US traffic, it's possible that Facebook's privacy practices may have updated."
Customer Support (No Live Chat)
Hotspot Shield has a detailed Knowledge Base with information for common requests. They also offer ticketing support if you need additional help.
Aaaaaaannnddddd that's it. No live chat to speak of unfortunately. Which means you won't exactly see speedy replies when you experience issues.
We also dug through their social accounts to see how this had an impact when customers have issues on Twitter or Facebook.
Instead of recreating some fast, live-chat-like service, you're redirected to a form. Boo.
And…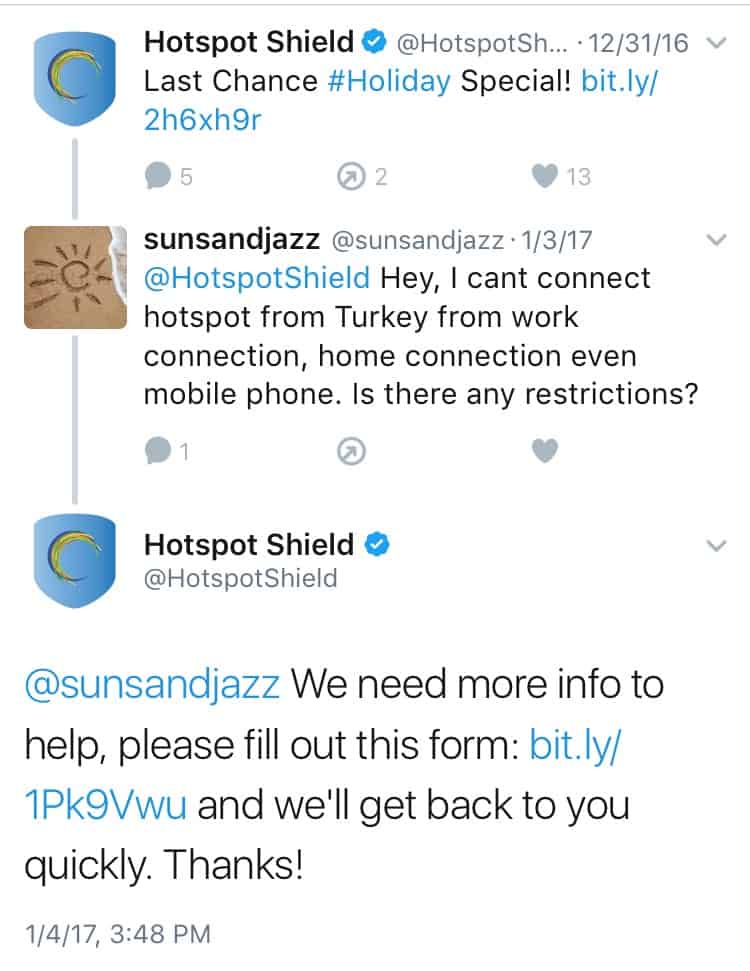 Plans & Pricing Options
Hotspot has both free and paid VPN services.
Their free plan is one of the most popular around the world.
But it comes at the expense of some hefty restrictions that are unfortunately common with many free VPN providers, like limited device support, the inability to manual select locations, and targeted ads while browsing.
Their 'Elite' plan, on the other hand, opens up all of these restrictions, giving you complete access to any and all device support, ad-free browsing, and the ability to select from any and all of their 20 country locations around the world.
The 'Elite' plan also comes with a few different pricing tiers depending on how long you'd like to sign up. For example, they have a short-term month-to-month plan that's a little more expensive, with longer one to two-year ones that give you a slight price break.
Or, if you're already sold and would rather make the investment, they also have a forever plan that will give you access for the rest of your life (or until they no longer offer support) for only $99.99 (which is about the same price that many other providers charge for only a year).
Option One:
Option Two:
Option Three:
1 Year

$6.99/month

$35.88 total
Option Four:
Hotspot Shield Speed Test
Hotspot Shield's VPN client will display some performance stats, but we wanted to run our own tests to verify the data with an independent, third-party tool (speedtest.net).

P.S. The location we used to track the speed was in the middle of Europe: Estonia.
US Server (New York)
Ping: 183ms
Download: 28.66 Mbps
Upload: 13.74 Mbps
EU Server (Amsterdam)
Ping: 54ms
Download: 92.28 Mbps
Upload: 45.09 Mbps
Asia Server (Hong Kong)
Ping: 141ms
Download: 80.00 Mbps
Upload: 19.60 Mbps
UK Server (London)
Ping: 53ms
Download: 95.55 Mbps
Upload: 46.45 Mbps
Compared to many others, Hotspot Shield is pretty fast. Faster than IPVanish, but slower than HideMyAss.
Re speed test: Always take such speed tests with a grain of salt as they simply rely on too many variables. However, since we've tested 20+ VPN services so far, we have an average that we can compare to other VPNs.
If you're ready to take them up on that incredibly good Forever plan deal, here's how you can install their software and get up-and-running in the next few minutes.
Hotspot Shield Setup (Reviewed)
---
You can get started by either signing up for the Elite plan straight away or by installing the free version to test drive first.
Click Free Download and Hotspot Shield will automatically detect which device you're using and automatically recommend the right app. Go ahead and begin the download when ready.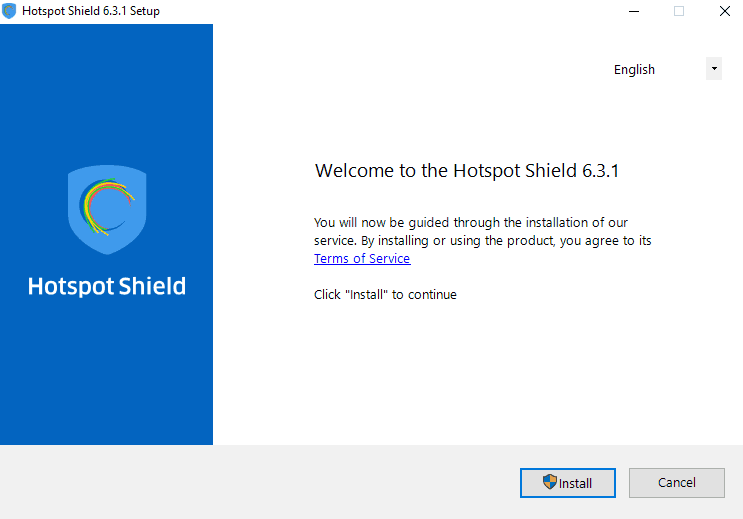 Click Install to kick off an installation process similar to all of the other software programs you're used to by now.
Once you have installed, you can choose to start a 7-day free trial if you'd like to see the entire unrestricted experience (which will require you to put your credit card down).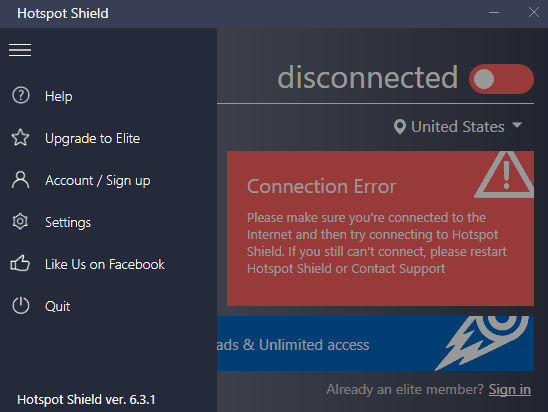 Otherwise, you can connect to a server with the free HotSpot Shield by clicking on the slider next to where it says: disconnected.
That will connect you instantly and your VPN client will now display your location-of-choice, along with some helpful usage stats to highlight current performance of that server.
Unfortunately, with the free account, you can't change servers. You'll just get stuck with whatever location it chooses for you. That's not necessarily a bad thing if you're only trying to create a secure, protected connection while sitting at the local coffee shop.
Server choice really becomes a big deal when you're trying to bypass the aforementioned government restrictions, for example. Taking them up on the free trial offer to upgrade to the Elite account will let you manually connect to other servers in other countries if that's the case.
Hotspot Shield Review Conclusion
Hotspot Shield is an excellent VPN choice… under some considerations.
First and foremost: free. Tough to argue with that.
They also have a Forever-access plan that will only set you back about one-year's worth of some of their competitors.
However…
Those perks come at a price. First up, the free plan doesn't allow you to manually select locations. Which under some circumstances is a deal breaker.
Their network, while worldwide, isn't the largest. They only offer one protocol (which is fine for most but won't work for those running on older systems or devices).
And their performance isn't the fastest we've seen either.
This one could go either way, to be honest. If you're fine with sacrificing performance for basic anonymity and protection while browsing on public WiFi networks, you're probably good to go.
But if you're looking for the best performance along with the ability to get around locations, upgrading to their paid version or opting for another service might be your best bet.
Hotspot Shield Pros:
Simple to install and easy to run
Works on all devices
Connects instantly to different servers
Hotspot Shield Cons:
Expensive month-to-month plan
FREE version is slow
P.S. Have you used Hotspot Shield VPN? If yes, please consider leaving a review below. Thanks!
26 user reviews for HotSpot Shield VPN
Selina
Hotspot Shield hits the spot
I have had a mostly positive experience using Hotspot Shield, which I use on Chrome. When accessing certain sites, all I need to do is click the shield extension icon on my toolbar, then click the button to be connected to the VPN. It's fast, free and super-easy. There's a couple of things I'm not too crazy about, though. Sometimes I can't access certain other sites once I'm connected. I occasionally have trouble accessing Google – though not every time – and some sites repeatedly log me out if I'm connected. Usually, I just have to disconnect and reconnect to get back on track, so it's a little bit annoying. That said, I would still absolutely recommend Hotspot Shield, as its positives outweigh those little negatives.
Gianni
My experience
I have used HotSpotShield VPN, a very simple VPN with a very plain look.
You just click on the country and switch it on and it's done. Worked as intended and was not too slow.
I used it when I couldn't access certain sites in my country so I downloaded the first VPN I saw and it worked pretty well. I also tested it with some other sites, because I liked to see if the VPN was right about my location, which it was!
Dillon P
Decent service, a bit slow however
I needed a VPN when I wanted to test my website to see what it would look like in different parts of the world. I was given a 6 month promo code for premium, so I signed up for it. I downloaded it to my mac and it was actually quite easy to setup. However, after setup, the program wouldn't open, so I restarted my mac and it did. I connected to the nearest server, which was London, just to test, and it worked a treat when I went to look at my IP. I tried different servers and they all worked. The only thing was they were slow, as if a lot of people were using them, which is fair enough for a big company, but with the amount of money they have coming in, they could invest in either faster or more servers.
Apart from that, the program was easy enough to use, and my experience so far has been satisfactory, I still use it now and then.
Henry
Free version capped at 500mb
Hotspot VPN has been a good service while remaining free but it could use some improvements. It does cut out a bit but half the time asking you to review their app. Eventually you will run out of free data (500MB), encouraging users to pay for the full version. However you can just wait 24 hours for it to reset automatically or simply reinstall the application and start again without paying or waiting. Overall I think it's a good, free way to have a VPN on your device I would recommend it.
Sergio Moy
Easy to use
Hotspot Shield VPN is free, or at least the mobile version which is what I use. It's a great way to get past stupid, unnecessary blocks to some webpages I tend to use. On top of being free, it's really fast! Using Hotspot Shield doesn't slow down my internet connection in the slightest, and it never has any problems loading. If that wasn't enough, it's also easy to use. It as the first I tried and I had no idea how to set up a VPN, but it was done extremely quickly.
Gelisva
OK
I've used their free service before, but they mine your data (like all other free ones) and it's a bit slow. I've paid for PIA and been pretty happy, netflix and the like are blocked. NordVPN is popular as well as ExpressVPN. I guess it depends what you need one for.
Camil
good program
A good program if you want to keep things simple; "Just connect, get things done and leave the way you came from"
Started using since 2010 and never really needed any other. May slow down the internet speed just a bit (depending on where you are) but it's expected when it comes to VPN software. If you don't want to think much about what software to use, then this is a good instant choice.
Chirag
HotSpot Shield VPN all the way
We had restricted access to social sites on our college Wi-fi, which was such a pain. The Wi-fi had this Fotinet Firewall to do the job. Tried almost every VPN available in the Play Store and none worked as fast and hassle free as the HotSpot Shield and that too for free. Still going strong after 2 years on my Android and Windows alike.
Abhishek Thakur
HotSpot Shield VPN - Truly unlimited VPN
Out of the many ones out there the one VPN app that bagged my trust was HotSpot Shield. Not only because it offers truly unlimited private access but also because it is very fast. Privacy is at no risk and you are safe. Unblocked sites and Torrents on the go!
Rishabh kashyap
Fantastic n Amazing
I had used HotSpot Shield VPN to encounter the security feature of my college WiFi to download some private content and really i got amazed by using this vpn. Its really good n easy to use. A user friendly UI allows you to use it smoothly.
Yasir Shareef
A no frills, low-price vendor with low transparency and poor customer service
Hotspot Shield is basically a low-price, simple, no frills VPN service that is ideally suited to those looking for hassle-free streaming of international media services, like Netflix. However, without getting a reasonable reply from their support services, and a lack of information regarding their security protocols, including what data they share with law enforcement, we can't recommend this service to those of you that take security and reports on openness more seriously than a quick connection to a foreign server.
mohd fasi ahmed
hot as mention one of the best
When we talk about VPN services there is always a concern about the privacy of our data in my view hotspot shield is one of the best VPN service provider in this era. It is easy to use and have many exciting latest techniques in hiding the IP address. I loved the service provided by them and I am sure going to extend the use of the service.
Cristian
Just a regular vpn, for limited use
I used hotspot shield, it worked well, but it lacks some features like more data and better download speed. I really liked it but now I use other vpn because the download speed is slow and it is not providing best connection. Sometimes the webpages wouldn't even load or the app would crash. Also I heard this vpn tracks your browsing history, and I don't like to be followed because it's my private session, that's why I use a vpn.
With all that said, the vpn worked, but it was not enough for me because I want a fast and reliable vpn that can keep up with me.
Gurbaksh Singh Gabbi
HotSpot shield provides a good VPN service
I'm using HotSpot shield VPN since 3 months. It provides a good service as it provides so much servers to choose from. It also gives a trial period with limited servers. So anyone can try it out. We don't need it to regularly open and start, it automatically starts. I will give it 4 out of 5.
zree
The beast of the free
HotSpot Shield VPN – The beast of the free. According to me HotSpot shield is the best free vpn on the above list. I have tried all of the above vpn and surely its the best free vpn. The downloading speed is not too slow when you know you can get it lifetime free. Switch to HotSpot Shield and get lifetime free..
DEVESH
Looking for a shield from your ISP, use Hotspot Shield..
Have been using Hotspot Shield for like an year now. I can say I'm completely satisfied with the unlimited version. It does not compromise the speed of my network as well as protects my privacy. The desktop application is user friendly, a single push of button establishes the VPN connection. The time taken to connect to Hotspot Shield server is also very less.
Vaidhyesh
Hotspot shield VPN is full of ads
Hotspot shield takes a lot of time to just connect, then after 2 minutes or so it attempts to reconnect. So if I am downloading any file, it just fails. Also it installs some weird adware and pops up ads even if the app is closed.The connection slows down after I used 25MB. Therefore overall performance is poor and I would not prefer people using hotspot shield vpn
Shubham
OK VPN provider
Not a big fan of ad and restrictions? Then buy an elite plan! First of all, we'd like to underline that you can choose the time period – 6, 12 months, 2 years or even unlimited version. There's some difference in a payment sum, of course. A 6-month subscriber will pay $3.33 per month while a whole-year user will save almost a dollar each month paying just $2.49 monthly. Those who really trust Hotspot Shield and want to make a 2 year prepayment will spend $2.1 each month. To be honest, it's one of the most reasonable pricelists we've ever seen. As to the functions which are offered for elite users, they include a multi-device support, ad-free browsing, a reliable customer support, a malware protection and servers all over the world (the USA, the UK, Australia, Japan, Canada, Hong Kong, China, India and Germany).
Sachin S.
In my opinion, it's one of the best
This is the best VPN among the numerous ones I've used. Hotspot shield makes it really easy to connect to the servers and also as an awesome free quota, which doesn't degrade the speed (Perfect for testing it out). I've been using it for months and have not faced any considerable slowdowns yet. Server switching is really easy and the interface is really intuitive, making it a VPN to be reckoned with.
Luke N. Martin
HotSpot Shield has browser add-ons 🙂
So I use these add ons at my office during work, if I want to login to FB, watch videos on Youtube or download like music, ebooks etc. Why I'm not using the software version of this? Because we use a VPN which is for work only.
Review:
As stated in the title, I install both of my browser the same VPN addons, Both VPN addons are similar in terms of how to use it, unlimited bandwidth, and stable connection. The only difference is in terms of UI and the VPN Server Countries. As you can see the UI on Chrome is modern, and in the Firefox well i think its outdated. For the VPN Server, in Chrome they only offer Canada, Netherlands, Singapore, Germany. The rest are locked While in Fireforx, all are unlock.
Nayan
Very user-friendly
I've been using hotspot shield vpn on my pc and my windows phone for a year now. Its perfect VPN software I've been looking for! On my windows phone its completely free!! And on pc its actually affordable. If you're looking for a free VPN for google chrome browsing then Tunnello VPN is best extension. Just add it and you get VPN service for free!
Kim So Bon
User in China
Definitely worth your money if you're into movies like me. (I can no watch restricted movies).
Tori
Fast & Reliable
HotSpotShield has been one of my favourite tools, since I understood that BetterNet doesn't actually provide that level of privacy. I'm a travelling blogger, therefore I take my anonymity seriously. Last year, while travelling to Europe, I had a problem with connecting to an U.S. server, but I contacted the customer support section and they helped me out with the issue.
One of the U.S. servers was re-booting or something similar. It was just me trying to connect to the server at an unlucky time. Other than that, never have I ever had issues with HotSpotShield. Hands down, I would recommend their product!
Angelo
Can't connect anymore
Few months a go I subscribed in a HotSpotShield VPN in my country Philippines. First week is great but a after that i have a hard time to connect. So i decided to contact my ISP support for checking my subscription status. Unfortunately, they're also having a hard time to fix the signal. There for my opinion VPN is great if they have a good service but when it comes to problem they are slow to working on it. Im not saying all of them. Im just basing in it on my experience.
Greg P.
Elite option user
I'm using Hotspot Shield Elite option which allows me to browse with different IPs across 20+ countries.
It works flawlessly on my Windows and I cannot recommend this software enough.
-Greg
Dan
Pointless
It's the worst VPN I've used so far. Speed is too slow and sometimes it's not opening.
I'm using Windows 10.