Hotspot Shield is a product of AnchorFree, a Silicon Valley-based security and privacy firm.
Despite being a U.S.-based VPN provider, Hotspot Shield gained worldwide notoriety by aiding protesters in the Arab Spring, Egypt, Tunisia, and Libya government regimes.
They're one of the largest providers on the planet, with over 400 million downloads of their free and paid services.
Here's a complete rundown of their service, including protocol and encryption details, customer support options, unique pricing tiers, and setup.
Hotspot Shield Review (Summary)
---
| | |
| --- | --- |
| PROTOCOLS: | OpenVPN |
| ENCRYPTION: | AES 256-bit |
| LOG FILES: | Some Logging |
| LOCATIONS: | 20+ Countries |
| SUPPORT: | Tickets |
| EASE OF USE: | Very Simple |
| COST: | $6.99/mo |
| PLATFORMS: | Win, Mac, Android, iOS |
| RECOMMENDED? | YES |
| OFFICIAL WEBSITE: | www.HotspotShield.com |
Hotspot Shield Quick Facts
Hotspot Shield servers expand to twenty different countries all over North America, Europe, Turkey, Australia, Japan, Hong Kong, and mainland China.
They have apps available for all major devices and platforms, including:
Windows

Mac

iPhone

Android

Chrome

Windows Phone
Their convenient Chrome extension means you can browse safely without downloading a single thing.
Hotspot Shield is perhaps best known for their free plan (more on that later), but their paid plan also features a 7-day free trial (with credit card) to test drive their service before getting locked into a long-term plan.
Their paid plan also comes with unlimited bandwidth, so you shouldn't experience any performance throttling while using their service.
OpenVPN Protocol (Only)
VPN providers will often provide an array of different protocols to choose from to take care of all customers who might be using outdated software or devices.
However, Hotspot Shield only offers one protocol: OpenVPN.
The problem is that many older ones, like Microsoft's PPTP, simply aren't secure. Any hacker worth their salt has been able to crack PPTP for over a decade. And there are tools readily available to break this encryption in only a few hours.
Why is this important?
Because even places you'd think were secure, like airports, hotels, and even large universities, aren't.
These are prime targets that people use to snoop on other network users and grab any available information to use against them.
OpenVPN, however, is founded on the same technology that powers secure website connections through SSL certificates. These are virtually impregnable from outside third parties (hackers) who attempt to 'insert' themselves between you and the intended destination (known as 'man in the middle attacks'). You won't even know they're there in most cases, recording your data being transmitted and even changing the records being sent back-and-forth.
SSL certificates effectively slam the door to these techniques with website connections, though.
In the not too distant future, all websites will be required to use secure HTTPS connections between servers and users to deny any outside intervention from third-parties. Google Chrome, for example, is going to publicly shame any and all websites that don't offer a secure connection; showing a warning notification to those visitors when they attempt to visit a site that lacks secure connections.
OpenVPN is like the same thing, but applied to your entire internet connection. It creates a 'tunnel' that's sealed shut around all of the traffic and data being transmitted that doesn't allow anyone else to pick up on what's happening inside the secure encryption.
That includes hackers. But it also includes oversight and intervention from your internet service provider.
Or worse, your very own government.
256-Bit Encryption
Over the last few years, the governments of Tunisia, Yemen, Egypt, and Syria were all overthrown.
Closely-held dictatorships ruled for decades with brutal, iron-fists. Atrocities and censorship were common in order to keep the status quo unmoved and unmotivated.
However, all that began to change around 2010.
The people of each country had finally had enough.
Protesters used social networks like Twitter and Facebook to self-organize and broadcast the 'real' story behind each conflict to the world, gaining support from other citizens and government agencies around the world.
Here's the thing, though.
Many of these social networks were banned. They were censored and many people weren't supposed to be able to access them in the first place.
So… how did they?
By using a VPN.
Specifically, Hotspot Shield.
For example, conflicts in Egypt led to an explosion of users, from 100,000 to over 1,000,000 seemingly overnight according to The Next Web. Hotspot Shield has played an important role throughout the 'Arab Spring', aiding protestors and providing access to free speech during conflicts in Tunisia, too.
Today, Hotspot Shield claims to be the most popular VPN service around the world with over 400 million downloads.
Their VPN service provides 256-bit encryption with their OpenVPN protocol, which makes it virtually impossible for government agencies to snoop on browsing activities or break their connection.
Hotspot Shield has grown, through a combination of a steady, free version and literal word-of-mouth, throughout the Middle East and other countries with strict censorship laws.
Like China.
The co-founder of Hotspot Shield's parent company, David Gorodyansky, told The Next Web that people in China are using it to bypass government restrictions to access popular site we take advantage of, like Facebook, Twitter, and Google (in addition to accessing US or EU-restricted content).
Logging Exist
VPN providers will typically monitor some aspect of your service usage.
For example, Hotspot Shield will use cookies that commonly associate your browser with an IP address or an ID for your device.
However, they don't reportedly log specific websites visited content viewed.
Once again, David Gorodyansky, told The Next Web that they "aggregate user data" so that they can only use the information to view patterns and events which help them improve the service.
He went on to elaborate, "For instance, if Egyptian traffic were to have a sudden spike, it's likely that there was an uprising, and if there was a bump in US traffic, it's possible that Facebook's privacy practices may have updated."
Customer Support (No Live Chat)
Hotspot Shield has a detailed Knowledge Base with information for common requests. They also offer ticketing support if you need additional help.
Aaaaaaannnddddd that's it. No live chat to speak of unfortunately. Which means you won't exactly see speedy replies when you experience issues.
We also dug through their social accounts to see how this had an impact when customers have issues on Twitter or Facebook.
Instead of recreating some fast, live-chat-like service, you're redirected to a form. Boo.
And…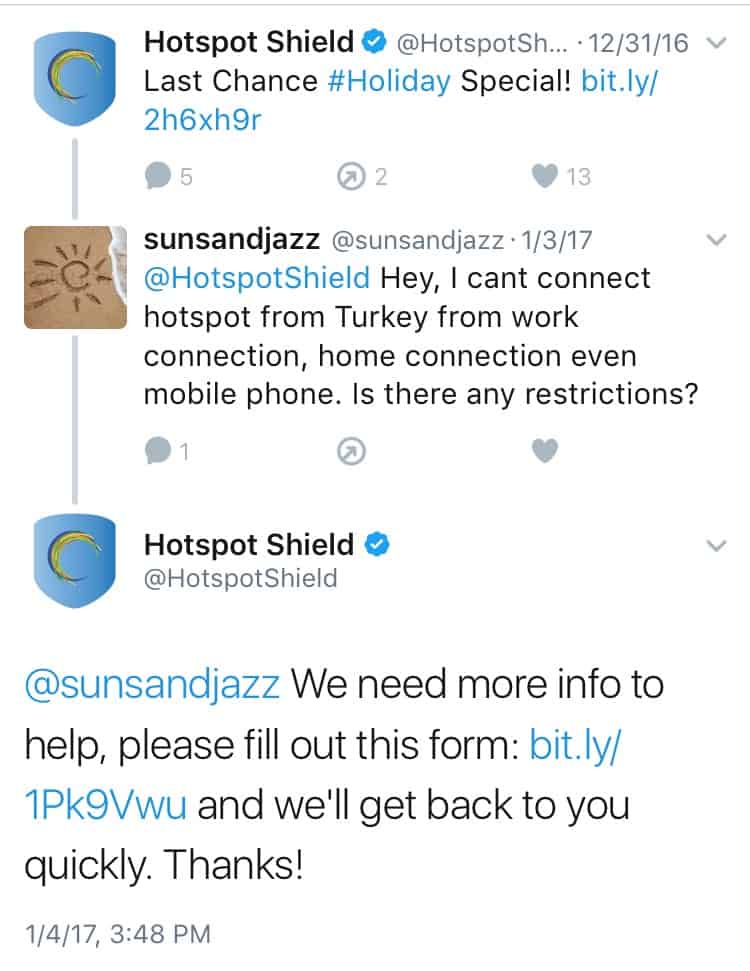 Plans & Pricing Options
Hotspot has both free and paid VPN services.
Their free plan is one of the most popular around the world.
But it comes at the expense of some hefty restrictions that are unfortunately common with many free VPN providers, like limited device support, the inability to manual select locations, and targeted ads while browsing.
Their 'Elite' plan, on the other hand, opens up all of these restrictions, giving you complete access to any and all device support, ad-free browsing, and the ability to select from any and all of their 20 country locations around the world.
The 'Elite' plan also comes with a few different pricing tiers depending on how long you'd like to sign up. For example, they have a short-term month-to-month plan that's a little more expensive, with longer one to two-year ones that give you a slight price break.
Or, if you're already sold and would rather make the investment, they also have a forever plan that will give you access for the rest of your life (or until they no longer offer support) for only $99.99 (which is about the same price that many other providers charge for only a year).
Option One:
Option Two:
Option Three:
1 Year

$6.99/month

$35.88 total
Option Four:
Hotspot Shield Speed Test
Hotspot Shield's VPN client will display some performance stats, but we wanted to run our own tests to verify the data with an independent, third-party tool (speedtest.net).

P.S. The location we used to track the speed was in the middle of Europe: Estonia.
US Server (New York)
Ping: 183ms
Download: 28.66 Mbps
Upload: 13.74 Mbps
EU Server (Amsterdam)
Ping: 54ms
Download: 92.28 Mbps
Upload: 45.09 Mbps
Asia Server (Hong Kong)
Ping: 141ms
Download: 80.00 Mbps
Upload: 19.60 Mbps
UK Server (London)
Ping: 53ms
Download: 95.55 Mbps
Upload: 46.45 Mbps
Compared to many others, Hotspot Shield is pretty fast. Faster than IPVanish, but slower than HideMyAss.
Re speed test: Always take such speed tests with a grain of salt as they simply rely on too many variables. However, since we've tested 20+ VPN services so far, we have an average that we can compare to other VPNs.
If you're ready to take them up on that incredibly good Forever plan deal, here's how you can install their software and get up-and-running in the next few minutes.
Hotspot Shield Setup (Reviewed)
---
You can get started by either signing up for the Elite plan straight away or by installing the free version to test drive first.
Click Free Download and Hotspot Shield will automatically detect which device you're using and automatically recommend the right app. Go ahead and begin the download when ready.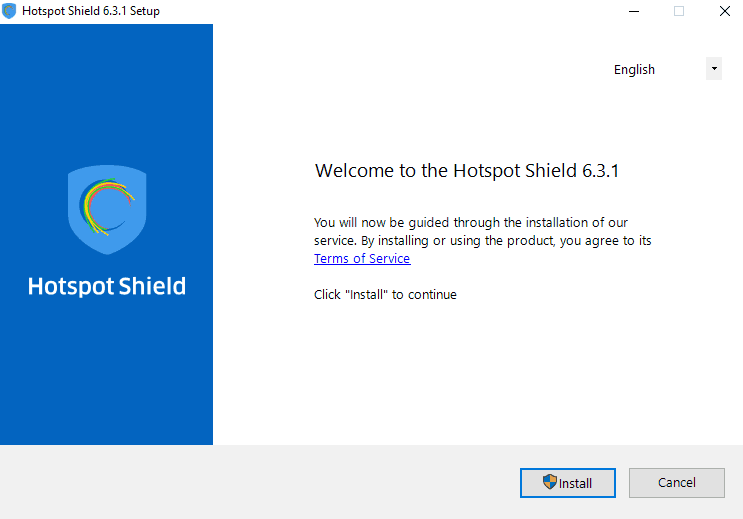 Click Install to kick off an installation process similar to all of the other software programs you're used to by now.
Once you have installed, you can choose to start a 7-day free trial if you'd like to see the entire unrestricted experience (which will require you to put your credit card down).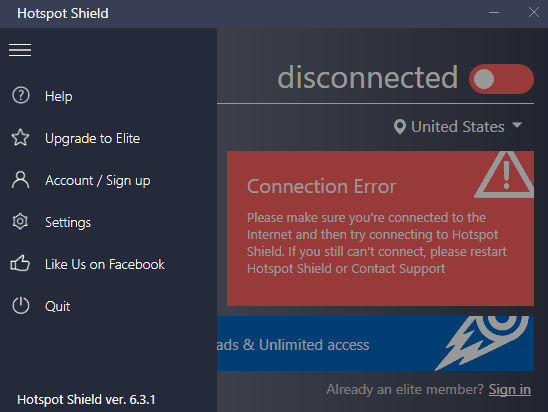 Otherwise, you can connect to a server with the free HotSpot Shield by clicking on the slider next to where it says: disconnected.
That will connect you instantly and your VPN client will now display your location-of-choice, along with some helpful usage stats to highlight current performance of that server.
Unfortunately, with the free account, you can't change servers. You'll just get stuck with whatever location it chooses for you. That's not necessarily a bad thing if you're only trying to create a secure, protected connection while sitting at the local coffee shop.
Server choice really becomes a big deal when you're trying to bypass the aforementioned government restrictions, for example. Taking them up on the free trial offer to upgrade to the Elite account will let you manually connect to other servers in other countries if that's the case.
Hotspot Shield Review Conclusion
Hotspot Shield is an excellent VPN choice… under some considerations.
First and foremost: free. Tough to argue with that.
They also have a Forever-access plan that will only set you back about one-year's worth of some of their competitors.
However…
Those perks come at a price. First up, the free plan doesn't allow you to manually select locations. Which under some circumstances is a deal breaker.
Their network, while worldwide, isn't the largest. They only offer one protocol (which is fine for most but won't work for those running on older systems or devices).
And their performance isn't the fastest we've seen either.
This one could go either way, to be honest. If you're fine with sacrificing performance for basic anonymity and protection while browsing on public WiFi networks, you're probably good to go.
But if you're looking for the best performance along with the ability to get around locations, upgrading to their paid version or opting for another service might be your best bet.
Hotspot Shield Pros:
Simple to install and easy to run
Works on all devices
Connects instantly to different servers
Hotspot Shield Cons:
Expensive month-to-month plan
FREE version is slow
P.S. Have you used Hotspot Shield VPN? If yes, please consider leaving a review below. Thanks!
19 user reviews for HotSpot Shield VPN