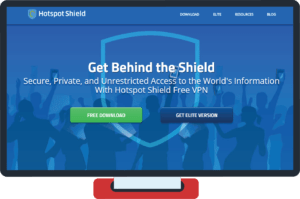 With over 500 million users worldwide, HotSpot Shield is the largest VPN provider on the planet.
They've been in business since 2005 and have grown their operation at a jaw-dropping and frankly, startling pace.
However, as is the case with many popular VPN companies, having the most customers doesn't necessarily mean you have the best product.
So the question remains, "Is HotSpot Shield's massive user base a result of a stellar VPN or stellar marketing?"
And over the course of this review, that's the question I hope to answer.
I'll be discussing everything about HotSpot Shield from the performance, security, and special features of the VPN client to the history, allegations, and investigation surrounding its parent company.
HotSpot VPN General Info & Features
| | |
| --- | --- |
| OVERALL RANK: | #12th out of 35 VPNs |
| USABILITY | 5/5 |
| LOG FILES: | Some Logging |
| LOCATIONS: | 24 countries |
| SUPPORT: | Tickets |
| TORRENTING: | Allowed |
| NETFLIX: | Yes |
| ENCRYPTION: | OpenVPN |
| JURISDICTION: | United States |
| COST: | $5.99 (and free version) |
| OFFICIAL WEBSITE: | www.HotspotShield.com |
Founded in 2005 under the Umbrella of AnchorFree Inc., HotSpot Shield is one of the oldest and most widely used VPN providers on the market.
They are also one of the most publicly recognized.
Sadly, they are headquartered in the USA which is the known for the un-favoring privacy laws.
HotSpot Shield operates an impressive network from San Francisco, California that boasts thousands of servers, although the servers in question are only spread across 24 countries.
Their application is compatible with most popular devices including
Android
Windows
Mac
iOS / iPhone
Google Chrome
It's also worth mentioning that their kill-switch feature is only available for Windows & Mac devices.
Like many other VPNs, HotSpot Shield also offers a free version of their software to ensure that users all over the world have access to an unlimited and uncensored internet. It's capped, though.
Lastly, you can set them up on your router and can have up to 5 standalone devices (simultaneous connections).
Pros of Using HotSpot Shield
1. Fastest Speed (Except in the U.S.) 
On the right servers, HotSpot Shield is fast.
In fact, when I tested HotSpot Shield on an EU server in Estonia, they performed faster than any other VPN that I've ever tested.

I connected to several other servers and ran a few tests using the third party website, speedtest.net to ensure the accuracy of this review.
Here are the performance benchmarks I recorded while using HotSpot Shield's VPN client on a 100 Mbps internet connection.
US Server (New York)
Ping: 183ms

Download: 28.66 Mbps

Upload: 13.74 Mbps
EU Server (Amsterdam)
Ping: 54ms

Download: 92.28 Mbps

Upload: 45.09 Mbps
Asia Server (Hong Kong)
Ping: 141ms

Download: 80.00 Mbps

Upload: 19.60 Mbps
UK Server (London)
Ping: 53ms

Download: 95.55 Mbps

Upload: 46.45 Mbps
If you have read any of the other VPN reviews I've done on this site, then you know that these results are impressive, really impressive.
HotSpot Shield regularly performed about 10 Mbps faster than any of their competitors on all European and Asian servers.
Oddly enough, their United States servers inexplicably ran at speeds that were almost twice as slow as their competitors even though the company is based in San Francisco!
If you plan on using servers primarily located in the European Union or Asia, then HotSpot Shield is the fastest VPN that's currently available.
However, if you specifically need access to a U.S. based server, then you should probably opt for something like ExpressVPN, PIA or NordVPN.
2. Incredible User Experience 
Despite my personal distaste of AnchorFree and their less-than-ethical practices, I've gotta hand it to them…
They created the most beautifully designed VPN that I have ever used.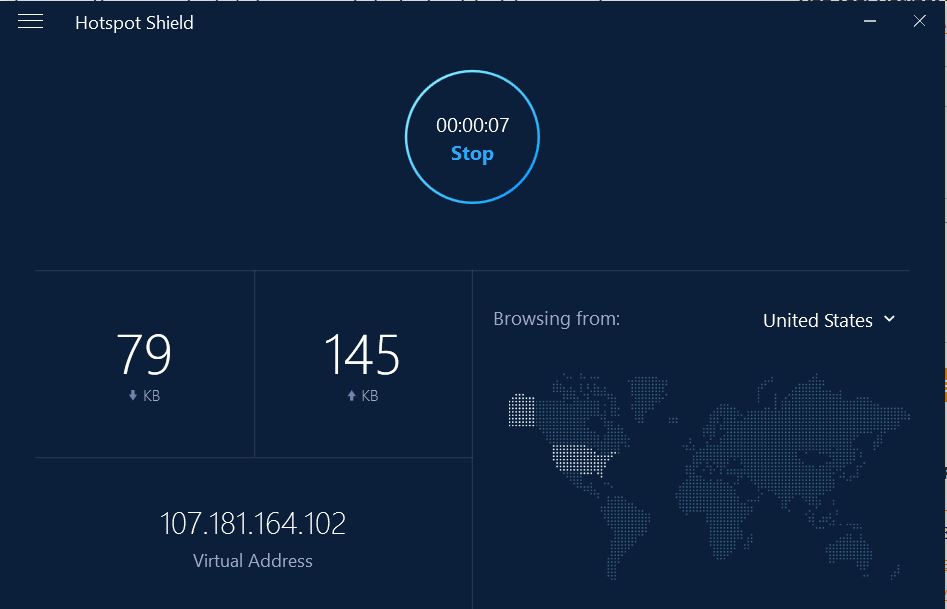 After a 2-minute installation process, you are taken to a software that looks like something out of a new James Bond movie where you can adjust your settings and VPN location with ease.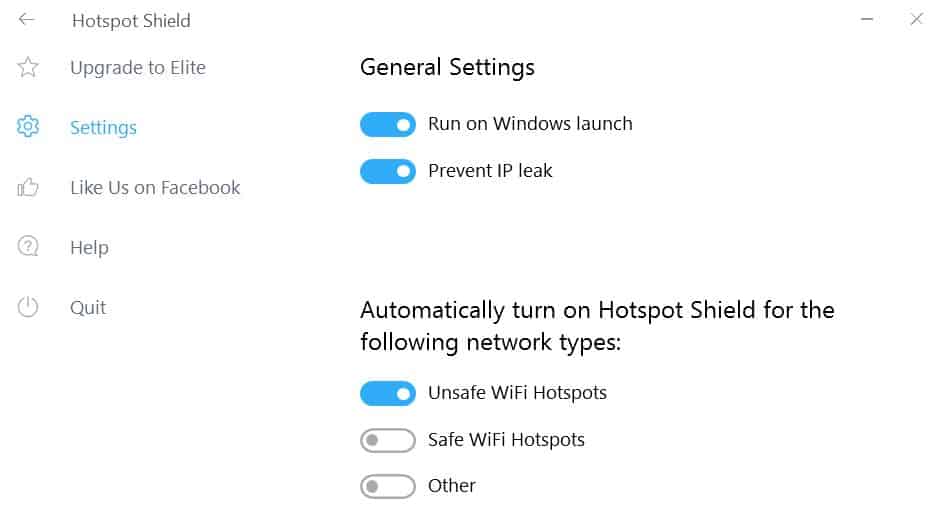 While they don't offer much in terms of advanced settings or customization (which I'll talk about in the 'cons' section), what they do have is an incredibly simple, intuitive, and easy to use VPN software.
3. Torrenting is Fully Supported 
One of the great things about HotSpot Shield is that, unlike some of their competitors, they completely and wholeheartedly support anonymous torrenting.
Their network uses a super secure AES-256 Encryption to ensure that all of the data being transmitted to and from your device is completely secure… From everyone (except AnchorFree).
Governments, ISP's, nosey neighbors, so long as HotSpot Shield upholds their logging policy, none of them can access any of your browsing history or network activity.
Since AnchorFree openly endorses and even gives instructions on anonymous torrenting, it's safe to say that HotSpot Shield Elite is an excellent choice for the more avid torrenters.
4. Netflix Compatible (For Now) 
Although their Netflix compatibility is subject to change on a minute by minute basis, as of December 2017, HotSpot Shield does work with Netflix on U.S. based servers.
Streaming Netflix with HotSpot Shield is slightly more complicated than it is with ExpressVPN or StrongVPN, however, if you follow the directions on their site you can still find a server that will work.
Cons of Using HotSpot Shield
1. CDT Privacy Accusations & the FTC Investigation
HotSpot Shield has always been a rather suspicious company.
Considering that they are a U.S.-based VPN provider that was launched using $52 million of Series C funding from investment giant Goldman Sachs, and whose parent company is partnered with several advertising and marketing companies… I wouldn't exactly describe the company as "Above Reproach".
However, after a recent filing from the CDT and a proceeding FTC investigation, I've begun to realize that the term "Ethically Ambiguous" is probably a more suitable description.
Here's a snippet from the press release issued from Center for Democracy & Technology regarding the formal complaint they filed against HotSpot Shield.

Considering the 500 million+ users who rely on HotSpot Shield for their online security, the CDT's 14 page filing has some serious implications.
Although David Gorodyansky has called these claims "Unfounded" and stated that he "Does not agree" with the filing, the facts do not seem to be in his favor.
Until the FTC concludes its formal investigation, I can neither confirm nor deny these accusations, however, I will say that I would be astonished if HotSpot Shield leaves this battle without a few scars.
2. Questionable Privacy and Logging Policies
AnchorFree is openly associated with a number of third-party advertising companies who make HotSpot Shield free possible.
While this is a pretty common practice for a free VPN service, when you start digging into the privacy policy, things get troublesome.
Here's an excerpt from their privacy policy to illustrate my point.
Even if you ignore, the fact that the term "personal information" is intentionally ambiguous throughout their policy and apparently does not include your personal IP address, this is a fairly worrisome statement.
A CSIRO study concluded that HotSpot Shield uses tracking codes to gather information about their user's and then sells this information to advertisers.
They also found that HotSpot Shield would regularly redirect user traffic through one of their affiliate networks in order to profit from purchases that their customers made while using the VPN.
Even though their logging policy offers some reassurance by stating that:
"…all browsing information or other similar information relating to your online activities transmitted by you to our servers when using Hotspot Shield is cleared after your VPN "session" is closed."
I'm hard-pressed to say that I trust HotSpot Shield with my personal data.
3. Ticketed Customer Support 
It is abundantly clear to me that all of HotSpot Shield's resources have been funneled into only three things.
Creating a stellar list of servers that perform at lightning fast speeds
Designing a beautiful user interface
Finding ways to legally (or otherwise) exploit an ambiguous privacy policy to profit as much as humanly possible.
As you'll notice, great customer service isn't on that list.
While HotSpot Shield offers an admittedly exhaustive list of troubleshooting resources and guides, their customer support team is all but nonexistent.
If you are having an issue, the only way to get in contact with their support team is through the dreaded support ticket.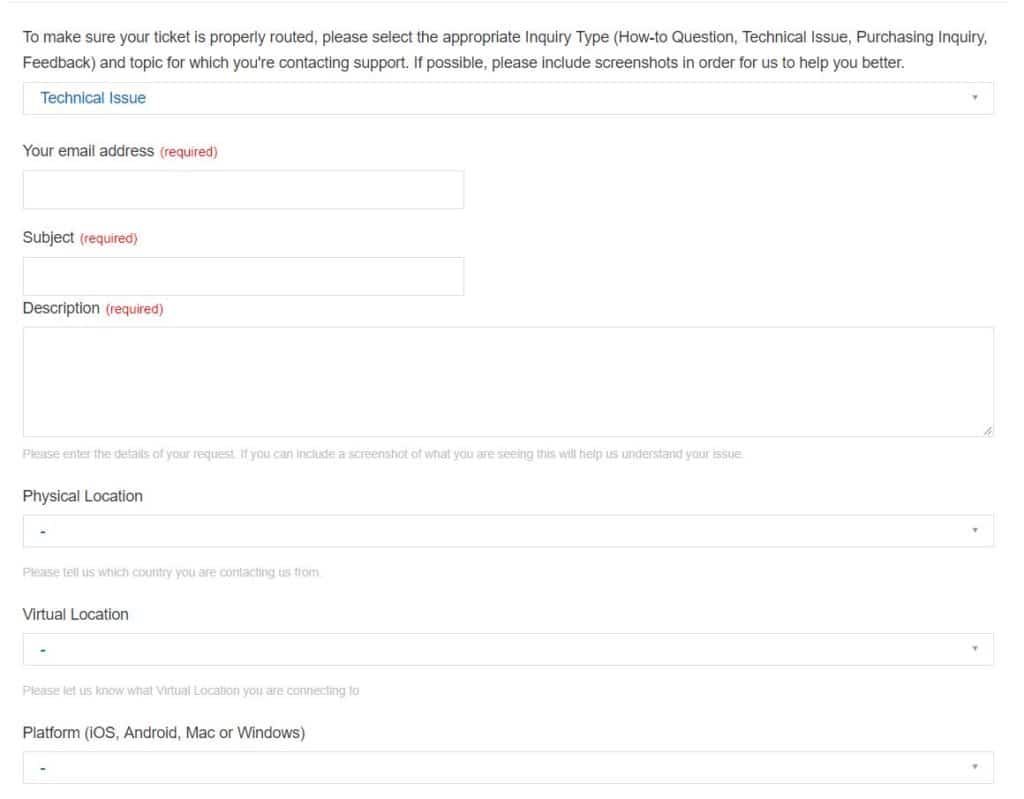 And once your ticket has been submitted?
You should probably go and pour yourself another cup of coffee and sit back with a good book because you will be waiting for a long, long, long time.
I tried submitting a technical support query for this review three days before I started writing this post.
Much to my chagrin… I still haven't received a reply! 
After skimming through some other reviews, I found that this experience was pretty ubiquitous.
In fact, I read several customer complaints claiming that it took HotSpot Shield more than one week to respond to a simple troubleshooting error.
Considering the hefty price tag associated with their Elite VPN service, this is a very considerable offense.
4. OpenVPN Only and No TOR Compatibility 
With a user base that is as large and diverse as the one boasted by HotSpot Shield, you would imagine that they would create a product that is equally diverse and adaptable to any need or circumstance.
Unfortunately, this is not the case.
Not only does HotSpot Shield not offer compatibility with The Orion Router or any other third party proxies (an incredibly useful feature in draconian countries like China and North Korea), but they limit all users to the OpenVPN protocol.
Although OpenVPN is my default VPN protocol it's not an all-in-one solution.
Considering that they have more than 500 million users, you would think HotSpot Shield would offer at least a few other VPN protocols for those rare (but inevitable) instances in which OpenVPN simply won't cut it.
Unfortunately, this just isn't the case.
HotSpot Shield Pricing, Plans & Facts
As far as paid VPN providers go, HotSpot Shield's pricing is definitely on the more expensive side of the spectrum.
In fact, at $5.99 a month for their 12-month package, they are only a couple of dollars cheaper than my own favorite VPN, ExpressVPN. And way more expensive than budget VPN like NordVPN.
The only difference between each plan is the length of time for which you can use HotSpot Shield's VPN services. Here's how their different pricing plans break down.


Monthly: $12.99 
6 Months: $53.94 ($8.99/mo)
12 Months: $71.88 ($5.99/mo)
Although their plans are a little pricey, they are all backed by a generous 45-day money back guarantee, which is the best guarantee that I've ever seen in the VPN industry.
From what I have read around the web, this refund is pretty painless to collect meaning that if you do try out HotSpot Sheld's premium VPN services and decide that they aren't for you, you can quickly receive your money and continue your search for the perfect VPN provider.
No logging: Some logging.
Ease of the VPN software: Easy to use VPN app
Hidden fees & clauses: None found.
Upsells: No upsells.
Instant access after payment: Took ~5min to get access to download files.
DNS leaks: None.
Jurisdiction: United States
Protocols: OpenVPN.
Kill-switch: Yes.
Do I Recommend HotSpot Shield?
The answer to this question is complicated.
As a service, HotSpot Shield is superb.
They offer lighting fast speeds, an incredible user experience, and plenty of great features to keep any VPN enthusiast happy.
However…
The company behind the service has been involved in so many shady dealings and ethically grey activities that it's hard for me to give my seal of approval, especially considering the current CDT allegations.
They also don't work with the combination of TOR. I think there are better VPNs at similar or even cheaper prices, such as NordVPN or ExpressVPN. Read all my VPN reviews here.
Add your own review below
Have you ever used HotSpot Shield before? If so, what was your experience like? I'm always interested to hear what other enthusiasts have to say about the VPNs that I review! Let me know below.
17 user reviews for HotSpot Shield
Ryan 10/10 January 7, 2018
good vpn
Perfect VPN!! Supports many countries, supports American Netflix (here in Canada), is very fast, and for a good cost. I would 100% recommend it to anyone who wants a good VPN.
Elizabeth Murphy 1/10 December 25, 2017
Be very wary of HotSpot shield
I have had so many problems getting rid of Hotspot shield. First, when it came time to renew and I did not want to renew it, it hijacked my screen forcing me to put in my payment info. The only way I could stop it was through task manager and shutting down the application.
Then after I canceled about 7 months later I see a charge of 35 dollars for hotspot shield which I don't even have installed.
How they got my new visa number I do not know. I've never had this happen to me with any other subscriptions. Avoid hotspot shield.
Anthony 6/10 November 20, 2017
free vpn full of ads
Like any other freeware HotSpot shield VPN comes with ads, the ads can be quite annoying sometimes, but the VPN itself works quite well.
I use HotSpot Shield VPN on my android (5.1.1) to be able to have access to files/software that is not available in my country. I wouldn't mind having it open and running 24/7 if there weren't so many ads every so often. So I still use it only when I need to.
I'd recommend with ad warning.
Stephen Brown 4/10 November 15, 2017
Not as good as others until you buy the elite version
When I first started using its free version, it was really bad. I couldn't access almost any website, it was too slow and it always had the same error. I decided to upgrade to the elite version to see if the performance of it improved and it worked just great.
It is a good VPN provider but only after you upgrade it to the elite version.
Blake Feltner 8/10 November 2, 2017
Honest Review
HotSpot Shield has been a lifesaver. Whenever I felt paranoid about my internet service provider or had to access a blocked site at my school HotSpot Shield was there. It's a great service honestly. You get a good amount of data usage before speeds slow down, which is understandable if you are using free.
Overall had a great experience with HotSpot Shield.
Mirkual Sen 7/10 October 21, 2017
free version is bad, paid is OK 🙂
As a Hotspot Shield user, I have to tell you that I liked the old Hotspot a lot more. I had an elite subscription and 90% of the time the connection was super fast and I knew that my connection and informations are secure. Plus all of the locations were unlocked. Now, after the update I am using the free version and I can say that you have only 1 location and that's Optimal Location. It's a lot slower than before, but the interface looks cleaner.
So should you use it, or shouldn't you?
From my experience, I can tell you that if you are going to spend more time using VPN, then buy the elite subscription because the connection is super fast and you have a wide variety of locations.
If you spend very little time using VPN then go with the free plan.
In conclusion, you should use Hotspot Shield VPN and buy the elite subscription if you spend a lot of time using VPN, and if you don't then either go with the free plan or use another free VPN!
Selina 9/10 October 19, 2017
Hotspot Shield hits the spot
I have had a mostly positive experience using Hotspot Shield, which I use on Chrome.
When accessing certain sites, all I need to do is click the shield extension icon on my toolbar, then click the button to be connected to the VPN. It's fast, free and super-easy. There's a couple of things I'm not too crazy about, though. Sometimes I can't access certain other sites once I'm connected. I occasionally have trouble accessing Google – though not every time – and some sites repeatedly log me out if I'm connected. Usually, I just have to disconnect and reconnect to get back on track, so it's a little bit annoying.
That said, I would still absolutely recommend Hotspot Shield, as its positives outweigh those little negatives.
Dillon P 6/10 October 17, 2017
Decent service, a bit slow however
I needed a VPN when I wanted to test my website to see what it would look like in different parts of the world. I was given a 6 month promo code for premium, so I signed up for it. I downloaded it to my mac and it was actually quite easy to setup. However, after setup, the program wouldn't open, so I restarted my mac and it did. I connected to the nearest server, which was London, just to test, and it worked a treat when I went to look at my IP. I tried different servers and they all worked. The only thing was they were slow, as if a lot of people were using them, which is fair enough for a big company, but with the amount of money they have coming in, they could invest in either faster or more servers.
Apart from that, the program was easy enough to use, and my experience so far has been satisfactory, I still use it now and then.
Henry 6/10 October 13, 2017
Free version capped at 500mb
Hotspot VPN has been a good service while remaining free but it could use some improvements.
It does cut out a bit but half the time asking you to review their app. Eventually you will run out of free data (500MB), encouraging users to pay for the full version. However you can just wait 24 hours for it to reset automatically or simply reinstall the application and start again without paying or waiting. Overall I think it's a good, free way to have a VPN on your device I would recommend it.
Sergio Moy 8/10 October 13, 2017
Easy to use
Hotspot Shield VPN is free, or at least the mobile version which is what I use. It's a great way to get past stupid, unnecessary blocks to some webpages I tend to use. On top of being free, it's really fast!
Using Hotspot Shield doesn't slow down my internet connection in the slightest, and it never has any problems loading. If that wasn't enough, it's also easy to use. It as the first I tried and I had no idea how to set up a VPN, but it was done extremely quickly.
Camil 7/10 October 2, 2017
good program
A good program if you want to keep things simple; "Just connect, get things done and leave the way you came from"
Started using since 2010 and never really needed any other. May slow down the internet speed just a bit (depending on where you are) but it's expected when it comes to VPN software. If you don't want to think much about what software to use, then this is a good instant choice.
Abhishek Thakur 9/10 June 18, 2017
unlimited VPN
Out of the many ones out there the one VPN app that bagged my trust was HotSpot Shield. Not only because it offers truly unlimited private access but also because it is very fast. Privacy is at no risk and you are safe.
Unblocked sites and Torrents on the go :).
DEVESH 9/10 June 14, 2017
Looking for a shield from your ISP, use Hotspot Shield..
Have been using Hotspot Shield for a year now. I can say I'm completely satisfied with the unlimited version. It does not compromise the speed of my network as well as protects my privacy.
The desktop application is user-friendly, a single push of button establishes the VPN connection. The time taken to connect to Hotspot Shield server is also very short.
Sachin S. 9/10 May 2, 2017
In my opinion, it's one of the best
This is the best VPN among the numerous ones I've used. Hotspot shield makes it really easy to connect to the servers and also as an awesome free quota, which doesn't degrade the speed (Perfect for testing it out). I've been using it for months and have not faced any considerable slowdowns yet. Server switching is really easy and the interface is really intuitive, making it a VPN to be reckoned with.
Kim So Bon 8/10 April 28, 2017
User in China
Definitely worth your money if you're into movies like me. (I can no watch restricted movies).
Tori 9/10 April 26, 2017
Fast & Reliable
HotSpot Shield has been one of my favourite tools, since I understood that BetterNet doesn't actually provide that level of privacy. I'm a travelling blogger, therefore I take my anonymity seriously. Last year, while travelling to Europe, I had a problem with connecting to an U.S. server, but I contacted the customer support section and they helped me out with the issue.
One of the U.S. servers was re-booting or something similar. It was just me trying to connect to the server at an unlucky time. Other than that, never have I ever had issues with HotSpotShield. Hands down, I would recommend their product!
Dan 1/10
Pointless
It's the worst VPN I've used so far. Speed is too slow and sometimes it's not opening.
I'm using Windows 10.