Betternet is a relative newcomer to the VPN scene.
They're founded in 2015 – Vancouver, Canada and according to my research, Betternet.co belongs to Betternet Technologies Inc.
Betternet separates itself by offering a "completely free" VPN that does "no data logging" and "doesn't show you irritating ads".
Almost too good to be true?
I took a detailed look through what they've got to offer to bring you the details on their server locations, available protocols, encryption methods, and exactly how do they make money if they aren't selling your data. Here's table of contents:
What is Betternet?
Let's take closer a look.
Betternet has one of the smaller server networks, located in 10 countries and 8 different cities in and around the United States.
Besides a strong presence in North America, their servers are also located in the Netherlands, Germany, France, Australia, Hong Kong, Singapore, and Japan.

(Although some of those are only available with their Premium Plan. More on that later.)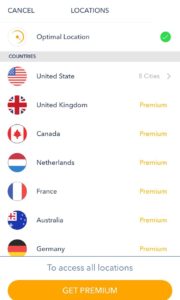 Betternet has ready-to-install apps on all major devices and operating systems as well, including
If you'd rather not mess around with downloading and running VPN software, they also have Chrome and Firefox extensions that will allow you to encrypt all browser sessions with the push of a button.
Is Betternet Really FREE?
If you're just dipping a toe into VPN waters for the first time, Betternet has a few ways you can get started (with little to no risk and out of pocket cost).
First up, they try to push you heavily in the direction of their free VPN service (that also doesn't require any registration – yay!). So you can download the one for your device, or fire up the Chrome or Firefox Extensions, and get started in minutes without the hassle of a long account sign-up or credit card needed.
Their Premium account comes with a 7-day free trial, so again you've got reason to smile. As if it can't get any better, they have a 30-day money back guarantee on top of everything else.
So they really must stand by their service. Because it seems like they're doing everything in their power NOT to make you pay unless you really really want to.
Pros of Using Betternet
1. OpenVPN & IPSec Protocols (Both Available)
This is similar to how an SSL certificate creates a secure connection between you and many of the largest websites in the world. It should come as no surprise then that the best all-around protocol option, OpenVPN, is an open source technology that's based on the same underlying infrastructure for SSL certificates.
99% of the time, it's your best bet.
While Betternet does offer IPSec protocol as well, one of the downsides is that you can't choose which protocol you connect to.
2. Betternet is Safe (regular: AES 256-bit encryption)
A connection is only as safe as the encryption that has literally sealed it shut.
Modern-day, sophisticated digital encryptions are still based on the same concept used in ancient Rome and Greece centuries ago.
There's a 'cipher' that spells out the instructions for how to lock and unlock a code of information. BUT, the only person who can read that cipher are the ones with a special 'key' on either end point.
So there's multiple bits of information required by both parties that makes it increasingly difficult for hackers to gain access to stuff they're now supposed to have (unless of course they just guess your dog's name for your password).
OpenVPN is often the default, go-to protocol because it uses AES 256-bit encryption. That's the top of the line in the security world.
While some protocols, like PPTP, have been broken in only a few hours due to their weak encryption methods. OpenVPN has NEVER been broken (and likely won't be anytime soon) because it would be virtually impossible for someone to be able to process the amount of randomly generated integers used for its rock-solid key.
3. Logging Policy – No User Logs are Being Kept
Free VPN services gotta make money somehow. There's bills to pay. Servers to purchase and maintain. Leases for space to host those servers around the world. Not to mention, a few shillings for the people organizing it all.
So free VPN services are often too good to be true. They sell your private data to intrusive advertising companies that overwhelm your browsing experience with irrelevant ads for example.
They also often log your data, recording websites you've been to, for how long, and how many times you come back over a period of weeks. One of the main points of using a VPN in the first place is for privacy. And when your free VPN service logs data is creates an easy-to-see paper trail that defeats the purpose.
Betternet, however, doesn't follow suit.
Despite offering and heavily promoting their free service, their terms and conditions state:

Why is this important?
The two main ways your "anonymous" VPN use is turned over to authorities is if your provider receives a DMCA takedown notice (for illegal content downloading) or court orders.
But Betternet claims that "we don't save any logs, IPs, ports, user information or time stamps." Which in essence means that they wouldn't have any personal information on you to give up – even if they did get the government knocking on their door.
4. Customer Support (even for FREE users)
Let's cut to the chase.
Betternet doesn't offer Live Chat. So you can't expect up-to-the-minute responses.
But they do use the popular Zendesk and claim support will be in touch within in an hour in most cases. And Premium members will get access to 24/7 customer support.
I also like to dig through a VPN service's social media channels to see how they deal with customer issues and whether-or-not their social team can help out on the support side.
Overall?
Pretty good! They offer fast, courtesy responses and receive some pretty good praise overall.
Here's one example: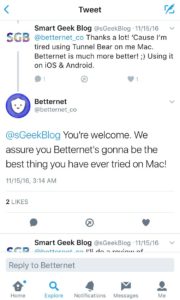 And another from a satisfied customer: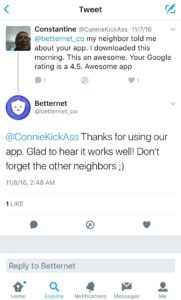 Cons of Using Betternet
–
1. How Does Betternet Work? They sell ads
Betternet offers a free VPN service. (Have I beat that to death enough yet?)
How do they make money if they don't log your stuff?
Thankfully, they have a page on their website called: How we make money. I'd bet the answer lies somewhere in there.
There are two ways they make money.
Suggested App Downloads: They get paid when someone downloads an app recommended to them by their service.
Video Views: They get paid when a user watches a video during their connection.
This page literally says that they "do not intend to make a profit" on their free service. They just want to be able to cover their basic overhead and maintenance costs to run the service.
Betternet does offer a Premium plan with extra perks that go to cover "HR expenses, dedicated servers, and newly added server locations."
Curiously, they also only accept payments through the Google Play Store and iOS App Store through in-app purchases. (I'm now convinced that they're trying NOT to make any money.)
So… how does that pricing break down?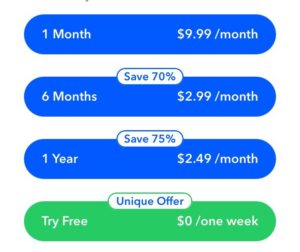 Plan One: 1 month
Plan Two: 6 months
$2.99/month

$17.94 total for six months
Plan Three: 1 Year
$2.49/month

$29.88 total for a year
If you want to take them up on that, here's how to get the app setup for the first time.
2. Usability isn't that good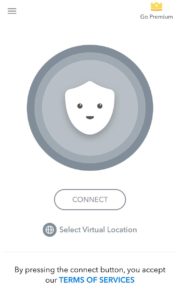 While it's easy to sign up and get going with Betternet.
(All you need to do is download the app.)
The free service only gives you the open to click Connect and you connect to Betternet's choice of optimized server (you can't select servers on the free plan).
If you do have the Premium account, you can click Select Virtual Location and choose from any of the 10 countries that Betternet has servers in.
Their free service doesn't work well. In lot of cases when I tried to connect to EU and US servers – it just couldn't connect.
Hence I was having a lot of trouble performing the speed test.
3. Slows down your Internet connection
I also ran a speed test to see how their free service stacks up against some of the other free and paid competitors.
I wasn't expecting to see any good numbers from it. Just for your information, I was using 100 Mbps connection and here are the results:

Ping: 64 ms

Download: 3.64 Mbps

Upload: 12.41 Mbps
Speed-test.net conclusion?
Very slow. In short, it throttles my connection speed with more than 95%. That's ridiculous for serious use. But hey, it's free.
4. Not for Torrenting and Netflix
Although (theoretically) you can use Betternet for P2P, they're download speed is just too slow to make it worth.
Also, while installing it on my computer and trying out all the possible server locations, I still couldn't connect to Netflix. This means it's probably not working with Netflix.
How to Use Betternet
Download their software here or head on over to the app store on your iPhone, iPad, or iPod to begin the setup process.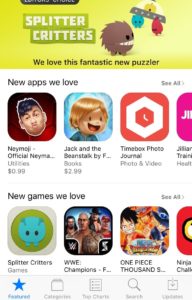 Click on Search and look for the Betternet app.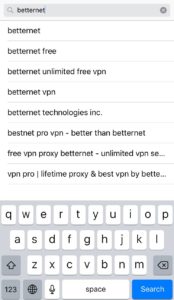 Here's what the app icon and description should look like: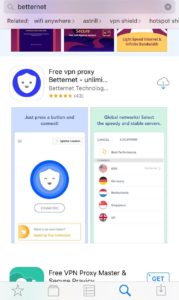 Once you find it, click on Get and sign-in using your Apple ID and password associated with your account.
Here's what the first screen looks like when opening the Betternet for the first time. If you click Start free 7-day trial now you will have to provide your Apple ID password.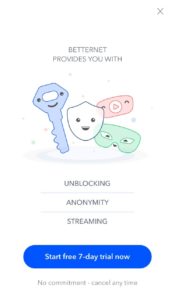 After the 7 days are up, you can get the Premium account through an in-app purchase and you will be automatically billed after the trial is done. Without a Premium Account, you can click No commitment- cancel anytime and enjoy their free VPN service.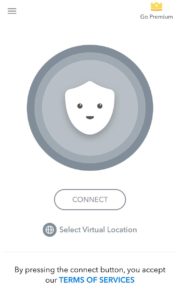 The free service only gives you the open to click Connect and you connect to Betternet's choice of optimized server (you can't select servers on the free plan).
If you do have the Premium account, you can click Select Virtual Location and choose from any of the 10 countries that Betternet has servers in!
Do I recommend Free Version of Betternet?
For full online privacy? No.
Betternet doesn't have the biggest server network. It's only available in a few select countries outside of North America. Their customer support options are also limited (unless you're on the Premium plan).
But they do offer top-of-the-line encryption and protocols, for free (or very cheap). Their Chrome and Firefox extensions also allow you to bypass downloading a VPN client.
So it could be a solid, affordable option if you're just looking to hide your IP or use it for a secure connection in public places.
UNFORTUNATELY, they're just too slow for serious use (bypassing geo-restrictions or heavy downloading). If you need a faster VPN (that is free), take a look at ProtonVPN or TunnelBear (although they're capped at 500mb/day). Here's more free alternatives:
However, if you seriously care about your online privacy, consider using one of the best VPNs here.
Add your own Betternet review
P.S. If you've used Betternet VPN (free or paid option), please consider helping us and leaving a review below.
19 user reviews for Betternet
Joey 7/10 January 6, 2018
pretty good service
I've been using the free version of betternet for over a year and the performance I've gotten with the two free locations USA and UK they have both been  good enough for my needs in terms of speed but in case you want a VPN for downloading / streaming etc, I can't recommend betternet as it would be too slow.
For a free decent VPN  that you only need for minimal tasks I do recommend betternet.
Hopefully this review helps someone!
Joan 6/10 January 4, 2018
Good for watching youtube
Love that the app is free. The speed is fast enough for consistent 720p youtube playback. unfortunately not fast enough for P2P file sharing.
Carol 1/10 December 30, 2017
Don't Do It!
I had BetterNet as a subscription for several months @ $12.71 (includes tax). I never got the app to work. I followed all customer support instructions many times, always assuming that I was at fault. After receiving a message from customer support telling me that I had used the trial subscription too many times and that this was the root of my problem, I finally canceled. I have the receipts on my phone showing monthly subscription payments. They apologized for "inconvenience" with no mention of wasted money for no service. I followed directions repeatedly to no avail.
I just don't have time to babysit an app.
Brett 1/10 December 29, 2017
Zero response, complete scam
I tried the 7 day free premium trial and decided after day 3 that it wasn't for me. It would randomly drop my connection and leave me exposed without warning. I was using the desktop version of the service and could not figure out how to cancel the service.
Their website has very detailed instructions for canceling using the Android/iOS versions, but not PC. I didn't want my credit card to get hit, so I sent them a service request with my details and a polite request to cancel using the aforementioned zendesk service. After 3 days, they'd given me no response.
I didn't want to get charged, so I put a temporary block on my credit card. The charge was attempted and blocked on day 7, as I expected. Then, I lifted the block. Three days later, with still no response, they ran my card again and got through. I had to have my bank reverse the charge, cancel my card entirely, and send me a new one to prevent this from continuing. I'll now have to set up all my recurring accounts for that card.
Their own help site's forum has several posts from people saying they've had the same problem and worse, that they've had to enact the same solution. Cancel a credit card to stop a service? Really? And it really blows my mind that they don't even care enough to remove those comments from their help site. Perhaps they think it makes them look honest. This service is a complete scam.
Jerry 7/10 December 2, 2017
Great but have had some issues.
So I've been using BetterNet for a while now, primarily to access sites blocked by my service provider. Video streaming works okay on this, however, with the plug-in installed, I am unable to access certain websites (eg. my school's portal) and thus, its been rather problematic.
This aside, BetterNet provides a decent, free service that I would really recommend.
Mark 1/10 December 1, 2017
Don't waste your time
For me, I just wanted to keep myself secure and fully hidden online, so I decided to "try" Betternet.
I used it for 7 days and all I can say is that their product sucks (seriously).  Here's why:
It crashes at least once a day
After 7 days they want you to pay money
Constant ads and the whole experience is slow.
Not to mention using them for Netflix (which is impossible). Overall, I don't recommend Betternet.
Matthew 5/10 November 29, 2017
Usable, but too slow for Netflix.
I recently installed the free version of Betternet (about 1 month ago). Although it's usable most of the time it's pretty slow. Streaming services like Netflix are therefore not something I recommend doing. However, I mostly use Betternet for regular browser which seems to be working most of the time. So if you're looking for a VPN to stream with I recommend going for something else.
Casey 9/10 November 20, 2017
Would recommend Betternet to friends and foes.
Used the Betternet Chrome Extension for over a year now to access websites that are blocked in my school. Works great.
The service is relatively faster than many mainstream VPN services, such as Hotspot Shield and TunnelBear, which I have all tried. The only drawback that I can come up with is that there are only 2 server locations, USA and UK. I am from Canada, so I must connect in US. However, this doesn't make my connection any slower. I love that Betternet rarely crashes or disconnects.
Betternet is very easy to use, with just a simple click of a button to turn it on or off. The best part about it is that it is free, so you really can't go wrong with it. 9/10, would recommend to anyone who needs it.
Aaron Bradle 6/10 November 2, 2017
Drains your battery
I use Betternet on my IPad as it was the first one I came across. It is simple to set up and all you need to do is press a button in the app and you are connected.
However, it does greatly decrease your internet speed and you lose battery extremely quick if it is not plugged in. On the other hand, it is a free app (Powered by ads) so I can not complain but the main issue is the power loss.
Carter Harrison 1/10 October 15, 2017
Misleading and disappointing
Well, my experience with Betternet consists of mobile and Chrome extension use.
When you first download Betternet, it works perfectly connecting fast and giving you a fast speed. While this is happening, they ask you to leave good reviews on the App Store. They only ask you to leave a review if you answer "Very Good" to "How have you enjoyed Betternet so far?" which I believe is quite misleading.
As I used Betternet and chose not to watch any ads of theirs and not leave good reviews, the performance of the VPN deteriorated. Slow to connect to the VPN itself, and then a slow connection speed. Then, of course, you get the prompt for their Premium service.
Disappointing.
Pete 2/10 October 14, 2017
Ridiculous service
I installed Betternet free version just few days ago. I was enthusiastic as I thought I can use it forever. However, I quickly realized their too slow and they don't allow any sort of Torrenting, let alone Netflix.
What's even worse, today I got an notification that my FREE version is over. What?
Don't recommend this VPN at all..
Ege 8/10 October 8, 2017
Betternet is fine
I've been using Betternet VPN for a few months now. Obviously the best thing about it is that it's completely free unless you decide to support the developers. Free version only offers two regions (UK and US). It doesn't ask for any private information. However, the connection can be slow sometimes and randomly cut off. There has also been some claims in  the past about the VPN, saying that it was malicious, but if you don't care about claims, this is a really nice and basic VPN.
Rick 2/10 August 20, 2017
Terrible - and service worse
Signed up for the free trial using my card number (bills you after 7 days).
Signed up on their website, downloaded, installed and couldn't get it to even connect.
Emailed them to ask them to cancel the service which the refused to do saying that I had to do it on the App Store on my IOS Device or from my Mac. I don't have either and explained this and told them I had signed up using Chrome on their Website. Again asked them ho to cancel (twice) – No reply.
Molly 1/10 August 15, 2017
Higher prices
I have been using Betternet premium for a year and love it.
However, just went to renew my subscription and it's going to cost nearly 4 times as much as last year.
Guess it's time to look for another provider.
Anna 5/10 July 28, 2017
Not for serious use
It works well for hiding your location – I can use Spotify with them, but it's just too slow.
Juuso 4/10 July 1, 2017
Free but with ads
The service is free, but you get tons of different ads, which are really annoying. So you still pay a "price" for it – your precious time. Other than that it is really slow, does not have a live chat support. I would not recommend it to people, who like to enjoy their browsing experience, but if you like to waste your time on ads and slow page loading, then go ahead!
Nate 1/10 June 3, 2017
Crashing all the time
This VPN is not for serious use. I installed their software on my Windows 10 and it crashed constantly. I tried connecting through their server list, but the app just crashed and that was it.
When I googled it I found out that I wasn't the only one who had problems with this VPN. Waste of time.
Shahid 6/10 May 3, 2017
Works in India, but slow
As our Government banned social media sites like Facebook and Twitter here in India, we've no option to use Betternet. It's free and does the trick, but the downside is that it's VERY slow..
Justin 4/10 March 4, 2017
OK for hiding your IP, but...
It's a good service for hiding your IP, but the load times are a bit slow and the constant ads and upsells have pretty much ruined it.
However, if you don't have a budget for a VPN – it's probably a wise choice.