Betternet is a relative newcomer to the VPN scene.
The North Vancouver-based company separates itself by offering a "completely free" VPN that does "no data logging" and "doesn't show you irritating ads".
We took a detailed look through what they've got to offer to bring you the details on their server locations, available protocols, encryption methods, and exactly how do they make money if they aren't selling your data.
TL;DR: This VPN is not for serious use. If you need a reliable VPN software, take a look at our top 5 VPNs or free alternatives here.
Betternet VPN Review (Summary)
| | |
| --- | --- |
| PROTOCOLS: | OpenVPN, IPSec |
| ENCRYPTION: | AES 256-bit |
| LOG FILES: | No |
| LOCATIONS: | 10+ countries |
| SUPPORT: | Ticketing system |
| EASE OF USE: | Average |
| COST: | FREE |
| PLATFORMS: | Win, Android, iOS |
| RECOMMENDED? | NO |
| OFFICIAL WEBSITE: | www.Betternet.co |
Quick facts about Betternet VPN
Let's take closer a look.

Betternet has one of the smaller server networks, located in ten countries and eight different cities in and around the United States.
Besides a strong presence in North America, their servers are also located in the Netherlands, Germany, France, Australia, Hong Kong, Singapore, and Japan.
(Although some of those are only available with their Premium Plan. More on that later.)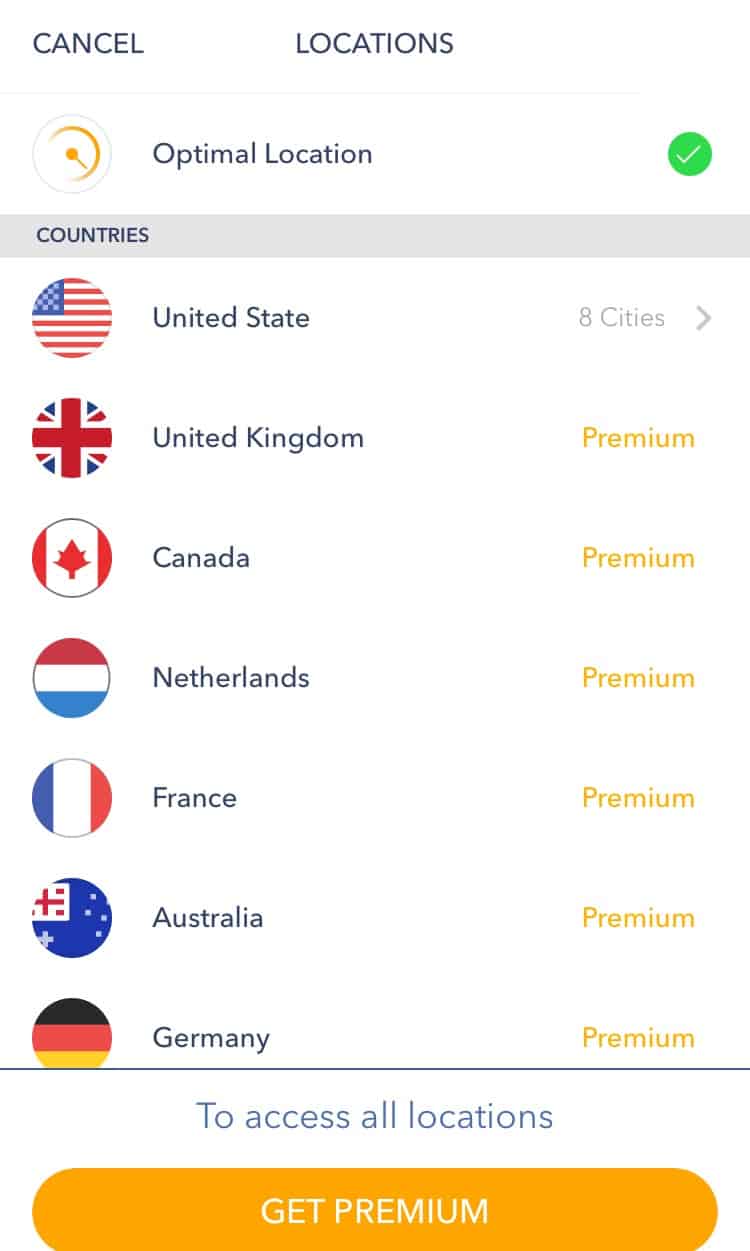 Betternet has ready-to-install apps on all major devices and operating systems as well, including Windows, Mac OS, iOS, and Android. If you'd rather not mess around with downloading and running VPN software, they also have Chrome and Firefox extensions that will allow you to encrypt all browser sessions with the push of a button.
If you're just dipping a toe into VPN waters for the first time, Betternet has a few ways you can get started (with little to no risk and out of pocket cost).
First up, they try to push you heavily in the direction of their free VPN service (that also doesn't require any registration – yay!). So you can download the one for your device, or fire up the Chrome or Firefox Extensions, and get started in minutes without the hassle of a long account sign-up or credit card needed.
Let's say you give their free option a spin. It works. You love it! You love it so much, you're happy forking over a few bucks a month to get access to more locations, faster performance, or maybe to just simply support the company.
Their Premium account comes with a 7-day free trial, so again you've got reason to smile. As if it can't get any better, they have a 30-day money back guarantee on top of everything else.
So they really must stand by their service. Because it seems like they're doing everything in their power NOT to make you pay unless you really really want to.
You might be sold already. But if not, here's some of the technical details to make sure your connection isn't be sacrificed in the process of virtually giving away a VPN service.
Available Protocols (You can't choose)
I'm currently writing this in a coffee shop. (Seriously – it's weird typing this.)
It's a new one that I've never been to before. Which typically isn't a big deal. As long as they've got free WiFi, it'll do.
So you sit down. Connect to the first open WiFi network that pops up. And get started. Opening different tabs, checking accounts quickly, or browsing email.
Here's the problem.
WiFi eavesdropping. One of the oldest tricks in the hacking-book.
The first attempt could involve creating a fake WiFi network (or "evil twin") that looks and feels and sounds exactly like a real one. For example, it could say: T-Mobile and have all the branding that you're already used to. So these aren't rinky-dink, low quality operations that would only fool your dorky parents.
Their goal is to make you think it really is the legitimate public network you wanted to connect to at the beginning. Only now, they're gonna be able to track each and every last thing you do while on their network (including usernames and passwords used to gain access to different sites).
But that's not the only method hackers will use to infiltrate public WiFis networks.
Another tactic is "sniffing". This involves tracking your web traffic to find your session cookies to get into your accounts.
The only way to avoid all of this is by shutting them out before they can get in. A VPN service creates a secure, encrypted 'tunnel' between your device and its intended destination (like a webpage). That 'tunnel' blocks nefarious third-parties from inserting themselves between you.
This is similar to how an SSL certificate creates a secure connection between you and many of the largest websites in the world. It should come as no surprise then that the best all-around protocol option, OpenVPN, is an open source technology that's based on the same underlying infrastructure for SSL certificates.
99% of the time, it's your best bet.
While Betternet does offer IPSec protocol as well, one of the downsides is that you can't choose which protocol you connect to.
Encryption (regular: AES 256-bit encryption)
A connection is only as safe as the encryption that has literally sealed it shut.
Modern-day, sophisticated digital encryptions are still based on the same concept used in ancient Rome and Greece centuries ago.
There's a 'cipher' that spells out the instructions for how to lock and unlock a code of information. BUT, the only person who can read that cipher are the ones with a special 'key' on either end point.
(I smell a new, best-selling Dan Brown novel followed by a Tom Hanks blockbuster in the making.)
So there's multiple bits of information required by both parties that makes it increasingly difficult for hackers to gain access to stuff they're now supposed to have (unless of course they just guess your dog's name for your password).
OpenVPN is often the default, go-to protocol because it uses AES 256-bit encryption. That's the top of the line in the security world.
While some protocols, like PPTP, have been broken in only a few hours due to their weak encryption methods. OpenVPN has NEVER been broken (and likely won't be anytime soon) because it would be virtually impossible for someone to be able to process the amount of randomly generated integers used for its rock-solid key.
No Logging (at least they promise so)
Free VPN services gotta make money somehow. There's bills to pay. Servers to purchase and maintain. Leases for space to host those servers around the world. Not to mention, a few shillings for the people organizing it all.
So free VPN services are often too good to be true. They sell your private data to intrusive advertising companies that overwhelm your browsing experience with irrelevant ads for example.
They also often log your data, recording websites you've been to, for how long, and how many times you come back over a period of weeks. One of the main points of using a VPN in the first place is for privacy. And when your free VPN service logs data is creates an easy-to-see paper trail that defeats the purpose.
Betternet, however, doesn't follow suit.
Despite offering and heavily promoting their free service, their terms and conditions state:
"Betternet does not collect, log, store, share any identifiable personal information of Users. Betternet may collect the connection times to our Service and the total amount of data transferred per day."
Why is this important?
The two main ways your "anonymous" VPN use is turned over to authorities is if your provider receives a DMCA takedown notice (for illegal content downloading) or court orders.
But Betternet claims that "we don't save any logs, IPs, ports, user information or time stamps." Which in essence means that they wouldn't have any personal information on you to give up – even if they did get the government knocking on their door.
Customer Support (via ZenDesk)
Let's cut to the chase.
Betternet doesn't offer Live Chat. So you can't expect up-to-the-minute responses.
But they do use the popular Zendesk and claim support will be in touch within in an hour in most cases. And Premium members will get access to 24/7 customer support.
We also like to dig through a VPN service's social media channels to see how they deal with customer issues and whether-or-not their social team can help out on the support side.
Overall?
Pretty good! They offer fast, courtesy responses and receive some pretty good praise overall.
Here's one example: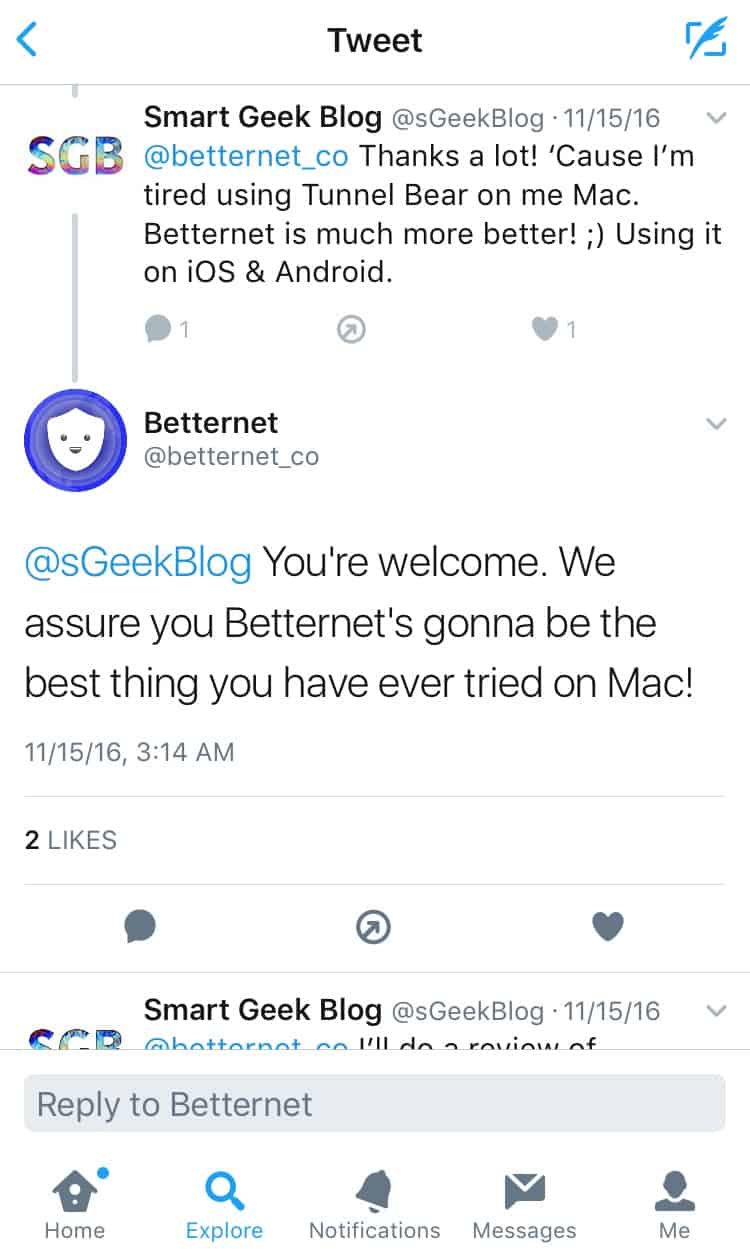 And another from a satisfied customer: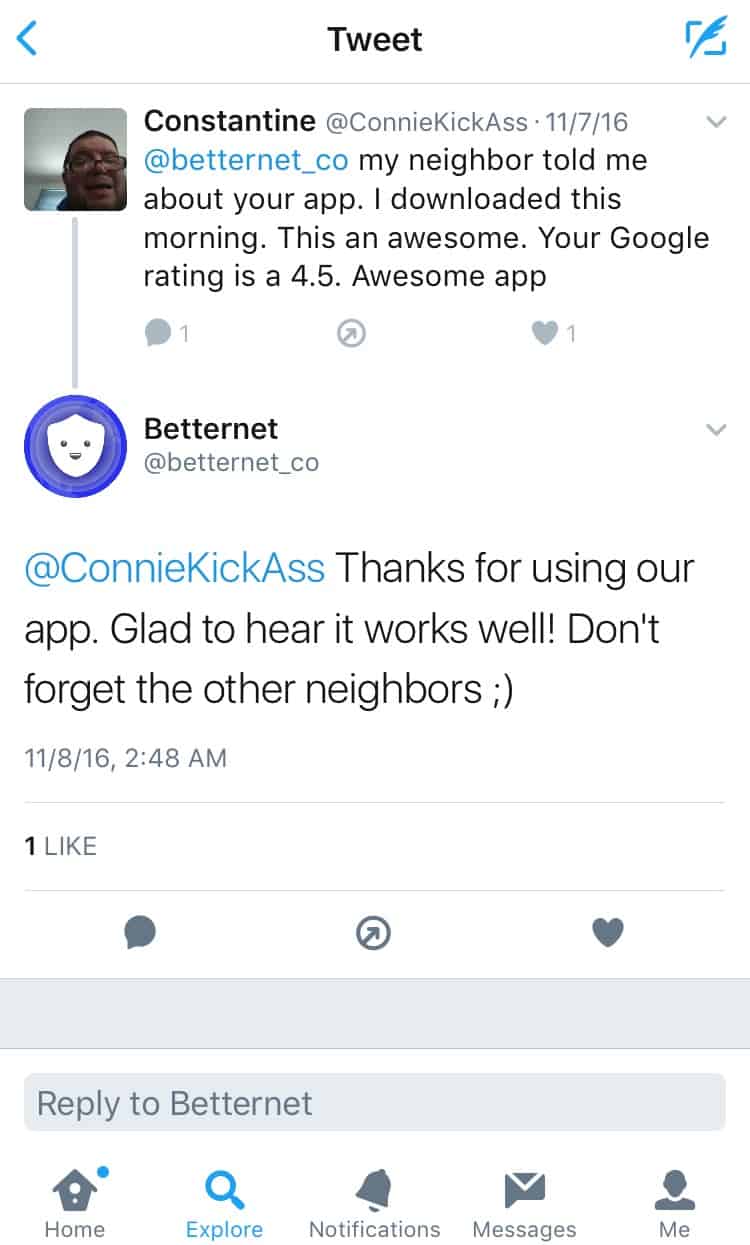 And another, where Betternet's social team even helps a customer diagnose an issue related to Chrome (and not even their service).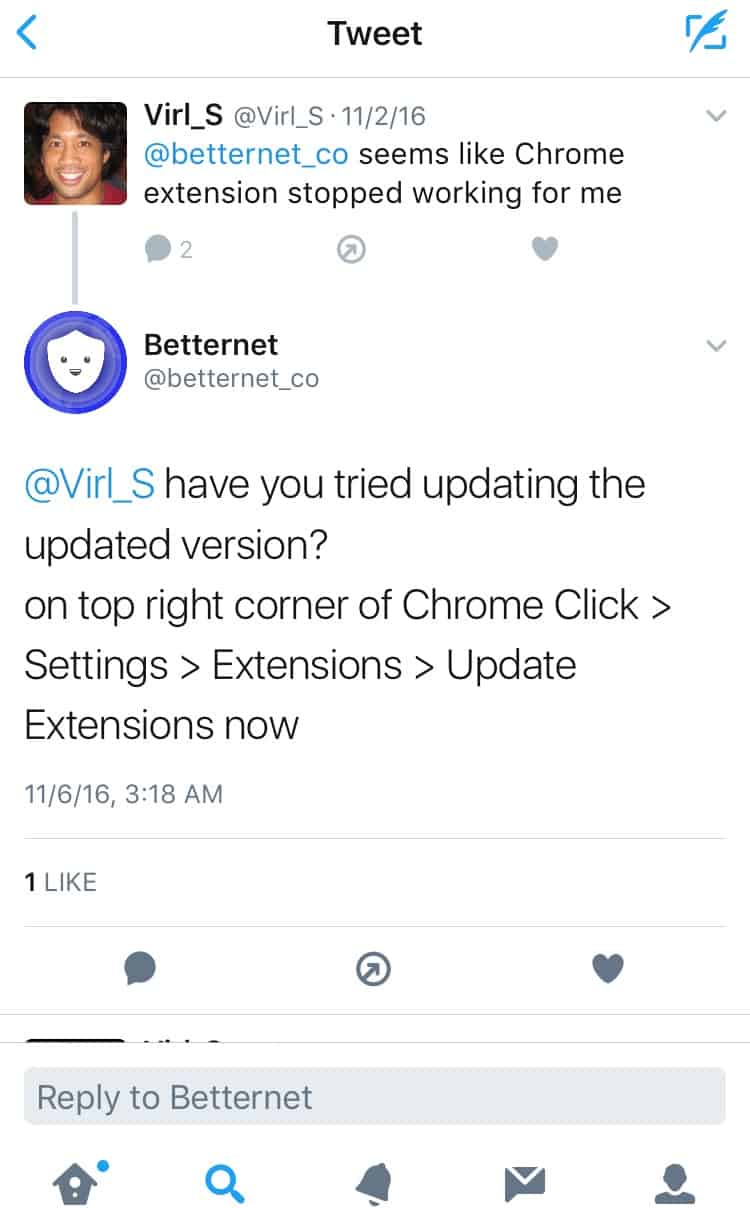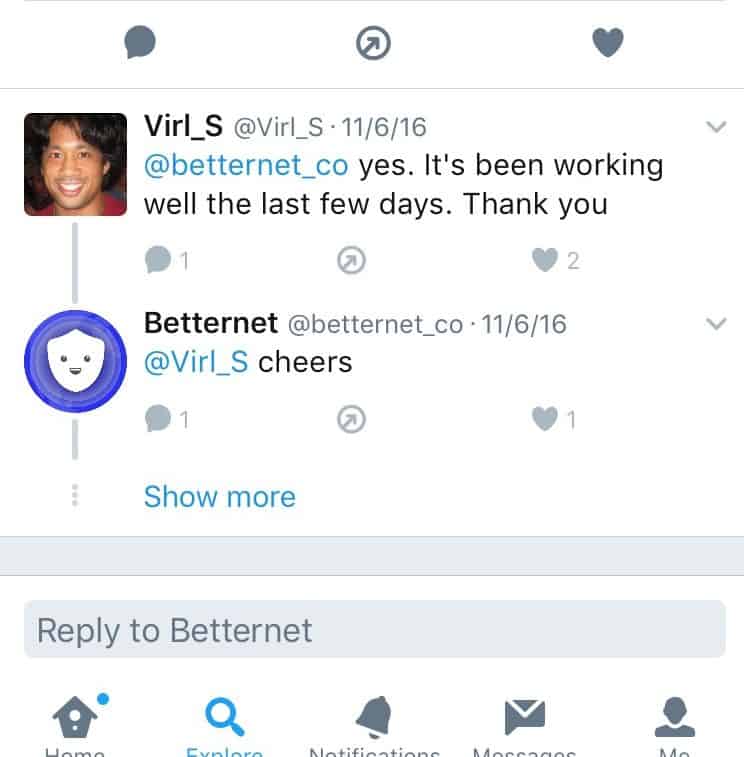 Plans & Pricing (Free, but lots of adds and upsells)
Betternet offers a free VPN service. (Have we beat that to death enough yet?)
How do they make money if they don't log your stuff?
Thankfully, they have a page on their website called: How we make money. I'd bet the answer lies somewhere in there.
There are two ways they make money.
Suggested App Downloads: They get paid when someone downloads an app recommended to them by their service.

Video Views: They get paid when a user watches a video during their connection.
This page literally says that they "do not intend to make a profit" on their free service. They just want to be able to cover their basic overhead and maintenance costs to run the service.
Betternet does offer a Premium plan with extra perks that go to cover "HR expenses, dedicated servers, and newly added server locations."
Curiously, they also only accept payments through the Google Play Store and iOS App Store through in-app purchases. (I'm now convinced that they're trying NOT to make any money.)
So… how does that pricing break down?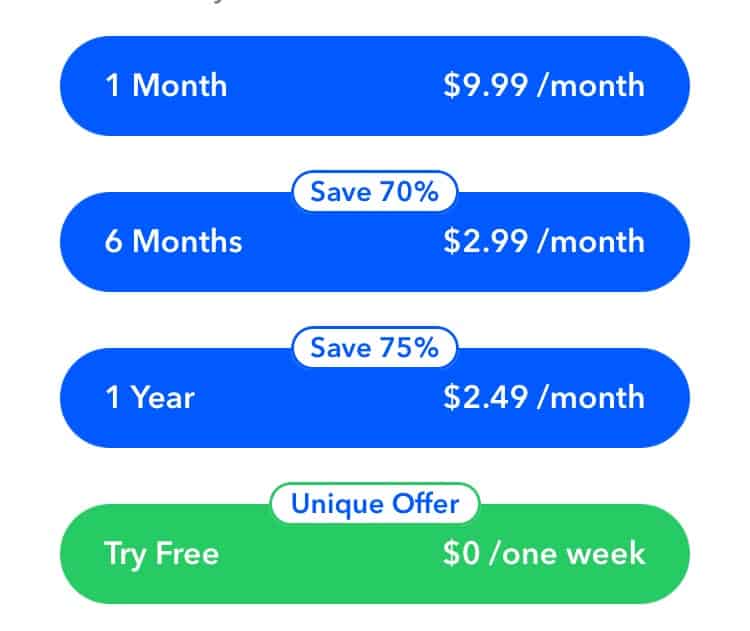 Plan One: 1 month
Plan Two: 6 months
$2.99/month

$17.94 total for six months
Plan Three: 1 Year
$2.49/month

$29.88 total for a year
And don't forget that free week!
If you want to take them up on that, here's how to get the app setup for the first time.
Betternet VPN Setup (Reviewed)
---
Download their software here or head on over to the app store on your iPhone, iPad, or iPod to begin the setup process.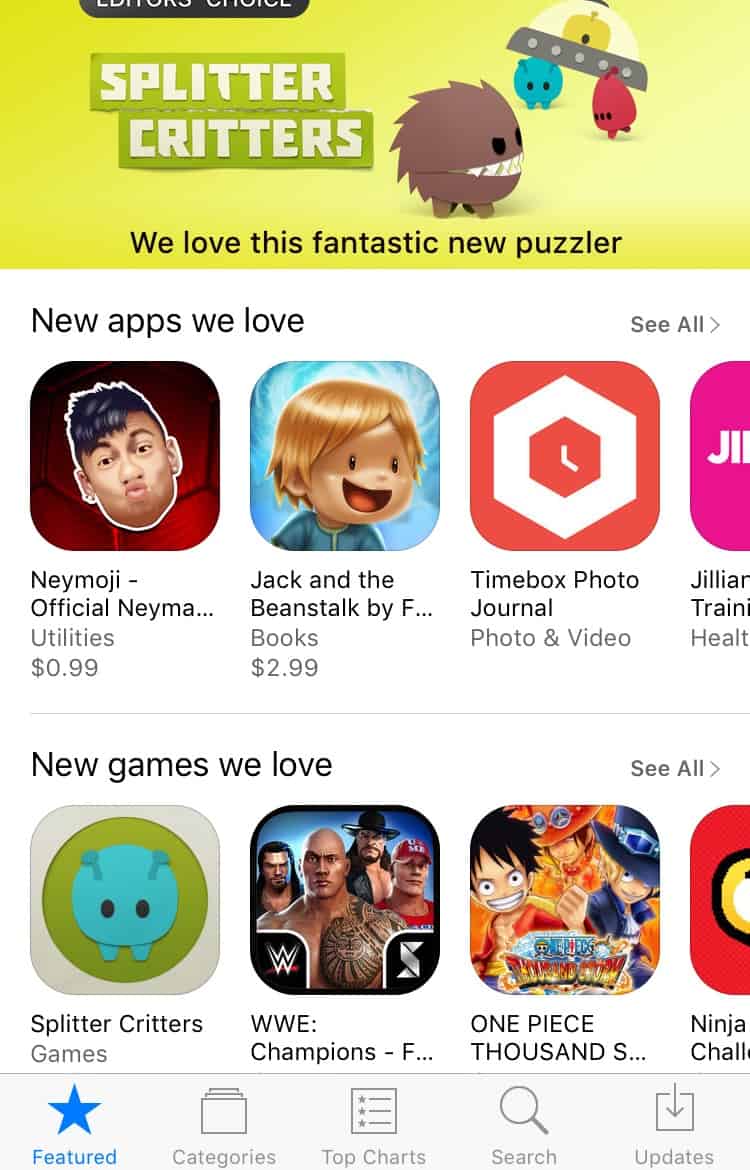 Click on Search and look for the Betternet app.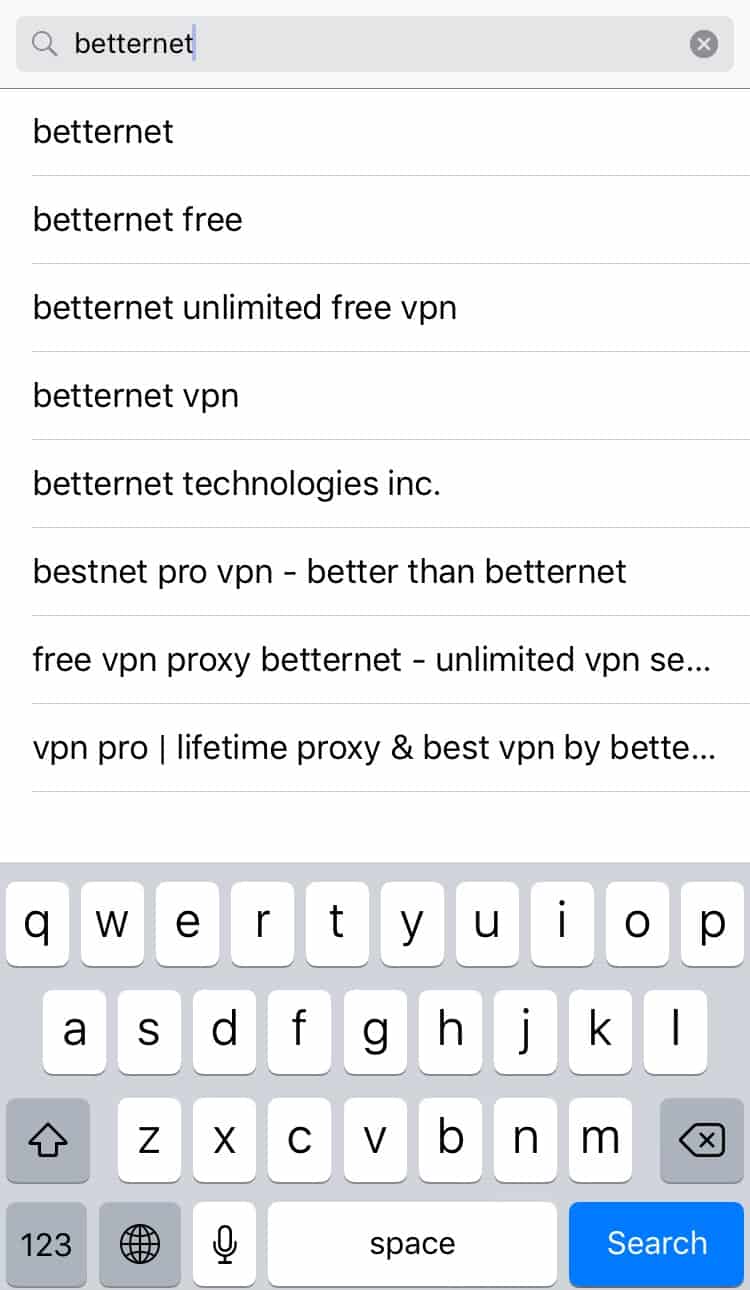 Here's what the app icon and description should look like: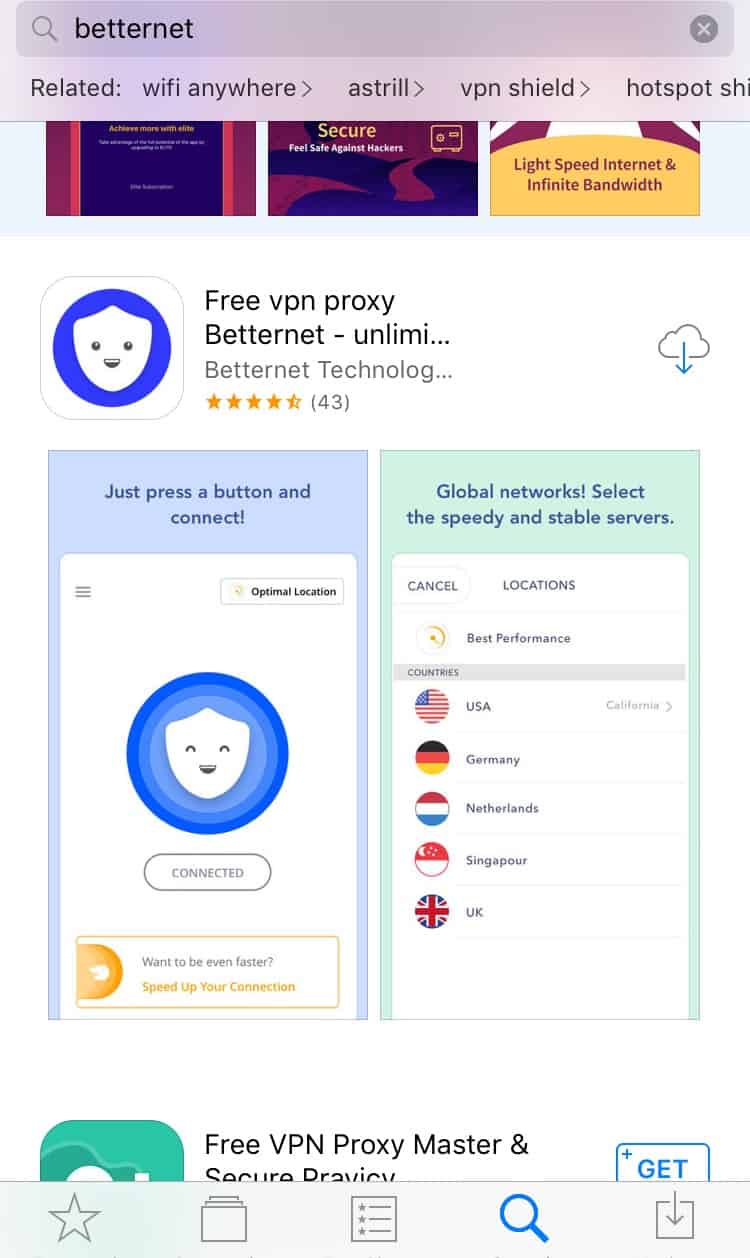 Once you find it, click on Get and sign-in using your Apple ID and password associated with your account.
Here's what the first screen looks like when opening the Betternet for the first time. If you click Start free 7-day trial now you will have to provide your Apple ID password.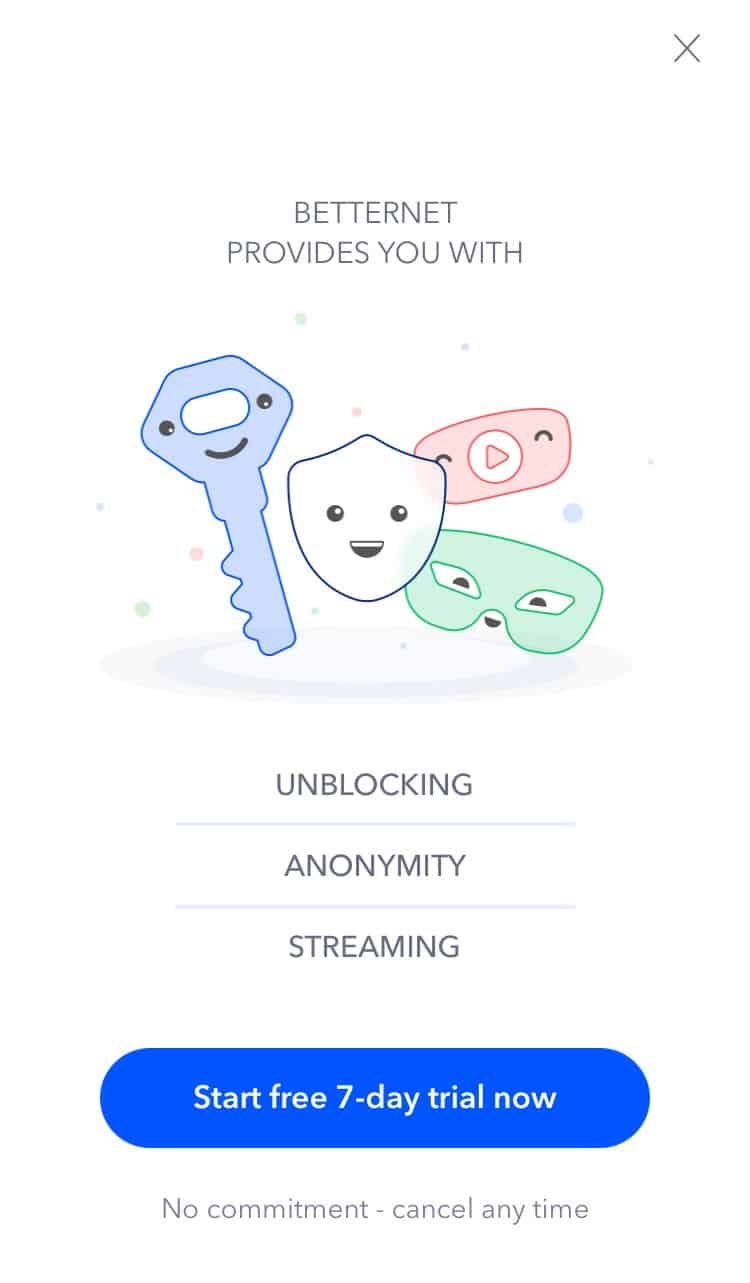 After the 7 days are up, you can get the Premium account through an in-app purchase and you will be automatically billed after the trial is done. Without a Premium Account, you can click No commitment- cancel anytime and enjoy their free VPN service.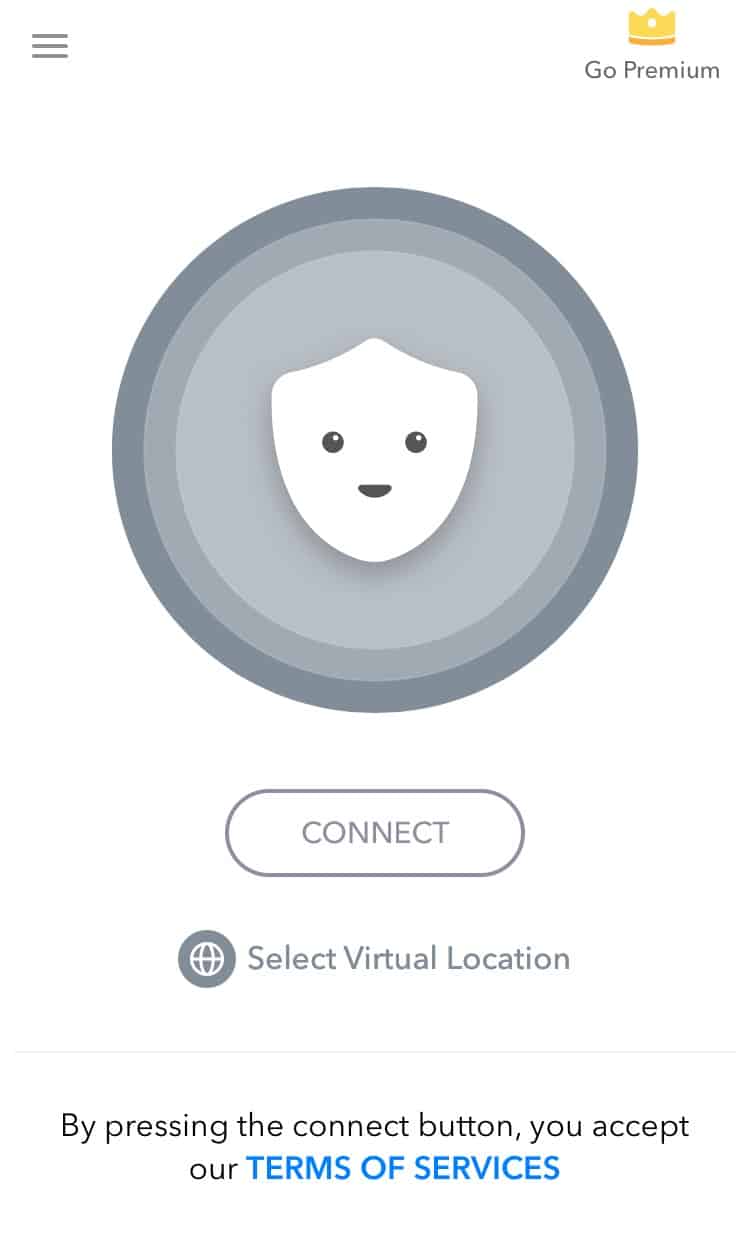 The free service only gives you the open to click Connect and you connect to Betternet's choice of optimized server (you can't select servers on the free plan).
If you do have the Premium account, you can click Select Virtual Location and choose from any of the 10 countries that Betternet has servers in!
We also ran a speed test to see how their free service stacks up against some of the other paid competitors. Overall? Not bad for a free mobile connection!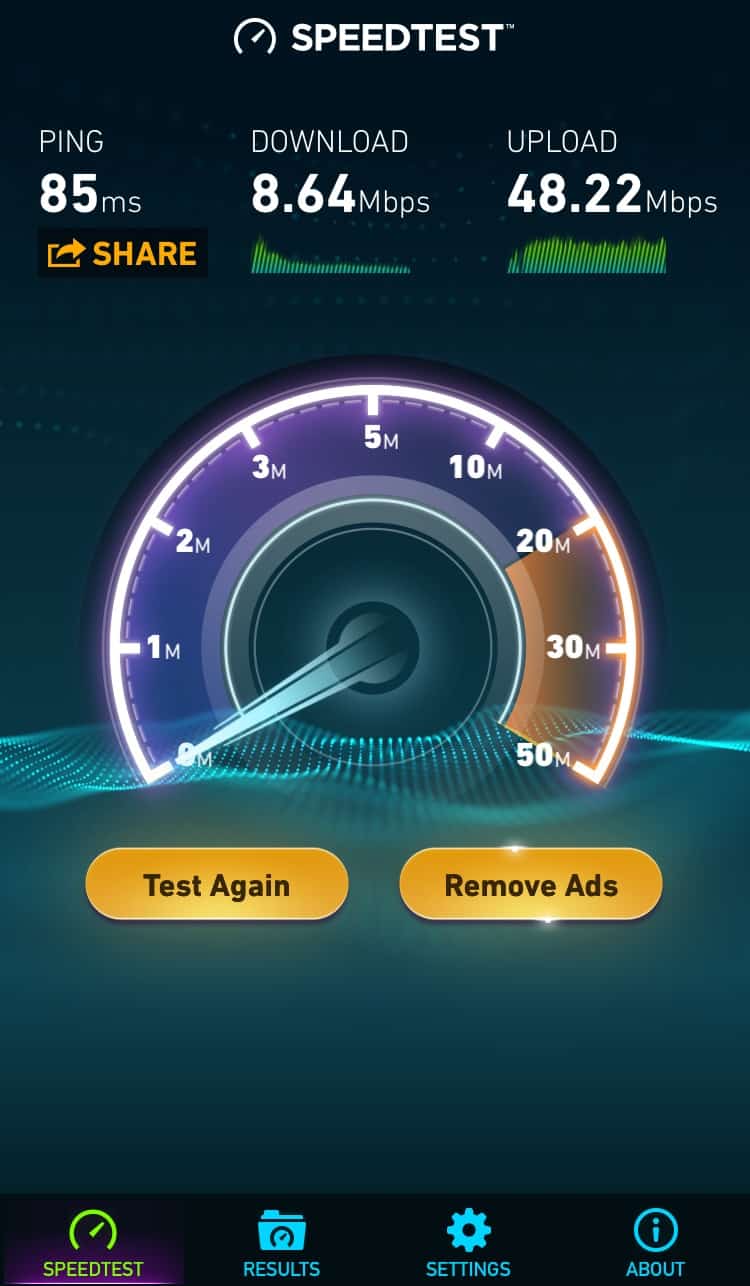 Ping: 85 ms

Download: 8.64 Mbps

Upload: 48.22 Mbps
Conclusion? VERY SLOW. In fact, it was only faster than StrongVPN, but that's about it. More than 18 VPNs (including Tunnelbear) were faster than Betternet.
Betternet Review Conclusion (free, but still not worth it)
Betternet VPN doesn't have the biggest server network. It's only available in a few select countries outside of North America. Their customer support options are also limited (unless you're on the Premium plan).
But they do offer top-of-the-line encryption and protocols, for free (or very cheap). Their Chrome and Firefox extensions also allow you to bypass downloading a VPN client.
So it could be a solid, affordable option if you're just looking to hide your IP or use it for a secure connection in public places.
UNFORTUNATELY, though they're just too slow for serious use (bypassing geo-restrictions or heavy downloading).
Betternet alternatives (paid):
P.S. Have you used Betternet VPN? If so, help us by leaving a review below. Thanks!
11 user reviews for Betternet.co