Founded in 2006 by their parent company GZ Systems, PureVPN is one of the oldest and largest providers on the market.
From their humble 2-server beginnings, PureVPN has quickly expanded their operation and they now boast more than 750 servers across 140 different countries.
While they are headquartered in Hong Kong, which is an increasingly tumultuous jurisdiction for a VPN provider (largely due to their proximity and relationship with China) PureVPN manages and hosts their own network and DNS hardware which should mean that your information is more secure with them than with the average VPN.
Their services are compatible with all major devices including Windows, Android, Mac, iOS, and Linux, and, if you are particularly keen on optimizing your online protection, you can even set PureVPN up to work with your routers, smart TVs, and streaming services (like Roku, Amazon Fire, and Chromecast)
While they seem like a great choice on paper, PureVPN comes with more than its fair share of issues.
In this review of PureVPN's services, I will be taking an honest and unbiased look at their offerings.
I will analyze their speeds, features, pricing, and much more to help you determine whether or not PureVPN is the right provider for you.
Pros of Using PureVPN (+)
Boasting more than 1,000,000 customers, PureVPN clearly has something unique to offer the modern VPN marketplace. During the course of this review, I took all of their services for a test run and analyzed several other third-party reviews to see exactly what that "unique offer" is.
1. Extremely Affordable Services 
The first, and possibly most noticeable 'pro' about using PureVPN is the price tag.
Even though they have increased their price by about 10% since the last time I reviewed them, they're still one of the cheapest VPNs on the market and offer a phenomenal price for customers on their 2-year plan.
Here's how it all breaks down.


Month-to-Month Plan
$10.95 per month
0% Savings
Six Months Plan
$8.95 per month
18% Savings
Two Year Plan
$3.25 per month
70% savings
They also allow customers to purchase their service with almost every payment method imaginable (even Target gift cards)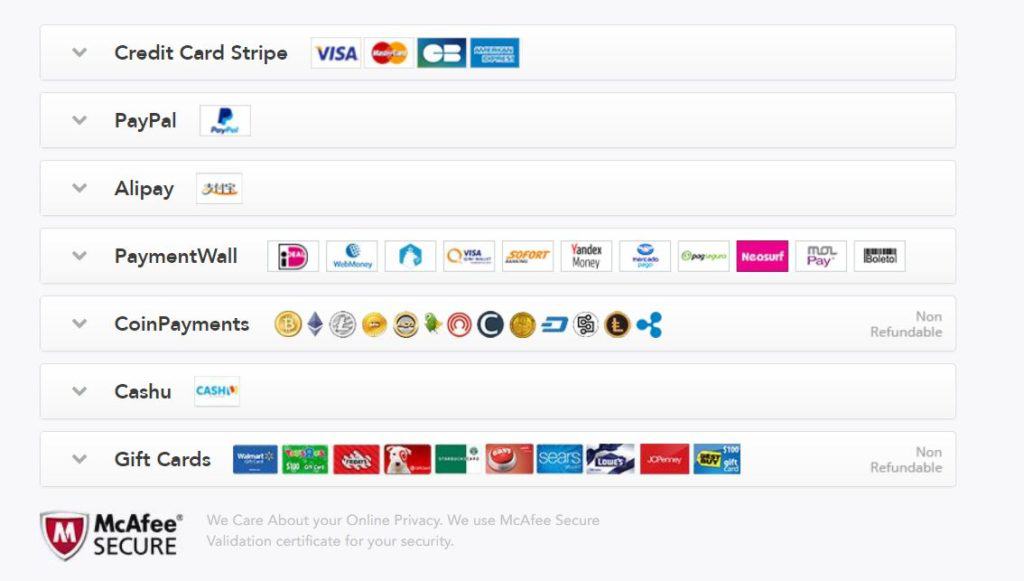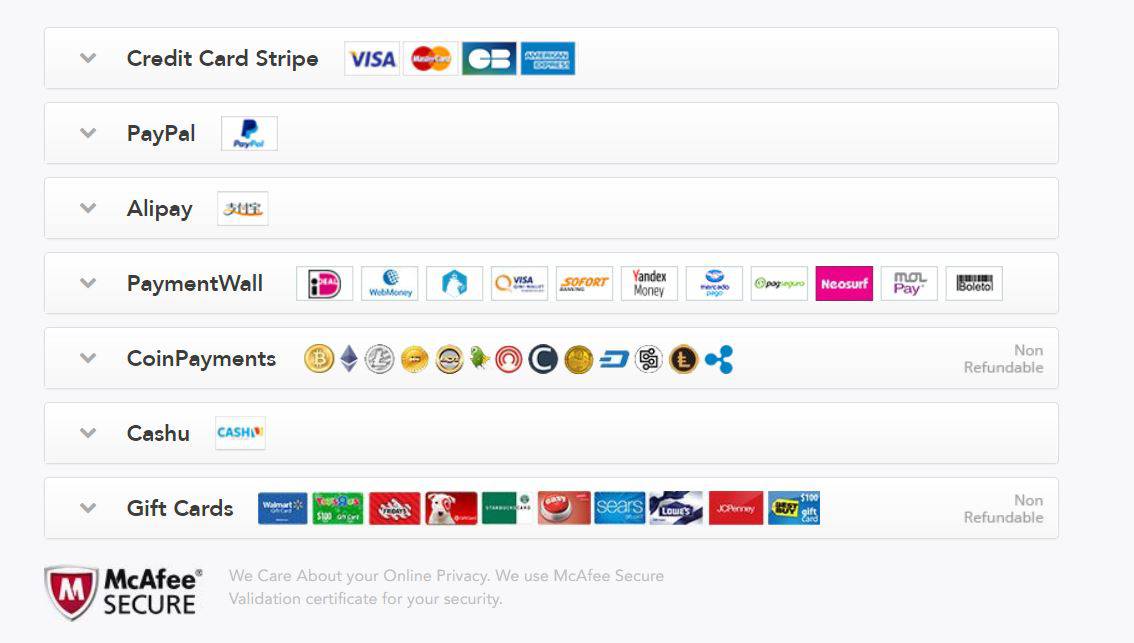 In addition to their budget-friendly pricing and wide array of payment options, all of their purchases come with a 7-day money back guarantee.
But tread with caution..
Even though this is technically the "Pro" section of my PureVPN review, I must digress for a moment to point out that GZ Systems engages in some very deceptive marketing tactics (which I will discuss later).
Among these tactics is their 7-day money back guarantee.
Yes, you technically can get your money back after 7 days.
But if you read the fine print, you will quickly see that this guarantee isn't as straightforward as it might seem.


If you look at the ToS, you will notice that the 7-day refund is only available for users who do not exceed 3 GB of bandwidth or 100 sessions.
For those of you using a VPN to increase the privacy of your average online browsing activities, this limit won't be a big deal.
However, if you are using a VPN to torrent or download files of any significant size, this is a huge problem.
Not because they limit your bandwidth, but because they don't explicitly tell you this information unless you go digging for it.
For the dissatisfied PureVPN customer, downloading one file too many will render the 7 day refund null.
2. They Have Some Pretty Cool Features (When they Work)
One of the few things that I really liked about PureVPN is just how many features and options they offer their users.
For starters, they offer a kill switch, five simultaneous connections, support for all major protocols, DDoS protection, advanced port forwarding, split tunneling, and a NAT Firewall.
In fact, they provide such a plethora of ways to optimize and customize your VPN experience that it would make even the best VPN blush.
Well…
It would if all of these features worked all the time.
However, they don't.
I personally experienced a killswitch failure and, after reviewing a number of forums and third-party reviews, realized that almost every customer has experienced some type of issue with one or more of the features that PureVPN offers.
But they work most of the time so I suppose this is technically still a "Pro".
Cons of Using PureVPN (-)
PureVPN is kind of like that kid in high school who slid by with all A's but never actually did much to earn them.
It looks great on paper but sucks in the real world.
Sure, their services are affordable, they have some cool features and a great selection of servers.
But the paltry "Pros" I've discussed so far simply cannot outweigh the massive list of "Cons".
1. Atrociously Slow
Here's a speed test I ran on speedtest.net to ensure the accuracy of this review.
US Server (New York)
Ping: 125ms
Download: 29.41 Mbps
Upload: 29.06 Mbps
EU Server (Amsterdam)
Ping: 40ms
Download: 35.49 Mbps
Upload: 27.29 Mbps
Asia Server (Hong Kong)
Ping: 355ms
Download: 6.77 Mbps
Upload: 3.62 Mbps
UK Server (London)
Ping: 53ms
Download: 62.48 Mbps
Upload: 45.90 Mbps
Ironically, the slowest server that we tested was actually the server where the company is headquartered!
But things weren't too great on the "faster" servers either.
Their Amsterdam server (the fastest that we could find) only topped out at 35 Mbps out of 100.
Considering that their top competitor, PIA, offers servers with more than double the download speed at a very similar price, I can promise you that no one will be buying PureVPN for their "blazing-fast browsing and streaming experience" anytime soon.
2. DNS, IPv4, and IPv6 Leaks
When you are in the market for a VPN, you are typically there for one reason and one reason only.
Security.
Whether you want to protect yourself when working from public wi-fi or bypass censorship laws in your country, personal, security is (and should be) your primary concern when selecting a new VPN service.
Unfortunately for PureVPN, their service simply isn't up to the task of anonymizing your internet experience.
I found countless instances of disgruntled customers who noticed that their DNS and personal IP address was being leaked while using Pure VPN's services.
I decided to ask one of their customer service reps about the alleged issues.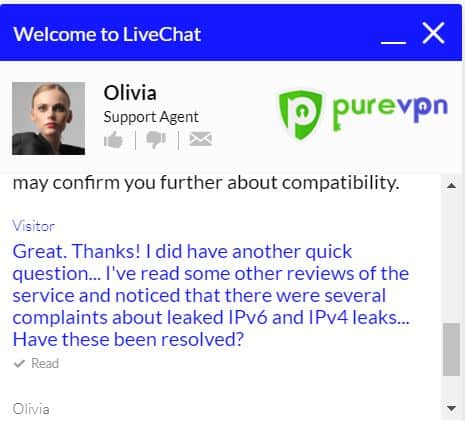 Here's how they responded.

While this response sounded oddly like an automated chat software and not a live representative (which we will touch on shortly), it also didn't answer my question.
So, I inquired further and received the following response.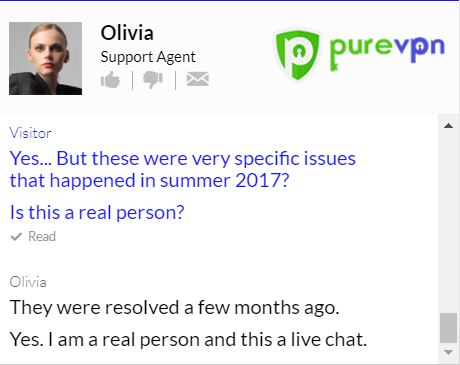 Even if you completely ignore the ambiguous response, PureVPN, or at least their "Highly trained representative" blatantly lied to one of their customers.
Even though they allegedly resolved these issues "A few months ago", I found several reviews and customer complaints from September 2017 with screenshots and testimonials proving otherwise.
So…
If you are concerned about your security, you should probably find another VPN provider to trust with your service.
3. Their No Logs Policy Isn't Completely True
At this point in the review, you are probably starting to see a theme.
PureVPN loves to make big promises.
But for some reason, they don't see fit to actually keep any of those promises.
This is true with their privacy protection and 7-day money back guarantee, and it's true with their logging policy as well.
One the surface, PureVPN markets their product as a "Zero Logs" VPN.
However, if you read the fine print you will quickly realize that this simply isn't the case.
So they don't keep any logs BUT they do keep a record (a.k.a. a "Log") of your connection and bandwidth?
If you are a little bit confused by this oxymoronic policy, you are not alone.
I don't always mind if a VPN company keeps certain logs in order to continually improve and optimize their service.
But I do take an issue with a company that advertises zero logging and then blatantly keeps logs of your activity (which of course, you wouldn't know unless you read the fine print).
4. Terrible Customer Service
As you probably discerned from my previous points, I am not a big fan of PureVPN's "24/7 Live Customer Service."
While reviewing PureVPN, I decided to give them the benefit of the doubt and came back to their website several hours after my initial query to see if another agent could help answer my question.
And here's what I received from their so-called "Live Chat".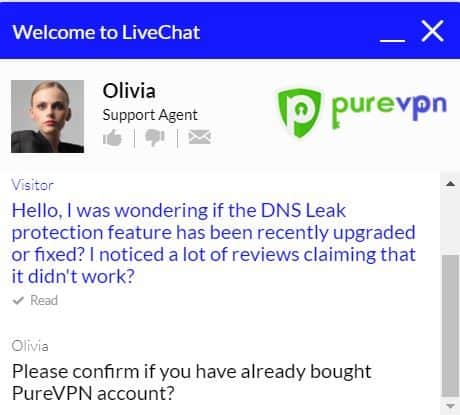 It seemed odd to me that my support agent would need to know whether or not I had a PureVPN account in order to answer this question, so I dug a little deeper.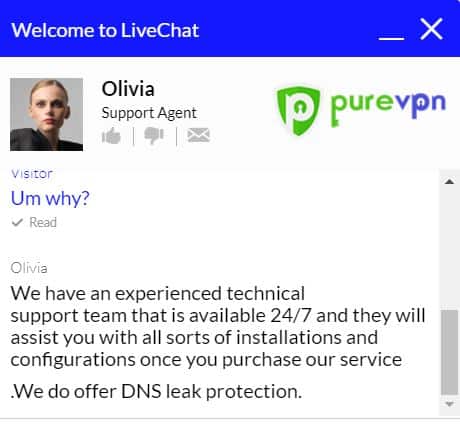 Not only did they completely ignore the question that I originally asked, they were, yet again, caught in a blatant lie.
The company advertises live support agents and over the course of my previous correspondence, they expressly claimed I was speaking with an actual person.
Which left me with one of two conclusions.
Either PureVPN uses an automated chat service and expressly lies to potential customers.
Or…
They have some of the most poorly trained agents in the entire industry.
Either way, things aren't looking too good for them.
5. Deceptive Advertising Practices 
Nearly every 'Con' that I have discussed over the course of this review comes back to one thing…
False advertising.
When it all came down to it, the repeated pattern of lying to their customers is what really ruined PureVPN for me.
If you bring enough to the table, I can overlook lackluster speeds, I can overlook mediocre customer service, and I can even overlook a slightly bloated price tag.
But what I can't and won't overlook is a company that makes a habit of deceiving and misleading their customers.
PureVPN claims that they keep no logs… They do.
They claim to have 24/7 live customer service agents… They clearly don't (or if they do, they are the most robotic agents I've ever encountered).
They claim to have a money back guarantee… But that only applies if you use fewer than 3 GB of data.
They claim to protect your DNS and IP Address… But countless third-party reviews and customer complaints clearly show these services rarely work.
They make claim after claim that they simply cannot backup and for me, that's the biggest deal breaker there is.
If I am going to trust a company with my personal data, my hard earned money, and, in some instances, my personal security, then I want to be sure that the company in question is above reproach.
And PureVPN just isn't.
Do We Recommend PureVPN? No..
To put it bluntly?
No.
PureVPN offers and admittedly affordable service with a wide server selection.
However, their service is one of the slowest that I've ever reviewed, the company is engaged in so many lies and half-truths I can barely keep track, and the customer service is just plain awful.
If you are looking for a VPN provider that can offer fast download speeds, an exceptional customer experience, and a high level of integrity, PureVPN isn't for you.
Have you ever used PureVPN before? If so, what was your experience like? I'm always interested to hear what other enthusiasts have to say about the VPNs that I review! Let me know below.
Add your PureVPN Review
6 user reviews for PureVPN
Amir
PureVPN is very good
I must admit buying PureVPN was my first attempt at a VPN. They had a hell of a sale that allowed me to sign up for 3 years easy for a price lower than the 2.95 offered today. I grabbed it immediately and have been happy ever since. There are no issues except the reviewers were right about the slower speed in Asia. I took a trip recently and it was not as fast as I would like. But its still solid and connected just fine.
Danish Khan
Pure VPN is Best
Okay, So am Using Pure VPN from around 3 months and I have to say that this is just best. I used many VPN before but no one did work like this. It has got so many features like file sharing (one of my favourite) and that love streaming feature although it decrease my internet speed a bit but still I am able to stream.
Karol
Many different devices
I truly like PureVPN since for the cheap price you can connect your router which means you can use endless devices with it. In my opinion, they're not really slow either. I'm located in Poland and my Internet speed is pretty OK – even when connected to PureVPN.
I also like that they have a solid software which doesn't crash. Before PureVPN I also used Betternet which crashed a lot.
Sami
PureVPN seems OK
It bought PureVPN a few months ago and couldn't use it, it didn't connect, yes sometimes it connected but disconnected frequently. A week ago I contacted with customer support and got fixed it! I've changed DNS servers and they gave me server list. So far so good! Hope it keeps working fine for a log time! Maybe you need to know about these things before buying PureVPN!
Enrique
PureVPN needs to Cure their VPN
Used PureVPN for a month. Cancelled my subscription, uninstalled the product and joined ExpressVPN. ExpressVPN is a bit more expensive, but everything else is better. PureVPN is slow, not user friendly, customer support is unreliable. I think they are using the cheapest servers, therefore the service and connections are utterly slow. Once, I couldn't connect to a server for a day. – Talk about keeping myself private. 0/10 – Wouldn't recommend them to my enemy.
James
PureVPN
I'd say there's not much to like about PureVPN other than a HUGE server park. But that doesn't help it when they're just slow. I used them for torrenting while back but the DL speeds were just too slow. I'm switching to something else – bye bye PureVPN.