Full disclosure: I'm not affiliated with PureVPN in any way nor I'm using their affiliate links. This is fully my honest, unbiased experience with PureVPN.

Testing period: 1 month
---
Quick Background & Features Info
Founded in 2006 by their parent company GZ Systems, PureVPN is one of the oldest and largest VPN providers on the market.
From their humble 2-server beginnings, PureVPN has quickly expanded their operation and they now boast more than 2,000 servers across 180 different countries.
While they are headquartered in Hong Kong, which is an increasingly tumultuous jurisdiction for a VPN provider (largely due to their proximity and relationship with China) PureVPN manages and hosts their own network and DNS hardware which should mean that your information is more secure with them than with the average VPN.
Their services are compatible with all major devices including:
Windows
Android
Mac
iOS
Linux
If you are particularly keen on optimizing your online protection, you can even set PureVPN up to work with your routers, smart TVs, browsers like Chrome and Firefox and streaming services (like Roku, Amazon Fire, and Chromecast)
They've recently introduced a 'virtual router' feature to Windows devices, which means you can empower a Windows desktop or laptop with 'router'-like features to connect up to 10 different devices. 
Some VPN services, like VyprVPN for example, will only limit you to two different simultaneous connections. So the fact that you can connect PureVPN to a real router, in addition to setting up a 'virtual router', means you can connect TONS of different devices. (Probably more than you'd ever want or need, anyway.)
They also have a 'split-tunneling' feature which means you can choose how (and where) you'd like to send traffic – through your VPN or internet service provider as usual. So your data can be split as needed.
While PureVPN doesn't offer their own TOR, you can use one on top. Combining VPN's with the Tor network to add an additional layer of privacy and security.
PureVPN has a kill switch feature that works like a fail-safe. The goal is to make sure your privacy and anonymity are never compromised, and that your personal information is never divulged.
Last but certainly not least, PureVPN comes with the NAT Firewall add-on so that all possible hacking loopholes are secured.
PureVPN Overview
| | |
| --- | --- |
| OVERALL RANK: | 53 |
| USABILITY: | Simple and easy to use |
| LOG FILES: | Some Logging Policy |
| LOCATIONS: | 140+ countries, 2000+ servers |
| SUPPORT: | Poor customer chat support |
| TORRENTING: | Allowed |
| NETFLIX: | Blocks Netflix USA |
| ENCRYPTION/PROTOCOL: | 256-bit AES; OpenVPN, L2TP/IPSec, PPTP, SSTP, and even IKEv2 |
| COST: | $3.33/mo |
| OFFICIAL WEBSITE: | www.PureVPN.com |
PureVPN Pros
1. Supports All Major Protocols (OpenVPN, IPSec, L2TP …)
'Man-in-the-middle' (MiTM) attacks are some of the oldest (and most common) ways that hackers gain access to your sensitive information.
You might not even sense anything is wrong. But somehow, someway, someone has placed themselves between you and your intended connection (like a browser or a website).
They can then read your emails, see what websites you're going to, grab your session cookies to fool different websites into thinking they're you, and even get personal information or passwords.
Many times the very tools used to help intercept these practices, like WiFi Pineapple, can be used to perform them by anyone, anywhere. Like, sitting in your local coffee shop for instance. Now, browsing emails or booking a flight while sipping a latte can turn out to be not such a relaxing afternoon after all.
This potential risk now extends to mobile devices, apps, and even your smart devices too.
To combat these problems, PureVPN offers all major protocols, including OpenVPN, L2TP/IPSec, PPTP, SSTP, and even IKEv2.
While OpenVPN is your best bet to get both benefits from security and speed, you might also need to choose L2TP/IPSec based on device availability or PPTP (in only a few certain cases where you're not as worried about security vulnerabilities).
2. Industry Standard 256-bit Encryption
Brute force attacks are another unfortunately common practice.
Hackers eventually figure out your passwords and pin numbers through a series of repetitive, lightning-fast, trial-and-error combinations.
They're one of the oldest tricks in the book (besides simply guessing your spouse's birthday or kids name). And they're actually increasing.
For example, a recent wide-spread attack on WordPress sites has been directed by a Russian company being used by the country to launch cyber attacks (you can't make this stuff up).
The best form of defense in this case, is prevention. That comes in the form of 256-bit encryption, which is one of the most secure connections possible used by government agencies around the world.
Your encrypted tunnel gets sealed shut so that third-party sites, ISPs, and nefarious, shadowy organizations worthy of being the next Bond villain, can't see what you're up to.
In addition, your privacy and anonymity is completely safe by their 'end-to-end' connection. This includes when you switch from one IP to another (or another, or another) across PureVPN's 80,000+ options.
3. Some Pretty Cool Features (When they Work)
One of the few things that I really liked about PureVPN is just how many features and options they offer their users.
For starters, they offer a kill switch, five simultaneous connections, support for all major protocols, DDoS protection, advanced port forwarding, split tunneling, and a NAT Firewall.
In fact, they provide such a plethora of ways to optimize and customize your VPN experience that it would make even the best VPN blush.
Well…
It would if all of these features worked all the time.
However, they don't.
I personally experienced a killswitch failure and, after reviewing a number of forums and third-party reviews, realized that almost every customer has experienced some type of issue with one or more of the features that PureVPN offers.
But they work most of the time so I suppose this is technically still a "Pro."
4. Unrestricted Torrenting
PureVPN is solidly pro-torrenting.
Why's that noteworthy?
Because ever since copyright infringement lawsuits have began flooding the marketplace, more and more VPNs are shying away from P2P servers.
Often, the ones who do still offer torrenting-friendly servers only allow it on a small handful.
But PureVPN doesn't have any of these restrictions.
You're free to use torrenting on any of their servers. So download away!
PureVPN Cons
PureVPN is kind of like that kid in high school who slid by with all A's but never actually did much to earn them. It looks great on paper but sucks in the real world.
Sure, their services are affordable, they have some cool features and a great selection of servers. But the paltry "Pros" I've discussed so far simply cannot outweigh the massive list of "Cons".
1. Atrociously-Slow Download Speed
Here's a speed test I ran on speedtest.net to ensure the accuracy of this review.

US Server (New York)
Ping: 125ms
Download: 29.41 Mbps
Upload: 29.06 Mbps
EU Server (Amsterdam)
Ping: 40ms
Download: 35.49 Mbps
Upload: 27.29 Mbps
Asia Server (Hong Kong)
Ping: 355ms
Download: 6.77 Mbps
Upload: 3.62 Mbps
UK Server (London)
Ping: 53ms
Download: 62.48 Mbps
Upload: 45.90 Mbps
Ironically, the slowest server that I tested was actually the server where the company is headquartered!
But things weren't too great on the "faster" servers either.
Their Amsterdam server (the fastest that I could find) only topped out at 35 Mbps out of 100.
Considering that their top competitor, PIA, offers servers with more than double the download speed at a very similar price, I can promise you that no one will be buying PureVPN for their "blazing-fast browsing and streaming experience" anytime soon.
2. DNS, IPv4, and IPv6 Leaks
When you are in the market for a VPN, you are typically there for one reason and one reason only.
Security.
Whether you want to protect yourself when working from public wi-fi or bypass censorship laws in your country, personal, security is (and should be) your primary concern when selecting a new VPN service.
Unfortunately for PureVPN, their service simply isn't up to the task of anonymizing your internet experience.
I found countless instances of disgruntled customers who noticed that their DNS and personal IP address was being leaked while using Pure VPN's services.
I decided to ask one of their customer service reps about the alleged issues.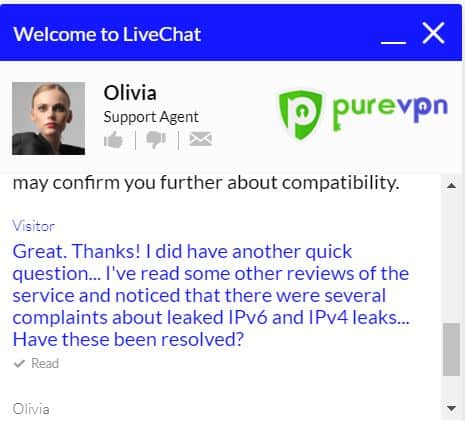 Here's how they responded.

While this response sounded oddly like an automated chat software and not a live representative (which I will touch on shortly), it also didn't answer my question.
So, I inquired further and received the following response.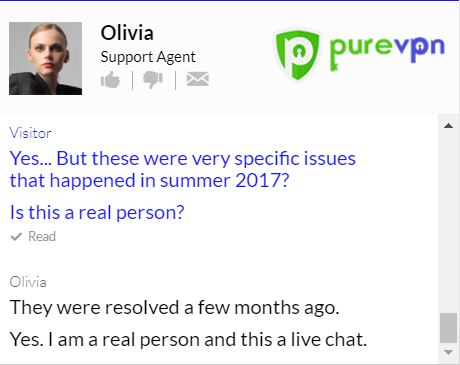 Even if you completely ignore the ambiguous response, PureVPN, or at least their "Highly trained representative" blatantly lied to one of their customers.
Even though they allegedly resolved these issues "A few months ago", I found several reviews and customer complaints from September 2017 with screenshots and testimonials proving otherwise.
So…
If you are concerned about your security, you should probably find another VPN provider like ExpressVPN.
3. Their No Logs Policy Isn't Completely True
At this point in the review, you are probably starting to see a theme.
PureVPN loves to make big promises.
But for some reason, they don't see fit to actually keep any of those promises.
This is true with their privacy protection and a 7-day money back guarantee, and it's true with their logging policy as well.
One the surface, PureVPN markets their product as a "Zero Logs" VPN.
However, if you read the fine print you will quickly realize that this simply isn't the case.

So they don't keep any logs BUT they do keep a record (a.k.a. a "Log") of your connection and bandwidth?
If you are a little bit confused by this oxymoronic policy, you are not alone.
I don't always mind if a VPN company keeps certain logs in order to continually improve and optimize their service.
But I do take an issue with a company that advertises zero logging and then blatantly keeps logs of your activity (which of course, you wouldn't know unless you read the fine print).
4. Terrible Customer Service
As you probably discerned from my previous points, I am not a big fan of PureVPN's "24/7 Live Customer Service."
While reviewing PureVPN, I decided to give them the benefit of the doubt and came back to their website several hours after my initial query to see if another agent could help answer my question.
And here's what I received from their so-called "Live Chat".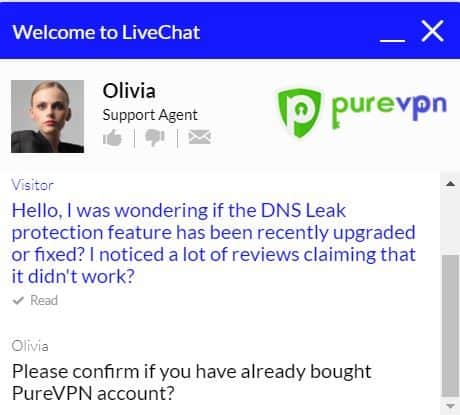 It seemed odd to me that my support agent would need to know whether or not I had a PureVPN account in order to answer this question, so I dug a little deeper.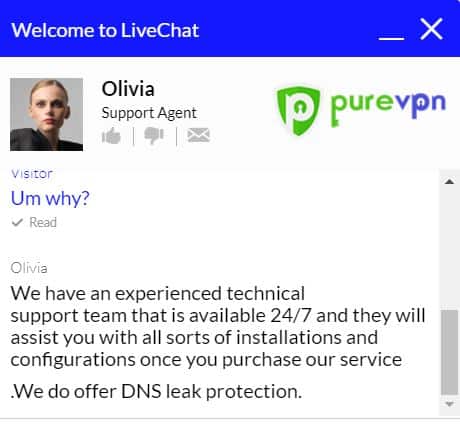 Not only did they completely ignore the question that I originally asked, they were, yet again, caught in a blatant lie.
The company advertises live support agents and over the course of my previous correspondence, they expressly claimed I was speaking with an actual person.
Which left me with one of two conclusions.
Either PureVPN uses an automated chat service and expressly lies to potential customers.
Or…
They have some of the most poorly trained agents in the entire industry.
Either way, things aren't looking too good for them.
5. Deceptive Advertising Practices 
Nearly every 'Con' that I have discussed over the course of this review comes back to one thing…
False advertising.
When it all came down to it, the repeated pattern of lying to their customers is what really ruined PureVPN for me.
If you bring enough to the table, I can overlook lackluster speeds, I can overlook mediocre customer service, and I can even overlook a slightly bloated price tag.
But what I can't and won't overlook is a company that makes a habit of deceiving and misleading their customers.
PureVPN claims that they keep no logs… They do.
They claim to have 24/7 live customer service agents… They clearly don't (or if they do, they are the most robotic agents I've ever encountered).
They claim to protect your DNS and IP Address… But countless third-party reviews and customer complaints clearly show these services rarely work.
They make claim after claim that they simply cannot backup and for me, that's the biggest deal breaker there is.
If I am going to trust a company with my personal data, my hard earned money, and, in some instances, my personal security, then I want to be sure that the company in question is above reproach.
And PureVPN just isn't.
6. Zero Netflix Servers Worked Properly
PureVPN claims to work with Netflix.
But unfortunately, these claims didn't hold up in our tests.
All four of the following PureVPN servers were blocked:
United States
Canada
United Kingdom
Netherlands
Usually, we can get at least one or two servers to work. So the fact that none of them did, unfortunately, places PureVPN towards the bottom of our Netflix-friendly VPN list.
Pricing, Facts & Hidden Clauses
The first, and possibly most noticeable 'pro' about using PureVPN is the price tag.
They're still one of the cheapest VPNs on the market and offer a phenomenal price for customers on their 1-year plan.
Here's how it all breaks down.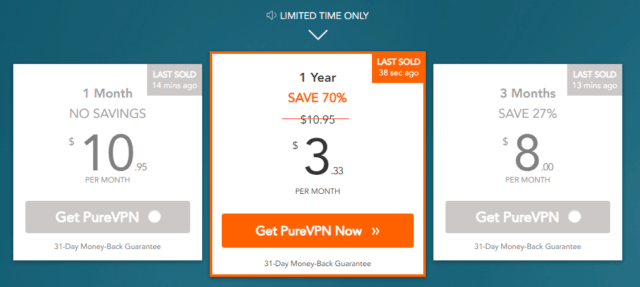 Month-to-Month Plan
$10.95 per month
0% Savings
3 Months Plan
$8.00 per month
27% Savings
One Year Plan
$3.33 per month
70% Savings
They also allow customers to purchase their service with almost every payment method imaginable (even Target gift cards)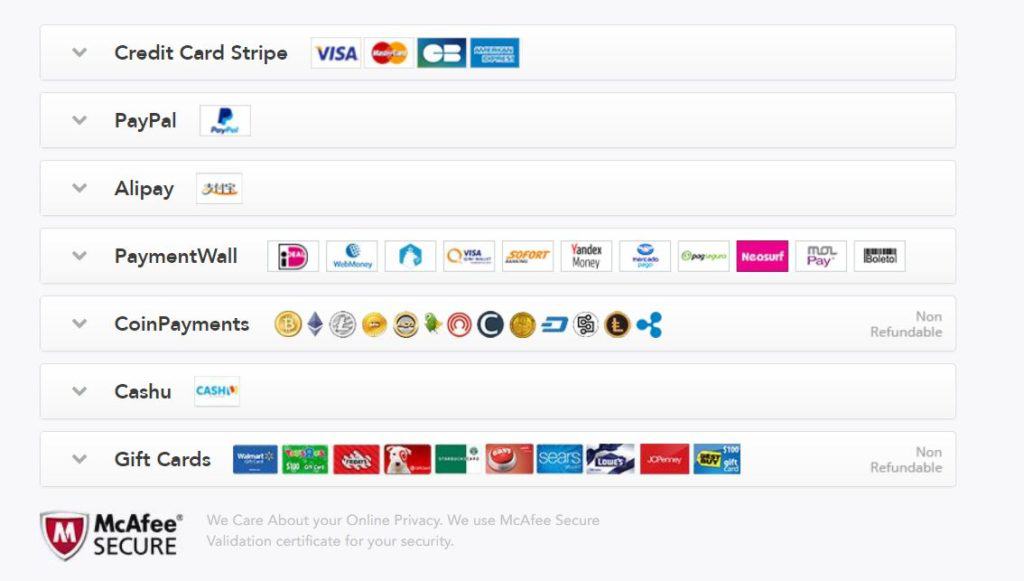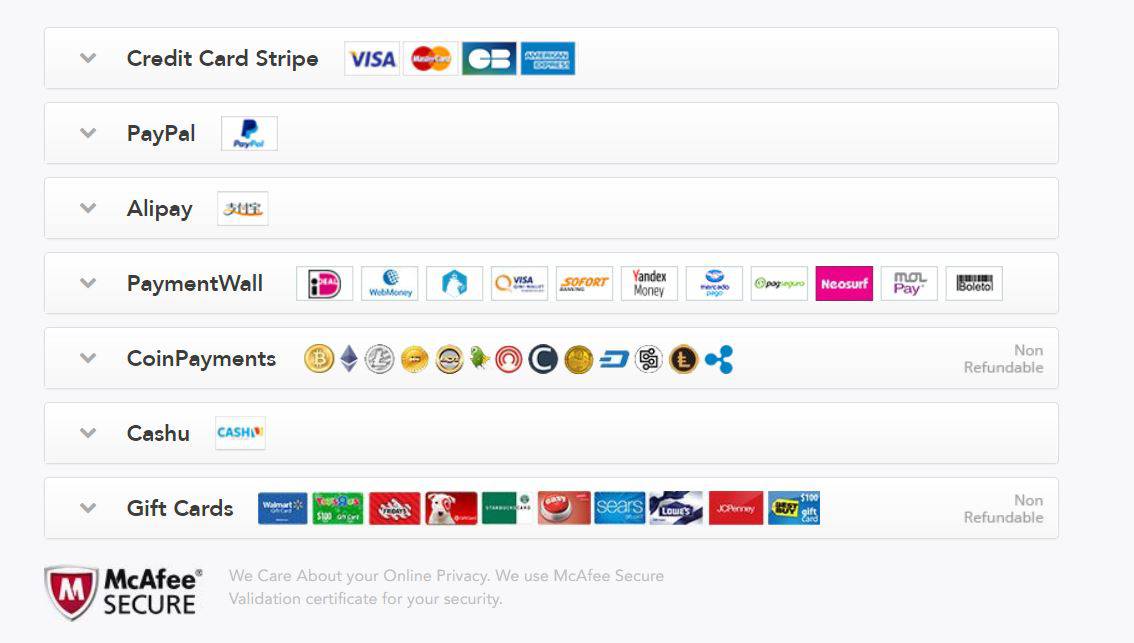 In addition to their budget-friendly pricing and wide array of payment options, all of their purchases come with a 31-day money back guarantee.
Do I recommend PureVPN?
To put it bluntly?
No.
PureVPN offers an admittedly affordable service with a wide server selection.
However, their service is one of the slowest that I've ever reviewed, the company is engaged in so many lies and half-truths I can barely keep track, and the customer service is just plain awful. Plus, no Netflix servers worked, either.
If you are looking for a VPN provider that can offer fast download speeds, an exceptional customer experience, and a high-level of integrity, PureVPN isn't for you.
I recommend using NordVPN – it's in the same price range, but you get a quality product you can trust (you can read the review here). If your budget sensitive, try using Surfshark – $1.99/mo (review here).
Add your own review
Have you ever used PureVPN before? If so, what was your experience like? I'm always interested to hear what other enthusiasts have to say about the VPNs that I review! Let me know below.
72 user reviews for PureVPN
Dave 10/10 May 23, 2019
No Problems
I used ExpressVPN but was looking for one that didn't come under the 9/5 eyes. PureVPN was one choice that didn't come under those jurisdictions, at least I hope they don't 😉 Since I use Linux, I was more concerned with my online security, I installed the service and got it up and running in no time. The download speeds are adequate for my use and a DNS leak test reveals there isn't one, as for logging, they only log the connection and bandwidth which is hardly a security breach. I just wanted a VPN service that worked and for me PureVPN does the job.
Steve 1/10 May 22, 2019
False representation
I purchased their service last night. I spent over 4 hours of chat time with their tech support to complete set up. Today I went to use their service and I found it did not work. My ISP was being identified and as such denied the service I was trying to avail myself of from Australia. I am in the states and they said the IP should show Australia.
Butch Gmyr 8/10 April 26, 2019
It's good
I have had good results using PureVPN, and whenever I encounter a glitch, the service is fast and courteous. What else can I say. Updates improving service are adequate.
Greg T 1/10 April 23, 2019
Rubbish service
It worked with BBC IPlayer for just over 12 months, but the last 2 months it hasn't. It does not work with Eurosport, they deliver commentaries in Spanish the same as when not using a VPN. Customer service is very poor. They are deceptive in asking you how you feel about the service and then immediately directing you to a review site if you mark your experience as happy. No link when you are not happy!!
Jason 3/10 April 23, 2019
Cancellation is a headache
Even if the service were perfect, occasionally people's financial situations change. There is absolutely no way to see what payment method is currently being used within your PureVPN account info, and the only way to cancel their service is to submit a form.
The first thing you will get back (as I did) is an email redundantly asking you to request cancellation again, and an offer to....oh well here just read it:
You are requested to please share the reason of quitting our services along with the purpose of using PureVPN so that we may check and guide you with the best possible solutions if you are experiencing any issue as far as our services are concerned.
I didn't want any solutions they may have had on offer, I wanted them to cancel future payments on my account (I was on a biennial subscription and had already paid for those two years). I don't even trust companies that don't have an easy means of cancelling their services.
Ken 5/10 April 22, 2019
Really?
I bought the lifetime subscription. Everything was OK ... at first. And then I got a recording playing over and over again with advertising and Roy Hogdson and Frank Lampard talking about football. I could only get rid of this annoyance by turning PureVPN off.
KG 1/10 April 21, 2019
Fake location and SLOW...
I noticed recently whatever servers I connected are all fake locations. Canada becomes USA, Hongkong and other weird locations. One other thing that's very annoying, slows down the speed - less than 10Mbps. Been locked for the service for TWO years. Now is the time to change to another VPN service. AVOID Purevpn!
chityong 1/10 April 08, 2019
Claim for china server connection is not true
From their homepage they are still claiming to be the best vpn to china for streaming, but in fact china server connection has being down for a long time and they just reply they are trying to resolve this "technical issue" . DO not subscript to purevpn if you are looking for china vpn connection. It is the cheapest in town, but not working at all so what the point if you are looking for the purpose.
Andrew Breese 8/10 March 27, 2019
Non techy thoughts
I purchased PureVPN for a static IP address. I have had issues where the dedicated IP changed but was sorted quickly. I paid for a service for 12 months and then got advertising for PureVPN at a cheaper rate. I challenged this and they extended my contract by 2 years. I used the live chat tonight and definitely got a real person. Support tickets are answered quickly. I have no trouble on my android and occasionally have to change network type on my pc.
John 1/10 March 20, 2019
Purevpn Support at its worst!!!
Lately, I've been having Internet connectivity problems when connected to Purevpn. I've tried changing VPN Protocols, VPN type, uninstall/reinstall Purevpn, flushing my DNS cache, release/renew IP, resetting router, changing normal Windows 10 DNS settings. etc. *Today, I contacted support chat and the tech remoted to my computer and asked me to disable my firewall and antivirus. I did, and in the background unseen to me, he opened a VPN connection. Then, wrote BYE in the chat window and disconnected the support chat without letting me know anything. Was I to expect to use the VPN without firewall protection or antivirus? HTF should I know? Guess? I re-contacted support and wrote my experience and again writing the problem. the Sr. Support person forwarded me over to the same person that said BYE on the chat. I said NO, but they did it anyway. I asked the original suport person what he expected me to know or do without him communicating it to me. He wrote that he had already established a VPN connection, which solved the problem and there was no reason for him to stay on the chat. He then said that since the VPN connection worked, he no longer need to stay on the chat; it was fixed. NOT! I still didn't have Internet connectivity. PureVPN support SUCKS! Their product SUCKS, and their SUPPORT SUCKS!!! Stay away from PureVPN!!! I, like many other people got suckered into the 5-year promo. Do yourself a favor and DON'T buy PureVPN!
Guest_MKII 1/10 February 17, 2019
GARBAGE!
Stay FAR away from PureVPN: Bought a lifetime plan via StackSocial a few years back for ca.$55,- I think, and STILL to this day regret using money on them: PureVPN is unstable, they leak information, and there is no help to get from their "Customer service"! Today PureVPN have lost the connection to their servers almost TWENTY TIMES in LESS than five hours!!!!!
Jessica 1/10 February 12, 2019
USELESS
ABSOLUTELY APPALLING. This service has never worked for me for more than a short period and then I have to endure going through the awful experience of contacting their Customer Support Team. Them replying using the same script then follows and of course THE issue is never properly resolved. Such a waste of my money and even more annoyingly my time having to online chat to people in Hong Kong that have no idea how to fix the issue. Don't do it to yourself it is PAINFUL.
AJ 2/10 January 27, 2019
PureVPN REVIEW
I got sucked into the five year deal. Told PureVPN the day of purchase it wasn't working with Netflix and I wanted to cancel my membership. The request was not honored. Customer service is very poor and after 3 months I am still unable to play Netflix. Beware, I expect PureVPN will go out of business.
Scott 1/10 January 20, 2019
Refund is a blatant lie
I spent quite a long time with customer support trying to get Netflix to work in my first day of service on a windows machine and an ipad. It would not work so I asked for a refund and they did not comply.
Peter 9/10 January 16, 2019
PureVPN works well
I am an IT professional. I recommend PureVPN as it works...although slower than some.
I tested several VPN software apps....heavily. I found many did just did not work after specific tests were run by me. PIA did not work at all in terms of privacy. I did request and receive a refund as the vpn has to work.
PureVPN has several modes ...advanced setting. If you select the wrong mode...you may have issues. Once you select the correct mode for your usage, you will have excellent results. Eg. Select Streaming for streaming. Privacy for higher privacy.
I agree PureVPN can seem slower....but works....which is the most important thing. Note. I always test my IP location and DNS leak test independently to PureVPN. I experienced it doesn't always work with the Proxy. That is when you report that proxy to PureVPN.
I find it is not the VPN ...but the level of the spying technology from the millions of web servers using geolocation...which is incorporated into the latest browsers. Eg. Webrtc etc. Add in Spectre and Meltdown hacks...to get a real sense of the level of data collection from multiple companies and actors.
It will work with Netflix for sure also....but you must test the cloaking is working first. Netflix, BBC are proactively adversarial against VPN software. AI algorithms used for blocking. Testing cloaking is working is essential before attempting Netflix as most websites use CDN providers which Also apply geolocation blocking heavily. I have streamed internationally with PureVPN successfully.
ExpressVPN and NordVPN may also be good but I haven't tested those as they were more expensive for multiple concurrent connections. PureVPN gives 5 concurrent connections ...which can be used on Windows! Android and IOS.
I was actually blocked locally, within my country as the website believed I was within another country. Only certain features of the website failed to load. This was because the NBN rollout was occurring nationally....and the website themselves denied service to legitimate customers.
PureVPN works.
You do have to pay extra for the advanced features. I agree with the misleading advertising of the extras.
Overall, PureVPN works... Haven't seen the download speed faster than approx 20 Mbps though. ...which is the upload speed of their proxy servers it would seem.Lastly, I have no affiliation with PureVPN other than after the free trial, I purchased their service, once I tested and proved it worked well. I would say I am a lot more technical than most. As an expat, I have many international internet requirements on an ongoing basis. I hope this helps others.
JW 2/10 January 5, 2019
PureVPN changed their service
Port-Forward service is no longer included. It is now an addon that cost as much as the service itself. So they now have firewalled their ports and charge you double to open any of the ports again via their addon service.
Paul 10/10 January 2, 2019
Super service
I have to disagree with almost everything in this review. I have found PureVPN customer service really good. I've never had any issues with Netflix. I have absolutely no leaking DNS or otherwise. I find the software stable. I was a PIA user amongst others over the years and have found pureVPN to be the most reliable. I subscribed to the three-year plan, there was a slight overlap with my previous plan which was refunded promptly and efficiently. So not quite sure what this reviewers beef is...
SC Monroe 1/10 January 1, 2019
Server "timed out"
Nord has been a reliable VPN for the last year of my subscription however, the system "timed out" when trying to connect to the US servers on New Year's eve. This is a big problem. In addition, the available alternate servers worldwide have been drastically reduced. Not good!
Product support: non-existent.
Michael McGinnis 1/10 December 11, 2018
PureVPN Is Worthless
I've tried to get PureVPN to work reliably ever since I bought it. In 8 months of multiple tech support contacts per week they have never been able to get PureVPN to work for 3 days in a row. Usually they cannot maintain a connection for 15 minutes at a time. Their customer support is worthless and they don't seem to care.
Dan 1/10 December 6, 2018
purevpn stinks!!!
I was happy to see this, was beginning to think it was just me. This is the first VPN service I've used and I made the mistake of buying 2 yrs. I won't make that mistake again. I didn't know that customer service could get that bad, till I used Purevpn. I'm thinking I'll just let them have the last 6 months that are left. I'm going to try another service. People please do yourselves a favor, STAY AWAY from purevpn.
Dave 3/10 December 2, 2018
Bad, unreliable VPN
I ended up dropping PureVPN for three reasons: 1) the service was unreliable and the kill switch mechanism didn't work
2) the user interface was a disaster. It was convoluted and difficult to figure out how to use the features it advertised
3) the customer service was horrendous. At one point the company arbitrarily reset my password to the original temporary password they gave me when I made the account. I couldn't use the VPN until I carved out an hour to spend on chat with the robot "live agent" to get it fixed. Don't get PureVPN.
Alex 1/10 December 1, 2018
Forget Streaming with PureVPN
My primary reason for using this provider was access to BBC iPlayer Netflix Uk. Amazon Video UK. via an Asus Router and as of November 2018 I have Zero connectivity. Their 24/7 help desk is equally absurd, when you chat with them they provide a list of servers which rarely work or if they do the stop within a week to 10 days. It normally finishes with a message that they are working on the problem and will get back to you within 24 hours, needless to say this does not happen, Bottom line if you want to stream forget this provider.
Frank Mill 5/10 November 16, 2018
PureVPN is no good on iOS devices
I had a two-year plan with PureVPN. It was very slow all the time on any servers worldwide. But even more irritating was the fact, that the VPN connection on my two iPads were lost every now and then without notice. The main purpose of VPN is reliable encryption of communication and a hidden IP address. PureVPN did not deliver. Never ever again. My new VPN service provider works just fine. It is fast and not a single drop of connection occurred in three days. Looks good so far.
Rod Craine 1/10 November 15, 2018
I got a lifetime subscription of Garbage
I bought a lifetime subscription 3 years ago from stack commerce. Didn't work when I bought it. Doesn't work today... I keep thinking maybe they will come around and have a working product. Guess I should have known better..
Themba 1/10 November 14, 2018
Disappointing. Poor customer service
Service is fine until its stops working or you have connection issues. Their customer service is not helpful. They are unable to diagnose the issues and will try get you to install the software or other equally unhelpful options. If you are a dev or need to use this for serious work then forget this service. Pay premium with another provider. Disappointed customer.
Nick Kennedy 9/10 November 1, 2018
Thank you and Windscribe comment
Mr. Smith: Thank you for this detailed review and your recommendations. Really helpful and appreciated. Debunking the no-logging pitch was super helpful - deceived even some really tech-expert friends of mine. Will try the alternatives you recommend. Currently using Windscribe on one PC. Kind of a random purchase but do have to say the overhead is undetectable - have not seen ANY performance lag. Best regards, Nick
E 4/10 October 18, 2018
If you're in China AVOID it
I purchased this vpn for 2 years as I'm working in China.
In the beginning i had only 2 servers available and working. Then suddenly they stop to work and they didn't even send an email to explain what was going on.
While they were working, the servers were very slow and unstable. It was a nightmare work in that conditions.
If you're in China look for something else
Good Batiatus 8/10 October 6, 2018
why so negative ?
I've had PUREVPN for over a year, and in the main their service is good. Connection speeds are just fine, and their technical support has helped me resolve issues over a number of devices, and emailed me files to allow me to use a separate application to manage the VPN. Their mobile app can be a bit hit and miss, but its not the end of the world for me. For the price, ability to use multiple devices, and use VPN within a browser add-on, they are just fine
Hiroku Saikaru 1/10 September 28, 2018
Crap
I initially had a 2-year plan with PureVPN and it was excellent. When the time for renewal I did not hesitate to continue with their service, in fact, I was so happy with the service that I purchased a lifetime subscription. To quote Pretty Woman, Big mistake, huge! It sucks, to say the least. The connection speed is atrociously slow, there are issues connecting and it is constantly going offline and to add insult to injury, customer service is useless. Last week I finally capitulated and purchased a new service - one that actually works, unlike PureVPN.
Phil Richardson 1/10 September 12, 2018
PureVPN non-support of Wouter/Roqos Core RC10
Purchased a Wouter via the PureVPN web site - Roqos Core RC10 came instead. No manual or instructions for router or app. Asked for customer support via live chat with support link. Told to email them directly. Provided detailed account of my actions and questions. Got one email back asking whether I had a Wouter or Roqos Core router. Responded. Sent multiple emails, had multiple chats, multiple 'I'm sorry, but ...' and no further help. Even received an automated CS followup asking how satisfied I was with their service -- what a joke! Have requested multiple times for help, elevation of the problem to senior managers, return authorization number and pre-paid mailing label plus full refund. Just received the standard 'nothing we can do but refer you to others' bs. This is a big con. Steer clear. As for PureVPN software, I am still not sure it works all that well, but I do get to US servers, but am blocked from content on Amazon Prime Video. Look elsewhere is my advice.
Dean Hills 1/10 August 31, 2018
Pure Rubbish Indeed
I completely concur with the review by Chris Nation. This is exactly my experience too. I'm also signed up for two years. I've always had issues with PureVPN but for a while it was working more than not working and I battled on. But off late the software isn't working at all. Tonight I battled to get the Dashboard to work - then when I finally could type in the city, It wouldn't connect. I tried a number of cities and it couldn't connect for any of them. I tried at least an hour - and it was an hour wasted. I guess now I have to go through more hours of trying to trouble shoot through the mess - and I guess like the last time a few months ago it will be Windows's fault. The last time I had to undo all of my security updates and haven't been updating my windows since then. Wonder what the excuse is going to be this time round.
Rob 1/10 August 30, 2018
Tried to brute-force my Google account using credentials they harvested while I was connected to the VPN
PureVPN is garbage. Utter, utter garbage. It should be illegal. Appallingly slow to open, to connect to server, etc. Says it unblocks streaming geo-location restrictions for Netflix, but only does so about once in every fifteen attempts.
Today I received a notice from Google saying someone had attempted to access my account. It told me the IP, which turns out to be registered to GZ Systems Limited, a.k.a the Hong Kong company responsible for PureVPN. Which means only one thing.
My browsing data while I was connected to the app was not protected. PureVPN, or whoever they sold my information to, harvested my login credentials. Sod this company. Stay. a. way.
Richard Pedley 6/10 August 27, 2018
No p2p servers in North America. What????
I use a VPN almost exclusively for p2p file-sharing. First thing I notice when choosing a country is that Canada, the US, and Mexico are not on the list. wtf?? How can I possibly get decent speeds when the nearest servers are in Europe, Asia, South America, etc? I'll try it out for a while, but I'm already regretting switching from ExpressVPN (which is not a "bit more expensive", it's about $135CAD per year! That's why I dropped it).
harry 8/10 August 26, 2018
I quite like them
Used them for several years and overall happy, what lets them down is their support, NO ONE seems to understand simple English and you ask question after question and get a bog standard response because they haven't a clue what you're asking - a real shame!
Larry Cutshaw 1/10 August 25, 2018
PureVPN Poor Cusiomer Service and Support
I have complained numerous times to PureVPN support about not being able to connect through their servers to other websites. Instead of fixing the server configuration issues, they want me use an dedicated IP which sometimes works and sometimes doesn't to access some websites. Poor support and poor service. Stay away!
Chris Nation 1/10 July 29, 2018
Pure rubbish
It all started so well. A cheap deal for 2 years' sub. Worked with the reason I have a VPN - connection to BBCi Player. Then it started to drop out, lose connection, became totally unstable and unreliable. I spent hours on chat with customer service but they were of no help whatsoever. In the end I was happy to walk away, leaving my 2 year sub in Pure's bank account rather than continue with the unreliable connection and useless c/s
Abdul Rohim 1/10 July 25, 2018
Do not buy it with Paypal, didn't get my money back
Hey, I am a legit customer of PureVPN and I am not satisfied with their services, (I had a problem with max login attempt), I don't know how many logins they allow and also their servers are really slow sometimes, for example server in Indonesia and Malaysia are very slow, to be honest I don't like them, they denied to give me a refund when I dispute the paypal, they deny because I have exceed the max login and Quota, but they didn't tell me before about this policy. My advice.. just don't go with them, use another reliable VPN Service.. or if you can use credit card and charge back via your bank if you not satisfied with them
Thelma 1/10 July 25, 2018
if you're from China, do not use PureVPN 中国用户不要购买pureVPN
I subscribed to PureVPN for 2 years, probably one of the stupidest thing I've done. The connection was initially good. But there are more and more issues along the way (I'm now in the 3rd month using it). They don't effectively solve the issues for you but claiming it's China who enhanced their firewall – and they have been using the same excuse every time I couldn't connect. I do believe China has done and is doing things to make it harder. But the other service my friend is using, and I regularly "borrow" to use when PureVPN sucks works fine. At least for those who are in China, DO NOT USE PUREVPN!
中国用户不要购买 PureVPN的服务。每次有问题都用中国的防火墙加强了来搪塞,但其实我使用的朋友所购买的另一个VPN服务并没有问题。解决问题不及时,客服也不给力,只会重复同样的话。一生黑!
Sid 7/10 July 24, 2018
Cancellation easy and usage difficult
I found that this VPN seem to be user-friendly 4 protection at first. It was in fact slow. The billing was three years for sixty-eight dollar or so which is a great deal and is no longer an option. Canceling: I found to be difficult however it was fast I recommend using PayPal if you decide to go with them.
Henry 2/10 July 7, 2018
Own experience
Cheap, but rubbish! Many server locations, most of which never establish a (stable) connection and most of them are virtual. No VPN over SSL possible and DNS leaks keep appearing, in spite of so-called solutions.
PureVPN handed over their logs to the FBI some time ago. How can one hand over logs that supposedly do not exist?
Kareem Hamza 9/10 July 7, 2018
I recommend purevpn
I am now 12 months with purevpn, I tried all VPN software I reached, they are the best. I am testing website ad campaigns from different regions in Middle East, working like a charm from Morocco, Egypt, Saudi Arabia, Kuwait, Emirates, Turkey.
Ivan 1/10 July 6, 2018
First VPN Service I use, not happy.
At first, couple of months ago, it was great. Speeds were not bad, and I could use my internal network during connection so I can move a file between computers. Then an update made everything terrible. I could not connect to my internal network, the download speeds became super slow and now when I try to connect to say, Belgium, it connects me to Argentina !!!????
Uninstalled…
Mike 3/10 July 4, 2018
Not very Good
This VPN leaks DNS!!
I contacted support with screenshots showing the DNS leak and they just sent me a link to another website that displayed fewer DNS servers, that way the leak wasn't showing, but the other site did!
Connection times are bad, some servers disappear forever and the connection crashes often. Plus the "no logs" bullshit sounds dangerous. Killswitch is crap, once it crashes it goes again to OFF so you have to set it ON again, if you forget about it it will be OFF forever.
Not recommended.
Paul 10/10 June 7, 2018
PureVPN dedicated ip
I have had pureVPN for months now and their service is superb. The customer support they offer is also a 10/10.
If you are looking for ddos protection for xXox one etc, look no further then purevpn. The price, support, reliability, and anonymity is extremely good. I do not see why people rate this VPN poorly. I use it on my phone, and two pc's at once and works great. I have tried express VPN, hidemyass, etc and I cannot find a better vpn then PureVPN. Not to mention the other's don't offer DDOS protection and for me, that was a main reason to get a VPN.
Jonathan Wood 1/10 June 3, 2018
Sketchy company
I opened an account – the 1 year plan – with PureVPN in Nov 2017.
I used the service for a couple of months and then went dormant for quite a while. The servers were slow and unreliable at the time. It is now June 2018 and I tried to log into my account and use the service. I was kicked off and informed that my account had been suspended pending payment verification. For a payment that had been processed 8 months ago.
I contacted their 24/7 chat and they sent me a payment verification email requesting a photo of my card… for a payment 8 months old. Sketchy.
sheskito 1/10 May 21, 2018
dishonest
I have used PureVPN to stream content with region protection. The server worked which is why I rated it 2.
My problem is that PureVPN suspended my account without telling me why and I still don't understand what happened (I would be even OK to pay for more bandwidth) and continue to charge me through iTunes for 5 months. There is no way to cancel the service through PureVPN app. I have to go to iTunes to discontinue the payment.
M 1/10 May 15, 2018
Horrible, next please
Wish I wouldn't have bought it. I bought PureVPN for features that it claimed to have, but that are left out of the Mac OS X version, like Split Tunneling; this is stated no where I can find, ever.
They weaseled out of the 7-day money back guarantee because I paid with Bitcoin. They claim they refund Bitcoin, but not if you use the particular Bitcoin payment method I used; you must use the other option… this was not explained clearly anywhere near the giant money back guarantee letters. Should have read all of the negative reviews first; they are spot on.
Luuta 1/10 April 28, 2018
Looks like a scam
Got a lifetime subscription through Android Central for £50 or so. Never worked properly, but became increasingly unreliable with time.
Slow to the point it wouldn't respond, dropping connection, crashing phone. Wouldn't work with public hotspots, often said it was working but various websites knew exactly where I was. Eventually gave up on it as being useless.
It seems they hook you, then over a period of a couple of weeks deliberately shut the service down. I presume limited resources and data theft are the key reasons for the apparent behaviour.
Avoid like the plague.
anonymous 1/10 April 20, 2018
sell your privacy
They sold one of their customer logs to FBI, and he got arrests.
No one should EVER use a company like this!
Fours 6/10 March 31, 2018
Works for what I need.
Have always got the speed I've paid my isp for with PureVPN, however, I use a dedicated server, and do notice a drop in speed when using other random servers. Their customer service has always helped me when needed. Their prices are very cheap and cover multiple devices, even mobile in public networks (however it is balls slow usually).
I rated low only because I truly thought there were no logs and I want VPN for anonymity. I consider the No Logging advertising as lying after this article. Will not recommend. Will gladly pay more for true anonymity.
Mark Hay 10/10 March 26, 2018
Never failed to impress
The service has been good and met/exceeded what I'd expect throughout my 4 years as a customer. Recommended to those are going for PureVPN
Dafydd Hewes 1/10 March 13, 2018
Very poor experience
Miserable. I fought, and I mean fought with PureVPN for 2 months. Tried to get it configured onto 4 different DD-WRT routers that all work fine. Tried to get it to work on a ChromeBook, on a Linux system, on some Android devices. IOW a slew of experience with PureVPN. Forget it. Would not stay connected on the routers, on Android devices. Setup was a nightmare, and I am a techie. I could go on and on. I went to Private Internet Access (PIA). Worked first time. Every time. Stays connected. Across all devices. End game was I burned a lot of time trying across several environments. No way would I recommend it. On any level. Tech support was dismal. Forget it folks. Trust me when I say, FORGET IT.
Dakotah 2/10 March 11, 2018
Initially Recommended but DO NOT Now
I initially was happy with this VPN service as it was simple, easy to install, and was fast enough for what I needed. However, I will not be renewing after my 2-yr membership runs out in July 2018 as the app does not work after I restart my computer forcing me to redownload the PureVPN app EVERY TIME I restart. Customer service was no help (imagine that.) Additionally, speeds and general reliability have declined significantly. Oftentimes, the only servers I can access are USA regardless of all the options of countries.
Henry Spencer 1/10 March 5, 2018
Total garbage VPN
Purchased the service because kids need to watch Australian television programs in Minnesota. SSTP is terrible. L2TP does not work at ALL. Support service is worthless. Do not get this crap VPN. I don't know which to use for my MacBook Pro.
Rachel Pollock 8/10 March 1, 2018
It all worked out
I was having a lot of frustrations with the Google Chrome and adding extensions. I will say that the VPN is not very user friendly but they the chat option and the customer service was very good. I spent some time trying on my own and could not figure out how to get other streaming sites like Hulu to work. Kayne was very patient and helpful and we eventually figured it out. I'm not very computer saavy but like to stream he was very nice even with my Internet shoddiness and the session cutting out a few times. I'm very happy that he was persistent with my issue and kept trying to find a solution. Thank you Kayne!
Brigitte 9/10 February 27, 2018
pretty good service
I have been with VPN for over a year, at 1st I was having problems then contacted chat which at 1st i wasnt impressed with cause I was having issues but they did help me fix my problem with connecting & ive had no issues since & have been able to enjoy downloading without the worries of getting certain emails from my internet company. Only thing i would check into when signing up is the auto renewal which i wasnt aware of & had the help of getting them to remove it. I just upgraded to the 3yr plan & am very satisfied with the help i got, I recommend them:)
Serhat 2/10 February 21, 2018
Terrible!
I have been using PureVPN for a few months already. It was quite good in the beginning, but lately it has been a disaster. Extremely slow speeds as well as connection drops all the time. I have emailed with them for 1-2 weeks but couldn't get a proper solution. Migrating to another VPN service at the end. I highly recommend you to stay away from PureVPN.
Lucas 1/10 February 3, 2018
money back scam
I hired the pureVPN service after seeing some positive reviews. Unbelievably there are sites with positive reviews.
I used it for 3 days it was terrible. Disconnect continuously, extremely slow.
Soon I started using another VPN to check if the problem was my internet bandwidth and we verified that it was not.
I asked for the PureVPN cancellation and was told that they could not as I had exceeded the 3GB of data! They don't tell you that before the service.
I'll probably have to ask for the payment reverse in the credit card company.
Yar 2/10 January 22, 2018
Horrible
MANY connectivity issues, it starts great, then line drops, no internet, no email, only once you disconnect, EVERYTHING gets back to normal. Working with it is inconsistent, cannot maintain a lasting connection. When trying to get a solution from Tech Support, they only address you to a link already in their website, and some other solutions such as "switch protocol", "change DNS" etc.
Bottom line, it is slow, extremely unstable, and cannot be worked with.
Che 1/10 January 15, 2018
VERY Slow
I totally agree with this review! This PureVPN is really slow… I'm not able to stream something smoothly when I'm connected to one of their middle-east servers (tried all of them!). This is unacceptable. And even worse, I think they have some priority rules setted to make you believe it's pretty fast during their cashback/refund policy. During this period I didn't have any issue streaming something through their middle-east servers. I would definitely not recommend PureVPN!!! Now I'm stuck with my 2 years subscription… Anyway I think I'm going to test VyprVPN.
Tim B. 5/10 January 3, 2018
Captchas everywhere
Pretty solid VPN. Works well, only thing is you have to complete a captcha for any website you go to.
That's pretty annoying…
Zviadi 7/10 January 1, 2018
Decent and affordable
I purchased PureVPN during black friday sale, 69$ for 5 years, which I think, is one of the cheapest rates, I have come across, at least me for me, servers are plenty fast, but there are some disconnects on my phone, not the issue on my computer though. Another disadvantage that is has, is, that when connected to some servers, it has DNS leaks, but it does not on the others, and it uses bunch of virtualized servers, which are not ideal.
If you are looking for serious protection I would not recommend it, but for cheap better than free VPN, PureVPN is not the worst option out there.
Mike 9/10 December 31, 2017
cannot compare with others, but works...
I found PureVPN to be very good, and very affordable. I have had the odd issue but nothing major. I have not used any other VPN, so cannot compare it to others, but overall very good and would recommend it.
Trevor Spottiswood 4/10 December 29, 2017
Very poor
Have tried this on and off over 6 months. Trying to access even the BBC MEDIA PLAYER from another country is impossible. If the service cannot even enable access to the BBC, then, it is very poor. The helpline has been no help at all.
John Rasmussen 6/10 December 23, 2017
Good but issues
Good but always breaking. Service is quite hit and miss.
Had the same problem of bots or poor trained support staff. Pretty sure their call system generates a fake name even for real people.
DNS leaks have got me concerned, seen reports of this everywhere.
Alproc 1/10 December 15, 2017
Pure VPN. A Pure Nightmare.
Over two years, never-ending problems. Won't connect, disconnects sometimes 5 or 6 times an hour, customer service usually a joke Yet they claim to be "reliable and easy to use." It's a bald-faced lie. There must be something better.
Mark 3/10 November 19, 2017
Cheap, but comes with speed issues
I've been using this cheap VPN for months and from what I see it has started to perform very badly. Over the past few months I've noticed considerable "lag" when browsing the web. Watching youtube is a pain experience – I've tried many different servers but they're all SLOW!
I think they're overselling their services and I'm planning to cancel the service.
Amir 8/10 June 20, 2017
PureVPN is very good
I must admit buying PureVPN was my first attempt at a VPN. They had a hell of a sale that allowed me to sign up for 3 years easy for a price lower than the 2.95 offered today. I grabbed it immediately and have been happy ever since. There are no issues except the reviewers were right about the slower speed in Asia. I took a trip recently and it was not as fast as I would like. But its still solid and connected just fine.
Karol 9/10 June 5, 2017
Many different devices
I truly like PureVPN since for the cheap price you can connect your router which means you can use endless devices with it. In my opinion, they're not really slow either. I'm located in Poland and my Internet speed is pretty OK – even when connected to PureVPN.
I also like that they have a solid software which doesn't crash. Before PureVPN I also used Betternet which crashed a lot.
Sami 7/10 May 11, 2017
PureVPN seems OK
It bought PureVPN a few months ago and couldn't use it, it didn't connect, yes sometimes it connected but disconnected frequently. A week ago I contacted with customer support and got fixed it! I've changed DNS servers and they gave me server list. So far so good!
Hope it keeps working fine for a log time! Maybe you need to know about these things before buying PureVPN!
Enrique 1/10 April 27, 2017
PureVPN needs to Cure their VPN
Used PureVPN for a month. Cancelled my subscription, uninstalled the product and joined ExpressVPN. ExpressVPN is a bit more expensive, but everything else is better. PureVPN is slow, not user friendly, customer support is unreliable. I think they are using the cheapest servers, therefore the service and connections are utterly slow. Once, I couldn't connect to a server for a day. – Talk about keeping myself private. 0/10 – Wouldn't recommend them to my enemy.
James 2/10 April 18, 2017
PureVPN
I'd say there's not much to like about PureVPN other than a HUGE server park. But that doesn't help it when they're just slow. I used them for torrenting while back but the DL speeds were just too slow. I'm switching to something else – bye bye PureVPN.