CyberGhost VPN is run by a 47-person team out of Romania.
We'll get into their performance in a minute. But already they've won our coveted Best VPN Brand Name – by a mile. (To be fair though, the competition's not too stiff with names like "Area", "Unlimited", and "Total".)
All of which, of course, has absolutely nothing to do with reviewing their actual product. So back to business.
Today we're going to do a deep dive into their unique VPN features. We'll look at where their servers are located and what platforms they're compatible with. Then we'll look at encryption, pricing. And wrap things up with a detailed walkthrough to setup their service for the first time.
Ready? Let's get started.
CyberGhost Quick Facts
CyberGhost boasts ten million users. (Both paid and free – we'll get to that in a minute).
Otherwise, they have 901 servers spread out across 29 countries.
The US tops that list with 169. But Germany (144) the UK (104) and their hometown of Romania (66) come in closely behind.
So they're extremely well represented in North America and Europe. Less so in Asia (four in Hong Kong, eight in Japan, and four in Singapore), Oceania (11) and Africa (zilch).
CyberGhost works seamlessly with Windows, Mac, Android, iOS, and Linux devices. (In addition to advanced configurations for routers available, as well.)
They have a completely free version of their product available for Windows, Mac, and Android. Then their first paid plan includes one device connection (which isn't great to be honest). So you'll most likely have to upgrade to their Premium Plus plan in order to get simultaneous use on five devices.
That's just a teaser. We'll get to more on the plans and pricing in a minute.
CyberGhost also offers a 30-day money back guarantee on their paid plans. That's above and beyond their completely free version. So you've got ample opportunities to give them a spin and see how you like their service before getting locked into pre-paying for a long-term deal.
That sums up the basics. Which are, admittedly, pretty basic. Nothing great but nothing terrible, either.
Now onto the boring technical stuff.
Available Protocols (OpenVPN)
Things are (mostly) fine when you're at home. Browsing and buying away on your own network.
It's when you walk out the door that the problems start.
Sitting down the street in your favorite coffee shop. Even that 'secure' connection at the coworking spot downtown.
That's where the danger lies. In places and on networks that you're most comfortable. Everyone here knows you by name. There's no perceived threat. So why would you take extra precautions?
Identify theft. That's why.
Just this last year, $227 million in fraudulent refunds were paid out. Not to you. But to the person who's impersonating you. And stealing your money.
Robert Graham, the CEO of a security consultancy, explained this grim reality to ABC News:
"If you're using Wi-Fi in a public place and you're not getting hacked, it's only because there's nobody around bothering to do it."
WiFi 'eavesdropping' is among the most common. These people can sit literally hundreds of feet away. So you can't even physically see them coming.
But they can see you.
Man in the middle attacks are one common way in (to your wallet). False, duplicate networks are setup. They insert themselves between you and all of those websites you visit. Which means they're perfectly positioned (thus the name) to intercept all of the data you enter, too.
They can also just as easily 'sniff' your web traffic, steal your session cookies, and gain access to accounts that way as well.
That is, unless you're using a VPN. Unless you have a secure 'tunneled' connection between your device and the free WiFi you're attempting to gain access to.
BUT. Even then… even if you already have a VPN client downloaded… how often is it switched into the ON position while in a place you know and frequent and feel comfortable? 75% of the time? 50%? Maybe ~10% if you're lucky.
CyberGhost uses the industry leading OpenVPN protocol to create a secure connection. But better yet, they have an 'automatic behavior' feature for these WiFi points you frequent.
This feature allows you to select the individual WiFi network that you always want to protect (like the coffee shop, the mall, the wherever-that-has-free-WiFi) and CyberGhost will remember it. Just like your device does.
So as your device automatically connects to the network when it's available, CyberGhost will automatically start too.
No manual hassle or forgetfulness will be your downfall.
256-Bit AES Encryption
Here's how to steal 50,000,000 credit cards.
Step #1. Gain access to a network. For that, you'll need to know who, specifically, has access.
Should be easy enough.
Go look at LinkedIn. Or pull up Facebook. You're literally putting that information out there for people.
Step #2. Guess these people's login username. Typically that's an email. And once again, super easy to guess using tools like this one.
Step #3. Brute-force your way in through weak passwords.
'Alphabet' attacks start with A, then B, then C, etc. You know, like the alphabet!  After exhausting them all, they go with two digits like AA, BB, CC, etc. Then AB, AB, AD, etc.
Repeated. Dozens, hundreds, and thousands of times. In fractions of a second.
Obviously this isn't manual. But automated quickly with sophisticated programs. So guessing your six-integer, significant other's name or your own birthdate might only take a few minutes.
This easy three step process was carried out (more or less) against Home Depot in 2014.
Hackers gained access to their network using a vendor's email and (weak) password. Once inside, the common method is to use malware that hides in the deep recesses of the system. So no one even knows it's there. You don't get the annoying notifications or problems like you do with traditional malware on your computer.
Instead, it just lies and waits. For people to start using their credit card to pay for things. Then each and every number is recorded and sent back to the hackers by the malware.
It's technically complex. But the overall process is extremely simple. Which is why it can be so devastating.
CyberGhost thankfully uses AES 256-bit encryption. The most secure on the market. It's used and trusted by internet security professionals because it's basically 'hack proof'.
Anything's possible. But the number of combinations that someone would have to run in a simple brute-force attack would take months. Years even. Way too long to eventually gain access.
Does CyberGhost Log Your Activities?
Anonymity is one of the main benefits of using a VPN.
You know – keeping your private browsing activities, private.
That happens in most cases.
The underlying technology behind VPNs work the same (more or less). So your IP and physical location can be masked. It can be hidden or 'blend in' with all of a VPNs other users so that a website can't figure out exactly where you're coming from.
Your browsing activities are mostly kept private.
Except for one MASSIVE entity, though. The VPN you're using!
They saw that credit card you signed up with. They see which IP you use to connect to their service. They know how long you're connected.
Which means somewhere in the world there is a paper trail linking you to various internet activities.
Now, different VPNs will do different things with this information. Some will use it to monitor their own performance and upgrade stability.
While some might 'log' or record your session data. Which isn't the end of the world necessarily… until they then turn that information over to other people (like HideMyAss! did).
Unfortunately, the truth is also murky. It's tough to tell who's doing what, when they all claim 'no logging.'
So where does CyberGhost stand?
Here's the word-for-word quote straight from them:
"WE DO NOT LOG REAL IP ADDRESSES, WE DO NOT LOG ASSIGNED SERVERS, WE DO NOT LOG LOGIN OR LOGOUT TIMES, WE DON'T MERGE ANY REAL DATA (like purchase data) INTO ACCOUNT DATA, WE DO NOT LOG TRAFFIC DATA (e.g. which website are visited) NOR ANY INFORMATION SENT VIA A CYBERGHOST SERVER. CyberGhost VPN neither observes nor records content like messenger chats, telephone calls, video chats, or other communication forms, nor stores IP addresses (not the ones the users are heading to, and not the ones users have, when logging into the CyberGhost VPN network). Furthermore it's not possible to record, which account logged into which server at what time or to connect a real person to a certain CyberGhost VPN account."
So. I think the answer is no.
CyberGhost's TOR Compatibility : )
CyberGhost plays nice with TOR and other proxies.
Your traffic is routed through both networks (CyberGhosts and the TOR) for super duper extra anonymity (*not the technical term).
They recommend logging into CyberGhost first if you'd like to use both. Then fire up your TOR browser when ready.
CyberGhost Customer Support (A bit slow?)
CyberGhost offers support through a Frequently Asked Questions (FAQ) section (in other words, very little support).  OR you can create a ticket and receive a response "within 48 hours."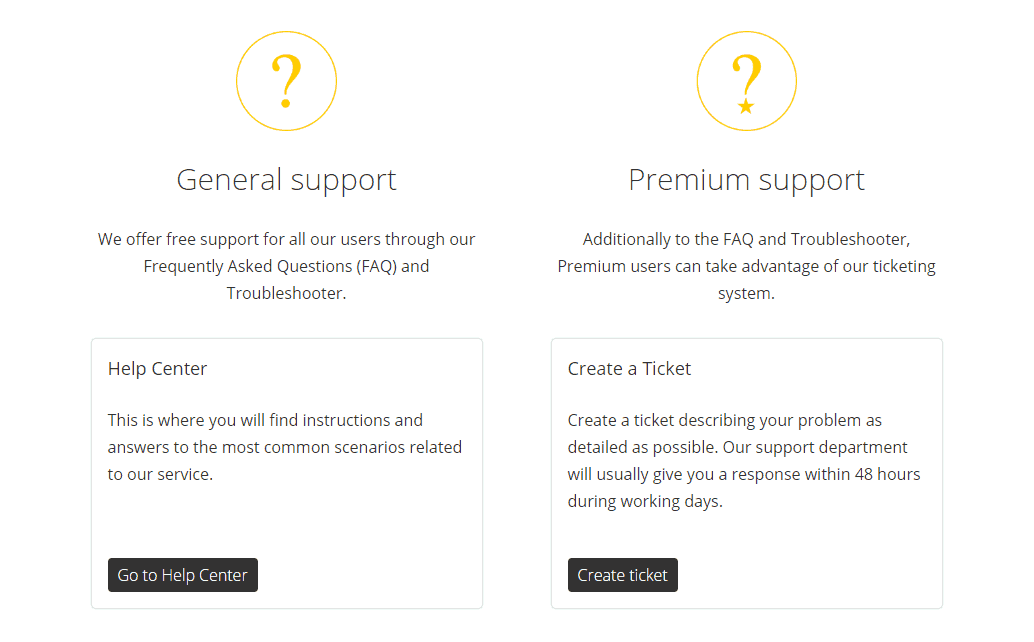 That's painfully slow. Especially when many other VPN companies at least over live chat or phone options.
So we dug around their social channels to see if other customers were trying to bypass those other slow, outdated forms of support.
The good news?
It seems like they're happy to help.
And relatively quick to follow up.
Got more questions that the FAQ or ticket center failed to answer? Take to twitter and give them a holler for a fast response and quick help.
CyberGhost VPN Speed Test (Paid Account)
Decent, but lack of uptime and downloads speeds within UK Area.. (in short: Not a good VPN provider for UK users).
Their overall speed stats aren't good either. Overall, they're ranked 12th out of 19 VPNs we've tested so far. CyberGhost is slower than VPN Unlimited and Buffered.
Not good.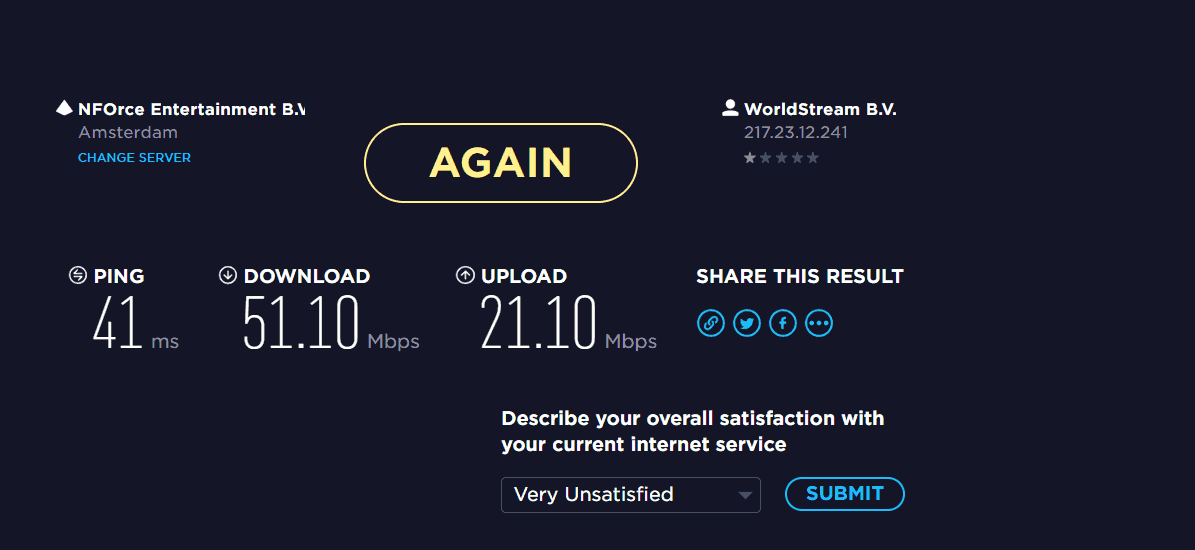 US Server (New York)
Ping: 189ms
Download: 18.41 Mbps
Upload: 7.12 Mbps
EU Server (Amsterdam)
Ping: 41ms
Download: 51.10 Mbps
Upload: 21.10 Mbps
Asia Server (Hong Kong)
Ping: 299ms
Download: 4.00 Mbps
Upload: 4.07 Mbps
Ping: 69ms
Download: 5.63 Mbps
Upload: 15.65 Mbps
Re speed test: Always take such speed tests with a grain of salt as they simply rely on too many variables. However, since we've tested 20+ VPN services so far, we have an average that we can compare to other VPNs.
Plans & Pricing
CyberGhost has a forever free plan, along with two paid "Premium" ones. Here's how they break down.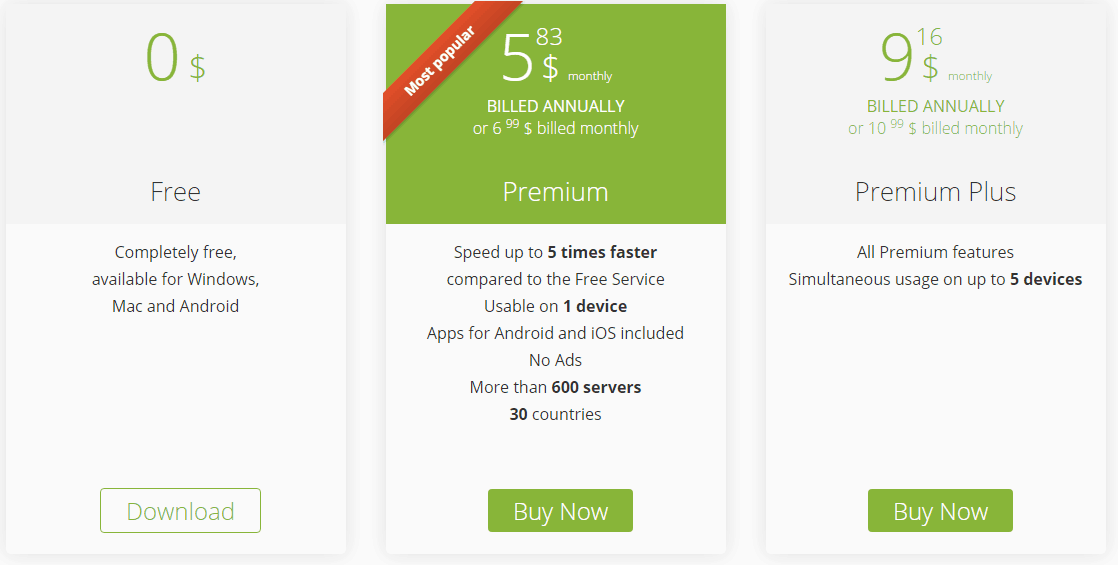 Free Plan:
$0
Compatible with Windows, Mac and Android (no iPhone)
Premium:
$5.83 monthly (annual)
Speed up to 5 times faster compared to free.
Usage on 1 device.
No ads, more than 600 servers in 30 countries
Premium Plus:
$9.16 monthly (annual)
All premium features
Usage on 5 devices
Along with unlimited bandwidth (even on the free plan!), unlimited traffic, and AES 256-bit encryption.
If you're interested in getting started with their completely free option, or you want to test out that free 30-day money back guarantee, just follow these simple steps in the next section!
CyberGhost Setup (Reviewed)
---
Head over to the Free Download button in the top nav to immediately download the free version. You can obviously also head back to the Pricing page to upgrade now too.
If you purchase a plan, click on the My Account in the top right-hand corner of the screen to find the right VPN client for this device.
Log into your account like normal and click the My Devices section. Then scroll to the bottom.

There you'll see Download Now… to you know, download the VPN client now.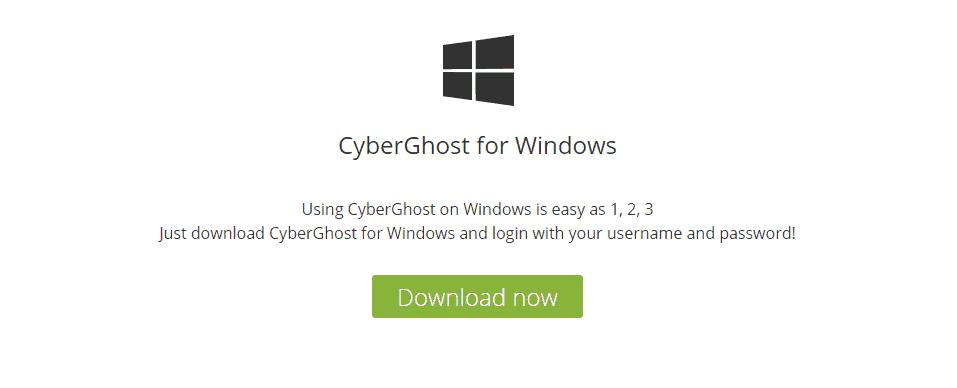 Awesome. The file should download and everybody's favorite install UI should pop-up. Run through it as usual…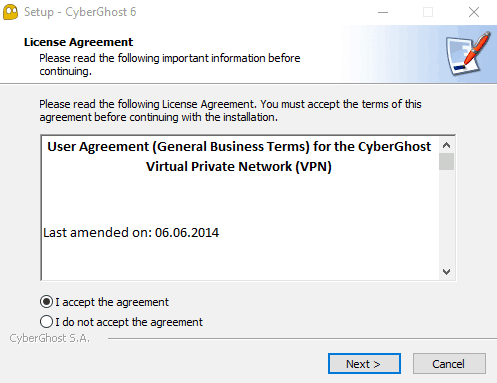 When that's finished, head back to the website and login again to get your license.
Once activated, you're ready to go!
To change locations, click on Choose My Server and select the server you would like to use.
Then simply click on a new server location to switch ASAP (like in the example below).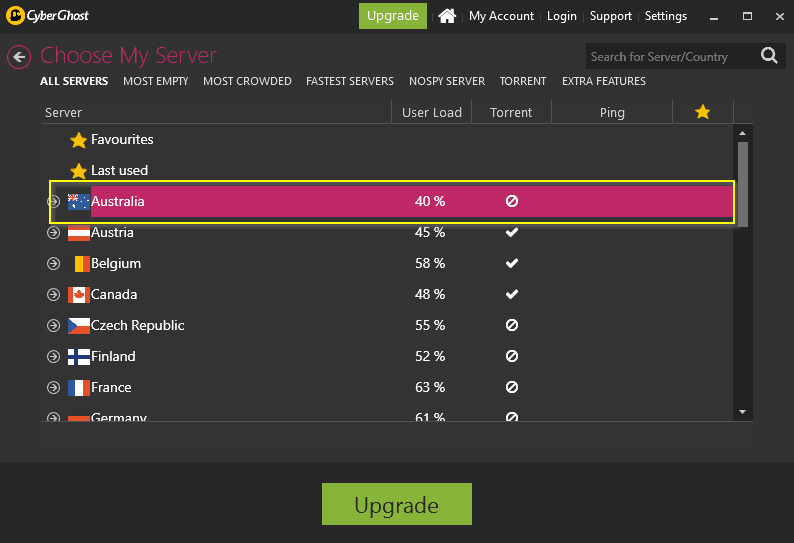 Not to painful, right?
CyberGhost Review Conclusion:
CyberGhost does many things well.
Even beyond the excellent brand name.
They have a free service. And that free service isn't terrible. Like how others harvest your personal information and selling it to the highest bidder. In fact, you even get unlimited bandwidth to boot!
Throw in a money back guarantee on top of the forever free plan and you've got literally zero reason to hesitate.
Plus, they have a zero logging policy. And they really mean it!
BUT, we don't recommend them. Downsides? There aren't a ton of server locations. Heavily represented in some areas (like North America, the UK, and Europe) and not so much in others (Asia, Africa, Oceania).
They're not very fast either.
There are also some limitations on the entry-level plan (like a single device connection?!).
Here's the summary:
CyberGhost Pros:
Forever free plan + 30-day money back guarantee
Zero logging.
Secure & stable connection
CyberGhost Cons:
Limited number of servers
Limited server locations
FREE plan is VERY limited
Bit slow
P.S. If you've used CyberGhost, please consider leaving a review below. Thanks!
8 user reviews for CyberGhost