CyberGhost VPN undoubtedly wins the award for The Best VPN Name Ever. (Seriously)
However… The fact that their brand name sounds like a mission from the latest Call of Duty has nothing to do with the actual service that they provide.
So the question remains, "Can CyberGhost VPN live up to the awesomeness that their name implies?"
That's what you are about to find out.
In this review, I will be taking a detailed look at CyberGhost's VPN services.
I'll be analyzing the speed, compatibility, pricing, unique features and problems that you can expect when using CyberGhost, and I will also provide you with a few alternative services to check out if you feel that CyberGhost doesn't quite make the cut.
Sound good?
Then let's get down to business.
| | |
| --- | --- |
| PROTOCOLS: | OpenVPN & Others  |
| ENCRYPTION: | AES 256-bit |
| LOG FILES: | No Logging |
| LOCATIONS: | 30 countries, 1,000+ servers |
| SUPPORT: | Email and Live Chat  |
| EASE OF USE: | Excellent  |
| COST: | $2.90/$4.90/$10.49 |
| PLATFORMS: | Windows, Mac, iOS, Android, Routers, Linux |
| RECOMMENDED? | No |
| OFFICIAL WEBSITE: | https://www.cyberghostvpn.com/en_US/ |
Founded in 2011 and operated by a 55 person team located in Bucharest, Romania, CyberGhost VPN (recently acquired by Robert Knapp and Crossrider Limited) currently boasts over 15 million users, which is an, admittedly, impressive statistic.
Their network spans 30 countries and contains more than 1,000 servers across the United States, European Union, UK, and Asia (although their presence in Asia is admittedly sparse with only a handful of servers in Japan, Hong Kong, and Singapore).
Their VPN services are compatible with most devices and you can easily connect your Windows, Android, Mac, and iOS in a matter of minutes. If you know what you are doing, CyberGhost also allows their users to set up a custom connection with their Linux devices or routers.
In addition, CyberGhost supports most major protocols including OpenVPN, L2TP, and IPSec.
CyberGhost Pros
---
In order to make this review logical and easy to follow, I first checked out their PROs:
1. CyberGhost Pricing is Budget Friendly ($2.90/mo)
The last time I reviewed CyberGhost, they offered a "Forever Free" pricing plan along with two other premium options. Each pricing package came different compatibilities, features, and usage restrictions making it all but inevitable that serious VPN users would opt for the most expensive plan.
Luckily, they have done away with this overly complicated system and radically streamlined their pricing.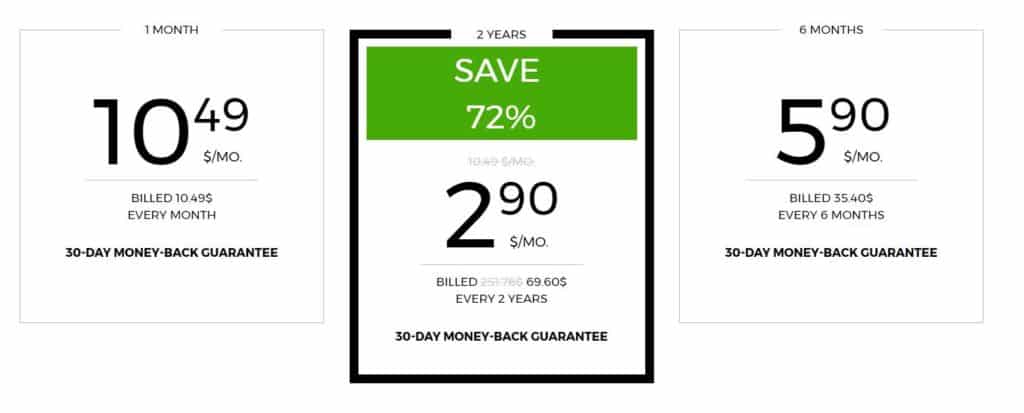 Monthly:
$10.49 per month
$125.88 per year
0% Savings
6 Months: $34.40
$5.90 per month
$70.80 per year
~44% savings
2 Years: $69.60
Unlike most other VPN providers, CyberGhost doesn't offer a 1-year plan. Instead, they offer a 2-year plan that costs less than the price of a typical 12-month package.
Not a bad deal if you ask me.
$2.90
$34.80 per year
72% savings
Like I mentioned earlier, CyberGhost has done away with their convoluted pricing system and they now offer the exact same services to each customer regardless of the plan that they choose (and all packages come with a 30-day money back guarantee).
They also offer a wide array of payment options including (and no I am not kidding) the ability to pay with a money order or cash at your nearest 711.
While this might be a bit extreme for most users, this feature can come in handy for users who are concerned about the anonymity of their transaction. (For example, individuals purchasing CyberGhost in a country with censorship laws and VPN restrictions)
While CyberGhost's pricing is admittedly affordable, it's important to keep the old adage "You get what you pay for" in mind when selecting a VPN provider.
Yes, CyberGhost's 2-year plan is incredibly cheap.
But…
Does the "cheapness" of their pricing reflect the quality of the service that they provide?
Unfortunately, it does.
2. CyberGhost Sped is 'OK' (51 Mbps out of 100 Mbps)
Whenever you are in the market for a "Budget VPN" you can and should expect to suffer through some slower download and upload times.
Unfortunately for CyberGhost, unless you are using a free service, you should never have to deal with speeds that are this slow.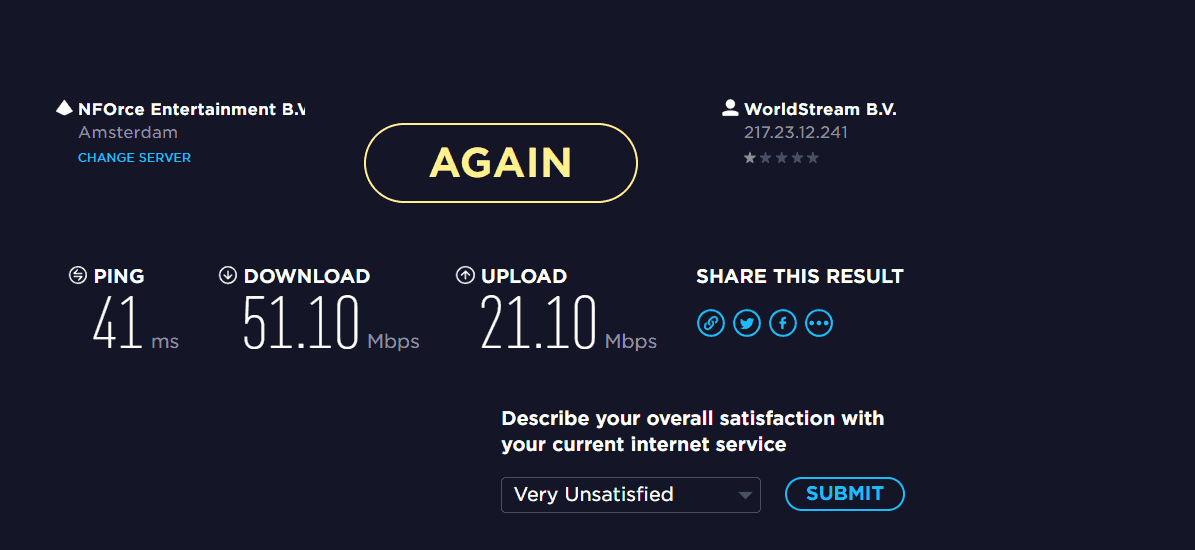 US Server (New York)
Ping: 189ms
Download: 18.41 Mbps
Upload: 7.12 Mbps
EU Server (Amsterdam)
Ping: 41ms
Download: 51.10 Mbps
Upload: 21.10 Mbps
Asia Server (Hong Kong)
Ping: 299ms
Download: 4.00 Mbps
Upload: 4.07 Mbps
Ping: 69ms
Download: 5.63 Mbps
Upload: 15.65 Mbps
At TheBestVPN.com, we have tested over 30 VPNs and CyberGhost ranks #12 in download speeds.
So for me, it's rather a pro than a con.
In order to get a complete picture of CyberGhost's services, let's take a look at the further pros.
3. Great User Experience and Easy Installation
One of CyberGhost's biggest competitive advantages is their ease of use. It took me a grand total of about 5 minutes to install, launch and use CyberGhost on my Window's device, and based on feedback from other users, this experience is pretty consistent regardless of the device you are using.
Once you are inside of CyberGhost's software, the usability gets even better.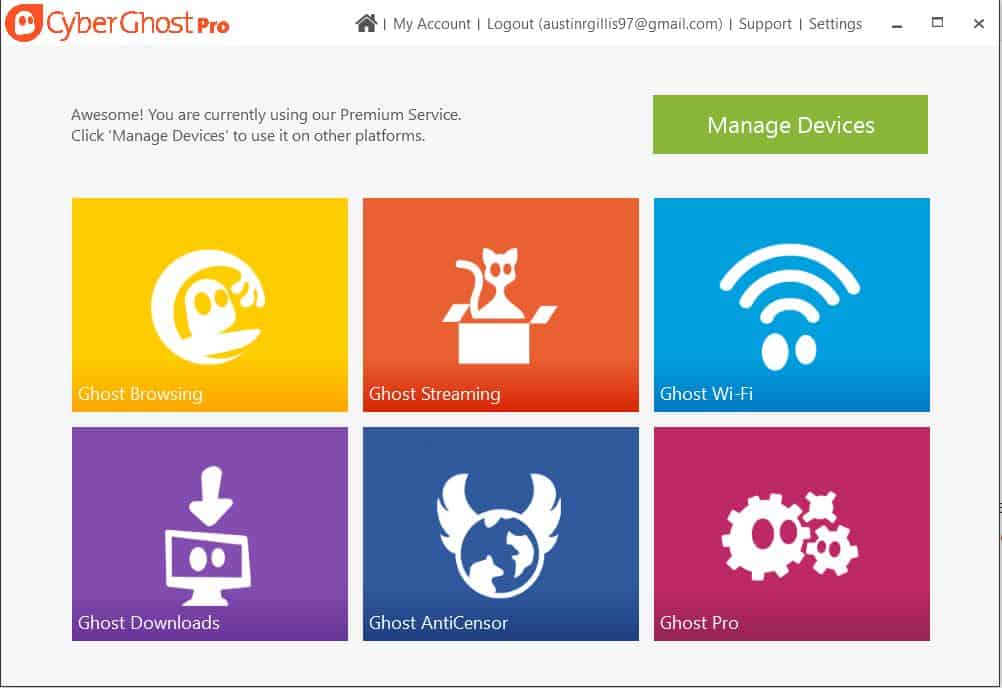 The layout is crisp and clean and things are so clearly spelled out that even your grandparents could use it.
In fact, CyberGhost has a feature that allows users to automatically launch a secured private browser with only the click of a button.
4. Compatible with TOR (and most other proxies) 
For those of you who are unfamiliar, The Orion Router or TOR is a security-centric network that encrypts your data across several networks and then relays that data making your activities and location all but impossible to track.
Depending on the country from which you are surfing, the ability to layer your VPN with the TOR network can, quite literally, be a life saver.
Luckily, CyberGhost VPN is TOR compatible which is kind of surprising considering that many of the higher priced VPNs don't have this feature, but I won't complain.
This allows users to get as close to total anonymity as possible and is a huge bonus for any VPN users located in countries with strict censorship laws.
5. Highest Possible Encryption Standards (AES-256)
Considering the ever increasing prevalence of cyber attacks and the rise of identity theft and fraud, one of your foremost concenrs when selecting a VPN should be the quality of the encryption standard used.
Luckily, CyberGhost offers a military grade encryption (literally) known as Advanced Encryption Standards or AES.
The encryption protocol in question is used by the CIA, FBI, and NSA to transmit secure documents and relies on a 256-bit key that has yet to be broken.
Although this longer key requires more processing time and will slightly dampen your performance, it is the most secure protocol currently in existence and makes all of your activity more or less "Hacker Proof".
6. Strict No Logging Policy 
While there are many VPN providers who advertise zero logging, when you read the fine print in the Terms and Conditions agreement, you will realize that this is far from the truth.
Many VPN companies do log your data and while it is typically for the benign purpose of improving their services, one of the biggest reasons to invest in a VPN is to limit intrusions on your privacy.
Which doesn't exactly work if the intrusive third party happens to be your VPN provider.
Luckily, CyberGhost doesn't waiver on their logging policy.
Here's what they have to say on their website:
Logs are files or pieces of information stored by programs to aid debugging but also tracking. Although it's a common thing, this is actually a feature which a developer can choose to implement or not.

Our servers keep no logs. We don't track your activity over the Internet. There's no way someone could track you back after you have visited a certain website on the Internet if you were connected to a CyberGhost VPN Server.
In a market filled with lies and half-truths regarding logging practices, it's refreshing to see more providers eliminating their logging altogether.
7. Torrenting is Allowed 
While many VPNs shy away from actively promoting the ability to torrent on their servers, CyberGhost is not among them. Not only does CyberGhost VPN allow torrenting, it's one of their main selling points.
After you launch CyberGhost's software, you will notice a purple box in the lower left hand corner of the interface titled "Ghost Downloads".
Upon further investigation, you will see that this feature is used to "Download Torrents using untraceable servers automatically selected for you." 
Much to their credit, CyberGhost has done everything in their power to make torrenting easy and seamless, and they have accomplished this goal admirably.
8. Five Device Connection Limit
Prior to their purchase by Robert Knapp and Crossrider Limited, CyberGhost only offered a one-device connection limit even for some premium users.
Considering the fact that most individuals use up to 3 devices in a given day (not to mention that they have family members whose connections they might want to secure) this was an atrocity.
Luckily, this is no longer the case and CyberGhost has bumped their device limit to 5 devices regardless of the plan that you are using.
This is a welcomed improvement that opens up many doors for the average user.
CyberGhost Cons
---
Below, I've listed out some important cons that I found using CyberGhost VPN software..
1. CyberGhost Customer Support is Questionable
Look…
The VPN industry is not known for its exceptional customer service, a fact that I am quick to point.
And while there are several companies like ExpressVPN and SaferVPN that have broken this mold offering high quality live support, CyberGhost (unfortunately) is not among them.
In fact, while I was gathering data for this review, I had such a hard time contacting customer support that I couldn't even submit a ticket to gauge their response time!
First, I tried submitting a simple ticket directly from the CyberGhost App.
And this is what I was told…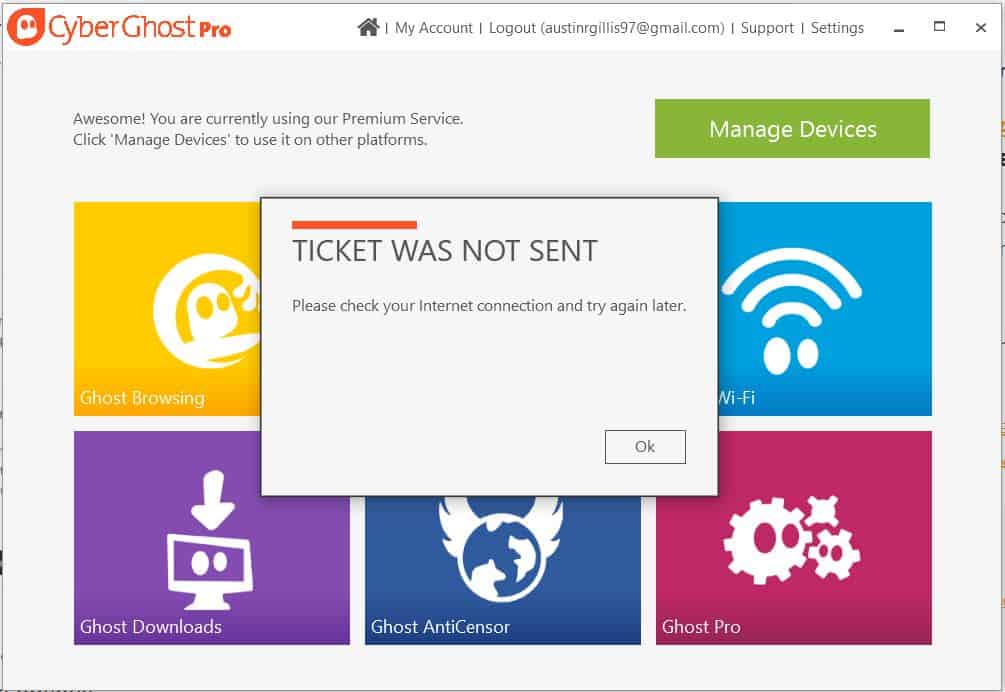 But here's the curious thing — my internet connection was fine, and my Ad Blocker was disabled.
In fact, when I closed out CyberGhost and loaded up ExpressVPN, I had no problem submitting a ticket.
Let's not forget that I was also streaming music and downloading files in the background when CyberGhost told me to "Check my internet connection."
So I chalked it up a weird network issue and decided to try again later.
When I launched CyberGhost later that day on a different network I was told, yet again, that my ticket could not be submitted.
At this point I was becoming increasingly frustrated and decided to go directly to their website to try out their live chat feature.
Low and behold, when I opened up the chat box I was politely notified that no representatives were available to help resolve my problem.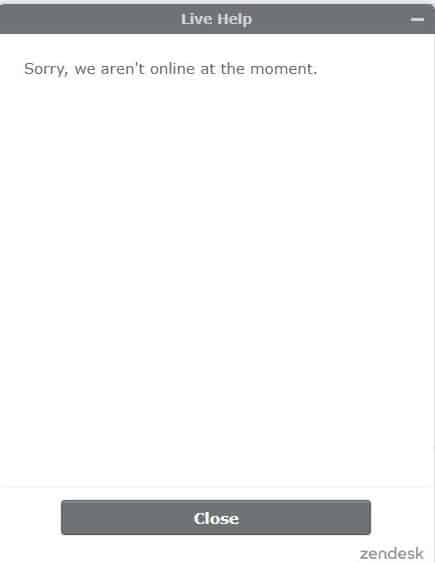 I was finally able to submit a simple support ticket directly to their website, and then patiently waited for more than 48 hours before receiving a response.
The bottom line?
If you are looking for a VPN with fast and effective customer service, then CyberGhost is not the droid you're looking for.
2. No Netflix Compatibility
Ever since 2016 when Netflix inexplicably began cracking down on the use of VPNs and proxies with their service, I have been hard-pressed to find a high-quality VPN that I could use to stream Netflix while traveling.
Up until recent months, CyberGhost was actually one of the few VPN providers who had managed to bypass Netflix's restrictions and allow users to stream their favorite shows regardless of their location.
Unfortunately, those times have come to an end.
While we have been assured that the team at CyberGhost is doing their best to reinstate Netflix compatibility, they have, as of yet, been unsuccessful.
Since their VPN's Netflix compatibility was one of CyberGhost's greatest selling points, the fact that this feature is no longer available is a big disappointment for many customers, myself included.
If you do need a VPN with Netflix compatibility, check out our article, The Best VPN for Netflix to find something more suitable for your needs.
3. Third Party Reviews Are Pretty Rough 
As always, I wanted to make sure that my experience with this VPN wasn't anomalous. So, I decided to dig through some of the recent reviews on Reddit and Quora and, according to most sources (who were not motivated by a handsome commissions check), my experience was pretty standard.
For example…
Here's another one.


There were some reviews that had a more positive outlook on CyberGhost's services, however, the majority of them were clearly submitted by individuals with an obvious lack of experience with VPN providers.
4. CyberGhost Alleged Security Concerns
The final problem that I found with CyberGhost VPN is the alleged security concerns that have arisen since early 2016.
While there has been a significant amount of controversy surrounding CyberGhost's root certificates and the possibility that their "No Logging" policy is not actually upheld, so far, my findings on this topic have been inconclusive.
Most of the issues that have surfaced were quickly resolved or explained away by the CyberGhost team.
While I don't have any real reasons to suspect CyberGhost of foul play or believe that there have been any breaches in their privacy agreement, there were simply too many allegations to let this particular point slide.
Do I Recommend CyberGhost VPN?
What's good about CyberGhost VPN: Affordable, good encryption standards, easy to use interface, no logging, torrenting.
They offer excellent encryption standards, an easy to use interface, no logging, and their torrenting feature is welcomed with open arms. It's affordable, too.
However, the inconvenient truth is that their services have too many issues for us to recommend them to anybody. 
What's bad about CyberGhost VPN: No Netflix, bad user reviews, no logging is questionable.
Their server's speed is average, their customer service is all but useless, and they lack any compelling features (a.k.a. Netflix compatibility) to make up for their suboptimal performance.
They aren't terrible, but considering the wide variety of competitively priced VPNs that are available in today's market, there is no reason (that I can think of) to invest your hard earned cash in CyberGhost's lackluster VPN.
Have you ever used CyberGhost VPN before? If so, what was your experience like? I'm always interested to hear what other enthusiasts have to say about the VPNs that I review! Let me know below.
Add your own CyberGhost VPN Review
16 user reviews for CyberGhost
Dawn
recommending
I have been using CyberGhost VPN for about 8 months. It has plenty of options that fit my needs. The price is right at $5 a month and it makes me feel better knowing my online activities are anonymous when I want them to be. I can be selective when I use it to protect my browsing or torrent downloading. Can I say torrent here? Scary. Anyway, I have had very few crashes or really any problems with this service. It works great when I want it to and doesn't bother me at all when I'm not looking to be anonymous.
Max Bretschneider
CyberGhost VPN: 6/10
CyberGhost is a decent VPN service. It does what it should but you feel kind of limited. When you start it they say that you are in a queue that usually consists of ~5000 people. It takes 2-3 minutes to get through there. Once you start it you have 3 hours (I think) time to do your things before it switches itself off again. Those things seem kind of weird especially when you compare it to some google chrome vpn plugin that offers all the advantages without all the trouble. But when it works it does it's job and it does that for free! That's why I give CyberGhost a 6/10!
Dave
A great option
It works… that's pretty much it.
CyberGhost has great customer support and I had very few problems. It is on the lower end of prices for most of the VPN's that I've used in the past. I really recommend if you are going to get this VPN that you get the full version. I personally used the free version before I upgraded and it was most definitely not the best for free VPN experiences. If you are looking for an easy to use VPN that has a good amount of features but isn't giving you too many options that you think you don't need this VPN is for you.
It doesn't have a wide range of locations so be careful if you are in a weird location.
Lemka
Cyberghost seems iffy to me
Jurisdiction: a lot of what they do is supplied by M247 including their DNS – a UK (5-eyes / echelon) based company (info gained from leak tests, IP info).
So, I wouldn't recommend them to anyone, also because they seem to use the same IPs for their free service which means you get to share IP addresses that have been abused and flagged all over the place. Mainly this means the occasional forum won't let you post and you get hit much harder by google's new annoying captcha systems, sometimes even just on a basic search, occasionally a webpage will even refuse to display.
And torrents go slow and web pages get stuck not loading for too many seconds – same websites are instant without VPN. And the longer you're connected, the slower it seems to go, even have trouble watching youtube at 720p and above at times.
Mary
Like a Ghost: Should REMAIN Invisible...
As someone who works on the computer, I've tested quite a few VPN services. Out of them all, Cyberghost has been the most memorable — and for all the wrong reasons. While Cyberghost offers you the option to pay for its services, you can use it for free, which is the version I will be covering. The immediate thing you will notice about Cyberghost is its booting time. It's slow to start. VERY slow. Once you finally get into the panel (which is fairly easy to use) and click to connect, you have to wait in a queue. Sometimes the queue can be an upwards of 5000 people! Even then, you have a limited time to use the service each session before having to re-enter the queue.
I suggest you stay away from this software unless you're willing to pay for it. And trust me, it isn't that cheap.
Legion
Happy chap
All my internet access is done through the phone – all torrenting on mobile, plus usual stuff, SteamVR downloads…etc., on laptop via WIFI. VPN Force (Cyberghost, Android) and Cyberghost, Windows (free) are perfect for my needs (and modest mobile speeds). The fact that they keep no logs (free plan), good with Tor, speedy connection… well, I'm chuffed with it.
Rahul Kasana
Should be cheaper..
I've been using CyberGhost for a year and it's really incredible, when it comes to speed and downloading torrents also it has the feature to block ads so that's also a plus, but the best thing about it is the extra speed feature if I'm feeling its speed is a bit less i can select extra speed and voila!! BUT the downside is the huge price tag that comes with these services, moreover the difference in monthly rentals and yearly paid fees is TWICE!!! Also it's  startup impact on PC is really heavy.
Michael B.
Good service
Been using CyberGhost VPN for over a year now. My experience has been great so far. Their price is pretty low compared to other providers and they provide a good service.
It's really easy to install. Some servers are slow when it comes to download speed, but you can choose another server instead, which is a really good option as some VPN providers did not offer that.
You can also pay for CyberGhost with Bitcoins, which I really like, because I have a small amount of them.
Parvez Middya
I Paid for Premium Plus but it has lots of problems with software provided for Android. Doesn't auto-start correctly, drops connection and requires manual start, doesn't switch between WiFi and 4G and leaves data going in the clear often. No Kill-Switch. On Windows it tends to protect application data, not data going in and out of a WiFi or LAN connection as a whole. There is no kill switch, so if you have been on WiFi and were protected, then plug a LAN cable in and the connection goes over to that, CyberGhost only sits protecting WiFi whilst your LAN data is in the clear! Again, it disconnects frequently, throttles the data and only seems to work by application. If I am paying for a service it should not come with so many glitches
Arnav
Good
CyberGhost VPN provides networks is a user friendly as well as it has all round compatibility. It's easy to use for anyone. It has been proven unrestricted access.  It helps u stay safe on random free WiFi networks.
Jithin
VPN must be simplified
VPN must be simplified, because most users don't know the use and it's usefulness
I used many VPN like cyber ghost, hidemyass , opera VPN.. I think cyber ghost is better it connect to another server very fast.. But hidemyass is little selfish.? because they give us only 7 days free trial then we have to purchase it.. It's little bit annoying most of others are free to use.. VPN is good for privacy so give us free.. Use ads so they get income also.. VPN must be like cyber ghost.. The name says it all.. ??
Faisal Hamid
Very fast VPN
I have used many VPNs until I tried CyberGhost, which worked very well for me. It is very smooth and gives you fast speed unlike other VPNs, which provide slower download speed.
The only problem I had with them was a little flaw they have on mobile. Sometimes when I try to connect, it shows that there are no servers available – it has happened twice, but I think they fixed it now. Overall this is the best VPN available out there.
Steven
My Review
I used this CyberGhost VPN service on my windows laptop. The service was great, but there used to be a long waiting list to surf the web anonymously. After I purchased the the premium version this was solved.
I would seriously vote Ghost VPN as the best VPN service. The surfing doesn't slow down, it gives exactly the same Mbps a that of Internet plan.
John
One of the best out there
So, I started using Cyberghost VPN a few months ago and I just gotta say its awesome.
PROS:
1. Its easy to download and install and does exactly what its designed to do.
2. It has a cool and attractive design and works smoothly without any problems or bugs that i noticed.
3. It claims to have military grade encryption and after some sneaking around i found that it is a tough nut to crack
CONS:
1. In the free version, there is a waiting queue, and can only be connected for 3 hours before it disconnects automatically.
It gives several other options like stream unblocking and making torrents available (both anonymously and only available in premium version). Specific countries like Singapore as well as the extra speed boost capability are also available only in the premium version.
Overall, I would suggest this, if one does not one to pay money because it gets its job of hiding the ip address done…for free.
M
Encrypts the mobile data
I'm using Cyberghost VPN, which provides compression of data, which helps for those surfing on mobile data. The user-interface is good, but to go to the settings page in android makes it difficult to shift. They also have decent list of countries to choose from.
The good part? It's encrypting my data.
Brett
Look no further
I have been using CyberGhostVPN for nearly a year now, and it is the best of 4 VPN services I have used.  I love the ability to block advertisements and choose my server location while I surf anonymously.  Also enjoy having the ability to download torrents and other P2P files under the radar. This along with many other features for the low price of $5.00 a month makes CyberGhostVPN my favorite VPN service.