Kodi is brilliant open-source movie streaming software.
A media platform that users have complete control over.
The problem?
Kodi's software doesn't actually supply any content. That's completely up to users. How and where users get the content is the question.
And it makes VPNs for Kodi an absolute necessity. Here's why, along with the best VPNs for Kodi that money can buy.
But how do you find the best VPN for Kodi?
Why Use a VPN for Kodi?

Kodi makes it extremely easy to watch downloaded content on your big screen. However, many times, downloaded content is also protected by copyright laws. A number of the Kodi Add-Ons are also geo-locked, meaning they can only be technically accessed from certain countries.
VPN solves both problems.
They mask downloading sessions from your Internet Service Provider, creating an anonymous browsing experience. They protect you from other potential bad actors on the P2P network and public wi-fi connections. And they help you side-step pesky licensing laws restricting your content consumption.
Except, not all VPNs will work properly with Kodi.
And there's more…
Using a VPN that logs your information or falls under the jurisdiction of international surveillance alliances compromises everything — placing you in the path of potential danger.
Additionally, using a slow, sketchy VPN will throttle your speed down to a crawl.
You can avoid all of these issues by simply selecting one of the excellent Kodi VPNs that follows.
1. NordVPN – Cheapest VPN for Streaming Kodi

NordVPN is our overall runner-up. But they're number one for Kodi.
For starters, its extensive server park features over 4,700 connections, giving Kodi users a vast array of geographic locations to choose from.
While there's no Linux version of the app, NordVPN is available on Windows, MacOSX, and both Android and iOS mobile platforms. Plus, six simultaneous connections means that the entire family will be able to enjoy these Kodi-positive choices.
NordVPN uses the state-of-the-art OpenVPN protocol to create a secure VPN tunnel to the server of your choice, shielding your IP address in the process. This provides rock-solid AES-256 encryption, which is military-grade stuff.
However, that single layer of encryption is nothing.
NordVPN ups the ante on all other VPNs by offering a DoubleVPN encryption system with every subscription plan. That means AES-256 times two.
This Panama-based organization is well outside the jurisdiction of any massive surveillance alliances that share espionage information between governments.
But what really puts NordVPN over the top for us is the exclusive affiliate pricing that our readers receive.
By clicking on this link, you can buy two years of NordVPN at just $2.99 per month. That's an astronomically low price.
We've reviewed over 70 VPN companies to date, and for everything NordVPN provides, that offer literally can't be beaten.
2. ExpressVPN – Most "Advanced" VPN
ExpressVPN is our number one VPN service. It has everything going for it, and actually exceeds the massive hype that surrounds it.
If you're looking for streaming speed and server availability, look no further.
ExpressVPN has a massive server park, with connections available in just about every major country in the world. That means Kodi users will be able to unlock virtually any geo-blocked content.
It's also available on a vast array of devices, including popular streaming systems like Apple TV and Amazon Fire TV. Perfect for Kodi users looking to stream their content directly, without having to connect to a computer, too.
Of course, security is always a huge concern when it comes to VPNs.
But I'm happy to report that ExpressVPN has no issues on that front.
Like Nord, (their biggest competitor) they use a combination of OpenVPN protocols and AES-256 encryption. That's the same security measures taken by government agencies like the NSA.
Oh, and speaking of the NSA, they have no jurisdiction here! That's right: ExpressVPN is based out of the British Virgin Islands, so surveillance alliances have no right to any information.
Why is it number two instead of one, then? It lacks Nord's double encryption for starters, and it's also a lot more expensive than NordVPN.
3. IPVanish – NordVPN Alternative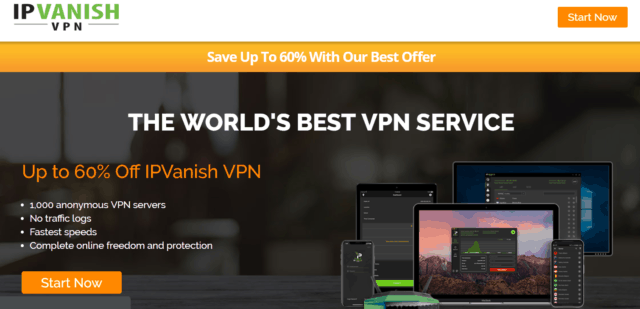 IPVanish is lightning fast.
There's nothing worse than trying to stream a movie or television show, only to be met with buffering notifications every few seconds. That's not an issue you'll have with IPVanish, though.
They also don't keep any logs on your activity. That means there is no record of your Kodi streaming whatsoever.
Which is great news, considering their U.S. jurisdiction, unfortunately, falls directly under the 5-Eyes Surveillance Alliance. However, with no logs being kept, there's not much information that IPVanish can turn over on you if asked.
You can access IPVanish on desktop, mobile, and streaming device platforms, making it a well-versed application.
Its US jurisdiction works against it, along with a steep cost that will, at its lowest, come in at $4.87 per month. They support a number of payment methods, including PayPal and major credit cards.
4. VyprVPN – Best For Unblocking Geo-Restrictions

VyprVPN is a well-rounded Kodi VPN.
Their custom network is spread out over 70 countries, and the performance speeds are more than enough for a seamless-streaming session.
VyprVPN even created a proprietary Chameleon™ technology to help evade Deep Packet Inspection detection by scrambling your metadata.
In English? No one — from your ISP to Netflix — will know you're using a VPN to unblock geo-restricted content.
They also use that same winning combination of OpenVPN protocols and AES-256 encryption as all of our other top Kodi VPNs.
Unfortunately, they do log some information.
VyprVPN holds onto the IP address you're using, the amount of time you spent connected, and the number of bytes you used for 30 days. That's also a bummer, considering this "Swiss-based" company is actually ran out of offices in Austin, Texas.
They're one of the few VPN companies to offer live chat to quickly clear up any issues. But that live chat isn't available 24/7, which might make it unusable for those located outside their time zones.
5. StrongVPN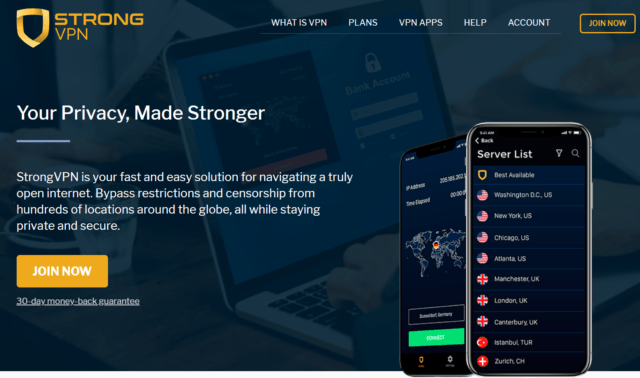 Rounding out our Kodi VPN list is StrongVPN, a secure (if somewhat overpriced) VPN.
They're one of the few US-based VPNs that logs absolutely no information. We were able to confirm this by digging through their privacy policy.
So, while the U.S. jurisdiction is problematic, if they're not collecting any of your information, they don't have anything to turn over if Uncle Sam comes knocking on their door asking about you.
This comes in at number five, though, because it's the slowest VPN on our list. We saw our speeds slashed to ribbons when we tested it out. So while they provide a lot of other benefits, like airtight encryption, any dip in performance could mean buffering times a-plenty in your future.
How Do I Install a VPN on My Kodi?
This is a fairly common question.
Especially because you don't actually install the VPN on Kodi, itself.
Instead, you install it on the device that you're using with Kodi.
Once you decide which VPN works best for you, install it off of their official website, and sign up for an account.
After you've made your initial payment for the VPN, start it up on your computer, phone, Smart TV, or gaming console, or router.
By activating the product, you're protecting all internet activity that takes place on that device.
This includes streaming on Kodi, but it also extends to web browsing, torrenting, and the use of geo-blocked streaming services like Netflix.
At that point, you can boot up Kodi, select the add-on you wish to use, and start streaming content without a care in the world.
Why Free VPNs Aren't the Best Fit for Kodi
You might be thinking, "There are free VPNs out there, why should I pay for any of these?"
I get it. But it'd be a massive mistake.
You really do get what you pay for here. Most free VPNs will literally sell your data to the highest bidder.
Not to mention, a lot of free VPNs place limitations on bandwidth. That means you could be streaming along and suddenly hit your monthly quota. Once that happens, the VPN shuts itself down completely or, more infuriatingly, throttles your internet usage.
Free VPNs are also less safe.
Top-of-the-line programs NordVPN or ExpressVPN are leak-free and ensure security. All it takes is one DNS leak to completely expose your IP and identity to the world, potentially landing you in hot water when streaming content on Kodi.
Make Your Choice
Each of these VPNs has different pros and cons.
But all of them are solid Kodi VPN options.
That means your content downloads will stay hidden. Your devices will stay safe from other nefarious individuals you're connecting to on popular P2P networks.
You'll be able to unlock content that's typically only available across the pond.
And best of all, your content streaming will be risk-free (and judgment-free) from prying eyes.