Private Internet Access (PIA) is probably the most popular VPN on the market today. Despite being one of the cheapest VPNs, is it good enough for serious use?
To put PIA towards a test, we took a look at their logging policy, servers, cost, download/upload speed and app usability:
What is Private Internet Access?
Private Internet Access, or PIA for short, is brought to you by the London Trust Media, Inc. group. Their first VPN app was launched in August 2010.
Despite their name including the word "London", they're actually located in the US. Which isn't that good, as we preach the importance of the VPN company to be outside 14 Eyes.
PIA's server network is a relatively small, but dense, network. Technically, they only reach 24 countries, which isn't the biggest we've seen (ExpressVPN reaches almost three times that at 91 countries for example).
However, PIA has over 3,269 servers.
So as long as they're in the area you're interested in, there should be no shortage of available options. In fact, Private Internet Access has more servers than any other VPN provider we've tested so far.
Their primary gateways are clustered within North America and Europe. South America only has a single location currently in Brazil. The Middle East can claim Israel, Turkey, and India. A few dot Asia in Singapore, Hong Kong, and Japan. And Oceania has a handful in Sydney, Melbourne, and New Zealand.
PIA is also available extensively across most major apps and operating systems. That even includes a few older versions of the Mac OS and Windows. (You'll notice that they also will have multiple protocols listed for some devices, which we'll dive into shortly in the next section.)
Here's a complete breakdown:
MacOS 10.4 to 10.12
Windows XP to Windows 10
Android (PPTP, OpenVPN, IPSec)
iPhone/iOS
PIA allows you to connect up to 5 simultaneous devices at any given time across these apps and operating systems. There are no bandwidth restrictions or throttling to worry about.
Pricing Options: Cheaper than Most VPNs…
PIA has a single plan with tiered pricing based on the length you'd like to commit and prepay. That keeps things nice and simple. And you can also get a great deal if you're ready to shell out a single year in advance.

Plan One:
Plan Two:
Yearly
$3.33/mo ($39.95 per year)
Plan Three:
2 years
$2.91/mo ($69.95 per 2 years)
They offer a 7-day money back guarantee. So you can give the service a spin over the course of a few days. If you're unhappy at all during those seven days, you can simply get your money back.
Interestingly, PIA accepts all kinds of different methods of payment. For starters, they'll accept Bitcoin (which could also help you add another layer of privacy to the tranonsaction).
But – and I'm not making this up – they also accept gift cards for popular retailers like Starbucks, Costco, Best Buy, Target, and more. So you know those random gifts your parents just bought you during the holidays? Now you just found a use for it.
Even better way to mask behind your identity?
How Safe is Private Internet Access?
Available Protocols (OpenVPN, IPSEC/L2TP, PPTP, and SOCKS5)
You'd think a hotel network is safe. Who could blame you?
Turns out, not only are their security vulnerabilities to watch out for, but Wi-Fi networks at hotels and airports commonly use some kind of proxy that requires detailed personal information before you gain access to the internet.
You quickly enter all the required info so you can get online ASAP, check the Terms and Conditions box (without ever, seriously, contemplating reading it), and hit GO.
The problem, is now you've just handed over rights to not only your personal data but also visibility into your actions while on their network. So each and every website you visit, including your bank and other less savory ones, are now recorded forever by Marriott, Hyatt, or wherever else you're laying your head at night.
Public networks are also goldmines for hackers, giving them access to tons of people over the span of hours or days.
Look, anyone that knows how to Google can pull up "Ethereal" and "Wireshark" to find out how to start snooping on your activity. (So that snotty-nosed tween with greasy hair in the corner of your coffee shop may not be just messing around with Pokemon Go, after all.)
Fortunately, PIA relies on the OpenVPN protocol to combat and circumvent these common issues.
It's based on the same rock-solid technology as SSL certificates, which are used by Google, Amazon, Facebook, and all of the other biggest websites in the world, to keep a connection between you and their servers private – away from prying eyes.
PIA also offers other protocols, including IPsec/L2TP, PPTP, and SOCKS5 (Proxy) for older devices or special circumstances. PIA's SOCKS5 proxy connection, for instance, is similar (but different) to a standard VPN connection.
They offer some of the same browser-protecting services so that you can hide your identity to download stuff from BitTorrent for example. But they're not completely secure connections from hackers, and they might still pass some of your personal data, like your IP address, along with the destination website.
In summary:
Stick with OpenVPN the majority of the time and rest assured that your connection will be safe and sound. Otherwise, if you already know what you're getting into, feel free to dabble with other protocols.
Multiple Encryption Options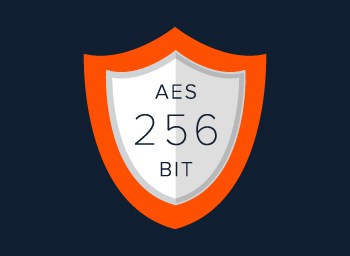 Some VPN Providers will just provide you with one primary encryption method (usually the strongest available to make sure nothing goes awry).
However, PIA offers a few different methods on their OpenVPN tunnels depending on what criteria you're concerned.
(If you're unsure or don't care, don't worry. PIA will recommend and default one to use.)
The first option is an AES encryption that's either 128 or 256 bit. This should typically be your go-to option because it's used by government agencies around the world and recommended by top security professionals.
The number part ('128' vs '256') refers to the encryption combination strength. If you're primarily concerned with security, for example, stick with the 256-bit connection which is virtually impossible for hackers to 'brute-force attack'.
But that extra strength comes at a cost. Namely: speed. So if you're already on a secure network and are OK giving up a few security points, you'd probably be fine on the lower 128 connection that will maximize your speed.
Got it? Good.
Here's where things get nerdy.
Beyond those primary data encryption methods, there's also data authentication and a 'handshake' setting as well.
A successful encryption creates a secure tunnel between you and a server. Data authentication is an extra message algorithm that's used to thwart and block attackers that are trying to insert or 'inject' themselves between you and the VPN. With this turned on (by default), you should be safe and secure. (However, if you turn it off to speed up your connection, you might be at risk.)
The handshake encryption is the 'secret key' used to verify or authenticate your device, and that you're really transferring data to a VPN server (and not some malicious intermediary). Then there's also ephemeral keys, which are used temporarily for authentication and then erased completely so that they can't be used by others even if access is compromised.
If you're not sure what to select or are just looking for default security, stick with the strongest (256-bit) encryption and keep data authentication on with SHA1 (strong) or SHA256 (strongest) and your handshake key at RSA-2048 (strong) or RSA-4096 (strongest).
If you're trying to maximize speed, and are relatively confident of the private network you're currently on, you can get away with downgrading (or disabling) your encryption and switching your data authentication off.
Either way, you won't have to worry too much. Because PIA will show you warnings if any of these data encryption or authentication features are turned off (or if you're using potentially unsecured keys).
Private Internet Access Pros
+
1. Fast Download Speed (81 Mbps out of 100)
One of the most important factors of a VPN is their download speed. If you're signing up with a slow (read: bad VPN), you'll end up with ridiculously slow speed.
We've faced that several times, especially when we tested speed in StrongVPN and Mullvad (both were below 20 Mbps out of 100).
However, things with Private Internet Access look quite good actually. As always, to make our PIA review accurate, we went to speedtest.net and put the following locations to the test: US, EU, Asia, and the UK.


P.S. The location we used to track the speed was in the middle of Europe: Estonia.
US Server (New York)
Ping: 118ms
Download: 77.56 Mbps
Upload: 36.75 Mbps
EU Server (Amsterdam)
Ping: 41ms
Download: 81.46 Mbps
Upload: 40.30 Mbps
Asia Server (Hong Kong)
Ping: 283ms
Download: 69.98 Mbps
Upload: 13.04 Mbps
UK Server (London)
Ping: 48ms
Download: 75.67 Mbps
Upload: 23.00 Mbps
In conclusion – PIA is pretty fast VPN. Not as fast as Hotspot Shield or ExpressVPN, but surely an "OK" alternative as it's cheaper.
Keep in mind, speed is an important factor and is vastly connected with the VPN software you're using. Of course, there are some ways to speed up a VPN connection, but the main strength comes from the actual VPN servers.
2. PIA Claims No Logging
'Logging' is a practice used to monitor and record data points from your VPN activity.
For example, your internet service provider (ISP) will log which websites you access along with your personal information used to connect (like email or ISP). And they can actually sell that data.
Some VPN providers will log certain details, like when you log in or sign off, in order to monitor their usage to improve service.
PIA has a no logging policy that will not track or monitor traffic logs, or communication logs.
Private Internet Access Cons
–
1. No Live Chat, Tickets Only
Although PIA offers "24/7 North American" support.
They don't actually have a live chat option.
I think that means their support personnel is located in North America. Seeing as the whole "24/7" thing means they should always be available (no matter where you're located).
However, when I contacted them through a middle of the night, I got a response at next morning. Not so 24/7 anymore, huh?
On a positive side, they also provide a separate Twitter account dedicated to customer service. We took a look at that network to see how they interact with customers. The good news is that they will still try to provide long, detailed answers (despite Twitter's condensed medium).
2. Does Not Work with Netflix
Unlike some other VPNs, PIA doesn't work with Netflix.
Some people have claimed access to Netflix, but sadly, I didn't. I tried 10+ servers and they all returned a similar error on Netflix:
If you need a VPN that bypasses Netflix restrictions, take a look at this comparison.
3. Located in the US
London Trust Media, INC is located in the US. As we all know, US falls under the "Five Eyes, Nine Eyes, 14-Eyes" jurisdiction.
This is a big con.
Do I Recommend Private Internet Access?
Yes and No.
PIA offers excellent coverage in North America and Europe, with tons of servers centrally located. That coverage isn't as great in other parts of the world, however, with only a few servers spread around the Middle East, Asia, Oceania, and a single, lonely one in Brazil for South American users.
PIA has all major protocols available, along with state-of-the-art encryption methods. Their annual pricing is among the lowest in the industry. And they've got a seven-day money back guarantee if you'd like to try them out.
Company located in the US. A lot less privacy in a Five Eyes country.
If you don't want to go with PIA VPN, you can also find more VPN Reviews here. We're recommending either using ExpressVPN or NordVPN.
Add your own Private Internet Access review
P.S. Have you used/using Private Internet Access VPN? If so, please consider leaving a review below. Good or bad, doesn't matter
28 user reviews for Private Internet Access
Dave 2/10 January 10, 2018
Meh, You get what you pay for
I used them for 2 years in a row. They were fast enough when I first joined, but over time, they just felt increasingly crowded, if their client app's server utilization figures were to be believed. They have a lot of servers and they are all crowded was my experience.
They seemed short on IP's too, in that I'd get "your IP address has had enough of you" errors when I clearly had yet to partake in that site's offerings. More crowding.
Their client was smooth running, but with updates came problems. Problems I've never had with other VPNs like Nord or Express.
I left for good when they auto-renewed my membership when the option to auto-renew was definitely toggled to "off." They refunded my money, but it took my time and effort to get it undone and that's just lame…
Maya 8/10 January 6, 2018
Currently using PIA
I'm not huge into using too many VPN's, but I've also tried Cyberghost and Hotspot Shield. They are a little slower than PIA and Zenmate from what I've noticed and they don't have the features that PIA does but if you use Zenmate for a while, they give you free premium. I used them for about 3-4 months and eventually, they gave me 6 months premium, so they're also a great alternative to PIA that I would definitely recommend.
Dave 8/10 December 20, 2017
Good service, all in all.
Private Internet Access has worked pretty well for me all in all. Which is good because their customer service is a joke. I had some issues early on and only email was available to have my issue remedied and it took them a few days to get back to me and then when I instantly responded, a few more days to get back to me again. Its ridiculous that there isn't a phone number or internet way to talk one on one in real time to your customers. I am not sure if it is still that way but when I signed up, that was how they handled things.
William Bowditch 7/10 December 18, 2017
Difficulties in the UK
I've been using PIA for about 18 months now, and enjoyed it without any noticeable reduction in Mb/sec up until my move from the USA to the UK 6 months ago. Since then, in order to get around the "child block" on my Virgin Media broadband host, I've had to enable stricter settings in PIA that make my wireless card unuseable after turning the VPN off. The issue is fixed by running a troubleshoot on my wireless drivers, but is still a major inconvenience.
Furthermore, PIA does not work for Netflix, Hulu, or Amazon Prime, which was the main reason I purchased. Overall, recommend if you live in the US and care about your privacy, not so much for overcoming internal media regulations.
Jack 9/10 December 13, 2017
PIA makes me happy
The PIA client works fine for me on Windows and Android. There is a nice selection of locations to choose from and the interface is easy. My native bandwidth is a few hundred meg on FTTH, and I don't notice much of a drop when running the VPN.
On the downside, the client does sometimes disconnect, and it would be nice to just be able to tick an auto-reconnect option instead of manually having to. Also, their support can be a bit hit and miss, but when it's a "hit", they will do anything for you.
Noel 2/10 December 11, 2017
Initial impression - not worth it
I just installed PIA and my download speed has gone from 70+ Mbps to 27-29 Mbps. Maybe I configured something wrong but I don't see anything to configure.
Unless I find something, I have to say that this product is not worth it. Good price, but who wants to lose that much speed?
Charles Jones 1/10 December 10, 2017
Beware
Service works well, but BEWARE because they will charge your bank account without authorization and then tell you "tough sh*t, we're keeping all your money" when you ask for a refund because you're not using their service any longer.
Ash O'ttam 8/10 December 8, 2017
PIA isn't so great with TOR.
One of the primary differences of VPN access through TOR or TOR Access through VPN would require in the latter case to allow & enable one to be able to pay easily through Crypto. However, this does not seem to be the case with PIA.
One of the fundamental uses of this becomes apparent when internet controls have slowly started become evident in the Middle & Far East and therefore easy ways to access the world wide web would be crucial to take things forward given the complete freedom that is being offered in the US – not monetarily but in terms of ALL-ACCESS (net neutrality debates notwithstanding.)
I guess PIA can address the "Access" aspects in a much better fashion than it is doing now and go a long way to address how neutral it is to the "net neutrality biases" which all seem to discuss the "how much access will I get for the money I pay?" The access is there, however it is the quality of access (speed) etc. which is the truly underlying issue.
I think PIA needs to address that particular aspect of giving "Easy Full" access for the money we pay better. "All Access is anyways in the nature of the VPN".
Steven Morgan 8/10 December 8, 2017
Cheap and works great on desktop, loses points on mobile.
I've never had a problem with Private Internet Access, and they're one of the cheapest providers around. Long list of locations you can route through, and the speed difference when on or off is negligible. Then again I do have ADSL2+ which means I couldn't say for sure what the speed effect is as that's pretty awful already.
Lost points for the mobile app which doesn't seem to work as well and often will make the phone appear offline if the connection isn't made straight away. If I needed it for mobile I'd use a different service, but the desktop version is my primary use and I'm happy with it.
Jean 8/10 December 1, 2017
Great VPN with even better Customer Service
I tried out PIA to bypass the restrictions of torrenting that were put in place by my country rather than for privacy. Admittedly, I only used it for around a week or two, as I realised that I hardly ever torrent content anymore.
It worked well enough – no speed issues, cross-platform compatibility, and had a ton of server locations to choose from, several even in remote areas. I found the price to be the most affordable among many others – with a wide range of payment methods, even gift cards.
PIA is definitely good value for money – it's what you expect for the price you pay, nothing more nothing less, but above all the customer service is amazing. I requested a cancel and refund after a week (as allowed on their website) and they got back to me within less than a day. The process was straightforward and not once did I feel as if I was being pressured to continue with the service, which is what companies usually do – I was accommodated well to my needs.
I have a lot of respect for PIA after this and so this review is quite biased, but they seem like a genuine company that cares for its users, something that I value highly given the precarious nature of public VPNs.
RD 5/10 November 23, 2017
Questionable politics
While PIA has been and is an exceptional VPN, they have recently started advocating popular political agendas.
If you've ever lived in an area that's Gone from peace to war in a matter of hours, then you understand that security and privacy company advocating political viewpoints is neither private nor secure. I need to be sure my privacy is protected no matter which way the political wind blows.
Brandon 10/10 November 17, 2017
Gem for the Price!
I've been with P.I.A. for almost two years now. I pay annually with a gift card. Without a VPN I have a very slow connection, so of course, I was worried about speed. With PIA I rarely notice any issues. Other VPNs can sometimes have a substantial effect on speed but not PIA. Once you get set up you won't need to do much to maintain it and it even has a kill switch. They don't keep records either. Overall I would recommend. 5/5
8/10 November 9, 2017
PIA Is Great!
Pros:
– You are able to remain completely anonymous through their payment system via prepaid gift cards.
– I would say it is one of the most user-friendly VPNs out there.
– It's versatile. I believe it can be used on all of the major operating systems (though Linux can take some work).
– I have been able to find almost any question I've had from their website.
Cons:
– Port forwarding through their software was a little less user-friendly than the rest of the software, but I managed to configure it.
– As stated above, installing the software on Linux was rough, but so is installing many things on Linux.
Jaison 10/10 November 8, 2017
PIA - The easiest VPN client to use
I love using PIA. This is actually my second year of using it and I've had no issues at all. I also love the fact that I can add multiple devices. That was a must with me since I use a cellphone, a laptop, and a desktop. I love how easy it is to use on my macbook especially since it runs nicely in the background. This has a really easy to use interface that makes it perfect for me.
The drop down menu on my Macbook's toolbar allows me to toggle the location of the VPN and also whether or not I want to enable it at all. It has no gimmicks involved and is just a clean cut VPN provider that delivers.
Nic 8/10 November 7, 2017
Quick and Simple
PIA works exactly like you would expect it to. I've never had trouble getting connected on my windows 10 PC. It gives you helpful notifications when it has been connected and when you disconnect. I pay $40 a year which is well worth it for me. The price is definitely fair for what you get. I barely notice any slow downs while connected to PIA. I recommend it to anyone looking for a simple solution to their VPN needs.
Dan Johnson 9/10 November 3, 2017
Takes Your Privacy Seriously
I've used Private Internet Access for over 2 years now for personal use, and I will continue to use them because they do not keep VPN logs of their users. The whole point to using a VPN is to be private, and PIA protects it's consumers better than most…
At the current rate, $3.33 a month, it's a no-brainer for anyone to stay safe online. My only complain is that sometimes it will not connect to certain locations, but that's only once in a blue moon.
Jakob Bannick 7/10 October 29, 2017
Private Internet Access - Solid!
I've been using Private Internet Access for about 2.5 years now, and I have never been experiencing any complications with the app crashing. The only issue that's ever happened, was when it needed to be updated in order to update the security.
Solid app – Great servers and fast connection. Really recommended.
Sam Andrew 9/10 October 27, 2017
My experience of PIA
I started using private internet access (PIA) about 2 years ago. I got the first year for very cheap so I decided to give it a go. As soon as I started using it I instantly loved it, the UI was very easy and simple to use.
You just start the program and select what country you want to connect to and bam its done.
The speed was decent I was getting almost the same speed I get without a VPN and I was totally anonymous. No website was able to identify I was using a VPN and it has a large list of countries to connect to. I give it a 9/10
Someone truly caring about VPN's practices 4/10 October 20, 2017
Good support, bad connectivity....
I never got into truly researching VPN's until recently, so I decided to give PIA a chance, I had tried IPvanish, EarthVPN and SlickVPN before and I can say that the connectivity on all 3 was better for me. (I am not sure about the real privacy anymore, read more in this review on why that is)
Anyway the connectivity on PIA is not great to say the least, definitely not what you expect when you read all these raving reviews everywhere. (but hey maybe that's just the standard settings which don't work for me, but I can't be bothered to go into great lenghts of setting up a product for which you pay.)
The speed when it was connected was good.
I have to say the support was very good, and a refund has been given quite easily and fast, so no complaints there.
But I wanted to not only make this review about PIA because I wanted to share the following with readers who truly care about getting a good VPN.
The other day I found a website where 'a guy' AKA 'That One Privacy Site' tests VPN's in all criteria which is very important to the ACTUAL user and you find out that the majority of 'good' VPN providers ACTIVELY advertise literally ALL over the place and presumably pay a lot of people for being positive about their 'holy grail vpn' (not saying that's the case on this website by the way).
It is not my intention to promote one product or the other, but I would advise all of those who really care about a VPN in the way its meant 'privacy (as in not selling your metadata), connectivity as in 'uptime', support as in 'really helping the user'. and ofcourse a terms of use without all the 'but's' and 'if when's'.
Hope this helps and for PIA at this moment I can't give it a positive score because I've seen better AND worse…
Richard 10/10 October 19, 2017
PIA
I have used this server for years from the UK. They have fantastically fast servers which goes well with my ISP Virgin 220 Mbps down / 12 Mbps up. I have only had to contact their support dept once in many years and they were extremely knowledgeable.
They keep NO LOGS whatsoever, and there are many anonymous ways to pay if you want e.g.. Starbucks voucher.
Highly recommending this VPN provider.
Paul Mabbot 9/10 October 16, 2017
Does what it's supposed to and does it well
I got Private Internet Access to get around stupid sports streaming blackout rules. I want to play to legally stream high quality sports games, and the provider still wants you watching it on TV. This way I can get around it. Highly functional, easy to change "locations". Relatively user friendly as well, even my not so tech savy fiancee knows how to turn it on at least before using stuff like Popcorn Time.
Chris Black 9/10 October 15, 2017
PIA and my experience
I'm using PIA (Private Internet Access) and my honest review of it would be 9/10.
Interface – Really straightforward and easy to enable/disable, change specific locations
Proxy – Works really well when trying to access location specific websites, have really only been blocked once or twice.
Speed – Fantastic, always really well paced
Price – Really fair, it works out to be 5 dollars a month CAD, American its like 3.50 a month can't ask for a better deal.
Mike 1/10 October 15, 2017
Doesn't work anymore
Recently I noticed a big slow down on bandwidth while connected to this VPN, and did some investigating. What I discovered was PIA was connecting me to an Arizona server, while it said it was connected to the Toronto server in Canada. Also my ip was on full display for all to see. I created a ticket and it's been more than a week and ZERO support! I immediately change vpn providers! Was with PIA for many years, but no more! PIA just doesn't work as a VPN anymore, so I'll avoid it like the plague.
ZERO CUSTOMER SERVICE.
Reported this to PayPal and many other entities. PIA needs to fold up and disappear! You won't ever get another penny of my money for your garbage service!
Jim 4/10 October 2, 2017
PIA has no customer service
In 2015 I had PIA for a year and it was pretty good. They use to have chat support that was helpful. They no longer have chat support or even a customer service phone number. I signed up after not having a VPN for a year and cancelled for a refund a few hours after ordering. PIA no longer met my needs.
Their customer support article reads that you can cancel within the first 7 days and a refund will take 3-7 days. It has now been 10 days and no refund or response other than generic auto response emails that state they are too busy to process my request and will get to it when they can. I would have recommended them in 2015, but definitely not in 2017. A complete lack of customer support gets two thumbs down! Phone support would definitely help.
Pasca 9/10 August 3, 2017
Long-time User
Have used PIA for three years, along with others, which never measured up. PIA has consistent connections (I have been dropped twice, and use VPN whenever connected), and a real kill connection that works. The fast speeds have kept me as a long-time user. Don't be lulled by the "no logs" hype. No logs refers to the initial connection IP record.
All servers keep logs (IMO).
Kavin Sharma 9.5/10 June 14, 2017
The Best VPN service you can buy $3.33/month
So guys I am linux user and I am using Private Internet Access VPN for the last 3 months and this the best VPN I found, because there is no Bandwidth loss. It also assures the guarantee of full privacy with additional feature like Multiple VPN Gateways, Ads Blocking (so I'm enjoying ad free content). They also have a very easy to use GUI, which helps me to connect to VPN in one click.
For the last 3 months I have not experienced any delays or downtimes while being connected to the VPN service – I mainly connect to United States. They also allow having 5 devices connected simultaneously, which helps me access blocked sites with Linux, Windows 10 and my Android Phone. I have used other VPN providers, but this one is the best.
Paul 10/10 May 21, 2017
PIA is the fastest VPN that I've used.
I've been using PIA for a month now. Before that, I've tried a big variety of services (including free ones)
None of them have such an easy UI as PIA. PIA stays minimized on your taskbar and you can just right click and connect to a server from there.
They have tons of servers, which are really quick, and if I say really, I mean a lot.
+1 from here
Danny 8/10 March 16, 2017
PIA is by far the best
Based on my knowledge, nothing can beat PIA. It's easy and simple to use, connects within seconds and is very reliable software.
I especially like that you can keep it minimzed on your taskbar and quickly change server locations.
Furthermore, PIA connects to a server pretty much instantly while many other VPN providers can take 5-10 seconds.
PIA is a great tool – no doubts about that.