Private Internet Access, or PIA for short, is brought to you by the London Trust Media, Inc. group.
Their inspiration from PIA stems from their early days as a marketing, media, and web development firm. If anyone knows all about the complete lack of privacy for people today, it's digital advertising people.
In this review, we'll first take a look at PIA's server locations and its availability on different apps and devices. We'll then dive into their available protocols and encryption methods, before detailing their plans and pricing.
Here's the quick details:

Private Internet Access Review (Summary)
---
| | |
| --- | --- |
| PROTOCOLS: | OpenVPN, IPSEC/L2TP, PPTP, SOCKS5 |
| ENCRYPTION: | AES 128 & 256-bit |
| LOG FILES: | No Logging |
| LOCATIONS: | 25+ countries, 3200+ servers |
| SUPPORT: | US Live Chat (24/7) |
| EASE OF USE: | Very Simple |
| COST: | $3.33/mo |
| PLATFORMS: | Win, Mac, Android, iOS |
| RECOMMENDED? | YES |
| OFFICIAL WEBSITE: | www.PrivateInternetAccess.com |
PIA Quick Facts

PIA's network is a relatively small, but dense, network.
Technically, they only reach 24 countries, which isn't the biggest we've seen (ExpressVPN reaches almost three times that at 87 countries for example).
But PIA has over 3,269 servers in those 24 countries. So as long as they're in the area you're interested in, there should be no shortage of available options.
Their primary gateways are clustered within North America and Europe. South America only has a single location currently in Brazil. The Middle East can claim Israel, Turkey, and India. A few dot Asia in Singapore, Hong Kong, and Japan.  And Oceania has a handful in Sydney, Melbourne, and New Zealand.
PIA is also available extensively across most major apps and operating systems. That even includes a few older versions of the Mac OS and Windows. (You'll might notice that they also will have multiple protocols listed for some devices, which we'll dive into shortly in the next section.)
Here's a complete breakdown:
macOS 10.12

Mac OS X 10.11

Mac OS X 10.10

Mac OS X 10.9

Mac OS X 10.8

Mac OS X 10.7

Mac OS X 10.6

Mac OS X 10.5

Mac OS X 10.4

Windows 10

Windows 8

Windows 7

Windows Vista

Windows XP/2k3

Windows NT/2k

UNIX/Linux

iPad PPTP

iPad IPSEC/L2TP

iPhone/iTouch PPTP

iPhone/iTouch IPSEC/L2TP

Android PPTP (2.3.4)

Android IPSEC/L2TP

Android OpenVPN (root)

DD-WRT PPTP

DD-WRT OpenVPN

Tomato OpenVPN

PfSense OpenVPN
PIA allows you to connect up to 5 simultaneous devices at any given time across these apps and operating systems. There are no bandwidth restrictions or throttling to worry about.
And they offer a 7-day money back guarantee. So you can give the service a spin over the course of a few days. If you're unhappy at all during those seven days, you can simply get your money back.
Interestingly, PIA accepts all kinds of different methods of payment. For starters, they'll accept Bitcoin (which could also help you add another layer of privacy to the transaction). But – and I'm not making this up – they also accept gift cards for popular retailers like Starbucks, Costco, Best Buy, Target, and more.
So you know those random gifts your parents just bought you during the holidays? Now you just found a use for it.
Alright enough small talk. Time to get into the technical stuff, so you know how PIA can keep your data secure and anonymous.  
Available Protocols (OpenVPN, IPSEC/L2TP, PPTP, and SOCKS5)
You'd think a hotel network is safe
Who could blame you?
Turns out,
Not only are there security vulnerabilities to watch out for, but Wi-Fi networks at hotels and airports commonly use some kind of proxy that requires detailed personal information before you gain access to the internet.
You quickly enter in all the required info so you can get online ASAP, check the Terms and Conditions box (without ever, seriously, contemplating reading it), and hit GO.
The problem, is now you've just handed over rights to not only your personal data, but also visibility into your actions while on their network. So each and every website you visit, including your bank and other less savory ones, are now recorded forever by Marriott, Hyatt, or wherever else you're laying your head at night.
Public networks are also goldmines for hackers, giving them access to tons of people over the span of hours or days.
Look:
Anyone that knows how to Google can pull up Ethereal and Wireshark to find out how to start snooping on your activity. (So that snotty-nosed tween with greasy hair in the corner of your coffee shop may not be just messing around with Pokemon Go, after all.)
Fortunately, PIA relies on the OpenVPN protocol to combat and circumvent these common issues.
It's based on the same rock-solid technology as SSL certificates, which are used by Google, Amazon, Facebook, and all of the other biggest websites in the world, to keep a connection between you and their servers private – away from prying eyes.
PIA also offers other protocols, including IPSEC/L2TP, PPTP, and SOCKS5 (Proxy) for older devices or special circumstances. PIA's SOCKS5 proxy connection, for instance, is similar (but different) to a standard VPN connection.
They offer some of the same browser-protecting services so that you can hide your identity to download stuff from BitTorrent for example. But they're not completely secure connections from hackers, and they might still pass some of your personal data, like your IP address, along to the destination website.
In summary:
Stick with OpenVPN the majority of the time and rest assured that your connection will be safe and sound. Otherwise, if you already know what you're getting into, feel free to dabble with other protocols.
Multiple Encryption Options
Some VPN Providers will just provide you with one primary encryption method (usually the strongest available to make sure nothing goes awry).
However, PIA offers a few different methods on their OpenVPN tunnels depending on what criteria you're concerned.
(If you're unsure or don't care, don't worry. PIA will recommend and default one to use.)
The first option is an AES encryption that's either 128 or 256 bit. This should typically be your go-to option because it's used by government agencies around the world and recommended by top security professionals.
The number part ('128' vs '256') refers to the encryption combination strength. If you're primarily concerned with security for example, stick with the 256-bit connection which is virtually impossible for hackers to 'brute-force attack'.
But that extra strength comes at a cost. Namely: speed. So if you're already on a secure network and are OK giving up a few security points, you'd probably be fine on the lower 128 connection that will maximize your speed.
Got it? Good.
Here's where things get nerdy.
Beyond those primary data encryption methods, there's also data authentication and a 'handshake' setting as well.
A successful encryption creates a secure tunnel between you and a server. Data authentication is an extra message algorithm that's used to thwart and block attackers that are trying to insert or 'inject' themselves between you and the VPN. With this turned on (by default), you should be safe and secure. (However, if you turn it off to speed up your connection, you might be at risk.)
The handshake encryption is the 'secret key' used to verify or authenticate your device, and that you're really transferring data to a VPN server (and not some malicious intermediary). Then there's also ephemeral keys, which are used temporarily for authentication and then erased completely so that they can't be used by others even if access is compromised.
TL;DR?
If you're not sure what to select or are just looking for default security, stick with the strongest (256-bit) encryption and keep data authentication on with SHA1 (strong) or SHA256 (strongest) and your handshake key at RSA-2048 (strong) or RSA-4096 (strongest).
If you're trying to maximize speed, and are relatively confident of the private network you're currently on, you can get away with downgrading (or disabling) your encryption and switching your data authentication off.
Either way, you won't have to worry too much. Because PIA will show you warnings if any of these data encryption or authentication features are turned off (or if you're using potentially unsecure keys).
No Logging (Fully Anonymous)
'Logging' is a practice used to monitor and record datapoints from your VPN activity.
For example, your internet service provider (ISP) will log which websites you access along with your personal information used to connect (like email or ISP).
Some VIP providers will log certain details, like when you login or sign off, in order to monitor their usage to improve service.
PIA has a no logging policy that will not track or monitor traffic logs, or communication logs.
US Based Customer Support
PIA offers "24/7 North American" support.
I think that means their support personnel is located within North America. Seeing as the whole "24/7" thing means they should always be available (no matter where you're located).
Awesomely, they also provide a separate Twitter account dedicated for customer service. We took a look at that network to see how they interact with customers. The good news is that they will still try to provide long, detailed answers (despite Twitter's condensed medium).
For example, here's a couple exchanges: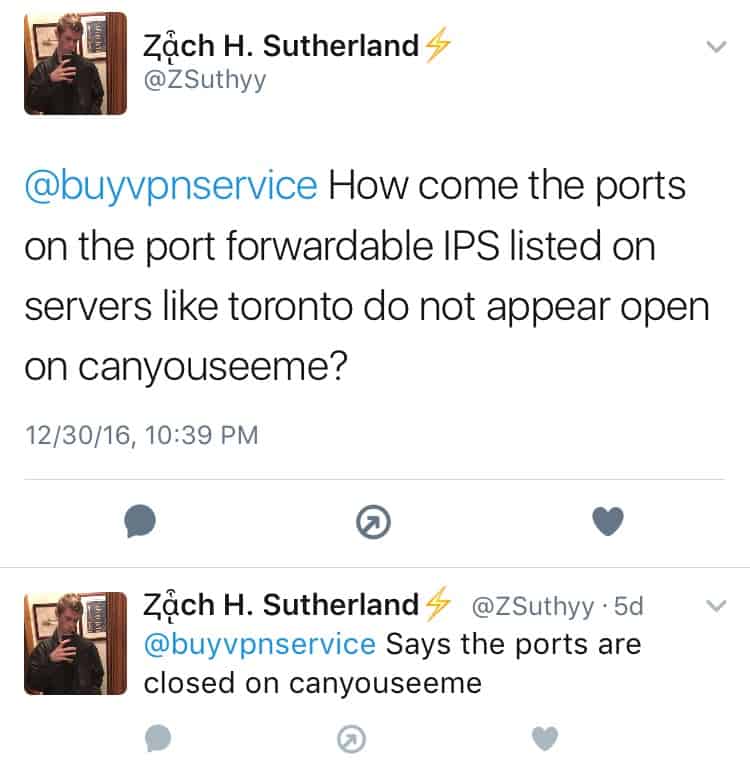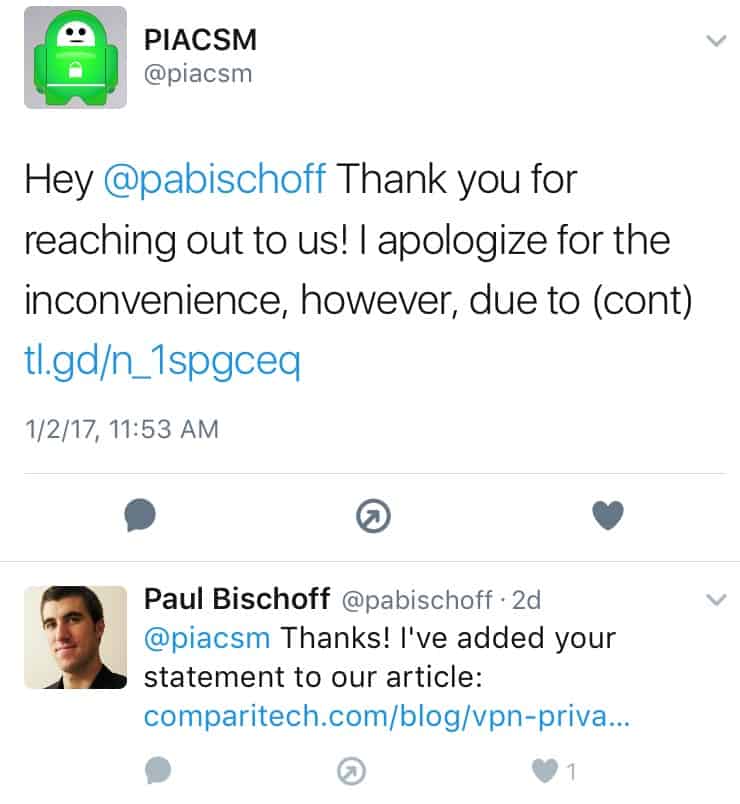 Plans & Pricing (Starts $3.33/mo)
PIA has a single plan with tiered pricing based on the length you'd like to commit and prepay.
That keeps things nice and simple. And you can also get a great deal if you're ready to shell out a single year in advance.

Plan One:
Plan Two:
Yearly

$3.33/mo ($39.95 per year)
Plan Three:
6 months

$5.99/mo ($39.95 per 6 months)
Ok now you've seen all PIA has to offer. If you're ready to give that 7-day money back guarantee a test, go ahead and signup for an account. Here's how you can get everything set up for the first time.
Private Internet Access Speed Test (One of the Fastest)
To make our reviews accurate, we went to speedtest.net and put the following locations in test.

P.S. The location we used to track the speed was in the middle of Europe: Estonia.
US Server (New York)
Ping: 118ms
Download: 77.56 Mbps
Upload: 36.75 Mbps
EU Server (Amsterdam)
Ping: 41ms
Download: 84.46 Mbps
Upload: 40.30 Mbps
Asia Server (Hong Kong)
Ping: 283ms
Download: 69.98 Mbps
Upload: 13.04 Mbps
UK Server (London)
Ping: 48ms
Download: 75.67 Mbps
Upload: 23.00 Mbps
PIA speed is surely in TOP 3. So if you're looking for a fast VPN provider, look no further than PIA. In our tests, they came out faster than ExpressVPN and SaferVPN.
Re speed test: Always take such speed tests with a grain of salt as they simply rely on too many variables. However, since we've tested 20+ VPN services so far, we have an average that we can compare to other VPNs.
PIA VPN Setup Reviewed
---
Login to your account on their www.PrivateInternetAccess.com to begin setting up the client. You should see this welcome screen.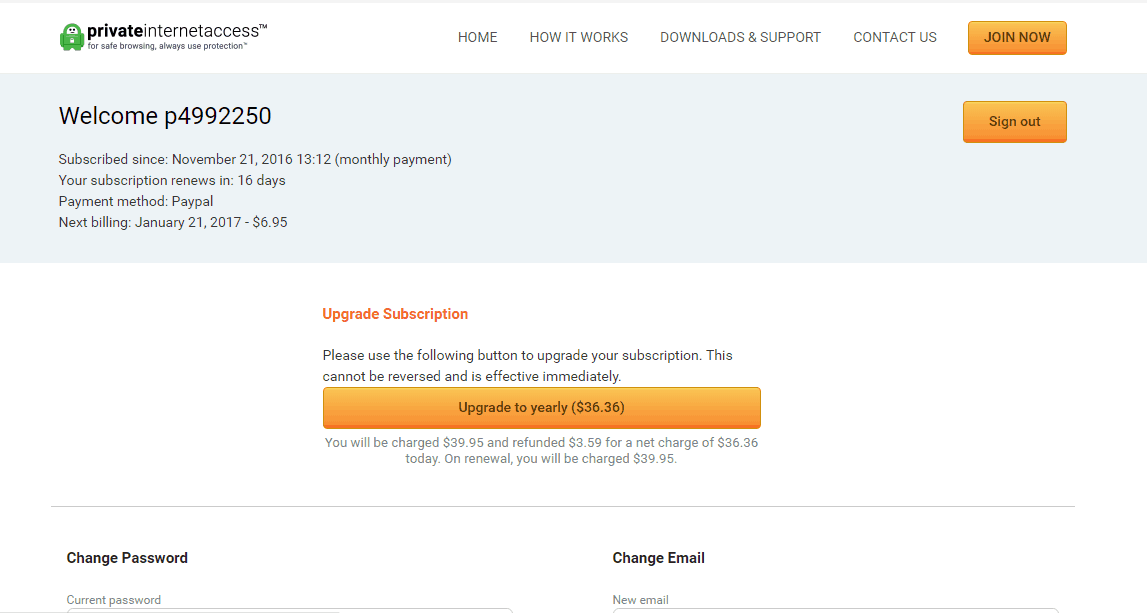 This is your Dashboard where you can change your subscription, change your email or password, and download the client.
From here, click on Downloads & Support in order to download the client for your device.
Don't worry about signing in again on the left-hand side where it says Client Sign-In.
Instead, you want to download the client on the right-hand side under Download Private Internet Access. Click on the system that matches the current one you're using.
The client will automatically start downloading once you click on the correct system. Go through the standard program installation process.
After you have installed the client, you will have to log in to your account.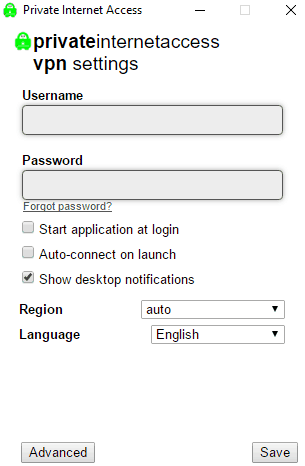 There is no PIA window that will come up after logging in. Instead, you can access your new client in the bottom right-hand corner if you have a Windows system, or in the upper right-hand corner for Mac systems.
Clicking on the PIA icon will allow you to change locations. They will automatically choose one for you by default, or you can manually select a specific one.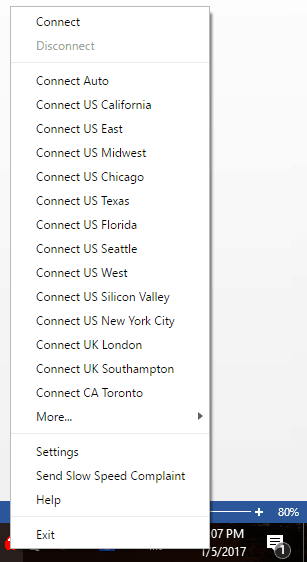 Just click on the PIA icon and you can choose from their list of servers and it will connect automatically!
Now you can start using Private Internet Access VPN :).
PIA Review Summary
PIA offers excellent coverage in North America and Europe, with tons of servers centrally located. That coverage isn't as great in other parts of the world however, with only a few servers spread around the Middle East, Asia, Oceania, and a single, lonely one in Brazil for South American users.
PIA has all major protocols available, along with state-of-the-art encryption methods. Their annual pricing is among the lowest in the industry. And they've got a seven-day money back guarantee if you'd like to try them out.
If you don't want to go with Private Internet Access VPN, you can also find more VPN Reviews here.
Private Internet Access Pros:
Great support
Best usability
25+ countries, 3200+ servers
Works on all devices
Private Internet Access Cons:
Try Private Internet Access Now
P.S. Have you used PIA VPN? If so, please consider leaving a review below 🙂
7 user reviews for PrivateInternetAccess