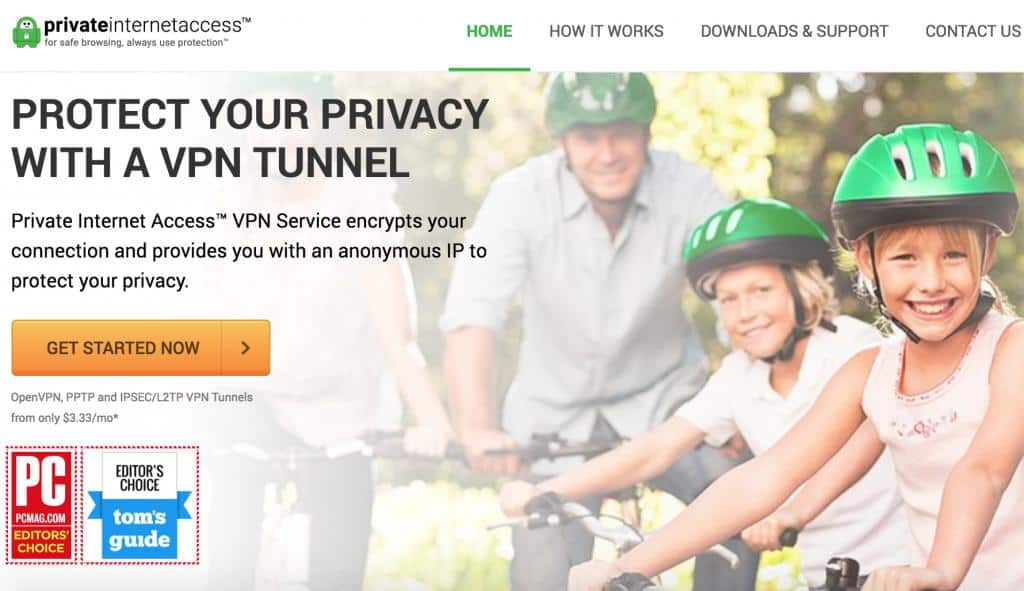 Private Internet Access (PIA) is probably the most popular VPN on the market today.
It was started by London Trust Media, INC. back in August 2010.
Despite being one of the cheapest VPNs, and having thousands of users, is it good enough for serious use?
In this review, we tested PIA server network performance, usability of their VPN app as well as the technology behind their VPN service (OpenVPN + 128-bit encryption).
Overall, here's how it did.
PIAVPN Overview
| | |
| --- | --- |
| OVERALL RANK: | #10 out of 78 VPNs |
| USABILITY: | 4/5 |
| LOG FILES: | No Logging Policy |
| LOCATIONS: | 33 countries, 3335 servers |
| SUPPORT: | Limited "Live Chat" |
| TORRENTING: |  Torrenting Allowed |
| NETFLIX: | Yes 1/5 |
| ENCRYPTION/PROTOCOL: | 128-bit AES (default), OpenVPN and more |
| COST: | $3.49/mo and up  |
| OFFICIAL WEBSITE: | www.privateinternetaccess.com |
PIA Pros +
1. Fast Download Speed (81 Mbps out of 100)
One of the most important factors of a VPN is their download speed. If you're signing up with a slow (read: bad VPN), you'll end up with ridiculously slow speed.
We've faced that several times, especially when I tested speed in StrongVPN and Mullvad (both were below 20 Mbps out of 100).
However, things with Private Internet Access look quite good actually. As always, to make our PIA review accurate, I went to speedtest.net and put the following locations to the test: US, EU, Asia, and the UK.

P.S. The location I used to track the speed was in the middle of Europe: Estonia.
US Server (New York)
Ping: 118ms
Download: 77.56 Mbps
Upload: 36.75 Mbps
EU Server (Amsterdam)
Ping: 41ms
Download: 81.46 Mbps
Upload: 40.30 Mbps
Asia Server (Hong Kong)
Ping: 283ms
Download: 69.98 Mbps
Upload: 13.04 Mbps
UK Server (London)
Ping: 48ms
Download: 75.67 Mbps
Upload: 23.00 Mbps
In conclusion – PIA is pretty fast VPN. Not as fast as NordVPN or ExpressVPN, but surely an "OK" alternative as it's cheaper.
Keep in mind, speed is an important factor and is vastly connected with the VPN software you're using. Of course, there are some ways to speed up a VPN connection, but the main strength comes from the actual VPN servers.
2. PIA Claims No Logging
'Logging' is a practice used to monitor and record data points from your VPN activity.
For example, your internet service provider (ISP) will log which websites you access along with your personal information used to connect (like email or ISP). And they can actually sell that data.
Some VPN providers will log certain details, like when you log in or sign off, in order to monitor their usage to improve service.
PIA has a no logging policy that will not track or monitor traffic logs, or communication logs.
However, it does track some information, such as:
Your email address
Payment data
Clients who opt to use the optional control panel will receive a temporary cookie
3. No Leaks Detected
Private Internet Access is located within the United States, a founding member of the Five Eyes Surveillance Alliance.
Not ideal right off the bat.
If they were to get their grubby hands on your data, it would end up in government databases all around the world.
Thankfully though, this is a system without leaks, which greatly hinders the government's ability to spy on your browsing activity.
As you can see in the results below, PIA passed all of our tests, both to detect the presence of leaks and to ensure that their installation software was 100% clean.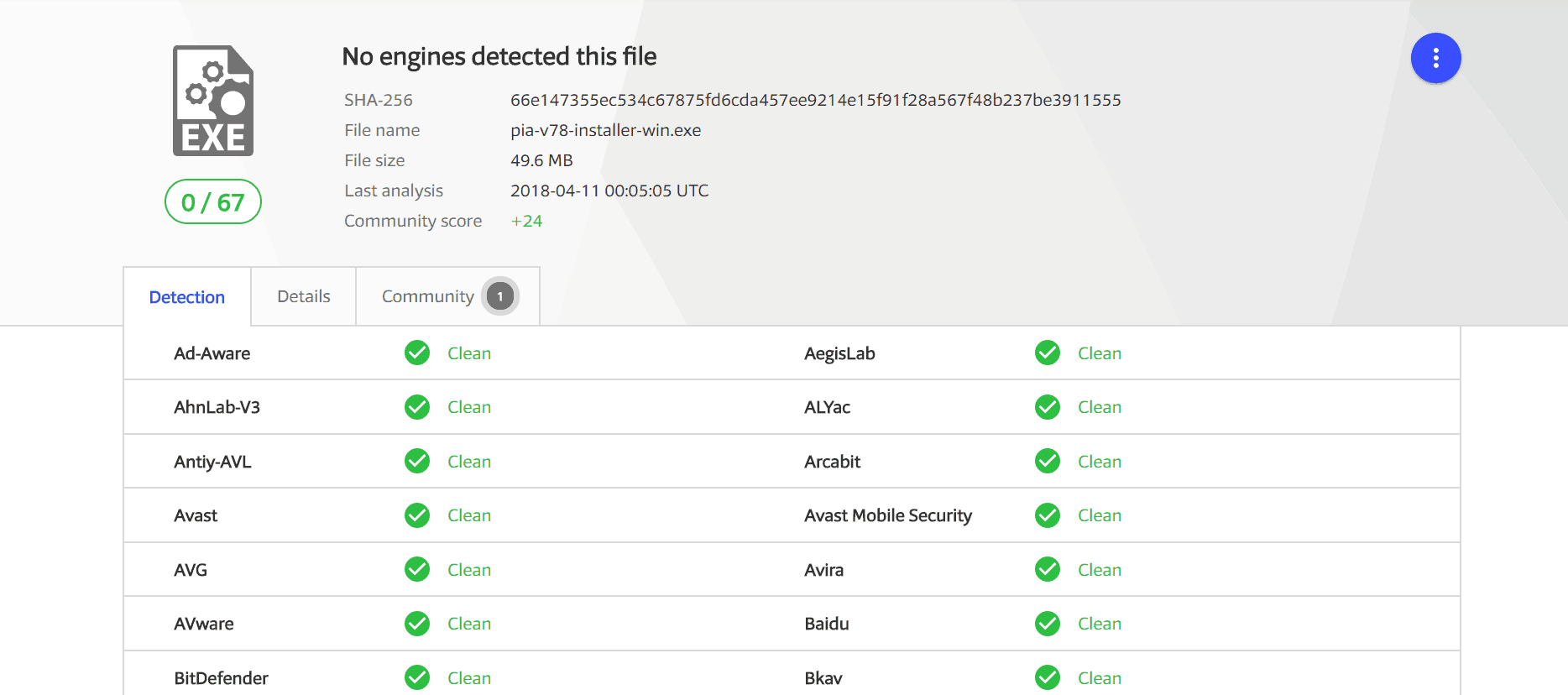 4. Solid Encryption & Great Features
In addition to important features, such as:
Anonymous IP
Ability to torrent
Kill-Switch (but people have

complained about it

)
10 simultaneous connection
Total servers: 3300+
Total countries: 32 (last verified on 28th of May, 2019)
PIA also has several different levels of encryption: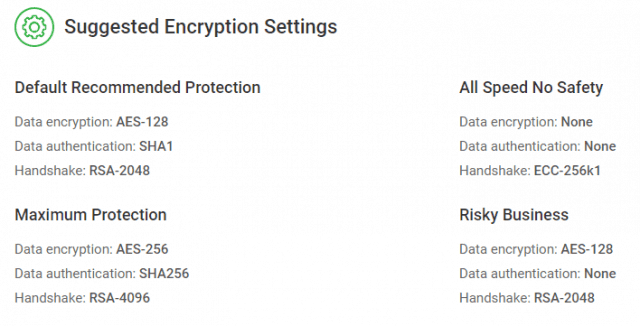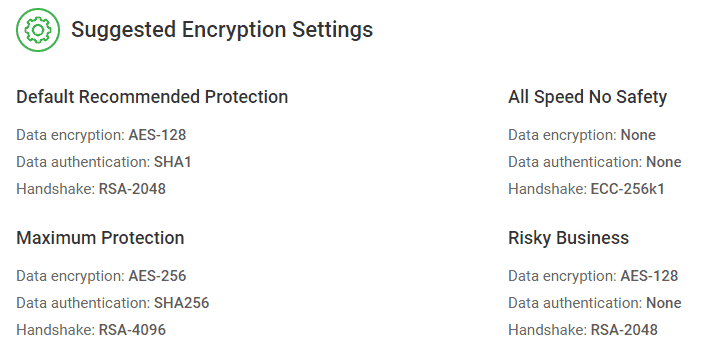 The default settings use 128-bit encryption on your data, which is good, but not the best. However, you can step up your data encryption to 256-bit, which is the industry standard, and will give you a very secure connection (it will slow everything down a bit, though).
You can also choose the level of encryption on both your data authentication and your handshake. Both of these help your computer and the server verify the authenticity of the connection and the data being transmitted. The default settings are for SHA1 and RSA-2048, a 2,048-bit encryption key. That's very difficult to break.
You can go all the way up to RSA-4096, though, and double the size of the data authentication key with SHA256.
Again, I recommend using the maximum settings so you get the best security possible. But if you really need extra speed, you could consider using the default recommendation. And while the Risky Business setting might seem like a good idea if you need extra speed for torrenting or streaming, we'd really recommend against it.
There's probably not anyone trying to break your VPN encryption… but why risk it?
5. Specialized in Torrenting
If you're looking for a VPN that won't restrict your torrenting, PIA is a solid choice. They don't restrict or monitor any connections, and that includes peer-to-peer file sharing.
You can use any torrenting client you like to download whatever you want, secure in the knowledge that your account won't be blocked or your connection throttled.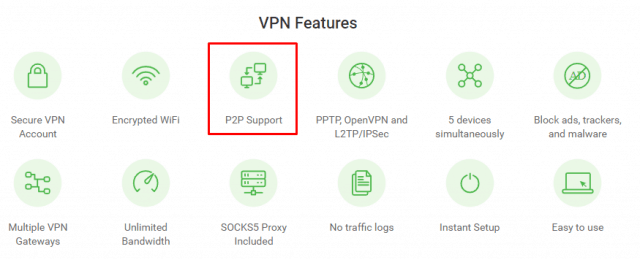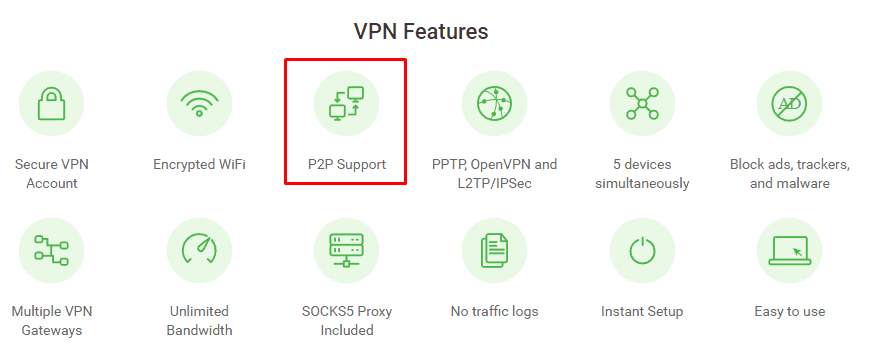 While Private Internet Access's website doesn't specifically say that the company supports torrenting, they do say that P2P is supported. So that's something. But the VPN has developed a reputation for being torrent-friendly, so people recognize them as being a solid choice for file sharing.
6. One of The Oldest and Well-Known VPN Providers
In the VPN world, it means a lot to have a reputation. And Private Internet Access has one of the best reputations in the business. They've been around since 2010, and they've provided reliable service ever since. In late 2017, they won the award for Most Stable VPN, which means a lot.
Was it sponsored or not? Hard to tell…
They've also received multiple editor's choice award, but we can never know if they were compensated by PIA or not.
The VPN shows up in a lot of "best of" lists, and there haven't been any serious questions about their commitment to privacy (though they're based in the US, which can be problematic; keep reading and we'll discuss that momentarily).
Being in business for almost 20 years is definitely a sign of prestige in the VPN world. PIA's reputation and longevity make it a very safe choice.
The company also supports many organizations that are making the internet a better place, including the Electronic Frontier Foundation, Creative Commons, Blender, Inkscape, Gnome, and the Software Freedom Conservancy.
7. Decent Device Compatibility
PIA supports most popular platforms.
That includes Windows, macOS, Linux, Android, and Firefox. They also have browser extensions for Chrome, Firefox, and Opera.
They also support routers, technically speaking. But that will require some manual setup through OpenVPN.
Not a huge fan of the extra labor. However, it does mean they're compatible with DD-WRT, Lede, Merlin, PFSense, Tomato, and ASUSWRT routers.
Plus, you can then connect both smart TVs and game consoles to those routers. So there's your light at the end of the tunnel.
8. One Out of Five Servers Worked for Netflix
PIA's support forums confirm that they've been working diligently for years to find ways around Netflix's detection.
How have they fared?
So-so.
We tested four of their servers and saw the same dreaded black screen:


Those four losers included:
United States: New York
Canada
United Kingdom
Netherlands
However, we did get a successful one in Sunny California.
Believe it or not, one out of four is pretty good these days. Especially when the majority of VPNs don't even try to work with streaming services anymore.
But if you want a more consistent Netflix performer, take a look at this comparison.
PIA Cons –
1. Limited Live Chat Support
Although PIA offers "24/7 North American" support.
They only offer a live chat option for paying customers, which is kinda bad if you want to inquire about their services.
I think that means their support personnel is located in North America. Seeing as the whole "24/7" thing means they should always be available (no matter where you're located).
However, when I contacted them through a middle of the night, I got a response at next morning. Not so 24/7 anymore, huh?
On a positive side, they also provide a separate Twitter account dedicated to customer service. I took a look at that network to see how they interact with customers. The good news is that they will still try to provide long, detailed answers (despite Twitter's condensed medium).
Furthermore, they have a FAQ page which might help some of you: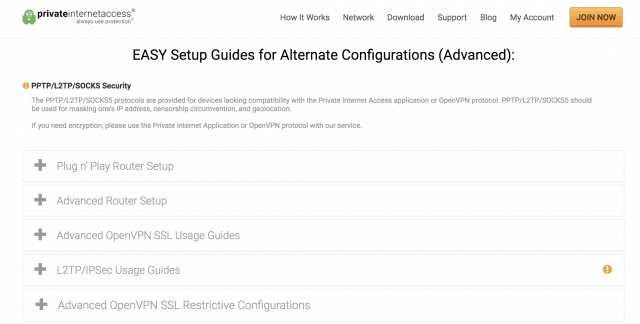 2. Located in The US
Private Internet Access is based in the United States, and that's problematic for many people. The US has some of strictest, most privacy-invading surveillance laws in the developed world, and that applies to VPN providers. The government has been known to pressure VPNs to give up user data with secret warrants, and that worries privacy advocates.
Of course, the fact that PIA doesn't keep logs means that they have very little to share with the authorities if they come knocking. But the fact is that they may not have a choice; if they have any data about you at all (such as whether you're a customer or how long you've been one), they may be forced to hand it over.
Should that worry you? Maybe, and maybe not. There are rumors that the NSA has been able to break the encryption on some VPNs, which means the government could be snooping on your connection. If you're using the maximum security recommendations, that's less likely.
Because of the combination of surveillance laws and intelligence-sharing agreements in the US, I tend to avoid VPNs based there. But that doesn't mean it's completely necessary for everyone.
PIA Pricing, Plans & Facts
PIA has a single plan with tiered pricing based on the length you'd like to commit and prepay. That keeps things nice and simple. And you can also get a great deal if you're ready to shell out a single year in advance.

Plan One:
Plan Two:
Yearly
$5.99/mo ($71.88 per year)
Plan Three:
They offer a 7-day money back guarantee. So you can give the service a spin over the course of a few days. If you're unhappy at all during those seven days, you can simply get your money back.
Interestingly, PIA accepts all kinds of different methods of payment from credit cards to PayPal & they'll also accept Bitcoin (which could also help you add another layer of privacy to the transaction).
But – and I'm not making this up – they also accept gift cards for popular retailers like Starbucks, Costco, Best Buy, Target, and more. So you know those random gifts your parents just bought you during the holidays? Now you just found a use for it.
Even better way to mask behind your identity?
No logging: No activity logs, only payment and email information.
Ease of the VPN software: Simple and smooth, installation file was over 60mb though.
Hidden fees & clauses: None. In fact, their privacy policy is remarkably straightforward.
Upsells: No upsells.
Instant access after payment: Yes.
DNS leaks: Protection is built in (though you should always test it yourself).
Jurisdiction: United States
Protocols: OpenVPN, IPSec/L2TP, PPTP, Socks5 proxy.
Kill-switch: Mixed reviews. Users can enable or disable it, and some have found that it doesn't work as consistently as they like (I recommend testing it yourself).
Do I Recommend Private Internet Access?
Yes and No.
PIA offers excellent coverage in North America and Europe, with tons of servers centrally located. That coverage isn't as great in other parts of the world, however, with only a few servers spread around the Middle East, Asia, Oceania, and a single, lonely one in Brazil for South American users.
PIA has all major protocols available, along with state-of-the-art encryption methods. Their annual pricing is among the lowest in the industry. And they've got a seven-day money back guarantee if you'd like to try them out.
No general live chat support and company located in the US. A lot less privacy in a Five Eyes country.
Alternatives
If you don't want to go with PIA VPN, you can also find more VPN Reviews here.
I'm recommending either using NordVPN, Surfshark or ExpressVPN. All of them are safe, secure and fast.
Add your own review
P.S. Have you used/using Private Internet Access VPN? If so, please consider leaving a review below. Good or bad, doesn't matter – we accept them all.
70 user reviews for Private Internet Access
Kevin 8/10 October 15, 2019
Does the job well, but apparently not as secure as it appears to be
First of all, I never experienced most of the issues I've read my fellow PIA users come across, it always went smoothly and I was able to use my VPN on all my usual connections. Some routers were blocking PIA due to the packet size, but there is on the official user interface an option to reduce it, so no issue on this part. However, it seems that PIA suffers from some weird implementation choices, as seen in this post for example: https://www.privateinternetaccess.com/forum/discussion/23838/warning-pia-data-centers-odd-ip-changes
This is rather alarming, and certainly I will switch to another VPN provider when my current subscription will end, but I have to admit: compared to the concurrence, PIA stays a good bang-for-the-buck, considering the price of a 1-year subscription.
Hope this comment will be useful to you guys.
jonzen 10/10 October 10, 2019
A bunch of you must be computer illiterate
I have been using PIA for many years and have had very few problems. I have used support a few times and always received a reply quickly. 100Mbps fiber and have not tested lower than 85Mbps with the highest encryption. It may be a windows problem, it seems Windows does not work well with many software packages. Try linux if you're bright enough.
SK 5/10 September 16, 2019
Cut off support
After using them for about 22 months, they suddenly cut off support for my old computer which I cannot upgrade the OS. Mildly understandable that they would make the change, but no warning whatsoever was given and they will not refund me for the 2 months I am now unable to use. Shady business practices? Or just supremely bad lack of communication? Might be a little bit of both.
John 1/10 September 10, 2019
PIA Sucked (In My Experience)
If you are shopping for a VPN I am here to tell you NOT to buy a product called PIA (Private Internet Access).
The reasons are short and sweet:
(1) it will degrade your internet speed just about to uselessness (mine went from 150 Mbps to ~30 Mbps) and
(2) if you try to cancel they will not refund your subscription fee. After 4-5 attempts to resolve the speed issue they gave up. I found another product that does not have that drawback (however, it is important to note that any strong VPN will reduce your download speed somewhat).
I requested a refund of my subscription and they refused.]
Sure wish I'd found this site before using PIA!
Debi 1/10 August 26,, 2019
PIA versus ExpressVPN
My 1st VPN was PIA, I had used them for several years. Recently my auto renewal was approaching and I decided to learn more about VPN's and look into other top rated ones. I never realized there could be such huge differences in speed using paid VPN's. I decided to go with Expressvpn. I did a speed test still connected through PIA. A speedtest with no VPN and a speedtest connected through ExpressVPN. With PIA my download speed was 49 with ExpressVPN my download speed was 111 and with no VPN connected it was 171. I was quite shocked that there could be such a huge difference. I have seen a huge difference in performance with streaming. I can now stream all 1080 large GB sources without any buffering, I can fast forward or rewind and it does not stutter or freeze at all. While using PIA I had to use 720 low MB links and still had buffering. I'm sorry that I stuck with PIA on auto renewal for years instead of doing the research. Switching has made my limited TV viewing time a lot less frustrating.
Jim S. 4/10 July 29, 2019
Buyer beware!
Echo some of the other reviewers. 7 day trial for full refund. After that, it yours for the duration of whatever time you signed on for. If you're like me, I used the service for 3 weeks on a 2 year subscription and I'm stuck. Don't like it, but it is what it is!!!! For novices like me, recommend a 30 day trial and get your bugs worked out before you sign up for the cheaper subscriptions. Sorry PIA --- Your refund/return policy stinks!!
Jim 10/10 July 10, 2019
Excellent Performance for Current Version. Excellent Email Support.
I have used PIA with my Macs since 2014. PIA has always performed well for me, but during the first two years the settings were a bit fiddly and, looking back at my email records, I had problems with dropped connections and blocking some web sites with Safari. I note every one of my email questions were answered promptly and problems were solved with adjustments to my settings.
Since 2016 I have had zero problems! The newer versions seem to be bullet proof for me, so it appears they have refined their software and/or their default settings. Now I have no problems and I never have to change my settings from their defaults. In 2017 I signed up for their two year payment plan and I fully intend to renew later this year.
Seth 5/10 July 7, 2019
Similar experience to others
Overview, it has been reliable, they have improved their VPN client 10x folder for updating/look/feel. Downside, I've called them out on this several times to support, they claim they are not throttling, that is an obvious lie. Having multiple Gig fiber internet connections, it still won't give you but 60-80Mbps through-out. Disconnect the client, and my throughput will go 10x faster. They claim it is my provider...I don't pay $2K/mo for multiple, load balancing failover fiber providers through our business with SLAs to go that slow. PIA is descent, but who knows what kind of data leak there is, and the performance just isn't there. My Sub has been canceled after nearly 4 years with them and will stop working in weeks. So, moving on to another VPN company.
Mo 1/10 June 24, 2019
Please do not get this VPN
I bought this VPN, expecting that I would receive good speeds and good customer service. I was unable to get anywhere near the download speeds my 100mbps fiber line is capable of, when connected to this VPN, despite trying multiple servers. The customer support was horrible, and they refused to provide me a refund. Please try a better VPN and take your money elsewhere.
Chic 1/10 June 19, 2019
Customer Support is Clueless
These guys are horrible! I've spent more than a day just trying to cancel my service and they claim that they can't help me until I prove to them that I'm the person that paid for the original subscription! I'm not even going to get into the quality of the product. I've had trouble with it since I first tried it but couldn't get rid of it!
Don't waste your time or money!
Thomas Lee 1/10 June 8, 2019
AVOID THIS VPN
VPN service did not function as advertised. Sneaky auto-renew without advance warning. Unethical, unhelpful, inhuman customer service. Difficult auto-password system makes it difficult to access their system.
VPN service stopped working four months ago. I was no longer able to use their service. After a dozen attempts, I assume that my membership had expired.
Four months later, they charged my credit card without advance notification for another year. They did this without advance warning. I immediately contacted them. The worst customer service I have ever come across.
Their business practices are highly exploitative of the fact that very few people will actually track their membership and since they give no advance warning, they make all their money by sneaking in charges without you noticing.
What makes this more difficult is that their password login is an auto-generated random code. You can't setup your own code. So getting into their web control panel can be annoying.
I cant believe that a company that is based on internet security is essentially robbing people.
AVOID
Sanj 3/10 May 31, 2019
VPN customer service not great
I had not used my VPN service 6 months into my annual subscription. Immediately after they auto renewed my subscription (I had not realized I was on auto renewal) I asked for cancellation and a refund, but they simply refused. In this day and age, I have not heard of a company charge for services not being used and not ready to cancel and refund an annual subscription a day after renewal.
Anon 1/10 May 30, 2019
Not worth it. All of their IP's tend to be banned. Terrible refund policies as noted by others.
I quit using them about a year ago, primarily because I increasingly couldn't access a good number of sites, due to bans on their ips. Switching servers didn't help. For sites that didn't outright block the IP, I would get bogged down in captchas, making even rudimentary browsing pointless.
Insult to injury, I get a recurring bill out of nowhere which I responded to within minutes of getting it, asking to cancel and get a refund. They politely told me to go suck it. This is after years of using their service.
Stephen 6/10 May 8, 2019
No longer of any use when streaming Prime
Really wanted a VPN work around for view over the top streaming programs like Netflix etc. Early reviews said it accomplished this, effectively. Not any more. And when you're locked into a two year plan they don't really seem to care.
M 10/10 April 22, 2019
First VPN and been with them for years
They were my first paid VPN and at 37 a year at the time you couldn't beat it. Worked flawlessly. Saw above that the yearly rate is 60 dollars and panicked cause I just auto renewed. Went and checked the charge and it says 39.95. Not sure if I was grandfathered in but I'm happy. The most I do is download the random game when I'm too broke to afford it at the moment, and of course, vpn/incognito my fapping behaviors. Speeds have occasionally been crap but I just connect to a different server and it has always fixed it, seeing low to mid 300s out of a possible 400 Mbps. Have never had an issue of receiving notices from my ISP with them. They may not have higher encryption but it seems to suffice for my needs, and, um, err.. urges.
NordVPN does seems great but the fact I see them advertised all over MSNBC and other major news channels made me nervous to use them. And since I just auto renewed I'll try to remember next year. But in an age where any company can get infiltrated by big brother, I feel they are as safe as anyone, and their service has always been affordable and reliable. I've read many bad reviews of them but I have had nothing but a majority of good experiences, combined with the fact 1 account is allowed 5 simultaneous connections so I can use on multiple devices or let a friend on, I highly recommend PIA(knock on wood).
Jen 1/10 April 15, 2019
Worst customer support and service ever
I'd give them a zero if I could. I have been billed for service but consistently given invalid passwords to log in. and each time i've had to wait over a week for the password reset, only to have the password be expired by the time I hear back from them again so I could set up service. I've switched to NordVPN and am much happier with their service.
Alex 2/10 April 13, 2019
Many IP's Blocked causing failed page loads and missed eMails
PIA was perfectly suitable for the first two years that I used it in the US and Australia. Over the past nine months or so, it has become increasingly problematic. There seems to be limited to no connectivity to most servers when I've tried using it in Australia. In America, many of the server IP's are blocked--not just by streaming servers like Netflix, but also by a large number of websites and by gMail. The result is that I often don't receive eMails until I disconnect the VPN, and website images are broken or pages are unreachable while using the VPN. These problems occur on multiple devices, on 100MBPS Fiber and 4G cellular, as well as a university connection.
What once was the best VPN deal has become so problematic I'm having to buy another subscription, in spite of having 5 months left that I've paid for.
Billy J 10/10 April 13, 2019
Delighted with my Devices
Perfect for my Windows 10 laptop, MacBook, iPad, Linux Mint desktop and a laptop, Android phones, and Android tablet. Been using PIA on those devices for four years and am completely satisfied. Wish there was a version for Windows 10 in S Mode so I could use it on my newest laptop though.
Paul French 1/10 April 06, 2019
Their billing for updating your subscription is BAD!
Stay away from this product until they fix the problem of updating your subscription. I spent $99 and have email receipts and bank statements yet they still show my account closed. There contact capabilities do not work! Stay away.
Chris 4/10 March 12, 2019
They Seem to Have Disappeared
I have been using Private Internet Access for over a year. The first year everything was OK, I was happy with their service and their response.
And all of a sudden, about two weeks ago, they stopped answering the messages (I sent them about 3 or 4 messages because I could not access the VPN). Still, after all the messages, no response and I still cannot use their VPN program.
Not sure what happened, it looks like they went out of business (and I had a 3-year plan, so I probably lost the money).
Just be careful before subscribing to their service.
Be warned.
Chris
I gave them a 40 out of 100 because, while it worked, I was happy with their service.
michael 1/10 March 11, 2019
Avoid at all cost. Support may as well not exist
As far as I'm concerned, any product that I pay a monthly or yearly fee for better have, at the least 24/7 chat or live support. This back and forth via email that takes days if not weeks to resolve does not work for me when it comes on a product I use regularly and depend on.
Anonymous 1/10 February 23, 2019
Another auto-renew with no warning
Service wasn't terrible, but fair share of glitches, and with few servers (or few selectable), lots of streaming services had their servers blocked, so switched to NordVPN. And then it auto-renewed with no advanced warning, and no refund available.
Darren 10/10 February 19, 2019
Used them for years now without issue
've used PIA for many years now (I'm in the UK on Virgin) and never had an issue at all. My speeds are always decent and I get virtually no difference with it on (with PIA I get 30 Mbps download and 6ish upload with a ping around 27 - by means of comparison without it my downloads and upload speeds are the same, maybe .1 difference, with a ping of 15 ). All the other I've tried got nowhere near the performance of PIA. This is based on the Windows client - I do use the Android client too but have never looked into speeds - however it's certainly no issue as streaming is fine for me.
I've never had any issues with support or payment (my only support query was solved quickly), so no grumbles there either. I'll carry on using them unless something dramatic was to happen as I'm perfectly happy with the service.
Kirk amos 1/10 February 13, 2019
Thieves
Brought Internet speeds to a halt. Stopped using it. Year later they automatically reactivate and take $40 out of my account. No warning. Their refund policy specifically states no refunds on reactivation. They robbed me.
Pec 1/10 January 29, 2019
Useless Private Internet Access
The bad:
-Internet access on my phone works only when PIA is connected. The problem is that it constantly disconnects from servers like there is an invisible Auto-Disconnect selection. Automatic region selection doesn't work most of the time.
-Contacted their support about setup info, their response time is longer than a few business days.
-I keep PIA off most of the time so I can use phone internet browser.
The good:
-Price?
-- I wish I got a yearly subscription with another VPN service
Doug Burnley 1/10 January 25, 2019
PIA does NOT support IPTV and will not issue a refund if you upgrade to IPTV.
I purchased a one year subscription to PIA on 4 Jan 2019, on 24 Jan, I replaced my cable with an IPTV service. I was unable to connect to the internet and contacted PIA support, and was informed that IPTV wasn't supported, so I applied for a refund (after 20 days of use), to which I got the following response.
"Thank you for contacting us here at PIA Customer Support and I am sorry that we do not support IPTV at this time As per the PIA Refund Policy, we only offer full refunds requested within seven days of the initial payment. Pro-rated refunds are not available. As your last payment is outside of that seven-day refund window, it is not eligible for a refund. We do apologize for any inconvenience that this may cause."
NOWHERE ON THEIR WEBSITE DO THEY INDICATE THAT IPTV IS NOT SUPPORTED. BEWARE: If you purchase their service and decide to upgrade from cable to IPTV after your 7 day trial period expires (Particularly if purchasing a 1,2 or 3 yr contract)....They won't provide support and will not extend a refund
RandySEA 5/10 January 9, 2019
Generally good VPN with two serious flaws, one in Windows, one in iOS
I used PIA for several years under Windows, until they changed it so that you must be logged in as a member of the Admins group. If you believe that it is a good security practice to mostly logon as a Standard User, you are SOL with PIA. Ironically, a PIA document on good security practices advises using Standard User logons where possible. Obviously the writer didn't know this would cause PIA to fail.
When PIA made the change to require the admin logon (not just installing with admin rights) a few years ago, the program behaved very erratically. It seemed to be working but it wasn't. Customer support gave me conflicting explanations. It took five people and my own testing to figure out the problem.
I always had problems with PIA suddenly not working with iOS. I switched to Encrypt.me (then Cload) for iOS. Now I use Encrypt.me for both. I can't say if today PIA is still as unreliable with iOS as it used to be.
Dave 6/10 January 7, 2019
Good VPN provider with very limited support
I am a long time customer of Private Internet Access. When PIA works, I usually have no real problems. The issue is with support. I recently renewed and found that my password no longer works. Neither does the password reset function on the PIA website. In the past I have been able to contact PIA by phone or chat, but these options disappeared. Thus -- for a simple password reset, I must submit an e-mail and wait -- 20 hours so far. Unless things improve, I will soon be looking for a new VPN provider.
Rick Walker 4/10 December 30, 2018
Auto renewal refunds for VPN's
Hello,
Would just like to share an experience I have had with private internet access. I think as part of a review its good to mention customer support issues or bad business practices. As such I recently had an auto renewal for a full year go through from Private internet access. When I contacted them informing them I no longer use the service, asking for a refund they stated they do not offer refunds on auto renewals. I think its important to include things like this in reviews. Its incredibly frustrating as a customer to suddenly be out $40 because I forgot to cancel an auto renewal, and most legitimate companies would have no problem with something like this.
Andrew 3/10 December 10, 2018
Horrible Customer service
This company will not reimburse automatic payments past 7 days. When I contacted support about this, said there was no way they would refund me, even though I could not access my account to stop my payment plan prior to being billed again. I do not recommend this company. I also can not get it to work with Netflix or in many internet restricted countries.
JamesC 6/10 December 10, 2018
PIA Appalling Customer service
Had paid for 1 yr sub. On return from holiday found email terminating service due to non-payment. Checked personally with Banks - no returns or refused payments. After threatened disconnection within days could not contact them even via their e- form and acknowledgement of receipt got no response and wondered about fraud.
Although was generally happy with product NOT happy at all with company terminating service on spurious payment grounds, then in next email had the cheek to try marketing spiel to come back to PIA at a discount. They had previously also sent a mail saying I had requested cancellation. (NOT TRUE). Now need to find original details of order to check with banks not being fiddled. Their Live chat or assistance page is joke asking for feedback on my support (which I have never had -ever!!!
Now looking for alternative - what a shame! Their billing and marketing depts need some serious training in how to deal with customers, including giving correct clear information if there is a problem;instead they just lost a customer who will now tell anyone to walk past them.
Unsatisfied and looking for a different company 1/10 November 4, 2018
PIA is horrible
Speed is 1kb or no internet at all. With "service" turned off I get 100Mbps. Support is basically nonexistent. They don't care to keep customers. Worthless service if you get no connection.
Jett 8/10 October 28, 2018
Iffy at Best
Pros:
- I love the fact that they're the cheapest VPN out there and their speeds are great! Even though the reason why they're one of the fastest is because the default profile uses a weaker security than competitions default settings.
- On my mobile device (iPhone X), I use a third party app to use PIA's profile (see cons) and it stays connected regardless.
- No DNS leaks. I've tried several times in one day and no leaks have been found.
Cons:
- The default on iOS sucks. It just won't stay connected. And if it is connected, there would be no internet connection at all. Which is why I use OpenVPN Connect.
- No IKEv2, which was a deal breaker for me, but the price brought me back on board.
Other thoughts: I really like this VPN, would I recommend this to my friends? Definitely not. I only use this because of the price point of the service. I don't really do anything online that require a stronger and more stable connection. I only use this when I plan to use Kodi. If they can fix the issue on their app and add IKEv2 protocol? This service would be perfect for me.
Tammer 9/10 October 15, 2018
Live Chat - Yes they do have live chat now.
Been a PIA customer for 4 years. I recently renewed my subscription but didn't like that it Auto Renewed it. I prefer to be notified then let me decide to renew or not. PIA had a Chat popup window to Chat Now. I chatted with the with the rep, they said the only option is the Cancel my PIA subscription after I renew it. My subscription will continue until it expires in 12 months. I will get an email letting me know it's about to expire. Problem is, once I renew, it goes back to Auto Renew so I have to cancel it again. Silly game you have to play if you don't want it to Auto Renew. Other than that, I like PIA.
Jack 5/10 September 19, 2018
It Seemed To Work OK. Then It Didn't. Then Poor Customer Service
Two weeks ago things changed (with PIA). I discovered that my ip was continually indicating New York. Each search with or without PIA required that I log in, to PIA. When PIA indicated that I was connected to Seattle, Las Vegas, US West... I was still showing the ip for New York. After 4 attempts in 4 days, I finally got an answer by email. The email seemed to be from somebody who didn't use the English language very well. No help there. It's been more than a week and I cannot get the NY proxy to go away. I don't trust PIA to do what they advertise, I have to check them each time. wish PIA could be of some substantive help.
Rick 9/10 September 14, 2018
Good customer service
I switched from Express VPN as I was having issues with them. PIA made me nervous since there are many reviews relaying bad experiences. I needed help with getting it to work with my older Android phone. I emailed support any they have me detailed info that was helpful. I followed up with more questions. My experience was that they are very knowledgeable and polite. Maybe not super fast, but within a day, I was good to go.
I've used PIA for a year now. I have no reason to switch currently. I really am pleased with my experience overall. The actual connection is great. No problems there.
RICHARD K PRICE 3/10 September 7, 2018
I'm so far past six strikes comcast just leaves me alone.
P.I.A drops the signal for no apparent reason. I must frequently reinstall it. Every time I leave it on while popcorn time 'or other streaming sites active, it drops to red turning itself off. My sixth strike was for a set of Motown hits. There were fifty-three copyright infringements on just that one set. Comcast temporarily stopped my internet access. after repeated infringements. I am also constantly forced to use the picture puzzle to access other sites because of over-use by the servers, Several times there were so many repeats for the bridge and car puzzles that I could not go to the site. After five tries I gave up. One strike was because I left P.I.A. off so I could go to Craigslist. The others were because P.I.S. failed. After the sixth strike, Comcast just leaves me alone now. It works fine when it is working but that is becoming less frequent,
Jack Zlotnik 1/10 September 5, 2018
Took my money no service
2 problems that PIA created. I have communicated with their customer support 16 times but they don't resolve the problems.
1- when you sign up and give them payment they automatically renew your subscription the following year. No email notification telling you that they charged your billing source plus the payment goes to an unrecognizable name. EG...
PIA ( private internet access) paid to London Trust Media inc.
So I reported an unauthorized charge to my PayPal which caused a bigger problem.
2- I have informed them that payment was sent to them with bank and PayPal proof they continue to insist that never received my payment. Now they tell me I need to pay again. The money is nowhere to be found and it's charged against my credit card.
I just filed a dispute with PayPal.
Jay 5/10 September 4, 2018
I like it but...
I'm often throttled down to 300kb/s for no explained reason, switching servers does not change the speed any. Turning it off and using the internet normally I get full speed. Other than that they're usually great and I usually notice no issues.
Long time Customer 4/10 September 1, 2018
PIA Private Internet Access
They work fine until there is a problem. Poor customer response. At renewal, they expect the customer to click on a link and update any bank card that might have expired. They expect someone to enter a credit card number off of a link from a email. What?!?!?!? PIA expects to have the privilege to take your money without asking each year. Arrogance is not pretty. They threaten to cancel unless you do it THEIR WAY. What about what the customer is going through? I guess success can become a liability for some of us when we think we can take liberties with peoples' private paying information. Why do they want to alienate their customers with this slippery performance
nigel 10/10 August 14, 2018
PIA Review
Have used PIA for 3 years now and have never had any problems... I have used the speed checker and have been getting the same speed when PIA was either on or off. Net flix streaming doesn,t like PIA but I just switch it off when streaming although miss the American progs.. I used to find Gumtree here in the uk stalled at times with PIA but seems to work ok now..
I am very happy and will renew this year .. Thanks
NonSequitu 10/10 July 30, 2018
Reliable and Secure
My friends, I have been a satisfied PIA customer for many years. The (very) few service calls I felt I needed to make to PIA over the years were always resolved promptly and courteously. I have used PIA without problems both in and outside the country. At least from my perspective, they have delivered and keep on delivering. Highly recommended. Regardless whatever VPN you are using, please make sure to check your connection often: ipleak [dot] net
Doolittle 10/10 July 14, 2018
Best budget vpn hands-down
PIA was my first paid-vpn about 5 years ago and have been very satisfied with it. Very reliable (keeps a connection for months at a time on linux with openvpn client) and maxes out at 80MBPS. Very consistent performance since I first subscribed, I am completely satisfied. Surprised at all the problems other reviewers have had, I guess it just depends on your location I have had no problems even on the go at relatives and hotels.
Satisfied Customer 10/10 July 2, 2018
I like
overall very good; works with all of my devices even linux PC with easy and painless install speed is decent any VPN with blazing fast speed you need to be skeptical if you really are behind it. Also- like the chrome add-in plugin option for those who want an alternative to traditional install. Lastly they accept gift cards providing additional level of anonymity.
Scottie 1/10 June 26, 2018
PIA cannot be trusted
PIA is one of the worst VPNs I've ever used, and in a dozen years I've used quite a few. Terrible if not non-existent customer service, buggy software, massive doses of marketing hype, frequent lying, and many broken promises. On top of everything else they hired Mark Karpeles as their CTO, the same Mark Karpeles of Mt. Gox fame who presided over the biggest Bitcoin fraud in history. PIA is NOT a company that anyone should trust.
JB 3/10 June 18, 2018
Not worth your money
My experience has been horrible with Private Internet Access. Frequent disconnects and I'm talking about it happening sometimes immediate. I struggled through trying to get help from their tech support without any success. Finally, I tried a free one called Psiphon, and it has far exceeded my expectations. I would never consider using Private Internet Access. It was a horrible experience and a complete waste of money.
Kepa 3/10 June 4, 2018
Customer tracking
Please, notice that PIA uses unique tracking codes in links within emails sent to their own customers. That suggests that after all, they act no differently to serious privacy offenders regardless of what they claim.
Al 10/10 April 27, 2018
Renewed for two years
Frequent travel between US and northern Europe. I don't even bother with a laptop any longer, and use only Android devices. PIA auto-connects on log in and has worked as advertised. No complaints!
Zach 9/10 March 27, 2018
Great VPN for a great price.
I have looked over VPNs day and night for years. I'm no expert but I am consistently reading up on the current best and worst and will try new ones from time to time. PIA is constantly proving to be my favorite.
While they are in the 5 eyes, they have proven in court time and again that they really don't keep logs. They could be a bit faster, and could work for Netflix, but overall it's a great one. I have used the app on Windows, Android, and iOS. I haven't used it on Ubuntu for lack of need so far but it would probably work just fine with the track record so far.
The negative reviews probably are very fair. But I'd say that the bad reviews are more likely to be written than good ones, and the fact that there are fans like me show that generally they are great. Though I've never had any customer service issues, so going that rabbit hole may be a difficult road. Hopefully I won't need that, haven't yet in two years thankfully.
Erik 4/10 March 26, 2018
PIA last program to load in Windows 10
PIA always (for many months) is the last to load.
So I automatically connect to the Web and I have Firefox open in 15 tabs or so, all connected to the Web, but VPN takes minutes to load, so all web sites have my real IP address.
What's the point of having a VPN then? I searched PIA forums and tried all kinds of fixes, nothing worked, so it's time to move on, I'm planning on NordVPN or another …
Tomas 1/10 March 13, 2018
Fraud
Marc 4/10 March 9, 2018
PIA - Caveat Emptor
I bought and have been using a 2 year PIA plan based on the reviews here and other websites. So far so good.
However, after reading much here, and other websites about this topic, I decided to re-read the Privacy Policy of PIA on their website and came across this statement:
"BY USING THIS WEBSITE AND/OR SERVICES, YOU AGREE THAT YOU CONSENT TO THIS PRIVACY POLICY AND ANY CHANGES HERETO IN THE FUTURE. YOU AGREE THAT PRIVATEINTERNETACCESS.COM MAY MAKE CHANGES TO THIS PRIVACY POLICY AT ANY TIME WITHOUT ANY GIVEN NOTICE AT ITS DISCRETION.
So much for no logs. If a VPN states that they have a Zero Logs Privacy policy but embeds verbage that they can change this policy without notice, you can be out of luck suddenly if they make a change and you are not aware.
I think this website should also write an article not only about VPN's Zero Log Policies but how the VPN's go about notifying their customers when they make changes. Changes to Policies and Zero Log Privacy Policies go hand in hand.
It may be time to look elsewhere for another VPN.
Brian 1/10 March 7, 2018
Bad Service
Very unhappy with PIA. Their service stopped working for me (I'm in the UAE) partway through my prepaid year of service, and their customer service basically said "Sorry, we can't help." I asked for a partial refund for the remaining balance of the year I prepaid for, and they refused. Unhappy with both their product and their customer service.
Dave 2/10 January 10, 2018
Meh, You get what you pay for
I used them for 2 years in a row. They were fast enough when I first joined, but over time, they just felt increasingly crowded, if their client app's server utilization figures were to be believed. They have a lot of servers and they are all crowded was my experience.
They seemed short on IP's too, in that I'd get "your IP address has had enough of you" errors when I clearly had yet to partake in that site's offerings. More crowding.
Their client was smooth running, but with updates came problems. Problems I've never had with other VPNs like Nord or Express.
I left for good when they auto-renewed my membership when the option to auto-renew was definitely toggled to "off." They refunded my money, but it took my time and effort to get it undone and that's just lame…
Maya 8/10 January 6, 2018
Currently using PIA
I'm not huge into using too many VPN's, but I've also tried Cyberghost and Hotspot Shield. They are a little slower than PIA and Zenmate from what I've noticed and they don't have the features that PIA does but if you use Zenmate for a while, they give you free premium. I used them for about 3-4 months and eventually, they gave me 6 months premium, so they're also a great alternative to PIA that I would definitely recommend.
Dave 8/10 December 20, 2017
Good service, all in all.
PIA has worked pretty well for me all in all. Which is good because their customer service is a joke. I had some issues early on and only email was available to have my issue remedied and it took them a few days to get back to me and then when I instantly responded, a few more days to get back to me again.
It is ridiculous that there isn't a phone number or internet way to talk one on one in real time to your customers. I am not sure if it is still that way but when I signed up, that was how they handled things.
William Bowditch 4/10 December 18, 2017
Difficulties in the UK
I've been using PIA for about 18 months now, and enjoyed it without any noticeable reduction in Mb/sec up until my move from the USA to the UK 6 months ago. Since then, in order to get around the "child block" on my Virgin Media broadband host, I've had to enable stricter settings in PIA that make my wireless card unuseable after turning the VPN off. The issue is fixed by running a troubleshoot on my wireless drivers, but is still a major inconvenience.
Furthermore, PIA does not work for Netflix, Hulu, or Amazon Prime, which was the main reason I purchased. Overall, recommend if you live in the US and care about your privacy, not so much for overcoming internal media regulations.
Jack 9/10 December 13, 2017
PIA makes me happy
The PIA client works fine for me on Windows and Android. There is a nice selection of locations to choose from and the interface is easy. My native bandwidth is a few hundred meg on FTTH, and I don't notice much of a drop when running the VPN.
On the downside, the client does sometimes disconnect, and it would be nice to just be able to tick an auto-reconnect option instead of manually having to. Also, their support can be a bit hit and miss, but when it's a "hit", they will do anything for you.
Noel 2/10 December 11, 2017
Initial impression - not worth it
I just installed PIA and my download speed has gone from 70+ Mbps to 27-29 Mbps. Maybe I configured something wrong but I don't see anything to configure.
Unless I find something, I have to say that this product is not worth it. Good price, but who wants to lose that much speed?
Ash O'ttam 8/10 December 8, 2017
PIA isn't so great with TOR.
One of the primary differences of VPN access through TOR or TOR Access through VPN would require in the latter case to allow & enable one to be able to pay easily through Crypto. However, this does not seem to be the case with PIA.
One of the fundamental uses of this becomes apparent when internet controls have slowly started become evident in the Middle & Far East and therefore easy ways to access the world wide web would be crucial to take things forward given the complete freedom that is being offered in the US – not monetarily but in terms of ALL-ACCESS (net neutrality debates notwithstanding.)
I guess PIA can address the "Access" aspects in a much better fashion than it is doing now and go a long way to address how neutral it is to the "net neutrality biases" which all seem to discuss the "how much access will I get for the money I pay?" The access is there, however it is the quality of access (speed) etc. which is the truly underlying issue.
I think PIA needs to address that particular aspect of giving "Easy Full" access for the money we pay better. "All Access is anyways in the nature of the VPN".
Steven Morgan 8/10 December 8, 2017
Cheap and works great on desktop, loses points on mobile.
I've never had a problem with Private Internet Access, and they're one of the cheapest providers around. Long list of locations you can route through, and the speed difference when on or off is negligible. Then again I do have ADSL2+ which means I couldn't say for sure what the speed effect is as that's pretty awful already.
Lost points for the mobile app which doesn't seem to work as well and often will make the phone appear offline if the connection isn't made straight away. If I needed it for mobile I'd use a different service, but the desktop version is my primary use and I'm happy with it.
Jean 8/10 December 1, 2017
genuine company that cares
I tried out PIA to bypass the restrictions of torrenting that were put in place by my country rather than for privacy. Admittedly, I only used it for around a week or two, as I realised that I hardly ever torrent content anymore.
It worked well enough – no speed issues, cross-platform compatibility, and had a ton of server locations to choose from, several even in remote areas. I found the price to be the most affordable among many others – with a wide range of payment methods, even gift cards.
PIA is definitely good value for money – it's what you expect for the price you pay, nothing more nothing less, but above all the customer service is amazing. I requested a cancel and refund after a week (as allowed on their website) and they got back to me within less than a day. The process was straightforward and not once did I feel as if I was being pressured to continue with the service, which is what companies usually do – I was accommodated well to my needs.
I have a lot of respect for PIA after this and so this review is quite biased, but they seem like a genuine company that cares for its users, something that I value highly given the precarious nature of public VPNs.
RD 4/10 November 23, 2017
Questionable logging policy
While PIA has been and is an exceptional VPN, they have recently started advocating popular political agendas.
If you've ever lived in an area that's Gone from peace to war in a matter of hours, then you understand that security and privacy company advocating political viewpoints is neither private nor secure. I need to be sure my privacy is protected no matter which way the political wind blows.
Jaison 10/10 November 8, 2017
PIA - The easiest VPN client to use
I love using PIA. This is actually my second year of using it and I've had no issues at all. I also love the fact that I can add multiple devices. That was a must with me since I use a cellphone, a laptop, and a desktop. I love how easy it is to use on my macbook especially since it runs nicely in the background. This has a really easy to use interface that makes it perfect for me.
The drop down menu on my Macbook's toolbar allows me to toggle the location of the VPN and also whether or not I want to enable it at all. It has no gimmicks involved and is just a clean cut VPN provider that delivers.
Richard 10/10 October 19, 2017
PIA
I have used this server for years from the UK. They have fantastically fast servers which goes well with my ISP Virgin 220 Mbps down / 12 Mbps up. I have only had to contact their support dept once in many years and they were extremely knowledgeable.
They keep NO LOGS whatsoever, and there are many anonymous ways to pay if you want e.g.. Starbucks voucher.
Highly recommending this VPN provider.
Mike 1/10 October 15, 2017
Doesn't work anymore
Recently I noticed a big slow down on bandwidth while connected to this VPN, and did some investigating. What I discovered was PIA was connecting me to an Arizona server, while it said it was connected to the Toronto server in Canada. Also my ip was on full display for all to see. I created a ticket and it's been more than a week and ZERO support! I immediately change vpn providers! Was with PIA for many years, but no more! PIA just doesn't work as a VPN anymore, so I'll avoid it like the plague.
ZERO CUSTOMER SERVICE.
Reported this to PayPal and many other entities. PIA needs to fold up and disappear! You won't ever get another penny of my money for your garbage service!
Jim 4/10 October 2, 2017
PIA has virtually no customer service
In 2015 I had PIA for a year and it was pretty good. They used to have chat support that was helpful. They no longer have chat support or even a customer service phone number. I signed up after not having a VPN for a year and cancelled for a refund a few hours after ordering. PIA no longer met my needs.
Their customer support article reads that you can cancel within the first 7 days and a refund will take 3-7 days. It has now been 10 days and no refund or response other than generic auto response emails that state they are too busy to process my request and will get to it when they can. I would have recommended them in 2015, but definitely not in 2017.
A complete lack of customer support gets two thumbs down! Phone support would definitely help.
Pasca 9/10 August 3, 2017
Long-time User
Have used PIA for three years, along with others, which never measured up. PIA has consistent connections (I have been dropped twice, and use VPN whenever connected), and a real kill connection that works. The fast speeds have kept me as a long-time user. Don't be lulled by the "no logs" hype. No logs refers to the initial connection IP record.
All servers keep logs (IMO).
Paul 10/10 May 21, 2017
PIA is the fastest VPN that I've used.
I've been using PIA for a month now. Before that, I've tried a big variety of services (including free ones like Betternet).
None of them have such an easy UI as PIA. PIA stays minimized on your taskbar and you can just right click and connect to a server from there.
They have tons of servers, which are really quick, and if I say really, I mean a lot.
+1 from here
Danny 8/10 March 16, 2017
PIA is by far the best
Based on my knowledge, nothing can beat PIA. It's easy and simple to use, connects within seconds and is very reliable software.
I especially like that you can keep it minimzed on your taskbar and quickly change server locations.
Furthermore, PIA connects to a server pretty much instantly while many other VPN providers can take 5-10 seconds.
PIA is a great tool – no doubts about that.