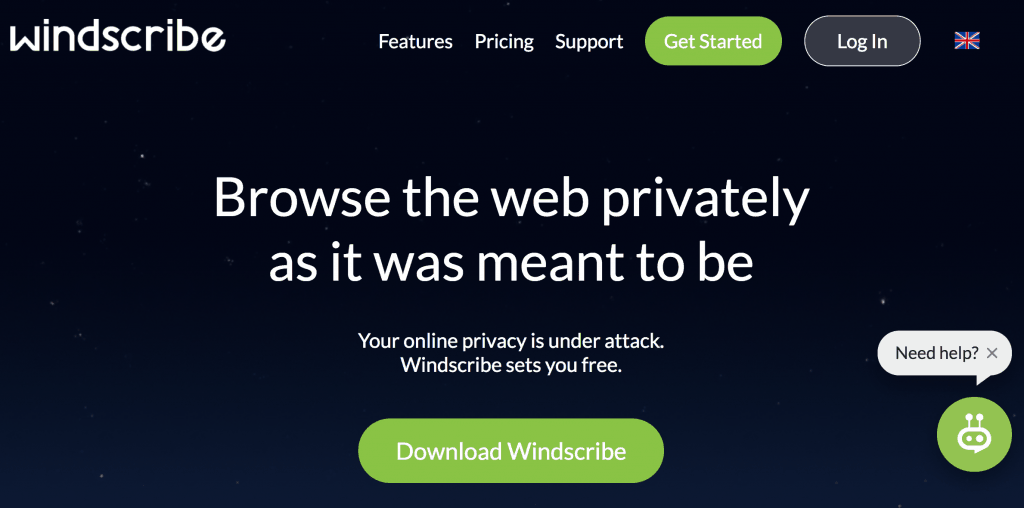 We did multiple tests for this WindScribe review to make sure it's accurate and up-to-date.
Windscribe was launched in April of 2016 by Windscribe Limited in Toronto, Canada.
While we can't find information on exactly how many people use the Windscribe VPN service, we know that their Chrome extension is used by over 630,000 people.
Windscribe boldly claims to encrypt your browsing activity, block ads, unblock entertainment content, and develop "easy to use yet powerful tools that allow anyone to circumvent censorship."
How true is this claim?
In a world where VPN services are a dime a dozen, and when VPN service providers are willing to be deceptive about what they offer and the effectiveness of their services (including lying about whether or not they keep logs), we have learned to take such claims with a grain of salt.
Windscribe Pros (+)
1. Strong Privacy & Encryption Features
While Windscribe claims to have strong encryption and help circumvent censorship, we decided to assess their reliability based on a number of metrics and we got mixed signals!
While they offer strong, military-based encryption, the fact that they are in a 5-eyes jurisdiction means they can be compelled to turn over data they keep about you. However, since Windscribe claims to keep no logs, there seems to be little to worry about.
Here's our quick analysis of how safe it is to use Windscribe based on some of our key metrics:
Jurisdiction: Windscribe is located in Toronto, Canada and as a result falls under the 5-eyes jurisdiction. In essence, if Windscribe decides to log your data, it could be compelled by Canadian authorities to release this information.
Encryption: They use the AES-256 cipher encryption (with SHA512 auth and a 4096-bit RSA key) for their desktop apps and TLS 1.2, ECDHE_RSA with P-256 key exchange, and AES_128_GCM cipher for their browser extensions. You can assured of enjoying military-grade encryption.
Protocols: Windscribe supports and allows you to generate configurations for the OpenVPN, IKEv2, and SOCKS5 protocols. The IKEv2 protocol is used by default, though.
Logging policy: It is very important to know the true logging policy of a VPN service. As we revealed earlier on TheBestVPN, while most VPN providers claim to keep no logs, they actually secretly keep logs. Not so with Windscribe, though. After carefully reviewing their logging policy, we found that they indeed do not keep any logs.

2. No Leaks, No Viruses = Safe to Use
For VPNs we review, one of the things we pay attention to is their safety. We pay particular attention to DNS leaks and the Virustotal scan.
If your DNS information is being leaked, you are only getting a false sense of security — because your original DNS information will be revealed despite the fact that you connected to a VPN. Also, most VPN services contain viruses, which makes them unsafe for people who use them.
Our research shows that Windscribe doesn't leak DNS information:
Leak test result 1

Leak test result 2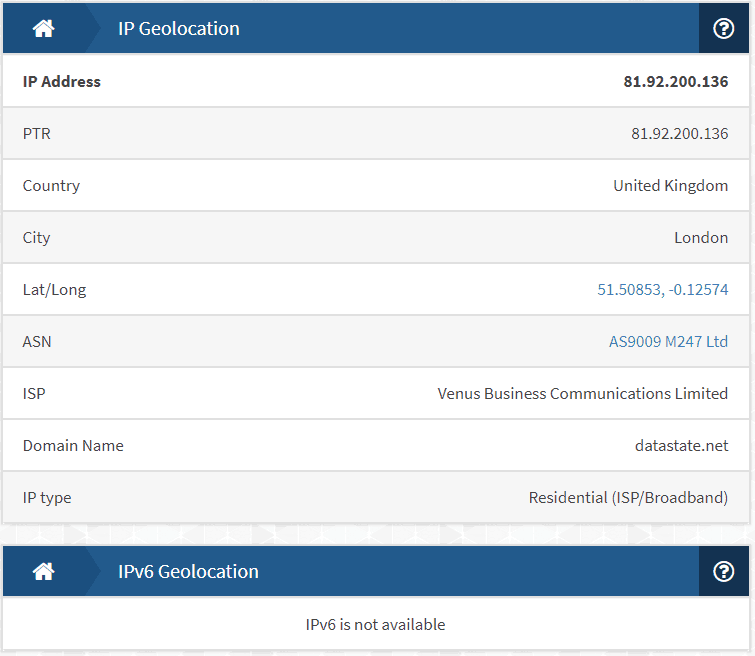 Leak test result 3
Leak test result 4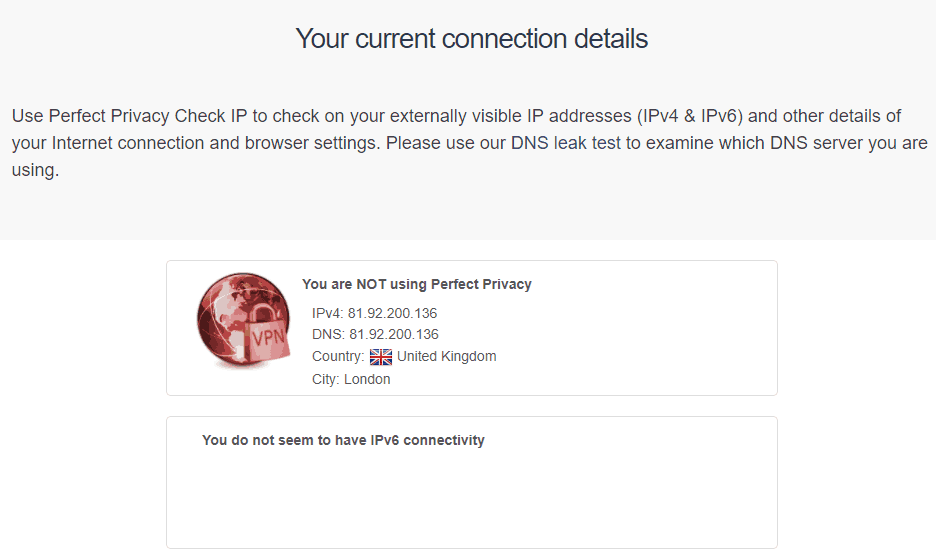 Leak test result 5

Our Virustotal scan also shows that Windscribe didn't contain any viruses at the time of our review:
3. Windflix Feature to Bypass Netflix Restrictions
When we conducted our tests, we found that Netflix can't be used on some of Windscribe's US servers (like their Chicago or San Francisco servers).
If you have the impression that you can simply connect to any of their US or UK servers and start to use Netflix, you might be disappointed.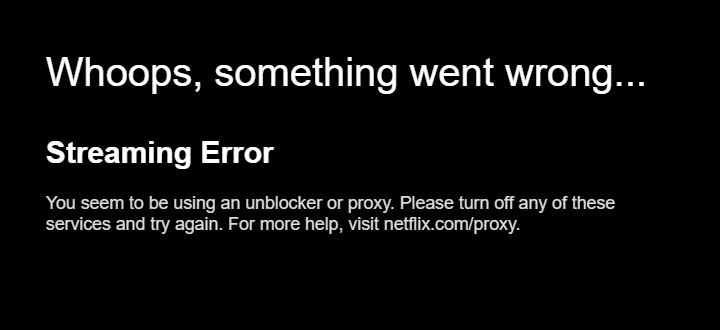 However, we also tried their UK and US Windflix servers (specially made for Netflix) which are the following:
WINDFLIX US (New York – Radiohall)
WINDFLIX UK (London – The Tube)
All in all, you can stream Netflix using Windscribe.
4. Torrenting is Allowed
One of the first things many people look at before deciding to use a VPN is whether it supports torrenting. This is understandable considering the large-scale government crackdown of torrent sites worldwide, with many countries banning several of the biggest torrent sites.
When you use a VPN, you want to make sure you are safe when using a torrent site — as a result, many VPN services go on record to tout their torrent-friendly nature on their homepage.
Our tests and extensive digging shows that Windscribe allows torrenting.
In fact:
Here's a statement from their FAQ page regarding torrenting:

They also have tutorials on how to configure the following torrent clients:
uTorrent
Deluge
qBittorrent
VUZE
That said, not all of their servers support torrenting which they indicate with a crossed out p2p icon.

5. Supports Multiple Devices
Computers
Mobile phones
Android
iPhone
Windows Mobile
Routers
Smart TV
Amazon FireTV
Nvidia Shield
KODI
We also confirmed that they support gaming consoles, although they do not have tutorials/guides on how to set up specific gaming consoles. That said, we don't recommend this service for gaming due to how poorly they performed on our speed tests.
You can either install their standalone client on your device or install both their standalone client and browser extension.
Their browser extension is needed to enjoy some extra features such as "Secure.link" (a feature that reveals which websites are tracking you) and "ad blocking" (a feature that blocks ad beacons and third-party trackers that can compromise your security).
While they have their own client, if you prefer, you can generate OpenVPN, IKEv2, and SOCKS configs for your devices.
6. User-Friendly App
When it comes to usability, WindScribe is quite easy to use.
We decided to test their software on an HP Pavilion desktop computer (Core i7-7700 CPU, 3.60GHz processor, and 12GB RAM) running Microsoft Windows 10 and on an Android smartphone (Tecno Camon CX Air).
The installation file for the computer software was 14.4MB and took about a minute to install. After installation, we got the following interface: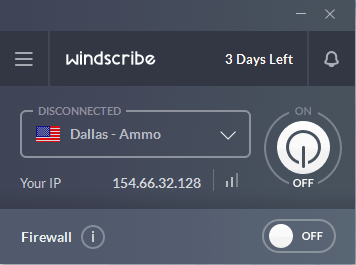 Clicking the drop down menu for available servers brought the interface shown below — allowing us to select from a total of 124 data centers in 51 countries: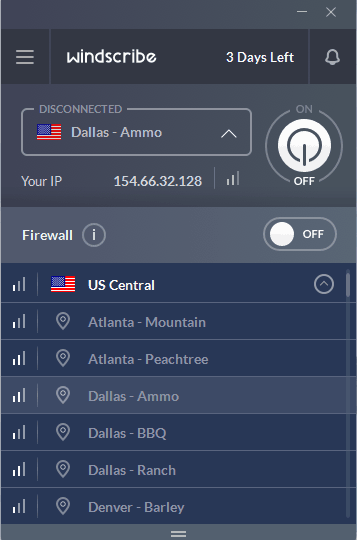 We decided to connect to one of their servers in Dallas for this review, and it took about 10 seconds to connect.
For the Android phone, we installed their app from the Google Play store. The app, which was 12.30MB in size, showed the following interface after we logged in: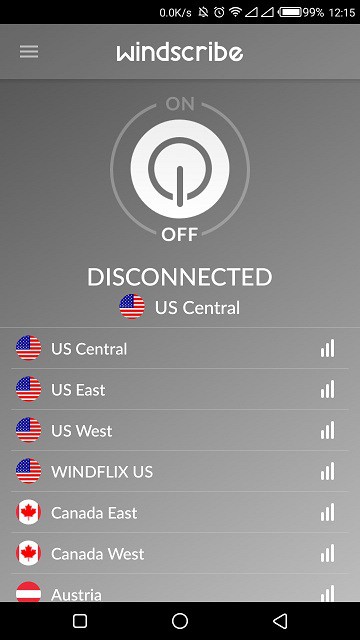 However, unlike the computer app, we were a bit restricted with the mobile app. While the computer app allowed a selection of up to 124 data centers in 51 countries, the mobile app only allowed connections to regions and countries (about 56).
Simply put, we had less options when it comes to determining the exact location of the server we wanted to connect to.
Had we used the computer app, we could have chosen a data center in Atlanta, Dallas, or in Denver if we wanted to connect to US Central. But, with the mobile app we were only able to select "US Central" while connection to the exact data center would be determined by the app. Connecting to US Central in the mobile app also took about 4 seconds.
Overall, the Windscribe VPN app has an intuitive interface both on the computer and mobile phone, and it takes little to no time to connect to available servers.
Windscribe Cons (–)
1. Slows Down Your Internet Connection to Less Than 50%
Our benchmark without VPN is the following:

While using Windscribe, our Internet connection slowed down more than 50%:
We must confess that we are disappointed with Windscribe when it comes to speed. When we tested their US, UK, and EU servers, we got the following results:
US Central Server
Ping: 140 ms
Download speed: 29.74 Mbps
Upload speed: 2.07 Mbps
UK Server
Ping: 46 ms
Download speed: 17.25 Mbps
Upload speed: 4.86 Mbps
EU Server
Ping: 92 ms
Download speed: 42.97 Mbps
Upload speed: 5.12 Mbps
But, when compared with ExpressVPN and Astrill, it becomes clear that Windscribe is on the lower end when it comes to speed.
Here's the download and upload speed for ExpressVPN:
US Server
Download speed: 60.04 Mbps
Upload speed: 30.41 Mbps
EU Server
Download speed: 83.15 Mbps
Upload speed: 25.18 Mbps
Here's the download and upload speed for Astrill:
US Server
Download speed: 78.65 Mbps
Upload speed: 18.99 Mbps
EU Server
Download speed: 69.08 Mbps
Upload speed: 53.30 Mbps
Clearly, Windscribe performs poorly in terms of speed, and we believe there are much faster alternatives out there for less the cost. (note: this speed test was made with a premium account).
2. Not All Of The 480+ Servers Are Active
You might be wondering: "How does Windscribe fare when it comes to server availability and features?"
One of the things that gives Windscribe an edge over many other VPN services is their large number of servers.
At the time of this review, they have an impressive 124 data centers in 51 countries (although there doesn't seem to be an active server in New Zealand at the moment — as shown in the screenshot below); these data centers, that you can connect to in their app, feature an impressive 480 servers.

That said, when compared to some of our top VPN picks, it becomes clear that Windscribe has fewer servers than the average VPN.
While the fact that they have 480+ servers in 124 data centers across 51 countries might seem impressive, it's less so when you realize that our top pick, ExpressVPN, has a whopping 1,500 servers, Private Internet Access has a massive 3,200+ servers, and NordVPN has over 3500+ servers.
Some additional server features they have that we believe are noteworthy include:
A firewall that prevents DNS, IPv6, and WebRTC leaks (a reliable alternative to a kill-switch).
Support for simultaneous connections (allowing you to connect multiple devices at once).
Stealth mode connection via Stunnel if other connection protocols fail (this might help if you're connecting from China).
A "Secure Hotspot" feature that allows you to turn your VPN connection into a Wi-Fi router others can connect to.
A "Proxy Gateway" feature that allows you to create a secure proxy server on your computer that other devices not supporting VPN protocols can connect to.
A "Double Hop" feature that provides an extra layer of security. This allows a double layer of connection through both their desktop client and browser extension at the same time (so you're able to connect to two servers at once and have an extra layer of protection).
A "Timezone Spoofing" feature that automatically changes your timezone to that of the location your VPN connects to.
3. Questionable Support (Using Bots)
Unlike many other VPN service providers, we are disappointed with Windscribe's approach to customer support.
There's no customer support phone number on the Windscribe website nor an available live chat option. Instead, they have a chatbot named "Garry" that keeps providing irrelevant answers to our questions.
For example:
When we asked Garry why there are zero active servers in New Zealand, we got the following response: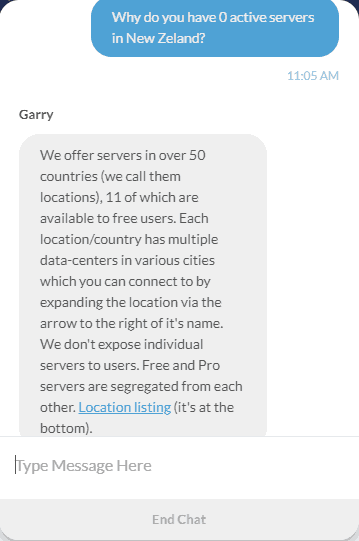 The pattern of irrelevant answers continued for most of our questions. While the chatbot was able to answer basic questions (like providing information and a link to where their servers are located), when asked about the location of their servers, it was mostly useless at answering our other questions.
The only other way to have questions answered is by creating a support ticket. When we did, it took almost 10 hours to get a response: we sent our request at exactly 6:02 AM and got a response (which didn't answer our question) at 3:37 PM.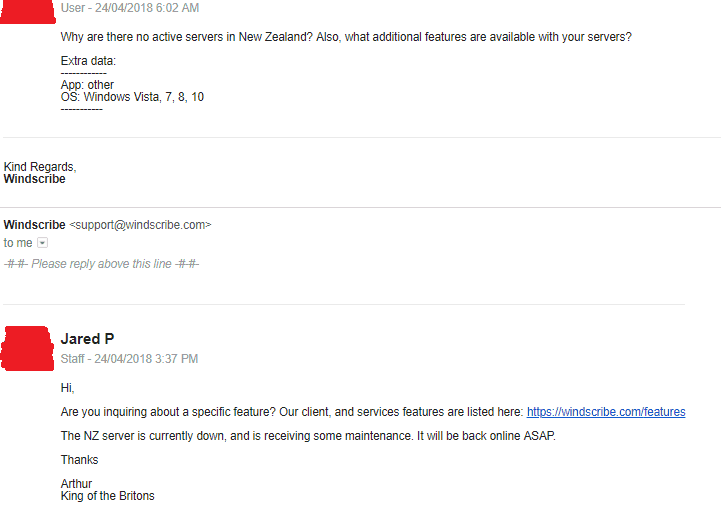 We sent a follow up question 25 minutes after getting their first response and it took about 20 hours before we heard back.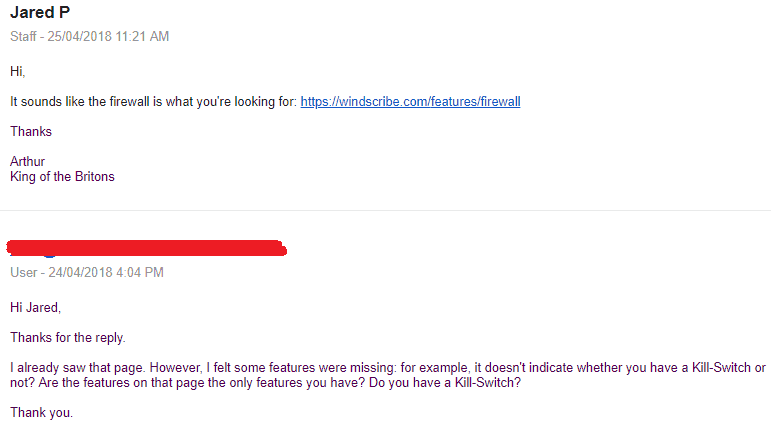 Needless to say, this customer support is unimpressive.
Windscribe VPN Cost, Plans & Payment Options
Windscribe easily falls on the high end when it comes to their payment options.
They have only one plan that unlocks all their servers, and this plan costs $9 per month if you opt to pay monthly: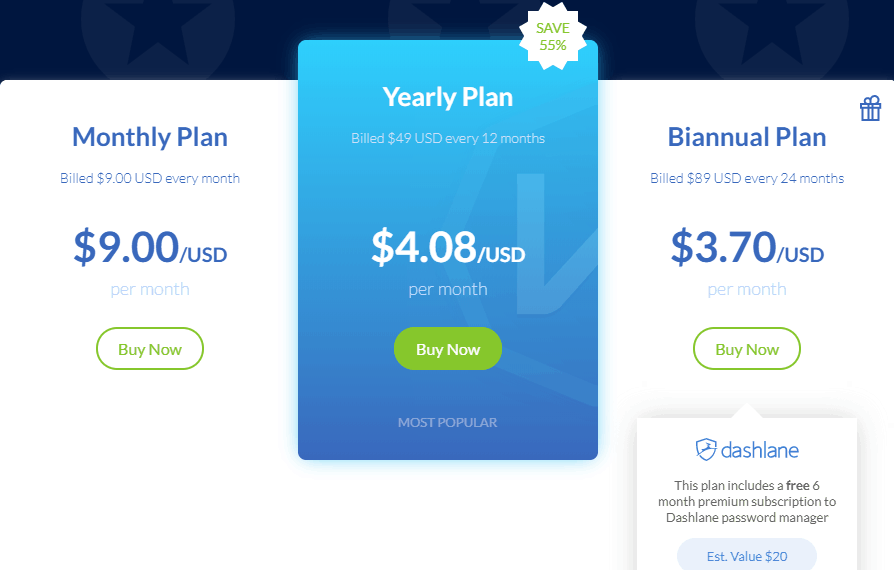 If you decide to pay annually, however, you get a huge 55 percent discount and pay $4.08 per month.
If you opt to pay biennially (every two years), you get an even bigger discount and only pay $3.70 per month. You also get a free six month subscription to the Dashlane password manager.
There is no license fee, and they have a referral program that allows you to earn up to a 1 year Pro plan per referral depending on the package your referral selects.
From what we can see, the most you can pay at once is two years. However, there's some flexibility with the payment options: they accept PayPal, Credit Card, and also anonymous payment, such as Bitcoin.
If you're not satisfied with their services, you can request a refund provided that the refund is requested within three days of purchasing a plan and provided that you haven't used more than 10GB of bandwidth.

That said, we also think it is important to highlight the fact that Windscribe has a free plan, which we feel is one of the best out there. With their free plan, you have access to only 14 of the 51 locations their servers are located in (which is fair enough), and you get up to 10GB free data every month.
Do We Recommend Windscribe VPN?
When it comes to torrenting and using Netflix, Windscribe is a good choice. They also offer really good encryption, and their no-logging policy keeps our mind at rest.
However, we are disappointed with their server speeds, especially considering the high cost of their services.
We genuinely feel that there are much better options at a cheaper rate.
Add your own WindScribe review:
Have you ever used Windscribe before? If so, what was your experience like? I'm always interested to hear what other enthusiasts have to say about the VPNs that I review! Let me know below.
16 user reviews for WindScribe
Lorette Leak 10/10 April 29, 2018
Love WindScribe
Love winsdscribe.
Great overall performance so far and I'm now on my 4th month with them. Would recommend upgrading to pro if you're looking to have unlimited data, plus it does provide more locations to choose from. The features they have are great too and all of them seem to work really well. My personal favouties are being able to unblock US Netflix and geo-restricted sites, very handy when you're travelling.
Terry 10/10 April 12, 2018
No speed issues anymore
I did have speed issues, however, they were all resolved in the latest version of the app with the new ikev2 protocol. I'm now getting 100% of my ISP's speed.
David lloydHughes 4/10 April 9, 2018
No BBC
Tried it Free. Fabulous so subscribed for year 1 month in and 10 March 2018 BBC detected vpn Windscribe aplogised n said they were working on it now 9 th April still no service. Not happy
Desert Tripper 6/10 March 25, 2018
Decent interface, but so far is slow.
Signed up for "lifetime" access last month, I think it was $55. The interface is nice and I like the firewall feature that blocks traffic until the VPN is connected, but I can't get more than 50-60kb/s out of any of the sites even though I have a 60mb/s service. I will try the beta client with the ikev2 protocol that Fred mentioned and see if that improves anything.
Corylyn 10/10 March 7, 2018
Very impressed!
Very satisfied with Windscribe and what it offers. They've really put a lot of time and thought into producing this VPN provider, and the overall performance definitely shows it was worthwhile. A very reliable provider that has everything you need to surf the internet safely all in one place. Love how you don't need various other extensions to do other things such as block ads and tracker etc
Leonardo 2/10 March 7, 2018
SLOW!!! No netflix
My main purpose was to use it for NETFLIX, which is not possible, because the speed of the connection is 3mb! so no way it can stream FullHD content, let alone 4k! Forget it if you need to use for this reason.
George 2/10 February 3, 2018
Drops connection way too often
Started out good, but over the last two months, drops connection often, sometimes as often as every 3-5 minutes. Unless you can get it cheap – I paid $12 for a year on Humble Bundle, stick to the free version for now, even though their Netflix US and UK servers work.
Tiffay 10/10 January 28, 2018
Love it!
in love with Windscribe! Love how simple it is to use, yet has so many great features. Surfing the net has never been as safe as it is when using Windscribe. I'm not that bright when it comes to this techincal stuff, but i've had a few dodgy experiences over the internet and decided to put some research into finding the best VPN that can give me the safety measures I need. I've found everything with Windscribe, all for free too! Highly recommending this VPN, it's a must-have!
Gianmarco 5/10 January 7, 2018
No netflix, but works
I use the free version and I like it. I can't use it on netflix but it goes very well for download and streaming. The software is multiplatform (windows, mac, linux), really simple to use and even if it is free it allows you to choose a server.
Robert Sales 9/10 January 6, 2018
Reliable free VPN
I've been using Windscribe and so far it seems pretty good. Some locations have better speeds than others, but I did read in one of their blogs or previous responses to a customer that it's best to connect to a place nearer to where you actually are if the speeds seem to be especially slow that time. Personally, with what you can get on the free plan, it's good enough to say this a rather satisfying VPN.
Fred 10/10 January 5, 2018
Works with Netflix
Read https://windscribe.com/features/windflix
You have to connect to the WINDFLIX location in order to access Netflix US and UK. Works perfectly.
Speeds WERE bad, but if you get their beta version which includes the ikev2 protocol, I'm seeing 95% of my normal speed. Went from a 3/5 VPN (because of the speeds) to a solid 5/5.
Vishnu 8/10 December 29, 2017
Windscribe is good for the most part
I got a two year subscription to Windscribe VPN at a good price. They always seem to have some sort of a deal going which makes it good value for money. They have no bandwidth restrictions or device restrictions and recently added an Android app as well. They seem to have a wide selection of servers across the world. in the PC app, they have an option to select the best server location automatically.
Wish they would bring this to mobile as well. Speed performance can be a bit lacking during heavy traffic, but has been good for the most part. Overall, I think Windscribe is good value for money.
Peter Merchand 5/10 December 23, 2017
Windscribe VPN is Average
Based upon your review, I purchased the Pro version of Windscribe with the intent of using it to access Directv Now in Canada. I have satellite internet through Xplornet with about 35 mbps download. That 35 mbps became a maximum of 2.5 using TCP and various ports and US locations. Obviously not enough for my purpose. Constructively, may I suggest that consideration be given to the fact that users choose a vpn not only for security and it may not be the best alternative for avoiding content restrictions.
Robert 8/10 December 20, 2017
Seems good
I'm also a Windscribe user and agree the data cap was a bit of a turn off however, seeing as it is free you can't really complain. I did end up investing in the pro plan and it's been great so far and in my opinion worth the upgrade. I'm now on my second month as a pro plan user.
Can't complain.
victim #1000 1/10 December 12, 2017
scammers
I tried this VPN 6 moths ago and was not happy with the extremely slow performance.
After uninstalling / cancelling my account I am still being billed 6 months later.
My refund requests to support are replied with advice on using the app which I don't even use anymore.
The account section of the site has no cancel button either. Major red flag!
Owl 2/10 November 17, 2017
Very slow..
Ok. This VPN slow. Really slow, even though I had a Pro plan a while ago. I could hardly stream Netflix, which is one of the main reasons I got it. The desktop application was eh. I wish it could have had more proxies. I ended up switching to Psiphon and it was a lot faster, and free.