WindScribe, one of the newest VPNs in the marketplace, has made an impressive entrance into an already hyper-competitive industry.
Although their services have yet to stand the tests of time or the rigors of their customer base, at first glance, WindScribe seems to be a welcomed and feature-rich addition to an already outstanding Rolodex of high-quality VPNs.
In this review, I'll be peeling back the veil and taking an honest look at this "New Kid on the Block" to see just how well WindScribe performs.
I'll be examining their VPN's speed, security, price, and special features to answer the question: "Can they truly hold their own against established competitors, or will they go the way of so many other VPN providers and quickly be forgotten?"
Let's dive in and find out.
WindScribe Background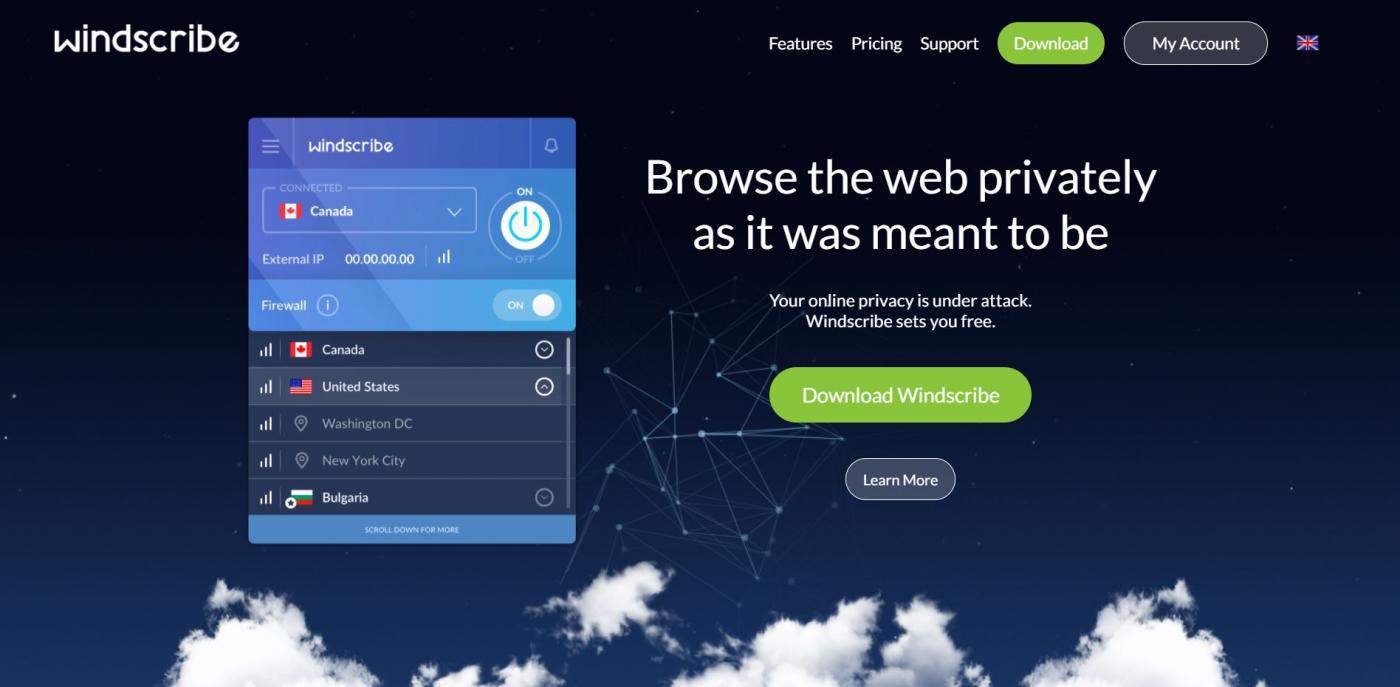 WindScribe VPN is a product of the WindScribe Limited and one of the newest faces in the online privacy world.
They offer a "Freemium" VPN software that can be used on all major devices and browsers including the obvious:
Windows
Android
Mac
iOS
Linux
Chrome & Firefox
Founded only some time ago in 2016, WindScribe's headquarters is located in Ontario, Canada which, unfortunately, makes it a part of the "Five Eyes" jurisdiction.
We will address the issue of the company's jurisdiction in a moment, but before we do, I want to briefly touch on WindScribe's biggest features and the pricing packages that they offer.
What Does WindScribe Do? Is it Free?
WindScribe's mission is to help their customers "Browse the Internet Privately as it was Meant to Be", and for the most part, their platform accomplishes this goal admirably.
They offer servers in more than 50 countries and 100 cities across 6 of the 7 continents (sorry Antartica better luck next time).
For individuals using the "Unlimited" plan, WindScribe also offers unlimited bandwidth and unlimited simultaneous device connections.
Although sharing accounts is prohibited, their unlimited simultaneous connections feature is something that I have never seen offered by another VPN provider and a huge bonus for WindScribe VPN users.
Their services also come equipped with ad blocking software, timezone spoofing, and several other unique features that make it stand out from the crowd of generic VPNs.
To top it all off, WindScribe also offers free and paid plans to ensure that individuals with any budgetary constraints can still protect themselves and their browsing experience.
I'll talk all about the differences between their two plans and dive into their pricing packages in a moment, but before you even consider using or purchasing WindScribe, you need to answer one very important question.
Is it safe?
Is it Safe and Secure?
When examining a VPN provider for security, there are four main questions that you should ask.
What is the jurisdiction of the company's headquarters?
What is the company's logging policy?
What encryption standards are offered by the company? (for a detailed explanation of this topic click here)
What protocols does the company offer for connecting with their client?
As I've already mentioned, WindScribe is, unfortunately, headquartered in Canada, which is a member of the five eyes agreement (you can and should read more about this agreement by clicking here).
However, this particular problem is not a deal breaker if the provider in question successfully handles the other three questions.
Luckily for WindScribe, they seem to answer these questions with flying colors.
WindScribe follows a fairly strict no logging policy that severely limits the amount of information that they can collect and the duration of time for which they can store that information.
Here's what they have to say about their privacy policy:

They go on to say that they temporarily store the OpenVPN username, the server to which you connected, the time of connection, and the amount of data that is transferred during these sessions.
While this isn't exactly in line with the company's claims that they keep no logs, we are reassured that the data expires and is discarded within 3 minutes of session termination. 
The company also offers the strongest encryption standards available, using an AES-256 cipher with SHA512 auth and a 4096-bit RSA key
Finally, WindScribe allows paying customers to connect to their VPN client using the OpenVPN, IKEv2, and SOCKS5 protocols which are, in my opinion, some of the best protocols in use today.
At this point, WindScribe seems to be a fairly robust and secure VPN provider who offers an abundance of features and some generous bonuses for paying customers.
Unfortunately, there are a couple of issues with their service that holds WindScribe back from true greatness.
The first of which is speed (re: lack thereof).
Speed Test – A Little Concerning…
To ensure the accuracy of this review, I ran a speed test using speedtest.net on a 100 Mbps server in the EU.
Here were the results of that test.
EU Server 
Ping: 92 ms
Download Speed: 42.97 Mbps
Upload Speed: 5.12 Mbps
UK Server
Ping: 46 ms
Download Speed: 17.25 Mbps
Upload Speed: 4.86 Mbps
US CENTRAL
Ping: 140 ms
Download Speed: 29.74 Mbps
Upload Speed: 2.07 Mbps
For those of you who are familiar with average VPN speeds, it should be immediately clear that speed is not WindScribe's biggest selling point.
Since these speeds were consistent across both their free and paid servers, it should be noted that WindScribe is by far the fastest free VPN on the market.
However, when you consider the price tag associated with their premium plans, it's hard to justify using WindScribe over their faster and less expensive competitors like Private Internet Access or Trust.Zone.
What About Torrenting and Netflix?
Netflix has been cracking down on customers attempting to use VPNs, proxies, and unblockers to access geo-restricted content with their services since early 2016.
Because of Netflix's seemingly infinite coffers, the company has successfully blocked some of the biggest and most powerful VPN providers on the market.
So it came as a surprise to me when I found out that WindScribe promotes their VPN as Netflix compatible.
Considering the fact that this impressive technological feat is touted loudly and proudly on their "Features" page, I errantly assumed that WindScribe would actually work with Netflix whenever I connected to one of their servers.
Unfortunately, this simply wasn't the case.
After the page attempted to load for several minutes, I was presented with an all too familiar notification.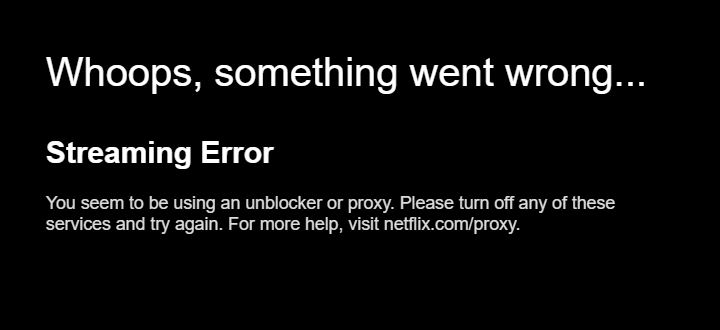 I tried several servers in an attempt to find something compatible with Netflix, but to no avail.
After hopping on "The Google" I found several other reviews that echoed my experience.
I've submitted a support ticket to WindScribe but have yet to receive a response meaning that, to the best of my knowledge, WindScribe is not compatible with Netflix.
So if you need a Netflix friendly VPN, see this comparison.
However, WindScribe is a very torrent friendly platform. They offer P2P compatibility to both free and paid users and have several servers that have been optimized for torrenting.
WindScribe FREE vs. Paid Plan
Now that you have seen what WindScribe has to offer, there's only one big question left to answer.
"How much does it cost and is their premium service worth the money?"
Ok, so technically two questions but I digress.
Here's how the different variations of WindScribe break down.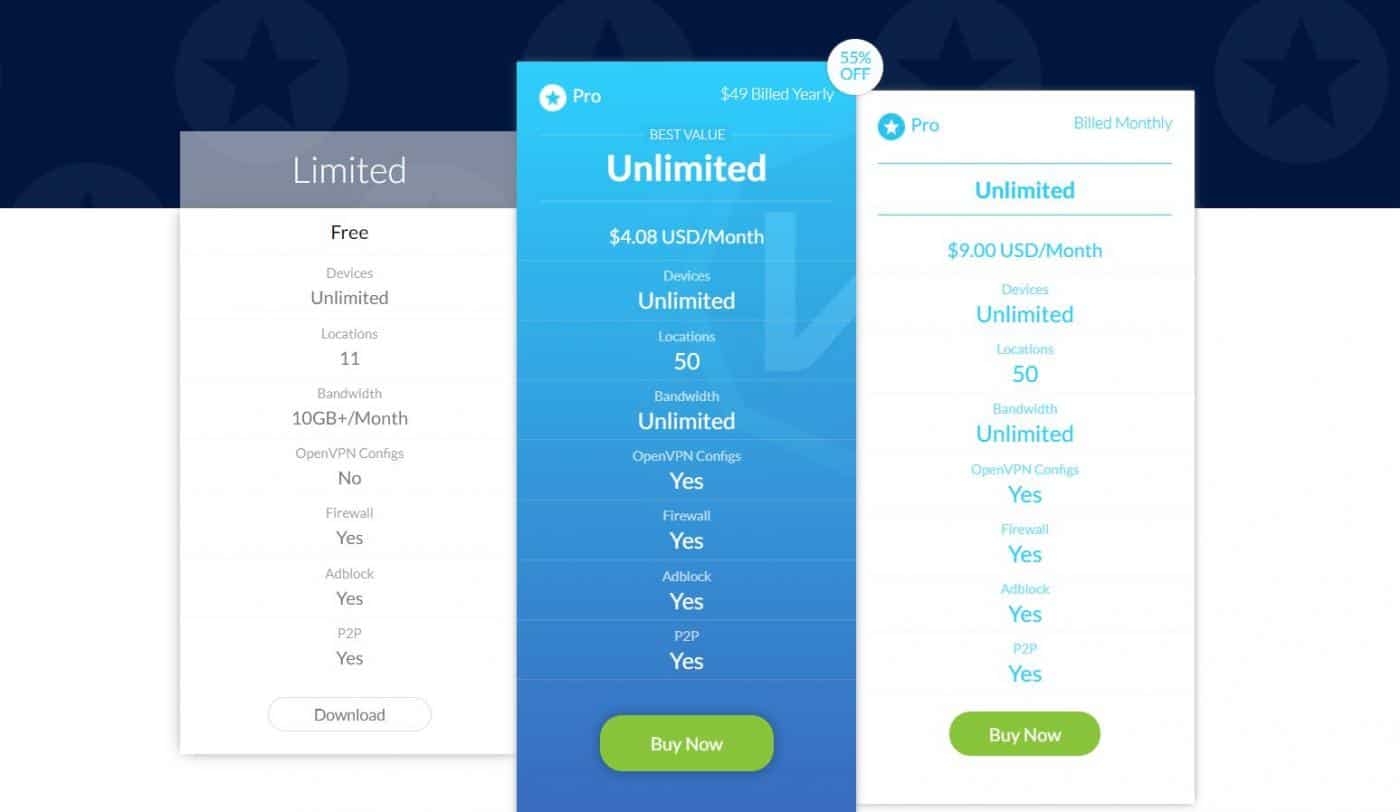 WindScribe "Free" version:
Free to use
11 Server Locations
Unlimited Device Connections
10 GB Bandwidth/month
No OpenVPN Configurations
Access to Firewall, Adblock and P2P Optimized Servers
WindScribe "Unlimited" version:
$49 yearly ($4.08 a month) or $9.00 monthly
100+ Server Locations in 50 Countries
Unlimited Bandwidth
OpenVPN Configurations
Access to Firewall, Adblock, and P2p Optimized Servers
As you can see, the primary differences between WindScribe limited and unlimited are the bandwidth and available VPN protocols.
So which one should you choose?
The answer is, it depends.
If you primarily need a VPN so that you can check emails and handle your work from coffee shops and other locations with unsecured networks, there really isn't any need to pay for the upgrade.
If you are using WindScribe on a daily basis for torrenting, streaming, and other activities that heavily affect your bandwidth usage, then the paid version should be the obvious choice.
The real question that you should be asking, however, is whether or not you should use WindScribe Unlimited at all.
While the company offers some admittedly impressive features and benefits, when you take the speed, price tag, and customer service (which I will discuss in the next section) into account, it's hard to justify using WindScribe over cheaper and faster competitors.
Customer Support Quality (No Live Chat)
Unlike some of their bigger competitors, WindScribe does not offer any sort of live chat feature on their website or within their software.
While WindScribe does offer an incredibly detailed and thorough set of resources in their FAQ, there are bound to be times over the course of your subscription period where there is some problem that the FAQ simply cannot help you resolve.
During instances like these, you are must, unfortunately, revert to the dreaded support ticket.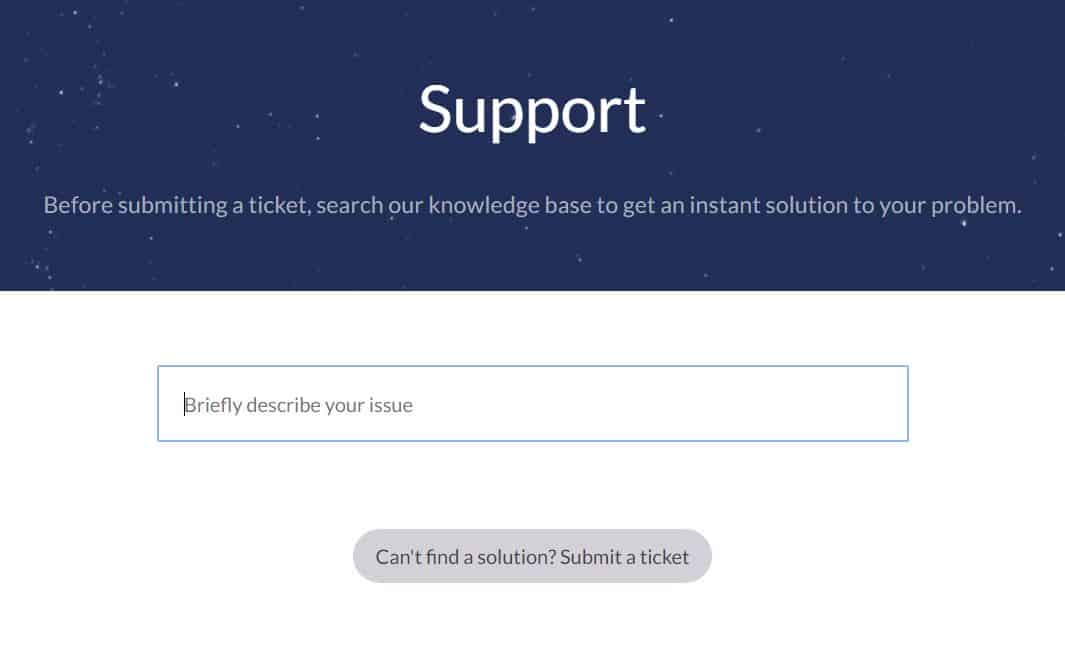 I submitted a simple ticket to gauge the speed of their customer service team and was pleasantly surprised to find that, although their response was far from instantaneous, I did have a customer service agent respond to my issue within a few hours.
After pouring over several other third-party reviews, I saw that this experience was more or less unanimous among WindScribe customers although many customers reported wait times of 12-24 hours.
It should be noted that even just a few hours is still a LONG time to wait, especially when you consider just how important a VPN is in countries like China and North Korea, so WindScribe certainly isn't putting any points on the board with their ticket-only approach to customer support.
However, considering just how many VPN providers offer atrocious support teams who take more than 2-5 days to respond to simple inquiries, I can't really count it against them either.
Here's How to Use WindScribe:
If you've decided to use WindScribe's VPN service, the setup process is quick and painless.
If you do not already have a WindScribe account, you will be asked to create one using your preferred username and password with the option to provide your email address as a password recovery method.
For those of you who are looking for total anonymity, be sure to write down your password somewhere that you will not lose it because you will not be able to recover or change it unless you have an email address associated with your account.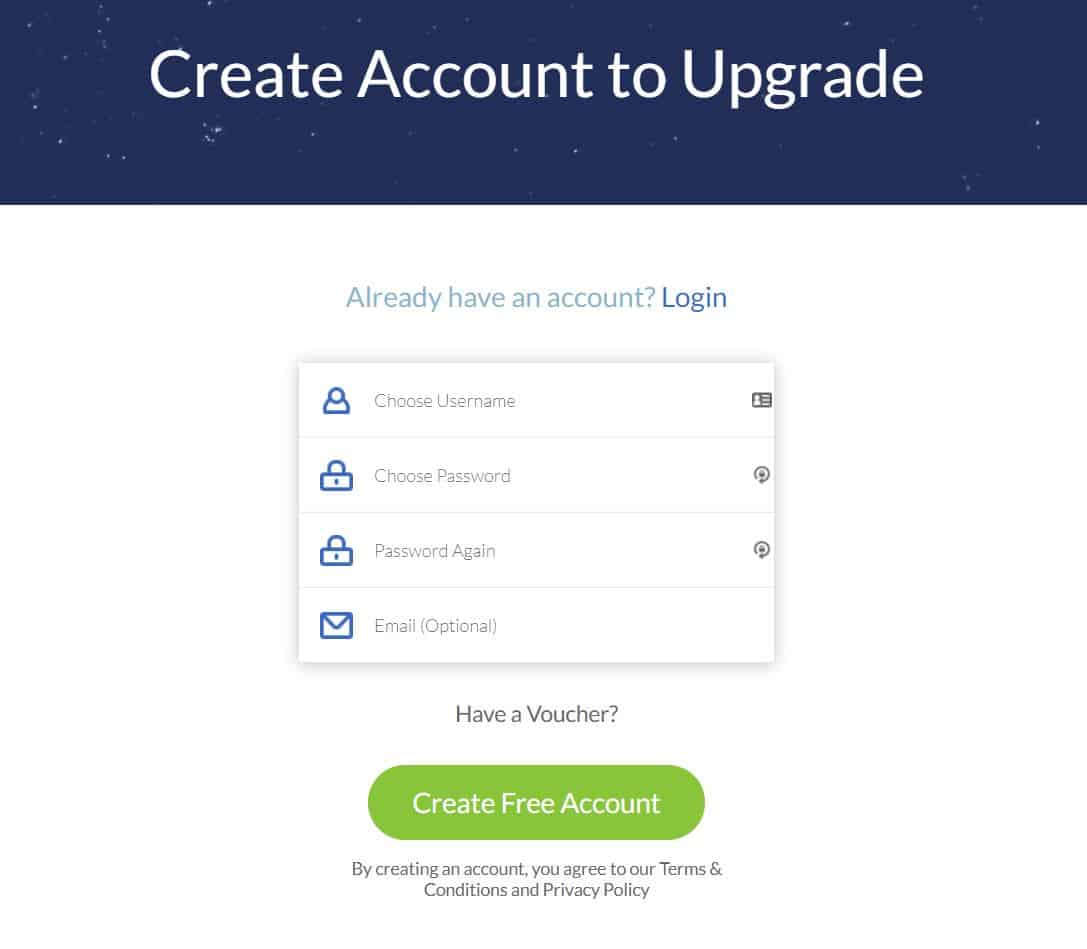 If you are using their free service, then simply click the "Download" button on the pricing page. If you want to purchase a premium subscription then click "Buy Now" and follow the prompts using your preferred payment method.
Once your file has downloaded, click on it inside of your browser and follow the onscreen prompts to install and launch WindScribe's VPN client.
Once the software launches you will need to use your login credentials to sign in to the client.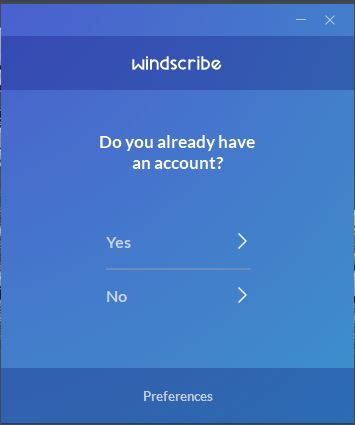 From here, it's very easy to connect to a VPN server and protect your browsing experience.
If you want to change any settings within WindScribe's software, you can easily do so by clicking on the drop-down menu on the left-hand side of the screen.
From here you can easily change your Firewall, proxy, and connection settings to ensure that your VPN experience is tailored to your specific needs.
How to Refund/Cancel WindScribe
If you decide that WindScribe's service simply isn't for you, the company does allow you to obtain a refund. Considering that the only difference between their free and paid VPN is the bandwidth limit and server selection, this is a pretty generous offer.
In order to claim a refund, however, you must meet a few minimum requirements.

For starters, you must submit a support ticket explicitly requesting a refund within three days of your initial purchase or prior to exceeding 10 GB of bandwidth use.
Once you submit your ticket, your money should be reimbursed within the 30 days following receipt of your request.
Do I Recommend WindScribe?
WindScribe has a lot of great things going for it. Their free VPN is by far the best service that we've ever seen and their zero logging policy, Netflix/torrent compatibility, and unlimited simultaneous connections make it a force to be reckoned with.
But it has some very real and obvious issues that hold their service back from being a great VPN.
The speeds, although usable, are simply not up to the standard that has been set by their competition. The lack of a live chat feature can pose a serious issue for many users, and the price tag, while not the most expensive that I've ever reviewed is still a bit hefty for the service that you receive.
Even though I cannot recommend WindScribe VPN in good conscience, I am optimistic about the company's future and potential.
In the few short months that they have been in business, WindScribe has shot through the ranks and taken the market by storm with their free and paid services alike, and if they continue to refine their offer, they will soon become one of the industry's most recognizable names.
However, for the time being, I would suggest that you opt for a service like PIA or Trust.Zone or, for those of you with a slightly bigger budget, something like ExpressVPN.
Leave your own WindScribe review:
Have you ever used WindScribe before? If so, what was your experience like? I'm always interested to hear what other enthusiasts have to say about the VPNs that I review! Let me know below.
15 user reviews for WindScribe
Vicky Stevenson 10/10 January 15, 2018
Netflix is great! Speeds too.
Really happy with the service so far. Enjoying being able to unblock Netflix when needed as I travel a lot.
Gianmarco 5/10 January 7, 2018
No netflix, but works
I use the free version and I like it. I can't use it on netflix but it goes very well for download and streaming. The software is multiplatform (windows, mac, linux), really simple to use and even if it is free it allows you to choose a server.
Robert Sales 9/10 January 6, 2018
Reliable free VPN
I've been using Windscribe and so far it seems pretty good. Some locations have better speeds than others, but I did read in one of their blogs or previous responses to a customer that it's best to connect to a place nearer to where you actually are if the speeds seem to be especially slow that time. Personally, with what you can get on the free plan, it's good enough to say this a rather satisfying VPN.
Fred 10/10 January 5, 2018
Works with Netflix
Read https://windscribe.com/features/windflix
You have to connect to the WINDFLIX location in order to access Netflix US and UK. Works perfectly.
Speeds WERE bad, but if you get their beta version which includes the ikev2 protocol, I'm seeing 95% of my normal speed. Went from a 3/5 VPN (because of the speeds) to a solid 5/5.
Vishnu 8/10 December 29, 2017
Windscribe is good for the most part
I got a two year subscription to Windscribe VPN at a good price. They always seem to have some sort of a deal going which makes it good value for money. They have no bandwidth restrictions or device restrictions and recently added an Android app as well. They seem to have a wide selection of servers across the world. in the PC app, they have an option to select the best server location automatically. Wish they would bring this to mobile as well. Speed performance can be a bit lacking during heavy traffic, but has been good for the most part. Overall, I think Windscribe is good value for money.
Kristiyan 10/10 December 23, 2017
Would recommend 10/10.
I've used WindScribe for the last 5 months and I like it's capabilities and functionality a lot. The program's dashboard is really easy to use and setup. I just select the country and my IP has changed in seconds. They also offer 2GB's of data for the new users which is more than satisfying. Would definitely recommend to use if you ever need a VPN!
Peter Merchand 6/10 December 23, 2017
Windscribe VPN is Average
Based upon your review, I purchased the Pro version of Windscribe with the intent of using it to access Directv Now in Canada. I have satellite internet through Xplornet with about 35 mbps download. That 35 mbps became a maximum of 2.5 using TCP and various ports and US locations. Obviously not enough for my purpose. Constructively, may I suggest that consideration be given to the fact that users choose a vpn not only for security and it may not be the best alternative for avoiding content restrictions.
Robert 8/10 December 20, 2017
Seems good
I'm also a Windscribe user and agree the data cap was a bit of a turn off however, seeing as it is free you can't really complain. I did end up investing in the pro plan and it's been great so far and in my opinion worth the upgrade. I'm now on my second month as a pro plan user.
Can't complain.
Jorge Bastos 10/10 December 13, 2017
Great value for a great service!
WindScribe offers from the most basic to the most advanced services, with full functional firewall, unlimited data usage, ad-block, and even P2P, only for a 9USD per month.
WindScribe uses a very user-friendly interface, very easy to use, and from the start its hands on.. It's not this giant window with tons of options that you don't know what is going on. But that doesn't mean its incomplete, oh no! I
It offers over ~50 countries to choose from and for you people that hate logs, good news, WindScribe doesn't keep permanent log files.
victim #1000 1/10 December 12, 2017
scammers
I tried this VPN 6 moths ago and was not happy with the extremely slow performance.
After uninstalling / cancelling my account I am still being billed 6 months later.
My refund requests to support are replied with advice on using the app which I don't even use anymore.
The account section of the site has no cancel button either. Major red flag!
Dru Rivas 8/10 November 17, 2017
WindScribe: an affordable VPN
Whenever I look for a VPN, price is the most important deciding factor. Being a high school student, I don't have a lot of money to splurge on subscription services. However, Windscribe gives out very generous subscriptions from time to time. While the normal price is about seven dollars a month, which is more than worth it on it's own, you can often find subscriptions to this service for as little as $12 a year.
In addition, Windscribe offers a very generous free trial, allowing 50GB of free usage a month when you enter certain promo codes.
As for the VPN itself, using it on a Windows, Mac, or iOS device is as easy as flipping a switch. If you want to use it for Linux, Android, or anything else you can think of, the site offers OpenVPN credentials, albeit only for Pro subscriptions.
All in all, this is a well made, extremely affordable VPN. I highly recommend it.
Owl 2/10 November 17, 2017
Very slow..
Ok. This VPN slow. Really slow, even though I had a Pro plan a while ago. I could hardly stream Netflix, which is one of the main reasons I got it. The desktop application was eh. I wish it could have had more proxies. I ended up switching to Psiphon and it was a lot faster, and free.
Ethan 7/10 November 11, 2017
My review of WindScribe VPN
I paid $49.99 for a lifetime membership of Windscribe. So far, I like it. It seems to work well on Mac, Windows, and iOS. Some minor issues I have: when I choose servers that are far away, it takes longer to load (I think this is as to be expected) and also the iOS app user interface can be improved. These are minor things, so it's okay. But in terms of privacy and security, I think Windscribe is pretty good.
Dan 9/10 October 19, 2017
recommending it
My experience with WindScribe was excellent. Their pricing is reasonable and I had no issues. VPN was fast and performed well. Lots of server choices and very simple to use. They also have Firewall option, so if you are not connected to their network, internet accessibility is disabled, which is useful if you are torrenting or you really care about your privacy.
I will continue using WindScribe and I highly recommend this anyone looking for a safe, fast, and affordable VPN.
Isak 8/10 October 15, 2017
Cheap and good
I have used the free version of this VPN with 15 GB of data because I have an account and tweeted about it. It's great because you get a lot of data free or you can get unlimited for just $5,75/month. There are a lot of servers as well, for example on my free account I can pick Norway when I live in Sweden and it's pretty fast.