Founded in Seychelles, 2014 (Trusted Solutions Ltd), Trust.Zone claims to be a truly anonymous VPN that prevents your ISP from tracking you.
Initially, they weren't even on our best VPN list. Especially not with other big-names out there like ExpressVPN & Private Internet Access.
But they've recently gone been getting some big press on other sites. So I had to see if they could live up to the hype.
In this review, I'll also cover speed test results of the service, the overall usability, the reliability of their customer support, and my overall experience with the VPN.
But before we get into that, here's some background on the company.
Trust.Zone Background
The Trust.Zone website has a fun, clean look.
The site also has what appears to be a cartoon superhero next to some pretty awesome sales promotions for 50% off: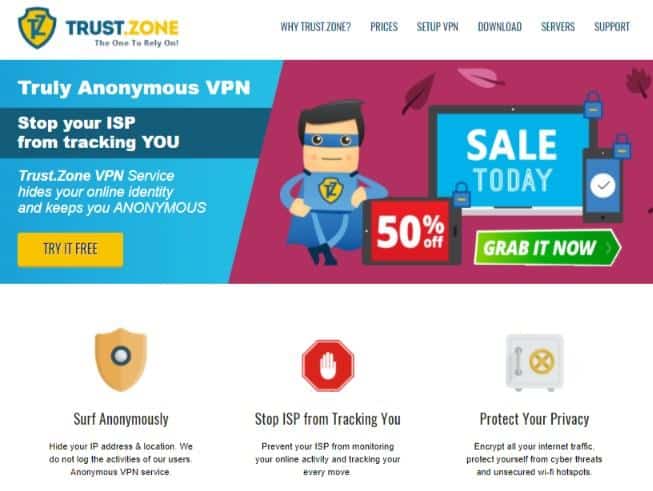 Not a bad way to get started.
The site looks trustworthy and seems legit. But we all know looks can be deceiving.
Here's what they have to say about their services:
"Your ISP and visited websites see IP addresses of our servers with encrypted traffic. All content transfers, personal details, chats are safe."
Trusted Solutions Ltd appears to own Trust.Zone, which is located in Mahe, Seychelles.
Why is that important?
First, it's beautiful there. Seriously. Add it to the bucket list.
Second, your standard data retention laws don't apply there. That's a great thing.
That doesn't place them under some of the same scrutiny as a U.S. or E.U. based company would face. Let's just say they have a lot more… freedom to do as they like.
They have some pretty good overall reviews for starters. TechRadar has called it, "A straightforward VPN with a well-designed Windows client."
However, the site also warns against Trust.Zone's lack of features and low speeds.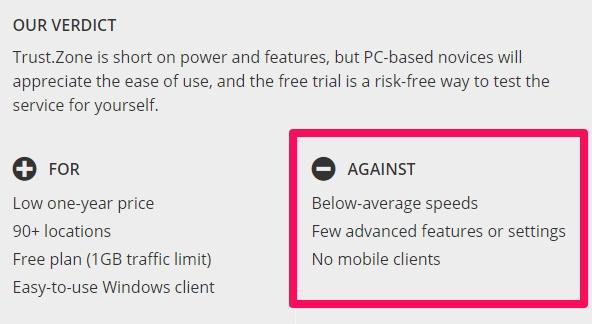 It looks like Trust.Zone has improved upon speeds, features, and options for mobile clients since being reviewed by Tech Radar.
But before we get into information about Trust.Zone's servers, speeds, and more, let's talk about their compatibility and features.

What Do They Offer + Compatibility
Trust.Zone allows you to surf the web anonymously by hiding your IP address and location.
They call themselves an "anonymous VPN service" that prevents your ISP from monitoring your online activity and allows you to prevent cyber threats.
Features include no logging, unlimited speed and bandwidth, and more.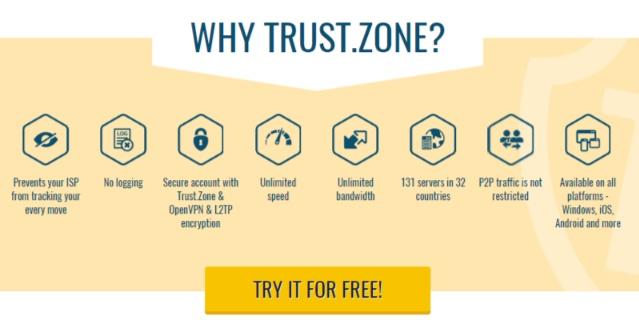 The VPN service also supports these operating services and devices:
iOS
Android
Linux
Windows
MAC
And Trust.Zone has 131 servers in over 32 countries. So most major cities around the globe are covered.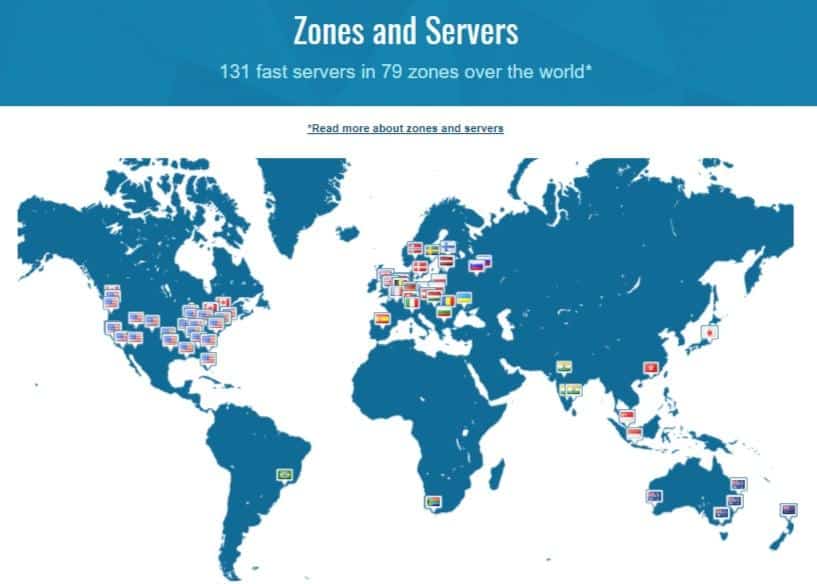 It's also worth noting that Trust.Zone does offer a kill switch. These come in handy when you least expect it.
Let's say you're in the middle of of browsing on your phone in a public place and the WiFi gives out.
No problem, right? Your cell network will seamlessly take over.
Except it is a big problem. Because that small hiccup killed your secure VPN connection. So everything you're doing online is now exposed to the ISP directly.
You wouldn't be at risk if you had a kill switch. The second your connection starts to slide, the kill switch would automatically bring down your browsing session in order to hide your activity (and therefore, personal identity).
Additional Features
Trust.Zone VPN can also be used on routers if your router supports OpenVPN or L2TP/IPSec VPN Client feature.
When you're setting up your VPN connection, you might be asked a few questions, though. You can find out how to do router VPN setup through Trust.Zone's Manual Setup Page.
Trust.Zone VPN also supports full version DD-WRT firmware, and you can check to see if your router is supported by it (or download it) with this DD-WRT Router Database.
Trust.Zone also has a DD-WRT Instructions Page that allows you to select a VPN closest to your current location and follow the steps on the page.
Pricing and Plans
At the time I checked out Trust.Zone's site, they were offering a limited time free 3-day trial of the service.
The free test includes 110 locations, 1GB data transfer, unlimited bandwidth, and one simultaneous connection.
That's actually pretty good for starters! Many "free" versions only give you access to a single location or two.
Trust.Zone offers a one month package, a three month package, or one year package, which the company was having a sale on when I checked them out.
All of these packages offer you access to all 131 locations, unlimited data transfer and bandwidth, 3 simultaneous connections, and unlimited server switching.
The monthly plan $6.99 per month.
This is a true, month-to-month plan, so the pricing is pretty good. Many other VPN's I've reviewed will force you to commit to a full year before getting below $10 bucks a month.
The three month package is $4.95 per month.
The total price for the first three months is now only $14.85 total. That's already a 29% discount over the first plan.
The one year package was $3.33 per month.
The annual plan will only set you back a total of $39.95, which is a 43% discount over the monthly plan.
So if you're skeptical, you can try them out at one month first. But then you'd want to quickly take advantage of this annual option to save almost half the price over the course of a year.
Here's how the pricing plans on their site currently line up: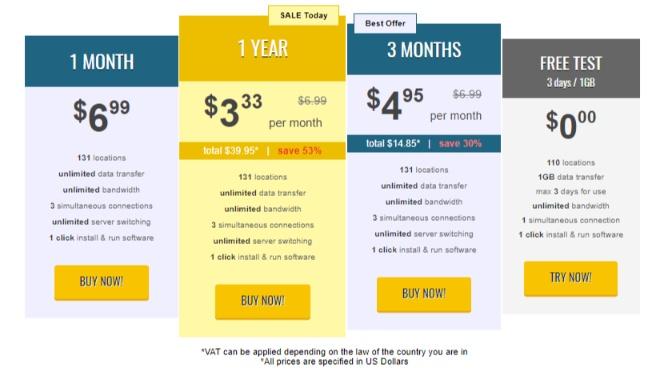 Trust.Zone also offers a 10-day money back guarantee, as long as the bandwidth usage isn't over 1GB. This is already on top of their "Free Test." So you have two different ways to safeguard yourself if they look worthy of a shot.
This pricing sounds good on the surface, right?
But how good is it in reality when you stack it up against the competition?
Let's find out right now.
Trust.Zone Pros
---
Trust.Zone has only been around since 2014. You might expect a few small beginner flaws here and there.
However, that's not the case in my experience.
Instead, I was surprised by how smooth everything was. These people obviously know what they're doing.
Here is an in-depth list at what went well.
1. Security & Privacy
The most important aspect of a VPN is security, bar none.
Sure, a cute superhero cartoon on the homepage is nice. But if you can't back that up with rock-solid encryption… then who cares?!
Thankfully, Trust.Zone delivers where it matters most.
Is it Well Encrypted?
Trust.Zone has some awesome encryption, with an AES-256-CBC cipher, SHA256 authentication, and an RSA-2048 handshake.
Here's what the VPN has to say about using an AES-256 encryption:
"Because of the 256-Bits length of the key and the number of hashes (14), it takes a long time for a hacker to perform a dictionary attack. As for now, there are no known practical attacks that would allow anyone to read correctly implemented AES encrypted data."
This is military-grade quality stuff here. So that's good news for users whose main concern is privacy.

Is Torrenting Allowed?
Torrenting is allowed on Trust.Zone, which is becoming the industry standard for most VPNs.
While this isn't blatantly stated on their site, they do mention that they do not restrict P2P traffic.
That means you can double dip (in a good way). You can safeguard your connection with the VPN and still use torrenting on top of it.
Logging Policy
Trust.Zone prides itself on a very strict no-logging policy.
As I talked about earlier, this is probably due to the fact that there are absolutely no data retention laws in the Seychelles.
That's critical, because I've reviewed many VPN services already that *say* they don't log, only to reveal later in the fine print of their Privacy Policy that they do, in fact, log some of your data.
2. Connection Speeds (One of the Fastest)
Tons of VPN services claim to be lightning fast, including Trust.Zone. In order to find out just how fast Trust.Zone actually is, I completed a speed test on EU, US, and Asia servers.
Here are the results of my speed tests (I was using 100 Mbps Internet connection):
US Server
Ping: 195 ms
Download: 60.61 Mbps
Upload: 36.75 Mbps
EU Server
Ping: 43 ms
Download:

69.46 Mbps

Upload: 46.12 Mbps
Asia Server
Ping: 315 ms
Download: 14.51 Mbps
Upload: 7.14 Mbps
I was pretty pleased with these speeds to be honest. I stacked them up against all of the other competitors we've reviewed, many of which have been around for years, and Trust.Zone came out to one of the faster options out there.
Especially when you consider how much it's setting you back…
3. Pricing
There's an old saying: "You get what you pay for."
Usually, it means cheap stuff is, well, cheap. And expensive stuff is worth the price.
Trust.Zone's $3.33/month annual plan came out to one of the cheapest VPN services I've reviewed. Literally, bottom of the pack.
There was literally only a handful of others that came close.
However, their performance has actually been pretty good!
In this case, that old adage doesn't work. Somehow, Trust.Zone has figured out how to deliver a good all-around product for a few bucks a month.
4. Usability
The usability of Trust.Zone was smooth, steady, and very easy to navigate.
Some VPNs are laggy, slow, or complicated once installed. But this isn't the case with Trust.Zone.
Once you create an account at Trust.Zone.com and install the service, you can get started.
Here's what the client will look like when you fire it up: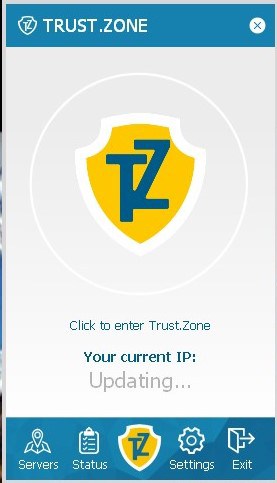 As you can see, there are some tabs on the bottom. One for Servers, another for Status, a third for Settings, and a fourth to Exit.
Once you go into the Servers tab, a list of servers comes up to choose from: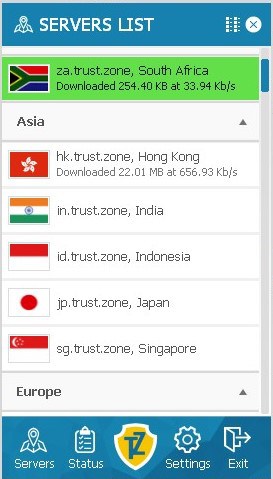 They are organized by continent, and there are even download speeds for each country from the last time you were connected to that server.
You can also find some basic information about your subscription to the VPN here: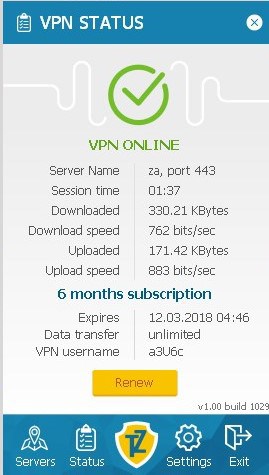 The Settings tab shows connection settings, options for your VPN port, and more.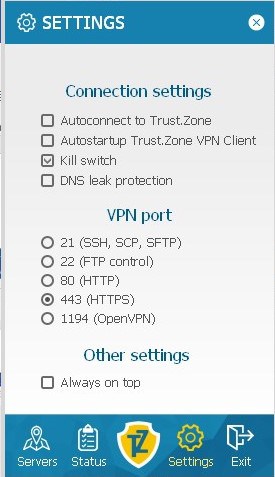 To turn off the VPN, simply go into the Exit tab and hit "Ok."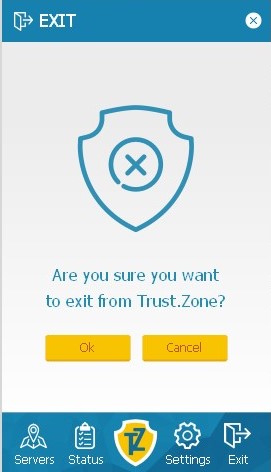 Pretty seamless overall.
5. Does it Work on Netflix?
I was pretty eager to find out if Trust.Zone works with Netflix.
The video streaming company has been on the offensive lately, blocking well-known VPN services left and right.
In this case, Trust.Zone's relative obscurity might help it because it worked perfectly on Netflix.
After selecting a Korean server, I logged into my Netflix account and immediately saw foreign titles.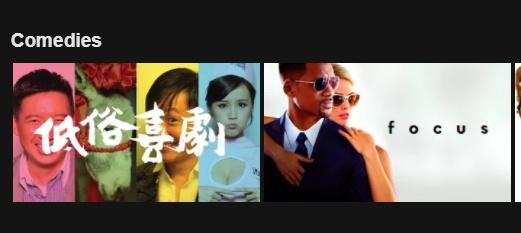 I clicked on the one above and watched the opening credits.
The ability to access Netflix is sometimes one of the only reasons people are searching for a VPN, so it's good to see that Trust.Zone actually works.
This means people in other countries will have access to Netflix titles in the US that aren't normally available to them, and vice-versa.
Trust.Zone Cons
---
I was pleasantly surprised with most aspects from Trust.Zone.
Solid encryption, fast speeds, cheap pricing, and handy extra features can go a long way.
However, there was one big drawback I noticed while reviewing the service.
1. Limited Customer Support
Some VPN services, like NordVPN, offer extensive customer support options like live chat.
That way, you can get help ASAP when things go awry.
It's also encouraging to know that there's someone available, around the clock. It helps build credibility in the company who stands behind their service and doesn't want to just take your money.
Unfortunately, Trust.Zone's customer service options are pretty limited.
They appear to only offer customer support via a ticketing system. And they recommend checking out their FAQ page before submitting a question.
On top of that, support is only available Monday through Friday from 6:00 AM to 4:00 PM GMT.
That could be an issue depending on your time zone. Submit a ticket at the wrong time and you might be forced to wait up to a full day to get a response.
Here is what their fill form looks like to submit a question: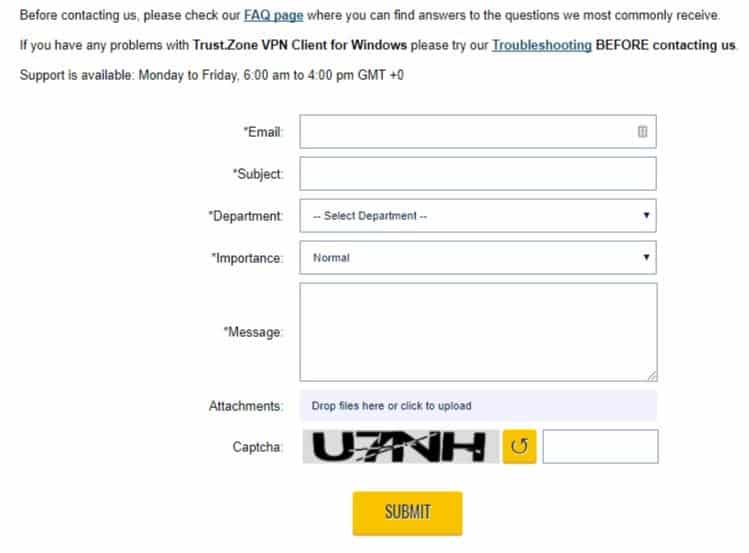 And they offer a drop down menu to select the department that your question applies to.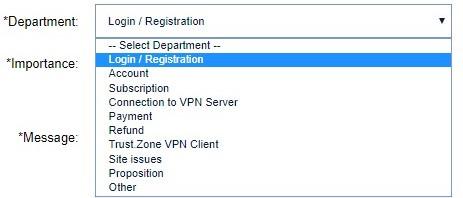 You also have the option of listing how important your question is, from trivial to critical.

Here's the question I asked their customer support team about password recovery under the "Login/Registration" department:

Once I submitted my question, I was greeted with this dashboard showing that my ticket was added: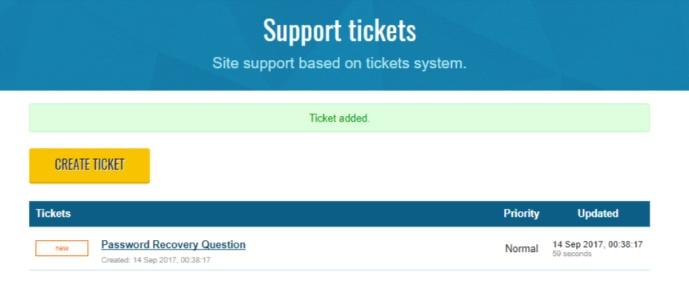 Within a few hours, I received a helpful answer from a member of Trust.Zone's support team.

So while there may not be a live chat option when it comes to this VPN's customer support, they seem to be very responsive to tickets (again, depending on your time zone).
And it's comforting to know that you'll be helped by a real human.
Do I Recommend Trust.Zone VPN?
Yes and No.
Trust.Zone offers solid features for encryption, privacy, and overall ease of use.
Plus, it's affordable and available across pretty much every device imaginable.
The live feed of download and upload speeds for each server also makes it super easy to pick the best option at the right time.
And since this VPN is headquartered in an area with no data retention laws, you can rest assured that there will be no logging of your information.
The only downside is that Trust.Zone doesn't offer a live chat for customer service, but their current ticketing system seems to work pretty well when it comes to responsiveness.
Sadly, Trust.Zone doesn't seem to work with Netflix any longer.
Pros:
Available across many devices
A decent amount of servers to choose from
Affordable pricing
Fast speeds
Well encrypted
Torrenting is allowed
No logging policy
Easy to use
Live feedback of speeds for each server in the platform
Cons:
The only customer support option is a ticketing system
Poor english in customer support
Doesn't work on Netflix
Add your own Trust.Zone Review
3 user reviews for Trust.Zone
Paulo B 9/10 October 13, 2017
happy with their service
While I can't say I've tried a lot of VPN providers personally, I've set up VPNs independently and did some research before going with TRUSTZONE . I've been very happy with their service, as well as the win app. which make it easier and quicker. Great speed up to 100 mb/s.
Lots of location options.
Of course, there are still a few things I'd like to see to make the service even better, but of the available options I'm aware of, I believe them to be about the best around. I'm now on my 2nd year.
Charlie Zh 9/10 October 3, 2017
No dns leaks!
I have tried several vpn services, but this is the best. If you think your protected with other services, check the DNS leak protection or WebRTC leak protections. You may be surprised your leaking DNS information, which leaves you exposed. However, your covered with Trustzone. This is critical in remaining anonymous.
Z Bonno 8/10 October 2, 2017
good for streaming
I use this to access Netflix in other countries to see what is different. I've tried it to watch BBC and found it acceptable. Works great. Sometime I have to try other servers in different regions to find acceptable bandwidth but overall It works as advertised. They keep developing improvements and regularly update their software.