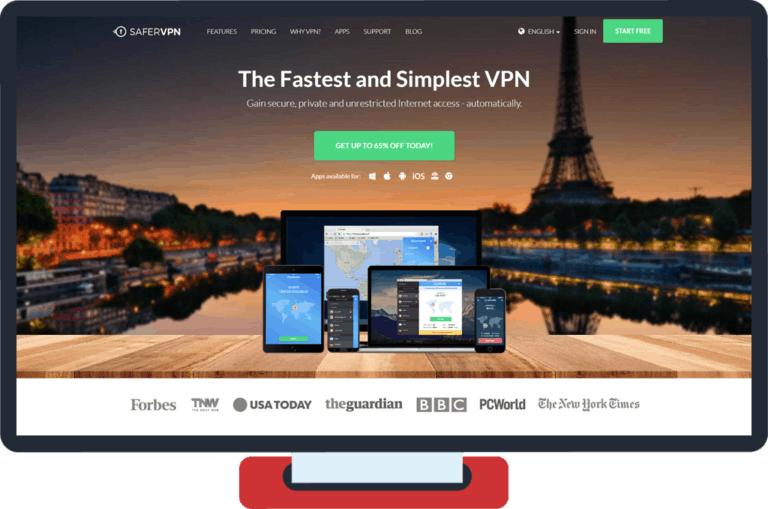 You are here because you want to know how well SaferVPN works today in 2018, and that's exactly what I am about to share.
I'll be breaking their service down in great detail, discussing the speed, customer support, security, and features of SaferVPN along with a bit of background about the company and their operations.
What is SaferVPN?
Founded in 2013 by business partners Amit Bareket and Sagi Gidali, Safer Social Ltd. (SaferVPN) has experienced a meteoric rise to the top of the VPN marketplace.
Headquartered in Tel Aviv, Israel, the mere location of SaferVPN might make it seem like they've lost the game before they even set foot on the field.
After all, Israel has become an increasingly tumultuous and politically charged region, making many VPN buyers hesitant about trusting their privacy to a company located at the center of the turmoil.
I'll be the first to admit that when I originally learned about their location, I was pretty nervous about using their services too.
However, after a little bit of light digging, I found that Israel might actually be one of the best jurisdictions for a VPN due to their privacy laws that severely limit the government's (legal) ability to track and monitor ordinary citizens.
Although it's not ideal for a VPN provider to be headquartered in a country so deeply embedded with the "Five Eyes" information sharing partnership, you can rest easy at night knowing that the law and SaferVPN's privacy policy (more on that later) is on your side.
Servers, Devices & Protocols
In addition to their favorable jurisdiction, SaferVPN boasts an impressive network of 700+ servers spread across 34 countries.
Their services are compatible with all major platforms including
And if you are willing to go through the trouble, you can even setup their services to work directly with your home or office router.
They allow their users to connect using all major protocols including OpenVPN, IKEv2, IPSEC, SSTP, and PPTP. 
Although this is great, it does bring up a rather bizarre and confusing point about one of SaferVPN's feature.
SaferVPN provides their users with an optional feature that they call Automatic Location Selection Algorithm.
Those of you with even a rudimentary understanding of VPN protocols will know that OpenVPN is the most widely used protocol in existence because it is the most effective protocol in existence. It marries speed and security in a way that no other protocol has been able to match which is why it is my go-to protocol roughly 90% of the time.
IKEv2 isn't bad per se, but I rarely use this protocol unless I'm protecting a mobile device that I regularly switch between mobile and wifi.
So why in the world SaferVPN thought that it should be the default protocol for this feature is beyond me?
Cheap Pricing for 2 Years Commitment (only)
I was astonished to find that their services are actually marketed at an incredibly budget friendly and affordable price.
Like, less than $4 a month affordable….
However, you'll need to be ready to pay 2 years upfront – $83.77. That's a lot for a VPN that you're not 100% sure you'll use again after 12 months.
All of their packages offer the same features and services and the only difference between them is how long you actually get to use their service.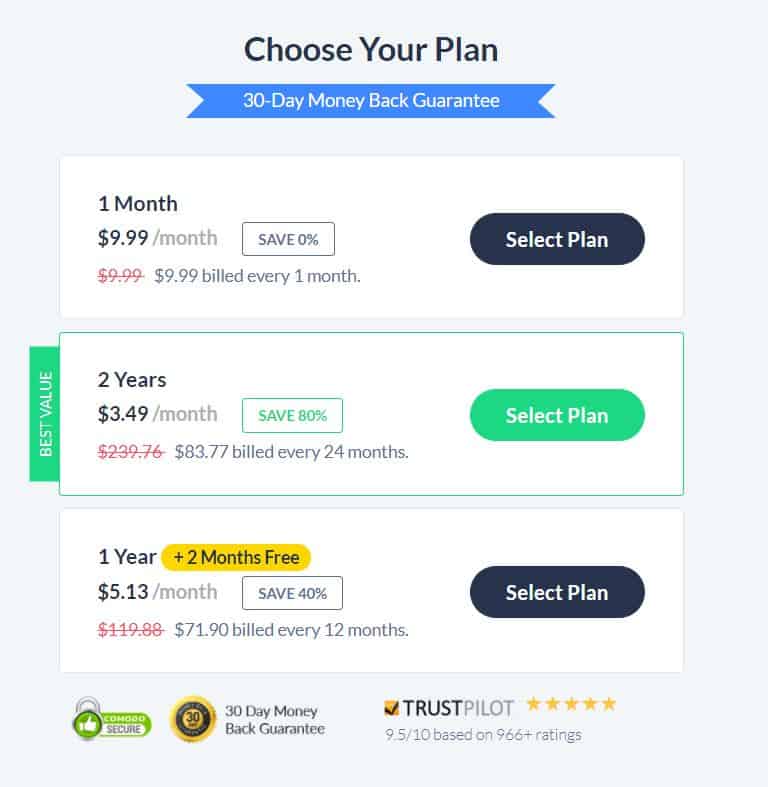 Here's how it all breaks down.
Monthly: $9.99
$9.99 per month
$119.88 per year
0% savings
Annually: $71.90
$5.13
$71.90 per year
340% savings
Bi-Annually: $83.77
$3.49 per month
$83.77
80% Savings
Some of you might remember that the last time I reviewed SaferVPN they offered a 14-day money back guarantee and a 24 hour free trial. Unfortunately for hesitant buyers, SaferVPN no longer offers that.
However, they have improved their money back guarantee and extended the return window from 14 to 30 days.
After scouring their privacy policy and ToS, I am happy to report that SaferVPN, unlike many of their competitors, doesn't have any surprise "catches" or caveats to their 30-day policy either. Regardless of how many connections you initiate or how many GB of data you download, you can request a full refund for your purchase as long as you do so within 30 days.
SaferVPN also allows their users to pay with a Credit Card, PayPal, Bitcoin or Paymentwall meaning that, if privacy is an issue, your entire purchase can be made with complete anonymity.
Pros of Using SaferVPN (
+

)
1. Great Download Speeds
SaferVPN is fast…
Clocking in at an impressive 79.23 Mbps on an EU server, SaferVPN is the 5th fastest VPN (out of 30+) that has ever been reviewed on this site.
Here's a speed test I ran on speedtest.net to ensure the accuracy of this review.

US Server (New York)
Ping: 120ms
Download: 57.47 mbps
Upload: 23.09 mbps
EU Server (Amsterdam)
Ping: 43ms
Download: 79.23 mbps
Upload: 27.78 mbps
Asia Server (Hong Kong)
Ping: 323ms
Download: 1.28 mbps
Upload: 0.37 mbps
UK Server (London)
Ping: 46ms
Download: 64.38mbps
Upload: 39.40mbps
*As always take these speed tests with a grain of salt since they rely on so many different variables and can change from person to person. However, we have tested over 30+ VPNs for this site so we have a baseline that we can compare every VPN against.* 
Now that you've seen their speeds, most of you are plugging your nose and waiting for the cold water…
After all, with download speeds this fast, there's no way that SaferVPN could offer their services at a budget-friendly price, right?
Wrong.
2. Seamless Installation and Use  
Call me petty, but I absolutely detest VPN providers who force users to restart their devices after installing the VPN client.
Luckily, not only is SaferVPN "Restart Free", they are also one of the simplest and most user-friendly VPNs that I have ever reviewed.
About 3 minutes after I purchased their services,  SaferVPN was installed, launched, and protecting my Windows device.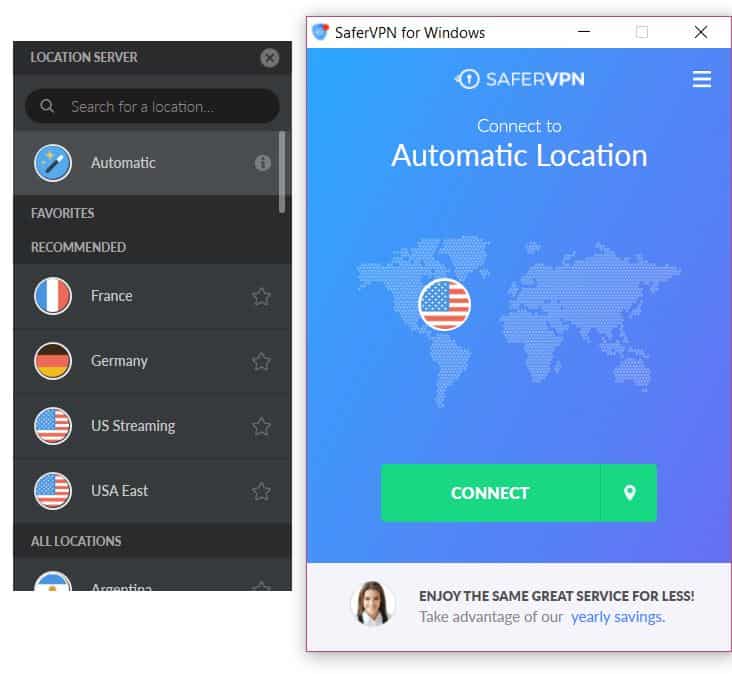 With one of the most straightforward user interfaces I have ever encountered, SaferVPN makes it easy to use their service and you can protect your device with just the click of a button.
They also make it easy to quickly find and optimize your settings and ensure that you have the perfect connection for your specific goals.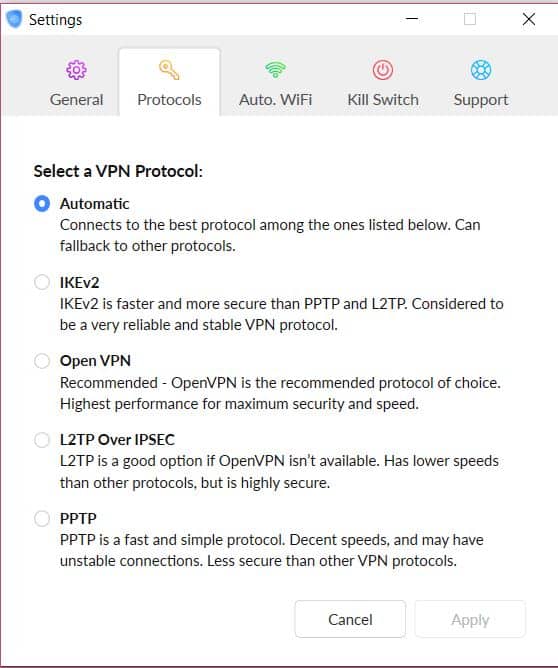 Although SaferVPN might not be the most feature-rich provider that I've ever reviewed, their intuitive design and easy to navigate interface makes using their software an absolute delight.
3. Effective Customer Service (But using BOTS?)
While it isn't up to the standard of a company like ExpressVPN, SaferVPN's customer support definitely exceeded my expectations.
Throughout the course of this review, I submitted a handful of queries at different times, some of them genuine, and some of them designed to gauge the efficacy of the support team.
Each time, I received a prompt response to my question and was on my way in a matter of minutes.
Here's one such encounter that I had while trying to figure out if there was a better way to use SaferVPN for torrenting (which we will talk about in the "Cons" section).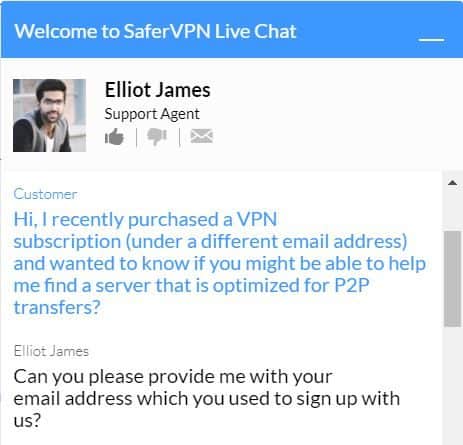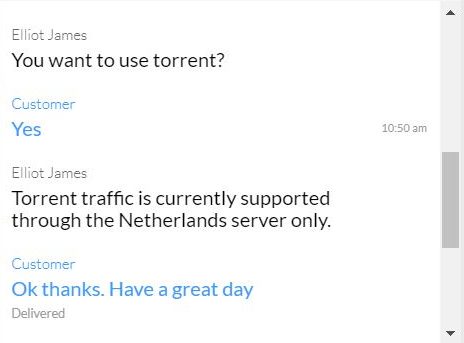 This whole conversation took place in about 90 seconds and is very indicative of my overall customer service experience.
Their team isn't the most knowledgeable support crew that I've ever seen, but they got the job done and they did so in a matter of minutes.
However, I should point out that at various points throughout this SaferVPN review, it did seem that they were using an automated software to respond to my customer support inquiries.
While I cannot verify this theory, I do believe that SaferVPN uses robots to answer some of the more common queries that are submitted through their chat feature and, if you look at the above correspondence, you will understand why.
The question that I submitted did not require a client email address for any reason and (considering the fact that they probably receive this question 100 times a day), my support agent should have been able to answer me immediately.
Instead, I was asked to provide my email address (less than one second after submitting my question) for no apparent reason making me feel like I was talking to a robot and not an actual agent.
This trend repeated itself across several other support questions and while it amounted to little more than a mild annoyance, I did feel that it was worth mentioning. Considering the overall quality of their customer support and the general friendliness of their team, I've got to applaud SaferVPN on their customer service… Bots or no bots.
4. Kill Switch and 5 Simultaneous Connections 
As I've already mentioned, SaferVPN does not offer a particularly feature dense service.
And I'm honestly kind of glad that they don't.
After using their VPN for some time, it's clear to me that they focused almost all of their resources on optimizing their servers, creating an efficient support team, and offering their services at an affordable price.
SaferVPN does a few things great whereas most of their competitors do a lot of things acceptably.
While many users might be disappointed by the apparent lack of bells and whistles, I feel that SaferVPN offers all of the features that truly matter, including a kill switch* and a generous 5 device simultaneous connection limit.
Both of these features are welcomed additions to an already stellar service and I am happy to report that (unlike many of their competitors) SaferVPN's kill switch feature works exactly as advertised.
*Kill Switch is a feature that disconnects you instantly when you lose your Internet connections. This avoids your IP being leaked. 
Cons of Using SaferVPN
–
Although SaferVPN has a lot of great things going for it, their services aren't perfect and they aren't for everyone. So before you go smashing that "Buy Now" button, let's take a quick look at some of the "Cons" of using SaferVPN's services.
1. Torrenting is VERY Limited 
Personally, this was my biggest point of contention with SaferVPN's services.
Considering that they have such a vast collection of servers, you would imagine that they would have spent some time optimizing at least a few of those servers for P2P transfers and torrenting.
However, SaferVPN only has one server out of their collection of 700 that works for these purposes. (Their Netherlands server if you're wondering).
If you plan to use their services solely for torrenting then forget it. There are much better VPNs available for torrenting (here's 7 best).
This particular "con" is far from a deal breaker, but it is an issue that I would like to see the company take more seriously.
2. The "No Logging" Policy Could Be More Strict 
Something that always bothers me about VPN companies is how misleading their logging policies can be.
In fact, if you dig through their privacy policies, it's not uncommon to find companies that advertise a "Zero Logs" policy while actually logging a metric crap ton of data.
Although SaferVPN doesn't quite fall into that category, they do track a little bit too much data for my liking.
Here is a summary of their logging policy as stated by their privacy policy.

As you can see, this isn't quite the "Zero Logs" policy that we are promised. Although it's far from ideal, I didn't find SaferVPN's logging policy to be particularly worrisome.
Would I prefer to use a VPN that doesn't log any of my information? You bet.
Does SaferVPN's logging policy preclude me from using their services? Not at all.
3. SaferVPN Doesn't Work in China
If I ask you to think of the first country where you would need to use a VPN, what comes to mind?
China, right?
Considering their draconian government and oppressive censorship laws, China is one of those countries that you shouldn't visit without a fully functioning VPN.
Unfortunately, according to many third-party sources, SaferVPN's applications will no longer work while on Chinese soil.
And this is a big problem for the company.
Expats and travellers all across the world rely on high quality VPN providers (like SaferVPN) to unblock content and keep themselves safe and the fact that their services no longer work in the region is a big blow to their potential customer base.
If you aren't travelling to China anytime soon, then you can ignore this point, buy SaferVPN, and go along your merry way.
Otherwise, you will need to purchase a more premium service like ExpressVPN (read review here).
(Please not that this is not something I could directly test since I have not visited China in recent months. If you have a different experience using SaferVPN in the so-called People's Republic, please let me know in the comments below.)
Do I recommend SaferVPN?
Not really, but they're not a bad option per se…
Out of the 30+ VPNs that have been reviewed on this site, SaferVPN currently ranks 9th overall and 5th in speed, but some of the cons are making them unrecommendable.
They offer fast (and stable) speeds, a seamless interface, and good customer service all at a decent price.
While their services aren't definitely free of problems and I am eager for the company to improve their Torrenting capacity and logging policy, my experience with SaferVPN was satisfiable.
SaferVPN Pros:
Fast
Great Price (less than $4 a month)
Incredibly user-friendly
Good customer service
SaferVPN Cons:
Logging Policy
Cannot be Used in China
Limited torrenting capabilities
Find best performing VPNs here.
Add your own review:
Have you ever used SaferVPN before? If so, what was your experience like? I'm always interested to hear what other enthusiasts have to say about the VPNs that I review! Let me know below.
6 user reviews for SaferVPN
Joe 10/10 December 21, 2017
Consistent solid service for the past 3 years
I've been using SaferVPN for about 3.5 years and they've just always had really good service. I never get bounced off the vpn, it works everywhere, really smooth, and is pretty inexpensive.
Overall I couldn't be happier with them. I especially love the Chrome browser extension.
Anonymous 3/10 December 11, 2017
Not working properly with Windows 8
Yes – their flashy landing page might you want to think that this 24 month plan is "cheap", but it's not.
I've used their service for nearly 4 months now and most of the time I just shut it down because it crashes on my Windows 8.
I've tried getting a refund, but I've waited too much on the tickets and their replies are so chaotic. They're still "verifying" the error.
Alfonso 10/10 July 1, 2017
VPN at its best
Things I like about SaferVPN:
App is really sleek
Easy-to-install
Fast speed
Great Support
Good connection
Benjamin Eliezer M. Palacol 8/10 May 2, 2017
Works well. No restrictions.
I've been using SaferVPN since 2012.
It unblocks restrictions by my ISP (smart) which other VPN services I tried couldn't.
Speed:
When it comes to speed, SaferVPN is on the "meh" side. It's not *that* fast but it does it's job most of the time.
Features:
The reason I picked SaferVPN amongst others is because of its unblocking capabilities. I'm no expert but most VPNs won't work without using any special tricks to make it work. However, in SaferVPN it will connect just in one click. Also free trial is a win win win.
Reliability:
Nothing to say much to this as it doesn't fall on connecting.
Pricing:
It's cheap but not *that* cheap. Only reason for you to use this is for its feature but there's a lot of services out there that is cheaper and faster.
Lisa and Jim 3/10 April 24, 2017
SaferVPN actually not that safe.
I'm an ex-customer of SaferVPN. I'm not entirely sure of their logging policy, therefore I made a switch to PIA. PIA is a lot better in every aspect of their software. SaferVPN has a slow, unfriendly UI. Me and my husband weren't happy with their service. I wouldn't recommend them, but they are quite cost efficient. I wouldn't try them though, spend a couple of bucks more a month to get a good and secure service provider.
Steve 7/10 March 1, 2017
VPN is important
I just bought SaferVPN after the US Congress passed this law: https://apps.fcc.gov/edocs_public/attachmatch/FCC-16-148A1_Rcd.pdf
ISP companies can sell your browsing data to advertisers now.
After using it for 24+ hours, I think it's a solid product and does the trick for me. No slow speed at all.