SaferVPN is a Tel Aviv, Israel-based VPN provider founded in 2013 by Amit Bareket and Sagi Gidali.
Over the past few weeks, we've been digging through their website and using their service to determine whether or not they're a good bet.
Does It Work On My Device?
SaferVPN offers apps on all major devices and operating systems, including:
They offer a router connection so that you can open up the number of devices to connect. And they also offer a unique Chrome extension, so you can add the power of a VPN directly to your internet browser (without having to use a downloadable-client).

First, we'll introduce our findings on their server locations and apps. Next, we'll get into the details of their available protocols and recommended encryption methods.
We'll also review their customer service options and breakdown their pricing tier so you can see what it's going to cost you at the end of the day. We'll even show you a step-by-step setup to get started for the first time.
Ready? Good. Let's dive in.
SaferVPN Review (Summary)
---
| | |
| --- | --- |
| PROTOCOLS: | OpenVPN, PPTP, SSTP, L2TP, IKEv2 |
| ENCRYPTION: | AES 256-bit |
| LOG FILES: | No |
| LOCATIONS: | 30+ countries, 400+ servers |
| SUPPORT: | Live Chat (24/7) |
| EASE OF USE: | Very Simple |
| COST: | $3.49 |
| PLATFORMS: | Win, Mac, Android, iOS |
| RECOMMENDED? | Yes |
| OFFICIAL WEBSITE: | www.SaferVPN.com |
SaferVPN Quick Facts
Despite being in business for only the past few years, SaferVPN has quickly expanded to more than 400 servers across 30 countries.
That includes North America and Europe, in addition to a few in the Middle East, Asia, and a single South Africa location.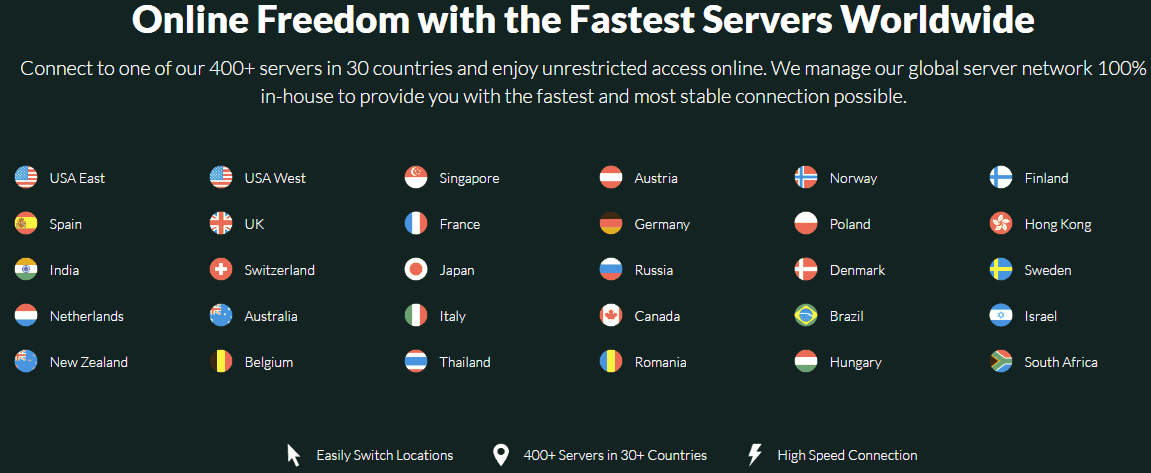 Just to name a few locations:
USA West & East
Spain and many other EU countries
UK
Australia
Canada
SaferVPN has unlimited server switching and bandwidth, so you shouldn't see (or worry about) any throttling or performance issues.
They also have a 14-day money back guarantee in addition to a 24-hour free trial!
Most VPN providers will give you either, or (almost never both).
So you might get a short money back guarantee, but you gotta lay down your credit card first. Or you have a short free trial but no money back guarantee once you pass that window. SafterVPN gives you both options though, allowing you to quickly try the service out and still have a two week time frame to use it in-depth to see if you're happy with their service.
That about covers the basics. Now it's time to go deeper on the technical stuff under-the-hood.
Here's an explanation of your protocol and encryption options with SaferVPN.
Available Protocols
SaferVPN offers the most popular protocols available.
OpenVPN is the industry de facto standard because it provides the best all-around security, speed, and flexibility. It's an open sourced software based on the same technology used to power SSL certificates (which creates secure connections between your devices and most of the biggest websites on the interwebs). It also has the added benefit of being able to bypass or side-step many different firewalls and networks that attempt to restrict your internet usage.
OpenVPN's use unique authentication keys to establish secure connections between your device and a VPN server. So similar to connecting through a SSL certificate, your entire internet session gets encapsulated in a secure tunnel that's impenetrable to common 'man in the middle' attacks that attempt to insert themselves between you and websites being browsed.
Most of your VPN use should start and end here.
But you might want to access another protocol for various reasons.
The Point-to-Point Tunneling Protocol (PPTP) was originally created by Microsoft years ago for dial-up networks (remember those?!).
PPTP is often used on older devices or for internal reasons. But there are a few known security vulnerabilities, so use with caution (or if you know what you're doing). It can offer some of the fastest speeds because it has 'low overhead' with little encryption (which is what opens it up to the aforementioned security issues).
The Layer 2 Tunnel Protocol (L2TP) will commonly use a IPsec encryption is often used in addition (or as an alternative) to PPTP.
The Internet Key Exchange version 2 (IKEv2) is actually one of the newest protocols, created by Microsoft and Cisco for Windows devices (featured natively on Windows7+ devices). It's reportedly faster than most other VPN protocols, but it has device restrictions (sorry, Apple users).
Encryption Methods (AES 265-bit)
Modern cryptography is based on the same way ancient messages were encrypted centuries ago, dating back to the Greeks, Romans, and Spartans.
Ciphers are used to first encrypt information and then decrypt it when time to open. The instructions for each cipher are placed in a secret 'key'. This same method still applies to ATM pins and other computer passwords in addition to creating secure connections online.
The purpose is to thwart and block third-parties who're trying to gain access to that sensitive information. The most common of which are brute-force attacks that run through various combinations to eventually crack these passwords, pins, or keys.
For example, just recently there were "6,611,909 attacks targeting 72,532 individual websites" according to WordPress security company, WordFence. And that was only during a single 16-hour window!
These attacks are carried out at scale with computers that start with one digit or letter, then two, then three, and more.
In response, even President Obama urged American citizens to pay more attention to their online security and upgrade passwords (through methods like two-factor authentication).
Some VPN protocols, like PPTP, aren't considered secure because of their comparatively weak encryption methods.
In contrast, the rock-solid OpenVPN and IKEv2 protocols rely on AES 256-bit encryption for their data authentication. That's the strongest possible method recommended by top security professionals and used by government agencies around the world.
It's also considered 'hack-proof' due to the number of trial-and-error combinations that someone would have to run through in order to eventually gain access.
Logging Policy (No Tracking/Monitoring)
Some VPN providers will 'log' or track certain activities in order to protect their customers and monitor server usage (to enhance performance).
But what they track is the important part.
While you're never, truly, 100% anonymous on most VPN providers, some will be able to connect your personal data (like email addresses or IPs) to specific internet activity (you know, the thing you're trying to protect against in the first place).
SaferVPN does not track or monitor online activities, so the individual websites you visit or stuff you download is not tracked on their servers.
Customer Support (24/7/365)
SaferVPN offers 24/7 customer support through email, Help Center, and live chat.
We also went through some of their social accounts, like Twitter, to get a view for how they conduct themselves in public when people are being… well… people. (You know, impatient, etc.)
The good news is that they're polite and responsive, often answering within a few minutes (or hours) to any customer inquiries.
Thankfully, it also looks like SaferVPN enables their social and support people to actually help customers as well (unlike some companies which will just reply with the same blanket answer, redirecting people to their official Support Live Chat).
Plans & Pricing (2 Year Plan is Cheap)
SaferVPN keeps things nice and simple by offering just one plan, split into three pricing tiers based on your pre-payment length.
They're also currently offering some great promotions with excellent pricing on their longer plans. That one year option is great, but the two-year one is among the cheapest we've seen.
Plan One: 1 month
Plan Two: 2 Years
$3.49/mo

Billed as one payment of $83.77
Plan Three: 1 Year
$4.99/mo

Billed as one payment of $59.89
SaferVPN Speed Test: They're FAST!
We also performed a speed test to give you a quick rundown of what their automated server connection options might have in store.
Results? They're really fast. In fact, they are ranked in top #3, just ahead of VyprVPN and HideMyAss.

US Server (New York)
Ping: 120ms
Download: 57.47mbps
Upload: 23.09mbps
EU Server (Amsterdam)
Ping: 43ms
Download: 79.23mbps
Upload: 27.78mbps
Asia Server (Hong Kong)
Ping: 323ms
Download: 1.28mbps
Upload: 0.37mbps
UK Server (London)
Ping: 46ms
Download: 64.38mbps
Upload: 39.40mbps
Re speed test: Always take such speed tests with a grain of salt as they simply rely on too many variables. However, since we've tested 20+ VPN services so far, we have an average that we can compare to other VPNs.
Now you've seen what SaferVPN has got.
Why not take them up on that 24-hour free trial. And don't forget about the two-week money back guarantee, either! So either way you look at it, there's not much risk on your end if you'd like to do a test drive.
Once you've signed up, here's how to get started for the first time.
SaferVPN Setup Reviewed
---
Start off by logging into your brand-spanking-new account on the SaferVPN website to access the Client Area.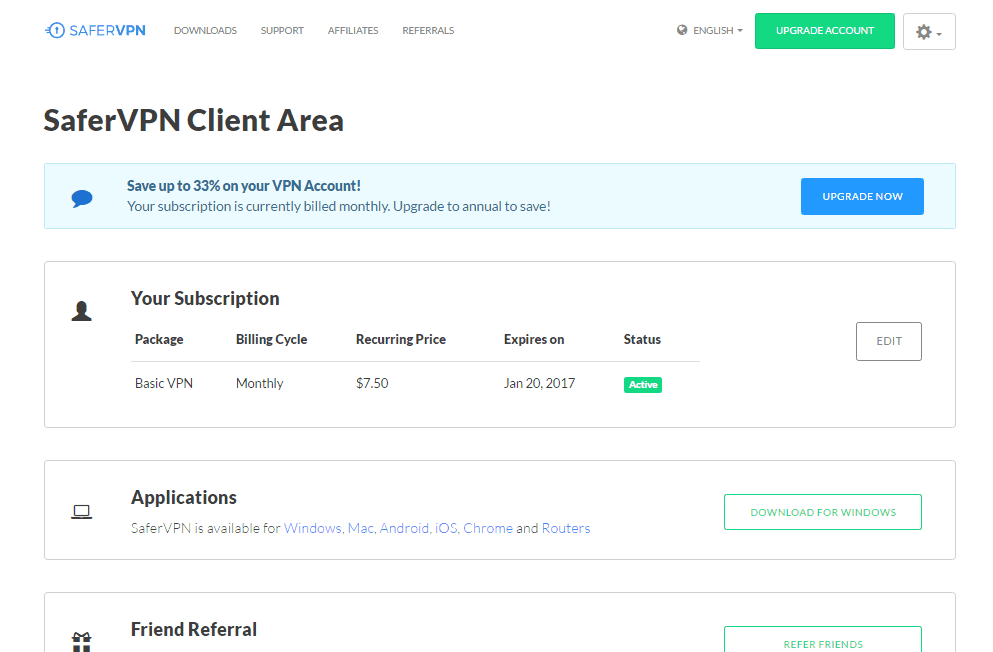 This is your Dashboard-like area where you can look at your subscription and download SaferVPN. In this case, we are using a Windows system so the client already is setup to download for a windows system. (Yay — no thinking required!) Click on Download for Windows under Applications.
You will be taken to a page that includes a few extra nitty gritty details about how their service works on your system. Click on Download Now and the client will automatically begin to download.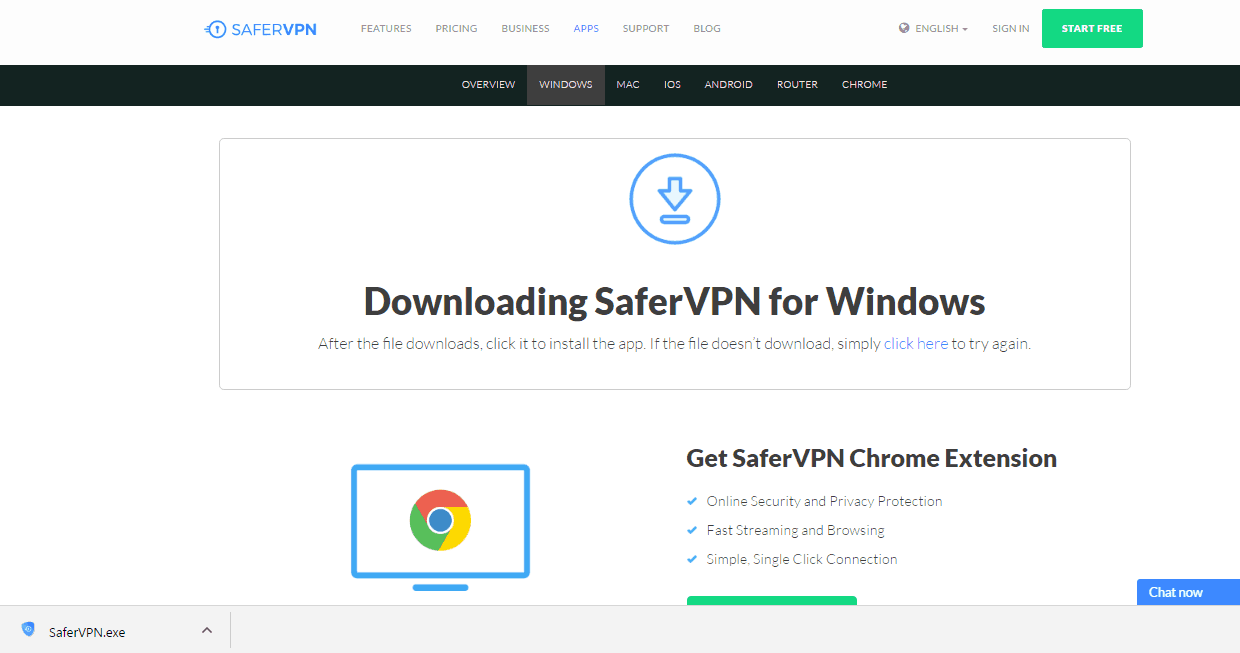 Go through the typical steps in order to install the client to your system. You know the drill. Pick a location, click, wait, and then go browse Reddit for a few minutes (hours). When you come, the installation should be good-to-go and you'll get a chance to take a spin through their tutorial (who does that?!) or just login straight-away. (I can take a guess at which option you're about to choose…)
Click Skip as soon as humanly possible to pass Go (Monopoly joke!) and head directly to the login page so that no instruction-reading is required. (Otherwise, if you're one of the 0.05% reading this that actually does want to see how it works and doesn't approve of this obnoxious banter, click Next to learn more about how to work the service.)
You know how this works. Username and password. Remember me? Check. Login — clicked.
Alrighty. Here's what you'll see when it's time to go. You'll be able to automatically connect based on a general region they choose (based on performance).
OR you can manually select by scrolling through All Locations on the left-hand side. There's a bunch to choose from. Select your location of choice and then click on the big-unmissably-green button that says Connect which will do exactly as advertised — get you hooked up. 
SaferVPN Review Conclusion 
SaferVPN has a lot to like.
They have over 400 servers, with the majority located in the U.S. and Europe. (Unfortunately, they're not as well represented in South America, Asia, or Oceania, though.)
They also offer all major protocols, including OpenVPN, which should be your go-to in most cases. And their encryption methods are all top notch to make sure all of your private data will stay private.
Their extended two-year plan offers some of the lowest pricing we've seen from all the VPN providers reviewed. However… their speed test left a little to be desired.
(So in this case, the whole "you get what you pay for thing" may ring true.)
Overall, though, they're not a bad budget-friendly choice that's headquartered outside the U.S. (if you're paranoid).
SaferVPN Pros:
Affordable (below $4/mo)
Simple and easy to use (user friendly)
Free trial (24 hours)
400+ servers
SaferVPN Cons:
Download speed could be better.
P.S. Have you used SaferVPN? If so, please consider leaving a review below. Thanks.
5 user reviews for SaferVPN
Alfonso
VPN at its best
Things I like about SaferVPN:
App is really sleek
Easy-to-install
Fast speed
Great Support
Good connection
5/5 or 7/7 or 10/10 🙂
Mike
Speedy Gonzales
The VPN has amazing speed. Helps me download stuff really fast.
Benjamin Eliezer M. Palacol
Works well. No restrictions.
I've been using SaferVPN since 2012.
It unblocks restrictions by my ISP (smart) which other VPN services I tried couldn't.
Speed:
When it comes to speed, SaferVPN is on the "meh" side. It's not *that* fast but it does it's job most of the time.
Features:
The reason I picked SaferVPN amongst others is because of its unblocking capabilities. I'm no expert but most VPNs won't work without using any special tricks to make it work. However, in SaferVPN it will connect just in one click. Also free trial is a win win win.
Reliability:
Nothing to say much to this as it doesn't fall on connecting.
Pricing:
It's cheap but not *that* cheap. Only reason for you to use this is for its feature but there's a lot of services out there that is cheaper and faster.
Lisa and Jim
SaferVPN actually not that safe.
I'm an ex customer of SaferVPN. I'm not entirely sure of their logging policy, therefore I made a switch to PIA . PIA is a lot better in every aspect of their software. SaferVPN has a slow, unfriendly UI. Me and my husband weren't happy with their service. I wouldn't recommend them, but they are quite cost efficient. I wouldn't try them though, spend a couple of bucks more a month to get a good and secure service provider.
Steve
VPN is important
I just bought SaferVPN after the US congress passed this stupid law: https://apps.fcc.gov/edocs_public/attachmatch/FCC-16-148A1_Rcd.pdf
ISP companies can sell your your browsing data to advertisers now.
After using it for 24+ hours, I think it's a solid product and does the trick for me. No slow speed at all.