VyprVPN from Golden Frog claims to to be the
World's fastest VPN.
They claim to be one of the only VPN providers who writes and hosts their own servers and DNS, effectively owning the entire network so that they're the only company with access to your privacy and security options.
They also boast a unique technology that claims to "defeat VPN blocking and throttling worldwide" as more and more governments and internet service providers are attempting to disrupt VPN use.
There's a lot to like on the surface, but let's dig in to uncover the details.
VyprVPN Review (Summary)
---
| | |
| --- | --- |
| PROTOCOLS: | OpenVPN, PPTP, L2TP/IPsec |
| ENCRYPTION: | AES 256-bit (Chameleon) |
| LOG FILES: | No Logging |
| LOCATIONS: | 60+ countries |
| SUPPORT: | 24/7 Live Chat, Email & Ticket |
| EASE OF USE: | Decent |
| COST: | $5.00/mo |
| PLATFORMS: | Win, Mac, OS, Android, iOS |
| RECOMMENDED? | YES |
| OFFICIAL WEBSITE: | www.VyprVPN.com |
VyprVPN Quick Facts
VyprVPN has over 700 servers located in 70 different server locations across the Americas, Europe, Asia, the Middle East, Africa, and Oceania.
That puts their grand total at over 200,000 global IPs. So there's no shortage of connection options no matter where you're located, traveling, or trying to appear like you're from.
VyprVPN also provides ready-made apps for most major devices, including
Windows

Mac

Android

iOS

Linux
In addition, they also offer solutions for your TV and routers too.

Those extra options can come in handy when you consider that their lowest plan only offers two simultaneous connections. So setting up your router first can allow you to sidestep this little issue.
Setting their app up with your smart TV can also improve streaming or torrenting performance and allow you to access geo-blocked content (like sporting events from other countries) in addition to increasing security. While installing their app on your router can open up options for AppleTV and accessing Netflix, for example.
VyprVPN offers unlimited speed with zero throttling or bandwidth restrictions. There's zero download caps and no limit to the amount of server switches you can make across their 200,000+ IP addresses.
They also take privacy very seriously (which we'll delve into later), so both peer-to-peer and torrent traffic is allowed (they don't monitor server traffic or block ports).
Many other VPN providers also make you pay upfront, offering a money back guarantee in return if you're unhappy. But VyprVPN doesn't do that, instead giving you a free three day trial so you can actually use the product first, giving it a test drive, before throwing down a credit card.
Those are the highlights. Now let's go into some of the nerdy technical details so you know exactly how VyprVPN works and what makes them unique.
VyprVPN's Available Protocols (OpenVPN, PPTP, L2TP/IPSec)
VyprVPN defaults to an OpenVPN, similar to many other VPN providers. It provides the highest performance, with the best download speeds and top-of-the-line security.
Otherwise, if OpenVPN isn't an option because of your device (or because you're not paying extra for their upper tiers), they also have PPTP and L2TP/IPsec options available.

PPTP has had some known security vulnerabilities in the past and isn't the most secure network. Their relatively weak authentication key can fall victim to brute-force attacks, while their tunneling encryption also isn't the strongest.
IPsec meanwhile was originally created to establish a 'permanent' connection between remote and central resources. Think of how remote workers need to login to corporate networks to access data, for example. However it's an older technology and requires more maintenance than new, sophisticated options like OpenVPN.
VyprVPN has also created their own proprietary spin off an OpenVPN 256-bit protocol (which is the strongest available), that will scramble help scramble information used during deep packet inspection (DPI) that blocks or throttles VPN use.
And they call it Chameleon™.
VyprVPN Encryption (With Chameleon)
Chameleon™ uses a "unmodified" version of OpenVPN to rely on its Government-grade, 256-bit encryption that's virtually impregnable. So you're able to rely on the same rock-solid defenses that top security firms and government agencies rely on every single day.
But with an added bonus.
In March of 2016, China hosted an annual gathering of some of the top political leaders from around the world. Around that same time, one of the most popular VPN services in China, Astrill, started experiencing disruptions.
It was a coincidence. China has been cracking down on VPN use for years now because many are technically illegal.
One of the methods that governments use (which companies and internet server providers are also familiar with) is 'deep packet inspection' (or DPI). Basically they scan metadata, looking for a trail that indicates you're using a VPN, and either block or throttle your usage.
VyprVPN's proprietary Chameleon™ technology will scramble this metadata however so DPI can't pick it up and you can slide by untouched. It also does that without compromising speed or packing too much software bloat.


According to their website, "Chameleon is proven to help users that live in or travel to countries such as China, Russia, India, Turkey, Iran and Syria from being blocked."
That means VyprVPN might be an ideal solution if you're already experiencing bandwidth throttling problems or VPN blocking.
Currently Chameleon is only compatible with the VyprVPN apps for Windows, Mac, Android and your router. Unfortunately, due to VPN restrictions by iOS, Chameleon is not currently available for VyprVPN for iOS.
In addition to Chameleon, VyprVPN also boasts a NAT Firewall on upper-tier plans that can help provide an extra layer of support and security.
Zero DNS Logging Policy (Yay!)
Golden Frog, VyprVPN's parent company, is committed to an open internet.
Their founders have started several other internet businesses since 1994, ranging from an internet service provider to a Usenet provider and data center colocation service. So they've been around. And they deeply understand the space.
Golden Frog is incorporated in Switzerland due to their privacy laws. One of those, passed by the Federal Superme Court of Switzerland in 2010, says that your IP address is classified as 'personal information', which means that they cannot be used to track your activity and use under their strict laws without your permission first.
So 'privacy' isn't just a buzzword for them. They take it incredibly serious. They've even outlined their views in a Vision Paper.
That means you can rest assured that none of your data will be logged. VyprVPN has a strict zero DNS logging policy that will not track or remember what their users are doing.
Customer Support (Always available)
VyprVPN provides 24/7/365 support through their Help Center, Live Chat and email contact form.
We also went through their social channels to compile a quick review of how they work with customers.
Unfortunately, they're not as active or engaging as other VPN services we've reviewed in the past.
Many of their responses to complaints on Twitter for example, are the same copy-and-pasted, trite (and unhelpful) replay.
Exhibit A: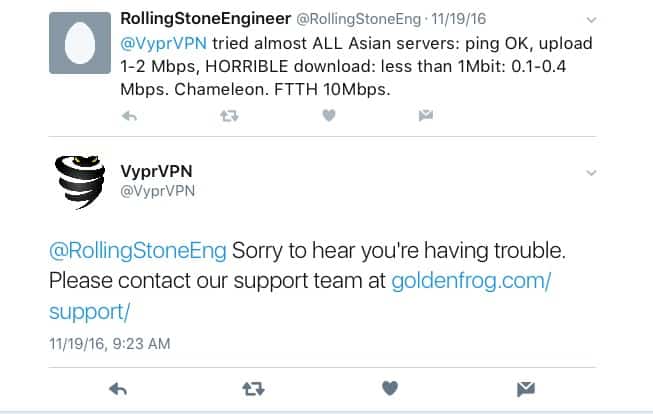 Exhibit B:
Plans & Pricing (They offer 3 day trial)
Some VPN providers, like ExpressVPN or IPVanish, only offer one plan tier that gives you all available features. So each gives you the same number of devices to connect, or access to specific security features.
The only price difference depends on how long of a term you want to sign up for (month-to-month, three, six, or twelve months – paid upfront).
First and foremost, all of their plans have an option to pay monthly or annually. Depending on which option you choose, you'll be billed for the full 12-months after the free, 3-day trial period is over.
Here's the breakdown.
The Basic Plan
$5.00/mo billed annually

3 simultaneous connections

Unlimited data usage
The Premium Plan
$6.67/mo billed annually

5 simultaneous connections

NAT Firewall included

Chameleon
VyprVPN Download and Upload Speed
To make our review accurate, we tested VyprVPN download and uptime speeds using speedtest.net

The location we used to perform the speed was in the middle of Europe: Estonia.
US Server (New York)
Ping: 131ms
Download: 51.09mbps
Upload: 3.17mbps
EU Server (Amsterdam)
Ping: 42ms
Download: 74.48mbps
Upload: 35.88mbps
Asia Server (Hong Kong)
Ping: 355ms
Download: 54.29mbps
Upload: 8.22mbps
UK Server (London)
Ping: 53ms
Download: 70.46mbps
Upload: 37.47mbps
Results compared with other VPNs? Quite good actually.
VyprVPN was on the similar level to Buffered and SaferVPN. Their main competitors, HotSpot Shield and VPN Unlimited were slower.
P.S. Always take speed tests with a grain of salt as they rely on many different variables, such as: Your network connection, your location, your computer and so on. However, since we've tested 18+ VPN services so far, we have an average that available which we can compare.
VyprVPN Setup Review
---
First, go ahead and sign up with their service on VyprVPN.com.
Then, login to your account to access their Control Panel.
You'll be immediately taken to the Dashboard that provides a quick overview of your account plan.
The left-hand sidebar will contain most of your options, with download text links underneath.
Once you click on the appropriate device or operating system link, you'll get an easy setup page that walks you through the installation process step-by-step.
Download the VPN client and run through the typical installation process. It should only take a few minutes.
Once finished, pull up the client and you'll be asked to login to your account to get started.
Here's what you'll see after logging in successfully.
On top, there's a huge blue Connect button that's hard to miss. This obviously gets you on-and-off the network. Underneath you'll see a speed update, along with a quick rundown of your VPN protocol, encryption settings, and firewall (if any).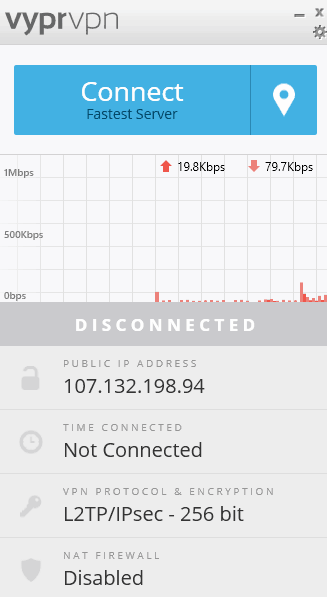 The pin icon on the blue Connect button will help you change or switch locations. Click on it, and you can either default to choosing the fastest server available or scroll through their entire list to pull up specific cities and countries.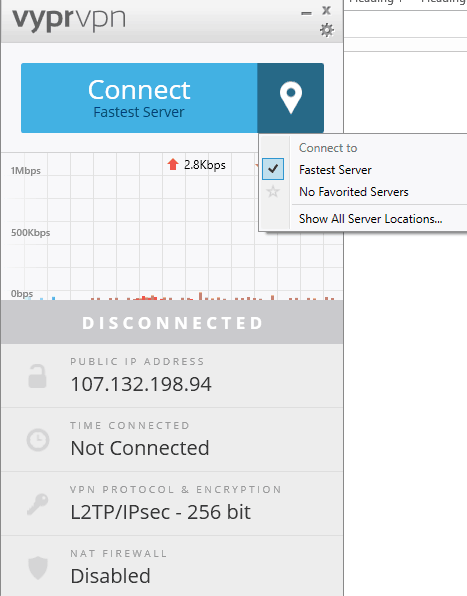 If you click on Show All Server Locations… to choose a specific one, you'll see a new dropdown that lists them out (along with current speeds):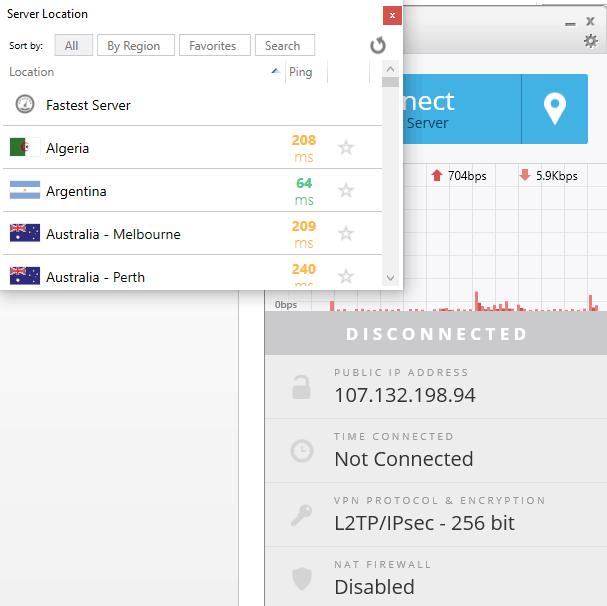 There's a gear icon in the upper right-hand corner of the VPN client that will help you access Options (to change settings).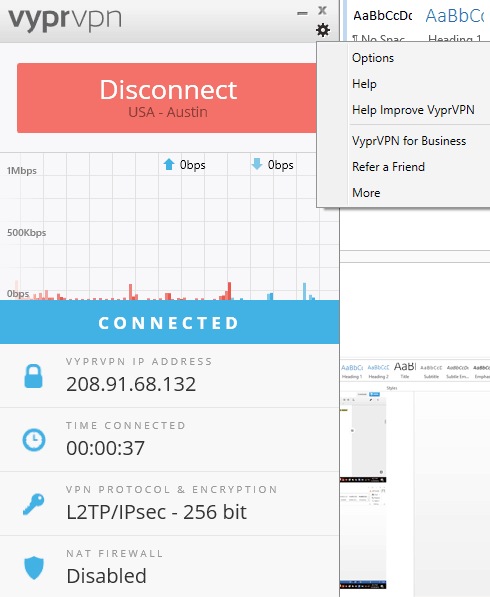 Selecting the Options, option, will bring up a list of connections and Protocols. (Some may be unavailable due to the plan you're on.)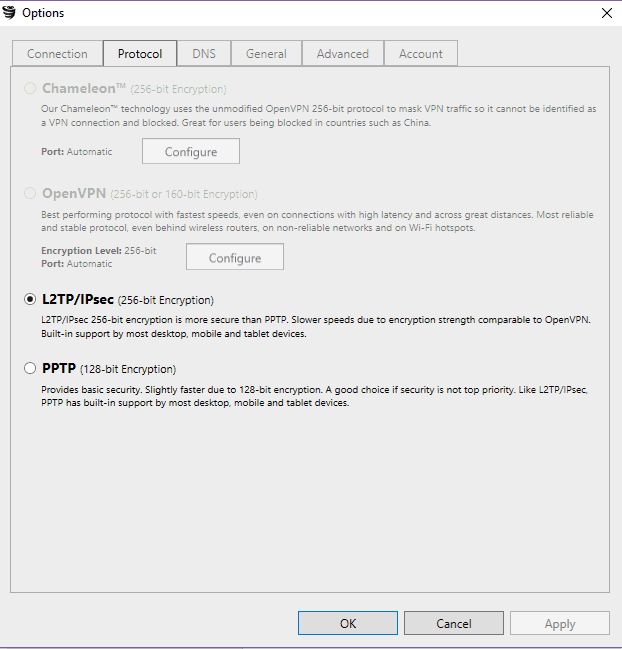 Here you can switch back-and-forth between available protocols and access more advanced features for power users (like choosing between the VyprVPN DNS or a third party one).
Conclusion
VyprVPN offers all available protocols, including the rock-solid 256-bit OpenVPN option. They also have their own proprietary software, Chameleon, that's the perfect foil for people already experiencing VPN blocking or bandwidth throttling from aggressive government, corporate, or internet service provider censorship.
Their zero DNS logging policy is entirely believable, seeing their commitment to privacy and Swiss-based of operations.
They're also widely available in almost all major cities around the world, owning and operating all server locations.
There's a lot to like about VyprVPN. Especially considering their free, 3-day trial that you can use right now to test drive their service – without getting locked into a long-term commitment like some of the other guys.
VyprVPN Pros:
60+ countries
Works on all devices
Offers free trial (3 days)
Affordable
VyprVPN Cons:
Small learning curve when using VyprVPN
Leave a review for VyprVPN
5 user reviews for VyprVPN