In order to make this VyprVPN review accurate, I compared & tested several things, including their speed, customer support, usability and security level.
Here's VyprVPN review table of contents:
What is VyprVPN (Golden Frog)
Golden Frog, the parent company of VyprVPN, has been fighting for an open internet and user privacy for more than two decades.
They were founded in 1994 as a response to the Room 641a debacle, an infamous incident in San Francisco where the NSA was illegally conducting surveillance on the AT&T network.
Golden Frog was one of the earliest and staunchest proponents of an open and free internet and this is clearly reflected in the quality of their VyprVPN service.
Claiming to be – "The World's Most Powerful VPN",VyprVPN brings some pretty unique technology and offerings to the table to back up this bold claim.
I decided to test VyprVPN for myself to determine just how good they actually are. Here are my VyprVPN review pros and cons.
Here are the cons and pros I found over the course of this VyprVPN review
The Pros of Using VyprVPN (
+

)
---
1. Great Speeds (the 4th Fastest I've Reviewed)
The first thing that I noticed about VyprVPN was their impressive download speeds.
Here's a speed test I ran at speedtest.net to ensure that this review was accurate.

US Server (New York)
Ping: 131ms
Download: 51.09 mbps
Upload: 3.17 mbps
EU Server (Amsterdam)
Ping: 42ms
Download: 74.48 mbps
Upload: 35.88 mbps
Asia Server (Hong Kong)
Ping: 355ms
Download: 54.29 mbps
Upload: 8.22mbps
UK Server (London)
Ping: 53ms
Download: 70.46mbps
Upload: 37.47 mbps
As always, take speed tests with a grain of salt as they rely on many different variables, such as: Your network connection, your location, your computer and so on. However, since we've tested 3-+ VPN services so far, we have an average that available which we can compare.
When you compare these speeds to their main competitors HotSpot Shield (who is currently under some serious heat for a violation of user privacy) and VPN Unlimited, the results are pretty impressive.
While VyprVPN is slightly slower than PIA and ExpressVPN, at 75 Mbps out of 100, it's the fourth fastest VPN that I've reviewed and it doesn't look like it will be slowing down anytime soon.
2. All Major Protocols are Available to All Users 
The last time I reviewed VyprVPN the OpenVPN protocol was exclusive to their premium customers and, considering just how critical OpenVPN is for effectively hiding your online presence, this was a big issue for me.
Luckily, VyprVPN realized their error and recently made the OpenVPN protocol accessible to all of their users.
In addition to the OpenVPN protocol, VyprVPN also allows their users to connect via PPTP, IPSec, and L2TP.
If you are a premium user, you also get access to one of VyprVPN's coolest features known as Chameleon…
3. AES-256 Encryption with Chameleon (For Premium Customers)
Like most of the major VPN providers on the market, VyprVPN uses a military grade AES-256 encryption to ensure that their network is all but impregnable.
However, VyprVPN doesn't stop there.
Ever since March of 2016, when China hosted an annual gathering of some of the top political leaders in the world, many VPN services started experiencing disruptions.
Since China has been actively cracking down on VPN use and, since many of them are technically illegal in certain countries, this started to pose some serious problems for the average user.
Many governments have started using what is known as a 'Deep Packet Inspection' or DPI to scan metadata and search for breadcrumbs indicating VPN use.
Once they have found your trail, they begin blocking or throttling usage to ensure that you cannot use your VPN service for any purposes (legal or otherwise).
VyprVPN's proprietary Chameleon™ technology scrambles this metadata so that DPI's cannot detect your VPN usage and subsequently throttle or block your connection.
This is a lifesaver for individuals using a VPN from countries like China, Russia, India, Turkey, and Syria.
Unfortunately, Chameleon is only compatible with the VyprVPN apps Windows, Mac, Android, and router and they do not currently support iOS (due to VPN restrictions).
And if that still isn't enough to satiate your appetite for extreme security, VyprVPN also offers a NAT Firewall on their premium VPN plan, offering users yet another layer of security and privacy.
4. Affordable and Competitive Pricing Plans 
Unlike many of their competitors, VyprVPN doesn't offer a "One Size Fits All" pricing plan.
Instead, they offer individual users the option between their basic plan and premium plan.
Here's how it breaks down.
The Basic Plan
$5.00/mo billed annually
3 simultaneous connections
Unlimited data usage
The Premium Plan
$6.67/mo billed annually
5 simultaneous connections
NAT Firewall included
Chameleon
Personally, I am not a huge fan of the Basic vs. Premium packages and prefer a VPN that offers the exact same services to all users.
However, despite my personal distaste for their pricing style, VyprVPN still offers an excellent service at a competitive price.
They are only slightly more expensive than their main competitors PIA and TRUST.ZONE and they are significantly less expensive than ExpressVPN (the premier VPN of 2017).
They don't offer any money back guarantees but they do give you the option of a 3-day free trial so that you can test out their services for yourself before you buy.
5. User-Friendly and Easy to Install 
I know it might sound a little petty of me, but there are few things that I find more annoying than a VPN that requires you to restart your device upon installation.
Luckily, VyprVPN is "restart free" and provides users and an excellent and user-friendly experience.
Once you have installed the VPN client to your device, you are only a few quick clicks away from anonymous browsing, and once you do launch the software, you will find that VyprVPN is incredibly straightforward and easy to use.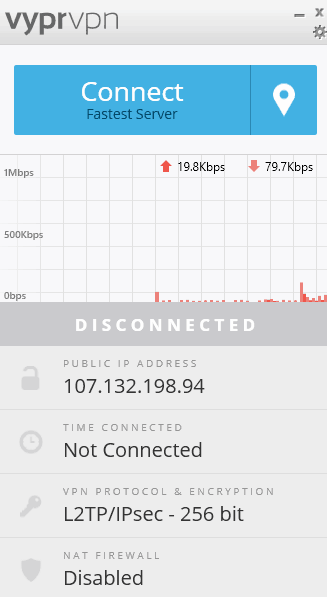 Connecting to the client is simple enough (the big blue "Connect" button is kind of hard to miss), and once you have the client up and running, they make it incredibly easy to change the settings of your VPN and find exactly what you are looking for.
They might not win any awards for the "Prettiest VPN of 2017" but their software gets the job done and gives advanced users plenty of settings to play with.
The Cons of Using VyprVPN (
–

)
---
1. Customer Service Isn't Particularly Good 
Something that always bugs me whenever I am conducting VPN reviews is when a company advertises 24/7 support, but fails to live up to that promise.
Unfortunately, VyprVPN falls into this category.
Considering the company's stellar standing in the VPN marketplace, I went into this interview with high hopes for their customer service.
Although it isn't unusable like IPVanish or CyberGhost, it's a far cry from the 24/7 support that they advertise.
I wanted to test out their customer service team for myself, so I submitted a very simple support inquiry through their live chat feature on their website.
Here's the response I received a few short minutes after submitting my question.
About 10 minutes later, I opened up my inbox to find the following message.

"Great!" I thought.
"We just got disconnected, and now their support team will help me out and I can go on my merry way."
But things didn't quite work out as I had hoped.
I responded to the email chain, reiterating my original question and then sat back and waited for a response.
And continued waiting for more than 14 hours, which, in the VPN world is a long time be without protection.
So if you need a VPN with lightning fast customer service, unfortunately, VyprVPN will not be the client for you.
Instead, I recommend opting for something like ExpressVPN.
2. There Are No Anonymous Payment Options
Golden Frog might be the biggest proponent of online privacy and security that I've ever seen.
As such, it surprised me to find that they don't offer any anonymous payment methods.
While their competitors allow you to make your purchase with Bitcoin, money orders, and even cash (if you live near a 7-Eleven), VyprVPN only allows payments to be made via debit/credit card, PayPal, and AliPay.
For most users, this isn't particularly problematic.
However, in places where anonymity can mean the difference between freedom and a lifetime of incarceration, this is a huge problem for potential customers.
While I have no doubts that Golden Frog has legitimate reasons for limiting their payment methods, I would like to see them exploring new options and allowing potential customers to pay without fear of having their payment traced.
3. Their "No Logs" Policy Isn't Quite What it Seems
While VyprVPN is commonly mis-reviewed as a "Zero-Logging Policy VPN", this isn't quite the case.
Many other VPN review sites have errantly interpreted VyprVPN's "Zero Knowledge DNS" and "No 3rd Parties" policies to mean that the company does not log any of your information.
However, this simply isn't true.
In fact, if you dig into Golden Frog's website at all, you will quickly find the following statements in their privacy policy.
Each time a user connects to VyprVPN, we retain the following data for 30 days: the user's source IP address, the VyprVPN IP address used by the user, connection start and stop time and total number of bytes used.
They go on to justify and explain these actions with the following statement.
We retain VyprVPN session data for 30 days to use with billing issues, troubleshooting, service offering evaluation, TOS issues, AUP issues, and for handling crimes performed over the service.
Regardless of why they log this data, their policy is a problem for me… A BIG problem.
The entire purpose of using a VPN is to keep your personal data, well… personal.
So the fact that Golden Frog could be such a staunch proponent of internet privacy while simultaneously logging this much personal data is quite bothersome.
While it's common practice for a VPN provider to log the duration of your sessions, the VPN IP address used, and even your source IP address, it's very rare to find a mainstream company that can get away with logging all of these things.
In their defense, Golden Frog is incredibly upfront about their privacy policy and unlike HotSpot Shield, they have yet to violate their policy or share sensitive data with any third parties.
Personally, I refuse to use a VPN without a "No Logging" policy, however, it's up to you whether or not Golden Frog's logging activities are a deal breaker.
VyprVPN Features and Compatibility
They boast more than 700+ servers spread across 70+ countries offering their customers access to one of the largest networks that has been reviewed on this site.
In addition to this impressive figure, they are also one of the only VPN companies who writes and hosts their own servers and DNS.
While this might not sound impressive to some of you, it effectively means that they own the entire network and are the only party who has access to your private information
Their services also include an impressive and unique technology known as Chameleon that claims to "defeat VPN blocking and throttling worldwide", but we will get to that in a minute.
VyprVPN offers easy to install apps that are compatible with most of your devices including Windows, Android, Mac, and iOS and they allow their users access to all major protocols.
Oh, and if you're a real VPN enthusiast?
They also offer compatibility with your router and TV
How to Use VyprVPN (install, setup and cancelling)
First, go ahead and sign up with their service on VyprVPN.com. Then, login to your account to access their Control Panel.

You'll be immediately taken to the Dashboard that provides a quick overview of your account plan.
The left-hand sidebar will contain most of your options, with download text links underneath.

Once you click on the appropriate device or operating system link, you'll get an easy setup page that walks you through the installation process step-by-step.

Download the VPN client and run through the typical installation process. It should only take a few minutes.

Once finished, pull up the client and you'll be asked to login to your account to get started.

Here's what you'll see after logging in successfully. Here's what you'll see after logging in successfully.
On top, there's a huge blue Connect button that's hard to miss.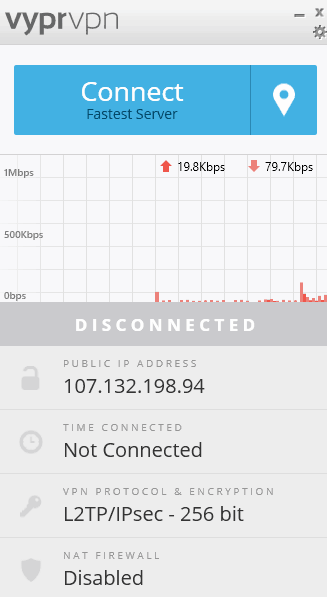 This obviously gets you on-and-off the network. Underneath you'll see a speed update, along with a quick rundown of your VPN protocol, encryption settings, and firewall (if any).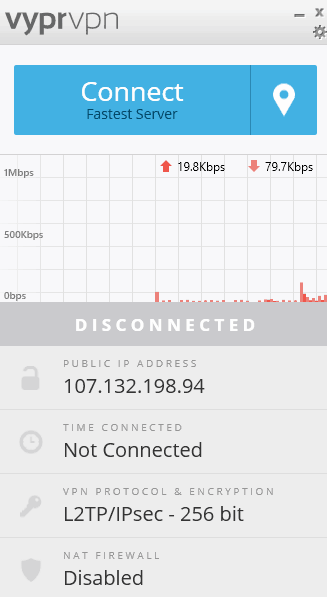 The pin icon on the blue Connect button will help you change or switch locations. Click on it, and you can either default to choosing the fastest server available or scroll through their entire list to pull up specific cities and countries.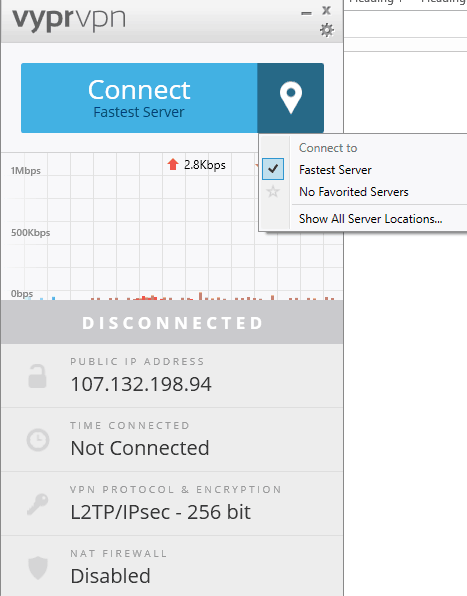 If you click on Show All Server Locations… to choose a specific one, you'll see a new dropdown that lists them out (along with current speeds):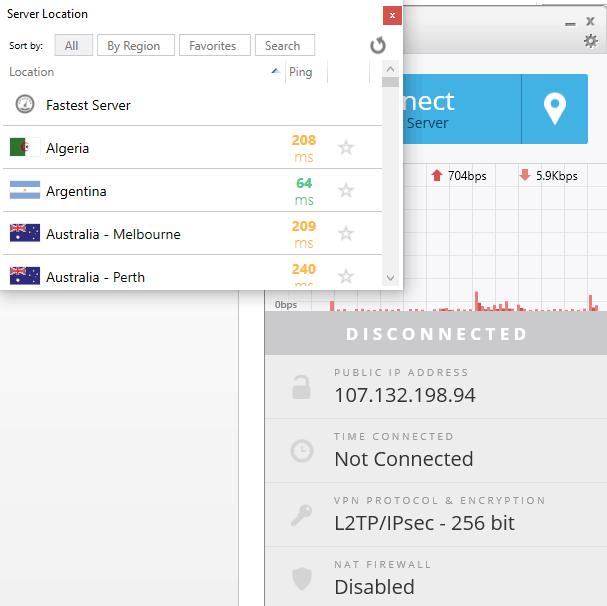 There's a gear icon in the upper right-hand corner of the VPN client that will help you access Options (to change settings).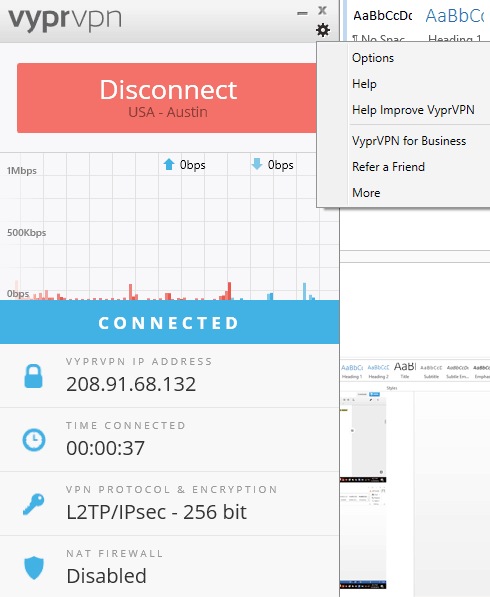 Selecting the Options, option, will bring up a list of connections and Protocols. (Some may be unavailable due to the plan you're on.)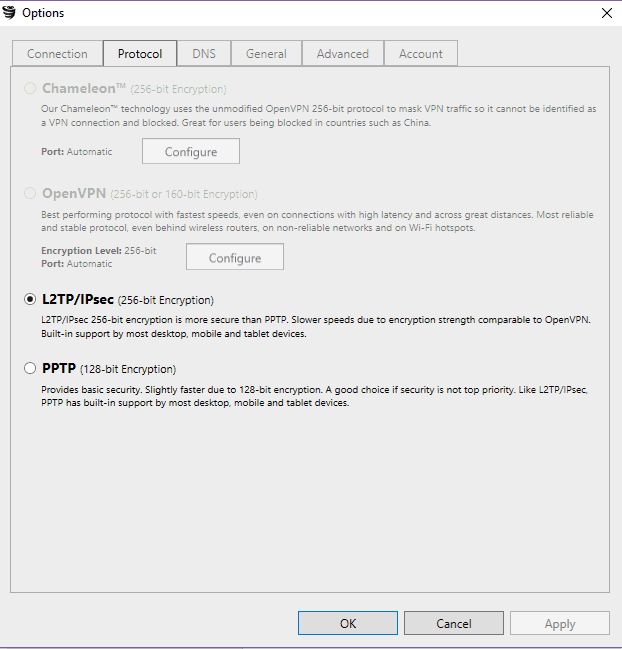 Here you can switch back-and-forth between available protocols and access more advanced features for power users (like choosing between the VyprVPN DNS or a third party one).
Cancelling VyprVPN Service
Cancelling VyprVPN is pretty simple, just follow the steps below:
Log in to your control panel (URL)
Click "Accounts" and then "Cancel Service"
Answer why you want to cancel
Once that's done, your account is scheduled for deletion at the end of your current billing period.
Do I recommend VyprVPN?
Yes.
VyprVPN is a robust and feature-rich product that offers competitive pricing, and great download speeds.
There's a lot to like about the company and the services that they provide and, for most users, VyprVPN will provide you with everything you need and more.
While their subpar customer service and questionable logging practices might cause many potential customers to reconsider their VPN choice, if you can stomach these issues, VyprVPN is an exceptional provider that ranks among the highest that we've ever reviewed.
If you want a VPN that has better support and more servers, go with ExpressVPN instead – read ExpressVPN review here.
Have you ever used VyprVPN before? If so, what was your experience like? I'm always interested to hear what other enthusiasts have to say about the VPNs that I review! Let me know below.
Leave your VyprVPN review below:
6 user reviews for VyprVPN
Al
Session logs kept for 30 days
VyprVPN does keep session logs for 30 days, although the review says no logs are kept. The following (taken from the VyprVPN website) logging is done:
"Each time a user connects to VyprVPN, we retain the following data for 30 days: the user's source IP address, the VyprVPN IP address used by the user, connection start and stop time and total number of bytes used."
Jay-Jay
Bad
Downloaded the app on my iOS device. The app design looks pretty old. Connection is super-slow at times. You can find a better VPN service for the same price.
Justin
I am satisfied
I recently started using VyprVPN and I am really satisfied with their offer. They are not expensive and offer good performance. Great value for the price
James
Happy customer
I've been using VyprVPN for a while, very happy with their services. They are reasonably fast and cost efficient. I know there are probably more secure VPNs out there, but I'm happy with what they offer so far.
Their customer support is fast and helpful aswell. I'd rate VyprVPN 5/5 so far. Not going to change my provider for now 🙂
Bob Chase
Super happy
VYPRvpn is very easy to use and is FAST. I have it on iMac, Macbook and iphone. Easy to use "fastest" server or pick manually based on latency or need for a geographic area.Based in Switzerland. Wish they allowed more than 5 connections. Logging policy is very good, but this "thebestvpn.com" says no logging which is not entirely true. See: https://www.goldenfrog.com/privacy
I researched vpn's for 2 weeks and believe VYPRvpn, Nord, and SecureVPN.to to be the best. Both VYPRvpn and Nord have "deals" for better than the posted prices
Carl
6+ months so far
I'm a paid customer for VyprVPN and I've been using their VPN software for 6+ months now.
No problems at all. Recommended ?