For the average internet user, there are many benefits of using VPN service.
By ensuring an encrypted browsing experience, VPNs allow you to bypass regional internet restrictions, protect your data from hackers, save money on expenses like airfare or car rentals and browse from different locations, among others.
But less people are aware of the benefits of connecting a VPN to their router.
Doing so, allows you to connect all your devices to your private network via your Wi-Fi connection.
But how do you create a VPN router?
Full disclosure: To compensate our time and money spent in testing VPNs, we're using affiliate links. However, we never recommend a VPN service in exchange for money – find detailed review process here.
Why Router + VPN = WIN?
If you're still new to VPNs, or are still using a free VPN browser service, then it may seem like a leap to invest in a new router setup for your computer. And that's understandable: it's a big investment, and there is a lot to learn if you aren't familiar with the technology.
To ease your mind, it's worth noting that once you've purchased a router, the cost to maintain a monthly subscription is very affordable (between $5 to $8 a month, even you use a premium VPN like ExpressVPN), which is a small price to pay for your privacy and security.
Nonetheless, it still helps to see what advantages a VPN router provides. Some benefits of installing a VPN to your router are:
1. Keeps VPN service up and running all the time
Downloadable and browser VPNs require you to sign in to the service each time you want to access them. By having a VPN service tethered to your router, the service runs continuously, so logging in is no longer necessary.
2. You can connect multiple devices
Browser-based and downloadable VPNs require you to manually log in each device every time they access your private network. If you're not using a VPN router, then you'll need to insert your login credentials each time you want to access your VPN.
When you set up a VPN on your router, you only have to log in the first time, just like a traditional Wi-Fi network. This goes for each device you connect to your VPN router.
3. Provides more security for all devices
Any device that connects to your router's Wi-Fi receives the benefits afforded by your VPN. That means any time you have friends over, or want to use several devices simultaneously (like your smart TV, smartphone and laptop), all of your devices will be rerouted through the VPN, ensuring private browsing.
The only drawback is bandwidth: With multiple devices connected to the same VPN source, you should expect a slower internet connection. Just how much it will slow down depends on several factors, like who your VPN provider is and your connection speed.
Now that we've covered the advantages of buying a VPN router, let's discuss what you should look for when purchasing one.
How to Choose a Router to Connect Your VPN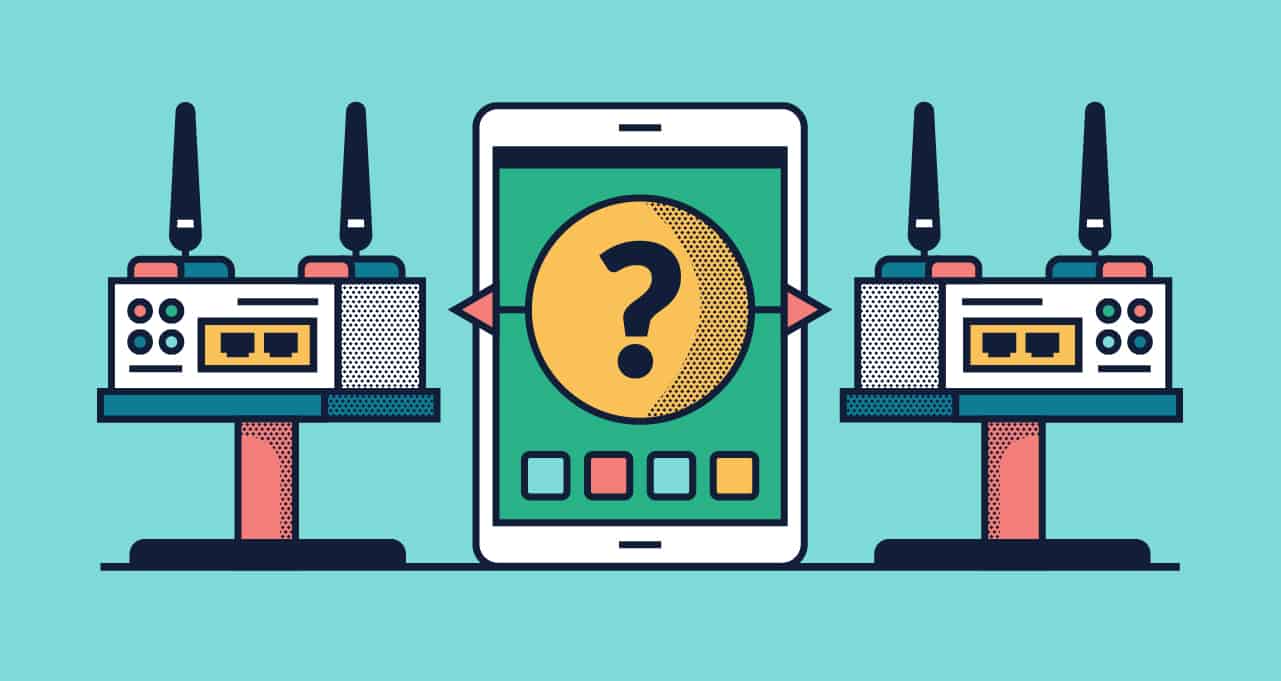 When searching for a VPN router, what you're really looking for is a router that can run VPN client software.
As a VPN client, your router — and any device connected to it — has direct access to the VPN server. To determine if a router is compatible with a VPN, you should consult the router's manual, or simply Google it.
If you use an ISP modem (they usually come as a combined router and modem device), then you most likely can't use your router as a VPN client. In this case, you would need to purchase an additional VPN-compatible router and connect it to your current router, but we will touch more on this later.
Whatever the case may be, it should be noted that most store-bought routers do not come pre-installed with a VPN, and more importantly, that not all routers can run VPN software. That's why you need to know what's out there so you can make an informed choice.
There are several VPN router options that can get the job done, including:
A) Pre-flashed routers

The easiest option for both savvy VPN enthusiasts and novices is to purchase a pre-flashed VPN router. Doing so allows you to skip the complicated process of flashing (more on this term below) the proper firmware to your VPN, which varies depending on the type of router and its specs.
Purchasing a pre-installed VPN router will cost you a bit more. That's because companies  like Flashrouters, which only sell pre-flashed routers, take care of the installation for you. Complete with features like encrypted plug-and-play and added performance enhancements, the price markup is well worth it.
B) Out-of-the-box VPN-compatible routers

Another easy option is to purchase a router that supports VPN firmware out of the box. These routers come pre-installed with stock firmware that can connect to a range of VPN servers already. With baked in VPN capabilities, you won't have to flash new firmware or connect such a router to a secondary router.
Most VPN-compatible routers allow you to connect to a wide range of different VPN servers, and they usually support the OpenVPN protocol, which gives you the advantage of using almost any VPN provider you want.
C) Flash router with new VPN firmware

The last option, and the most complicated, is to flash your router with new firmware. To clarify, the term "flashing" means to install new firmware; "firmware" is the Operating System within your router that determines what its capabilities and/or limitations are.
To enable your router to function as a VPN client, you need to flash it with new firmware. The two most common and established types of firmware out there are DD-WRT andTomato.
DD-WRT and Tomato are open source, third-party firmware that are available online for free, and each has its own pros and cons. But first, let's see what they have in common. Both DD-WRT and Tomato can:
Extend your wireless range
Regulate your bandwidth 
Improve security 
Access multiple VPN protocols 
Disable manufacturer backdoors, among others 
Here is where they differ:
DD-WRT is more accessible and available on more devices than Tomato. As far as exclusive features, DD-WRT allows users to adjust the strength of their Wi-Fi signal, manage quality-of-service settings to prioritize specific types of traffic, access your home network from afar, and more.
Tomato offers better bandwidth monitoring options, permits up to two VPN servers to run at the same time, and offers a more user-friendly interface. It also connects better to various VPN service providers, but is not supported on as many routers. To see an in-depth comparison of the two types of firmware, you can view Flashrouter's article here.
Just to be clear, if you search for DD-WRT or Tomato online, what you find can be misleading, as you will come across results like "DD-WRT router" or "Tomato router." To clarify, both DD-WRT and Tomato firmware were originally made for specific types of wireless router models.
These models support specific firmware, but they usually need to be flashed with the new firmware to rid the router of its stock firmware first. So, if you want a router that supports DD-WRT, you need to check the DD-WRT database; otherwise, you may purchase a router that is not compatible with the firmware, which will break — or "brick" — your router should you flash it onto your device.
How to Choose a VPN Provider for Router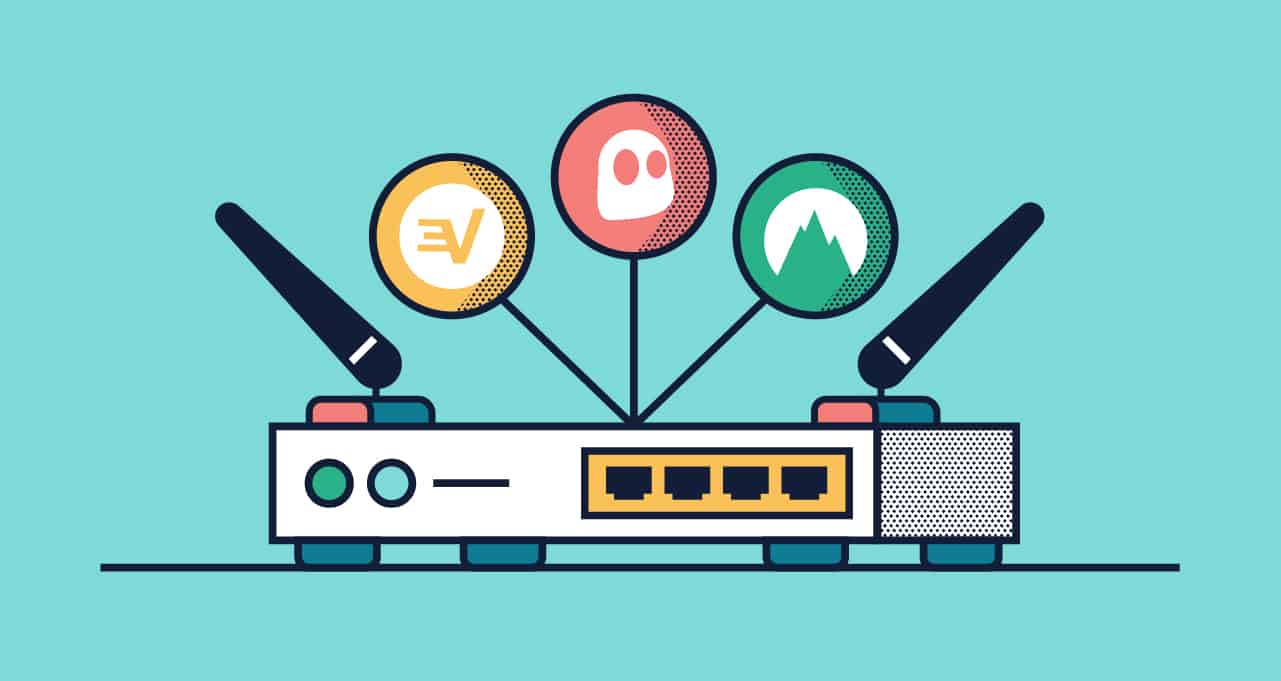 First things, first.
If you're already paying for a premium VPN, great! If not, it's time to do some research.
Most VPNs (like NordVPN and ExpressVPN) can easily be installed on DD-WRT or Tomato routers.
Others, like Hotspot Shield, don't work so easily.
There are two key aspects to look for in a VPN provider: speed and accessible online support. Your private network will handle everything from streaming to downloading, gaming, etc., so it's important that you pick a provider that can do the heavy lifting. To make your life easier, it also helps if your provider offers online tutorials to get you started.
In general, you'll also want to check your VPN provider's server locations, speed reports and whether or not they maintain logs. Or, if you don't want to delve into this research yourself, you can read our review about the best VPNs of 2018.
While there are many providers to choose from, we will use ExpressVPN's service in this article. To be clear, ExpressVPN is not a router manufacturer; they simply provide a VPN service that works in conjunction with select router models.
ExpressVPN's service streamlines the installation process. For example, rather than going through the trouble of researching and selecting a VPN protocol for your router, ExpressVPN takes care of it for you by choosing the optimum protocol for your setup.
How to Set Up a Router on a VPN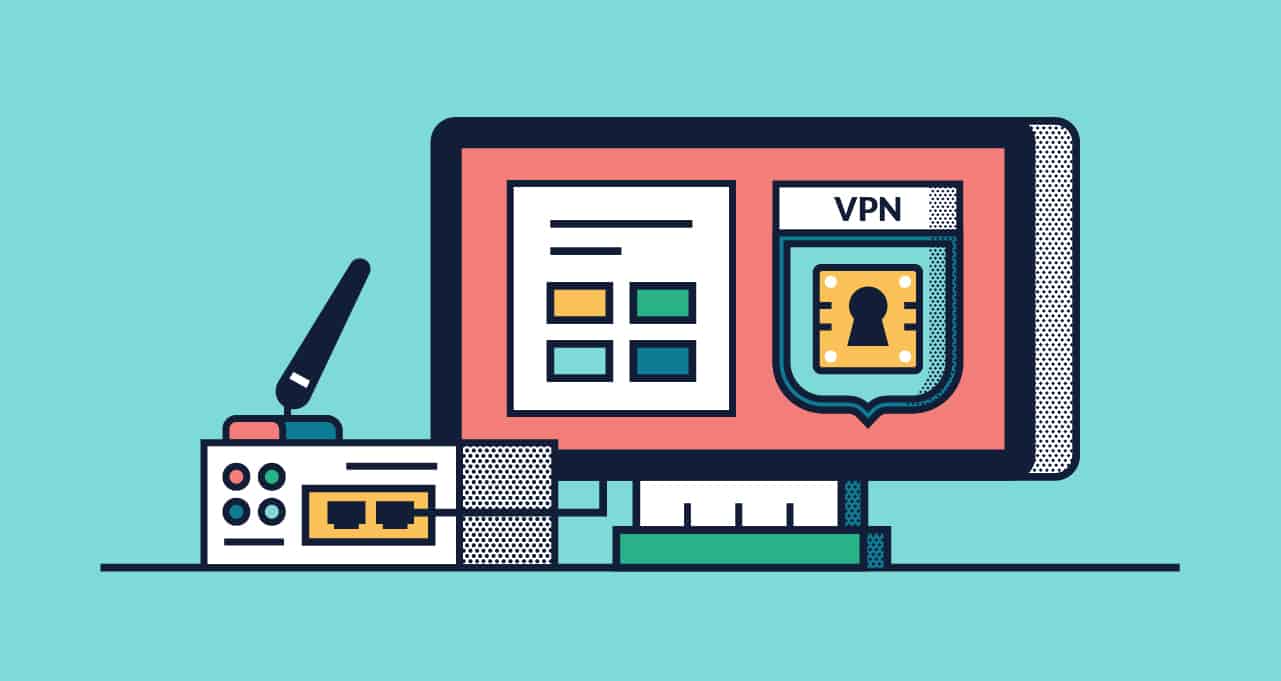 Now that you've found a VPN provider, you'll want to follow any instructions they provide on their website.
In our case, we're using ExpressVPN's app. Once you've arrived at their homepage, follow our step-by-step guide below.
Step 1: Download ExpressVPN firmware
First, create an ExpressVPN account. Then, click "See all devices."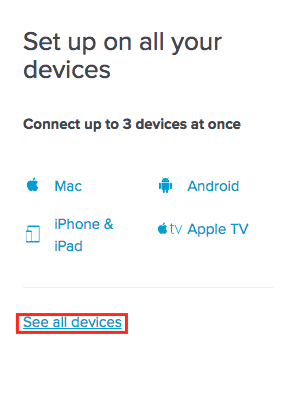 Next, click "Router" on the Set Up page.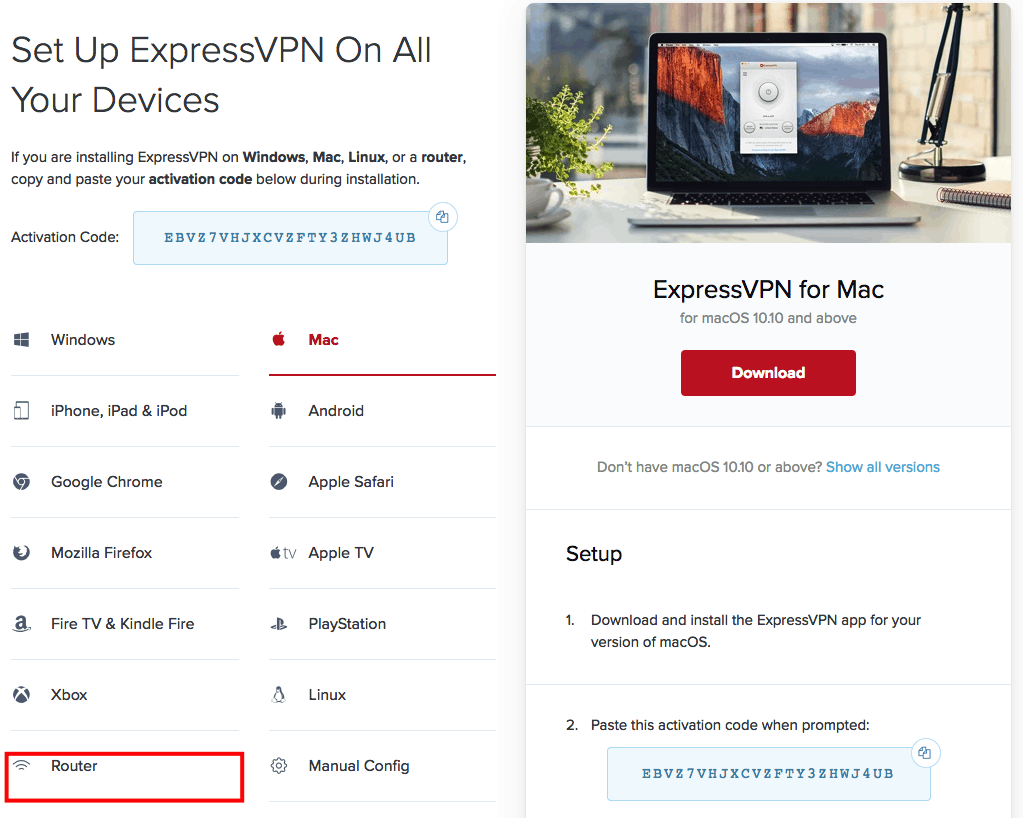 Copy and paste your Activation Code to a Google Doc or open another tab (you'll need it later) and select your router model on the right.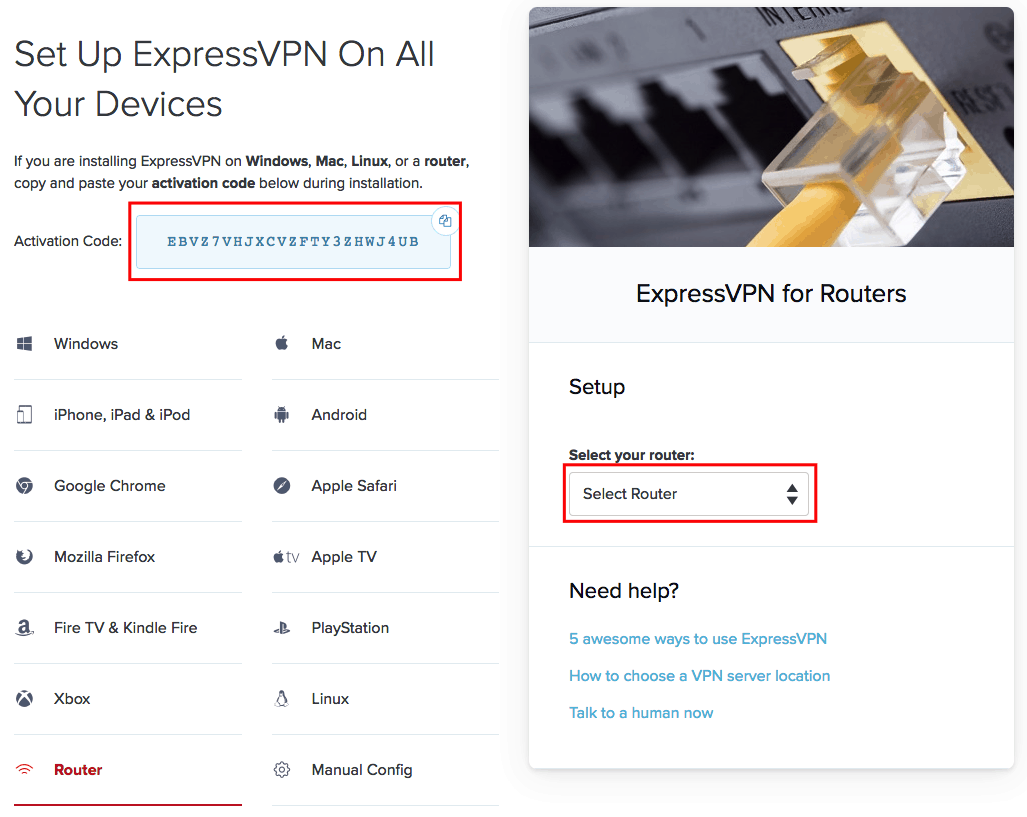 Once you've selected your router model, click "Download Firmware."
Step 2: Connect your router
Now that you have your firmware downloaded, we need to assemble the router. While your setup will vary depending on your router model, the recommended apparatus for most models is two routers and an internet connection.
To set up both routers correctly, the first thing you need to do is configure your primary router to enable VPN passthrough. By activating this feature, you allow any device connected to your primary router to run VPN client software. Once activated, you need to connect your primary and secondary routers.
The basic setup goes like this:
Plug an Ethernet cable into the LAN port on your primary router, and connect it to the WAN ("Internet") port on your secondary VPN router.
Connect your primary router to your computer using another Ethernet cable by connecting its LAN port to your computer's LAN port.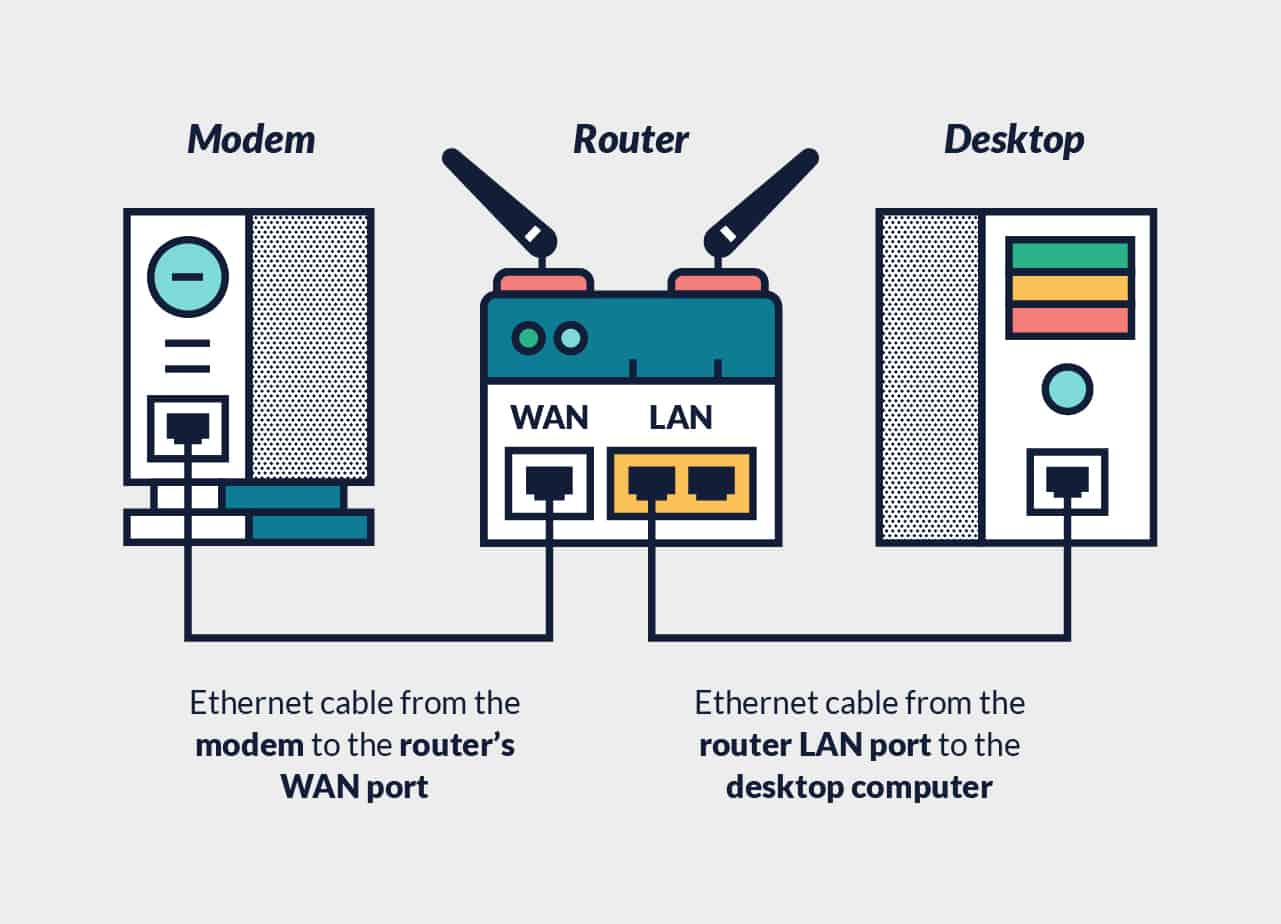 Or, if you're using a wireless connection, make sure the primary router is connected to the internet: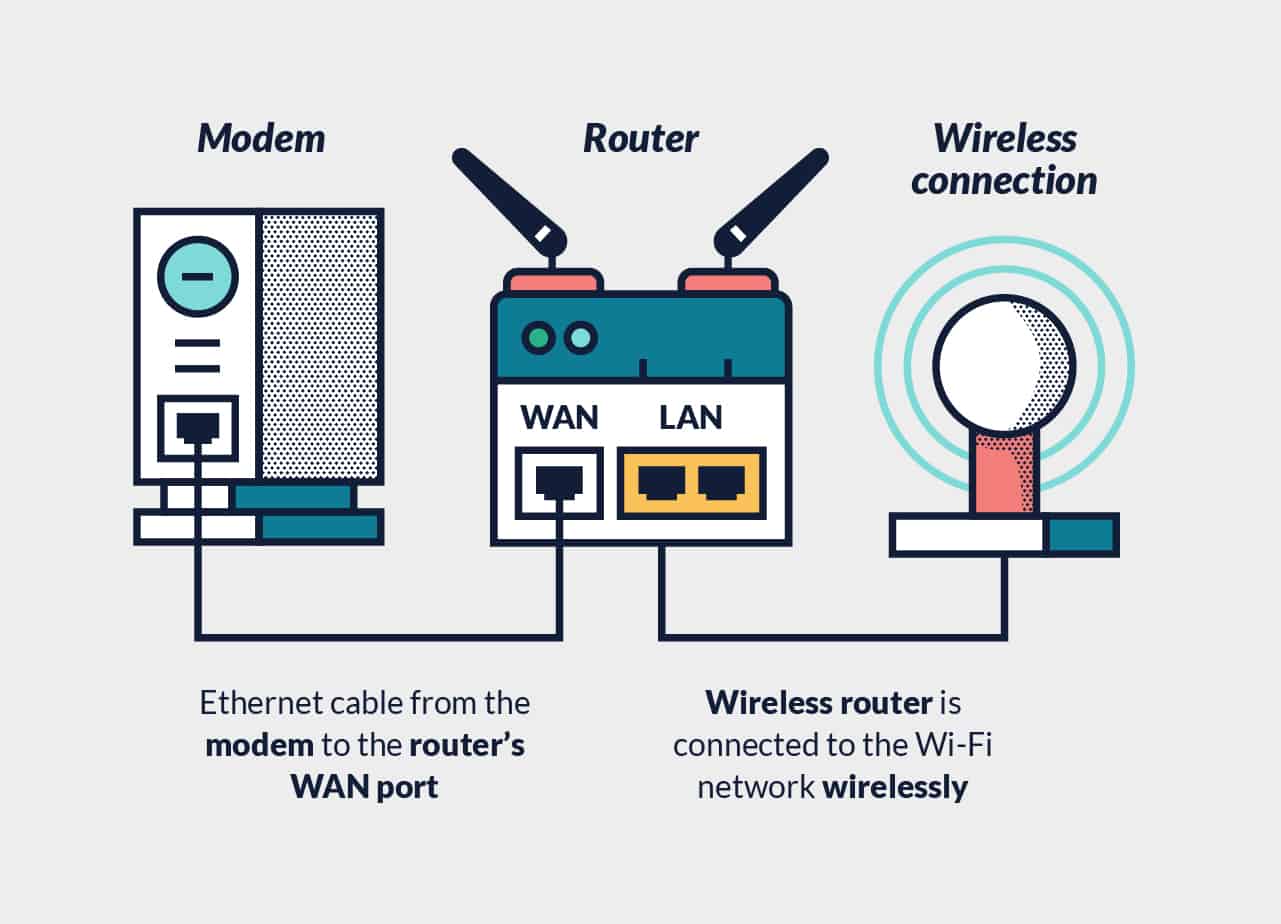 Both configurations allow your VPN router to piggyback on your primary router's internet connection.
Note: Though it is recommended to use two routers, not all routers require it. For example, some Linksys routers can and should be set up as your sole primary router.
Step 3: Flash your router
Now that you have your routers in place, it's time to flash them. In this guide, we will cover two types of routers: Asus and Netgear.
However, it's worth mentioning that there are many other routers supported by ExpressVPN to choose from.
Routers supported by ExpressVPN App
Linksys EA6200
Linksys WRT1200AC
Linksys WRT1900AC(S)
Linksys WRT3200ACM
Netgear R6300v2
Netgear R7000
Asus RT-AC68U
Asus RT-AC87U
Asus RT-AC56R
Asus RT-AC56S
Asus RT-AC56U
Routers requiring manual VPN setup
D-Link
DD-WRT
Netduma
Sabai
Tomato
TP-Link
Xiaomi
How to flash an Asus router
The following steps only work these specific Asus routers: Asus RT-AC68U, RT-AC87U, RT-AC56R, and RT-AC56U.
Turn your router on and connect it to your computer via cable or the network name found on the bottom.
Access the Asus router dashboard.
If it's your first time accessing the dashboard, enter "admin" and a temporary password.
Next, create a password for your SSID (Service Set Identifier). Click "Apply" and then "Complete."
You will be directed to the router admin dashboard.
Click on "Administration"
Next, click the Firmware Upgrade tab and select the firmware you just downloaded. The firmware file name will match your router model name; otherwise, you will get a message saying firmware file is invalid.
Click "Upload."
You should see a message reading, "Router update is completed."
After the update finishes, you may need to replug your Ethernet into your router's WiFi.
Now, go to expressvpnrouter.com and login using admin for both username and password fields.
Enter the activation code from your ExpressVPN Set Up page and click "activate."
How to flash a Netgear router
The following steps are specifically for the Netgear R6300v2 and Nighthawk R7000 routers.
Get to Netgear router dashboard by visiting routerlogin.net.
Skip changing your WiFi name and SSID password for now if you can; the credentials will be reset later when you flash the ExpressVPN app onto the router.
Enter admin for your default login and password.
You will be directed to the router admin dashboard.
Once there, click "Advanced."
Select "Administration" and then "Router Update" on the sidebar.
Click "Browse" and select the firmware file you downloaded that corresponds to your router model. It should read: expressvpn-netgear-rxxxxx-vxxxx.chk
Click "Upload" to flash your router.
Now, go to expressvpnrouter.com and login using admin for both username and password fields.
Enter the activation code from your ExpressVPN Set Up page and click "activate."
Now, you should be connected!
Step 4: Additional steps
Here are some instructions for additional steps, such as connecting to a different server location, managing devices and changing your default SSID password.
Change server location
First, be sure you disconnect your VPN from the internet.
Click "Select another location."
Manage devices
Look for VPN Options on the VPN tab and scroll to find Recently connected devices.
Once there, you can select which devices are protected by the VPN.
Change default SSID password
Find ExpressVPN Help & Support.
Click on the buttons that read Wi-Fi Name, Wi-Fi Password, and Router Dashboard Credentials.
Upgrading to a VPN router might seem like a big leap, especially if you're used to using free browser VPNs. But, if you're serious about your privacy and want the most secure browsing experience possible, then the extra cost is worth it.
Although getting set up can be tricky, the greatest resource is the internet. Remember: your setup will vary depending on the factors we covered in the article, like what router you purchase and the VPN provider you choose. Be thorough, proceed step by step and your private network should be up in no time!