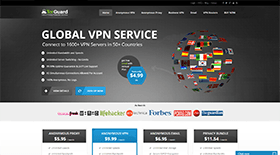 Despite the name, TorGuard doesn't actually have anything to do with TOR, the service most people use to access the deep web.
TorGuard VPN was essentially made for torrenting, but has now grown to bigger global VPN services that is being used a lot.
Now that we have that out of the way, we can start talking about whether or not it's a good VPN.
We'll also talk about the other services provided by TorGuard: their proxy service and anonymous email.
Is TorGuard worth using? Let's find out.
What is TorGuard (Is it more than VPN?)
As I mentioned a moment ago, TorGuard is a VPN provider, and has nothing to with TOR, the deep web browser. TorGuard states that the "Tor" in their name is a reference to torrents, and protecting your computer while you use BitTorrent.
When you end up on their website, it'll look a little amateurish, but don't worry – they've been around for a while actually.
Back in 2012, TorGuard stated that they underwent corporate restructuring and moved their parent company to Nevis, a small island in the Caribbean.
PROXY
In addition to providing a VPN, TorGuard also offers a few other services. Their anonymous proxy service is designed to shield your IP address while you're torrenting. This is great for getting around torrenting bans and throttling, but only protects your IP address while you're using your torrent client.
If your only reason for using a VPN is to torrent, you could use a proxy. Note, however, that traffic isn't automatically encrypted over a proxy, and third-party monitoring is still possible (though more difficult). So you still face some privacy and security vulnerabilities there. But you're likely to get better speeds because of the lack of encryption.
In contrast, the TorGuard VPN (and any other VPN) protects your IP address no matter what you're using, and encrypts all of your traffic. In short, you trade some speed for a lot more security.
ANONYMOUS EMAIL SERVICE (do you really need it, though?)
TorGuard also provides an anonymous email service. This service uses PGP encryption to encode the contents of your emails so that only your intended recipient can read them. It also provides offshore email storage, secure deletion, two-factor authentication, and no IP disclosures in email headers.
It's a great service, though there's a good chance you could get that much security if you were willing to spend the time to set it up yourself. At $6.95 a month, it's not especially expensive, so it's a nice additional offering by TorGuard.
On the VPN front, TorGuard offers a solid list of features, including over 3,000 servers in 55 countries, five connections per account, a stealth mode that makes your VPN difficult to detect, and 24/7 support. All of these factors make it a top choice among VPNs.
Confusing Smoke & Mirror Pricing
Unfortunately, TorGuard's plans and pricing are far more less than straightforward. Let's try to untangle them here.
Here are your options (which aren't exactly clear on the TorGuard site) for VPN pricing:

Monthly VPN plan: $9.99
Quarterly VPN plan: $19.99
Semi-annual VPN plan: $29.99
Annual VPN plan: $59.99
Biennial VPN plan: $99.99
As you might expect, the biennial plan is the most economical, working out to just over $4 per month.
If you want a proxy plan, you have these options:
Monthly proxy plan: $5.95
Quarterly proxy plan: $14.95
Semi-annual proxy plan: $29.95
Annual proxy plan: $46.95
The annual plan works out to just under $4 per month.
Here are the plans for secure email:
Monthly email plan: $6.95
Quarterly email plan: $15.95
Semi-annual email plan: $29.99
Annual email plan: $49.99
If you pre-pay for a year, you get down to around $4 per month.
In addition to those individual service subscriptions, you can also sign up for the privacy bundle, which includes both the proxy and the VPN.
Monthly bundle plan: $11.54
Quarterly bundle plan: $20.97
Annual bundle plan: $64.00
The annual bundle is the highest value here, at the equivalent of $5.33 per month for both VPN and a proxy service.
It's not easy to find all of these prices on the TorGuard website, and if you want to purchase a bundle plan for more than a month, you may find it difficult. But if you get in touch with TorGuard's customer support, they should be able to hook you up with the plan you're looking for.
All in all, TorGuard has solid prices. They're not the cheapest, but they're not the most expensive, either. If you want a proxy in addition to your VPN, this is a tough service to beat.
TorGuard is also one of the supported providers on FlashRouters, which means you can buy a router with TorGuard pre-installed on it.
TorGuard Seems to Be Secure and Safe
Of course, all the convenient features in the world won't help you if your VPN isn't secure. Fortunately, TorGuard employs some of the best modern technology for keeping your data safe.
First, it supports a wide variety of VPN protocols: OpenVPN, PPTP, L2TP/IPSec, SSTP, and iKEV2. So if you need to switch to another protocol, or you just prefer not to use the industry-standard OpenVPN, you have plenty of choices. (Of course, we generally recommend OpenVPN if you can use it.)
You can also use AES-256 encryption, which is the industry standard for strong protection. There are other options if you want them, but using 256-bit encryption is your best bet for staying secure.
TorGuard's secure DNS servers and built-in DNS and IPv6 leak protection add another level of security. While some VPNs tell you to turn off IPv6, TorGuard has a built-in option for preventing leaks, saving you the hassle of figuring out how to dig into your computer's settings to make the tweaks. That's something we really like to see.
You also have the option to completely turn off your internet connection when TorGuard isn't running to ensure that you're always protected when you're on the internet. No more forgetting to turn on your VPN!
And finally, you can use TorGuard on Windows, Mac, iOS, Android, and both DD-WRT and Tomato routers. No matter where your traffic is coming from, you can protect it with TorGuard.
Pros

of Using TorGuard
1. Solid Speed Performance
In our tests on a 100 Mbps connection, TorGuard managed to pull a respectable 54 Mbps download speed. That's not the fastest out there, but it's fast enough for just about anything you might need. Here are the results of our tests on various worldwide servers:

US Server (New York)
Ping: 120ms
Download: 31.66 Mbps
Upload: 31.16 Mbps
EU Server (Amsterdam)
Ping: 40ms
Download: 53.83 Mbps
Upload: 49.31 Mbps
Asia Server (Hong Kong)
Ping: 296ms
Download: 9.59 Mbps
Upload: 12.62 Mbps
UK Server (London)
Ping: 46ms
Download: 38.56 Mbps
Upload: 47.78 Mbps
The Hong-Kong-based server suffered a lot in download speed, so if you plan on routing through Asian servers, you may want to take that into account. Otherwise, the numbers are pretty good all around.
2. Commitment to Torrenting
Lots of people use VPNs for torrenting, but it can be difficult to know whether or not you could be punished for it. No VPN provider is going to intentionally shield illegal activity, but some are more torrent-positive than others. TorGuard is one of them—it's right in the name.
The fact that you can get a bundle with a proxy meant solely for torrenting at higher speeds than you might get on a VPN is indicative of the company's dedication.
TorGuard also states that their servers are "optimized for best possible performance when downloading torrents." They don't say what that means, and there's a decent chance that it's just marketing-speak, but it's still a good sign.
And while it's difficult to tell how many servers and how many countries TorGuard represents (because there are different numbers all over their website), they do have a wide international selection, which should help you optimize your torrent speeds.
3. Dedicated IP Addresses for Streaming
If you plan on using TorGuard for getting access to Netflix or another streaming service, you can take advantage of their dedicated IP addresses. This lets you access the streaming service from an IP address not linked to TorGuard… which means you should get very consistent access without proxy errors.
That's great, right?
Yes, but it's going to cost you. When you pay for your VPN, you can choose a dedicated IP address as an add-on for an additional $16.
It's not a lot, but it does add to the bill. That could be considered a positive thing, because the dedicated IP address is extremely useful; but other VPNs offer successful Netflix streaming without the extra cost. So you'll have to weigh the cost for yourself.
4. Solid Security and Stealthing
A range of VPN protocols, including OpenVPN, solid encryption, and the ability to disguise VPN traffic as regular traffic to get around VPN blockers all make this a good choice for anyone worried about surveillance or censorship. Hiding your VPN traffic isn't always 100% effective, but we like to see VPNs giving it a shot.
It also tends to help with things like streaming Netflix in other countries.
5. No Logging
TorGuard is very clear about its logging policy:
TorGuard.net does not store or log any traffic or usage from its Virtual Private Network (VPN) or Proxy.
The service collects information from you when you buy their products, but that's it. Which means they won't be selling your information to advertisers or handing it over, even if law enforcement shows up with a warrant.
And while it wasn't easy to find out where TorGuard is headquartered (and can't actually be confirmed), we're glad that they're based in Nevis, instead of in the US or another intelligence-sharing country. Nevis certainly doesn't have the same aggressive surveillance laws that you'll find in many western countries. So that's a plus—if it's indeed still true.
6. 24/7 Live Customer Support 
There are few things that I hate more than sucky customer service.
I have (quite literally) boycotted brands with high quality products simply because I found their customer service to be ineffective and downright rude.
Luckily, the customer service offered by TorGuard is some of the best that I have seen in the industry.
They offer 24/7 support through a call center, live chat, and support tickets.
And unlike some companies in the industry (IPVanish) TorGuard actually offers 24/7 support, not just a glorified support ticket system.
I decided to test out TorGuard's 24/7 live chat system for myself to see if they can live up to their promises and I was pleasantly surprised.
At around 7:37 p.m. my time, I submitted a generic support query to gauge the companies response time.
And only 5 minutes later, I was pleasantly surprised to receive the following response.
While their support team might not be quite as fast as Buffered or ExpressVPN, if you can stomach the 5 minute wait time, TorGuard provides excellent and efficient customer service that sets a benchmark for the entire industry.
Cons

of Using TorGuard
1. Potentially Stolen Code
Back in 2015, VPN.ac posted a detailed blog about the similarities between their own browser extension and TorGuard's extension. The code was almost exactly the same, suggesting that TorGuard may have copied it.
However, VPN.ac also pointed out that TorGuard's version of the extension had some notable security vulnerabilities that weren't present in their own extension. These vulnerabilities could have led to users' data being leaked. Fortunately, that didn't happen (as far as anyone knows, anyway).
TorGuard quickly made some changes to their extension, but never made any satisfying public comment to explain their actions or apologize.
While this particular lapse in judgment isn't likely to affect your security or privacy when using TorGuard, it's still worrying. If they incorrectly copied code from one company, they could do it again. It seems unlikely that they'd make the same mistake twice, but it wouldn't be the firs time.
You'll just have to decide for yourself how big of a deal this one is.
2. Third-Party Apps Required on iOS and Android
To use TorGuard's VPN services on your mobile device, you'll need either the iOS or Android app. But you'll also need the OpenVPN Connect app.
Is that a big deal? No, probably not. But the fact that you need an entirely different app to get the VPN to work is annoying, and it adds another step to what we'd prefer be a very simple process. Other VPNs that offer mobile apps usually find a way to make them work without requiring a third-party app.
3. Confusing Pricing System
It took me a while to find all of the relevant pricing information on TorGuard.net. It wasn't nearly as easy as it should be. Combined with the wide variety of different pricing options for different products and combinations of services, it all makes for a confusing system. We'd definitely prefer that it was more straightforward.
The availability of different products is nice. And we understand that you need to price all of those things differently. But it would be great if TorGuard could find a way to make that information more easily accessible.
And in addition to these different plans, there are also add-ons that they don't mention until you get to the cart. We talked about the dedicated IP address (which is nice, but it's still too bad that you have to pay for Netflix compatibility). But you can also upgrade to their 10 Gbps network for an extra $20 per month, or get a DDoS-protected IP address for $12 per month.
Again, it's fine to make these things available, but it would be nice if it was all clearer up front what you have the option to pay for. The entire website isn't all that great, but pricing seems to be the low point.
Conclusion: Should You Use TorGuard?
Despite a number of notable strengths, we don't recommend using TorGuard.
On the other hand, we don't caution you against using it, either. It's not that TorGuard is bad; it's just that there are a lot of VPNs out there that are better.
TorGuard has great security, but so do most other major VPNs. It has decent speed, whereas you can get blazing fast speeds if you get the right provider. Its prices are good, but not great. It supports torrenting, which is nice, but will cost you extra if you want a dedicated IP address for Netflix streaming. Then there are the inconveniences (and potential immoralities) in the cons column.
We're sure the TorGuard team is trying to hard to put out the best product they possibly can. And we applaud them for that. But it's not quite there yet, especially at the price they charge. It's possible that focusing on proxies, a VPN, and a secure email service makes it more difficult to perfect any one of those systems.
But in the end, TorGuard just doesn't offer enough for the price.
However, if you're looking for something better, consider using ExpressVPN or NordVPN. Both are ranked high in our VPN reviews.
Have you ever used TorGuard before? If so, what was your experience like? I'm always interested to hear what other enthusiasts have to say about the VPNs that I review! Let me know below.
Add your own review
6 user reviews for TorGuard
Alistair 3/10 November 15, 2017
Slow and bad support
I tried Torguard out for a month to torrent and get access to websites like Netflix. Unfortunatly had to uninstall because it was so slow it took an entire minute to load the site and I wasn't able to browse properly.
The support was slow just like Torguard and I feel there's better VPNs out there like HMA.
Dani 9/10 November 13, 2017
Great service and great price!
I've used TorGuard VPN for a few years now, it's great! Never had any problems, and I really like the fact that you can get a dedicated IP address so you're the only one using it.
The support team is also great! They have a really fast response time and help you in every way they can.
It costs about $10 a month and an extra $8 if you want to use a dedicated IP address, but there's a 50% discount code you can use to get it even cheaper (just Google it).
My overall experience with TorGuard is great and I can highly recommend it!
JC 7/10 June 17, 2017
Good support
Concerning TorGuard support, I've never had a problem with their ticketing system. They respond back REALLY fast, and they interact with you via the ticketing to resolve the issue quickly. In my time with them (going on at least 4 years), I've never really had an issue with their service, but when I did, it was resolved quickly enough that I was satisfied. Their client has gotten better (it really used to suck) and their connectivity via iOS is also much improved.
Andrey 8/10 June 3, 2017
Works OK
I've been using TorGuard for a year now on a daily basis. Over this period of time I haven't truly faced any problems with them.
Yes, I agree that they look outdated and their user interface feels like 2000's, but that doesn't matter as long as their product actually works.
Adam 8/10 April 27, 2017
TorGuard is still relevant!
I don't care what anyone has to say. TorGuard is still as relevant as it has been for ages. Their product might look a bit outdated, but it's still excellent.
They're hands down the best VPN for torrenting. They're fast, customer support section has always been great! I'm not moving to another provider, ever.
Torguard has everything that I need. I recommend it to everyone.
Jennifer Roelings 6/10 March 30, 2017
TorGuard is a good product with a bad UI.
I used TorGuard for approximately 2 years, but ditched their service for another one, since they didn't update the program. It didn't feel that private anymore. I never had any complaints with the service besides from a couple of times when connecting to ASIA just took forever, but that wasn't a dealbreaker for me. I switched because I just got tired of that UI and I felt that they're not putting in enough effort to keep the program updated.
I would rate TorGuard 3.5/5 stars still. I stayed with them for two years, that's something!