Confusingly, TorGuard has NOTHING to do with the Tor Network.
Which would be your first thought when 'privacy' and VPNs come up.
Instead though, the "tor" they're referring to is for torrenting and P2P file sharing. So – yeah, they allow that!
Here's a rundown of their service, available servers, encryption, and pricing. Let's get started!
TorGuard Review (Summary)
| | |
| --- | --- |
| PROTOCOLS: | OpenVPN and 5 others |
| ENCRYPTION: | AES 256-bit |
| LOG FILES: | No |
| LOCATIONS: | 50+ countries, 1600+ servers |
| SUPPORT: | Live Chat (24/7) |
| EASE OF USE: | Very Simple |
| COST: | $4.99 |
| PLATFORMS: | Win, Mac, Android, iOS |
| RECOMMENDED? | Yes |
| OFFICIAL WEBSITE: | www.TorGuard.com |
Quick Facts About TorGuard
TorGuard offers up over 1,600 servers in 50 different countries around the globe. That covers most major cities you could think of, including Saudi Arabia in the Middle East and South Africa in, well, Africa.
That's great news if you're in a common geo-restricted area. For example, even though Netflix is available inside most countries in the world (over 190 and counting), it still uses the frustratingly outdated method of licensing content to geographic regions or territories. Not only that, but they've also been actively working to crack down on users connecting through proxies and even some VPN services.
For example, last year Netflix's Vice President of Content Delivery Architecture, David Fullagar, claimed: "In coming weeks, those using proxies and unblockers will only be able to access the service in the country where they currently are."
That is, unless, you're using one of our top-recommended VPN services.
TorGuard has native apps designed to work seamlessly with any Windows, Mac, Linux, Android, and iOS devices, with up to five simultaneous connections.
If you'd rather side-step that little inconvenience, they also offer up support for VPN-specific routers, including DDWRT, Tomato and pfsense firewall. Their router store boasts an impressive array of options, including the highly-rated NETGEAR Nighthawk AC1900, which is PCMag's Editor's Choice.
So you can fire up as many as you'd like!
There are no bandwidth restrictions, throttling of any kind, or limitations on server switching, either.
And they'll help protect against any WebRTC, DNS, or IPv6 leaks that might inadvertently give up your personal identity.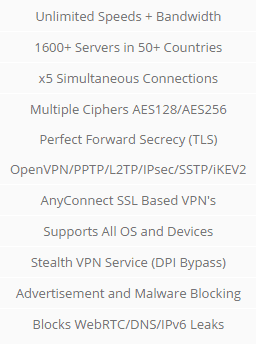 Interestingly, they also have a Business plan that will allow anywhere from 10 to over 50 different users on a single plan. That's awesome for businesses (or really, really, really large families) looking to harness the same protection across multiple people (with a small discount for volume).
TorGuard also have a suite of offerings designed to keep your entire internet experience private and secure. So in addition to the VPN service (that you're now reading about), they also offer a private proxy and email service provider that you can use together.
TorGuard, as a name for a VPN service, is kind of a misnomer.
Technically it's not related to the infamous Tor network that delivers anonymous browsing. Instead, this "Tor" is referring to the torrenting kind. Which means P2P file sharing is accepted and encouraged.
That way you can avoid having your internet service provider (ISP) throttle and lower your connection performance because of downloading volume. They offer a private proxy that you can use in addition to their VPN to get the best of both works (anonymity and security).
That about does it for the high-level overview. Now let's get into the details.
All Common Protocols are Available
Most American universities are pillars of safety.
Somehow keeping their 30,000+ students who live, eat, sleep, and breathe on campus safe and secure at all times.
That's all true. Except when it comes to their student's private information on their wireless internet connection.
For example, here's what the University of Colorado has to say about their 'private' network:
"Wireless access is by nature an insecure medium. As with most guest wireless networks, any information being sent or received over the CU-Boulder Guest wireless network could potentially be intercepted by another wireless user."
At least, that's what it says in their Terms and Conditions (you know, that little check box that stands in the way of you and free internet access that no one reads).
How can other wireless users intercept data, exactly? Let's count the ways.
One of the most popular is a 'man in the middle' attack, where hackers insert themselves in between one device and the server it's trying to connect to. Both parties think they're communicating directly to each other, while the unsuspected and virtually invisible hacker in between can change data (like the amount requested from a bank transaction) and where that information is ultimately going (like to another bank account).
'Sniffer programs' are another old trick used to target data that's being transmitted and intercept it in-flight. They can monitor what's being sent back and forth (like usernames, passwords, or locations) and take screenshots of the information before it lands with its intended target.
VPN protocols safeguard against these various attacks by creating rock-solid 'tunnels' between a device and the websites they're trying to reach. These impenetrable connections don't allow anyone to insert themselves in between, or prying eyes to view and record what's being transmitted.
The best all-around protocol is OpenVPN, which is rooted in the same open source technology that powers SSL certificates on today's most popular websites. This open protocol is often your default choice because it doesn't sacrifice either speed or security for the other's benefit.
It's no surprise that TorGuard also defaults to that choice. However if you're savvy enough to know the difference, they also provide PPTP, L2TP, IPsec, SSTP, and iKEV2.
Just use other protocols with caution. Some, like the older PPTP that was originally created by Microsoft and still powers many small and medium sized businesses today, are no longer safe and secure. So while they might offer up some privacy protection, they can still easily fall victim to hacks and attacks.
Like brute-force ones.
256-Bit Encryption
Brute-force attacks are simple in theory, but difficult in execution.
They start off by trying a single digit or number at a time. They run through each number and letter until they run out of options. They they stack together two digits and letters. Then three. Then four.
Those combinations come one-after-another, lighting quick often in fractions of a second.
They keep up this game of trial-and-error cat-and-mouse until they finally, unrelentingly, find a password that works. And that's when all hell breaks loose.
At the end of the day, it's simple math. There is a combination out there that works. It's just a matter of time to find it.
Encryption methods often have a number associated with them. That number references the required combination methods to successfully 'break' or crack an entry code.
For example, there's a way to get the older PPTP protocol down to a single Data Encryption Standard (DES) 50-bit key. Which with today's sophisticated methods and advanced computers might only take a few hours to break.
Today's top-of-the-line encryption, on the other hand, is a AES256 cipher. This time though, it's 2 to the 256-power, which equates to an absurdly long number that's virtually brute-force proof.
This is the strongest encryption on the market that's used and recommended by the world's top security professionals.
If you're looking for strong security, but not at the expense of speed or performance (and you're relatively confident of the already-secure connection you're on), you can also downgrade to the AES128 connection too.
No Logs are Being Kept (+)
Logging is the practice of monitoring and recording your internet activity.
Some VPN providers will log when you join or leave their network so they can monitor performance. Many of these though won't record your actual session data or downloading activities.
Some free VPN providers, however, will log your data and sell it to advertisers (hey – gotta pay for all those servers somehow).
TorGuard has an "absolutely no logs" policy. Which sounds reassuring.
Now you can breathe a sigh of relief. We're done with the technical mumbo jumbo. So let's get on with the finishing details.
Customer Support (Live Chat)
TorGuard offers 24/7/365 support through live chat, phone, and support tickets.
In addition to these private support options, we also like to take a look through their social channels to see how they conduct themselves in public when the heat is on.
Their Twitter presence is friendly and encouraging, which is a great start.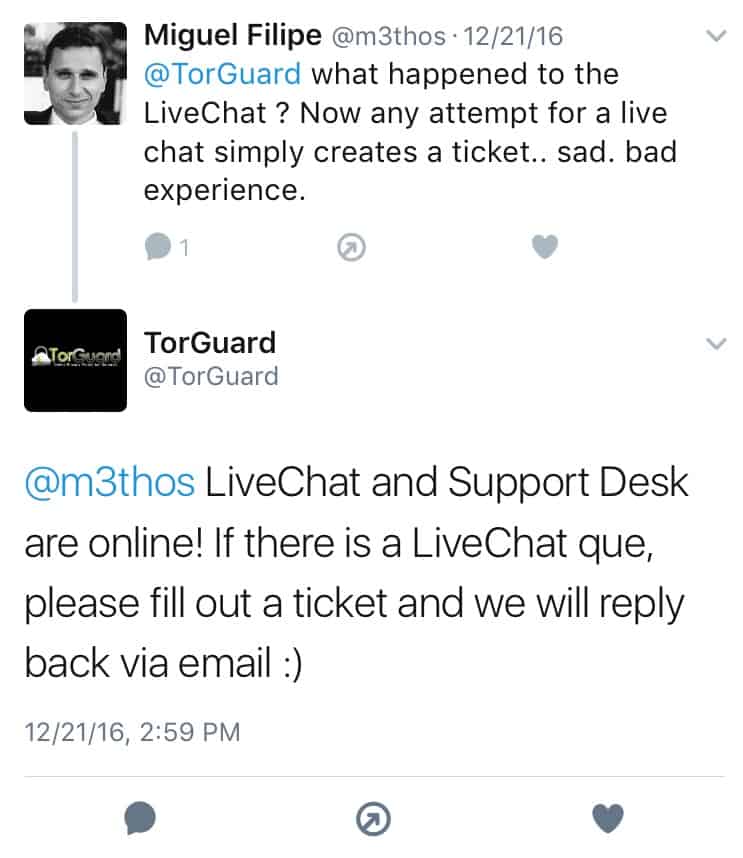 However unlike some other Twitter accounts from some of the top VPN services we've reviewed, it seems like they can only help to a point.
For example, some other companies will enable their social channels to handle support issues on their own. They can successfully look up a customer's name and go into detail with them on their account history.
However TorGuard, on the other hand, doesn't (or won't) do any of that. Instead, they'll just try to redirect you over to file a Support Ticket (and we all know how long that's gonna take).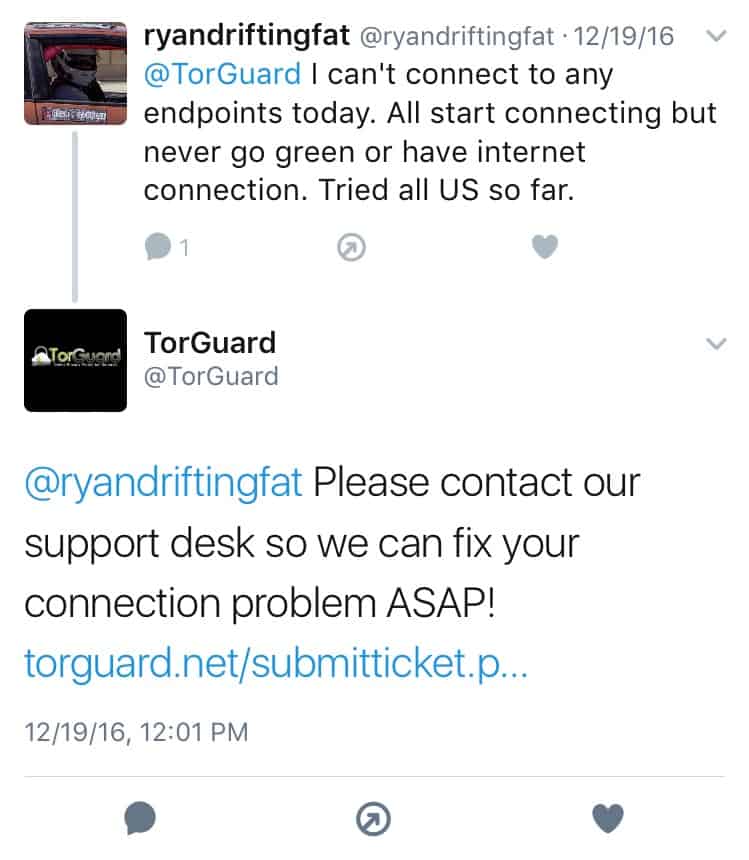 Plans & Pricing
TorGuard, like many other VPN providers, offers a single plan with all available features. That's great, because you don't have to worry about restrictions to specific locations or a cap on your performance.
Instead, TorGuard will simply split up their pricing based on how long you'd like to pay for. Their pricing is also nice and transparent. If you're opting for the semi-annual or yearly plans for example, they'll list those all-in, total pricing. In comparison, some companies will break up the total price into the smallest increment possible so it looks better and seems more affordable, only to hit you with a huge sticker shock when it's time to buy.

Plan One:
Monthly: $9.99/mo

Month-to-Month
Plan Two: Quarterly
$19.99/ per 3 mo

Roughly $6.66/mo
Plan Three: Semi Annual
$29.99/ per 6 mo

Roughly $4.99/mo
Plan Four: Yearly
$59.99/ year

Roughly $4.99/mo
TorGuard VPN Download/Upload Speed Test
To make our review accurate, we decided to track TorGuard VPN download and uptime numbers via speedtest.net
TorGuard download speeds can be found below. They're slightly faster than VPN Unlimited (ranked #11) and bit slower than Buffered (ranked #9)
Overall Speed Rank: 10 out of 19 (average)
US Server (New York)
Ping: 120ms
Download: 31.66 Mbps
Upload: 31.16 Mbps
EU Server (Amsterdam)
Ping: 40ms
Download: 53.83 Mbps
Upload: 49.31 Mbps
Asia Server (Hong Kong)
Ping: 296ms
Download: 9.59 Mbps
Upload: 12.62 Mbps
UK Server (London)
Ping: 46ms
Download: 38.56 Mbps
Upload: 47.78 Mbps
Re speed test: Always take such speed tests with a grain of salt as they simply rely on too many variables. However, since we've tested 20+ VPN services so far, we have an average that we can compare to other VPNs.
That about does it for TorGuard's offerings. The good, bad, and ugly. (Just kidding, there wasn't nothing that ugly.)
If you want to try them out and put that 7-day money back guarantee to the test, signup and walk through our step-by-step setup process below.
TorGuard Setup (Reviewed)
---
Sign up on TorGuard.com and start by logging into your account and heading over to the Dashboard area. That should look something like this:
This is your Account Area where you can Open Support Tickets, or view your Billing Subscription.
To download the client, go under the Support tab and click on Downloads.
The Downloads page will helpfully list out the different VPN clients, along with the most recent release dates based on the operating system.
Here is where you can download your TorGuard client. Click on the Download button that matches the operating system in which you wish to install the client. The file will automatically begin to download to your device.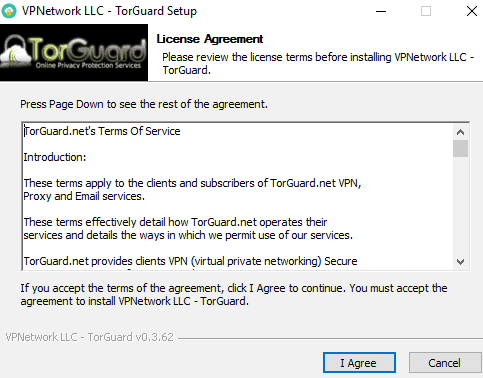 Go ahead and install the new client onto your operating system. Don't worry, we'll wait.
After installing, this is the window to the client. That looks like:
Initially, you won't be asked to login. Instead, start off by selecting which server location, protocol, and cipher (or encryption method) you'd like.
So Select Server… to pick from the list of available servers:
Click once on whichever server you want to connect to and then click Connect.
Before connecting, you will be asked to login to your account and then your new service will be connected!
Got this far? Awesome. You're live and ready to browse safely and securely.
TorGuard Review Summary
TorGuard offers over 1,600 available servers around the world in 50 major countries (including some in the Middle East and Africa).
They offer up all major protocols, in addition to the latest encryption methods as well.
TorGuard is perfect for businesses looking to create one central plan for all of their users. And also for those who're interested in setting up some of the best VPN-enabled routers to lock-down an entire connection.
There's a lot to like, and their pricing slots in nicely with the middle of the pack we've reviewed so you're not overpaying for these helpful extras.
TorGuard Pros:
Good usability
Reliable and fast
TorGuard Cons:
A bit outdated look
Download speed could be better
P.S. If you've used TorGuard, please consider leaving a review below. Thanks!
5 user reviews for TorGuard