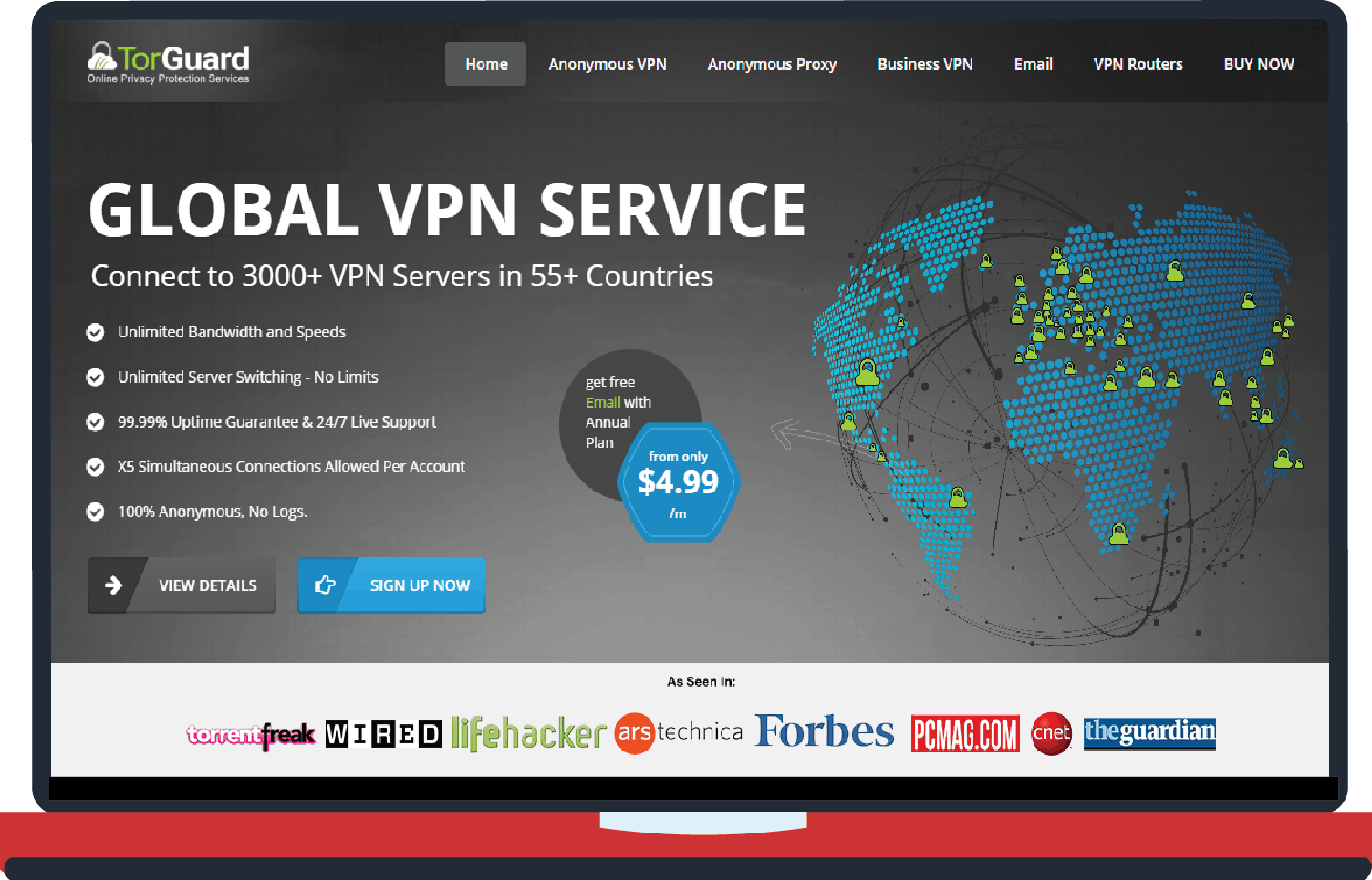 TorGuard, despite what you might assume from their name, is completely unrelated to the TOR network.
Regardless of this apparent misnomer, TorGuard is one of the better providers on the market and boasts some pretty impressive specs and features that should be more than sufficient for the average VPN user.
In this review, I'll give you a full rundown of TorGuard's VPN services, and layout everything from the speed to usability to customer service to unique features.
Here's a quick overview of what you can expect.
---
What is TorGuard VPN
TorGuard, is operated by a small team of analysts, engineers, and customer service reps spread all across the globe from Germany to Croatia to the U.S.A.
TorGuard is operated under a company called VPNetworks LLC.
While they are under United States jurisdiction (which I am not a fan of because of the 5 eyes) their headquarters is located in a small Caribbean island called Nevis. They're company is called
Operating more than 3,000 servers across 55 different countries, TorGuard has one of the largest networks that I have ever seen and they have servers located in almost any major city that you can imagine.
In addition to their impressive network, TorGuard allows users to connect to their VPN with just about any major VPN protocol (which we will discuss momentarily) and their software is compatible with every major device including:
Mac
Windows
iOS
Android
Linux.
TorGuard is also very torrent friendly (hence the name TorGuard) and they offer unlimited bandwidth, server switching and a no throttle policy.
And the best part?
You get all of these features (plus many more that we will discuss in a moment) at a very affordable price.
Is TorGuard Safe?
Logging Policy and Privacy
In recent months, VPN provider HotSpot Shield, formerly one of our favorite VPNs has been in some hot water with their customers and the law after an alleged privacy policy violation.
The Center for Democracy & Technology (CDT), a nonprofit advocacy group for consumer privacy rights has submitted a 14-page filing with the FTC to investigate HotSpot Shield for "unfair and deceptive trade practices".
The filing resulted after the CDT noticed that HotSpot Shield was illegally interfering with web traffic and redirecting it to partner websites (aka spammers and advertising sites).
With the aid of the Carnegie Mellon University, the CDT proved their allegations and confirmed that HotSpot Shield has been actively sharing undisclosed data with third party advertisers.
Considering that the entire point of a VPN is to maximize your online security and prevent your information from falling into the wrong hands (which includes advertisers in case you were wondering), HotSpot Shield's actions marked a dark day for internet privacy.
As these issues become more and more prevalent, it's more important than ever before that you fully vet and research any potential VPN providers before handing over your hard earned cash and, more importantly, your sensitive personal data.
Luckily, after more than half a decade in business, TorGuard has upheld their "Absolutely no logs" policy to the letter and remained in good favor with their customers and the CDT.
Unlike many of their competitors, TorGuard doesn't even log network activity so you can sleep soundly knowing that your data and personal information is as secure as it will ever be.
Protocols
Companies and individuals all over the world are starting to notice a startling growth in the number of cyber attacks being perpetrated on a daily basis.
In fact, a recent study conducted in Germany found that corporations are experiencing a 300% rise in the number of cyber attacks being carried out on their company networks.
And the statistics are equally grim on a personal level.
2015 was a record-breaking year for hackers and more than 177,000,000 individuals were the victims of security breaches, phishing scams, and other forms of cyber attacks… and that was just the beginning.
2016 set even more records, with attacks increasing by than 40%, and despite the best efforts of law enforcement and government officials worldwide, 2017 is on track to bump those numbers up even further.
Although these statistics might startle you, they shouldn't really be that surprising.
Why not?
Let me explain.
One of the most popular types of cyber attacks is known as the "Man in the Middle" attack where hackers "insert" themselves between one device and the server with which it's trying to connect.
What's so insidious about these attacks is that both parties assume that they are communicating directly with one another. But in all actuality, any hacker worth their salt can easily intercept sensitive data and tamper with the information.
So, for example, if you are trying to make a bank transfer on the wifi at your local coffee shop (please don't ever do this), a hacker can easily slide into the middle of your connection and alter how much money is being sent during the transaction and even the bank account to which it's being sent…
And this is where VPN protocols come into play.
VPN protocols create an (almost) impregnable "tunnel" between a device and the websites that they are trying to visit, thus ensuring that the user is defended against any "Man in the Middle" attack or third-party snooping.
The most common and effective of these protocols is OpenVPN which is rooted in the same open source technology that powers most SSL certificates on the biggest sites across the web.
For the average user, OpenVPN is the only protocol that should be used and with many VPN providers, it's the only protocol that can be used. However, TorGuard, being the feature-dense provider that they are, doesn't want to limit their users.
Not only do they allow their users to OpenVPN, but they also provide access to PPTP, L2TP, IPsec, SSTP, and iKEV2.
While this is certainly a "Pro" for TorGuard, I need to conclude this point with a word of caution.
OpenVPN is the most widely used VPN protocol for a reason.
It provides the perfect middle ground between speed and security ensuring that you don't have to sacrifice either one to enjoy a secure and high-performing connection.
If you do opt for one of the other protocols, you need to realize that your speed or security may be affected. If you want to learn more about this, you can check out TheBestVPN's article explaining the different types of protocols and how they work.
TorGuard Pricing: Some What Affordable Price
While they have a wide variety of different offerings in addition to their basic VPN services, TorGuard keeps their pricing plan simple and to the point.
With TorGuard,"What you see is what you get" and they offer a pricing plan with no restrictions or performance caps. The only difference between their plans is the duration of time for which you can enjoy their services.
Here's how it breaks down.

Monthly: $9.99
$9.99 per month
$119.88 per year
0% savings
Quarterly: $19.99
$6.66 per month
$79.96 per year
33% savings
Bi-Annually: $29.99
$4.99 per month
$59.98 per year
50% savings
Annually: $59.99
$4.99 per month
$59.99 per year
50% savings
While TorGuard isn't the least expensive VPN that we have ever reviewed, they offer some of the most competitive pricing in the industry and a pricing structure that incentivizes long-term customer commitments.
In addition to their affordable pricing packages TorGuard also offers a 7-day money back guarantee on all purchases so that if you do try it out and decide that it isn't for you, you can easily have your purchase refunded until you find a VPN that suits your needs.
TorGuard Pros
---
1. TorGuard Speed is Above Average (54 Mbps of 100) 
While TorGuard isn't going to set any records for being the fastest VPN on the market, their 53 Mbps download speed (EU server) will be more than sufficient to get the job done for most users.
I ran a few speed tests to ensure the accuracy of this TorGuard VPN review and here's what I came up with using a 100 Mbps connection in the EU.

US Server (New York)
Ping: 120ms
Download: 31.66 Mbps
Upload: 31.16 Mbps
EU Server (Amsterdam)
Ping: 40ms
Download: 53.83 Mbps
Upload: 49.31 Mbps
Asia Server (Hong Kong)
Ping: 296ms
Download: 9.59 Mbps
Upload: 12.62 Mbps
UK Server (London)
Ping: 46ms
Download: 38.56 Mbps
Upload: 47.78 Mbps
*As always take these speed tests with a grain of salt since they rely on so many different variables and can change from person to person. However, we have tested over 30 VPNs for this site so we have a baseline that we can compare every VPN against. 
Out of the 30+ VPNs that we have reviewed, TorGuard ranks #10 with speeds that are slightly better than CyberGhost and Buffered but significantly slower than their main competitor Private Internet Access.
Although I would like to see TorGuard increase their speeds even further, when you consider their VPN as a whole, including their customer service, feature-rich platform, and budget-friendly pricing, their speeds are a "Pro" in my book.
2. 24/7 Live Customer Support 
There are few things that I hate more than sucky customer service.
I have (quite literally) boycotted brands with high quality products simply because I found their customer service to be ineffective and downright rude.
Luckily, the customer service offered by TorGuard is some of the best that I have seen in the industry.
They offer 24/7 support through a call center, live chat, and support tickets.
And unlike some companies in the industry (IPVanish) TorGuard actually offers 24/7 support, not just a glorified support ticket system.
I decided to test out TorGuard's 24/7 live chat system for myself to see if they can live up to their promises and I was pleasantly surprised.
At around 7:37 p.m. my time, I submitted a generic support query to gauge the companies response time.
And only 5 minutes later, I was pleasantly surprised to receive the following response.
While their support team might not be quite as fast as Buffered or ExpressVPN, if you can stomach the 5 minute wait time, TorGuard provides excellent and efficient customer service that sets a benchmark for the entire industry.
3. Kill-Switch Availability
When you consider the purpose of a VPN, it surprises me how many providers still don't have a kill-switch feature in 2017.
After all, there isn't much of a point in protecting your browsing session if one network error is all that it takes for your data and activities to become immediately un-encrypted and available for all to see.
Luckily, TorGuard provides their users with an easy to use killswitch that will immediately terminate your browsing session in the event that the network is interrupted or the connection is dropped.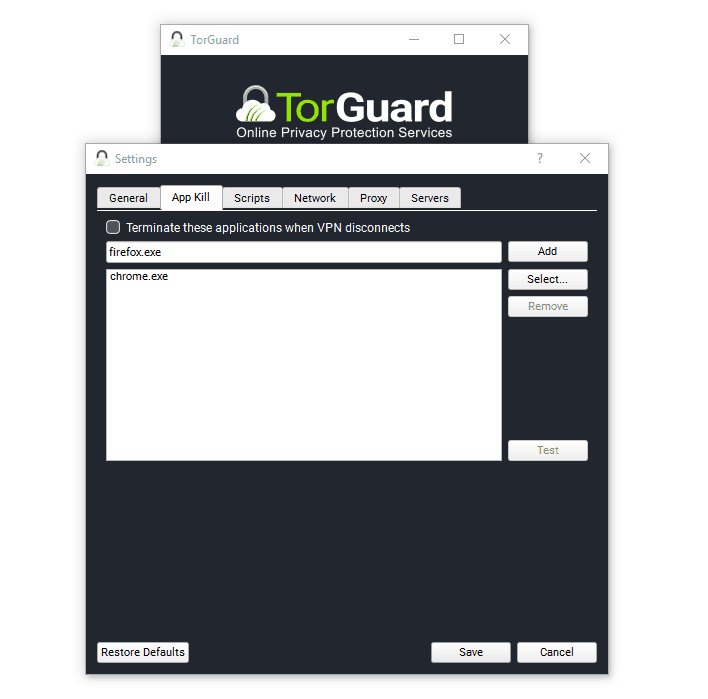 All you have to do is upload a list of processes that you want to terminate, save your settings, and then resume your previously scheduled browsing.
TorGuard Cons
---
1. No Netflix or BBC iPlayer Compatibility
As Netflix continues to tighten their restrictions on users who access their services through VPNs or proxies, Netflix compatibility is becoming an increasingly common issue among VPN providers.
Unlike a few of the more premium VPNs, TorGuard has not yet found a way to bypass Netflix's security restrictions which can be a serious problem for many users.
While we have been told that they are doing everything they can to quickly restore compatibility with streaming services like Netflix and BBC iPlayer, the current state of affairs looks pretty grim.
However, it should be noted that the EU Parliament is currently working to pass legislation that will force Netflix to open up its services to customers using VPNs and proxies, (at least customers inside of the EU).
But, until the legislation gets past the Legal Affairs Committee, TorGuard will not work with Netflix regardless of your current location.
*If you do need a Netflix Compatible VPN then I suggest you check out our review of ExpressVPN here*
2. VPN.ac Allegations
A couple years ago, TorGuard was accused by VPN.ac of stealing code.
While many of you might shrug your shoulders and respond by saying "So what?",  the implications for this incident extend far beyond corporate espionage.
According to VPN.ac, not only did TorGuard steal their code, but they copied that code incorrectly exposing their clients to a number of security vulnerabilities.
TorGuard denied any (intentional) foul play, quickly resolved the security concerns, and have kept their noses clean ever since.
Personally, I don't feel that these issues affect any potential TorGuard customer today, however, I felt that they were worth noting.
With the continued decline of the integrity that you can expect from VPN providers, it's important that customers have a clear understanding of not only what they are buying but who they are buying from.
3. iOS and Android Require Third Party Open VPN Apps 
While this particular con is far from a deal breaker, I did find it inconvenient that TorGuard requires you to download a third party OpenVPN app in order to use their services on an iOS or Android device.
The app in question is seemingly innocuous and shouldn't raise too many eyebrows. However, this practice opens customers up to a number of privacy policy and security concerns that seem entirely unnecessary.
I wouldn't lose any sleep over the app, but I would also like to see TorGuard resolve this issue as soon as possible.
How to Use TorGuard VPN
Sign up on TorGuard.net and start by logging into your account and heading over to the Dashboard area. That should look something like this:

This is your Account Area where you can Open Support Tickets, or view your Billing Subscription.
To download the client, go under the Support tab and click on Downloads.

The Downloads page will helpfully list out the different VPN clients, along with the most recent release dates based on the operating system.

Here is where you can download your TorGuard client. Click on the Download button that matches the operating system in which you wish to install the client. The file will automatically begin to download to your device.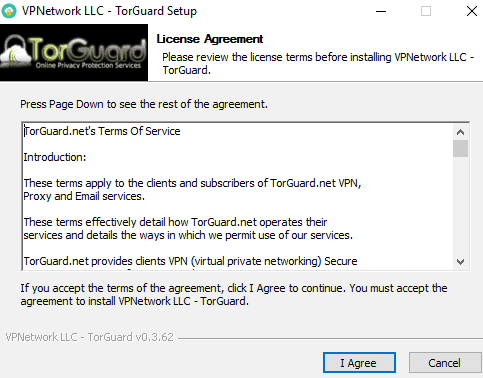 Go ahead and install the new client onto your operating system. Don't worry, we'll wait.
After installing, this is the window to the client. That looks like:

Initially, you won't be asked to login. Instead, start off by selecting which server location, protocol, and cipher (or encryption method) you'd like. So Select Server… to pick from the list of available servers:

Click once on whichever server you want to connect to and then click Connect.
Before connecting, you will be asked to login to your account and then your new service will be connected!

Got this far? Awesome. You're live and ready to browse safely and securely. Got this far? Awesome.
You're live and ready to browse safely and securely.
TorGuard Review Conclusion: Recommended?
TorGuard brings a lot to the table.
They offer an abundance of servers and locations, allow customers to connect to their services with all major protocols, and provide middle of the road pricing that is completely warranted by the quality of their VPN.
While their download speeds aren't particularly impressive and they have a couple of outstanding issues that need to be resolved, they provide a high-quality secure VPN with excellent customer service and a plethora of advanced features sure to satisfy even the most technologically savvy user.
If you are looking for an excellent mid-range VPN, TorGuard will provide you with everything that you need and more.
However, if you're looking for something better, consider using ExpressVPN (recommended) or VyprVPN.
Have you ever used TorGuard before? If so, what was your experience like? I'm always interested to hear what other enthusiasts have to say about the VPNs that I review! Let me know below.
Add your own TorGuard Review
7 user reviews for TorGuard
Jess Harris
TorGuard Review
Tried a few different VPN clients. Some fast and perfect but ending up costing more than I'm willing to spend and having quotas. Found TorGuard on special purchased it for a month found it functioned as i needed with a few Australian servers to choose from. No issues the last year besides a small issue with Netflix USA VPN not working but customer support was quick to answer my email query and provided a solution.
JC
Good support
Concerning TorGuard support, I've never had a problem with their ticketing system. They respond back REALLY fast, and they interact with you via the ticketing to resolve the issue quickly. In my time with them (going on at least 4 years), I've never really had an issue with their service, but when I did, it was resolved quickly enough that I was satisfied. Their client has gotten better (it really used to suck) and their connectivity via iOS is also much improved.
JC
Support
Concerning TorGuard support, I've never had a problem with their ticketing system.  They respond back REALLY fast, and they interact with you via the ticketing to resolve the issue quickly.  In my time with them (going on at least 4 years), I've never really had an issue with their service, but when I did, it was resolved quickly enough that I was satisfied.  Their client has gotten better (it really used to suck) and their connectivity via iOS is also much improved.
Rites
TorGuard is perfect for Tor users only
First of all, TorGuard is not related to the Tor project. But related to the BitTorrent service. And mostly aimed to the user's trying to bypass internet restrictions, and torrenting continuously.  VPNs generally don't allow P2P, but TorGuard do, and that's the huge plus point for this service. Moreover, using stealth technology, it can bypass monitoring services like Cyberoam. Other than that, for dedicated torrent users, dedicated IP addresses are also available for an extra cost. These services work perfectly on the cellphone, using the TorGuard app from appetite. However, I find the service little too costly for student users. But as they accept payments in even the form of gift coupons, I was able to pay couple months subscription that way.  The worst part of it is that, some streaming services, fail to work most of the time. Like Netflix or Amazon Prime Video. When, Netflix opens with hotspotshield, and region locked contents become accessible. Suggested, if torrenting is important too you, else not.
Andrey
Works OK
I've been using TorGuard for a year now on a daily basis. Over this period of time I haven't truly faced any problems with them.
Yes, I agree that they look outdated and their user interface feels like 2000's, but that doesn't matter as long as their product actually works.
Adam
TorGuard is still relevant!
I don't care what anyone has to say. TorGuard is still as relevant as it has been for ages. Their product might look a bit outdated, but it's still excellent.
They're hands down the best VPN for torrenting. They're fast, customer support section has always been great! I'm not moving to another provider, ever.
Torguard has everything that I need. I recommend it to everyone.
Jennifer Roelings
TorGuard is a good product with a bad UI.
I used TorGuard for approximately 2 years, but ditched their service for another one, since they didn't update the program. It didn't feel that private anymore. I never had any complaints with the service besides from a couple of times when connecting to ASIA just took forever, but that wasn't a dealbreaker for me. I switched because I just got tired of that UI and I felt that they're not putting in enough effort to keep the program updated. I would rate TorGuard 3.5/5 stars still. I stayed with them for two years, that's something!