IVPN Review Table of Contents
IVPN was founded in 2009 in Gibraltar. The full company name is Privatus Limited.
IVPN seems to have a reputation for really valuing privacy, so I was eager to find out if they actually are a secure VPN provider.
Most VPN providers claim they "don't log" your data. Only to turn around and log it for their own personal reasons.
Sometimes, they even go so far as to sell your data to third-party advertisers.
Not cool.
In this review of IVPN, I'll be uncovering the answers to these questions and more.
I'll also be defining the pros and cons of this VPN service, letting you know whether they're worth the investment.
But first – who is IVPN as a company, anyway?
Quick Background Check on IVPN
The overall look and feel of the IVPN website looks legitimate.
Their color theme appears to be based around a clean white shade with red accents, which really caught my eye.
The homepage of their site also showed an illustration of what appeared to be an octopus coming out of a laptop.
I assume that this creative cartoon is meant to show that anyone can swipe your data if you're browsing without a VPN.
Here's what the homepage of IVPN looks like: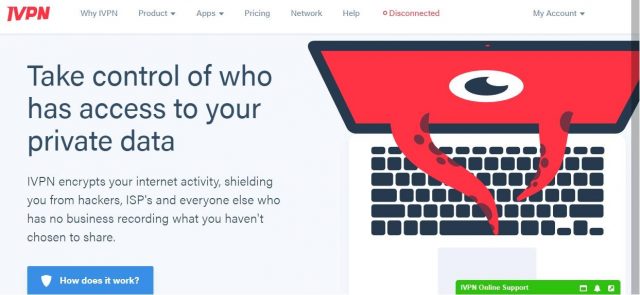 It's got some awesome design. It seems like IVPN really values their overall brand appearance.
Here's what the company says about themselves on their website:
I really love that IVPN says they don't require any personal information from users to sign up for their service.
But this statement doesn't give me the full scope of their services.
Do they keep logs on users? Is torrenting allowed?
Before we get to that, let's discuss IVPN's overall reputation across the world wide web.
I wasn't able to find many negative statements about IVPN online, to be honest.
In fact, BGR praised the company in 2014 for the interactive map they created as a visual for global Internet censorship.

The article commends IVPN for bringing attention to global cyber-oppression.
According to the post:
"The map uses a variety of criteria to distinguish the level of censorship that affects a particular nation, and issues are split up into four main categories: "human rights violations," "freedom on the Net," "obstacles to access" and "limits to content."
Here's what IVPN's map looks like:

I really love this creation from the company, because it shows how committed they really are to fighting for internet freedom and privacy. They're more than just a VPN provider.
And it looks tons of people recommend IVPN for users who want to remain anonymous.
A WilderSecurity.com user named "Lockdown" said:
"If you want reliably encryption then NordVPN will be fine. If you want reliable anonymity then Mullvad or IVPN. If you want full-featured, then IVPN. Pick the one you like best."

One reason that IVPN can be so private with user information is probably because of the reason that the company is located in Gibraltar.
The Data Protection Act of 2004 keeps the private information of Gibraltar citizens safe and forces businesses to respect user information.
It also allows people to request the data collected about them. According to the Gibraltar Regulatory Authority,
"The law applies whenever an organization processes (e.g., stores, collects, transmits, uses, etc.) information that relates to a person such as a person's name, DOB, their hobbies, comments about their performance, location, etc."
This makes the area a great location for a VPN company since the country really values protecting the data of its citizens.
Before we talk about pricing and speeds for IVPN, let's discuss features of the service.
IVPN Features and Compatibility
IVPN boasts about no logs, no leaks, fast multihop servers, and more, right on their homepage.

The company also has apps for tons of different devices.
The VPN service supports the following devices and operating systems:
PC
Mac
Linux/GNU
iPad
iPhone
Android
TOR
NAS
Routers
IVPN works simultaneously on as many as five devices. That's a pretty awesome feature of their service, especially in comparison to some competitors who might only give you two or three at the most.
I'll break down pricing below so that you know exactly how each plan works.
You can connect IVPN to the following kinds of routers:
IVPN also offers set up guides for each kind of router (and device or operating system).
This VPN provides 38 servers in 27 countries. That's among the lowest I've seen across all VPN providers. They've been around for almost eight or nine years now, so I kind of expected more.
IVPN offers a complete list of these servers on their site: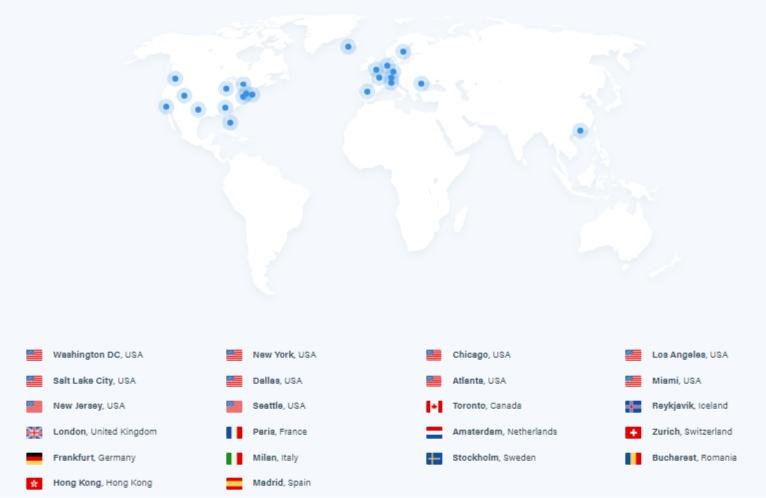 And the company offers an integrated firewall that acts as a "kill switch." The company even claims that it's more secure than a traditional one.
Kill switches are essential for keeping your information private and secure while you're browsing online.
Kill switches quite literally kill your browsing session if your internet becomes disconnected, keeping your activity completely private.
I'm pleased that IVPN offers an integrated firewall to act as a kill switch – especially when some providers don't offer one at all.
IVPN also offers IPv6 and DNS leak protection.
Right now, they only offer OpenVPN and IPSec/IKEv2 support.
That's both good and bad. It's good because they're the latest-and-greatest security protocols, offering state-of-the-art AES-256 encryption. Generally speaking, you only want to use these options if you have the choice. But it's bad because they don't offer older methods like PPTP or L2TP, making this VPN virtually incompatible with old devices or sluggish networks.
Now, let's go over how much this VPN is going to set you back.
IVPN Cost & Plans (not the cheapest)
IVPN offers a 7-day money-back guarantee right out of the gates.
This is great if you purchase a plan and decide that it isn't for you. You can try out their service, knowing in the back of your mind that there's still a way to get your money back if things don't work out.
Even better, they offer a free three-day trial (similarly to VyprVPN). That way, you can try out the service without fully committing to the company, too.
So there are two ways to do a test drive without losing your money.
IVPN offers a monthly, quarterly, and annual package.
When I checked their plans and pricing, the company was also offering a 40% anniversary discount.
Here's how each package is broken down:
The monthly package is $15 per month.
This comes out to be $180 per year. This planned is billed monthly. Choose this option if you're testing them out. But long-term, you'll want to switch to a different one to save more.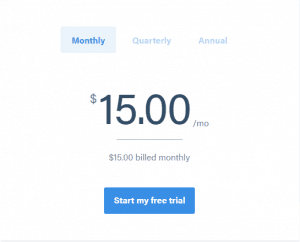 The quarterly package is $13.33 per month.
This comes out to $160 per year. This plan is billed as one payment of $40 every quarter.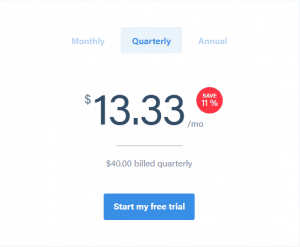 The annual package is $8.33 per month.
This comes out to only $100 per year, so it's clearly the best-priced plan. This package is billed as one payment of $100 every 12 months. That's a great deal.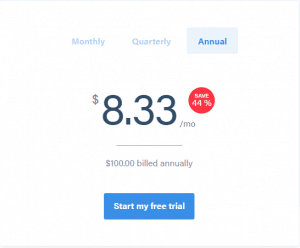 Payment methods include credit cards, debit cards, PayPal, Bitcoin, and cash payments. I really love the cash payment option.
However, IVPN does not accept American Express or any type of prepaid card.
I would recommend trying out the free trial of IVPN first. If you find that you really love the service, commit to the annual plan to get the most bang for your buck.
IVPN is very competitively priced, and I think it's priced well considering all of the features you'll gain access to.
Plus, the company offers a seven-day money back guarantee AND three-day free trial, so you've got nothing to lose.
Now that you know all about the features, plans, and pricing of IVPN, I'm going to outline the pros and cons of their service.
Pros of using IVPN
IVPN has some wonderful features. I was really pleased to find out that their claims of valuing privacy are actually true.
I'm going to start out by outlining what I think the company is doing well.
1. Good Encryption and Security
IVPN may not have many servers. But you can rest assured that the servers they do offer are extremely secure and private.
Is it Well Encrypted?
According to IVPN's website, they use AES-256 encryption with 4096-bit RSA keys.
"New encryption keys are generated every hour providing perfect forward secrecy."
This is top-of-the-line security that is literally military-grade. No one can crack it. And no one has been able to use a brute-force attack to defeat it, either.
You can definitely trust your data to IVPN.
Is Torrenting Allowed?
Torrenting is allowed with IVPN. That's good news for those looking to download or stream large data files.
Logging Policy
IVPN claims to keep absolutely no logs of your data.
But most say that. How can you be sure?
I dug into their privacy policy to figure out if this is true or not.
The good news is that it looks like they don't even collect cookies. So they also won't sell your information to any third parties.
"We do not store any connection logs whatsoever. In addition, we do not log bandwidth usage, session data or requests to our DNS servers."
The only thing they will store is your user name, password, and payment information (on their encrypted servers).
But this is pretty standard, to be honest.
I was really pleased to see that IVPN has a transparent privacy policy with no hidden tricks and clauses.
2. IVPN is easy to use and install
Downloading IVPN takes a matter of minutes.
Here's what the platform will look like once you've selected the device type you're downloading the service on and you begin installation.
Just enter in your username and password to begin using the service.
Select a server from the list at the top of the software.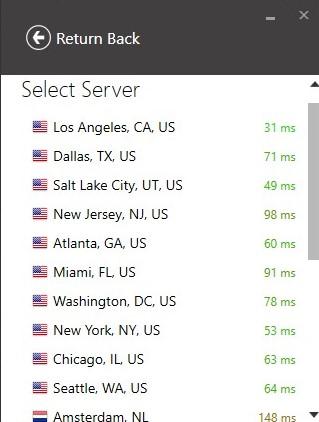 Click on it to select it and hit "Connect."
IVPN will notify you once you've connected to a server and will begin tracking the duration of your connection.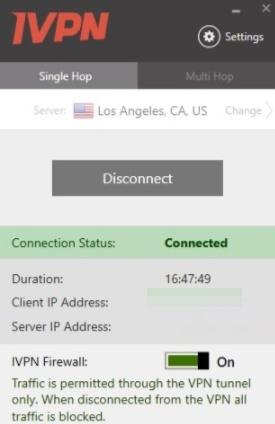 Note that you can turn the IVPN Firewall on and off, but it will automatically turn off once you disconnect to IVPN servers.
The only added bell and whistle is a settings area, where you can select your preferences.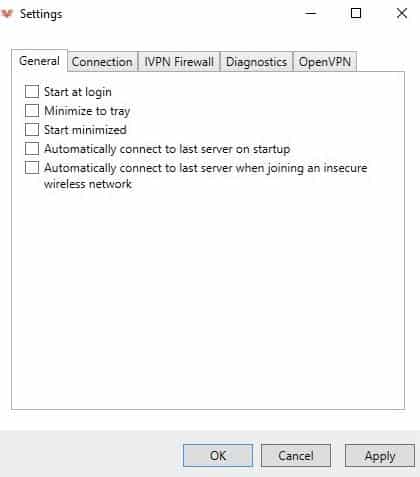 Overall, I'd give it an 8/10 for usability.
The user interface is among the best I've seen in the VPN game. I love the ease of use.
3. Fast, friendly customer support
IVPN offers live chat customer support. To access it, just click on the bottom right-hand online support section of their website.

Then, once the window pops up, just type out your message. You'll receive the name of your customer service representative, along with their email. Here's the one I sent.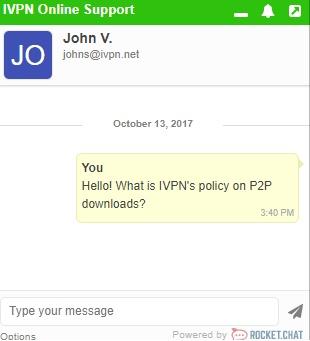 John answered my question in just three minutes. He was friendly and quick to respond to each question I threw at him.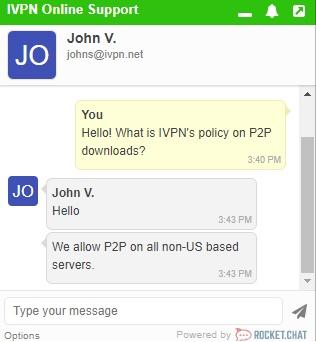 I love that their live chat feature offers a real human to speak to.
Plus, they have an amazing knowledgebase where you can search through frequently asked questions.
Cons of using IVPN
IVPN is private and secure.
They've got an amazing "no logging" policy, and their encryption is military-grade.
But no VPN provider is perfect.
Here are a few of the biggest drawbacks to using their service.
1. Does not work with Netflix
I tried to access Netflix using five different iVPN servers and they were all blocked.
iVPN servers blocked by Netflix:
United States: New York
United States: California
Canada
United Kingdom
Hong Kong
As soon as I signed in, I saw foreign titles. So far so good!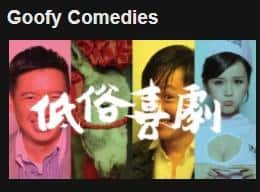 However, like nearly every VPN I've been trying lately, Netflix knew I was using a VPN.
Netflix has gotten really good at blocking VPN providers. So here's the standard message you'll see when it doesn't work:

I was pretty sad to see that I couldn't access Netflix with IVPN's servers. And unfortunately, this is becoming a standard trend for most VPNs lately. However, some VPNs still work with Netflix, though.
2. Slow Upload Speed
Privacy and security are obviously the biggest concerns with a VPN provider.
However, you also have to take performance into account.
What good is a rock-solid encryption if your connection becomes too slow to use?
I put IVPN's speeds to the test to find out if their speeds are actually up to par.
I ran speed tests on IVPN's US, Netherlands, and Hong Kong servers to see how they compare to competitors.
Here are my results:
US Server
Ping: 178 ms
Download: 32.20 Mbps
Upload: 18.66 Mbps

Netherlands Server
Ping: 38 ms
Download: 63.89 Mbps
Upload: 17.66 Mbps

Hong Kong Server
Ping: 341 ms
Download: 17.66 Mbps
Upload: 0.94 Mbps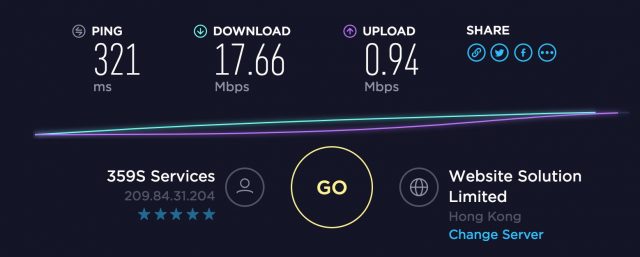 Some of those speeds are pretty decent. However, this last one is among the slowest I've tested.
Overall, the performance was too hit-or-miss to recommend.
Conclusion – Recommended or not?
Unfortunately, I don't recommend using iVPN. IVPN isn't terrible, per se. However, it's not great, either. Here's a quick recap:
What's good about IVPN?
IVPN has a strong encryption, a firewall that acts as a kill switch, and leak protection.
They keep absolutely no logs, other than what is necessary to keep the service operational, like account passwords. I loved this fact.
You can use as many as five devices simultaneously without having to pay more for a plan, and the features are the same across all plans.
Plus, the company offers a seven-day money back guarantee along with a free trial option. Torrent downloads are also allowed on IVPN servers.
The quality of IVPN's customer service is decent.
What's bad about IVPN?
Too few servers
Performance was rather slow
IVPN also didn't work with Netflix, either. That was a huge bummer.
Overall, IVPN gets a 70/100. That's pretty good, to be honest. However, it's not the best I've seen. If you're looking for a better performing VPN, take a look at best VPNs here.
Leave your own IVPN review below
A name here 9/10 December 9, 2018
Customer Service is awesome
As David Herrero said elsewhere, this is for people that want privacy not unlocking of content. Although I agree with the main review that speeds for some servers have issues, the ones I normally use Iceland, Germany, UK, Poland, and Chicago (when all I want is best ping) give me nearly my full 100M down/10M up connection.
However, the reason I think iVPN is worth it is for the customer service. This is literally the best customer service I have ever had. I had an issue with the windows client which was confirmed in less then 10 minutes, and the very next client update was fixed.
The new client, put out a few months ago, looks good and the kill switch makes me confident that I'm not going to leak.
Someone 1/10 October 25, 2018
IVPN is the Worst company to deal with...
Many places block IVPN's servers now like Craigslist, and most of your personal accounts tend to reject IVPN servers. They have terrible customer support and no live chat. If you have a problem with them, they might not even respond back to you at all. The rebuild me unauthorized for a year's use after I had not used them in a while, and then would not answer any emails in regards to it at all. They literally just kept the money and I had to push my bank to act on fraudulent charges. It's a terrible company to deal with and I am very familiar with their service. It's also kind of strange they don't have any affiliate programs and don't have live customer support. Seems like a cover or a front to something else and people should be concerned by things like this alone.
methused goldenton 8/10 August 31, 2018
ivpn is not worth $100/year
I have used iVPN for almost two years and while I like their bundled firewall approach vs app or kill switch non-sense they are using mostly exactly the same bandwidth providers as TorGuard.net and other teir one providers. Nothing they are doing or providing justifies the 200% price difference annualy billing.
They do not offer socks5. TorGuard does
They do not offer OpenConnect. TorGuard does.
"multi hop" can be accomplished by using provider one's socks5 atop provider two's openvpn
nothing special
not worth $100
This is not a special price. This is the always price.
ivpn won't extend special deal pricing to loyal customers.
When it's $100 for 2 years it will be acceptable pricing
David Herrero 8/10 December 29, 2017
IVPN: The best premium VPN service
IVPN is by far the most reliable, private VPN service out there but this has its downsides.
Server choices are very limited and its apps, even if they are renewing all of them, lag behind some of their competition. In my opinion is the VPN that cares more about your privacy in every sense, and I've used ExpressVPN, VyprVPN, NordVPN, PureVPN, and BlackVPN. Its owners are very capable and they are really professional. Netflix doesn't work, but they are a VPN for privacy, not for content unlocking.
You pay what you get, a VPN for privacy, and it is really good at that.
Alexandra 8/10 December 11, 2017
I highly recommend IVPN
I used IVPN both as a trial and paid subscription. While the trial has a limited number of VPNs you can choose from, being able to test its capabilities was crucial in making me subscribe. I loved the fact that there was such a variety of countries available, at decent speed, especially from Europe, although I wish I could connect to a Mexican VPN too. Northern America only has Canada and the USA, which has numerous servers you can connect to.
All in all, I highly recommend it, especially since if you need a particular country, you can just try the trial version first to see if they have it and then you can pay to connect to it in case it's unavailable for free users.