Lake Tahoe is a beautiful mountain town that splits the Northern California and Nevada border.
It's picturesque. Scenic. And quaint.
Just not where you'd expect to find a burgeoning VPN startup.
StrongVPN's early days in Lake Tahoe were actually selling PC computers in 1994. They then they've dabbled in selling dial-up internet (Pshhhkkkkkkrrrr kakingkakingkakingtsh chchchchchchchcch *ding*ding*ding*), servers, and colocation services.
Their mission is to combine that broad network experience with "a strong customer service culture."
Here's a look at what makes StrongVPN's unique, their number of servers across the world, available protocols and encryption methods, along with pricing information. Let's get started.
StrongVPN Quick Facts
StrongVPN has over 448 servers located in 48 cities in 24 countries.
The bulk of those are in the U.S. and Western Europe. There's a few sprinkled in Asia, but otherwise, the southern hemisphere (South America, Africa, and Oceania) is pretty bare (except for a single server in Sydney).
So right out of the gate, your options are fairly limited depending on your location and objectives. For example, just trying to protect yourself on a public WiFi in London? You're good. However, if you're trying to bypass strict government censorship it might be tough in your home country (with little-to-no servers located in many parts of the world).
StrongVPN has automatic app setup with Windows, Mac, iOS, and Android devices. They have Chromium OS and Linux setups. And they also support and recommend an extensive list of VPN-enabled routers so that you can protect all devices that connect to your home or work internet right at the source.
Their extensive San Francisco server network (140 and counting) uses an InterNap FCP device to constantly analyze the shortest and fastest server available.
StrongVPN's plans also come with a five day money back guarantee.
That's… not great. Some VPN services offer a forever free plan. So you can try their service out, forever, for free. Others come with an extended trial period. That way you can give it a test drive for a few weeks to see how performance works without getting locked in. And still others will at least give you a 30-day money back guarantee so you have time to play with the service.
That wraps up StrongVPN's basic facts. Let's now drive into the technical nitty gritty.
Available Protocols for StrongVPN
A wireless network analyzer is a device used by network engineers to monitor and improve an internet network's performance.
Typically, they're benign. IT professionals can see what's working well, what's not working well, and where users are having problems. That way they know how and where to make improvements to keep the internet connection humming along smoothly.
Here's the problem.
In the wrong hands, they can be deadly.
They're a simple program available to the masses. They're free.
So anyone can get one. Then they can go to an unsecure network (like at your local coffee shop), fire it up, and start tracking the activity on the network.
This is called WiFi 'eavesdropping' or listening. Raw packets of code being transmitted can be collected.
The first thing people look for are emails being sent. Often you can snag the actual messages. Including those 'password reset' emails sent. Instant-messaging platforms also commonly fall prey. Login usernames and passwords can be plucked out of thin air. And FTP credentials (commonly used to manage website files) can be snagged as well (because many use unsecure connections – as opposed to websites using SSL certificates to lock their connection).
Those are all bad. But this is even worse.
One PC World writer talked about using an app called DroidSheep to infiltrate other's smartphones. For example, you can use it to get into popular social networks like Facebook or LinkedIn. You can get access to Gmail.
Even if you can't technically get access to login credentials, you can still steal someone's session cookies to impersonate them and get into their account. That includes everything you can think of: bank transactions, etc.
The solution, of course, is to protect yourself at the root. The primary point you connect to the internet. A VPN can help create that secure tunnel around your entire session so 'eavesdroppers' can't listen in on your WiFi activity.
StrongVPN goes with the industry-leading OpenVPN. It's based on the same underlying technology as SSL certificates that protect your individual website sessions. So with both working together, you should be safe.
An OpenVPN-enabled VPN client tunnels the entire connection while SSL certificates protect individual website logins and all the activity on that site.
Allowing you to browse safely and securely. Without worrying about who's sitting next to you in Starbucks.
256-Bit AES Encryption (It's common & good)
OpenVPN protocols come packed with 256-bit AES encryption.
It's considered 'military-grade' because it's used by top security organizations and government agencies to lock down sensitive information around the world.
Here's why that's important.
One of the most common hacking methods is a simple brute-force attack.
It's exactly what the name implies. Someone attempts to guess – over and over and over again – the right password until they can 'crack' the right combination of letters, numbers, and symbols.
Sadly, these are carried out daily. On the world's most popular websites and platforms. Like WordPress.
For example, around 13,000 unique IP addresses are attacked on any given day according to WordPress security company, WordFence. That's a lot. A TON. However in November of 2016, that number spiked suddenly to over 30,000 unique IP addresses!
(This individual scenario is complete with mystery-novel like shady connections to shadowy Ukrainian organizations. You can't make this stuff up.)
The point is, brute-force attacks happen. All the freaking time. And are probably being carried out right now as you read this.
Let's bring this back to 256-bit encryption now. The '256-bit' part refers specifically to the number of combinations someone would have to try in order to hack their way in. But it's not 256. It's 2 to the 256th power.
Here's what it would take, according to Wikipedia:
"Breaking a symmetric 256-bit key by brute force requires 2128 times more computational power than a 128-bit key. Fifty supercomputers that could check a billion billion (1018) AES keys per second (if such a device could ever be made) would, in theory, require about 3×1051 years to exhaust the 256-bit key space."
In other words, it ain't gonna happen. Not now. And based on that complex math that is way beyond my comprehension, not ever.
Not unless some drastic loophole is found. Which hasn't yet. And it's likely to. Because people have been trying to crack this sucker for years. Just to make sure all is safe and sound. Which it is for the foreseeable future.
StrongVPN's Logging Policy
Go pull up any VPN website. We've already put together a list for you.
Plastered across each homepage in big, bright, bold letters is "no logging."
Logging is the industry practice of recording your individual session data for… some purpose. Basically, it undermines the entire reason of using a VPN in the first place (which is to protect and anonymize your internet activity).
Unfortunately, the truth is typically more complicated.
Many VPN providers, even some of the most popular, do in fact log something. Commonly that includes when you connect to their service and when you get off. They claim it's to monitor the performance of their own server network.
Sometimes they also are on the lookout for other nefarious people who might be hassling their own users. So they use some form of data monitoring in order to police the network and keep things squeaky clean for their users.
Sometimes, your data is kept for 24 hours and wiped clean. Sometimes a few weeks. And other times it's kept for longer than thirty days. Which again, defeats the purpose of trying to protect your browsing.
One clue to look for:
Does the VPN company own… or lease their servers?  If they're leasing servers in order to bolster that server count we analyzed above, your information might not be secure. Because now you're relying on two different entities to keep your data private: the VPN provider and… the question mark of who actually owns the damn servers in the first place.
Thankfully, StrongVPN owns all of their own servers. And their privacy policy states that no "traffic or metadata logs" are stored.
No TOR Compatibility : (
The Onion Router (or TOR for short) is a network that allows you to browse the internet completely anonymously.
It was initially created in association with the U.S. Navy and now it's one of the most popular nonprofits that advocate for online privacy.
So there's nothing technically wrong or elicit with it. Some police organizations have even reported using it to mask their identity in order to catch predators like child pornographers.
However, StrongVPN takes a strong stance (clever!) against TOR networks. Or more specifically, against browsers that aren't using JavaScript. So if you're using Tor + NoScripts, no StrongVPN for you.
StrongVPN Customer Support
StrongVPN makes bold claims about the importance of customer support.
Like all companies, ever.
So what's the deal? Do they actually follow through?
StrongVPN has support available 24/7/365. There's a marginally helpful Frequently Asked Questions (FAQ) page that covers the basics like speed, general setup, and billing. (In a few different languages for international visitors.)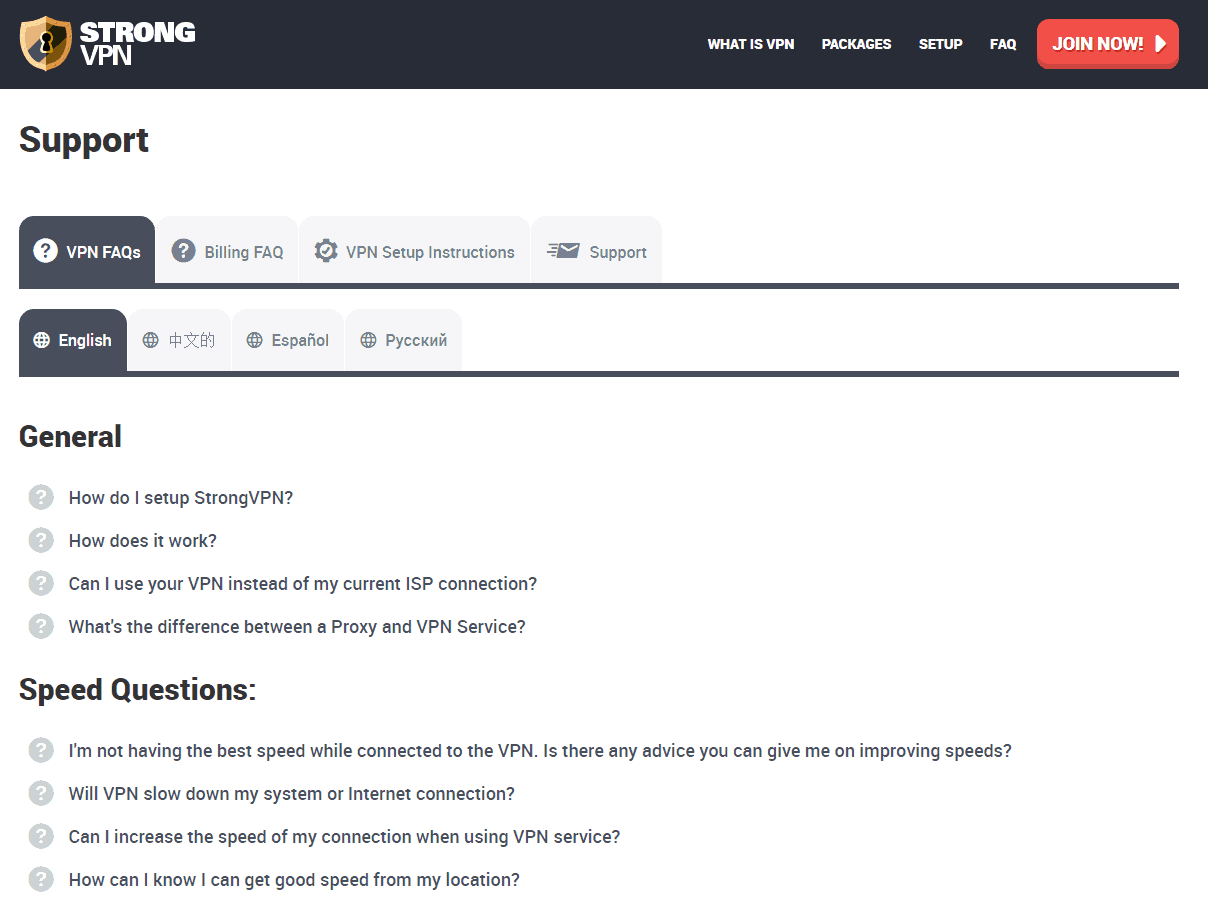 Otherwise, they direct you to… the dreaded Support form.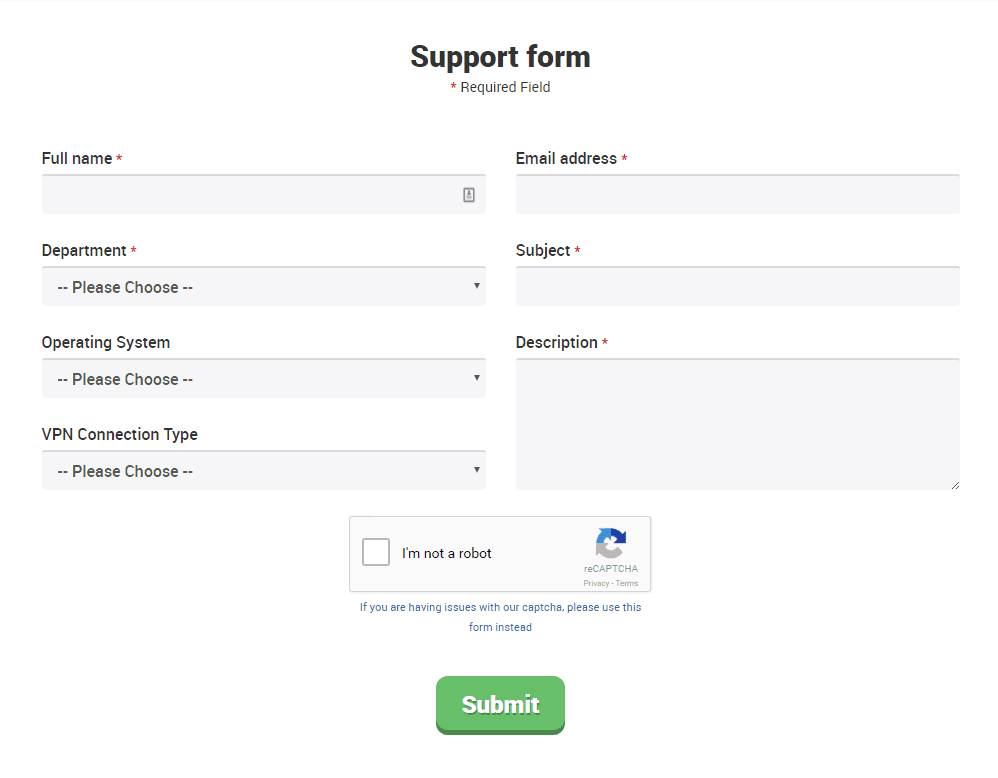 There's nothing wrong with a Support form per se. Their response time can just be slow. Painfully slow.
Unlike a live chat that many other big VPN providers have that can provide instant answers.
We also took a look at their social networks to see if they would at least provide faster solutions and answers to customer questions.
To their credit, we did see a ton of positive feedback on Twitter. Like this one:
They also were relatively quick to answer questions (even if it was to make them go read a link for the entire answer).
StrongVPN Speed Test (Paid Account)
StrongVPN isn't really strong.
Here's why:
They are by far the slowest VPN provider we've yet to test. Their speeds across the world (UK, EU, US) are utterly slow, less than few mbps. In fact, they were slower than some of the FREE VPNs, such as TunnelBear and Hideme.
Here's more in detail: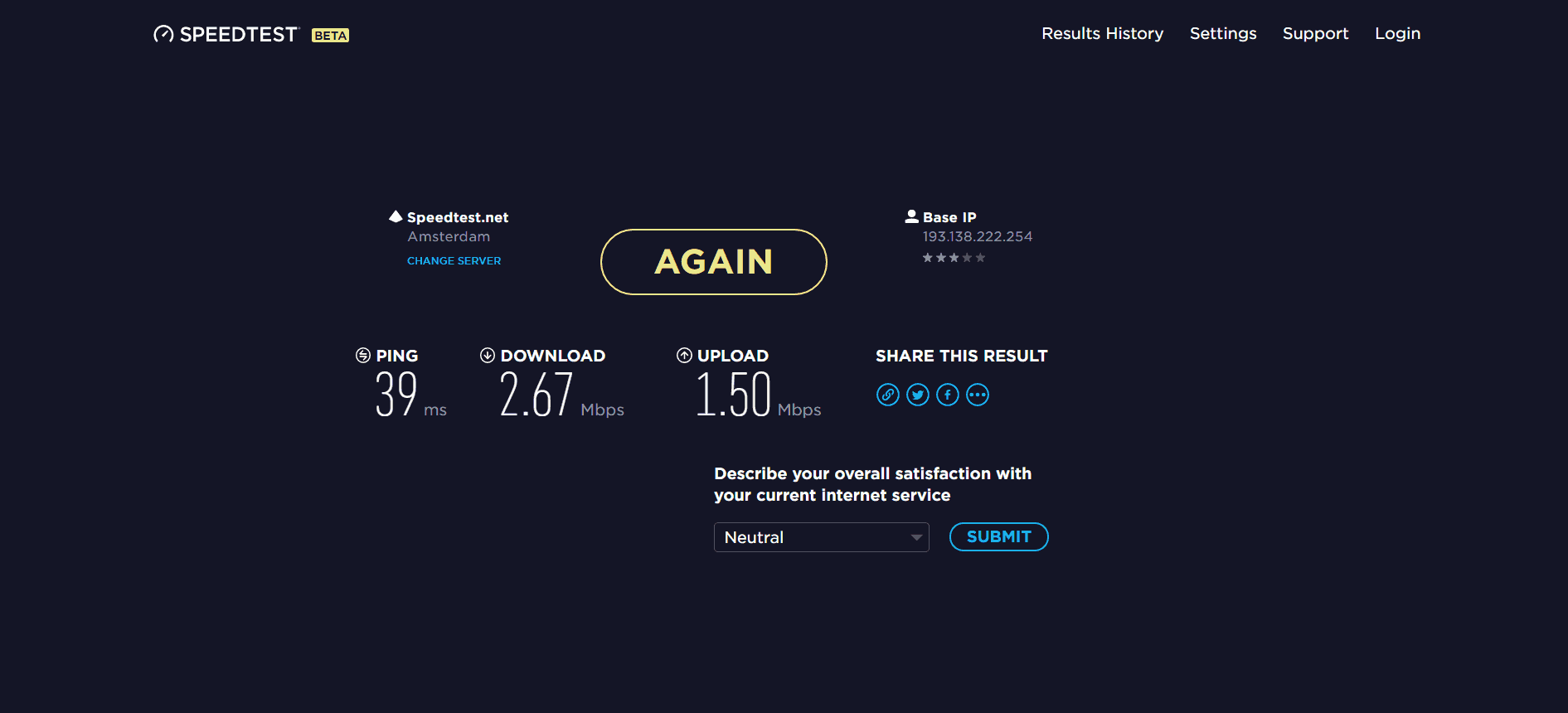 US Server (New York)
Ping: 116ms
Download: 11.36 Mbps
Upload: 9.13 Mbps
EU Server (Amsterdam)
Ping: 41ms
Download: 2.43 Mbps
Upload: 1.41 Mbps
Asia Server (Hong Kong)
Ping: 271ms
Download: 1.89 Mbps
Upload: 1.47 Mbps
Ping: 58ms
Download: 2.69 Mbps
Upload: 1.32 Mbps
Re speed test: Always take such speed tests with a grain of salt as they simply rely on too many variables. However, since we've tested 20+ VPN services so far, we have an average that we can compare to other VPNs.
Plans & Pricing
StrongVPN has three tiers of packages and services, all with a 5-day money back guarantee.
All of the services in each package have the same features. The primary difference is how long you want to commit.
So one-month plans and 12-month ones are the same. Only the cost changes.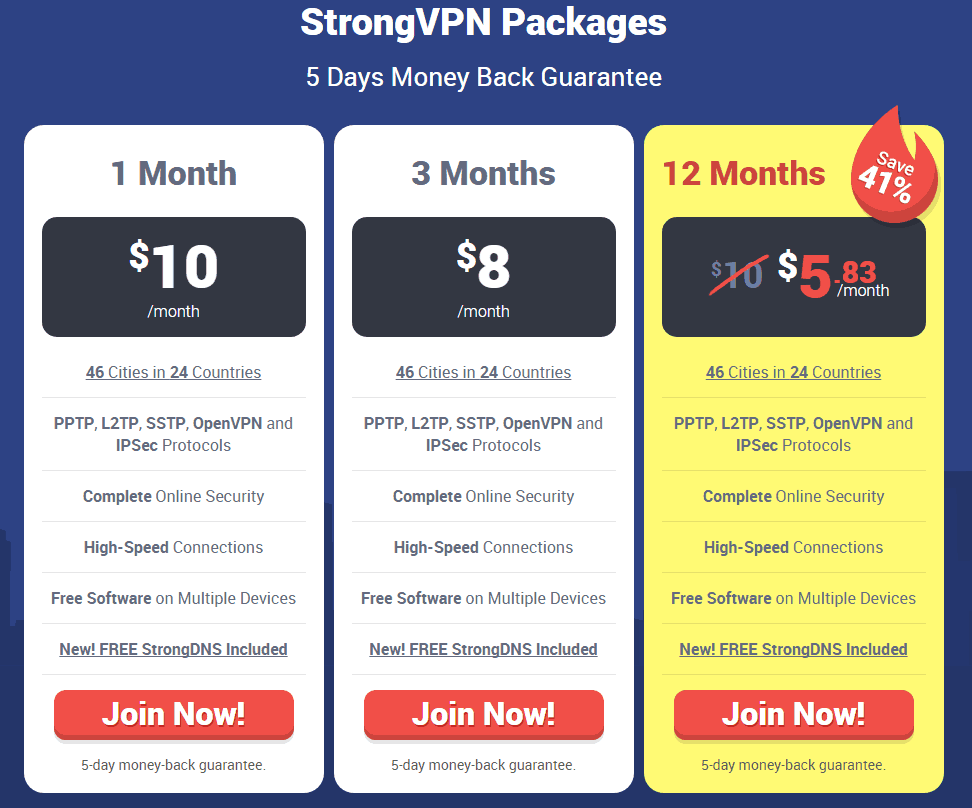 One Month:
Three Months:
12 Months:
Each package also includes both StrongVPN and StrongDNS for the same price. Here's what that looks like.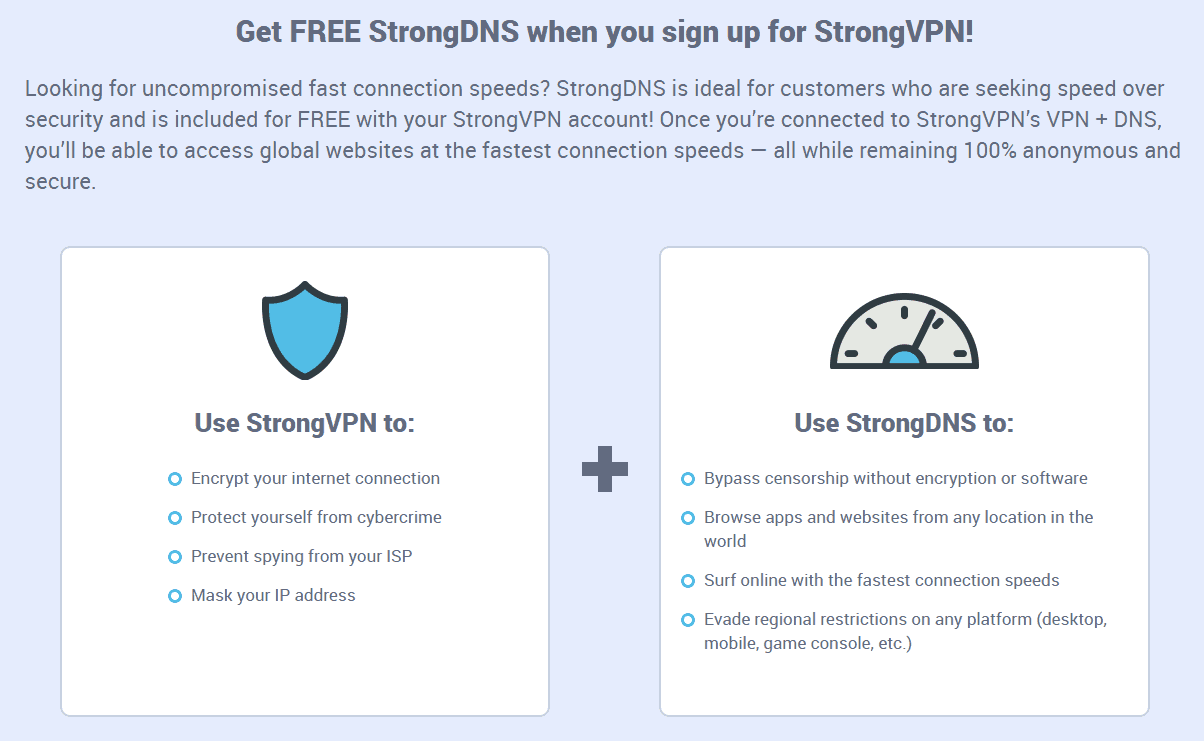 Ready to get started? Here's a simple guided walkthrough to start using StrongVPN for the first time.
Setting up StrongVPN (Reviewed)
---
Start by clicking on the Customer Area in the top right-hand corner of the navigation menu to access your account.
Once you've logged into your account and are at your customer area dashboard, click the "get setup instructions" button on the right-hand side: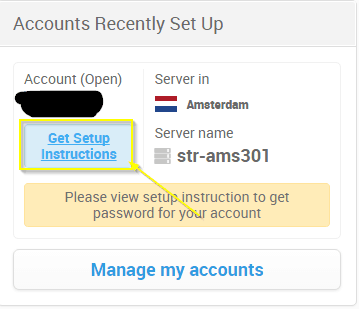 After clicking to get setup instructions, select the appropriate device you are currently using to download the software file: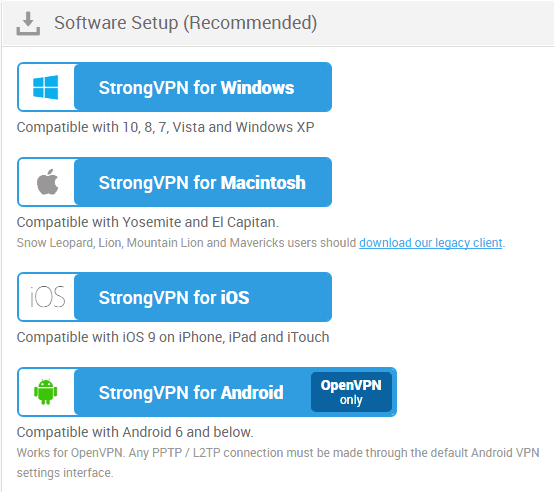 The file will download and opened like any other program. When the following window pops up, make sure to accept the agreement and follow further instructions.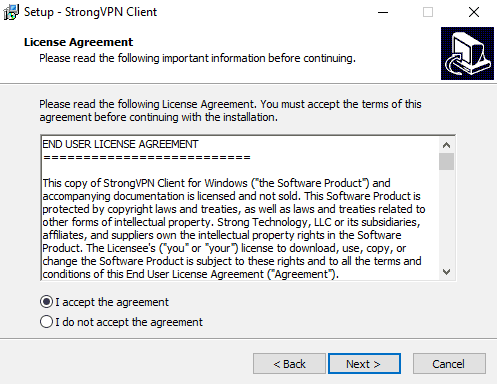 Next, you'll be prompted with a login screen to verify your account and plan.
After entering your login information, you're good to go!
If you want to switch locations or servers, simply select Change Location.
Then decide whether you want to manually select a new server, or simplify it by choosing the country and automatic server selection.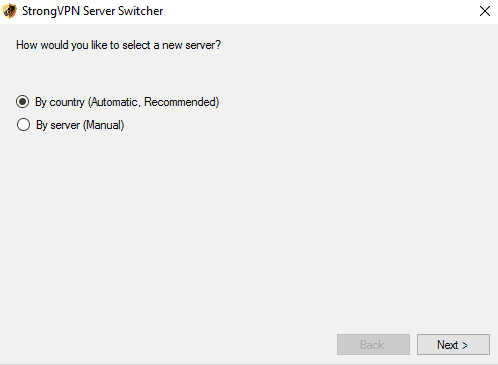 Select the server you want and you're all set.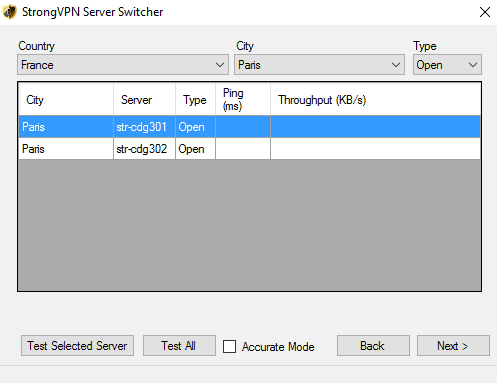 StrongVPN Review Conclusion
StrongVPN prides themselves on customer service. And we saw a lot of positive praise.
Unfortunately, there was no live chat feature. The 5-day money back guarantee is among the shortest we've seen (compared to those who offer free plans, trials, or 30-days instead).
While they had great server coverage in the U.S. and Europe, many other major destinations (like, say, the bottom half of the globe) seemed pretty barren.
In addition to that, they are one of the slowest VPN providers we've tested.
Conclusion? Avoid please.
Go with similarly priced Buffered or ExpressVPN instead.
StrongVPN Pros:
Good customer service
Plays nice with VPN-enabled routers
StrongVPN Cons:
Limited server locations
Lacks TOR compatibility
Outdated UI is clunky
Too-short 5-day money back guarantee
VERY SLOW!
P.S. If you've used StrongVPN, please consider leaving a review below. Thanks!
5 user reviews for StrongVPN
Jamie>
No
Really slow and expensive – I say NO!!!
Sai Raj
Pure VPN is to upgrade itself..
I have been using PureVPN for many days now and their Download Speed is very slow. I uninstalled PureVPN and downloaded StrongVPN instead, which is awesome. The one VPN that I would recommend, is StrongVPN.
Nikolay
POOR SERVICE!
Bought their software in early this year. My initial goal was to use them for Netflix as I was planning to travel abroad. I requested my money back after 5 days – here's why:
1. They don't work with Netflix
2. My internet speed goes very slow meaning when I'm connected to StrongVPN servers I'm unable to check Facebook or just browse around. Every click takes seconds to load.
The only thing I liked about the StrongVPN was their usability and user experience. But that doesn't matter much when the VPN is slow and unreliable.
2/10 from me.
Jan
Not working
This does not work for me, i'm not able to use the service on my phone. I followed the tutorial, no matter what I do, it just doesn't work for me. Very disappointing!
Wendy
Should be renamed to WeakVPN
StrongVPN is one of the worst tools that I've ever had the pleasure to deal with. Firstly, I didn't like the UX of the software. It was slow and it was annoying. I used it for a while and at one point I couldn't connect to a server in ASIA, that tilted me and I unsubscribed and chose another provider. I'm happy now, not looking back. If I had to rate StrongVPN, I'd give them a solid 2/10.