VPN Unlimited aka. KeepSolid Inc. was founded in 2013 (New York). Their slogan is:
"Secure, fast, and easy access to any site online".
… and they are one of the world's most popular and well-known VPN providers.
While they certainly aren't hurting for third-party endorsements and have enjoyed the praise and adoration of countless technology and VPN review websites, I decided to put VPN Unlimited to the test for myself and see if its performance lives up to its popularity.
Table of contents:
Pricing and Cost – starts $4.17/mo
The last time I reviewed VPN Unlimited, they offered more than 7 different pricing plans ranging from $2 for 7 days, all the way up to two years of service for around $50.
However, the times have changed and the team in New York decided to consolidate their plans into a more traditional set of pricing packages (with one exception).
They offer one month and one year pricing options  (both of which are budget friendly) which is pretty standard fare for a VPN provider.
But where things get interesting is when you look at their unheard of lifetime pricing plan which, as the name implies, means unlimited VPN access… Forever.
Here's how it all breaks down.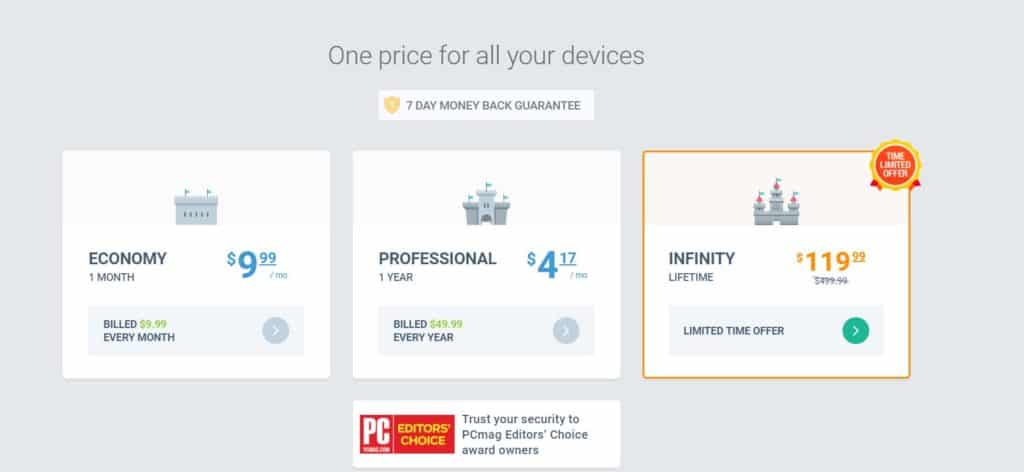 Monthly Plan: $9.99
At $9.99, VPN Unlimited isn't breaking into any new territory when it comes to VPN pricing. This is a pretty standard rate that can be expected across the board.
This equates to:
$9.99 per month
$119.88 per year
0% Savings
Yearly Plan: $49.99
Unlike most providers, VPN Unlimited doesn't have any middle ground between their one month and twelve month packages. If you are searching for a VPN for short-term travel purposes (i.e. a 3 month business trip abroad), then you will probably want to shop around a little bit more to find a company with a plan that is more tailored to your needs.
That being said, at only $4.17 a month, VPN Unlimited's yearly plan is definitely budget friendly, but as you might now, Private Internet Access is even cheaper ($3.33/mo)
Here's the break down:
$4.17 per month
$49.99 per year
~69% savings
The "Infinity" Plan: $119.99
If this plan is making you scratch your head and mutter "Meh?" under your breath, you are not alone. VPN Unlimited is (literally) the only company that I know of to offer a lifetime plan to their customers.
Not to mention that, all things considered, this plan is pretty darn cheap.
Only time will tell if this business move is genius or ludicrous, so until then, let's suffice it to say that if you plan on using a VPN for the foreseeable future, this might be the cheapest option in existence (unless, of course, you are willing to settle for a sub-par free service).
VPN Unlimited also offers a 7 day money back guarantee on all of their plans so if you do make a purchase and then decide that they aren't the VPN you are looking for, you can easily get your money refunded.
Now, most of you are probably wondering, "With packages that are so inexpensive, can VPN Unlimited afford to offer their clients fast and reliable service?"
The answer is, sadly, no.
Pros of Using VPN Unlimited
There's a lot to like about VPN Unlimited. Here's a quick overview of what I found important.
1. Good, 24/7 Customer Support via Live Chat
As I have stated time and time again, most VPN providers are kinda bad when it comes to customer service.
Much to my surprise and amazement, VPN Unlimited is not one of them.
While it is true that they do not offer a live chat feature like many of the more premium VPN providers, the quality of their email/ticket support is unparalleled.
I submitted a simple query on their website (asking whether or not their services would protect me from someone monitoring network activity directly from the router) around 6:48 p.m. my time.
Since some time had passed since I last reviewed their customer service (which used to be terrible by the way), I just wanted to gauge the speed and efficacy of their support team to see if anything had improved.
And it has…
I was pleasantly surprised when, only 20 minutes later, I opened my inbox to find a helpful and polite response from one of their representatives.
When you compare the customer support of VPN Unlimited to some of the other VPNs on the market (for example CyberGhost and IPVanish), the quality and speed of their service is actually quite remarkable.
While it might not stand up to ExpressVPN's live chat feature, the support offered by VPN Unlimited is a breath of fresh air in a market plagued with shoddy customer service.
2. Strong – AES-256 encryption
VPN Unlimited encrypts your information with something called the Advanced Encryption Standard or AES.
This super secure encryption standard is the same one used by federal agencies to transmit sensitive data and it is, quite literally, the most secure symmetrical encryption standard in existence (at least that we know of).
It's true that most VPN providers already use AES-256 to encrypt your data, but since security is one of the primary concerns when selecting a new service, this still counts as a "Pro" in my book.
3. Protocols: OpenVPN, IPSec and many others
If you peruse the list of different VPNs that we have reviewed, you will undoubtedly notice that most (if not all) of them offer the above VPN protocols.
So why in the world would I list this as a "Pro" for VPN Unlimited?
Because of one special little extension.
KeepSolid Wise.
KeepSolid Wise is a special extension to the OpenVPN protocol that makes it difficult (nigh on impossible) to detect.
Think of it as your proverbial cloak of invisibility.
In countries with oppressive and outdated censorship laws, government officials will often search for individuals using VPNs to bypass their Draconian regulations.
As soon as they find one of these connections, they will throttle your performance and impede (or completely stop) your browsing session.
However, with KeepSolid Wise, you can slip through these nets and make your traffic appear just like any other standard connection.
And while this is a huge bonus for VPN Unlimited customers, unfortunately it is not a bonus for all customers.
Currently, KeepSolid Wise is only available on the most recent versions of iOS, Android, Windows, and Linux.
Sorry Mac users…
4. Their VPN Software is Smooth and Simple to Use
The interface on VPN Unlimited is incredibly easy to use.
After launching their software you are only one click away from anonymous browsing, and their simple side bar allows you to quickly find exactly what you are looking for.
While some of the more advanced users might find their overly simplistic interface to be a turn off, for most customers, this easy to use dashboard will provide everything that you need and more.
Cons of using VPN Unlimited
Here are the 5 cons that I found using VPN Unlimited
1. They Aren't Fast Enough..
Whenever you were a kid, you probably heard the statement "If it's too good to be true, then it probably is". 
Well, that was true during your childhood and it's true today.
After hearing about their lifetime pricing plan, many of you are probably chomping at the bit to get started with VPN Unlimited's services, and I don't blame you.
Unfortunately, their promise to provide Secure, fast, and easy access to any site online, has yet to be fulfilled.
While VPN unlimited is far from the slowest VPN that I have ever seen, they rank 11 out of 19 (well below average) and their servers are only slightly faster than CyberGhost's (and only then if you are using an EU server).

Here are the results of our speed test.
US Server (New York)
Ping: 184ms
Download: 25.69 Mbps
Upload: 7.31 Mbps
EU Server (Amsterdam)
Ping: 37ms
Download: 47.13 Mbps
Upload: 24.70 Mbps
Asia Server (Hong Kong)
Ping: 335ms
Download: 12.42 Mbps
Upload: 2.92 Mbps
UK Server (London)
Ping: 51ms
Download: 59.69 Mbps
Upload: 42.09 Mbps
As always, you should take these tests with a grain of salt since they can vary wildly and are dependent on a number of uncontrollable variables. That being said, however, I have scoured the internet for other tests and even went so far as to ask some of my colleagues to test the speeds on their network and all of them reported similarly disappointing results.
While these aren't the worst download or upload speeds that I have ever seen, if speed is of the essence for your VPN-related endeavors, then you should probably check out some of our other VPN reviews to find a provider that can offer the performance you are looking for.
2. They Possibly Keep Some Logs?
In their rush to secure their personal information and browsing activities, many VPN customers seem to forget that all of the information that they are trying to protect is still visible to their VPN provider unless the privacy policy explicitly states otherwise.
It's a common practice for free VPN services to log your personal information and then sell it to advertisers and marketers to pay for the services that you are using.
However, most high quality VPNs guarantee zero logging of your information or activity.
Unfortunately, VPN Unlimited is not one of them.
For starters, VPN Unlimited monitors how many people are trying to access their servers in order to maintain security and help customers troubleshoot network problems.
That seems harmless enough.
They also track the different clicks that you make inside of their software in order to optimize their interface and ensure the best customer experience possible.
Again, seems harmless to me.

Where I began to get suspicious, however, was when I learned that they also track the session duration of users to monitor bandwidth usage for the alleged purpose of "Providing detailed information intended solely for each concrete user."
If you are someone with real security concerns, this suspiciously vague intrusion should raise a few red flags but, in my experience, shouldn't be cause for any real concern.
While VPN Unlimited's logging activities are (apparently) innocuous, I prefer a VPN with a strict "Zero Logging" policy.
And, in the spirit of total transparency, I want to ensure that every potential VPN Unlimited customer is aware of how the company tracks and stores your personal data.
While this isn't necessarily a deal breaker, VPN Unlimited certainly isn't getting any points for their logging practices.
3. Limited Torrenting Capabilities 
If you live in a country that enjoys freedom of speech and don't plan on travelling anytime soon, then you're likely in the market for a VPN for one of two reasons.
You want to secure your connection while using public networks
You want the ability to torrent online without worrying about potential legal fallout
Unfortunately, VPN Unlimited isn't much use for potential customers who fall into the second category.
I took a look through VPN Unlimited's FAQ and found this in response to the question "Is BitTorrent and other file sharing allowed on all servers?"
The primary use of VPN Unlimited is not to download torrents, but to offer online security. There are limited cases when our technical team has to subside connection speeds due to torrenting. We allow legal usage of P2P file sharing on US-California 1, Canada-Ontario, Romania, Luxembourg, and France servers.
While I have no doubt that this stance has earned the approval anti-piracy advocates worldwide, it has also alienated VPN Unlimited from a huge market segment.
If you need a VPN provider with torrenting capabilities, VPN Unlimited is probably not right for you.
4. You Need to Restart Your Computer After Installation (!)
I know that this is a pretty minor bone to pick, but I couldn't resist.
With so many VPNs on the market that allow you to secure your browsing experience only a few minutes after making your purchase, I was disappointed to find that VPN Unlimited requires you to restart your device in order to get started with their services.
This isn't exactly a deal breaker, but considering some of the other problems with this VPN, I was hoping for a more seamless user experience.
5. Confirmed: VPN Unlimited doesn't work with Netflix
Ever since 2016, Netflix has been putting a stop to any user accessing their website via a VPN or proxy.
Although we aren't entirely sure why they are doing this, the fact remains that most VPN users do not have access to Netflix's services while using their VPN provider.
Unfortunately, VPN Unlimited is no exception to this rule.
If Netflix compatibility is an important feature for you, check out our article on the best VPNs to use with Netflix to find a VPN that will suit your needs.
Do I recommend VPN Unlimited?
To put it bluntly…
No, I do not recommend this VPN service. I went into the review process with high hopes.
Here's What's GOOD About VPN Unlimited:
Impressive array of servers and locations
Best Long-Term Pricing Option
Easy to Use
Good 24/7 Support
Here's What's BAD About VPN Unlimited:
Slow Download and Upload Speeds
Shady Logging Policy
Limited Torrenting
Not Working With Netflix
There are too many much better VPNs on the market (at a similar or even cheaper price) to settle on a service that provides such limited capabilities and slow performance.
P.S. Have you ever used VPN Unlimited before? If so, what was your experience like? I'm always interested to hear your experience (good or bad).
Add your own VPN Unlimited Review
16 user reviews for VPN Unlimited
Lisa 10/10 January 7, 2018
Works with Netflix now
Side note: they have a Netflix server option now that I test regularly with satisfaction from Colombia. They also added a BBC server option that works.
gloria lasso 1/10 January 3, 2018
not worth it
Their logs politics is shady, they are based in USA, they don't allow torrenting and you have to pay for that, it's ridiculous.
Osama Eisa 1/10 December 29, 2017
Osama Eisa
I started using their service 2 Months ago and tried many sever but all of them extremely slow not exceed 500 KBITS/S !!!
Vincent Kroon 8/10 December 7, 2017
VPN Unlimited
I started using their service 2 years a go when I stumbled upon a 'lifetime-deal' for VPN unlimited. I didn't think much of it and fully expected them not to honor the lifetime part at all. But still to this day I use their service almost daily.
VPN Unlimited has Desktop and Mobile apps, which both never gave me any trouble or errors. They have VPNs in almost every country of the world which you can ALL use. They specifiy which ones you can use to torrent.
The speed is OK, all VPNs slow down your original internet speed and theirs is just like that.
The only downside for me with VPN Unlimited is that I couldn't easily find how to configure my OpenVPN settings with their service, which I actually still don't know how to do. It should be possible though.
Zakariya 9/10 November 20, 2017
Review on VPN unlimited
When I was connected, VPN Unlimited provided a smooth and enjoyable experience. Connecting was (usually) immediate when I opened up my computer and saw the black Wi-Fi bars perk.
The most impressive thing that I found was the VPN Unlimited app worked instantly on my iPhone, which is awesome because who wants to open their phone and wait 15 seconds for it to connect?
I also found the desktop app itself quite user-friendly and appealing, with all kinds of neat options. For instance, I spent most of my time on VPN Unlimited's 'Low' option, which is the fastest option and provides encryption and protection against malware. Intriguingly, VPN Unlimited also offers 'Medium' and 'High' options that add tracking protection as well as an ad blocker for free.
Another impressive part of VPN Unlimited is its near-global list of over 1,000 servers in 70+ countries. As an added bonus, it tells you the exact state you're connected to and workload percentage, which helps you know which to connect to, and which are too busy at the time. You can also hop onto an 'Optimal' network or go to specified networks for streaming and torrents, although I wouldn't reconnect torrenting for a reason I'll outline below.
effa 1/10 November 9, 2017
Doesn't Work For Days At A Time. Extremely Frustrating.
Purchased a 3 year package for what I thought was a bargain. VPN client won't connect for days at a time. Cust service says reinstall & disable firewall. Even then it doesn't work. Eventually (12 hours-3 days later) it will start working miraculously. Absolutely worthless if you need a VPN every day.
John 9/10 November 5, 2017
VPN Unlimited
VPN unlimited was my first choice upon looking for a VPN for school purposes. It's interface was simple in my opinion and relatively easy to use. I would recommend it to peers looking for a mid tier VPN service. One of the best features for VPN Unlimited was it's reliability and little to no updates needed.
Nik B. 8/10 November 2, 2017
4 Stars For VPN Unlimited
I have used VPN Unlimited for a couple of months now, I use it for gaming on my xbox so I could get to use US servers, in certain games the ping is reasonable with some with very little to no lag like RN6. I rent my own server and so the download speeds aren't bad since the server is in LA and I'm in Bangkok, Thailand around 8,000 something miles. The price is 20 dollars and I think its a bit high but its the best speed so far for me. The support takes sometime to respond which I would love to have a live chat but I'll make do.
Fernando 10/10 October 23, 2017
good
I've been using VPN unlimited for about 4 years now, it is easy to configure with the app but if you want to use it without it you can but it is somehow hard to get the info, you can select up to 4 devices to connect, right now I have a lifetime account, so that means that it won't cost a dime in the future, all thanks to the promotions they usually do. The support team really works fast you could get your issue solved in a couple of minutes, the only thing that I don't like is the cautions about using the service (i used it with an Asus router) and they were really clear that you need to know what you are doing with it.
Peter Meier 3/10 October 3, 2017
Throttle speed after a few months
VPN Unlimited was great for appr. 6 months, but since 3 months speed went down from 30 Mbs to 4Mbs. So the Unlimited promise only is up to the fact you can use the service, but speed is now comparable to the plethora of free VPN services on the Playstore. Bottom line – Unlimited is just a false promise to catch customers.
Glenn 5/10 October 2, 2017
Misleading
What they don't tell you is there is only a few servers that you can use P2P on an they are very slow. If you don't use P2P then they 're OK, but why limit yourself?
Pavlo 6/10 September 28, 2017
Fast and cheap, but buggy.
VPN unlimited has some serious issues with its security system which allowed me to use it for free for almost 6 months. Overall the app is well designed and reasonably fast, my speed changes from 100mb/s without it to about 80 with it. But I live in London so results may vary.
There were some bugs leading app to error messages but only a couple times in 6 months. Out of 7 vpn apps I used, this one gives the best speed for the cheapest price.
sean 4/10 June 18, 2017
no internet
I tried it and first it wouldn't connect so they made some suggestions and on the last day of the free trial it worked. I asked and they gave another 7 days trial given it didn't work through no fault of mine. After a couple of days I lost the ability to connect to the net with notices coming up saying there was no internet connection. I didn't know that they had the connection but all it did was prevent me from getting on the net and I was left stranded. I had to reset my computer back to an earlier date to get rid of it in the hope that it would fix the problem. It did.
Have you any idea how that could happen? Also the download speed, when it was working, was no different to my regular download speed. In the UK they would be prosecuted under the Trades Descriptions Act which is contravened when selling something to the public and not delivering what it says on the label. Unless the fault was with me.
Albert 7/10 May 29, 2017
OK for watching Netflix
I don't want to pay a ton of money for a simple software like VPN. Hence the reason I'm using VPN Unlimited.
YES, they aren't that speedy, but that's not an issue for me as I'm only using them to watch Netflix and it truly does the trick.
I'm recommending it.
Dan Melvin 9/10 May 1, 2017
Great software
Many VPN's out there are good like ExpressVPN and VyprVPN, but their plans are expensive.
I discovered VPN Unlimited through their ads. Their logging policy and encryptions were good, kinda slow unlike the two others but for a price half of the two VPN's were mentioned, VPN Unlimited is showing potential to VPN business.
Edith 8/10 April 21, 2017
Excellent service.
VPN Unlimited has been my favourite provider for a while. I've also tried out VPNArea, TorGuard. VPN Unlimited stands out with their effective customer support and fast servers.
In my opinion, they're incredibly fast + they have a huge variety of different servers across the globe.
I recommend them for anyone who's looking for an "all in one" VPN service provider. I can tell you honestly, that I've never had any problems with them…