VPN Unlimited is a Bronx-based VPN provider that extends across most of the inhabited world.
They boast one of the largest VPN networks available with over three hundred servers.
Here's a complete look at everything they've got to offer, including the available protocols, encryption standards, plan features, customer support, and pricing.
We also provide a step-by-step setup at the end that will walk you through how to get started with VPN Unlimited for the first time.
Let's get after it.
VPN Unlimited Review (Summary)
---
| | |
| --- | --- |
| PROTOCOLS: | OpenVPN, IPSec |
| ENCRYPTION: | AES 256-bit |
| LOG FILES: | Some logging |
| LOCATIONS: | 50+ countries |
| SUPPORT: | Ticketing system |
| EASE OF USE: | Average |
| COST: | $2.50/mo |
| PLATFORMS: | Win, Mac OS, Android, iOS |
| RECOMMENDED? | No. |
| OFFICIAL WEBSITE: | www.VPNUnlimitedApp.com |
VPN Unlimited Quick Facts
VPN Unlimited's network has over 300 servers located inside more than 50 different countries across the world.
The majority of those populate the U.S. and Europe, a strong showing in South East Asia (India, Malaysia, Singapore) in addition to Japan and Hong Kong, two in South America (Brazil and Chile), one in Australia, and a single location in Africa (South Africa).
VPN Unlimited offers easy-to-use apps available for all major operating systems and devices, including:
iOS

Android

macOS

Windows

Linux

Windows Phone

Apple TV

Browser Extension (which means no client download required — yay!)
VPN Unlimited also offers two ways to get started immediately.
They offer a free 7-day money back guarantee for starters. That's great because you can fully use their service and get a feel for performance before getting locked into a long-term rate.
It's not the longest money-back period we've seen, though. For example, many other VPN providers will offer up to 30 days (and even more in some cases) to get your money back with no questions asked.
There's a good reason why VPN Unlimited's is so short…
And that's because they ALSO offer a 7-day free trial!
Most VPN providers only give you one or the other. You might get a nice, long money back guarantee, but that's it. OR if you get a free trial of some length, there's no way to get your dough back if your experience changes after those first few days.
But VPN Unlimited has you covered in both cases.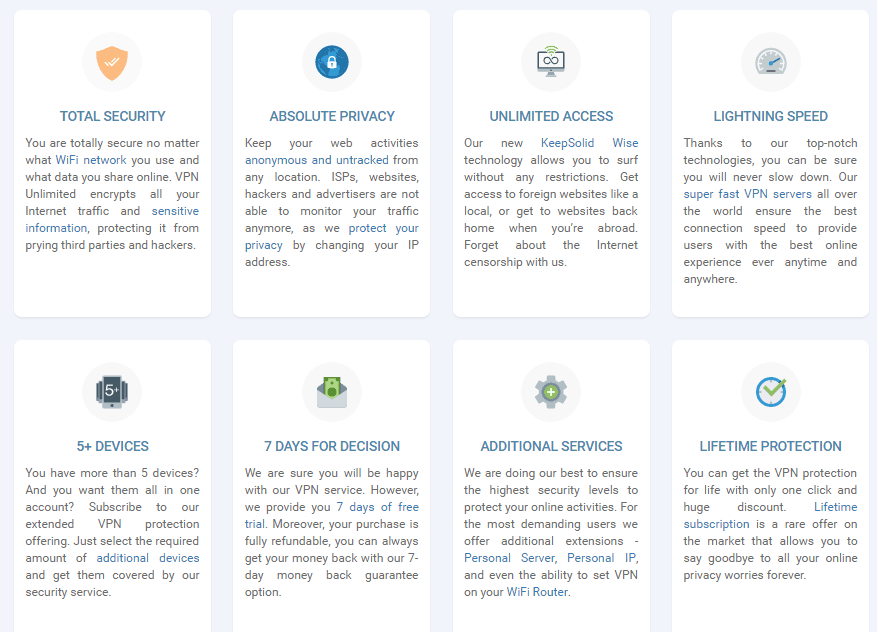 Available Protocols (OpenVPN & IPsec/IKEv1)
VPN Unlimited defaults to the OpenVPN protocol because it provides the best combination of security and performance. They also provide IPsec IKEv1 on macOS and iOS.
Those options are relatively basic though, offered by most (if not ALL) of the VPN provider's we've reviewed.
So what makes them different? What makes them special and worth a look?
KeepSolid Wise.
This is a special extension to the OpenVPN protocol that makes VPN use difficult (if not impossible) to protect.
Think of it like 'stealth'-mode that's perfect for 'restricted' locations.
Some aggressive governments, for example, will actively be on the lookout for people using VPN connections to bypass their censorship laws.
When these connections are found, they'll often get performance throttling that can grind your sessions to a halt.
KeepSolid Wise, however, will help you slip through undetected by making your traffic appear like it's any other standard HTTPS connection.
It comes standard on all VPN Unlimited plans and is currently available on the latest versions of iOS, Android, Windows, and Linux (sorry – no macOS at this time).
256-Bit Encryption (most VPN providers use the same)
LastPass is like a veritable goldmine for hackers.
A single location that holds access to your Gmail, bank accounts, and other sensitive data that completely exposes your entire digital life.
An easy-to-guess, basic password on your LastPass account could leave you in chaos. Hackers will start with obvious answers or your personal connections first.
One journalist dared two hackers to film a privacy segment for his show. And they showed just how easy it is to use wedding websites to gain access to personal details about your friends and family and even snoop on them with Facebook in order to uncover personal names that might be commonly used for passwords.
If those don't work, hacker's will escalate their 'brute-force' methods by using random letter combinations (known as 'dictionary attacks') to string together common words.
LastPass though is a little smarter than that.
They commonly require users to include numbers and special characters in addition to letters, which increases the number of possible combinations exponentially and makes it increasingly harder to guess.
That's not all, though.
LastPass will also have you enable two-factor authentication. So when you try to login using your desktop or laptop, they'll send a SMS notification to your mobile device with a one-time only, temporary password that needs to be entered at the same time in order to login.
All of these methods drastically reduce the chances of you getting hacked. Even the former United States President, Obama, weighed in with tips for using advanced techniques like two-factor authentication.
Here's the problem, though.
Some of the most common hacking methods you might run into, like 'man in the middle' attacks, can still hit your mobile devices.
Let's say you join a new WiFi network with your phone while sitting in an airport or hotel. If this was a fake network setup by hackers, they can now gain access to your device – intercepting and reading every single SMS that comes in (or goes out).
Including any confirmation codes used for two-factor authentication.
So there's still a risk, even with today's advanced methods involving multiple devices.
VPN Unlimited offers state-of-the-art 256-bit AES encryption that's virtually impregnable to brute force attacks.
But they also allow you to downgrade security to AES 128 or Blowfish 128 bit.
Why, after everything we just talked about, would you ever want to knowingly downgrade security?!
If you know, without a doubt, that your network connection is safe and secure, downgrading security encryption a little can help you quickly boost performance speeds.
Some Logging
Free VPN providers aren't exactly free.
Many come with a 'catch'.
One of the oldest tricks in the book includes monitoring your internet usage in order to sell personal data and browsing history to advertisers (hey – gotta pay for those servers somehow!).
Paid VPN's will sometimes log (or monitor and record) your activity in certain cases.
For example, VPN Unlimited will monitor how people are trying to access their servers, in order to keep up security and help people troubleshoot if they run into any problems.
They'll also track the session duration of users to monitor bandwidth usage for the suspiciously vague-sounding "purpose of providing detailed information intended solely for each concrete user".
And VPN Unlimited will also keep record of different clicks you make inside their software so they can learn what's working, what's not, and what needs to change on their own end as a result.
Most of these logging activities shouldn't raise too many concerns. After all, most VPN providers will turn over some record to authorities if asked (no matter their country of origin).
However, it's important to note these activities before signing up. So now you know.
Customer Support (via Email & Contact form)
VPN Unlimited offers customer support through a contact form and email address (both with response times of a few "hours or less").

Unfortunately, they're one of the few VPN provider's we've reviewed that doesn't offer some sort of instant live chat option.
Which means if things go wrong, it could mean half a day (or longer) before you see a response.
We also like to research a VPN provider's social channels to see if they help out with support when customer's raise issues.
That's particularly important in this case because there's no other fast, live interaction you can have with VPN Unlimited's support team.
So what happens when someone raises a problem on Twitter for instance?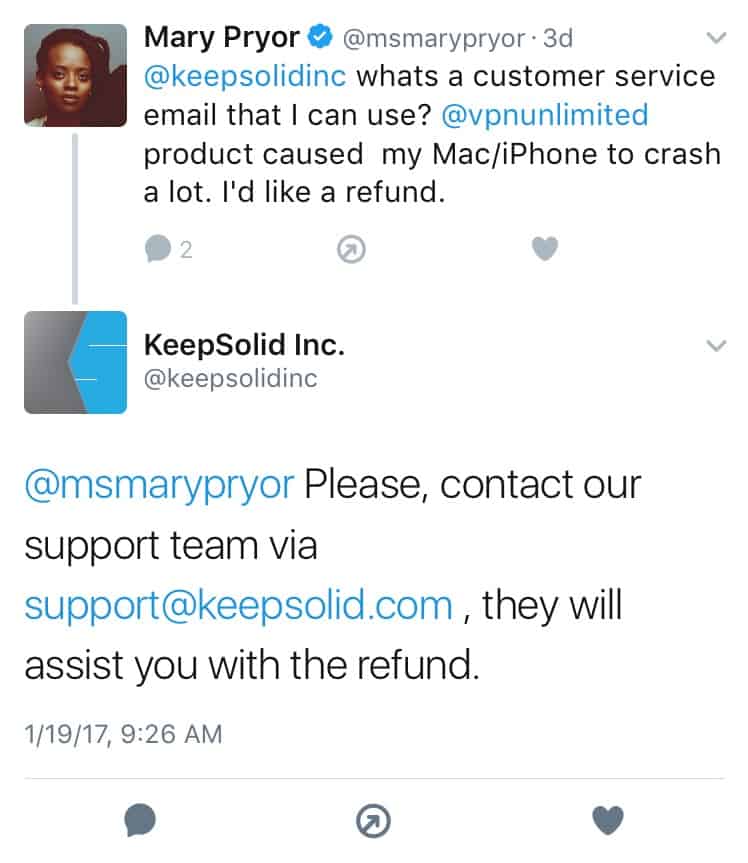 Unfortunately, they redirect you to the same, slow, out-dated support options on their site. Which means their social channels can't (or won't) help you in a pinch.
Plans & Pricing (it's really cheap)
VPN Unlimited offers a single plan that includes all features.
That's excellent considering some other VPN providers might restrict plan usage depending on how much you're paying.
Instead, VPN Unlimited splits their plans and pricing based on the length you're signing up for. The longer the plan, the less you pay.
They also offer two plans that we've never seen before after reviewing most of the major VPN providers on the marketplace: the super short 'Vacation' and forever 'Infinity' plans.
Vacation (best for traveling)
Economy (month to month)
Standard (3 months)
Professional (1 year)
Premium (2 years)
Infinity (forever)
Ok. Here's the trick. (Don't tell them we told you this.)
VPN Unlimited offers a 7-day free trial AND a 7-day money back guarantee. They also offer a 7-day plan for two dollars.
So for less than a cup of coffee, you can get nearly three weeks to test drive their service.
That sounds like a pretty good bet to me.
VPN Unlimited Download/Upload Speed
To make our reviews accurate, we went to speedtest.net and put the following locations in test.
VPN Unlimited download speeds can be found below. They're slightly faster than CyberGhost (ranked #12) and bit slower than TorGuard (ranked #10)
Overall Speed Rank: 11th out of 19 (below average)

US Server (New York)
Ping: 184ms
Download: 25.69 Mbps
Upload: 7.31 Mbps
EU Server (Amsterdam)
Ping: 37ms
Download: 47.13 Mbps
Upload: 24.70 Mbps
Asia Server (Hong Kong)
Ping: 335ms
Download: 12.42 Mbps
Upload: 2.92 Mbps
UK Server (London)
Ping: 51ms
Download: 59.69 Mbps
Upload: 42.09 Mbps
Re speed test: Always take such speed tests with a grain of salt as they simply rely on too many variables. However, since we've tested 20+ VPN services so far, we have an average that we can compare to other VPNs.
If you'd like to give it a spin, sign up for an account now. Here's how you can get their VPN service up-and-running in the next few minutes.
VPN Unlimited Setup (Reviewed)
---
You're all signed up. Awesome.
Now login to your Account and head on over to the Downloads section. VPN Unlimited will already know which device you're on, because: magic.
Take their word for it and download the appropriate app they suggest.
Once the file is downloaded you'll be prompted to install the program like any-old other piece of software. VPN client's are typically pretty small and lightweight, so the entire install process should take less than a minute or so.
When ready, fire up the client and you'll be prompted to sign in using a KeepSolid ID (that you'll have to create) or one of your social accounts.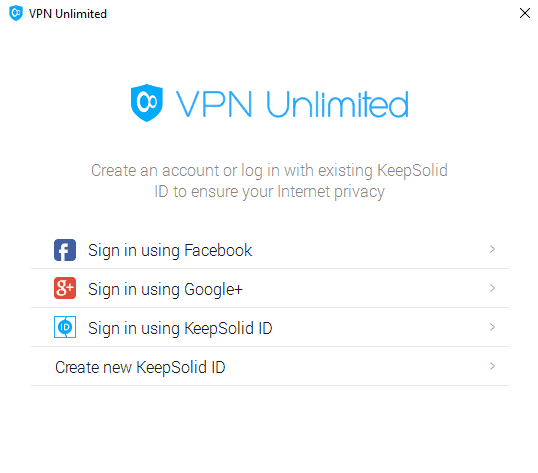 VPN Unlimited will now walk you through a short tutorial after signing in for the first time.
You could read this. But you honestly don't have to. Most of it walks you through what a VPN is and how they work. You probably already know this stuff (especially if you've read our other guides already).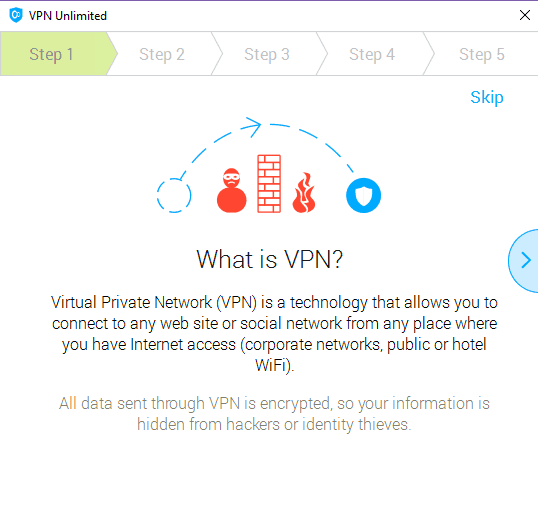 So feel free to skip over it and get started ASAP. It only takes you a few clicks to create a secure connection.
On the left-hand side of the client is your Status (like whether the connection is On or Off), the list of available Servers you can connect to, and your basic account information.
If you need any support while using the service, click Information.
Otherwise, go ahead and manually select a server location (or click Optimal to have them automatically select one) to get started.
And that's it! Pretty easy, right?
VPN Unlimited Review Conclusion
VPN Unlimited is one of the only VPN providers we've seen that offer both a seven day free trial in addition to a seven day money back guarantee.
Their network is among the largest, reaching over 50 different countries around the globe. And they offer rock-solid encryption with top-of-the-line protocols like the open sourced OpenVPN.
While their performance certainly wasn't the fastest we've seen among other top competitors, we did like that they offered a ridiculously short 7-day vacation plan (perfect for, well, actual vacations if you're traveling the globe).
They also offer an Infinity plan; a single one-time payment that grants you forever access. Which, even if you only used it for the next 3-5 years, still makes it a great deal in the end.
However, since speed is one of the most important factors of a VPN, it's definitely not the best VPN to use. Hence the reason we're not recommending it.
VPN Unlimited Pros:
Affordable
Easy to install and run
Works on all devices
VPN Unlimited Cons:
You need to restart your computer after installation
Download speed could be better
P.S. If you've used VPN Unlimited, please consider leaving a review below. Thanks!
5 user reviews for VPN Unlimited