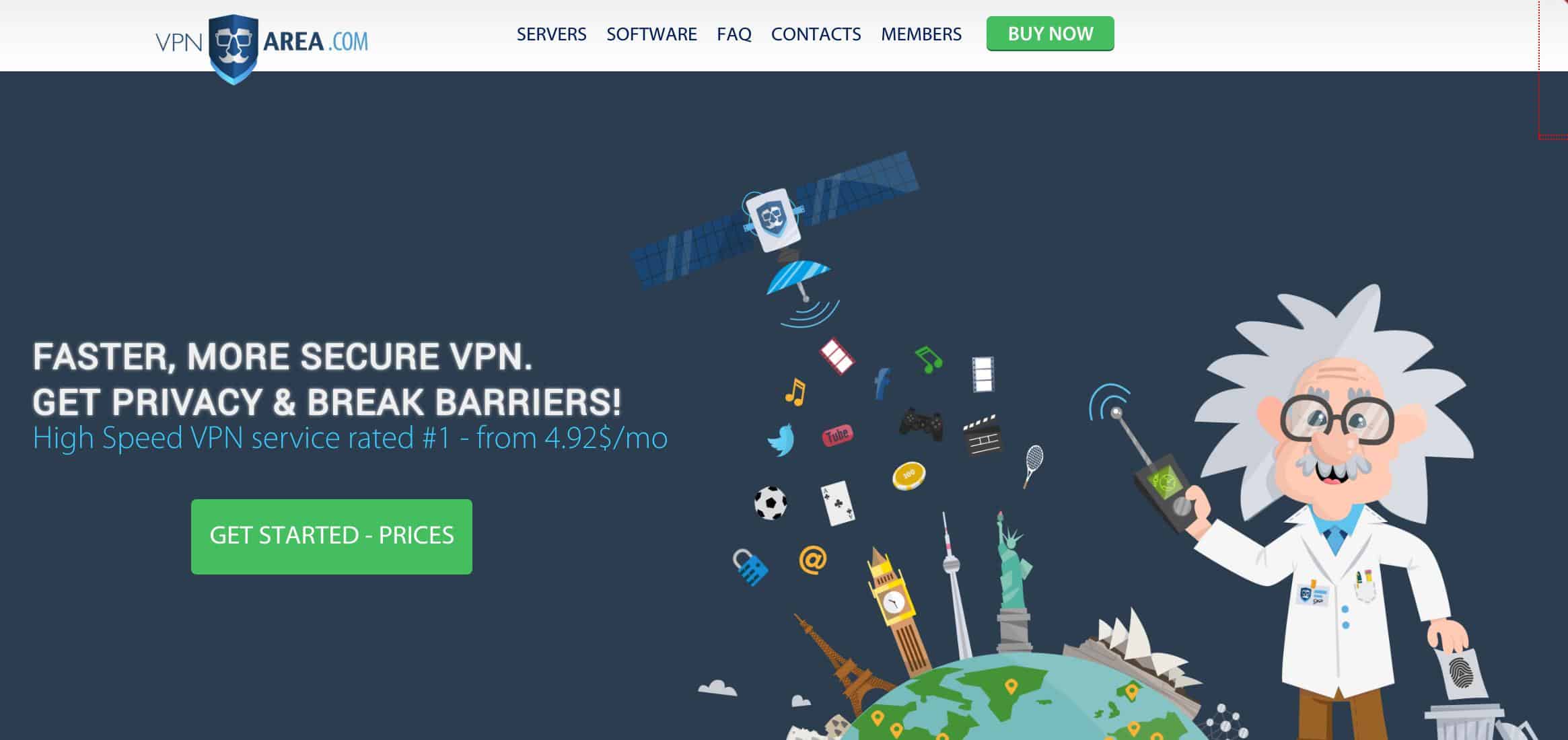 VPNArea is a small, Bulgarian based company that was founded in 2012 and owned by an off-shore company called Offshore Security EOOD.
According to their website, they have 212 servers in 68 countries. Their LinkedIn page shows 11-50 employees so it must be a legitimate software.
They claim themselves as "High-Speed VPN service rated #1".
Sounds a little too good to be true, but let's see how it works.
First, the basics.
What Does VPNArea Offer?
VPNArea prides itself on speed.
That includes their 200+ server network, which spans across 65+ different countries. The vast majority of which are located in the U.S. and Europe (with a few sprinkled around in Asia, South America, along with a couple in the Middle East and Africa).
When you compare that number to some other networks like ExpressVPN (1000+) or PIA (3000+), it's not very big. That can be a good thing or a bad thing depending on how you look at it.
VPNArea is quick to point out that their 'customer to server' ratio is among the best in the industry, which should translate to better performance and speed for everyone.
Specifically, they have one server dedicated for 250 customers, which results in a "13 times better members:server ratio" than their competitors. What does that mean?
In other words, they don't "oversell" their servers that end up just jeopardizing performance for everyone else. They keep a watchful eye on the number of customers they have relative to available servers. Instead of just jamming as many people as possible on their servers and jeopardizing performance for everyone else, they purposefully monitor each so you'll only have great performance experiences.
They also have a feature that will show you how many users are on a server currently. That even means you can search and select a server with zero users to ensure the best results possible. (In addition, you can search by speed too if that's the primary concern at the time.)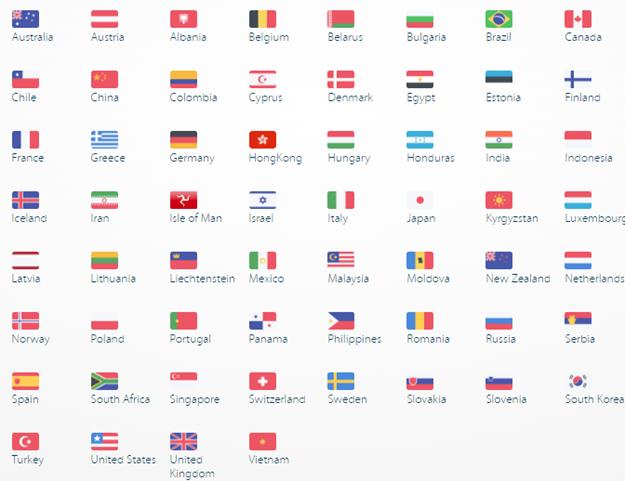 VPNArea has applications available for every single major device, including Windows, Mac, Android, and iOS. You can connect up to five different devices at a single time.
You should have unlimited access when using these devices, because there's absolutely no throttling, downloading, or other restrictions.
If your VPN connection suddenly dropped and disconnected, there's a kill switch feature that will protect against your IP address popping up all of a sudden.
There's also an "Auto IP Changer" feature that will automatically switch your IP address however often you'd like (often down to minutes).
And on top of that handy feature, is an "Anti DNS Leak". Here's how it works.
Whether you like it or not, internet providers can still gain access to see which domain names you're visiting (even when your VPN connection is running). The reason comes down to how your devices will use DNS servers of your internet service provider to change hostnames into IP addresses (when accessing).
So this Anti-DNS Leak feature will allow you to go into your DNS servers and select different ones based on available countries.
If you've already read enough to like what you see, VPNArea offers a 7-day money back guarantee.
You can also have 6 simultaneous connection (which is more than the industry average – 4 simultaneous connection).
VPNArea Pros
1. They use OpenVPN and it comes with many perks
VPNArea's primary VPN client is called Chameleon, which is an OpenVPN-based program.
While they do support a few other protocol options, they don't recommend them. Here's why.
OpenVPN is the 'industry-standard' protocol, relying on the rock-solid SSL encryption that's used by SSL certificates to lock down all major websites you use on a daily basis. There are currently no known security vulnerabilities and it's standard encryption algorithms (more on that in the next section below) are among the best in the business.
Now compare that to other protocols, like PPTP, which only feature the most primitive (if any) security encryption. So while they might do the trick for bypassing or re-routing IP addresses to change your 'visible' location, they still pose a tremendous risk for anyone worried about their session data getting hijacked.
That extends to popular cloud-based, file management services like Dropbox or Google Drive. These don't require you to login each and every time you want to sync what's on your device and what's in the cloud. Instead, you have a "synchronization token" which will keep an open connection between the two. The problem, is that if someone gets their hands on this sync token, they can automatically intercept every single thing being passed through the connection. As well as inject malware and cause all forms of havoc.
There are also known issues with options like WebRTC and IPv6, which could inadvertently unmask your true IP address (even when connected to a VPN).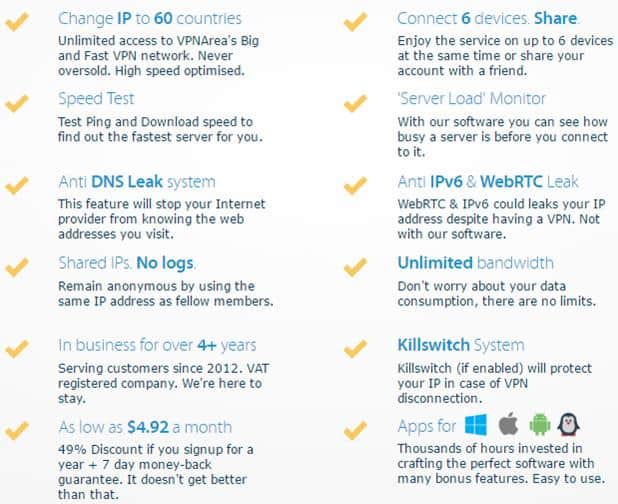 2. VPNArea has a solid 256-bit encryption by default
Every reliable VPN uses 256-bit encryption by default. Private Internet Access also offers 126-bit encryption (optionally).
In short, 256-bit encryption is used by top governments around the world. And it'll make sure your VPN connection is safe and secure.
That number (256) refers to the level of strength and required combinations to eventual unlock the encryption.
In short, it's basically brute-force proof.
3. VPNArea does not keep log files
VPNArea couldn't even keep logs if they wanted to (which they don't).
Their Bulgaria-based location means a strict "No Logs" law. And their day-to-day servers and emails are headquartered in the beautiful and notoriously secretive Switzerland.
Some VPN providers will keep logs of basic activities for a temporary amount of time in order to better improve the service. For example, they'll track how many people are using the service over the course of the thirty days and monitor when people are logging in or out.
But VPNArea takes extreme precautions here.
In addition, some of their plans will offer a dedicated, shared IP address that's used for all members, so that your individual actions will be indistinguishable from all other users.
4. VPNArea is somewhat affordable ($4.92/mo)
VPNArea's plans are mostly the same.
The primary difference comes down to plan length; so you can get discounts when opting for a longer commitment of six months to one year.
But there's also one disadvantage that their true 'monthly' plan has: no dedicated IP option.
That means if you don't want to prepay for a few months, you won't get access to their shared IP that is spread across all users to hide or mask your actions.
Here's a complete breakdown of the pricing table: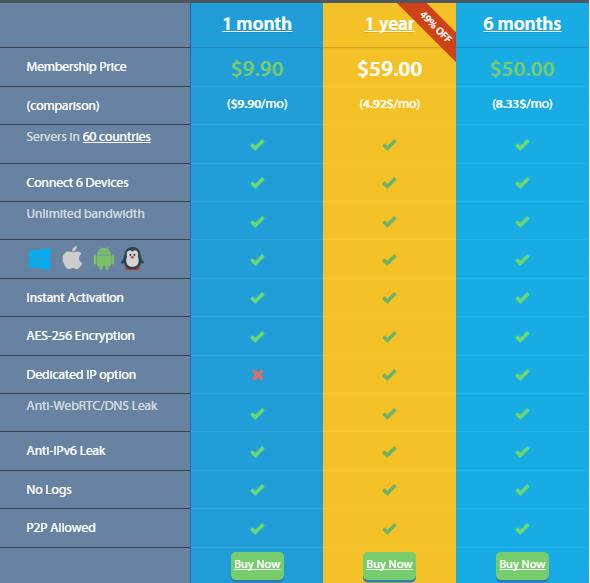 Plan One:
1 month= $9.90/mo
All features except Dedicated IP option
Plan Two:
1 year=$4.92/mo
$59.00/year
All features included
Plan Three:
6 months=$8.33/mo
$50.00/ 6 months
All features included
5. VPNArea works with Netflix (and they some-what allow torrenting)
One of my ranking criteria is the possibility to use Netflix and use the VPN software for torrenting.After my second try, I managed to get into Netflix and they do allow torrenting as well, but with limited options.
Here's a list of which servers are OK for torrenting in the eyes of a VPNArea (https://vpnarea.com/forum/thread/which-servers-allow-torrents-and-which-dont/)
VPNArea Cons
1. Customer support (be cautious)
First off, they don't offer Live Chat.
It's not something huge, they still have customer support – you can submit a ticket and when they have time, they'll respond to you.
However, in most cases you will not get instant help from VPNArea. It took them 16 hours to reply me which should be faster. After all, I'm a paying customer, right?
Their admin dashboard is also little quirky – it's difficult to change/reset passwords. For that, I had to contact them – eventually they fixed it, but nevertheless it was a headache that I didn't want to have.
2. VPNArea speed: 39% slower than competitors
To make this review accurate, I went ahead, connected to one of their servers and opened speedtest.net
While performing the test, I used a 100 Mbps Internet connection.
After connecting to EU, US and ASIA servers, I found out that VPNArea is kinda slow.

US Server (New York)
Ping: 114ms
Download: 10.05 Mbps
Upload: 7.18 Mbps
EU Server (Amsterdam)
Ping: 42ms
Download: 47.36 Mbps
Upload: 23.81 Mbps
Asia Server (Hong Kong)
Ping: 366ms
Download: 6.99 Mbps
Upload: 2.63 Mbps
While their EU speed was OK, the US download and upload speeds were too slow. This software throttled my Internet speed by more than 80%.
In short, it was slow compared with other top VPNs.
3. Their app looks outdated
If I can rate this software, I'd rate it 5/10.
Why?
It looks so outdated and slow. It's not smooth at all. In many cases, I ended up not connecting to a server I wanted to. It's annoying, especially when you've paid for the product. You expect to see something good, right?
Take a look at this image – doesn't look very appealing.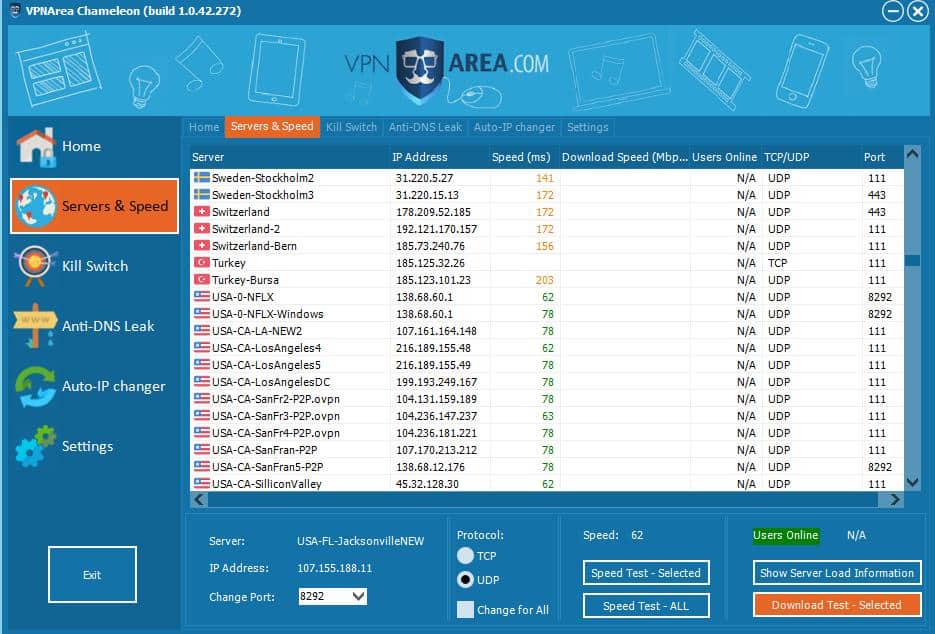 I haven't tested their iOS and Android apps, so they might do better in these areas.
Do I recommend VPNArea?
There's a lot to like about VPNArea. They offer all major protocols, along with the best encryption methods money can buy.
They also boast about the best 'server to customer' ratio, which means you should be able to see great performance without trying to jump on servers that are already jam-packed with tons of other people.
They're also currently running some pricing promotions that put them at the lower end of the market.
While their VPN client interface is a little clunky and not as sexy as some other options from ExpressVPN, I did like a lot of the features it packed, like a built-in speed test, kill switch, anti-DNS leak, and auto-IP changer. All of these options are readily available from the primary screen at the push of a button. So no digging or guessing required.
However, there are three major cons –
They're a bit slow for serious use. If you're planning to use this

VPN for torrenting

or Netflix – their performance will drag you down.
In addition to that, they don't allow torrenting on ALL of their servers. So be sure to double-check their TOS before torrenting.
Their software isn't user-friendly.
Unsure if VPNArea is right for you? Take a look at the best VPNs in 2018.
Add your own VPNArea review
12 user reviews for VPNArea
Dan 1/10 November 26, 2017
VPNArea not recommended for iOS
I've used VPNArea for 4 months on an iPhone. Since updating to iOS 11, it's practically unusable. My connection drops many times a day, the speed is slow, and some servers kill the WiFi connection forcing me to use LTE. Also for iOS users, switching DNS servers is a lengthy process that makes me feel like I'm doing VPNArea's job for them. Not recommended.
David 3/10 November 23, 2017
Clunky Payment System, Spotty Customer Service
I have been a VPNArea user for more than two years, and with fairly good success. Whenever I had software issues, tech support was excellent. As time passed, I am seeing their server speeds are dropping, dramatically. Still, I decided to renew. Their payment system kept crashing, three times in a row. I contacted customer support @ sales@vpnarea.com, three days ago, and still zero response. Therefore, it would appear as though VPNArea and I must go our separate ways.
Antonio 1/10 November 15, 2017
Run!
Run away from this service. Horrible support, horrible speed, etc
100mb/sec without Vpnarea
8mb/sec with Vpnarea
Bruce 1/10 October 23, 2017
Unreliable server connections
Been using VPNArea for about 3 months. At least once a day, and often more often my connection to my chosen server is dropped and it will not connect for an hour or more. Choosing a different server sometimes fixes the problem, but often times not. Pretty frustrating.
I'll be looking for something better.
Alessandro 8/10 October 19, 2017
Good to use in Italy
I had this VPN some months ago. I live in Italy and it's difficult to find a Worldwide service like this with NINE server in my country. Also is not "filtered" by major companies, it's fast and always working; the software is easy to use and very light.
I can absolutely recommend it.
Ron 2/10 August 30, 2017
Terrible speed and not working with Netflix
I bought this to watch Netflix from the US and while it does work it's horribly slow. I'm talking constant buffering and then very poor quality even on an iPad. Wouldn't recommend at all.
churchill-ash 6/10 June 23, 2017
Fast and reliable, smartest customer support I ever came across
I have quite the opposite experience speed-wise. I've used expressvpn and nordvpn before and they don't come close to what I reach with VPNArea on speedtest and downloads
Zack at livechat went out of his way to fix my elaborate network setup so that all my gear has VPN connection. Probably spent 2 hours with me on teamviewer and phone, live chat was readily available when i needed it. Had a good understanding of networks and Linux. 10/10
marty 10/10 June 12, 2017
Works for me
I've been using VPNarea for almost a year and it's been nothing but good to me. Slow, you say? Not for me. Hard to connect, you say? Not for me. My one year membership is coming to a close and you can bet I'll be re-upping. Not even a hesitation.
Glenn 5/10 June 2, 2017
It works, but nothing special
I was referred to VPNArea from another review site and decided to give them ago. Unfortunately, the product wasn't any good. Here's why:
– It takes a lot of time to connect to certain servers (I asked support about this, but never got any solid reply)
– The software itself looks like it's been made in 2010 (lacks of UI and UX)
Pros?
+ It's pretty cheap compared with many others
+ It actually works.
I'm not sure if I continue using it or move onto something more reliable, such as PIA..
Kenert 3/10 May 27, 2017
Not good
VPNArea is a really poor service. They admin area is pathetic to say the least. Recovering/Changing passwords requires a lot of back and fourth conversations with their support rep.
Also, after reading your review it seems like they're slow too. Based on that – I wouldn't recommend it.
Emmy 1/10 April 27, 2017
One of the worst online experiences.
Didn't reach the customer support for a week. Once I did, they didn't fix the issues that I had. I somehow paid twice for a monthly subscription and didn't get a refund. I wouldn't poke them with a stick, since their service stinks. I unsubscribed and went to another provider which fills my VPN needs. If I had to rate my experience with VPNArea, I'd rate it 0/10.
marsillesailor 7/10 April 2, 2017
fast and cheap
I hit 80-90% of my original speed with uTorrent, had to try more than 1 server to find the best speed but is faster than ExpressVPN & NordVPN. I changed expressVPN with VPNarea cos VPNArea works with netflix is cheap and account sharing is ok.
Quite happy overall!