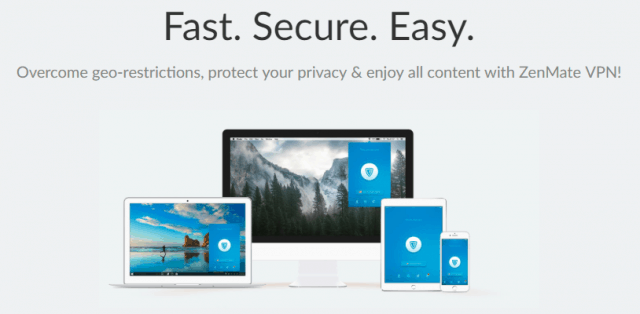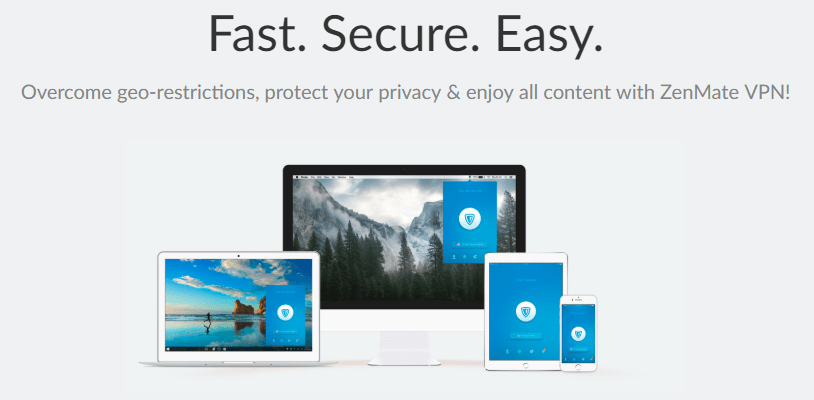 ZenMate offers both VPN subscription as well as a free proxy via Chrome extensions.
They claim to have over 40 million users while their server network is only in 30+ countries and they have less than 50 servers.
What's more, they only use 128-bit AES encryption through IPSec protocol (OpenVPN does not default).
This could ultimately be the reason behind their slow speed/performance.
But does ZenMate meet its lofty promise – to overcome geo-restriction and protect your privacy?
Find out in this review…
General Information
| | |
| --- | --- |
| OVERALL RANK | 63/74 |
| USABILITY | 0/5 |
| ENCRYPTION | 128-Bit AES |
| VPN PROTOCOLS | IPSec IKEv2 & L2TP/IPSec |
| SPEED | 23/74 |
| NETFLIX | 2/5 Servers Unblock Netflix |
| TORRENTING | No Torrenting Allowed |
| LOG FILES/JURISDICTION | Logs Original IP, Germany (14 Eyes) |
| SUPPORT | Contact Form, Copy and Paste Response |
| COST | $5.99/Month for One Year |
ZenMate Pros +
Any VPN with a free option is definitely worth a closer look.
Their speed is slightly better than average, with excellent download speeds coming out of European servers in particular.
It worked with Netflix, and it employs secure encryption with a few different tunneling protocols.
All that, plus torrenting on their paid servers and a kill switch to add an extra layer of protection round out a nice list of positive features.
1. Safe Encryption, Strong Protocols
When looking at a VPN, there are two factors which add to overall security:
Tunneling protocols, and
Encryption
Your VPN protocol is what tunnels your signal around the world. It's how you get from Point A to Point B.
There are many different VPN tunneling protocols in use today, some far better than others.
For Mac users, ZenMate uses IPSec and IKEv2 protocols. This is a stable and secure protocol that performs well. It's one of the fastest protocols out there and it's super easy to set up, so, awesome.
It does have limited platform support, though, and may be vulnerable to firewalls.
Windows users have access to IPSec and IKEv2 as well, with the added option of L2TP/IPSec.
While it's nice to have options, IKEv2 is definitely preferable provided your system can handle it.
L2TP/IPSec is available on a wider range of devices, but it's much slower and security weaker.
For encryption, both of these protocols support AES, which is used by fortune 500 companies and the federal government alike. It's powerful and secure.
These protocols can run both AES 128 and 256. While 256 is stronger, ZetMate repeatedly states that they believe the 128 is more effective.

They claim that the 256-bit AES used by government agencies is overkill on the individual level, and not worth the added cost. (It also makes it a little faster.)
Still strong enough to land it under the Pros.
2. Speed Loss is Within Acceptable Levels
There are VPNs which slow your internet speed to a screeching halt, and there are some which cause a hardly noticeable shift.
But make no mistake:
All VPNs will slow you down, at least a little bit.
So where does ZenMate fall between the atrociously slow and the moderately decreased?
Somewhere in the middle.
We test the speed of every VPN we review in the same way.
We connect to a server in the EU, and one in the US. We measure the loss against our benchmark speeds and decide if it's acceptable for the level of protection we're receiving.
The EU test saw a strong download speed, with the upload falling more into the average range than we usually like to see.

EU Speed Test
Ping: 39 ms
Download: 63.44 Mbps (34.5% Slower Than 97 Mbps Benchmark)
Upload: 12.81 Mbps (75.8% Slower Than 53 Mbps Benchmark)
The US server that we tested fared about the same, except upload speeds plummeted to unacceptable levels.
US Speed Test
Ping: 204 ms
Download: 57.03 Mbps (41.2% Slower Than 97 Mbps Benchmark)
Upload: 2.98 Mbps (94.3% Slower Than 53 Mbps Benchmark)
So, while we consider these speeds to be in the pro column, it was a close decision.
Out of the 74 VPNs we've tested, we rank ZenMate #23 in terms of speed.
3. Works With Netflix
Have you ever cursed at this screen?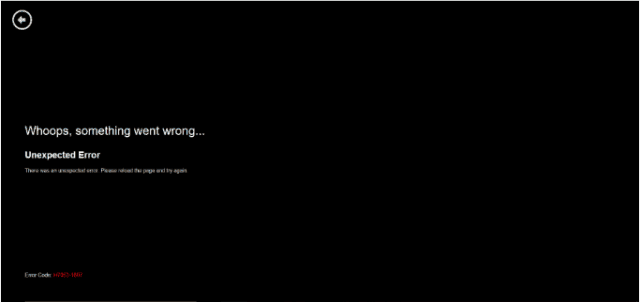 That error code is the bane of a VPN user's existence.
It's a Netflix error blocking access to their service for using a VPN. Why do they do this? Because Netflix doesn't want you duping its system.
Netflix's content is geo-locked, so different areas have different television shows and movies to choose from.
VPNs used to have no issue with this, but now only a select few still work with the world's number one streaming service.
Some VPNs have the ability to break through Netflix's countermeasures, though it usually takes some server hopping.
We tested five of ZenMate's servers and two of them managed to work with Netflix. It might be worth noting that both of those servers were located within the US.
Because of this, ZenMate made it onto our list of VPNs that work with Netflix.
4. Sizable Server Park and Kill Switch
This VPN has a number of features that I like.
Among them is a server park which has grown exponentially in recent years.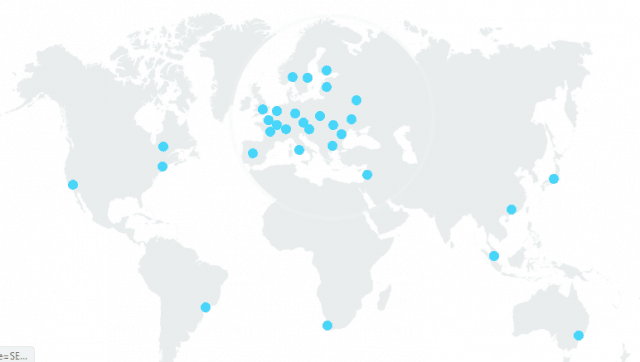 According to the main page of their website, they have 297 servers located in 31 different countries. That's pretty impressive, considering a year ago they barely had 40.
Good job, ZenMate. Keep it going.
They're big into the bypassing of censorship, which is especially helpful if you're using their service in a country that restricts internet use.
They allow five connections per account, which is pretty similar to most VPNs we've reviewed.
One of my favorite ZenMate features is its built-in kill switch. This is an added layer of protection that will abruptly end your session if your signal becomes unsecured. This has become a common feature of most of the best VPNs that we review.
5. No Viruses found
We always check our VPNs for viruses, scanning the program in search of 66 different ailments which could be betraying system security.
ZenMate received a clean bill of health.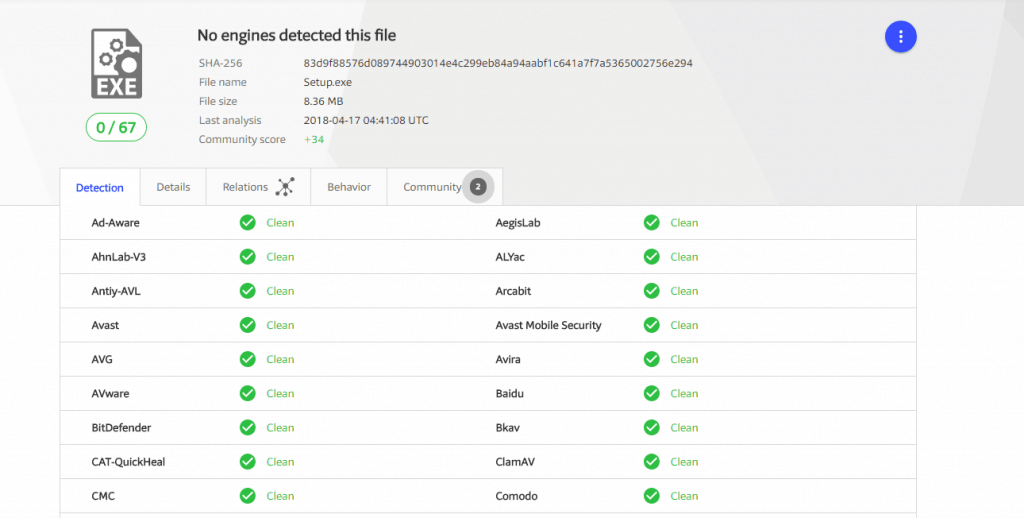 ZenMate Cons –
While there's much to love about this VPN provider, there's still quite a bit to be nervous about.
Unclear logging policies and a jurisdiction placing it right in the crosshairs of a multi-nation surveillance alliance make me antsy.
On top of that, their customer support leaves much to be desired, consisting of a well-hidden contact form with less than stellar responses.
Let's dive into the other side.
1. Logs Your Original IP Address
Logging flies in the very face of what a VPN is supposed to do.
ZenMate claims that they don't log or hold onto any of your activity or data.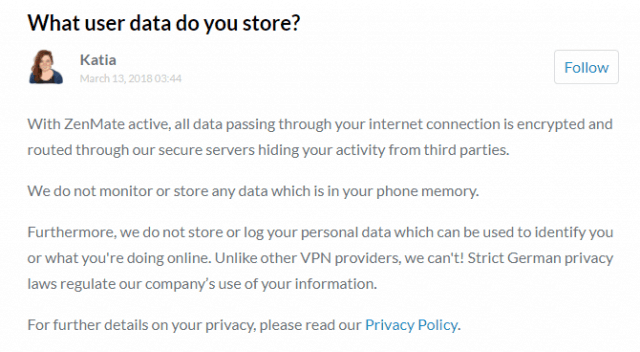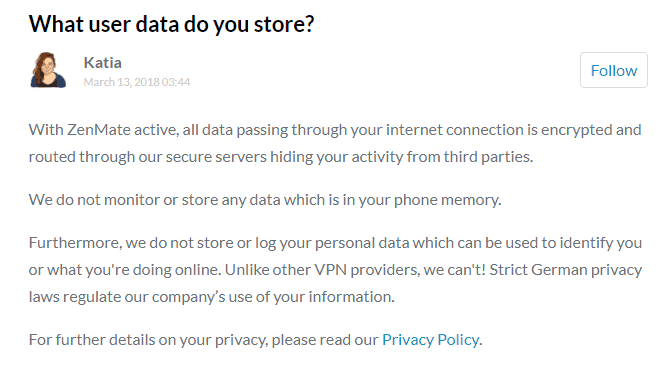 ZenMate says in their official privacy policy, "Our objective is that no personal data is collected, processed or permanently stored."
Digging a little deeper, I found some more information.

Collecting information about my browser and operating system are not a violation of my privacy. It's not identifying information, so I'm good with this.

Whoa.
Back up.
They're logging my original IP address, assigned by my ISP?
That's identifying information that they're saying in the same breath can and will be handed over in the event of "a statutory obligation."
Your IP address can be traced back to your ISP. The ISP can then identify you based on that information. So how anonymous is this service?
2. Located in Germany (Within 14 Eyes Jurisdiction)
ZenMate's German location falls under the scope of the 14 Eyes surveillance alliance.
14 Eyes is an agreement between Germany and 13 other nations to share information gathered through espionage.
Members of the 14 Eyes alliance include:
Germany
The United States
The United Kingdom
Australia
New Zealand
Canada
Denmark
France
Norway
The Netherlands
Belgium
Italy
Spain
Sweden
That's a decent chunk of the civilized world.
How secure is "secure" when 14 different governments can have their hands in your information?
3. IP Leaks Detected
DNS and WebRTC leaks can completely unravel a VPNs ability to protect your information.
Whether it's a DNS server ignoring your VPN tunnel or WebRTC APIs undoing your security, the end result is the same.
Your original IP is out for the world to see.
We take leaks seriously. Even one leak is enough to de-anonymize your activity. And most leaks pass completely undetected, so you would never even know that you were exposed.
We put ZenMate through six thorough tests, checking for DNS and WebRTC leaks.
We found some.
Out of six tests, ZenMate only failed one, but even one failure is enough to put a VPN's safety into question.
https://ipleak.net/ –

Passed
https://www.perfect-privacy.com/check-ip –

Passed
https://ipx.ac/run –

Passed
https://browserleaks.com/webrtc –

Passed
https://www.perfect-privacy.com/dns-leaktest/ –

Passed
https://dnsleak.com –

Failed
As you can see, that's a major issue.
4. Limited Device Support
I believe that a modern VPN should be versatile. Desktop and mobile functionality are a given at this point, but a VPN that truly goes above and beyond is one that connects to smart devices and gaming consoles.
That's an area where ZenMate falls woefully short.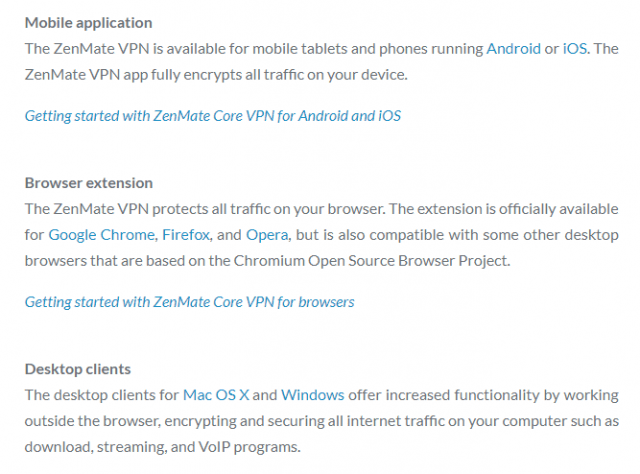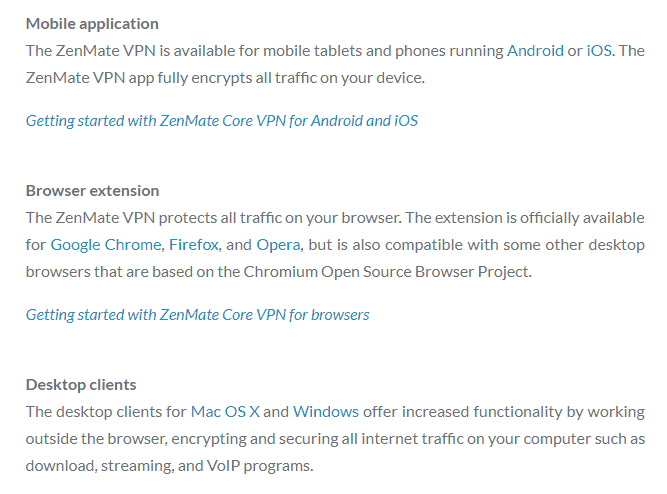 ZenMate is usable through web browsers, desktop computers, and mobile platforms. It has no functionality whatsoever for smart devices that connect to a television.
You can use ZenMate with Windows, Mac, iOS, Android, and on the Chrome, Firefox, and Opera browsers.
Unfortunately, they don't provide built-in configurations for routers just yet. But it's reportedly "coming soon." So you can also rule out encrypting smart TVs and gaming consoles for the time being, too.
But while that's an impressive lineup, I demand more from a VPN in 2018.
5. Buggy, Crashing, and Wouldn't Start
I attempted to use ZenMate for Windows.
Please note the word "attempt."
When I first clicked the download link on their website, I was shocked at how fast it loaded onto my laptop. It was downloaded and opened within 10 seconds.
Then, my astonishment turned to frustration very quickly.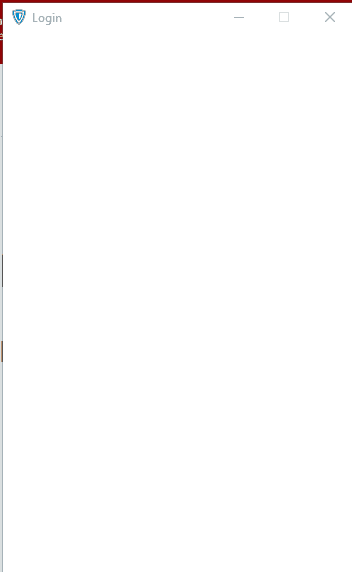 That blank white screen was all I got. If I moved the mouse over where login fields should be I got a cursor, so this was clearly just an issue with the program.
I minimized the window and opened it back up.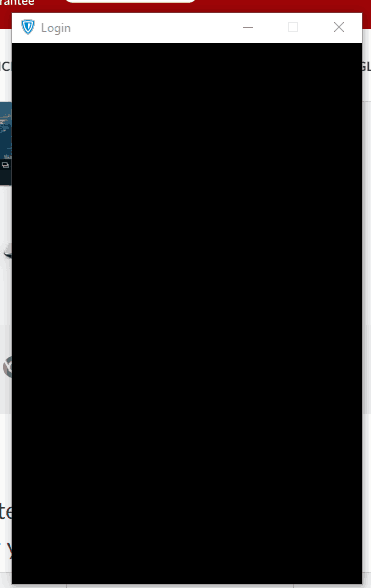 The blank white screen turned into a blank black screen.
I stopped banging my head on my desk, took an ibuprofen, and reached out to their customer support department.
I received an email back the following morning.

This was irritating as it is clearly a 'copy and paste' response. I had already sent them the two screenshots with my ticket submission, so it seems like my initial request for help was barely read.
If I were a consumer and not a reviewer, I would have uninstalled their program immediately and moved on with my life.
Instead, since I love my job, I answered their questions and sent them the screenshots for a second time.
As of this time, I have still not heard back.
6. Hidden Support Form, Copy and Paste Answers
ZenMate uses a contact form for their customer support tickets. You have to really want help in order to use it though, as they try to make it as inconvenient as possible.
First, you click on the support link at the top of the page.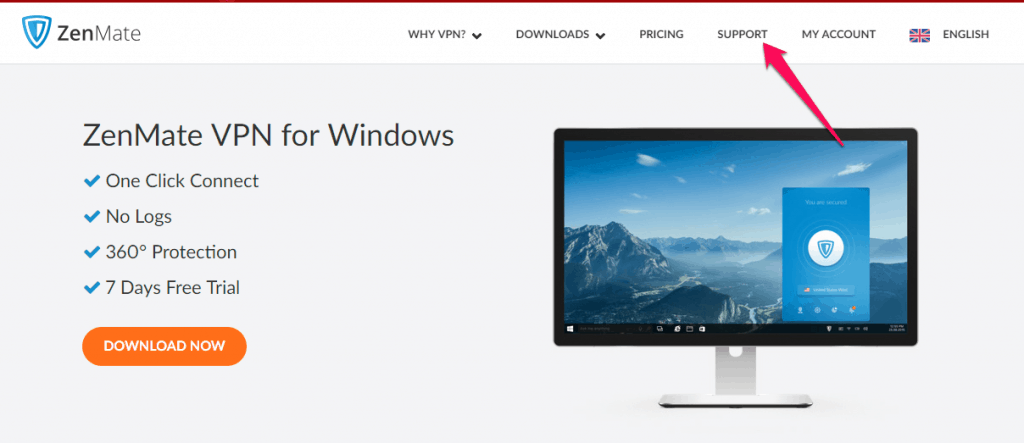 Then, once you're on the actual page, the link to get to the contact form itself is buried at the bottom and is clearly not meant to stand out.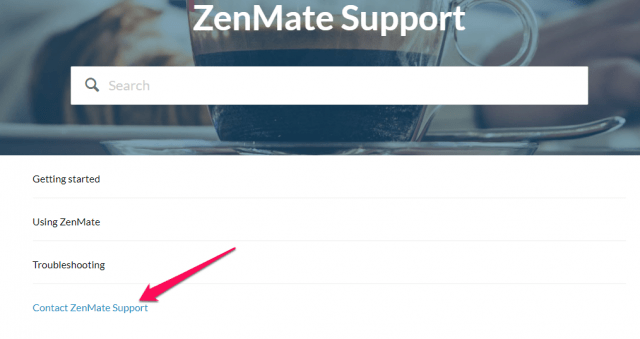 So, right away I have this sinking suspicion that this company does not want to hear from people.
I asked two questions, one about their VPN protocols and encryption, and another about torrenting services and use of the TOR network.
I received a response less than 24 hours later.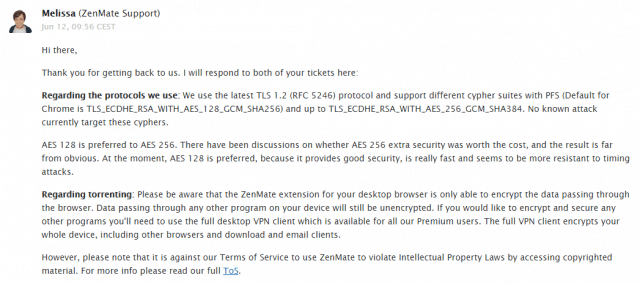 At first glance, these questions seem to be lengthy and informative, but they're just copy and paste from the website. What's more, their answer about VPN protocols contradicts what was on their site about the Windows Desktop client.
They offered the most-vague and noncommittal response ever to my question about torrenting, and they don't address the TOR network at all.
Epic failure.
7. No Torrenting Allowed
ZenMate's official torrenting stance is a little vague.
They do, however, say something in their terms of service that sounds something an awful lot like torrenting:

Torrenting utilizes peer to peer communication to download small bits of large files from multiple people. There's danger associated with this, of course. You're letting strangers into your system.
That's why most torrenters like to use a VPN as an extra layer of armor between their private information and cybercriminals who want to loot and plunder their system.
We followed up with customer support about this very issue, and received the following response:

You can safely conclude that no torrenting is allowed.
ZenMate VPN Costs, Plans, & Payment Methods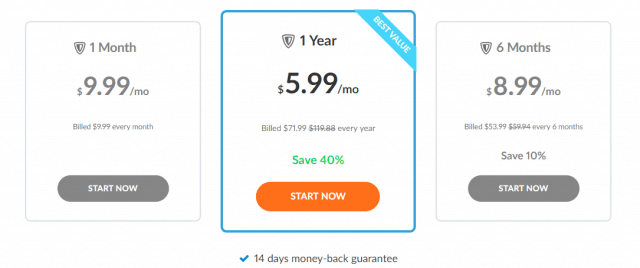 There are three tiers to ZenMate, the first being a free option.
Like most free services, it's quite limited. You've got TLS encryption, their firewall services, browser extensions, and servers located in Germany, Hong Kong, The United States, and Romania.
But since the free service is limited only to the browser extensions, it's a proxy and not a full VPN. It encrypts the data passing through the browser, but not through other services on your computer.
So, if you're using something like uTorrent, you're exposed.
To access the full VPN, you have to pay.
The Premium package comes with the full desktop VPN client for Windows or Mac, the fastest speeds, the use of almost 300 servers in 31 countries, Malware blocking, and tracking protection.
It is priced at $9.99 per month on a month to month basis, which is on par with what most VPNs are charging for no commitment. For a six month plan, you're saving a dollar and paying $8.99 per month. If you want to use it for a whole year, the price drops down to a more reasonable $5.99 per month.
The Ultimate Package includes everything you get with the premium, plus a streaming guarantee.


They're running a promotion where you actually pay a few cents less per month for the ultimate with the month-to-month and six-month plans, but if you look at the fine print underneath you'll see that the price shoots up after the first billing period.
So after one month at $9.74, you'll find yourself paying $12.99 thereafter. That's a hefty price jump for one extra service.
All paid plans come with a 14-day money back guarantee, which is great. I love to see companies standing behind the performance of their product.
As far as payment options go, you have a few choices.
You can use PayPal, credit card, Union Pay, or Qiwi Wallet.
I was sad to see no cryptocurrency option, such as BitCoin. That's usually a great perk for those seeking additional anonymity.
Do I Recommend ZenMate?
I don't recommend you to buy their service.
You'd be much better off with ExpressVPN (which start at $6.67/mo).
Don't get me wrong, I like the speed and the encryption/protocols, despite their insistence on not using AES-258. Working with Netflix is great and it has some beneficial features, including the kill switch.
But…
The fact that it's logging my original IP address and is located within the jurisdiction of a surveillance alliance makes me nervous.
The leaks we found were worrisome. If I'm using a device for security I need to know that it's bulletproof.
Also, I want to use my VPN across multiple devices. The industry has grown beyond just computers and mobile.
My hands-on test was an utter disaster, and I couldn't get the program to work. That solidified my recommendation.
Had the copy and paste customer service team actually walked me through the issue I was having, I would have been more forgiving. But they clearly only skimmed my questions and offered the most basic non-personalized responses they could muster.
Out of the 74 VPNs we've reviewed, we rank ZenMate at number 63. It missed our bottom 10 by one slot.
Add your own ZenMate VPN review
4 user reviews for ZenMate VPN
Chris Hardaker 10/10 August 22, 2018
Sorry about Windows
I am the V.P. of Product at ZenMate (ZenGuard is the parent company).
I am truly sorry that you had problems with the Windows client. We would love to work with you on trying to find the fault. Normally Windows, although problematic at times, works perfectly. Almost all of our Windows users are happy, but yes, we do have the occasional problem. We work hard on trying to clear every fault and our Windows development team will see if they can replicate this problem.
With regards to some of your comments.....
"Copy and Paste" - With over 40 million accounts in existence, you can imagine the number of times we are asked these questions. Therefore, yes, our support team has a batch of macros where they can add answers that are pre-written. If they had to write out the answers for every user, we would need to quadruple the team size and increase prices.
Yes, we do record your IP Address. However, this is not a risk for our customers. As with any business, we like to measure the performance of our website, and this includes our dashboard where most of the service control is. As such, we use standard tools like GA to monitor this. At no time is your IP Address attached to your user account, and as we do not record any usage information, the best we can say is "yes, this email address has an account. Yes, this IP Address did visit our site. No, I cannot tell you if that is the same person. No, I cannot tell you if they ever actually used our service."
With regards to Torrenting, our standard answer is the we do not condone copyright infringement. However, we also note that P2P networking is not illegal in most countries. Personally, Linux distribution via P2P is a legitimate use of the technology and they is how I get most of my distributions. As such, P2P systems do work through us, as long as you use the desktop client and not the browser client.
I hope that clears up those issues. If not, please feel free to email me and I would be happy to answer any further questions.
Kind regards
Chris Hardaker
V.P. Product
ZenMate
Bruno 7/10 December 9, 2017
Free version gets the job done.
While using the free version of Zenmate, I can't say it's bad. It's actually pretty decent, offering an easy to use interface with 4 different servers to use from. It helps with routing issues to different platforms, which is mainly why I use it. With that said, latency is often quite high while browsing, it being Zenmate's biggest fault.
Laurie Richings 4/10 November 14, 2017
A relative long term user but now disenchanted with Zenmate
I have used Zenmate for about four years on my MacBook Pro up to  High Sierra version 10.13.1. Up to early November, I have been quite satisfied with the product and support and I have been happy to pay the annual subscription.
I now cannot use my computer using Opera, my normal browser, and in order to report my problems to Zenmate I have had to resort to using a Win 10 machine just to provide details and screenshots.
I have not been able to get a human to contact me on how to resolve my difficulties, just a series of Bot responses asking for more information.
In the past, if the problem was not getting resolved, Zenmate support would take over my machine and get to the bottom of the issue.
David 10/10 October 27, 2017
Zenmate against government censure
When my country, the Netherlands, started censoring the Pirate Bay in an attempt to curb online piracy, I wasn't quite the happy camper. I used the website quite often for products not marketed towards my country, and books no longer in print.
Thankfully Zenmate's free browser plugin for Google Chrome was quickly found, and could conveniently route my internet traffic through the United States so I could still get my reading fix, and I've never had an issue with it.