AirVPN was founded in 2010 in Italy. The full company name is Air di Paolo Brini c.a.
AirVPN's tagline is "the air to breathe the real internet."
The name makes this VPN seem like a breeze to use. But is it? And what about speeds and encryption?
In this AirVPN review, I'll be finding the answers to these questions and more.
I'll also be defining the pros and cons of the service, ultimately determining whether or not this VPN is a good choice for a private, fast, secure VPN that you can count on. But first, let's look at who AirVPN is as a company to get some background on their brand.
AirVPN Background
Upon first visiting the AirVPN website, I noticed that they were using a clean, blue theme and clods as their company logo.
This all ties in with their name and shows that they really care about their brand's image.
The site was pretty simple to navigate through, too.
Here's what the homepage of AirVPN looks like: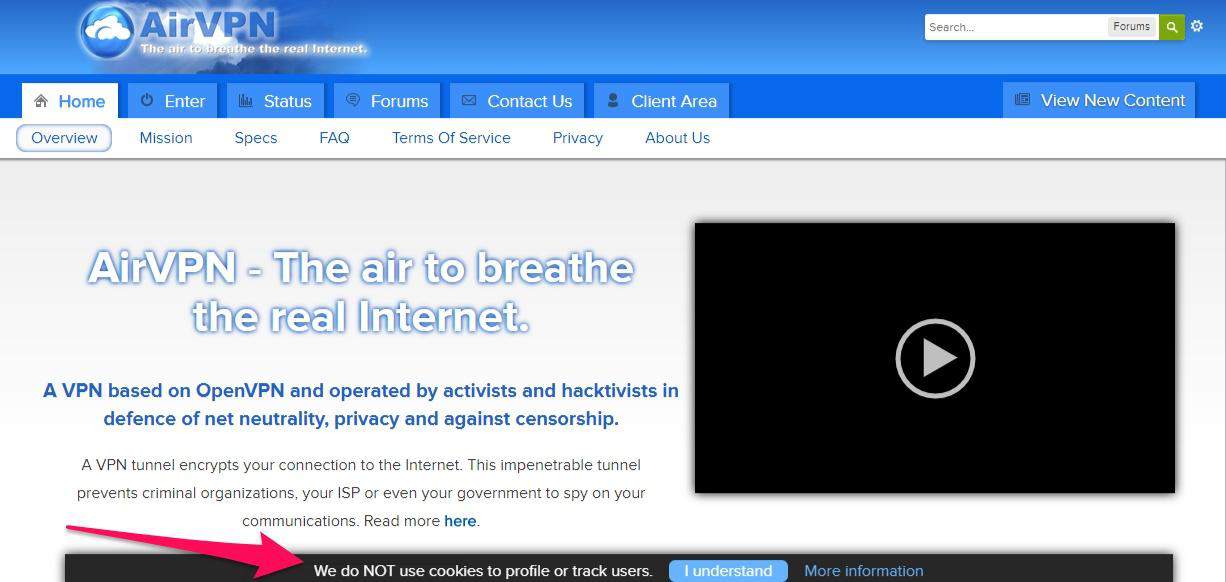 I really loved that the company had a video listed right on their homepage explaining how their service works, too.
Here's what AirVPN says about themselves on their website:
"A VPN based on OpenVPN and operated by activists and hacktivists in defense of net neutrality, privacy, and against censorship."
It's interesting that the company is operated by "hacktivists," and makes me wonder how secure their logging policy and encryption really is.
If the company wants to defend net neutrality and privacy, do they still sell logs to third parties like many other VPN providers? Or is their privacy policy as difficult to understand as most VPN providers, too?
And what about their server speeds?
I'll be laying out the results of my own speed test on AirVPN servers in the pros and cons section.
Before we get to that, though, let's go over what other people seem to think about AirVPN.
I found tons of praise for the service on social media. Especially on Twitter.
People seem to love that the VPN is operated by hackers. It almost appears to make them trust the company more.
Just take a look at what Twitter user Brian McCleery had to say about AirVPN: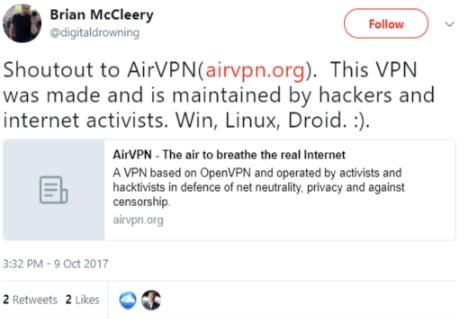 However, I also found some negative statements about the service, like this tweet, especially when it comes to speed and bandwidth.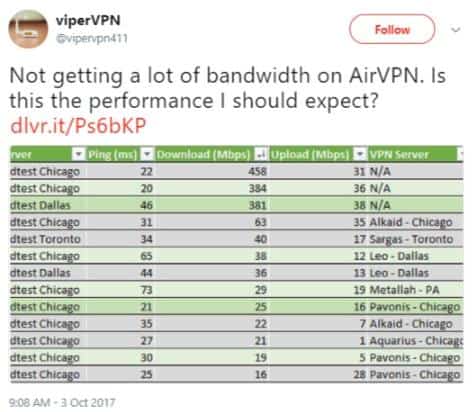 This made me curious to test out server speeds to see if I would have the same experience.
AirVPN responded to the tweet, saying:
"You can expect even higher throughout. Compare the "Top 10 Users" in our real-time servers monitor https://airvpn.org/status. Please feel free to open a ticket at your convenience."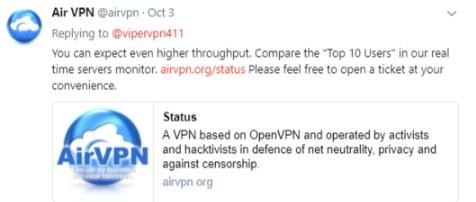 This response makes it seem like the company isn't interested in improving server speeds that are slow, but rather directing users to servers that already have fast speeds.
Italy is also not exactly an ideal location for a VPN provider. They're a member of the Fourteen Eyes spying alliance, which works closely with the GCHQ.
Italy also has a very strict policy when it comes to copyright laws. The country enforces the EU's Data Retention Directive, meaning that all Italian ISP's must record and save all data.
This means that billing information, website browsing history, emails, and more are recorded and saved by Italian ISPs.
Italian VPN providers also aren't required by law to keep any logs, though, meaning that AirVPN could definitely enforce a true no-logging policy.
Before we get into speeds and pricing, let's talk about AirVPN's features.
AirVPN Compatibility and Features
AirVPN boasts about its servers right on its homepage.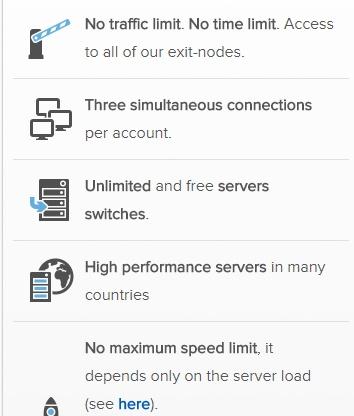 They claim to have no maximum speed limit, but they do explain that speeds depend on the server load.
With all plans, you can switch servers as many times as you want. Plus, you'll be able to access AirVPN from as many as three devices simultaneously.
They also offer access to their VPN from tons of different devices.

The VPN service supports the following devices and operating systems:
Windows
Linux
OS X
iOS
Android
Chrome
You can connect AirVPN to the following kinds of routers:
ASUS WRT models
DD-WRT
Tomato
This VPN provides 80 servers in 16 countries. That's among the lowest number of available servers compared to the other companies I've reviewed so far.
In fact, for a VPN provider founded in 2010, I expected them to offer a ton of server options. ExpressVPN offers thousands of servers in almost every single major city imaginable.
AirVPN offers a complete list of servers on their site: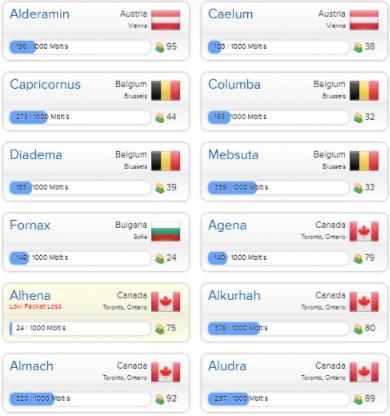 One of the neat things about their server lists is that they offer live information about how many people are currently connected to each server. So you can see if speeds are slower on any particular one due to the volume of total users connected.
This is a really helpful feature, and it's super transparent.
Unfortunately, they don't offer a traditional kill switch. But they do offer leak prevention, called "Network Lock," that prevents leaks that a kill switch can't block.
Kill switches are hugely instrumental when it comes to privacy and security.
If your internet connection ever becomes interrupted, kill switches terminate your current browsing session to keep your information and browsing history out of the hands of others.
I really wish that AirVPN offered a kill switch. However, the leak protection and firewall options they do provide are great.
How much will AirVPN actually set you back, though?
AirVPN Pricing Options
AirVPN offers a 3-day money-back guarantee. It's nice they offer it, so you have a short amount of time to test the service out.
However, this is among the least amount of time I've seen. Many other VPN providers will give you at least a few weeks, or even up to thirty full days to decide if you want to stick with them or not.
They also offer free trials of their service, which you can obtain by contacting the company.
AirVPN offers a three-day, one-month, three-month, six-month, and one year package.
Here's how they are broken down:
The three-day package is approximately $1.19.
Note that a free trial is available, so this might not be the greatest option.
The one-month package is approximately $8.30 per month.
This comes out to $99.60 per year. That's OK if you want to try their service out for a few weeks. However, it's too expensive to stick with for longer than a month or two.
The three-month package is approximately $17.78 total.
This is $5.93 per month, or $71.12 per year.
The six-month package is approximately $35.57 total.
This is $5.93 per month, or $71.14 per year.
The one year package is approximately $64.02 total.
This $5.34 per month, making it the best deal overall.
Here's how the company's pricing plans are broken down on their site:

They also have a graphic converting pricing into US dollars: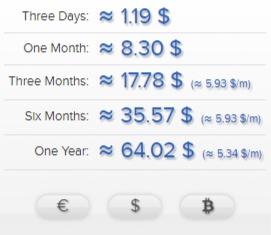 Payment methods include credit card, PayPal, BitCoin, and a gift voucher.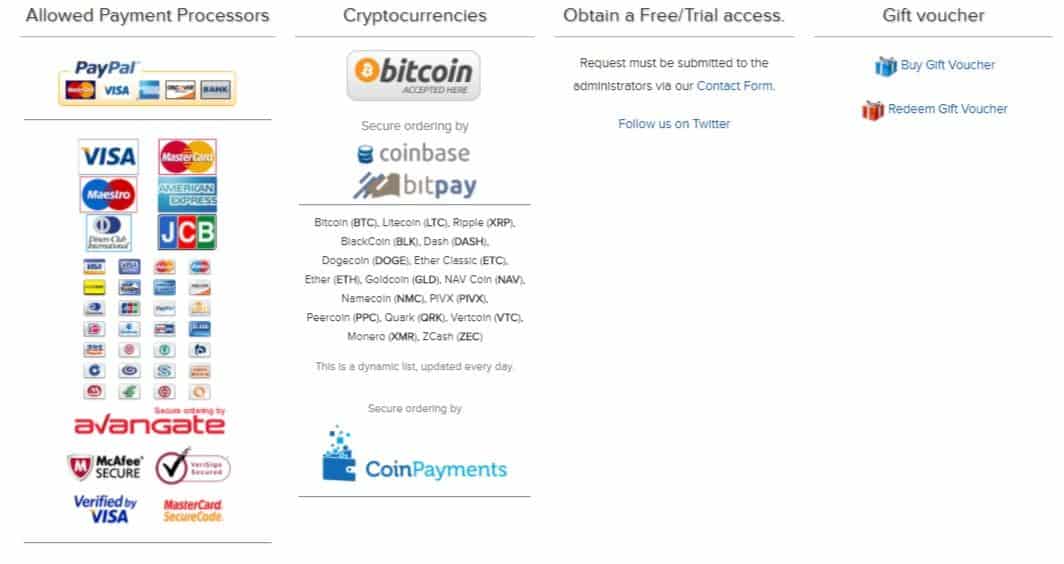 I would recommend trying out AirVPN through the free trial before committing to payment. If you like it and plan to use it for a long period of time, the yearly option is definitely the best value.
This VPN isn't as expensive as others on the market, and I like that you gain access to every available feature no matter the plan you select.
Plus, you can always get your money back three days after purchasing if there's something you don't like.
Now that we've covered AirVPN's features and pricing, let's talk about the pros and cons of their service.
AirVPN Pros
AirVPN has a lot to like. They're secure
Let's dive into what AirVPN is doing right, first.
1. It's safe and secure
AirVPN offers best-of-the-best encryption. So you're guaranteed to be protected when using their servers. Here's a quick recap of what they offer.
Is it Well Encrypted?
AirVPN offers 4096 bit RSA key size, AES-256-CBC encryption, and HMAC SHA1 Control Channel.

This is top-of-the-line security. Even a brute-force attack can't hack this level of encryption.
It's military-grade, used by the top security professionals in the world, so you don't have to worry about trusting your information to AirVPN's servers.
Is Torrenting Allowed?
Torrenting is allowed with AirVPN. That means you're able to combine the best privacy features with an extra layer of security while downloading content or software.
P.S. If you need VPN solely for torrenting, take a look at this comparison here.
2. Decent pricing
AirVPN's pricing is easy to understand, and it's very affordable.
The yearly plan is only $5.34 per month, too. That's not the cheapest I've seen, but it does still make AirVPN one of the most affordable options out there.
Plus, every feature is available with each kind of plan, which makes things simple and easy to understand.
3. A legitimately-private logging Policy
AirVPN claims to keep zero logs of your data.
And it looks like that claim is actually true. Unlike other VPNs, to be honest.
According to AirVPN's privacy policy, they don't even store cookies when you're connected to their network.
However, their website may collect cookies. Here's what the privacy policy says, exactly:

It also appears that they don't sell any information to third parties.
This privacy policy is a huge contrast to competitors, and I love that AirVPN is actually telling the truth when they say "no logging."
AirVPN Cons
There are tons of wonderful things about AirVPN.
Their encryption is top notch, the pricing is good, and their logging policy is among one of the better ones I've seen.
But there are also a few things about their service that could use an improvement.
Here's what I wish I could change about AirVPN.
1. Slow customer support
AirVPN doesn't offer live chat. They do have a ticketing option. However, it's not the fastest one I've seen.
Just click the "Contact Us" button on the homepage to submit a question.

All you'll have to do is enter a title for your question, select a department, and type out your message.
Here's the one I sent in: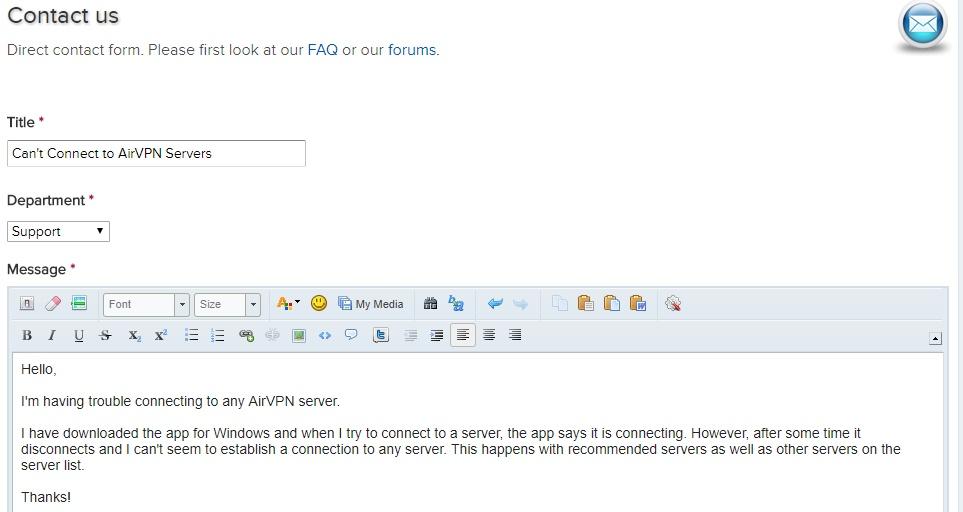 Once your ticket has been sent in, you'll be able to access it and view its status.
(Note that all tickets are stored on Italian time)

I wish that AirVPN offered live chat, because hours later, I still hadn't received a response to my question.
AirVPN does offer forums for users. And it looks like another user was experiencing the exact same problem I was the day that I tested out the service.

However, the user didn't receive a response, either.
AirVPN offers an "Issues" page showing current issues with servers.

But I wasn't able to find any listed issues relating to my problem with all servers.
So overall, I found their customer support could improve a lot.
They mean well. It seems like they try to have most of the standard options for users. However, I feel like all of them fall a bit too short.
2. Poor, outdated usability
AirVPN offers several download options for every type of device and operating system.
It looks fairly easy to download on the surface. However, I faced some issues with using the service. Here's what the interface looks like: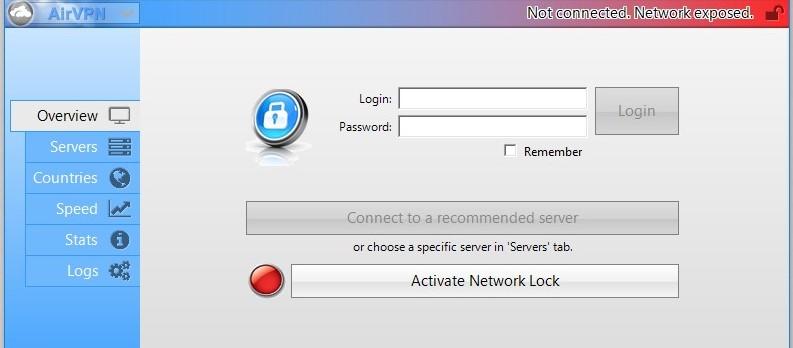 Just log in to get started. AirVPN will try to connect you to the quickest server closest to you.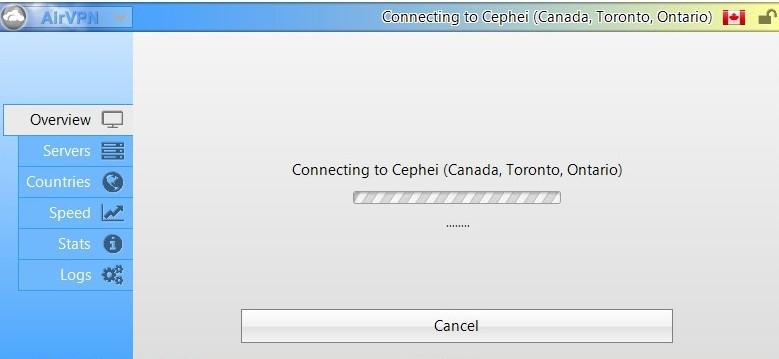 When selecting a server, you can see a star rating for each server as well as information about the server location.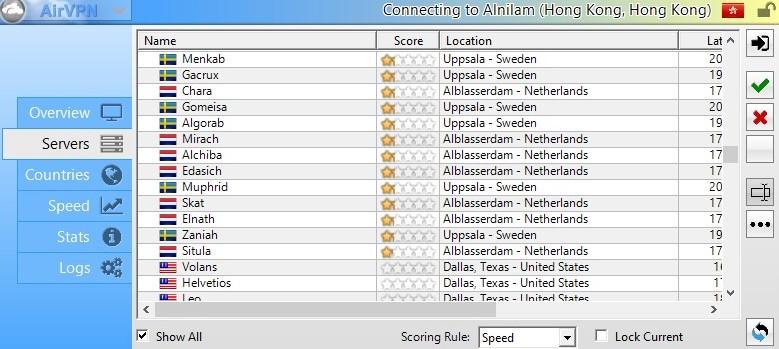 Select "Countries" to see the current load on each server and users currently online.
The "Speed" tab shows feedback of the speeds of servers you've connected to, while stats and logs keep a log of the servers you've been on.
However, I couldn't seem to ever establish an initial connection with any of AirVPN's servers, so I decided to try and connect an iOS device to AirVPN servers with OpenVPN Connect.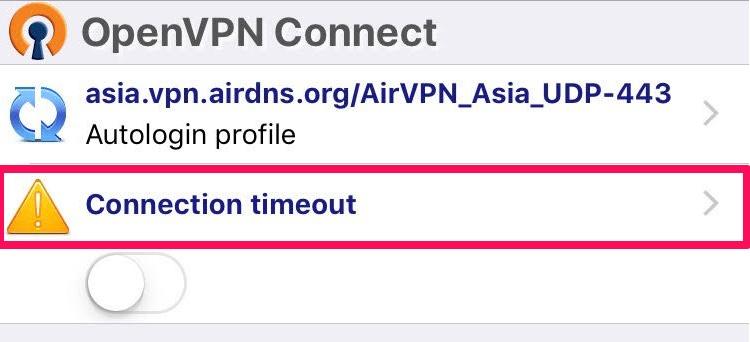 After trying to use an Asian server, I received notice that there was a "Connection timeout."
Honestly, I think this was the only time I experienced a timeout. Almost every other VPN service connects immediately.
The interface also seems clunky and outdated. So that only adds to the complexity.
Overall, I'd give AirVPN a 3/10 for usability.
It seems like AirVPN may have been experiencing an issue with their service on the day I contacted them. I literally couldn't connect to any server.
I submitted a ticket to their customer support team to see if they could help me access their servers (or tell me if there was a technical problem).
And… nothing. I'm still waiting for a response.
3. Slow download speeds
I ran speed tests on AirVPN's US, Netherlands, and Hong Kong servers to see how they compare to competitors.
Here are my results:
US Server
Ping: 137 ms
Download: 27.79 Mbps
Upload: 12.12 Mbps
Netherlands Server
Ping: 38 ms
Download: 61.48 Mbps
Upload: 30.71 Mbps

Hong Kong Server
Ping: 230 ms
Download: 36.55 Mbps
Upload: 10.67 Mbps

On the plus side, their server speeds were pretty consistent. However, on the downside, those speeds weren't very good.
The server speeds ranged from slow to middle-of-the-pack at best. Overall, that's not good enough.
4. Does it work with Netflix?
That's a good question. 🙂
So far, I was unable to test Netflix on AirVPN because their server connections weren't working properly.
After reaching out, I finally got a response back from AirVPN about my issues with connecting to their servers.
Here's what they recommended:

I sent AirVPN logs from the app. I use a home network/AVG antivirus and firewall.

However, I had already tried to access AirVPN with my antivirus turned off and experienced the same results.
I appreciate the prompt response, but I know I'm probably not the only one who has experienced this issue with AirVPN.
Therefore, I don't think this VPN can be relied on.
Do I recommend AirVPN? No.
Based on this AirVPN review, unfortunately, I don't recommend using AirVPN.
They do have some positives. The encryption is strong. The long-term pricing is pretty decent.
They also had one of the better logging policies I've seen.
Unfortunately, their usability is pretty outdated. I was unable to connect to their servers, leading me to believe they have some technical issues under-the-hood.
I repeatedly tried to get in touch with customer support, only for… nothing. No help at all.
Their server speeds, when I was able to test, were also pretty slow across the board, too.
Overall, AirVPN gets a 62/100. I'd recommend you check out other services like ExpressVPN, instead. It also ranks first in our "Best VPN" list.
P.S. I'm always interested in user-reviews so if you've used AirVPN before, don't hesitate to leave your review below. If your experience matched mine, cool. If it didn't, that's fine too!
Write your own AirVPN review
2 user reviews for AirVPN
Paul 10/10 February 8, 2018
Excellent
It DOES have a kill switch, its called the network lock and ive tested it and it works and in options you can get it to run minimized at boot with network lock on, so if your server drops out you won't have any connection unless you close the program (no VPN) or connect to another server, it maxes out my 40Mb/10Mb connection every time (holland servers) with 22ms latency – the interface is good compared to others as it shows you the load and latency on each server before you even try it – 3 day free trial by request.
I was with PIA before and they had speed issues on their servers (top heavy now) and will be renewing with AirVPN after trying month after month different ones.
Bel 6/10 November 5, 2017
Get What You Pay For
After my ISP shut down my connection after some alleged activity (copyrighted downloads), I decided to subscribe to a VPN service. Although PIA seems to be the more prominent name in my research, AirVPN has a better record.
THE BAD: The configuration files and tutorial for AirVPN and OpenVPN drove me nuts. AirVPN does not offer proxy, so I can't use it for single applications. The price isn't the best. Instructions to use their service are forum posts from employees. The speed on Windows (think 22mB/s max) is far less than Linux (think 36 mB/s max), though I assume I have something misconfigured.
THE GOOD: The desktop client is easy to use and clearly lists available connections and their stats. Setting up Android was super simple and did not require a forum post (but it is available). My internet stops if my VPN connection is interrupted, so absolutely nothing slips through the cracks. Tons of server options on the rare occasion (twice in 1.5 years) one isn't working properly.
I resubscribed to AirVPN happily. The service and client work perfect. Most servers trigger websites' CAPTCHA from botters, but nothing is blocked.