Hide.Me comes courtesy of a Malaysia-based parent company named eVenture Ltd.
They have one primary goal: speed.
Sure. The other stuff is there too. The privacy. Secure browsing. Anonymous web sessions.
But their ambition is to "build a VPN service that you couldn't feel." (Referring to the fact that, unfortunately, many times using a VPN will slow your connection considerably.)
So they've put together custom software and technology to deliver "gigabit speeds."
Lofty ambitions to say the least. Can they deliver?
We went through each nook and cranny to find out. First we'll start with some basic facts and figure. Before moving into the protocols and encryption. Then everyone's favorite: pricing. A step-by-step walkthrough to show you what their signup process looks like.
And finally a speed test to see if they can deliver on their promise.
Here we go.
Hide.Me Quick Facts
Hide.Me has a fairly limited server network that's concentrated in North America and Europe primarily. (Remember, their goal is speed, not size.)
I counted, with my fingers like a small school child, only 33 on their website.
They do have a few single locations in most continents though, including Sao Paulo, Montreal, Queretaro, Hong Kong, Chennai, Tokyo, Seoul, Marrakesh, Singapore, Melbourne, and Sydney. So if you're located near one of these major cities and just looking for a local connection point, you should be good to go.
These servers are "hand picked" and operated only by Hide.Me (so configuration or resources aren't split… the way some companies only lease their VPN equipment.)
Hide.Me plays nice with other devices, too. They have apps available for Windows, OS X, iOS, Android, Windows Phone (do people honestly use these?), Ubuntu, and Blackberry (ditto?).

Hide.Me's paid plans only come with a 15-day money back guarantee. While many of their competitors offer a much longer 30-day one.
Why so short? Because they also have a forever free plan to use! So you're able to download their service right now. Fire it up. And see for yourself before upgrading to a paid version.
Hide.Me Available Protocols
Did you know the next 'new thing' for refrigerators are video cameras?
Crazy, right?
Smarter, an English kitchen company, debuted a wireless camera inside a refrigerator so you can see what's inside at CES last year.
So imagine you go to the grocery store and can't remember if there's any milk left. Now you can just jump on your mobile device and find out within seconds.
This is just the latest example of the growing Internet of Things (IoT) trend. Where each and every device you can imagine is connect to the internet. And can be controlled remotely.
Samsung SmartThings wants to connect every single device in your home. Everything from appliances to your lights, power outlets, motion sensors, and even your security.
Interesting stuff. Still in its infancy. But there's a lot of promise.
Unless, of course, someone else gains access to all that intel. If someone else can see inside your refrigerator. Know if you're home. Control the lights. Shut off motion sensors. And more.
Man-in-the-IoT is a play on the common man-in-the-middle used to gain access to devices and intercept data. Many of these new smart, home appliances are unsecure. They don't come standard with robust security systems like your desktop computer might.
In September of last year, one of the largest DDoS attacks were carried out. Around 152,000 IoT devices were hit.
One way hackers gain access is through eavesdropping. They can 'sniff' the web traffic over unsecure networks and swipe the session data to impersonate you.
Here's why that's bad.
Consumer-based IoT devices are largely controlled by your mobile device. Which is unsurprising given that mobile internet usage eclipsed desktop years ago. The majority of that time, as high as 84% according to one study, is spent inside an application.
There are two potential risks:
Hackers can use eavesdropping to exploit unsecure mobile apps and use your login details to gain access to Gmail, Facebook, etc.
Or they can gain access to your SMS traffic to even intercept and exploit your two-factor authentication.
A VPN helps each of these cases, by completely tunneling your connection and keepings things sealed tight.
Hide.Me provides all major protocols, including IKEv2, PPTP, L2TP, IPsec, OpenVPN, Softether, SOCKS and SSTP.
In most cases, you should just default to the industry-leading OpenVPN. Because some, like PPTP, despite being around forever, have serious risks.
Others should only be used when (1) you know what you're doing, or (2) there are compatibility issues with OpenVPN.
For example, it doesn't play nice with iPhones. So instead, IKEv2 is a popular alternative. Thankfully, Hide.Me provides mobile apps to help make this decision easier.
They also have a free proxy browser in addition to using a VPN for rock-solid anonymous browsing.
Is Hide.me secure? 256-Bit Encryption
The biggest risk is usually outside.
On unsecure public networks like a hotel or school or airport or coffee shop.
But at home, you'd like to believe you're safe.
That's mostly the case.
However, we just saw recently with IoT devices that it's not always the case.
And here's another troubling example.
WordPress security company Wordfence has spotted a troubling trend: an increase in WordPress attacks from home-based routers.
It all started when the company from Algeria shot up in their "Top Attacking Countries" list; from a relatively un-noteworthy 60 up to an alarming 24.
After some digging, they discovered that a large number of the attacks were being carried out from IP addresses owned by Telecom Algeria (the largest, state owned telecommunications provider in the country).
Unfortunately, Algeria wasn't alone though.
Wordfence studied the same attacking pattern and discovered similar problems with BSNL in India and PLDT in the Philippines.
6.7% of WordPress site attacks are carried out by a home router. Which means someone has gained access to your home internet and bypassed any firewall that might have been (attempting) to protect you.
Many times these attacks are simple brute-force ones. These hacks fire off one letter at a time. One number at a time. Then two, three, and four. Until eventually they get what they want: access to your sites.
That is, unless, your encryption method is virtually brute-force proof.
Hide.Me uses the military-grade AES 256 encryption. That number refers to the random combinations someone would have to go through in order to finally crack the code.
Compare that to say, PPTP's flimsy encryption that can be broken in a few hours.
AES' 256-bit encryption is a different story though. A much tougher nut to crack.
In short, it hasn't been done. Can't be done. Even with today's supercomputers.
In theory, if you wanted to do it with today's standard supercomputer, it would take fifty of them 3×1051 years to finally run through all the possibilities.
Which is to say, not gonna happen anytime soon.
Hide.Me Logging Policy
Most VPNs say they don't log.
Consider HideMyAss! (yes, that's the name of a VPN).
They, too, claim they don't log.
Except… in some cases it seems?
One member of the hacking group LulzSec and Anonymous used HideMyAss! to carry out… well, let's just say 'stuff.' He thought he was fine using a VPN service to provide protection and anonymity.
Until he was arrested. Because his VPN company turned over personal details to authorities that implicated him in a crime.
So what's the deal? Do they log, or don't they?
Unfortunately, the truth is somewhere in the middle.
Most VPNs do, in fact, keep some logs. Temporarily. Of certain activities.
For example, they'll see when people are connecting or when they're jumping off. They might not track each and every website you visit. But they want to be able to monitor their network-wide performance. They also want to help protect their customers and make sure nobody's hassling them.
Hide.Me's policy? Here's the word-for-word:
Hide.Me's also TOR-friendly. So you're in luck if you're looking for anonymity times two.
Hide.me VPN Speed Test (Paid Account)
To be completely honest, Hide.me didn't perform well in speed test.
In fact, they're ranked 16th out of 19 which is on the lower end (sadly). They were faster than StrongVPN and Betternet, though.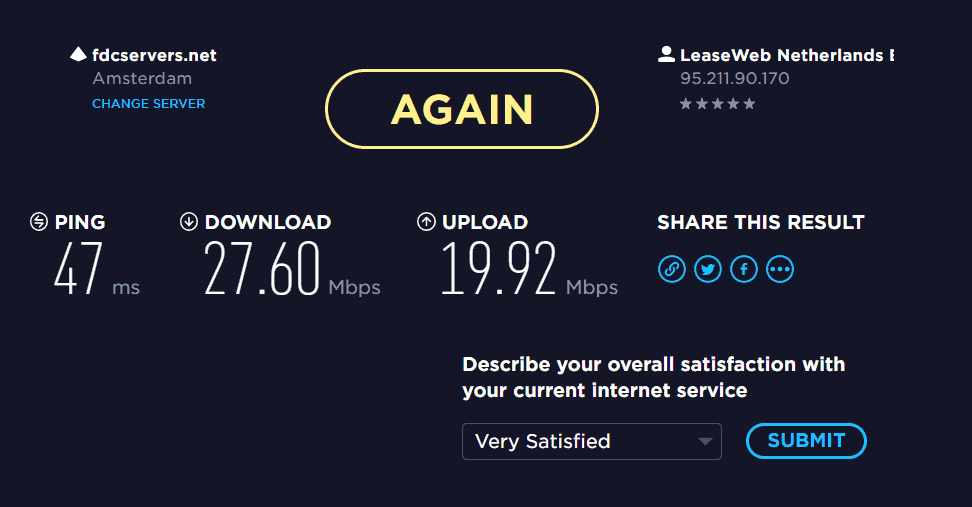 US Server (New York)
Ping: 161ms
Download: 17.17mbps
Upload: 10.10mbps
EU Server (Amsterdam)
Ping: 47ms
Download: 27.60mbps
Upload: 19.92mbps
Asia Server (Hong Kong)
Ping: 340ms
Download: 11.71mbps
Upload: 3.19mpbs
Ping: 42ms
Download: 28.69mbps
Upload: 20.41mbps
Re speed test: Always take such speed tests with a grain of salt as they simply rely on too many variables. However, since we've tested 20+ VPN services so far, we have an average that we can compare to other VPNs.
Hide.Me Customer Support (Questionable…)
Some VPN providers make you fill out a support form (shudder) each and every time there's a question.
Which means you gotta wait. And wait. And wait. And wait around some more until someone, eventually, finally, gets back in touch.
Hide.Me has one of those. Somewhere.
But fortunately, you don't need to go looking for it. Because you can just use their live chat instead (hooray!).
We also took a spin through their social channels to see how they answer customer feedback in the wide open.
Here's what we found.
________
Nothing. We found nothing.
They did get quite a few questions on Twitter. But didn't respond to any.
So you got a question or issue? Don't bother with Twitter and instead proceed directly to the live chat on their website.
Hide.Me VPN Plans & Pricing
Hide.Me kicks things off with a forever free plan (that has some limitations). Then their next two plans are more-or-less the same. The only differences (beyond price) are the data transfer limits and simultaneous connections.
Here's what it looks like:
Free: $0.00 / month
3 locations
"Best effort" bandwidth (whatever the hell that means)
2 GB data transfer
Limited protocol support
1 simultaneous connection
No port forwarding
Plus: $4.95 / month
30+ locations
Unlimited bandwidth
75 GB data transfer
Full protocol supports
1 simultaneous connection
No port forwarding
Premium: $9.95 / month
30+ locations
Unlimited bandwidth
Unlimited data transfer
Full protocol support
5 simultaneous connections
Port forwarding
Don't forget that their paid plans come with a 15-day money back guarantee, too.
So between that and their forever free plan, there's no reason to delay any longer. Here's how you can sign up and get a new VPN connection setup in the next few minutes.
Hide.Me VPN Setup Reviewed
---
Create a free account. Or sign up for a paid plan to test drive that money back guarantee.
You'll see the massive Try for Free button on the left of the homepage. And the Sign-Up button in the upper right-hand corner.
Once you've created your account, click login in the top right of the navigation menu. The first screen you see should be the member dashboard. From there, click the Support section on the left sidebar.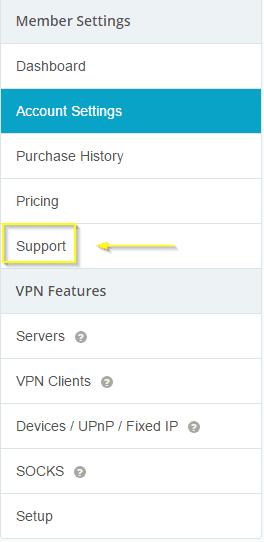 The support page will show you all of the different available devices. Scroll down and you'll see friendly little icons for each. Go ahead and click the one you're on right now to get the party started.

Now you can either download Hide.Me's automatic setup version if you'd like ot keep things nice and easy…
… or you can select the manual setup to configure your preferred protocol and other complex settings. Here's what that option looks like: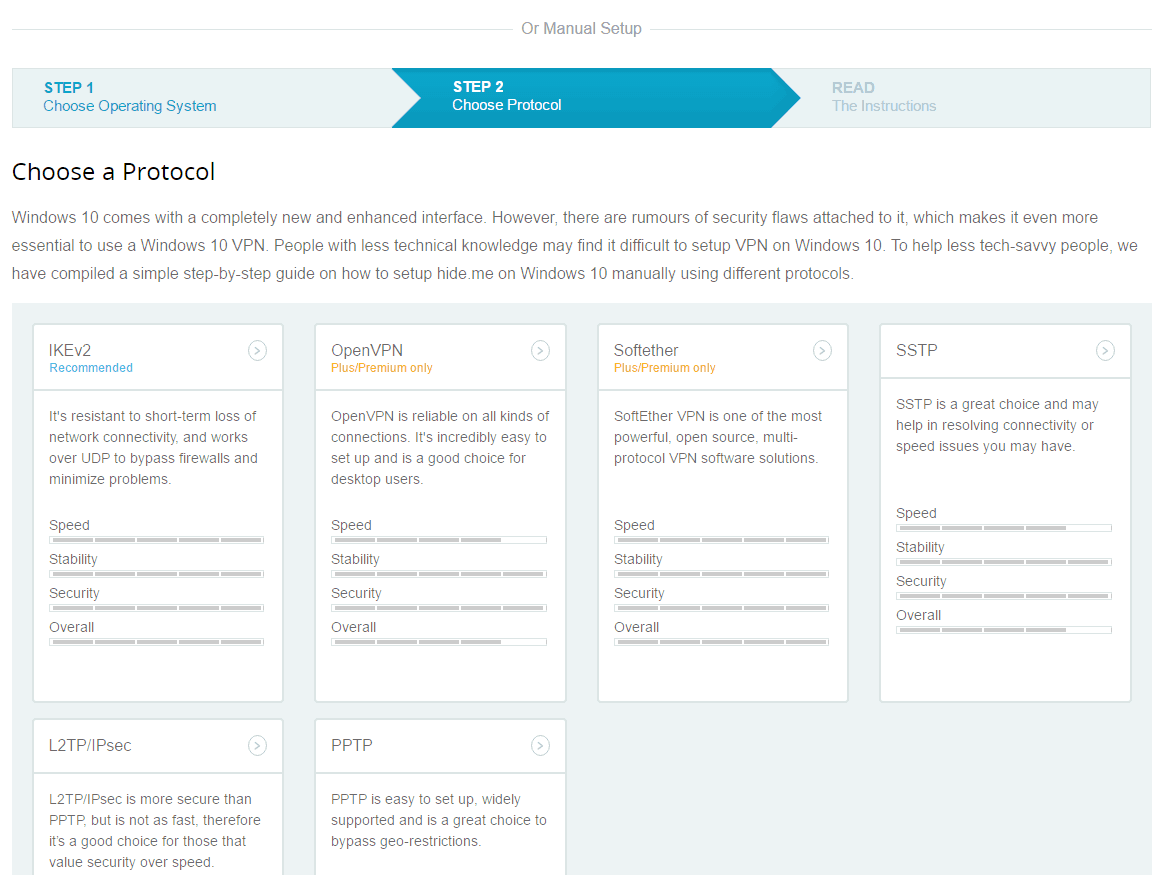 After downloading the application, run the file and follow the on-screen instructions that will direct you to login to your newly created or existing account:.
Login with the same access credentials you just set up on their website. That will activate your account and you can begin to use the service.
To switch locations of your server, click on the button labeled Automatic.
And a drop down list will provide you with countless options.
Hide.me Review Conclusion – free, but not worth it.
There's a lot to like about Hide.Me for a such a relatively small service.
For starters, they have a strict zero logging policy. That, in addition to their Malaysian base, means you can probably rest assured.
Both their website and VPN client are easy to use. Thankfully, no ugly and clunky interface to deal with.
They have a forever free plan in addition to a 15-day money back guarantee. So you're free to give them a try with little-to-no downside.
However, Hide.Me's server network is pretty limited. And their 'middle of the road' package is kind of expensive with the limitations.
In addition to that, their download and uptime speeds are nothing to brag about (sadly).
For example, some other VPN services (PIA) will give you far more for the same price than the limited data transfer, only one measly simultaneous connection, and no port forwarding.
Hide.Me Pros
Forever free plan
Fifteen-day money back guarantee
No logging
Hide.Me Cons
Expensive compared to other top-tier VPN services
Limited server locations
Download speed is slow
P.S. If you've used Hide.me, please consider leaving a review below. Thanks!
14 user reviews for Hide.me
Hazem 1/10 January 7, 2018
Not working in egypt
I installed Hide.me and subscribed in the monthly payment plan but unfortunately it didn't work here in Egypt in both PC and mobiles.
Keith 1/10 January 2, 2018
Limited use of free version
I tried the free service with a view to buy. It didn't slow my browsing significantly so all well and good but after I tried on later in the day it said I had exceeded my maximum amount of data used. I'd hardly done anything. Also, Having lived in Malaysia, I am skeptical about any privacy that a company there may offer; especially has their government has strong ties with the British.
Daniel Thu 7/10 December 19, 2017
Recommend it? Yes and No.
Hide.me VPN offers 2GB free data transfer every month with three countries to choose from and it works networks where other VPNs don't (like some public networks). However if you wish to pay for Hide.me VPN for more data transfer you'll have to pay over double the price of the cheaper VPNs. So if you'd like a free and functioning VPN I recommend Hide.me VPN, but if you'd like more data transfer i'd recommend against it.
Eduard 9/10 November 11, 2017
Hide.me - Fast, Secure and Easy to use
Hide.me is one of the best VPN services. It's fast, secure and for a quite low monthly cost, users can get huge location library, full protocol support, unlimited data transfer and speed and of course high safety and privacy. It's easy to set up and easy to use, so even ordinary computer users can easily work with it. That's why Hide.me is highly recommended VPN service.
Markuss K. 9/10 October 19, 2017
Hide me VPN
Have used this VPN multiple times for multiple reasons. Hasn't let me down. The best thing is that you can get it for free. Haven't used the the premium one's, but they should be even better than the free one! All hands down, couldn't ask for anything better.
Carlos Beja 7/10 October 4, 2017
You get what you need
I use Hide.me on a daily basis.
We live dark days. Very often we need to mask our machines due to the strict and totally repressful policies for internet usage. VPN is currently our best shot to go around this.
Hide.me is a fast, reliable and secure service. I've tried both types of service: Free and Paid ( PLUS plan for 4.99$)
They have a very nice user interface which makes the process very easy to use, suitable for all sort of users. Totally recommend it.
Emanuel 2/10 September 21, 2017
Do not buy from them
Can't even sign into my account with the hideme VPN app, just says login failed. When I select the free trial it works. I paid for the 1 month service but nope no 2nd email 8 hours later still cant use the service. The time is running out and I cant use what i paid for. ROBBERS scammers. And their support is shit too. I suggest all of you to use tunnelbear.
Pete 9/10 September 20, 2017
Not Sure Anymore
I've been using Hide.me for a couple of years now and noticed recently is things seem to have gotten slower. Not sure if it is due to app, VPN servers speed, # of users, host server speeds, ISP throttling, or U.S. technology standards. I was hoping the review here would maybe provide possible answers but instead I found more editorializing than facts and still not sure how the editorializing relates to even the question the reviewer asked in the review or how it relates to the software. There are 26 countries and a few (U.S., Netherlands, U.K., & China) have 2 connection servers.
Pete 8.5/10 July 1, 2017
Excellent service
Excellent service, good support, user-friendly and amazing DL speed.
Paul Whyte 3/10 June 27, 2017
Horrible
Signed with hide.me for a month to try it out. Was working really fine until it started logging off randomly. That's not a good sign. Wanted to chat about that in the customer support area, but had to wait in the queue for a long time and I just quit. I quit the service as well. Bad really bad service
Inderjit Singh 4/10 June 13, 2017
Average Vpn Service Not Very Good
I am using hide.me from last 8 months. This VPN is good for providing Locations to connect and also facilities like encrypted URL, encrypted page etc. All features are working fine but sometimes taking too much time to load the web page and sometimes but this error happens very rare. Otherwise working fine. The Cost of this VPN is little bit extra.
Rob 3/10 June 1, 2017
Don't upgrade (nothing changes)
I was hooked by their free service so I decided to sign up and give them a try. I think I used them roughly 2 weeks before I decided to upgrade to a paid account.
This was mistake because I never got any better performance from them. I thought my download speed would skyrocket and I'd be able to use them for Torrenting or watching movies online, but in reality they we're still slow.
After that I cancelled the paid version and continued using their free service.
To sum up: Use their free version and don't give them any money because nothing changes…
Sameer Choubey 10/10 May 7, 2017
Good VPN with decent number of servers
I won a one year subscription in a giveaway organised by a famous Tech blog of India. The speed of servers were nice. I didn't tried using torrent on them but I found the speed to be good. The anonymity level provided by them is quite good (checked on dnsleaks). The customer service people were nice. They helped me in getting started. Overall, it was a decent experience using hide.me VPN. Also, now they have increased their servers count a lot.
Sam 7/10 May 2, 2017
Good so far.
I'm using their free version, it's doing what it's needed. I've used free VPN providers in the past aswell, but I've been happy with Hide.me.
Probably going to try out their premium version aswell, since they've won my trust. (Which is quite a hard thing to do). I'd recommend them for anyone who's trying out a vpn, since they offer a free version which is quite fast and reliable.