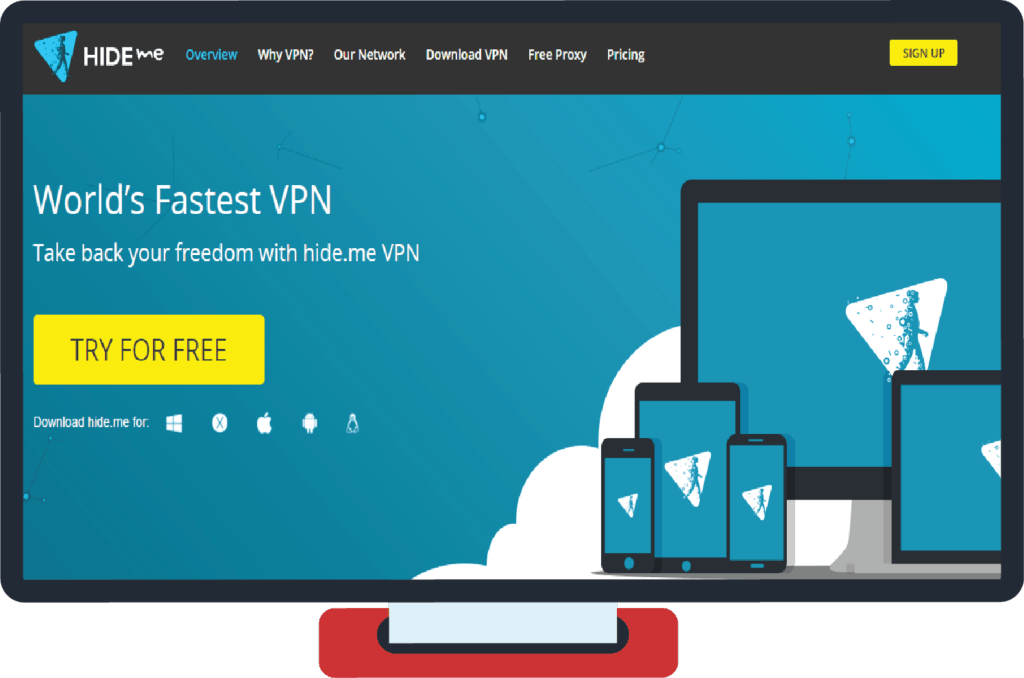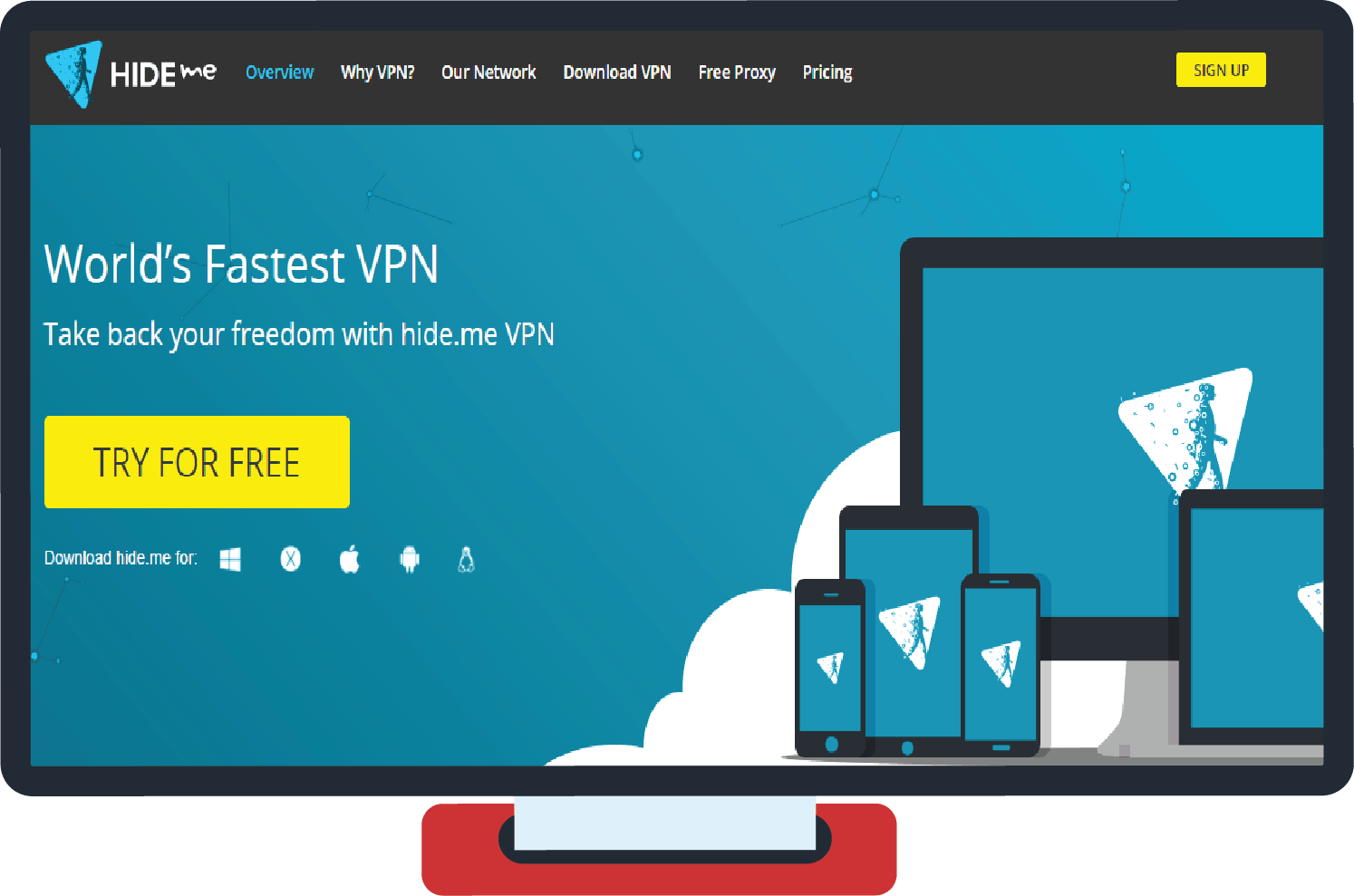 Hide.me is a VPN provider based in Malaysia, which lets them takes advantage of the country's no mandatory data retention laws.
They're a newer company and came onto the scene in 2012. The founding team is comprised of experts with a background working IT security for governments and multinational corporations.
They claim to have a customer base that reaches beyond 5 million, along with having over 100 million downloads.
Below you'll learn the good, bad, and the ugly about Hide.me, so you can decide if it's the right VPN for your needs.
Background info & technical facts
Hide Me VPN works on Windows, MacOS, Android, iOS & Windows Phone.
| | |
| --- | --- |
| OVERALL RANK: | #19th out of 35 VPNs |
| LOG FILES: | No logging |
| ENCRYPTION: | 256-bit AES encryption |
| TUNNELING PROTOCOLS: | OpenVPN, SoftEther, IKEv2, L2TP/IPSec, PPTP, SSTP |
| LOCATIONS: | 35 servers, 28 countries |
| TORRENTING: | Allowed |
| NETFLIX: | Not working |
| KILL-SWITCH: | Yes (built-in) |
| BROWSER EXTENSION: | No |
| MAX. CONNECTIONS: | 1-5  |
| ROUTER INSTALL: | Yes |
| COST: | $4.99/mo (also free plan) – 14 days money back |
Pros of Using Hide Me VPN
1. Enhanced Security Features
Hide.me offers advanced encryption algorithms and a few other features that make it one of the more secure VPNs out there.
For starters, they offer up to 256-bit AES encryption. Plus, the encryption extends well beyond your browser, by encrypting access to your passwords, personal files, credit card, and other potentially compromising personal information as well.
256-bit encryption is the industry standard that many other VPNs use, too.
In a nutshell, Hide.me should protect your data, hide your IP and keep you secured on a public Wi-Fi network.
2. A Clean and Simple "No Log" Policy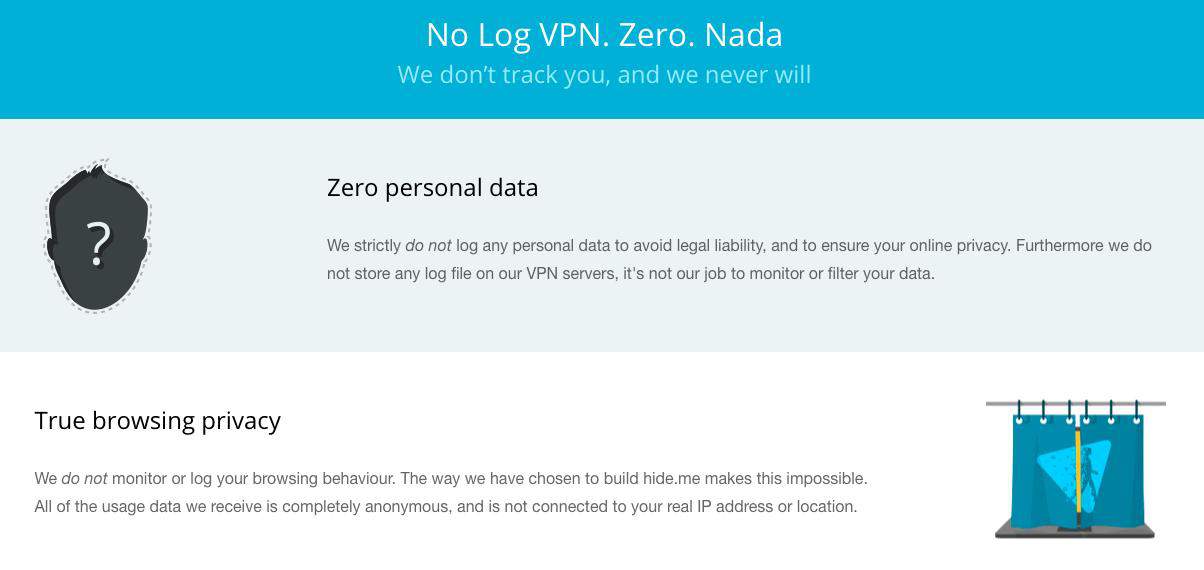 One of the main selling points of Hide.Me is its no log policy. Their "no log" policy won't log any of your browsing activity, connection information, IP addresses, your name, or any other personal information whatsoever.
How does it execute this feat?
Well, unlike a lot of other VPNs who ended up adding no log features after they were up and running, Hide.me was built with having no logs at the front of their mind.
We even did an extensive research on logging policies and found out that Hide Me truly doesn't keep any logs while some other (hint: PureVPN & HideMyAss) do.
But, don't just take my word for it they're also regularly audited by VPN security analysts, including Leon Juranic who has certified them as a log free VPN.
3. Built-in Internet Kill Switch
A kill switch lets you stay protected, even when the VPN connection drops – to avoid any IP/DNS leak. You might think of this as a nice add-on feature, but here's why it's absolutely essential:
Let's say you're downloading a file or streaming a video you don't want your ISP to know about. Or, maybe your computer contains a lot of sensitive information that you'd rather keep protected 24/7.
Without a kill-switch, you'll remain connected to the internet, even if your VPN connection drops. This leaves you wide open. Your ISP will be able to trace back the network activity to your IP address, and your connection is no longer secure.
However, with a kill switch, you're totally safe. Once your VPN connection drops, so does your internet connection.
With Hide.Me you can choose to enable or disable this feature. For those who want an ultimate peace of mind, this feature is a necessity.
4. IP Leak Protection
IP leaks are a huge problem with VPN providers. After all, what's the point of using a VPN if ISPs and other people can still find your IP?
When IP leaks occur you're no longer using the internet with an invisible cloak. The worst part is, you'll often have no idea that an IP leak is actually occurring.
Hide.Me takes extra lengths to ensure your IP is protected. Once the connection with the Hide.Me VPN is established the app will delete the default local gateway to your internet connection, so your IP will be completely inaccessible.
Plus, they block outgoing IPv6 connections too, if you have an ISP that assigned you one of these IP addresses, instead.
5. DNS Leak Protection
Another common form of leak is the DNS leak. Similar to the IP leak, a DNS leak occurs when DNS requests are routed through your computer and network, instead of the VPN you're using.
With Hide.Me you immediately setup a public DNS to the Hide.Me network interface. That way every DNS request is routed through this VPN network, and once again, you're invisible.
6. Works with Torrenting
Hide.me has a specialized proxy that can be used for speedy P2P connections, perfect for torrenting. The SOCKS5 proxy is unencrypted, but you can use it with the VPN for added encryption.
Since most browsers and P2P torrent clients support the SOCKS5 proxy, then this proxy can act as a kill switch for secure torrent downloading.
According to Hide.Me, this proxy and VPS setup can allow for much faster P2P application transfer rates too.
With a premium subscription, you also get access to dynamic port forwarding. This allows P2P software to make a direct connection, rather than form that connection over a centralized server environment.
Cons of using Hide Me VPN
Hide.me packs on the security features, but it's a little lackluster when it comes to other service features, like technical support, server network, and connections allowed.
Learn more about these drawbacks below:
1. Small Server Network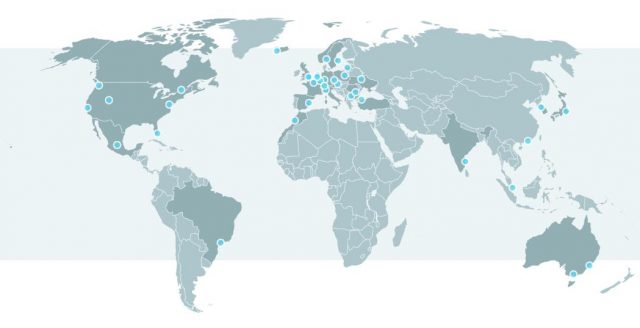 Since Hide.Me is a newer VPN it's expected to have a smaller server network than most. Currently, they have 38 servers throughout 25 different locations across the globe, including North America, South America, Europe, and Asia.
It's still offers a very wide spread of servers but doesn't stack up to other VPNs, which boast server networks in the hundreds, or more.
2. Slow Download and Upload Speeds
For this test, I used the mid-tier plan ($4.99) version of Hide.me, so the speeds might not be as fast as the premium level plans. My internet connection is 100 Mbps up and 60 Mbps down.
Anyways…here's the result of my internet speed without using Hide.me

And here are the results once I turned on the Hide.me VPN: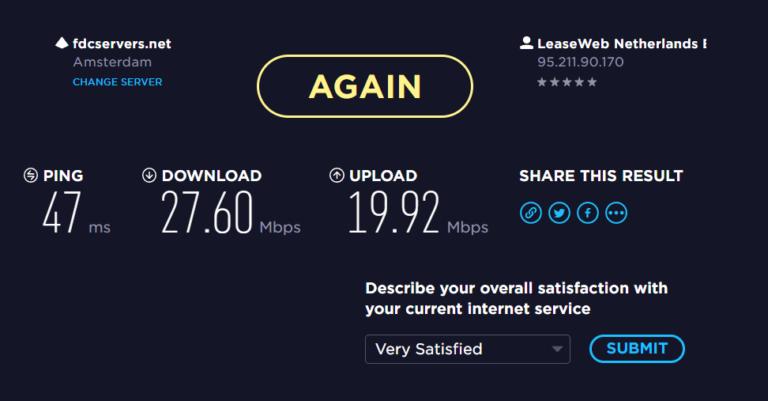 US Server (New York)
Ping: 161ms

Download: 17.17mbps

Upload: 10.10mbps
EU Server (Amsterdam)
Ping: 47ms

Download: 27.60mbps

Upload: 19.92mbps
Asia Server (Hong Kong)
Ping: 340ms

Download: 11.71mbps

Upload: 3.19mpbs
Ping: 42ms

Download: 28.69mbps

Upload: 20.41mbps
It's a pretty noticeable difference with the VPN activated, but also take these results with a grain of salt as your existing connection speed and the plan you choose will also affect the speed.
3. Only 1 Simultaneous Connections for Cheapest Plan
The number of simultaneous connections they allow is pretty weak. For the mid-range plan, you only get 1 connection. While, if you upgrade to the highest level plan you'll still only get 5 simultaneous connections.
For the price you're paying per month I'd expect that number to be a lot higher.
4. Limited Free Plan
If you're a bargain shopper, then you might be a little disappointed by the free plan. Sure, it's equipped with solid security features. But, you won't be able to do a whole lot.
With the free plan, your data transfer is capped at 2GB (bandwidth), which you'll probably hit very quick if you're doing more than checking email and browsing the web and be forced to upgrade to a higher plan. And you only get access to three server locations and 1 connection.
They have a solid list of features, but with other plans, even ones that are cheaper, offer unlimited data and have multiple simultaneous connections.
5. Support Could Be Better
Let me say this, their support isn't bad. They offer 24/7 support via live chat, email, and a ticketing system.

The live chat support was pretty responsive and helpful regarding basic questions about the platform, but there's still no real-time live chat feature that can help you address any technical questions.
The technical support is handled by a ticketing system, which at least per my request, took quite some time to get back to me.
6. Say Goodbye to Netflix
If you're a Netflix addict like myself, then you're going to have to find an alternative or use Netflix without being protected. The VPN ban imposed by Netflix didn't affect every single VPN, but Hide.me has been having difficulties since the ban went into effect.
For those who must have protected Netflix access for those late night binges, you'll have to look elsewhere.
7. Small and Limited Refund Window
First, you can get a forever free plan (but, it's pretty limited).
While if you put money on the line, then you better make a decision quickly, because you only have 14 days to request a refund.
You'll also have to watch out for the refund data limit. A tiny little clause that specifies that if you went over 500MB worth of data, then you're no longer eligible for the refund (basically if you didn't use the service).
Even if you went for the high-level plan and threw down $20, it's not that much money to lose. But, still, I'd like a see a refund window that pushes past 30 days at least.
Hide.Me Pricing, Plans & Payments Methods
Unlike a lot of VPNs, Hide.me doesn't cover up their terms and conditions and pricing with dense legalese. I like to think they have a what you see is what you get pricing model, which is sadly pretty rare in the online service space.
Regarding pricing, you'll find three different plans, free, plus, and premium: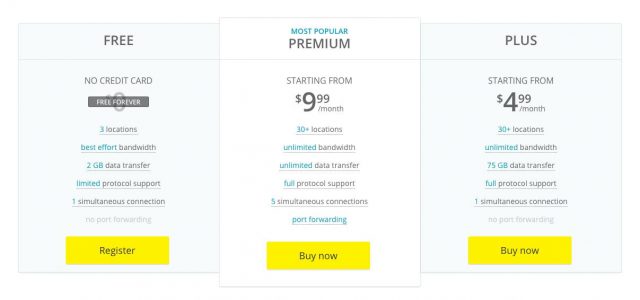 The Plus plan will cost you $9.95 per month, but it drops to $6.65 if you pay on a six-month basis, or $4.99 per month if you pay on a yearly basis. The Premium plan has a similar pricing structure, and costs $19.95 per month on a monthly basis, $13.32 per month if you pay for six-months, or drops to $9.99 per month if you pay on an annual basis.
These costs make it one of the higher priced VPNs out there. If the price is an issue, then you'll probably want to look for a cheaper alternative. You can get away with using the free plan, but you are limited in the amount of data you can use and the number of servers you have access to.
If you do opt for the free plan, just know that you have to renew your subscription every 14 days to keep the service going.
Regarding anonymous payment options (besides the obvious – PayPal & Credit Cards) you can also buy their software/app with Bitcoin.
The terms of service and privacy policy are quite a long read, but it's written in a way that anyone can understand it. Basically, they don't keep or store any of your data or personal information, and if you decide to stop using the service your data is deleted.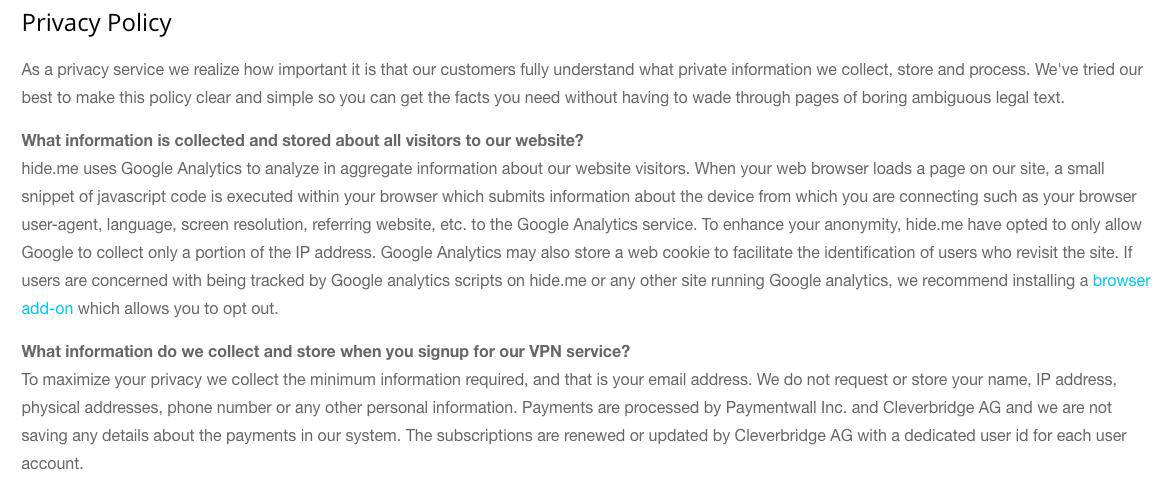 Overall, Hide.me doesn't have anything to hide. Their pricing, terms of service, and privacy policy are all written in easy to read language with no hidden upsells, fees, or sneaky contracts.
Ease of the VPN software: Relatively easy and simple.
Hidden fees & clauses: 14 days money back only if you haven't exceeded 500mb.
Upsells: No upsells.
Instant access after payment: Yes.
Do We Recommend Hide.me?
If you're the type of person who cares about their own privacy and want a VPN that shares this same belief, then Hide.me is worth considering.
Hide.me offers you a feature-rich and secure VPN that'll be able to meet most user's needs, as long as you're fine with paying the $9.99 premium monthly fee—as the mid-range and free plan will end up being quite limited.
Overall, with its P2P support, and stellar security and privacy measures it would be a great fit for people using the service to stream or download.
However, there are some serious drawbacks to consider, like slow speed (especially compared to similarly priced NordVPN & ExpressVPN).
In addition, their customer support needs to be improved and they have only handful of servers. Top VPN providers have usually more than 1000 servers…
Add your own Hide Me review
If you've used Hide.Me, don't hesitate to leave a review and help others 🙂
7 user reviews for Hide Me VPN
Mark 9.9/10 August 14, 2018
Used them for 2years now
Have used Hide.me for a few years now and have no complaints. You get quite a bit more from their premium service, but even their free version is above grade. Killswitch is a handy feature that disconnects internet access if the vpn connection ever drops. Peace of mind.
Marco M 1/10 May 23, 2018
I still cannot access restricted content to Italy. Useless.
Installed the VPN client, set the location as Italy, green light all good.
Tried to access restricted content to Italy, got rejected because I am detected as outside of Italy. Doesn't seem to unblock or the geo-locations, sadly…
Emanuel 2/10 March 12, 2018
Do not buy from them
Can't even sign into my account with the hideme VPN app, just says login failed. When I select the free trial it works. I paid for the 1 month service but nope no 2nd email 8 hours later still cant use the service. The time is running out and I cant use what i paid for. ROBBERS scammers. And their support is really poor, too.
OhhWell 9/10 March 9, 2018
Not slow for me
I have been using Hide.me for almost a year now. I am able to get 150Mbps + regularly from their larger exit points like Canada and Mexico when torrenting. I also use it to bypass the restrictive content filtering at work and just speed tested 150/50 from the US EAST exit point. Not sure why you are getting such poor performance.
Markuss K. 9/10 October 19, 2017
Hide me VPN
Have used this VPN multiple times for multiple reasons. Hasn't let me down. The best thing is that you can get it for free. Haven't used the the premium one's, but they should be even better than the free one! All hands down, couldn't ask for anything better.
Rob 3/10 June 1, 2017
Don't upgrade (nothing changes)
I was hooked by their free service so I decided to sign up and give them a try. I think I used them roughly 2 weeks before I decided to upgrade to a paid account.
This was mistake because I never got any better performance from them. I thought my download speed would skyrocket and I'd be able to use them for Torrenting or watching movies online, but in reality they we're still slow.
After that I cancelled the paid version and continued using their free service.
To sum up: Use their free version and don't give them any money because nothing changes…
Sam 7/10 May 2, 2017
Good so far.
I'm using their free version, it's doing what it's needed. I've used free VPN providers in the past aswell, but I've been happy with Hide.me.
Probably going to try out their premium version aswell, since they've won my trust. (Which is quite a hard thing to do). I'd recommend them for anyone who's trying out a vpn, since they offer a free version which is quite fast and reliable.