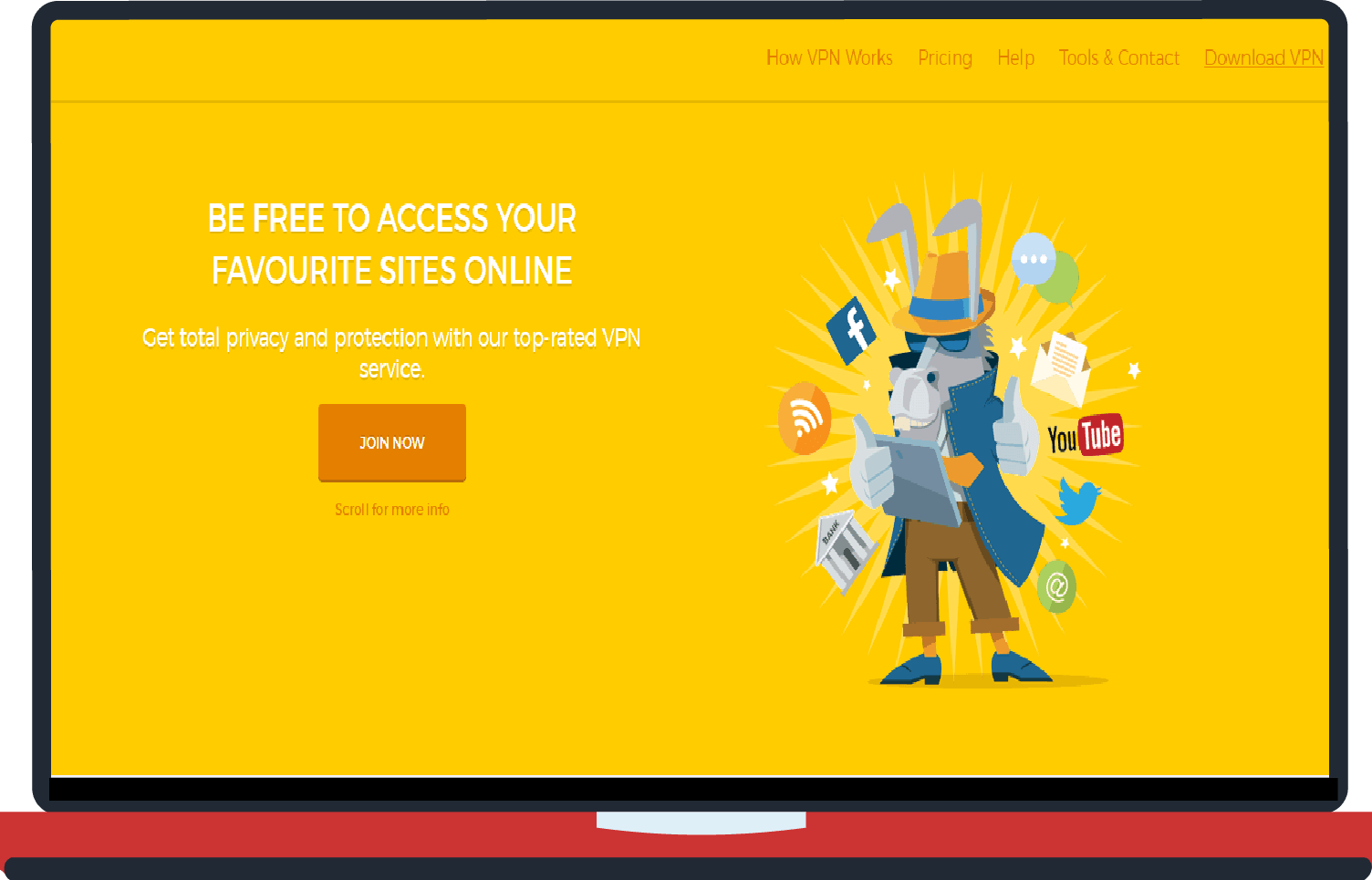 With one of the more notably entertaining names on the internet, HideMyAss! is a VPN provider that many people have heard of.
It promises "total privacy and protection," good support, and fast speeds.
But does it deliver?
You'll find out in this HideMyAss Review…
What Is HideMyAss!?
HMA is a premium VPN provider. It was founded by Jack Cator when he was 16 years old; what started as a way to help his classmates get around browsing restrictions at school has grown into an international business that was recently acquired by AVG.
The HMA network includes 860 servers in 280 locations across 190 countries. They have servers in Greenland, Iceland, all across Africa and the Middle East, and a range of small Pacific islands. It seems like the only place they don't have a server is Antarctica.
Here are their server counts by continent: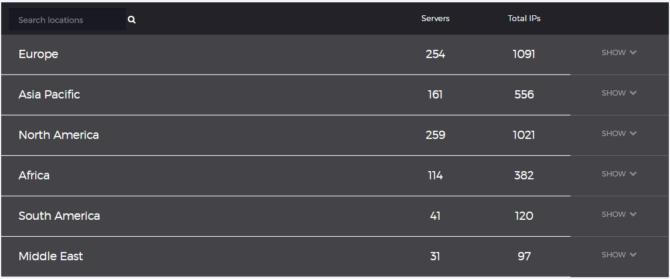 As you can see, they're a bit light in South America, but they have strong showings elsewhere, especially in North America and Europe.
You can use HideMyAss! on Windows, Mac, iOS, and Android, as well as on your router. You can even buy routers from FlashRouters that have HMA pre-installed on them so all you have to do is sign in.
Each HMA account only allows for two different devices to be used on the VPN. We like to see more than that. If you use your router as one of the devices, you still only have room for one mobile device. And because this isn't one of the cheapest VPNs, that means you may have to have more than one subscription in your household if you want to protect everyone's browsing.
They also offer a business VPN plan for larger numbers of devices, but that's not likely to appeal to casual users.
Pricing & Plans – Not the cheapest for sure…
HMA has three price tiers; the one you get depends on how often you pay.
$11.52 monthly
$49.99 every 6 months ($8.33 per month)
$78.66 every 12 months ($6.56 per month)
As with many other VPNs, you'll get a better deal if you pay for more time.
Unfortunately, there's no free trial period for the Windows or Mac apps. However, you can get a seven-day free trial if you download the iOS or Android app. If you're mainly concerned about how the VPN performs on your mobile devices, it's worth trialing the app on your phone.
HMA does, however, have a 30-day money-back guarantee. So if you try the VPN out for a month and don't like it, you can get your money back. It has to be the first time you've purchased HideMyAss!, and you have to have used less than 10GB of bandwidth. You'll have to fill out the refund request form.
It's not as convenient as a free trial, but it does give you an added layer of assurance that you'll be able to make the right choice for your VPN provider.
While it's not the cheapest VPN out there, it's still quite affordable, especially if you pay for six or 12 months ahead of time.
Is it Safe?
Unfortunately, HideMyAss! doesn't make it easy to find information on their protocols and encryption on their website. Basically, all it tells you is that OpenVPN with 256-bit encryption is the safest. HMA offers a variety of different protocols, including PPTP and L2TP/IPSec.
Nowhere on HideMyAss!'s website does it say what level of encryption they're using, the type of key exchange, or any other security-related information. Their help section implies that they use 256-bit encryption over OpenVPN, but it's not stated explicitly. This leaves some question as to how secure HMA!'s encryption is.
If they are, in fact, using 256-bit encryption over the OpenVPN protocol, you can be very confident in the security of your data. OpenVPN is the most advanced protocol out there and results in safe, solid connections. PPTP and L2TP/IPSec, which are also offered, aren't as good but are sometimes necessary for running a VPN on an older device.
As for DNS and IPv6 leaks, HideMyAss! provides a number of recommendations to users as to how they can protect themselves. It's good advice, but we'd much rather see protection for those issues built into the VPN. You can navigate through their support pages to find advice on how to put those measures in place, but when other VPNs provide the out-of-the-box, it's tough to justify that search.
HideMyAss! Collects Some Log Files
This is where we get to the really tough issues with HMA. The Logging Policy states that they collect the following data:
Username
Connect and disconnect timestamps
Amount of data transmitted (upload and download)
IP address used to connect to the VPN
IP address of the VPN server used
The policy also states that HMA collects data to
monitor the use of the network for technical purposes and to manage and improve the service;
prevent and detect fraud against the service (e.g. credit card fraud);
prevent and detect abuse of the network, such as spamming, file sharing or other illicit activity.
It's tough to square the idea that they're not collecting data on what you do, but they're still keeping an eye out for illicit activity.
The biggest strike against HideMyAss! here is their record with recursion. "recursion" is the online name used by Cody Kretsinger, a hacker involved in the Sony Pictures hack of 2011. To make a long story short, HMA handed information over to the FBI, and that information was used in Kretsinger's conviction.
HMA did their best to justify their actions, but they haven't managed to live down their reputation. Of course, we don't condone using VPNs for illegal activity. But the fact that the VPN provider had information on Kretsinger's activities and handed it over to law enforcement is worrying for many people. Invisibler has a good explanation of why you should be worried.
HideMyAss! is based in the UK, the UK is known for having very aggressive surveillance laws. That's something to be aware of if you're considering using their VPN. To get an idea of how controversial and far-reaching the latest surveillance legislation is, check out this article on the Snooper's Charter from Wired. It's only the latest in a series of worrying developments for privacy advocates in the UK.
Other users have reported having accounts suspended for violating Digital Millennium Copyright Act (DMCA) statutes. Again, we don't condone copyright infringement, but if your VPN is watching what you do, is it really protecting your privacy?
Pros of Using HideMyAss!
1. Speed
While it's not blazing fast, HMA does post solid upload and download speed numbers. On my 100 Mbps connection, I was able to get a respectable 63 Mbps download from the EU server.

Here are the full results:
US Server (New York)
Ping: 113ms
Download: 58.98 Mbps
Upload: 30.38 Mbps
EU Server (Amsterdam)
Ping: 41ms
Download: 63.34 Mbps
Upload: 50.12 Mbps
Asia Server (Hong Kong)
Ping: 284ms
Download: 19.25 Mbps
Upload: 13.09 Mbps
UK Server (London)
Ping: 45ms
Download: 64.42 Mbps
Upload: 43.30 Mbps
Those are good numbers. They're not the fastest, but they probably put HideMyAss! in the top 10 VPNs for speed. If you're looking to stream content, this will be plenty fast. (Though as you'll see, you may have other streaming problems.)
2. Tons of Servers
The number of servers and locations represented by HMA! is astounding. Six continents and almost 200 countries are available for users. Some continents don't have as many servers as others, but if you're looking to access North American or European sites, this is a great choice.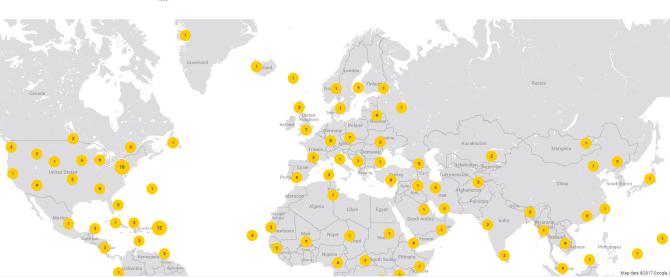 Seriously, how many VPN providers have a server in Greenland?
This is especially valuable for users interested in fighting against censorship from their home countries. There are lots of options, and you don't need to connect to a server across the world to get out from under the thumb of your local government.
3. Ease of Use
The HMA! app is easy to use; just open it up, sign in, choose a server, and you're set to go. Setting favorite servers lets you get to the locations you want quickly (which is good when you have as many servers as this provider does).
The app is also available in many different languages across platforms, which is great for our non-native-English-language friends.
And the fact that you can buy a router with HMA! pre-installed on it is great. We definitely recommend setting up a router-based VPN, and that just makes it easier.
Cons of HideMyAss!
1. Logging
As we discussed earlier, HMA has a history of logging information and handing it over to law enforcement. If you're using this VPN for your privacy, you have to wonder why the provider is keeping logs of your activity.
It's not reassuring, and it makes us very hesitant to recommend HideMyAss!
We're sure that there will be many people who fall into the "if you haven't done anything wrong, you have nothing to hide" camp on this argument. But just remember that what's considered wrong today might not be the same definition we use in a few years. That when new forces come into power, they may be more aggressive about chasing down users of VPNs. And that HideMyAss!, being based in the UK, is subject to very aggressive surveillance laws.
The vast majority of our readers—and very possibly the vast majority of VPN users—don't need to worry about it. But when given the choice between a provider that may violate your privacy and one that definitely won't, why would you choose the former?
2. Spotty Netflix Streaming and Torrenting
HideMyAss! was a very popular choice for streaming Netflix a few years ago. But its effectiveness for Netflix-watching has done downhill as Netflix has gotten better at detecting VPNs. Using HMA to watch Netflix is occasionally effective. Sometimes it works, but it's probably not something you can count on.
Users seem to have the best luck when they connect to the Liberty Island server, but many report that they can only log into Netflix from this server, and not stream anything. It's hit-or-miss.
And while HMA doesn't prohibit torrenting, they also aren't exactly torrent-friendly. They might not block your torrent client, but users have reported either extra-slow data transfer or outright blocking of torrent servers.
DMCA warnings haven't added to anyone's confidence level, either. If you're getting a warning or an account suspension for violating copyright restrictions, the VPN's claim that they're not watching what you're doing gets harder to believe.
3. Support Speed
While HideMyAss!'s support team is available on social media and via live chat (as well as email), they don't respond quite as quickly as we like to see here. Many support requests on Twitter are simply referred to the standard channels:
@marcozelf We are sorry to see that! Pls contact us back on LiveChat as this cannot be resolved via Twitter. Thanks https://t.co/VOEpXuF09K

— Hide My Ass! (@hidemyass) December 7, 2017
There are some situations in which they'll ask for a DM with additional information, though:
Sorry to hear that. Please DM us your username and registered email so we can help. Thanks https://t.co/u6LiJJNOgU

— Hide My Ass! (@hidemyass) December 16, 2017
(Though you'd think the above question would be a rather simple one to answer). Their support definitely isn't the worst, it's just not something that stands out as great, either.
Final Verdict
As you can see above, there are some solid marks in the Pro column. Speed and number of servers are very important in establishing a high-quality VPN. But in the end, the privacy concerns are overwhelming.
While we're sure HideMyAss! wants to do the best they can in supporting their customers' privacy, the fact that they're based in the UK is difficult to get past. And their reputation for having helped the FBI in capturing two cyber criminals doesn't help either. (Don't get me wrong; we're all for catching cyber criminals. It just makes us nervous.)
We can't recommend HideMyAss! because there's no guarantee that your privacy will be protected. Combining that with the lack of native DNS and IPv6 leak support, and we're not confident that this VPN would adequately protect you.
The pricing and lack of support for more than two devices don't help either. As much as we'd love to recommend this one, we have to suggest you stay away.
Leave your own HideMyAss review:
10 user reviews for HideMyAss
Sean K 2/10 April 24, 2018
Dodgy VPN
Two issues with HMA. Firstly I received a cease and desist for P2P download I had run some weeks earlier, from a third party. This was early on and I was wary about the VPN – but I mainly used it for the BBC/ITV players and it wasn't about hiding my activities.
I also after a year of paying month by month, I bought a 1 year subscription from one their promos. I then discovered they were also charging me for my monthly subs. Getting my money back was fairly ordinary. As soon as I disputed the monthly costs they suspended my account. In the end I got my monthly subs back, but lost the balance of the yearly sub – luckily it had been a good promo.
I would stay clear. Since then I have used Cyberghost without issue.
Josh 1/10 April 3, 2018
No such thing as a 30 day trial
Money back guarantee doesn't exist.
I only used mine for 3 days but you so much as load an email and a webpage at the same time and you go over the MB limit to get your money back. Bad service, sneaky terms, connections are spotty and overall poor experience. Choose any other VPN service but this company.
Alberto Rico 7/10 December 8, 2017
Works as promised
HMA! works as promised: no frills install of their Windows app, and a good diversity of exit points. Linux setup is not as easy as they promise (outdated software on their official site), although they do offer .ovpn files for OpenVPN setup, for each of their exits (both TCP and UDP). Speed is however inconsistent: using a popular exit point as UK, they vary between 5 and 20 Mbps, depending on the day of the week.
Diego Garcia 1/10 November 2, 2017
HideMyAss VPN - LOGGING
I had used a free version of HideMyAss while first starting out and had upgraded to a paid version once I had tested out how reliable it was.
There are many choices available in HideMyAss but the only problem is that they log your data and may close down your account for anything they deem as being suspicious, their commination via email and encryption is nice but it just doesn't make it a good enough purchase when you know that they log everything about you.
Long story short, I eventually cancelled my subscription to them after 3 brief months.
Dejan 7/10 October 19, 2017
Good and bad at the same time
I've been using this VPN for more than 6 months. My first impression was really good, it had a LOT of servers worldwide, where some countries had multiple servers, which was exactly what I needed back then. They advertise their modern version of the application, which I think is so bad and it provides 0 information, but I guess it's ok for newbies, but honestly, I don't think newbies are using VPN. They should advertise as full version and lite version, and not v3 for that lite app and v2 for the full app (it seems outdated when you say it's an older version).
Their v2 application is way better, but it took me a while to find it, I had to contact a support for it. Overall as just for changing the IP, it's really good service, you have a lot of options, all the logs, a variety of servers. The bad thing about this VPN is torrenting isn't going to work, which is not that good compared to the price you are paying for service.
Also I think this is just my case, but still, I had an issue where my connection would drop randomly after equal interval of 20/30 mins, I think the problem was part of me, but still I contacted the support, and even though they were really fast and cooperative, they couldn't find what the issue was.
Matt 7/10 October 16, 2017
Pricey but easy to use
HideMyAss works well. The UI is fantastic and the service is fast, which would probably make it more appealing to users unfamiliar with VPNs. Unfortunately, the service is not without some significant downsides – it is expensive, at just under $10 per month if you go by the one-year package, and as much as $16 per month if you go one month at a time. Perhaps even more importantly is that it has logging policies that allow it to track some user data, which is a big no-no in a field that is meant to be all about anonymity.
If you're absolutely new to VPNs, the UI might make it worth it, but otherwise I'd suggest looking elsewhere.
Prefer not to say.. 1/10 October 9, 2017
They keep logs (and that's a fact)
They've given data to the feds and there's nothing else to say: https://www.theregister.co.uk/2011/09/26/hidemyass_lulzsec_controversy/
I'd recommending any VPN that keeps logs of their customers. They should be deleting them after very X minutes, but seems like HideMyAss has kept them for months (if not more).
Benjamin 2/10 July 1, 2017
BAD BAD BAD....
Bought a subscription from HideMyAss. They were alright and I used them for a bit, but forgot about my subscription and they billed me another year without giving me any notice (sending an email maybe???). Had a really long conversation with their support to get my money back and after five days of discussion I got my money back.
Ralph 7/10 April 27, 2017
HMA still good enough for me.
I've been using HMA for 5 years. I've never had any issues with them. For work, I have to travel a lot and keeping myself private is really important to me, HMA hasn't let me down. As the previous review stated that some of the locations have been blocked, it's not that important for me. They still have servers around the world which are good enough for a novice user as myself. Good provider!
Tim 4/10 March 3, 2017
China
I had trouble using HMA in China in November. I went to a couple of provinces and HMA was blocked. I finally broke down and signed up for ExpressVPN and that solved all my problems. HMA was sympathetic and said they were working on a solution. From posts on forums, I understand this problem dates back to early 2016.