HideMyAss – yes, that's the VPN's full name (exclamation point and all) – was founded in 2005.
It's owned and operated by Privax LTD, a 100+ member team with offices in London, Kiev, and Belgrade. They're also one of the largest VPN providers, spanning over 940 servers.
Here's a complete breakdown of everything HideMyAss has to offer (which sounds dirty… but don't worry).
HideMyAss Review (Summary)
| | |
| --- | --- |
| PROTOCOLS: | OpenVPN, IPSec, PPTP |
| ENCRYPTION: | AES 256-bit |
| LOG FILES: | Some Logging |
| LOCATIONS: | 45+ countries, 800+ servers |
| SUPPORT: | Live Chat (24/7) |
| EASE OF USE: | Very Simple |
| COST: | $5.99 |
| PLATFORMS: | Win, Mac, Android, iOS |
| RECOMMENDED? | No. |
| OFFICIAL WEBSITE: | www.HideMyAss.com |
Background Information on HideMyAss
HideMyAss offers over 120,000 IP addresses across more than 940 VPN servers that span 350 locations in over 190 worldwide countries. That, was a mouthful. And it makes them one of the largest VPN providers across the globe.
The vast majority of those server locations are centralized in North America and Europe. They've got a strong showing in Africa (when compared with other VPN providers. But they're a little light in Central and South America – relatively speaking.
Here's how the countries stack up:
You can use HideMyAss on Windows, Mac, osX, Linux, iOS, Android, and DD-WRT devices, with zero limits on transfers, connections, and downloads or uploads.
The downside is that you can only use their VPN client on two different devices for each account.
The upside, however, is that one of those devices can be a router, which means you can connect all of your other devices to it and be good to go (they specifically recommend Flashrouters, Sabai Technology and Anonabox).
That about does it for a quick overview of what HideMyAss has to offer. Next up, let's turn our attention to all of the details and technical background, before touching on customer support and pricing, so you can make an educated decision.  
Pros of Using HideMyAss VPN
Since HMA was founded back in 2005, they've obviously had some time to build up a solid product, with decent features. Let's take a look of what to like (and what not).
#1. Download Speed: 63 Mbps out of 100 Mbps (above average)
In order to keep this review accurate and unbiased, we went over to speedtest.net and conducted a speed test so that we could see how their performance compares with the competition. Here were the results:

US Server (New York)
Ping: 113ms
Download: 58.98 Mbps
Upload: 30.38 Mbps
EU Server (Amsterdam)
Ping:

41ms

Download:

63.34 Mbps

Upload:

50.12 Mbps
Asia Server (Hong Kong)
Ping: 284ms
Download: 19.25 Mbps
Upload: 13.09 Mbps
UK Server (London)
Ping: 45ms
Download: 64.42 Mbps
Upload: 43.30 Mbps
For conclusion of this performance test, I could say that that HideMyAss download (and upload) speed is surely in TOP 10.
However, they aren't fast as their rivals – ExpressVPN and Private Internet Access (both respectively over 80 Mbps)
#2. HideMyAss Protocols: OpenVPN, PPTP, IPSec
I could start abbreviating HideMyAss to HMA at this point, since you already know what we're talking about, but now I just like saying it.
So… HideMyAss defaults to the same open source options that most other reputable providers do: OpenVPN.
It's your best bet for maximizing security while remaining anonymous while you quickly browse websites, stream content, or download files.
The OpenVPN protocol relies on the same OpenSSL library of technology that power SSL certificates that already encrypt most of your web sessions on major websites like Google or Facebook. These connections use a key that's required to open and close secure networks between devices and servers. Devices each have their own unique authentication key, so others can't impersonate or 'eavesdrop' on session activity.
That's especially important with common 'man in the middle' attacks.
For example, if malware is installed on your system it can modify information that's being sent back and forth. So let's say you're trying to process a simple online bank transaction. A 'man-in-the-browser' scheme might show you the transaction happening as normal, while other information is being processed between a hacker and your bank – all without you knowing. To make matters worse, many times these don't show up with antivirus detection either.
HideMyAss also offers the PPTP protocol for older devices looking for good download speeds. However, you should stay away if security is a concern, because it's among the least stable connections available.
The L2TP/IPSec protocol, on the other hand, can help deliver stronger connections while getting around different network restrictions (albeit, at slower speeds than other choices).
#3. Safe, 256-Bit Encryption
Successful encryption is all about math at the end of the day.
There are a certain number of combinations that can be strung together to provide security. More characters of words or numbers in a password? Generally more secure (as long as they're not as obvious as your spouse's name).
The more potential combinations, the longer it takes to guess or figure out during a brute-force attack. These are conducted at scale, one possible variation at a time. They start with "1", and then try "2". Once they exhaust all single-digit options, they go to two digits. Rinse, and repeat.
The same process is applied through "dictionary attacks" using letters instead of numbers – in the same sequence. Then they run with tens of thousands of combinations until it lands on one that works.
These attacks are unfortunately extremely common. WordPress, which powers a large majority of websites on the internet, is especially susceptible to them if proactive measure hasn't been taken. That means any two-bit amateur hacker can get access to the information needed to execute a hack. Look: here's one example.  
Many of the internet's largest sites though aren't susceptible to them because they use a combination of login limits (where a user might get prevented after too many failed login attempts) and the underlying OpenSSL certificates that power OpenVPN. This rock-solid technology uses AES 256 bit encryption, which is the strongest available.
Encryption keys are used at the beginning and end of a connection in order to secure the connection. Ciphers are required on either end in order to unlock the contents and see what's inside.
256-bit encryption is used by government agencies around the world because it's nearly brute-force proof. There are just too many possible combinations to make hacking feasible in most cases.
That way the only people who're able to access what's inside, are those who're supposed to see it.
Cons of using HideMyAss VPN
As always, it's very rare to find a VPN with no cons. Like many others, here's what I found bad about HideMyAss:
#1. Logging (questionable)
Almost all VPN services keep connection logs on some level.
Most, like HideMyAss, use those to see when connections are made, what the duration is, and when a user disconnects from their service. That way they can make sure no one's abusing the system or trying to manipulate their user's information.
They might also monitor bandwidth usage (in aggregate) so they can plan and predict usage, to better improve their product and services for all of their customers.
That doesn't mean they're snooping or tracking those individual web sessions, though.
HideMyAss says they won't keep track of which websites you visit, what data gets transferred back-and-forth, or which IP addresses are in question.
However…
There have been a few reported 'issues' where some of your data can, mysteriously, be used against you.
Granted, these are anecdotes from random people on the internet. And obviously, things you read on the internet might not be entirely accurate. (You don't say?)
But it's worth mentioning.
First, one Reddit user complained of a suspended account (and an admission that HideMyAss will turn over information to court orders – like most VPN providers do).
The second story though comes with a connection to an infamous case involving arrested members of hacking groups LulzSec and Anonymous.
Reportedly, one of the people used HideMyAss to conceal their identity while performing illegal activities. And due to the fact that this person was sent to jail… apparently, it didn't conceal their identity well enough.
In response, HideMyAss! has this to say:
"Our VPN Service and VPN services in general are not designed to be used to commit illegal activity. It is very naive to think that by paying a subscription fee to a VPN service you are free to break the law without any consequences."
Which, if we're being honest, is a fair point.
#2. HideMyAss Customer Support Isn't Fast Enough
HideMyAss offers support through live chat, email, and a ticketing system.
In addition, we also took a quick look through their social accounts to see how receptive and efficient they were in dealing with disgruntled customers.
The results are a mixed bag, similar to the experience of others.
For example, they'll try to reroute you to their other support channels whenever possible.
But the good news is that they're not completely powerless. For example, they're able to see a user's account information and still take care of issues on their own. In this next example below, they're able to see the support history between an individual and their company, in addition to access account information.
I also tried to get in touch with HideMyAss live chat, but it took nearly 15 minutes for someone to answer me. As a result, I really can't recommend their support.
HideMyAss Plans & Pricing Options
HideMyAss! offers a single plan that includes access to each and every feature they offer.
The only difference with their three pricing tiers then is how long you'd like to commit and pay upfront (getting price breaks for longer commitments).
They're also currently running some promotional deals that means their pricing among the lowest we've seen (especially for one-year commitment).
Plan 1: One month
$9.99/mo

prepaid every month
Plan 2: Twelve months
$4.99/mo

$59.88 prepaid every 12 months
Plan 3: Six months
$6.66/mo

$39.96 prepaid every 6 months
There you have it!
How to Install & Setup HideMyAss
Let's kick off by signing into your brand-spanking new account. Go to www.HideMyAss.com and sign up.
After logging in, you will be taken to the page for Managing your Account, where you can edit your username and password, manage subscription, and download the client.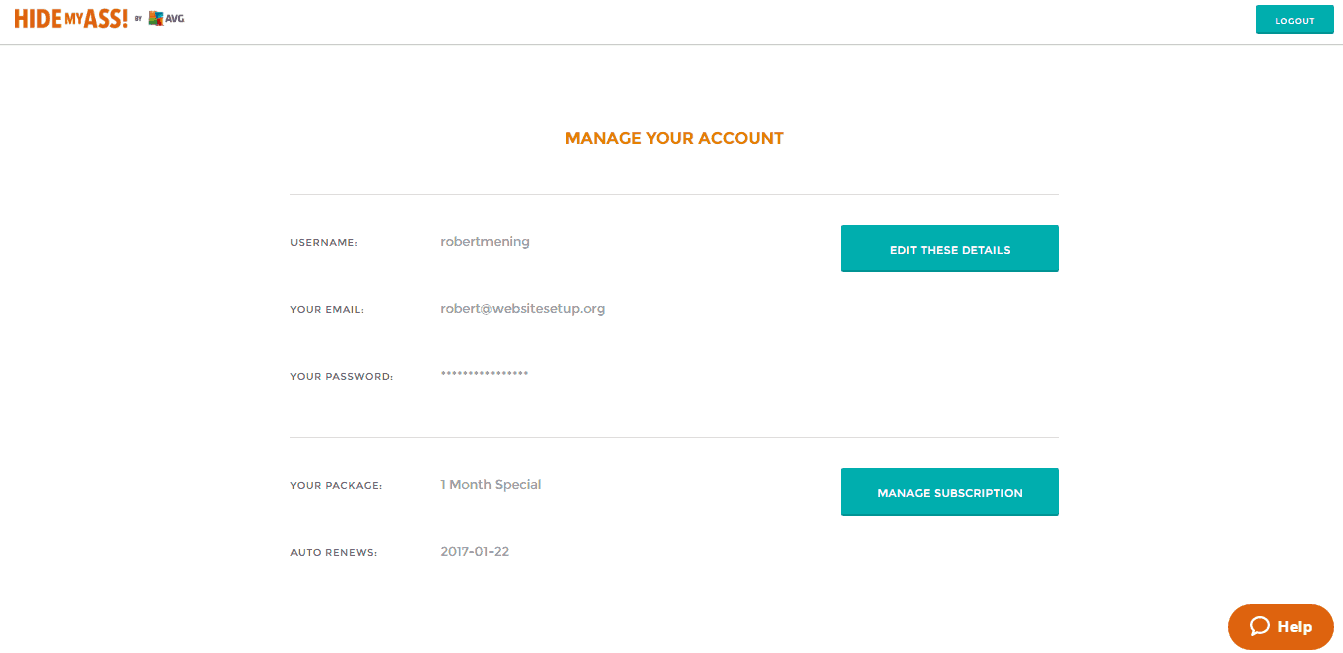 Way down at the bottom of the page, press Software & Help in order find all the VPN clients they have for download.
Once on that page, you can browse the list of available devices or operating systems for the correct VPN app. Find the right one and click Download when ready. That will kick off the installation process.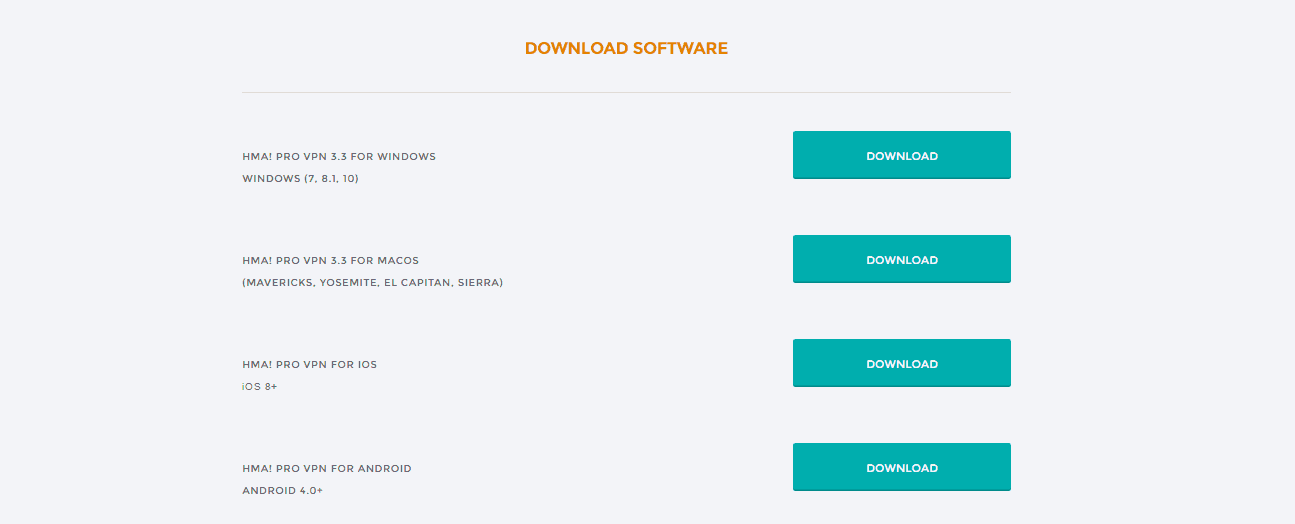 The VPN client installation will mimic the same one you're used to with any other downloadable program or software. You're going to install your VPN client, complete with authentication certificate, that will be used to create secure 'tunnels' between this device and their service.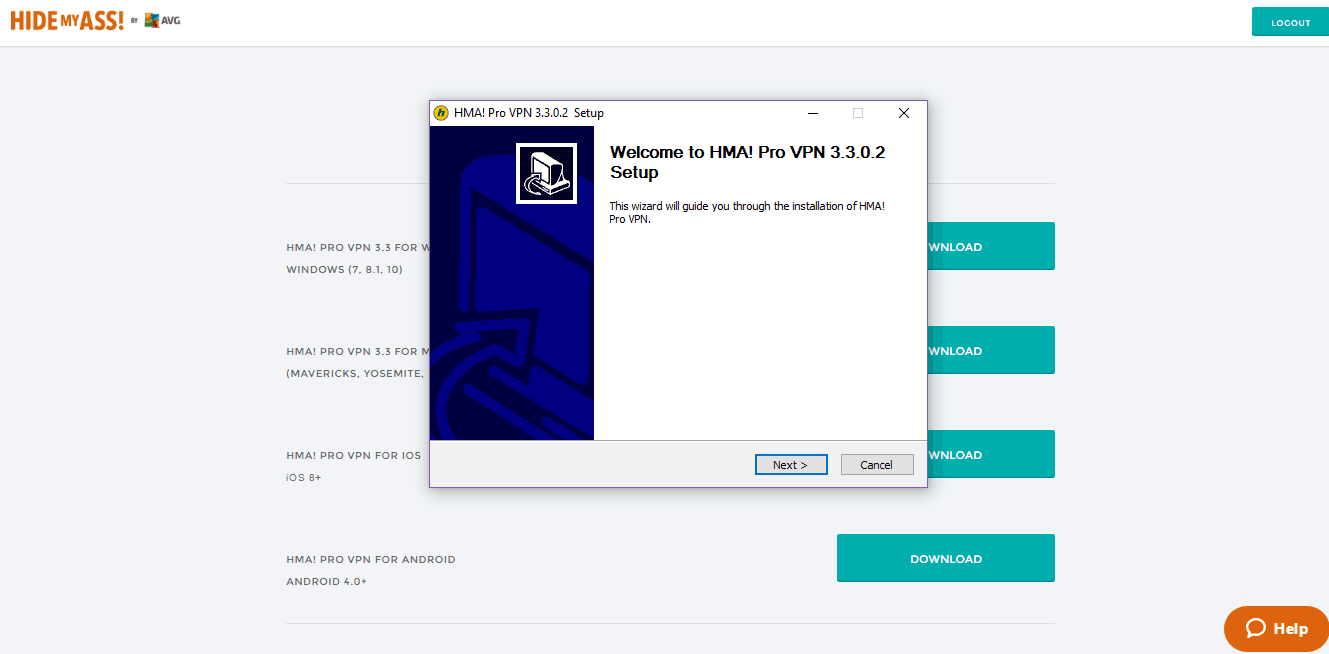 A login screen will come up once you have installed the client. Login using the email and password that you just created a few minutes ago while creating an account.
After logging in, you will see the option Instant Mode, which allows you to connect to the server closest to you with one click — you know, instantly. Location Mode gives you the option to connect to any server around the world! And Freedom Mode connects you to the closest free-speech country at the push of a button.
Do I Recommend HideMyAss? Nope.
HideMyAss has the largest network of servers across any VPN provider. Seriously, this thing is massive. Over 120,000 IP addresses. Over 940 different servers available. And they have over 100 staff members to help manage everything.
HideMyAss uses the most up-to-date, secure encryption technology. And their current pricing puts them among the cheapest plans out there (as long as you don't mind prepaying for a year).
There's a lot to like.
Except if you're potentially worried about, you know, doing anything illegal. In which case there's been some 'issues' in the past with them turning over information. So you might be on your own there.
But the whole point of having a VPN is keeping yourself secure and anonymous. So what's the point of using HideMyAss?
Just head over to our homepage and take a look at our 5 best VPNs.
P.S. Have you used HideMyAss VPN? If so, please consider leaving a review for us.
11 user reviews for HideMyAss
Diego Garcia
HideMyAss VPN - LOGGING
I had used a free version of HideMyAss while first starting out and had upgraded to a paid version once I had tested out how reliable it was. There are many choices available in HideMyAss but the only problem is that they log your data and may close down your account for anything they deem as being suspicious, their commination via email and encryption is nice but it just doesn't make it a good enough purchase when you know that they log everything about you. Long story short, I eventually cancelled my subscription to them after 3 brief months.
Dejan
Good and bad at the same time
I've been using this vpn for more then 6 months. My first impression was really good, it had a LOT of servers worldwide, where some countries had multiple servers, which was exactly what i needed back then. They advertise their modern version of application, which i think is so bad and it provides 0 information, but i guess it's ok for newbies, but honestly, i don't think newbies are using VPN. They should advertise as full version and lite version, and not v3 for that lite app and v2 for full app (it seems outdated when you say it's older version).
Their v2 application is way better, but it took me a while to find it, i had to contact a support for it. Overall as just for changing the ip, it's really good service, you have a lot of options, all the logs, variety of servers. Bad thing about this VPN is torrenting isn't going to work, which is not that good compared to price you are paying for service.
Also i think this is just my case, but still, i had an issue where my connection would drop randomly after equal interval of 20/30 mins, i think the problem was part of me, but still i contacted the support, and even though they were really fast and cooperative, they coudn't find what the issue was.
Overall, the VPN is solid 7 out of 10, good things are variety of servers, and nice simple design. Bad things are price is a little bigger then competition for no real reason, and you can't use torrent, which might be a huge NO to this vpn service.
Matt
Pricey but easy to use
HideMyAss works well. The UI is fantastic and the service is fast, which would probably make it more appealing to users unfamiliar with VPNs. Unfortunately, the service is not without some significant downsides – it is expensive, at just under $10 per month if you go by the one-year package, and as much as $16 per month if you go one month at a time. Perhaps even more importantly is that it has logging policies that allow it to track some user data, which is a big no-no in a field that is meant to be all about anonymity.
If you're absolutely new to VPNs, the UI might make it worth it, but otherwise I'd suggest looking elsewhere.
Prefer not to say..
They keep logs (and that's a fact)
They've given data to the feds and there's nothing else to say: https://www.theregister.co.uk/2011/09/26/hidemyass_lulzsec_controversy/
I'd recommending any VPN that keeps logs of their customers. They should be deleting them after very X minutes, but seems like HideMyAss has kept them for months (if not more).
Benjamin
BAD BAD BAD....
Bought a subscription from HideMyAss. They were alright and I used them for a bit, but forgot about my subscription and they billed me another year without giving me any notice (sending an email maybe???). Had a really long conversation with their support to get my money back and after five days of discussion I got my money back.
Benjie
Although I do not like their name, they are good. They have a ton of servers from over 200 different countries.
I've been an avid VPN user since 2014. I tried HMA first in 2015 and been with them since. Easy-to-use, reliable, fast, good support. All good, nothing bad!
Yeshutrozens
HideMyAss review
I think using a VPN is the best way to protect yourself from hacking and any other cybercrimes. When you have to pick one particular VPN from all the others, I think HideMyass is the best you can choose. I am satisfied with their service and my vote goes to HideMyAss.
Ankit Dyeonia
HideMyAss VPN provides best virtual IP
I have tried my VPNs as a part of my job. I am a SEO analyst and usually require it to change my IP for different locations. I tried HideMyAss VPN and found it easy to use. except this, I have also tried HideMyIP tool which does the similar job.
Tim
No free version : (
It's working well, but it should be free.
Ralph
HMA still good enough for me.
I've been using HMA for 5 years. I've never had any issues with them. For work, I have to travel a lot and keeping myself private is really important to me, HMA hasn't let me down. As the previous review stated that some of the locations have been blocked, it's not that important for me. They still have servers around the world which are good enough for a novice user as myself. Good provider!
Tim
China
I had trouble using HMA in China in November. I went to a couple of provinces and HMA was blocked. I finally broke down and signed up for ExpressVPN and that solved all my problems. HMA was sympathetic and said they were working on a solution. From posts on forums, I understand this problem dates back to early 2016.