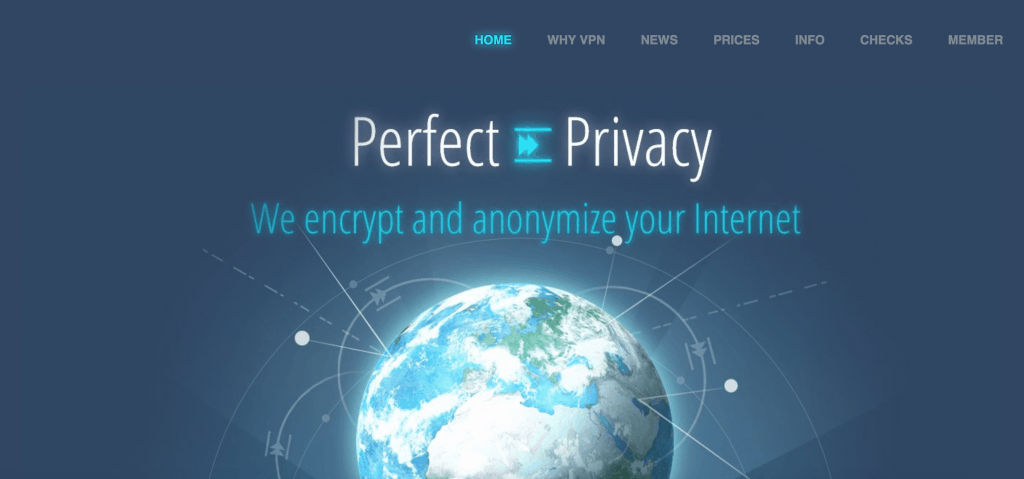 We decided to write this Perfect Privacy review a while back, but we never took the plunge.
We just felt that they are slightly overpriced.
However, as you might know, the goal of TheBestVPN.com is to review popular VPN services.
And Perfect Privacy is one of them.
So we bought their monthly plan and put them towards multiple tests.
They are a Switzerland company (Vectura Datamanagement Limited) which is founded in 2014.
How about the results? Quite good actually. Let's go straight to the information:
Is Perfect-Privacy Good For Privacy?
What Perfect Privacy does, is simple.
You simply disconnect from your ISP and connect to their VPN servers using an encrypted tunnel which is built in their software. They're using industry standard OpenVPN protocol as a default (recommended), but you can also choose from IPSec and SSH. They also offer SOCKS5 and PPTP proxies, but these are considered less secure.
The OpenVPN is encrypted with 256-bit AES encryption (strong).
In result, your IP will change, as does your virtual location.
In an ideal scenario, you should be able to torrent anonymously, get access to Netflix and encrypt your traffic
In addition to that, they claim not to log your data: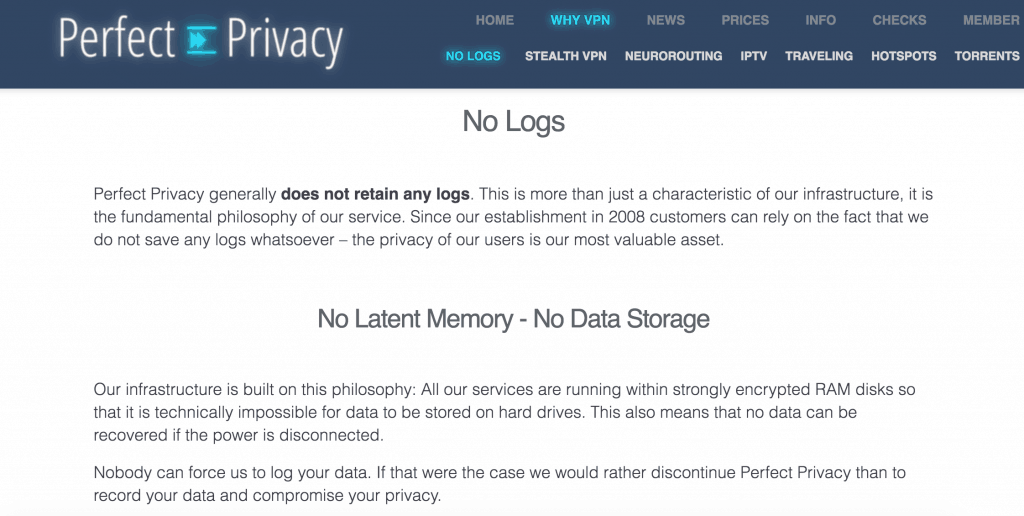 That's good because many VPNs lie about their logging policies.
All in all, I can say that Perfect Privacy is pretty good for protecting your privacy.
Let's move on.
Is Perfect Privacy fast?
We've tested multiple VPNs (75+) towards speed and we have access to a very detailed comparison to what kind of speeds you can expect using different VPNs.
Please note that never take speed tests for granted, not even this one.
It simply varies on too many factors such as your computer specs, your physical location, wi-fi signal strength, your Internet connection and more.
Although we've done 75+ speed tests in the same environment, so we do have some data to compare.
Speed test without a VPN (benchmark):

Speed tests when connected from Netherlands server to Amsterdam:

Download: 62.21 Mbps (35% slower)
Upload: 18.62 Mbps (64% slower)
Speed test when connected from US server to New York:

Download: 32.78 Mbps
Upload: 33.27 Mbps
Now, this may seem low to you, but it's actually somewhere in the middle of the pack. In fact, these are pretty average slow downs, unless you go with a premium type of VPN such as ExpressVPN.
Speed isn't the most important factor of a VPN, but it certainly plays a major role, when some VPNs (hint: Betternet) slow down your Internet connection by more than 95%.
Overall, it ranks 34th out of 75 in speed: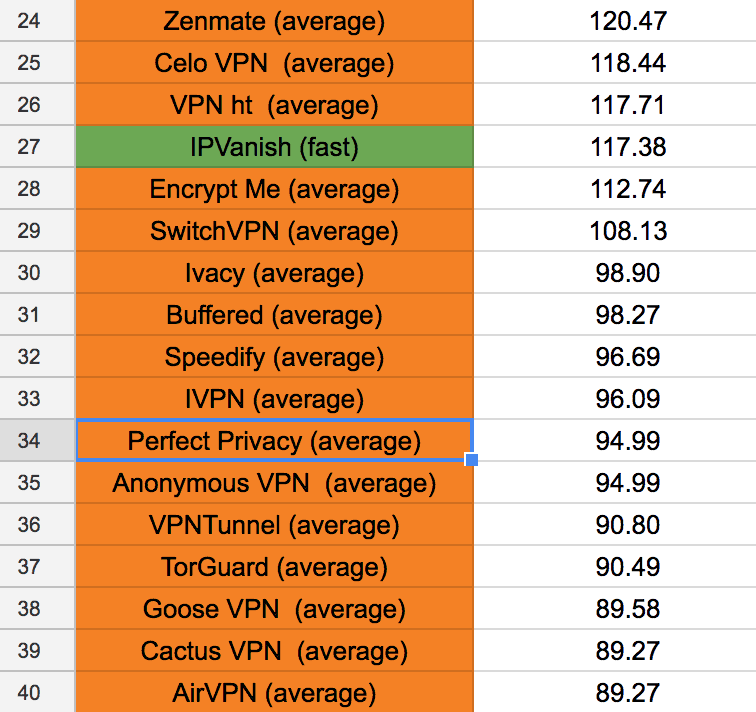 Can we consider Perfect Privacy fast?
No.
Does it slow down your Internet connection?
Yes, but you can still browse around safely. Many VPNs cut down your Internet connections speeds – that's just unfortunate.
Is Perfect Privacy Safe?
Now that's a good question.
We know that some (especially free) VPNs might leak your IP/DNS and contain viruses. I accessed to multiple leak testing websites to see if Perfect Privacy leaks any data.
Luckily, none of the 5 sites showed no leaks, not even a WebRTC one which is quite common.

VirusTotal also showed no viruses found. When I tested StrongVPN for example, this same result found 3 viruses.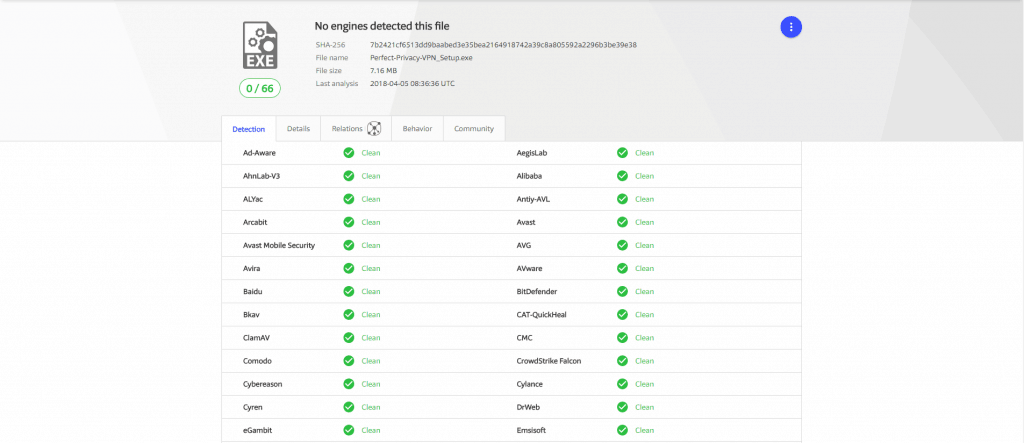 As these sites give are considered accurate and trustworthy we feel comfortable to say that Perfect-Privacy is safe enough.
Below we will give a detailed overview of some safety features that support the results we got from the multiple leak testing websites.
Does it Work With Netflix?
Many VPNs claim to have access to Netflix.
They boldy claim "Unblock Netflix Now".
Perfect Privacy isn't like that. In fact, they don't talk about much about Netflix on their homepage at all. Their core value is privacy.
But let's see how Perfect Privacy does against Netflix.
Netflix has been actively trying to crack down VPNs. I'm always testing multiple servers to be sure that they do or don't work with Netflix. This time we chose the following:
Perfect Privacy Netflix test
New York server –

not working

Chicago server –

not working

UK server –

working

Canada server –

not working

The Netherland server –

not working
At least one of them works with Netflix, which is good.
There's probably more servers, but we tested only 5 of them.

We can't confirm the same for Hulu or HBO, but we know that Netflix is the most aggressive one on blocking VPNs for sure. So if it's working with Netflix, it'll likely work with Hulu/HBO, too.
Is Torrenting allowed with Perfect Privacy?
Many people want to know if this is a good VPN for torrenting.
We would say so.
Here's why: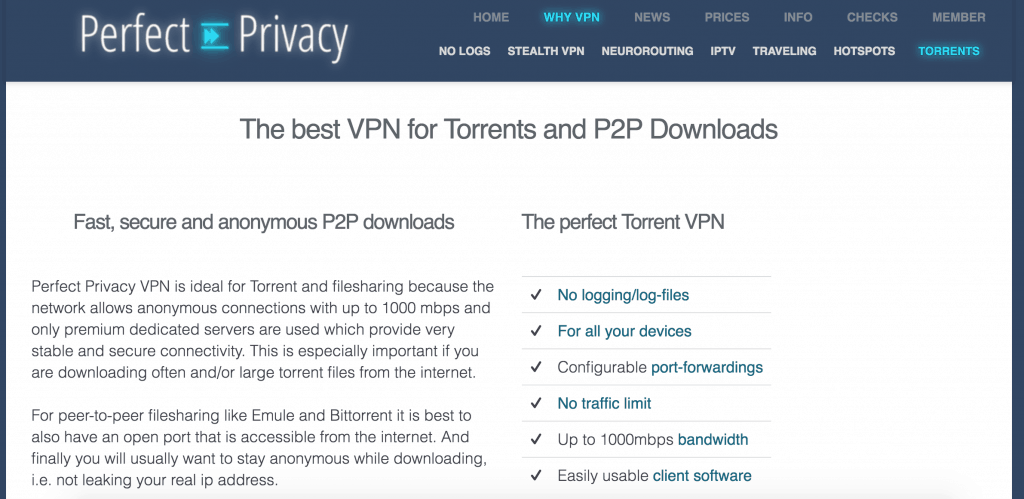 Their connection allows up to 1000 Mbps (what?) and only premium dedicated servers are used for torrenting.
It's worth noting that not all VPNs allow torrenting. There are many who block them from the get-go, such as PersonalVPN and TunnelBear.
Is Perfect Privacy an easy VPN to use?
We know how frustrating can a poor VPN app be. We have dealt with them so many times. In fact, some were that difficult that we couldn't even get them working properly.
Azire and SlickVPN took 2 hours to get them working.
Things with Perfect Privacy are different.
Their app is very minimal and simple. There were no bells and whistles: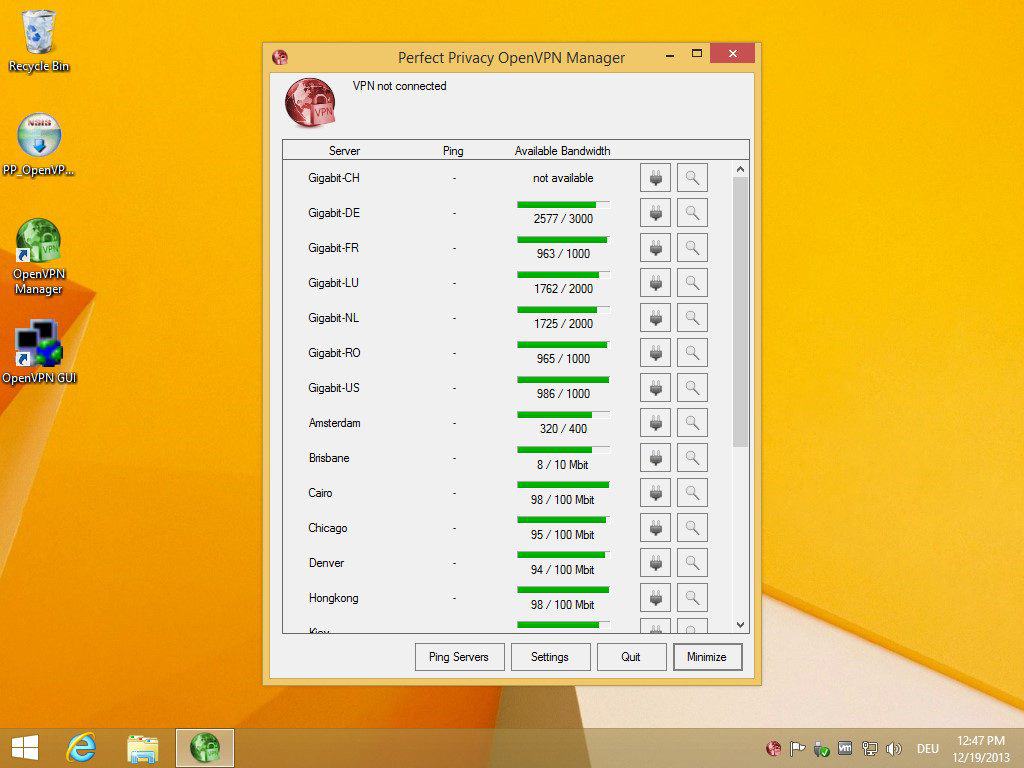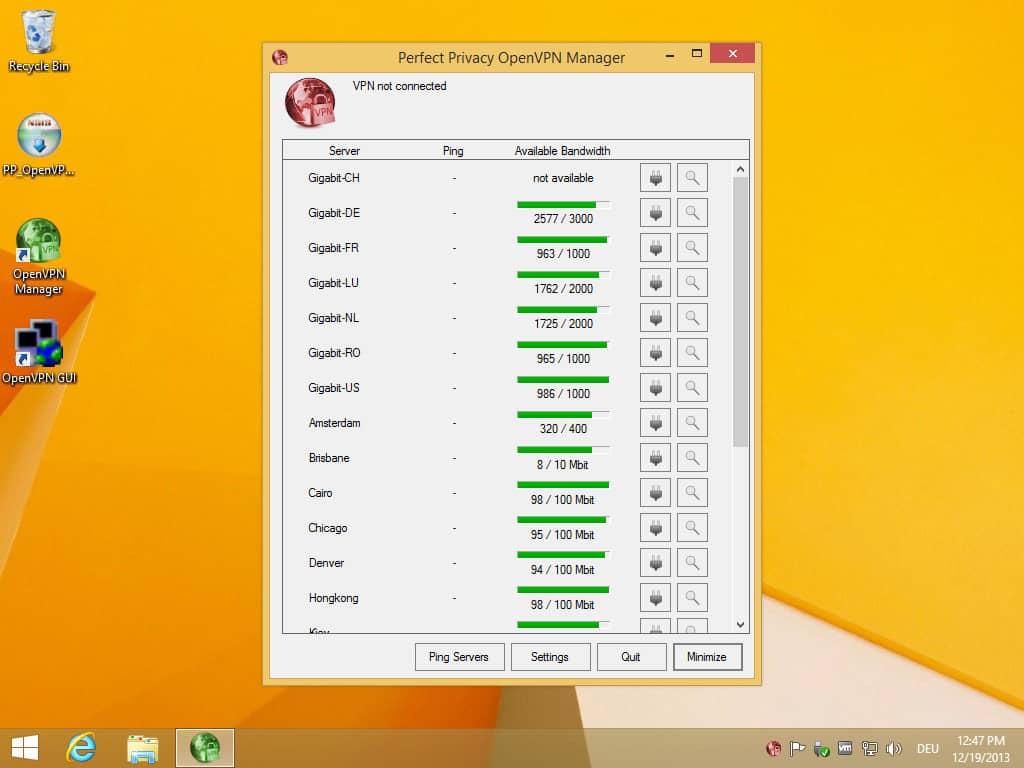 From there you can change your servers, as well as protocols. It also runs nicely on your taskbar so it's hidden away in a good way.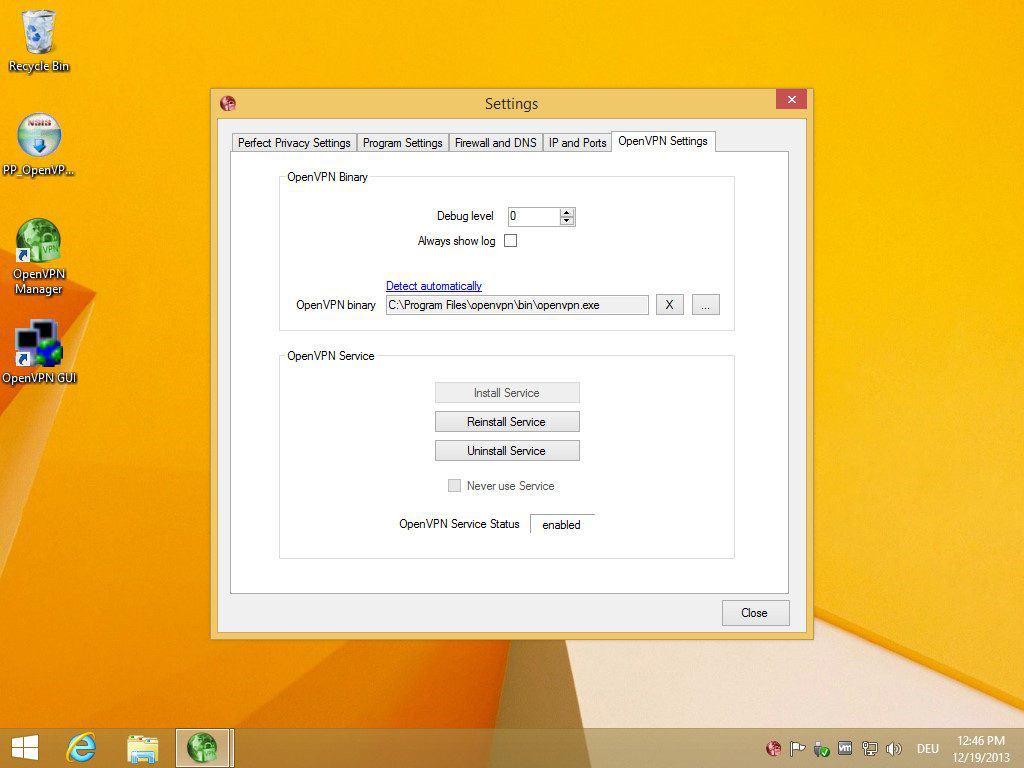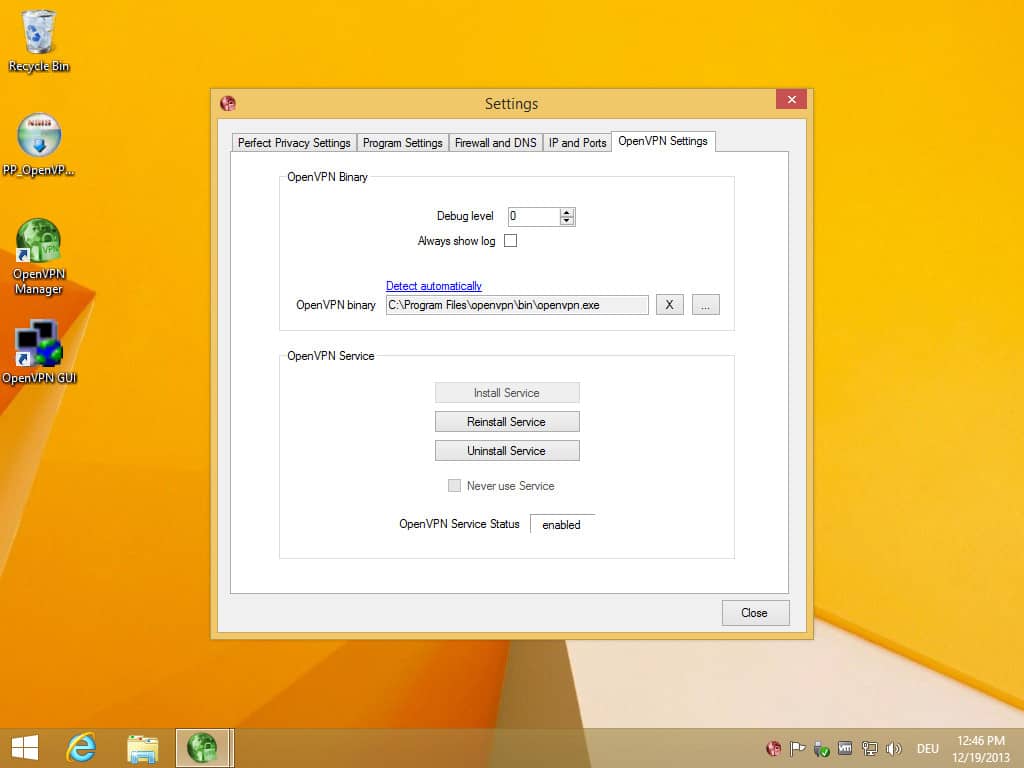 We found no real problems when using their software. However, connecting to servers should have been more instant. With Perfect Privacy, it took around 30 seconds to connect from one server to another. Not bad overall.
Perfect Privacy Compatibility
First off, PP offers the stand-alone client to Windows and Linux users only. It's called the "VPN Manager".
It also works with the following devices:
Mac – through OpenVPN and Tunnelbrick (easy to set up)
iOS – through IPsec protocol (easy to set up)
Linux – through IPsec and OpenVPN
Android – through IPsec
IPTV – AppleTV, SmartTV, Satellite TV, Playstation, XBox
Routers – custom set up (guide here)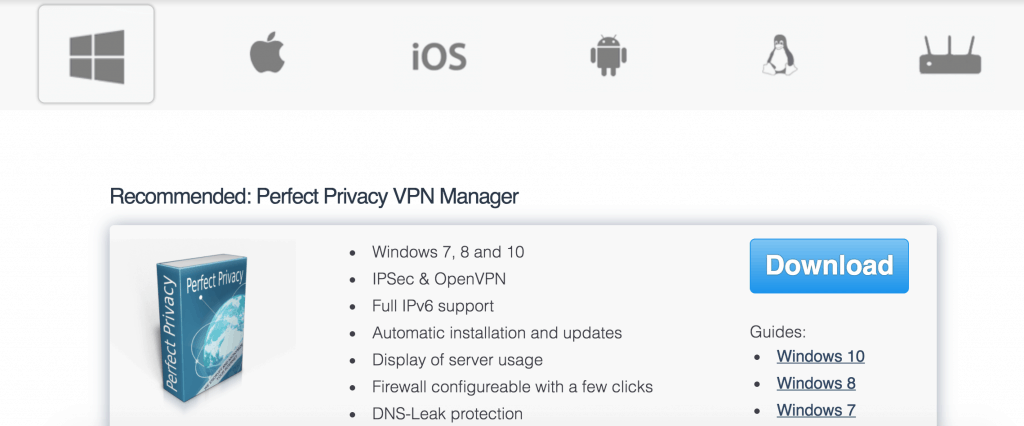 In addition to that, they are very generous by offering unlimited devices with one subscription. Most of VPN servers keep that number around 3-5.
Lastly, it can also be incorporated by working together with TOR.
Servers and Main Features
Perfect Privacy boasts 55+ servers in 23 countries.
The number of servers and countries doesn't always reflect their quality of a VPN.
While this number is rather small compared to other "TOP" VPNs like NordVPN or even PIA, it certainly has enough servers for an average user.
Some additional features include:
IPv6 support
TOR compatibility
NeuroRouting
Server Cascading (you can cascade your connections across multiple servers, which makes it very hard to track the initial IP/server)
Configurable port forwardings
TrackStop (Adblocker that filters out ads and phishing domains directly on VPN servers. Customizable details.
All the above makes Perfect Privacy a very flexible VPN. Only a handful of VPNs offer IPv6 support or server cascading which is a nice perk to have.
In addition, there is a Kill-Switch – it shuts off your internet connection in the event of VPN failure, disconnection or when mistakenly not enabled)
Perfect-Privacy has 3 levels of Kill-Switch.
While tunnel is active (on-mode only when VPN is connected)
While program is active (on-mode when software is working)
Permanent (works even when software is off)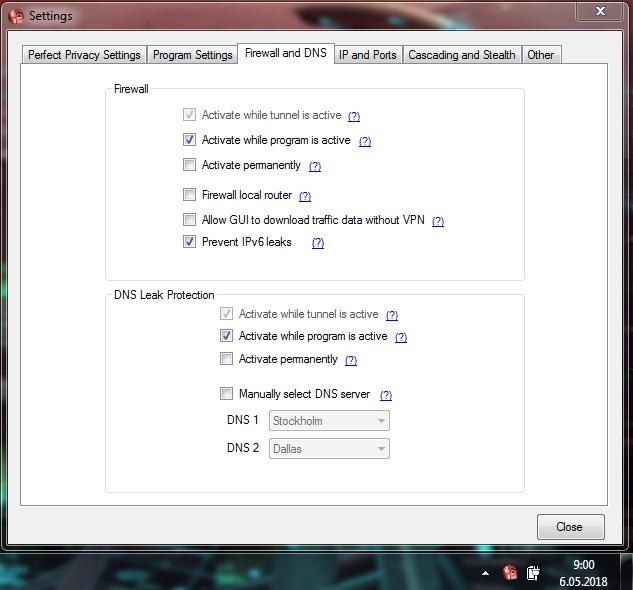 We did a small test to ensure the Kill-Switch operates correctly.
For this purpose, we turned on the second level and tried to connect to the internet while VPN is off.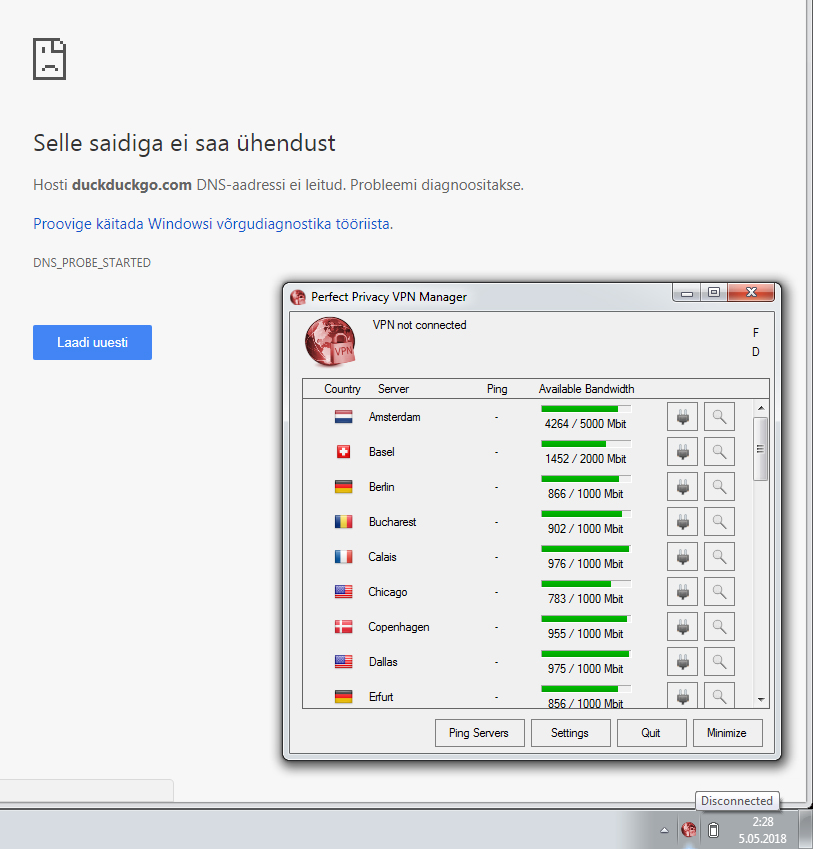 As you can see it passed the test. Kill-Switch doesn't let us connect to the internet when VPN is disconnected.
Customer Support
You can get help through 3 different channels – FAQ, forum, e-mail.
FAQ page gives help with most common questions, it's great for a quick fix.
Their forum is quite active also. For a bit more complicated problems, it makes sense to search solutions at first from the forum, assuming somebody else got stuck with the same case.
If you have time and seek personalized help, get in touch via e-mail.
Their PGP key gives you the comfort to send encrypted e-mails.
What is PGP?
PGP (Pretty Good Privacy) is an encryption program that gives additional cryptography and authentication for communication. It is used for signing, encrypting and decrypting e-mails, directories, files and even disk partitions.
In the case of Perfect Privacy, by sending through PGP, only them can open and read your message.
Next, we did a test for overall response time. The message included a simple question about how to increase download speed. We want to share the results –
Question was sent 10:25 PM and reply arrived at 10:29 AM.
This makes the total time 12 hours and 4 minutes.
The reply was clear and accurate including follow-up question, which made us feel they really care about their customers.
Many services tend to close the communication by not delving into the matter. This happens when the customer service tries to narrowly reply with ready-made answers or just use low-quality bots to do the job,  this wasn't the case with Perfect-Privacy.
We are satisfied with the e-mail response. If they would have an instant live chat, we would be really pleased. There is always something that needs an improvement, right?

One more thing.
More technical concerns will be fixed trough TeamViewer, a remote desktop sharing platform.
This type of approach is rather an exception.
Plans/Pricing and Payment Options
Plans are easy to understand
Like many other services who tend to give or take away features depending on how much you will pay, they are making pricing very simple, which we like.
The only difference in the packages is the cost and length of time ratio. The longer the contract, the cheaper the price.
Perfect-Privacy pricing

Signing up for
1 Month
12.99 € (0.43 € per day)
3 Months, saves 7.75%
35.95 € (0.40 € per day)
6 Months, saves 15.38%
65.95 € (0.37 € per day)
12 Months, saves 23.02%
119.99 € (0.33 € per day)
24 Months, saves 31.05%
214.95 € (0.30 € per day)
Types of payment options –
Payment options are extremely versatile. You can pay with wide-range of options like PayPal, Bitcoin, Mobiamo, Visa and Mastercard, Amex, UnionPay. If you like old-school anonymity, pay in cash (send your money in a concealed envelope to their address in Latvia)
Pay in cash option is actually very rare.
What payment option should you choose?
It varies on what you for what you want to use your VPN. The most fool-proof choice would be cash or cryptocurrency, in this case, Bitcoin.
Keep in mind that even Bitcoin has some flaws.
The best part which we always favor is the ability to get a refund. If you are not satisfied after first purchase, you can request a refund within 7 days from the date of purchase.
Nevertheless.
Bear in mind that some refunds like Bitcoin an are not viable.
The upside to slightly expensive VPN is that there is no license fee.
Let's Wrap It Up
The big question is, would we recommend this VPN?
Short answer – absolutely yes
Given to what is currently available in the market and the quality that is out there. Perfect-Privacy has the desired standard.
Genuinely-speaking, it is a good VPN and ranks in third place in all VPNs we have reviewed. This means a lot – if a service sucks, we will make sure you get the message.
It makes you anonymous, able to connect to a torrent, watch Netflix and protect your data on public Wi-Fi. There are no leaks that we are aware of or a sketchy privacy-policy. Even the customer support reacted quite well and felt like they care. We are very surprised by the good results.
So what else could we ask from a VPN service provider?
Few downsides to consider are the cost and a bit lower speed compared to the top VPNs.
Regardless, it's worth it.
Add your own review: