Will SlickVPN be as slick as their name says?
These days privacy is becoming a valuable commodity.
SlickVPN promises to "protect your privacy from anyone monitoring, throttling and buttering your online communications and internet activity".
That's why:
We here at TheBestVPN have done the painstaking research so you don't have to.
We reviewed SlickVPN based on these 6 categories:
Download speed
Privacy and security features
Jurisdiction and Logging policy
Torrenting and Netflix availability
Usability and support
Cost
We then laid out the Pros and Cons to help you decide for yourself if SlickVPN really lives up to their name.
So let's get to it:
SlickVPN Pros
1. Protects Your Privacy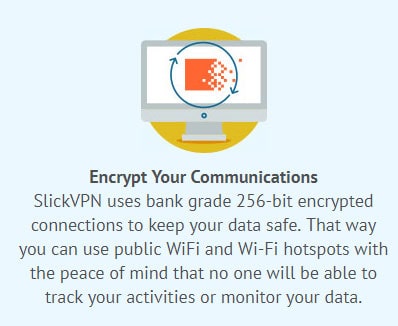 When it comes to your PRIVACY, SlickVPN offers bank-grade 256-bit encryption (if you use their OpenVPN protocol, anyway) so your privacy is pretty safe.
But:
Since SlickVPN is under 5 eyes jurisdiction, that means they can be compelled to surrender data they've gotten from you.
Bummer, right?
Not really. Because:
SlickVPN swears that they keep no logs. So there's really nothing to worry about as far as your privacy is concerned.
Here's our quick analysis of SlickVPN's privacy features:
Jurisdiction: SlickVPN is based in Greenville, USA which places them under the 5-eyes jurisdiction. This means that SlickVPN may be made to surrender (to the proper authorities) any of your data that they have kept.
Encryption: They use MPEE 128 BIT (for Windows, Linux and Android devices) and 128BIT (for Apple devices). They DO offer bank-grade 256BIT encryption for all devices but only if you choose their OpenVPN protocol.
Protocols: SlickVPN supports and allows you to generate configurations for PPTP (for Windows, Linux, and Android devices), IPsec (for Apple devices) and OpenVPN (for all devices). Of these three, however, they recommend using the OpenVPN configuration as it "runs over multiple ports with both UDP and TCP connections".
Kill Switch: Also known as an

internet kill switch

. It is a critical feature for every VPN that seeks to protect your privacy.
Logging Policy: This should warrant your concern since falling under 5-eyes jurisdiction means your data might still be surrendered to the authorities. So it should be good to know that SlickVPN keeps their word when they claim to never log your information.
2. No Leaks 
Now:
Another thing we have to note whenever we review a VPN is SAFETY.
Even if you've connected to a VPN, that secure feeling you have is just an illusion if your original DNS information is being leaked.
Add to that:
The fact that many viruses may lurk in most VPN services, making them risky or downright hazardous to use.
Imagine yourself:
Confidently surfing away on the internet without a care in the world. Enjoying your unrestricted access. Resting assured in the foolproof security provided by your VPN service.
What could possibly go wrong, right?
Bam!
Viruses!
"But how? This VPN was supposed to be secure!"
Be warned:
Not all VPNs are free from leaks or viruses. That's why we always pay special attention to DNS leaks and the Virustotal scan.
Here's what we gathered from our research:
SlickVPN does not leak your DNS information.
Leak Test Result 1:

Leak Test Result 2:

Leak Test Result 3: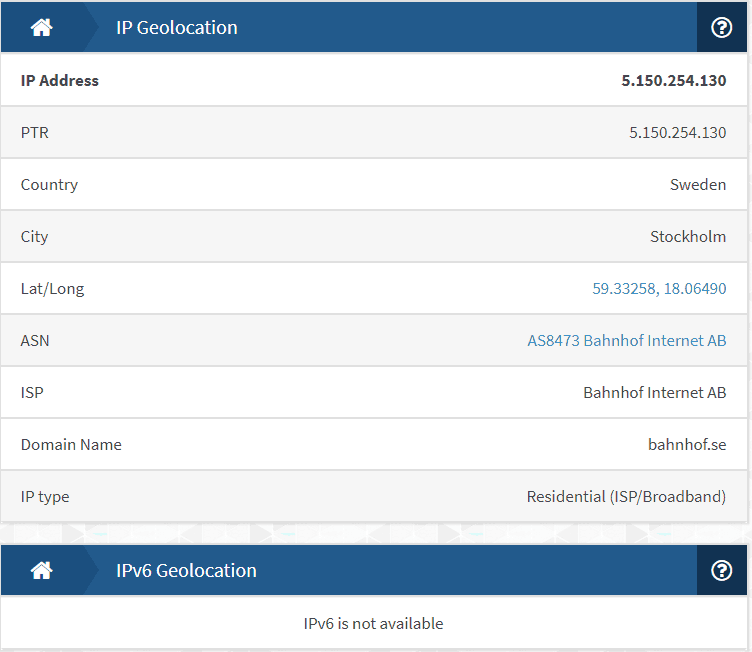 Leak Test Result 4: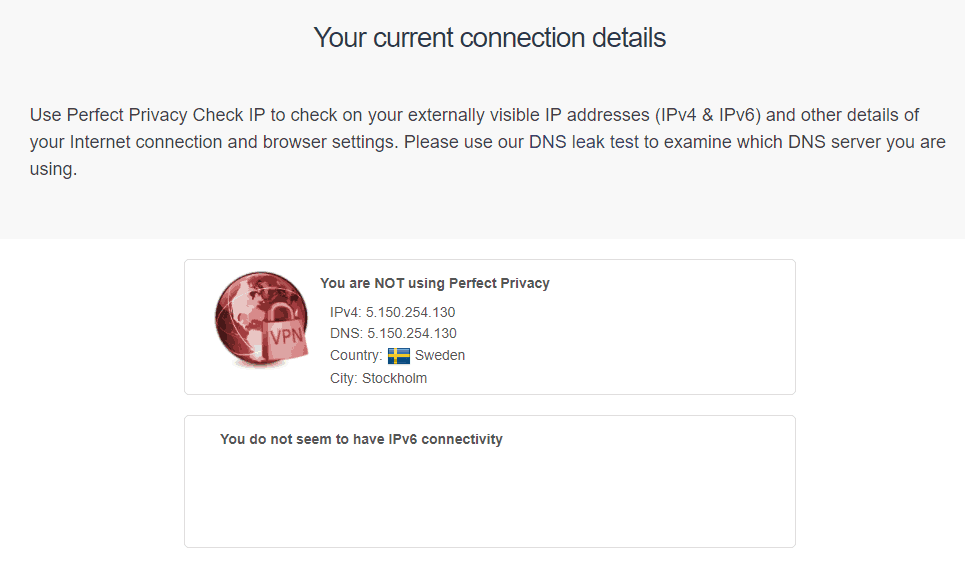 Leak Test Result 5:

However, we detected one (1) virus as of the time of our investigation: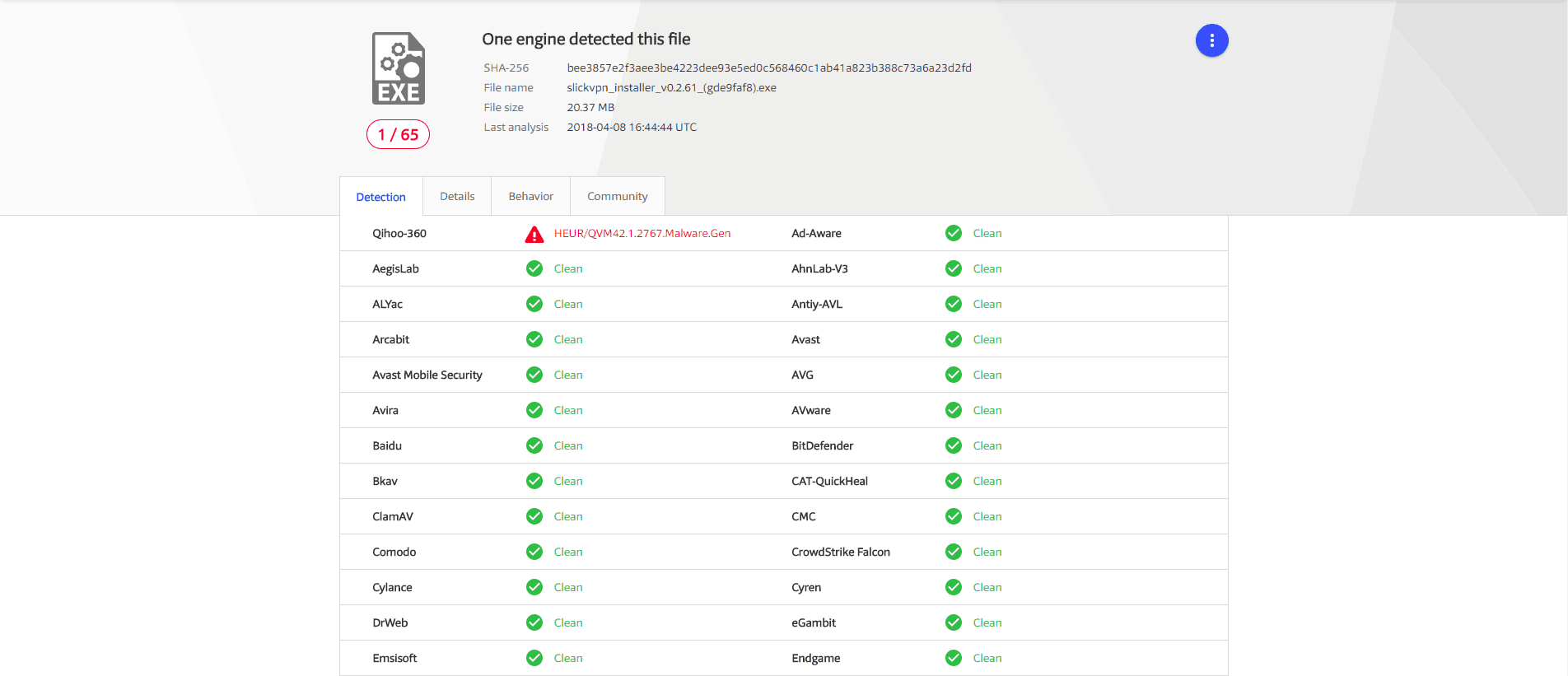 In the end:
While not being completely protected from viruses, it didn't reach the point where it would be considered "risky".
So, it's alright to say that SlickVPN is still safer than most of the other VPNs out there (that leak your DNS information and contain more viruses).
3. Get Netflix or Your Money Back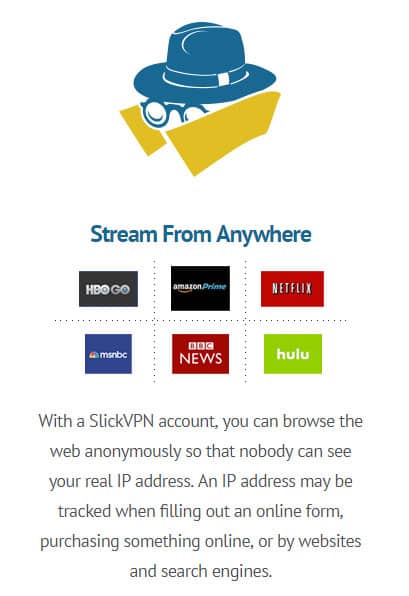 Yes, you read that right.
As of the time of this review, only one of SlickVPN's servers (UK server) had Netflix unblocked.
The following servers were yet to be unblocked:
United States- New York
United States- Chicago
Canada
Netherlands
"So, why is this a plus?" you might ask.
See:
SlickVPN has made it their pledge to provide their customers with complete and unrestricted access to the internet.
If they found that their IPs start to become blocked, then they would migrate to new IPs. They're so confident about this that they even featured Netflix's logo on their main page.
Furthermore:
They offer the use of static IPs to eliminate the problem entirely.
Now:
If at any point they are unable to provide you with their usual fast, unrestricted and anonymous access to the entire internet, SlickVPN is prepared to give you a refund.
To put things simply:
You either get Netflix or get your money back.
That said:
If Netflix is what you seek from a VPN, take a look at our top VPNs for Netflix.
4. Torrenting is Allowed 
"Yeah, but does it let me torrent?" you might ask.
Truth be told, many people these days ask that question before they decide on which VPN service to choose.
What with the large-scale government crackdown on torrent sites worldwide and the banning of several of the biggest torrent sites.
Of course, you'd want to know if your prospective VPN service at least lets you torrent.
That's why most VPN sites these days like advertising the fact that they provide torrenting to their customers.
So:
You'll be happy to hear that our extensive research shows that SlickVPN does indeed allow torrenting.
Here's what we found on their site:

5. Supports Multiple Devices 
Now:
When it comes to COMPATIBILITY, no doubt you must be asking yourself: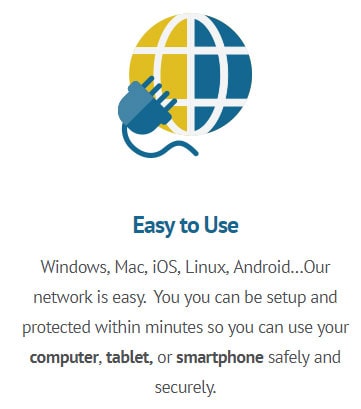 "What devices can I use this with? Can I use this on my Mac? How about my mobile phone?"
Well, you'll be pleasantly surprised that SlickVPN supports the following devices:
Computers and tablets
Mobile phones
Android
iPhone
iPad
Windows Mobile
Nokia
Routers
Additionally:
There is no need for special software/hardware in order to enjoy their features.
They do have their own client which, they claim, allows for a better VPN experience but they don't require you to use it.
However:
SlickVPN can't be used on your game consoles or smart TVs. When we filed a query to find out if SlickVPN was viable on our game console (PS4), it appeared that we had to use a different VPN in order to do so– which defeats the whole purpose.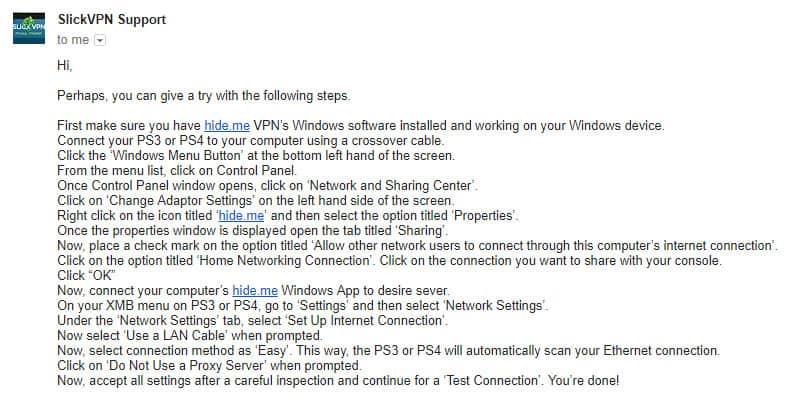 Furthermore:
When we asked about using directly on the smart TV, they said that we needed a second router.

SlickVPN Cons
Now that you've learned all of SlickVPN's strengths, it's time to talk about its weaknesses.
Let's get down to brass tacks!
1. Slows Down Your Internet Speed
Now:
The SlickVPN site says that "your connection speed with a VPN service will depend on a number of things" like:
Your original connection speed from your internet service provider; and
The physical distance between your computer and their servers.
Note:
If you read through their site, they describe their internet speed as being:
"very fast"
"great performance"; or
"best performance. Very fast even on high delay"
However, it is sad to say:
After our tests, we found that internet speed slowed down to the point that we considered it SLOW.
Here's what we found in our tests:

The above speed test was run on SlickVPN's Netherlands server.
Ping: 43 ms
Download speed: 22.72 Mbps
Upload speed: 17.48

While this speed test was run on their US server.
Ping:124 ms
Download speed: 56.54 Mbps
Upload speed: 19.68
Now:
Compare these numbers with our top picks for fastest VPN services and you'll find that there is a substantial difference.
They are ranked 47th out of 73 VPNs we've tested. Just slightly faster than ProtonVPN, but slower than ibVPN.
It is clear:
When it comes to speed, SlickVPN is not even in the average part of the spectrum but rather in the lower end.
2. Does Not Work with the TOR Browser 

What if you want more security than what your VPN already provides?
Answer: You use it together with The Onion Browser (TOR).
The Onion Browser is a free software for enabling anonymous communication. Using it makes it more difficult to trace internet activity back to the user.
Unfortunately:
Our investigation reveals that SlickVPN did not work with the TOR browser.
TOR test 1: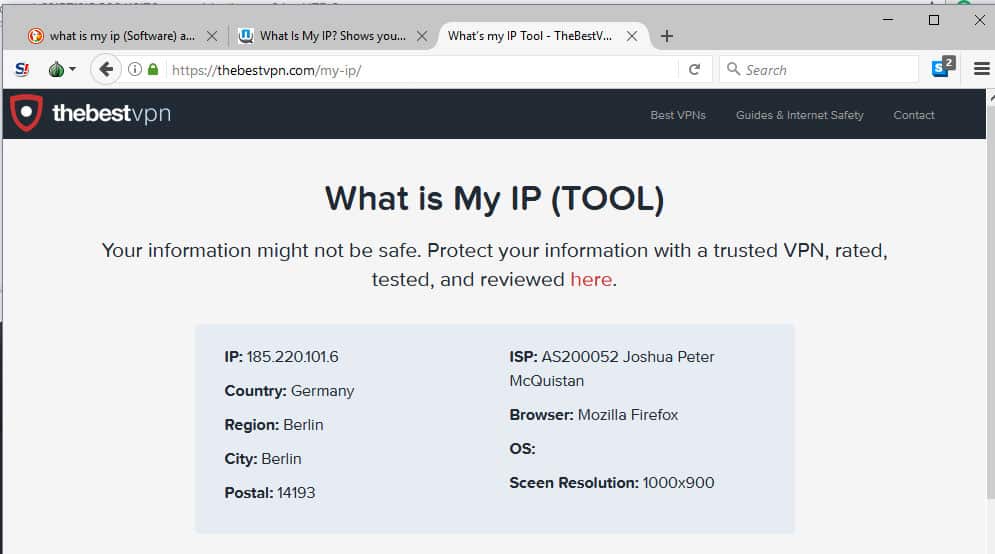 TOR test 2: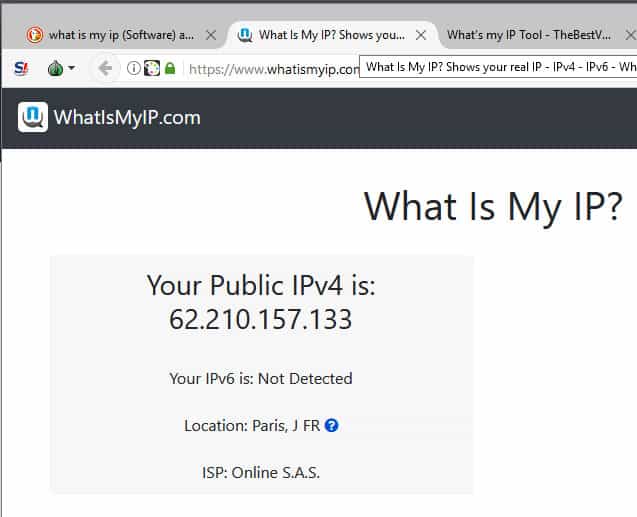 Chrome test: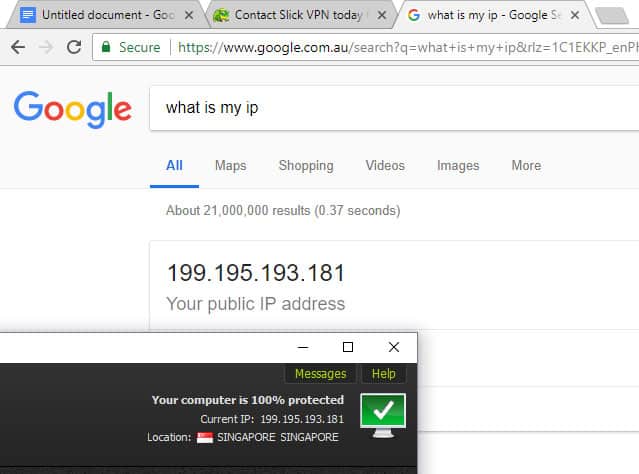 3. Not User-Friendly At All
Question:
Would you drive a car that went super fast, had great gas mileage and a nice interior–
–BUT handled like it had greased tires on a frozen lake each time?
Answer:
You'd have second thoughts, right?
Because it would be too hard to use most of the time.
Well, the same goes for a VPN's app.
The following images display the SlickVPN app (on Android) and its features: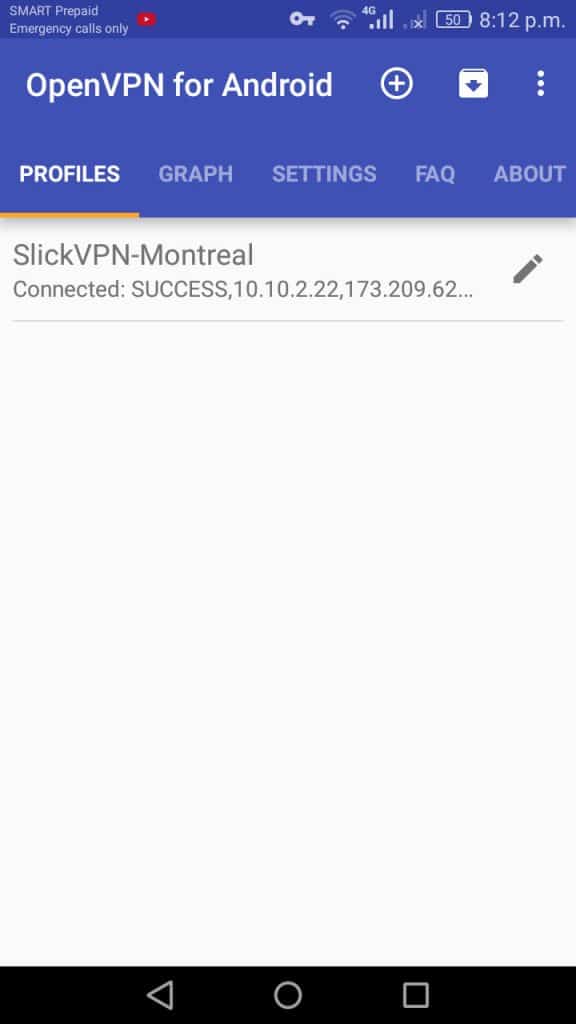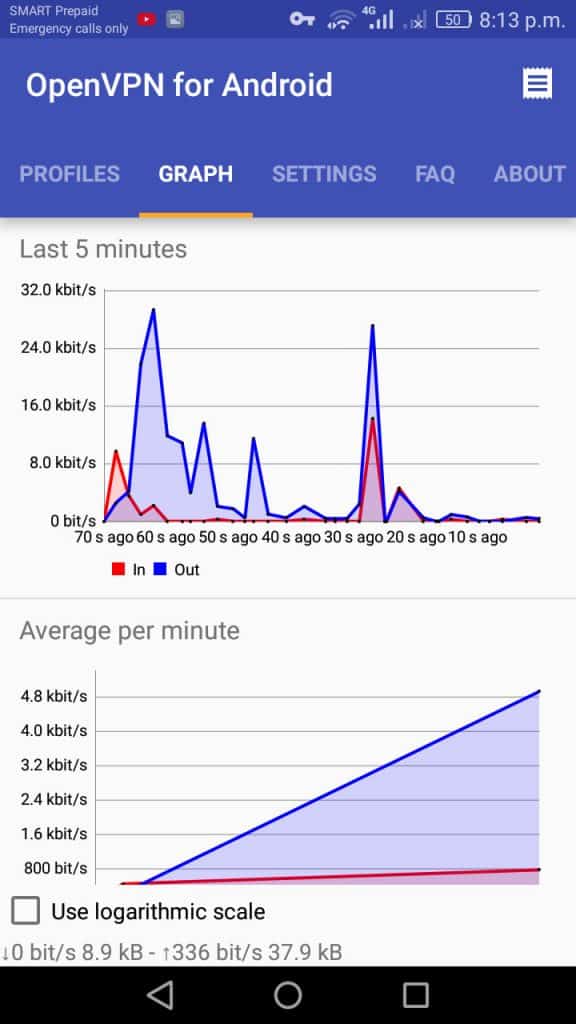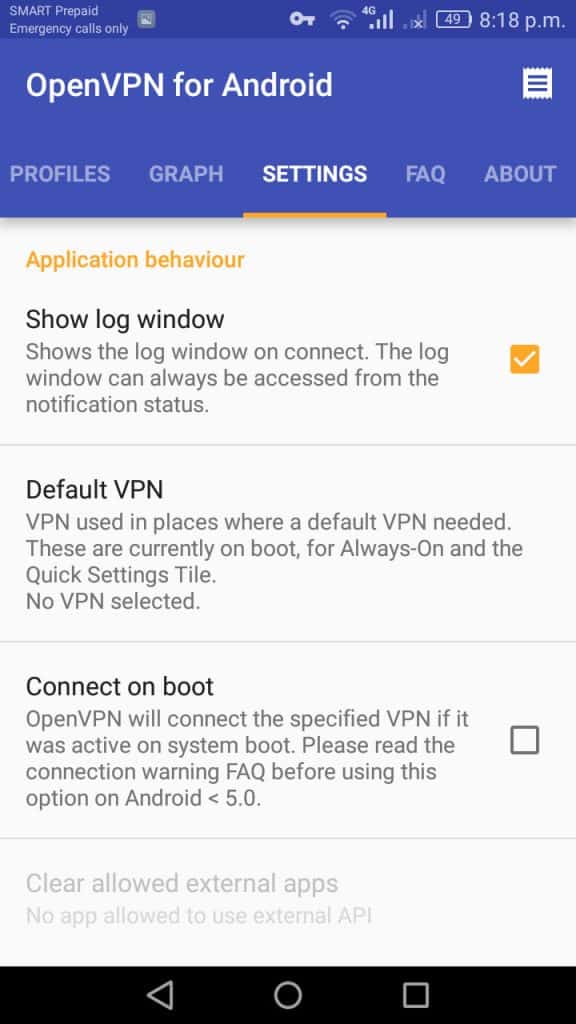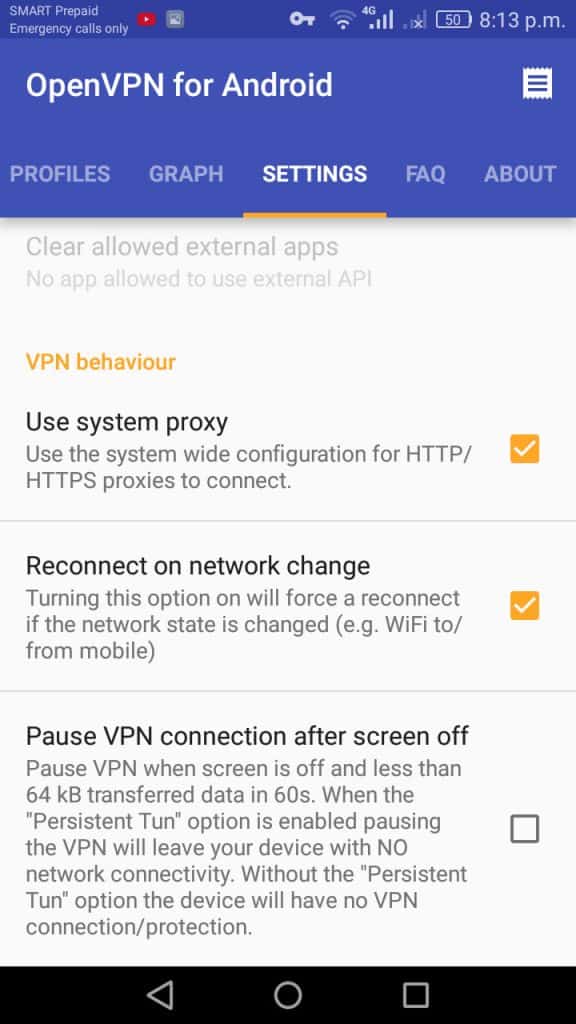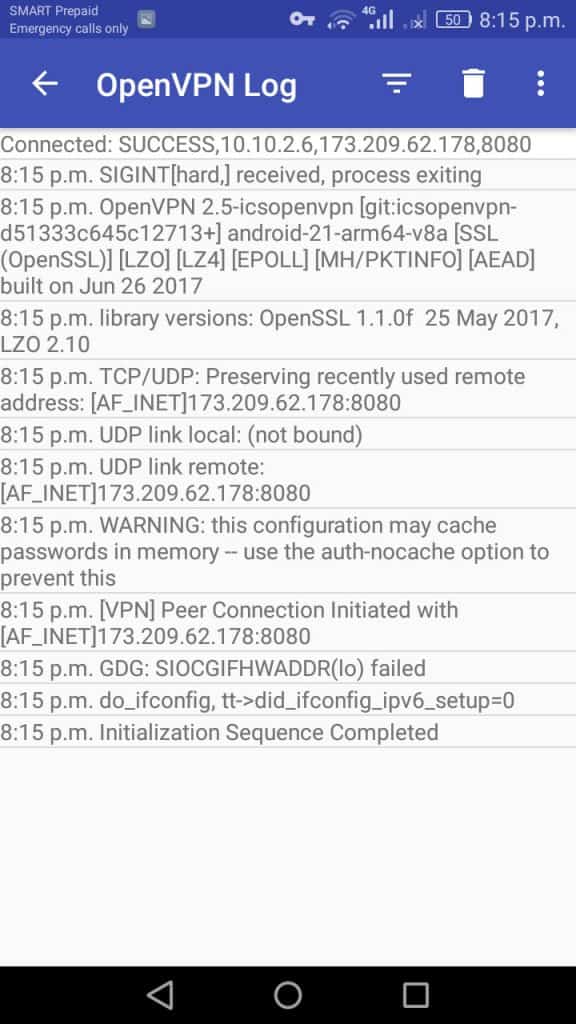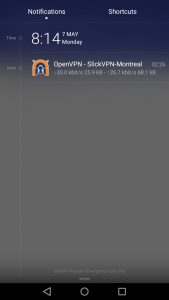 Now:
As to convenience, our research on their apps showed that:
App on Android:
It required us to first install the OpenVPN app from the app store.
It was then just a matter of following the instructions on the SlickVPN site.
This took just 5 minutes before we could start using SlickVPN on mobile.
The locations to choose from were initially limited to 5 (Los Angeles, Dallas, New York, Montreal, Miami) but you could also choose from the locations map.
App on PC:
It took 5 minutes to load the server list on the first run. (We thought it had already crashed)
Connecting took a lot of time.
Slow speeds
And to make matters worse?
They used fake server locations: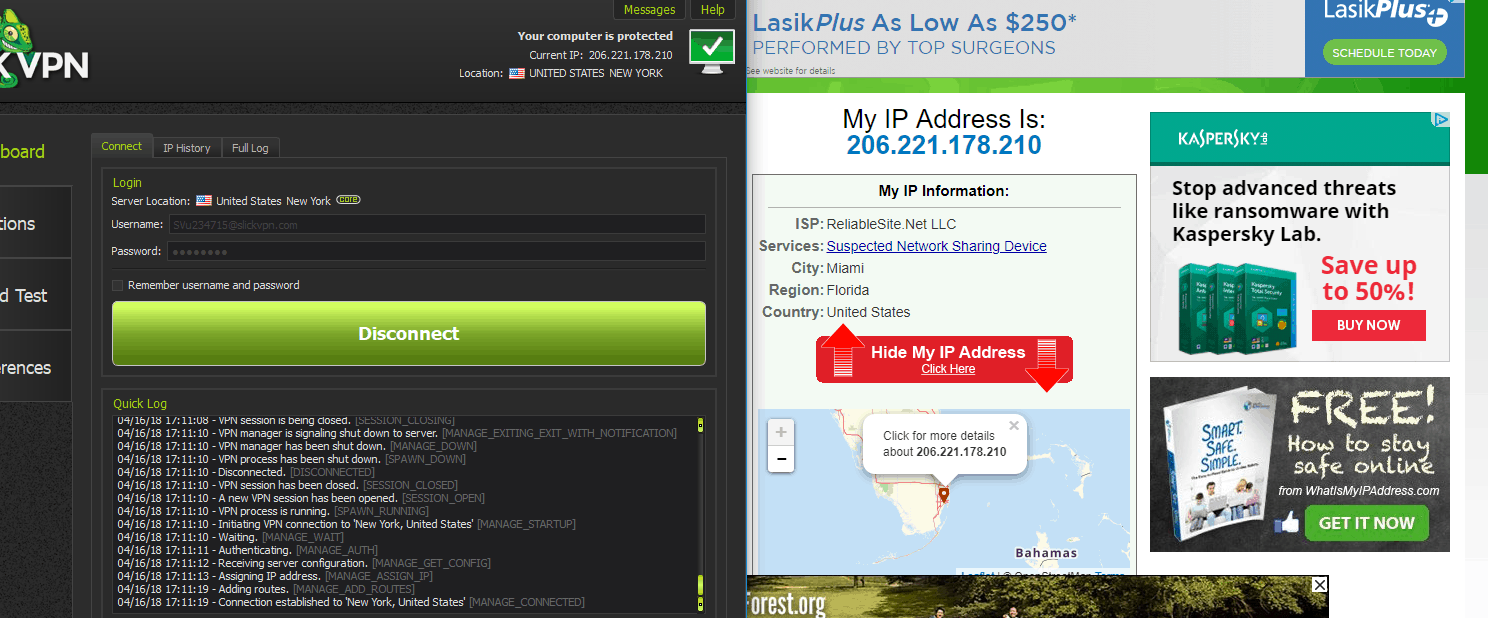 Above, the image shows that the location was supposed to be New York.
Instead, it shows the location to be Miami (The PC version was used).
Honestly:
We find this disappointing.
Especially since user-friendliness is what allows customers to keep using the service.
They won't likely use it if it's simply too much of a hassle.
4. Only 150+ Servers Over 40+ Countries
Now, you may ask yourself:
"I tend to travel a lot. Which countries around the world can I use this in?"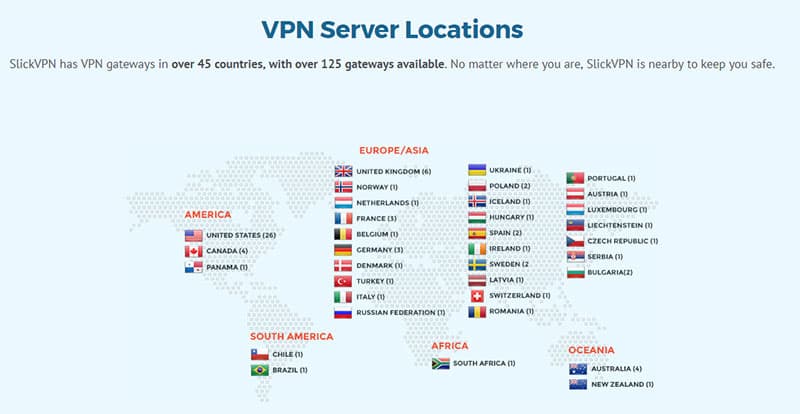 Well, you'll be happy to know that SlickVPN has a large number of servers in many countries across the world.
At the time of this review, they had over 150+ data centers in 40+ major countries with 250+ anonymous IP addresses all over the world.
| | |
| --- | --- |
| Location | Servers |
| Europe |   62 |
| North America |   62 |
| Asia |   19 |
| Oceania |   5 |
| South America |   2 |
| Africa |   1 |
Now:
While these numbers may seem impressive, let me tell you that they're not.
Compared to our top picks, you'll find that there are better options, as far as the number of servers is involved.
Private Internet Access has a spectacular 3,200+ servers, ExpressVPN, has an impressive 1,500 servers, while SaferVPN has over 700 servers.
So:
While SlickVPN has more servers than most VPNs, the amount of their servers still isn't anything worth writing home about.
We tell you what though,  they do have more server features that are worth noting:
HYDRA: If you want a higher level of protection, SlickVPN provides you with HYDRA. By allowing multi-hop connections, it frustrates anyone trying to intercept your private communications.

Up to 5 devices: SlickVPN allows you to connect to 5 devices at the same time.
Warrant Canary: SlickVPN will inform its users if any legal action is served that contains a gag order.
5. SlickVPN Support = Not The Best
Need help from SlickVPN's support team?
Well, you'll need some patience…
In these times where many VPNs provide their customers with 24/7 chat support, Slick VPN instead uses the support key method.
You'll need to fill out a form with your questions or comments which (they say) they will respond to within one business day.
We sent a query at 10:39 am on 5/7/2018.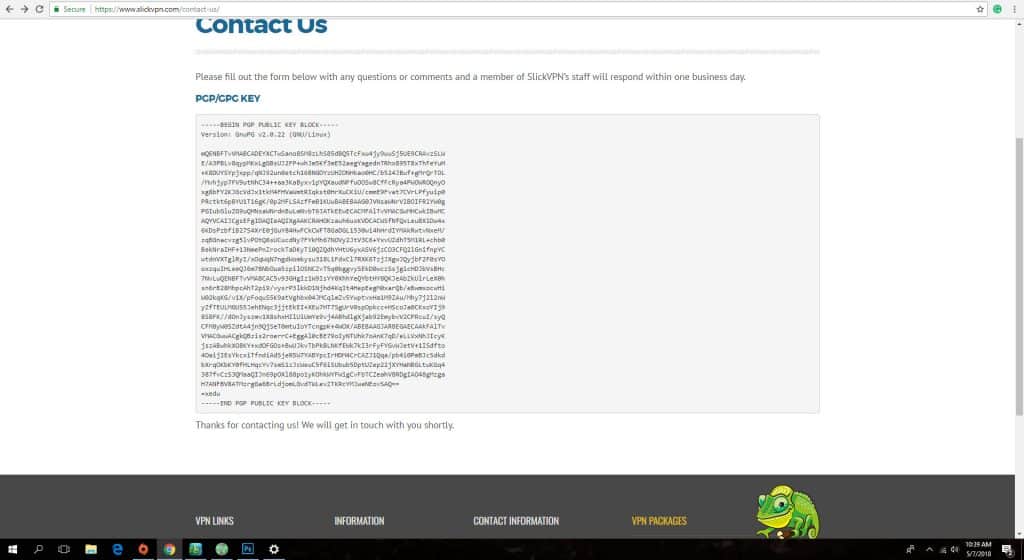 To which they responded 6 hours later. However, the response was not what we were looking for so we replied with yet another question. They then replied just a few minutes later.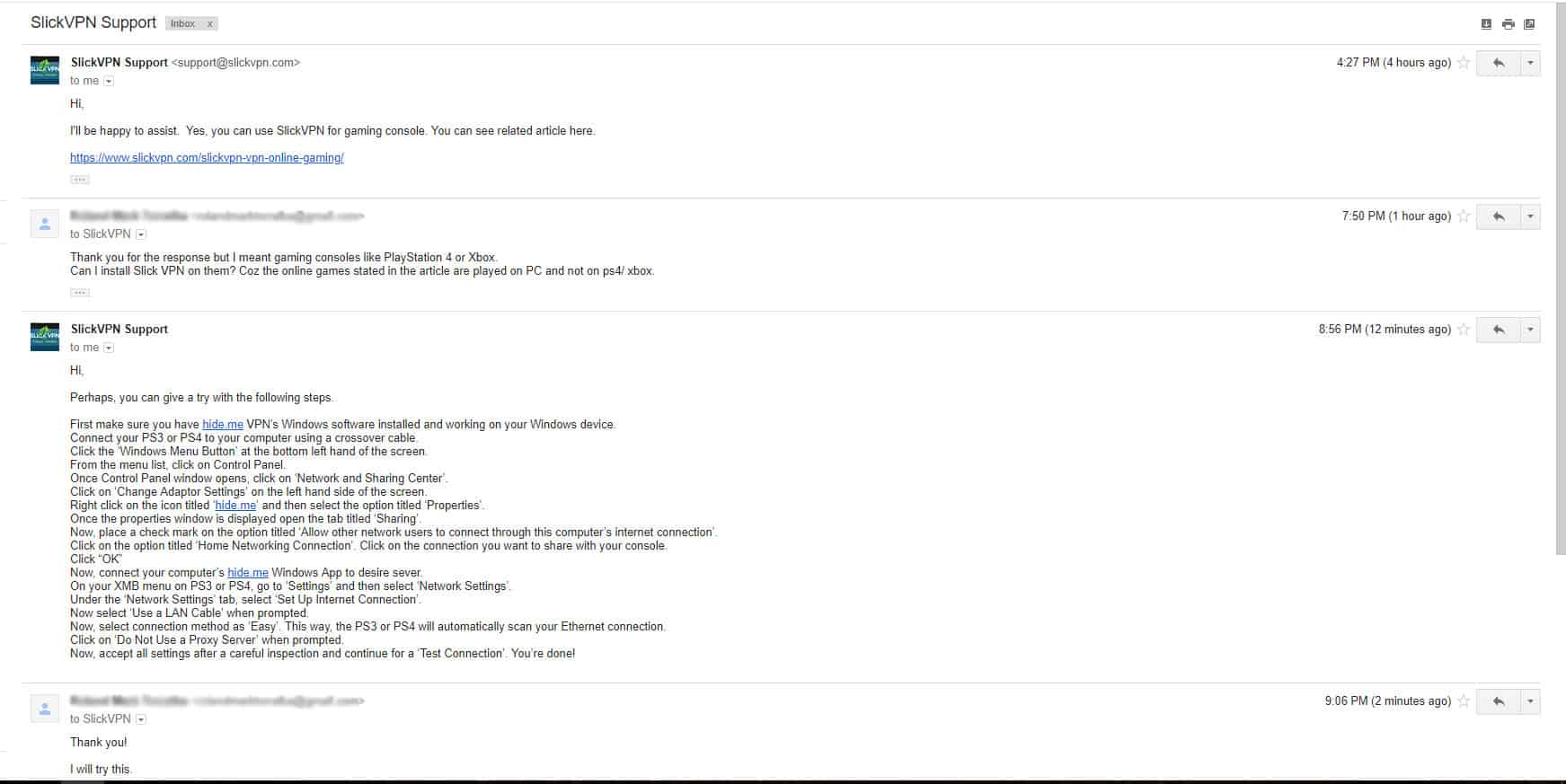 SlickVPN Pricing & Plans
If you've read up to this point in our review, you must be asking yourself:
"Well, how much does this all cost?"
Answer:
A bit expensive at $10 a month.
They offer three payment options:
For their monthly plan, you pay $10 per month, billed every one month.
If you choose their yearly plan, you get a whopping 66% discount for every month. You only pay $4 per month, billed every one year.
Finally,  if you choose their two-year plan, you get a 50% discount for every month. You pay only $5 per month, billed every six months.
For what it's worth:
At the time of this review, they did offer the first seven days of their service absolutely free. You won't get charged until day 8.

They accept payment by Paypal, credit card, or Bitcoin and all plans are covered by a no-hassle 100% Money-Back Guarantee for your first 30 days of service.
Also:
They offer an affiliate program where they give you 100% commission on the initial sign-up and 40% for all future recurring payments.
Do We Recommend SlickVPN?
Not really..
After taking all the pros and cons into account, do we recommend SlickVPN?
Based on our reviews alone, SlickVPN is not too bad but also not too good.
They protect your privacy and keep your DNS information safe from leaks and viruses; they offer torrenting and Netflix (or your money back); and their services can be accessed on multiple devices.
However:
Their download speed is slow; their app isn't user-friendly; you can't use it with the TOR browser; they only have 150+ servers, and costs more.
We feel that there are other VPNs out there with better VPN services at a cheaper rate.
Add your own SlickVPN review: