Buffered, like most other VPN companies on the market, claims to be the "Fastest and Most Secure VPN" available.
I'll analyze the validity of these claims in just a minute (spoiler alert: they aren't quite true), but before I do, I must first point out how much I respect the company's rapid growth and impressive list of accolades.
Only a few short years ago, I remember reviewing the very first iteration of Buffered's VPN and I have been absolutely blown away by how quickly they grew and evolved into what they are today.
The main question is: "Does their service live up to their growth and reputation?"
In this case-study, I will be taking an honest and unbiased look at Buffered's VPN services, analyzing their speed, usability, encryption standards, and other features to help you decide whether or not they are worth your money.
Here we go…
What is Buffered VPN? (Quick Background Look)
Founded in 2013 by three friends living in Budapest (Buffered Ltd.), Buffered has grown at an impressive rate over the past 4 years and garnered some significant attention from the VPN community.
Their VPN services are compatible with nearly every device including:
Mac, Windows, iOS, and Android. As an added bonus, advanced users can even configure their Buffered subscription to work with their home or office router.
Their network spans 41 countries spread across six continents (sorry Antarctica, better luck next time), and while this is certainly a respectable representation, they only offer a modest collection of 37 servers.
Despite this offering, Buffered does provide users with unlimited server switching and uncapped bandwidth so that you can have the fastest performance possible while connected to their network.
Before we dive any further into the technical specs and features that Buffered brings to the table, we must first address the elephant in the corner… The price.
Very Expensive Pricing: Starts $8.25/mo
I will be the first to say it, Buffered is not a budget-friendly VPN.
While you can save a little money by opting for their yearly plan, no matter what way you slice it, Buffered is going to set you back more than most other VPN services.
Here's their current pricing plan (which is actually cheaper than it was the last time I reviewed them)

While it might not be the most expensive VPN on the market (it's the second most expensive that we've reviewed), Buffered is still charging a pretty hefty fee, especially when their performance and features are taken into consideration.
But I digress…
Here's how their pricing plans break down.
Monthly: $12.99
$12.50 per month
$155.88 per year
0% Savings
6 Months: $59.94
$9.99 per month
$119.88 per year
20% savings
1 Years: $93
$8.25 per month
$99 per year
36% in savings
Thankfully, all of their packages do come with a 30-day money back guarantee to help comfort any hesitant buyers, however, in my mind, this still isn't enough to make up for the exorbitant price tag.
Considering that there are better VPNs for a much lower price like NordVPN, ExpressVPN or even PIA, you would expect Buffered's VPN to come armed with lightning fast speeds and a plethora of features.
Unfortunately, this is not quite the case…
Download Speed: 46 out of 100 Mbps is Average
Typically, if you are in the market for a VPN, there are only two things (other than affordability) that you really care about.
Speed and security.
Sure, the extra features and certain compatibility perks (like unblocking Netflix and working with TOR) are nice, but at the end of the day, it's speed and security that truly determine the quality of a VPN.
Although Buffered boasts a highly secure AES-256 encryption, I found myself entirely underwhelmed by their server speeds (especially when you take the price tag into account).
Remember what they claimed to be? "Fastest and most secure VPN". Sadly, not true.
US Server (New York)
Ping: 168ms
Download: 51.49 Mbps
Upload: 35.38 Mbps
EU Server (Amsterdam)
Ping: 40ms
Download: 46.78 Mbps
Upload: 46.65 Mbps
Asia Server (Hong Kong)
Ping: 224ms
Download: 36.46 Mbps
Upload: 16.30 Mbps
UK Server (London)
Ping: 45ms
Download: 56.63 Mbps
Upload: 39.19 Mbps
 As always, take speed tests with a grain of salt as they rely on many different variables, such as: Your network connection, your location, your computer and so on. However, since we've tested 30+ VPN services so far, we have an average that available which we can compare.
Now don't get me wrong.
Buffered is far from a "slow" VPN. In fact, out of the 30+ VPNs that have been reviewed on this site, they are the 9th fastest.
But here's the problem…
Out of the 8 VPNs that have faster download speed, only one of them is more expensive. In fact, several of these VPNs boast speeds that are 40% faster than Buffered for less than $4 a month.
However, Buffered does offer quite a few impressive features and bonuses to help make up for their lackadaisical speed and overpriced plans.
Buffered Pros
+
1. Superb 24/7 365 Support 
Many VPN companies falsely advertise 24/7 support, offering outdated and ineffective ticket systems that they somehow spin as "live".
Luckily Buffered is not one of them.
Not only do they offer actual 24/7 live support (I'm looking at you IPVanish), but their customer support team is one of the most effective and professional that I have ever seen.
While reviewed Buffered VPN, I heard so many positive reviews of their support team that I decided to look into their customer service for myself to see if they live up to the hype.
I submitted a simple query at 1:36 p.m. my time.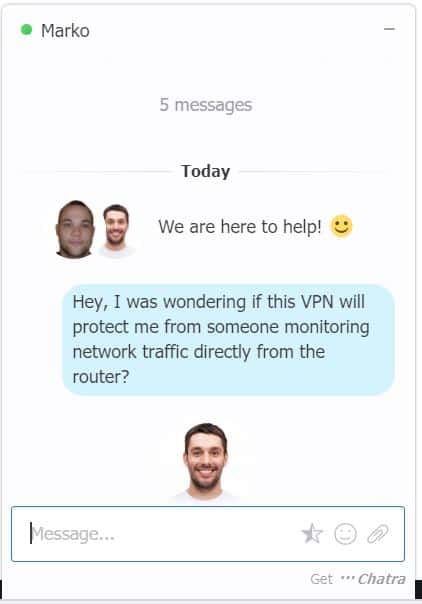 And 30 seconds later I received the following correspondence from their support rep.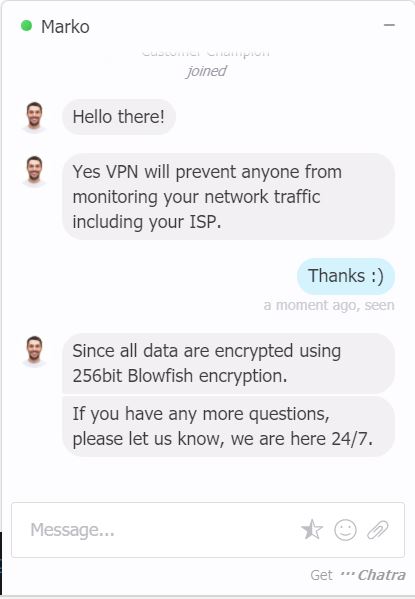 Considering the notoriously ineffective support offered by Buffered's main competitors, their 24/7 customer service team is a breath of fresh air for any VPN user.
2. Strict No Logging Policy
While I am personally a proponent of VPNs that offer 0 logging policies, Buffered offers an acceptable compromise by only logging information pertaining to the duration of your connection, not the browsing activities of your connection.
Here's a quote from their website regarding their logging policy.
While the case could be made that Buffered should move towards a policy that permits no logging whatsoever, the fact that all of your online activities and download records are kept anonymous from other third parties and your VPN provider is a huge plus for many users.
3. Highest Encryption Standard Possible (AES-256) 
While Buffered might not offer much in terms of speed, they do offer an impressive (albeit common) encryption standard.
Buffered uses something known as the AES-256 Encryption which is the most secure symmetrical encryption standard in known existence. In the 15+ years since this encryption became accessible to the public, no one has successfully broken the encryption code through brute force or any other methods.
Meaning that anyone concerned about their online security can rest easy knowing that Buffered's networks aren't likely to be hacked anytime soon.
4. Works with Torrenting
While it is becoming commonplace for VPNs to allow and promote torrenting on their networks, there are still a number of dissenters (like TunnelBear) who refuse to hop on the bandwagon.
And I get it…
Torrenting resides in a legal grey zone, and depending on the legislation of the country where a VPN is headquartered, actively promoting torrenting might result in some legal fallout.
However, Buffered doesn't seem too concerned with the powers of being in Hungary.
Not only do they acknowledge that their services can be used for the purpose of anonymous torrenting, this service is an integral part of their marketing!

If you are looking for a VPN that will allow you to torrent without worry, Buffered has got your back.
5. A Generous 5-Device Connection Limit
Personally, one of my biggest frustrations with many VPN providers is that they severely limit the number of devices that you can connect to their service at any given time.
While it's bad enough not being able to connect all of your personal devices to your VPN, this problem becomes even more frustrating whenever you are looking at using a VPN to protect your family's online browsing.
Luckily, Buffered offers one of the most generous simultaneous connection limits in the industry.
Unlike most premium providers, Buffered allows you to simultaneously connect five devices to their network.
This means that you should have enough connection slots for all of your personal devices and even a few of your friend's and families.
6. Easy to Use and Quick to Install 
While I will review the setup process in detail momentarily, for now, let's suffice it to say that downloading, installing, and launching Buffered VPN software took me around 4 minutes and was one of the most seamless installations I've ever experienced.
After creating your account, all you will need to do is follow a simple installation to get started with Buffered.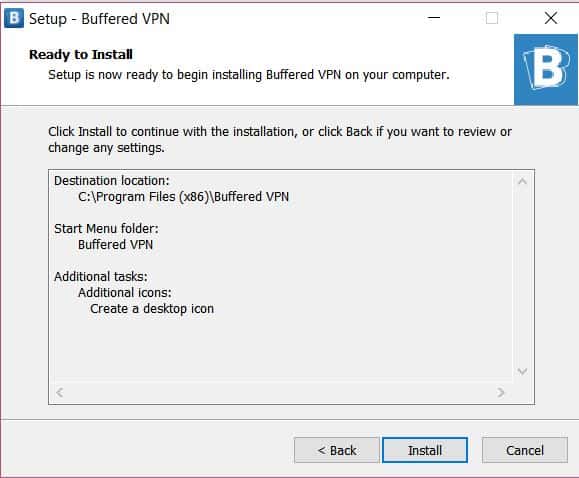 Unlike other VPN providers, Buffered didn't make me restart my device once installation was complete. I was simply taken to their software and given the opportunity to select my desired network.
Once you do open up the application, you will find that Buffered is incredibly intuitive and easy to use (which is partially due to their sparse offering of features and settings).
One of the coolest features of Buffered's software is that they provide you with a real-time analysis of your network's stats.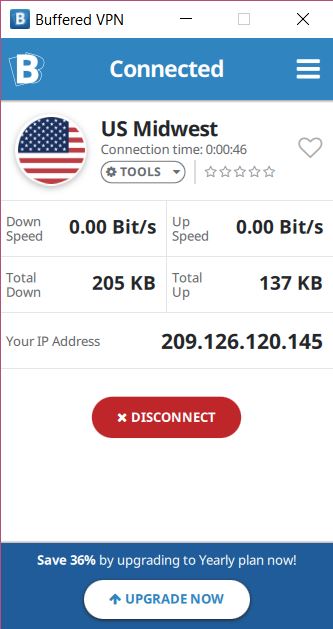 Even if the stats in question aren't particularly impressive, it's still a unique feature that offers significant utility to many users.
Buffered Cons
–
1. Overpriced and Slow Speed
I know that I have already touched on both of these issues, but they are worth repeating.
Of the 30+ VPNs that we have reviewed, Buffered is the second most expensive that we have ever seen but they're slower than nearly all of their major competitors.
Sure, Buffered is a high-quality VPN that has a lot to offer the average user. But they don't offer anything that warrants such a premium price.
For less than half the price of Buffered's yearly plan, you could pay for two years of Private Internet Access, one of the fastest and most impressive VPNs that we've ever reviewed.
2. OpenVPN Protocol Only
While this will only be a con for the more advanced users in the audience, I was disappointed to find that Buffered only allows users access to the OpenVPN protocol.
Admittedly, OpenVPN is one of the best protocols in existence and provides the average user with everything that they need.
However, for users desiring more customization and a tailor-made VPN experience, the options offered by Buffered are considerably lacking.
3. No TOR Compatibility
Again, this point pertains to a very small group of VPN users, however, the fact that Buffered doesn't offer TOR compatibility is a serious problem in my book.
For most people, a normal VPN connection is all that is needed to maximize their security and provide a safe and anonymous online experience.
However, in countries with stringent censorship laws, the ability to add on extra security measures that keep your location and activities private, can literally be a matter of life and death.
With that in mind, I was rather disappointed to find out that Buffered's VPN services are not compatible with proxies like The Orion Router also-known as TOR.
This probably won't be a deal breaker for most of you, however, it's still an issue that I would like to see resolved in the near future.
4. Third Party Reviews Aren't Very Positive 
While it doesn't normally happen, there have been several instances during my tenure as a VPN user where I have had an anomalous experience with a provider.
Meaning that I had an experience (good or bad) that was inconsistent with the average experience reported by other users.
While these instances are rare, they have happened.
So, to ensure that I am providing the most unbiased and accurate review possible, I always spend a few minutes searching through reviews published by other websites and customers on popular forums.
Unfortunately for Buffered, most of their customers have reported a very similar experience to mine.
Their average rating across all major tech and VPN review sites were around 3.5/5 stars (affiliate motivated reviews notwithstanding).
And when you dig through the reviews submitted on Quora and Reddit, the prognosis becomes even grimmer.

Here's another equally unhappy customer.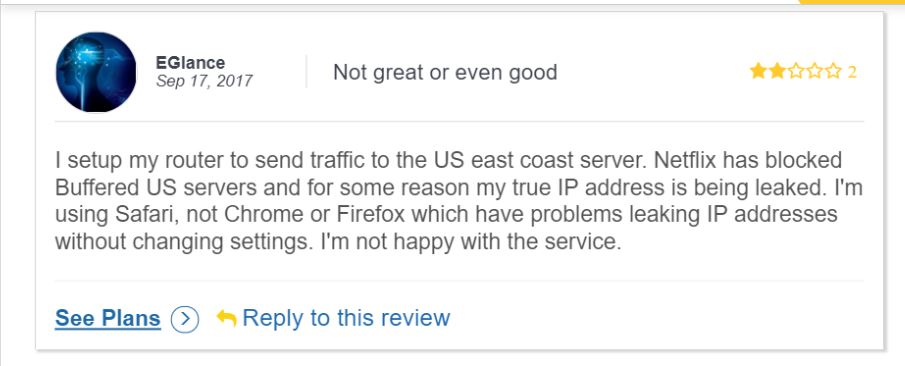 5. Not Compatible with Netflix
In early 2016, Netflix announced a ban on all proxies, VPNs, and unblockers, limiting their subscribers to regionally licensed content.
Basically, this means that if you are traveling outside of your home country, you are no longer able to stream the same movies, TV shows, and even Netflix originals that you could in your hometown.
Hollywood pundits were undoubtedly pleased to see the network respecting their licensing agreements and keeping their content sequestered to certain geographical location, however, their international user base does not share this sentiment.
When asked whether or not he thought that the proxy ban would affect subscriber numbers and revenue, CEO Reed Hastings replied saying "I don't think we'll see any effect".
However… The numbers tell a different story.
Despite the fact that Netflix opened up their services to over 190 countries shortly after enacting the proxy ban, their stock value still plummeted and they experienced a 14.5% drop in their share price almost immediately following the announcement.
Though the company's stock value has since shot up to record highs (I predict that they will experience another drop following their announcement that they will be increasing the price of their subscription in October 2017), their policy regarding VPNs and proxies has alienated a significant portion of their customer base and resulted in some serious social fallout.
So what does this have to do with Buffered's VPN services?
Well, for the majority of 2017, Buffered was one of only six mainstream VPN services that were still compatible with Netflix. However, as Netflix continued updating their software and policies, Buffered was unable to keep up with the changes and, as of September 2017, Buffered is no longer compatible with Netflix's services.
While we have been assured that the team behind the VPN is doing everything that they can to restore compatibility, these things take time and the current prognosis is pretty grim.
In the meantime, if you do need a VPN that is compatible with Netflix, I recommend that you check out our review of ExpressVPN.
Do I Recommend Buffered VPN? Yes and No…
I came into this review with high hopes and they're still high after reviewing the product.
At one point, Buffered was among my favorite VPNs and provided a service that was on par with the rest of the premium VPN marketplace.
Furthermore, I cannot deny that I strongly respect the team behind Buffered and I'm impressed with the high levels of professionalism and business acumen displayed by the C-level executives behind the brand.
However, my respect doesn't have much bearing on their VPN's performance.
While they offer some of the most exceptional and professional customer service that I have ever seen, a highly secure server base, and an easy-to-use interface, the pros simply cannot outweigh the cons.
Their download and upload speeds don't come hand-in-hand with the price you pay.
They have almost no features or options for advanced users.
Their VPN is no longer compatible with Netflix.
They charge a monthly fee that simply isn't justified by their service.
If the company can boost their server speeds, increase the number of available protocols, and add in a few features like a kill-switch and TOR compatibility, they will be a force to be reckoned with and stand a chance of becoming the best VPN on the marketplace.
But until they are able to execute the aforementioned improvements, I cannot give Buffered a full endorsement.
Add your own Buffered VPN review
Have you ever used Buffered before? If so, what was your experience like? I'm always interested to hear what other enthusiasts have to say about the VPNs that I review! Let me know below.
6 user reviews for Buffered
M. Martinez 5/10 December 1, 2017
Mediocre service
I haven't used other VPNs, only Buffered, but I can't say it's "good" or "bad" as it's just what is – mediocre.
They have multiple servers in various of different companies which is good, though. Their app is also solid – I've set it up on my router.
What's bad is their speed – I keep switching between different servers, but at the end they're just slightly slow for decent using.
Overall, I'd rate this product 5 out 10.
Terra 4/10 July 29, 2017
Basic and overpriced
No port forwarding, no kill switch, speeds just ok. Easy setup, quick customer service. 30 day guarantee is actually only 10 hours of use.
You can get better for less.
Paul 8/10 June 29, 2017
Recmmended
An Aussie here. Got this VPN three months ago and it works as a charm – no bugs, no errors. I can access all the websites I want without losing any bandwidth.
Download it, choose a server you want to connect to, give it like 3-5 seconds to connect and you are all set.
This one is really good! RECOMMENDED
Clark 4/10 June 23, 2017
Expensive
I bought a plan from Buffered VPN, which was really expensive. It cost me 7.75$ per month. Once installed and ready to go I was really eager to try it out, but was disappointed as the service was pretty slow. I contacted chat support, but all they told me to try another server. I tried several ones, but none gave me a proper download speed.
If you want to browse and download fast, then I do not recommend this service.
Ken 8/10 June 3, 2017
Good, but expensive
Buffered has everything you need for VPNing: quick speeds and good usability. The only thing that is problematic is their price.
I'm a month-to-month user and I'm paying around $9/mo which is a lot compared with many others.
Though, I'm not worried about it too much since the product itself is really good and I've had no problems so far.
Thumbs up for Buffered!
Mitch 8/10 April 23, 2017
Haven't suffered with Buffered
I've been using VPNs for ages. I've tried out different service providers, such as HMA/TorGuard/VyprVPN – Buffered has been the best so far. Their UI is easy and what's most important, it's fast. The connections are reasonably fast. Great customer support, Buffered is a reliable service provider. I'd suggest Buffered for anyone who's trying out their first VPN software. 5/5!